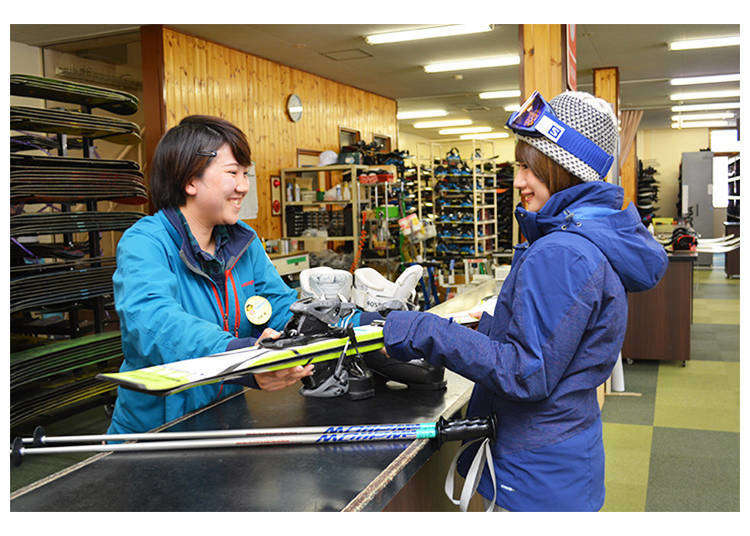 Renting skis in Japan is a cinch. Many folks living near the slopes will likely own their own skis and other gear, however, if you're coming from a city—or visiting from abroad—you'll likely be traveling light and renting. Fortunately, Japan has a very straightforward rental system as we'll outline below.
Renting skis in Japan: What to rent and what to bring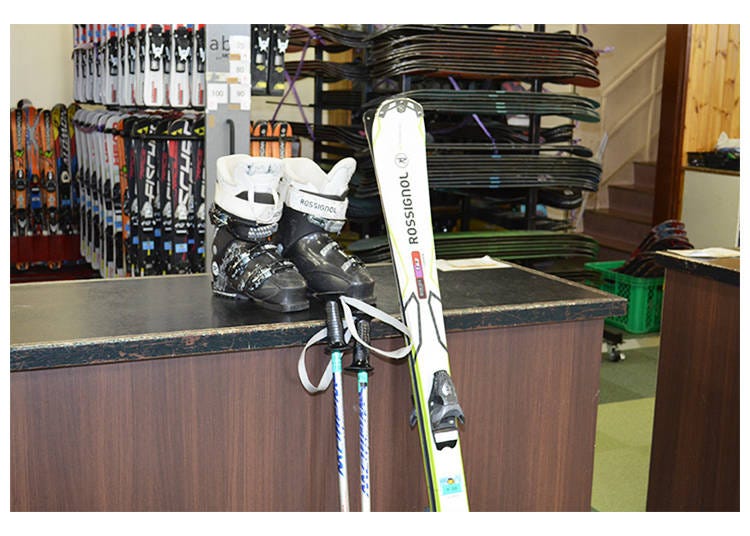 Photo: Chiho Kuriyama
Renting skis in Japan is just part of the process. In fact, you can rent practically anything at ski resorts—from goggles to gloves.

Generally, if you don't have your own winter wear, it's practical to wear warm clothes (especially warm socks) and dress in layers. Also, keep in mind that accessory rental (i.e., gloves, hat, and goggles) will vary from resort to resort, with some places offering these in their rental bundle and others not.

Generally speaking, you'll be safest if you bring your own gloves, cap, and goggles – and purchasing these in advance can save you a bit of money.

Rental wear
Most resorts will offer a bundle package, usually a "wear and gear" set that includes skis (snowboard), poles, boots, jacket, gloves, goggles, and snow pants. If you are bringing your own equipment but will want to rent clothing suitable for snow, you'll likely have that option available as well. Also, you will have the opportunity to rent a helmet if you feel so inclined.

Will they have my size?
This is a common question, especially for tourists from abroad. Generally, available equipment will depend largely on to what extent the resort caters specifically to foreign visitors. Generally, ski boot sizes from 22cm-34cm will likely be available.

Family options
If you are skiing in Japan with kids, practically all resorts offer various equipment and gear rental options.
Photo: Chiho Kuriyama
Equipment upgrades often will be available as well for a small additional fee. Also, something to consider: if you intend to stay at a resort for a weekend or longer, you can often save a bit of money by renting equipment for that period instead of at a daily rate.

Rental prices, of course, vary by resort, but a full wear+ gear bundle may cost around ¥8,000 for a full day, with 2-day rental around ¥13,000. (Renting gear only – ski or snowboard – will likely be around \2,000-3,500 less.)
What you need for renting skis in Japan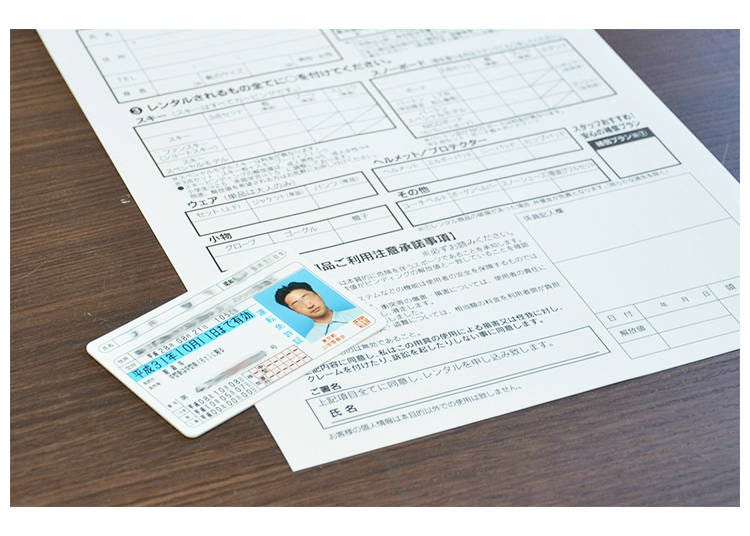 Photo: Chiho Kuriyama
When you approach the rentals desk, either there'll be a place for rental applications or the staff will provide you with one. Filling out the application is generally not particularly challenging, however, you will need to write a local address (e.g. hotel) and provide some kind of ID (e.g. passport). Also, you'll want loose ¥100 coins for lockers – more on that below.
What to do after renting skis in Japan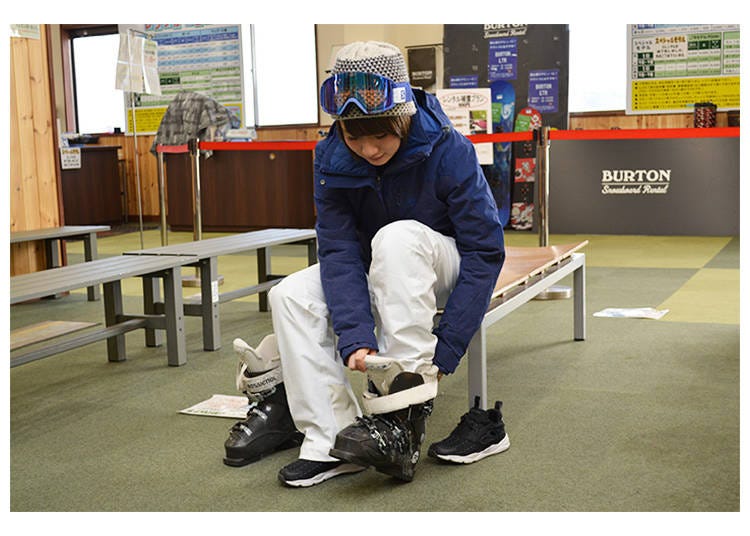 Photo: Chiho Kuriyama
After you've rented your gear, make sure to check the boot size by trying them on straight away!

If they feel too tight around the toes or if your toes feel cramped, have them changed to the next size up.

If you're wearing thicker socks, it's generally better to choose a size slightly larger than your usual shoe size.

Also, if you're renting skis or a snowboard, take a photo of the ID number with your phone: when stacking equipment on the racks outside, sometimes people mistakenly take similar-looking ones!

Next, it's off to the changing room! Get changed, and place your clothes and luggage safely in a paid locker. Dressing rooms are usually available at the ski rental section, ski centers, or near parking lots.

Skiing and snowboarding in Japan is a unique experience that combines the fun of winter sports with savoring traditional hot spring culture. With the basics covered, check out our other guides on the topic!
Copy: Chiho Kuriyama. Editing by Pamela Drobig and Timothy Sullivan.
*This information is from the time of this article's publication.
*Prices and options mentioned are subject to change.
*Unless stated otherwise, all prices include tax.