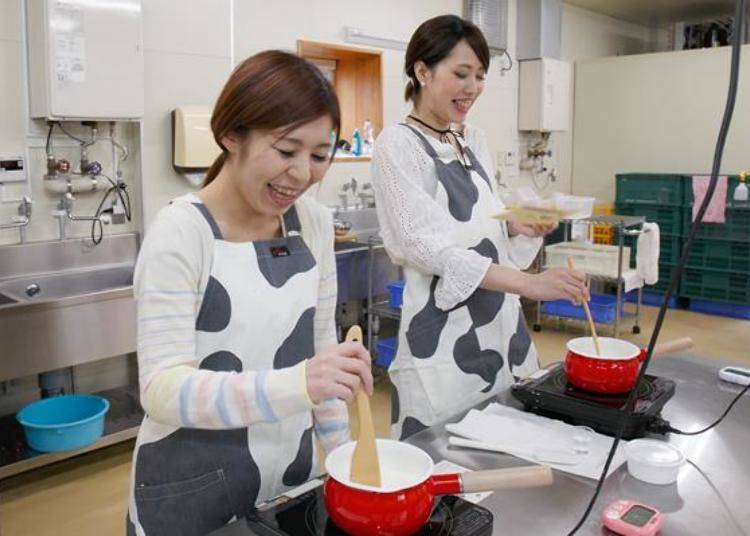 The Furano Cheese Factory is a spot you will definitely want to check out while sightseeing in Hokkaido. You can enjoy creating your own handmade Hokkaido Mascarpone cheese using local fresh milk and cream.

You are also free to take this cheese home with you. This facility is like a dairy themed amusement park. If you are a cheese lover, you can't miss out on this!
Inside the Furano Cheese Factory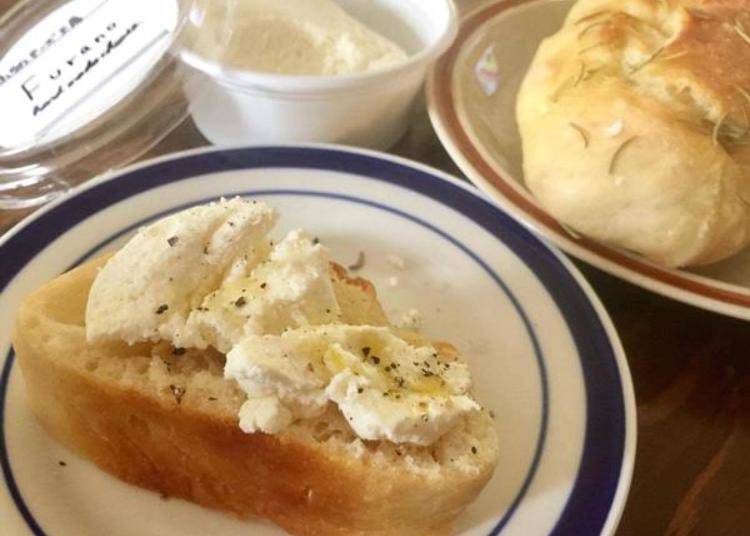 Enjoy the delicious cheese you make here at home by putting it on a baguette or adding it to a cuisine!
The Furano Cheese Factory is located in a quiet forest, about a 10 minute drive from the JR Furano station.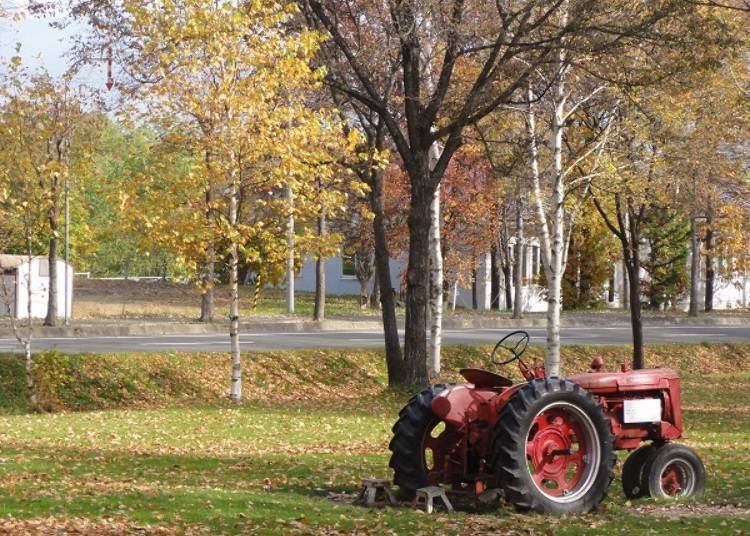 Inside the cheese park is where you will find tractors, objects, and more. The park is especially beautiful with the fresh green leaves of May and autumn leaves in October!
The main facility here is the Cheese Factory which manufactures and sells dairy products such as cheese, butter, and Furano milk (non-homo pasteurized milk) (180 ml, 124 yen).

There is also the "Handmade Experience Studio" where you can enjoy making your own cheese (880 yen per person), the "Iced Milk Studio" where you can enjoy gelato using Furano milk, and the "Pizza Studio" where you can taste Napoli pizza using our very own cheese.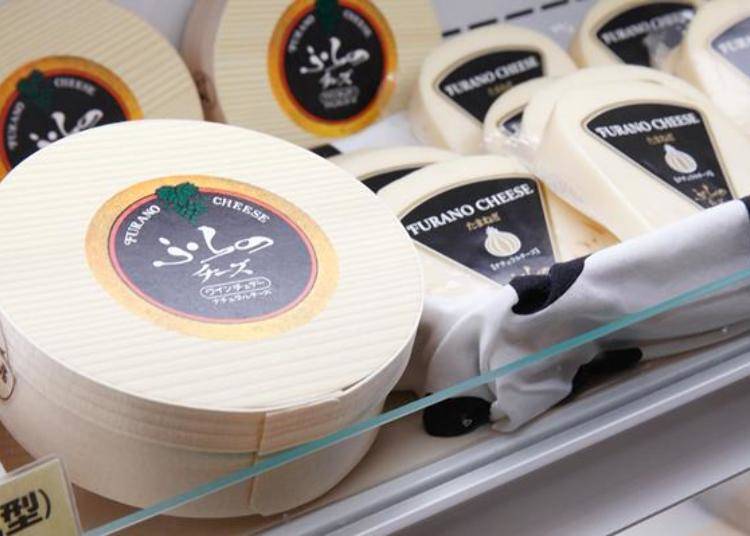 The Furano Cheese Factory featured products are the "Wine cheddar cheese" (on the left, 1,420 yen) described as having a rich and creamy flavor, and the "Onion (Goda type)" (on the right) with a bitter spicy flavor like an onion, 648 yen)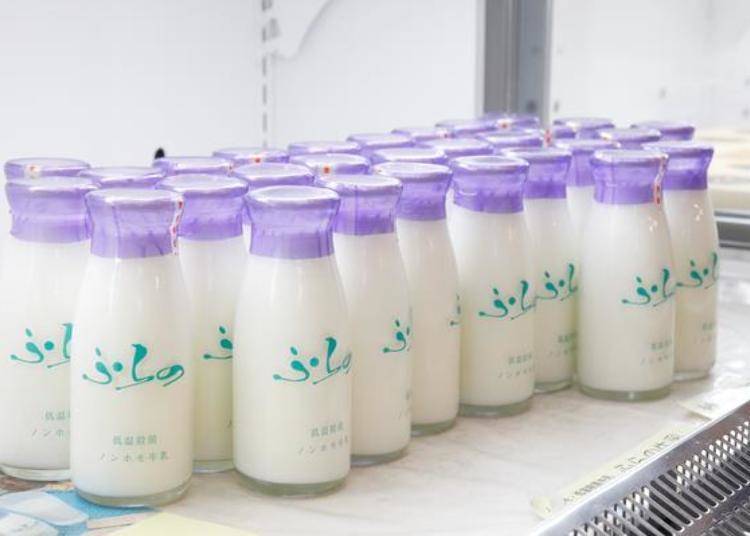 "Furano milk" is the fresh milk from the Furano ranch that is produced using only pasteurization so the flavor of fresh milk is not compromised while a refreshing but rich aftertaste
The first floor of the cheese factory is for production. The second floor contains a sales corner for dairy products and a handmade experience studio, as well as an exhibition section that introduces the history and culture of dairy products.

Before beginning the cheese-making experience, we recommend that you visit the exhibition corner and watch how cheese is made!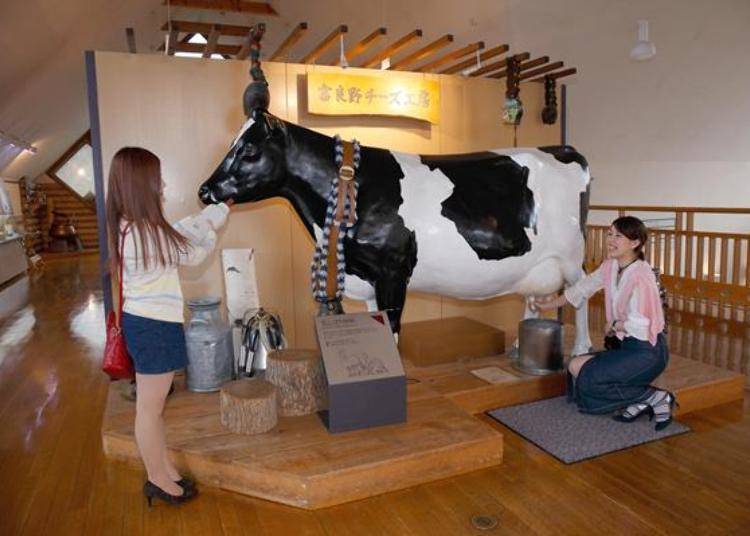 Milk a model cow! The udder is soft using special construction so it feels just like the real thing!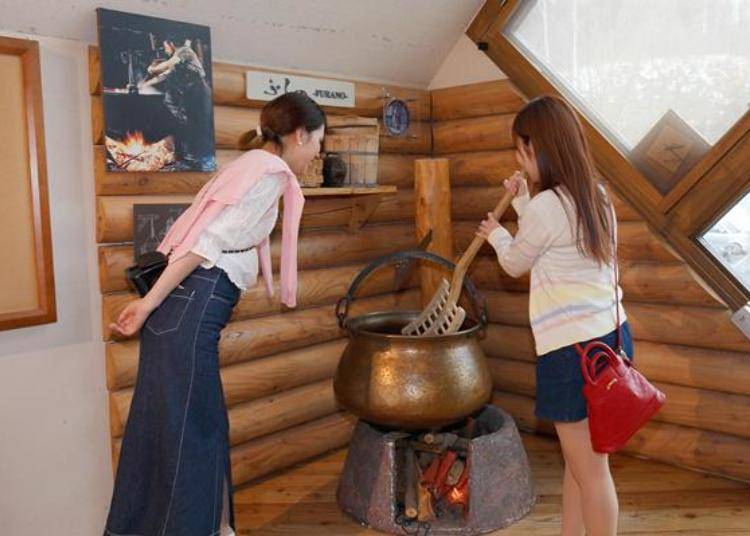 It is said that in the past cheese was made by stirring ingredients in a kettle that was heated with a fire like this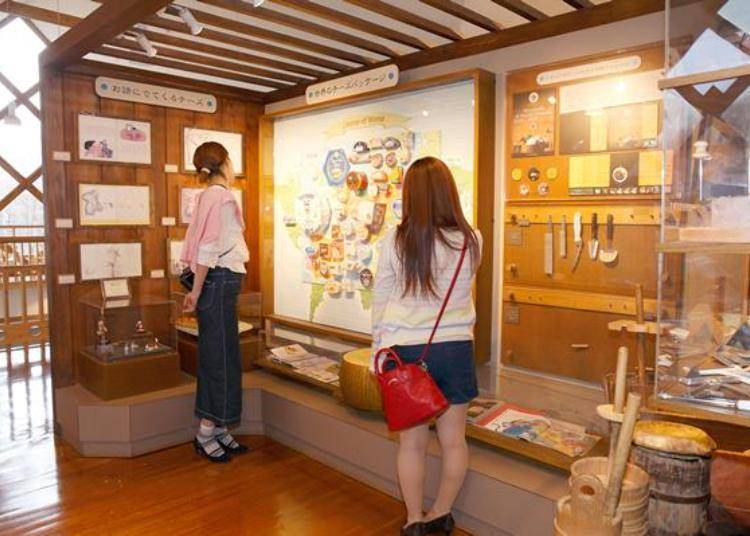 Not only are there items to play with, but there is also an exhibition section that introduces the history and culture of cheese
Now on to the cheese making experience!
Furano Cheese Factory Experience: The ingredients needed to make Hokkaido cheese are surprisingly simple!
Today the cheese to be made is Mascarpone cheese originating in northern Italy. It is a fresh type of cheese, characterized by the ability to eat it immediately after making it.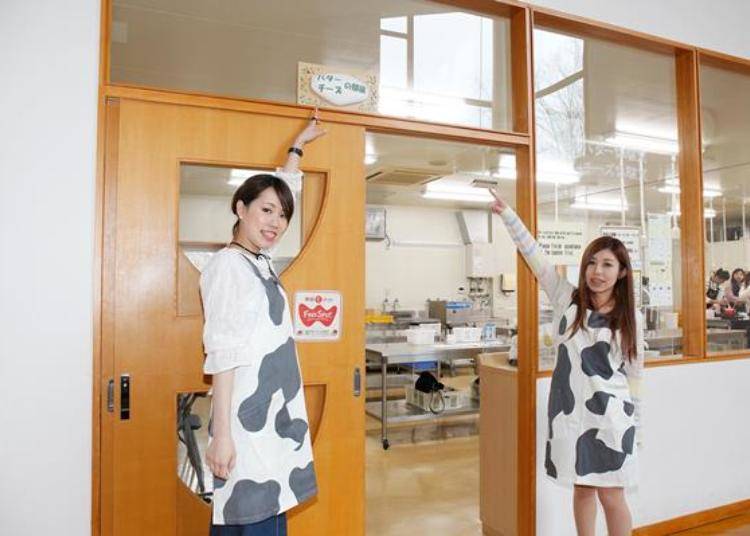 The participants for this experience are Risako (left) and Shibori (right). Here you can borrow an apron.
Now it's time to go to the room of butter and cheese in the handmade experience studio. Put on your apron and wash your hands!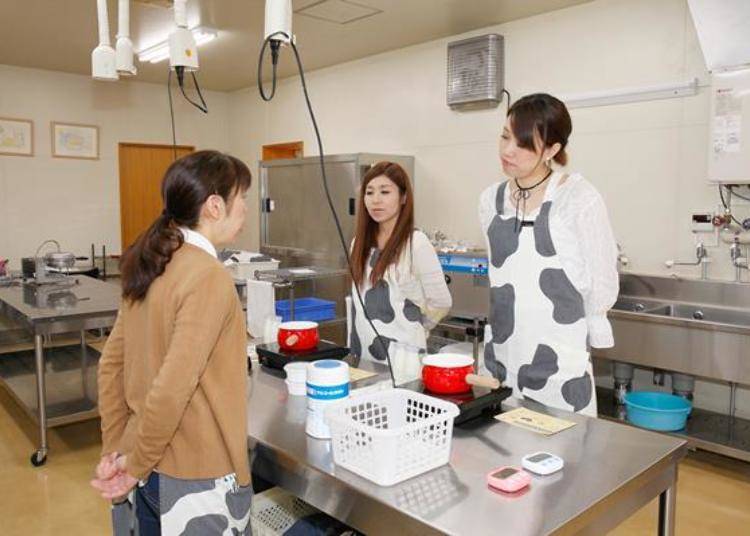 No cooking experience is needed as the instructor will explain the entire process!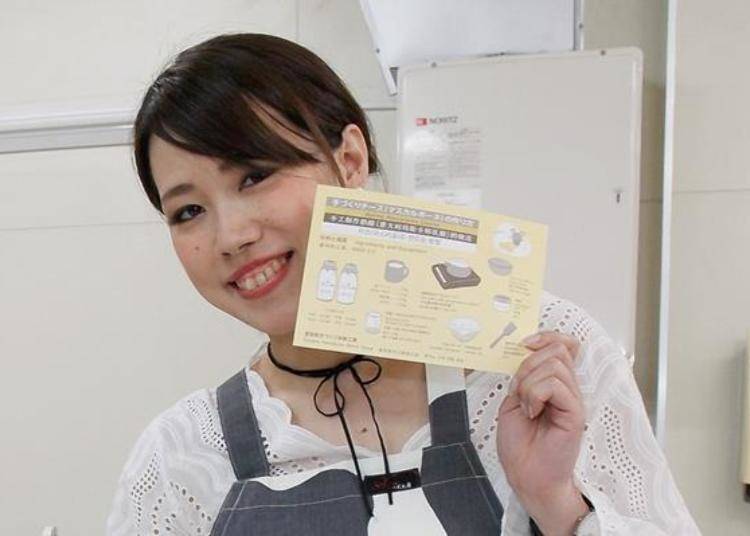 In addition, it is no problem if you get lost because every participant receives their own instruction sheet.
Begin by double checking the ingredients.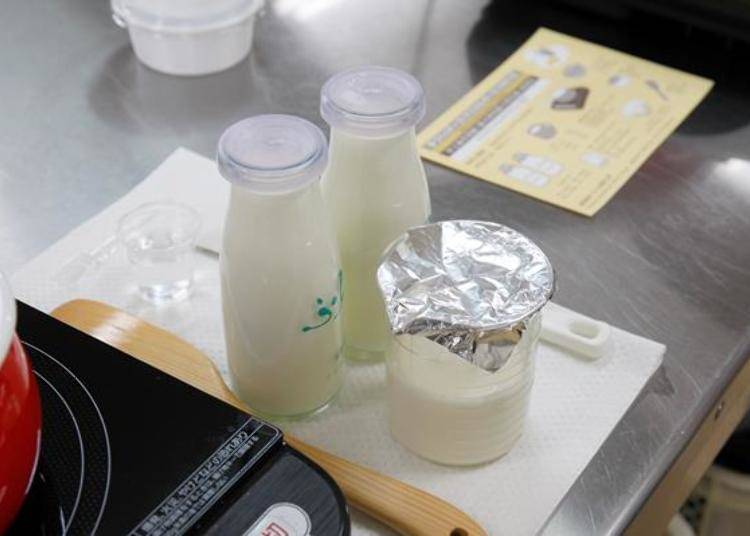 The ingredients are two bottles of Furano milk (180ml), fresh cream 120g, and 20 ml of lactic acid diluted with water. All you need are these three ingredients and a little salt
This simple process may leave some wondering, "What, that's all you need?"
Once you check the ingredients and materials, it is time to begin!
Mix milk and fresh cream while warming
First, add the the fresh cream into the pot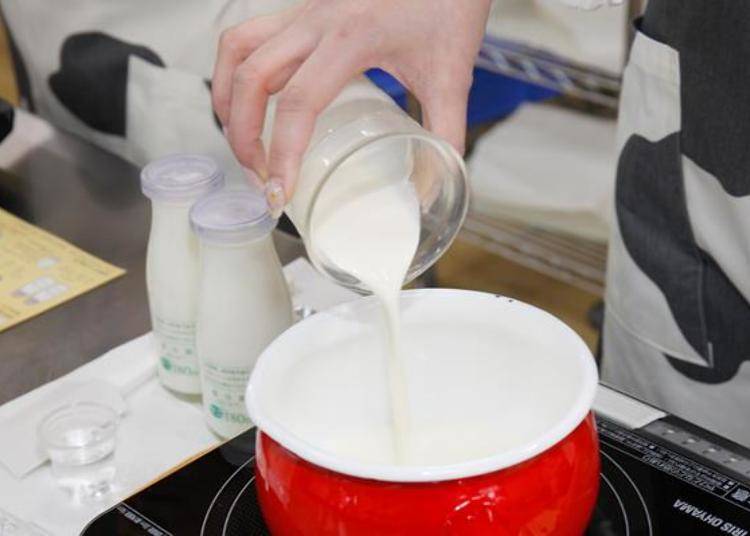 The fresh cream used is rich in fat content 47%, which is of course produced in Hokkaido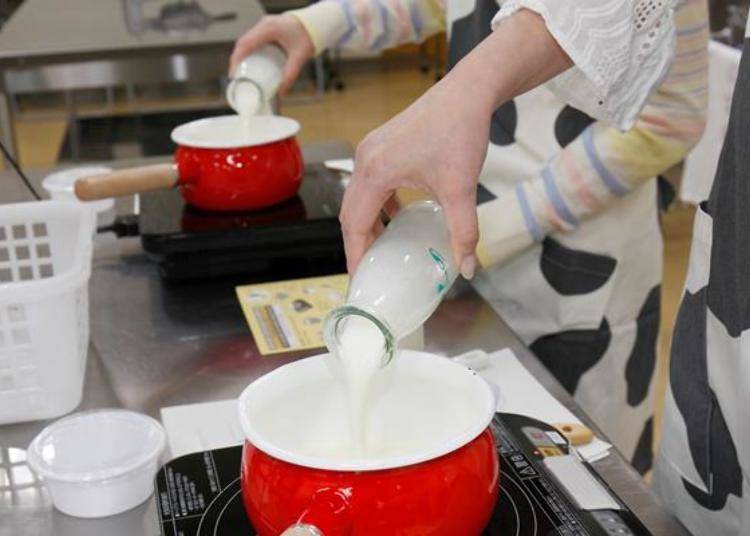 Next, add the two bottles of Furano milk, and set the temperature to 180 degrees, turn on the switch and let it heat up.
After adding the cream and milk, stir with a wooden ladle for 12 minutes while heating.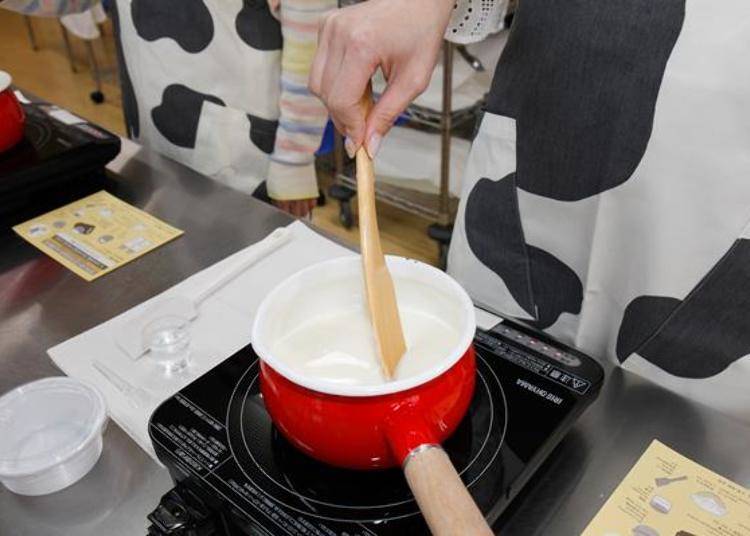 At first it feels smooth and is easy to stir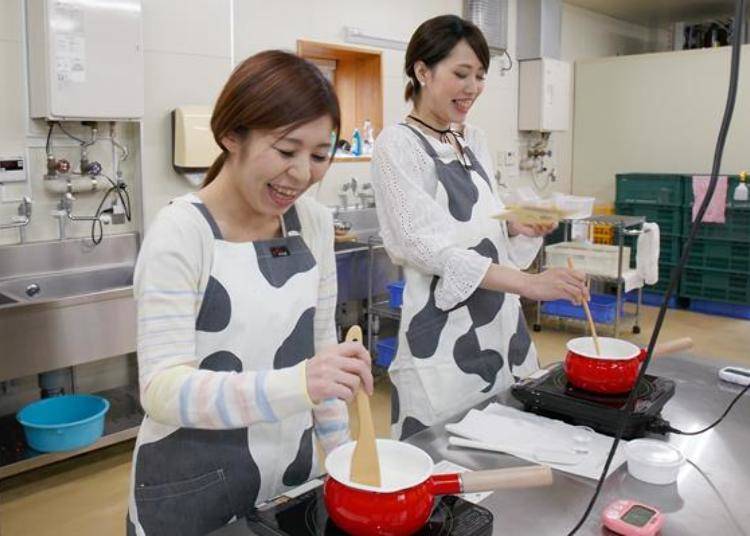 "I'm looking forward to see how it changes"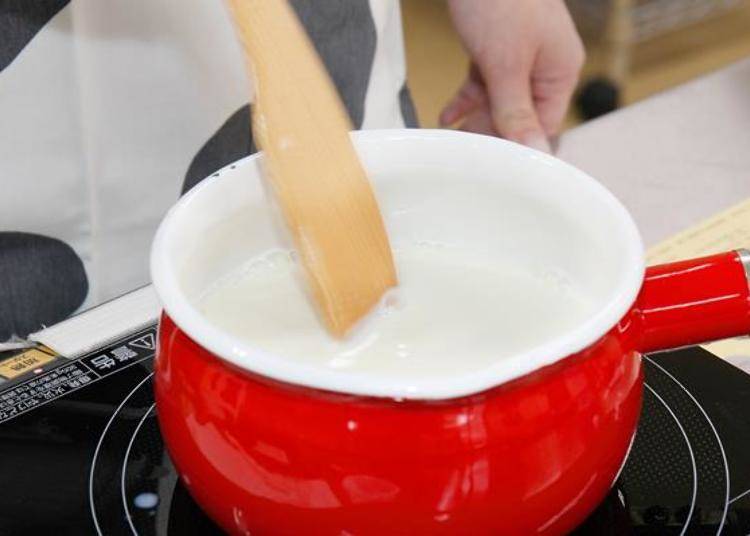 Oh, it has started to thicken!
After stirring for 12 minutes, pour the lactic acid diluted with water in the pot, stir the pot well around 20 times and turn off the heater.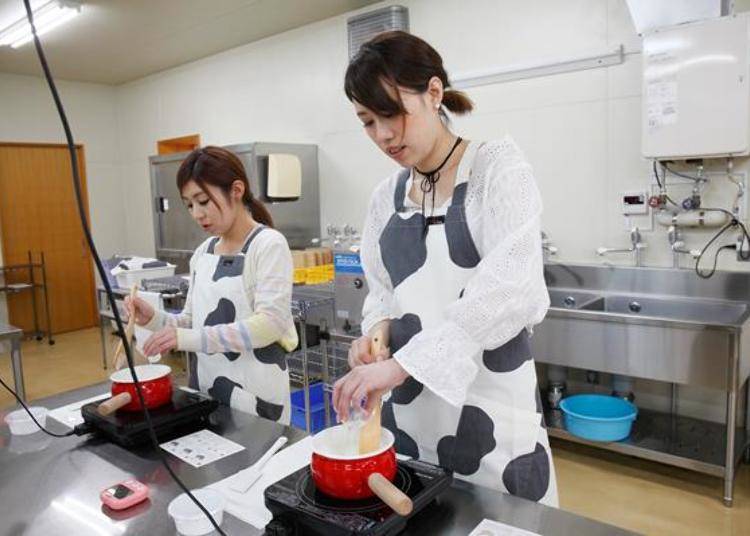 This still looks nothing like cheese, so as the lactic acid is added the thought on the participants mind is if this can really turn into cheese…
After adding the lactic acid, let it sit for eight minutes.
You can make labels for your take-away Hokkaido cheese while you wait
While fermenting the cheese, you can make a label to paste on the take - away case. Using the pens provided, draw a picture or write a letter on the round sticker. Test your artistic abilities!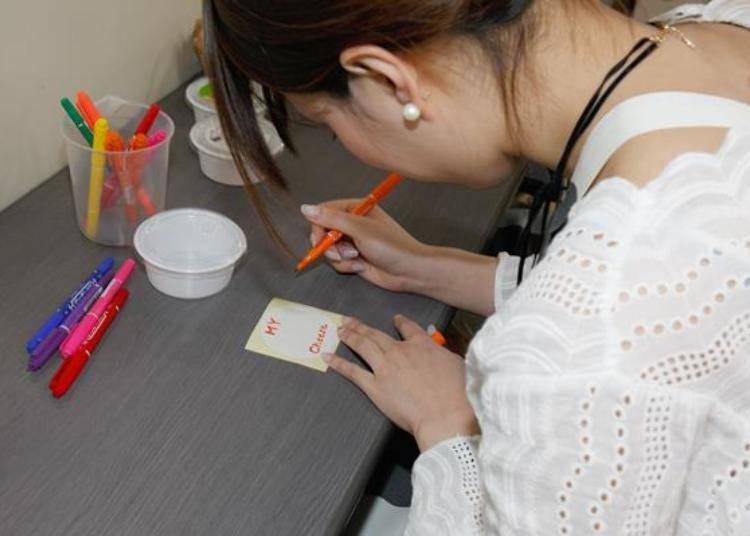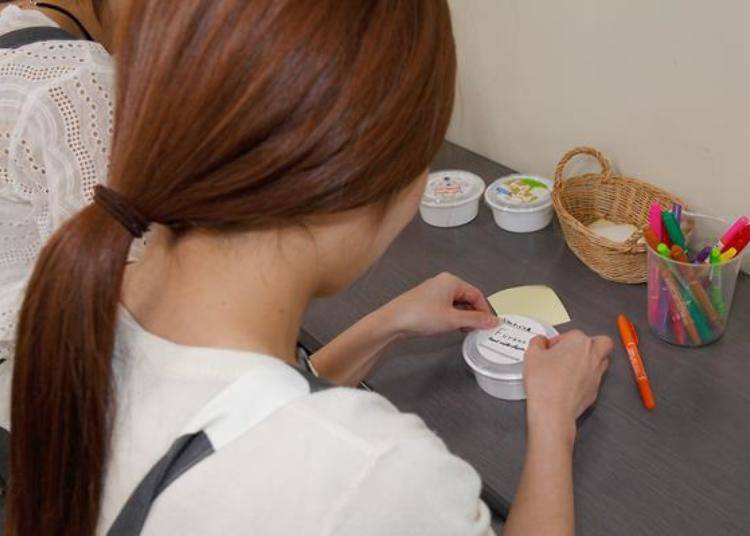 While focused on creating labels, the contents of the pot have begun to change!
A little after 6 minutes, the inside of the pot has become lumpy!
When the lactic acid is added, it gradually separates the milk into solid matter like tofu and liquid. The solid matter is called curd and is very important in the cheese making process. The liquid is called whey, which is unnecessary for making cheese.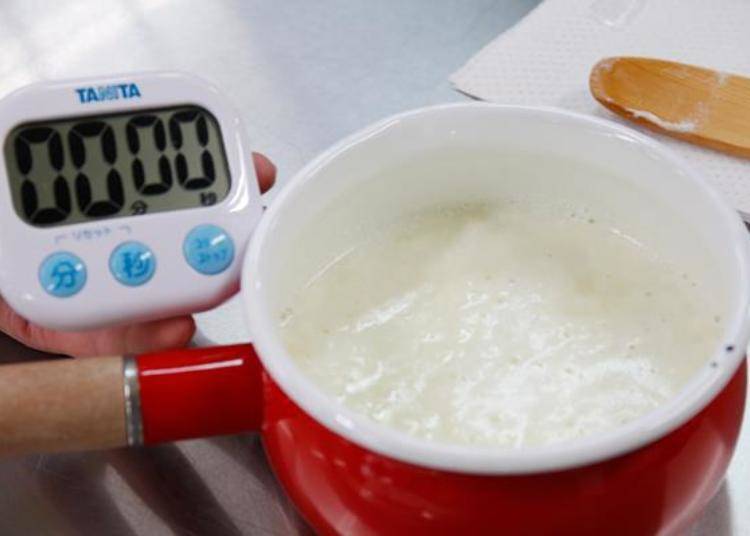 Eight minutes have passed! A lumpy substance is floating on the surface. This is clearly different from the start!
Here we take a break from making labels to resume the cheese making process.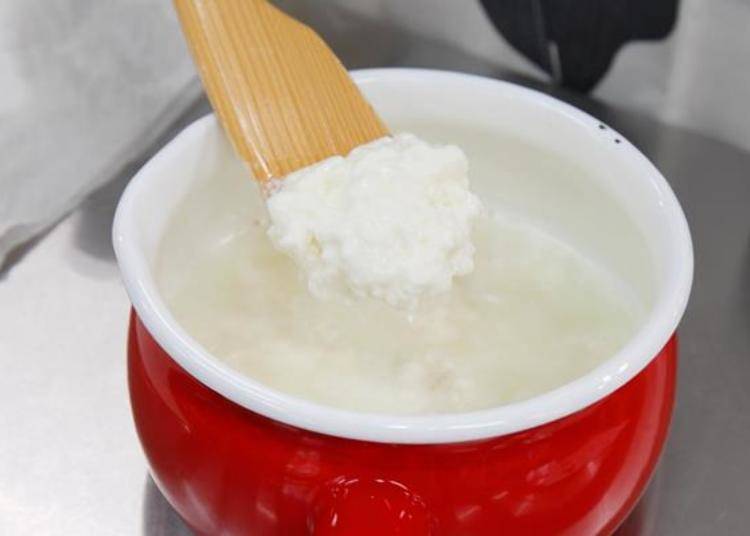 As the contents are scooped up with the wooden ladle, you can see clumps that look a bit like cheese !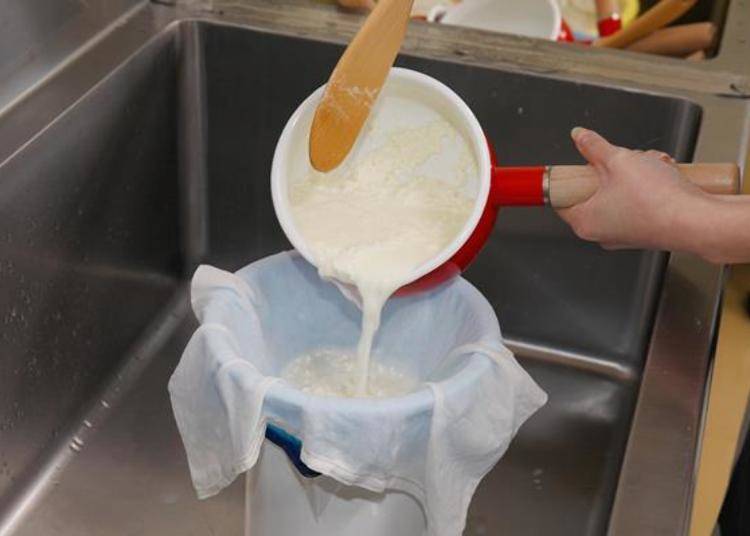 After stirring a few times with a wooden ladle, pour out the liquid (whey) into a wet cloth and take out the curds
Next, remove the remaining moisture from the curds.
For approximately 5 minutes, lightly press the curds wrapped in cloth into the bowl.
At the start you may get the impression that it is stuck, but after some time the moisture will drain and will begin to feel lighter.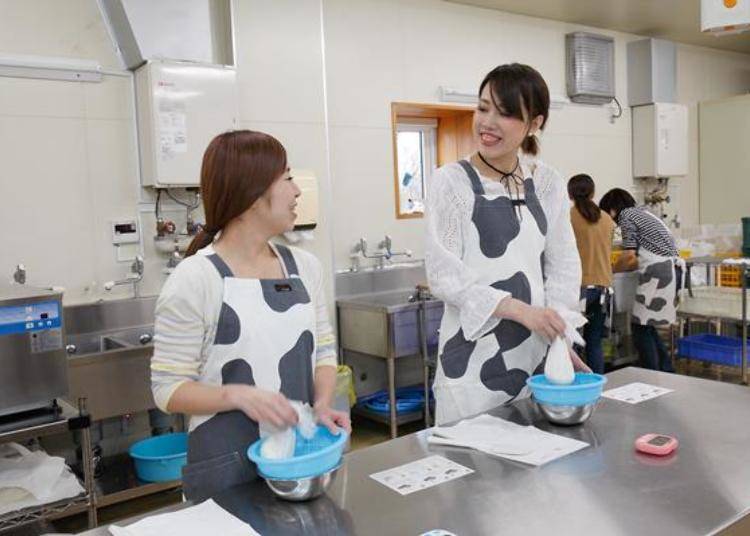 As the cheese is nearly ready anticipations rise.
"What will this cheese pair well with?"
"A Baguette for sure"
"What about honey?"
"Oh, that sounds good!"

Five minutes passed as they discussed the cheese, and white whey had accumulated in the bowl.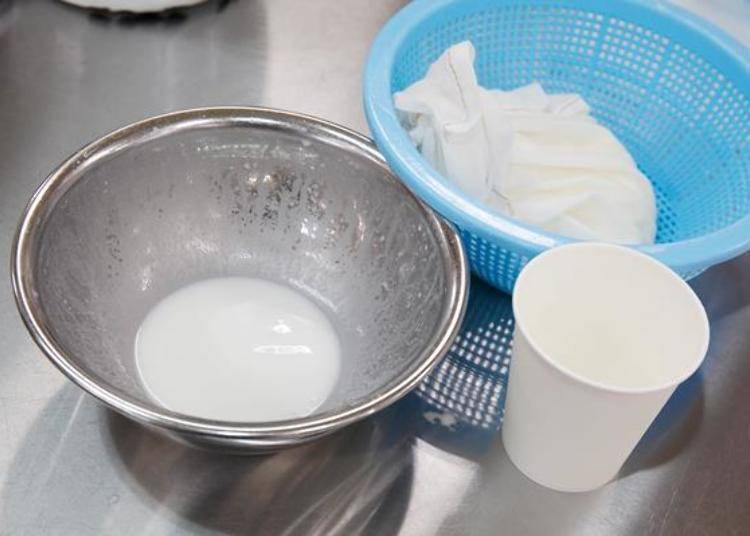 This whey is much whiter and thicker than the first whey that was removed.
This whey may be transferred into a paper cup and sampled! It is unexpectedly delicious with a soft fluffy milky flavor that is refreshing. This would be wasteful to throw away! Please give it a try.
Finally, the cheese is complete!
The finish line is right it front of you! Open the curds with the moisture now removed and place into the bowl and knead until smooth.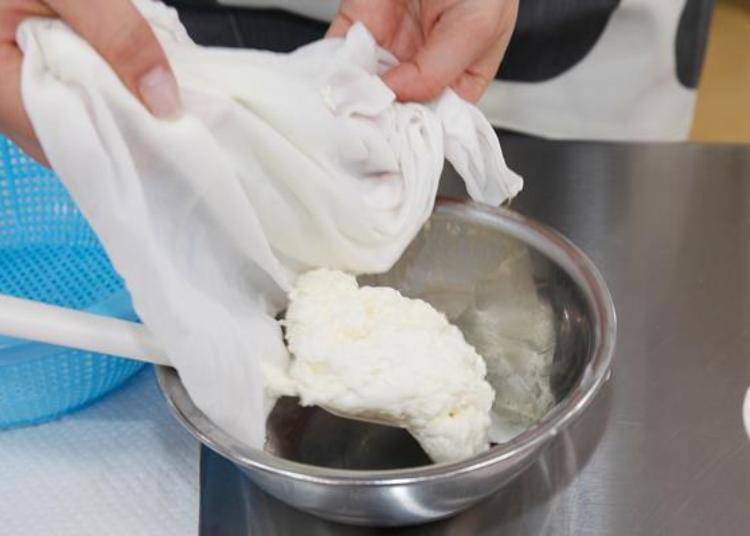 As you open the cloth and pull out the curds ... "Wow! It looks like cream cheese!"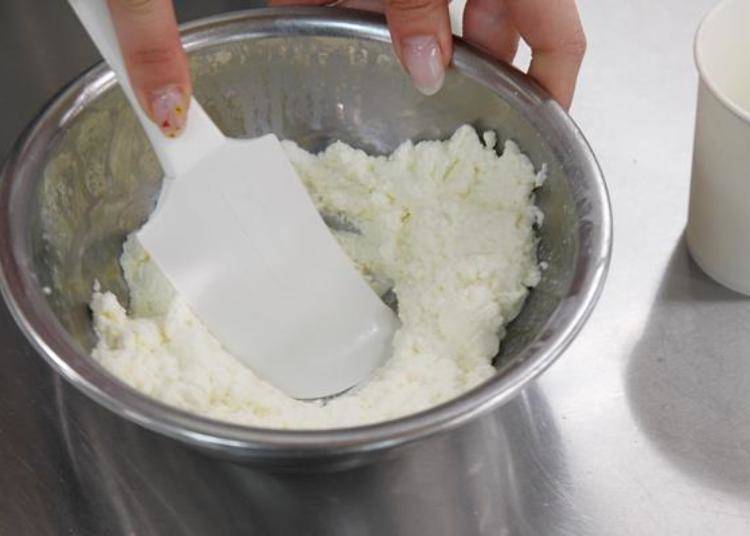 Immediately after it is taken out you will notice a grainy feel.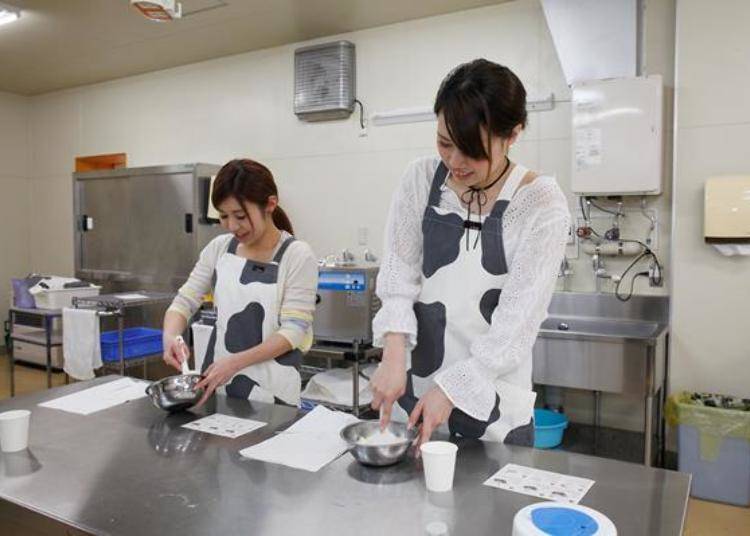 With a spatula push downward and knead it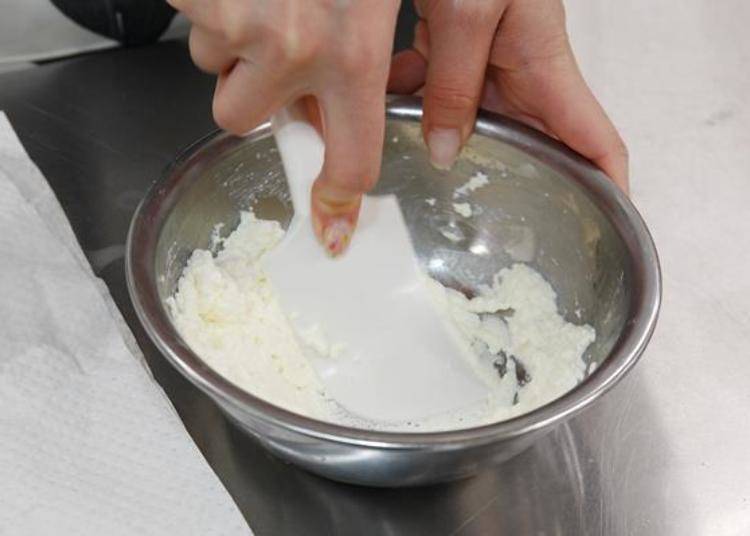 As you continue to knead, air enters the curds, and after a few minutes it begins to look smooth!
Now you are practically done
Here we take a small amount on our finger and sample the cheese

"Hmm, there is no flavor... "

However, this will change drastically with just a pinch of salt!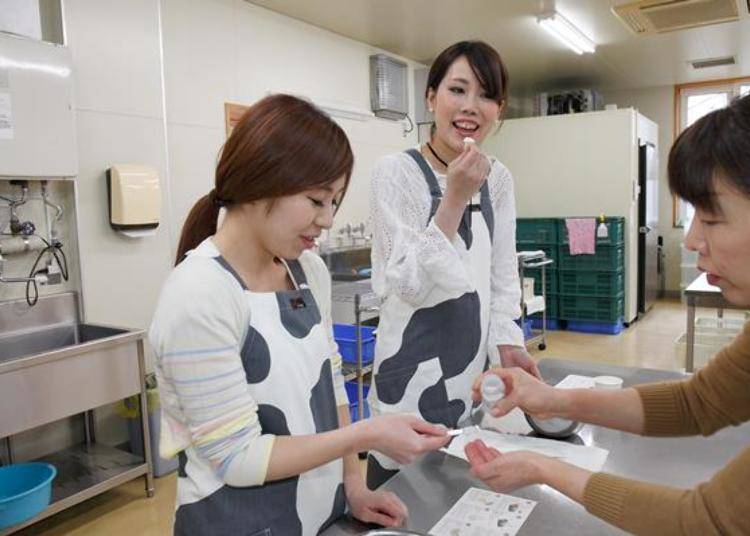 "Wow! This tastes like cheese!"

The final ingredient needed is salt! Be sure to add salt little by little, tasting as you go in order to get the flavor you desire!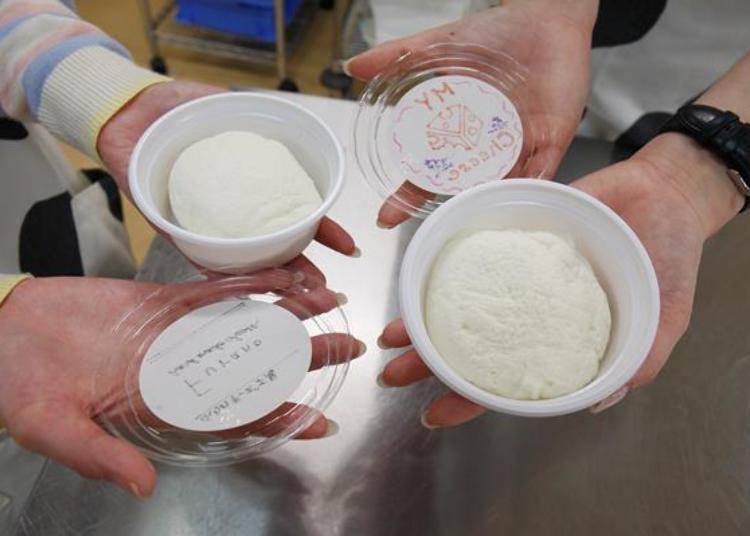 Place the cheese in a plastic case and attach the labels made onto the lid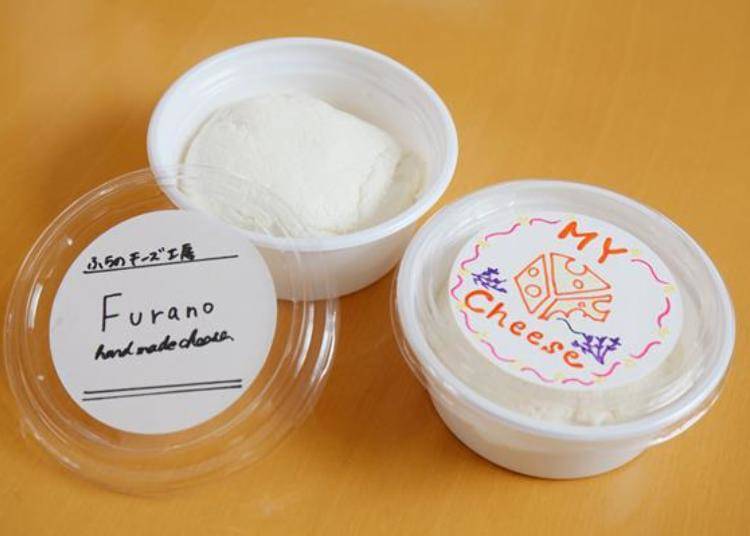 There is approximately 100 grams per container, now your very own handmade Mascarpone cheese is complete!
"I did not know I could make cheese this easily"
"How shall I eat this -- I can't wait!",

They are both very pleased!
Take home the cheese you made and enjoy!
Take home the cheese you made and enjoy!
What did you do with the cheese that you brought back?
Risako says that she enjoyed this mild flavor by using half with crackers as hors d'oeuvres and the other half in a keema curry.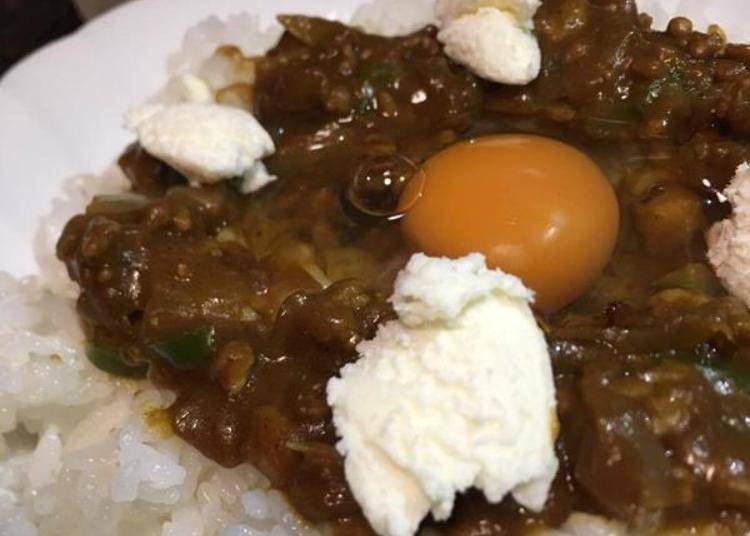 Meanwhile, Shibori put the cheese on a baguette drizzled with olive oil, and black pepper and enjoyed it as an open sandwich.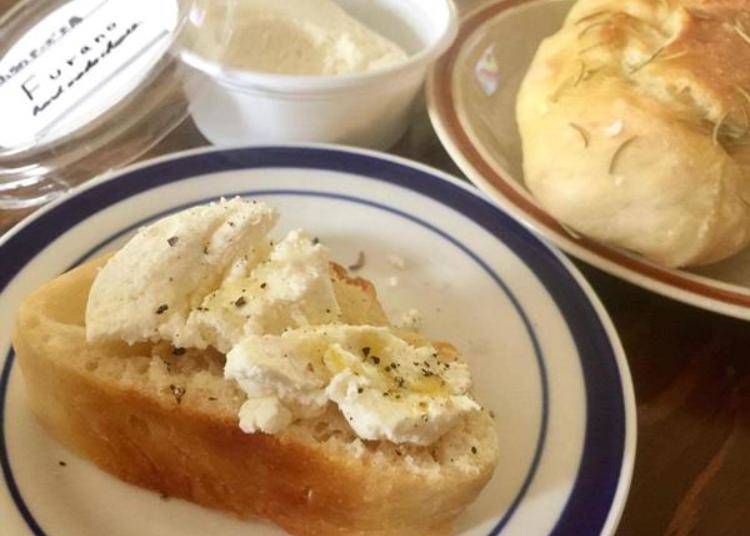 Be sure to experience not only the taste of Furano's delicious dairy products, but also to create them yourself. This experience can be enjoyed in as little as one hour.
When traveling to the area around Furano, please stop by and enjoy the handmade experience at the Furano Cheese Factory!

Plan name: Handmade cheese experience
Average time; about 60 minutes
Price (basic): 880 yen per person (tax included)
Start times: 9:30, 11:00, 13:30, 15:00

Contact hours: 9: 00-17: 00
Closed: New Year's holidays / Closed occasionally for facility development

※All prices include tax.
Address

Nakagoku, Furano-shi, Hokkaido, 076-0013
View Map

Nearest Station

Furano Station (Nemuro Main Line / Furano Line)
10 minutes by car


Phone Number

0167-23-1156
Written by: Nobuhiro Kawashima

*This information is from the time of this article's publication.
*Prices and options mentioned are subject to change.
*Unless stated otherwise, all prices include tax.