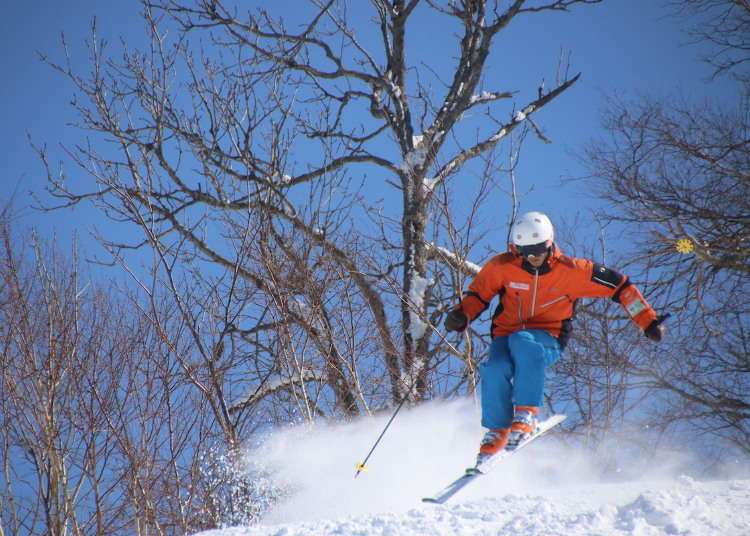 Kamui Ski Links, in Asahikawa, Hokkaido, offers an incredible variety of ski trails at very reasonable prices. Before you pack your bags and zip off, however, here's a list of the important information you'll need to make the most of your trip there!
What kind of resort is Kamui Ski Links?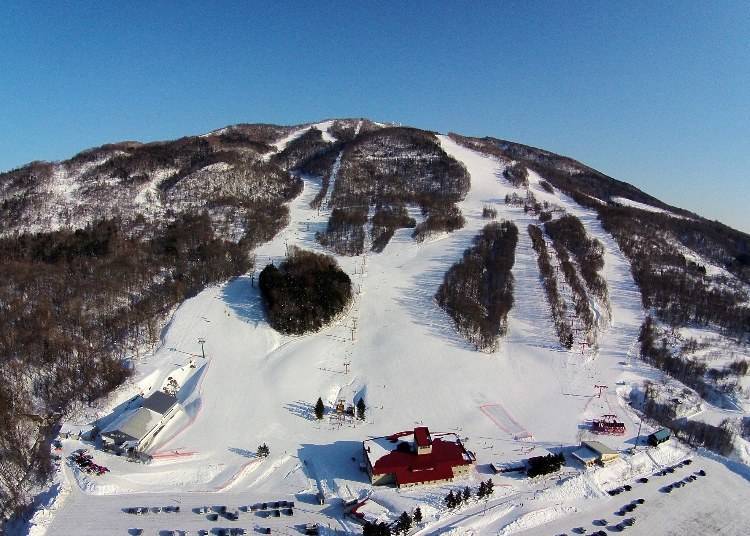 Opened in 1984, Kamui Ski Links is around a 90-minute drive from Sapporo City or a 30-minute drive from Asahikawa's town center. Because Asahikawa is situated on a basin-shaped valley surrounded by mountains, the summer heat here is oppressive, and the winter cold, bone-chilling.
When is the best time for skiing at Kamui Ski Links?
Peak ski season starts from late December to early February every year. This is the period where you'll see plenty of fellow skiers and snowboarders gathering here to try out the different ski trails available.

The extreme difference between the seasons is the secret behind Asahikawa's smooth and fine snowfall, and it is on top of this high-quality powdered snow that Kamui Ski Links has built their trails!

Powder snow is a phenomenon that only appears when the air is very cold and dry. Asahikawa is at its coldest during January, with daily averages plunging to as low as -3C (26.6F) or a mean minimum temperature of -12C (10.4F).

Because the cold here really bites, bring along face masks that can protect your face from the winds to ensure that you stay warm and comfortable throughout your trip!
Access: Getting to Kamui Ski Links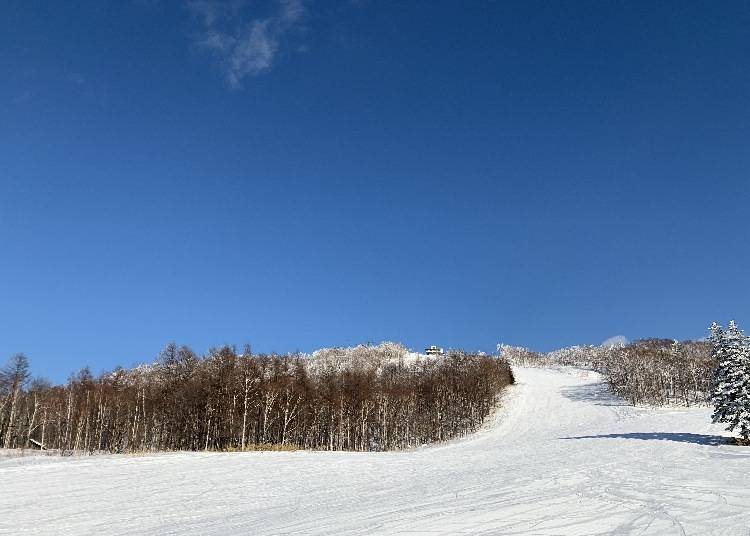 By car
Take the Hokkaido Expressway, exit at Fukagawa IC, and drive down Japan National Route 12 to reach Kamui Ski Links. This should take about 90 minutes in all.
Bus
From Asahikawa: Hop on bus No. 448 Kamui Ski Links Line, operated by Dohoku Bus, which will take passengers directly to the ski resort. You can either take the city line that departs from various Asahikawa hotels, or the airport line that takes you directly to the ski resort. This is a convenient option since no transferring of vehicles is needed in between.

From Sapporo: Hop on a highway bus operated by Hokkaido Access Network. The bus takes you directly to the destination and there is no need to transfer in between.
25 Ski Trails: Slopes for all skill levels are available!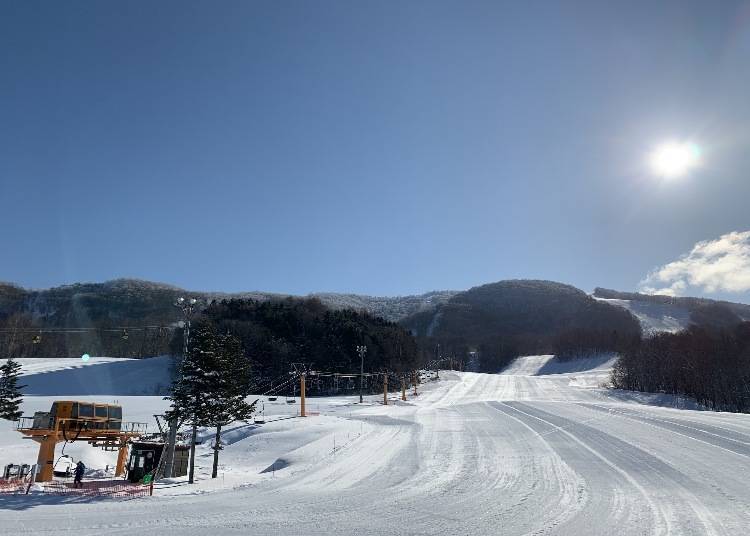 There is a total of 25 ski trails, each appealing to different preferences, such as the 4,000-meter (about 13,000 feet) long trail designed for beginners to cruise along at a relaxed pace.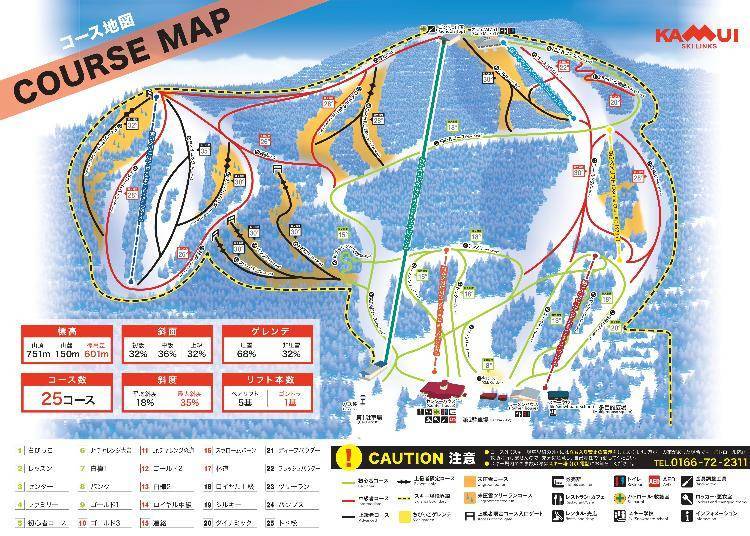 The resort's most well-known ski trail is the Gold Course, an unusually long and wide trail that starts from the mountaintop and goes all the way down to the foot.

This trail is further divided up into three sub-sections, known simply as Gold 1, Gold 2, and Gold 3.

Gold 1 is suitable for beginners and children. Gold 2 and Gold 3 are for intermediate skiers. Features of the Gold 2 course include a maximum incline of 30 degrees and a groomed piste that is 150 meters at its widest.

As for Gold 3, your ski edges will love you for putting it on a snowfield that's been tightly packed down, since it allows for the smoothest of carved turns without much fuss!
Now let's take a closer look at the ski trails here by difficulty level.

Beginners should start with Kids Garden or Family. Kids Garden's steepest incline is a gentle 8°, which makes it perfect for small children or beginners who are still trying to get used to their skis.

And because the Family trail is so broad, beginners may find it safer and more comfortable to practice here first before heading over to the more challenging trails.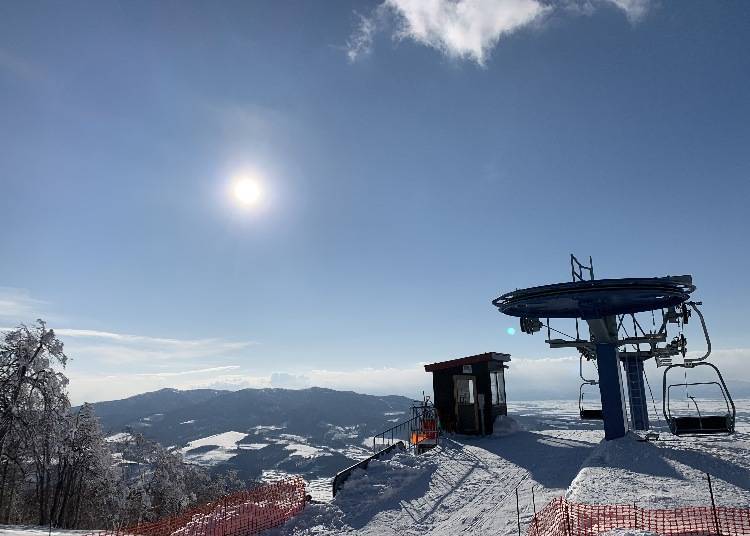 Intermediate and advanced skiers should definitely try out some of the ungroomed slopes, especially Deep Powder or Fresh Powder, where you can get a taste of the exquisite powder snow this resort is so well-known for.

These unique courses that cut through glades are only open on days when the snow condition is excellent, so if you do happen to be visiting on such a day, you wouldn't want to miss out on these trails!

For exhilarating trails where you have to navigate through trees, try the ungroomed Bumps, Todomatsu, or Treerun. As you ski down these bumpy and uneven slopes, the tree stumps and fallen logs you'll find along the way adds to the thrill of the ride and leaves you wanting for more even after reaching the end.

It's a good thing you can keep trying them out for as many times as you want. Do take note that these are trails that require good techniques such as precise speed control in deep snow, so don't try to bite off more than you can chew if you're not ready for it yet!
Lift passes: Available online or at ticketing counters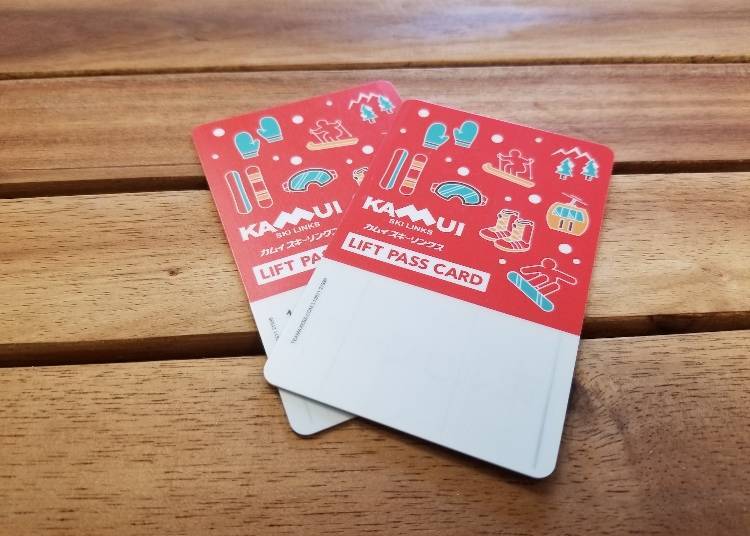 One-day adult lift passes are available at a very affordable 3,800 yen and can be conveniently purchased online or at ticketing counters at the ski resort itself.

1) Online webshop
Go to the following page (https://www.kamui-skilinks.com/webshop/), choose the lift pass you want, and add it to your shopping cart. A screen will pop up asking you how you will collect the pass. Select "Collect via QR code".

Complete the transaction by paying via credit card, and you'll be issued a QR code. When at the ski resort, scan this QR code at the automatic ticket dispensing machine to collect your purchased lift pass in the form of an IC card.

First-time buyers will also need to pay a deposit of 500 yen. Thereafter, you can simply recharge the same IC card via the online webshop whenever you need to get another pass.

Lift pass fees (non-exhaustive)
・1-day pass: Adults 3,800 yen; Seniors 3,200 yen; Elementary school students 1,800 yen
・4-hour pass: Adults 3,300 yen; Seniors 2,900 yen; Elementary school students 1,600 yen
・Oyako set 1-day pass (1 parent + 1 elementary school student): 4,800 yen
・Oyako set 1-day pass (1 parent + 1 junior high school student): 6,500 yen
・Single-trip lift pass: Adults 400 yen; Seniors 400 yen; Elementary school students 200 yen
・Single-trip gondola pass: Adults 1,000 yen; Seniors 1,000 yen; Elementary school students 400 yen

Of course, there are other lift passes you can choose from as well, which will be sold on the webshop when ski season starts. Availability will be announced in advance before the start of the season on the resort's official website or Facebook page, so check them diligently to avoid missing out!

There are season passes as well, which will be available for purchase from October (for the 2021/2022 seasons). As usual, check out the official website for more details.
2) Ticketing counters
Lift passes can also be bought from ticketing counters next to the Center Lodge near the entrance to the trails. You'll be issued an IC card which can be recharged for further usage from the second time onwards. A 500 yen deposit is required for the initial purchase. Once you have this IC card, you can simply go to the online shop to recharge it whenever necessary.

Note that while preschoolers can use the lifts for free, they'll still need an IC card to pass through the gates. A 500 yen deposit for the card is also required in this instance.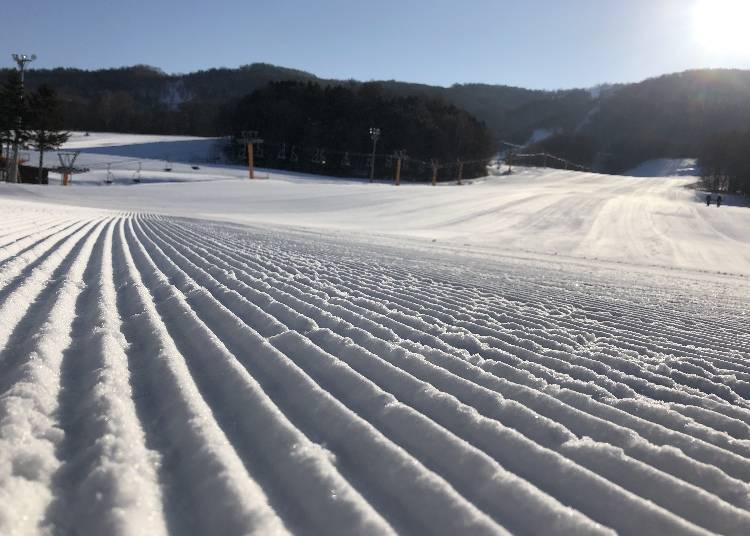 Combination lift passes that allow usage of ski lifts in both Kamui Ski Links and Hoshino Resorts Tomamu are available for those planning on visiting both places.

Joint season ticket (11/1/2021 to 2/28/2022)
・Age 19+ 80,000 yen; 18 years old and under (junior/senior high school students) 60,000 yen; elementary school students, 30,000 yen; age 60+ 60,000 yen

This lift ticket allows unlimited use of lifts and gondolas at Kamui Ski Links, Hoshino Resort Tomamu, Furano Ski Resort, and other member ski resorts within the validity period.
Address

Nakatomamu, Shimukappu-mura, Yuufutsu-gun, Hokkaido 079-2204, 079-2204
View Map

Nearest Station

Tomamu Station (Sekisho Line)
9 minutes by car


Phone Number

0167-38-2101
Address

Nakagoryo, Furano-shi, Hokkaido, 076-8511, 076-8511
View Map

Nearest Station

Furano Station (Nemuro Main Line / Furano Line)


Phone Number

0167-22-1111
Kamui Ski Links Trail Information
Total trails: 25
・Beginner runs

9
・Intermediate

8
・Advanced

8
Longest run

4km
Lifts: 6
・Pair lifts

5
・Gondola

1
Elevation
・Elevation

150m~751m
・Difference in elevation

601m
Rental packages: Save on time and hassle by renting gear on the spot!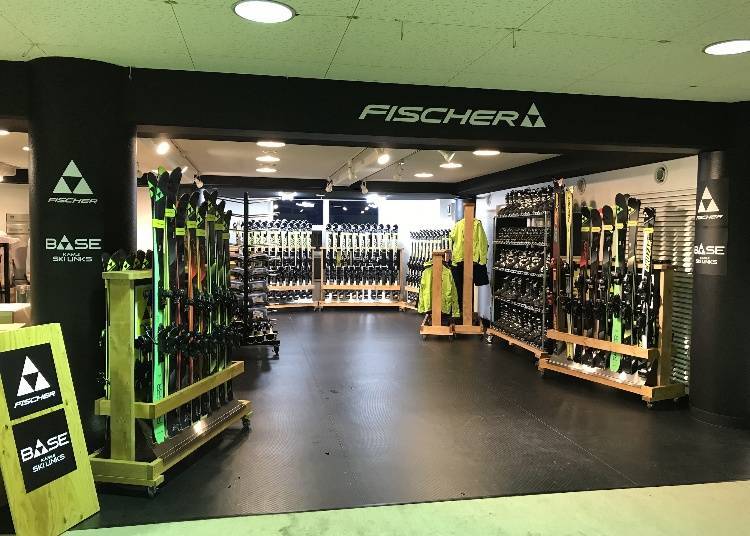 Over at the resort's rental shop, you'll find a wide range of skiing and snowboarding equipment, cold wear, thick gloves, hats, and other useful accessories for rent. Travelers especially love the "Just Bring Yourself Ski/Snowboard Rental Set".

This package allows you to rent either one set of ski gear or snowboarding gear, which includes upper and lower wear, gloves, goggles, and a hat.

If you're already dressed for the occasion, then take the vanilla "Ski/Snowboard Rental Set". There's also the "Accessories Set" that comes with gloves, goggles, and a hat. These three packages can be rented for just four hours if you like (or more, of course!), making them an ideal choice for anyone who only wants to ski or snowboard for a short while.

Rental fees (non-exhaustive)
・Just Bring Yourself Ski/Snowboard Rental Set
4 hours: Adults 7,500 yen; Children 4,500 yen
1 day: Adults 9,000 yen; Children 6,000 yen
2 days: Adults 17,000 yen; Children 11,000 yen

・Ski/Snowboard Rental Set
4 hours: Adults 4,500 yen; Children 3,500 yen
1 day: Adults 6,000 yen; Children 4,000 yen
2 days: Adults 11,000 yen; Children 7,000 yen
Ski Schools: Courses for children and adults alike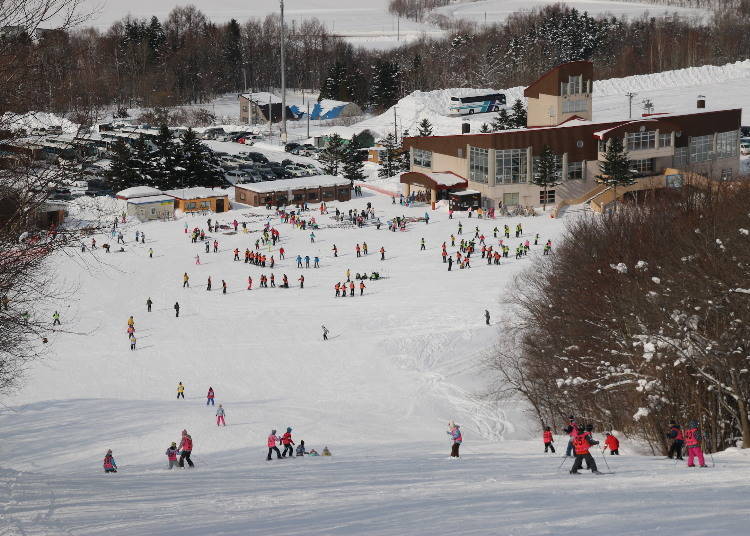 Kamui Ski Links hosts permanent ski schools that are officially recognized by the Ski Association of Japan, Japan Snowboarding Association, and Professional Ski Instructors Association of Japan. What better place to attend a proper ski school than right at a ski resort and with certified professionals, right?

JSBA Accredited Kamui Snowboard School (90-120 minutes, 6,500 yen)
Officially recognized by the Japan Snowboarding Association, this particular school also offers ski lessons despite having "snowboard" in its name. Lessons are available in English, so there are plenty of foreigners in addition to local learners in this school! If you're sure you want to try this school out, make a reservation before heading to the ski resort. On weekends and public holidays during the snow season, including the end of year and start of year holidays, all are welcome to attend even if they may not have a reservation.

Yūichirō Miura & Snow Dolphin Ski School Kamui (Group lessons: 4,000 yen for half-day of 1.5 hours, 6,000 yen for full-day of 3 hours)
First-timers, beginners, intermediate, or advanced learners are all accepted into this school, which will then tailor the course content to the student's level. For example, first-timers will be taught essential ski control, whereas advanced skiers will take their lessons on actual ski trails and be taught how to thoroughly enjoy the silky snow found in Kamui Ski Links by enthusiastic staff teachers who are eager to make sure everyone has a good time. Foreigners are welcome, and English lessons are also available in this school.

Besides those already mentioned, there are also other schools like the SAJ Accredited Ski School and SIA Accredited Ski School, and more details about the courses they offer can be found on the official website, which you can also use to make reservations to attend one or more of the courses available.
Snow activities: Have your fill of powder snow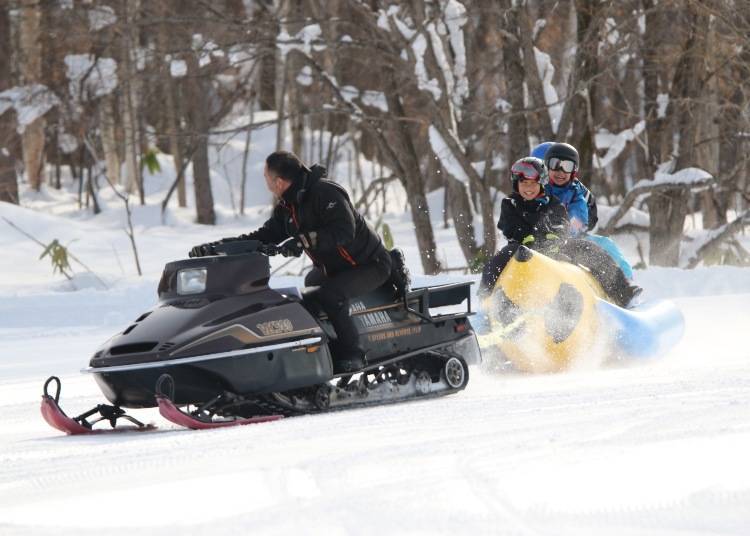 There are plenty of other things to do on the snow other than skiing here, so why not try them all out? People of all ages love the exciting snow banana board activity (Adults 1,000 yen; Children 500 yen), and we're confident you will too. For the 2019/2020 season, the resort has added a new activity: Snow rafting (Adults 1,000 yen; Children 500 yen)!

Suppose you're not really into winter sports or happen to be caring for young children. In that case, these activities are great ways to enjoy the resort's beautiful powder snow without getting your feet too wet for your comfort.
Dining: Feast on famous ramen or relax in a trendy cafe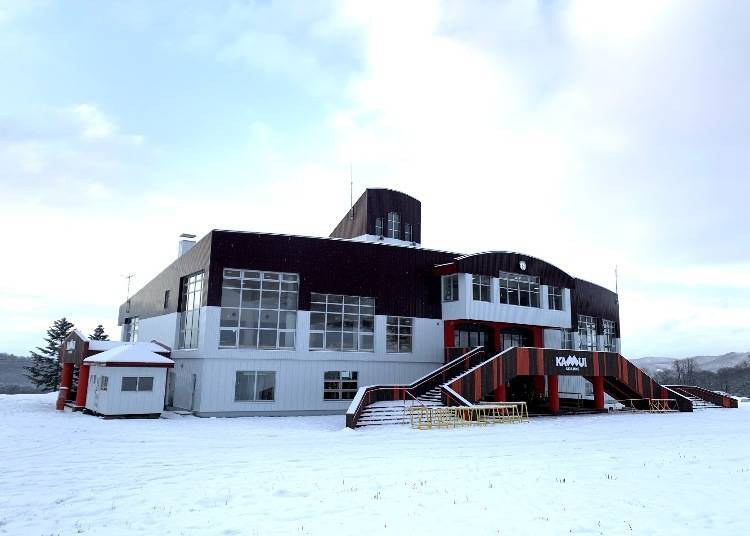 After you're done with your skiing for the day, you'll probably need some food to recharge your exhausted body! Thankfully, the ski resort has restaurants located both at the peak and on the foot of its mountain for everyone's convenience.

Center Lodge 2F Restaurant
On the second floor of Center Lodge is the main restaurant here, a wide and spacious dining area with more than 500 seats available. Items on the menu include cutlet curry rice and cutlet rice, staple meals offered at every Japanese ski resort, along with a few unique dishes like the "Asahikawa Potato and Pork Stamina Rice Bowl (900 yen)", which uses locally-sourced fresh ingredients.

We'd also like to direct your attention to the warm and toasty "Gukbap (1,000 yen)", a Korean dish that's basically soup with rice. Food is only prepared once an order is received, so that customers will always be served hot food to warm up their bodies after all that time out in the snow!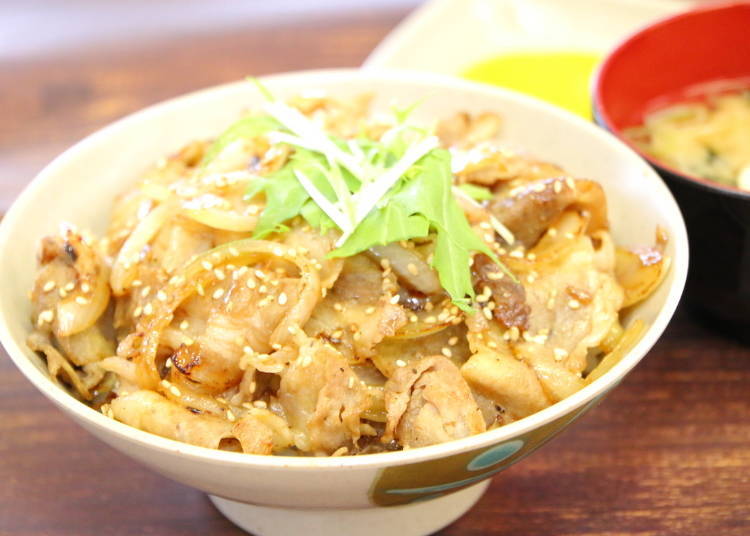 "Asahikawa Potato and Pork Stamina Rice Bowl"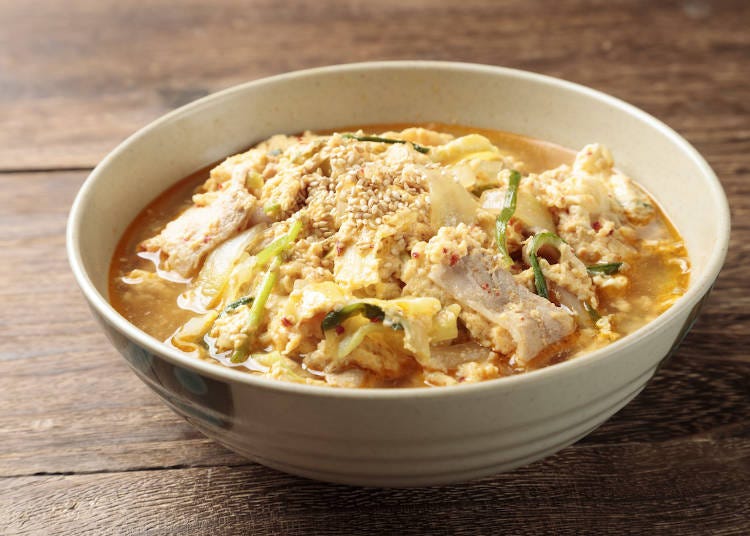 Piping hot and spicy "Gukbap"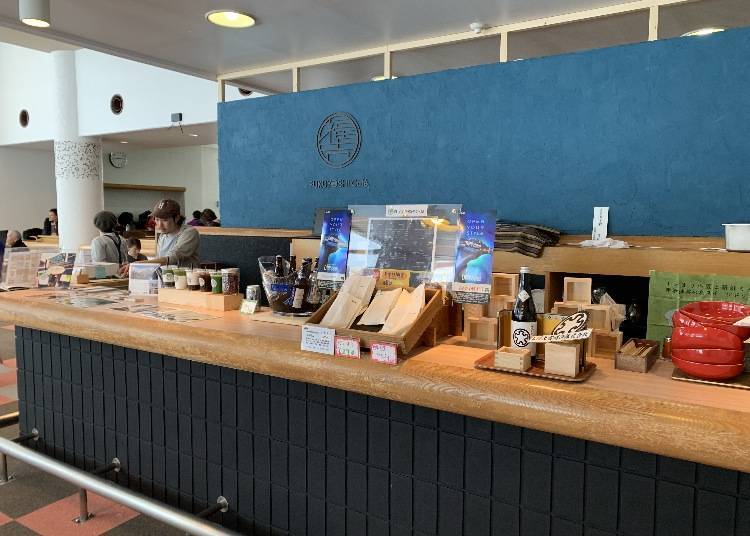 Also on the second floor of the Center Lodge is the popular Japanese-style Fukuyoshi Cafe - only open during the winter season! "Tokiwayaki (pastry with red bean stuffing)" and "Fukuyoshi Latte" are a couple of items from its special menu, only available here!

Any time the children in your travel group need a little snack, or even during times when the adults are craving a sweet treat, make a quick stop at Fukuyoshi cafe for their tasty dessert and drinks!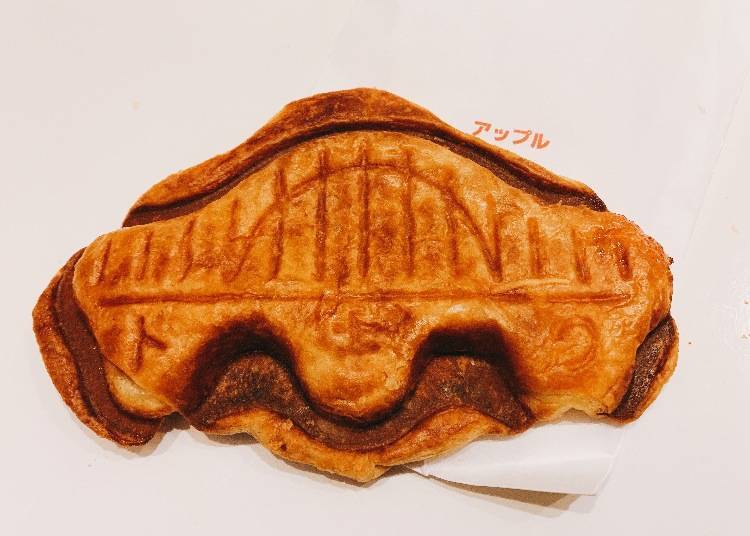 Asahikawa specialty: "Tokiwayaki"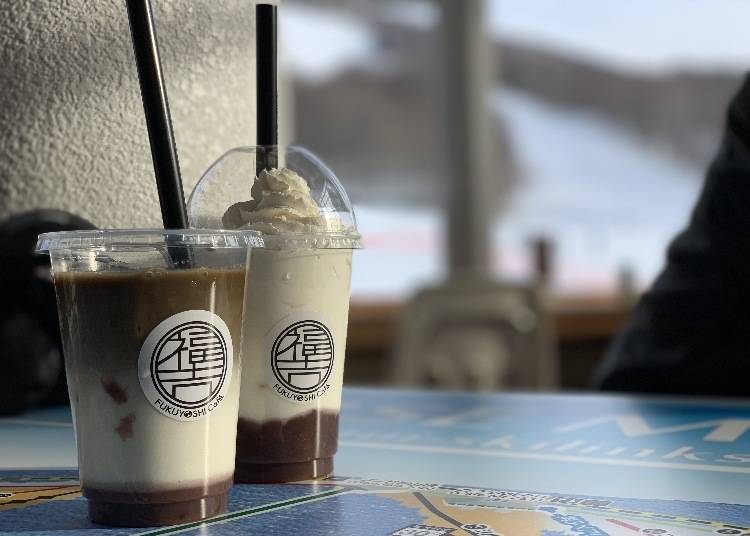 Even the latte cup is so fancy! Try taking pictures of them against the backdrop of the silver world outside
Mountaintop restaurant Trattoria Pizzeria Monte 751
Right next to the Kamui Gondola's mountaintop station is Trattoria Pizzeria Monte 751.

There's a fireplace right in the shop, which adds to the restaurant's calm and cozy atmosphere. This is a fine place to enjoy some authentic Italian pizza and pasta while gazing out of the windows, at a panoramic view of Ishikari Plains from a height of 751 meters (about 2,500 feet) above sea level!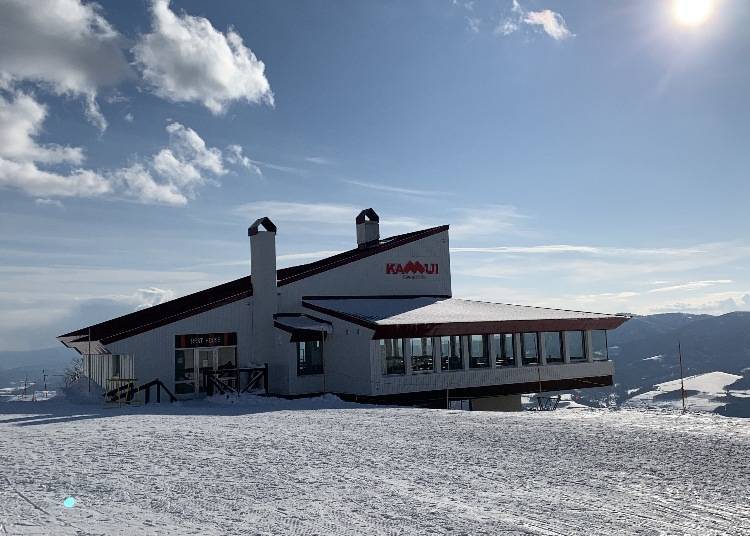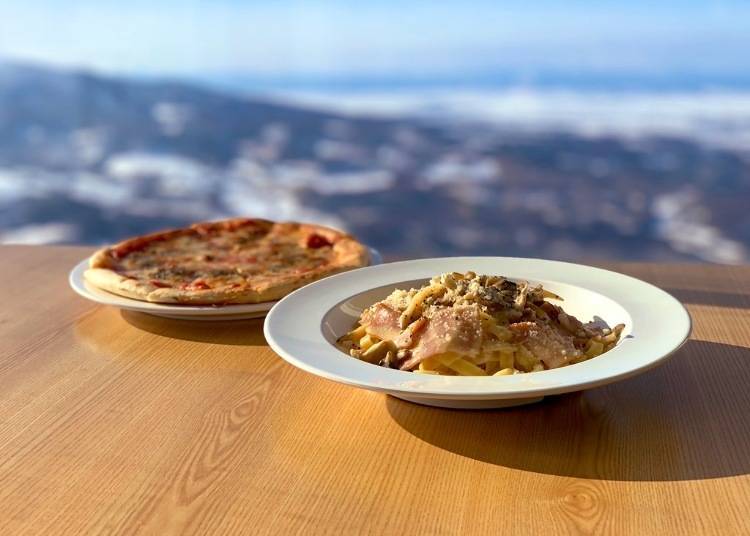 Ramen Noodle Bar NOBu
Since you're in Asahikawa, you don't want to miss one of its most well-known food specialties: Asahikawa Ramen! The good news is, you can enjoy this dish right at Ramen Noodle Bar NOBu, another eatery that can be found inside the Center Lodge's Ramen House section. They serve bona fide, traditional Asahikawa Ramen here, and few things beat relishing a bowl of piping hot ramen after being exposed to the cold for hours on end on the ski field!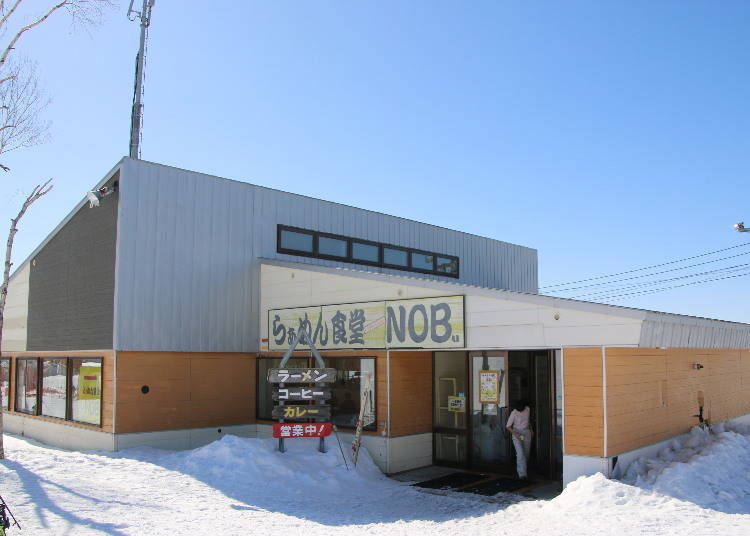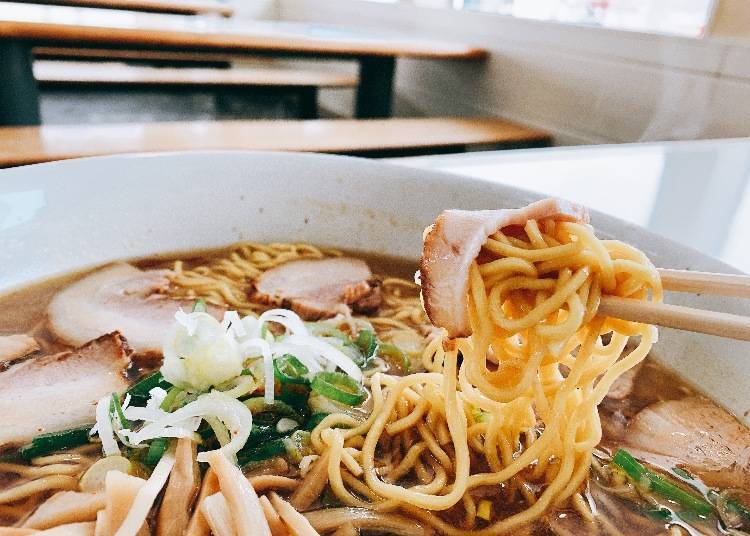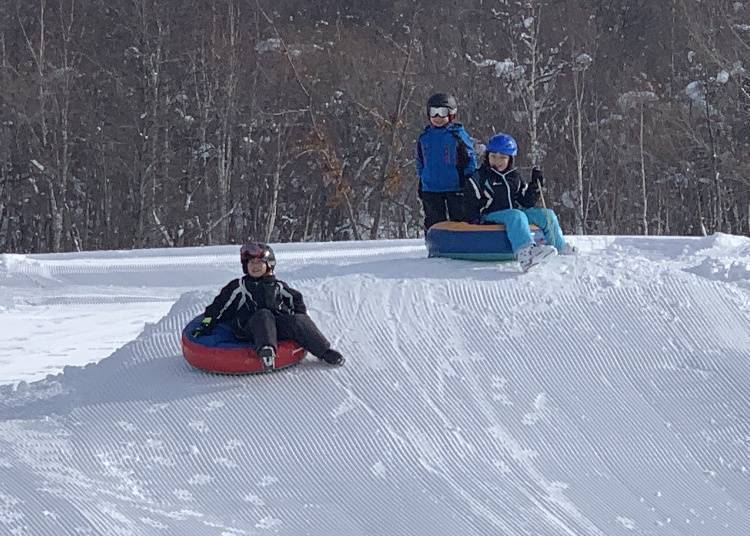 Foreign language support: English and Chinese-speaking staff are always on hand to help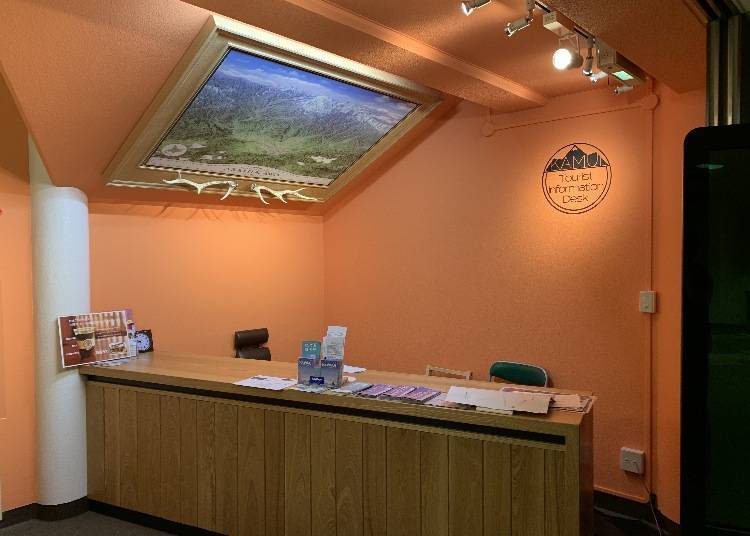 Got a burning question about the resort and its surroundings? Drop by the Kamui Tourist Information counter in the Center Lodge for all the answers you need, from information about the ski resort to popular sightseeing spots in Asahikawa City.

English and Chinese-speaking staff are always on hand to entertain your inquiries, so don't hesitate to let them know what you need.
Discount deals: Information on combination lift passes and upcoming trip packages
Hotels in Asahikawa City will also be selling affordable accommodation plans for a limited time to enjoy the high season at Kamui Ski Links. Travel agencies are also planning to sell ski products and offer rental plans.

If you've come all the way to Asahikawa, you'll want to make sure you take in the sights around the city, such as Asahiyama Zoo and Daisetsuzan. Take advantage of these special tickets and plans to make the most of your trip.

Selected accommodation facilities that offer Kamui Ski Links plans
Disinfection, sanitization, and cleaning of facilities and equipment, etc. / Hand sanitizer available / Disinfection after each guest / Ventilation measures implemented / Installation of partitions / Staff wear masks, wash hands, sanitize, gargle, and monitor temperatures / Limits on number of people entering the facility; increased space between seats / Admission restricted; reservation system in place / Customers who feel unwell are declined entry / Guests asked to wear masks and undergo a temperature check.

Flexible measures are also in place depending on the number of customers in a group, the number of people on gondolas will be limited to prevent crowded conditions.
Address

112, Kamuichonishioka, Asahikawa-shi, Hokkaido, 074-1181
View Map

Nearest Station

Osamunai Station (Hakodate Main Line)


Phone Number

0166-72-2311
Open: Scheduled to open around mid-December
Closed: Open daily

Text by: Minna no Kotobasha
English translation by: Huimin Pan
*All information in this article is accurate as of December 2021
▼Early-bird lift tickets are recommended for winter skiing in Japan▼
*This information is from the time of this article's publication.
*Prices and options mentioned are subject to change.
*Unless stated otherwise, all prices include tax.
Limited time offer: 10% discount coupons available now!