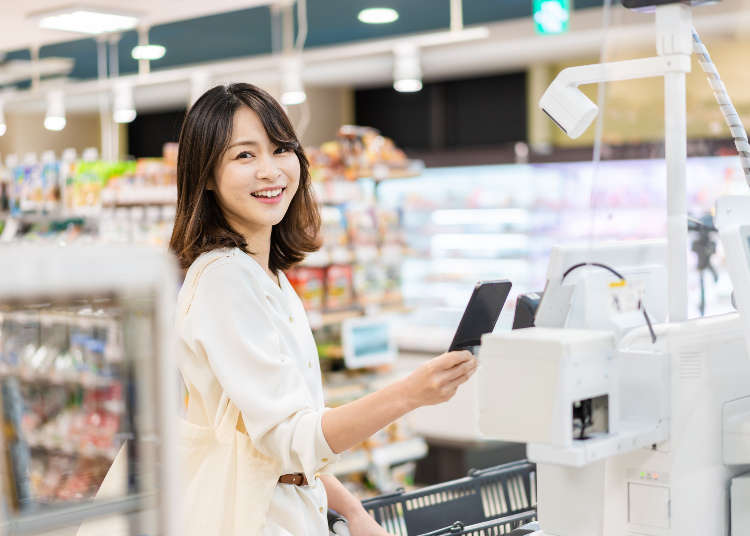 You may agree that figuring out how much cash to bring on an overseas trip is one of the more challenging tasks you could face when planning for one. And if you've ever had to hold up a queue while sheepishly digging for coins to make payment, imagine trying to do that with unfamiliar foreign currency!

Thankfully, the modern world has many mobile payment solutions that will spare you from many headaches and embarrassment while lightening your load simultaneously. These mobile payment systems are also starting to become popular in Japan, some of which you may already be using in your home country.

Take a look at a few of them featured here and see if you can skip on the physical currency on your next trip!

Main image: PIXTA
Japan's ever-evolving payment options
Image: PIXTA
Up till quite recently, most shops in Japan only accepted credit cards, transit IC cards, or cash for payment. The penetration rate for e-wallets was far lower than Japan's surrounding countries of South Korea and China.

Nevertheless, according to Japan's Ministry of Economy, Trade, and Industry (METI), electronic payments, which include credit card payments, have been steadily gaining popularity.

Data taken from 2021 shows that 32.5% of Japanese residents are no longer relying on cash to make payments. Payment via QR code has grown by leaps and bounds compared to the year 2018 as well. The METI is currently working towards increasing domestic electronic payment usage to 80%.
Mobile payment systems supported in Japan
Plenty of different mobile payment systems are supported in Japan, but the technology is more or less the same, with differences only in the company handling the payment or the method of payment. Here are some of the more common options currently available in Japan.
Credit cards: Globally recognized and accepted
Image: PIXTA
VISA / Mastercard / JCB / Other credit card companies
Most major stores in Japan and, in fact, around the world, accept credit cards, and they are convenient financial tools to have when traveling - sometimes even more so than cold, hard cash. The prudent thing is to always have one handy during your trip, both for convenience and emergencies.
Prepaid Transit IC Cards: All-in-one transport and payment solution
Image: PIXTA
Suica
This is a prepaid IC card sold by JR East and the only transit card with an accompanying app that allows you to make payments for trains, buses, and shopping without a physical card. You can also add the card to Apple Pay to enjoy even more convenience.

PASMO
A transit card that was introduced by PASMO Co., Ltd in early 2007, PASMO works like Suica in that it is a prepaid IC card that can be used for public transportation and shopping. You can also set the card to top up its stored value automatically by linking a credit card to it. This card is basically interchangeable with Suica.

ICOCA
This card is sold by JR West and is also a prepaid card like the abovementioned Suica and PASMO cards. Interestingly, the card has a points system that you can sign up for. Once you sign up, if you take the train or buy stuff within a stipulated time frame, you'll eventually start earning points that can be converted into stored value. This is a must-have card for travelers going to the Kansai area for sure!

Of course, there are also other region-specific transit cards besides the ones mentioned here, the more well-known of which would be cards serving the Hokkaido, Tohoku, and Kyushu regions. It certainly wouldn't hurt to do some research about these regional cards if you'll be in the area to see which one would best fit into your plans.
E-money in Japan: Earn reward points while shopping
Image: PIXTA
WAON
Issued by the AEON Group, this card is unsurprisingly well-suited for use in any of AEON Group's multiple commercial facilities, as you'll get more WAON reward points or better discounts there. That said, the card is also accepted in a number of other places like FamilyMart and McDonald's.

nanaco
This card by Seven & i Holdings Co., Ltd. comes with a reward points system as well as QUICPay, a contactless payment solution. You can store up to 50,000 yen on this card at any one time, one of the highest among e-money IC cards of its ilk. Any Yahoo! points you may have earned on the shopping platform can also be converted into nanaco points.
Credit card e-money service: Fastest way to pay
iD
This is an all-in-one e-money service that can be used to settle payments in shops where credit cards, debit cards, prepaid cards, or merpay QR codes are accepted. Simply hold your iD-enabled card or device (iPhone and Android supported) near the contactless payment terminal and you're good to go!
QR code payment: Latest trend in Japan
Image: PIXTA
PayPay
This is currently the largest QR code payment service provider in Japan, which is widely used by many shops and has a huge customer base. Add stored value to your PayPay account using a credit card, bank account, cash, or points card for use in shops that support the system. PayPay is also known for its generous cashback offers and discounts, allowing you to maximize the value of your shopping dollar.

Rakuten Pay
A payment service offered by Rakuten Payment Inc. that supports QR code or online payments. You may choose to add stored value through the Rakuten card, Rakuten Bank, or proceeds from Rakuma (Rakuten's used goods marketplace). If you're on Android, you can also charge your Suica card using any Rakuten points you've accumulated.

LINE Pay
Another QR code payment service, this time provided by LINE Corporation (yes, the owner of that instant messaging app!). All LINE users can apply for the service and immediately start using it. Besides using LINE Pay for your shopping, you can also send and receive money among your LINE friends for enhanced convenience. Especially useful for going Dutch on restaurant bills for large groups of people!

merpay
This QR code payment service is provided by Mercari, an online used goods marketplace. On top of Mercari's own platform, merpay can also be used in shops that support the iD payment system.

Needless to say, there are plenty of other mobile payment services not on this abbreviated list. Be sure also to check if your favorite merchants in Japan have something available that may come with more benefits you can make fuller use of!
Tourist-friendly mobile payment systems in Japan
Image: PIXTA
Admittedly, some mobile payments may require you to link a local bank account before providing service. Does that mean tourists visiting Japan are completely shut out of this incredibly convenient payment option?

By no means! Out of the myriad of mobile payment options available in Japan, many are accessible by foreigners as well, such as the transit IC cards, all of which come highly recommended by us! As mentioned, you can use the stored value in these cards to either take trains and buses or pay for your goods and services at convenience stores and a number of other shops.

Using these prepaid cards frees you from the hassle of fumbling with unfamiliar paper notes and coins, counting out the exact amount needed, or receiving change when your hands are already full of shopping bags. Who would say no to something that makes the shopping experience so much more pleasant?

Whether you get a Suica, PASMO, or Kansai's ICOCA card, they can generally be used throughout Japan, except for certain train stations and shops. There's no need to rush to turn in your card for a refund just before you end your trip, too, since you can hold on to the cards for your next trip (Suica, PASMO, and ICOCA transit cards only expire after 10 years of disuse) or simply to keep as a special souvenir.
International mobile payments accepted in Japan
Image: PIXTA
To attract more tourists and make them feel welcome, Japan is starting to accept mobile payment services that are widely used in other lands, on top of the locally available ones introduced above. What are some of these options?

Since the majority of tourists in Japan come from neighboring China, you'll find that many shops now accept payment via WeChat Pay and Alipay, two of China's more well-known payment services.

Those visiting from Korea can try using Liiv and PAYCO, services offered by reputable South Korean banks that are likewise supported in various shops. Visitors from nearby Taiwan can also look forward to using the familiar JKOPAY that made its Japan debut in 2020.

Where can you use JKOPAY and most of the other foreign-based payment options mentioned? Plenty of tourist-friendly places, such as department stores, tax-free stores, electronics stores, cosmetic stores, popular franchise stores, and more!

Shopping becomes a breeze because all you need is a mobile phone with the corresponding e-wallet app to enjoy Japan fully, even if you may not speak much Japanese. In fact, you may want to check for mold growing on your wallet by the end of your trip at this rate!
Simplify your overseas travel
With the advent of convenient contactless cards, the days of puzzling over how much foreign currency to exchange or what to do if you should misplace the money somehow are more or less over.

One card (or app!) is all you need to tap your way through the trip. You'll know exactly how much to pay and can do so confidently even when dealing with staff who do not speak your language and vice versa.

This payment option also frees you from constantly worrying if you may have to bring a lot of unspent cash back home after the trip. Anything that lightens your physical and mental load on holiday is worth definitely considering, so pick out some cashless options to look into today and let the sheer convenience of cashless payments speak for itself on your next trip!

Translated by: Huimin Pan
*This information is from the time of this article's publication.
*Prices and options mentioned are subject to change.
*Unless stated otherwise, all prices include tax.