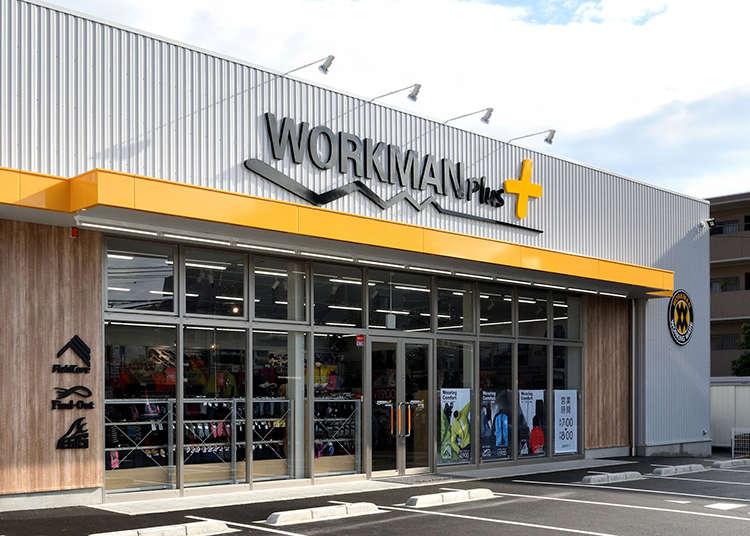 Workman is known in Japan for being a chain store specializing in working wear that originally catered to industrial workers. Recently, Workman has gone beyond job site gear to offer a range of stylish yet functional clothing.

Its sub-brands, Workman Plus and Workman Girl, have been gaining popularity for offering fashionable products that double as high-performance outdoor items! These brands are ones that we want foreigners living both inside and outside of Japan to know about.

With a stream of fashionable and useful items being released this spring, we've interviewed Mr. Suzuki from Workman's PR department for recommendations! Here we will introduce the best products for men, women, and kids.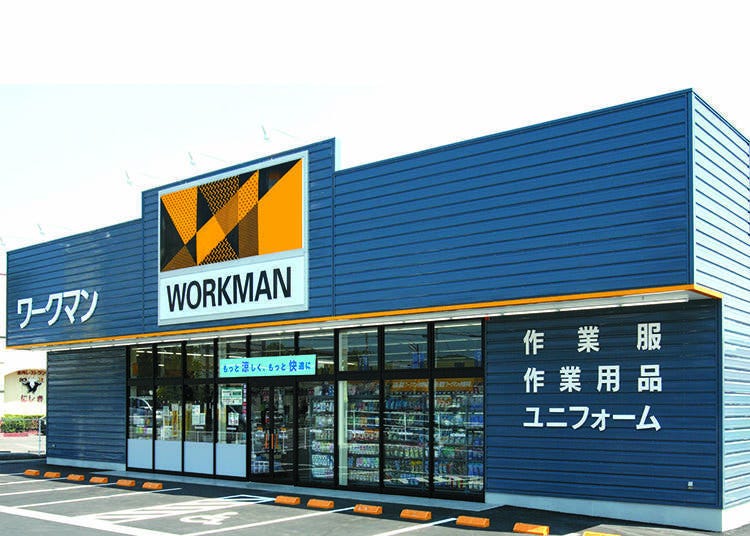 In Japan, Workman is known as a specialty shop for workwear, winterwear, safety shoes, boots, and raincoats. It has a wide selection of inexpensive items for professionals focusing on practicability and functionality.

However, it has also been recently developing a shop specializing in products targeted towards the general public.

Workman Plus is a specialty shop for outdoor clothing, sportswear, and rainwear. It has many outstanding items that are waterproof and resistant to cold weather.

Professionals acknowledge these low-cost, high-performance products. Because of this and the great design quality, it has been gaining a passionate fan base of nature lovers.
What Kind of Brands Are Workman Plus and Workman Girl?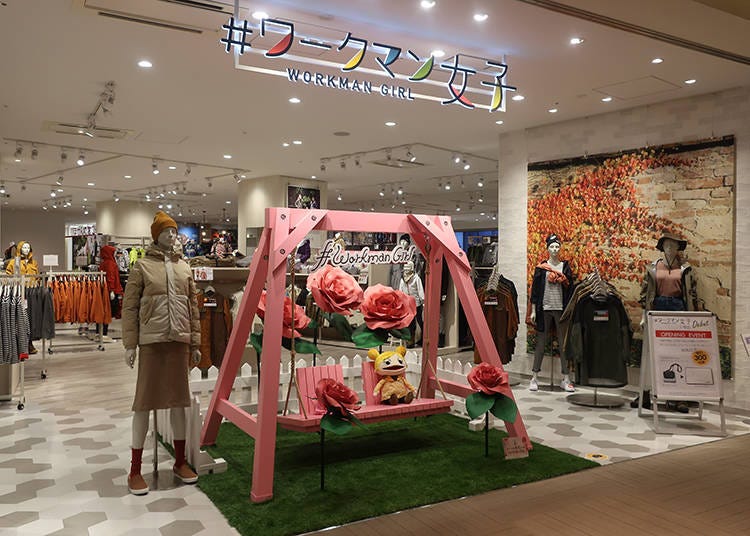 As can be inferred from the name, Workman Girl is a brand targeting female audiences. It has a solid selection of high-performance items that are also great for daily use, such as one-piece articles of clothing and joggers.

On the opening day of Workman Girl in October 2020 at Yokohama's shopping mall, Colette Mare, there was a three-hour line to get in. This fact alone tells you all you need to know about the popularity of this brand. There are 906 shops (as of March 2021) throughout the country, so please stop by the next time you're in Japan.
Recommendations from Workman's PR Team! 2021 Spring and Summer Fashion Items for the Outdoors and for Going Out
Now we will have Mr. Suzuki from Workman's PR team introduce the best items for spring and summer 2021.

He started by saying, "The spring and summer collection has items that are low in cost, high in performance. We recommend items that you can enjoy and be all the more appreciative of considering the unstable situation that Covid-19 has brought."
2021 Spring and Summer Items for Women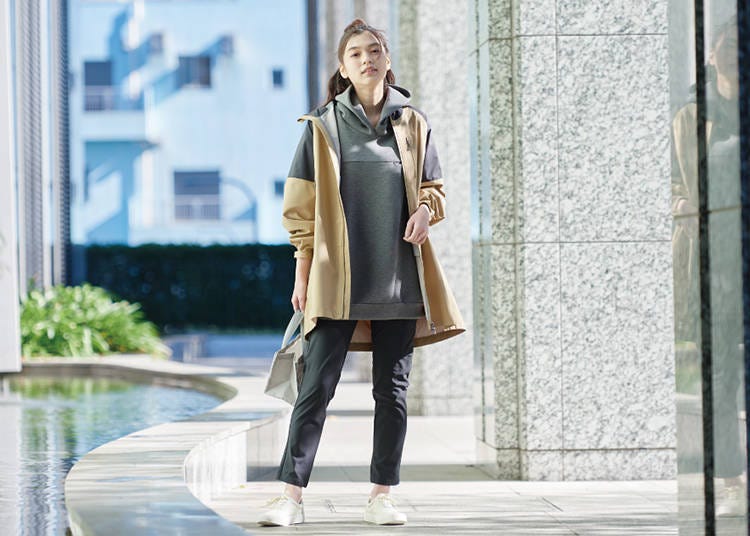 WLR001A Highly Water-Repellent Long Hooded Rain Jacket for Women (2,900 yen)
"Our first recommendation is the highly water-repellent long hooded rain jacket for women. With its stylish silhouette and color, it's an item for both outdoor and everyday use. Plus, the two-way zipper enables this jacket to be opened up from the bottom. This is great because you have many options when it comes to how you want to wear it."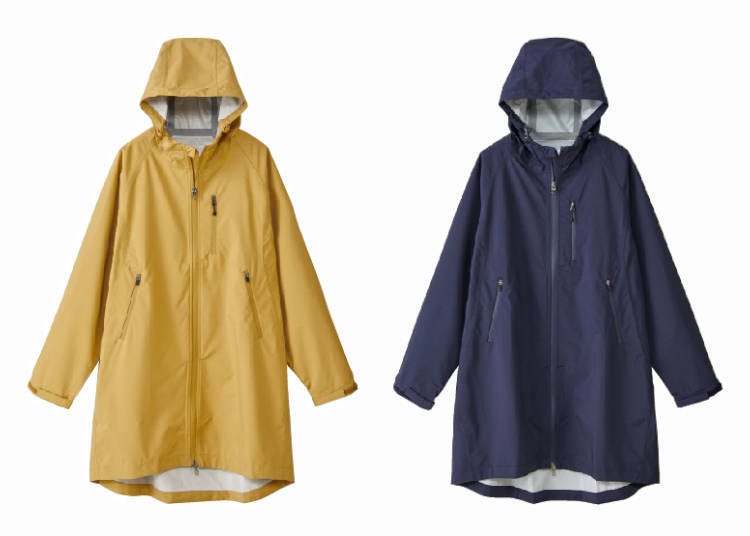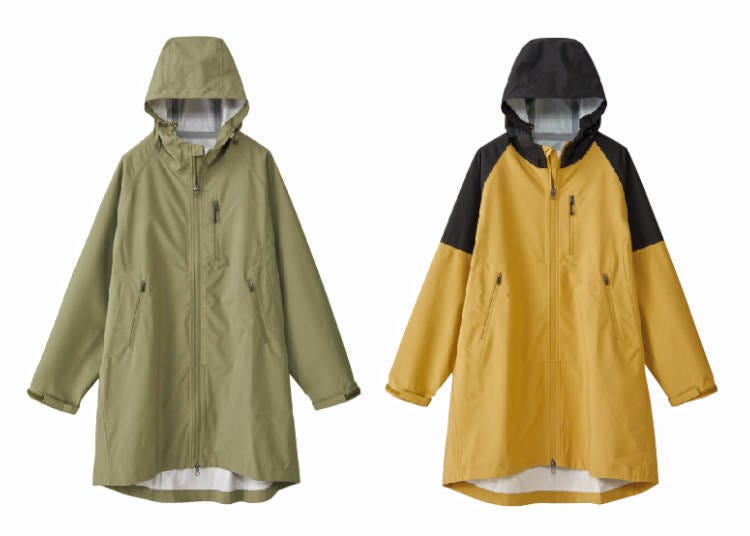 It comes in the four colors of beige, navy, khaki, and beige×charcoal. All of these colors are easy to pair with clothes you already have at home.

"In addition, this jacket is very functional. Possessing highly water-resistant and water repellent properties, it's able to handle sudden rain. The jacket is also windproof so that you can wear it without any worries, even on a windy day."

It's great to know that you'll be prepared during the rainy season and for sudden summer showers! With its high-performance and very reasonable price of 2,900 yen, it wouldn't hurt to get this coat in two colors.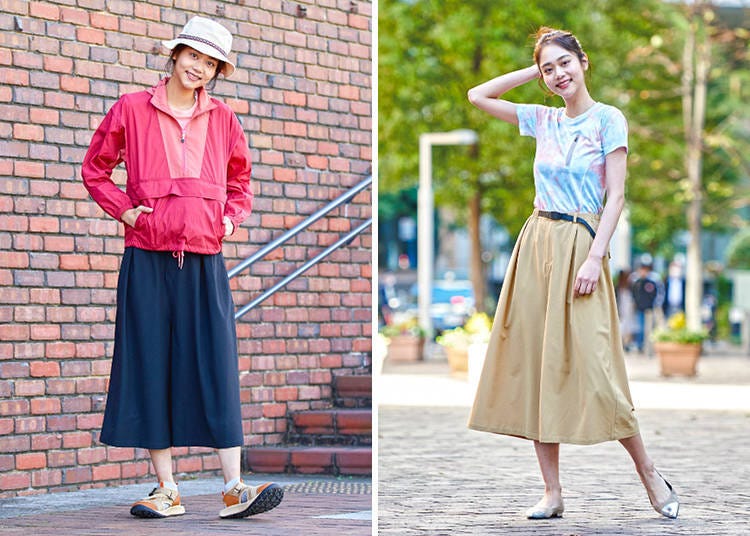 LN123 UV Protective Gaucho Pants for Women (1,900 yen)
A recommended item for women's bottoms is the comfortable, UV protective gaucho pants.

"Because of its beautiful draping, these pants leave a very feminine impression making it suitable to wear for many occasions. With the stretchy material allowing you to move around easily, it can be worn outdoors or even at home. Also, it also has water-repellent properties so that you can stay dry even when it rains a little. It is classified as one-mile wear, a Japanese term for basic clothing items that are stylish enough to run errands in but also can be used as loungewear. You can wear these pants everywhere, including the outdoors, when you go out to the city, or even when going to work or school!"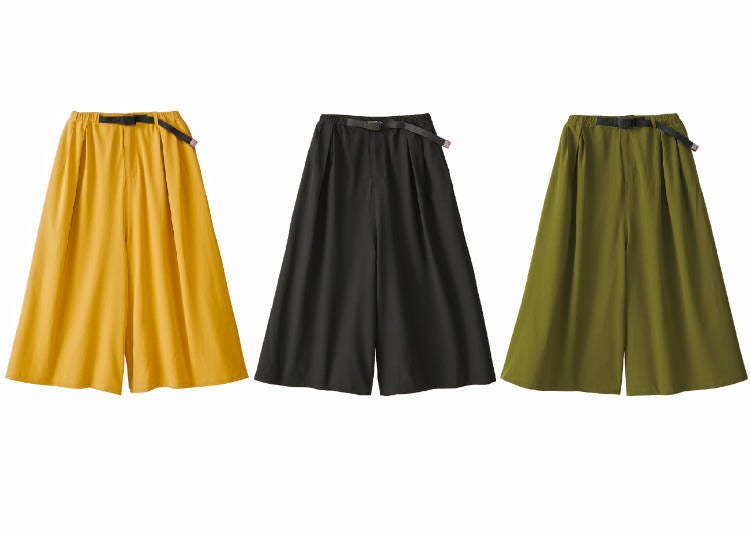 It comes in the three colors of beige, black, and green (green is currently sold out on the online store). With gaucho pants being a standard spring and summer item, we recommend choosing this brand that offers stretchy and water-repellent material.
2021 Spring and Summer Items for Men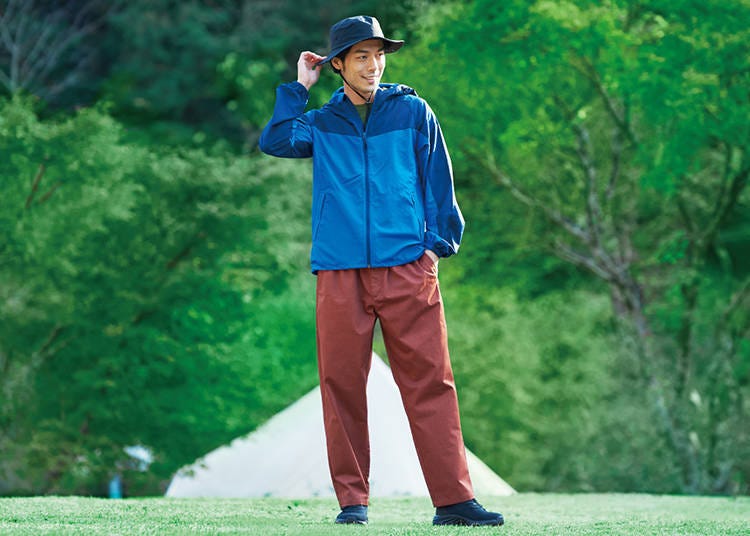 S001D Highly Water-Repellent Shell Jacket (1,900 yen)
"Our recommendation for men is the highly water-repellent shell jacket. It is a lightweight jacket that cleans and repels water easily! Additionally, the ventilation feature in the pockets reduces any stuffiness. What's more, it also comes with a storage bag so that it can be easily transported. Please use this item in the outdoors, when going out into the city, or when commuting to work or school!"

This is a super lightweight jacket with a size large, weighing only 220 grams. Furthermore, it can be easily carried in your bag.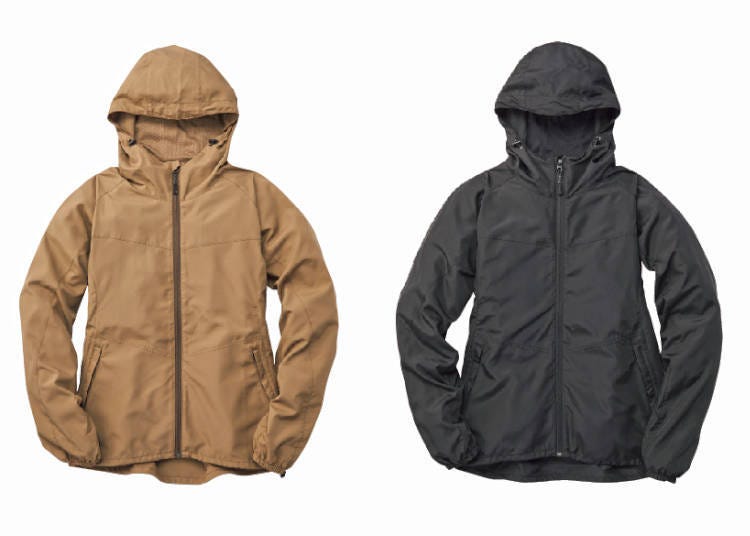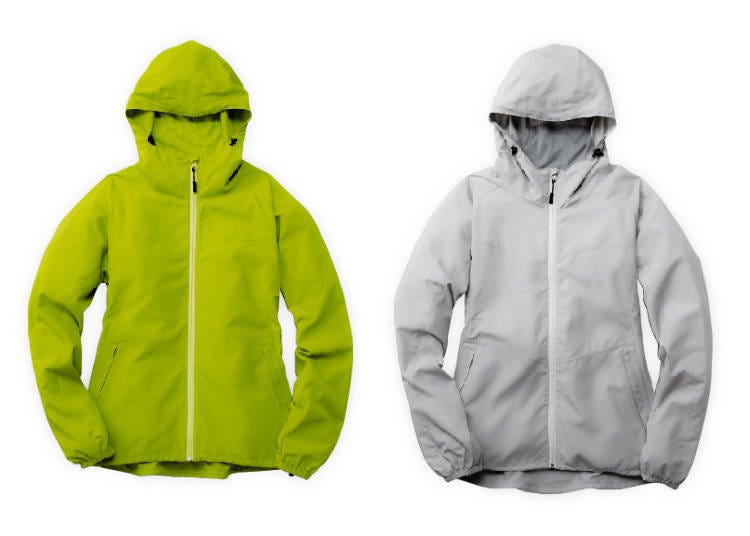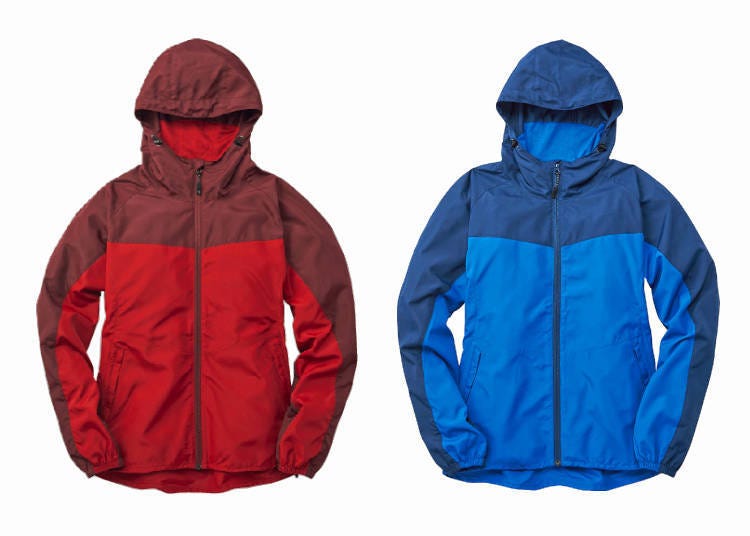 "The jacket is also available for women (1,900 yen) and kids (980 yen), therefore allowing you to use them as matching outfits for the whole family. So please enjoy matching as a pair or a couple as well!"

Men have the option to choose from six colors. Women and kids have a different selection, so it's nice to match by choosing the color you like best.
2021 Spring and Summer Items for Kids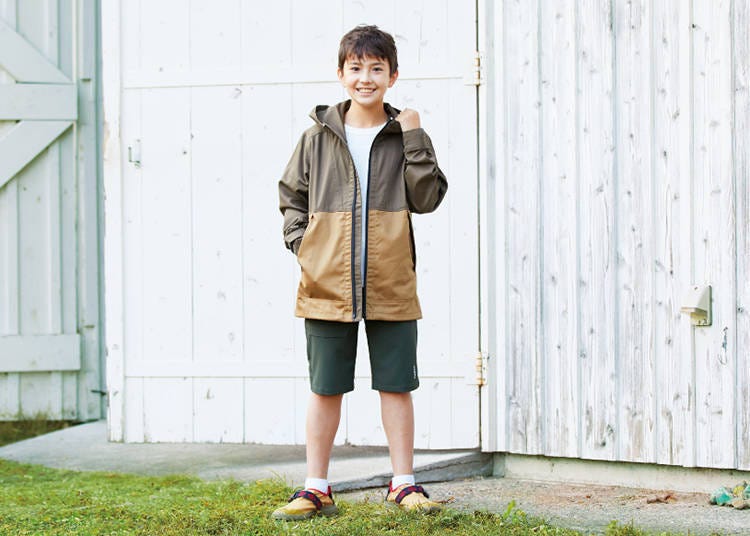 S022J Full Zip Cotton Hoodie for Kids (1,900 yen)
"A recommendation for children is the full zip cotton hoodie for kids. As a consequence of their active lifestyle, kids are quick to dirty, tear, and out-grow their clothes. This is understandably troubling for many parents, but our hoodie will take all of these worries away. It's a great value item made from 100% durable cotton that has multiple functions. No matter how many times you wash it, this hoodie stays comfortable because of the strong material used."

Great for the outdoors and when going out, it's also perfect for school.

"Whether you feel hot or cold, the zipper makes it easy to take the hoodie off or put it on. It also has a hood that you can use if it rains. The pockets on both sides have zippers so that you can rest at ease when your child wants to store small trinkets they find on their outdoor adventures."

It's sure to become a favorite due to the design being inspired by a curious child's mind. Suitable for many occasions, it's a hoodie that even adults want to buy.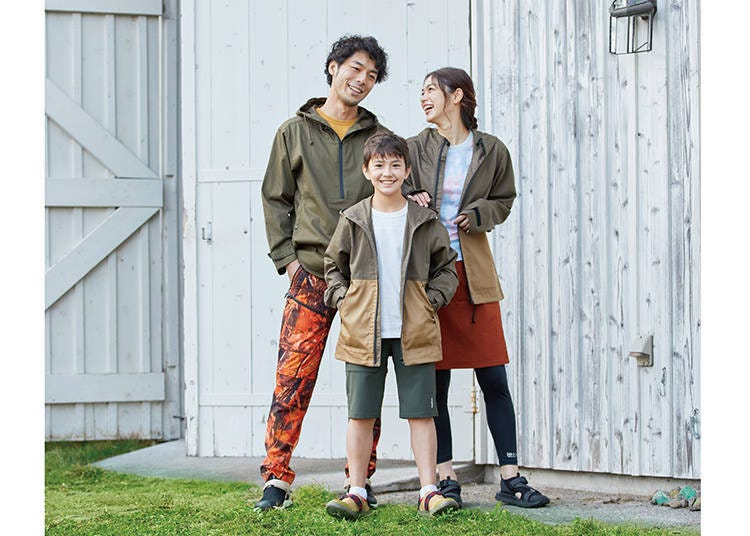 "Have no fear! There is also a size available for adults (2,500 yen), enabling you to match with your child. Because it comes in basic colors, the hoodie can be easily worn by both men and women."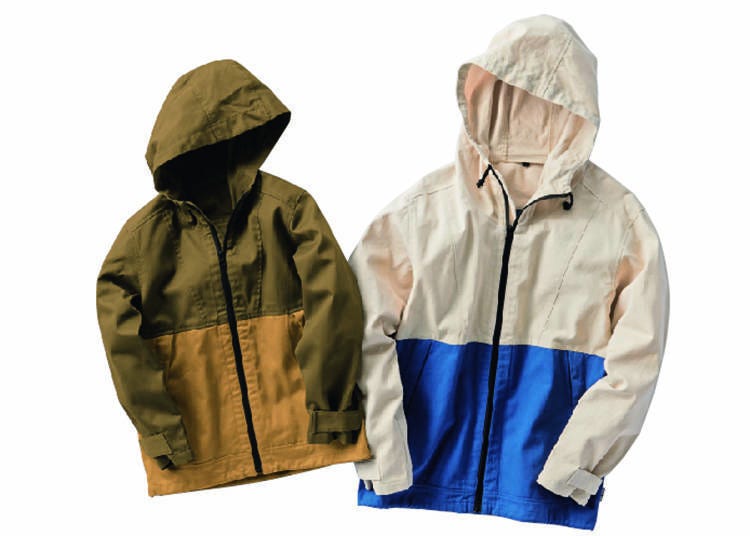 It comes in the two colors of coyote brown-brown, and beige-blue. As a family, it's hard to choose whether to get them all in the same color or to buy the two different kinds.
2021 Spring and Summer Footwear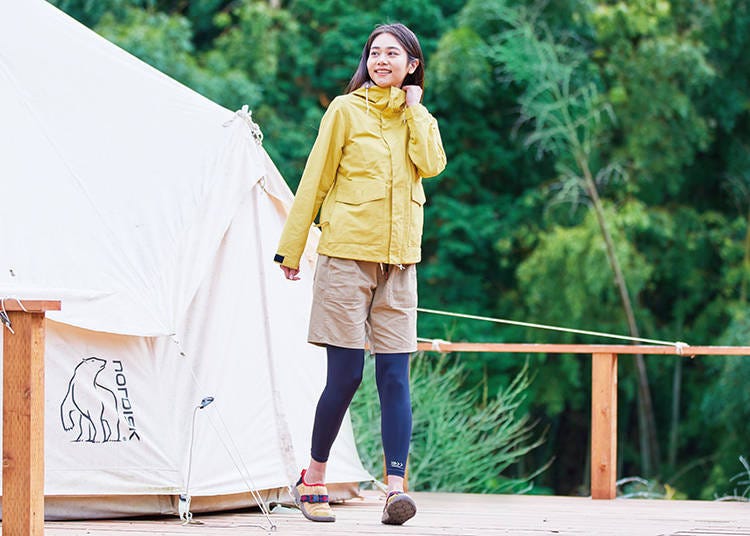 FC010 LIGHT Slip-ons (1,500 yen)
The last item we will be introducing is slip-ons. These shoes can be conveniently worn outdoors, when going out, or even as slippers around the house.

"These convenient shoes can also be worn like slippers by stepping on the heel. It also comes with a storage bag. This makes it easy for you to carry it in your backpack! Even if there's sudden rain, there's no need to worry due to the shoe having water-repellent properties."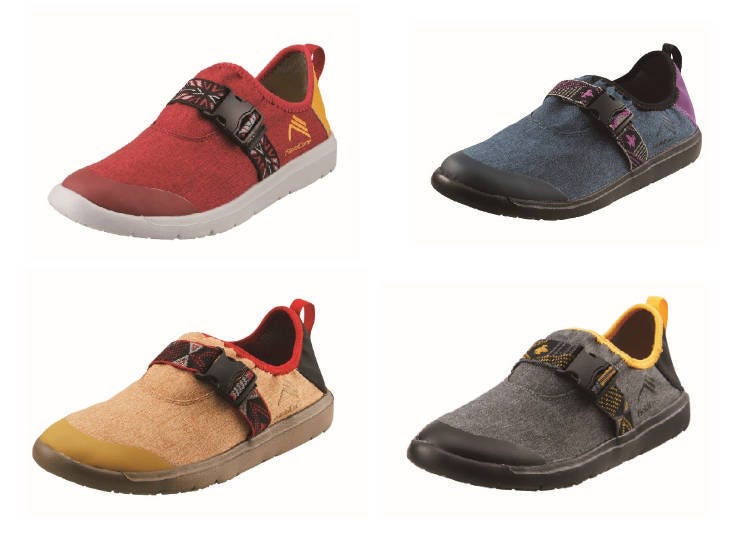 It comes in the four colors of dark red, navy, beige, and black. The sizes range from S to 3L.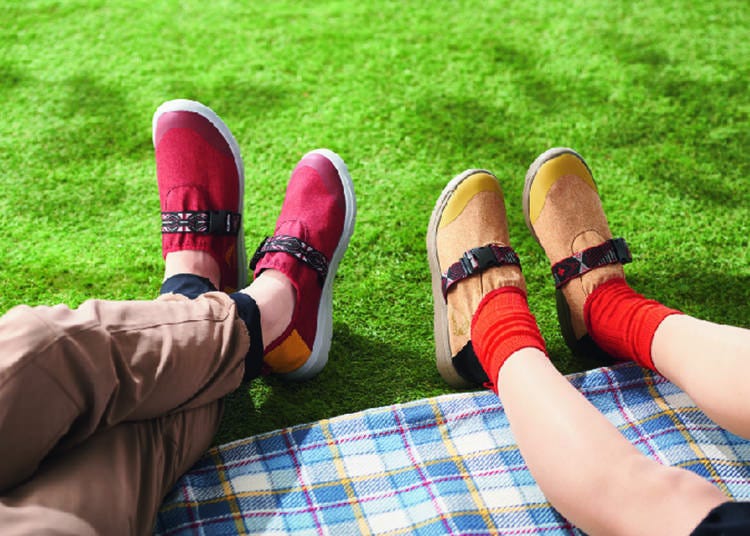 Mr. Suzuki added, "You can match as a couple or as a family due to there being many sizes! With its unisex design, you can enjoy casually matching with someone!"
Go to Workman for Fashion that Can Be Used Daily and in the Great Outdoors!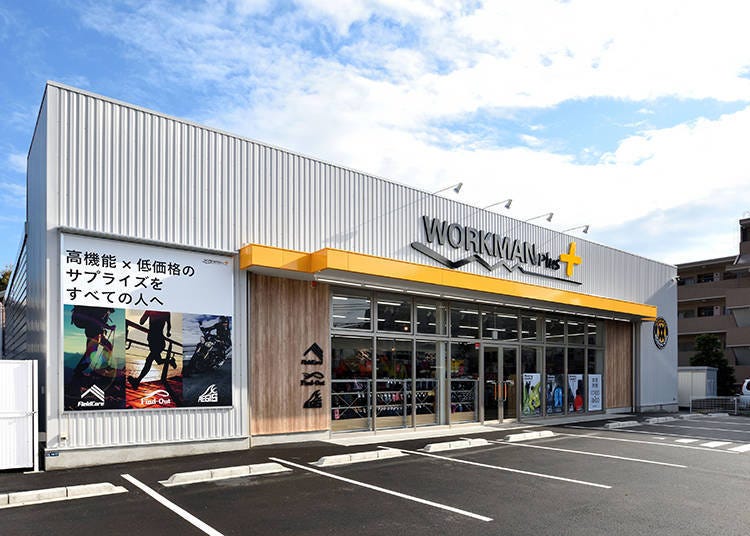 The items we introduced in this article are available at the over 906 Workman shops in Japan as well as on Workman's online store (items are displayed only in Japanese and are sold only in Japan).

As a result of these items gaining popularity on social media platforms such as Instagram, there are already sizes and colors that have sold out. So, if you find an item that you like, we recommend purchasing it as quickly as possible.

Since the spread of Covid-19, it has been difficult for people to go out freely. With this being the case, it seems that some have started outdoor hobbies as a way to avoid crowds. This includes activities such as camping or going out for a walk as a means to prevent a lack of exercise.

The fashionable items recommended by Workman are high-performance and stylish so that they can be used for any occasion! Please try Workman Plus and Workman Girl for products that can be used daily as well as in the great outdoors.
Shop at Workman Plus and Workman Girl! Information on Representative Shops
We will now introduce two representative shops at Workman out of the 59 in Tokyo and 119 in the Kansai region (number of shops as of April 2021).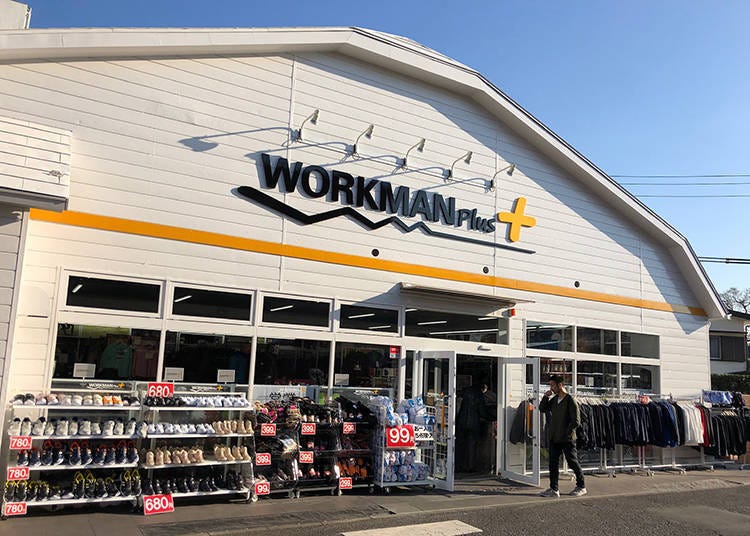 Workman Plus Todoroki Shop
Workman Plus Todoroki Shop

WORKMAN Plus 等々力店

Address

1-32-1, Todoroki, Setagaya-city, Tokyo 158-0082

Nearest Station

A ten-minute walk from Todoroki Station on the Tokyu Oimachi Line


Phone Number

03-3701-5118

Hours: 7:00 a.m.~8:00 p.m.
Closed: April 13th, 27th
Workman Girl Tokyo Solamachi Shop
*Due to the state of emergency, Tokyo Solamachi is temporarily closed as of April 25th, 2021. Please check Tokyo Solamchi's official website for the latest information on the facility.
Workman Girl Tokyo Solamachi

#ワークマン女子 東京ソラマチ店

Address

Tokyo Solamachi 1F, 1-1-2, Oshiage, Sumida-city, Tokyo, 〒131-0045

Nearest Station

Right in front of the main entrance of Tokyo Skytree Station on the Tobu Skytree Line. Right by Exit B3 and A2 on the third basement floor of Oshiage Station found on the Tokyo Metro Hanzomon Line, Keisei Main Line, and Toei Asakusa Line.


Phone Number

03-5610-0115

Hours: Follows the schedule of Tokyo Solamachi
Closed: Follows the schedule of Tokyo Solamachi
Countermeasures Against Covid-19 at Workman
Disinfection, sterilization, and cleaning of shop and facilities/Ventilation measures in place/Usage of coin trays/Staff wear masks, gargle, wash hands regularly, and monitor body temperature/Limited capacity/increased space between seats/Reservation required with limited admission/Entry declined to anyone who is feeling unwell/Masks required/temperature check enforced

*All prices in the article include tax.
*Out of the items we've introduced, there may be items not available or sold out depending on the shop.
Written by: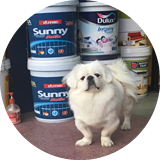 *This information is from the time of this article's publication.
*Prices and options mentioned are subject to change.
*Unless stated otherwise, all prices include tax.