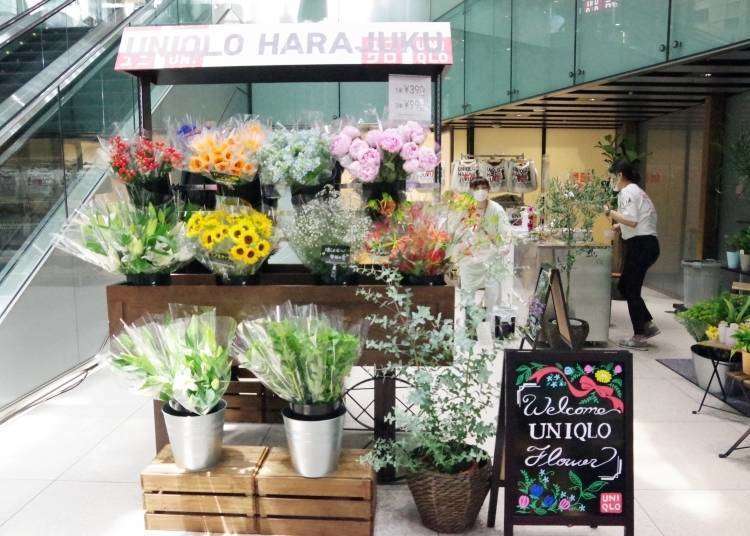 On June 5, 2020, UNIQLO Harajuku Store opened its doors in the WITH HARAJUKU shopping complex located in front of JR Harajuku Station. This is the first time in 8 years that a UNIQLO store will open in Harajuku. Here we'll feature things that you should check out at the store such as Billie Eilish x Takashi Murakami collab items plus share a first-hand experience of their new styling app.
One-minute walk from JR Harajuku Station - Enter the store through the glass entrance!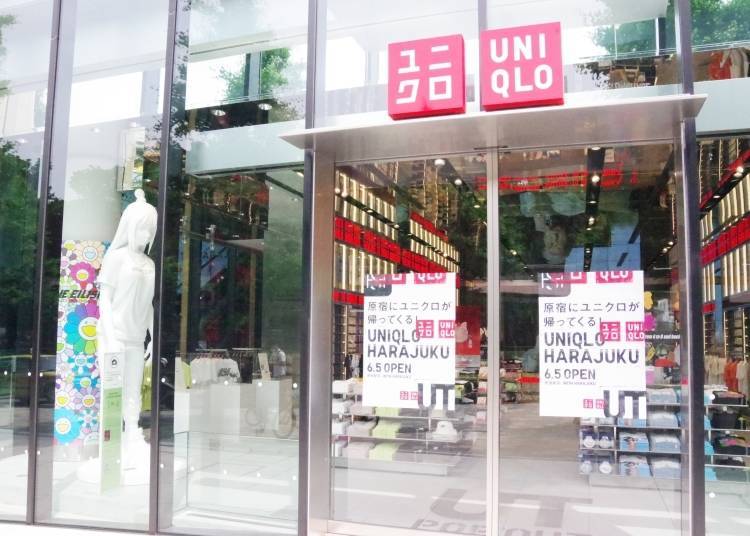 JR Harajuku Station just re-opened in March 2020, after significant rennovations. The UNIQLO Harajuku Store is located on the 1st floor and the 1st basement floor of the WITH HARAJUKU shopping complex. The store interior is visible through the towering glass entrance, so hurry up and check it out!
1st floor: Features new and popular items in UT POP OUT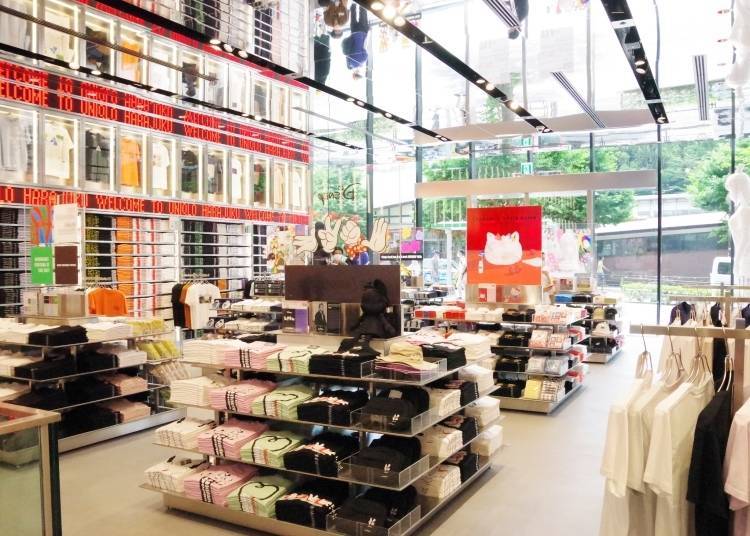 The 1st floor, which also serves as the entrance of the store, features UT POP OUT, where you can buy UNIQLO T-shirts and UT items. This floor is filled with T-shirts from collabs with popular artists and brands.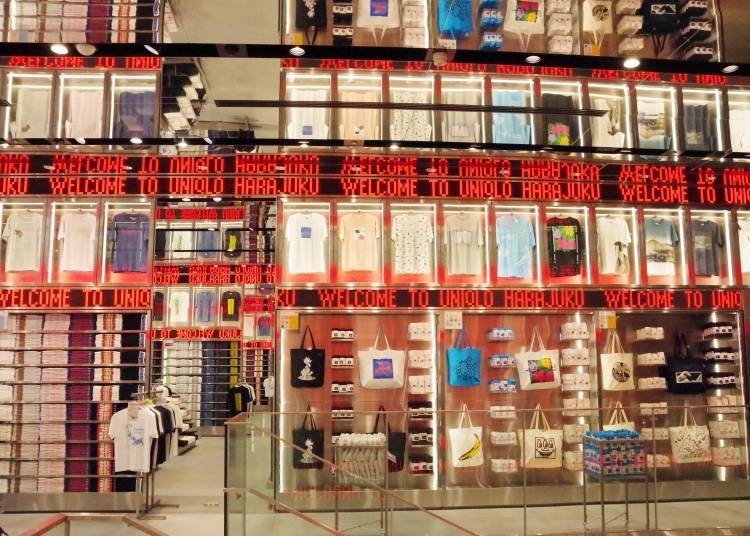 This futuristic space was created by the total creative director Kashiwa Sato, best-known for designing the UNIQLO logo.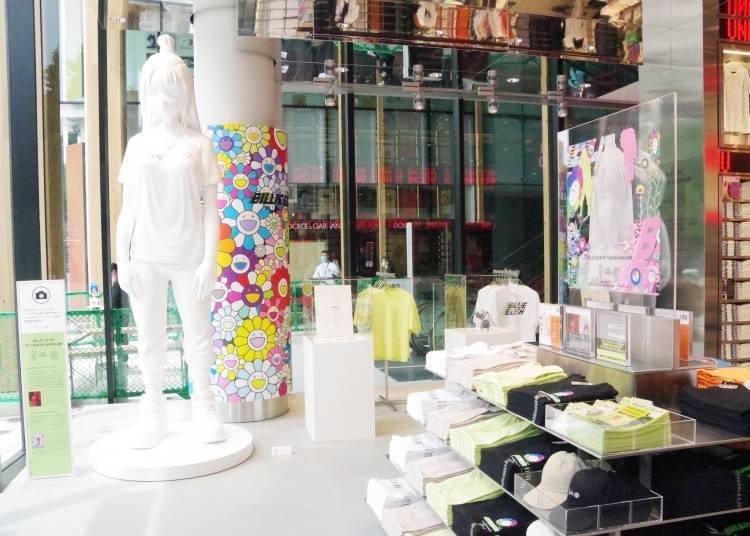 The highlight of this season is the collab items of singer-songwriter and artist Billie Eilish and Japan's leading contemporary artist Takashi Murakami. These colorful and unique T-shirts go for 1,500 yen each. (*All prices do not include tax. Same as below.)

Going further inside the store, you will find the 3-meter statue of Billie Eilish. This statue was created by Murakami himself to celebrate the collection, and people are also allowed to take pictures with the figure.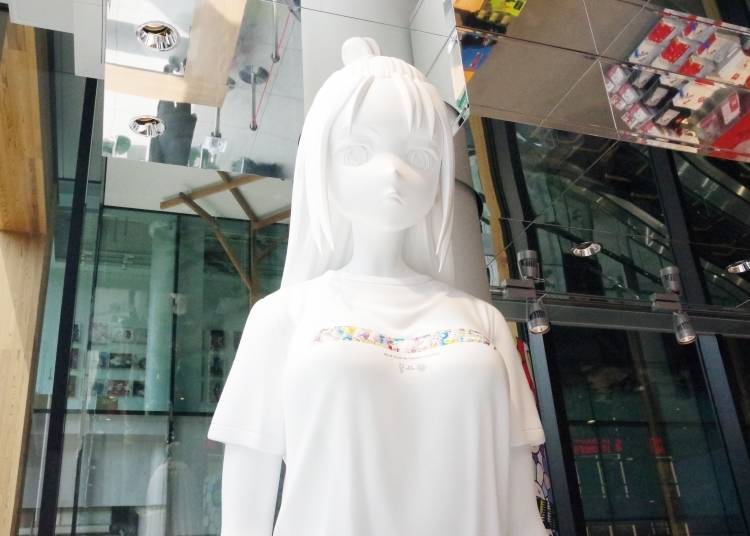 The statue's alluring eyes will surely enchant anyone as it towers over people. The figure will only be displayed for a limited time.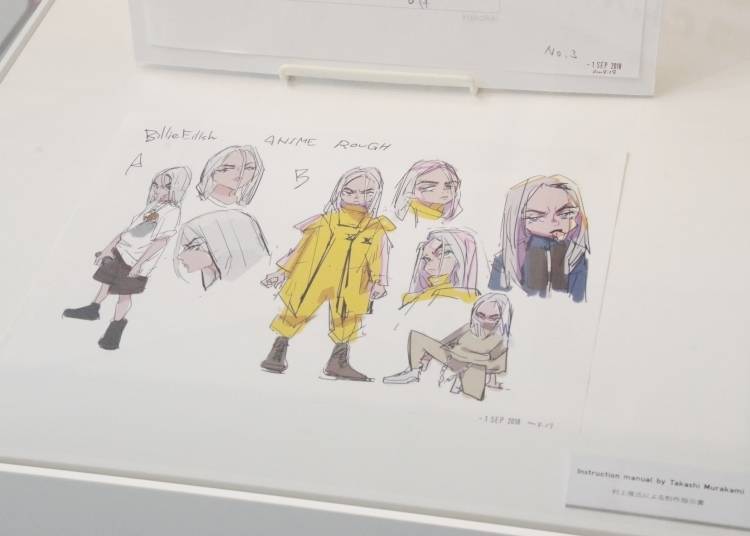 Next to the statue is a rough sketch drawn by Murakami. You can only find this valuable sketch at the Harajuku Store.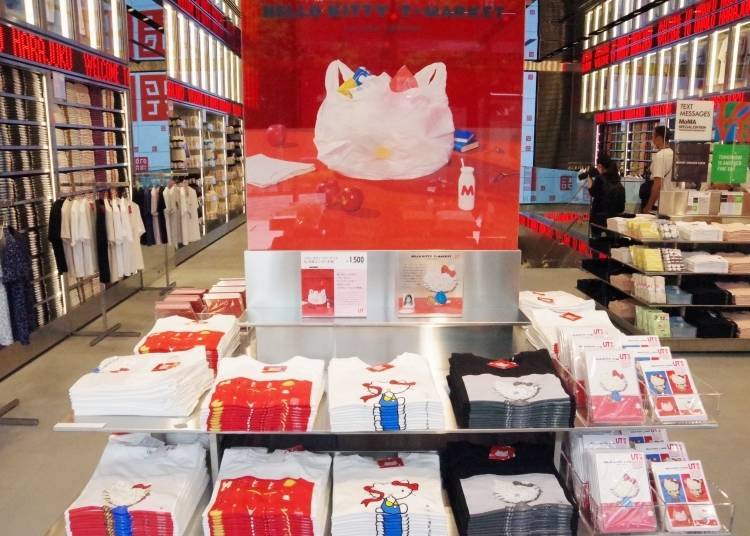 The UT collab between Sanrio and art director Yuni Yoshida will be sold in advance at the same time as the store opens. The unique artworks featuring Hello Kitty and My Melody are sensible and can be worn in any situation.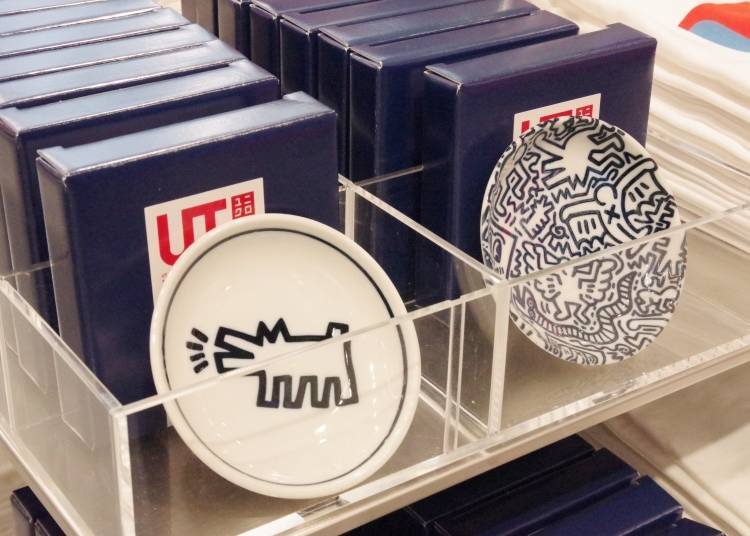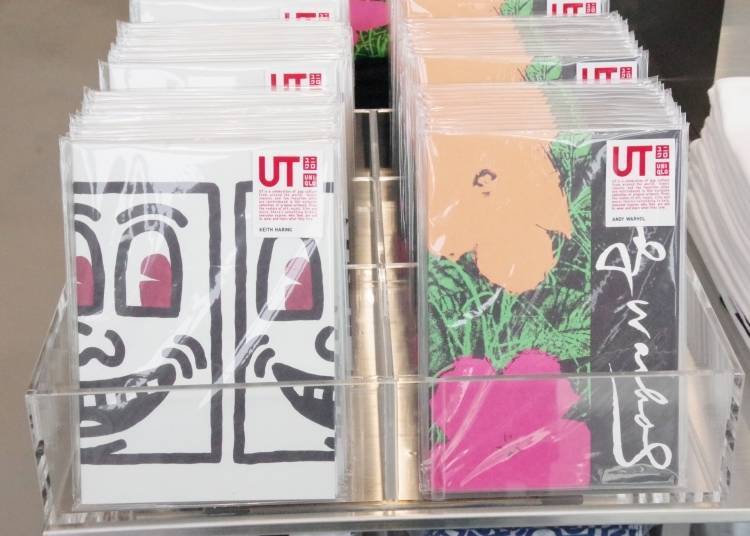 UNIQLO Harajuku Store will also pre-sale miscellaneous items that will be sold for the first time as UT. These items include small dishes (or mamezara) for 590 yen and notebooks for 390 yen. All items are perfect for souvenirs.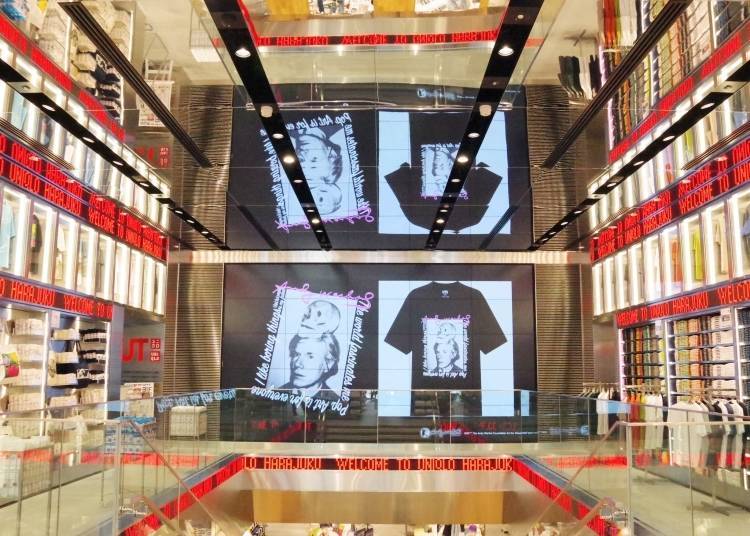 Going down the center stairs to the first basement floor is like sneaking into a spaceship!
First basement floor: Packed with Harajuku's fashion trends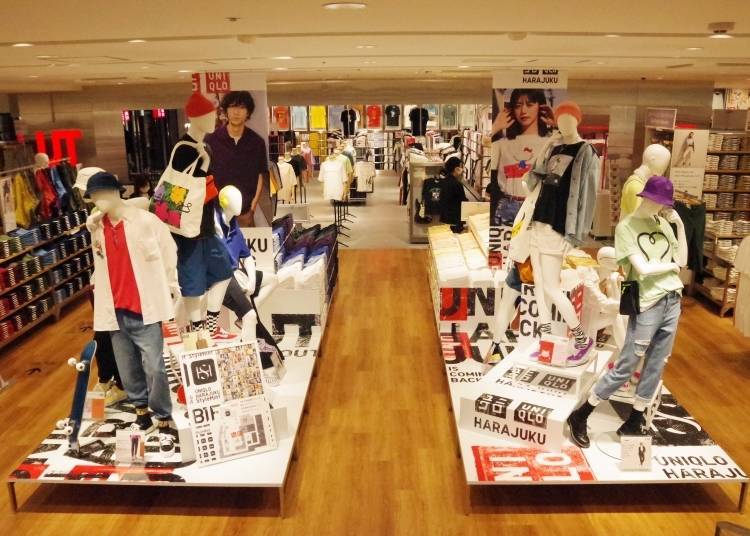 As you go down the stairs, the sprawling area of the first basement floor will come into view. This is where they sell the newest UNIQLO items. This floor was built to facilitate the shopping experience of customers.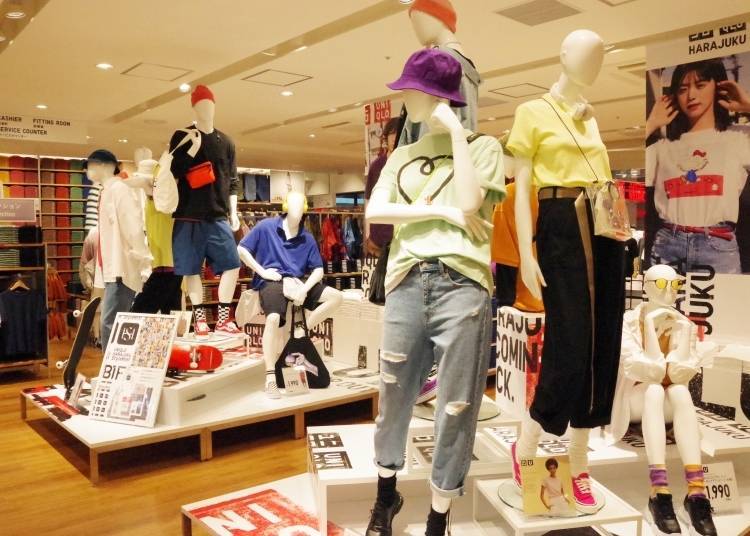 Aside from this, the UNIQLO Harajuku Store is known for the unique styles of mannequins. The clothes these figures are wearing sure are current and chic. Male mannequins wear oversized tops paired with women's wear, which really highlights the "genderless" style popular in Harajuku.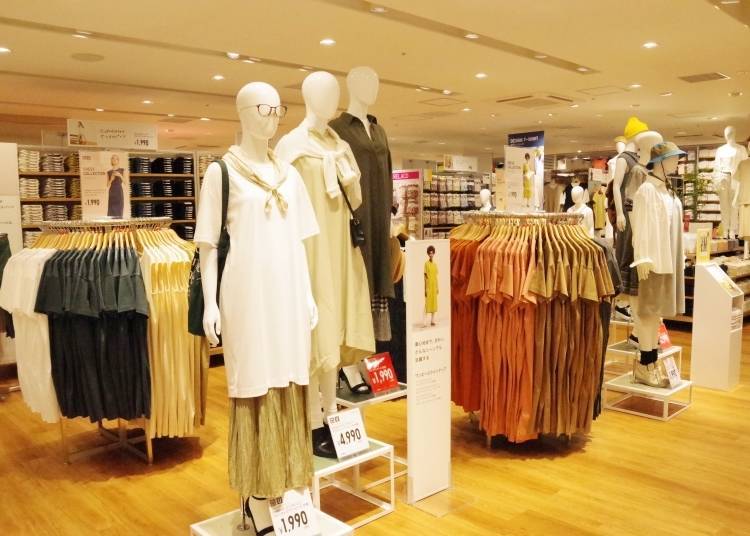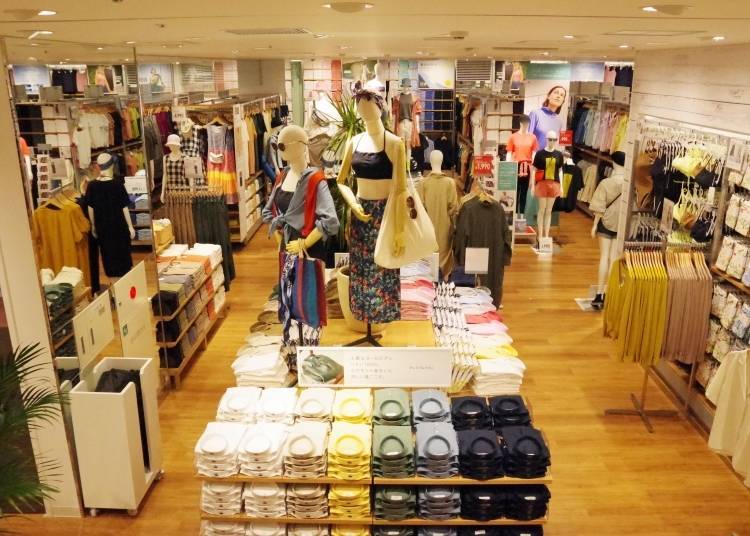 You can find the clothes on these mannequins inside the UNIQLO Harajuku Store. All matched outfits are for reference, so even browsing around the floor would be a fun experience.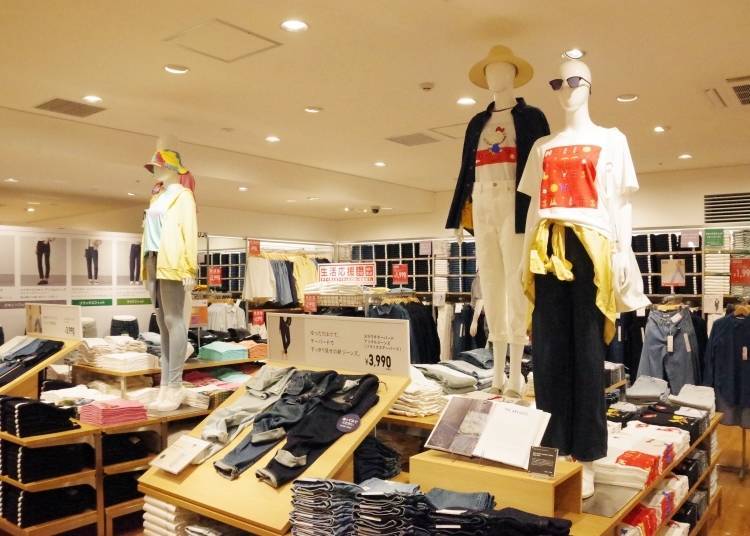 In the denim corner, you can also find clothes paired with UT. If you are looking for a whole outfit, these pairing will surely be of great help.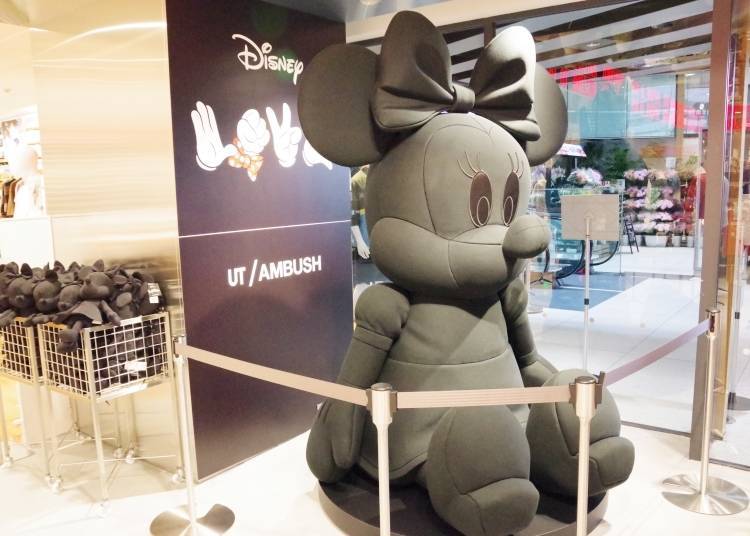 Go further inside the store, and you will see an oversized Minnie Mouse bearing the same design as the new bag in DISNEY LOVE MINNIE MOUSE COLLECTION by AMBUSH's creative director YOON. You also have to check out this bag because it will only be sold in advance in Harajuku Store's physical store.
Looking for seasonal outfits? Check StyleHint Harajuku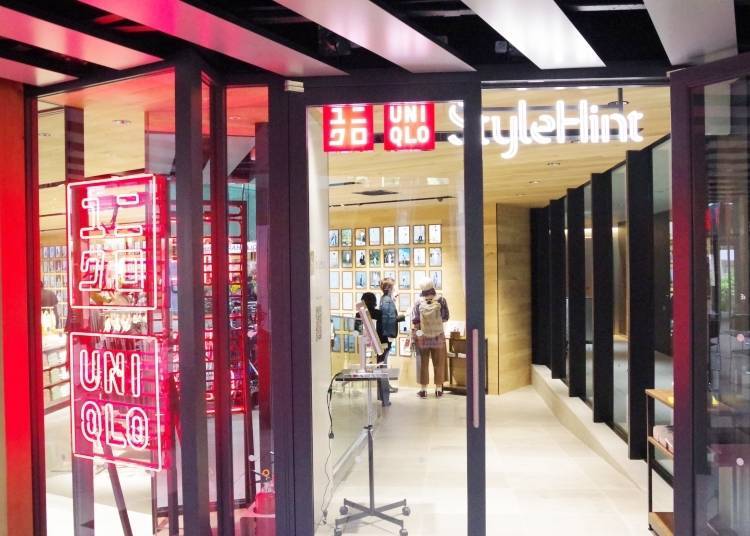 UNIQLO Harajuku Store also offers a service that helps you find seasonal outfits. StyleHint Harajuku further inside the first basement floor.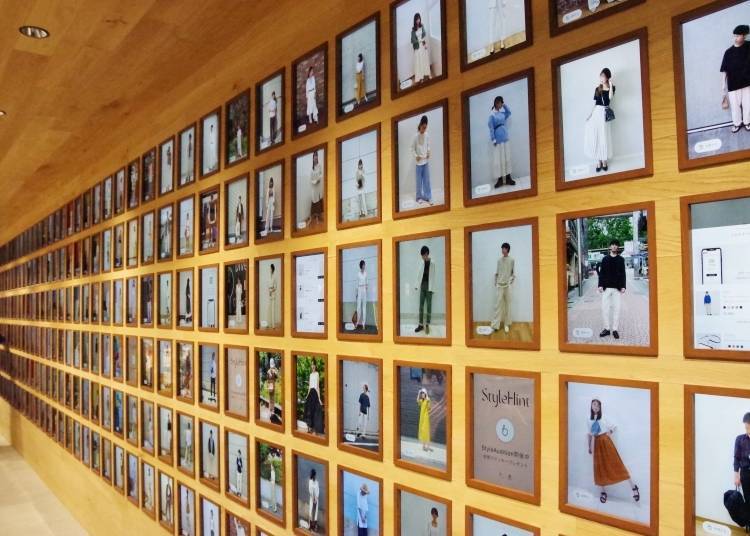 At a corner in UNIQLO Harajuku equipped with StyleHint, a style search engine application developed by UNIQLO and GU, you will see a whole wall of outfit images submitted by app users. The wall features a total of 240 displays!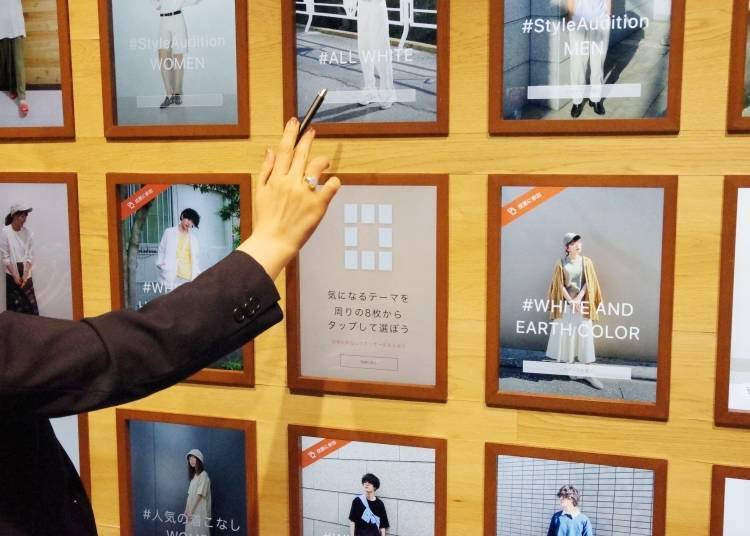 Using a touch pen, you can browse the details of your favorite outfits. If you have found items that you like, you can use the service to know where they are available. You can also download the StyleHint app and make online purchases later through a QR code.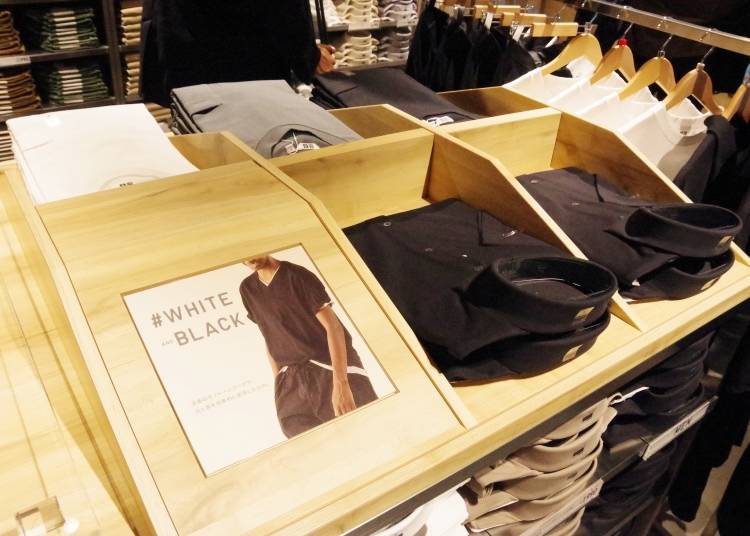 Some items match the theme of StyleHint, so be sure to check them out as well.
Spotify? Flower shop? Discover new services at the Harajuku Store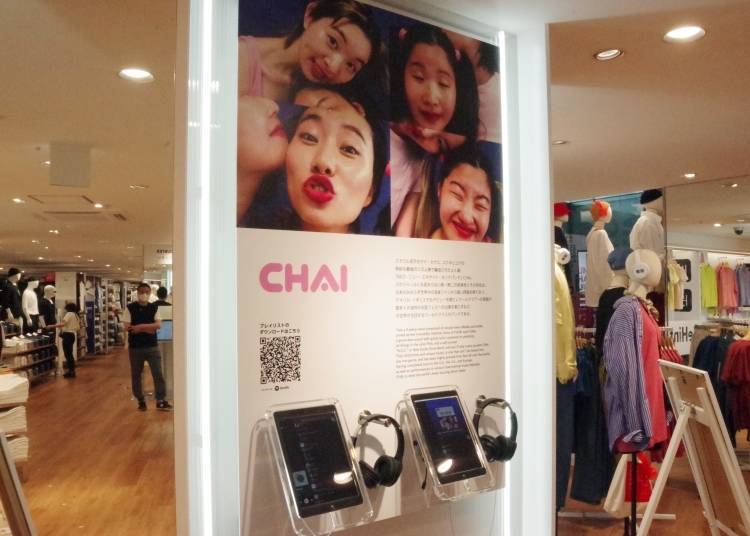 Aside from StyleHint Harajuku, the UNIQLO Harajuku Store also has new services. The store has a space where young people can listen to Spotify playlists handpicked by famous artists. These playlists are only available in UNIQLO Harajuku Store. As the store opens, you can also listen to playlists featuring CHAI, chelmico, and STUTS.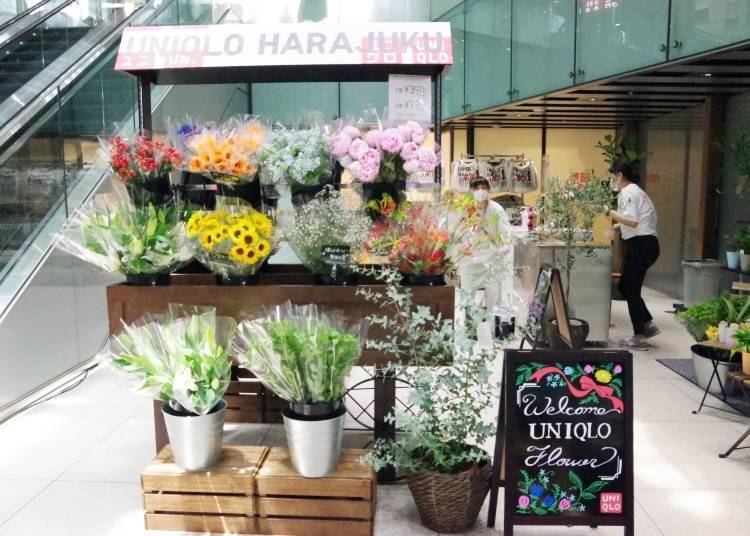 At the corner of the passage leading to Takeshita Street on the first basement floor, you will find UNIQLO's flower shop. Fresh flowers are sold at the second store after UNIQLO Park Yokohama Bayside Store. You can choose your favorite flowers for 390 yen for a bouquet and 990 yen for 3 bouquets.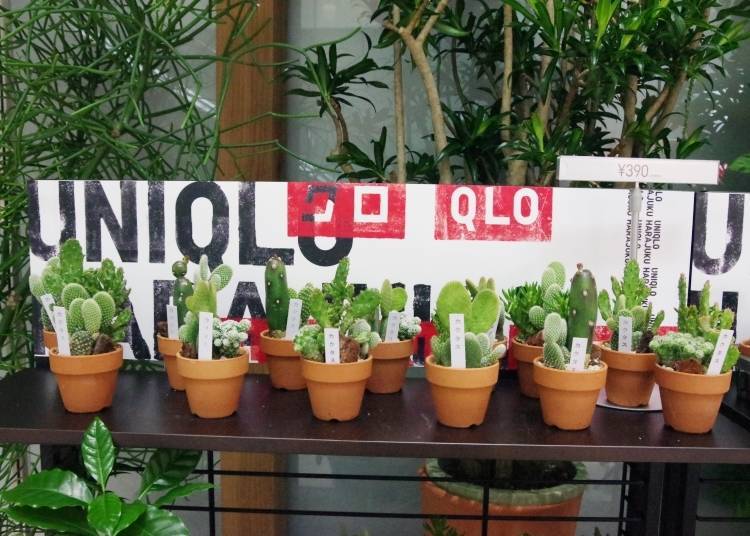 The Harajuku Store sells plants, such as potted succulents, that are perfect as interior decoration. Based on UNIQLO's concept as a "lifewear" store, the brand started selling flowers as it brings color to people's lives.
UNIQLO Harajuku's theme: Coexisting with Harajuku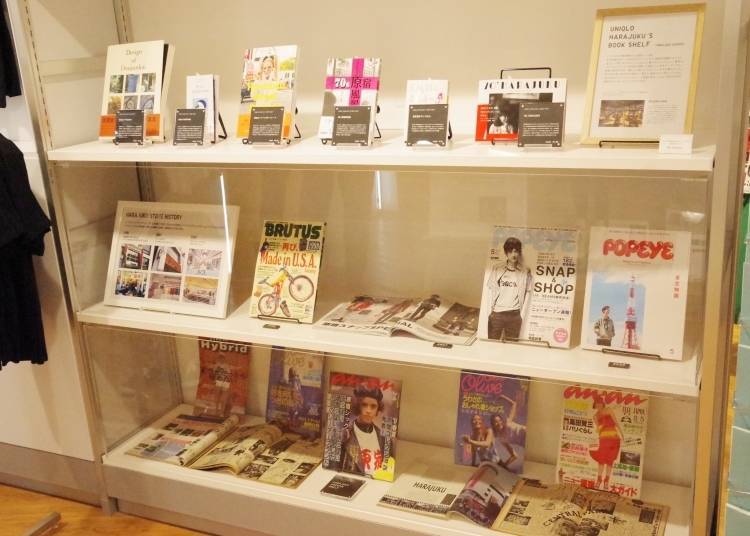 The UNIQLO Harajuku Store is filled with displays that highlight the streets of Harajuku. The shop has various fashion magazines and books featuring Harajuku on display, allowing anyone to experience the area's history.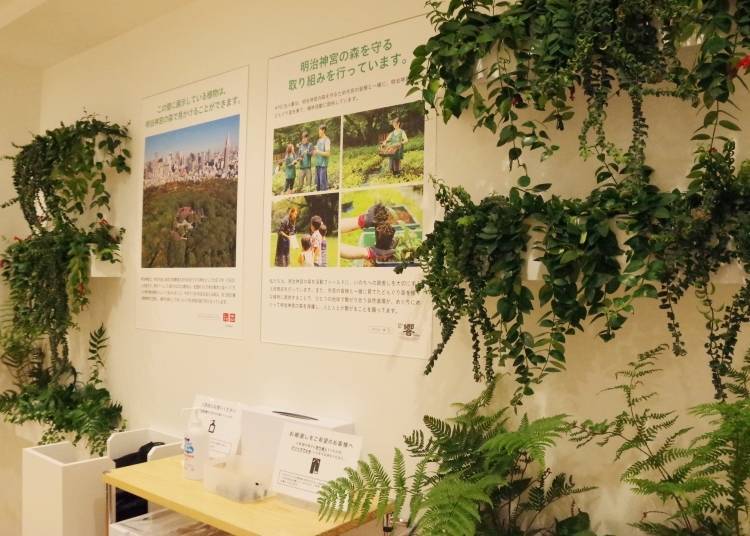 Even the store's fitting rooms are adorned with greenery. These displays were actually borrowed from the forest of Meiji Jingu Shrine. They also feature initiatives of Hibiki, a non-profit organization that seeks to promote Meiji Jingu Shrine.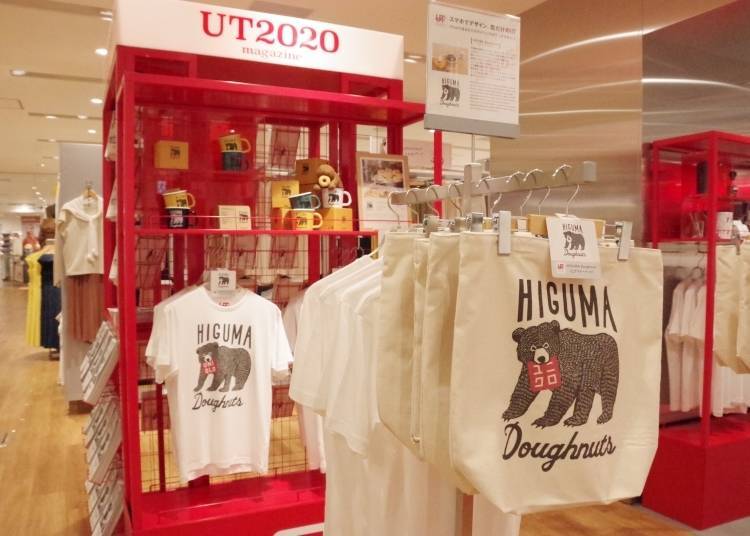 The store also sells collab items with Higuma Doughnuts + Coffee Wrights, a popular coffee shop in Omotesando. We can't help but wonder what stores in Harajuku will partner with UNIQLO in the future.
Get a customized T-shirt with UTme!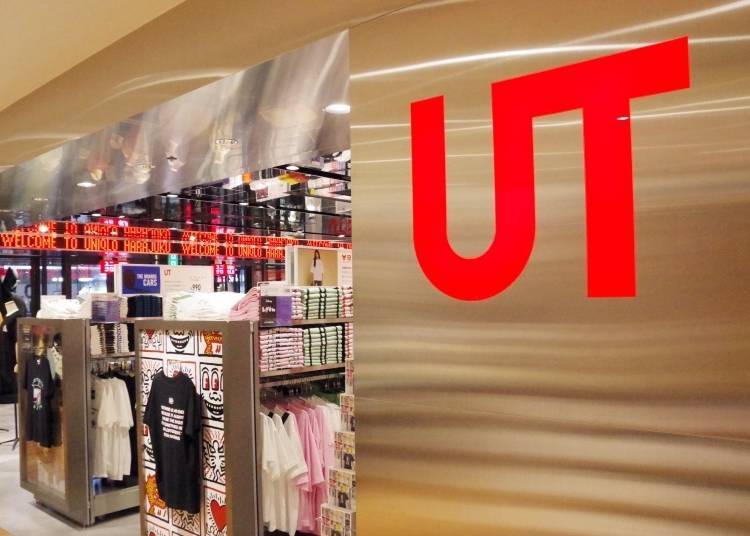 UNIQLO Harajuku's store has more services in store for us! Design your own unique T-shirt at the UTme! corner!
Choose between a T-shirt or a tote bag and create your own design on a tablet. No reservation is required, so you can go through the process within 5 minutes if the corner isn't crowded. You choose from a wide variety of icons, such as Pokemon, that would make for perfect Japanese souvenirs. Be sure to try it!
From temperature checks to alcohol sanitizer: Fully prepared against COVID-19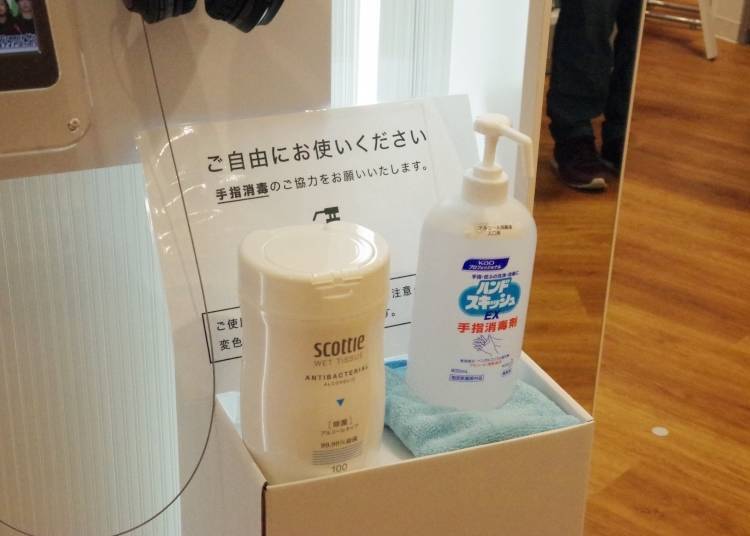 UNIQLO Harajuku has set up measures to combat the novel coronavirus (COVID-19). The store has alcohol sanitizers and wet tissues that you can use freely. They also request customers to wear masks and are planning to measure temperature. They are also planning to limit the number of people inside the store when there are many customers. (*The latest information as of this writing)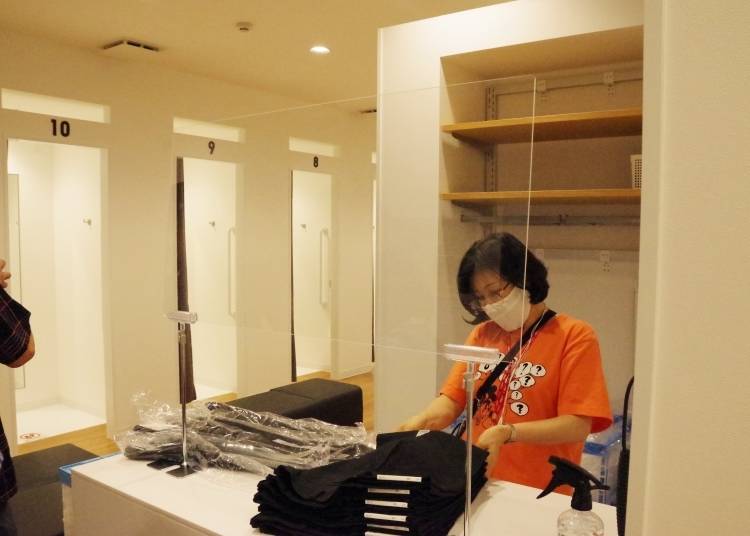 In the fitting room, a plastic shield is installed at the product delivery counter. This area was given special consideration as it crowds easily.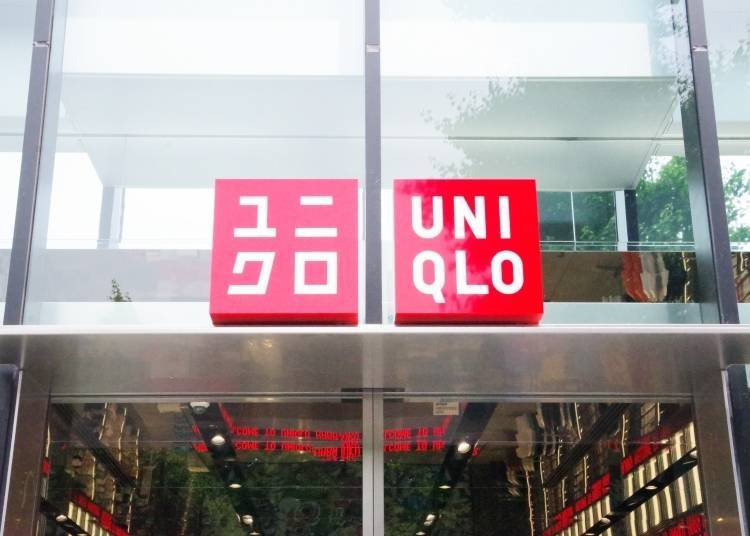 UNIQLO has returned to Harajuku for the first time in 8 years, packed with features that customers will surely love! This will definitely become the top trending store this summer.

If you are not sure about going to the store, be sure to check the online store for Spotify playlists and special editions on featured articles published in POPEYE magazine!
ユニクロ 原宿店

Address

1-14-30 Jingumae, Shibuya-ku, Tokyo WITH HARAJUKU 1st floor, 1st basement floor

Nearest Station

1 minute walk from JR Yamanote Line Harajuku Station, 1 minute walk from Tokyo Metro Chiyoda Line / Fukutoshin Line Meiji Jingumae (Harajuku) Station

Written by Ran Tanaka
*This information is from the time of this article's publication.
*Prices and options mentioned are subject to change.
*Unless stated otherwise, all prices include tax.