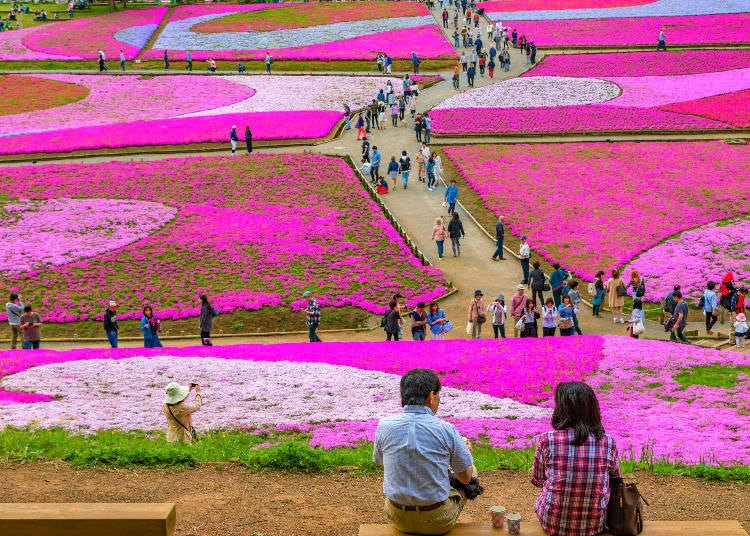 Anyone who wants to be mesmerized by Mother Nature's beauty must see the shibazakura flowers of Japan. Known in English as moss phlox in English, shibazakura grow thick and plentiful as they cover the ground each spring, making it look like a sea of pink.
What is shibazakura? When can it be seen?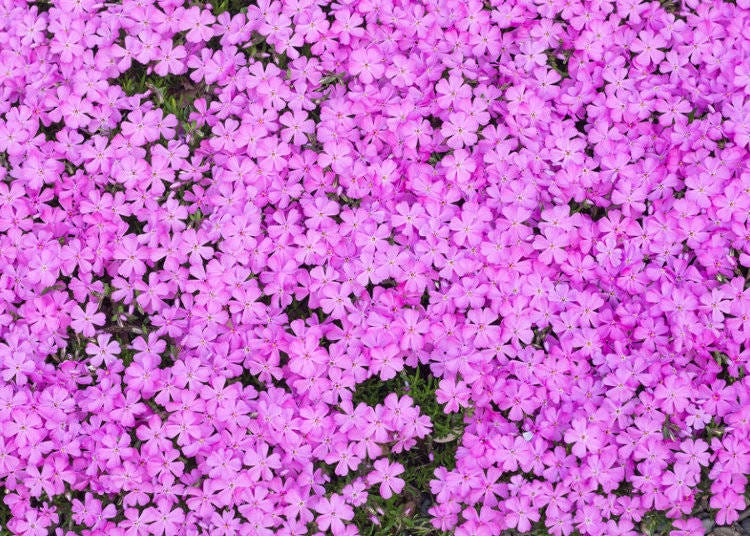 Shibazakura (moss phlox) is a gorgeous perennial that blooms from mid-April to late May and lasts for 3-4 weeks. Anyone who is excited to witness this beautiful scenery should not miss the dates.

The sight is something that will never be forgotten and cannot be compared to anything similar. Though the color of the shibazakura flowers is usually pink, they also come in various shades of white and light purple, with some petals even having a slightly striped pattern. The petals of the shibazakura look similar to that of the cherry blossoms, which is why it is called shibazakura, meaning "lawn cherry."

Many people from around Japan and even outside of the country come to witness the beauty of these flowers blooming.
Hitsujiyama Park: A Shibazakura Wonderland in Saitama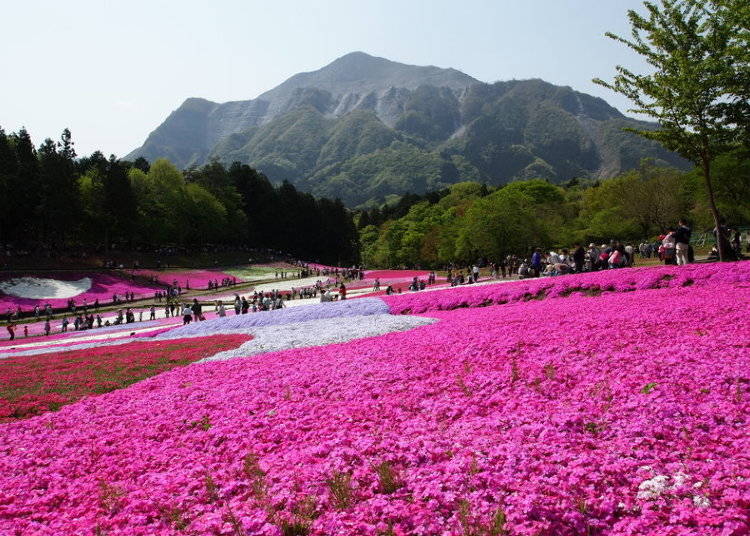 Hitsujiyama Park is covered with thousands upon thousands of shibazakura; some are planted in rows of different colors making it look as if the park is covered in a carpet of flowers. There are rows and rows of pinks, purples, and whites to feast the eyes on. It is both serene and excitable at the same time, knowing that such a view could be right in front of you.

The park, which is around 17,600 square meters, is also called the "Moss Pink Hill". In addition to the shibazakura flowers, there are also 1,000 cherry trees planted in the park including the Yoshino cherry and the double-petal cherry tree.

The Japanese people sure know how to appreciate nature and how to take care of it as well! This park becomes a great tourist destination during the months of April and May, not just because of the shibazakura flowers but also how the park has been designed and maximized for the full spectacular experience.

Hitsujiyama Park is located in Chichibu City in Saitama Prefecture, one of Japan's most famous shibazakura parks. Chichibu is not far from Tokyo and many travelers gladly make the trip to visit this place. Chichibu is also known for its' shrines and wonderful outdoor activities that the whole family can enjoy.

Strawberry picking and flower viewing are only some of the enticing activities that can be accomplished during the day, but at night, it is an entirely different story.
Address

6267, Omiya, Chichibu-shi, Saitama, 368-0023
View Map

Nearest Station

Seibu-Chichibu Station (Seibu Chichibu Line)
15 minutes on foot


Phone Number

0494-25-5209
There are other places in Japan to see the shibazakura flowers, such as Mt. Fuji, Japan's most famous mountain. While the picturesque scenery of Mt. Fuji's foot is covered in a carpet of pink is beautiful beyond imagination, the Hitsujiyama Park in Saitama is in no way inferior. So why not experience the Moss Pink Hill for yourself?
*This information is from the time of this article's publication.
*Prices and options mentioned are subject to change.
*Unless stated otherwise, all prices include tax.