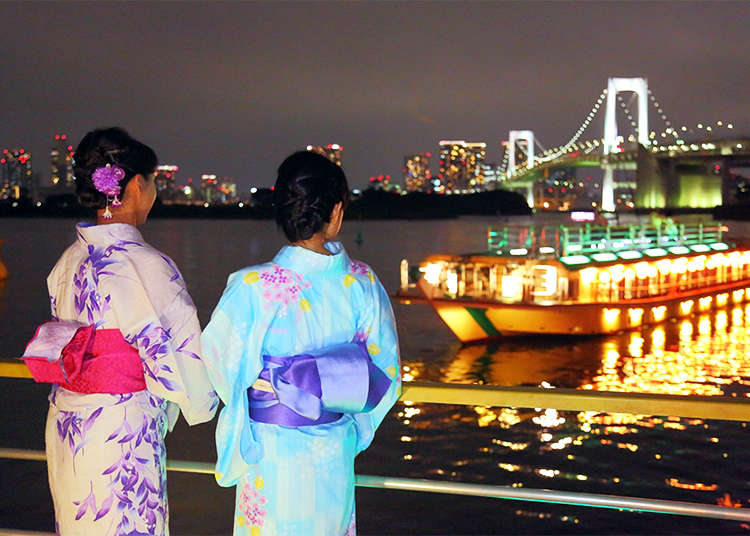 Planning on visiting Tokyo in summertime? Yakatabune, or traditional houseboats, are a wonderful part of every Japanese summer. People don their yukata and get on an atmospheric boat to gaze at the stars, enjoy food and drink, and even watch performances or have a big summer party.

We have compiled Tokyo's top three yakatabune experiences that let you get a real taste of summer in Tokyo!
Funasei: Sailing around Odaiba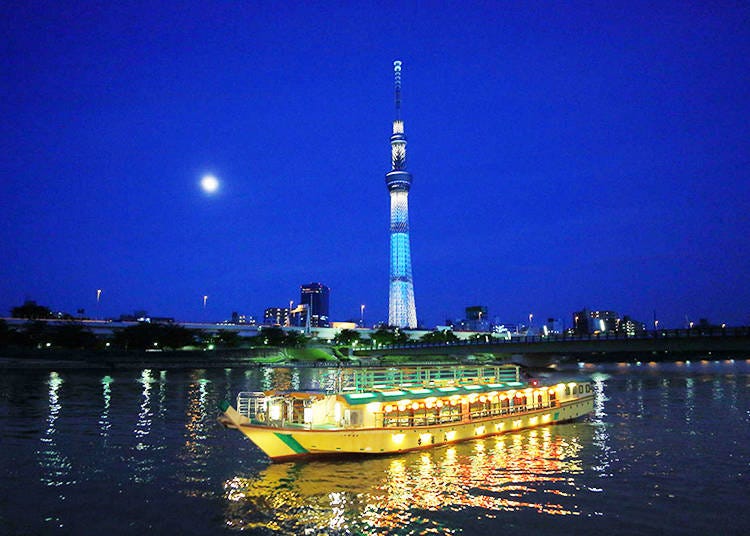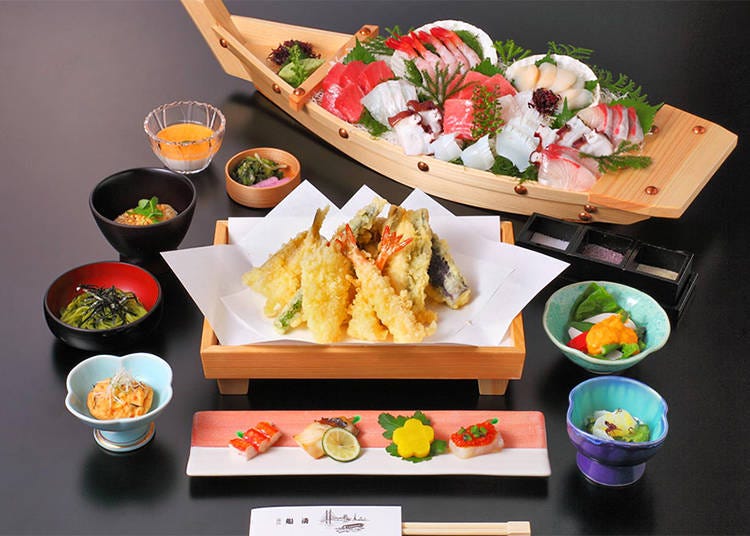 For Japanese people, the word "yakatabune" often invokes the image of renting a houseboat. Recently, however, various companies have started offering yakatabune "passenger boats" that offer space for larger groups. Funasei is one such company.
Their passenger course can be booked for two people and more - look forward to enjoying the beautiful scenery of Odaiba, the Sumida River, and Tokyo Skytree for a total of 2 hours and 45 minutes! This wonderful experience is available for 10,800 yen per person, a price that also includes all-you-can-eat-and-drink - both soft drinks and alcoholic beverages! The food is also excellent, offering an abundant choice of Japanese dishes such as tempura, sushi, and more. Please check the dates of this course on Funasei's official homepage.
The Spectacular View from the Yakatabune's Observation Deck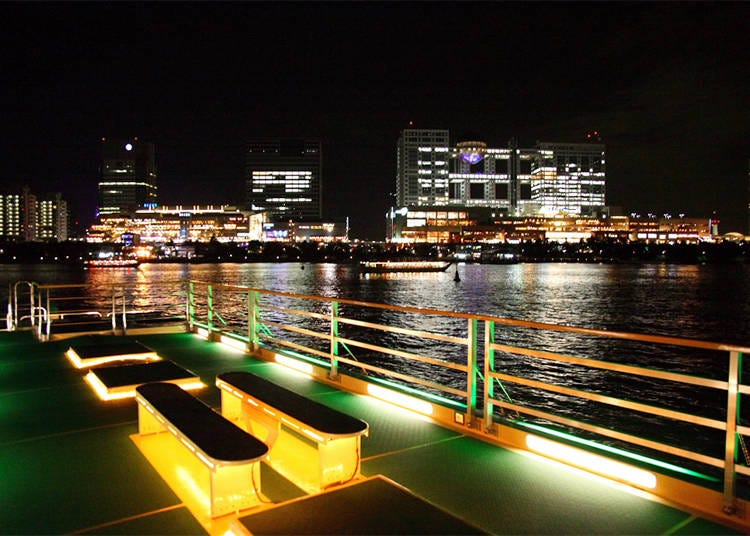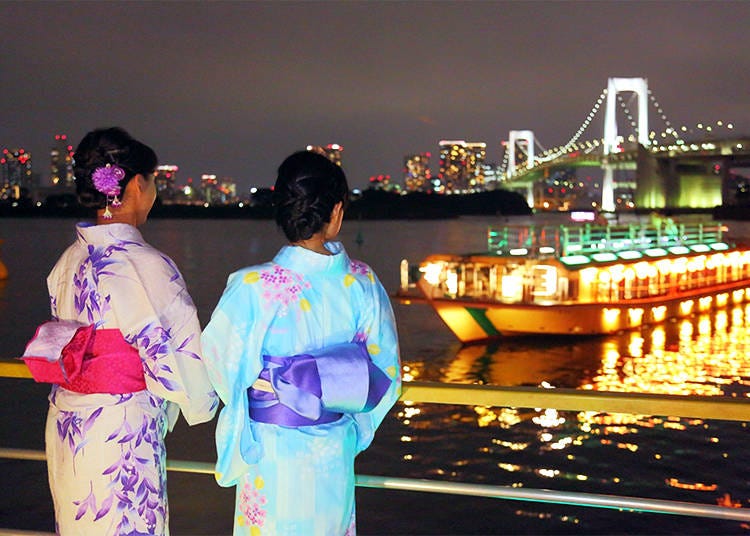 Stand on the deck and let the pleasant night wind cool you down as you gaze over the sparkling lights of Tokyo bay - a scenery that is sure to make great memories!
Between June and September, Funasei also offers a yukata rental, including getting dressed by a pro, for 4,500 yen per person. For the real Japanese summer experience, be sure to make use of that offer!

※Advance reservation is required. An English reservation page is available on the official homepage.
船清

Address

1-16-8 Kitashinagawa, Shinagawa-ku, Tokyo-to 140-0001

Website: www.funasei.com/english
Hamadaya: Exploring Odaiba and Tokyo Skytree by Yakatabune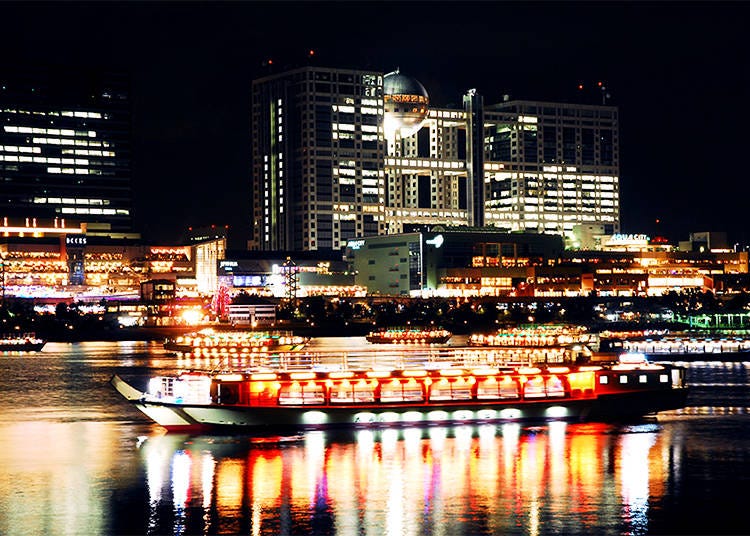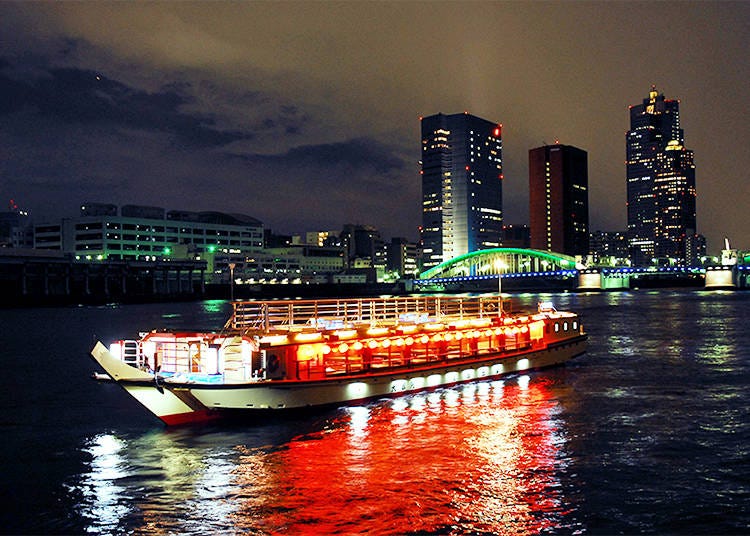 Yakatabune Hamadaya has eight piers all around Tokyo, including Asakusa, Kitasenju, and Odaiba. This houseboat company also offers the larger passenger boats that can be booked from groups of two or more. We especially recommend this course for smaller groups who look for a unique way of sightseeing in Tokyo! Choose between two routes: the Sumida River and Odaiba Route, and the Skytree Round Trip. If you want to see the magnificent Tokyo Skytree from up close, option 2 is the right course for you. (The sights on the route may change depending on the departure and arrival locations.)
We recommend the course that starts at Kitasenju, because a shop called Mine Kitasenju offers yukata rental for a mere 3,240 yen per person there. Enjoy a full traditional set of yukata, obi (belt), pouch, and geta (sandals), put on by Japanese yukata pros!
Amazing Food on a Traditional Japanese Boat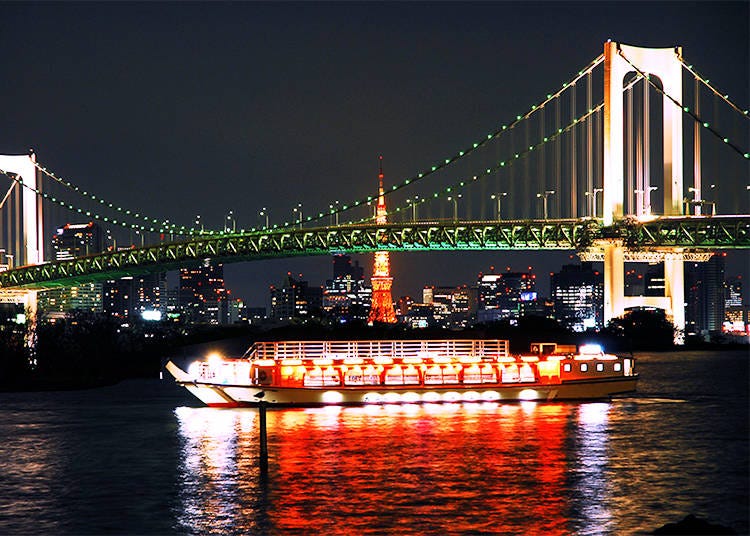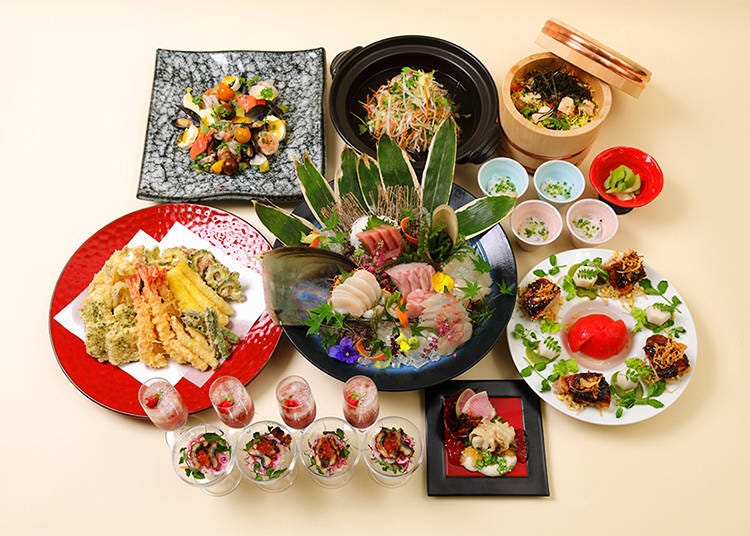 On top of that, Hamadaya is also famous as "gourmet yakatabune." Every course comes with a rich selection of delicious food, and from July to September, the "Summer Festival" is taking place, offering seasonal dishes, appetizers, and desserts (10,260 yen per person; price varies by date of departure). Seasonal cooking is an inherent part of Japanese cuisine, so this is sure to be a great culinary experience!
There are three types of yakatabune used on these cruises: the luxurious Hamadamaru #28, furnished with tables and the 30-meter long Hamadamaru #18 with beautiful tatami are two of them. Said Hamadamaru #28 is the newest ship of the fleet and transmits a wonderfully sophisticated atmosphere while keeping the charm of a traditional yakatabune.
No matter which ship you board, look forward to relaxing on the promenade deck, freely accessible to every passenger. This deck offers a prime panoramic view on the beautiful night scenery of Tokyo.
屋形船 濱田屋

Address

1-14-5 Yanagihara, Adachi-ku, Tokyo-to 120-0022

Website: www.hamadamaru.com/en
Riverboat Mizuha: A Charming Choice for Smaller Groups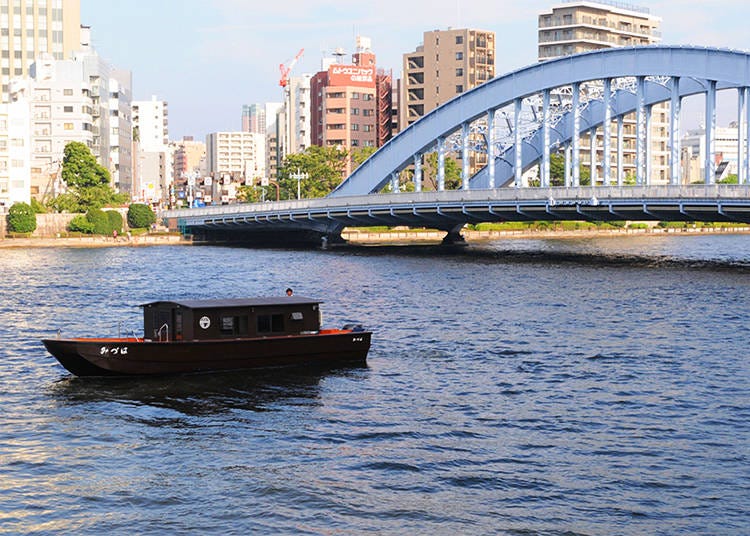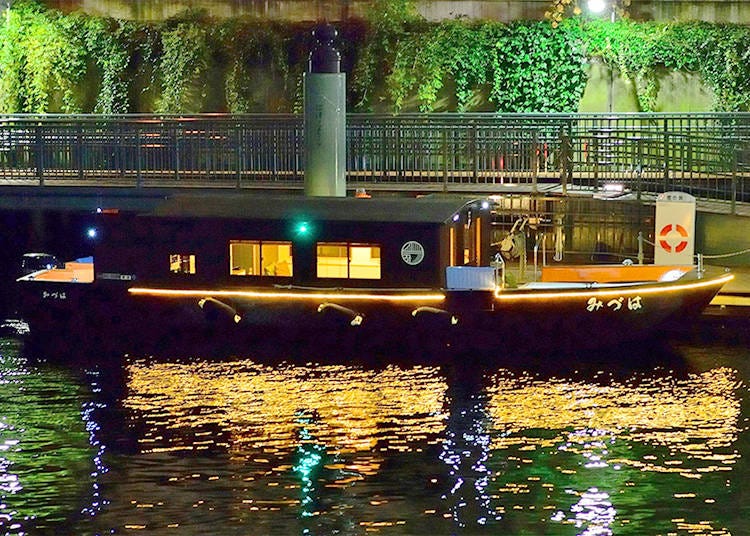 The last yakatabune option that we want to introduce to you is called Mizuha. For smaller groups of friends or family who want to enjoy their Japanese houseboat experience in a more private setting, this is definitely the best choice! The Riverboat Mizuha can be rented all by yourself to up to twelve people.
The price for such a reservation starts at 43,000 yen (tax included) for 60 minutes and can be extended in intervals of 15 minutes. This price doesn't change, even if you board the ship with a full party of twelve people. This means that for 12 people, this 60-minute experience will cost each person 3,580 yen - which is a real steal. If you decide to cruise for two hours, the price rises to 86,000 yen in total and 7,160 yen per person for a full party.
The best thing: you can freely decide where you want to sail your yakatabune! If you have a certain theme in mind, such as Tokyo's best sightseeing spots, or routes with quiet waters, Mizuha will plan the perfect route for you!
Cozy Interior and a Cool, Open Deck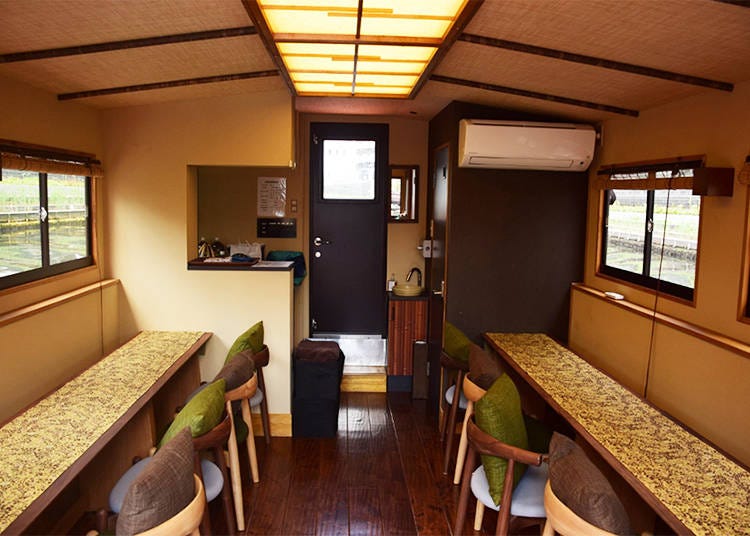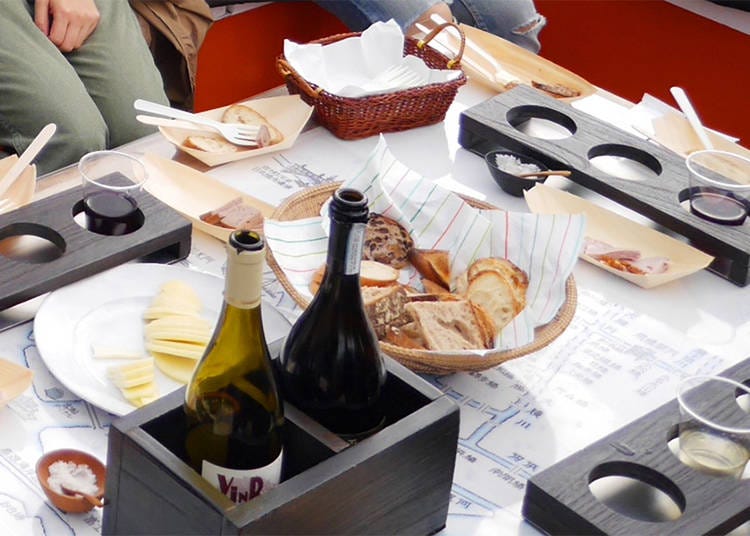 The ship's tables are movable, so you can either face them outward to enjoy the passing scenery or face them inward to enjoy each other's company. Both heater and air conditioning are installed, making your yakatabune trip especially cozy! Mizuha houseboats are also known for the observation deck at the front of the boat. Outward facing tables and chairs invite to a leisure chat while watching the scenery passing by.
Food and drinks are not included in this plan, so you can just bring any things you'd like to eat and drink with you or book the catering service for an extra fee. Mizuha takes care of the trash, so there's no need to worry about cleaning up afterward either!
舟遊びみづは

Address

1-9 Nihonbashi, Chuo-ku, Tokyo-to 103-2207 (Nihonbashi Pier address)

Website: www.funaasobi-mizuha.jp/english
*This information is from the time of this article's publication.
*Prices and options mentioned are subject to change.
*Unless stated otherwise, all prices include tax.