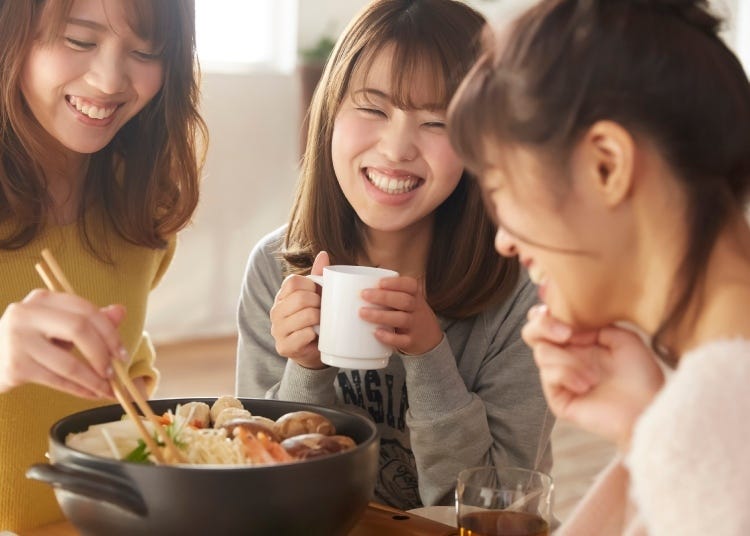 Nabe (pronounced nah-bay) is the Japanese word for hot pot dishes as well as the cooking pot itself. This genre of Japanese cuisine, either simply nabe, or nabe ryōri, meaning "hot pot cookery," is particularly popular in the fall and winter months when the weather gets colder.

People can eat it alone at home or family-style in groups both at home or in restaurants, including many that specialize in versions using unusual ingredients or regional specialties.

Main image: PIXTA
What is nabe ryōri and what goes into it?
(Image: PIXTA)
While there are many types of nabe ryōri (cookery) using all sorts of ingredients, they all have several things in common.

For starters, all are cooked in ceramic pots, pots which can be inexpensive and mass-produced as well as beautiful and colorful pieces that are works of art, ranging in size from small pots meant for one person to larger ones that can serve four people. Stainless steel pots are used in some restaurants, but rarely at home.

The cooking is done over a small tabletop gas burner using either a small canister of gas that fits into the burner or, in some restaurants, a hose connected to a gas line.

Diners remove the ingredients from the nabe when done and place them in a small bowl before eating using hashi (chopsticks).
What ingredients are used in making nabe?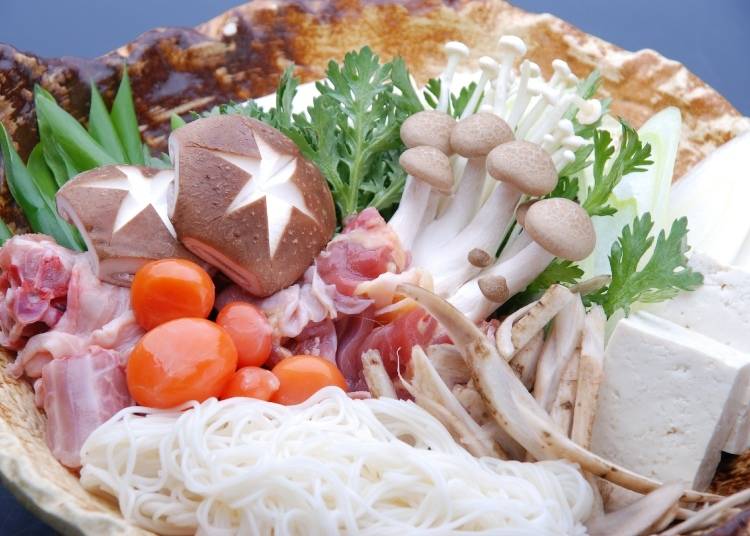 An assortment of ingredients commonly used in nabe (Image: PIXTA)
A nabe meal begins with partially filling the nabe with dashi. The dashi (broth) is almost always a simple one of water and konbu (kelp), although dried shiitake mushrooms can also be added for extra umami. The konbu is removed before cooking the main course.

Practically anything can be cooked as a nabe meal, although some mix of the following would make up the core of the dish: hakusai (Chinese cabbage), cut into bite-size pieces; negi onion, cut into pieces 3-4 cm long; mushrooms, most often shiitake, although any will do; tōfu, either fresh or "yaki" (singed with a blowtorch); other greens, such as mizuna, shungiku (garland chrysanthemum leaves), and nira (Chinese chives). Cabbage is sometimes substituted for hakusai. And, of course, some sort of main ingredient.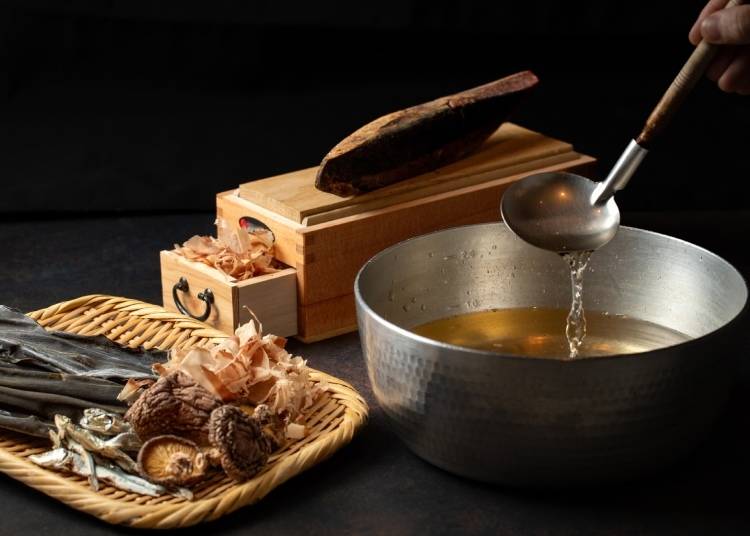 Ingredients commonly used for making nabe soup stock (dashi) include konbu kelp and katsuobushi (dried, smoked bonito) (Photo: PIXTA)
Main ingredients:
Almost any sort of meat or seafood can be cooked nabe style. Pork and chicken (or duck) are common land meats, while oysters, crab, and fish such as cod and even fugu (blowfish) are also popular. More exotic nabe ingredients include botan nabe (with wild boar, also known as inoshishi nabe), kuma nabe (bear), shika nabe (venison/deer), and sakuraniku nabe (horse meat), all of which can be found in Tokyo.

Garnishings:
The most commonly used garnish for most types of nabe is ponzu, a slightly tart mix of dashi, shōyu, vinegar, citrus juice—more often than not yuzu—and mirin. This is generally poured into a bowl before filling it with nabe ingredients and not into the larger pot. Other things added include spicy chili paste, grated sesame seeds, and grated ginger or garlic. When all the ingredients have been taken out, cooked rice, udon or other wheat noodles are often added to the pot to cook in the remaining soup.

Nabe can be cooked all at once, with all the ingredients added to the soup before the fire is lit, or item by item, starting with things that need to cook the longest.
Etiquette & how to eat nabe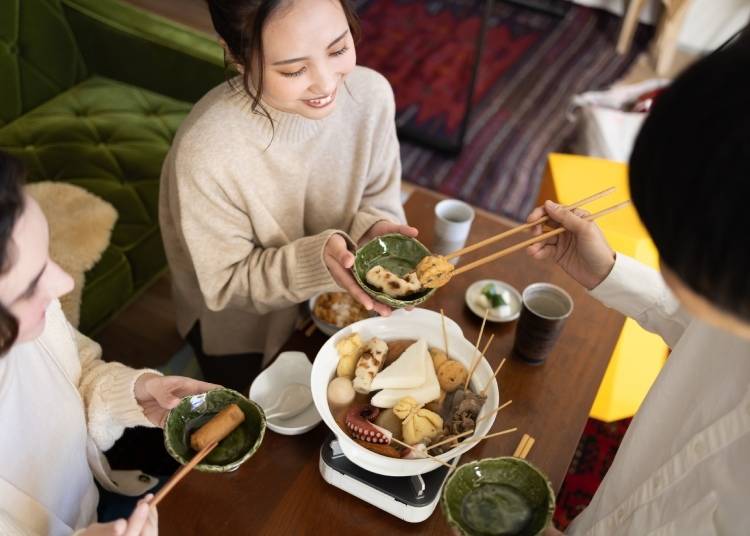 (Photo: PIXTA)
While nabe can be eaten alone at home, it is more fun to do it with a group, either at home or in a restaurant. When eating name in a group, there is usually one person in charge of adding ingredients, tending the flame, and judging when it is ready to eat, the nabe bugyō, or nabe "sheriff." Often times restaurants will provide a staff member to do this job.

There are two styles of preparing nabe, one where everything is added to the pot before the fire is lit, and another where the ingredients are added to the hot dashi one by one by the nabe bugyō, starting with things like mushrooms that add extra unami, then followed by things that need progressively less time to cook.

When dining in a group, each person will pull a few pieces out of the pot and place them in a small bowl containing a dash of ponzu, perhaps some grated sesame seeds or grated ginger, and more. After all the ingredients have been removed, the process is repeated. Often udon or pre-cooked rice is added at the end, so the leftover dashi doesn't go to waste.
11 Types of nabe in Japan
1. Japanese hot pot variations: Mizutaki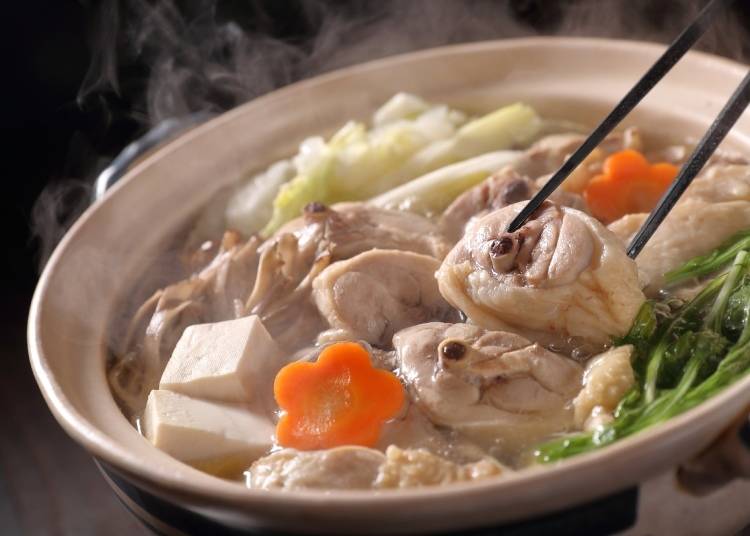 (Photo: PIXTA)
Mizutaki is a popular type of nabe that originates from Fukuoka Prefecture in Kyushu. The distinctive feature of this hot pot is using lots of chicken. Cabbage, mushrooms, tofu, and ponzu complement various types of chicken meat.

To maximize your dining pleasure, there is a recommended way of cooking and eating mizutaki. The first stage of the mizutaki experience is savoring the broth alone, followed by eating the rest of the ingredients gradually as they are cooked.
2. Japanese hot pot variations: Motsu nabe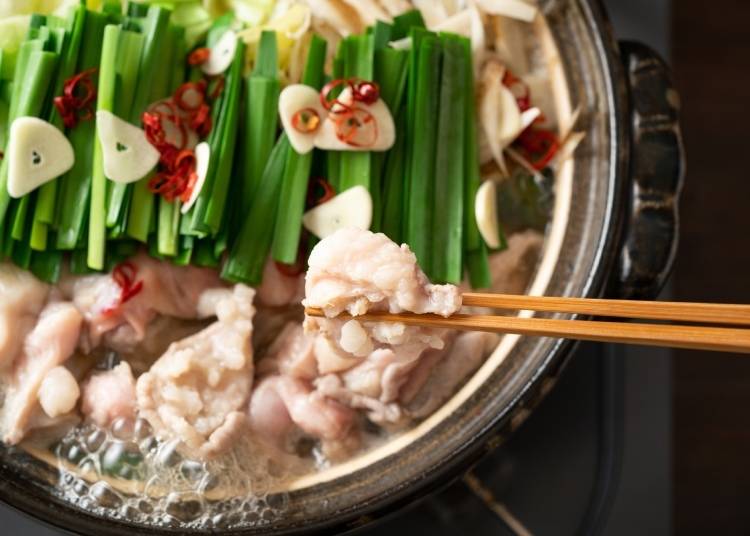 (Photo: PIXTA)
Also known as horomon nabe, the main ingredient of this type of nabe is beef or pork intestines (offal). Motsu nabe originated in the Korean community of Fukuoka during the war years when there were few other meat-protein sources available, and internal organs previously not being consumed.
3. Japanese hot pot variations: Negima Nabe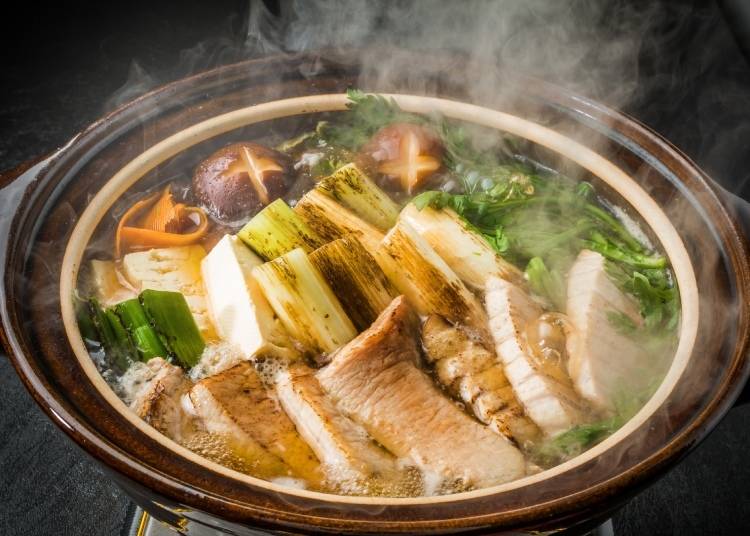 (Photo: PIXTA)
Negi-ma nabe is a hot pot dish of maguro tuna, negi onions in konbu dashi, plus the usual other ingredients. When the konbu dashi is hot, fatty o-toro tuna is added to richen the flavor. This dish originated in the Edo period when people didn't eat the fatty oportions of maguro tuna, preferring instead the lean, red aka-mi cuts.

Aka-mi tuna is added as one of the final ingredients, so it doesn't get overcooked. The name is a combination of the two main ingredients. Because of the cost of the tuna, this nabe is rarely made at home but is instead eaten in specialty restaurants, where it is one of the more expensive versions of nabe to be found.
4. Japanese hot pot variations: Ankō nabe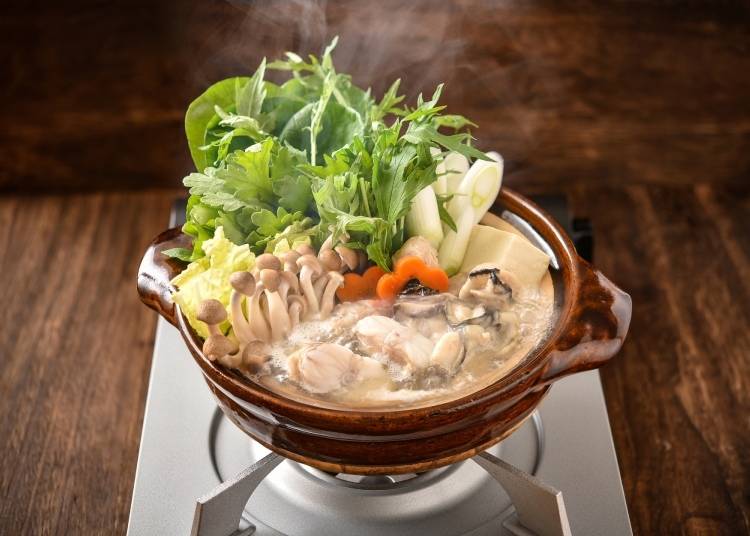 (Photo: PIXTA)
Angler fish or, in some places, monkfish. Nabe uses chunks of flesh along with rich and creamy liver that melts into the soup. The best season is from October to March, which is also the best time for eating nabe.
5. Japanese hot pot variations: Suppon nabe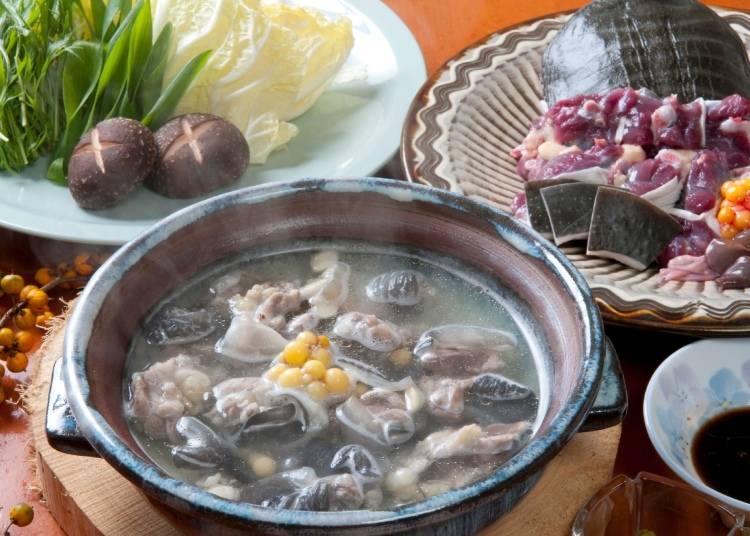 (Photo: PIXTA)
Suppon nabe is a hot pot dish where the namesake ingredient is snapping turtle. It is usually served as part of a course where most of the turtle is cooked in different ways, including deep frying as kara-age. Turtle is very fatty, so it works well in the nabe. Suppon is rich in collagen, which many Japanese believe helps keep skin looking young.
6. Japanese hot pot variations: Chiri nabe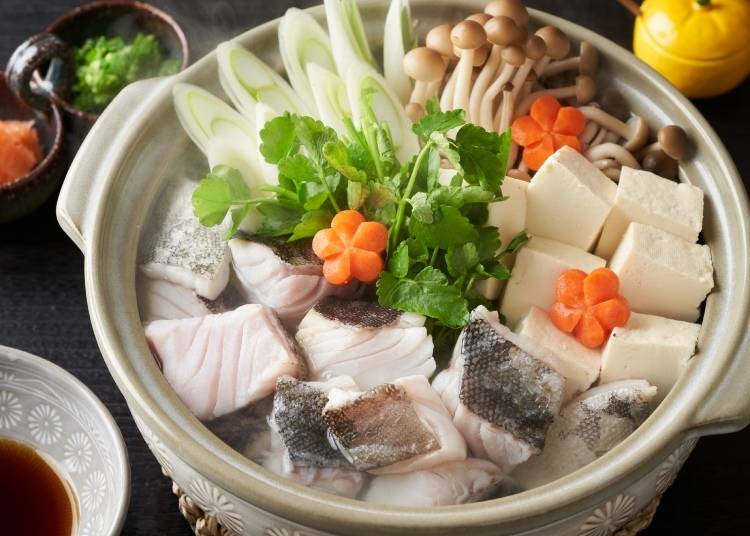 (Photo: PIXTA)
Fugu nabe is usually called chiri nabe, even though chirinabe also can be tara-chiri nabe, or cod nabe. Fugu chiri nabe is usually served at the end of a fugu course meal, after eating thinly sliced, translucent sashimi and fugu kara-age (deep-fried pieces of the bony parts).
7. Japanese hot pot variations: Yose-Nabe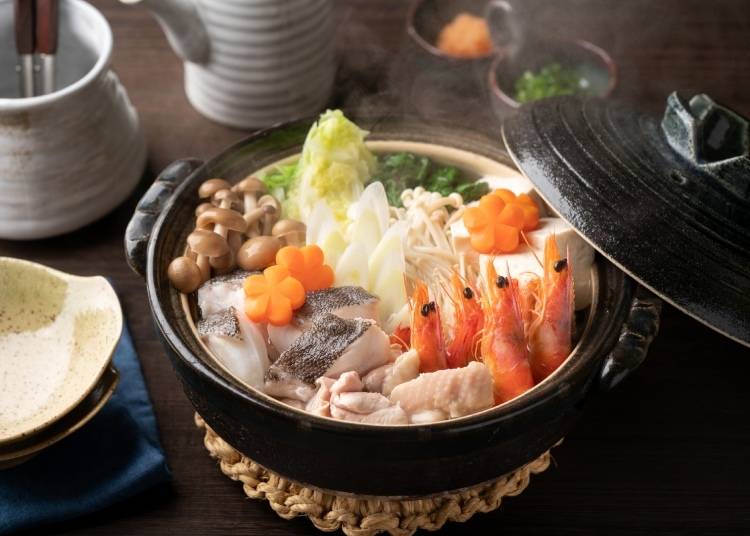 (Photo: PIXTA)
Yose nabe is essentially a hot pot meal made using leftover ingredients. It is commonly eaten by restaurant workers after closing time, but can also be made at home when you want to clean out the fridge.
8. Japanese hot pot variations: Chanko Nabe ('Sumo Stew')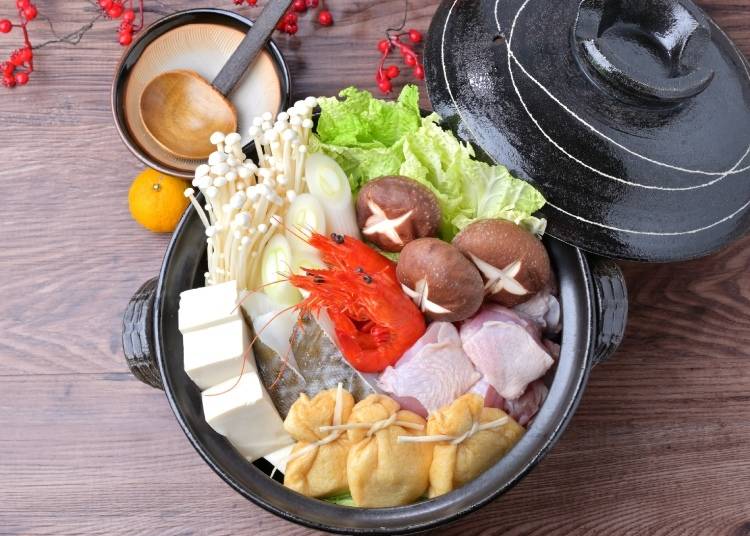 (Photo: PIXTA)
Chanko nabe is the food of sumo wrestlers, what they eat as part of their main meal each day. It seems to have first been made in the Meiji period, sometime in the early 20th century, when Hitachiyama, a sumo Yokozuna (the highest rank) and popular coach, needed an easy way to feed the many young, hungry and large sumo wrestlers under his direction. When other sumo heya (stables) saw the success Hitachiyama was having, including three more wrestlers becoming Yokozuna under his direction, they associated it with eating chanko nabe.

Chanko really is an easy way to feed huge quantities of healthy ingredients to giant or still-growing sumo wrestlers. Besides the usual nabe ingredients of vegetables and tōfu, chanko nabe generally features one of three main proteins (pork, chicken, or beef) cooked in a basic dashi broth or with salt, shōyu or miso added. Seafood is rare as it is much more expensive than the other mains. When eaten by sumo wrestlers, it is always accompanied by many side dishes and, of course, lots of rice!

After retirement, many sumo wrestlers go into business doing what they know best: opening a chanko nabe restaurant! You can find many such establishments in the Ryōgoku neighborhood, close to the Tokyo sumo arena, including Chanko Kawasaki, which opened in 1937 almost across the street from the Kokugikan sumo arena in the Ryōgoku neighborhood of Tokyo. Kawasaki is still in business, as are many more chanko restaurants in the same neighborhood. Give chanko a try, but be prepared for huge portions!
9. Japanese hot pot variations: Shabu-shabu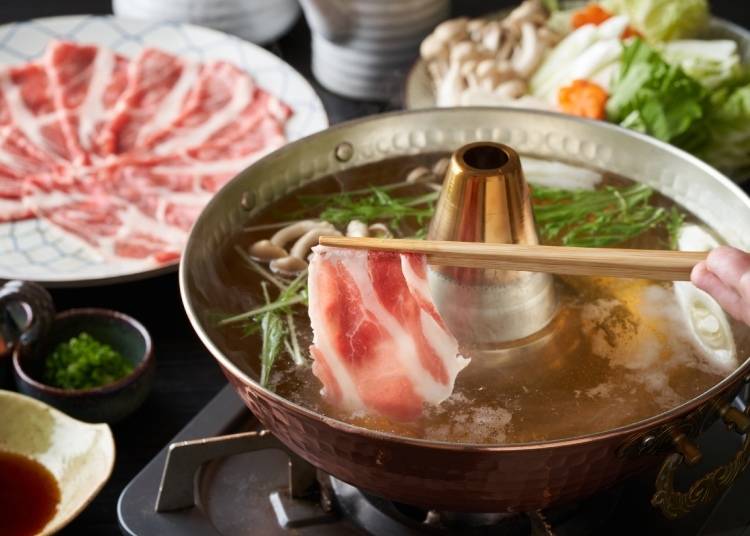 (Photo: PIXTA)
Shabu shabu is a style of nabe where, in addition to the usual vegetables and what not, thin slices of pork, chicken, or fish are quickly dipped into the hot broth with the diner's chopsticks, and then eaten.

Shabu shabu is also a popular way to eat Japanese wagyu beef, at home or in restaurants. It is one of the few types of nabe ryōri cooked in metal, rather than ceramic, pots. The basic style and name seem to have been brought back to Japan after the war by Japanese who had been living in Manchuria, then a colony of the Japanese.
10. Japanese hot pot variations: Oden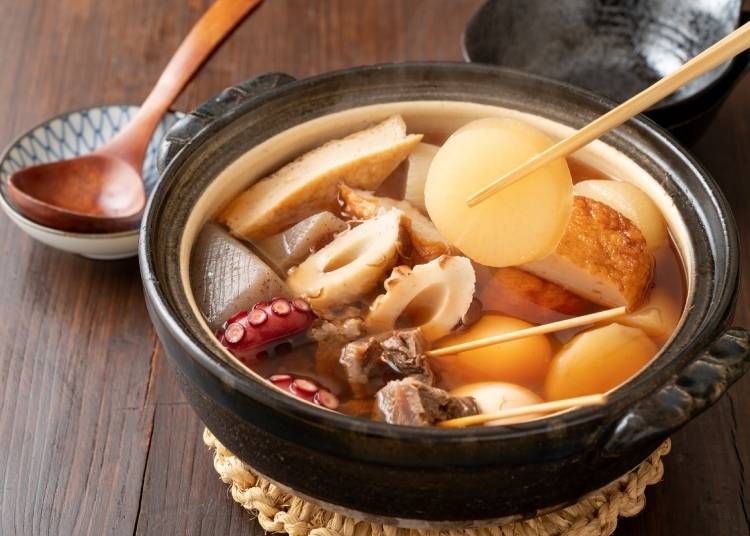 (Photo: PIXTA)
Oden is a hearty and warming nabe especially popular in the winter. Various ingredients, many from the sea, plus vegetables such as daikon, potatoes and onions, are simmered in a broth that is often sweater than used in other kinds of nabe. Several tōfu-based ingredients are also popular, as well as some made from wheat and konyaku. Hard-boiled eggs are pretty much a must!

Oden originated in the mid-Edo period, and was originally a mix of tōfu dengaku and konyaku. Oden is easy to prepare at home using oden sets that can be found in most supermarkets and department stores, especially when the weather turns chilly.

There are also restaurants that specialize in oden and many more where it is on the menu. If you want just a quick bite to take home, there are always Japanese convenience stores where simmering trays of ingredients can be found next to the registers.
11. Japanese hot pot variations: Sukiyaki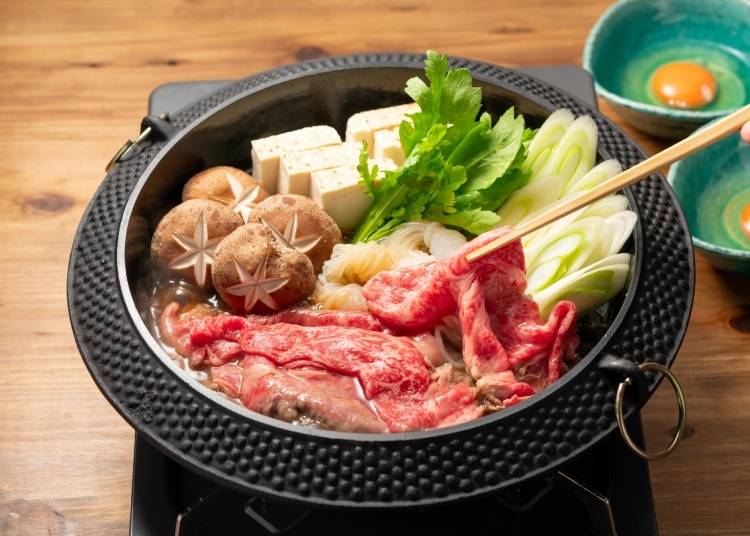 (Photo: PIXTA)
Sukiyaki is a very popular nabe made by simmering thinly-sliced meat (most typically beef), tofu, and vegetables in a shallow pot containing a mixture of soy sauce, mirin, and sugar. Just before eating, the ingredients are dipped into a bowl of fresh, raw egg.
3 Regional Nabe Styles to try in Japan
As with so many other things in Japan, there are many regional styles of nabe that incorporate local ingredients and traditions. From Okinawa in the far south with its pork and Okinawan vegetable nabe, to the far north of Hokkaido, an island famous for cold snow and seafood, there are local styles of nabe just waiting for travelers to explore. Let's take a quick look at a few of these regional specialties.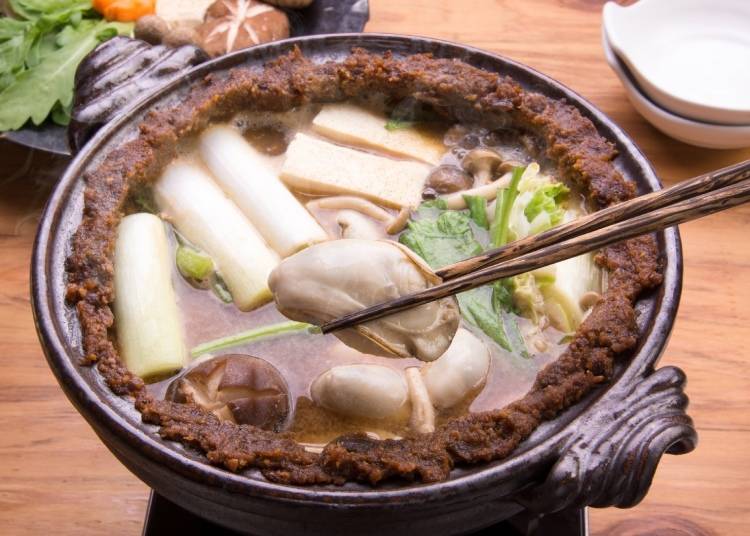 (Photo: PIXTA)
As with so many things in Japan, there are many regional styles of nabe using local ingredients. One example is the dote nabe (dough-tay) of Hiroshima which features local oysters and miso that is smeared on the inside wall of the pot before adding ingredients. The word "dote" means an embankment, something the miso resembles.
2. Ishikari nabe (Hokkaido)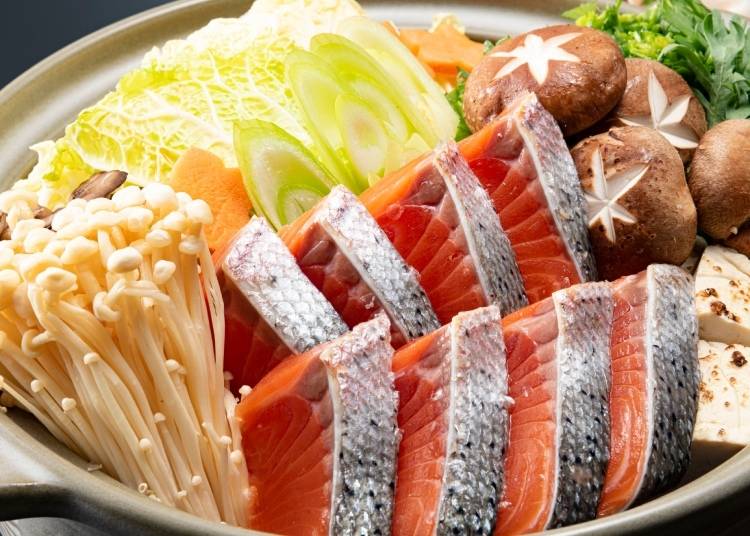 (Photo: PIXTA)
A popular version from Hokkaidō, ishikari nabe, is made with ingredients reflective of the bounty of the island's agriculture and fisheries.

Besides the usual basic ingredients, this nabe usually has salmon, salmon roe, perhaps some scallops, and an assortment of vegetables, including carrots, spinach, daikon, and konyaku, plus a dab of miso and shirako (cod milt). A hearty meal for a cold, snowy day!
3. Kiritampo Nabe (Akita)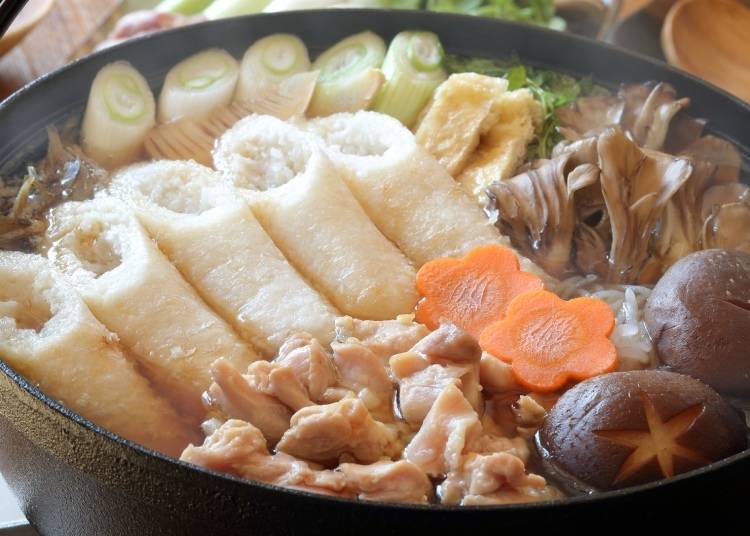 (Photo: PIXTA)
Staying up north, Akita prefecture has its own version, kiritampo nabe. This is a basic nabe made with chicken and the usual ingredients, plus kiritanpo, which are tubes of rice that have been slightly grilled while wrapped around a stick.
Where to eat nabe in Japan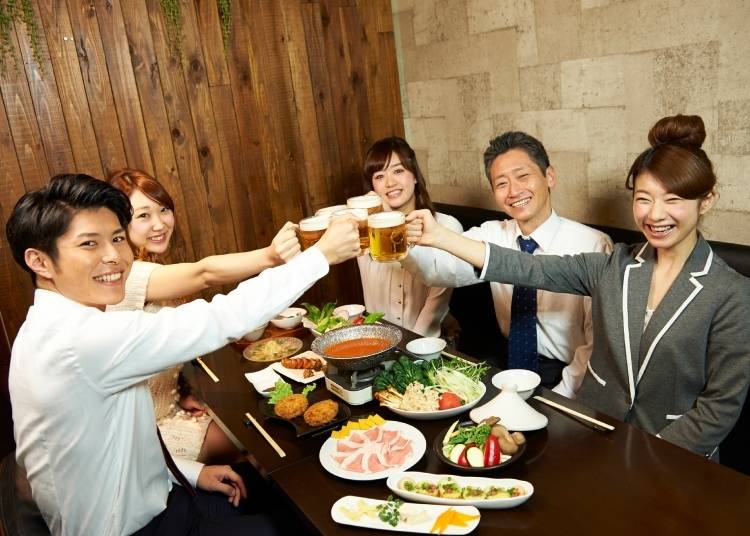 (Photo: PIXTA)
One of the great things about eating in Japan is that you no longer need to travel around the country to find these regional dishes. It is usually more fun to eat locally while traveling, but it is also possible, and easy, to find the same kinds of things in Japan's biggest cities, especially in Tokyo.

In most cases, the owner of a restaurant serving regional cuisine will be from that area, and also bring in ingredients from there as well. So whether you are visiting the far north of Japan or just looking for a place to eat nabe in Tokyo, enjoy a meal of nabe.
Written by: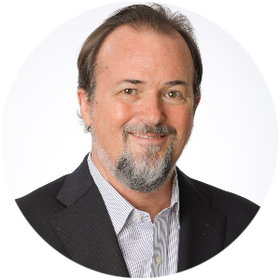 *This information is from the time of this article's publication.
*Prices and options mentioned are subject to change.
*Unless stated otherwise, all prices include tax.
Limited time offer: 10% discount coupons available now!