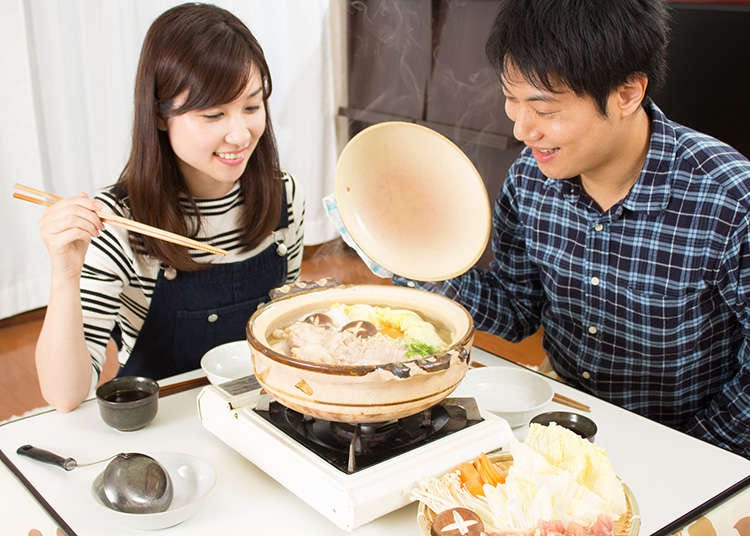 There's a certain dish that people in Japan look forward to enjoying each year as the cold weather approaches: Nabe. In Japan, nabe-ryori, or nabe-mono, are terms for the Japanese hot pot cuisine.

Typically shortened as 'nabe,' it is also referring to the pot itself. Packed with ingredients including meat, vegetables, seafood, and tofu, this is a hearty, healthy meal that will fill you up and keep you warm!
Japanese Hot Pot: Various Types of Nabe-Ryori
There are many kinds of hot pot dishes in Japan. You can find many variations on the cold-weather recipe, with ingredients such as fish, scallops, meat, mushrooms, leafy greens, shirataki (gelatinous noodles made from konjac), and more, depending on the type, region, or personal preference.

Before eating, the cooked ingredients can be dipped in ponzu, a thin citrusy sauce made with vinegar and mirin (a rice wine used for cooking). After all of the added ingredients have been consumed, it is common for rice to be added to the remaining broth to create a delectable kind of porridge called 'zosui.' Alternatively, sometimes the soup is eaten with noodles as the final serving of nabe.

Nabe is often thought of as a typical home-cooked type of meal which enjoyed by family and friends gathering. However, even if you are only visiting Japan, you can still experience a traditional hot pot meal by visiting a nabe specialty restaurant.
Japanese Nabe: Region Specific Nabe Styles
Like many other foods in Japan, each region has its own ideas on what makes a great nabe. There are so many hot pot variations that it's challenging to choose within a short trip.

For example, Hiroshima's specialty is called dote-nabe, which includes oysters and miso pasted onto the inside of the pot like a riverbank (called 'dote' in Japanese).

A popular meal in Hokkaido is ishikari-nabe, made with many specialties of the region, such as salmon, potatoes, and corn.

Meanwhile, Akita's version of the hot pot features one of their regional specialties, kiritanpo (a grilled skewer of rice that has been pounded and mashed), with chicken, burdock, maitake mushrooms, green onions, and Japanese parsley. This is known as kiritanpo-nabe.
Japanese hot pot variations: Mizutaki
Mizutaki is a popular type of nabe that originates from Fukuoka Prefecture in Kyushu. The distinctive feature of this hot pot is using lots of chicken. Cabbage, mushrooms, tofu, and ponzu complement various types of chicken meat. To maximize your eating pleasure, it is recommended to cook and eat mizutaki by following a certain process.

The first stage of the mizutaki experience is savoring the broth alone, followed by eating the rest of the ingredients gradually as they are cooked.
Japanese hot pot variations: Yose-Nabe
Yose-nabe is a catch-all term for nabe that doesn't fall into a specific category. A typical basic yose-nabe is made of seafood and vegetables, with a soy sauce or miso-based soup stock.

For many people, their concept of yose-nabe is based heavily on the region in which they were raised. However, there's no need to limit yourself; the beauty of yose-nabe is that you can make it as straightforward or as creative as you want. The possibilities are endless.
Japanese hot pot variations: Chanko Nabe 'Sumo Stew'
You might think of Chanko nabe as a "sumo stew"! This is because chanko is the typical food eaten by sumo wrestlers. Like yose-nabe, this type of hot pot does not have a set recipe, but you are likely to find plenty of protein-packed inside, in the form of chicken, fish, tofu, and beef.

However, during tournament time, it is customary for sumo wrestlers to limit the meat in their chanko to chicken only. The reason for this is because wrestlers should ideally stay two legs during their matches, like a chicken, and not on all fours, like many other animals. This custom has gradually changed as time goes by, and modern chanko nabe features beef and pork.
Japanese hot pot variations: Sukiyaki
Sukiyaki is a very popular nabe made by simmering thinly-sliced meat (most typically beef), tofu, and vegetables in a shallow pot containing a mixture of soy sauce, mirin, and sugar. Just before eating, the ingredients are dipped into a bowl of fresh, raw egg.
Nabe-Bugyo: The Hot Pot Master
The person in charge of deciding when to put ingredients into a pot and checking the heat is called a nabe-bugyo. It's an important job, but it can also be very fun! If you eat a nabe hot pot in Japan, you might be able to become one too.
Read more about Japanese nabe hot pots!
*This information is from the time of this article's publication.
*Prices and options mentioned are subject to change.
*Unless stated otherwise, all prices include tax.