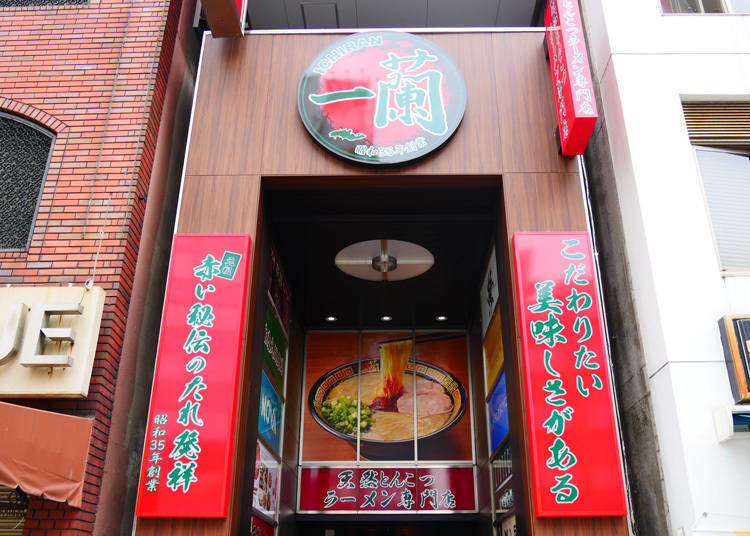 On June 9 2020, Ichiran opened its second branch in Ueno Okachimachi. For those of you who don't know, Ichiran is a popular tonkotsu (pork broth) ramen chain, known for its "Flavor Concentration Booths", referring to its separate seating so you can truly focus on the taste sensation that is their tonkotsu ramen. Interestingly, it is this type of separated seating that makes Ichiran uniquely suited for measures against coronavirus.

Specialists in the control of infectious diseases have deemed Ichiran's walled seating as "effective in the prevention of droplet infection". Alongside that, the new store has a disinfection mat at the entrance, a disinfectant deodorizer called "Aeropure", and even disposable gloves for customer use.

With all these anti-infection measurements in mind, let's have a deeper look at the store and what awaits inside!

* Information displayed is as of the time of article production. Prices and contents are subject to change.
* Information provided may change in response to the spread of the novel coronavirus.
* Please contact facility operators directly for the latest information.
Ichiran Ueno Okachimachi: Close to the Station and Popular Shopping Complex!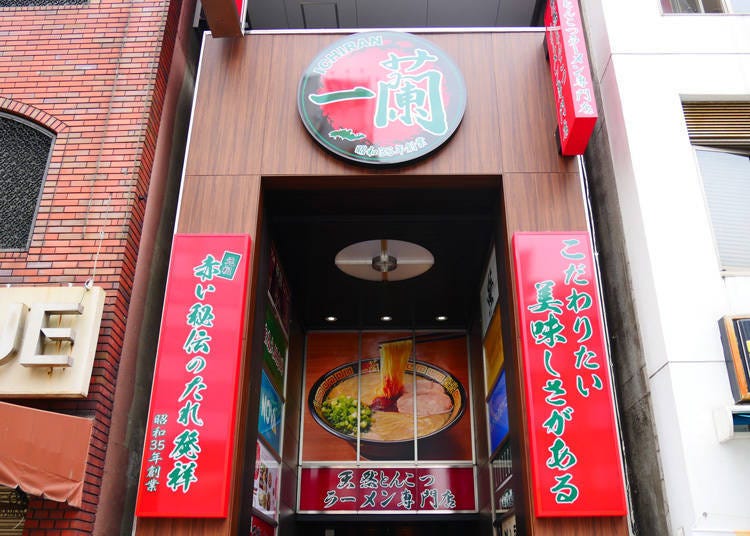 "Ichiran Ueno Okachimachi Store" is located on the 1st and 2nd floors, with the 1st floor serving as a souvenir shop and the 2nd floor serving as the restaurant.
Access
・1-minute walk from Tokyo Metro Ginza line "Ueno Hirokoji" station A5 exit
・1-minute walk from Toei Oedo line "Ueno Okachimachi" station A5 exit
・3-minute walk from JR "Okachimachi" station north exit

Overview
Within walking distance of the popular shopping spot, Atre (Ueno Yamashita Exit), the new Ichiran branch has 25 seats. If you're shopping around in Atre and it starts to seem a bit crowded, this is a good spot to get away for a moment.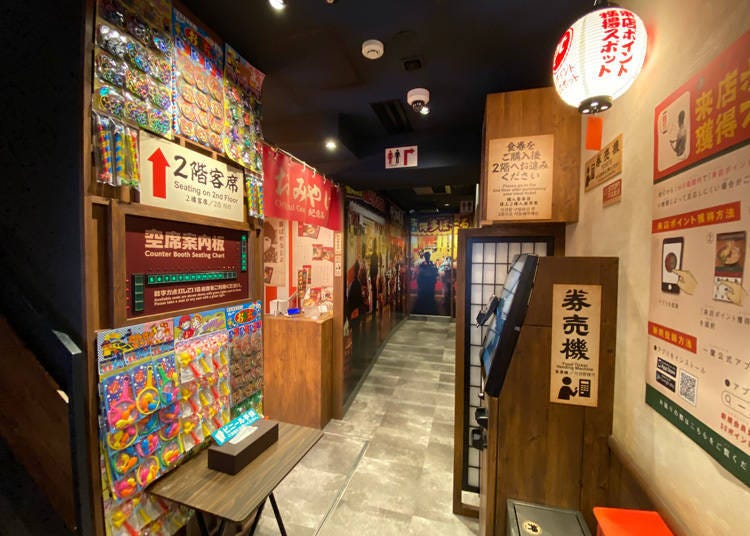 After entering the store
At a typical Ichiran restaurant you would usually order your meal from a ticket machine, go to your seat and be served there. At the new store, although this flow is entirely the same, there are now disinfection mats at the entrance, disposable gloves that customers are free to use, and automatic alcohol-based disinfectants at three different locations within the store.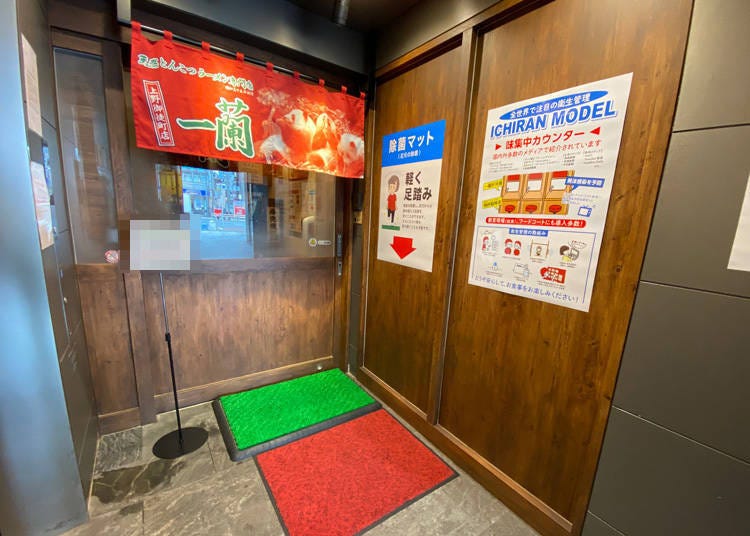 Shoe disinfection mat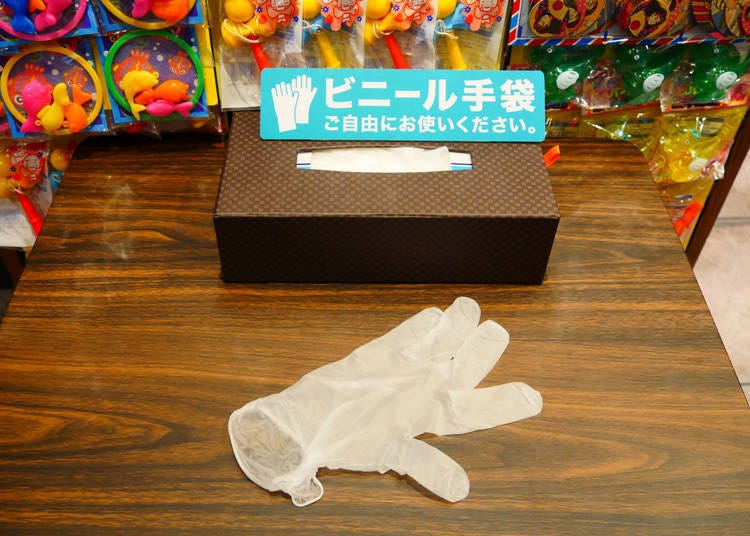 Disposable gloves that can be used freely. Discard at the exit.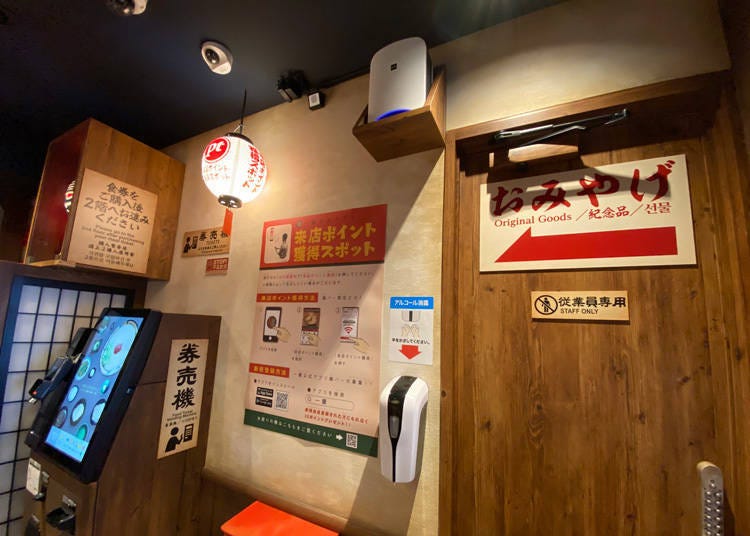 Automatic, touchless alcohol disinfection spray (bottom center) and disinfection deodorizer "Aeropure" (top center).
Once you enter the store, buy your meal ticket from the touch screen ticket dispenser (using the gloves if you prefer), and sit down at your designated seat as shown on the "Counter Booth Seating Chart." Once seated, you'll find an order sheet where you can choose the texture of your noodles. Then you simply press the "order" button, and without having to exchange any conversation with staff, your ramen will appear before your eyes after a few minutes.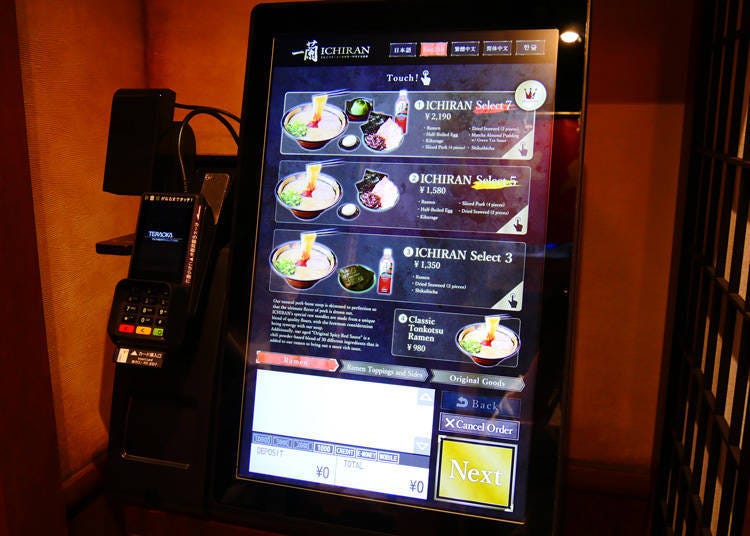 The touch-panel ticket vending machines support English, traditional/simplified Chinese, and Korean. They accept contactless payments such as credit card payments, PayPay, and LINE Pay.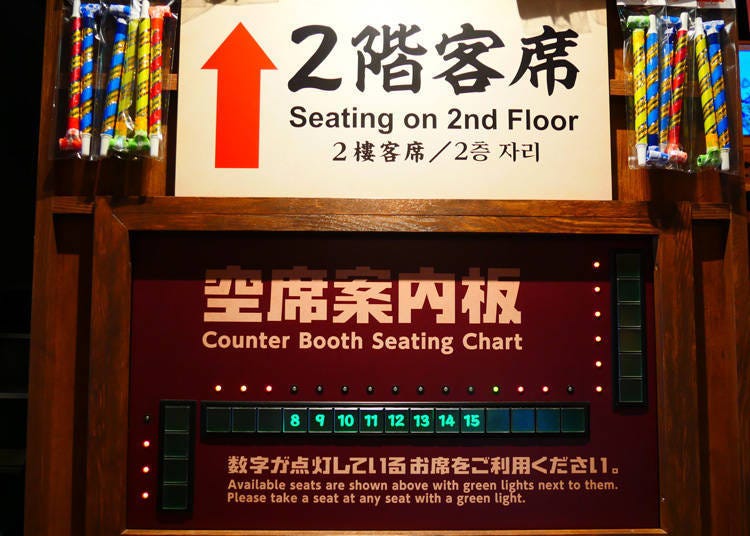 Counter Booth Seating Chart
You can order and eat at your own leisurely pace, savoring the delicious taste of Ichiran's signature tonkotsu ramen. With minimal staff interaction, you don't even need to worry about language barriers or droplets that can be passed on through conversation.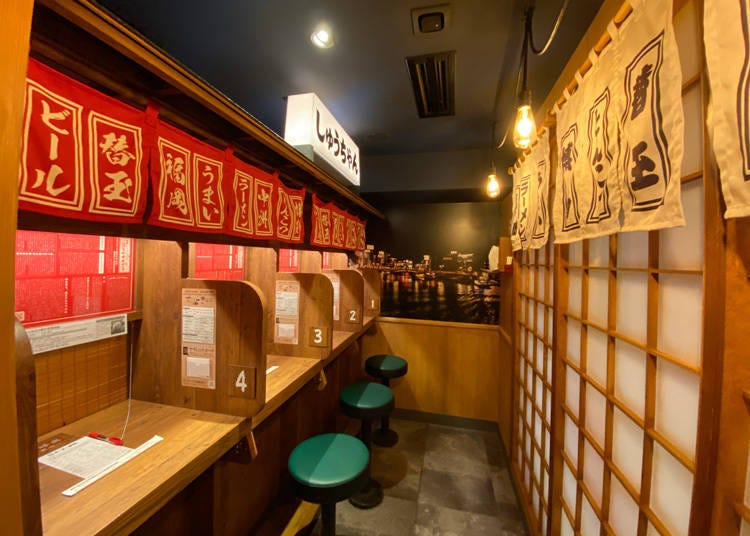 Seats on the second floor. The air is replaced over 6 times an hour.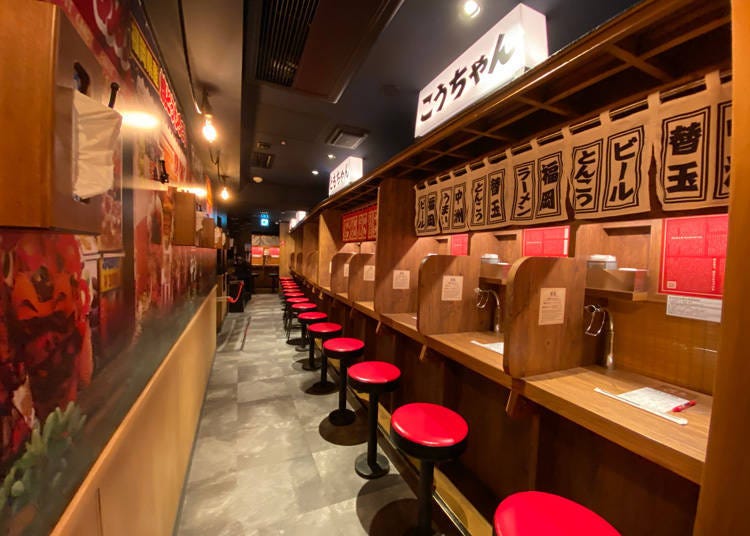 The famed "Flavor Concentration Booths"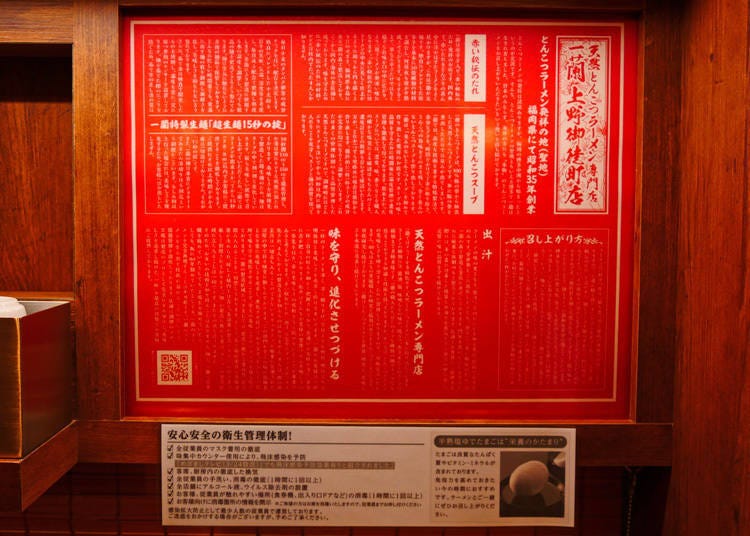 Once seated, you can see Ichiran's hygiene management system along with the introduction of the store. (Japanese only)
To those accustomed to Ichiran, it might look like an ordinary branch at first glance, but there are a few anti-coronavirus measurements in place. For example, instead of the stack of water cups to choose from, there is a singular newly sterilized cup at each seat, and there are announcements about hygiene management throughout the store. These various anti-infection touches allow customers to enjoy their meals without the constant worry of infection.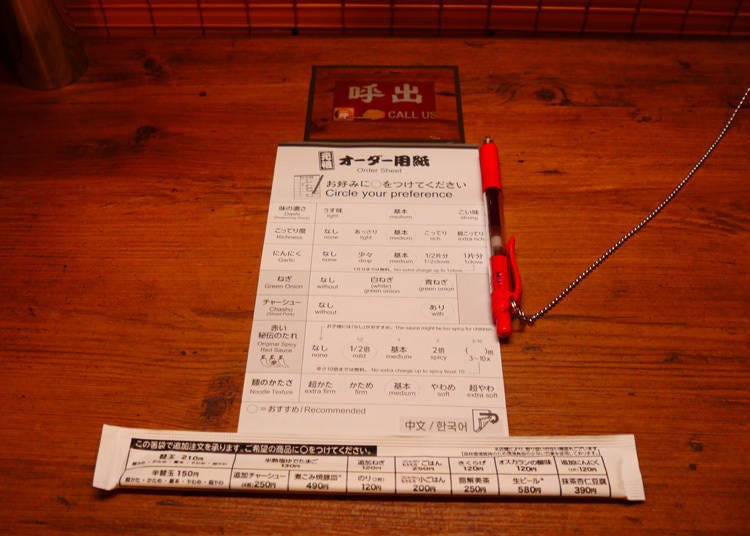 Ichiran's usual order form. Available in English, Chinese and Korean. Options circled with a dotted line are the recommendations for first-timers.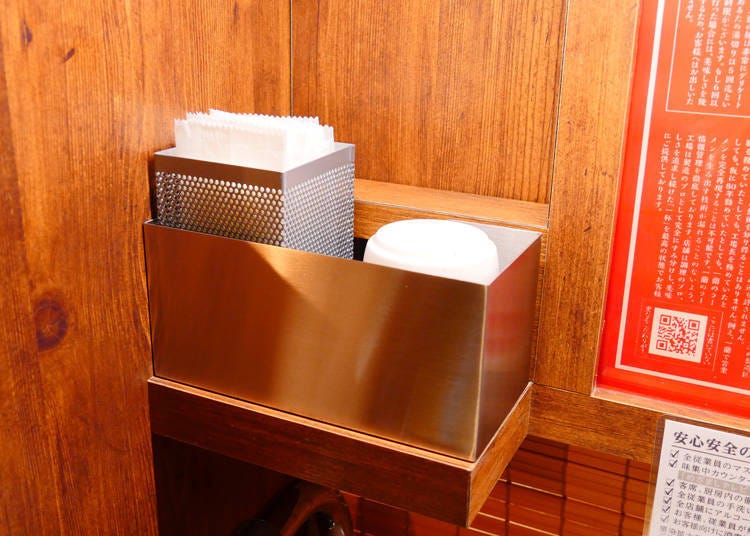 Normally, multiple cups are stacked, but to prevent the spread of coronavirus, only one disinfected cup is put in place just before the customer takes their sea
The menu at the Ichiran Ueno Okachimachi store includes the ever-popular "Natural Tonkotsu Ramen" (980 yen including tax), as well as the "Nikomi-yaki Pork Plate" (490 yen including tax) (which is really underrated in my opinion!), side dishes, and various toppings. As is the norm at Ichiran restaurants, they make sure to bring the dish to your seat within 15 seconds of cooking.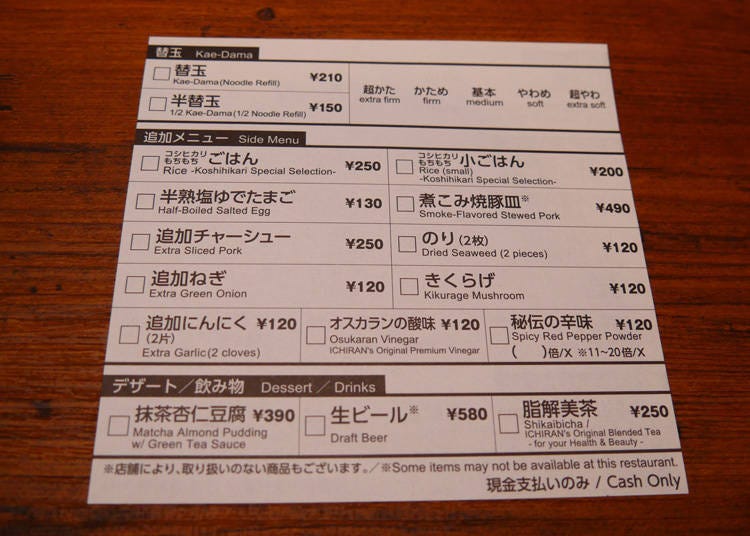 You can order "kaedama" noodle refills from your seat, too.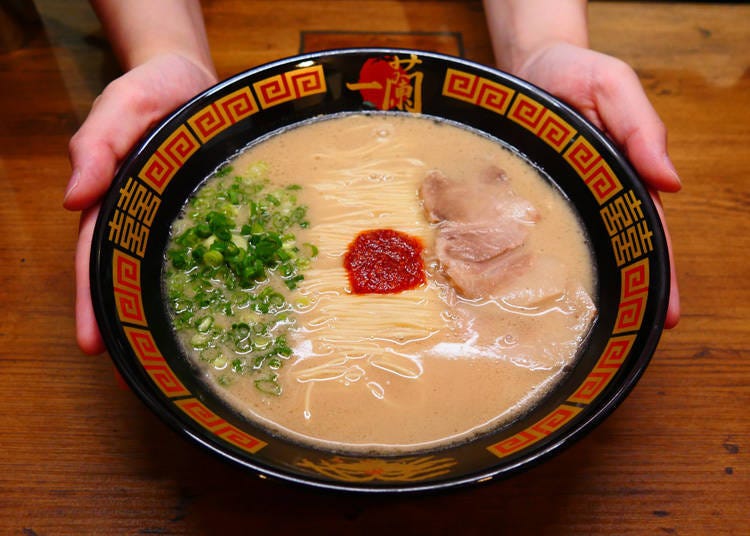 Natural tonkotsu ramen (pork broth)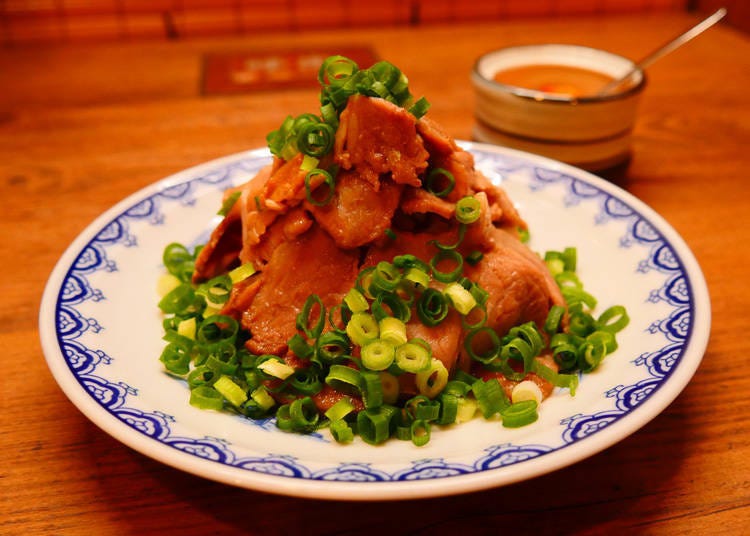 Nikomi-yaki Pork Plate
Employee Hygiene Management: Thorough and Careful!
At each Ichiran store, including this Ueno Okachimachi branch, employees are of course also implementing anti-coronavirus measures. They have strict orders to gargle at least once an hour, and are operating under the slogan of "1 act to 1 hand washing." Masks are also worn by all employees.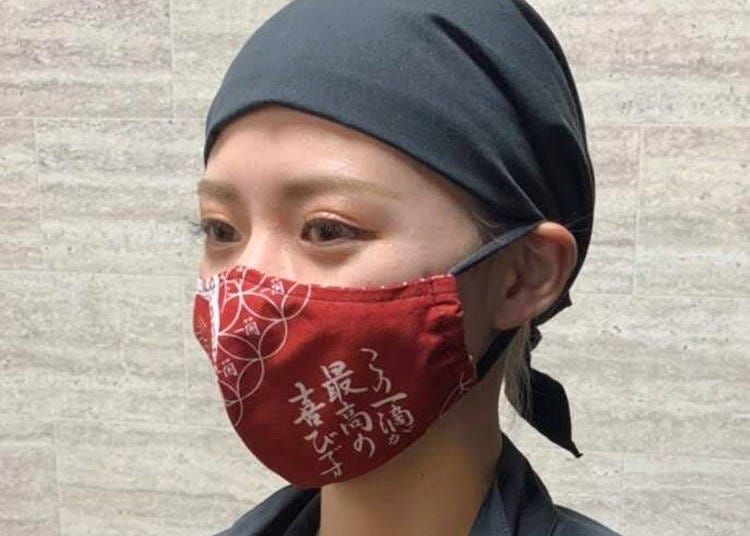 Ichiran original handkerchief mask!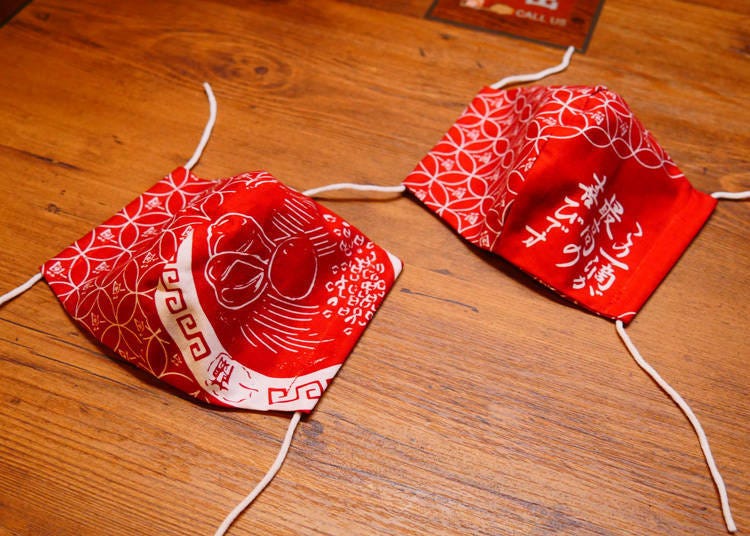 This original Ichiran mask was distributed at the Nagoya store on a first-come-first-served basis, but depending on demand there is the possibility of further Japan distribution and potential sales in New York.
Additionally, a new system has been introduced where employees must take their temperature before starting work and report their physical condition. They must also report the temperatures of their family members if they live together.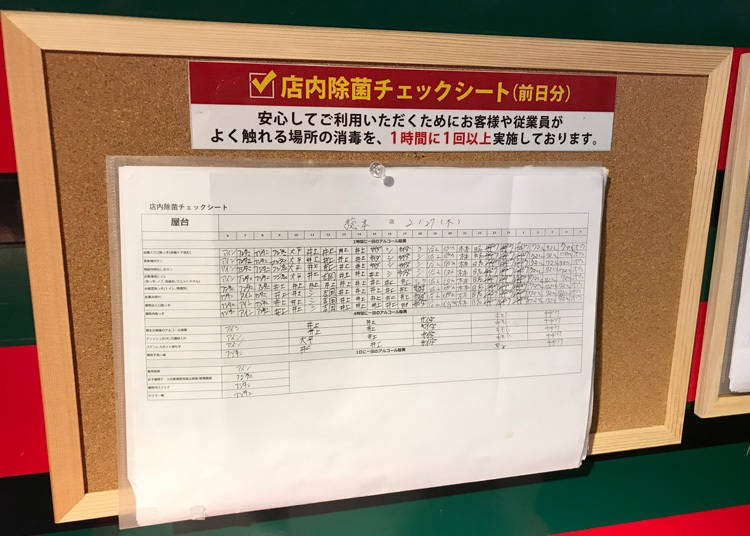 Sterilization control using a check sheet
To keep it as sanitary as possible, even the cloths used to wipe down surfaces are kept in check with a set amount of water. In addition, the entirety of every room including the kitchen floor is thoroughly cleaned once a day, the toilet is cleaned once an hour, and the bathroom floor is cleaned once every four hours.
Eating With Peace of Mind at Ichiran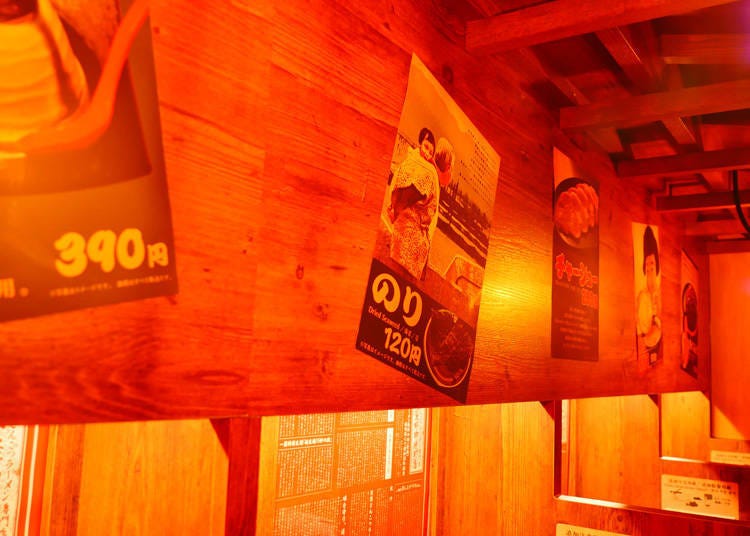 In addition to the "Flavor Concentration Booths", the interior of Ichiran stores are dimly lit to add focus to the flavor. The walls are decorated to give a retro Showa-era atmosphere.
This Ueno Okachimachi store was actually originally planned to open a while ago, but was postponed due to the spread of Covid-19. It seems that during their postponement, they were preparing to provide an even safer eating space.

People visiting other Ichiran stores said:
"Ichiran's taste concentration counter can be eaten with peace of mind"
"I was glad that Ichiran was open as a restaurant while I had to go out for work"

We were told that the new store opened in the hopes that it would be a useful and safe dining space for those who are unable to work from home.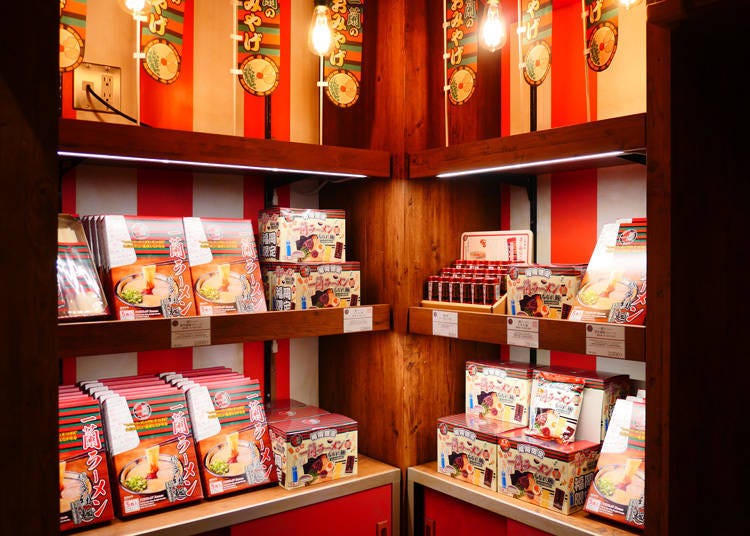 Don't Forget the 1F Souvenir Shop!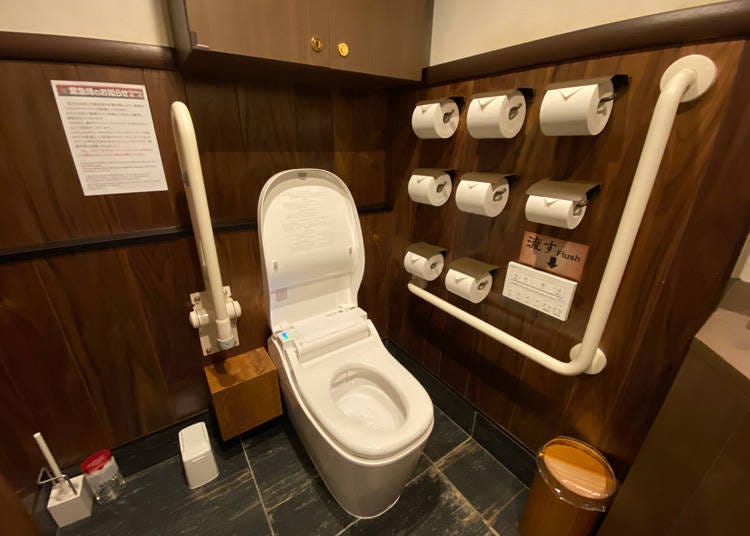 Interestingly, Ichiran is known among Japanese fans for its strong commitment to toilet hygiene. As we can see at the toilet at this Ueno Okachimachi store, there is even a mechanism to maintain a good stock of toilet paper.
The anti-coronavirus measures that are in place at this new Ueno Okachimachi store will serve as a base for all Ichiran stores nationwide and abroad going forward. Hopefully, this will let ramen fans eat in peace!

*Business hours are shortened for the time being. Please check the official website for the latest information here.

Written by Shoko Kamiguchi
Translated by Cassandra Lord
Ichiran Ueno Okachimachi Branch

一蘭 上野御徒町店

Address

Ueno 4-4-5, Taito-ku, Tokyo 1F-2F

Nearest Station

・1-minute walk from Tokyo Metro Ginza line "Ueno Hirokoji" station A5 exit
・1-minute walk from Toei Oedo line "Ueno Okachimachi" station A5 exit
・3-minute walk from JR "Okachimachi" station north exit


・Taste concentration counters: 25 seats
・No table seats or private group rooms
*Tableware for children is available

Hours: 10:00-22:00
*To be confirmed. Please check the official website for the latest information
*This information is from the time of this article's publication.
*Prices and options mentioned are subject to change.
*Unless stated otherwise, all prices include tax.