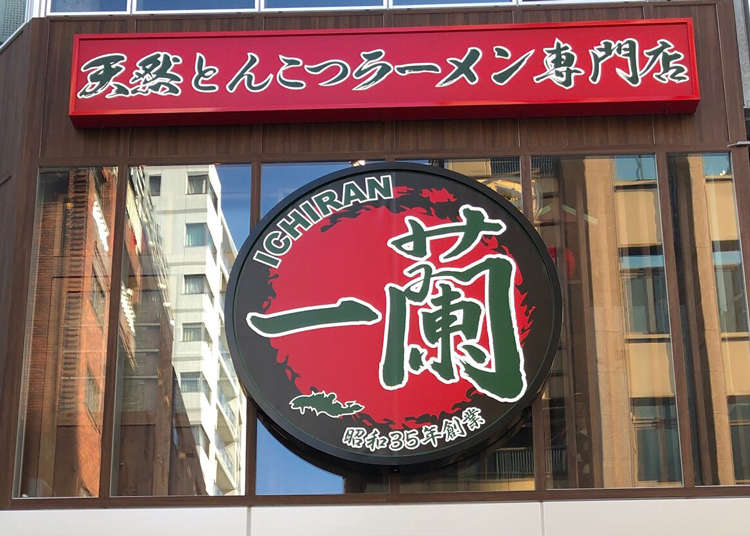 Ramen is one of those particularly popular dishes among those visiting Japan. Ichiran Ramen, one of Japan's more popular chains, opened a brand new shop in Asakusa on December 19.

Asakusa – one of Tokyo's old neighborhoods – is a very popular area with tourists and home to a variety of historical points of interest, plus the city's oldest temple. This is the second store in the Asakusa area following the Ichiran Asakusa store, and serving up natural tonkotsu ramen.

Our editor, Cassie from the UK, visited the store a little earlier to see what the excitement was all about!
Ichiran: Renowned Worldwide For Its Wildly Popular Tonkotsu Ramen!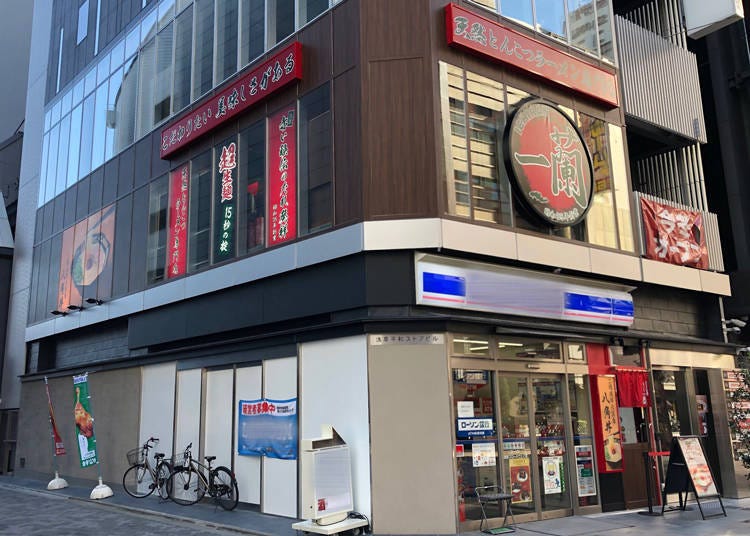 Ichiran is a popular tonkotsu ramen shop with stores in Japan as well as the United States, Hong Kong, and Taiwan. As its bowls have a huge number of fans all around the world, a number of tourists are keen to slurp the real thing when they visit Japan.

Ichiran's key feature is "Natural Tonkotsu Ramen" using original soup and special raw noodles. At all stores, the menu does not allow for substitutions. Chefs carefully manage the temperature of each ingredient and utensils so that customers get the best bowl at the perfect temperature.

It's said this balance is what makes ramen the most delicious. To emphasize this point, even the distance from kitchen to table is designed – within 28.8m – so that the ramen can be transported from kitchen to the customer's seat in under 15 seconds from completion.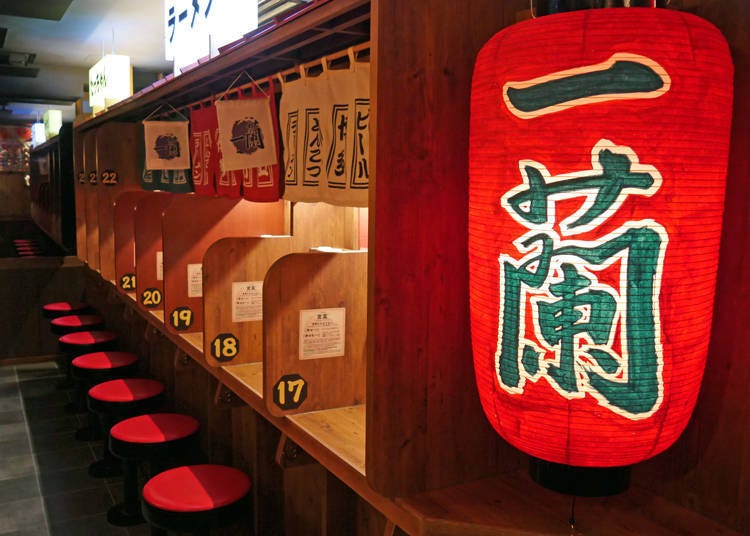 Inside the Ichiran Asakusa Rokku store. All 24 seats are counter seats. (Ichiran calls it "Flavor Concentration Counter")
Ichiran has the same basic taste, both of its tonkotsu ramen and of its shop atmosphere, in Japan and overseas
Ichiran is also rather famous for its style of seating which can easily accommodate solo diners. You can take the time to enjoy your ramen at your own pace, without worrying about the surroundings.

Just purchase a meal ticket, take a seat at the one indicated by the "vacant seat information board," fill in the order paper provided at the seat with the hardness of your favorite noodles, press the "order" button, and give the staff a glance with a smile. Even if you don't make eye contact, the ramen will be delivered to you just a few minutes later.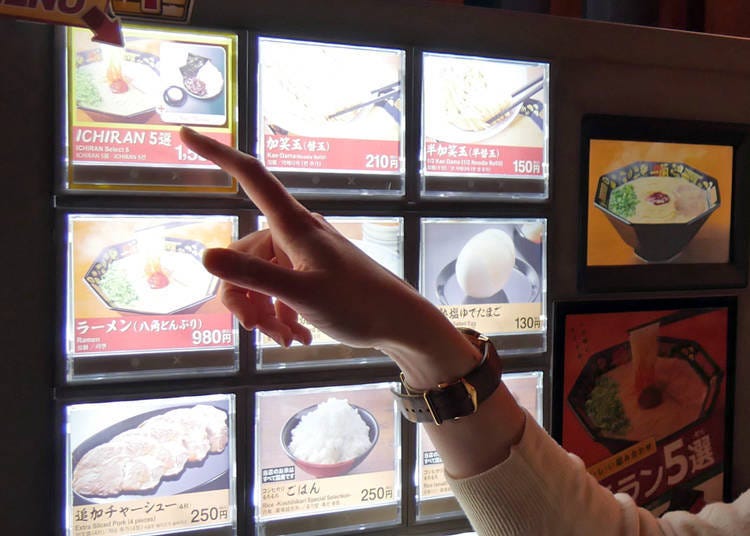 Ticket vending machines are available in Japanese, English, Chinese, and Korean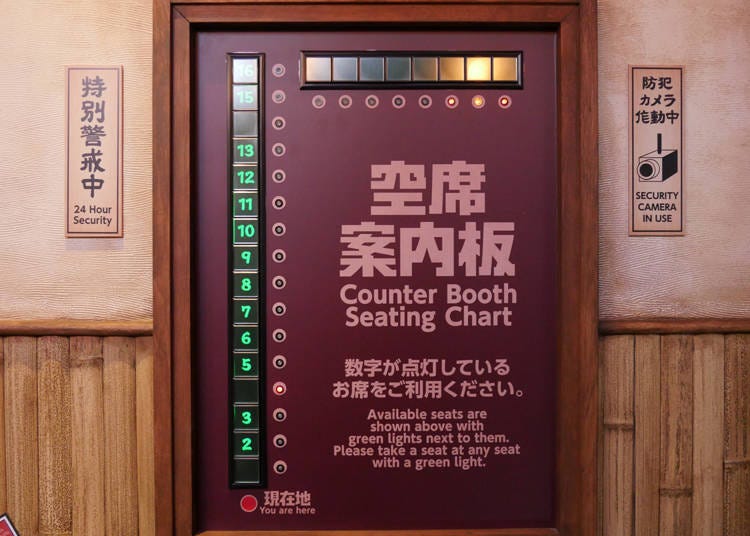 Check the vacant seats indicated on the seating chart
the lighting in the store is relatively subdued. This is intended to heighten your senses so that you can concentrate on the ramen's nuanced flavors. The shop's interior is also done in a retro style, adding to the overall vibe. It is pretty neat to sit back, slurp, and soak it all in!
"Ichiran Asakusa Rokku Store" creates a fun retro Japan feeling with all sorts of toys from yesteryear on the wall
Ichiran's New Store Will Offer Its Famous Ramen in an Octagonal Bowl
The new Ichiran Asakusa Rokku shop is the 84th store worldwide. The most distinguishing feature is that it provides customers with a smooth-looking "octagonal bowl." The showcase menu item, "Natural Tonkotsu Ramen (octagonal donburi)" (980 yen, tax included) has been perfected by over 40 dedicated craftsmen since its foundation.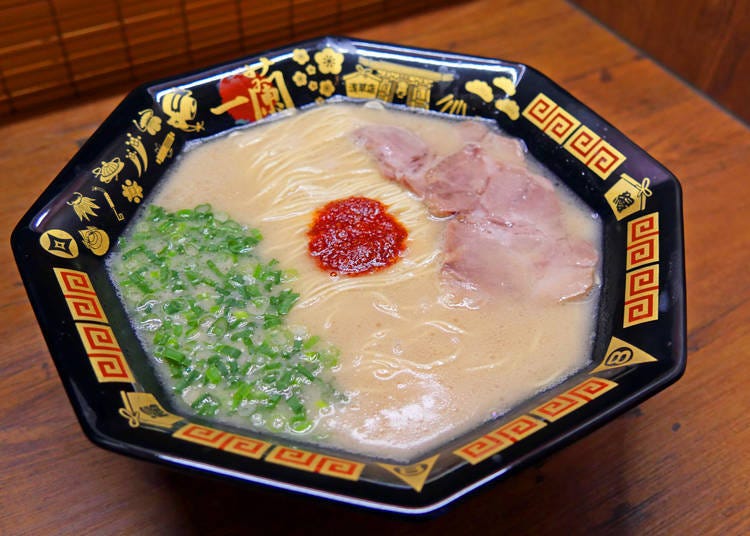 The octagonal bowl has been an auspicious shape said to draw lucky energy from all kinds of mystical creatures since ancient times – and might just increase your luck!
We're not sure whether that can be guaranteed, but we're sure that after slurping down this bowl of divine noodles, you'll have a happy day with a beaming smile.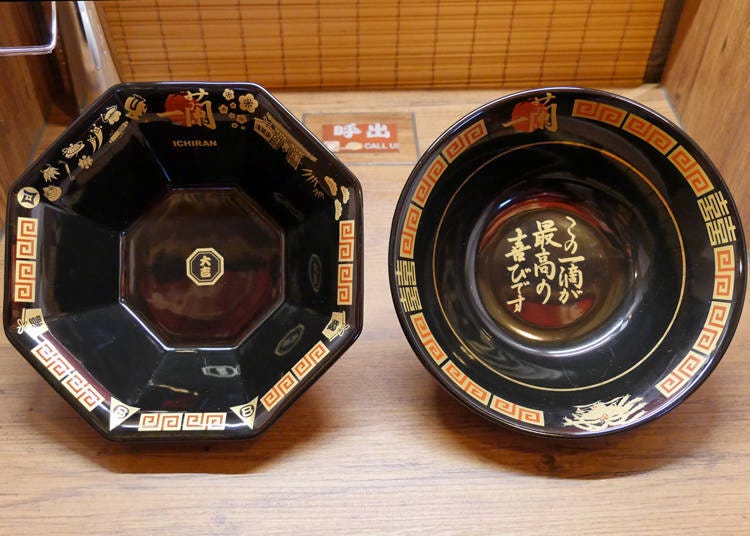 Comparison of Octagon Donburi (left) and standard Donburi at other stores (right)
On the edge of the bowl, there is an auspicious pattern with representations of several lucky items, such as the grouping of pine, bamboo, and plum. If you drink the soup from the number "8" on the front (considered a lucky number), the kanji characters for "Daikichi/大吉" – "best fortune"— will appear.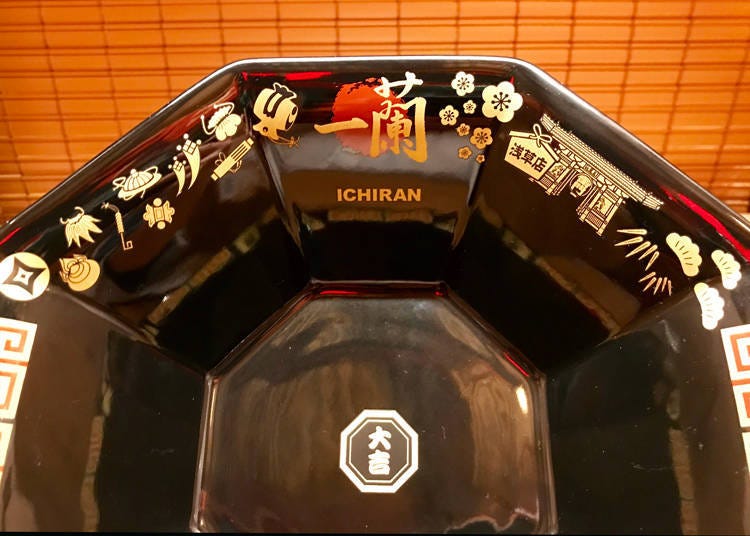 Slurping Up the "Natural Tonkotsu Ramen" From The Lucky Octagon Donburi!
Cassie, one of Live Japan's English editors, had excitedly eaten her meal.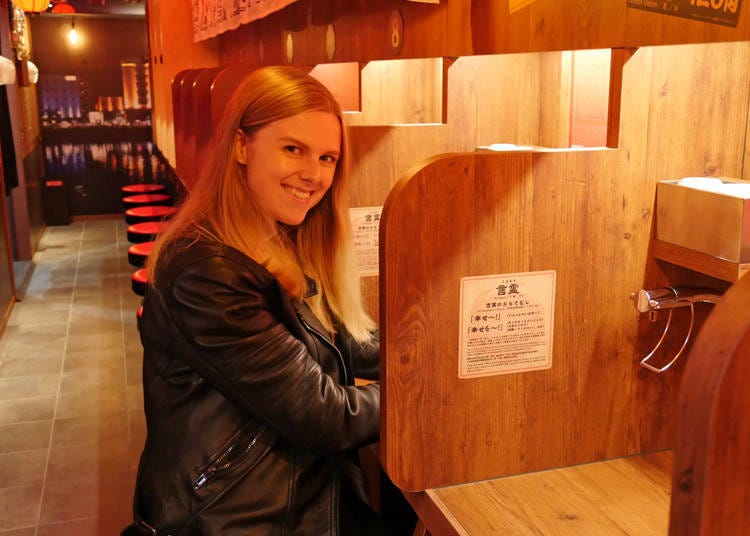 Cassie is from England, and this is her 3rd year in Japan
"I've had Ichiran ramen, but it's nice to be able to choose the strength and amount of garlic on my own. The soup is a light meal and I think it's just right to eat before going out to see the sights." (Cassie)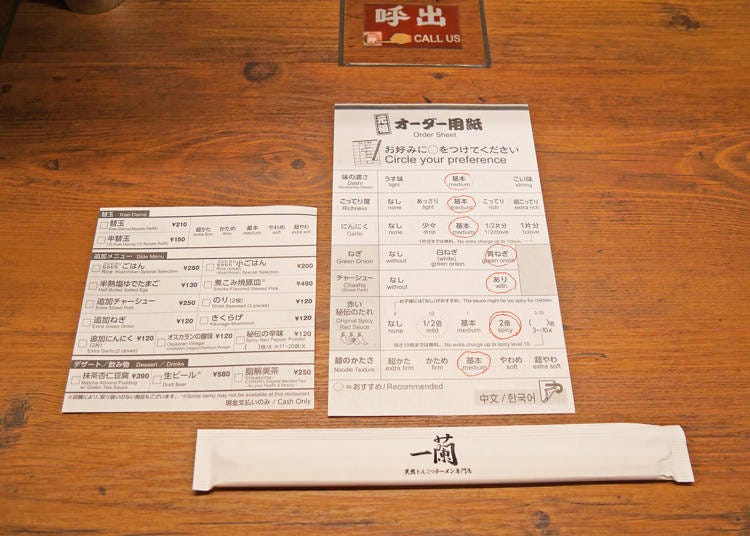 Ichiran's order form. For those who are anxious about what to choose for the first time, recommendations are indicated by dotted lines
After chowing down at Ichiran's Asakusa Rokkku shop, Cassie offered her opinion. "I was able to put in a lot of garlic, which I love. The soup was so delicious! It left me very satisfied."
This time, we also asked to see whether Cassie would be up for trying out some of the side dishes, but after sipping down her full order, she decided it was satisfying enough on its own.

If you pay an extra 210 yen, you can also order up "kaendama" (extra noodles) - or put down 150 yen for a half-order.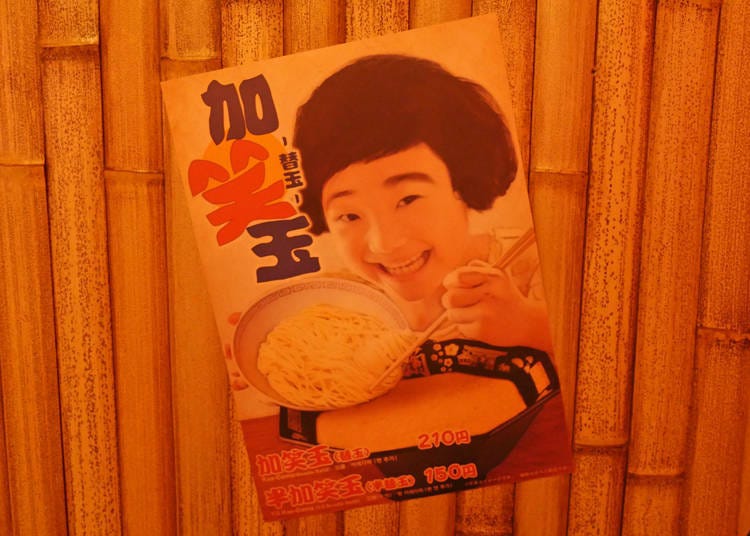 At Ichiran Asakusa Rokku, Cassie decided to get some extra noodles to enjoy
Also Check Out Ichiran's Side Menu!
Ichiran Asakusa Rokku also offers side dishes such as "Nikomi-yaki stewed pork dish" (490 yen, tax included) and the delectable dessert, "Matcha anindofu" (390 yen, tax included).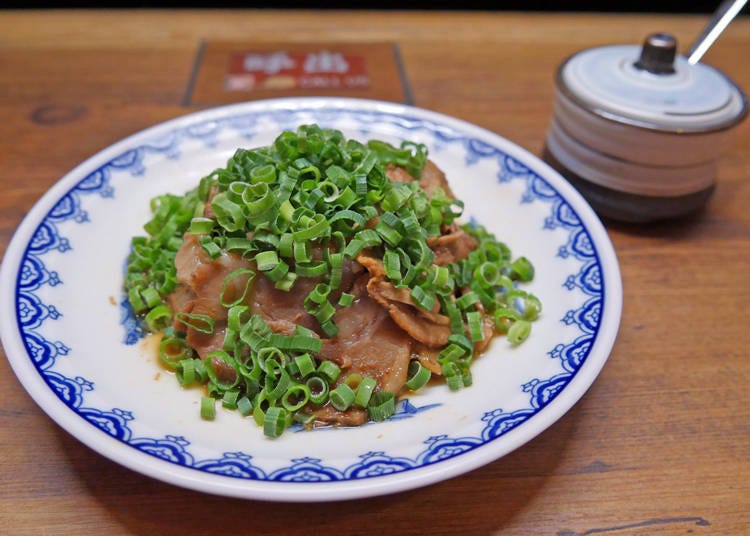 Nikomi-yaki stewed pork dish
The stewed pork dish uses the carefully selected pork loin and is made by chefs who carefully fine-tune the cooking temperature so that the taste fully permeates your palate. The resulting slices of pork do not taste smoky per se, but rather you can taste the full original flavors of each ingredient—sensational in the truest sense. It is recommended not only to have this with a bowl of ramen but also with some rice and beer.

"I was going to eat it on a separate plate from ramen, but actually when I tried it together, it was way tastier than I imagined! It's nice to eat it together with ramen, taking a piece of pork and then a slurp of soup. And as they recommended, I think it goes well with rice." (Cassie)
"Matcha anindofu." Green matcha, red wolfberry, and black bowl are the colors of Ichiran
"Matcha anindofu" is a sweet that is made from matcha and almond jelly. It has a refined sweetness and smooth taste, and a rich green tea flavor condensed with a rich body and flavor. The shop uses matcha cultivated in Yame, a place in Kyushu renowned for its hillside green tea plantations; the matcha has a rich and fragrant flavor.

"As you add the matcha sauce, you might think it would it end up tasting a bit bitter, but actually it was pleasantly sweet without going over the top. I really liked it." (Cassie)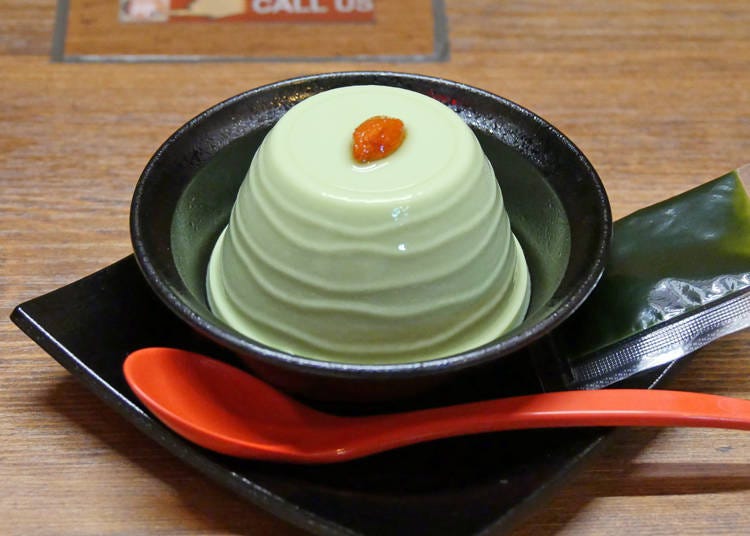 "Matcha anindofu" before drizzling matcha sauce on top
Backstory: Why Ichiran Opened a Store in Asakusa Rokku
Ichiran is a ramen shop that pursues delicious flavors, including limiting the ramen menu offered at one store to only one type. Over the past few years, the chain has been exploring a variety of ways to provide added value to visitors in addition to taste.

In February 2019, a "100% tonkotsu-free ramen" store was opened in Nishi-Shinjuku. In October that year, under the name of "Ginza Ichiran," the shop started offering ramen with specially packed noodles and char siu in a special box.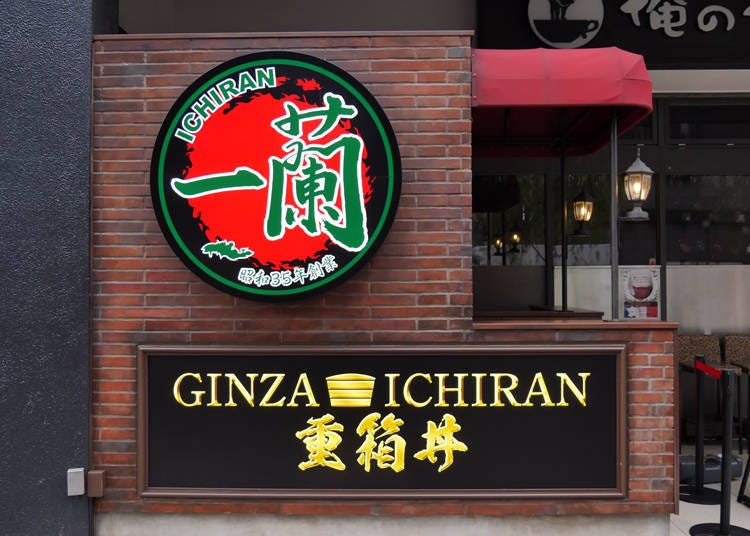 "Ginza Ichiran"
This time, the keyword for the new shop was "good luck store." "Speaking of engi [good luck], Asakusa has many good luck and power spots, including Sensoji Temple, and is the oldest place for Japanese Maneki-Neko [beckoning cats]." (Ichiran)

Mr. Sho Kidoguchi, manager of the Asakusa Rokku store, said, "Eating is a very important part during a trip. Three times a day, we at Ichiran offer the finest ramen from the bottom of our hearts so you are sure to be satisfied." Also, for their foreign customers with suitcases or luggage, just press the button on the intercom on the first floor and shop staff will come help.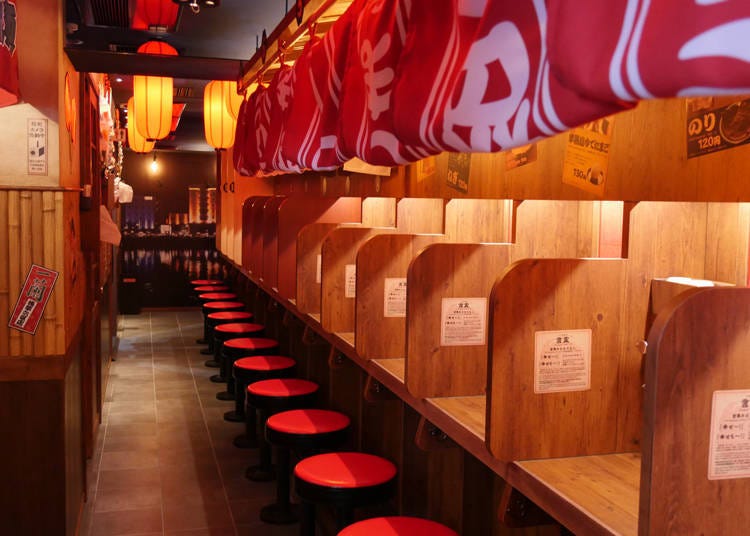 There are staff who can speak English and Chinese in the store
Ichiran Asakusa, a 9-minute walk from the new store, has 10 seats at the counter and 38 table seats. If you want to eat slowly with several people, you can try out the Asakusa shop; if you want to eat alone or with a small number of people, you can give the Asakusa Rokku shop a go. Also, Asakusa Rokku is close to the residential area, and Mr. Kidoguchi says, "I hope locals will feel welcome to visit us too."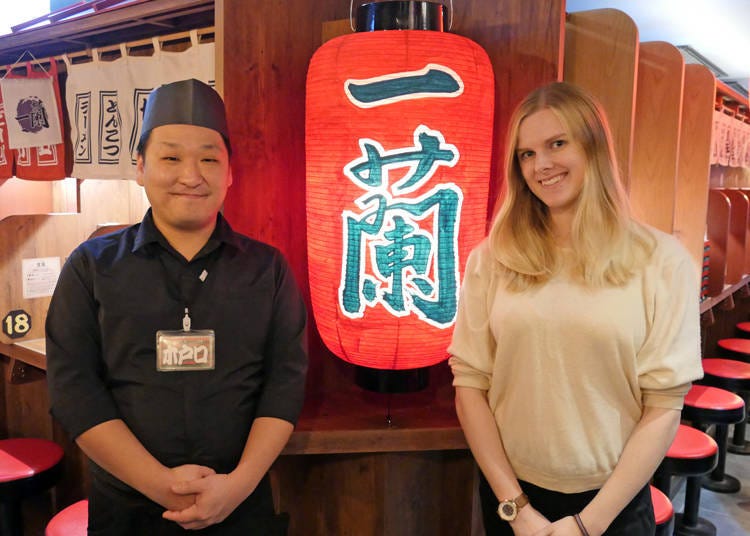 Manager, Mr. Kidoguchi (left)
Ichiran Asakusa Rokku is in a popular tourist area located in Asakusa, within walking distance of Sensoji Temple and Kaminarimon Gate. After going around these and other sightseeing spots in Asakusa, of course you will want to have a bite. Why not come and visit them for luck?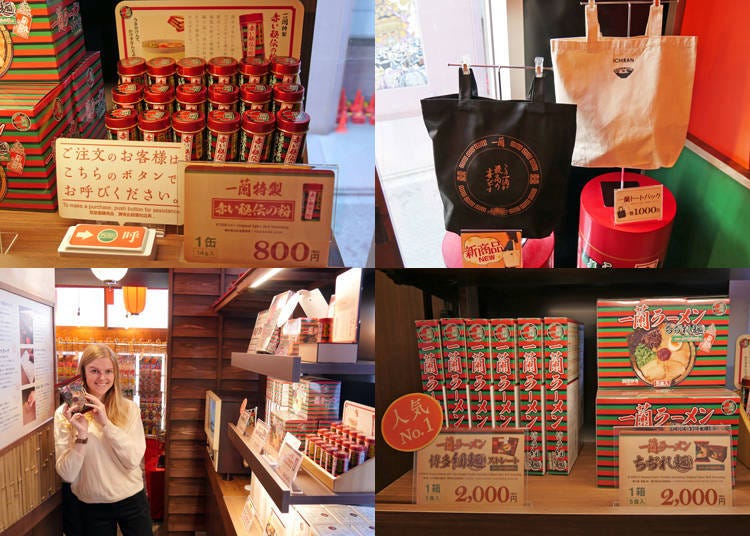 You can also buy souvenirs such as "Ichiran Ramen Chijiremen" with Ichiran's special red secret powder and Ichiran tote bag.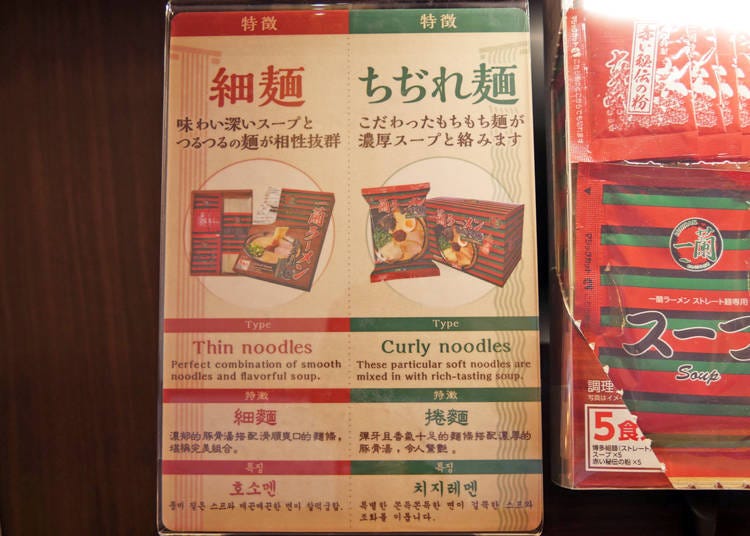 一蘭 浅草六区店

Address

2-6-11 Asakusa, Taito-ku, Tokyo Heiwa Store Building 2F

Nearest Station

Nearest station 3-minute walk from Tsukuba Express Asakusa Station Exit A1; 9-minute walk from Toei Asakusa Line / Tokyo Metro Ginza Asakusa Station; 9-minute walk from Ichiran Asakusa store


Hours: 8:30am - 11:30pm
Seats: 24 seats
Written by Shoko Kamiguchi
*This information is from the time of this article's publication.
*Prices and options mentioned are subject to change.
*Unless stated otherwise, all prices include tax.