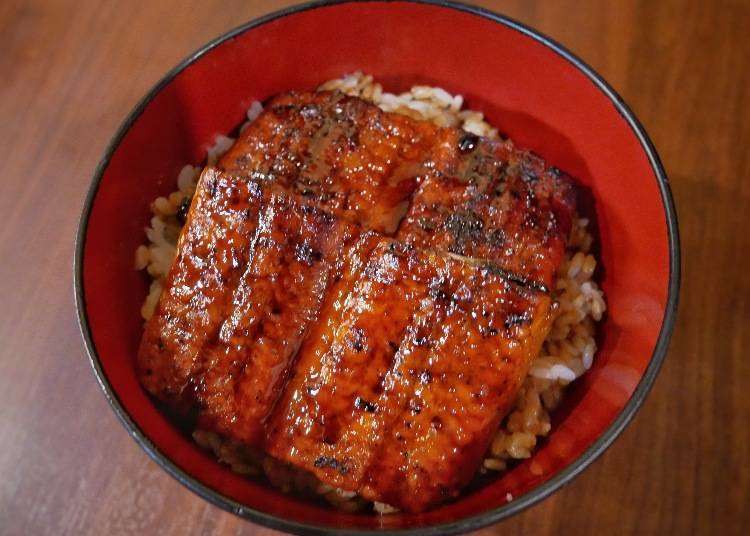 On Tokyo's east side is the neighborhood of Ueno, where you can find great cheap restaurants and budget meals!

In many of Japan's popular tourist areas, you can expect to pay around 1,200 yen ($12) for a typical meal. That's not a bad price, but if you're on a tighter travel budget you might be worried about missing out on some of Japan's culinary pleasures.

Never fear! You'll be happy to know that bargain-priced options are available for under 800 yen. These recommendations aren't just cheap – they're delicious! You'll be able to satisfy your appetite and manage your wallet. Here are three smart recommendations in Ueno.
1. Unatoto Ueno: Value-priced Unagi & Rice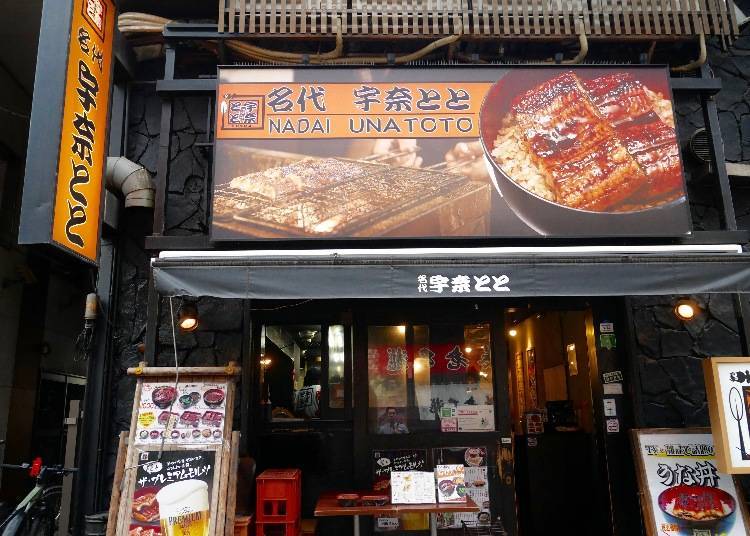 Gilled eel and rice (unadon) is a much-beloved delicacy in Japan. However, due to the difficulty in catching eels and the labor-intensive baking process, unadon is a pricey dish.

The average serving costs about 2,000 - 3,000 yen, so when Nadai Unatoto started selling unadon at a market-breaking price of 500 yen per bowl, it sparked a lot of media attention. How could they ask such a low price? What about the quality and taste? Let's find out!
Located in the midst of a number of other inexpensive restaurants, Unatoto Ueno is a mere 3-minute walk from Ueno Station. The eel restaurant has more than 50 seats and is perfect for solo or family dining with its long business hours (see below).

As one of the best cheap restaurants in Ueno for unagi, meals range from the standard 500 yen portion to the 1,000 yen double order, including eel ochazuke (served in tea and rice), barbecued eel, and others. Here are a few highly recommended eel (unagi) dishes at Unatoto.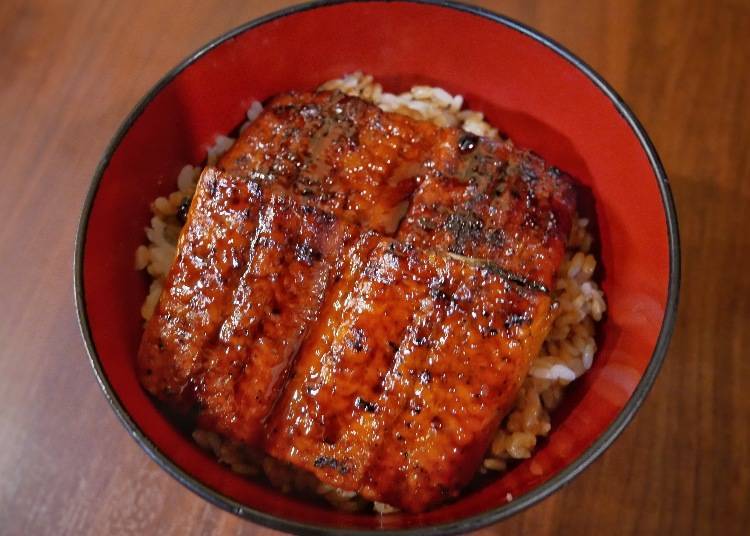 Unadon Double, 1,000 yen (tax included)
As the name implies, the Unadon Double is twice the amount of meat offered in Unatoto's standard 500 yen dish and it's still less than half the cost of usual unagi meals elsewhere. If it's your first visit to Unatoto, the double is the best choice. If you aren't so hungry, or want a serving size suitable for children, the standard Unadon is perfect.

Although the price of Unadon's unagi is low, the taste is high-quality. The eel is soaked in a special sauce made in-store and then grilled. The sauce is made of carefully selected soy sauce seasoned with sugar and vinegar, giving it a pleasant salty-sweet flavor. Charcoal grilling makes the aroma and taste of the unagi even stronger, and gives it just the right combination of a slightly crispy skin and soft meat.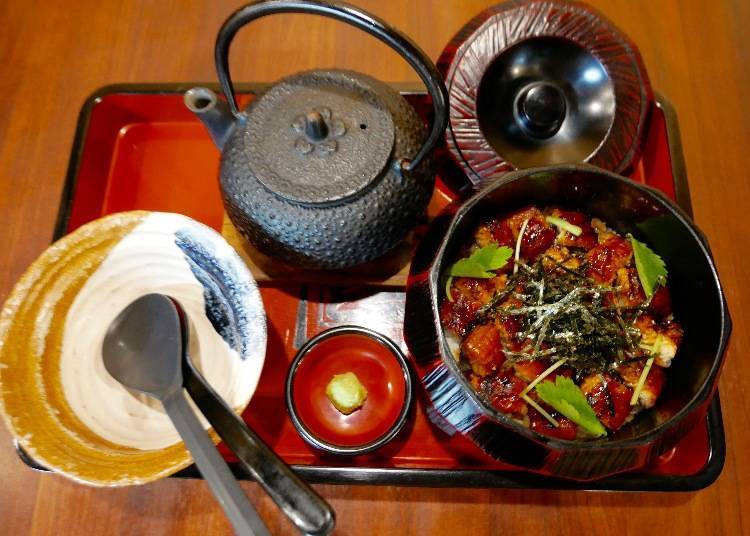 Histumabushi, 800 yen (regular), 900 yen (1.5 eel portion), 1000 yen (double portion – pictured above)
Histsumabushi is a unique unagi specialty originating in Nagoya. While popular, it is rare in Tokyo. Small unagi cutlets are served on top of rice, and sprinkled with shredded seaweed and mountain celery. A pot of hot tea completes the meal, which is eaten in a specific four-step order. First, divide the main dish into four portions and eat some of the basic eel, sauce, and rice to sample the simplest flavor.

Next, add wasabi, seaweed, and celery and mix it with the unagi and rice. This enjoyable convergence of spicy, sweet, and salty creates a stimulating conflict of tastes, as the wasabi brings out even more of the unagi's flavor.
Third, put a little of the previous mix of ingredients into a small bowl and add some of the tea. This mini-course has a light aroma and a salty flavor that's both good for the stomach, and is a traditional summertime dish that's suitable even for a late dinner.

The fourth stage is to eat the remaining quarter in your favorite of the three previous ways. Hitsumabushi is a wonderfully refreshing way to enjoy three different Japanese unagi tastes in one meal. Come try it at Unatoto!
名代 宇奈とと上野店

Address

6-11-15, Ueno, Taito-ku, Tokyo, 110-0005, Japan

Nearest Station

Three-minute walk from Ueno Station (JR Shinkansen, Yamanote, Joban & other Lines, Tokyo Metro Ginza & Hibiya Lines)


Hours: Mon. – Wed. 11:00 - 23:00 (L.O.22:30), Thurs. – Sat. 11:00 - 23:30 (L.O.23:00), Sun. & holidays 11:00 - 22:30 (L.O.22:00)
2. Niku no Ohyama: Over 60 Meat Dishes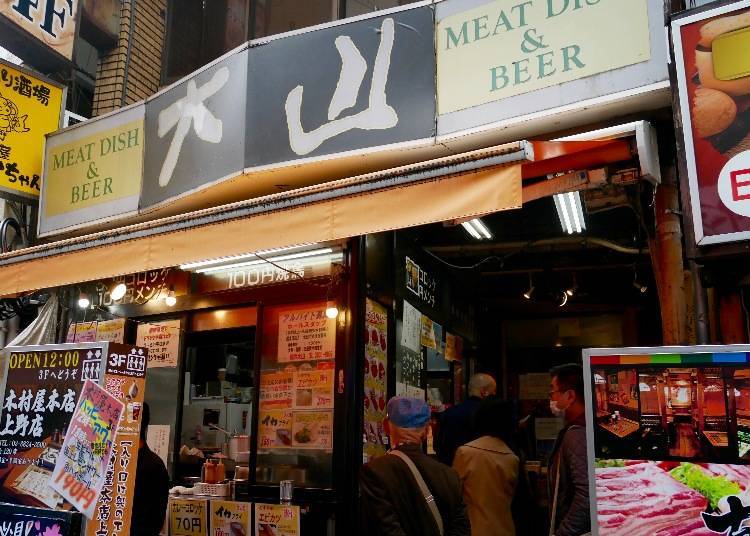 Our next stop is Niku no Ohyama (Japanese for "the big meat mountain"!). You'll find it near Marui and the aforementioned Nadai Unatoto in Ueno's Ameyoko shopping district. Ohyama is always full from the minute it opens each day due to its ultra-low prices and wide variety of fare.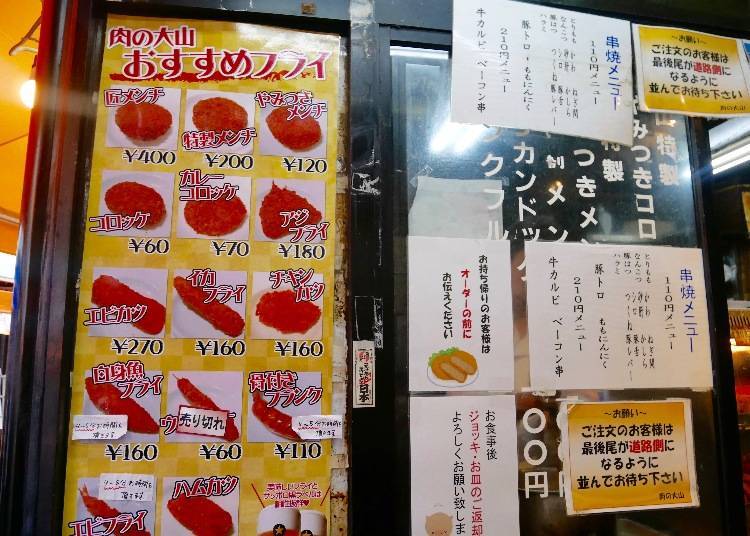 With the lowest-priced item only 60 yen and an average price of 100 yen for all menu entries, Ohyama's fresh, quality meats come directly from wholesalers before being served in delicious fried foods. This is one of the cheap restaurants in Ueno you won't want to miss!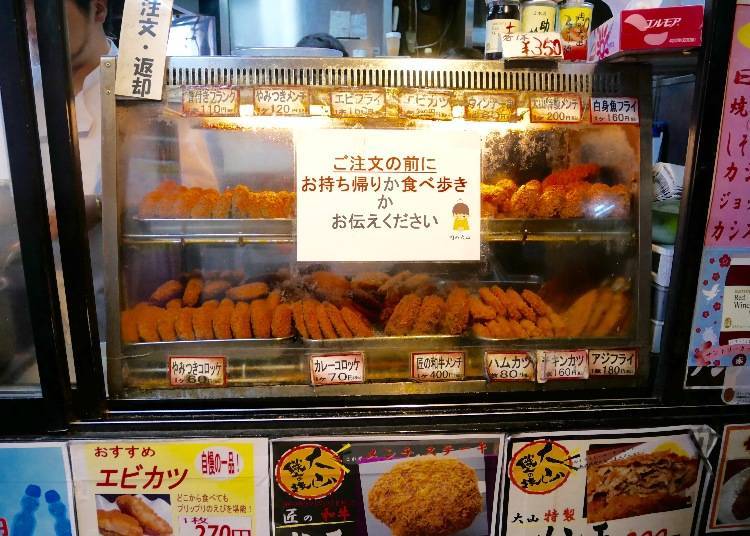 Keep in mind that low prices, great taste, and loyal customers mean that Ohyama's food doesn't stay in their display cases for long and is always fresh out of the frying pan!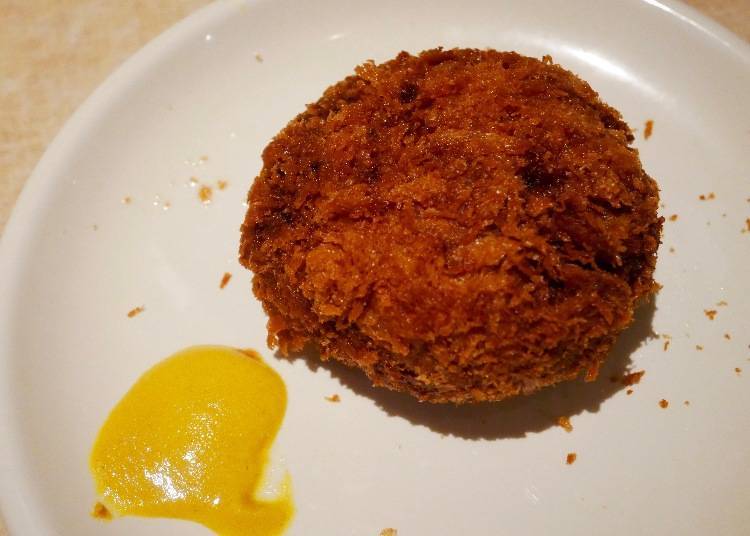 Ohyama Tokusei Minchikatsu 200 yen (tax included)
Ohyama serves three kinds of meat croquettes: The regular 120 yen version, the 200 yen "Specially Made Mince Patties (Tokusei Minchikatsu)", and the 400 yen high-grade beef croquettes.

The Tokusei Minchikatsu are the most popular. Made from a mix of minced beef, they are fragrant and fried to a dark golden color. Be careful – these crispy patties are served very hot!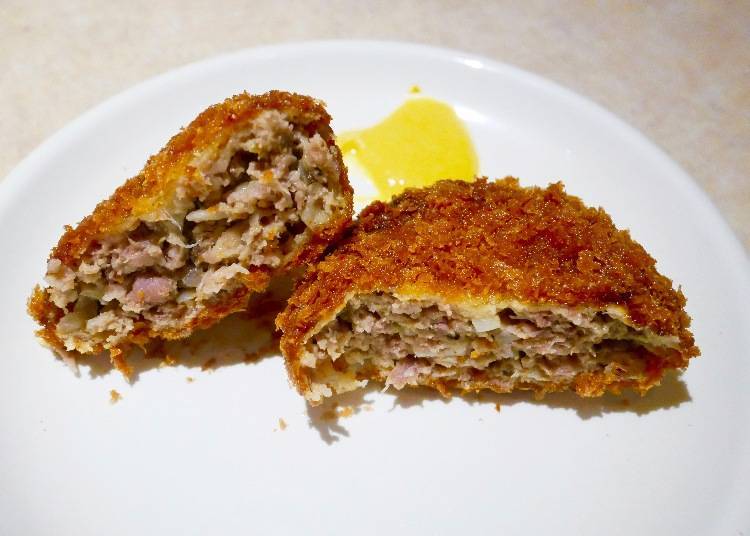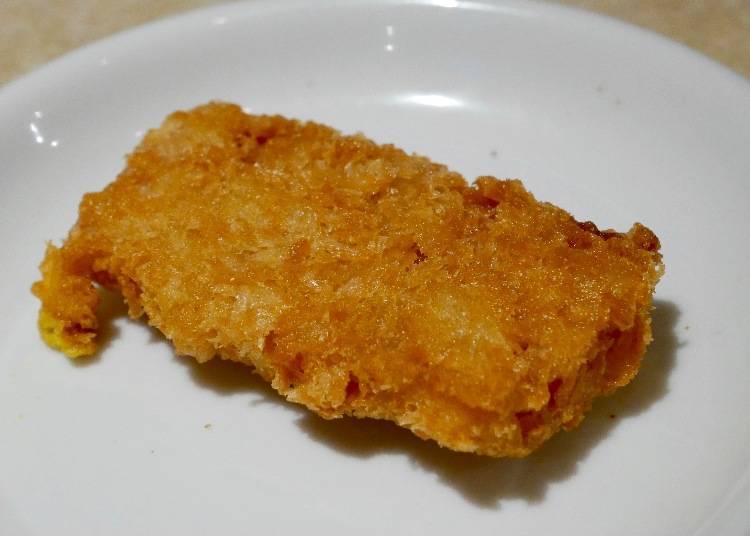 Ham Katsu, 80 yen (tax included)
Ohyama's thick-cut fried Ham Katsu is a tasty combination of mild sweetness ad a crunchy exterior, and is a big hit with children. It also goes well with sauce or ketchup.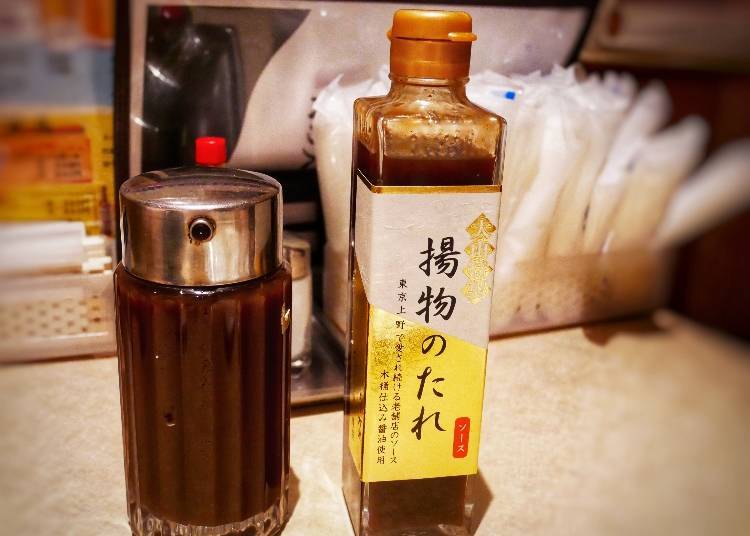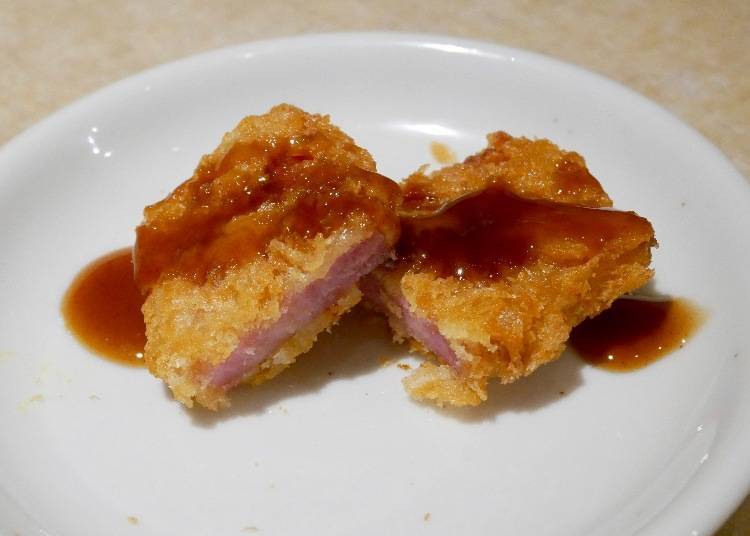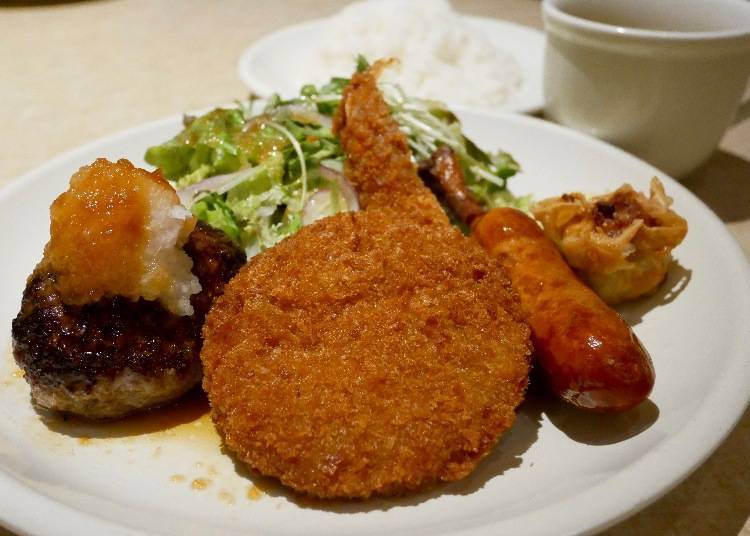 Assorted Lunch Platter, 900 yen (tax included)
This fried variety platter is really amazing, including croquettes, hamburger patty, fried shrimp, fried sausage, salad, a large bowl of rice, miso soup, and a drink – all for only 900 yen!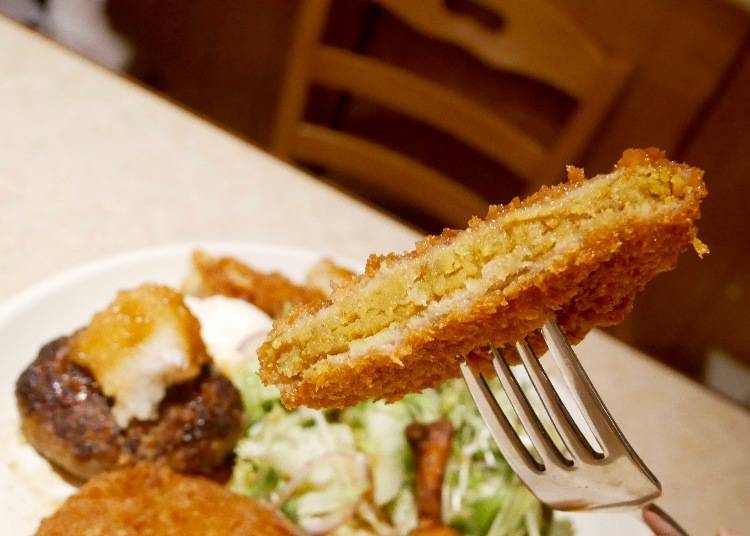 The plump croquette's soft potato filling is a striking contrast to its crispy outer layer is filled with soft potato filling. It's recommended to take a bite to enjoy the potato itself before then adding sauce. The hamburger patties are a mix of beef and pork, topped with savory gravy.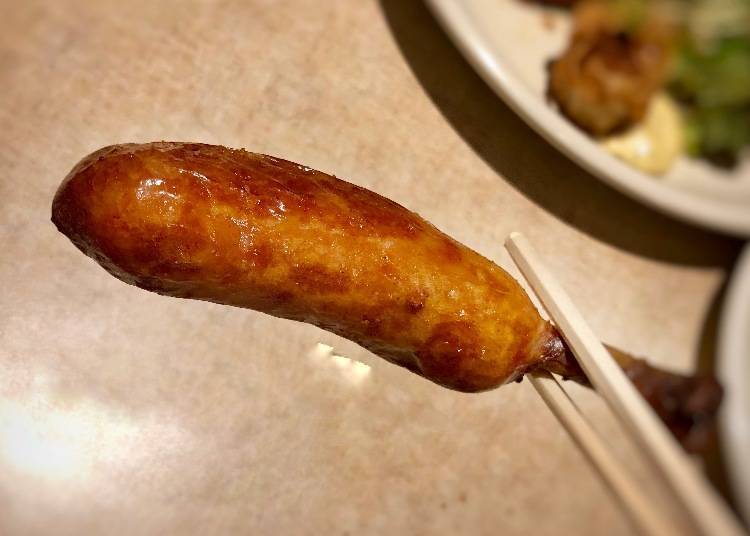 The pork sausage is sweet, salty, and juicy, and the fried shrimp is also very pleasing, This midday special is the perfect balance of taste, portion size, and value.
肉の大山

Address

6-13-2, Ueno, Taito-ku, Tokyo, 110-0005, Japan

Nearest Station

Three-minute walk from Ueno Station (JR Shinkansen, Yamanote, Joban & other Lines, Tokyo Metro Ginza & Hibiya Lines)


Hours: Mon. – Sat. 11:00 - 23:00 (L.O. 22:00), Sun. & holidays 11:00 - 22:00 (L.O. 21:00)
3. Moko Tanmen Nakamoto Okachimachi: Addictive Instant Noodles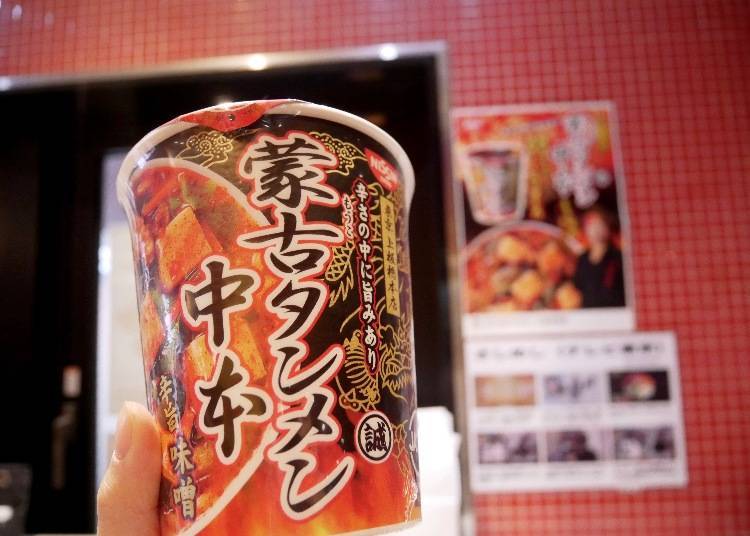 Even though it's been in operation for over a decade, Moko Tanmen Nakamoto has experienced a recent rise in popularity among foreign and Japanese tourists alike with its now legendary spicy noodles.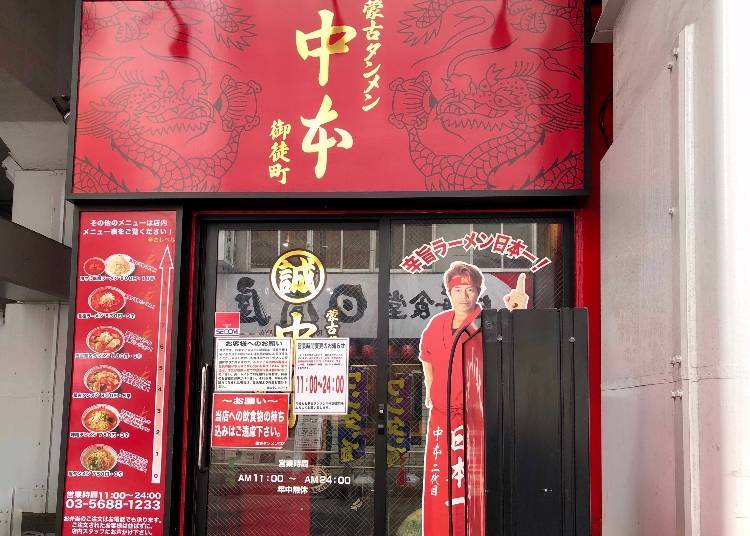 While the nearest station is actually JR Okachimachi, it's only about a 10-minute walk from Ueno Station. The prominent red sign is easy to spot, and even if there's a long line outside, don't worry. It won't take long to get in, as this is a popular spot for customers looking for a quick meal.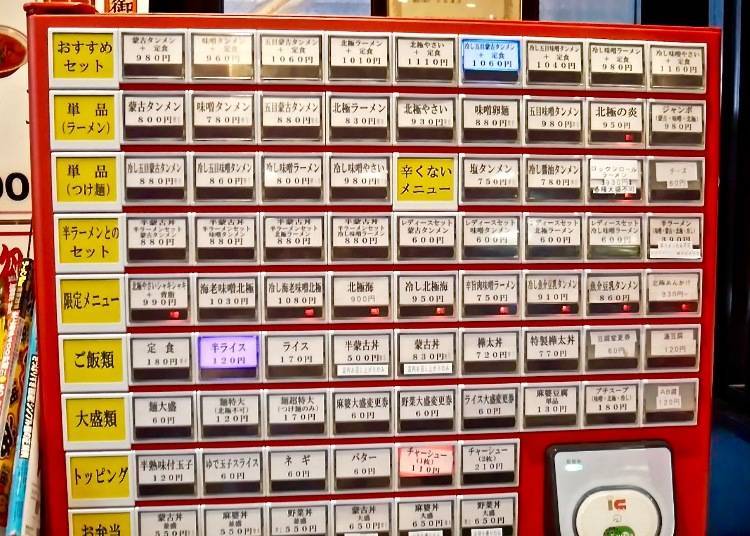 Moko Tanmen Nakamoto serves spicy noodles, and the spice level is graded from the 3-star Miso Ramen (味噌タンメン), followed by the 5-star Mongolian Ramen (蒙古タンメン), 6-star Fifth Mongolian Ramen (五目蒙古タンメン), and on the hottest 9-star rated Arctic Ramen (北極ラーメン). If you like just a bit of spice, the Mongolian Ramen is a safe start. And, by the way, despite the store's name, the food has nothing to do with Mongolian cuisine.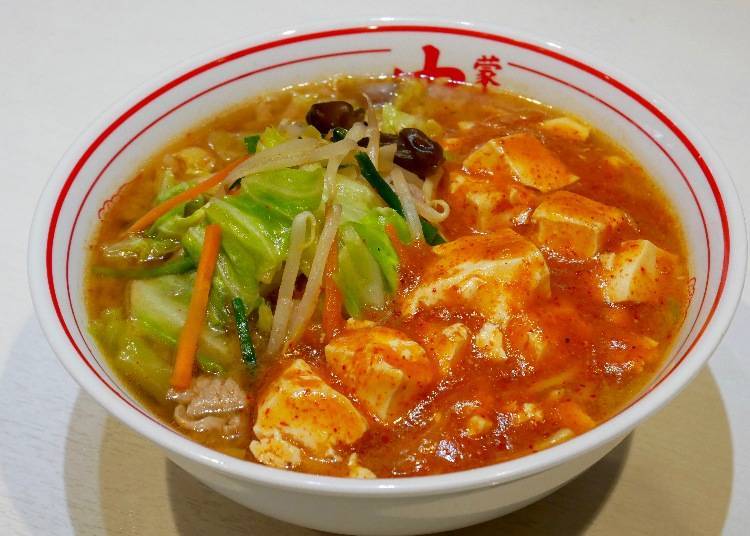 Mongolian Ramen (蒙古タンメン), 800 yen (tax included)
Finally, today's highlight recommendation: The spicy Mongolian Ramen. Very different from typical ramen, this bowl features miso soup with vegetables, meat, and a thick-sauced serving of spicy mapo dofu. When you eat it, you should try the noodles first, the slowly mix in the mapo dofu to suit your tastes.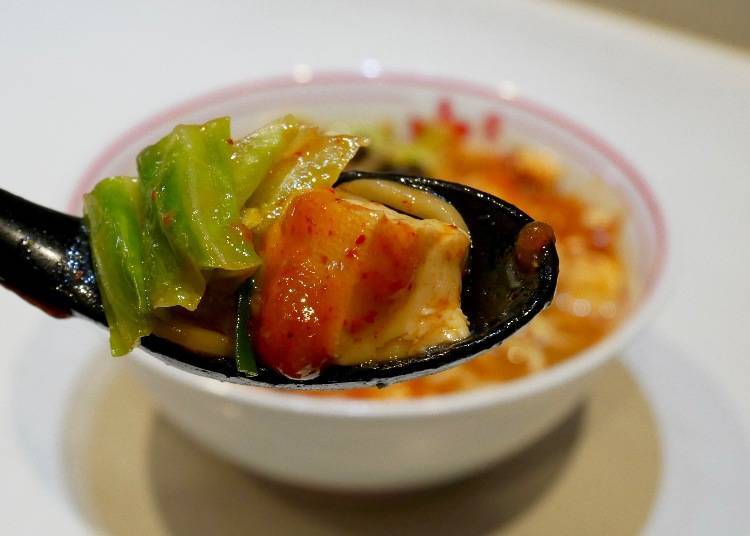 The miso soup contains an ample serving of meat and vegetables, both giving it a sweet, rich taste. Combining that with the mapo dofu creates a savory sauce, so that ensures that the spicy sauce isn't overpowering.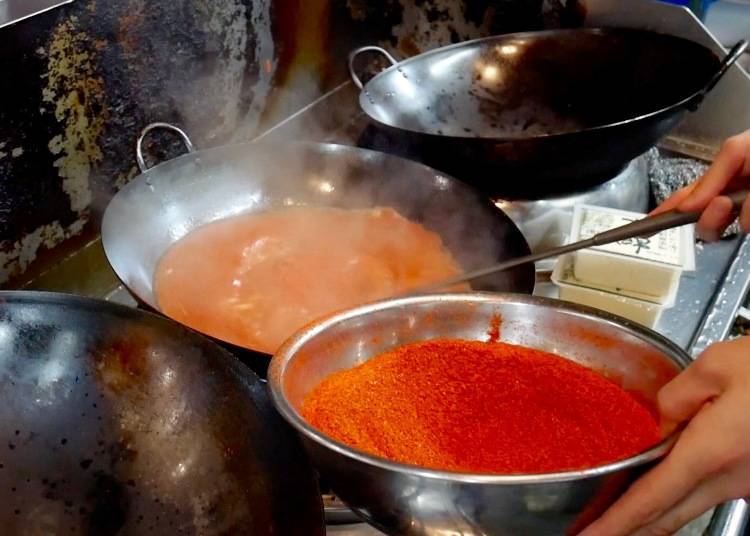 What's even better is that these spicy noodles can be purchased as instant noodles in convenience stores. This spicy ramen is delicious, and even though some people might be exclaiming how spicy it is even while eating, they can't help but keep eating!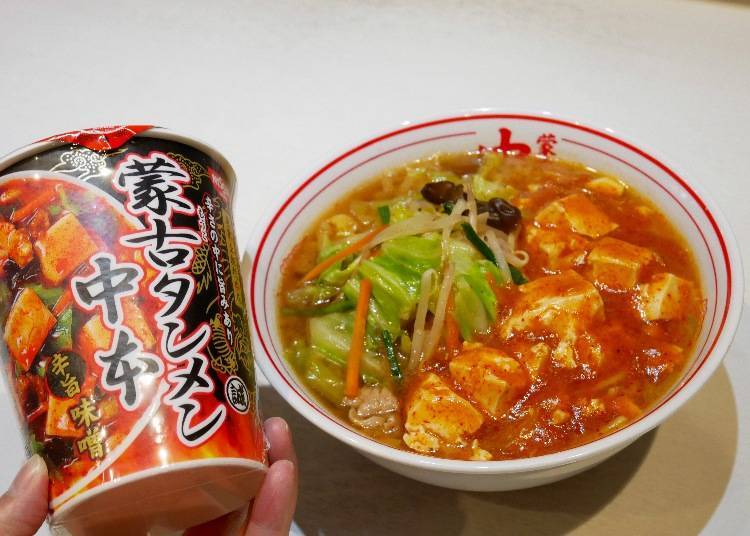 If you like spicy noodles, be sure to stop by! Although the noodles are already delicious, the true appeal is in the spice and broth. No wonder Moko Tanmen Nakamoto has become such a favorite of so many!
Moko Tanmen Nakamoto Okachimachi

蒙古タンメン中本 御徒町店

Address

5-10-14, Ueno, Taito-ku, Tokyo, 110-0005, Japan

Nearest Station

2-minute walk from Okachimachi Station south exit (JR Yamanote Line & Keihin-Tohoku Line)


Hours: 11:00 - 24:00
Even though the prices at these three restaurants are low, the most important factor is taste. Since they are popular among tourists and local residents, you may want to consider avoiding peak meal times to ensure that you don't miss out on these affordable, delicious meals. Keep in mind that Nadai Unatoto and Moko Tanmen Nakamoto have branches throughout Tokyo!

Written by Text / Wang Wenjun. English by Gabriel Wilkinson.
Book an unforgettable experience in Ueno!
Make your trip extra memorable by booking one of these recommended experiences on our partner site, Rakuten Travel Experiences!
*This information is from the time of this article's publication.
*Prices and options mentioned are subject to change.
*Unless stated otherwise, all prices include tax.