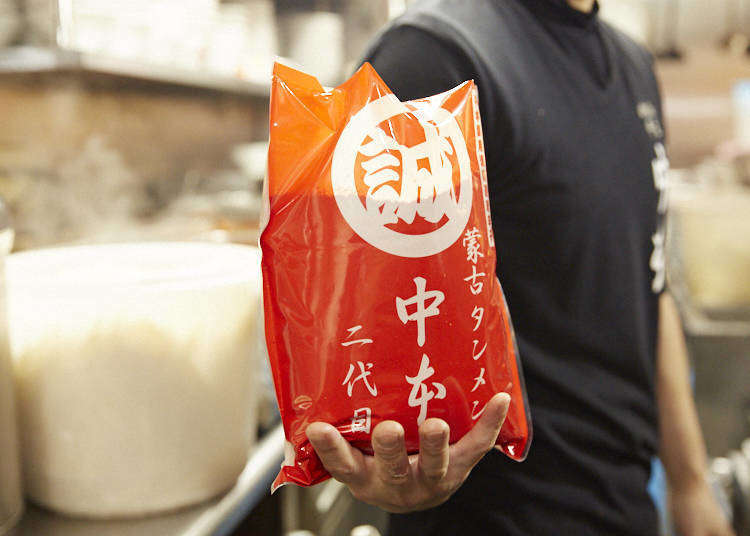 When you speak of the leading delicious spicy ramen shops of Japan, Moko Tanmen Nakamoto comes to mind. Founded in 1968 and deemed to be the pinnacle in delicious, spicy flavor, it continues to this day to have a wildly enthusiastic following.

And the gem of its menu is the Arctic Ramen which is said to be the spiciest of all. It is noted for the rich flavor found in its spiciness. However, it is also a fact that there is a large number of enthusiasts who visit it almost daily because they "cannot live without it".

Japanese who love super-spicy dishes are crazy about Arctic Ramen. But we wondered what foreign visitors might think. To find out, we invited a Chinese ramen enthusiast who is also crazy about spicy dishes to try the Arctic Ramen to hear her opinion!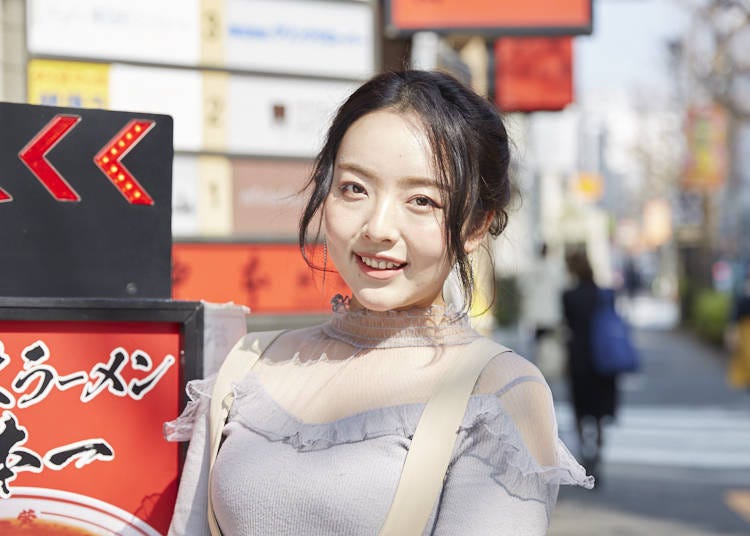 Our challenger is Ms. Lala, a Chinese coed who loves spicy dishes. She had heard about Moko Tanmen Nakamoto but had yet to eat there.

"Japanese ramen that is supposed to be spicy is often not spicy at all!" she said as she eagerly looked forward to trying the Arctic Ramen.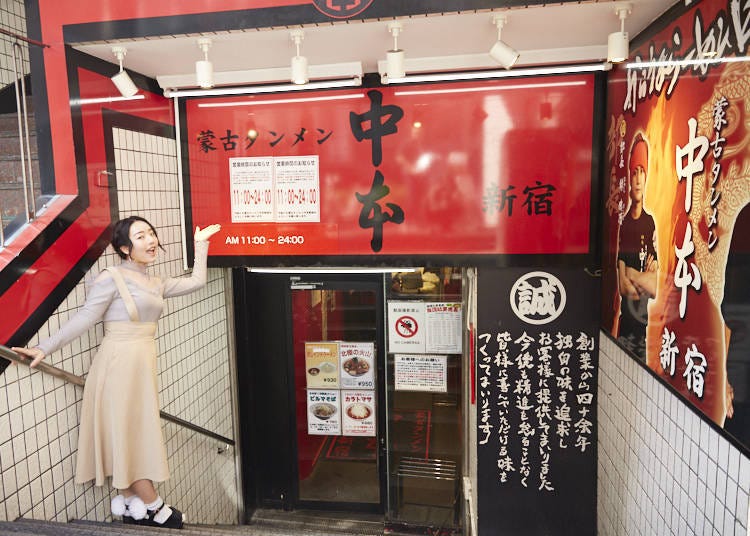 The challenge took place at the Moko Tanmen Nakamoto Shinjuku shop. This shop is so popular that during the lunch hour long lines form outside it waiting to get in.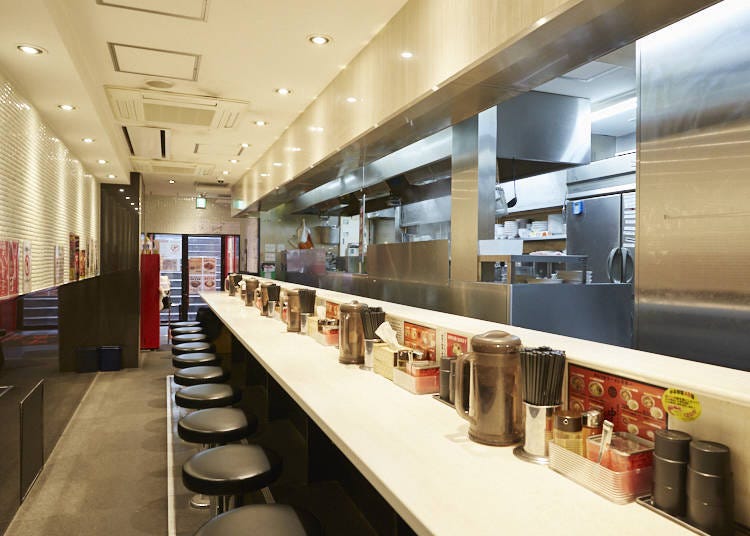 Inside there is a long counter that can seat about 20 people. There is also table seating in the rear.

The moment Ms. Lala stepped into the shop she said, "It smells spicy in here! Let's bring it on!" And eagerly took a seat. But before trying the Arctic Ramen, we first wanted her to try a regular menu item.
The signature menu item here is of course this: The Moko Tanmen (800 yen)
This menu standard is miso tanmen topped with mapo doufu, a spicy dish made with tofu.
Japanese who come to Nakamoto for the first time find this dish to be quite spicy, however, we wondered if Ms. Lala our Chinese friend would also think so.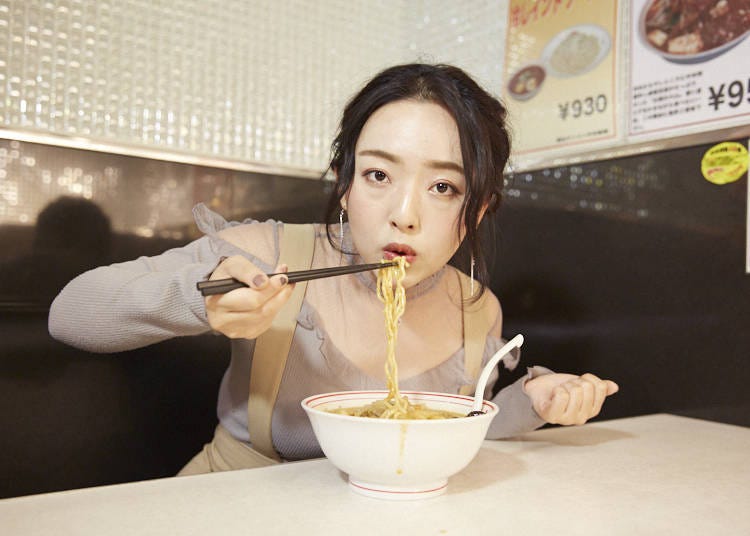 Eating Moko Tanmen for the first time, Ms. Lala looked a bit anxious.
"Putting mabodofu on noodles is not something done in China. I wonder what it tastes like."
Timidly she took a bite...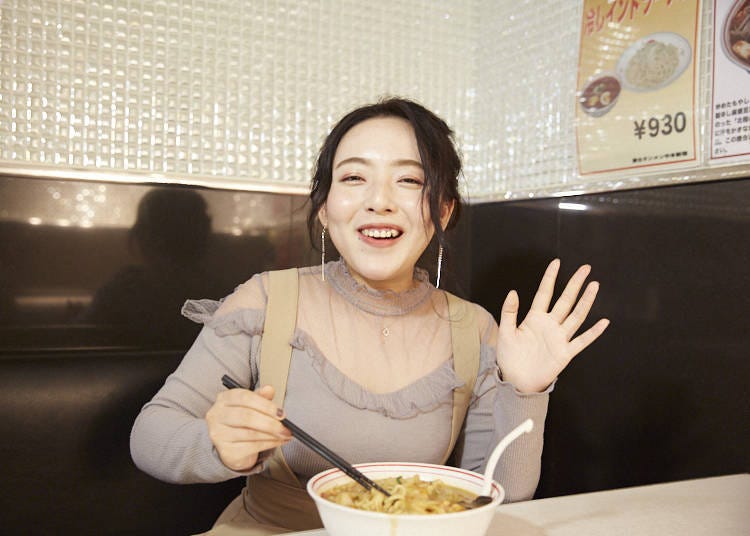 "De~li~cious!"
She broke out into a broad smile after that first bite.
"It has a complex flavor of not just miso and it seems a bit sweet. This just might be the most delicious ramen I have ever eaten in Japan."
It should be because the spicy mabo mixed with the sweet vegetables in Moko Tanmen go perfectly well together!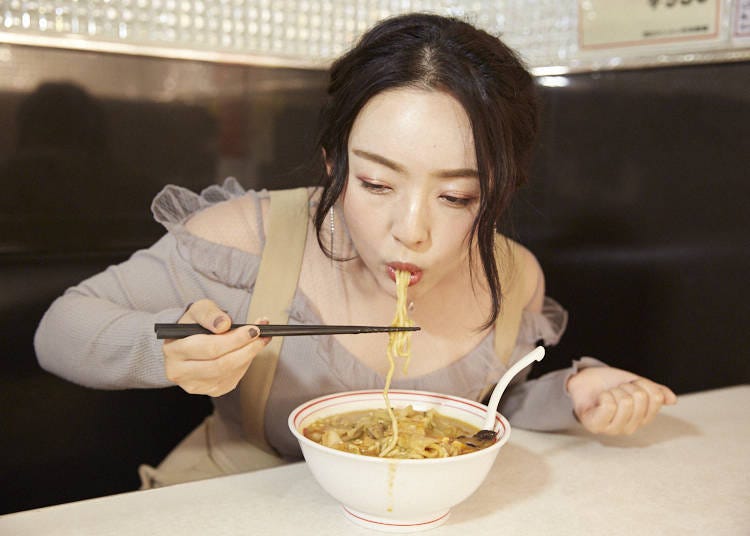 Ms. Lala instantly became a die-hard fan of Moko Tanmen.
But regarding the spiciness...
"I wouldn't give it full marks for that. For me it is not spicy at all!"
Which was pretty much the sort of reaction we expected.
So now it was time to try the crown jewel: Arctic Ramen!
This is how the Arctic Ramen is made!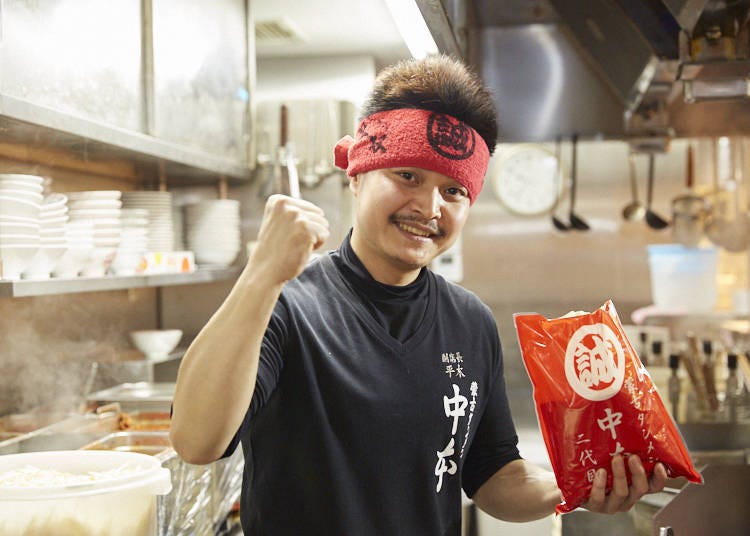 The shop staff was very eager to see how a Chinese who loves spicy food would react when eating Arctic Ramen for the first time. In fact, they allowed us to watch how they prepared it.

On a side note, all of the staff here like Arctic Ramen so much that they eat it almost daily for their meal provided by the shop. I had heard before that the staff at Moko Tanmen Nakamoto liked it even more than regular customers and that seemed to be the case.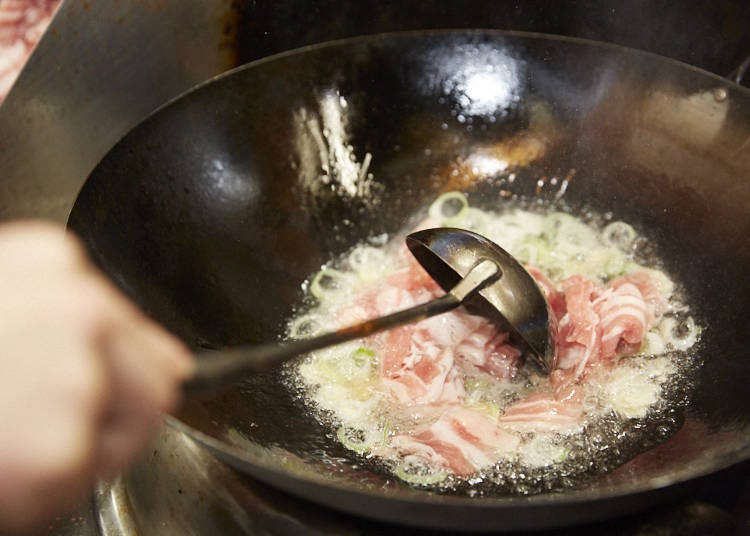 The preparation of Arctic Ramen begins with pork being carefully stir-fried with garlic, spices, and spring onion. Next the soup stock is added and the ingredients are stewed to bring out their full flavor.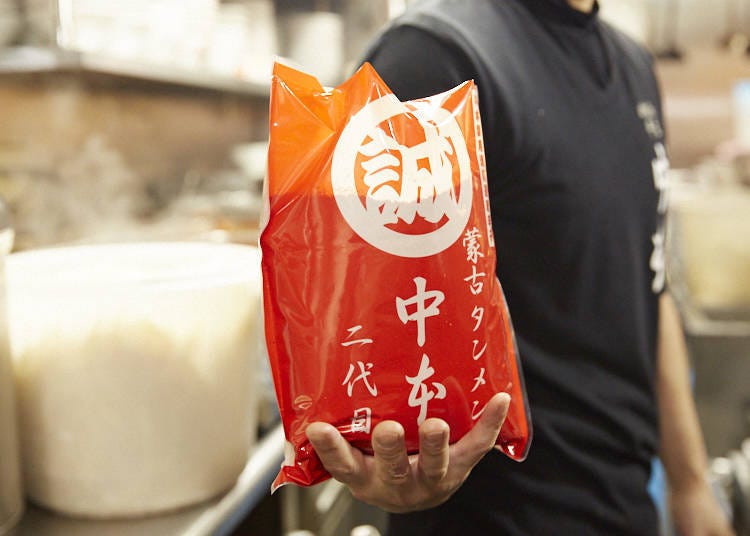 This is where the Moko Tanmen Nakamoto original blend of chili peppers comes into the act!
Into the pot previously mentioned...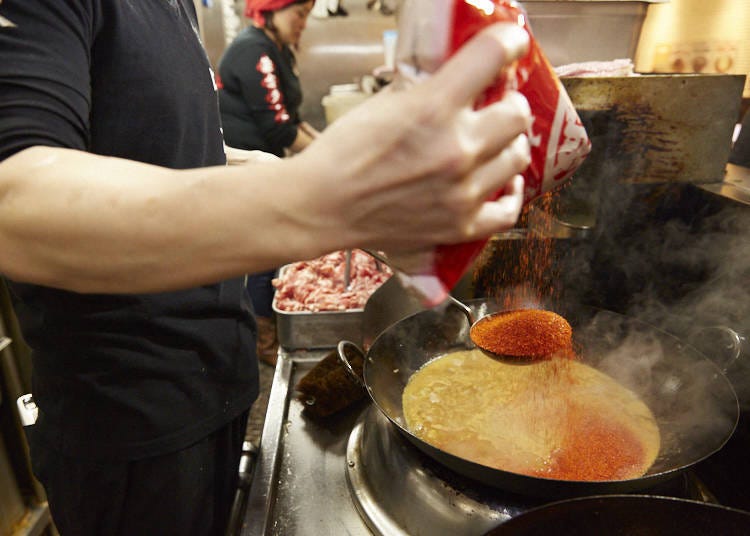 A huge portion is poured in...!!!!
Whoa...!
It seems unbelievably spicy just looking at it....!!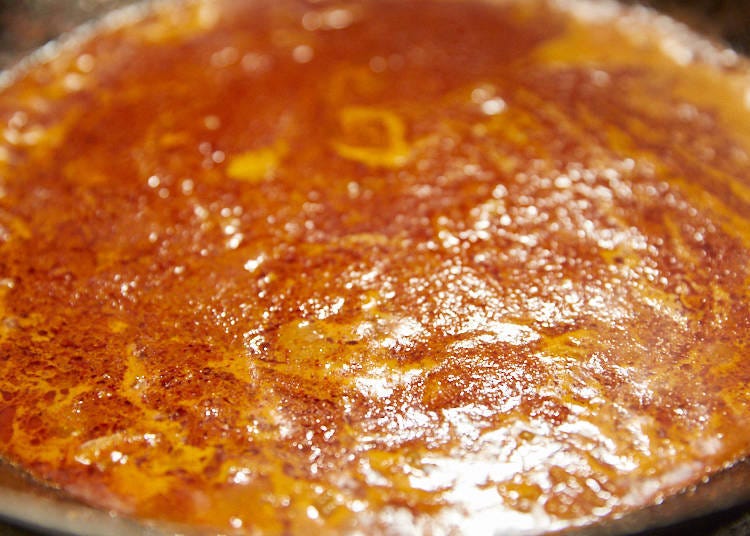 As it blends in with the soup...it has the color of a furnace in hell!
Just watching them prepare Arctic Ramen caused a burning sensation in my throat....!
This looks seriously spicy....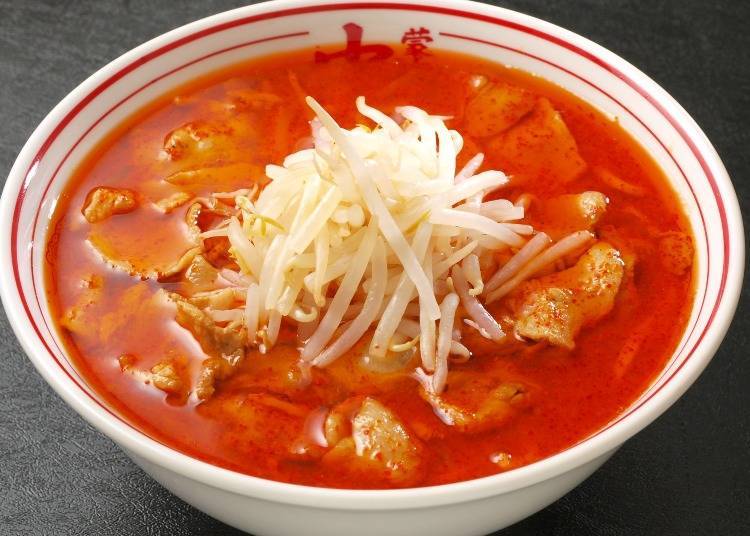 And this is the finished Arctic Ramen (830 yen)
The soup color is an impressive peppery red. It's not just reddish, but unmistakably red. There is very little in the way of topping so as not to distract from the full spicy flavor. For anyone who truly likes spicy food, this is certain to satisfy....and now it is time to see what Ms. Lala thinks.
The moment of judgment has arrived!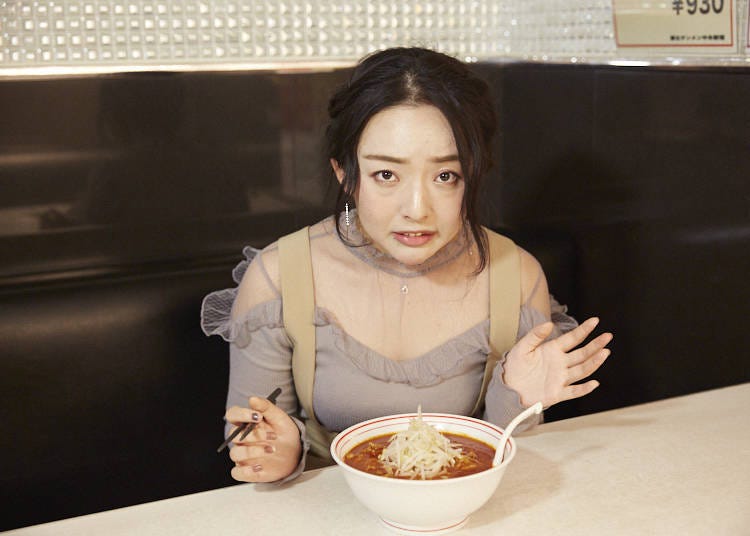 Ms. Lala eyes the Arctic Ramen.
"This color is amazing...not one you would likely see even in China."
She took on a serious expression.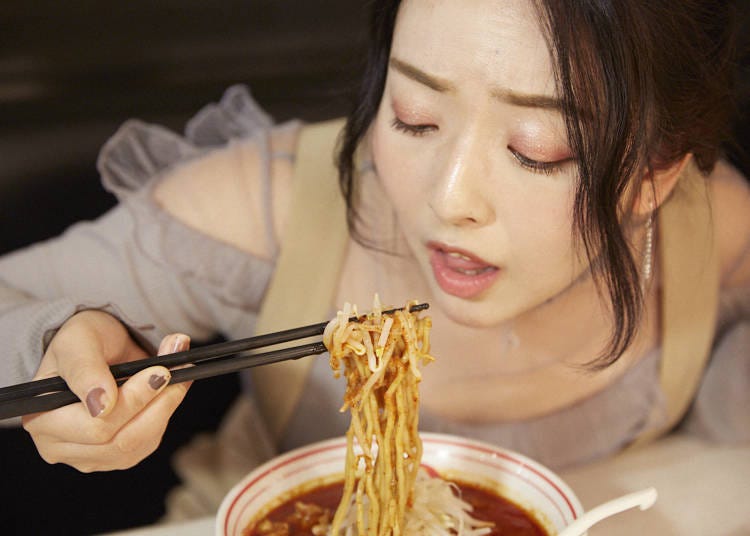 Ms. Lala listened to one of the staff cautioning not to try to drink the soup too quickly because it would cause one to choke.
Carefully she brings the ramen to her mouth.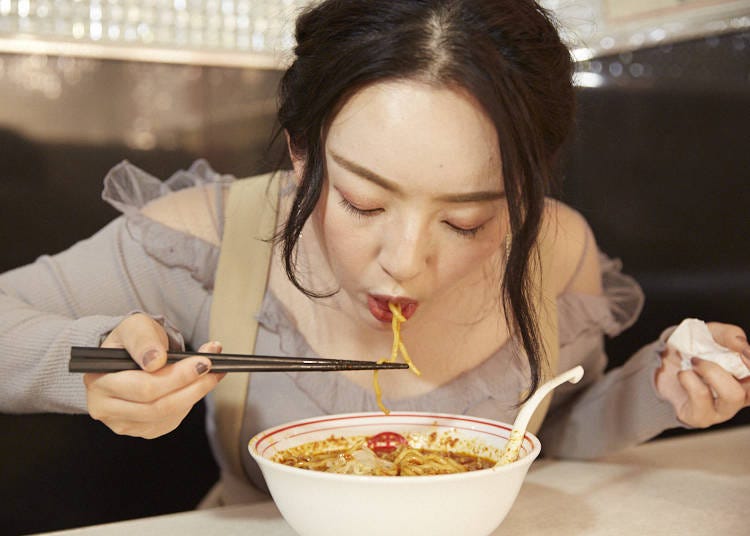 And in the next instant she began sucking up the noodles.
"Hmmm?! This is great!!"
Ms. Lala's eyes widened in appreciation! Without hesitation she dug into the Arctic Ramen.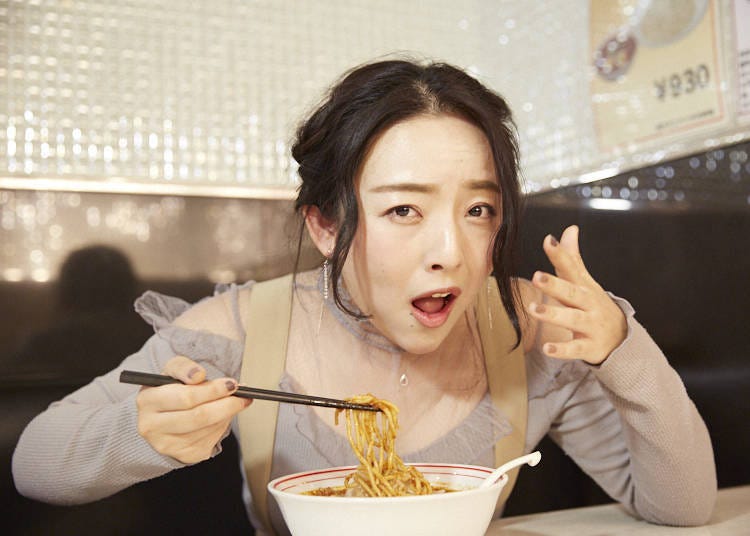 Part way through, though, she exclaimed, "This is unbelievably spicy!!" while trying not to look like the spiciness was getting to her. Even though it was really spicy, she really seemed to like it.

"This spiciness is on a whole different level than that in China. I think it is probably because the chili peppers used are completely different in Japan from those in China. Being unaccustomed to that, I think this is really spicy!"
Even Ms. Lala who says she loves spicy food had to admit Arctic Ramen was a tad on the hot side.
Actually the shop collaborates with Baby Star Ramen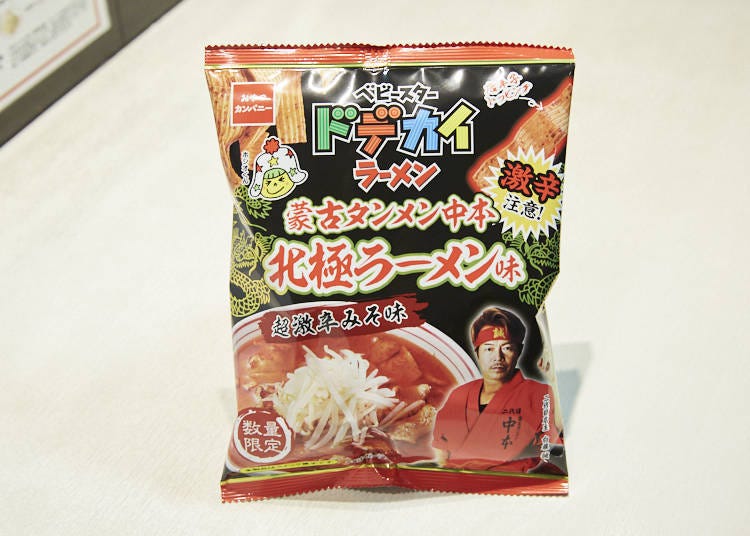 And since we are on the topic, here is another product.
This is a product made in collaboration with Oyatsu Company that went on sale in 7-Eleven stores in the Kanto area in January 2018. Baby Star Ramen Giant Arctic Ramen Flavor. Nakamoto fans love it so much that it quickly sells out. By chance there was a 7-Eleven nearby so we decided to go check it out.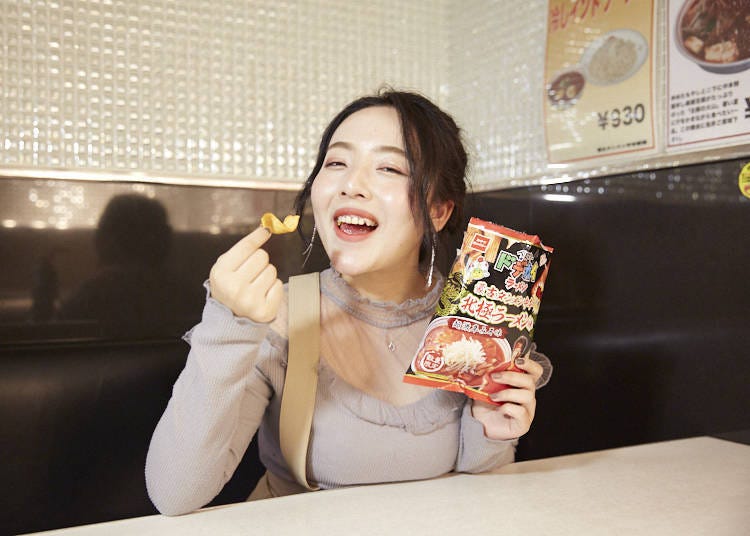 Ms. Lala tried it right after refreshing her palate and after a short pause said enthusiastically, "So spicy! Yet really delicious!" This snack tastes normal with the first bite, but the spiciness really kicks in a moment later. It goes really well with beer.
(* Baby Star Ramen Giant Arctic Ramen Flavor will not be available once it is all sold out.)
Our friend conceded that Arctic Ramen was indeed spicy!
Ms. Lala was able to eat both the Moko Tanmen and Arctic Ramen.
"Moko Tanmen wasn't spicy, but is still was very delicious! I think I'll come here for it sometimes. But when I really want to eat something spicy I'll have the Arctic Ramen. It's pretty hard to find something this spicy in Japan!"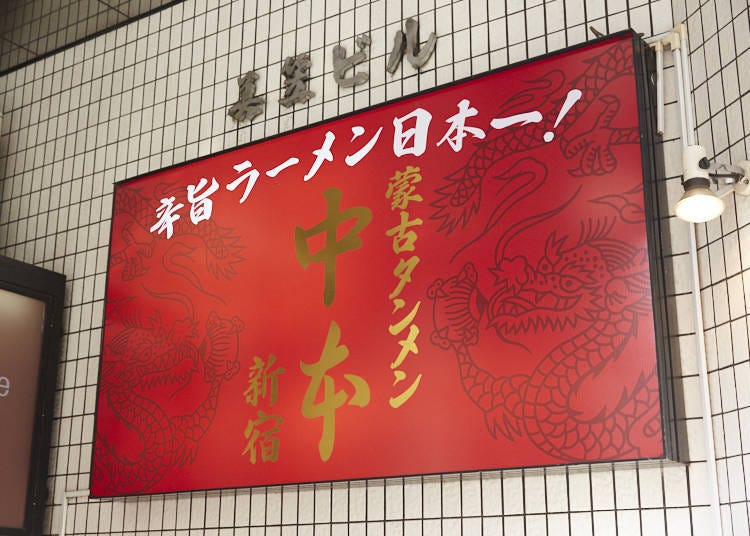 And with that our Chinese friend who loves super-spicy food gave Moko Tanmen Nakamoto Arctic Ramen her seal of approval! That is amazing!
If you love spicy foods and want to try something that'll zing your taste buds while in Japan, I recommend that you give a visit to Moko Tanmen Nakamoto.

Written by: Mochizuki Chiyoko
Photos by: Yoshikawa Ishikawa
Mouko Tanmen Nakamoto Shinjuku

蒙古タンメン中本 新宿店

Address

7 Chome-8-11 Mikasa Building B1 F, Nishishinjuku, Shinjuku, Tokyo 160-0023

Nearest Station

JR Shinjuku Station is the closest station, go out the West Exit of the Oedo Line Shinjuku Station; it is about a 5-minute walk from the Seibu Shinjuku Station serviced by the Seibu Shinjuku Line


Phone Number

03-3363-3321
*This information is from the time of this article's publication.
*Prices and options mentioned are subject to change.
*Unless stated otherwise, all prices include tax.