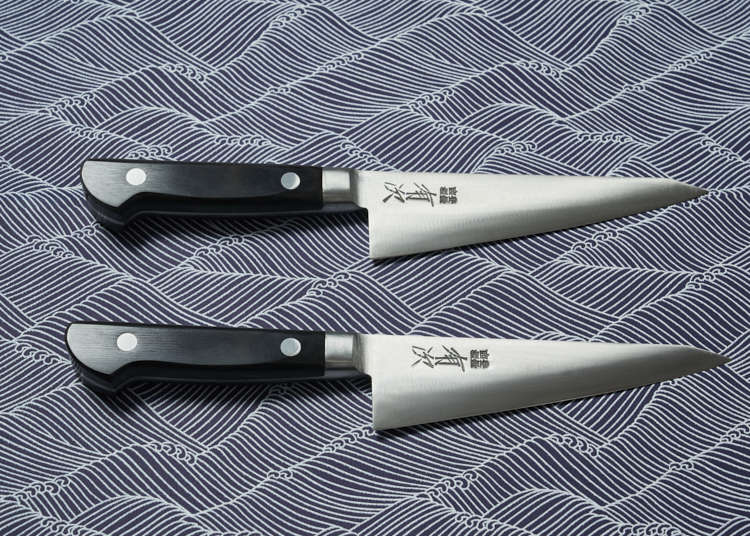 Located in the heart of the iconic Tsukiji Outer Market is the historic knifemaker Aritsugu, whose devotion to the blade goes back generations, even to the time of the samurai when Aritsugu made Japanese swords called katana.

Even if the blades today are not made for use in battle, they are still of battle-ready quality because of their durability and sublime cutting edge.

Aritsugu's longest blades, about one meter, can now be found in markets and department stores where they are used to dissect great maguro (tuna), and in Aritsugu's store they are joined by racks upon racks of shining blades of all shapes and sizes.

Aritsugu's clientele extends well beyond the seasoned fishmongers in the Tsukiji store's immediate vicinity—from top chefs at luxury restaurants who demand perfection to casual cooks who just want an all-purpose blade that is a pleasure to use.
Putting the Art in Artisan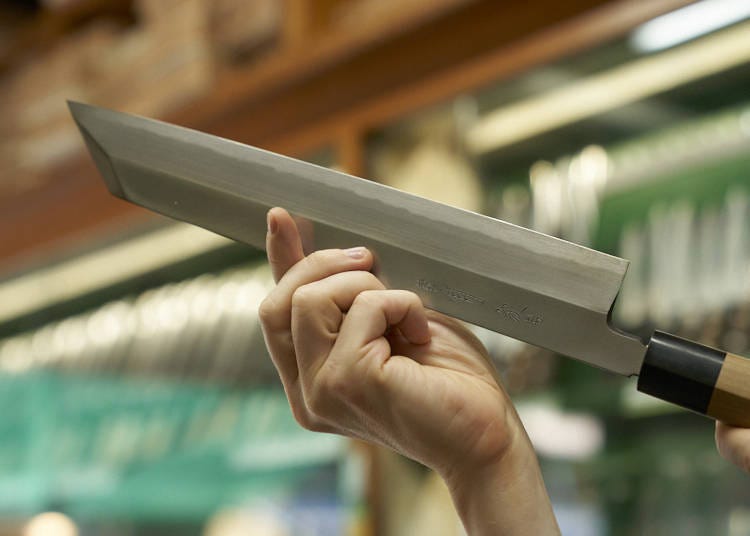 While in Japan discussions of kitchen knives focus mainly on function, most people from abroad view the Japanese knife first and foremost as a thing of beauty.

From the bold and often angular shapes to the waves in the steel spreading out from the cutting edge, Japanese knives in general, and Aritsugu knives in particular, have an aura about them.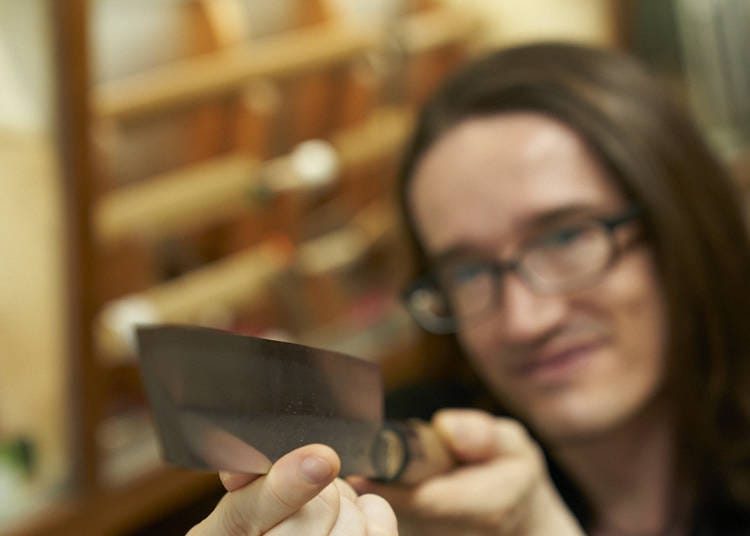 Examining a masterpiece
Still, Aritsugu's Tsukiji store, which has been on the same spot for over a hundred years, brings the importance of function very much to the fore. Knives are arranged in cases by the type of cuisine they are designed for, as well as in boxes piled right to the ceiling.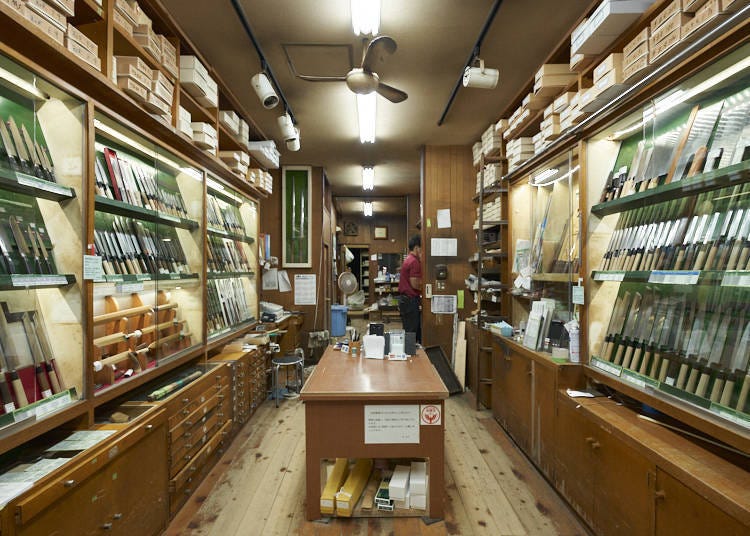 Beside the shop space is an atelier space where the polishing wheel is nearly always spinning. After the customer chooses a knife, it is polished to perfection by a skilled artisan before being allowed out of the store.

Customers can even bring their knives back for repeated polishing, but one of the real joys of owning a Japanese knife is taking care of it yourself.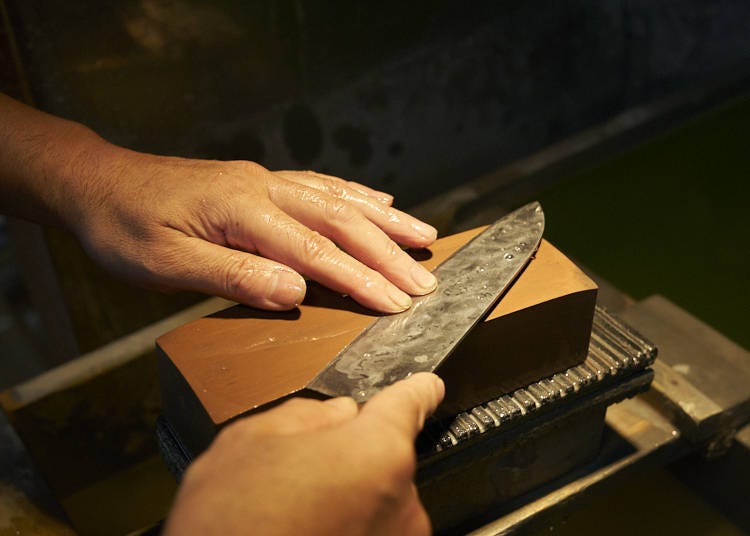 All you need is a basic whetstone and you are good for a lifetime of polishing.
Aritsugu takes its Japanese-style kitchen knives one step further, offering Damascus steel patterning on the blade and customizable handles of rare wood and water-buffalo horn. For the connoisseur, there are even matching wooden sheaths to keep your treasured knives in pristine condition.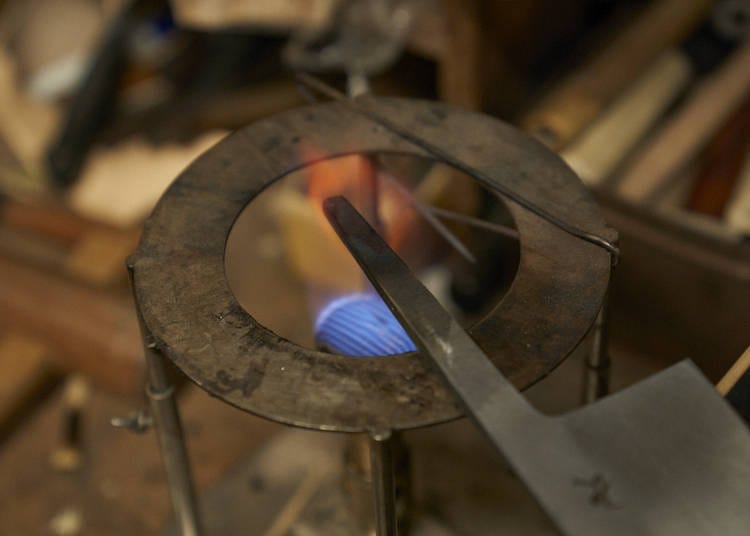 Here you can see the blade base (nakago) being heated before the handle is attached.
Further to the back is another atelier for changing and customizing the handles of Japanese-style knives. All this activity goes on right in the store—flames glowing and hammers crashing just meters away from the shop racks.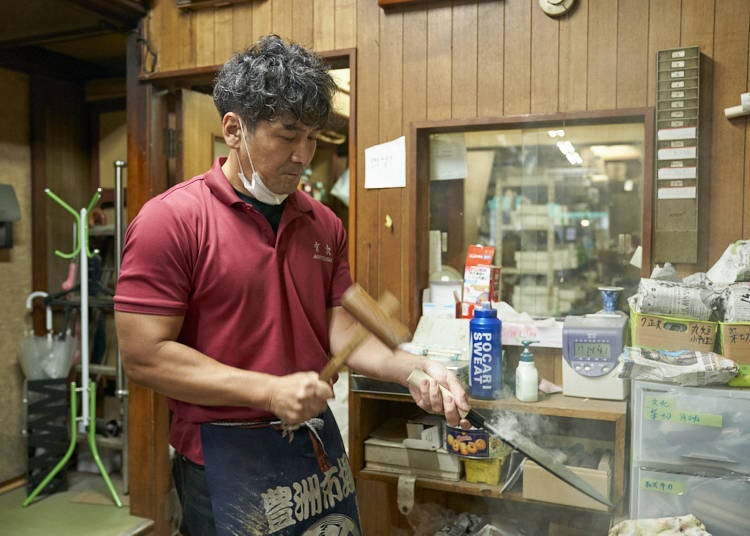 The red-hot blade base is hammered into the handle.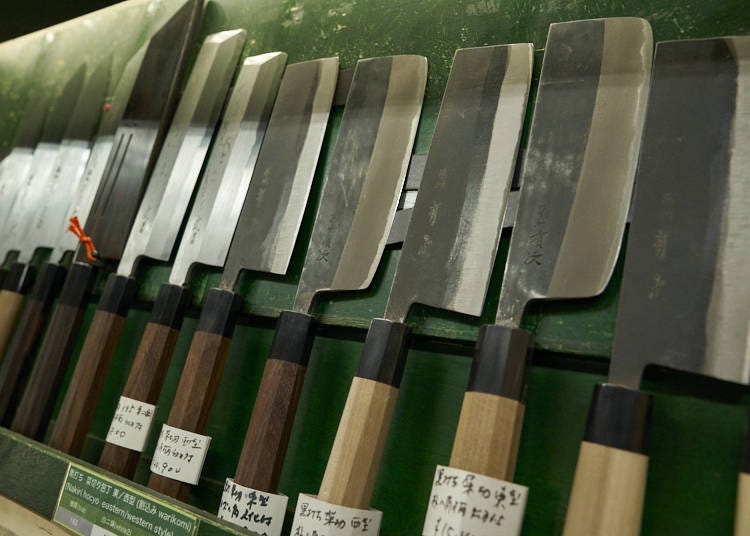 Japanese-style kitchen knives with their distinctive wooden handles.
When it comes to choosing a knife, the first question is whether you should go for Western style or Japanese style. The answer depends on two things: aesthetics and use.

As we saw in the above photo, Japanese-style kitchen knives have a wooden handle that the heated blade base is driven into. The handle can be customized or replaced by a professional, but it is absolutely not detachable.

These knives look great, will develop character with use, and for want of a better expression, appear undeniably Japanese. If owning a blade that is recognizable as Japanese is important to you or if you desire a bit of traditional Japanese flair in your kitchen, then this style is the right choice for you.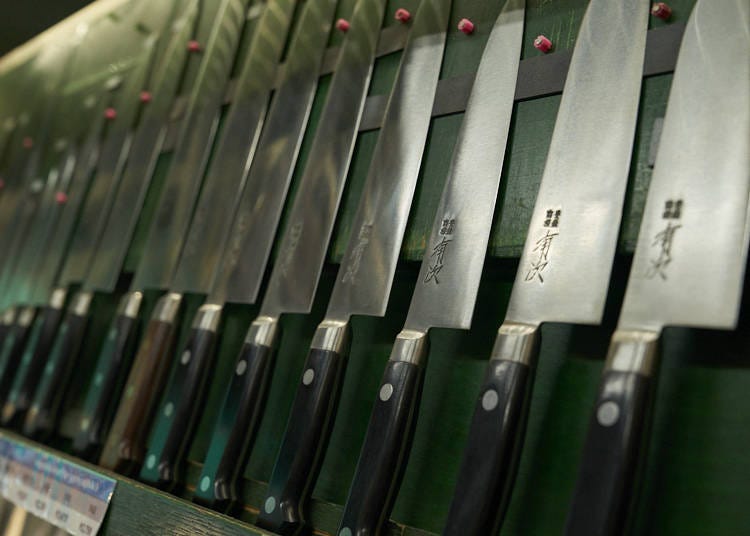 Western-style knives, on the other hand, have a handle attached to the blade with rivets. This makes for a sleek look that can easily blend into an existing good-quality knife collection, and with Aritsugu's name in Japanese characters (kanji) engraved or etched on the blade, you are not going to forget its provenance.

Personal preference really matters when you are choosing common knife shapes that are available in both Western and Japanese styles. But when you move from all-purpose knives to specialized knives, you will frequently find that certain shapes are used exclusively for knives that were originally designed for a particular type of cuisine. Simply put, Japanese knives for Japanese cuisine.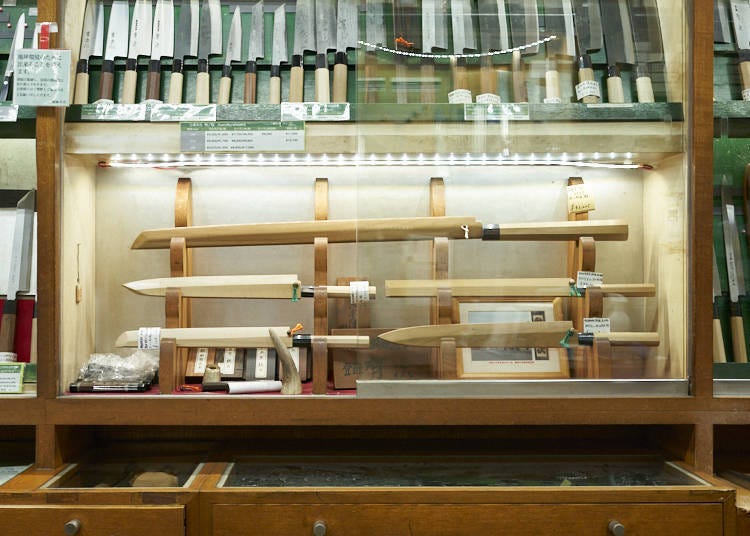 The mighty knife at the top of the rack is specifically for cutting up maguro.
This topic gets even more interesting when you consider just how many dedicated knives are used in Japanese cuisine.

Aritsugu's cabinets are filled top to bottom with blades for slicing through oceans of fish and cutting up meat of every kind, as well as for tasks that only the most fanatical of chefs would engage in.

Finding a complete knife set like those often used in the West is probably out of the question. Instead, the real appeal lies in building a collection to match the kind of cuisine you are passionate about.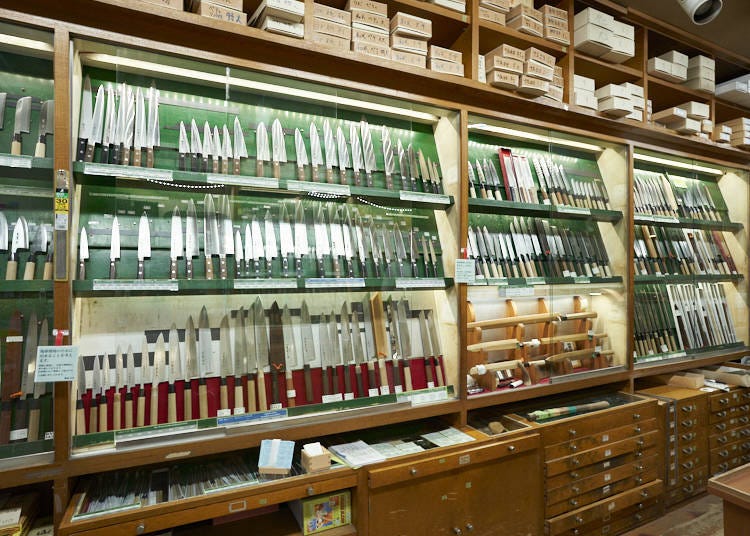 A knife used for a particular cuisine may actually differ from one region to another, so there are unlimited depths to explore in these racks.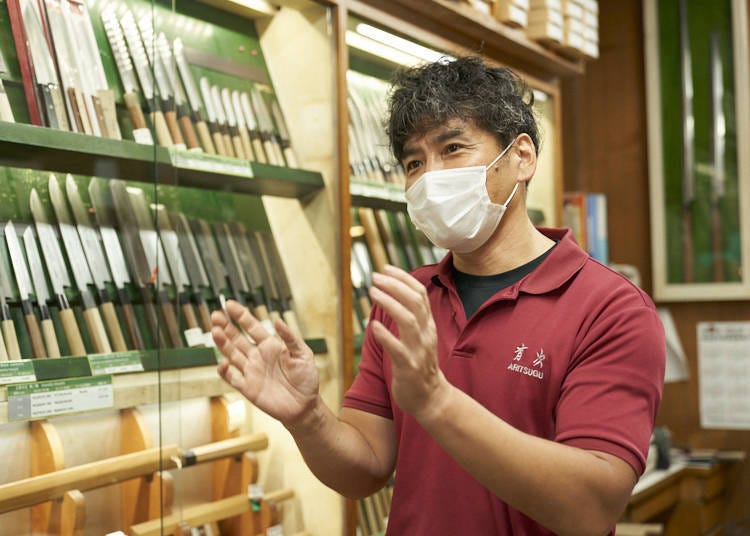 Aritsugu's experienced staff will walk you through the racks.
Building a collection can be intimidating at first, but you really only need one or two blades to get going. A classic gyuto may be designed for use with beef, but it is actually an excellent all-purpose knife. Add a smaller knife for fruit and more intricate jobs, and you are pretty much set.

From there, it is a matter of allowing the requirements of your cuisine to shape your collection. You can discover what your true needs are only by going deeper into the world of Japanese kitchen knives.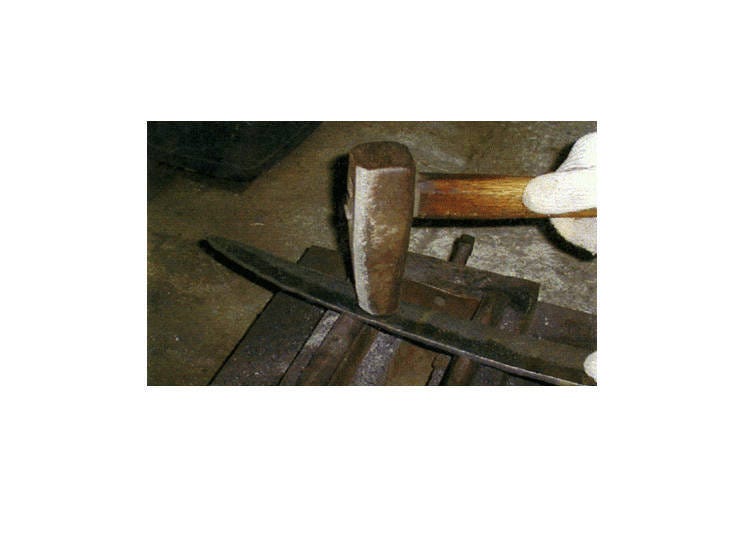 Every Aritsugu blade is made in Japan to the exacting standards of the maker's craftspeople, with hammering by hand, largely unchanged since the days of samurai swords, still an important part of the process.
Centuries of experience go into creating each blade before countless hours of shaping and polishing take it to a flawless finish
From Tsukiji to the World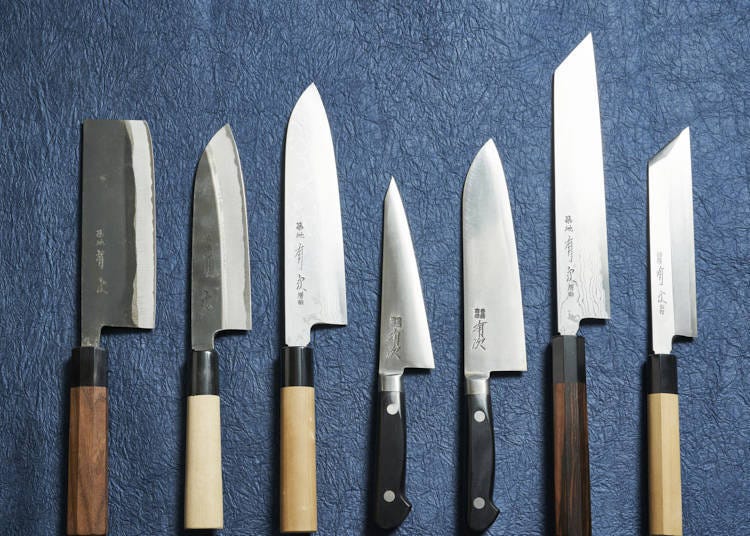 Given the current pandemic, Tsukiji market with its delicious fresh seafood will have to wait a little longer to see the return of international visitors. But surprisingly for a shop that offers much the same retail experience as it did a century ago, Aritsugu sells its products online.

And rest assured that every blade leaves the shop freshly polished exactly as it would be if you were to buy it in person, so you are guaranteed Aritsugu quality, even remotely.
The entry point to the world of Japanese knives has to be the santoku, which not only has the iconic shape of a Japanese kitchen knife but also is one of the most versatile knives for any kitchen. This is your basic wide blade, which will handle everything from vegetables to fish and meat.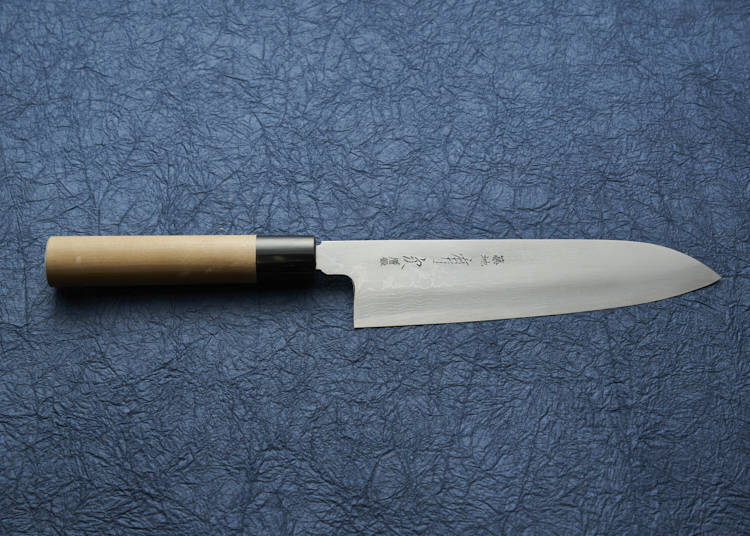 Damascus-finished santoku—210 mm in length (¥20,900, including tax).
Alternatively, your starting point for Western-style knives is the gyuto, which is similar in shape to the santoku but is weighted a little more toward the tip and thinner overall, making for defter handling.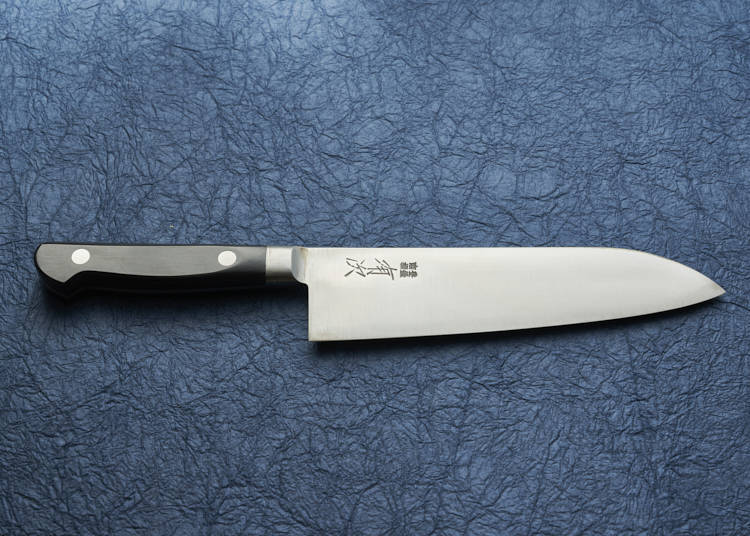 Gyuto in carbon steel—210 mm in length (¥11,000, including tax).
All of Aritsugu's knives are available in multiple lengths, and while Western-style knives can be used in either hand, at Aritsugu they sharpen each knife depending on whether you are left- or right-handed for the perfect cutting edge to match your dominant hand.

As for the length of your chosen knife, it makes sense to order the largest knife you can comfortably handle to give you as much cutting edge as possible. But that is clearly a subjective recommendation, so start by considering a knife one size larger than you would usually use and work up from there. A slightly longer knife makes all the difference, but it should always be one that is easy to use.
As a solid partner for your main knife, the honesuki is an attractive choice. It was originally designed for filleting chicken, but it is thin, light, and durable, which makes it trustworthy for almost all intricate jobs involving fish and meat. It is also perfect for piercing and trimming thanks to its finely pointed tip.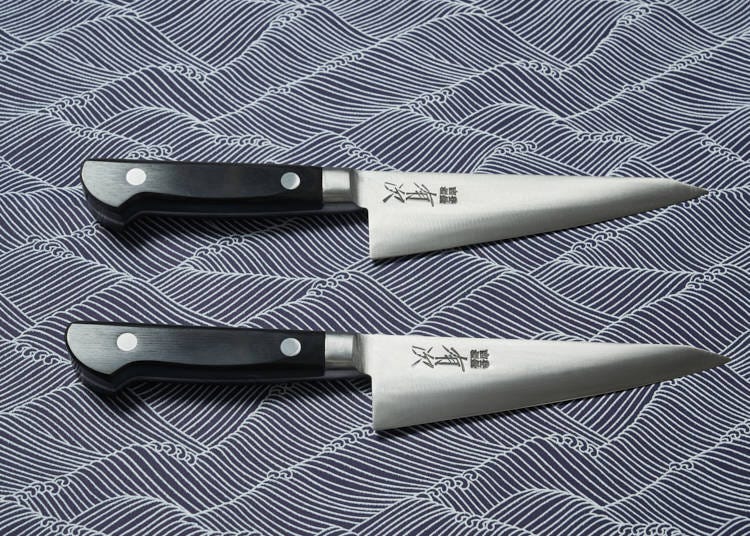 Honesuki: (top)—140 mm in length (¥6,600, including tax); (bottom)—150 mm in length (¥7,150, including tax)
For something a bit more special, Aritsugu has a lot to choose from. The kiritsuke santoku chef knife complements the versatility of the santoku with a precisely angled sharp tip and will become your go-to option for most dishes. It can also be ordered in a Damascus finish, and with a luxury wooden handle and a sheath made of Japanese rosewood.
Kiritsuke santoku in Damascus finish with rosewood handle and sheath—240 mm in length (¥31,900, including tax).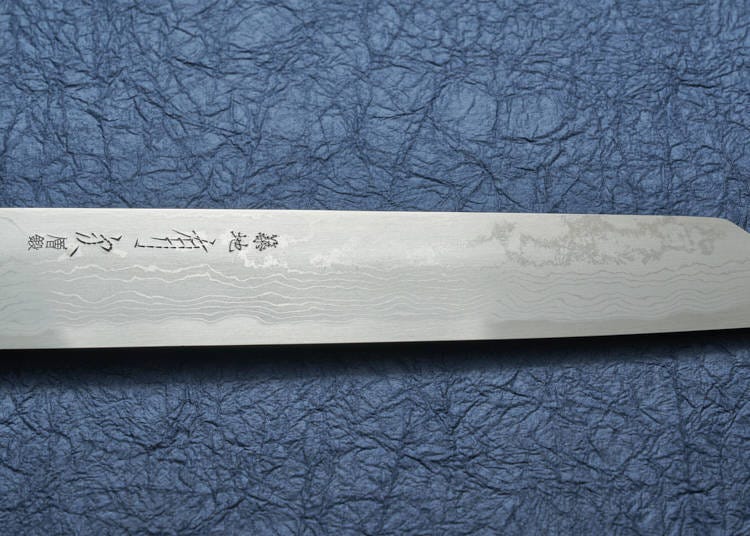 The stunning Damascus finish transforms a functional utensil into a work of art.
Experience the Difference
At the first sight of a new Aritsugu knife, even a complete novice can tell that it is a thing of great value. From the flawless finish to the satisfying balance, an Aritsugu knife excels in quality. If you look down the length of the blade, you should see no curve at all, whereas in knives of lesser quality, you will quickly see a curve, a common characteristic of such knives.

Finally, for the best test, cut a slice of sashimi (raw fish) or apple. Even the same fish or apple will taste differently when cut with a knife that slices cleanly through it. From there, it is just a matter of building your collection!
築地有次

Address

4-13-6 Tsukiji, Chuo-ku, Tokyo

Phone Number

03-3541-6890
*This information is from the time of this article's publication.
*Prices and options mentioned are subject to change.
*Unless stated otherwise, all prices include tax.