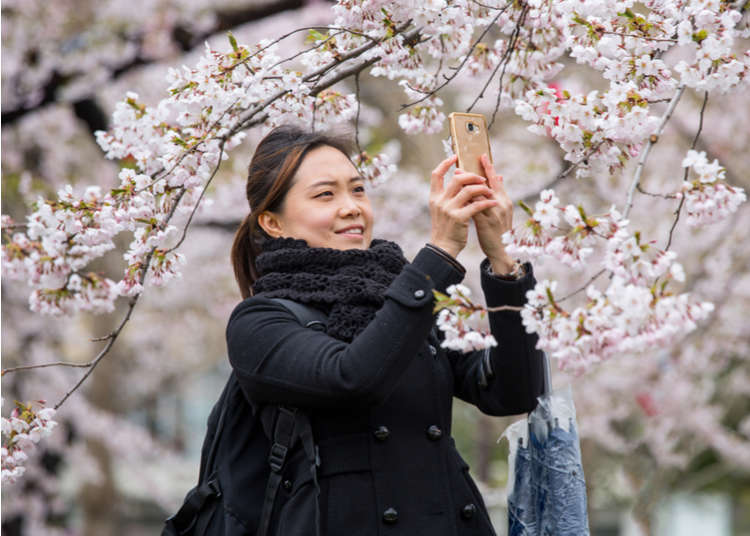 Tokyo is a massive metropolis with much to see and to discover. Before heading to Asia's most exciting destination, it would be nice to know which places are the most popular according to, well, everyone who visits and snaps a picture. With Japan aiming at 40 million tourists by 2020, more and more visitors are searching for the best spot for sushi, that incredible place to see the night view—that perfect spot for that perfect selfie.

Some of these areas are very famous, while others might be relatively unknown, especially to foreigners, but Instagram gave us the opportunity to collect data in such a way that you can know for sure what the majority of the people who spend (or spent) time in Tokyo think are worth sharing with the world and other potential visitors. So, let's dive into the Top 25 landmarks in Tokyo on Instagram!
#25. ゴールデン街 - Golden Gai (85.3k Photos)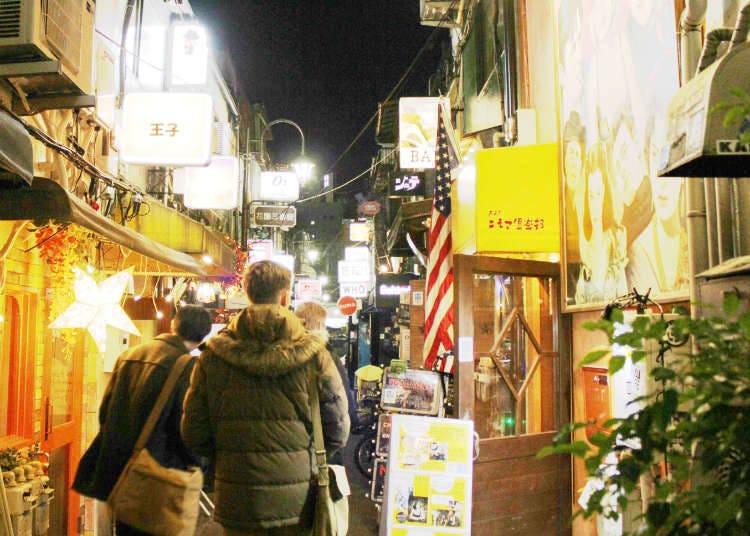 Golden Gai is a small 2-block area right in the very famous district of Shinjuku. With a traditional yet edgy look, it contrasts the otherwise extremely modern district.

Golden Gai's roads are jam-packed with bars and small restaurants and music clubs, many of which with different themes (from anime, to comedy, to hospitals, to the macabre) giving you a brand new experience every time you step into this Shinjuku cutout of small, suggestively lit alleys.
#24. 増上寺 - Zojoji Temple (87.9k Photos)
Zojoji Temple is an amazing place to visit for anyone interested in the tradition of Japan and especially for those who want to step into a small piece of the country's history. It also serves for amazing Instagram pictures, having the famous Tokyo Tower in the background, creating a beautiful mix of old and new.

Its main gate, called Sangedatsumon is the oldest wooden structure still standing in Tokyo. Dating back to 1622 it survived air raids during WWII, natural disasters and fires.
Six of the Tokugawa Shogun (the rulers of Japan during the Edo period (1603-1868)) are buried in Zojoji Temple.
#23. 豪徳寺 - Gotokuji (92.2k Photos)
Gotokuji Temple is a very popular destination for Tokyodites, but not as well-known by foreigners. Most of its Instagram hits are in Japanese. Yet it's a fun and unique place to visit.

Gotokuji is believed to be the birthplace (or one of the birthplaces) of one of the most iconic images connected to Japan, the so called Lucky Cat (Maneki-neko), which you will surely see in a lot of stores and houses in Japan. The temple is populated by thousands upon thousands of these figurines that visitors have donated to the sacred grounds in search of luck.
#22. 東京大神宮- Tokyo Daijingu (99.9k photos)
Tokyo Daijingu is one of the 5 main Shinto Shrines in Japan. Shinto literally means "the deity's way" and this shrine is a bridge to connect to these divinities. Its importance also resides in it being a connection between Tokyo and the Grand Shrine of Ise. The shrine in Ise has been the destination of pilgrimages of many believers for centuries. Tokyo Daijingu was built specifically to enable people in Edo (old name of Tokyo) to spiritually "visit" the Grand Shrine and pray to it from afar.
#21. 六義園 - Rikugien (111.7k Photos)
Rikugien Gardens is considered to be one of the most beautiful landscape gardens in Tokyo and Japan. It's large and rich of trees, and it's literally a walk among poems. It was in fact built in the 18th Century for the 5th Tokugawa Shogun and it reproduces scenes from 6 different poems. Particularly beautiful during autumn when the maple trees are changing color, the garden is still worth visiting all year round, offering beautiful sights and a nice and cozy tea house immersed in nature.
#20. 日比谷公園 - Hibiya Park (133.8k Photos)
Hibiya Park was the first western-style public park created in Japan. This very large park borders the Imperial Palace and is home to many rare trees and fish.

Historically it's also where the infamous Hibiya Riots started in the early 1900's, and also where Date Masamune - the founder of the Sendai Clan - died in 1636.

In the park there are cafes and small restaurants. You'll see beautiful roses and tulips and probably enjoy music being played in one of the 2 music domes within the park. It is also a popular event venue in each season.
#19. サンシャイン水族館 - Sunshine Aquarium (137.3k Photos)
Sunshine Aquarium is part of the entertainment complex called Sunshine City which offers a number of attractions. The Aquarium itself is located at the top of Sunshine City's World Import Mart Building in Ikebukuro and it sports hundreds of sea creatures, as well as shows, interactive features and a truly immersive experience, with one of its main pools, aptly named Oasis in the Sky, created to have visitors walk underneath it and enabling a unique view of beautiful sea creatures juxtaposed against the buildings at the horizon.
#18. 葛西臨海公園 - Kasai Seaside Park (Kasai Rinkai Koen) (139.1k Photos)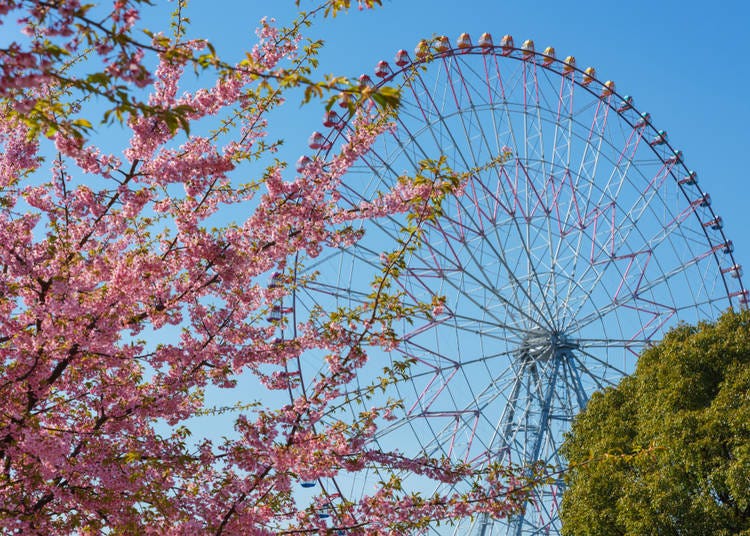 The largest park near central Tokyo, Kasai Seaside Park offers a beautiful break from Tokyo's modern skyline. The park is home of the Tokyo Sea Life Park and a large sea-bird sanctuary, most of which is accessible to the general public. You can also enjoy a beautiful aerial view of the park and its surrounding areas from the park's Diamond and Flowers Ferris Wheel.
#17. 氷川神社 - Hikawa Shrine (159.3k Photos)
Another one of the locations in Tokyo beloved to Japanese users on Instagram but almost completely obscure to foreign visitors, Hikawa Shrine is home of the primary spiritual guardian of the Akasaka district.

This shrine is a branch of the main Omiya Hikawa Shrine in the nearby city of Saitama. This beautiful Shinto shrine hosts important summer festivals and it's very easy to reach from the popular areas of Akasaka and Roppongi.
#16. 成田国際空港 - Narita international Airport (184.5k Photos)
Every visit from abroad starts from an airport, and Narita is one of the most popular ones in the world. Narita International Airport alone is responsible for almost half of all the international traffic of Japan, which may account for its popularity on Instagram.
#15. 上野恩賜公園 - Ueno Park (210.8k Photos)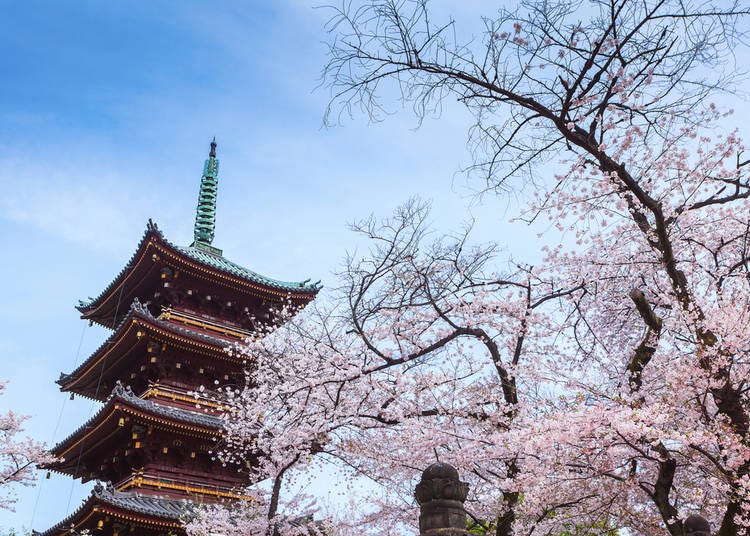 By far one of the most popular parks in Japan, especially among foreign visitors, Ueno Park was once home to the Kaneiji Temple, one of the most influential and richest in the capital, but which was destroyed after the capitulation of the Tokugawa Shogunate during the Meiji restoration.

The park was then redesigned to become one of the first Western-style gardens of the nation, but it still has traces of its old role, creating a charming traditional-modern landscape.

Within the park there are some of the most relevant museums in Tokyo, as well as thousands of cherry trees, which make Ueno Park one of the most beautiful places to enjoy cherry blossoms in spring.
#14. 恵比寿ガーデンプレイス - Ebisu Garden Place (245.6k Photos)
Ebisu Garden Place is a hub for restaurants and shopping centers built where the original Yebisu Beer brewery used to stand (and which also gave name to the area).

Here you can do your shopping and sightseeing in what feels very much like a city within a city, and you can visit the free museum erected to commemorate the original brewery, or take in any of the concerts and many other events here.
#13. ハチ公 - Hachiko (291.8k Photos)
Shibuya's Hachiko Statue is a popular landmark and homage to the famous dog Hachiko, known for his remarkable loyalty to his owner. Hachiko would meet his owner, Hidesaburo Ueno at Shibuya station every day. After Ueno's death, Hachiko would wait for Ueno in the same spot in Shibuya for 10 years every day without fail (until Hachiko, too, died).

Today, the Hachiko Statue is one of the most common meeting places in the city of Tokyo.
#12. 渋谷駅前交差点 - Shibuya Crossing (295.5k Photos)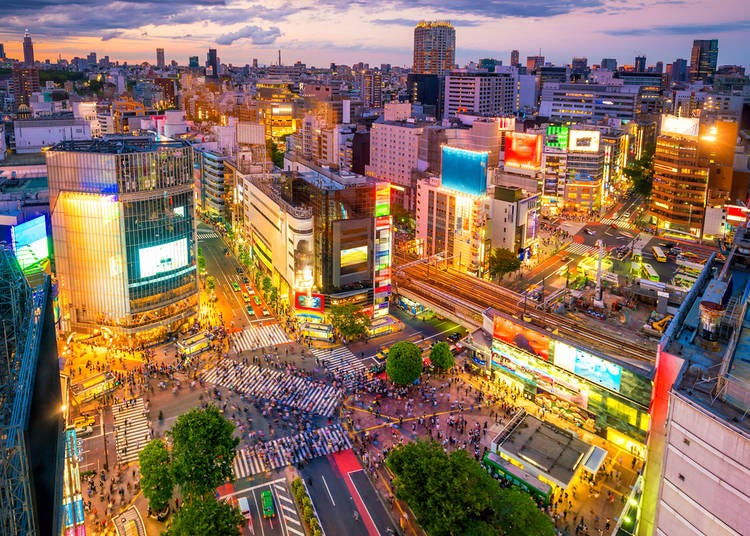 Possibly the most popular landmark among visitors from abroad, and certainly the most iconic image of Tokyo in many foreign magazines, Shibuya Crossing is where you'll inevitably end up being if you visit Tokyo. Sitting in the middle of hundreds of cafes, bars, restaurants and entertainment spaces of all kinds this is one of the most tagged areas on non-Japanese Instagram feeds, while Tokyoites don't seem to feel the need to hashtag it at all.
#11. 明治神宮 - Meiji Jingu (384k Photos)
Located very close to the modern and hip Harajuku area, Meiji Jingu is a wonderful Shinto shrine dedicated to the spirits of Emperor Meiji and his Empress, Shoken.

Emperor Meiji spearheaded the modernization of Japan and he was the first emperor to rule over the country during its passage from a feudal nation to a modern power that would join the world's most prominent ones.

Its beautiful gardens are a sight to behold. This shrine is also the most popular one for the New Year's prayer, a tradition in Japanese culture, and it's visited, on that day, more than any other shrine in the country.
#10. 新宿御苑 - Shinjuku Gyoen (463.9k Photos)
Shinjuku Gyoen National Garden is one of Tokyo's largest parks. It originally was a feudal residence, until it was repurposed as a botanical garden, and later transferred to the imperial family in 1903 to entertain guests.

Today it is a gorgeous attraction for those looking for some quiet place in the middle of bustling Shinjuku, among many maple and cherry trees of different varieties, as well as gardens of different styles and tranquil ponds.
#9. 上野動物園 - Ueno Zoo (521.2k Photos)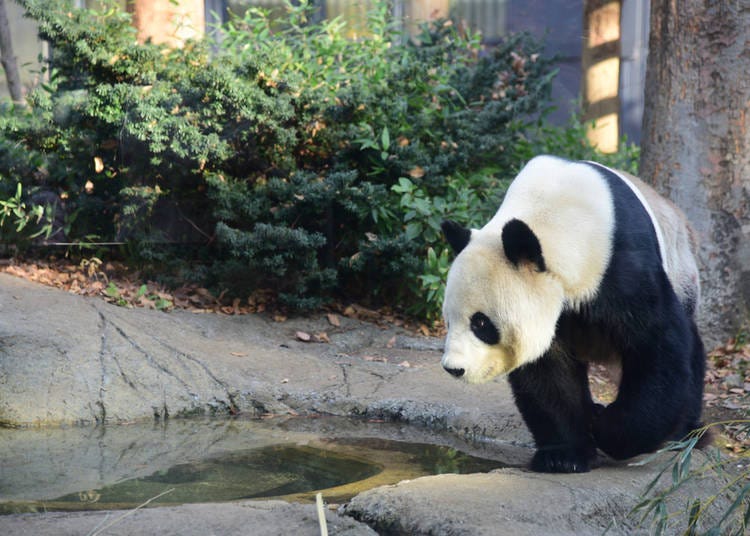 Located within Ueno Park, Ueno Zoo is the first zoo to be established in Japan, with over 100 years of history. It currently displays more than 3000 animals of 400 different species and it's managed by the Tokyo Metropolitan government.
#8. 浅草寺 - Sensoji (539.9k Photos)
Also known as the Asakusa Kannon Temple, its main gate (Kaminarimon – the Thunder Gate) is one of the most iconic images of Tokyo.

Legend says that two brothers finished a statue of the Goddess of Mercy, Kannon in 628. They placed it in the river, but she would keep going back to them. The temple was built for her.

Aside from the beautiful temple itself, you will find on its ground numerous food and souvenir stands.
#7. 代々木公園 - Yoyogi Park (658.2k Photos)
Another one of the large parks in Tokyo, Yoyogi Park is a beautiful addition the other natural oasis in this list.

Even though it doesn't sport as many cherry trees as some of the other parks in the city, it still makes for a beautiful cherry blossom viewing site. It's also great to visit in autumn because of its famous Golden Forest - a section of the park rich with ginkgo trees which, during the leaf color change season, gain a distinctive golden hue.
#6. 六本木ヒルズ - Roppongi Hills (679.2k Photos)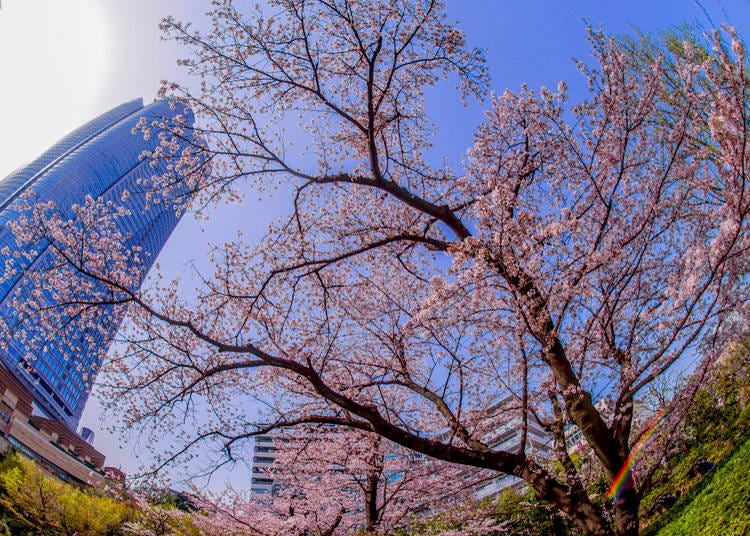 With its centerpiece Mori Tower, overviewing it, Roppongi Hills is a large area within Roppongi where you can find restaurants, museums, open air amphitheaters, as well as a number of shops and attractions.

The area was built to create a high-rise area where people living there could also work there, relax, shop, and more, to eliminate commuting.
#5. 羽田空港 - Haneda Airport (756.6k Photos)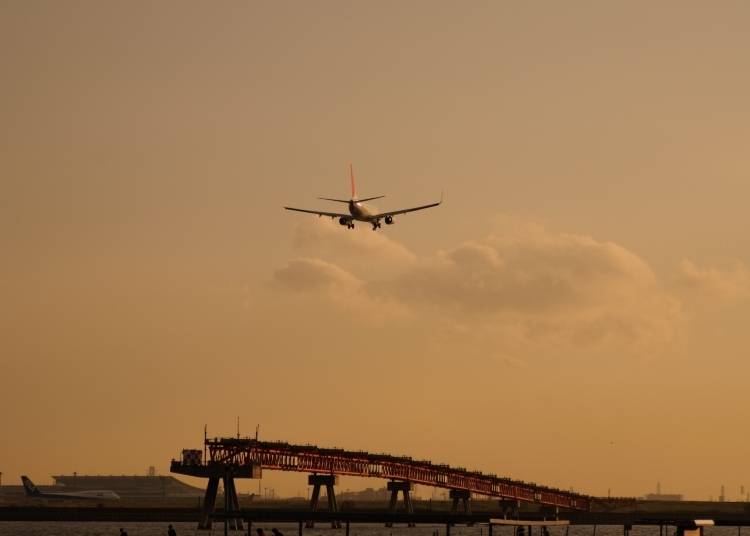 The other main airport of Tokyo and one of the most important of the countries, Tokyo International Airport (Haneda), in 2017 it was the 3rd busiest airport in Asia and the 4th in the world. This airport is considered to be one of the best airports, globally, in terms of service and amenities.
#4. 東京スカイツリー - Tokyo Skytree (763k Photos)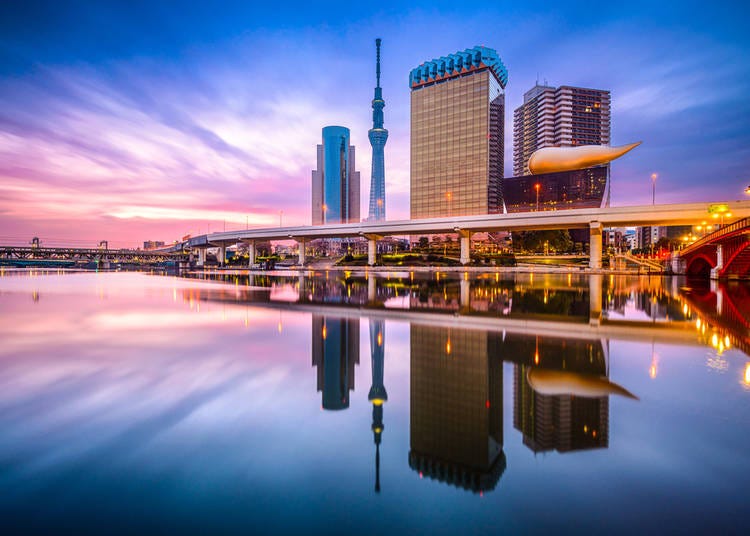 At 634m the Tokyo Skytree is the tallest tower in the world. Its main purpose is that of a broadcasting tower, but it also has restaurants and a famous observation deck.

The tower was completed in 2012 and it's a feat of architecture, resistant to earthquakes and other natural disasters, and sporting a very Tokyoesque neofuturistc design.

Interesting trivia about the tower is that its name was selected through popular vote nationwide and its height was decided to make it easy to remember. The numbers 6, 3, 4, in Japanese, read as Mu, Sa, Shi, spelling the old name of the area in which the Tokyo Skytree now stands.
#3 東京駅 - Tokyo Station (890k Photos)
Tokyo Station is one of the most famous stations in Tokyo. It's the busiest one in terms of trains/day (3000) and it's the main intercity rail terminal in Tokyo. The station was destroyed in 1945 after an American raid, and it was rebuilt within a year.

It's easy to think of this station as just an important connection of the national city train systems, but the station itself has much to offer in terms of shopping and dining. Furthermore it's very close to the imperial palace and within the district of Marunouchi, home to some of Japan's giant industrial and financial headquarters.

The station is also very close to the famous area of Ginza with its many high-end stores and a whole strip dedicated to shopping.
#2. 東京ドーム - Tokyo Dome (1.4m Photos)
Tokyo Dome is a stadium in Tokyo, home of the Yomiuri Giants baseball team and which regularly hosts concerts, pro wrestling matches, basketball, and American football (it was the first venue in Japan to have an attendance of over 50,000 people for an American football match).

Mick Jagger was the first international concert, in 1988, that took place in Tokyo Dome, and ever since, artists like Michael Jackson, Janet Jackson, Madonna, L'Arc~en~Ciel, Perfume, and a number of other stars, domestic and international have performed tens of concerts in Tokyo Dome.

Tokyo Dome is part of the large entertainment complex known as Tokyo Dome City. Here you can find game centers, shopping centers, amusement parks, roller coasters, a large Ferris wheel, betting centers, and an onsen called SPA LaQua.
#1. 東京タワー - Tokyo Tower (1.8m Photos)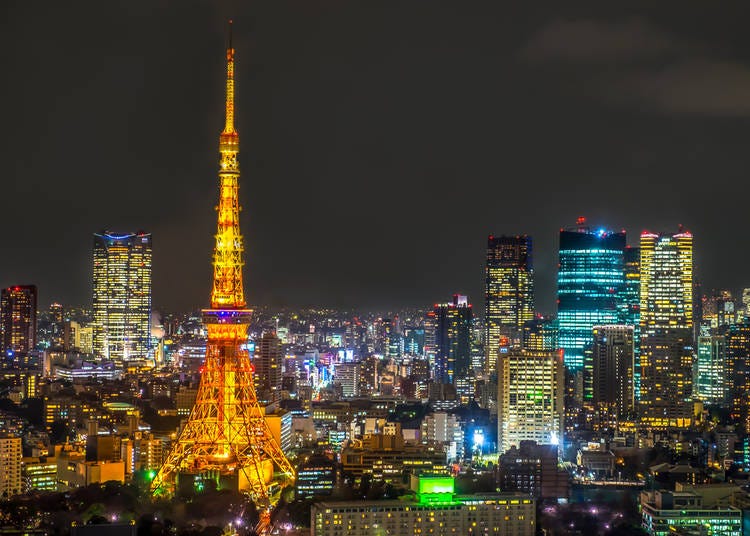 At the top of the list we find the famous Tokyo Tower. Equally as popular among Japanese and foreign instagrammers, this is truly one of the symbols of Tokyo recognized all over the world.

The tower was built in 1958, inspired by the Eiffel Tower. To this day it's the second tallest structure in Japan (332.9m).

The tower serves as a communication and observation tower. Especially because of its observation deck, it's one of the most popular places among people visiting Japan (hundreds of millions of people have visited the tower since it was built).

The tower is in an area rich of attractions (like Zojoji Temple), but the tower itself is rich of entertainment.
At its feet is the so called Foot Town, sporting an aquarium, restaurants and shopping centers.

The top floors of the four stories Foot Town host a large wax museum, as well as the Guinness World Records Museum Tokyo. You'll also find the Gallery DeLux, a hologram gallery, and the Tokyo Tricks Art Gallery, a fun interactive museum.

In 2015 a One Piece inspired amusement park was opened in the tower where visitors can interact with the world created by Eichiro Oda, eat meals taken from the popular manga and anime, as well as enjoy entertainment all focused on One Piece.
Here you have it! These are the most popular landmarks in Tokyo according to Instagram accounts from all over the world. Now it's up to you to add to it!
About the method used to create this list
A location database was created using the popular Japanese travel site, Gurutabi, which contains a ranking of hundreds of popular attractions, locations, and cities across Japan. The first 300 of these spots for Tokyo were taken and cross-referenced with their corresponding hashtag on Instagram (both in Japanese and English), which allowed us to obtain the exact numbers of photos with that hashtag as of February 22, 2019; from a list of the 25 most popular landmarks in Tokyo was compiled.
Written by:
*This information is from the time of this article's publication.
*Prices and options mentioned are subject to change.
*Unless stated otherwise, all prices include tax.