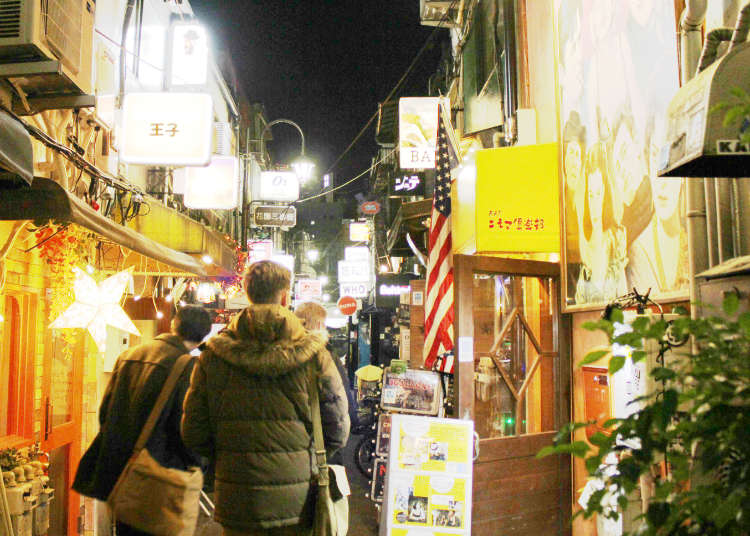 Shinjuku Golden Gai is the one place in the neon-lit nightlife district that is probably as hard to find for first-timers as it is famous as the one must-visit spot when in the area. Join as we explore one of Tokyo's legendary nightlife locations!
A five-minute walk from the station and comfortably nestled between the amusement district of Kabukicho and the beautiful Hanazono Shrine, Golden Gai draws its strength from both of these places.

While the accumulation of tiny bars – 288 in total as of December 2016 on an area that is smaller than a soccer field – makes for one of Tokyo's most recommended areas to grab a drink after work and on the weekend, the very nature of Golden Gai and its narrow streets and nostalgic buildings make it also feel like a remnant of the olden times, when the neighboring shrine was built.

Speaking of Japan's famed symbiosis of tradition and modernity, Golden Gai is a prime example.

The phenomenon of Golden Gai dates back to the 1950s when the area started to attract creative minds such as writers, poets, manga artists, movie directors, and actors, the famous writer Kenji Nakagami among them.

They used Golden Gai as a place to discuss and exchange their thoughts on all kinds of topics over relaxed drinks at night and thus, the nightlife area started to gain attention. There are some bars with a regulars-only policy, politely refusing service to first-time guests but the general image one gets of Golden Gai when wandering the narrow streets is that of all sorts of people can enjoy a good drink.

Also, the majority of places in Golden Gai have fairly normal prices but you will spot one or two, immediately thinking: "I'm not going in there. I cannot go in there!" because they're just that expensive.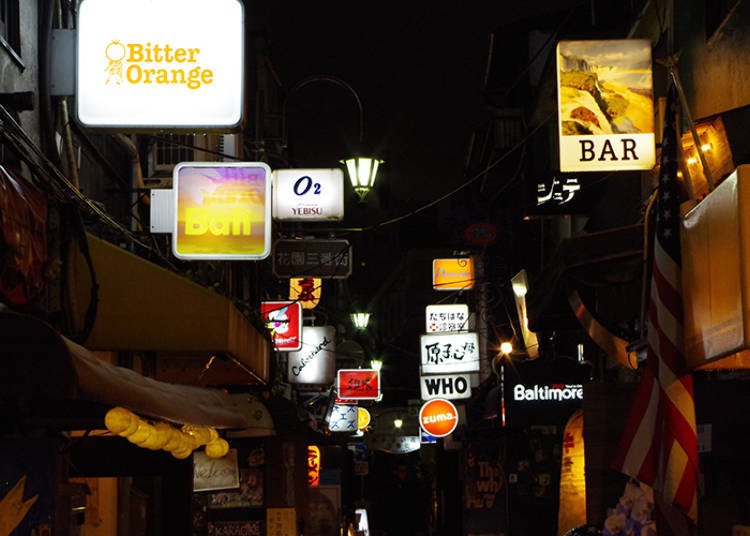 The busiest time for Golden Gai is between 9 am 10 p.m. People of all ages, genders, and walks of life stroll around the area and enjoy a drink in one of the many bars.
Due to a case of arson, Golden Gai attracted a large amount of media attention in the spring of 2016 but for now, everything seems to have gone back to normal – in fact, there appear to be even more office workers and tourists enjoying the area than before.

Showcased in the Michelin Green Guide of 2009, the number of Western tourists to Golden Gai has increased dramatically ever since, and there even is a tour offered, called "Having a Drink in Golden Gai."

But what is the secret behind the Golden Gai phenomenon? To get to the bottom of this secret, we asked Nao Wadayama of the Shinjuku Sanko Shotengai Promotion Association, as well as Mari-san who owns two bars in Golden Gai, Kokkome and Tachibana Shinsatsushitsu (which translates to Tachibana Clinic).
Shinjuku's Golden Gai Grows Younger as the Number of Young Bar Owners Keeps Increasing
Mari-san: "I opened my bar just before 2000, when I was in my late 20s. The owner of my favorite bar asked me 'Don't you want to have your own bar?" And well, this was the beginning of me becoming a bar owner who even confidently chose the proper location: 'You're going to be here!' (laughs)"

Unlike the neighboring Kabukicho, developers and land sharks weren't able to get their hands on the Golden Gai around 2000 due to how complicated the legal situation was, so it was spared from this wave of development. As such, there were many shops just left as they were."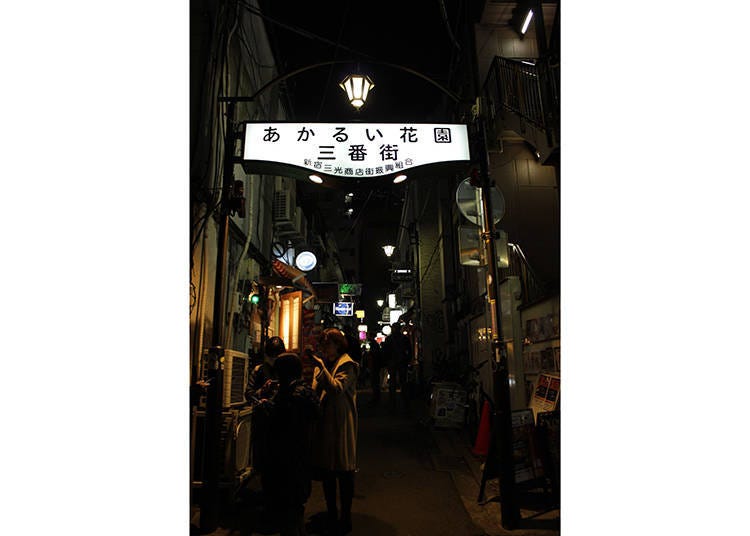 The signboard of "Akarui Hanazono Sanban-Gai" today.
Mari-san: "The shops around the signboard "Akarui Hanazono Sanban-Gai" ['akarui hanazono' translates to 'bright flower garden'] were far from bright back then. It was pitch black, as most of them were closed. Even I had my doubts whether I would continue with what I was doing.
Whenever I heard a weird sound outside, I thought that a building on the other side of the street must have started to collapse and the other owners around the area had come to strengthen the building's structure with corrugated iron sheets.
But gradually, young bar owners started to repopulate Golden Gai and the area thus started to become exciting again. In retrospect, I think I was brought here due to a sense of urgency that this town had."

Wadayama-san: "There are many old bars that are run by their owners all by themselves but now about 60% of bar owners are between their 20s and 40s."

Currently, there are many people who'd love to open their own place but vacancies can be counted on the fingers of one hand. While there are still bars that refuse service to non-regulars, if you go in to genuinely ask about this policy, you cannot help but understand it to a certain degree.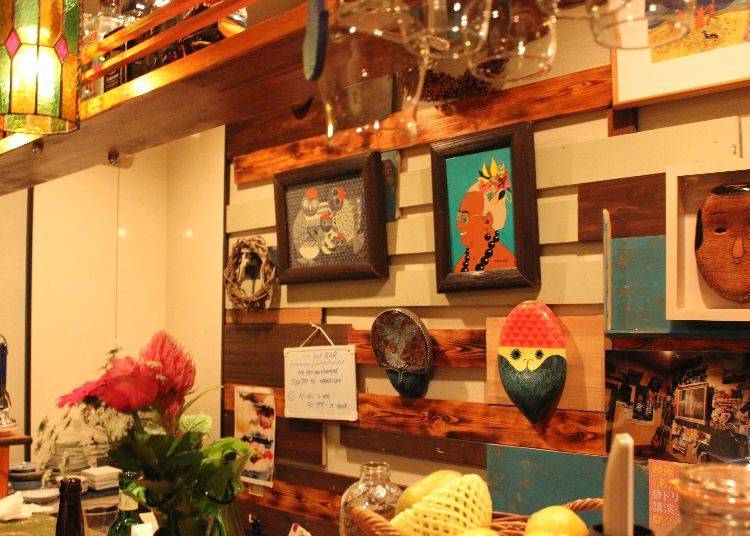 BarMIKI, opened in 2016 by the artist MIKI. The beautifully decorated interior resembles a café.
Golden Gai, a "Town of Love" for Natural Encounters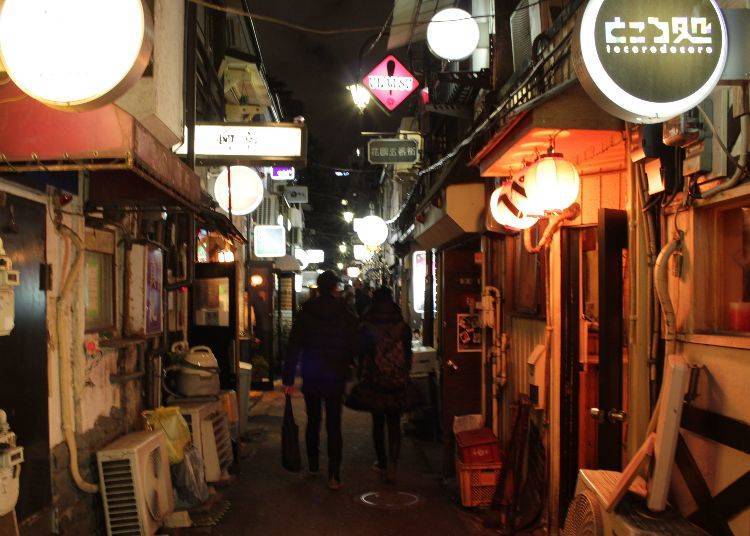 When asked just what kind of place Golden Gai actually is, I didn't have to wait even a second for an answer: "It's the Town of Love."

Wadayama-san: "In Golden Gai, you'll have natural encounters. As there are many unique bars that have made a certain hobby their theme, you'll find to have something in common just by choosing to enter the same bar.
There are many stories about in which bar people met their spouses, maybe even the ones they married in the end, or about a group of bar guests who had a great time together and went out to have dinner afterwards. You really hear those kind of stories a lot.
Of course, you don't click with everybody but I want to say that really wonderful encounters can be made in Golden Gai. Because all the bars are tiny, it is not unnatural at all to see people come in alone, even women. There are many late bloomers among today's young men, so female bar owners will snap at them "What are you here for?!" even though they only came to have a drink! (laughs)
Of course, there's also a lot of romantic consultation happening. If your own way of doing things doesn't seem to work out, might as well try another person's ways. Having a discussion like that is very intriguing!"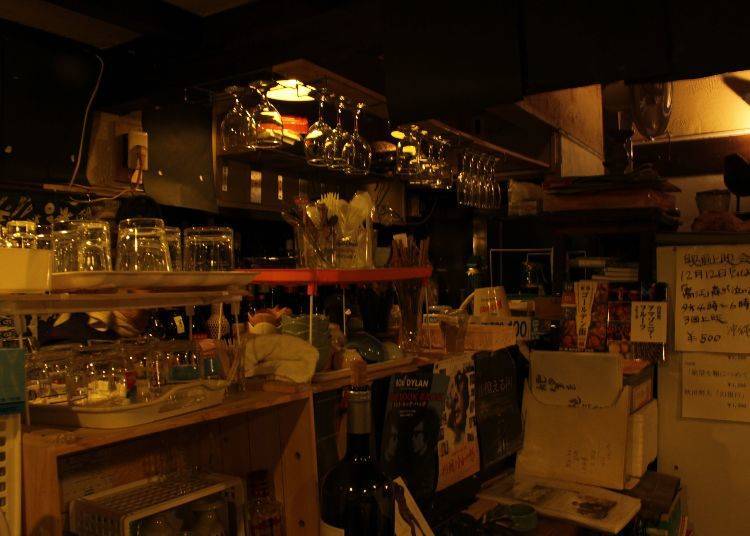 A large variety of spirits and the cultured, sophisticated atmosphere of other decades – these are Golden Gai's old bars.
It is said that in this day and age, it can be hard to form a real connection with someone, but in Golden Gai, a certain kind of closeness is very palpable.

Mari-san: "Just when I had opened my own bar, the owner who told me to start my own thing took me around the area to introduce me in all the other bars. Every single one of them; and it had both a serious side to it as well as a friendly closeness. Today, we mostly think 'Oh, I should greet my neighbors.' But today as well as in older days, that closeness between people doesn't change."

When people decide to come into a narrow space and start to drink, it's just a natural mechanism to introduce oneself to one's neighbor and start chatting. In a sense, Golden Gai is a place that seems separated from reality so maybe it is just natural for conversations, friendships, and love to develop between people.
A Wonderful Place for Those who like to Drink, a Wonderful Place for Those who don't like to Drink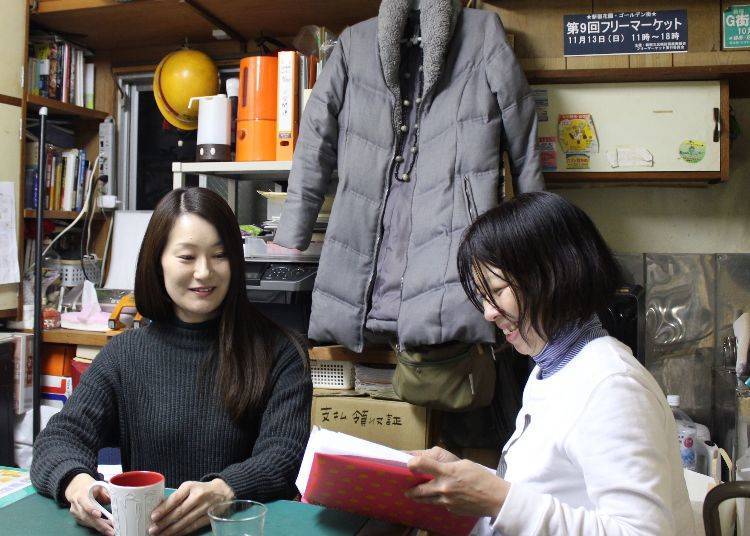 Wadayama-san of the Shinjuku Sanko Shotengai Promotion Association (left) and Mari-san in the office.
While I listened to the stories of Wadayama-san and Mari-san, someone from the travel agency who organized the Shotengai Promotion Association group trip of 2016 happened to come by the office.

Travel Agency Staff: "Even the bus guide was surprised by just how energetic and lively everyone is."

Mari-san: "Well I drink both in my free time while traveling as well as in my bar, and we celebrated both the evening before and after the trip. It's filled with people who take every chance to have a drink! It's also perfectly alright to take part at your own pace, though."

Wadayama-san: "You don't have to drink. I also went to the trip's after-after-party (laughs) but nothing and nobody forced me to drink."

Enjoying spirits is part of Golden Gai but even more so is making encounters and connections. Once pulled into the area's unique atmosphere, leaving gets harder and harder by the minute – it almost seems like magic.

Mari-san: "Staffers come to the bars even on their days off. I think that is a great thing. People who once worked in Golden Gai and now have a regular job or women working as part-timers in offices are a common sight. They stay the night, take the first train home in the morning, sleep a couple of hours and go to work as usual (laughs). Our college student part-timers learn how to lightheartedly deal with drunken people so I think when you make such a Golden Gai experience, you're just not afraid of tackling society anymore."
Wadayama-san: "Seriously, I wish this experience would start being used for business communication trainings!"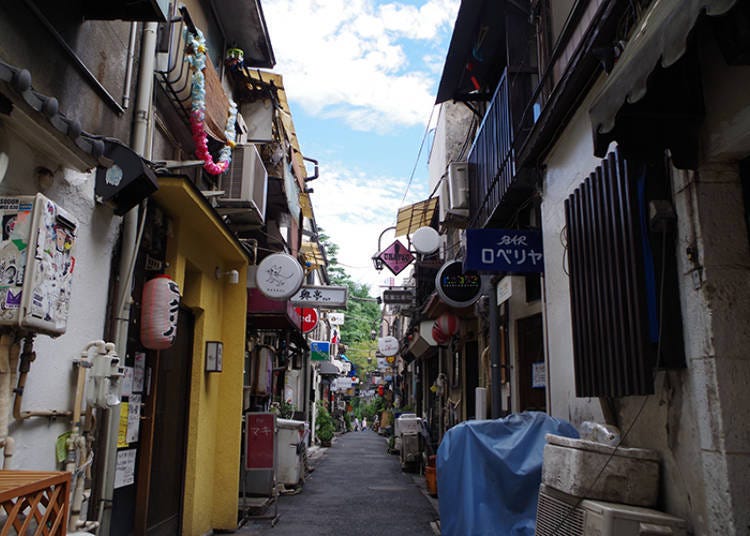 It's not just cats and a handful of residents during the day. Many places are open for lunch.
Pub-Crawling Makes You Fall in Love with the Entirety of Golden Gai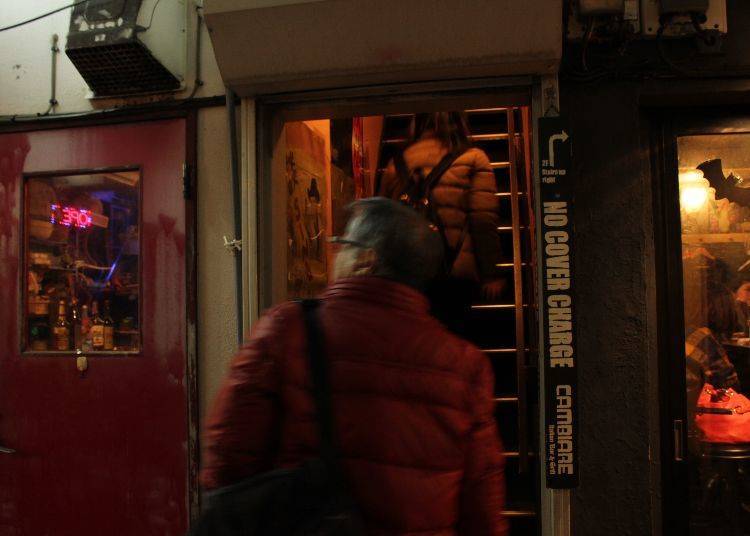 Spend an entire evening in one bar or visit several throughout the night. Even food deliveries from one bar to the next are possible!
Isn't leaving a bar right after you entered somewhat rude towards the owner?

Mari-san: "No, absolutely not. Someone comes in, sees that there are no seats and leaves again. Or people who've never met before, get friendly over drinks and then show each other their other favorite places. The bar owners themselves drink as well. Since there are so many bars in Golden Gai, I guess you just don't have a strong sense of fighting just for your own sake."

Wadayama-san: "Even the guests feel that they have to pop by and show their face here and there. It might be much harder to leave a place when you're the only ones in there but basically, no one cares."

Mari-san: "Additionally, a lot of the part-timers also work at two or more different bars, being here one day and there the other. Fans of those part-timers also go to a different bar then. It's great when the number of bars you can go to increases, so when a place is full or you don't click with the other guests, just go to a different place!"

And since there are 288 different bars, there's certainly much and more to discover. If you don't know where to go, just ask the staff and they'll give you a recommendation. The places might seem old from the outside but a lot of bars feel as cozy as someone's private home, making guests feel a warm attachment to the phenomenon that is Golden Gai.

Wadayama-san: "If it's a small bar, you might find people who sort of pull back as well when you're not a good talker. Of course, people who want to be left alone won't be forced to talk but in general, everyone enjoys some drinks and there's a strong spirit of service, so… I don't think anyone will really be left to themselves."
Mari-san: "Even when it comes to international guests who do not speak a single word of Japanese, if you look for a place filled with people who don't care and are happy as long as you share a drink with them, Golden Gai is the place."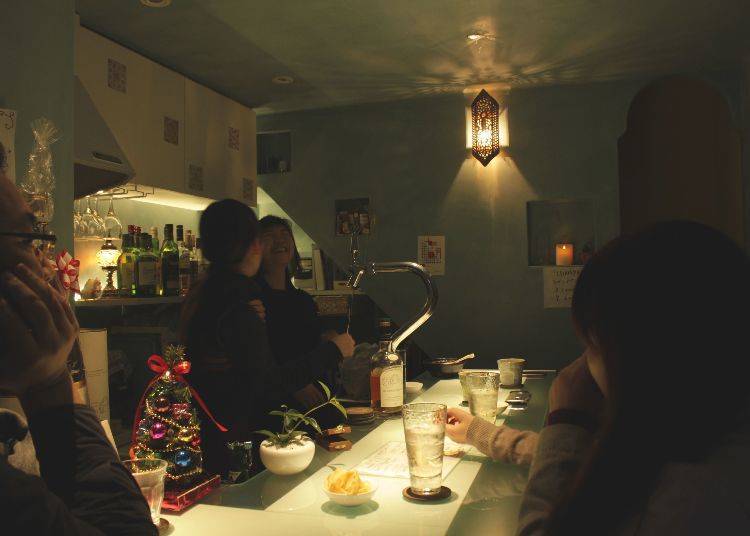 Cremaster, a bar with only 6 seats on the first floor. All the guests met for the first time. Afterwards, five people from the States on a business trip came in and they stood in the back, having drinks.
Both the bar owners and guests of Golden Gai do not want to see the iconic area being changed, and strengthening it while protecting it is a big topic.

Especially the aging buildings are a problem but the government of Shinjuku is very cooperative and seems to have no plans for redevelopment. And instead of having its prime as an exciting but temporary trendy district, Golden Gai shines in one decade or another, like an undying town.

Indeed, Golden Gai has been born again and again, over and over ever since the end of World War II, attracting people from all walks of life – and will likely do so in the decades to come.

It wasn't really necessary for the article itself, but after the interview, I decided to make the Golden Gai experience for myself. The international tourists did stand out to me but there were also the regular office workers, locals, and Japanese tourists.

As a non-drinker, it certainly felt like I have stepped into a whole different world – and I was in awe. But as soon as I entered the first bar, the real magic started.
There was a time when Golden Gai was a "blue line" district, an area around a neighborhood where illegal prostitution occurred. This building looks like it is two stories high from the outside but a stairway can be seen on the right side of the photo, leading up to a 3rd floor with a low ceiling, where sex workers seemed to have taken their customers.
The bars that all seem too narrow at first are really interesting. Because of those many physical restrictions, Golden Gai seems to have plenty of shortcomings but the plethora of things found in and all over it strangely do make the area and the bars very relaxing. For international tourists, this fact alone makes Golden Gai incredibly intriguing.

In the first bar that I visited, there were people from their 40s to their 80s and everyone in there had met for the first time. The topics ranged from rugby to music to someone's trip to India, and there also was another guest who didn't drink. Listening to their engaging stories about things I didn't encounter in my own day to day life, one after the other, I felt like I was a curious child again, knowing nothing much of the world.

On the other hand, I also felt a certain kind of nostalgia even though I had never been at the bar or met the people ever before. Natural encounters…was it this what they were talking about? I will certainly return to find out more about that.

If you're of legal age to drink, I urge you to go to Golden Gai yourself, even when you're just the tiniest bit intrigued by it. Don't be afraid and don't let yourself be discouraged – discover Golden Gai, this amazing world of natural encounters and genuine connections where times and trends seem to have no influence whatsoever.

Golden Gai, the place to rediscover both genuine talking and listening to other people. As you read this sentence, you can be sure that the Golden Gai phenomenon enchants someone right about now.
A First-Timer How-To: All About Your Own Golden Gai Debut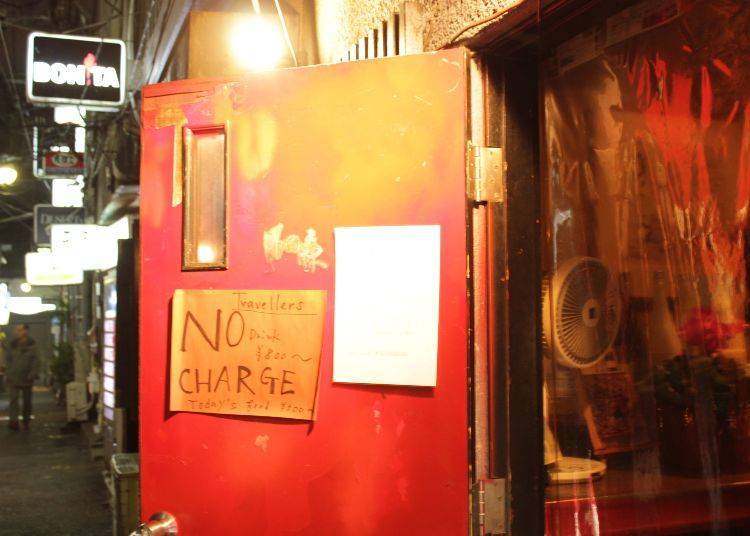 A lot of bars display their cover charge at the entrance. There are also a lot of places that do not charge tourists at all, as seen in the photo above.
・Pay attention to the cover charge. It can range from free to up to 2,000 yen, varying by bar.

・The number of bars that open via a three-stage system at 6:00 p.m., 7:00 p.m., and 8:00 p.m., are increasing.

・Don't hesitate to peek inside a bar even though it is full. Guests might wait for an opportunity to move on, and squeezing in the back and drinking while standing is also a lot of fun!
Golden Gai Bar Recommendations for First-Timers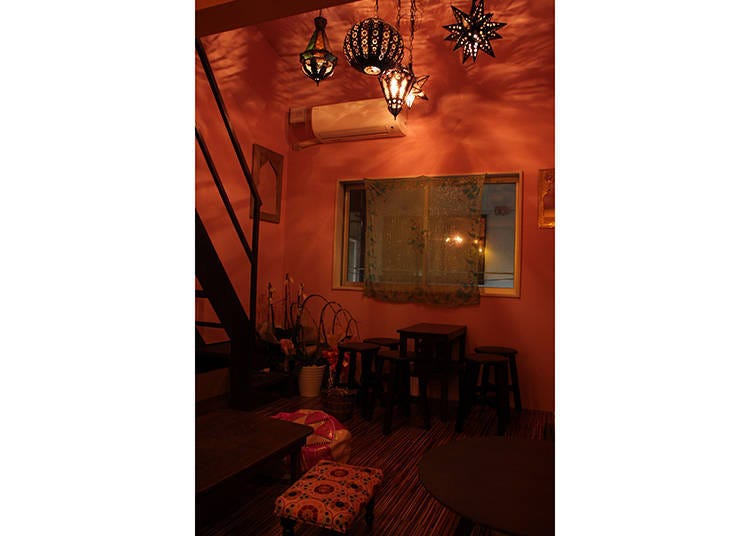 Cremaster's cozy atmosphere is great even for a group of friends or co-workers to relax on the second floor.
■ cremaster
1-1-5 Kabukicho, Shinjuku-ku, Tokyo-to 160-0021 (Hanazono 8-Bangai x Maneki-Dori)
Cremaster is owned by a female singer. The second floor and its table seats are perfect even for a larger group. The lively yet relaxed atmosphere is a characteristic of the bar. English ok!

■ Kokkome
1-1-5 Kabukicho, Shinjuku-ku, Tokyo-to 160-0021 (Hanazono 8-Bangai x Maneki-Dori)
Although Kokkome is a bar, it serves specialty dishes with ingredients directly from Hachijojima Island. Dishes such as omelet, pizza, and pasta are also available.

■ Chi-Kitchen
1-1-6 Kabukicho, Shinjuku-ku, Tokyo-to 160-0021 (Hanazono 5-Bangai)
A bar run by mother and son. Not only is the selection of drinks extensive but also the menu, featuring an excellent variety of Western dishes.

■ Bar MIKI
1-1-6 Kabukicho, Shinjuku-ku, Tokyo-to 160-0021 (Hanazono 5-Bangai x Hanazono Koban-Dori)
As Bar MIKI is run by a female artist, the walls are adorned with beautifully drawn paintings creating a very unique atmosphere.
Shinjuku Golden Gai
1-1-6 Kabukicho, Shinjuku-ku, Tokyo-to 160-0021
http://goldengai.jp/
Asaka Rai
Working as writer and editor. Following Wadayama-san's recommendations, I made my Golden Gai debut at the age of 40. I visited the bar of a legendary 82-year old woman who ended up in Golden Gai after traveling Brazil's Amazon Rainforest. The memories of the evening still linger and I am still in shock – in a good way.
*This information is from the time of this article's publication.
*Prices and options mentioned are subject to change.
*Unless stated otherwise, all prices include tax.