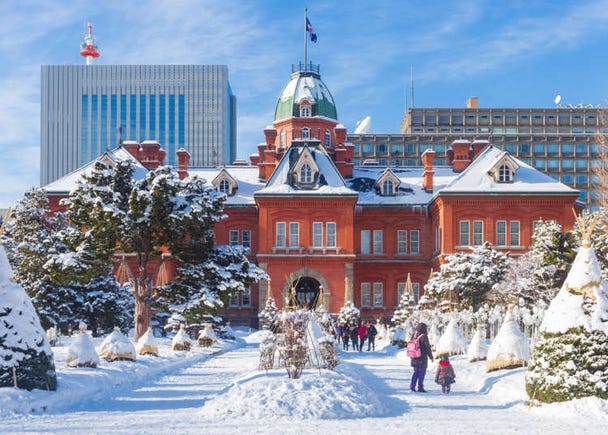 What are the most beautiful prefectures in Japan? Every year, more and more people from all around the world choose Japan as their next travel destination. That ever-growing trend has caused Japan's prefectures to promote multilingual signage, multilingualism in accommodation facilities, communication infrastructure, and other aspects to accommodate international visitors.

And while every prefecture is focused on urban development for tourists from abroad, the sightseeing information available outside of Japan is biased towards certain features, such as famous historical buildings.

That also means, however, that the atmosphere of an area, its ease of living, particularly interesting spots, sightseeing highlights off the beaten path, and other such charms that are felt and experienced by the Japanese people living in Japan are not realistically conveyed.

A great way to get to know Japan from this insider perspective is the ranking of the most attractive prefectures – let's take a look at the results!
Regional Brand Survey 2018: a Ranking of Japan's Local Charms
The Brand Research Institute which also acts as a consulting agency for companies and regions to improve their brand power conducted the "Regional Brand Survey 2018," looking at how aware people are of the places, their attractiveness, image, and other factors of the 47 prefectures and 1,000 municipalities.

Held for the 13th time, the survey takes a close look at cities, towns, and villages all across the country, evaluating them by criteria such as "prefectures with high name recognition," "prefectures with high media coverage," "prefectures recommended for sightseeing," "prefectures recommended for living," "the image of the towns," and so on.

The survey was made up of 84 questions in total and was answered by 30,000 people of all ages from all across Japan. These answers were then re-tabulated for an even balance between gender, age, and region, creating a microcosm of Japan that seems to realistically reflect the views of modern Japanese people.

Let's take a look at some of the survey's major and most interesting categories. The 2018 survey lists Hokkaido as the most beautiful prefecture in Japan, winning first place for ten years in a row since 2009!

■ The Most Attractive Prefectures in Japan
Asahikawa, Hokkaido
#1 Hokkaido (2017 survey: #1)
#2 Kyoto (2017 survey: #2)
#3 Tokyo (2017 survey: #3)
#4 Okinawa (2017 survey: #4)
#5 Kanagawa (2017 survey: #5)
#6 Nara (2017 survey: #6)
#7 Osaka (2017 survey: #7)
#8 Fukuoka (2017 survey: #8)
#9 Nagano (2017 survey: #9)
#10 Nagasaki (2017 survey: #11)
...
#38 Shiga (2017 survey: #28)
#38 Fukui (2017 survey: #39)
#40 Gifu (2017 survey: #37)
#41 Tottori (2017 survey: #41)
#42 Gunma (2017 survey: #41)
#43 Saitama (2017 survey: #44)
#44 Tochigi (2017 survey: #43)
#45 Saga (2017 survey: #45)
#46 Tokushima (2017 survey: #46)
#47 Ibaraki (2017 survey: #47)

■ The Most Attractive City in Japan
Arashiyama, Kyoto
#1 Hakodate (Hokkaido, 2017 survey: #2)
#2 Kyoto (Kyoto, 2017 survey: #1)
#3 Sapporo (Hokkaido, 2017 survey: #3)
#4 Otaru (Hokkaido, 2017 survey: #4)
#5 Kobe (Hyogo, 2017 survey: #7)
#6 Yokohama (Kanagawa, 2017 survey: #6)
#7 Furano (Hokkaido, 2017 survey: #9)
#8 Kamakura (Kanagawa, 2017 survey: #5)
#9 Kanazawa (Ishikawa, 2017 survey: #8)
#10 Sendai (Miyagi, 2017 survey: #11)

■ Fame Ranking (how famous a prefecture in Japan is)
Ginza, Tokyo
#1 Tokyo (2017 survey: #1)
#2 Kyoto (2017 survey: #2)
#3 Hokkaido (2017 survey: #3)
#4 Osaka (2017 survey: #5)
#5 Kanagawa (2017 survey: #4)

■ Tourism Ranking (how attractive a prefecture is for sightseeing)
Otaru, Hokkaido
#1 Hokkaido (2017 survey: #1)
#2 Kyoto (2017 survey: #2)
#3 Tokyo (2017 survey: #3)
#4 Okinawa (2017 survey: #4)
#5 Kanagawa (2017 survey: #5)

■ Living Ranking (how attractive a prefecture is for living)
Yokohama, Kanagawa
#1 Kanagawa (2017 survey: #2)
#2 Tokyo (2017 survey: #1)
#3 Kyoto (2017 survey: #4)
#4 Hokkaido (2017 survey: #3)
#5 Osaka (2017 survey: #6)

■ Media Showcase Ranking (how much a prefecture is featured in the media)
Osaka castle
#1 Tokyo (2017 survey: #1)
#2 Kanagawa (2017 survey: #2)
#3 Kyoto (2017 survey: #3)
#4 Osaka ((2017 survey: #4)
#5 Okinawa (2017 survey: #7)
Most Beautiful Prefectures in Japan: #1 Hokkaido, #2 Kyoto, and #3 Tokyo - What Are Their True Charms?
Jozankei, Hokkaido
#1 The Charms of Hokkaido
Once again, Hokkaido ranks first in charm and attractiveness. Of all answers, 79.9% named Hokkaido as their Number One. Looking at the most attractive cities, Hokkaido is well-represented with Hakodate in the first place, Sapporo in third, Otaru in fifth, and Furano on seventh. That is almost half of the top 10, further illustrating just how taken Japanese people are with Hokkaido.

The prefecture continuously receives praise when it comes to sightseeing activities, its products, and its rich nature. Wetlands, majestic mountains, sprawling plains, and lush forests all offer unique sceneries changing with the seasons. Hokkaido also boasts an abundance of seafood and produce – the prefecture is highly regarded among gourmets as a treasure trove of ingredients, from fresh and high-quality fish and shellfish from the Sea of Okhotsk, salmon from the rivers, butter and milk from cows on the vast pastures, and more.

In Japan, Hokkaido is also the most famous winter spot. The "Snow Festival," held every year, features numerous snow and ice sculptures and draws in people from far and wide. The many entertainment opportunities and events make perfect use of the characteristics of the area, showing Hokkaido's understanding, confidence, and power as a tourist destination.

#2 The Charms of Kyoto
Higashiyama, Kyoyo
Kyoto Prefecture rose to second place and got the same rank in terms of how attractive individual cities and towns are. Furthermore, it scored high in other criteria such as Sightseeing and Living, and a lot of the people who answered the survey expressed an interest in the history of Kyoto and its surrounding area.

Kyoto has prospered as Japan's old capital for centuries, and this status is well-known even outside of the country. The charm of its historical cityscape is well and alive even nowadays, letting visitors experience the authentic atmosphere of back then as they walk among the traditional wooden houses with tiled roofs, on old cobblestone roads, and stumble upon ancient shrines and temples at practically every corner. The city is full of historical spots and heritage sites, offering an astoundingly authentic glimpse into Japan's history in all the glory of an ancient capital.

Since 1965, Kyoto also has a regulation* concerning outdoor advertisement for its central city, which is a blend of historical sites, old townscapes, and modern shopping and business areas. This policy is about preserving the iconic ancient scenery, regulating things such as building height, design, outdoor advertisements, and so on. A prominent example of that policy is 7-Eleven changing its famous red-orange-green logo to brown and white, UNIQLO also turning its colors around with red lettering on a white background, and even international fast-food chains such as McDonald's and KFC using a brown, subdued color scheme. These efforts have had a fantastic effect on preserving Kyoto's traditional cityscape.

*Called okugai kōkokubutsu jōrei, this regulation states specific requirements such as logos having to have white as a base to fit in with the surrounding cityscape, or forbidding complementary colors especially for logos that use red and yellow as a base.

#3 The Charms of Tokyo
Shinjuku, Tokyo
Tokyo undoubtedly is the most famous city in Japan. As the country's capital, it naturally ranked high among Japanese people as well and came in third. Other categories, including Fame and Media Showcase, Tokyo is at the very top. Tokyo and its suburbs boast a highly convenient and reasonable train network and are themselves easily accessible. While it is one massive city, Tokyo has various areas with unique charms and atmosphere: Ginza is the glitzy town of luxury brands, Shibuya is the hotbed for fashion and trends, Harajuku is world-famous as the birthplace of kawaii (cute) culture, Asakusa and its historical Edo townscape, Shinjuku and its astounding abundance of shopping opportunities and skyscrapers, Akihabara is the global headquarters for otaku (geek) culture, Odaiba the human-made island and its massive shopping malls, Jimbocho is a paradise of bookstores, Ochanomizu is known for its many instruments and music stores, and Kappabashi is Japan's premier kitchen town.

Tokyo, the capital of Japan, is also the world's largest urban area with a population of 38 million people, including the neighboring prefectures. Out of all 47 prefectures, about 30% of the entire population lives in the Tokyo metropolitan area (the population of Japan is about 127 million people). That is why Tokyo is a kaleidoscope of different trends and cultures, with restaurants, shops, and entertainment spots offering everything you can imagine and being in fierce discussion with each other. Internet media, TV, radio, and magazines find plenty of chances to talk about when it comes to the large city, making Tokyo the "headquarters of information," so to speak. It could be said that it's not only the point of origin of Japanese trends but the point of origin for many global trends as well.

According to a survey about inbound tourism expenditure by the Japan Tourism Agency, Tokyo continues to be in the first place since 2012, even among domestic tourists.
Places 4 to 9 remain mostly unchanged compared to 2017. Okinawa in the fourth place is a major tourist destination that is also popular on a global scale, while Nagasaki managed to make the top 10 this year. Nagasaki Prefecture is known for Gunkanjima (Hashima Island, "Battleship Island"), a now deserted island that played a significant role in Japan's industrialization during the Meiji period. On top of that, Nagasaki was registered as a world heritage titled "Hidden Christian Sites in the Nagasaki Region" in July 2018.

On the other hand, Ishikawa Prefecture dropped to rank 11 after climbing to ninth place in 2016 with the opening of the Hokuriku Shinkansen. However, its prefectural capital Kanazawa is ranked ninth among cities and municipalities, still attracting attention as a tourist destination. Ishikawa Prefecture has many attractive sightseeing spots but lacks access. Opening a new train line seemed to be a significant factor in making the area more attractive to tourists.

Let's also look at prefectures that have enjoyed an unusually large spike in popularity in the past ten years.
Ishikawa Prefecture: Gaining Attraction with Better Access, Hiroshima Prefecture: Becoming Famous with the Rise of its Professional Baseball Team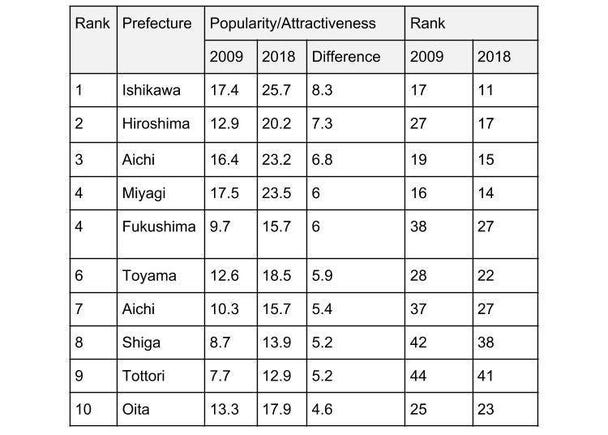 Ishikawa Prefecture boasts the highest score in the last ten years, rising from 15.4 points (#17) in 2009 to 25.7 points (#11) in 2018, which is a plus of 8.3 points. From the 21st Century Museum of Contemporary Art in Kanazawa to Kenroku-en, one of the Three Great Gardens of Japan, Ishikawa offers many sightseeing spots but did not have great access from the Kanto area, a factor that long impacted its status as a tourist destination. However, the opening of the Hokuriku Shinkansen in 2015 made access to the area much more convenient, and both visitors and media coverage has increased dramatically since then. Thus, Ishikawa Prefecture has become more well known as a sightseeing area, and therefore more people list it as a destination they would like to visit.
Kanazawa, Ishikawa
Hiroshima Prefecture closely follows Ishikawa. It has seen an increase of 7.3 points from 12.9 points (#27) in 2009 to 20.2 points (#17) in 2018. The prefecture is the home of the Hiroshima Toyo Carp, a professional baseball team that is getting more and more popular, establishing Hiroshima as a "sports town" in the process. That had led to the entire area, becoming a more attractive sightseeing destination. Additionally, the city is also a world-famous historical spot with many unique sights, such as the A-Bomb Dome telling the story of the nuclear weapon disaster, Itsukushima Shrine on Miyajima, Hiroshima Castle, Onomichi, and more.
Miyajima, Hiroshima
"What kind of promotions, activities, and programs does each prefecture have?" and "How does the Japanese media report about it?" are only two of the exciting aspects reflected in this "attractiveness ranking."

It authentically reflects a Japanese viewpoint on the country's many different areas and their changes, insider information that cannot easily be found in international travel media.

In other words, it could be called a portrait of the current trend destinations chosen by Japanese people and what they feel are the most beautiful prefectures in Japan. Such a list is sure to inspire you while planning your trip to Japan and give you new and fresh ideas for a vacation "from the Japanese trend perspective!"

Source: 「地域ブランド調査2018」(ブランド総合研究所) / "Regional Brand Survey 2018," Brand Research Institute

Written by Tomoya Nakazawa
*This information is from the time of this article's publication.
*Prices and options mentioned are subject to change.
*Unless stated otherwise, all prices include tax.