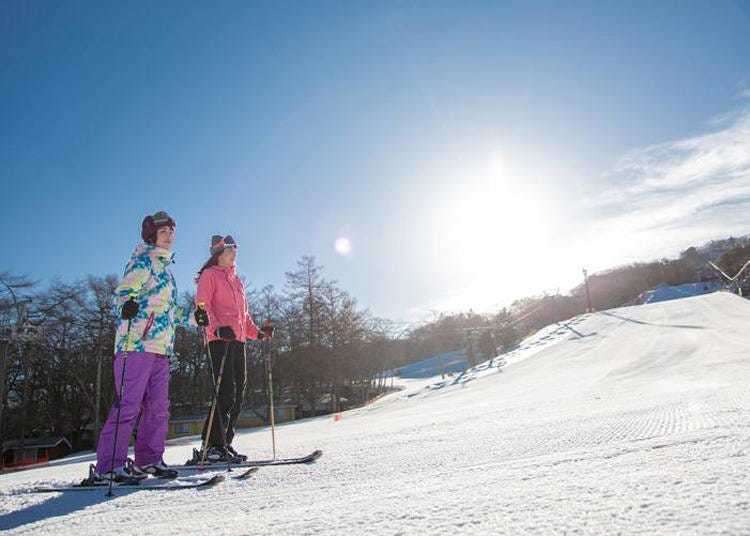 Karuizawa Prince Hotel Ski Resort is one of the most accessible ski areas from Tokyo. Perfect for beginners and snowbirds alike, this Nagano ski resort offers a vast range of fun activities for children and adults alike, making it a popular winter destination.

Here, we will introduce a two-day Karuizawa ski trip getaway to help you make the most of your winter holiday!

(*Karuizawa Prince Hotel Ski Resort is implementing measures against COVID-19)
Skiing at the Karuizawa Prince Hotel Ski Resort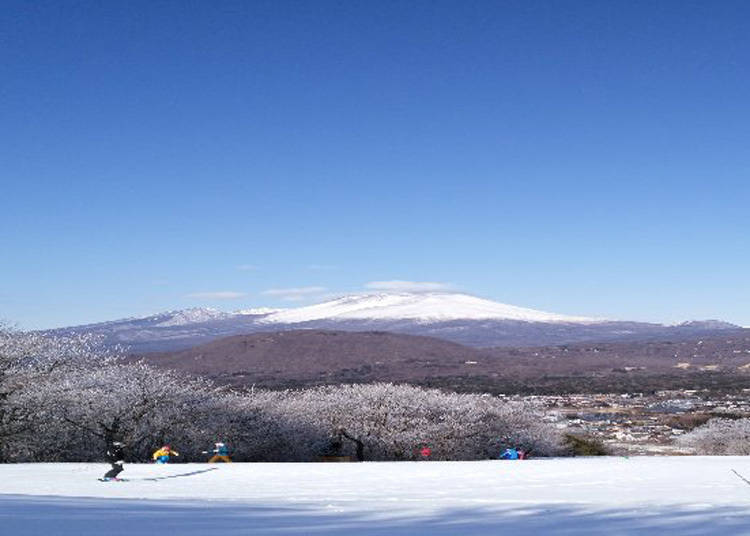 Established in 1973, Karuizawa Prince Hotel Ski Resort is the earliest-opening snow resort in Nagano Prefecture and the only resort in the town of Karuizawa.

For the 2022-2023 ski season, it is open from November 3, 2022 until April 2, 2023, so you can even extend your ski trip through early spring!
Why is Karuizawa Prince Hotel Ski Resort so popular?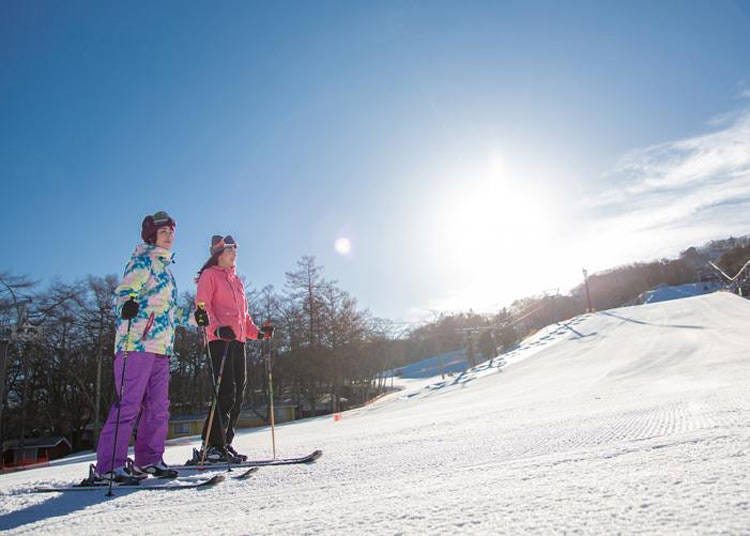 Karuizawa Prince Hotel Ski Resort boasts a multitude of diverse courses suiting all levels from beginner to professional, naturally making it one of Japan's leading skiing paradises. Plus, it is also surrounded by wide-open, vast scenery overlooking Mount Asama with jaw-dropping panoramic views from the summit.
Who is Karuizawa Prince Hotel Ski Resort best suited to?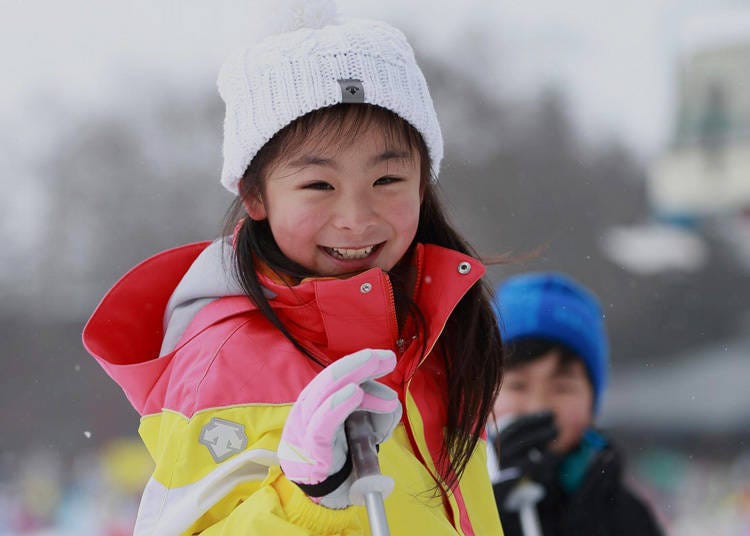 Karuizawa Prince Hotel Ski Resort is recommended for a wide diversity of skiers, including beginners, professionals, and even families. Within the 16 available courses is a fantastic balance ranging from gentle slopes to super-steep courses with inclinations of up to 30°, guaranteeing a fun ride for everyone no matter their level.

This wealth of variety includes the beginner-friendly Kurinoki Trail, Prince Trail, Usagiyama Trail, Family Trail, and Mominoki Trail; the Parallel Trail and Panorama Trail for intermediate skiers; and the Alyeska Trail, Asama Trail, and Slalom Trail for advanced skiers.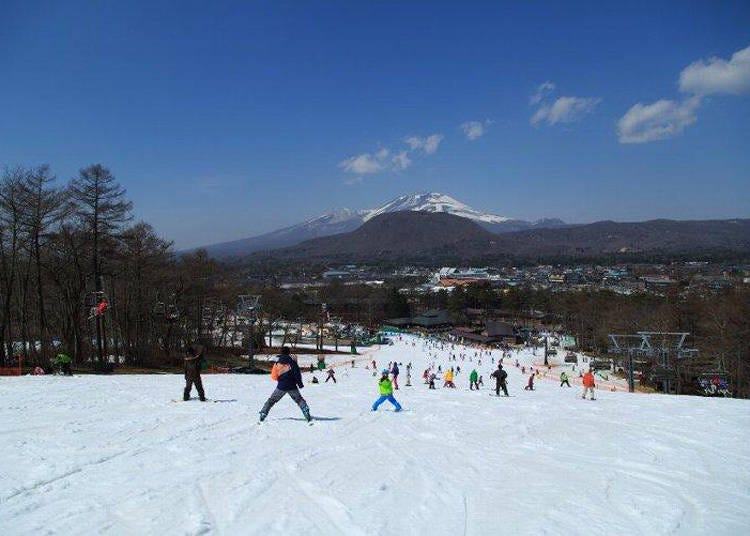 Consisting of a wide, open space with a gentle slope, the Prince Trail is the resort's main trail and comes highly recommended for beginners and less-experienced skiers.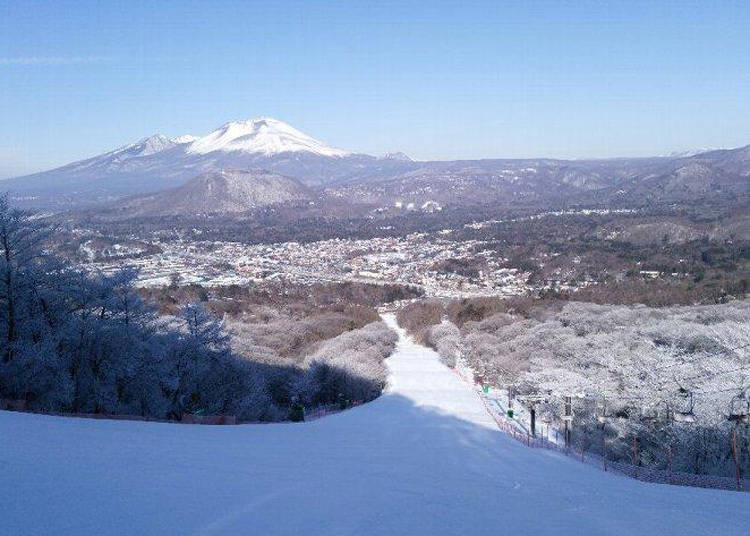 Our recommendation for intermediate skiers is the Panorama Trail. This trail leads down to Mt. Asama, about 1,000 meters away, and boasts one of the resort's most wonderful views. It is also the longest course in the resort, allowing you to relish even more skiing while thoroughly soaking in the view of Mt. Asama blanketed in snow. It also makes for a great photo spot!

There are also discount services available, such as the Kids Free Program, which offers free lift tickets for children elementary school age and younger. There are also free weekday lift deals for 20-year-olds. Plus, there is a separated area called Snowman Park where young kids can go sledding, tubing, and play in the snow safely.
Getting to Karuizawa Prince Hotel Ski Resort from Tokyo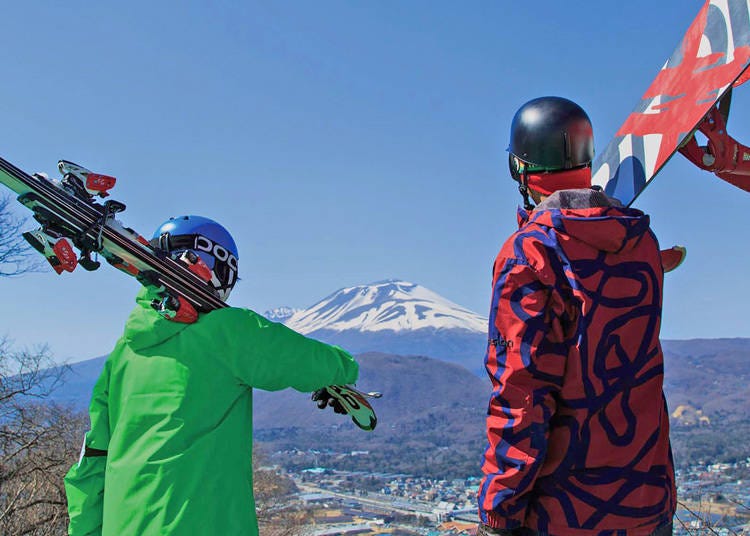 Karuizawa Prince Hotel Ski Resort is located about 1 minute by taxi from Karuizawa Station South Exit on the Hokuriku Shinkansen (via Nagano), or about 10 minutes on foot.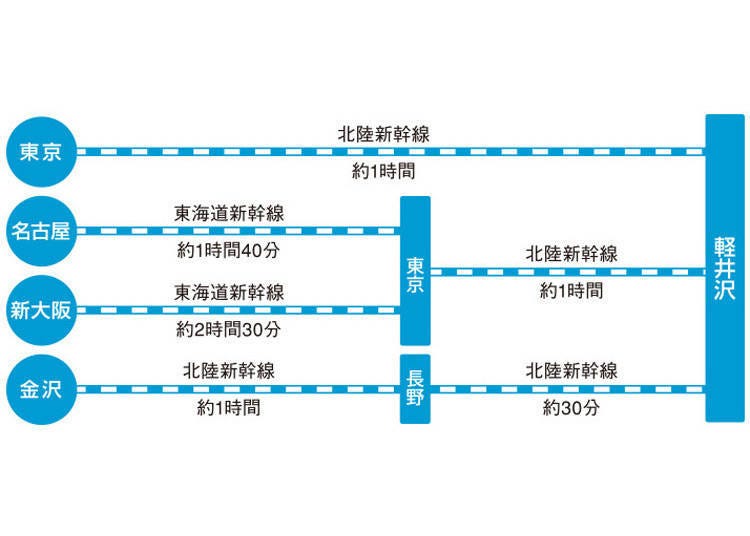 You can take the Hokuriku Shinkansen directly from Tokyo Station to Karuizawa Station. There is even a free shuttle bus that runs between Karuizawa Station South Exit and Karuizawa Prince Hotel Ski. Please note it runs daily only during certain seasons.
Discount accommodation and Ski Lift Plans + Lift Ticket information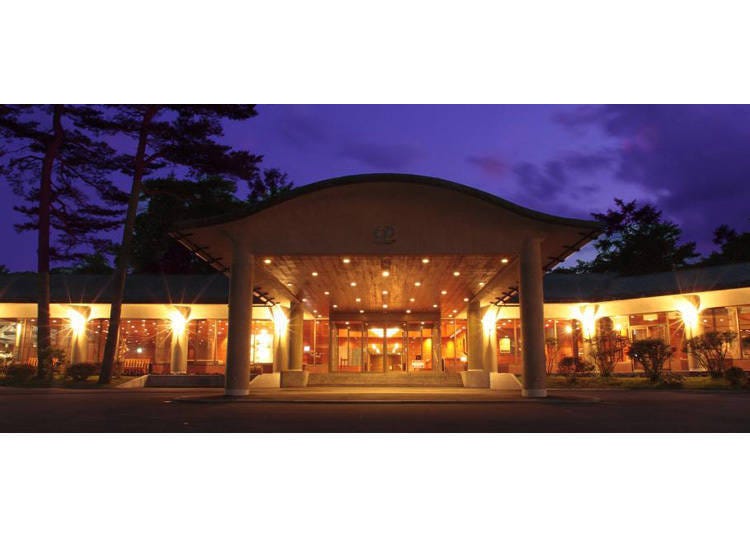 Securing a place to stay for a two-day ski trip is a must. It is recommended to get an Overnight Stay Plan with Ski Lift Ticket. This includes a Karuizawa Prince Hotel Ski Resort lift ticket and accommodation at one of their facilities.

You can stay at three hotels by Prince Hotels & Resorts: The Prince Karuizawa, Karuizawa Prince Hotel East, and Karuizawa Prince Hotel West.

There are a wide variety of accommodations available, so you'll undoubtedly be able to plan an enjoyable trip -whether with family, as a couple, or for an outing with friends!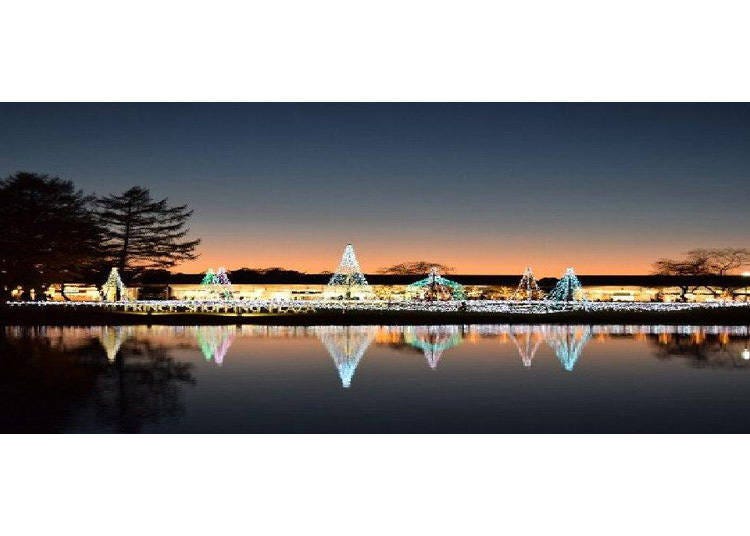 After enjoying your stay near the slopes and getting in plenty of ski time, you can continue the fun with shopping, a soak in the hot springs, and local Shinshu cuisine.

And with Karuizawa Prince Shopping Plaza nearby, there are plenty of things to do after skiing, guaranteeing an undoubtedly satisfying trip.
Furthermore, two kinds of lift tickets are sold during the ski season (December 24 - March 5): 4-hour tickets (adults: 7,000 yen, junior-high/high school/seniors: 6,500 yen), and 1-day tickets (adults: 7,500 yen, junior-high/high school/seniors: 7,000 yen).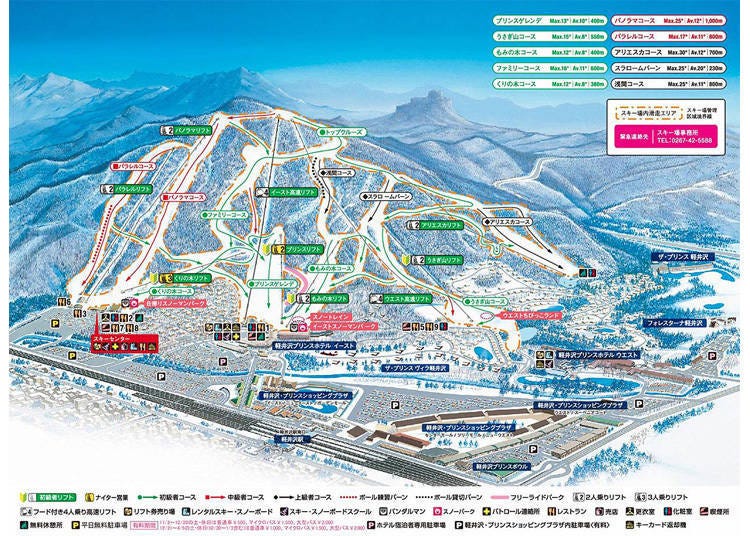 Total Number of Courses: 16
・Beginner

8
・Intermediate

4
・Expert

4
・Longest course

Approx. 1.5km
Slopes
・Area

Approx. 30 hectares
Total Number of Lifts: 9
・Double Chair

6
・Triple Chair

1
・4-Person Chair

2
Mountains:
・Altitude

940m - 1,155m
・Difference in Elevation

215m
Karuizawa Prince Hotel Ski Resort rental information
Ski-wear and equipment are available for rent and some for purchase, so you don't need to bring anything on your trip.

You can rent a 1-day set, which includes skis/snowboard, at 5,500 yen for adults or 4,500 yen for children (elementary school students), and ski-wear (tops & bottoms) at 4,000 yen for adults or 3,000 yen for children (elementary school students) (all prices are including tax). Gloves, goggles, and hats are sold separately.
・All facilities and equipment cleaned/disinfected
・Disinfection after each guest
・Disinfectant/sanitizer provided
・Fresh air is circulated regularly
・Partitions installed
・Staff wear masks/perform temperature checks/gargle
・Admission restrictions; reservation system implemented
・Entry refused to anyone who is feeling unwell
・Masks required/temperature check enforced
Address

389-0102 Karuizawa, Karuizawa-Machi, Kita-Saku-Gun, Nagano-Ken, 389-0102
View Map

Nearest Station

Karuizawa Station (Hokuriku Shinkansen Line / Shinano Railway)


Phone Number

0267-42-5588

Reserve a Lift ticket in advance

[Prince Snow Resort] Lift ticket (4-Hour x 3-Tickets set)

4-Hour Ticket

All Ages

All-Day
- Opening Period: November 3, 2022 - April 2, 2023
- Opening Times: 8:00 a.m. - 5:00 p.m. (8:30 a.m. - 4:30 p.m. between November 3 - December 23)

Reachable after just an hour from Tokyo and with rental gear available, Karuizawa Prince Hotel Ski Resort is ideal for that Japan winter sports getaway! If you want to add a quick and easy encounter with skiing or snowboarding to your Japan itinerary, whether a beginner or pro, you'll be sure to find satisfaction in Karuizawa!

*The information in this article is accurate as of publication. Depending on the circumstances, opening times, services, and prices may change
Written by: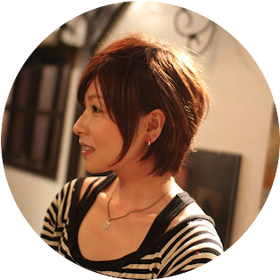 Recommended accommodations near Karuizawa Prince Hotel Ski Resort
We also recommend these other ski resorts near Tokyo!
▼Early-bird lift tickets are recommended for winter skiing in Japan▼

*This information is from the time of this article's publication.
*Prices and options mentioned are subject to change.
*Unless stated otherwise, all prices include tax.