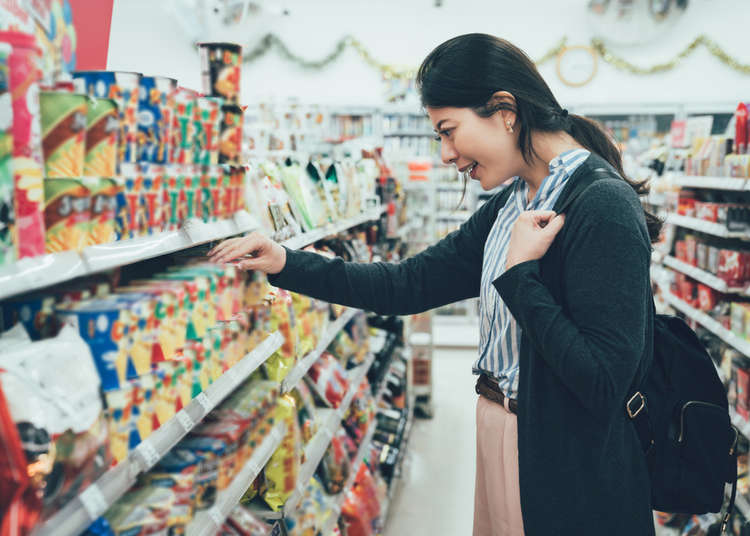 Keio Store, a supermarket chain operated by Keio Group, is a familiar sight across Japan. As they are commonly found in the suburbs and next to train stations, these stores are an accurate reflection of what average Japanese people really buy at the market. Let's take a look at the sales data for 2017 to find out the top 10 Japanese snacks - salty edition!
Based on the sales data, we see that senbei, round and flat rice crackers, and okaki (bite sized rice crackers) dominate the top 5 positions for Tokyo treats!

Among them are Kaki no Tane, a popular Japanese snack that comes in a variety of flavors. Kaki no Tane is manufactured by Kameda Seika, which has several entries in the top 10.

Potato chips by Calbee also made several appearances on the list. Both are filling and go well with alcoholic beverages and tea. Whether you're on the go or just relaxing at home, there's no better combination than a cold drink and these Japanese snacks.
10. Sanko Seika Cheese Almond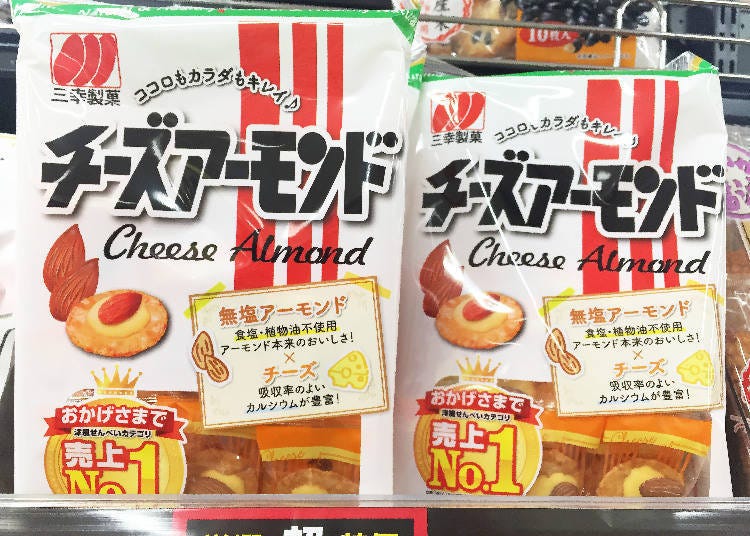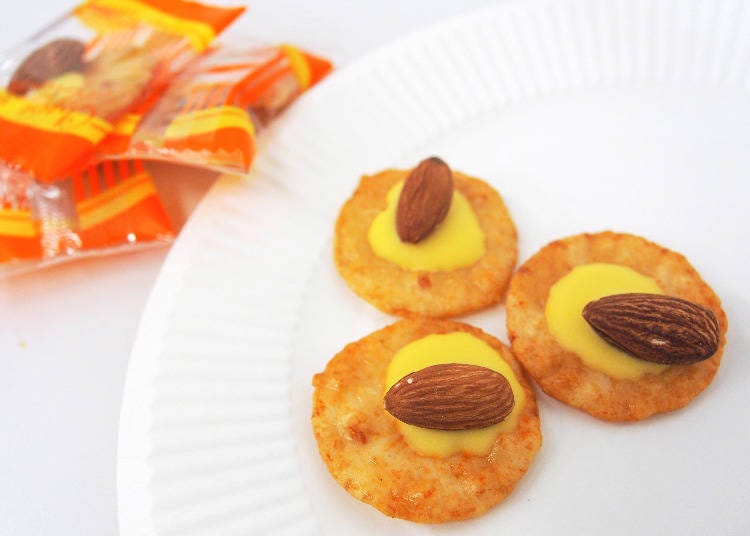 Price: 138 yen (16 pieces)
Sanko Seika Cheese Almond are tiny senbei coated with a layer of cheese and topped with a whole almond. The crunchy senbei is slightly sweet while the rich cheese is complemented with an unsalted and oil-free almond. A snack where east meets west, you can enjoy the delicious mixture of three different textures. Not only is Cheese Almond one of the top-selling snacks at Keio Store, it performs well at other retail locations across Japan. The text on the packaging states that Cheese Almond is Japan's best-selling western-style cracker. Why don't you try a few and see if you agree?
9. Calbee Potato Chips Konsome Panchi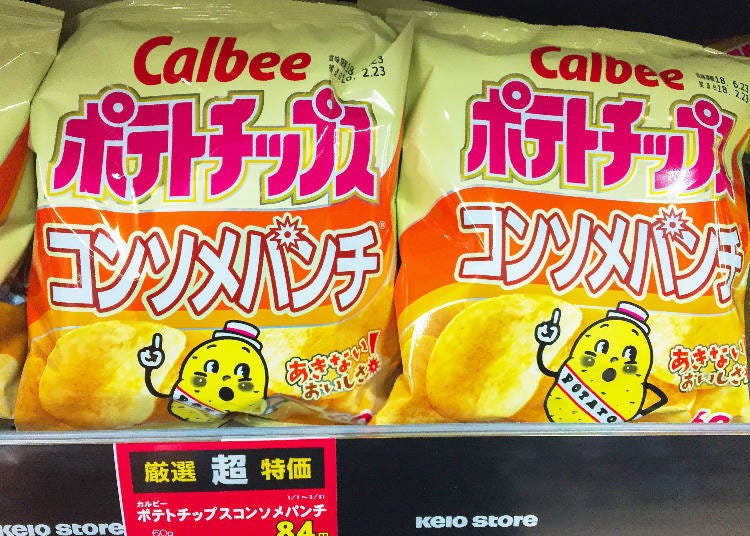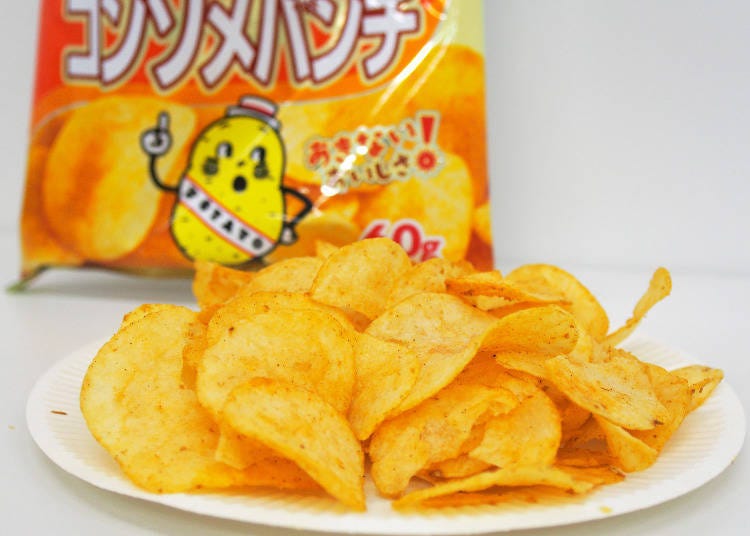 Price: 84 yen (60g)
A popular seasoning for snacks from Japan is konsome, or consommé, the powdered form of a clear soup made from a richly seasoned stock of meat and vegetables. While it has a deep flavor, it is not overpowering, which paired with the crunchiness of the chips, makes Calbee konsome-flavored chips an addictive Japanese snack.
8. Sanko Seika Special Select 10 Best (Gensen 10 Shuri Tsumami Shu)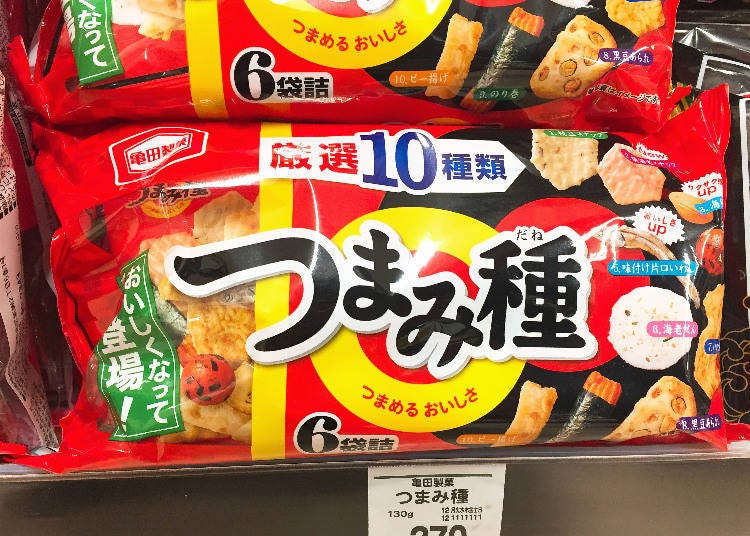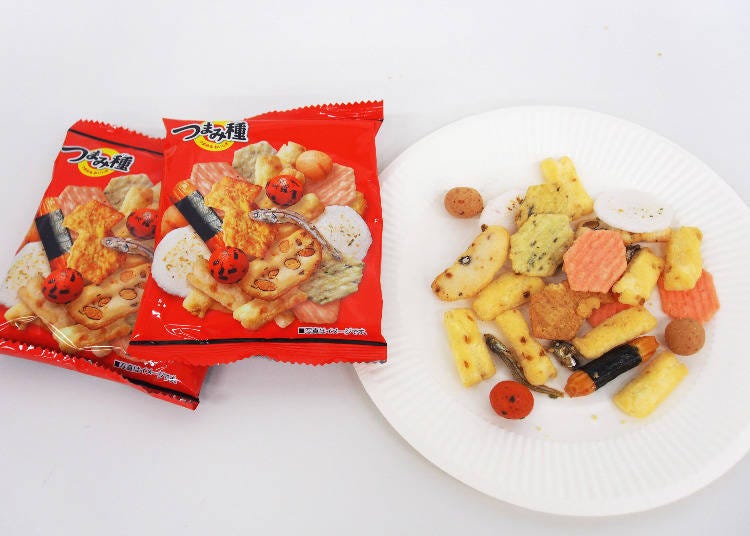 Price: 270 yen (1 package contains 6 pouches)
One bag of Gensen 10 Shuri Tsumami Shu contains 6 packages filled with 10 of Sanko Seika's most popular rice cracker treats. Among the varieties included are roasted shrimp senbei, senbei wrapped in seaweed, umakuchi (spherical red and black rice crackers), seaweed balls, and puffed edamame. Enjoy the best of Japan with just one bag! Each crunchy piece has its own distinct flavor. There are 6 mini pouches in this package so share the taste of Japan with others. Or keep a few for yourself to eat while sipping on Japan's best-selling drinks!
7. Calbee Potato Chips Nori Shio (Salted Seaweed)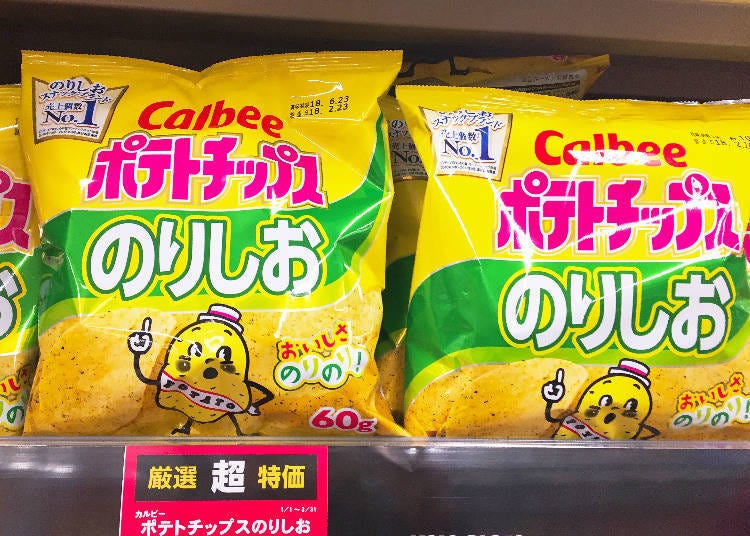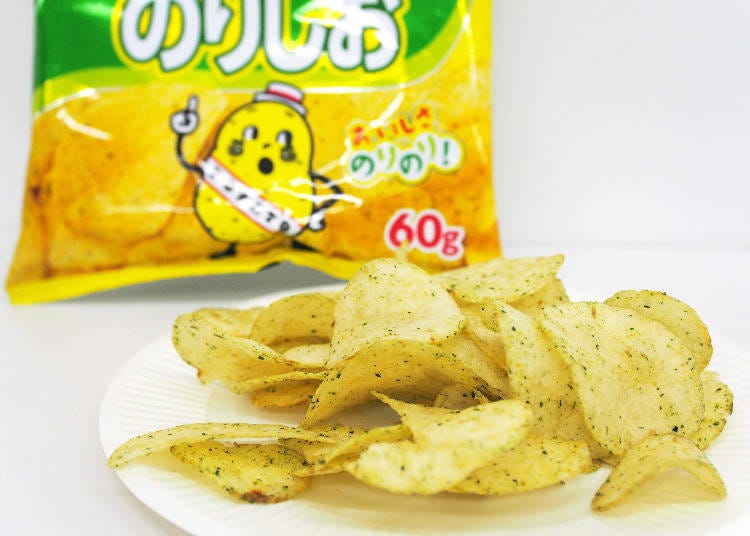 Price: 84 yen (60g)
Calbee, Japan's leading potato chip maker, has two entire spots on this list. Complementing entry number 9 is salty seaweed (norishio) flavored potato chips. They are a welcome contrast to the bold taste of consommé. Highlighting the lightly salted chips flecked with seaweed pieces is the aroma of seaweed. This together with the crunchiness of each chip creates a highly addictive snack. If you want to try salted seaweed chips, start with Calbee Norishio, as they are Japan's best-selling salted seaweed snack.
6. Kameda Seika Happy Turn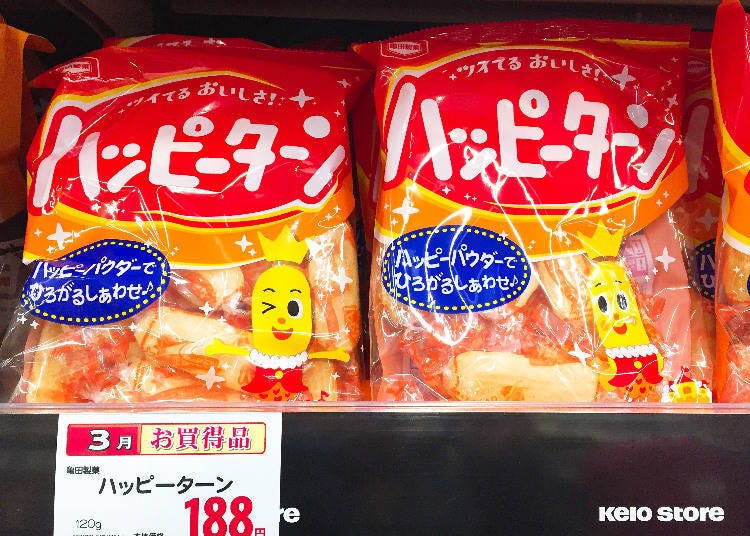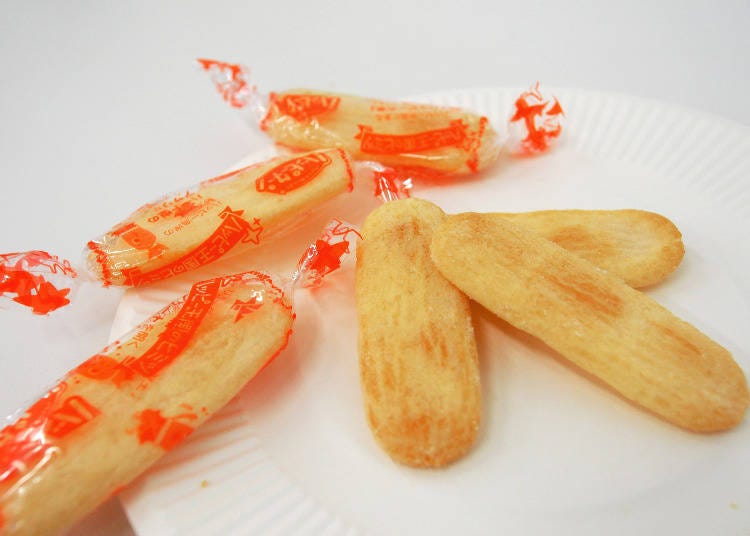 Price: 188 yen (120g)
Happy Turn are crisp rice crackers coated with a salty sweet powder that fills the grooves on the surface of the cracker. The sweet and salty soy sauce flavor of these snacks is a taste that nearly all Japanese are familiar with. Happy Turn are light, so you'll get plenty in a package of 120 grams.
5. Kameda Seika Soft Salad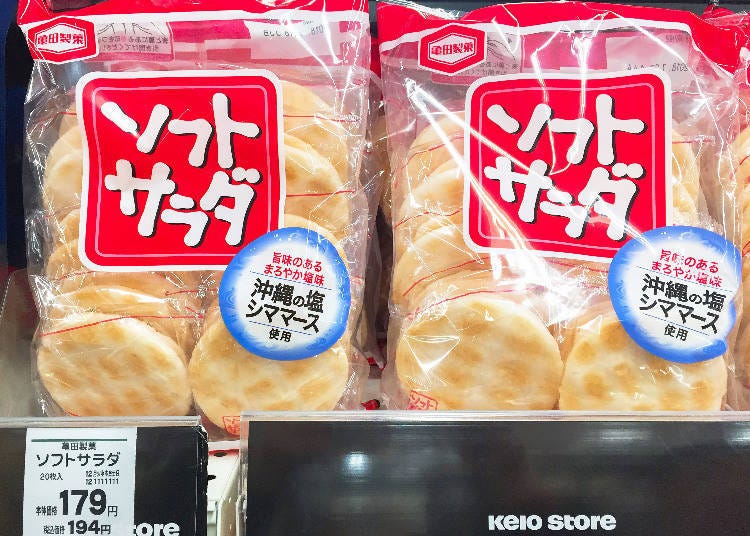 Price: 179 yen (20 pieces)
A majority of senbei sold in Japan are seasoned with soy sauce, but Soft Salad are seasoned with salt and salad oil. Crisp and crunchy, they are flavored with salt from Japan's southern islands of Okinawa. In Japan, these rice crackers are not just for snack time: there are plenty of ingenious concoctions out there, like Soft Salad topped with ice cream or two Soft Salad crackers with adzuki beans sandwiched between them. Some people even dip them in an egg-milk-sugar batter and give them French toast treatment. Try one and you'll see why this is such a popular snack in Japan!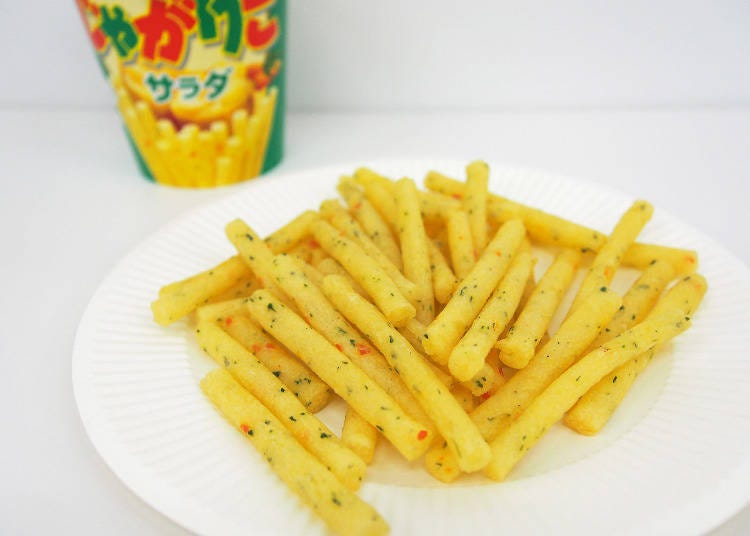 Price: 139 yen (60g)
Calbee's Jagariko come in a wide range of flavors like cheese and buttered potatoes. But the most popular remains Salad, flavored with carrots and parsley.

Normally when you bite into a potato stick, the outside is crunchy while the inside soft. But Jagariko are made with Calbee's special process that ensures that both the outer shell and inside both stay crunchy. Bite into a Jagariko and the sound resonates, creating a stimulating eating experience.
3. Iwatsuka Confectionery Inaka no Oakaki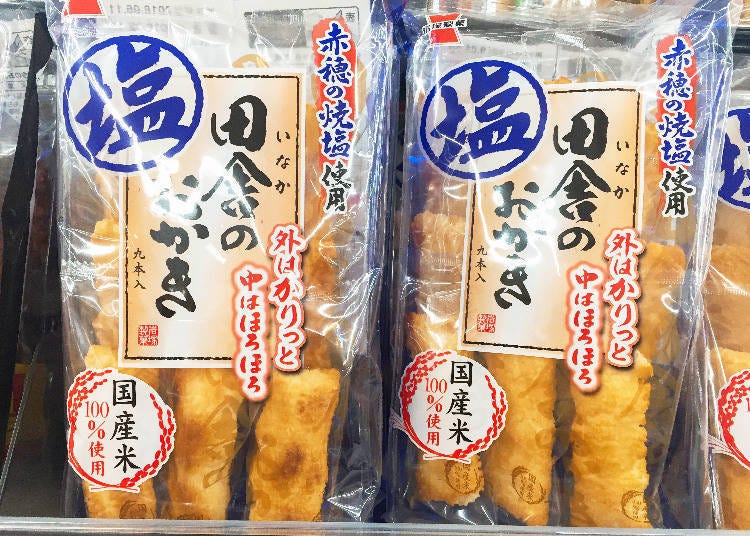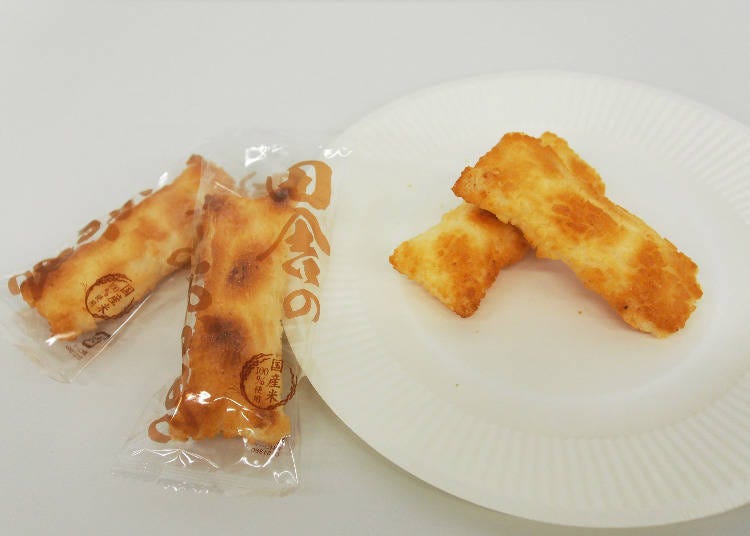 Salt flavor
Inaka no Oakaki are thinly sliced and roasted pieces of mochi (sticky rice cakes) made from 100% Japanese rice. The firm outer shell is matched with an equally crunchy body, creating a sensation of two different textures. Japan's beloved Inaka no Oakaki come flavored with classic ingredients like salt or soy sauce.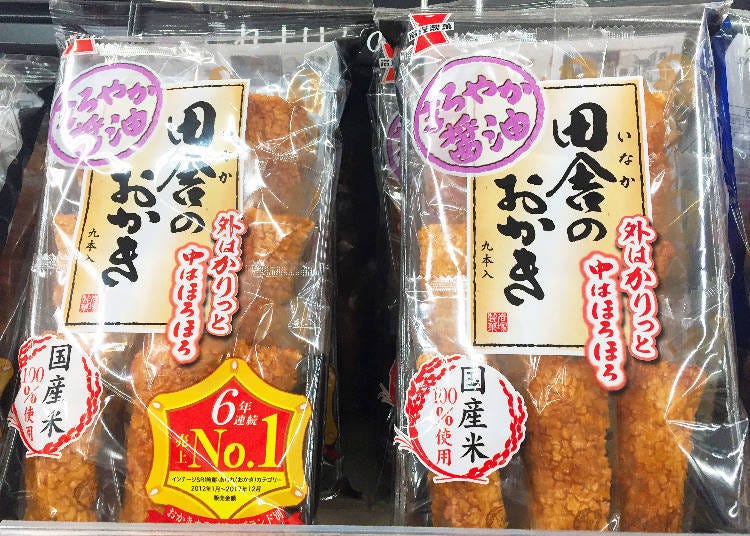 Soy Sauce flavor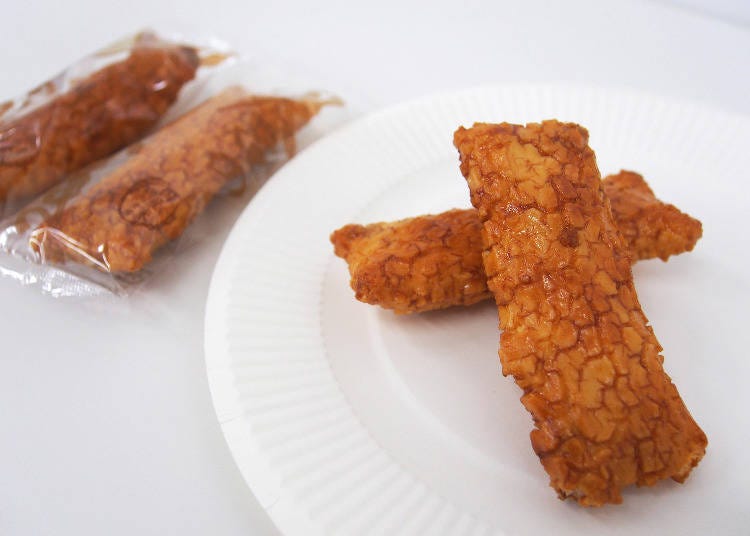 Price: 199 yen (9 pieces)
The salt used in plain Inaka no Okaki is from Japan's Seto Inland Sea, a body of water sandwiched between the islands of Honshu, Shikoku, and Kyushu. Ako salt, a robust, full-flavored salt brings out the natural sweetness in mochi - very famous among Japanese sweets indeed. Meanwhile the darker hued and richly flavored tamari soy sauce helps soy sauce Inaka no Okaki to be branded as Japan's best-selling senbei cracker for 6 years running.
2. Amanoya Amanoya no Kabuki Age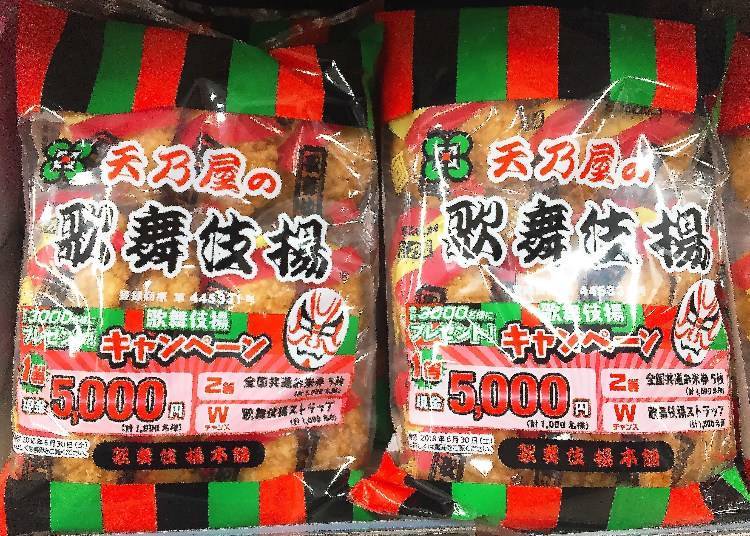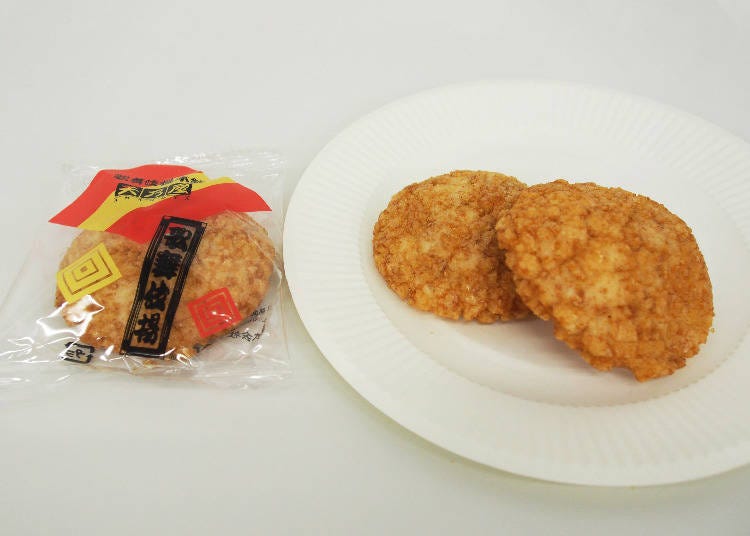 Price: 168 yen (11 pieces)
The tricolor packaging references the colors of a curtain at a kabuki performance. Unlike regular senbei, kabukiage is deep fried, and flavored with sweet soy sauce. It's not only loaded with carbs, but also high in fat. But it's so delicious.

They go well with both green tea and beer. Maybe that's why we like it so much. In Japan, it is also often paired with green tea. The history of kabukiage is pretty new, being created in 1960. Originally, every single kabukiage cracker bore emblems of kabuki actors' houses (kamon). Although nowadays you don't see these kamon on them, the name stayed.
1. Kameda Seika Kameda no Kaki no Tane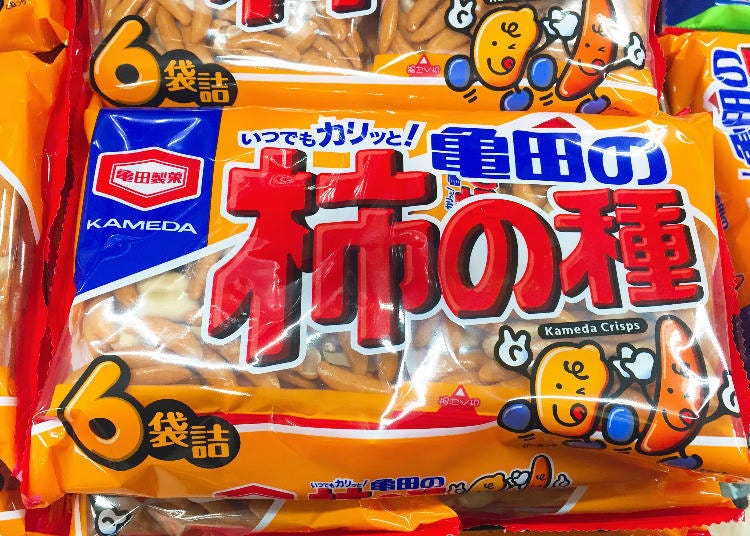 Original flavor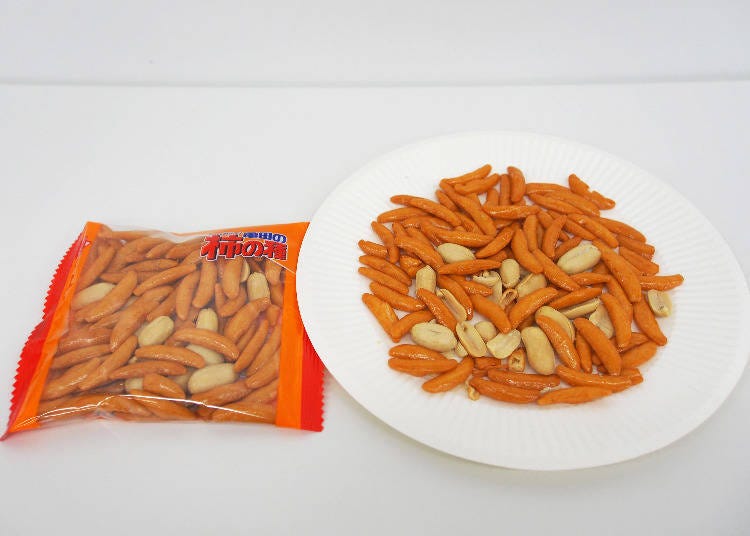 Original flavor
Kameda no Kaki no Tane are an incredibly popular snack in Japan. The name, Kaki no Tane is derived from the crescent shape of the bite-sized rice crackers. These resemble the seed (tane) of a permission (kaki). Each rice cracker is coated in soy sauce and has the characteristic aroma of rice. In order to supply Japan with the tastiest of snacks, Kameda Seika's factory is in Niigata, a prefecture on the Sea of Japan known for its rice production.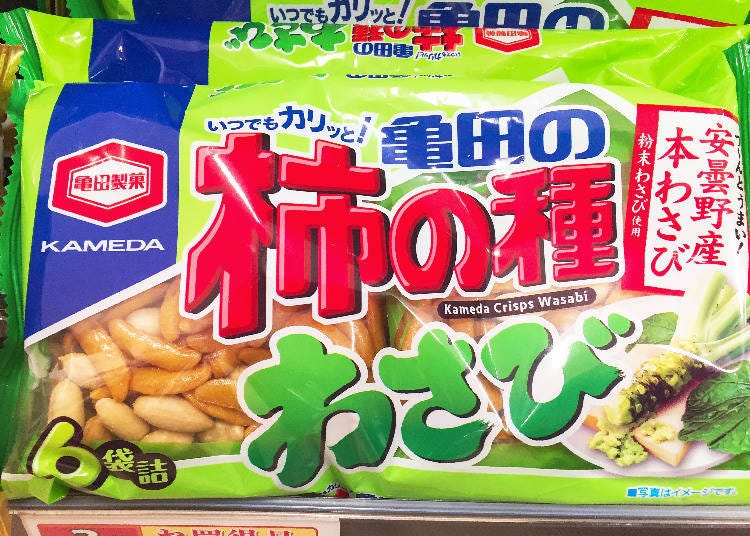 Wasabi flavor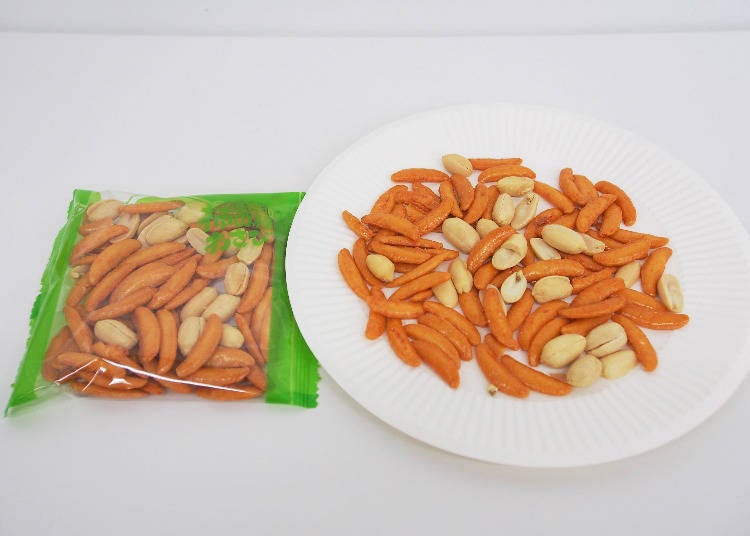 Price: 198 yen (1 package contains 6 pouches)
Kaki no Tane are hollow and are very crunchy. Inside each pouch are flavorful peanuts that add to your snack experience. In addition to the classic Kaki no Tane flavor, you'll also come across flavors like wasabi, Japan's green condiment with a kick. Wasabi Kaki no Tane are unsurprisingly popular in Japan and go well with alcohol. Kaki no Tane are a Japanese snack that you'll definitely want to try!
Based on the sales data obtained from Keio Store, we see that individually packaged snacks perform well in Japan as they are easy to share among friends and family. Be sure to pick up a few of these snacks for your friends and family back home!

*The data used for this article is accurate as of March 2018.
*Product availability may vary. Prices may vary by Keio Store branch, seasonal promotions, etc.
Photos taken with the cooperation of Keio Store Seiseki Sakuragaoka Branch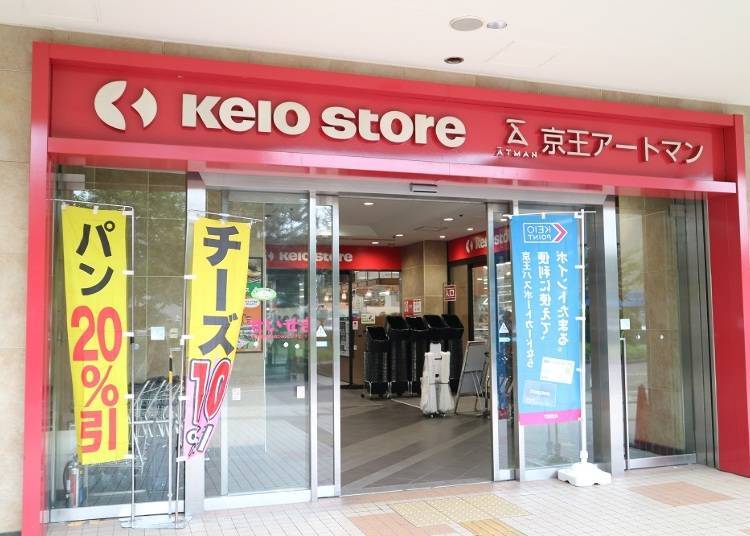 Keio Store Seiseki Sakuragaoka Branch

京王スーパー KEIO STORE 聖蹟桜ヶ丘店

Address

1-11-1 Sekido, Tama-shi, Tokyo 206-0011

Nearest Station

Keio Seiseki Sakuragaoka


Hours: 10:00-23:30(2F 10:00-21:00)
Written By: Zhang Jia Qi
Top image credit: Prateep oun / Shutterstock.com
*This information is from the time of this article's publication.
*Prices and options mentioned are subject to change.
*Unless stated otherwise, all prices include tax.