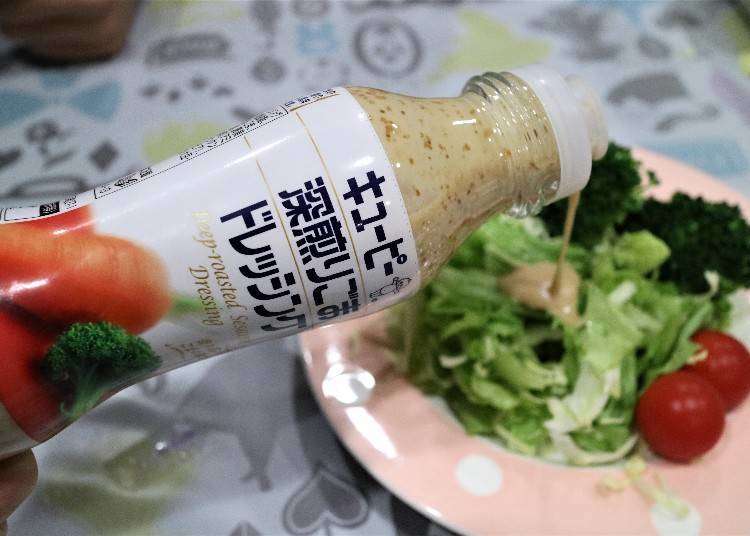 Japan has many interesting goodies and items to offer. Not only souvenir stores and anime merch shops are worth going on a shopping spree, however. How about checking out a Japanese supermarket and take home authentic instant miso soup and matcha tea for very little money? We've compiled the must-buy items at Keio Store in Sakuragaoka!
Kewpie Deep-Roasted Sesame Dressing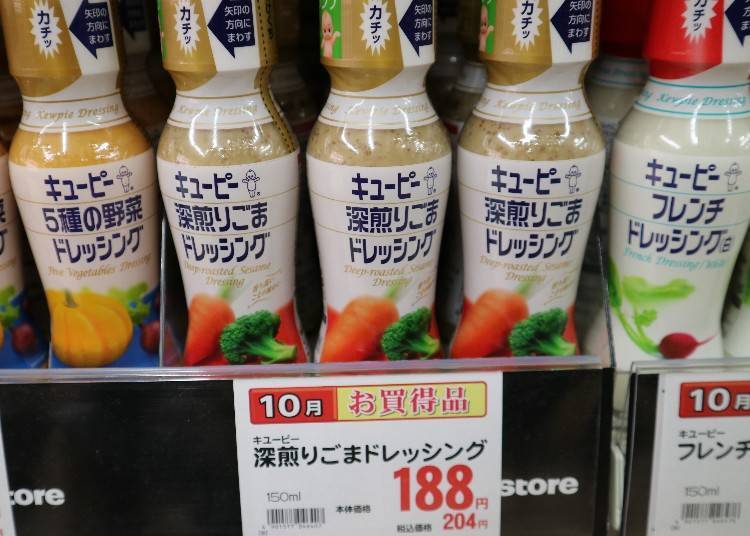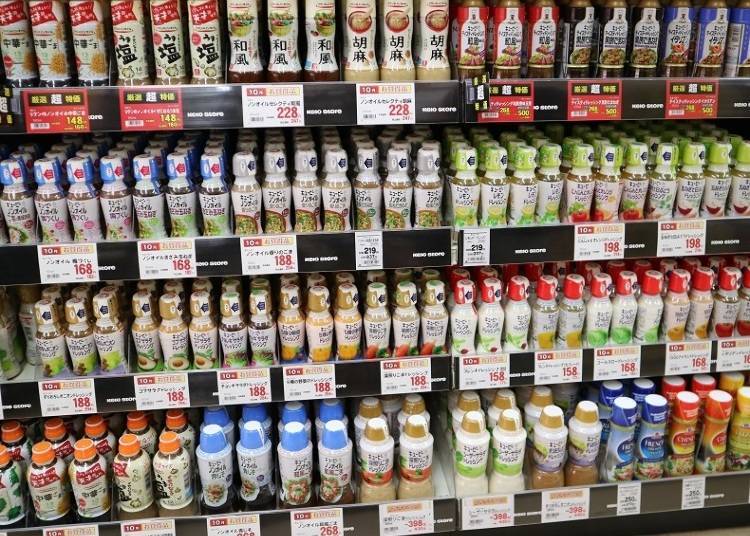 Salad is a popular dish in many Japanese households and restaurants. Keio Store's staff tells us that Kewpie's Deep-Roasted Sesame dressing is the top-seller when it comes to salad dressing, so a real staple product! Besides, the brand offers a large variety of Japanese-style dressings, such as yuzu, tarako (pollock roe) and mayonnaise, and more.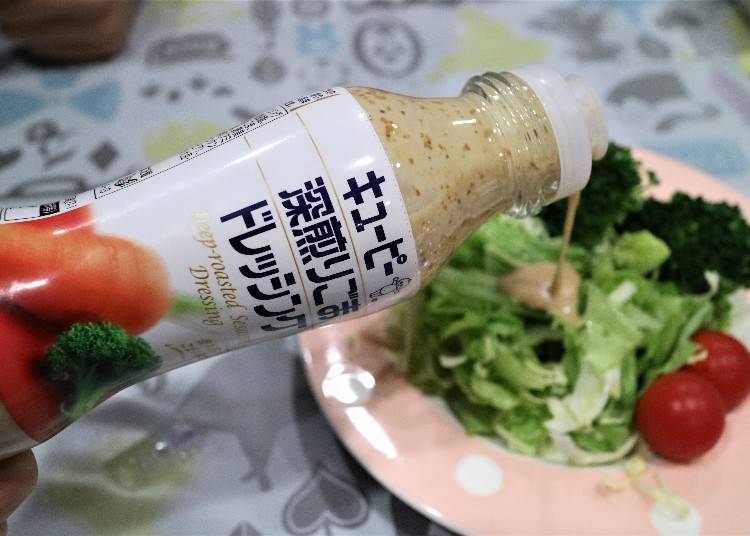 Price: 188 yen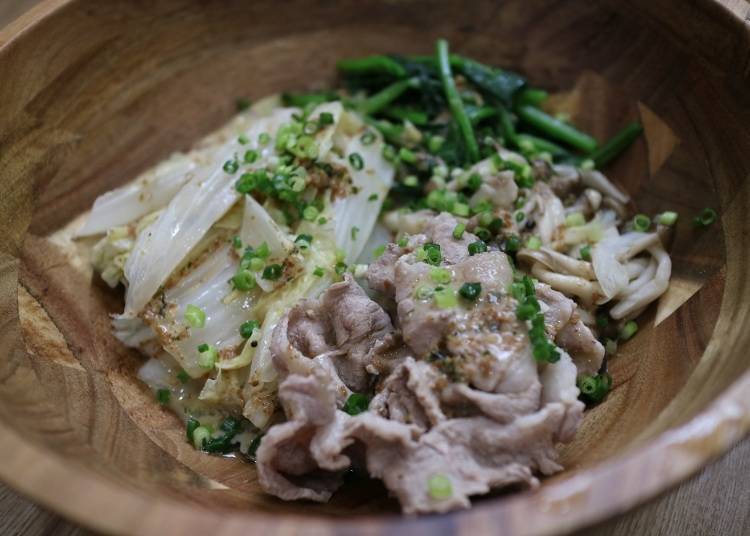 Even if you're not a fan of salad, Kewpie offers various dressings that can be used for warm vegetable dishes, pasta, meat, and so on.
Riken Hon-Katsuo Dashi, Japanese Bonito Soup Stock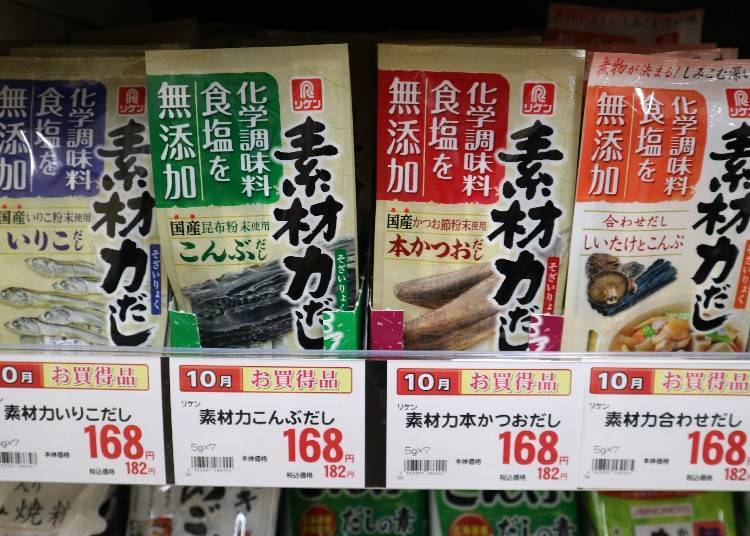 Dashi, soup stock, is an indispensable ingredient for numerous Japanese dishes. It can be made from all sorts of ingredients, including many kinds of fish but also vegetables, mushrooms, and seaweed. Riken's dashi is committed to bringing out the natural flavor of the base ingredient without relying on chemical flavor or salt.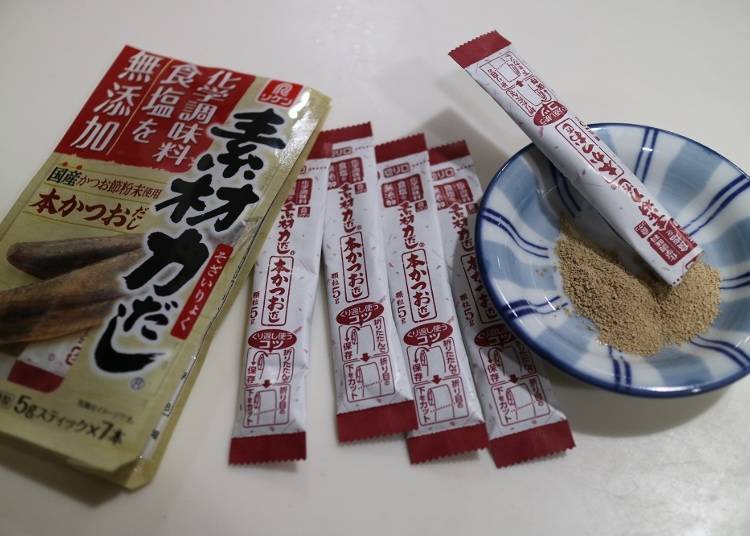 Price: 168 yen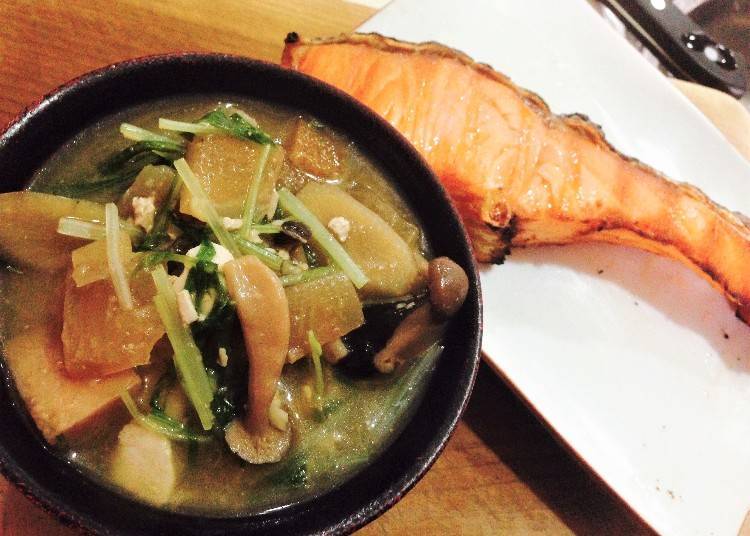 The brand offers four different dashi varieties: iriko (dried baby sardines), konbu (kelp), hon-katsuo (bonito), and shiitake & konbu, with bonito being the most popular. The soup stock will help you prepare a variety of easy Japanese dishes, from udon noodles to miso soup.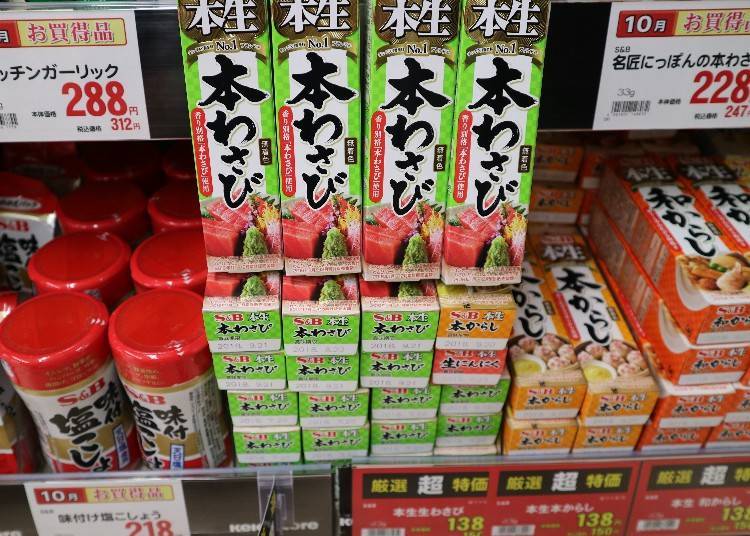 Price: 138 yen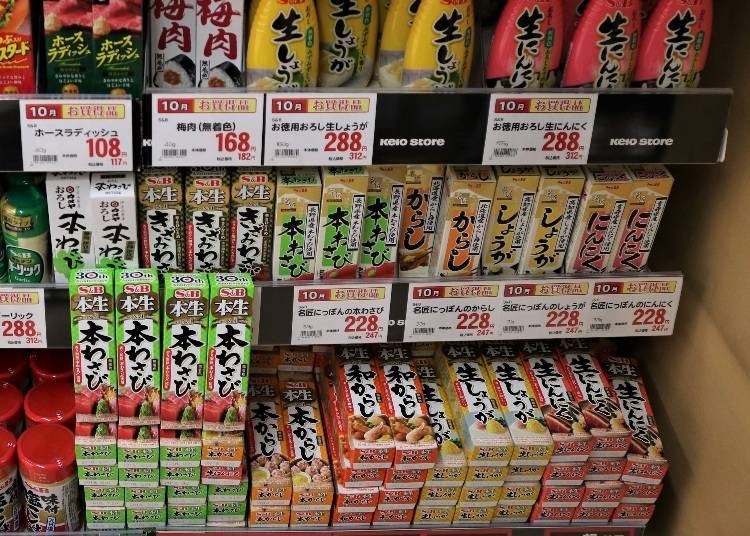 While Japanese cuisine tends to go easy on seasoning and spices, wasabi is an absolute must-have. Fresh wasabi is extremely hard to come by outside of Japan and takes quite a lot of time to be made into the flavorful paste we all know and love, so wasabi in the tube by S&B is a great alternative.
It's no exaggeration to say that S&B's tube wasabi can be found in pretty much every Japanese household, matching sashimi and soy sauce just perfectly. A lot of people in Japan also use it to season steak – it's incredibly delicious!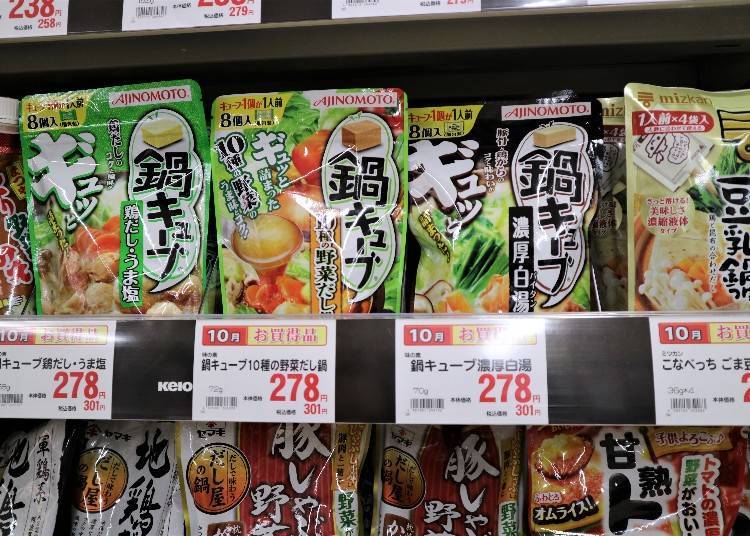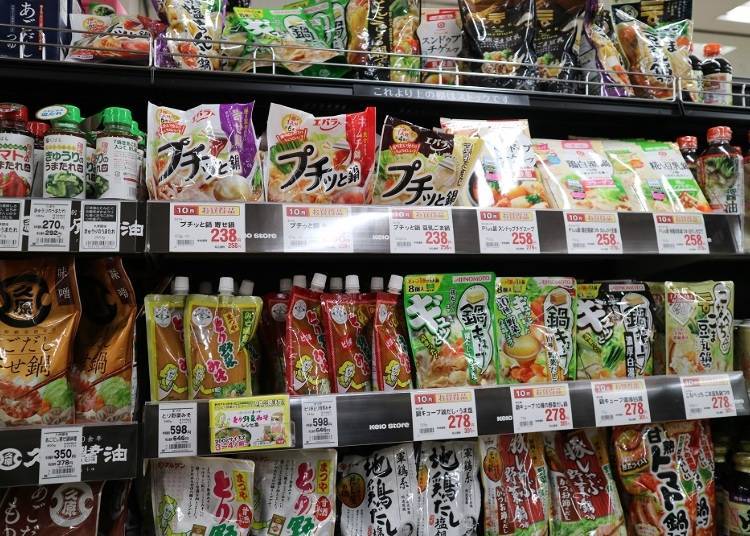 Nabe is Japan's delicious version of hot pot, a must-eat dish especially during the cold winter months. Every year, new taste trends emerge, as nabe is incredibly easy to make but everyone loves it. Ajinomoto's Nabe Cubes are soup cubes tailored to one person – simply add whatever ingredients you like and you're good to go.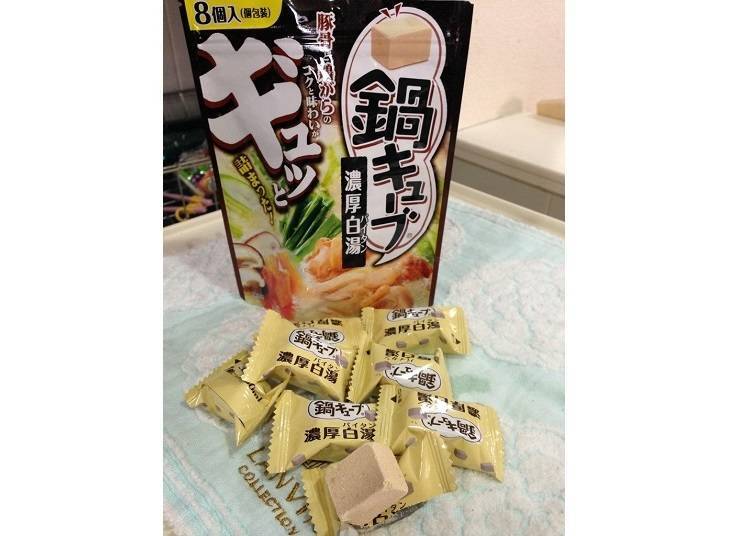 Price: 278 yen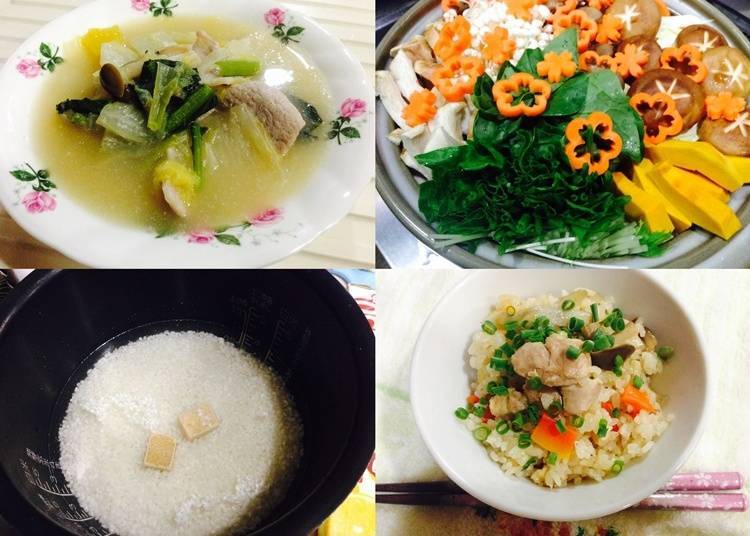 At the time of its release in 2012, the Nabe Cubes basically revolutionized nabe cooking all over Japan. Before that, the standard stock was only available in liquid form, thus in a relatively large and heavy packaging. The flavor we especially recommend is called "noko paitan," rich white broth. Simply fill a pot with water and as many cubes as people who you want to share your nabe with, crank up the heat and add root veggies and meat first before finishing everything with leaf vegetables. When everything boils, the nabe is ready to eat!
Nissin Fried Chicken Powder Karaage Grand Prix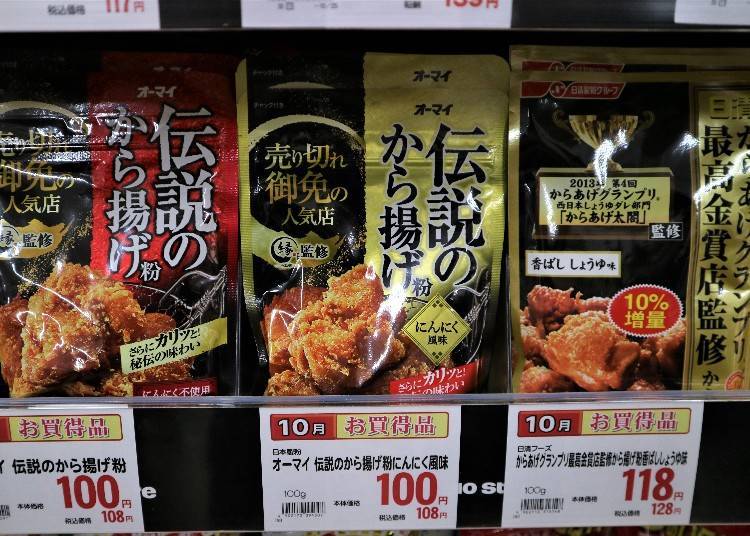 "Karaage" is Japan's take on fried chicken and it's loved by young and old alike. The dish often appears at pubs, in bento boxes, and in home cooking, so why not try to make the tasty classic yourself? Convenient powder is readily available in Japanese supermarkets, basically taking care of everything but the frying itself. Especially delicious is the Nissin Fried Chicken Powder Karaage Grand Prix series – our favorite is shoyu (soy sauce) flavor.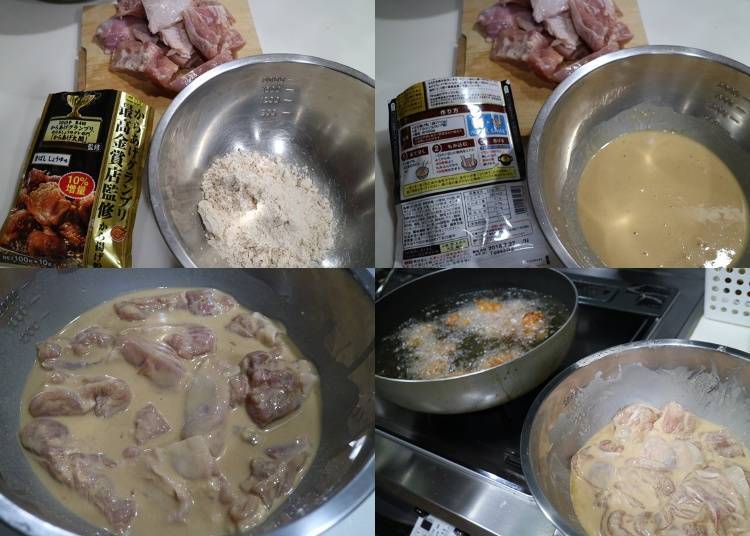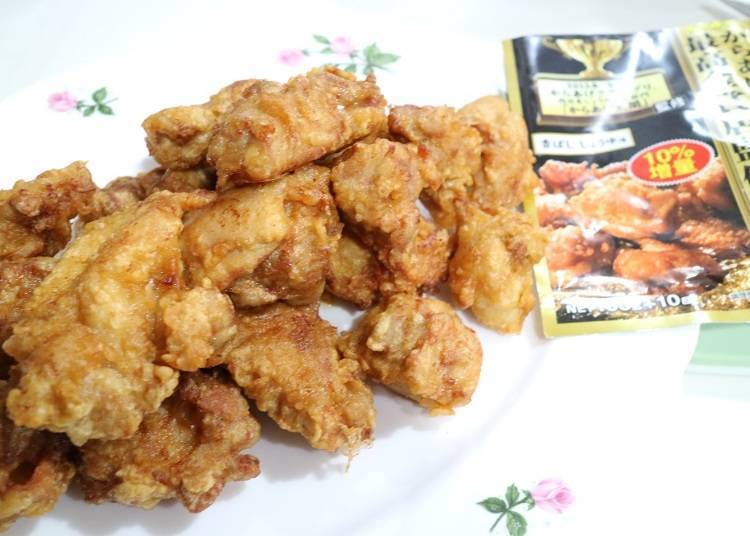 Price: 118 yen
It's really easy to make. First, put the powder in a bowl, add as much water as indicated on the package, and mix it well. Cut 600g of chicken thigh into pieces and soak them in the powder mix for about 10 minutes. Then, simply fry the pieces in a pan and you're good to go! The outside is unbelievably crispy while the meat inside stays nice and juicy. Even cold, karaage is an amazing treat, which is exactly why so many people love it in their bento boxes!
Kewpie Karashi Tarako Pasta Sauce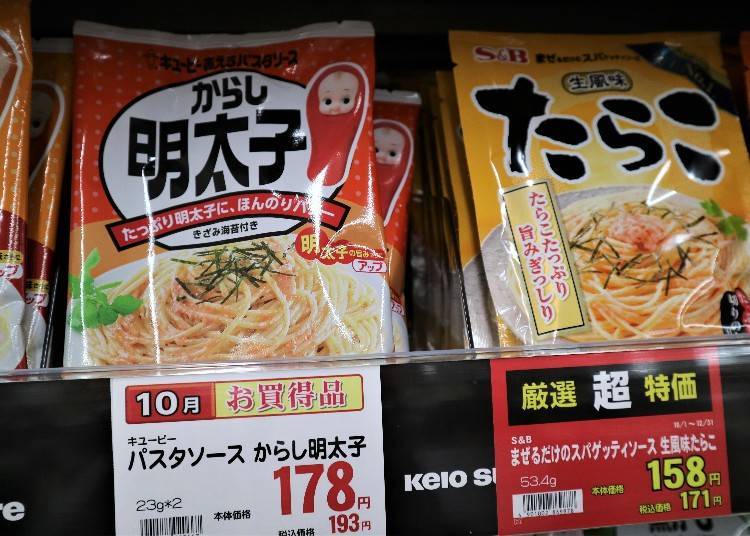 Price: 178 yen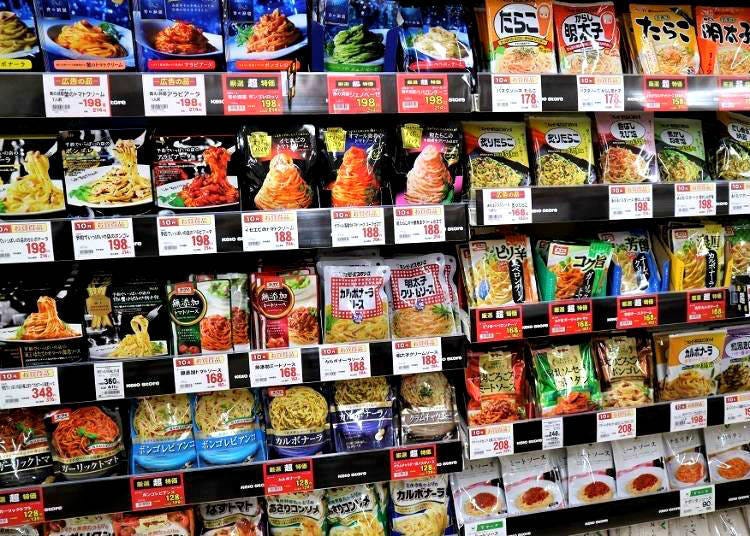 If you've ever ordered pasta at a restaurant in Japan, you'll know that tarako, pollock roe, is a popular sauce all over the country. If you love the slightly bitter, spicy flavor of tarako, why not get the sauce readily made in a supermarket?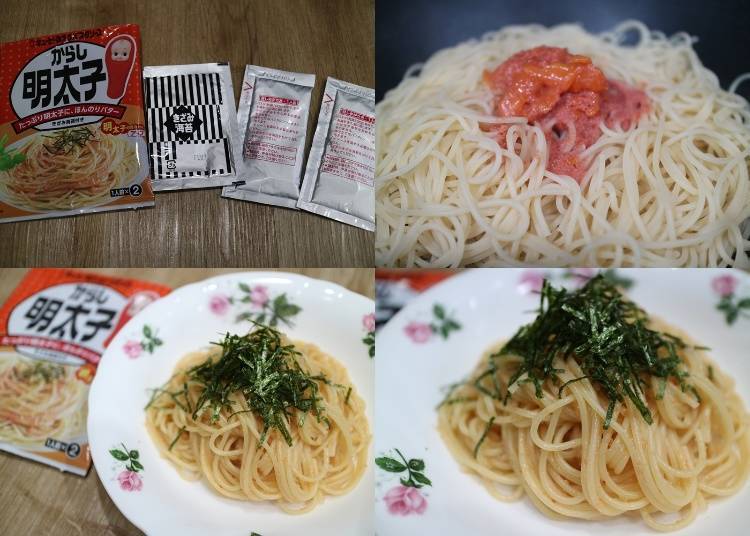 Kewpie Karashi Tarako got rather (in)famous with its creepy-cute commercials, featuring a baby-faced tarako doll. Even if you've never had tarako pasta before, for this reason alone it deserves to be tried! Simply add the tarako sauce to al dente pasta and top everything with the dried seaweed, also included in the package.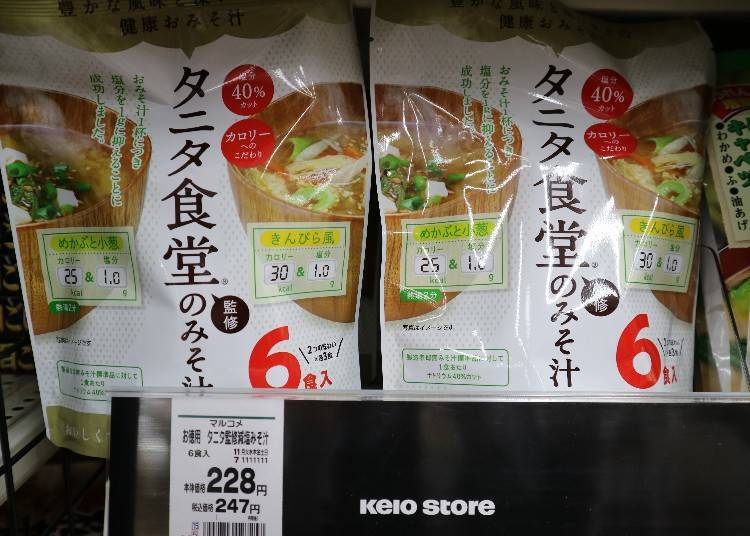 Price: 228 yen
Miso soup is such a staple dish in Japan, saying that every Japanese person eats it once a day is probably no exaggeration. Numerous varieties can be found in supermarkets all over the country, as it is a filling and healthy instant soup for both the busy and the lazy. Tanita Shokudo's Miso Soup is basic in the most delicious way, with only about 30 kcal and 1g salt! Especially in the evening, this soup is one of the healthiest options out there.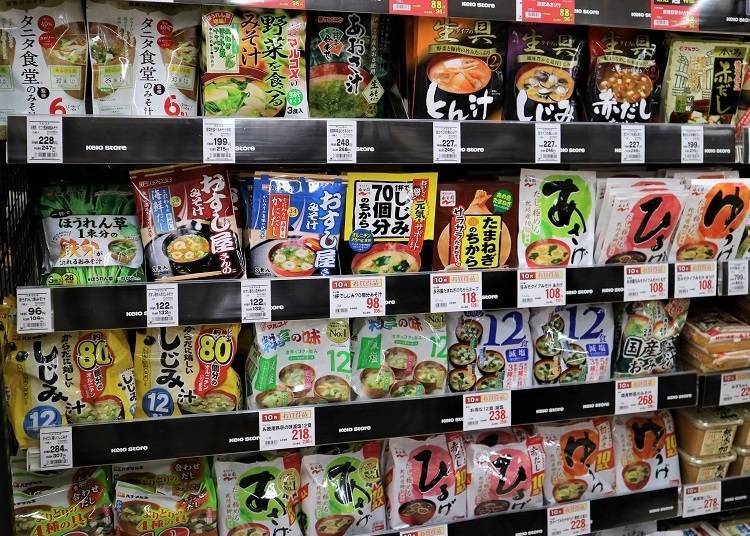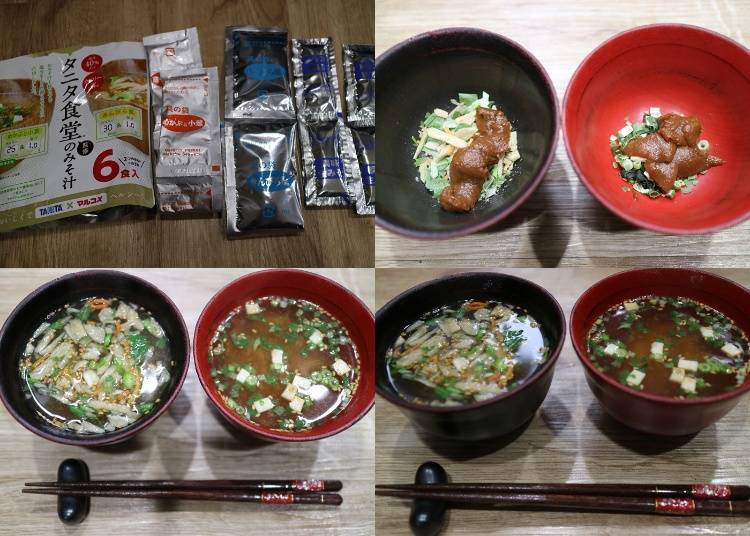 Choose between two flavors, wakame leaves with spring onion or chopped burdock root. One cup includes the miso paste and the ingredients – simply add hot water and enjoy.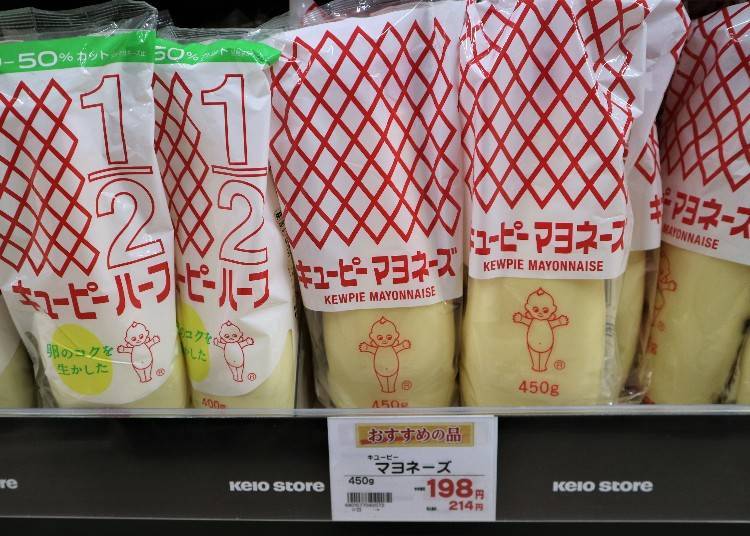 Price: 198 yen
When it comes to mayonnaise, Kewpie tops all the other brands in terms of sales, according to the Keio Supermarket staff. Indeed, you'll find a bottle of Kewpie mayonnaise basically in every fridge of Japan – the difference to the mayonnaise you might know is that Kewpie's is pleasantly salty and sour.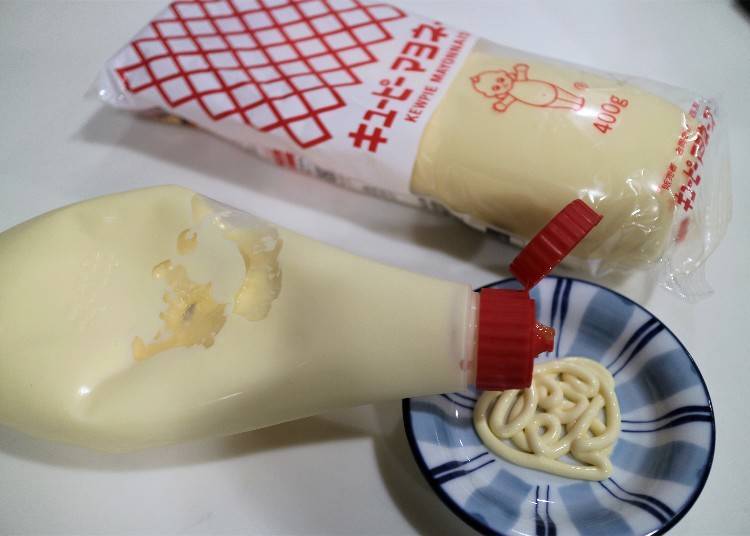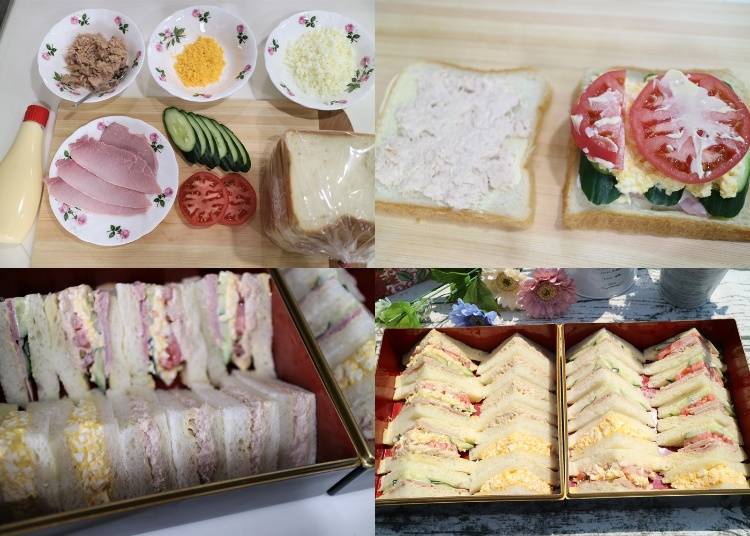 Japanese mayonnaise is used for a wide range of dishes, including salad dressings, okonomiyaki, takoyaki, sandwiches, and so much more. We especially recommend pairing Kewpie mayonnaise with tuna for a basic but delicious sandwich!
Nisshin's Gorotto Granola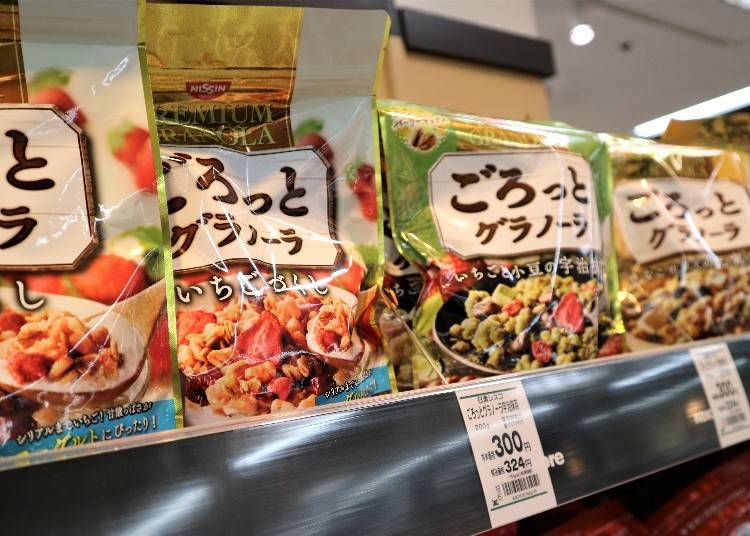 Fancy up your breakfast, Japanese style! Nisshin's Gorotto Granola is an amazing fusion of Western cereal and Japanese flavors, skillfully mixing puffed rice and crunchy oats with unusual ingredients such as dried tofu, soybeans, kinako, and green tea. The result is amazing and will revolutionize your breakfast!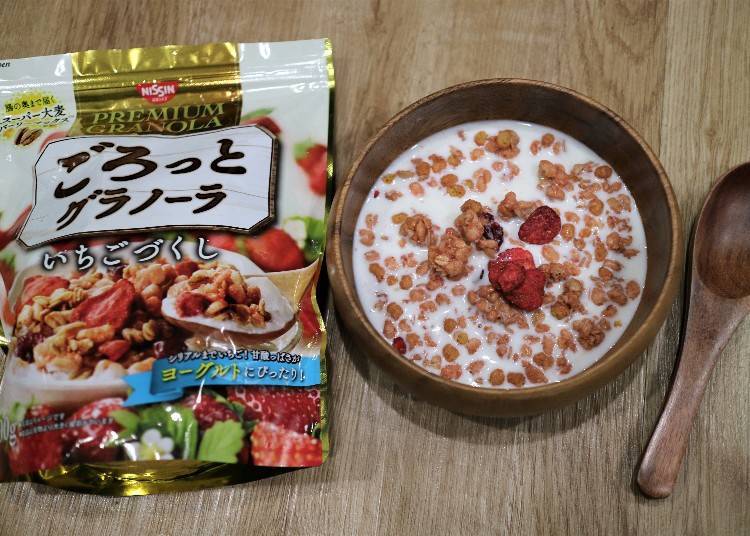 Price: 300 yen
Gorotto Granola is available in various flavors, including strawberry, matcha green tea, and kinako. Especially green tea is delicious, but don't shy away from the more unusual flavors – you'll be surprised!
Tsujiri Matcha Milk Instant Powder
Matcha, Japan's signature green tea, has become popular all around the globe. If you're in Japan, you'll surely want to get your hands on matcha powder – rather expensive outside of the country, Japanese supermarkets sell the staple tea for extremely reasonable prices. If straight matcha is a tad too bitter for you, why not opt for matcha latte instead?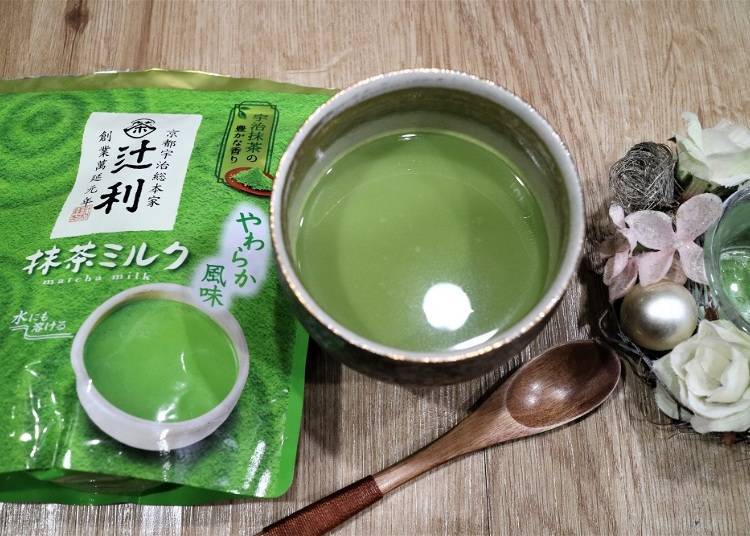 Price: 398 yen
Tsujiri is a famous tea company based in Kyoto's Uji, one of the premier green tea regions in all of Japan. Infused with a bit of milk powder, the instant tea mix adds a mellow gentleness to the flavorful green tea, Drink it hot or cold to enjoy a bit of Japan at home!
Ogawa Coffee Premium Blend Drip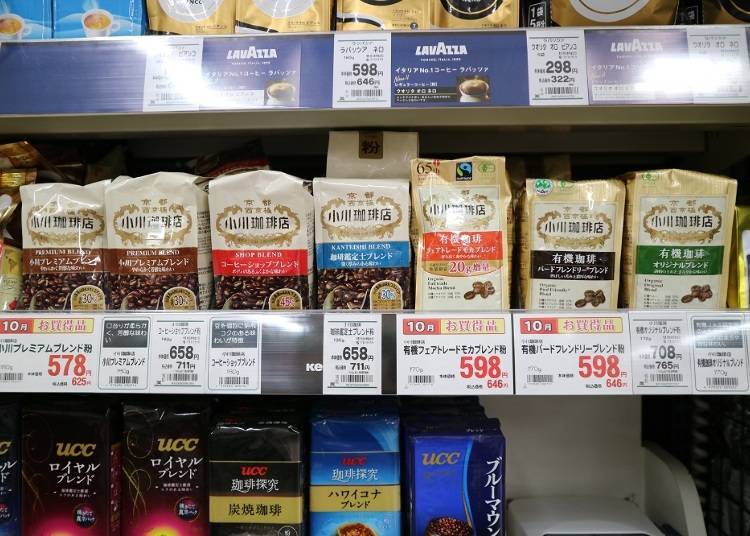 Ogawa Coffee is a famous company that was founded in 1952 in Kyoto. The original roasting technologies and blends delight coffee enthusiasts all over Japan and even start to gain reputation abroad.
Price: 398 yen
Japanese supermarkets carry Ogawa Coffee products in all kinds of variations, from drip to beans. We especially recommend the drip coffee with its rich taste and deep flavor that are so characteristic for the iconic brand.
Aohata 55 Ichigo Strawberry Jam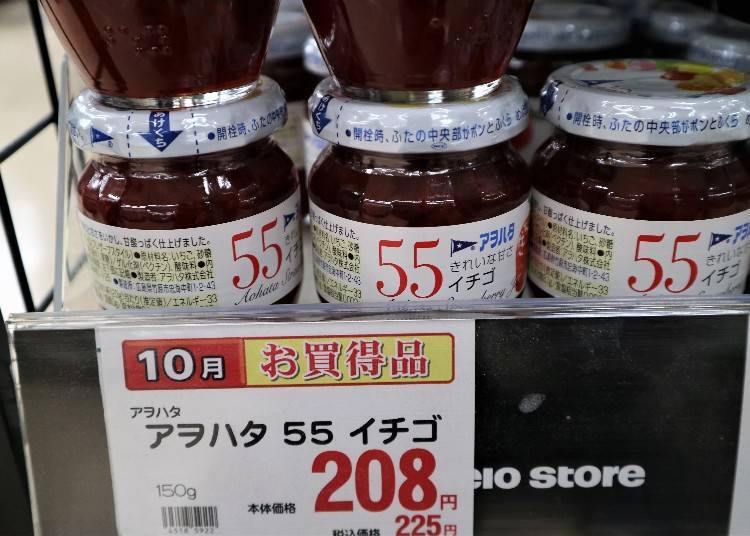 Price: 208 yen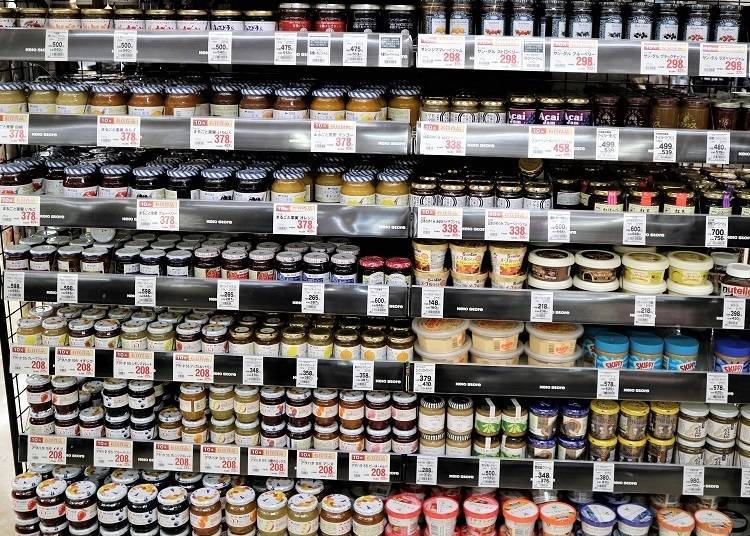 Jam is an integral part of breakfast, whether you enjoy a spoon in plain yogurt or love to combine it with peanut butter on toast. One of Japan's most popular jam brands is Aohata 55, priding itself on its low-sugar recipe and thus gentle sweetness that compliments the taste of the fruits instead of overwhelming it.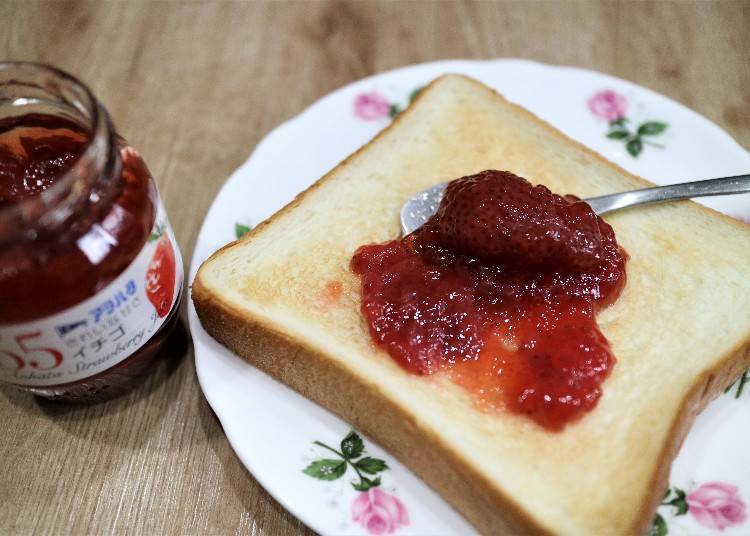 Strawberry seems to be the customer favorite among all the different Aohata 55 varieties, which is probably because of the whole strawberries inside the jar. Leave the peanut butter aside for now and enjoy the jam just as it is on a warm, crunchy toast – you'll fall in love with it.
The Keio Store Supermarket in Sakuragaoka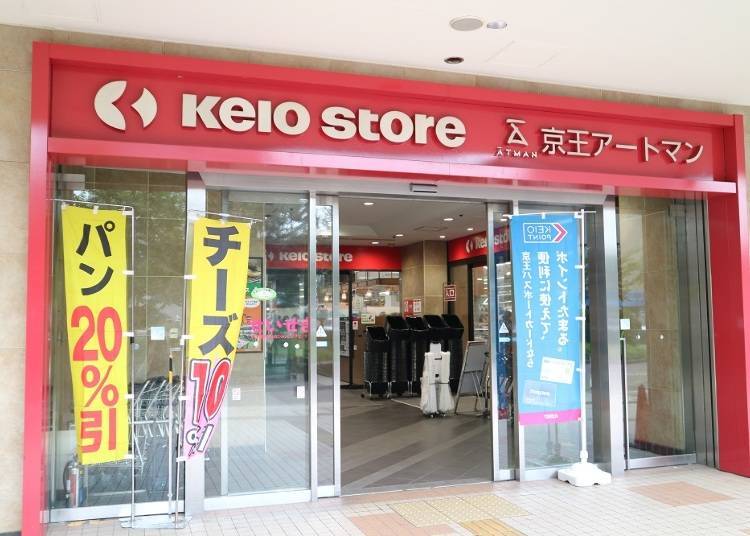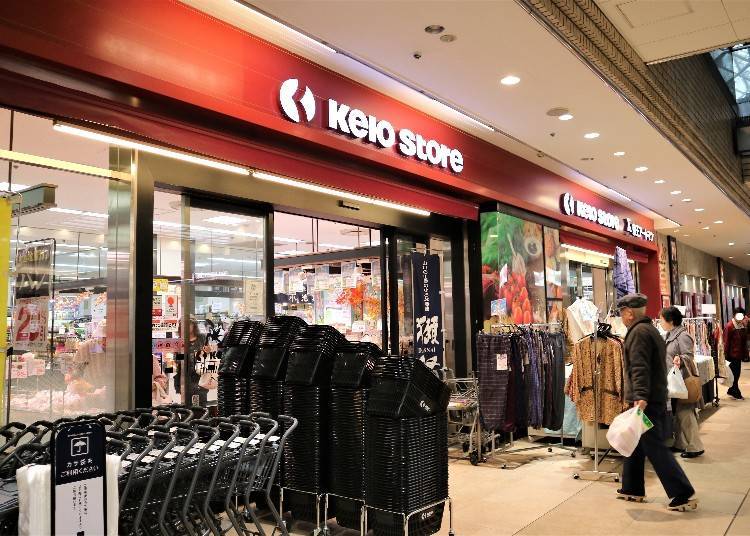 Keio Store is a supermarket chain that can mainly be found in Tokyo and Kanagawa Prefecture, mostly in the shape of shops within a station or convenience stores.

The supermarket we visited was the one right in front of Sakuragaoka Station and among all of Keio's 27 supermarkets, it boasts the biggest selection. On the first floor you'll find food and alcoholic drinks, while the second floor is all about household goods and clothes. It even hosts handicraft shops, kimono repair shops, and dry cleaners. The Keio Line from Shinjuku takes you right to the store, without the need to change trains!
KEIO STORE 桜ヶ丘店

Address

1-11-1 Sekido, Tama-shi, Tokyo-to 206-0011

Nearest Station

Sakuragaoka Station (Keio Line)


Hours: 10:00 a.m. - 11:30 p.m.
(2F 10:00 a.m. - 9:00 p.m.)
*Prices and other information may be subject to change.

*This information is from the time of this article's publication.
*Prices and options mentioned are subject to change.
*Unless stated otherwise, all prices include tax.
Limited time offer: 10% discount coupons available now!