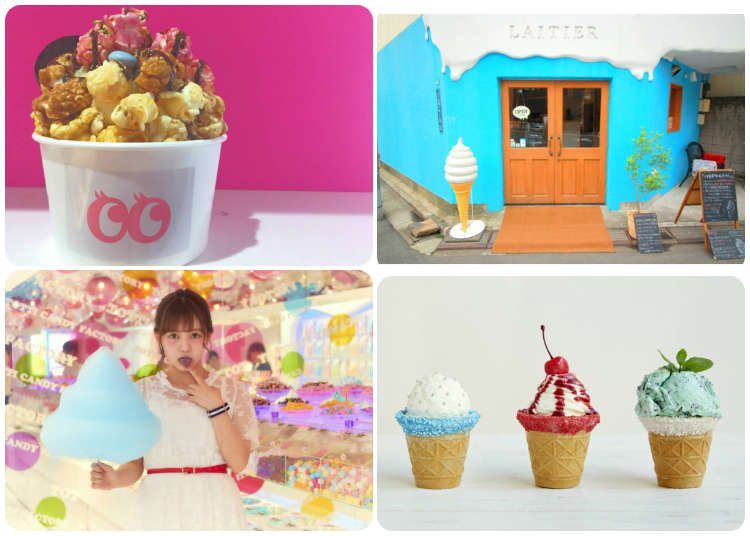 Japan and Tokyo, in particular, is known for its kawaii culture, often seemingly walking a thin line between amazingly adorable and pure insanity. This unique and colorful culture can't just be seen, however, it can also be tasted! We've combed the Japanese capital in search of the cutest, craziest, and most colorful kawaii sweets and desserts we could find, to let you get a literal taste of what "kawaii in Japan" is!
DUMBO Doughnuts and Coffee: Jumbo-Sized Donuts, Japan Style!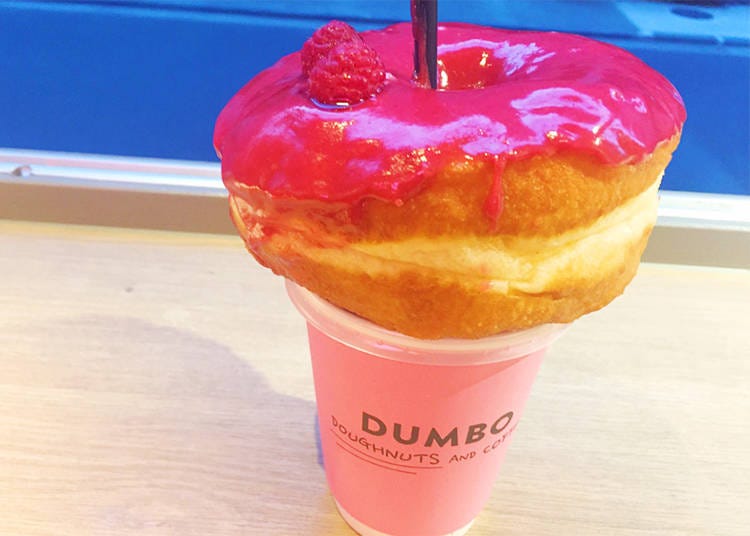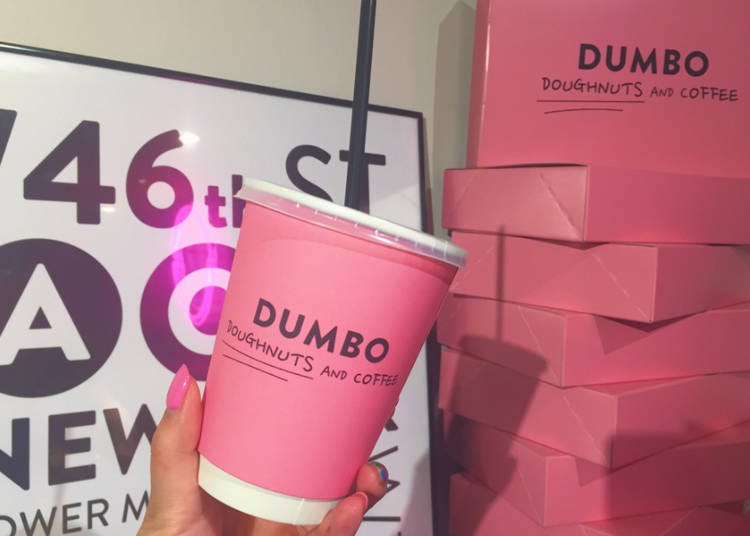 The first spot on our list is a specialty store for both New York style donuts and coffee, serving an original blend from one of Kyoto's most popular coffee shops. Dumbo's large, fluffy donuts are generously frosted and glazed in all sorts of flavors and colors, topped with fruits and powder alike. Mouthwatering!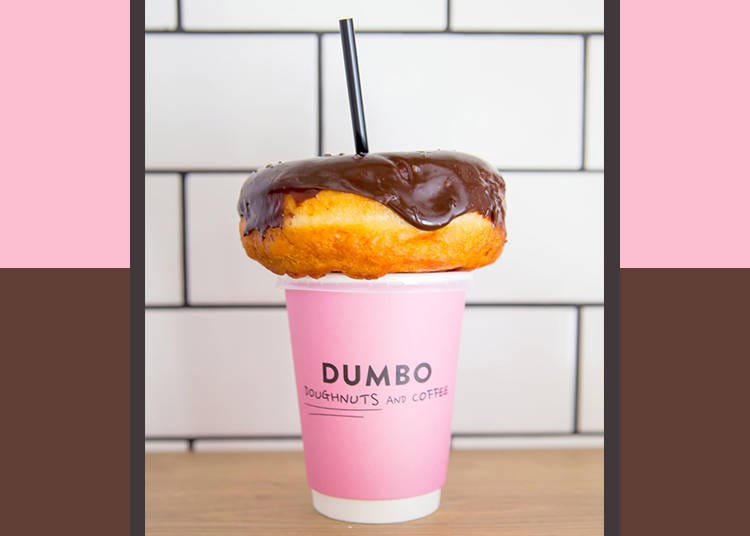 There are always 10 different kinds of yummy donuts available at Dumbo, making for a great selection. If you get the chance, we urge you to try the "Framboise" for 370 yen (tax included), winning big in terms of kawaii due to its vivid color and cute raspberry sitting on top of the tasty treat. The standard way to shoot cutealicious pics of Dumbo's donuts is to place them on the shop's signature pink cups – a large size works best! We especially recommend iced coffee to go with your donut treat, for maximum visual impact – cold drinks are served with a straw!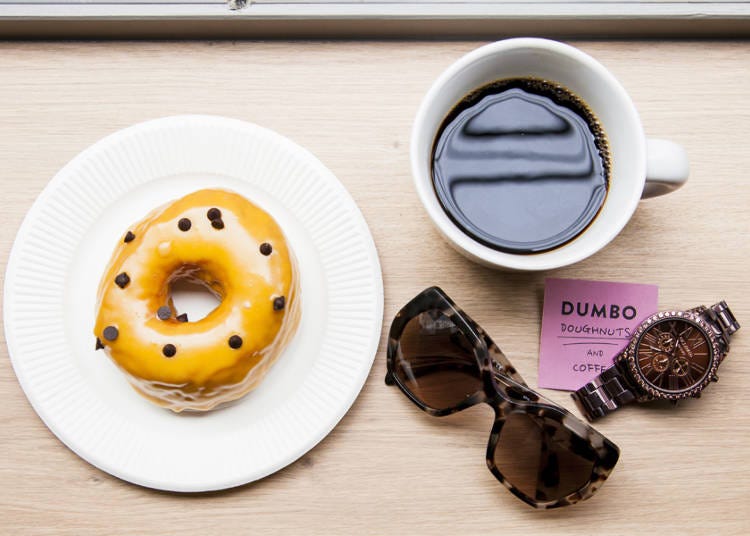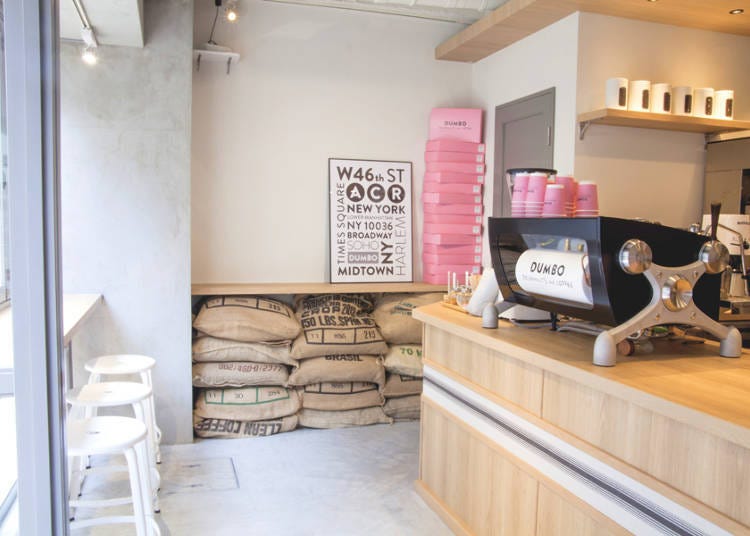 Hours: 9:00 a.m. – 7:00 p.m.
Closed: always open
DUMBO Doughnuts and Coffee

ダンボ ドーナツ アンド コーヒー

Address

2-17-6, Azabujuban, Minato-ku, Tokyo-to 106-0045
MELTING IN THE MOUTH: Soft Serve so Perfect, it Looks Unreal!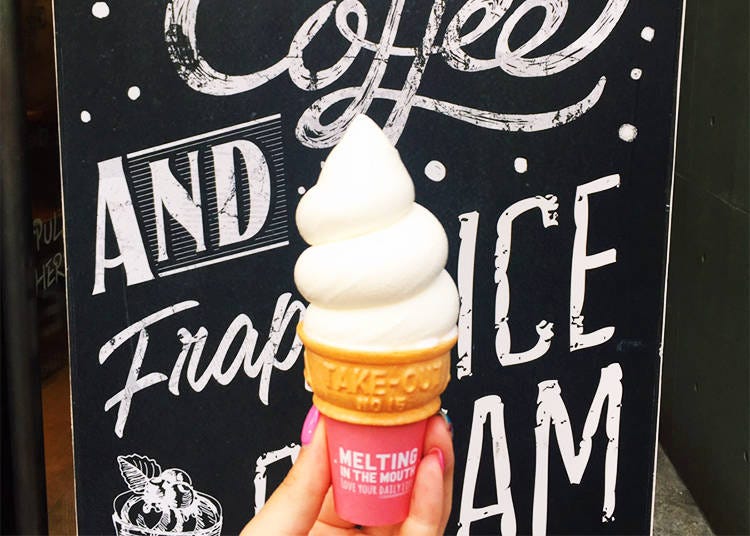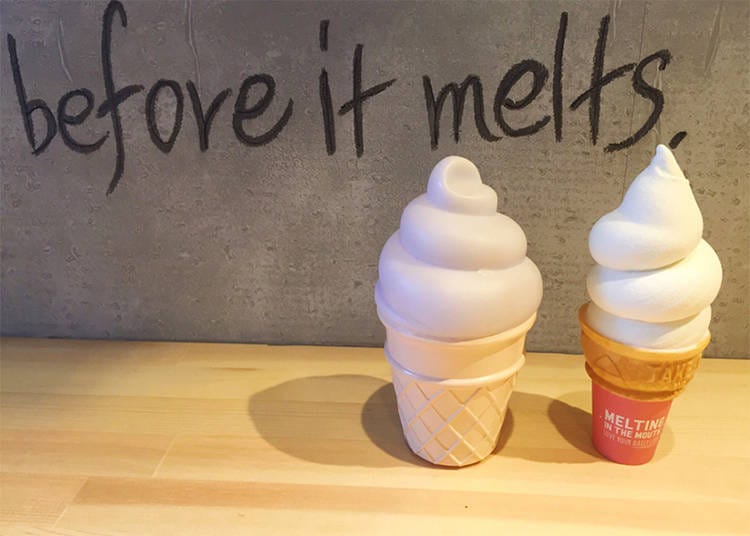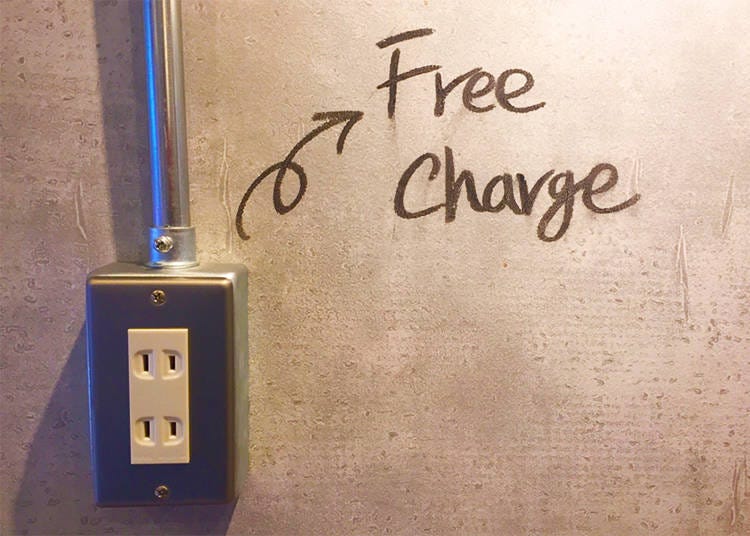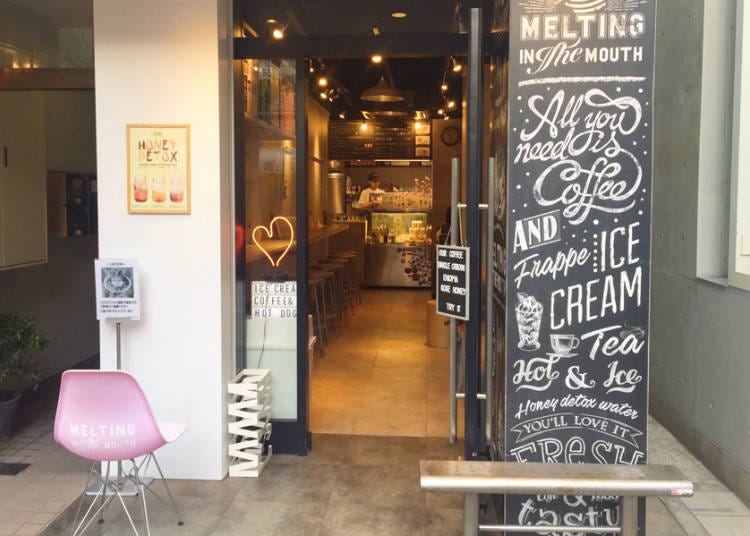 Next up on our kawaii gourmet tour: MELTING IN THE MOUTH. This shop got Instagram-famous for its soft ice cream "The Original" for 480 yen (tax included). This frosty treat is so rich and dense, it can easily be called the Beauty Queen of all soft serves, looking so amazing, it almost seems unreal. Alone that perfect way it spirals up to end in a little curl at the top... yummy!
To further add to the kawaii feeling, the inside of the store is decorated with numerous little knickknacks, setting themselves off playfully against the modern concrete wall. One bonus that we especially love: there are free-to-use outlets installed, offering a recharge for any kind of device! Take lots of photos and videos, because you're not likely to encounter soft serve as perfect as MELTING IN THE MOUTH's again.

Hours:
Mon – Fri: 10:30 a.m. – 8:00 p.m.
Sat, Sun, national holidays: 10:30 a.m. – 8:30 p.m. (open until 8:30 p.m. on weekdays during July and August)
Closed: irregularly
メルティング イン ザ マウス

Address

MK Bldg. 1F, 5-17-10 Hiro, Shibuya-ku, Tokyo-to 150-0012
Totti Candy Factory: Cotton Candy Dipped in Rainbow!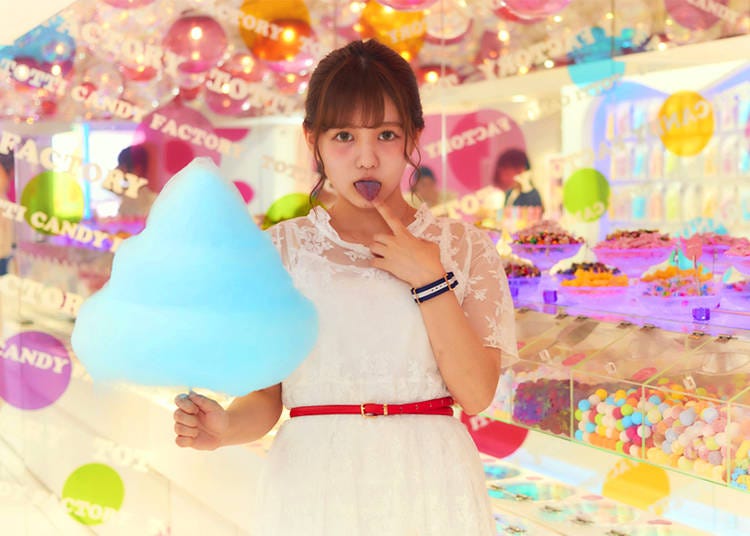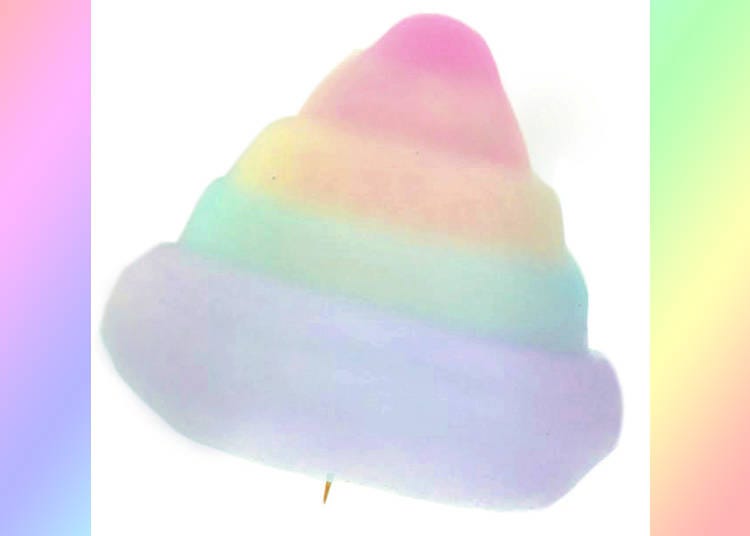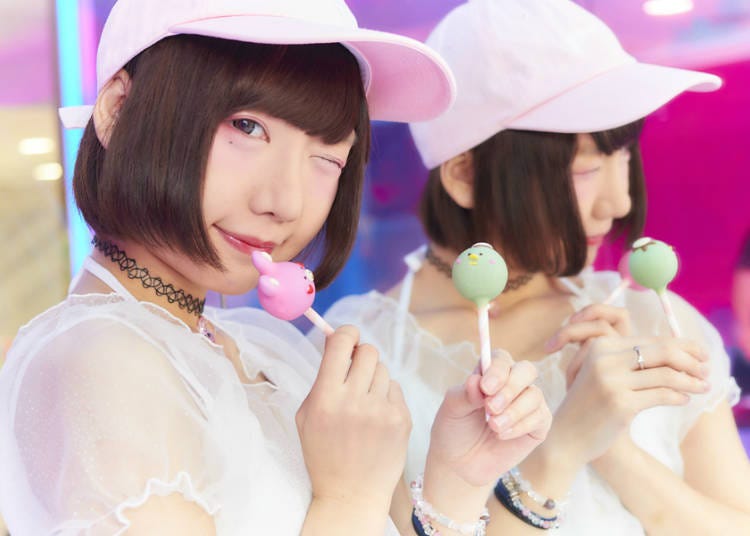 Let's go to Harajuku and explore the trend that the entire area seems absolutely crazy for: Totti Candy Factory's amazing cotton candy! Look forward to gigantic and colorful cotton candy prepared right in front of your eyes, served in a shop fashioned after true Harajuku kawaii culture. It doesn't just look amazing, this famous treat also tastes great: pink is grape, for example, and orange tastes like lemon. Taste the rainbow, quite literally!
A single-colored cotton candy can be munched on for a mere 300 yen, three colors (and flavors) makes 600 yen, and the two-colored "Heart Cotton Candy" is available for 650 yen. The showstopper is, however, the "Harajuku Rainbow Cotton Candy" for 900 yen. If you want to please your inner child, make sure to eat the blue part last for a blue-colored tongue!
Next to the colorful cotton candy, we're also absolutely in love with Totti Candy Factory's cake pops, 400 yen for each. Also make sure to check the store's big selection from both Japan and abroad, ranging from hard candy to marshmallow, and much more! The best thing: every time you go, there will be a new candy surprise waiting for you!
(Tax included in all prices.)

Hours:
10:30 a.m. – 8:00 p.m. on weekdays;
9:30 a.m. – 8:00 p.m. on Saturdays, Sundays, national holidays, and during summer, winter, and spring holidays
10:30 a.m. – 7:00 p.m. during the winter months (November, December, January)
Closed: always open
Totti Candy Factory Harajuku

トッティ キャンディ ファクトリー 原宿店

Address

2F, 1-16-5, Jingumae, Shibuya-ku, Tokyo-to 150-0001
Sweet XO Good Grief: Ready to Fall in Love with Frozen Popcorn?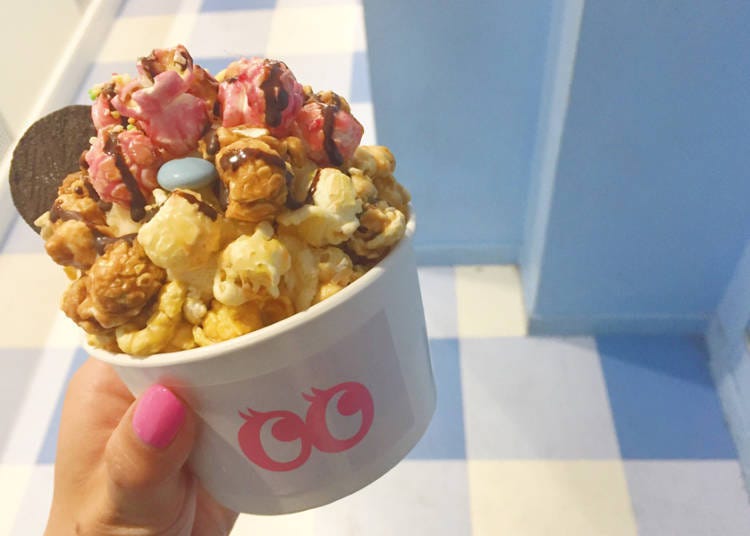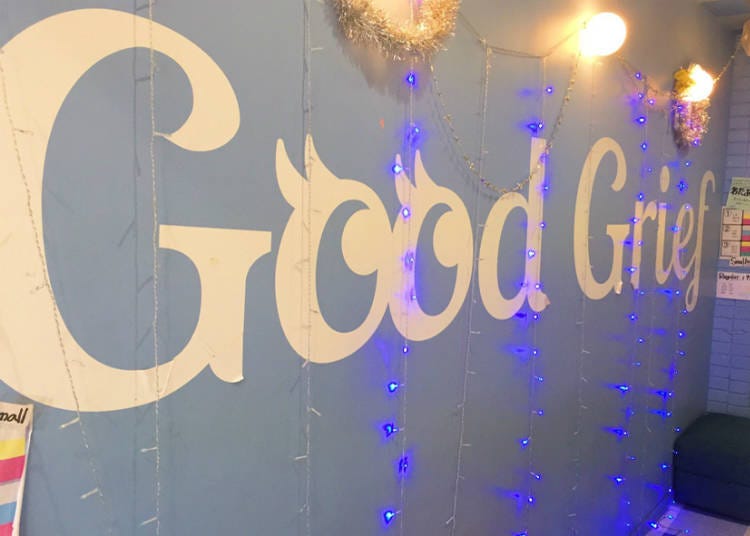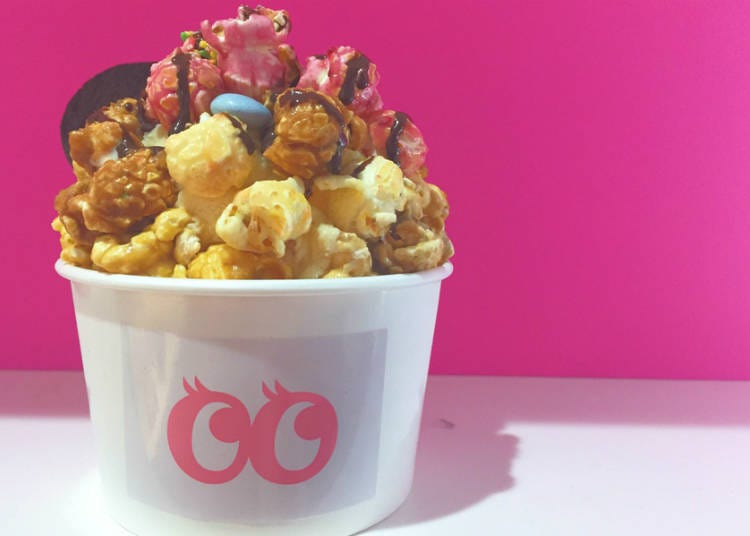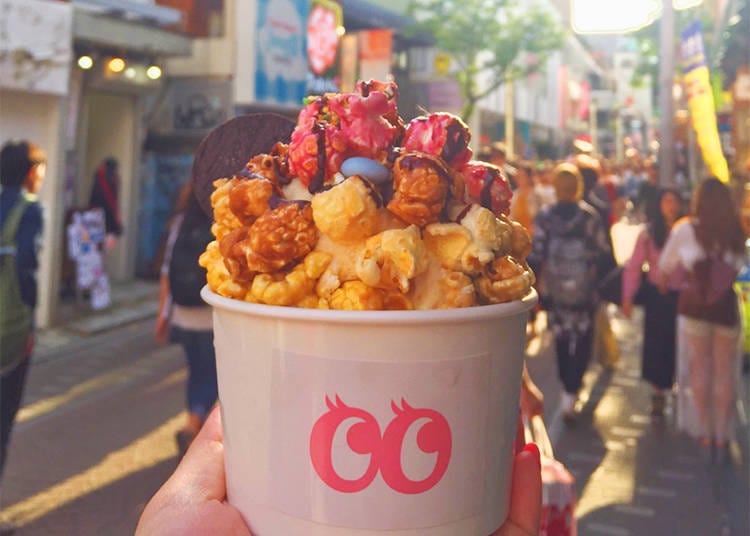 Whoever had the idea of sticking popcorn in the freezer: thank you!! ❤ Sweet XO Good Grief, the next spot on our list of everything kawaii, is a specialty store devoted to this particular delicacy. If you haven't tried frozen popcorn yet, you better be careful – you might easily get addicted to the crispy, cool treat!
Sweet XO Good Grief serves frozen popcorn in 30 unique flavors, in a small size for 540 yen and regular for 1,100 yen. Our warmest (not in a literal sense) recommendation is the "Frozen Mountain" for 626 yen, a colorful and delicious dessert with vanilla ice cream and caramelized popcorn, topped with chocolate and caramel sauce. Yes, it does taste as amazing as it looks!
The playful, gingham-checkered interior makes you feel like you've stepped into a land filled with fluff and sugar, just the right environment to enjoy your frozen popcorn delight. While there's no eat-in space, do feel free to pose for a couple of pictures of yourself and your treat in front of the adorable background. If you step outside, you'll find yourself right in the middle of Takeshita Street, the holy land of kawaii, which is yet another excellent photo spot!

Hours: 11:00 a.m. – 8:00 p.m.
Closed: irregularly
Sweet XO Good Grief Harajuku

Sweet XO Good Grief 原宿竹下通り店

Address

1-16-6, Jingumae, Shibuya-ku, Tokyo-to 150-0001
Anywhere Door: the Cone Shot from Another Dimension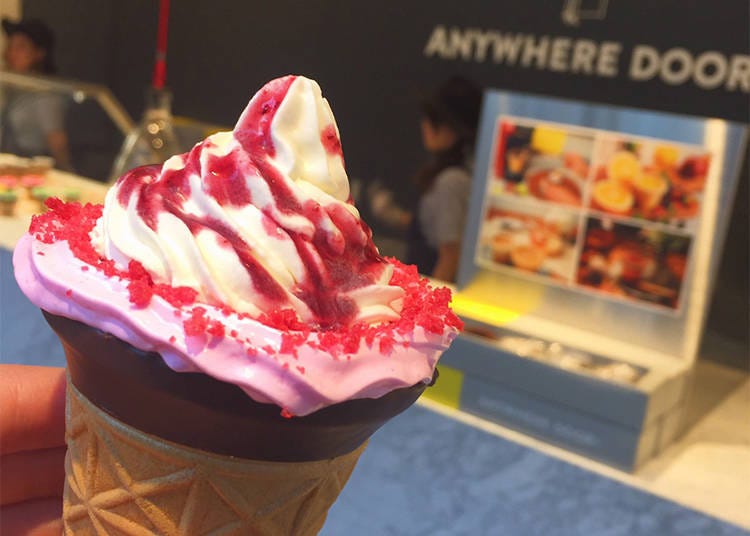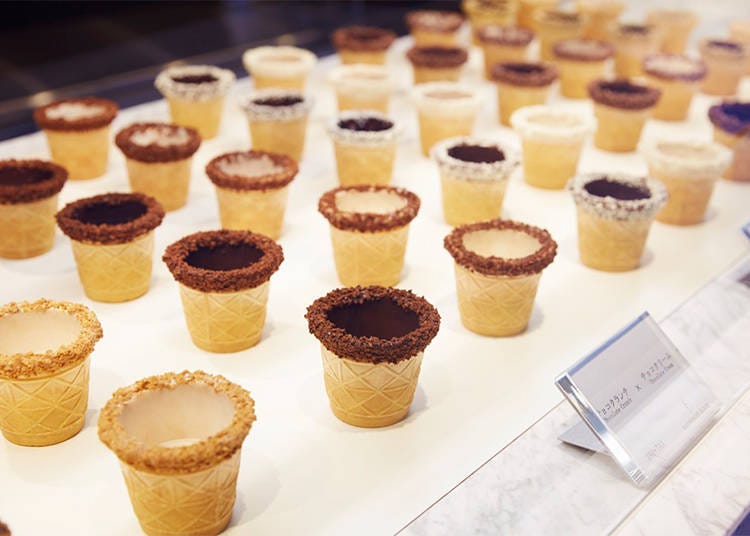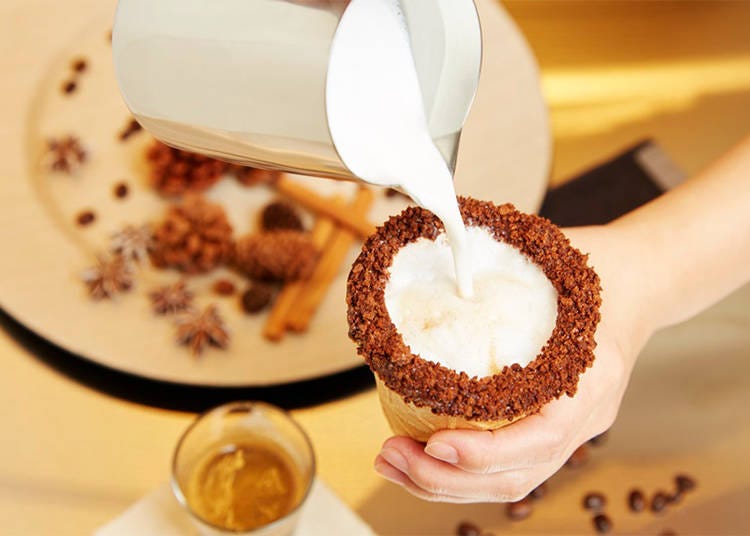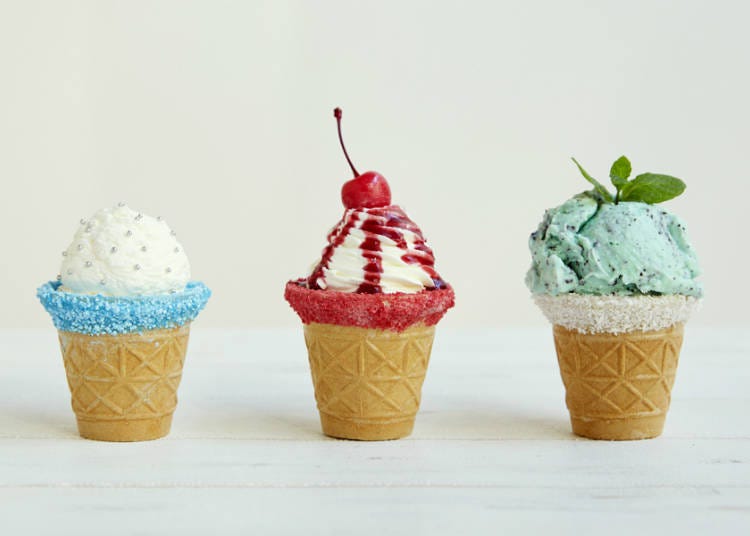 While some might think of Doraemon when they hear "Anywhere Door," we think of the most kawaii way to enjoy a drink! Anywhere Door Harajuku opened in January of 2017 and has been a massive success ever since. The shop's signature dessert is the "cone shot," using the same kind of cone you'd expect to munch on when enjoying soft serve ice cream, just that at Anywhere Door, it's filled with a shot, such as espresso, cappuccino, or matcha latte. Combine 10 different kinds of cones with 10 different kinds of drinks!
The inside of Anywhere Door's cones is coated with chocolate, while marshmallow and chocolate cream fills the bottom part. The crunchy rim is coated in crunchy treats like almonds or bits of biscuit, making for an amazing combination of flavors! Take-out isn't possible, but it is perfectly fine to order nothing but one such cone. Enjoy exploring the plethora of textures and flavors!

Hours: 11:00 a.m. – 7:00 p.m.
Closed: always open
エニウェアドア 原宿店

Address

FLAG1A, 3-27-15 Jingumae, Shibuya-ku, Tokyo-to 150-0001
Laitier: the Fanciest Soft Serve in all of Tokyo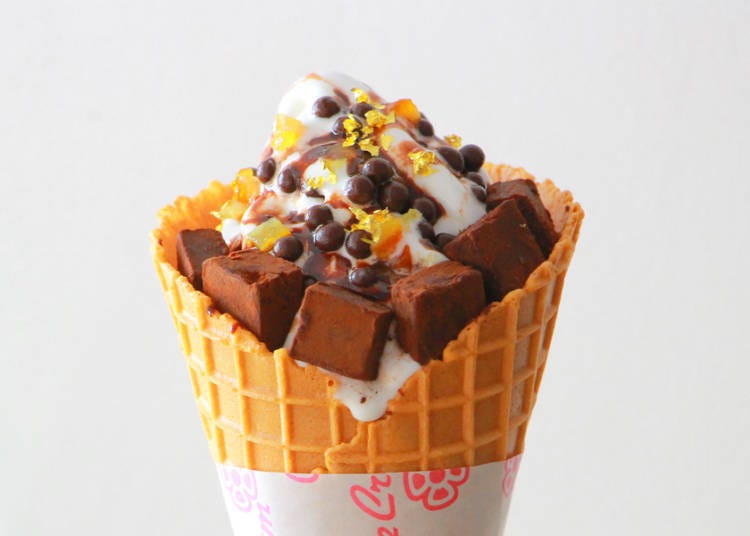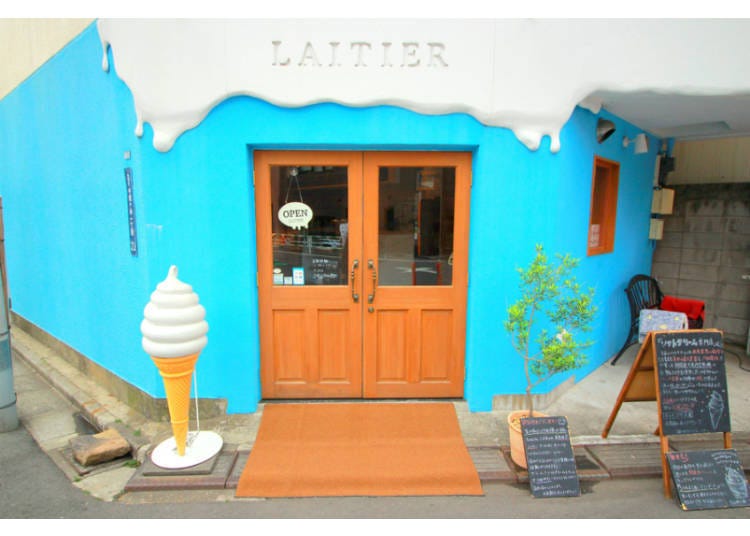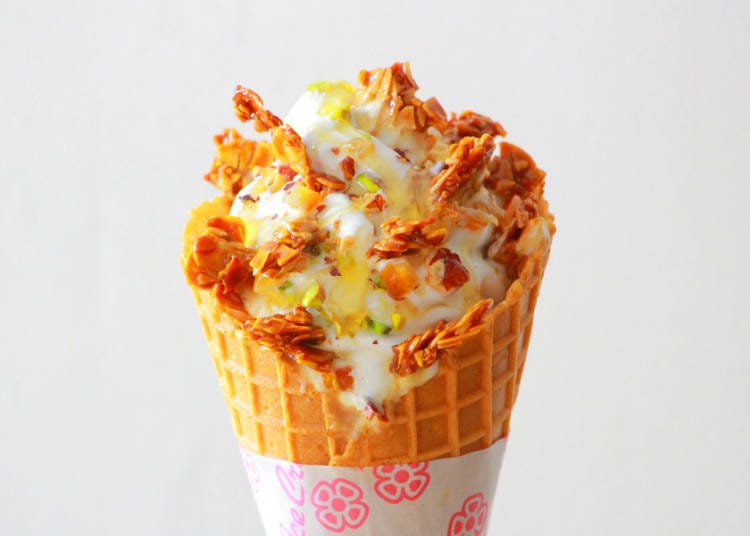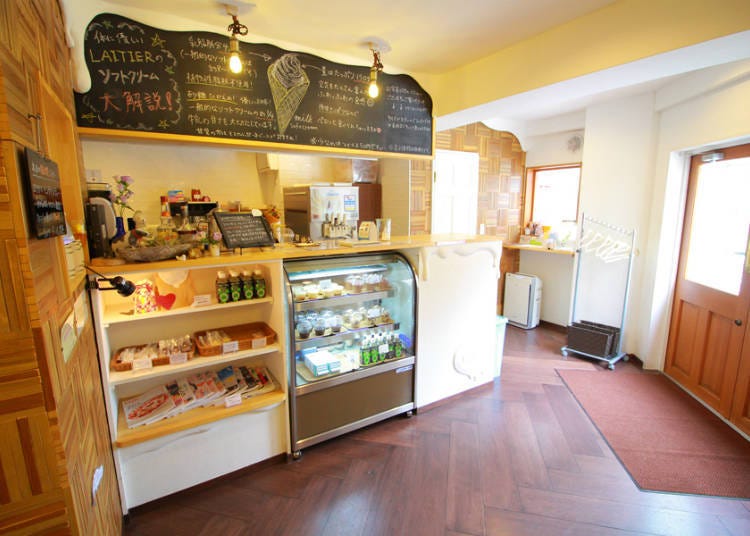 The name of our last recommendation might give it away, but Laitier's owner was a patissier focusing on French cuisine before opening this shop. And we're glad that they moved away from that to bring us what we easily consider Tokyo's fanciest soft serve. Topped with nuts, dried fruits, and all sorts of other yummy things, Laitier's creations called "gourmet soft serves" will knock your socks off.
The shop's exterior alone looks like a shop right out of a fairy tale – ice cream dropping from a blue sky? We might just have found paradise. Ten types of soft serve await inside, plus seasonal delicacies that change on a regular base. The most popular gourmet soft serve is the "Honey and Three Kinds of Nuts Soft Serve" for 842 yen (tax included), using pistachio, pecan nuts, crushed almonds, and plenty of honey. All of Laitier's ice cream is made with milk both low in sugar and low in fat, resulting in a fluffy and light texture that you'll undoubtedly fall in love with.

Hours: 11:00 a.m. – 7:30 p.m.
Closed: Tuesdays (or the following day instead if Tuesday is a national holiday)
レティエ

Address

1F, 1-22-7, Sendagaya, Shibuya-ku, Tokyo, 151-0051
Don't just look at Tokyo's amazing kawaii culture – get a real taste of it! Whether you fancy rainbow cotton candy, frozen popcorn, or all of the above, one after another, until you feel like you yourself have turned into a kawaii dessert, don't hesitate to step into Japan's world of cute, colorful, and crazy sweets!
Written by: Shino Sasaki
*This information is from the time of this article's publication.
*Prices and options mentioned are subject to change.
*Unless stated otherwise, all prices include tax.
Limited time offer: 10% discount coupons available now!