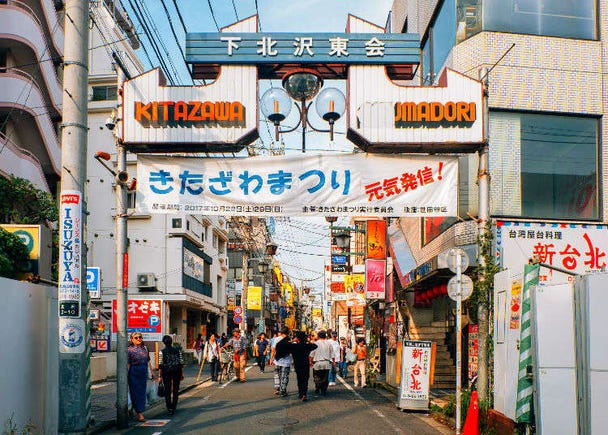 Are you familiar with the name "Shimokitazawa?" If you're into Japanese literature, then you might know of the original novel "Hello, Shimokitazawa" by Banana Yoshimoto. Or if dramas are your thing, then maybe you've seen one called "Shimokitazawa Diehard" starring Eiko Koike. Or maybe you're a music fan who's been to the Shimokitazawa Music Festival.

How has this town, formerly nicknamed "cotton town" for all its clothing stores, changed? Allow us to introduce some of Shimokitazawa's best antique shops, gourmet food spots, and latest trendy information!
In Japan, the narrow streets and alleys are called rojiura, which literally translates to "back alleys." In Shimokitazawa, besides the shops along the streets there are also many shops hidden among and within the buildings. Like a Hong Kong movie set, you will find coffee shops in room A on the first floor, and ramen shops in room B on the second. The streets and the floors of the buildings are lined with all kinds of various surprises here and there, like a kaleidoscope.
Transportation:
Shinjuku - Get on the Odakyu Odawara Line. Approx. 8 min to Shimokitazawa (Ticket: ¥ 160)
Shibuya Station: Transfer to Keio Inokashira Line (about 3 min). Get off at Shimokitazawa Station (Fare: ¥130)
Shinjuku Station: Transfer to Odakyu Odawara Line (about 8 min). Get off at Shimokitazawa Station. (Fare: ¥160)
※Shimokitazawa Station South Exit closed for construction from March 25, 2018. Please use North, West, or Southwest Exits. The new the East and Central Exits will be open for use beginning March 2019.


Antique Shops
・ North Exit: Get nostalgic for your childhood at Antique Toy Shop "Soundsgood"
・ West Exit: Experience the atmosphere of France at select shop "Pêche"
・ West Exit: Vintage clothing spot visited by stylists and models alike, HAIGHT & ASHBURY


Popular Gourmet
・ North Entrance: Instagram Famous Pancakes at FLIPPER'S
・ North Entrance: Popular Hokkaido curry featuring 20 types of vegetables at Rojiura Curry SAMURAI!
・ Southwest Entrance: Brewed in a time slip with Showa Era Nel drip at CAFE TROIS CHAMBRES
HAIGHT & ASHBURY: Vintage clothing spot visited by stylists and models alike
As you ascend the sloping path from the North Exit you will see HAIGHT & ASHBURY, marked with a bright red high heel reminiscent of the movie "The Devil Wears Prada." It is one of the 3 oldest clothing shops in Shimokitazawa, and has been around for 26 years.

HAIGHT & ASHBURY is on the second floor, and sells not only clothes but also accessories and miscellaneous goods. It is divided into three corners: mens, ladies, and antiques. All products are organized according to type and color. The staff will even help you choose a unique Shimokitazawa style coordination suited just for you. Not all foreign languages are available, but the shop staff can communicate in English.
Mr. Iwasaki, a lover of all things vintage, has worked here for over 10 years. He currently resides in the United States and picks up each original item according to Japanese taste and preference. Because of this many people visit his shop from all over, and it has also become popular with designers, stylists, and models alike.

The head of the mens and ladies departments also chose the recommended looks for this spring.
Everything here is rich in character, from the vintage evening dresses to the casual outfits. Accessories such as hats and belts are also available, so you can put together a full coordinated look. Along with the spring 2018 trending pink color you will also find bold colors, opposing colors, and gradations selected to match the chosen coordination.
The antique corner of HAIGHT & ASHBURY is a special section of the shop, featuring gorgeous dresses, vintage accessories, and clothes from the Victorian Era, over 100 years ago. Once you enter this shop you will be transported right to an old European closet.
Mr. Iwasaki responds with a laugh, "This job makes me very happy."
HAIGHT&ASHBURY

Address

〒155-0031 東京都世田谷区北沢2-37-2-2F

Nearest Station

Get off on Shimokitazawa stop along the Keio Inokashira and Odakyu Odawara Line. 3 minutes on foot from North and West Exit.


Phone Number

03-5453-4690

Hours: Weekdays 1:00~9:00PM, Weekends & Holidays 12:00~9:00PM
Soundsgood: Get nostalgic for your childhood at Antique Toy Shop
One minute from the Shimokitazawa Station Southwest Entrance is a shop that sells antique American toys called "Soundsgood".
The height of American animation peaked from 1950 to 1966. Following this peak major companies started using these animated characters for a large amount of advertising goods.
Manager Uchino began as a company employee who often traveled to Hawaii and France on business. When he fell in love with antique toys, he decided to continue travelling for the rest of his life. Because of this, during certain months of the year, January, March, and May, the shop is closed as he travels abroad. Please check these holidays on the Soundsgood Instagram page during these months before visiting.
A sly look from behind the glasses of Mr. Uchino.
Soundsgood toys are not just hard to find in the regular toy market, but many of them are memories from Mr. Uchino's travels that show his enthusiasm for antique toys. This is a place that will imprint itself into the hearts of toy lovers all around.
Soundsgood

Address

〒155-0031 Tokyo, Setagaya-ku, Kitazawa, 2-chome−23−6

Nearest Station

■Subway
Get off at Shimokitazawa along the Keio Inokashira or Odakyu Odawara Lines. 1 minute walk from the Southwest Exit.


Phone Number

03-5433-3758

Hours: 1:00~8:00PM
Experience the atmosphere of France at select shop Pêche
North of the alley and at the station West Exit is a women's select shop dealing mostly in European style gifts called "pêche".
The front of the open cafe is decorated with a garden of plants along the pure white walls, and there is a cashier counter is lined with vintage style trees. The atmosphere and fine-grained femininity truly makes you feel as if you stepped into an actual shop in Paris.
From left to right: French tea, ¥450; framed interior art, ¥12,000; Idano Paris blouse, ¥19,800.
You can also find American jewelry from the 1940-60s and perfume from the French aristocracy.
French perfume, ¥12,000; necklace ¥12,000.
American antique necklace dated 1940-60's, ¥14,000~30,000
You will want to spend your time in this shop exploring, perusing everything from day-to-day mugs and photo frames, to interior art and infant and child goods, to even afternoon tea and sweets. You can find just about anything here.
It's like wandering down the rabbit hole of Alice in Wonderland! Rabbit-themed goods also abound, from interior items to gift boxes.
Rabbit handle container, ¥4,900
The shop display changes dramatically every season - one of the biggest features of the shop. There is always something fresh and new to discover with every visit. Just like traveling to a new place, even the backgrounds of the items are always changing. Staying true to this, the shopkeepers themselves who love to travel keep this in mind as they choose items inspired by their own experiences, making it a truly wonderful place to shop for those looking for a gift.
British folding umbrella, ¥9,200
ペッシュ

Address

〒155-0031 Tokyo, Setagaya-ku, Kitazawa, 2-chome-27-2

Nearest Station

■Subway
Get off at Shimokitazawa along the Keio Inokashira Line or Odakyu Odawara Line. 2 minute walk from North West Exit.


Phone Number

03-5453-3634

Hours: 12:00~8:00PM
Instagram Famous Pancakes at FLIPPER'S
Although only two years have passed since its very recent opening in 2016, there are now branches in Kichijoji, Jiyugaoka, Daikanyama, Nagoya, Yokohama Motomachi, and even Hong Kong, in addition to the first shop in Shimokitazawa. FLIPPER'S is known for their "Miracle Pancakes," with over 17,000 posts on Instagram with a simple keyword search. At Shimokitazawa shop in the school district, you can always have a crowd from before sales. Located in the student district of Shimokitazawa, you can expect there to already be a crowd of people lining up before they even open for the day.
The shop is comfortable with both tables for two and counter seats. You can enjoy pancakes here at any time, be it by yourself with an afternoon tea, or for a weekend brunch with friends.
Miracle Pancakes (with Fresh Fruit), ¥1300 yen; Café Latte, ¥480
The pancakes are made using the milk of Biei, Hokkaido and eggs of Shiraishi, Miyagi. You can smell the aromatic milk the moment you lift a bite to your mouth. The texture of the pancakes are so fluffy you can cut it with a fork, and when you do, expect a warm steam to arise from inside. Fresh fruit such as strawberries, bananas and blueberries top these delicious pancakes, the most popular menu item of the shop.
These soufflé-like pancakes with their delicious thick cream and sweet and sour strawberries are enough to fill you up with one dish. There are also seasonal menu items using seasonal fruits and various creams so you will definitely want to visit again to try them all.
In addition to eating in the shop you can also order to take out. Recommended is the palm-sized 'pancake pie,' a mini pancake wrapped in crispy piecrust, and one of the best snacks to eat during your stroll through Shimokitazawa.
Caption: Pancake Pie, Plain, ¥250
FLIPPER'S

Address

〒155-0031 Tokyo, Setagaya-ku, Kitazawa, 2-chome-26-20

Nearest Station

■Subway
Get off at Shimokitazawa along the Keio Inokashira or Odakyu Odawara Line. 2 minute walk from North Exit.


Phone Number

03-5738-2141

營業時間:11:00 ~20:00 (L.O. 19:30)
Rojiura Curry SAMURAI: Hokkaido's popular curry, featuring 20 kinds of vegetables
Rojiura Curry SAMURAI is a 5 minute walk from Shimokitazawa Station North Exit on a quiet corner of a back alley.
"How many times have you had a dream come true?"
Shop Owner Kawabata Masashi, born in Hokkaido, had a big dream in his 20s to open his own shop before he was 30. It was at the age of 29 that Rojiura Curry SAMURAI was established in Hokkaido. Located in Sapporo, Hokkaido, in an environment boasting about 50 people per day, it wasn't exactly what one might call an ideal location for a restaurant. However the soup curry of Rojiura Curry SAMURAI increased in popularity and was spread by word of mouth so far and wide, it has become one of the most popular shops of all time.
The following steps explain how to order this Hokkaido curry soup:
Step 1. Choose your soup base: regular, mild (Japanese dashi & soy milk), or coconut.
Step 2. Choose your spiciness. There are 10 levels. Those who like spicy foods may want to opt for 3 or 4. For levels 5 and above, there is an extra charge.
Step 3. Choose the amount of rice. Small is recommended for those with small appetites (120g). More hearty appetites may want to go with Medium (180g) or Large (280g).
(M and above are extra charge)
Step 4. Choose toppings as you prefer. There is a list of toppings and prices on the wall in the store.
Crispy chicken curry with 20 vegetables, ¥1580
We ordered the crispy chicken curry with 20 vegetables. The chicken skin was crispy on the outside, with soft and juicy meat on the inside, and was not greasy. The spices are a homemade blend, and the soup is boiled on low heat for over 10 hours. The rice was a blend of brown and white rice. The rice and soybeans come from the farm owned by the brother of shop owner Kawabata himself. Amongst these, the radishes are also simmered well in the soup, which you can fully taste with each and every bite.
"We believe a balanced diet leads to a healthy body. With this concept, we deliver both heath and taste to people all around!"
Rojiura Curry SAMURAI.

Address

〒155-0031 Tokyo, Setagaya-ku, Kitazawa, 3-chome-31-14

Nearest Station

■Subway
Get off Shimokitazawa along Keio Inokashira or Odakyu Odawara Lines. 5 min walk from North Exit.


Phone Number

03-5453-6494

Hours: Noon 11:30AM~3:30 L.O 3:00PM, Evening 5:30~10:30PM L.O 10:00PM
Brewed in a time slip with Showa Era Nel drip at CAFE TROIS CHAMBRES
Located at the Southwest Exit of Shimokitazawa Station, CAFE TROIS CHAMBRES was opened in the Showa era, by owners Mr. and Mrs. Matsuzaki. They met in their college days, and several years after graduating, Mr. Matsuzaki decided to open a shop. Fully supported by his wife, they got into business. It has been 28 years since this couple opened their jazz teashop in this location.
Look for the signboard of the shop and go up to the second floor. You can hear voices coming from within at any time of the week, be it weekdays or even holidays. In the morning you can find people reading books or newspapers while enjoying a French toast and coffee, and businessmen in the evening taking a break at the counter checking their phones. And of course, there are those who come here to enjoy a good time with their friends.
Whether alone or with friends, CAFE TROIS CHAMBRES is a place where anyone can relax and unwind.
You can sit at the bar counter and get a glimpse of how the owners brew their Nel Drip coffee. Unlike coffee filtered with regular paper, you will notice right away that this technique takes a certain level of skill. Using coarsely ground coffee and skillfully poured water, each movement is important for a rich, delicious taste.
Blend coffee and cheese cake, ¥850
This time I ordered a blend coffee. They ground two different kinds of beans. Any difference in the ratio will affect the taste. I also recommend the cheesecake, with its delicious smooth, moist texture. The simple taste of this coffee paired with this cake is one that you are sure to want to try again and again.
CAFE TROIS CHAMBRES

Address

〒155-0032 Tokyo, Setagaya-ku, Daizawa, 5-chome-36-14

Nearest Station

■Subway
Get off on Shimokitazawa along Keio Inokashira Line or Odakyu Odawara Line. 3 minutes on foot from Southwest Exit.


Phone Number

03-3419-6943

Hours: 09:30~23:00
Closed: New Year's Day
Each shop in Shimokitazawa is unique, timeless, and full of nostalgia and exoticism. The entrances themselves are none other than time tunnels connecting us to the days of old. Whenever you visit Tokyo, Shimokitazawa should definitely be amongst your top options for a fun day of exploration and time travel.
*This information is from the time of this article's publication.
*Prices and options mentioned are subject to change.
*Unless stated otherwise, all prices include tax.