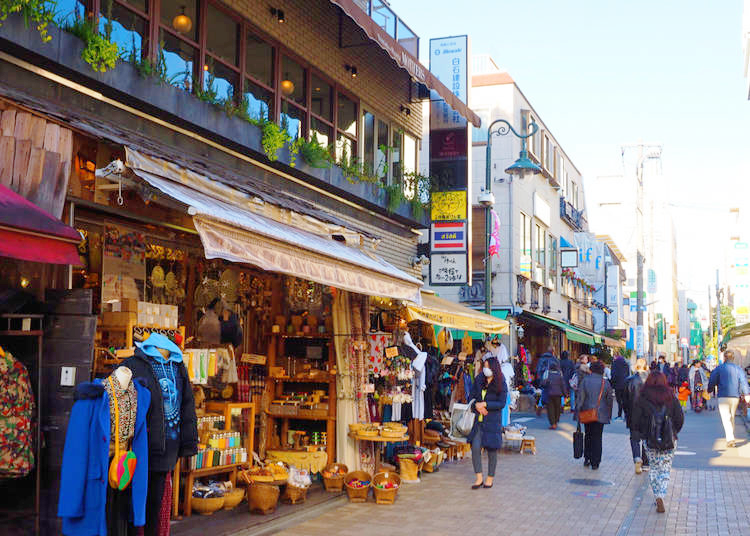 The metropolis of Tokyo is always popular with visitors of Japan, with most of them visiting because it's the capital of Japan. Though the whole place is often simply referred to as Tokyo, it actually consists of 23 special burroughs ('wards') (77 areas) and 39 municipalities (including outlying islands). Tokyo is not necessarily a massive, densely packed city in many way - but it does have sprawl, and with over 100 interconnected areas it certainly is complex.

Most guidebooks barely begin to scratch the surface of Japan's glittering gem. Areas made popular by guidebooks, movies and TV shows - Shinjuku, Shibuya and Asakusa - are the usual fare for most foreign tourists. So which areas are truly popular among the Japanese?

On that note, we interviewed 5 Japanese citizens on which is their favorite town in Tokyo. From this, we will get to see how Tokyo is reflected in the eyes of the locals.
A blend of tradition and modernity: Ginza
"It's a place that retains its traditions despite new innovations and modern buildings. For example, on the opposite side of a street selling high-end goods, a lot of old shops which have been in the area for a long time can be seen. Personally, it's a town where you can spend the entire day shopping and not get tired of." (Woman, 30s)

The paragon of luxury in Japan, Ginza is 20 minutes away from Shibuya Station via the Ginza Line. Formerly known as Owaricho, it has been developed as a trading district ever since the Edo period (around year 1603). Those vestiges can still be seen even now, and Ginza is still known as the place to have fun shopping to many Japanese.

From streets selling high-end brands to multi-story mansions, and even large-scale department stores lining the roads, no other street in Japan can compare in terms of pizzazz. Despite that, buildings that date the beginning of the Showa era (around year 1962) are still present, as well as restaurants that have been in the area for decades. This perfect harmony of old and new is something unique to Ginza.

Not to mention Ginza is a two-faced street: that is, it shows different faces depending on day or night. In the daytime, men and women of all ages can be seen shopping and eating, a pleasant spectacle. On the other hand, once it turns dark its hidden floridness is exposed, becoming a mature playground for the adults. This fascinating duality is another charm that can be said to be unique to Ginza.
A luxury residential area that leads and innovates: Daikanyama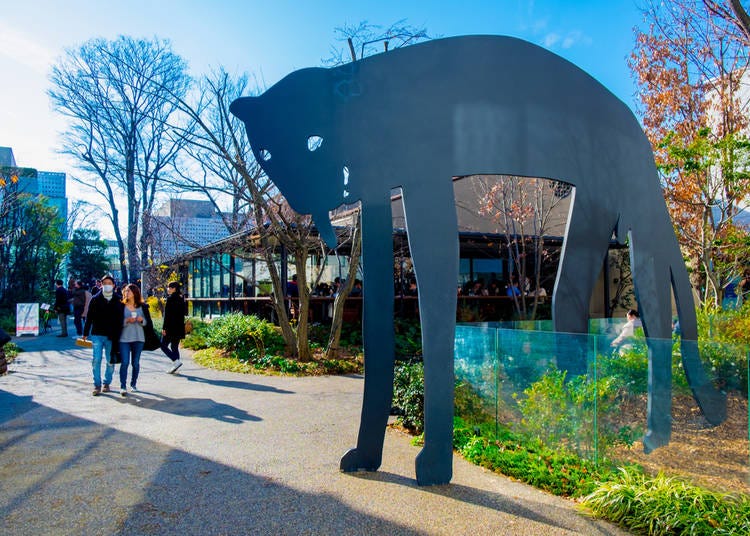 Image: Piyawan Charoenlimkul/Shutterstock.com
"It has many stylish cafes, perfect for cafe-hopping on a rest day. Despite being cityside it isn't as noisy, which is what I like about the place. While it has a strong "high-end residential area" image, many restaurants offer reasonable prices. It's unexpectedly chill place to enjoy." (20 y/o Lady)

Daikanyama is widely known as one of the most expensive top-class residential areas. Just 1 station from Shibuya station via the Tokyu Toyoko Line on a roughly 3 minute journey, it has a more fashionable and flamboyant vibe in contrast to the pizzazz of Ginza. In recent years though, it has become renown for its cafes above all else. Many start-up cafes have established their business here, with females between 10 to 30 years old who observe the trends lining up their queues.

Other than its cafes, you can also enjoy shopping at its many commercial buildings, making it a popular spot for dates amongst students and youths. Showy, yet calm, Daikanyama is THE spot to enjoy a refined afternoon or going out with your dearest ones, friends and lovers alike.
The source of Japanese Pop culture where all the youth gather: Harajuku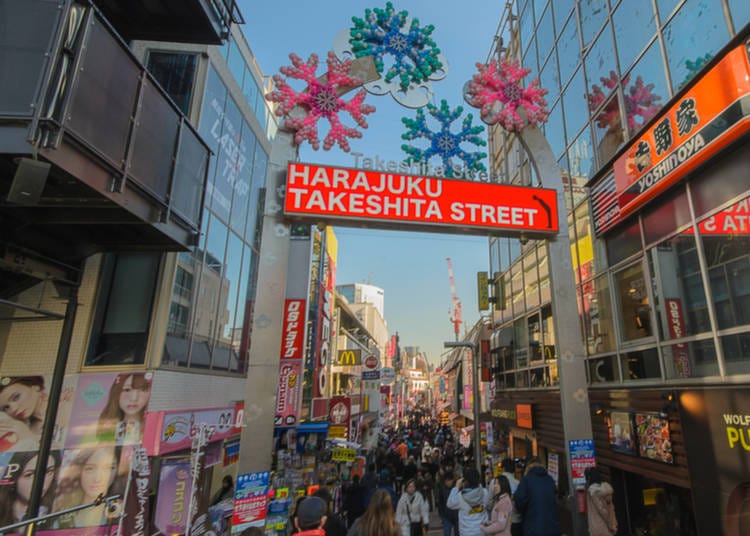 Image credit: MADSOLAR/Shutterstock.com
"I love this place because it exudes so much freedom. Not just fashion and hair, but also how much individuality the people here radiate. Just by being here you feel like you're having fun. What else.. their dessert stores like crepes and ice cream here are cheap, which is great!" (Woman, teens)

Even within Tokyo, Harajuku is a place that stands out for its individuality. Only 3 minutes away from, you guessed it, Shibuya station via train, Harajuku is known as the hub of Japanese pop culture, be it shopping for Lolita clothes or the like. It's also a popular tourist spot, so many would have heard about it already.

Here, the Takeshita Street just outside the station is the busiest. With crepes and takeout stores, not to mention apparel stores, thrift shops and even general stores, it has many shops sporting cute designs all lined up together. While popular amongst youths aged in their teens to twenties, you can spot many foreigners in the crowds too.

Digressing a little, while Takeshita Street was created in the middle of 1970, before that it was actually a quiet neighborhood for adults. With the creation of the street, it started becoming popular among those born in the 80s and 90s, eventually becoming the Harajuku that it is today. At the same time in 1964, due to the announcement of the Olympics in Tokyo the place received much foreign attention in terms of visitors.
A town of art filled with nature: Kichijoji
Image credit: oasis2me/Shutterstock.com
"It's chic in a different way from Daikanyama or Ginza. While it's not flashy, the town's unique culture and traditions have remained, giving it a very artistic impression. There's also a huge park just next to the station, making you feel like you're not in Tokyo due to how much greenery there is." (40 y/o Male)

A 20 minute train ride from Shibuya station, Kichijoji is a rare example of a town where you can experience both the city and the outdoors. On the north side of the station spans a commercial district, while the south has the prominent Inokashira Park. There are also many takeout stores and cafes within the park, so you can see many people taking it slow amongst the greenery there.

As mentioned, Kichijoji is a popular place to live in amongst Japanese artists, and novelists are particularly common here. While there is no concrete explanation for this, it could be credited to the fact that many literary masters, or "bungō", live here, the numerous secondhand bookshops, or simply the many cafes with calming atmospheres. The many crowds that pass through this place could also serve as a strong impetus for a writer's soul. In any case, Kichijoji has been often called "the town of art" due to the congregation of artists here.

Additionally, the writer of this article himself has personally lived in Kichijoji. A compact town that gives the impression of being easy to live in, it has good access to the center of the city, and the large commercial district lets you complete your shopping quickly, not to mention the goods there are relatively cheap. All in all, the place has excellent balance in terms of necessities.
The mecca of subculture only known by those in the know: Shimokitazawa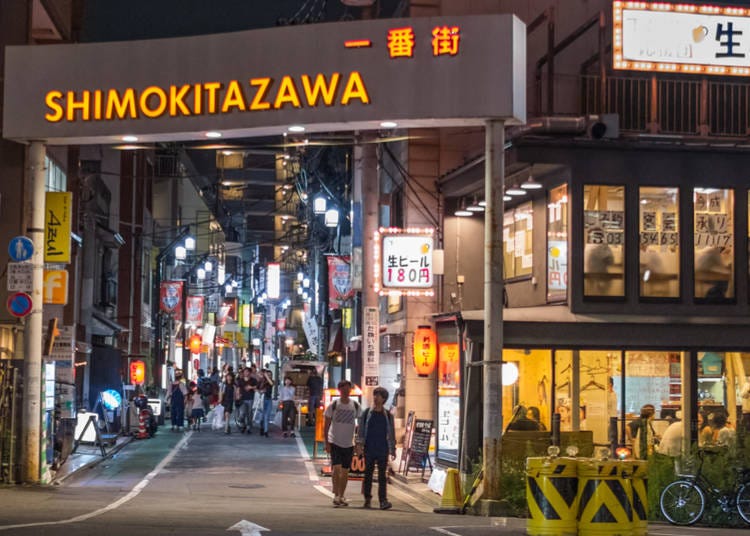 Image credit: MAHATHIR MOHD YASIN/Shutterstock.com
"With lots of livehouses, this place is heaven for music lovers. I often go there to shop for records or CDs. Also, just the right amount of ruralness which makes it easy to live in is one of its strengths. Prices here are also generally low." (Male, 20s)

One station, 3 minutes away from Shibuya station via the Keio Inokashira Line. Filled with budding actors, actresses and musicians. This, is the town of Shimokitazawa. For the performing arts subcultures like music and theatre arts, many youths who aspire to be pros gather here. In truth, many of Japan's famous singers started out from the bottom here to gain experience.

With that said, Shimokitazawa itself does not have any large businesses in the vicinity. Instead, it has many prospering individual stores that have wisps of retroness, as well as coffee shops, livehouses and theatres with a long history, making it a town with a moderate air of modernity and a moderate amount of nostalgia. With the above reasons, many people call Shimokitazawa as their favorite town in Tokyo.

Looking at the responses, many would realize that none of them mention Shibuya or Shinjuku. With that said, places like Shinjuku and Shibuya are to most Japanese the standard place to meet up. In other words, rather than their favorite town, Shibuya and Shinjuku are simply the most convenient place to hang out.

The above 5 towns that were introduced, however, each have established their own unique culture that gives the places its own atmosphere. Precisely because these places have something that cannot be replicated that people call it their favorite town. Among them, many are hidden gems that are not as famous within the international community, which really begs for more visits by tourists. There, one is sure to experience firsthand what truly makes Japanese love Tokyo so much.

*This information is from the time of this article's publication.
*Prices and options mentioned are subject to change.
*Unless stated otherwise, all prices include tax.
Search for International flights