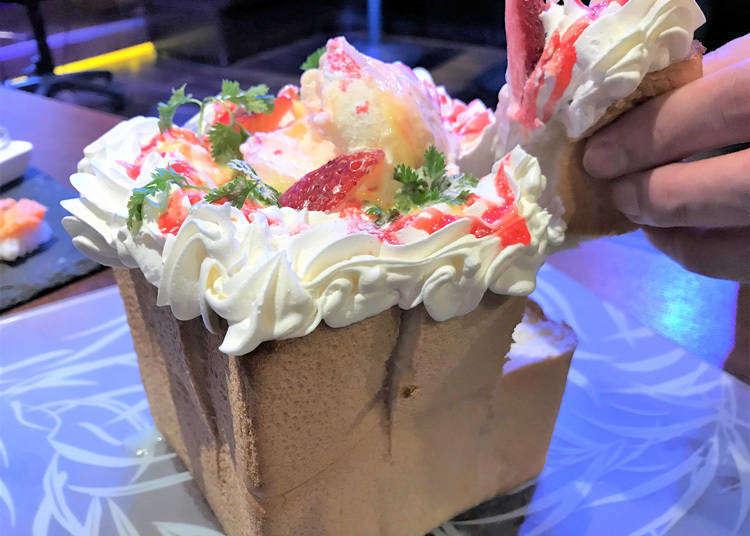 Shibuya, which is famous as one of Japan's representative downtown districts, is also popular for its Japanese youth culture. It is also known as a city that incorporates various generations and cultures.

There are many spots that you can enjoy even at or after midnight. It is crowded with people who enjoy the nightlife until the first train in the morning starts to move. Be sure to check this area out, especially at night.

Here are three recommended spots to enjoy until the first train in the morning!

main image:Pinglabel / Shutterstock.com
Shibuya at night looks like something straight from Hollywood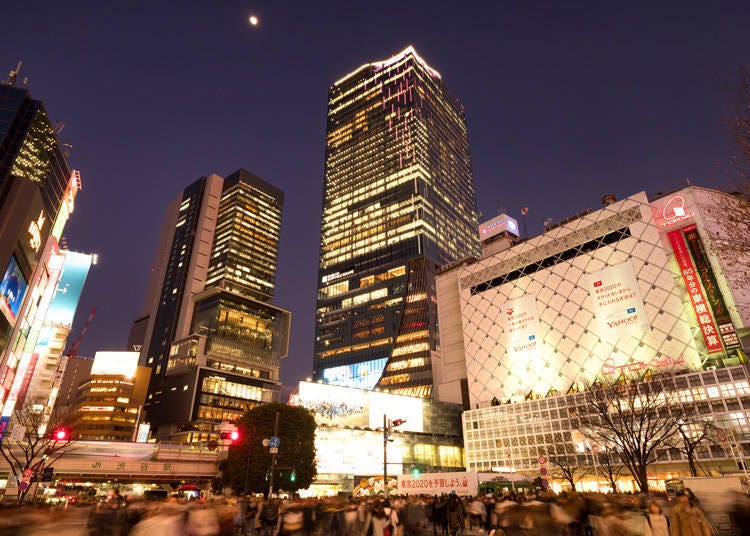 yoshi0511 / Shutterstock.com
Popular destinations in Shibuya include the statue of Hachiko, the famous dog whose story was made into an international movie, and the Shibuya Scramble Crossing, which appears as a filming location for movies and dramas.

Surprisingly, many people say that Shibuya itself is the destination. The cityscape of skyscrapers and the Tokyo-like fashion of the people who come and go are the main reasons to choose this location as a destination.

Shibuya has many spots that you can enjoy during the day, but if you are visiting for the first time, be sure to check out Shibuya at night.

It's sometimes said that Japan has fewer nightspots than other countries, but it's different in Shibuya. At night, giant outdoor advertisements shine in the city of Shibuya, making this area look futuristic. Movie director Sophia Coppola described Shibuya as being "like Blade Runner."

Shibuya at night has many things to offer, such as various types of food, fashion, and culture. Many people gather and visit here even if there are no special events.
1. Mean's Caffe & Bar Shibuya Center-gai: Great value for great pizza and more!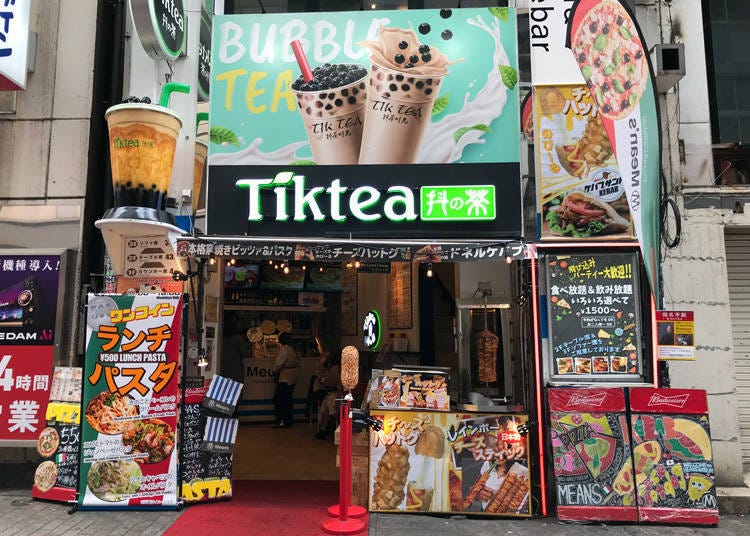 Mean's Caffe & Bar Shibuya Center-gai, which enjoys authentic kiln-baked pizza, is well-located near the Shibuya Scramble crossing and right in the center town. It is open year-round until 7:00 a.m., so it is recommended for both those who want to enjoy it after work or enjoying the sights, or to hang out at after the last train – it is a good spot to wait for the first train of the morning. Many tourists enjoy this spot, probably because of its open-style shop.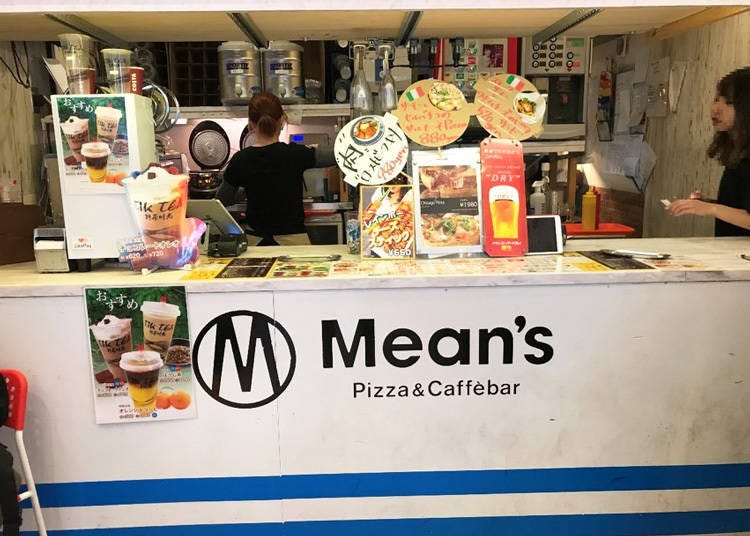 You can choose many things from the menu, including kebab, ajillo, etc. at a great price. The menu also includes authentic Italian food such as pizza and pasta that are carefully individually baked in the stone kiln. They are very proud of their pizzas, which are made with their own recipe and have a chewy crust! The wait time is short, and you can do take-out.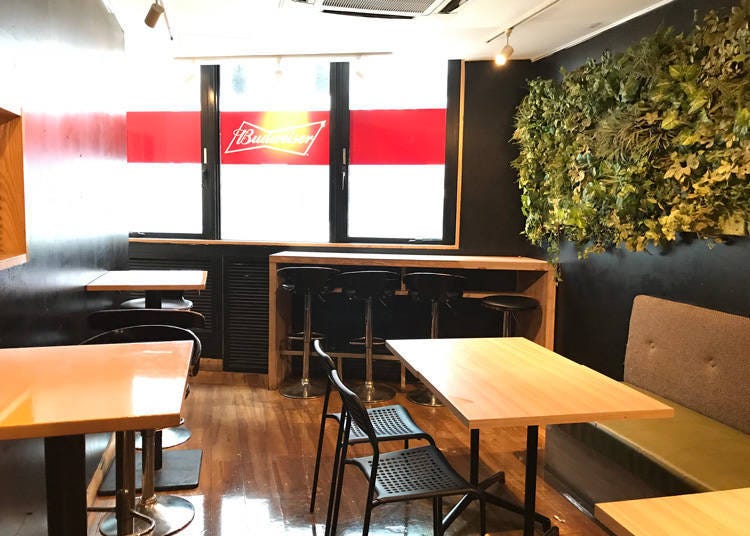 The store is three stories tall. There is a TV monitor on each floor, and when there are big events such as soccer and rugby, this is a great spot to come and feel the excitement of the game in good company.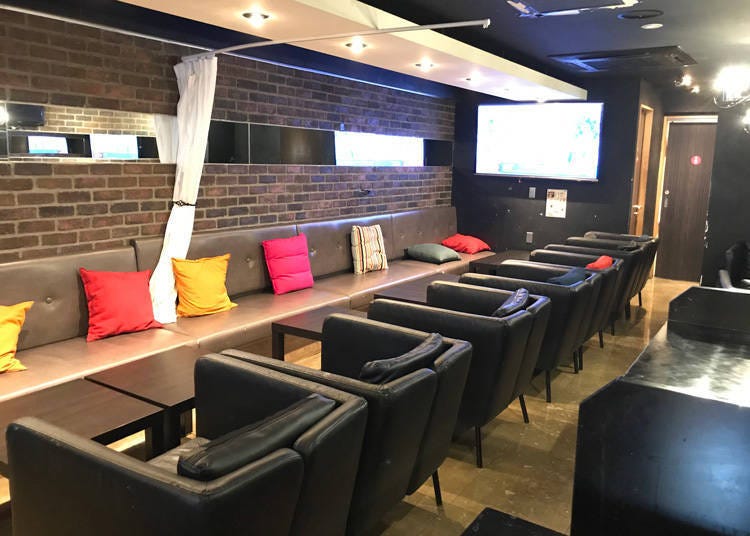 The restaurant can seat up to 300 people.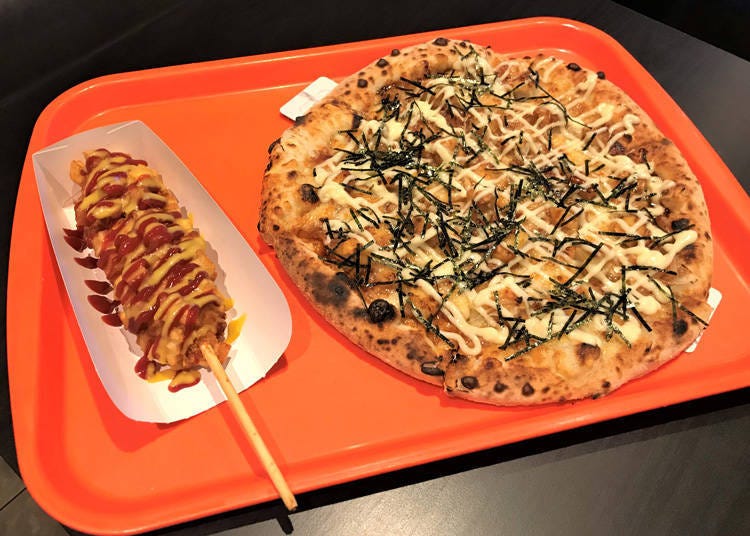 Among the popular menu items, we recommend the Teriyaki Chicken Pizza (right, 860 yen including tax) and Mozzarella Cheese Hot-Dog with Potatoes (left, 550 yen including tax).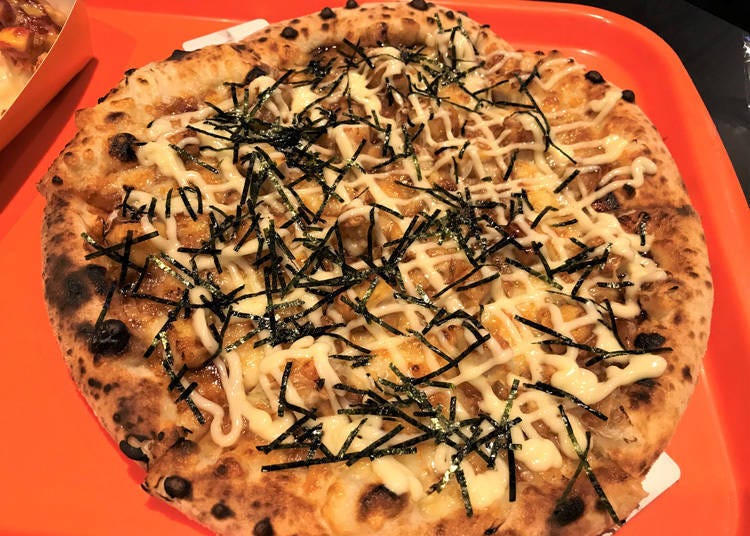 The best combo is mayonnaise and cheese with teriyaki chicken, which is popular among tourists, on a pizza! This is not bad, right?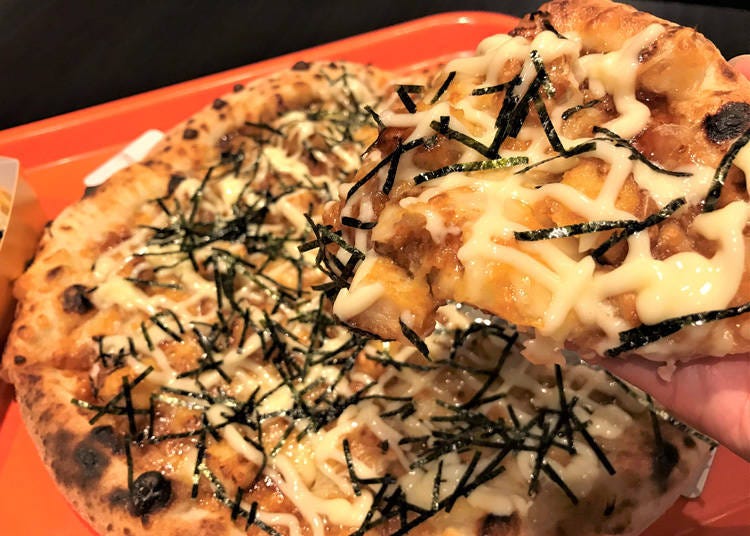 The combination of teriyaki chicken, cheese, and mayonnaise is delicious enough, but the chopped seaweed on the top enhances the flavor. This is a very filling meal for one person.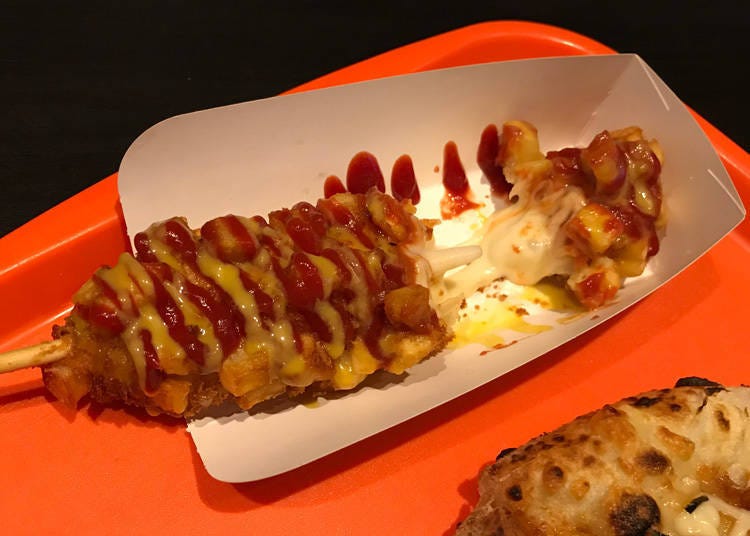 The mozzarella cheese hot dog goes perfectly with mustard. It is recommended for when you are hungry or as a snack when enjoying an alcoholic beverage. It arrives hot, and the melted cheese will spill out when you enjoy it fresh.

Also, this restaurant also offers all-you-can-eat pizza. They also have all-you-can-eat student discounts, so it is an excellent spot for students to enjoy a big meal at a reasonable price.
●All you can eat pizza

All-you-can-eat pizza and all-you-can-drink soft drinks costa 1,650 yen including tax and are available from opening until 6 p.m. All-you-can-eat pizza and fries + all-you-can-drink soft drinks cost 2,178 yen including tax after 6 p.m. No matter when you are there, there is a time limit of 1.5 hours. In addition to the student discount, there are many all-you-can-eat party plans, so it might be good to check in with the shop depending on the number of people.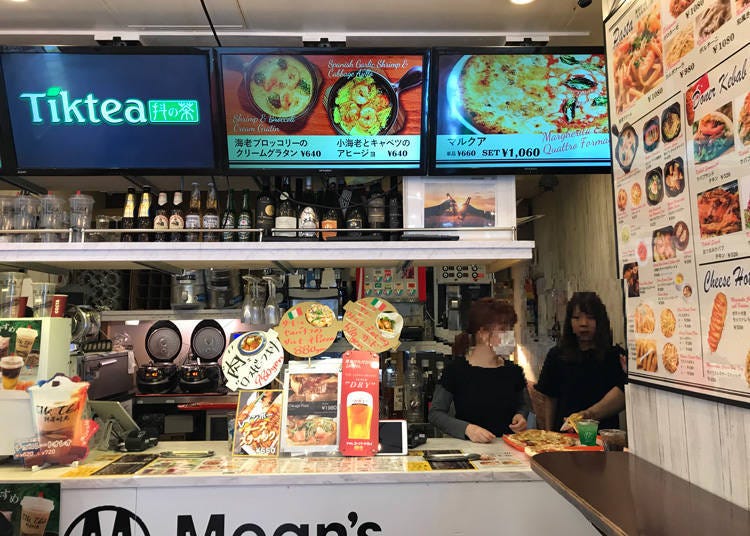 All menus in the store are written in English. The cheerful and cheerful staff are ok with speaking in English, so feel free to talk to them!
Mean's Caffe & Bar Shibuya Center-gai

渋谷 Mean's Caffe & Bar 渋谷センター街店

Address

21-7 Udagawacho, Shibuya-ku, Tokyo 150-0042

Nearest Station

1 minute walk from Shibuya Station


Phone Number

050-5450-1615

Business hours: 11 a.m. to 7 a.m. the following day (Cooking and drink last orders are 6 a.m. the following day)
2. Sakuragaoka Café: A comfortable spot where you can relax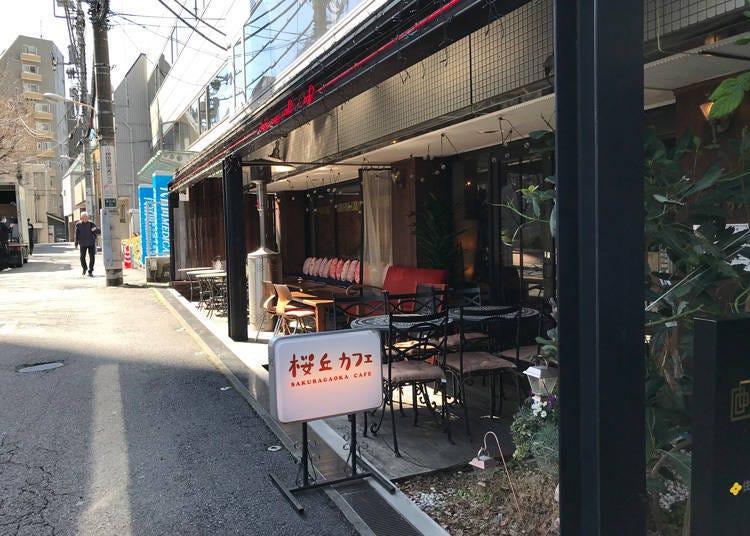 Sakuragaoka Café is located in the Sakuragaoka area where content creators typically gather in Shibuya. It is on the top of the hill with a row of cherry blossom trees and has a spectacular view in the springtime.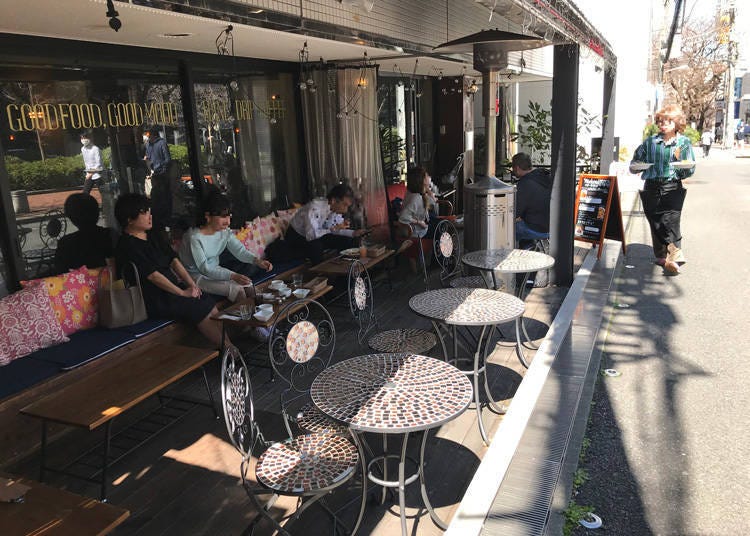 The open terrace has a pleasant atmosphere in the daytime when the sun is shining. There is a laid-back air so that is hard to believe is just a few minutes' walk from Shibuya Station. It is particularly amazing to enjoy this spot during the cherry blossom season.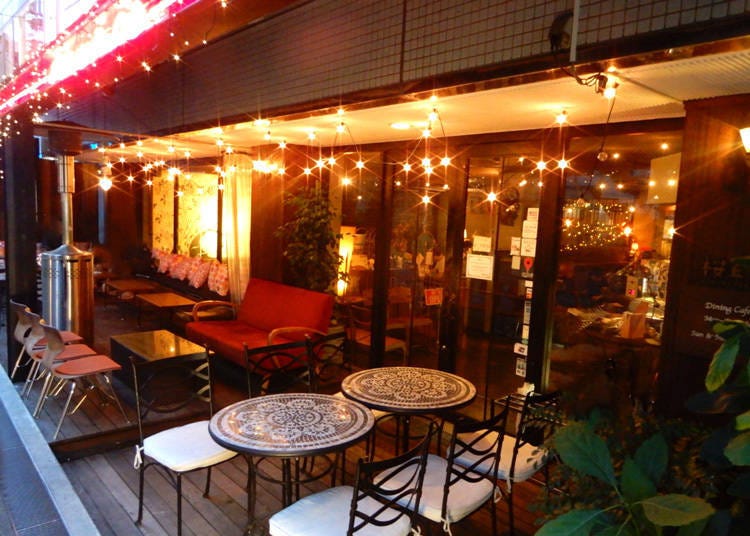 Image courtesy of LD & K inc.
The vibe at night is a calm atmosphere.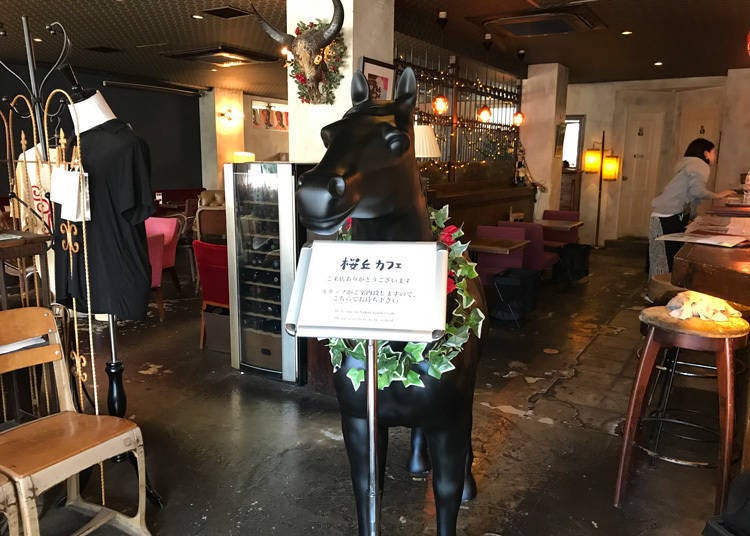 When you enter the shop, you will be greeted by a cow statue.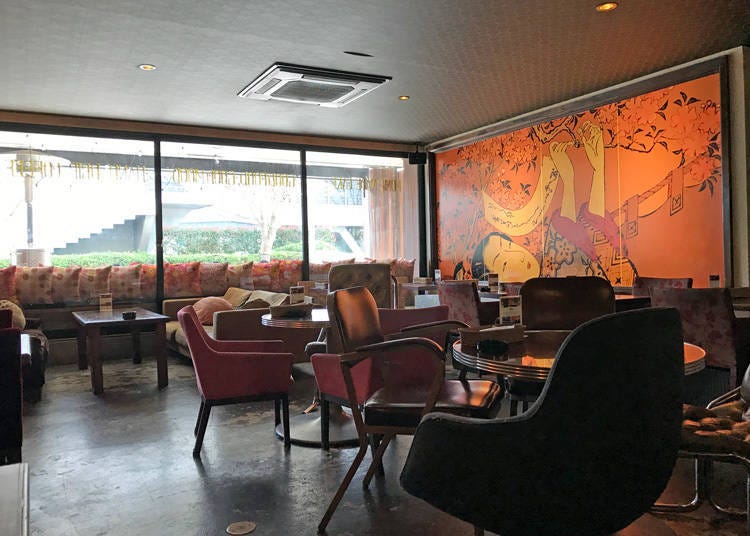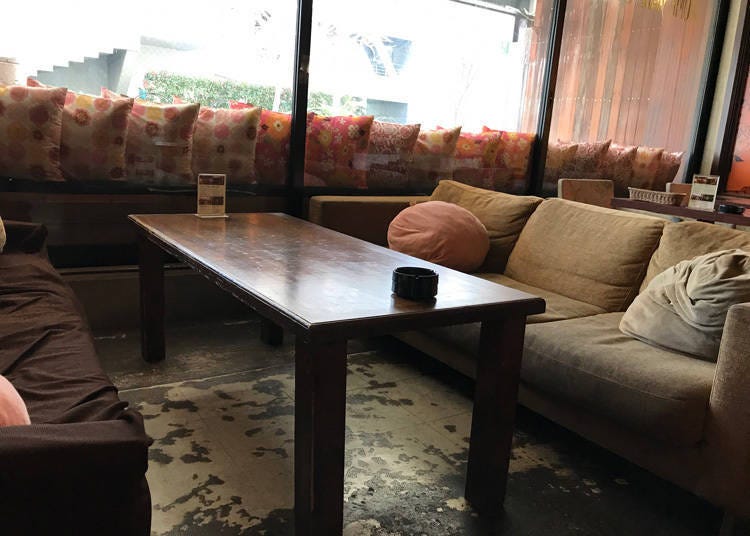 The interior of the store has lots of antiques and has a calm lighting theme. Free Wi-Fi is also available, so it is a great spot to figure out what you want to do with the day or to reflect on the day's events. You can also charge your smartphone or tablet, so is a great spot for tourists to visit.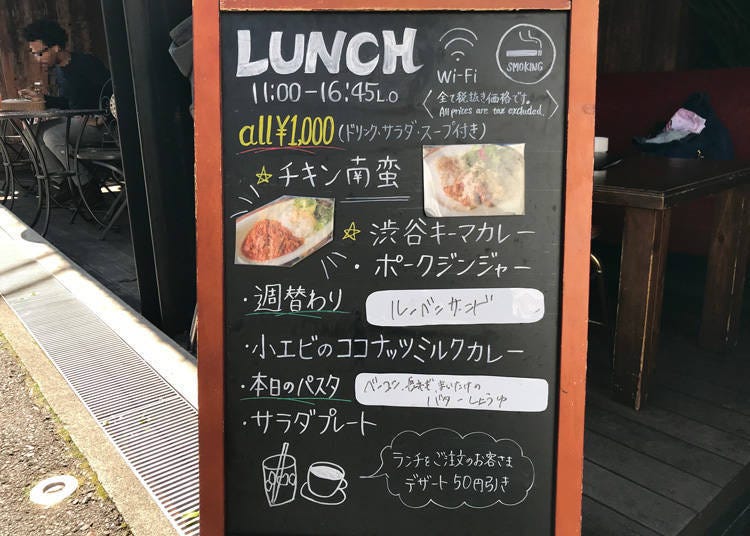 Starting April 1, 2020, this café will become smoke-free, but will have an area on the terrace for smoking.
The menu is packed with a lot of items, including sweet treats, dinner, and a variety of alcoholic beverages. They proudly serve coffee that is a unique organic blend called Udagawa Blend. It has a rich taste, and is prepared drip-style.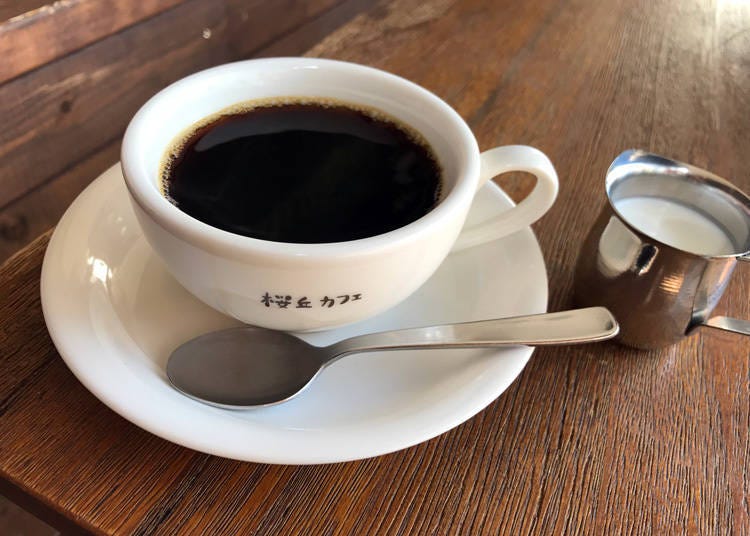 The original blend coffee has a rich aroma and deep taste
If you want a satisfying meal, we recommend Shibuya Keema Curry (1000 yen excluding tax). It is said that a famous chef ranked the Keema curry first place. It contains a lot of minced chicken and vegetables and blends the original spices.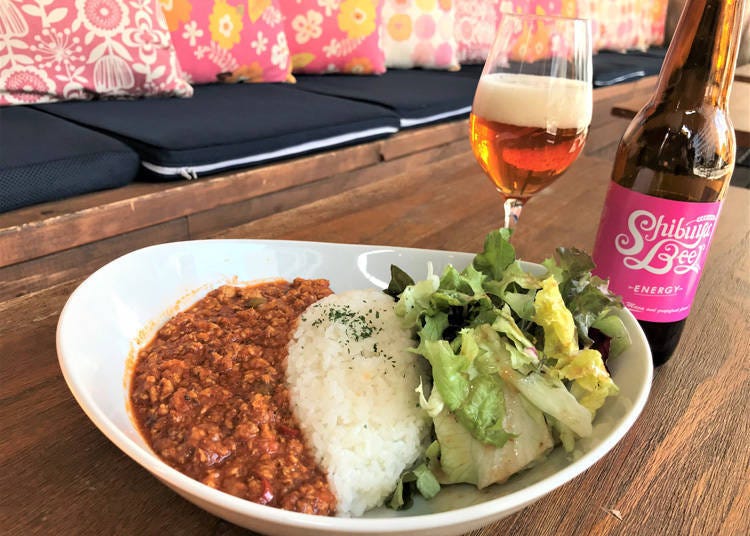 Salad and coffee are included only at lunch time
Keema curry is cooked with water from vegetables, has a slight tomato flavor, and is full of healthy taste! You can easily finish the portion that is served. We recommend the Shibuya Beer (870 yen tax not included), which is an original Energy craft beer made from Sakuragaoka Café that contains maca and raw grapefruit juice. You can enjoy the refreshingly light taste of citrus fruits and is delicious for all, even those who do not usually drink beer.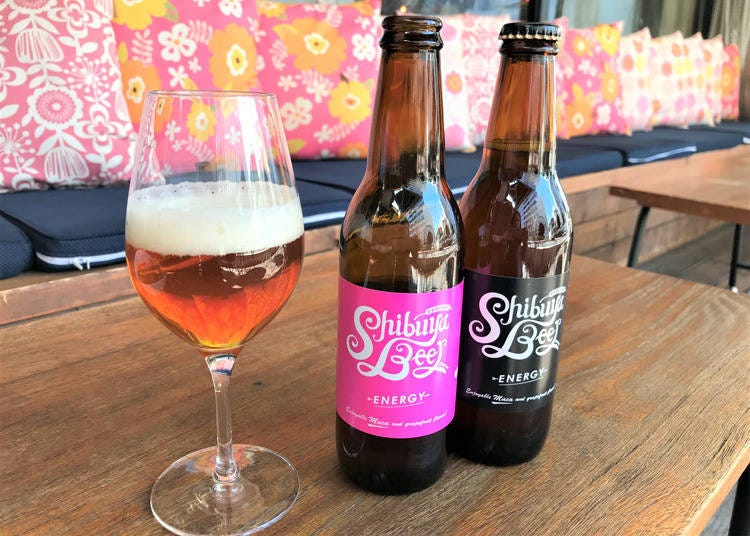 The pink label bottle (left) is available only when ordered in the store. You can purchase Shibuya beer at the department store basement near the shop, but in that case, it will be available only a black label bottle (right).

Sakuragaoka Café is recommended at night-time and is good on your own or when you want to relax as a couple. All the menus in the store are written in English, and the staff can speak English, so feel free to drop in.
桜丘カフェ

Address

1F, Shinoda Building, 23-3 Sakuragaoka-cho, Shibuya-ku, Tokyo 150-0031

Nearest Station

4 minutes walk from the south exit of JR Shibuya Station


Phone Number

03-5728-3242

Business hours: Weekdays (Monday to Saturday) / Holidays 11:00 a.m. ~ 5:00 a.m. next morning
* Closed on Sundays and last days of holidays
Regular holiday: irregular holiday
3. Karaoke Pasela Shibuya: A variety of offerings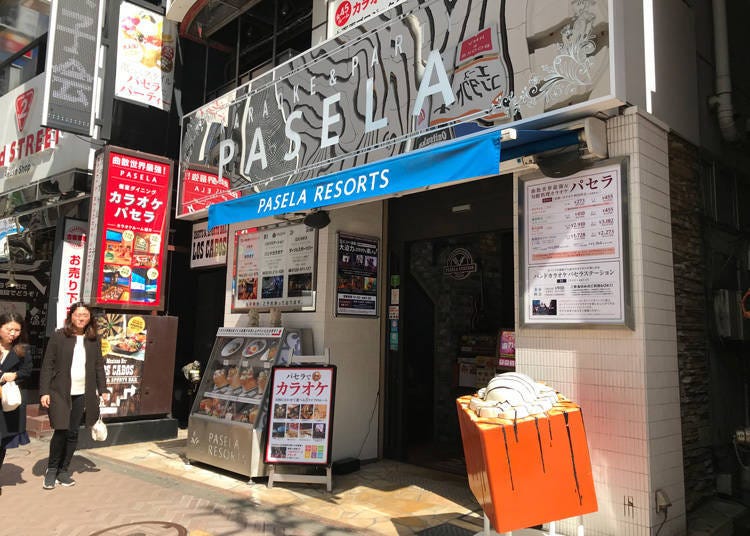 If you want to enjoy the night in Shibuya as a couple or a group, we recommend Karaoke Pasela Shibuya! There are many karaoke boxes around Shibuya Station, but this particular Pasela has the characteristic of "feeling extraordinary" in a spot that is very clean and has a resort feel.

Inside the hall, each floor has a different theme. From the fourth floor and above, you can use private karaoke and banquet rooms. The first floor underground is the Pasela Station, where you can sing with live bands. In addition to the food and drink fees, a room charge is required every 30 minutes or every few hours.

When you arrive, talk to reception about what you want out of your time there. Many staff members are not Japanese, so you may find someone who speaks your language to ensure you get what you want out of your experience that fits in your budget.
Basic charge
・Karaoke Pasela: 300-500 yen per 30 minutes depending on the day of the week and time. There are also rates for several hours and rates that include food. If it is from 10pm to Close, Sunday-Thursday / holiday 450 yen, Friday / Saturday / holiday 500 yen.
・Pasela Station: 1,000 yen per person per hour. 500 yen every 30 minutes. Sofa seat price is 750 yen every 30 minutes.
* Please check the official website for details of each charge.

You can use the private karaoke floor depending on the what experience you are looking for and the number of people in your group. From private rooms for small groups to rooms that are suitable for children, off-meeting rooms with large-screen monitors, VIP rooms and banquets where parties and banquets can be held, the variety available meets the needs of all users. There are a wide variety of private rooms available as well.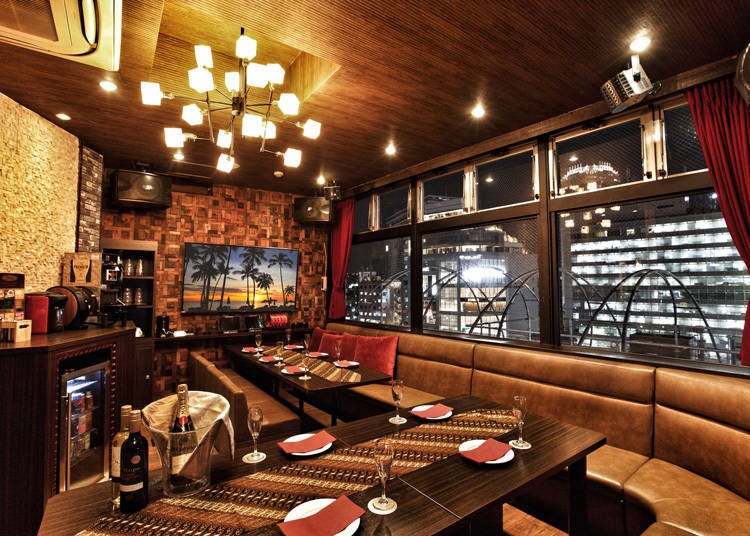 In addition to food and drink, VIP rooms can be used with a room charge of 5,000 yen (tax included) per room.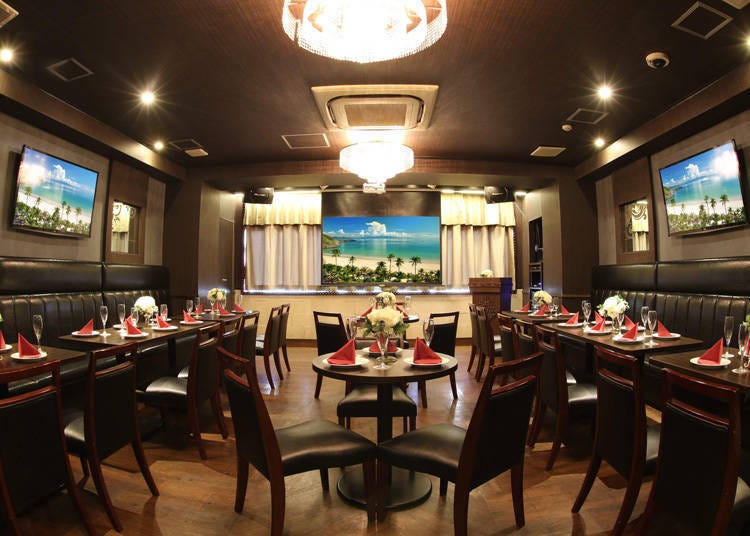 The spacious banquet room is great for wedding parties and parties.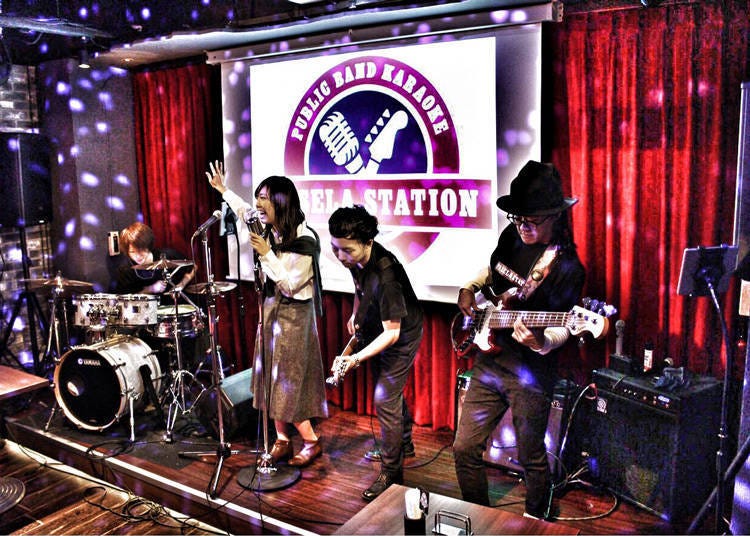 You can sing any song at Pasela Station on the 1st floor underground! You can sing along with a professional live band. The fun only increases as the night goes on.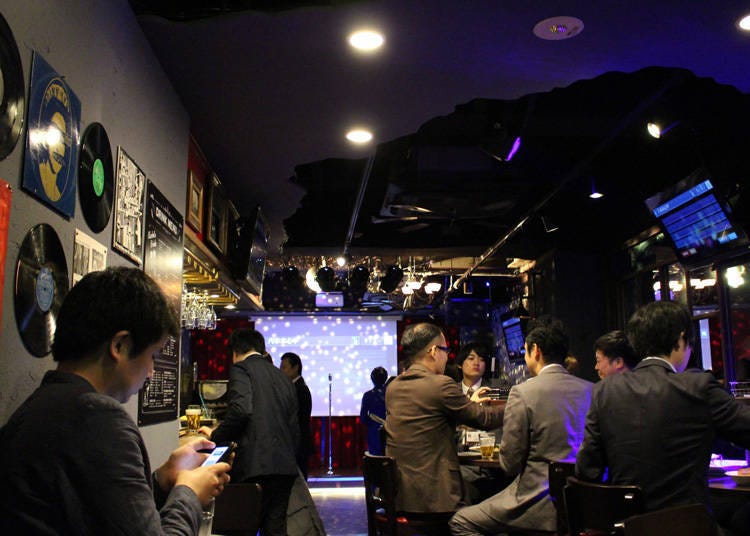 Pasela Station is also available for meals only. There is no charge for up to 1 hour, so just tell the receptionist that you are dining only. You can enjoy food and drinks in the lively atmosphere.

There are also facilities other than private rooms, such as a nursing room, a powder room equipped with a dryer, and a toilet with diaper changing sheets. Perhaps because of that, reservations are often full at "Mama-meets" with children during the day.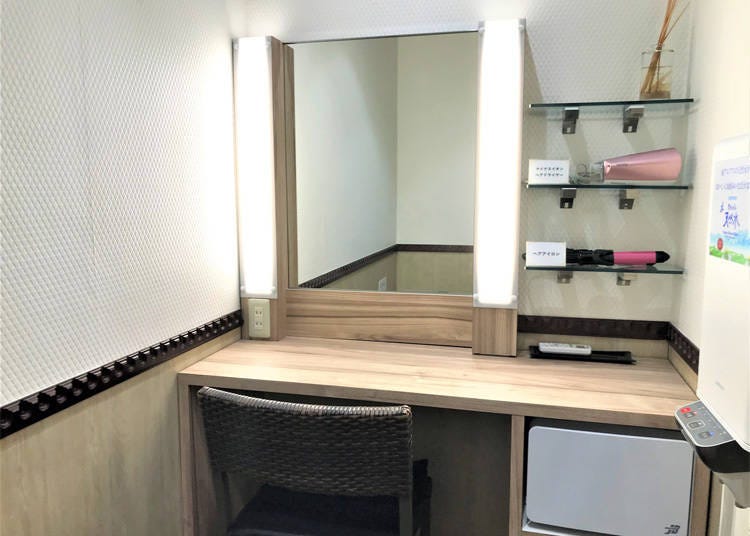 A bright and beautiful powder room
The great thing about Pasela is that it is more than just karaoke - there are many restaurants that offer light snacks and authentic Japanese cuisine. Each has its own chef, and offers sweets, snacks, solid meat dishes and there are menus for children available.

From the wide variety of menus, a popular item for tourists is the stick bar, which is made of vinegar rice in a mold and is elongated (for Shibuya store only). The sushi is easy to eat and is cut into bite sizes to pick it up with chopsticks and dip it in the sauce.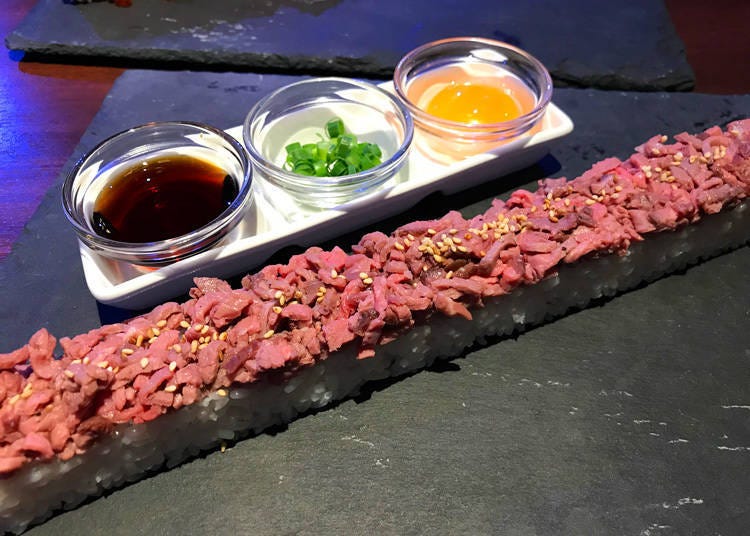 Specialty roast beef sushi (1,500 yen including tax)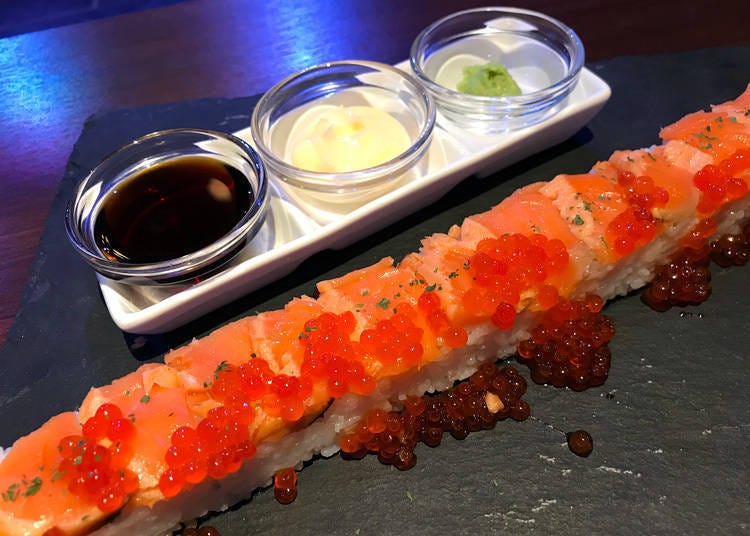 Braised salmon sushi" (1,200 yen including tax)
Also, don't forget Pasela's famous "Hanito" (Honey Toast)! It is no overstatement to say that Honey Toast, which uses a whole loaf of bread and is topped with plenty of honey and ice cream, will be ordered by most people visiting here.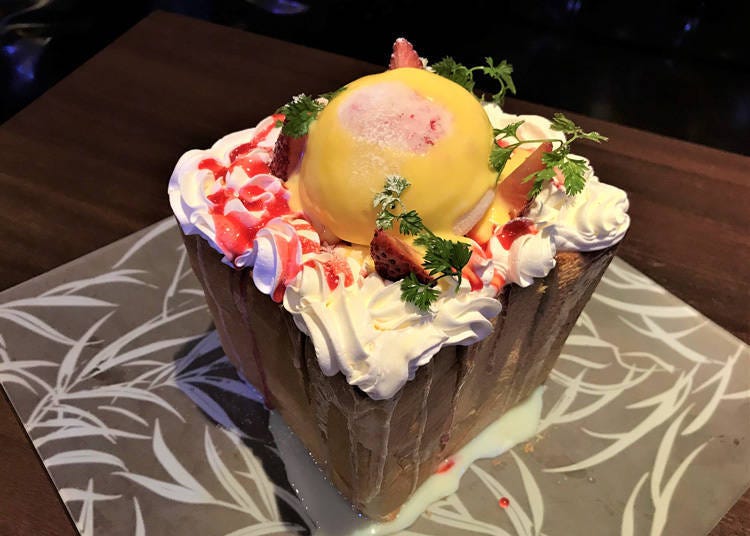 This inspirational, photogenic Hanito is strawberry milky toast with ice cream wrapped in treats (890 yen including tax)! Since it's pretty large, three to four people often share one piece.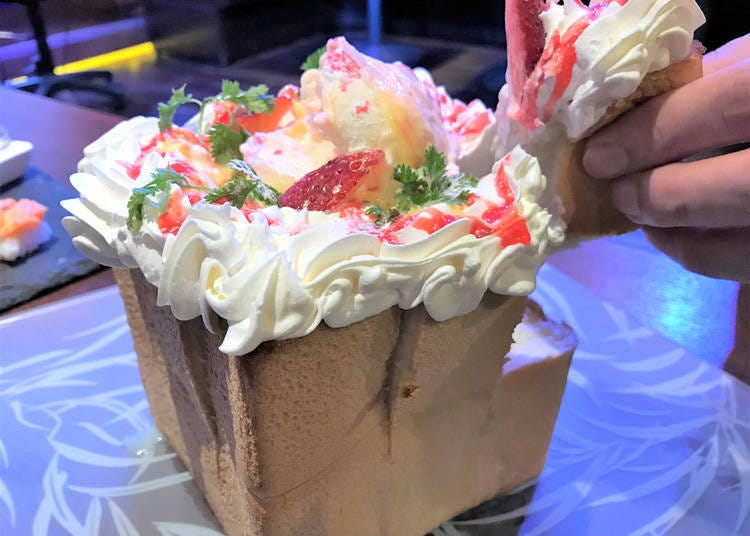 The bread is sliced, so you can tear it with your hands and sprinkle it with whipped cream or ice cream.

Free Wi-Fi is available in the building. Whether you just want to have a little meal, or if you want to spend a whole fun evening here, Karaoke Pasela will meet your needs. It's a great spot to be while waiting until the first train.
カラオケパセラ渋谷店

Address

1-22-9 Jinnan, Shibuya-ku, Tokyo 150-0041

Nearest Station

3 minute walk from Hachiko Exit of JR Shibuya Station
2 minute walk from Exit A7 of Shibuya Subway Station
3 minute walk from the central exit of Shibuya Station on the Inokashira Line


Business hours:
Karaoke Pasela:
Sunday-Thursday 12 p.m. – 6 a.m. the next morning
Fridays and days before public holidays: 12 p.m. to 8 a.m. the next morning
Sat: 11 a.m. ~ 8 a.m. the next morning
Sundays and public holidays: 11 a.m. to 6 a.m. the next morning
* Business hours vary depending on the floor.

Pacella Station:
Monday-Friday: 7 p.m. to 5 a.m. the next morning
Saturdays, Sundays, and holidays: 11 a.m. to 5 a.m. the next morning
Regular holiday: Open daily
Shibuya is one of the best downtown areas in Tokyo, and many stores are open until midnight. Shibuya is attractive because you can enjoy it all without worrying about the last train, so why not try Shibuya at night?

Written by Chiei Kurabayashi, Dali Corporation

*The above article is based on information from June 2020
*This information is from the time of this article's publication.
*Prices and options mentioned are subject to change.
*Unless stated otherwise, all prices include tax.
Limited time offer: 10% discount coupons available now!