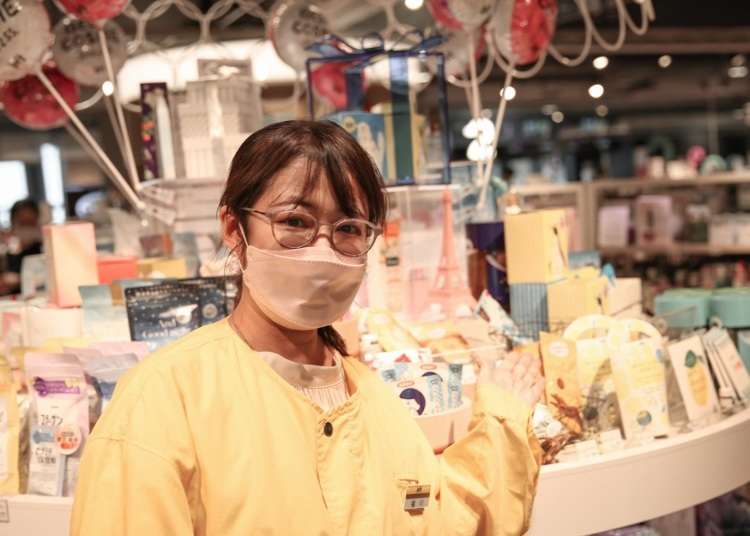 Summers in Japan are known for high temperatures, high humidity, and uncomfortable weather. And so far, summer 2022 has been hotter than usual. But don't worry - Shibuya Loft has you covered!

With lots of innovative, new trends to bring some relief to your muggy Japanese summers, here are some of the latest, attention-grabbing goods to help you chill out for summer 2022.
Beat the Heat with Popular Summer Goods from Shibuya Loft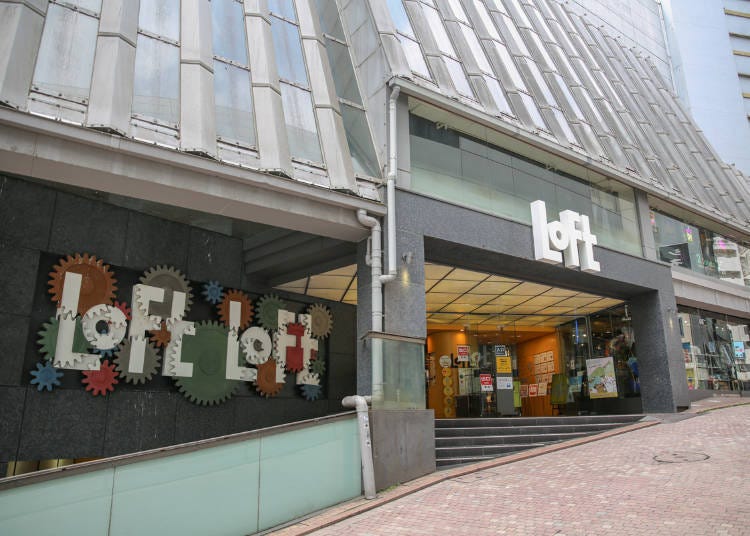 Look for the colorful gears at the entrance!
Loft is a shop specializing in miscellaneous daily goods that are popular in Japan, including stationery, character goods, cosmetics, kitchen wares, and interior items.

Today we visit Shibuya Loft, the flagship store just a 5-minute walk from Shibuya Station. With seven floors and about 80,000 goods to choose from, Shibuya Loft is a hub for Japanese trends that always has the latest items on hand.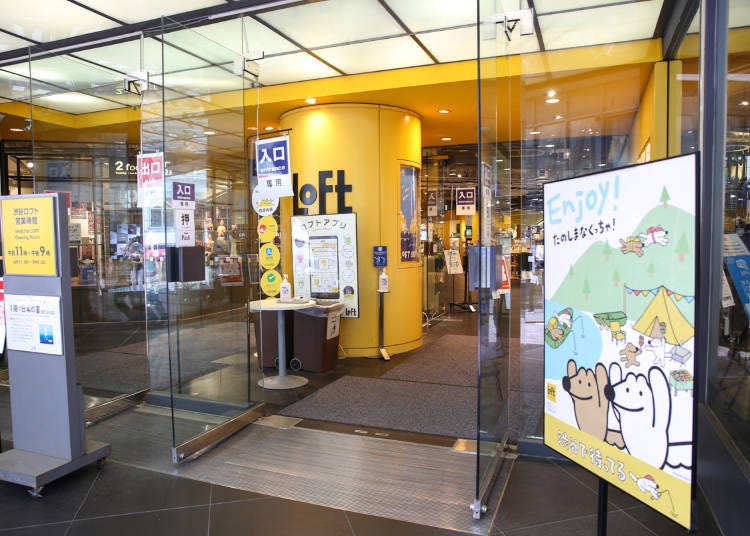 To prevent coronavirus infection, the entrance and exit are separated in a one-way direction, with a temperature checker and alcohol disinfectant at the entrance.
As a measure against Covid-19, entrance and exit doors are separate, and thermometers and hand sanitizer is available at the entrance.

Koyumi Yokokawa of Loft's Public Relations Office walks us through Shibuya Loft's latest summer items to help you beat the heat.

"Many people are spending more time at home now, so home goods are gaining popularity. Innovative and functional items, such as handy fans and eco-friendly goods that don't require charging, are also selling well," says Yokokawa in regards to 2022's popular items.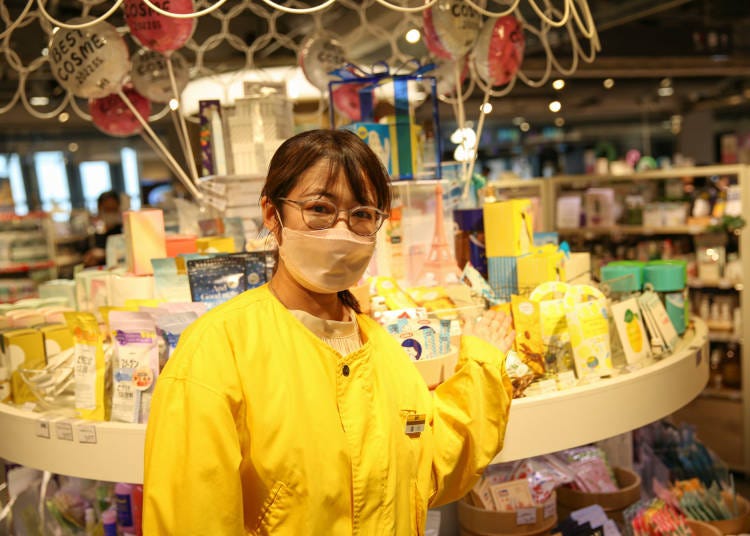 1. Tempo Breeze: Fan + Plate Hybrid Neck Fan (8,778 yen)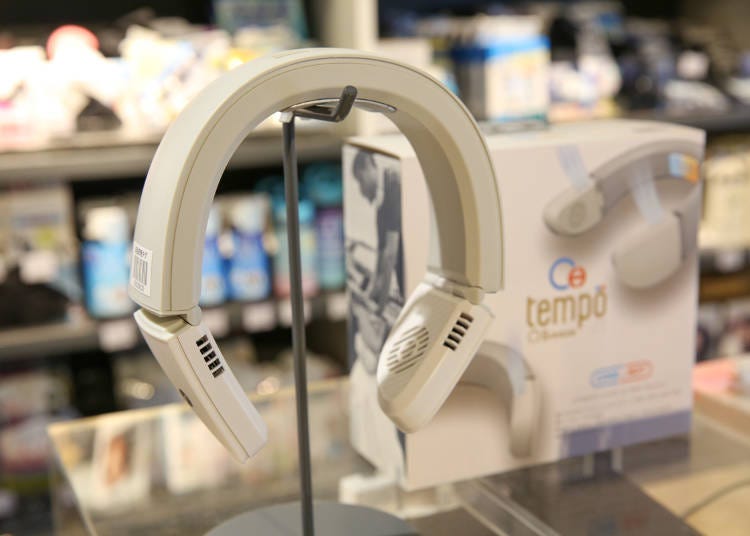 Find the latest small fans in the special corner on the first floor
Tempo Breeze is a convenient, hands-free neck-mounted fan. The stylish design features a curved shape that comfortably fits around the neck. With three speed settings, this fan helps you keep your cool, no matter where you are!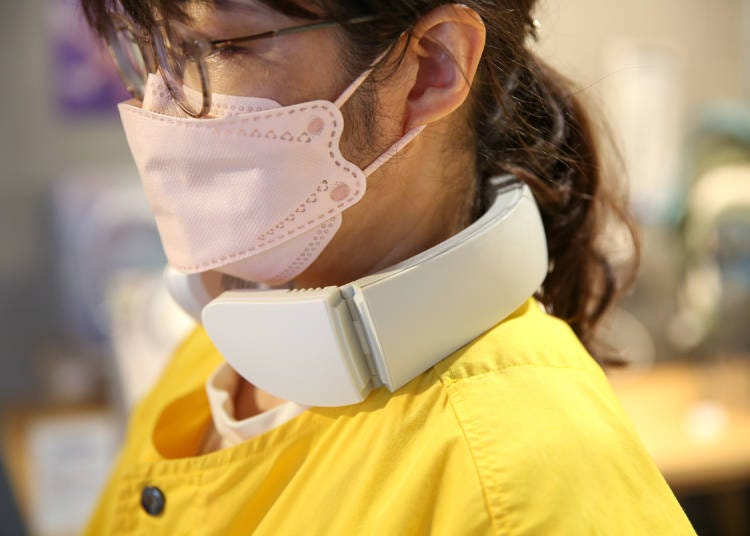 Another feature is the neck plate, which uses thermoelectric cooling for maximum comfort. Once you switch on the power, you'll feel its cooling effects on your skin right away. It also includes a warm setting, making it a must-have for any season. You may also want to use the warming option during the summer if the AC is too cold!

According to Yokokawa, the warm setting is also good for loosening up a stiff neck. She says, "Japan also boasts an amazing assortment of relaxation goods."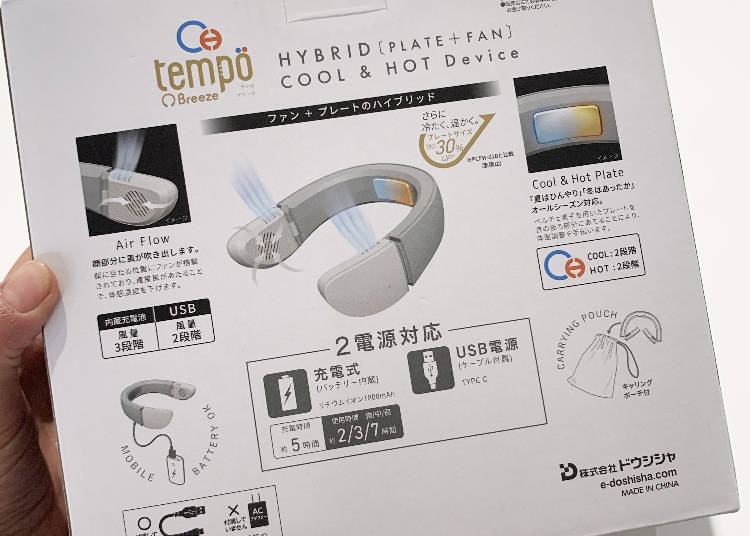 2. Kakigori Bath Salts: For a Cool and Refreshing Bath Time! (198 yen)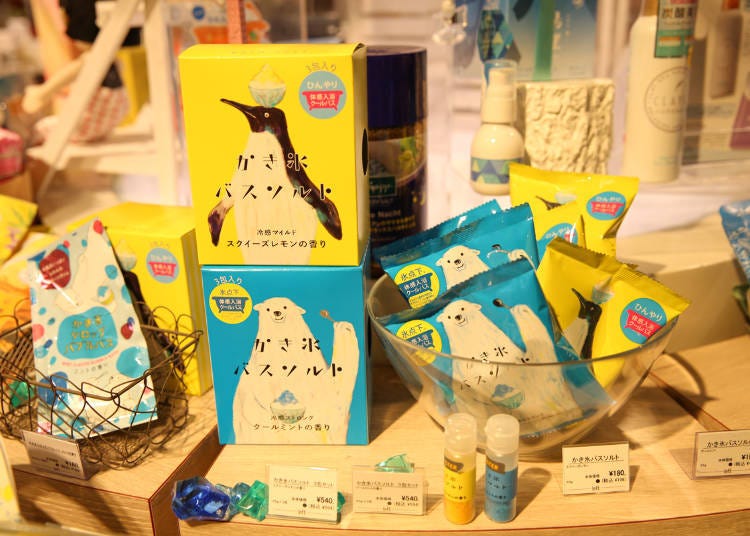 Bath salts are located on 2F
Baths are an important part of Japanese culture, even during the hot summer months. In recent years, due to changes in work habits brought on by Covid-19 and prolonged hours spent on our phones and at the computer, more people are turning to baths as a means to relieve stress and fatigue, even in the summer.

For these cases, we recommend Kakigori Bath Salts (55g). Ingredients include menthol and peppermint oil, which let you feel cool and refreshed, even after a hot bath. Look for the adorable penguins (Squeezed Lemon Scent) and polar bears (Cool Mint Scent) on the packaging. These also make great gifts!
3. Coolist Scalp Cooler: The Solution for 'Too Hot' Hair Dryers! (1,320 yen)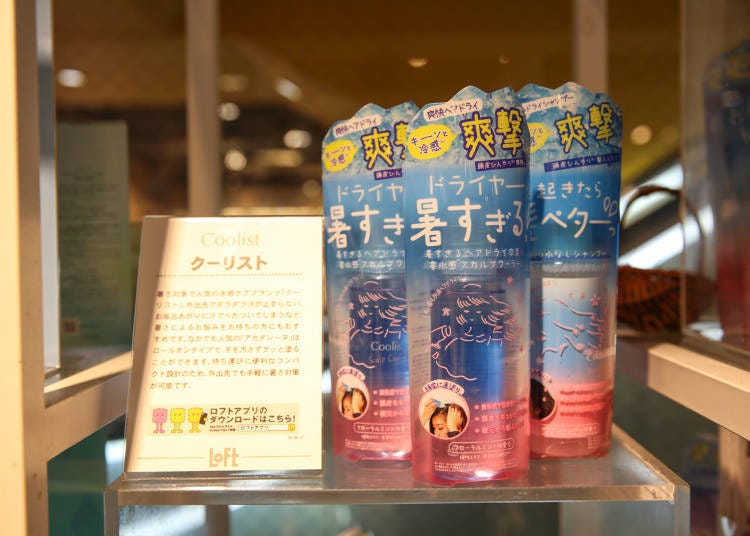 Hair care products are also located on 2F
One of the biggest bath-time woes of summer is having to use a hot hair dryer afterward. Even if you manage to relax and refresh in the shower or bath, what's the point if you're covered in sweat again soon after, thanks to the hair dryer? Coolist Scalp Cooler (100 ml) solves that problem! Apply directly to your scalp and massage thoroughly after washing your hair. Then, use your hair dryer as usual - only this time, without the discomfort!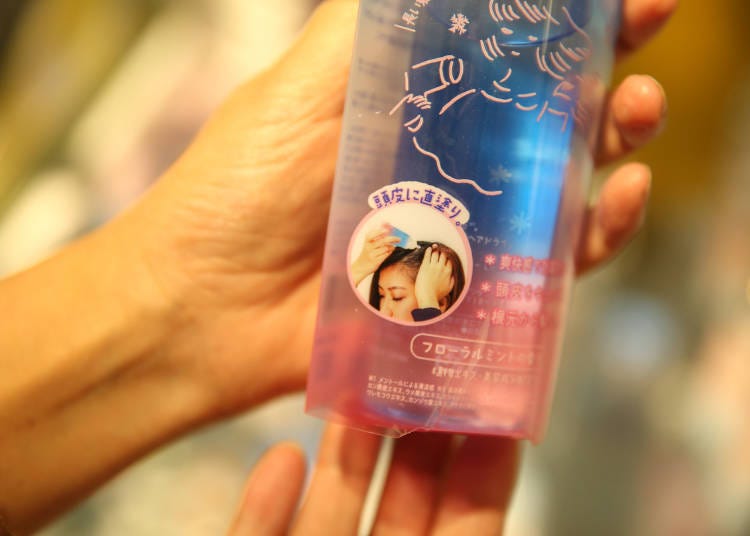 The temperature you feel when using a hair dryer is -5℃! When you apply this product, you'll feel a cooling effect on your scalp, even as you dry your hair. The smoothing ingredients prevent root buildup from sweat and sebum for softer, fluffier hair. It also includes 12 kinds of plant extracts and cosmetic ingredients that moisturize the scalp and relieve damage caused by UV rays and sweat.
4. Wonder Honey's Cool Fresh Hand Spray: Keep Your Cool at All Times (880 yen)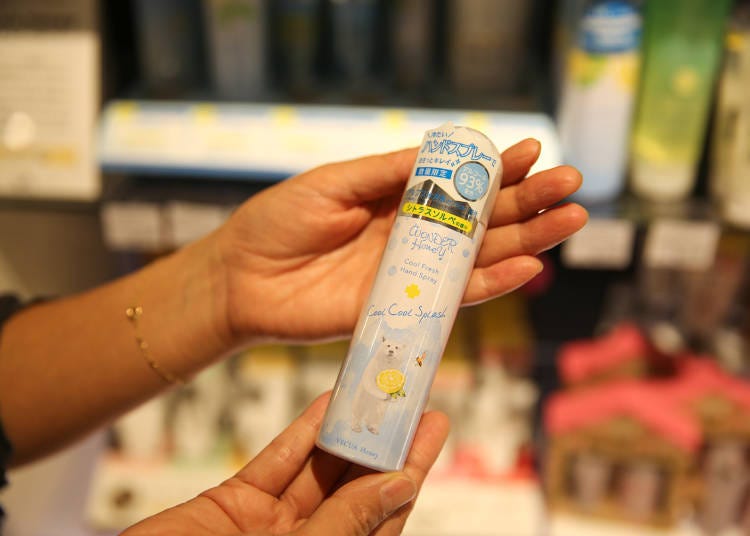 Hand care products also located on 2F
Hand sanitizer has become an indispensable part of the age of Covid-19. In Japan, alcohol-based sanitizers are installed at the entrances of nearly every commercial facility. Many people also carry their own personal sanitizers to use before meals or after riding the train.

If this sounds like you, then we recommend Wonder Honey's Cool Fresh Hand Spray (40g). Disinfect your hands during the hot summers with this refreshing, cooling sanitizer spray. It contains alcohol but dries quickly and leaves your hands feeling smooth immediately after use.
5. Hinyari Handy Sorbet: A No-Mess, Gel-Type Hand Cream (880 yen)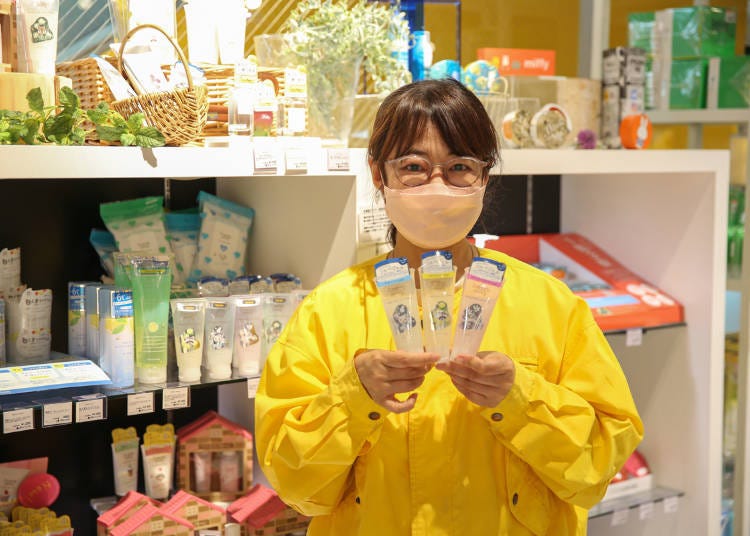 As hand-washing and alcohol sanitizers are becoming more commonplace, so are people suffering from rough, dry hands. Hand cream has recently become another personal staple, just like lip balm.

"Wonder Honey's hand creams are popular with young women. It's a brand with a good reputation for cute designs, pleasant scents, and convenient usability. Today we're introducing the summer version of the brand's hand gel." (Yokokawa)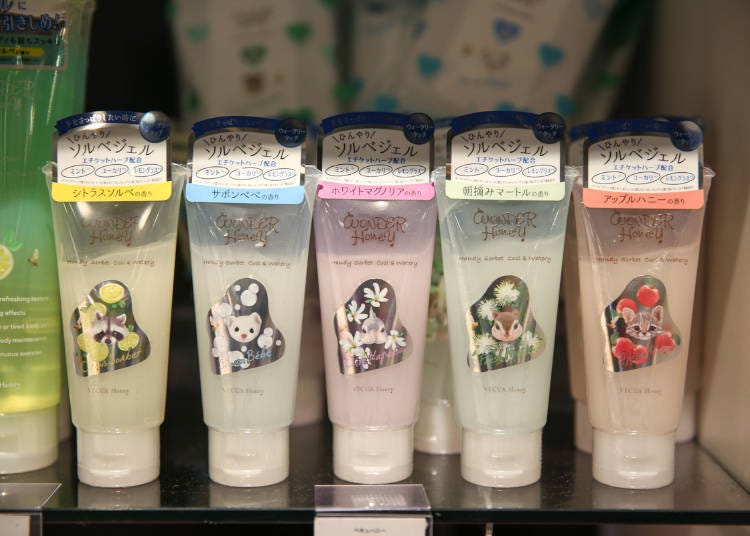 Five scents available. The most popular is the light, fresh-towel scented 'Sabonbebe'
Hinyari Handy Sorbet (50g) is a gel-type hand cream with a sherbet-like texture and hand-softening effects. It isn't sticky, and feels even cooler when hit by a breeze after application, making it the perfect item for summer hand care! It can also be used for sweaty arms and neck.
6. Cool Fukudake Shower and Cool Fukudake Shower Kitami Peppermint: A One-Sheet Solution to Sweat, Odor, and Heat (304 yen / 396 yen)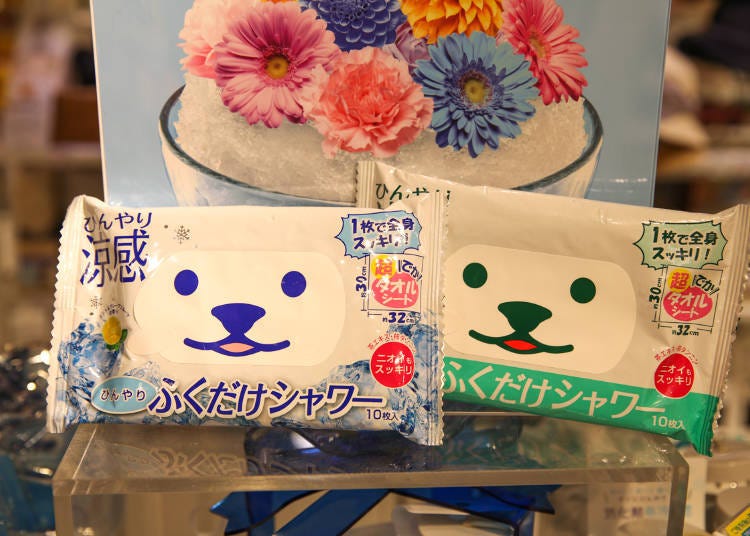 Mint & Grapefruit Scent (left) and Kitami Peppermint Scent (right). Available on 2F
"This item is popular every year, and is selling particularly well in 2022," Yokokawa explains. Cool Fukudake Shower is a wet towel product (about 30cm x 32cm) containing cooling ingredients that you can use on the entire body.

"It's great for when you don't have time for a full bath or shower, with great deodorizing effects. It's a must-have item for any situation where sweating and body odor is a concern, such as playing sports. It's popular due to its versatility and can be used by various people in various settings." (Yokokawa)
7. Frisk Cold Spray: An Invigorating Refreshment for the Skin! (1,078 yen)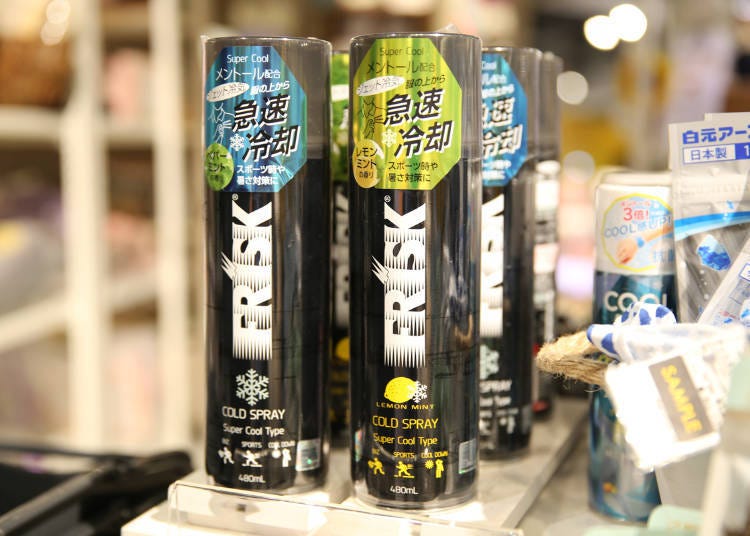 Peppermint Scent (left) and Lemon Mint Scent (right). Available on 2F
'Frisk' is a refreshing mint candy that's gained popularity all over the world. And now you can experience the exhilarating sensation of Frisk mints in a spray! 'FRISK COLD SPRAY' (480ml) is a cooling spray that you can apply right over your clothes, uplifting both your scent and your mood while offering relief from the heat. You can also spray it on a wet towel to use as a cool compress against heat stroke.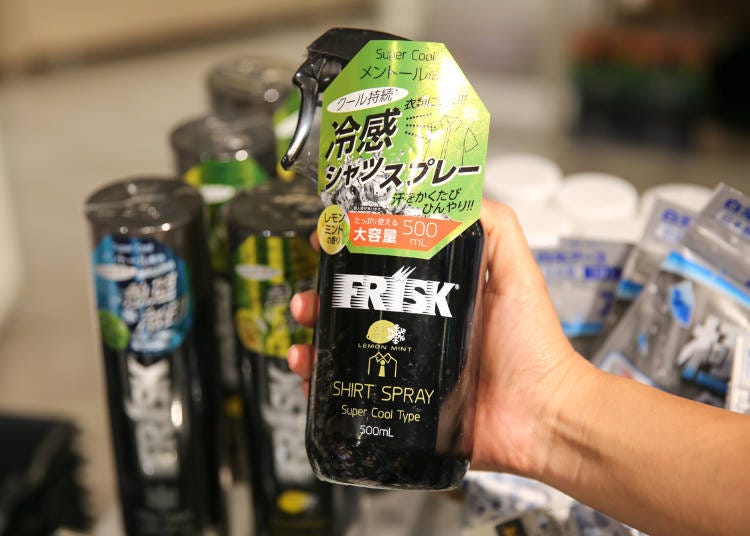 Frisk Cool Spray (1,078 yen)
Frisk also offers a Shirt Spray (500ml), which you apply to clothing in advance for a refreshing, cool feeling whenever you sweat. Also safe to apply it to bedding and sheets for a more comfortable sleep.
8. Rechargeable 2-Way Clip Light Fan: A Portable Fan You Can Use Anywhere! (2,178 yen)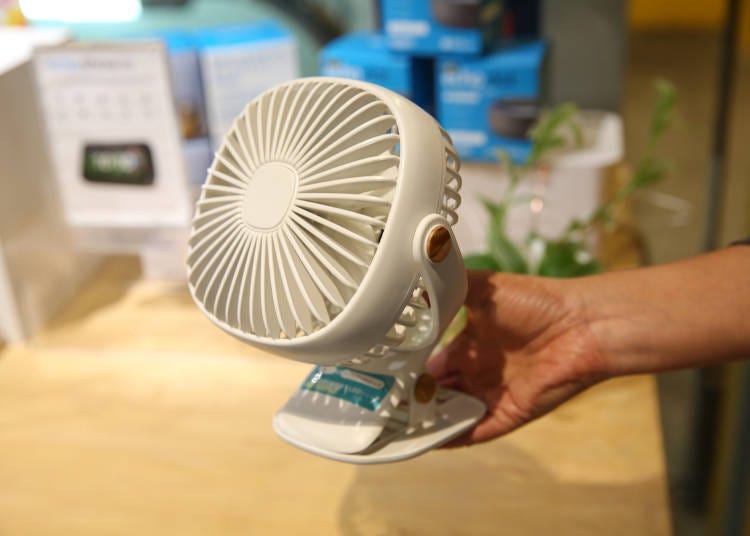 Lightweight and easy to carry in one hand!
Portable fans are growing in popularity as people spend more time at home. Standard types are cordless and compact, and convenient to carry anywhere in the house, whether cooking, eating, doing your make-up, washing up, working, or simply sitting at your desk.

*Item may be out of stock

This Rechargeable 2-Way Clip Light Fan boasts a 360-degree adjustable design that sends cool air in any direction. The convenient clip also makes it possible to use in a stroller or your car. The clip can also convert to a stand for use as a desk fan. The 2-setting LED light also makes it convenient to use in your bedroom, without having to turn on your light.

"You can also use it to dry the laundry hanging in your room. The battery lasts about three hours, so you can turn it on before going out, and it will stop automatically before you get back." (Yokokawa)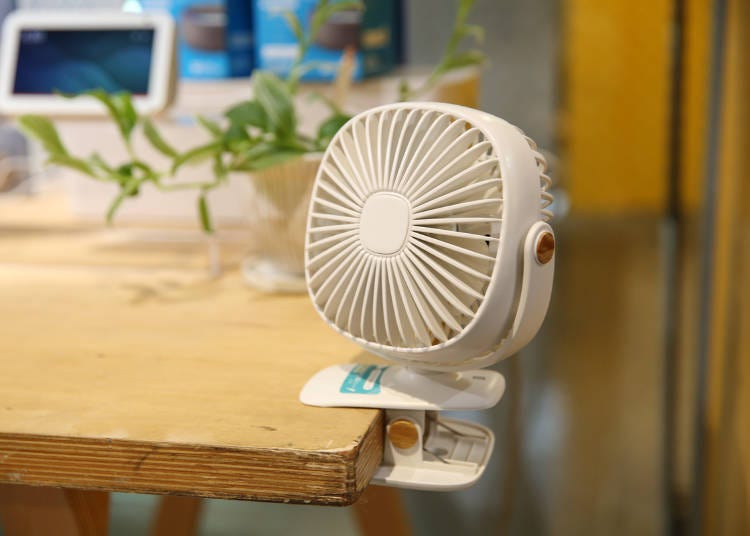 Located in the 4F interior corner
An Extensive Product Lineup, Perfect for Souvenir Shopping!
In addition to the seasonal products introduced here today, Shibuya Loft sells a number of goods, including water bottles, folding umbrellas, and stationery, as well as items that make great souvenirs! There's also a multilingual staff, so even if you can't speak Japanese, don't hesitate to ask for help - the team will certainly be happy to assist!

Electronic payments are accepted, such as UnionPay card, Alipay, WeChat Pay, and UnionPay QR. Don't forget to use the duty-free counter on the 6th floor!


Health & Safety Measures
Indoor disinfection measures taken - Sanitizer installed - Disinfected after each guest leaves - Ventilation measures in place - Coin trays used - Plastic partitions installed - Staff wear masks, gargle, wash hands regularly, and monitor body temperature - Limited capacity/increased space between seats - Entry declined to anyone who is feeling unwell - Masks requested/temperature check enforced

Services for foreign guests
Multilingual support (hardware) - Multilingual support (software, staff availability, etc.) - Multilingual support (website, SNS, etc.) - Multilingual support (telephone) - Tax free service - Coupons and discounts for foreign visitors - Free WiFi available - Credit cards accepted - Wheelchair and baby stroller accessible - Contactless payment accepted - Commitment to SDGs
渋谷ロフト

Address

21-1 Udagawa-cho, Shibuya-ku, Tokyo 150-0042

Nearest Station

3 min. walk from Exit A3 of Shibuya Station on Ginza Line, Fukutoshin Line, Hanzomon Line and Tokyu Denentoshi and 5 min. walk from Hachiko Exit of JR Shibuya Station.


Hours: 11:00 a.m. to 9:00 p.m.
Closed: Open daily
All prices include tax unless otherwise noted.
*These products were available at the time of the June 22, 2022 interview.
Please note that items may be out of stock and prices are subject to change.

Written by: Kurashisa
English translation by: Krys Suzuki
*This information is from the time of this article's publication.
*Prices and options mentioned are subject to change.
*Unless stated otherwise, all prices include tax.
Limited time offer: 10% discount coupons available now!