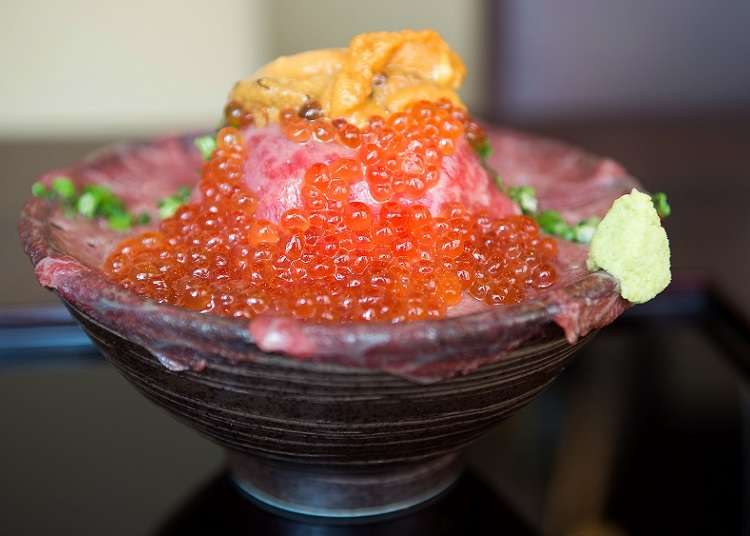 People have been consuming 'donburi' (rice bowls) in Japan since the Edo Period (1603-1868). Donburi typically consist of a generous helping of white rice, topped with various ingredients, such as seafood or beef. And while many enjoy these popular donburi on their own, if you head to the hip and trendy town of Shibuya, you'll discover an exciting variation that lets you enjoy both at the same time!

This dish is called the 'Meat Dress Kaisendon' and is an indulgent donburi dish combining A5-rank Japanese Black beef and Hokkaido sea urchin and salmon roe in one bowl.

The shop, which has the same name as the dish, has become a social media hit since its opening in 2019. Even today, it's not uncommon to experience a 30-minute wait when visiting on weekends.

Here, we'll introduce everything you need to know about Meat Dress Kaisendon, and its must-try dish that lets you sample the finest Japanese beef and seafood in Japan!
Meat Dress Kaisendon: A Specialty Donburi Shop in the Trendy Town of Shibuya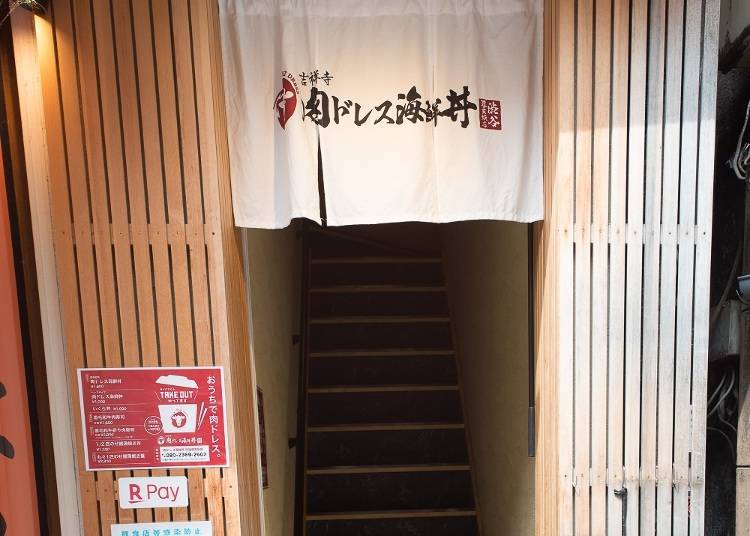 Shibuya is a hotspot for trendsetters, packed with cutting-edge food and fashion. There are lots of attractions and shopping centers, including the newly-opened (as of 2020) Miyashita Park, the Shibuya Scramble, and Shibuya Hikarie.

The shop is Kichijoji Meat Dress Kaisendon, Shibuya Dogenzaka branch, located a 3-minute walk from Shibuya Station's A0 Exit. The entrance is easy to miss, so just keep an eye out for the landmark signboard with the giant image of the Meat Dress Kaisendon - it's much harder to overlook!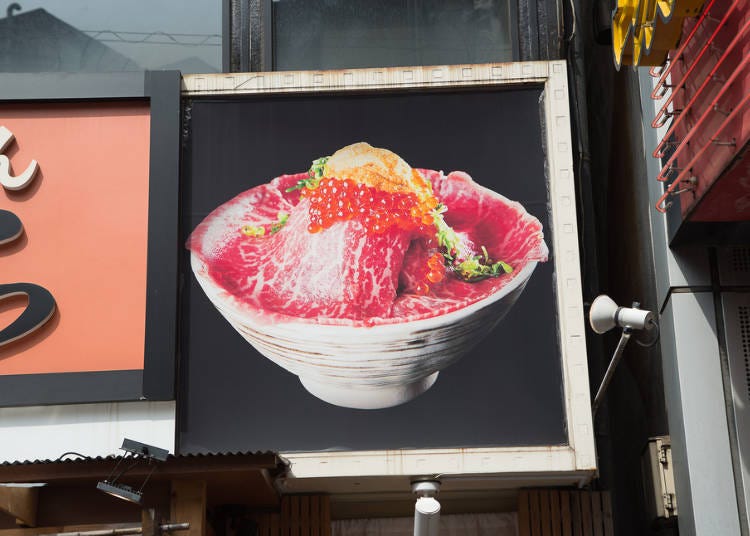 The street signboards are written in both English and Japanese. Head up to the second floor, where you'll see white curtains. This is the shop.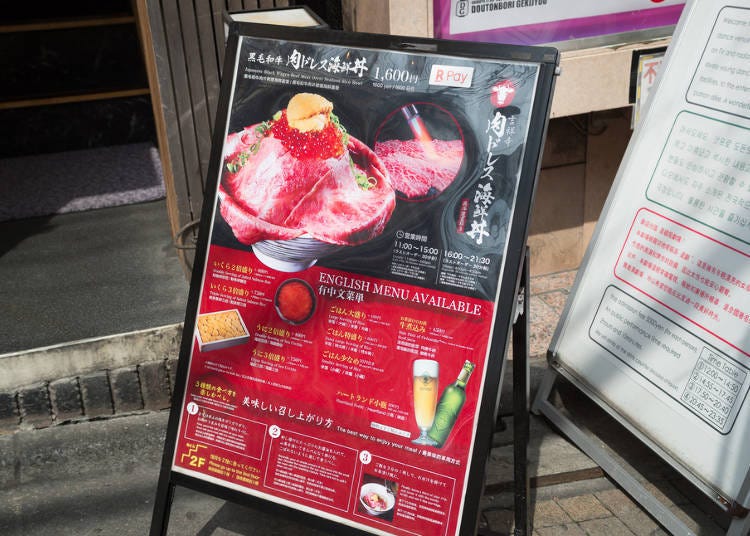 The Popular Dish that Made this Shop a Specialty Donburi Restaurant!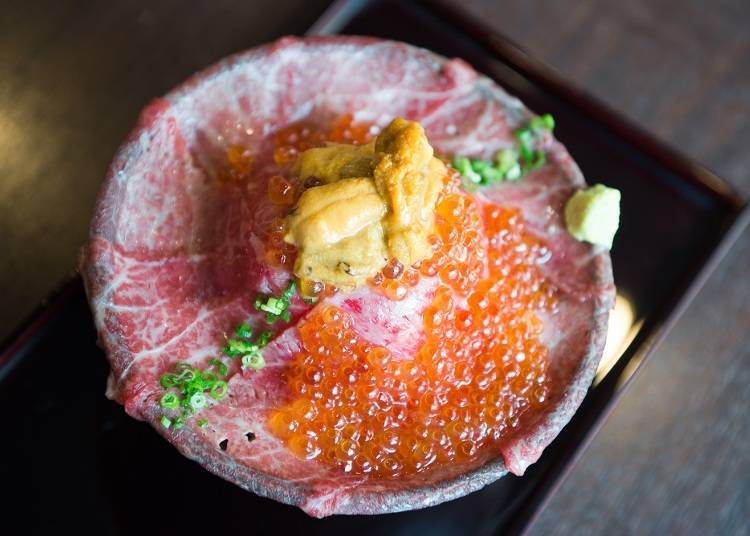 Meat Dress Kaisendon was originally offered as a lunchtime-only menu item at Kinu, a Japanese-style kappo restaurant (a style of Japanese cuisine) located in Kichijoji, a popular sightseeing spot, famous for Inokashira Park. Its flavor and gorgeous arrangement made this dish a big hit on TV and social media, resulting in customers flocking to the shop to try it.

Shop representative Itahashi explains: "We talked about making a dish like the one trending at Kinu. We wanted to create an original dish unlike any other in the world that could compete with that one. So we came up with the idea of a seafood bowl arranged like a mountain. In the trial stages, it was called the 'Eruption Bowl.'"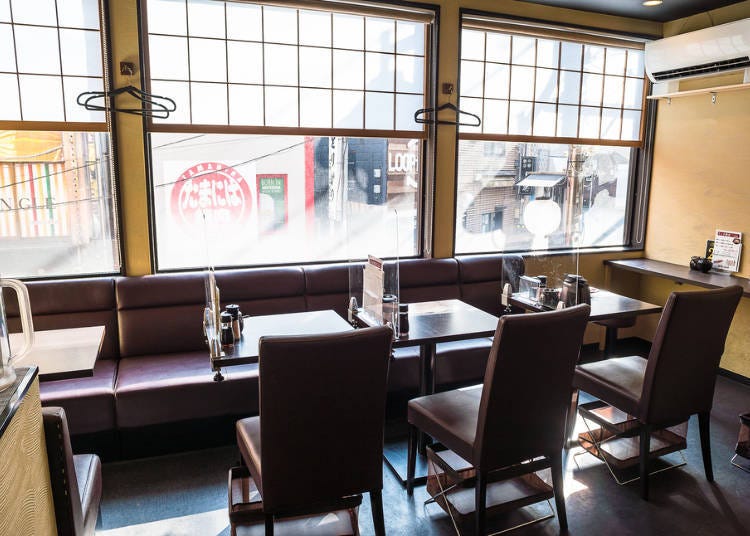 As the Eruption Bowl grew in popularity, they decided to change their business into a specialty donburi shop. The first location, Kichijoji Meat Dress Kaisendon Main Branch, opened in 2019. The Shibuya Dogenzaka shop, and the location of our visit today, is the second branch.

There are 10 table seats and three counter seats, for a total of 13 seats. It may not seem very spacious, but the large window gives it an open atmosphere. Even nowadays, especially on holidays, there are times when you have to wait in line for 30 minutes just to get in!

For this report, we made sure to visit on a weekday so that we could take our time. If you're not a fan of standing in lines, plan to come for lunch on a weekday!
Regulars and Tourists Alike Love 'Meat Dress Kaisendon' and the Popular 'Meat Sushi' Side Dish!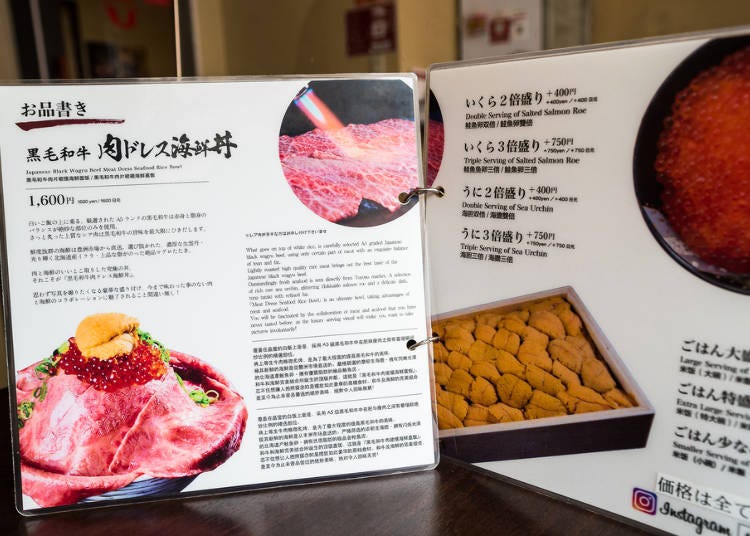 Customers have the option to double or triple up on portions of roe and sea urchin. Planning to eat both beef and sea urchin to our heart's content, we opted for the triple assortment of both.

Meat Dress Kaisendon is regularly priced at 1,600 yen, but you can order these upgrades at the additional costs of 400 yen for double and 750 yen for a triple. A double-portion upgrade of A5-rank Japanese beef costs an extra 700 yen.

The menu is tourist-friendly, too, with English and Chinese (traditional/simplified) notations.
The most popular side dish is the 'Grilled Meat Sushi' (2 pc: 500 yen / 4 pc: 950 yen). Regular customers and tourists alike also love their sake accompaniment dishes. We ordered the 4-piece (950 yen) to accompany our donburi.
The Height of Luxury! A Delicious Combination of A5 Wagyu Beef and Seafood!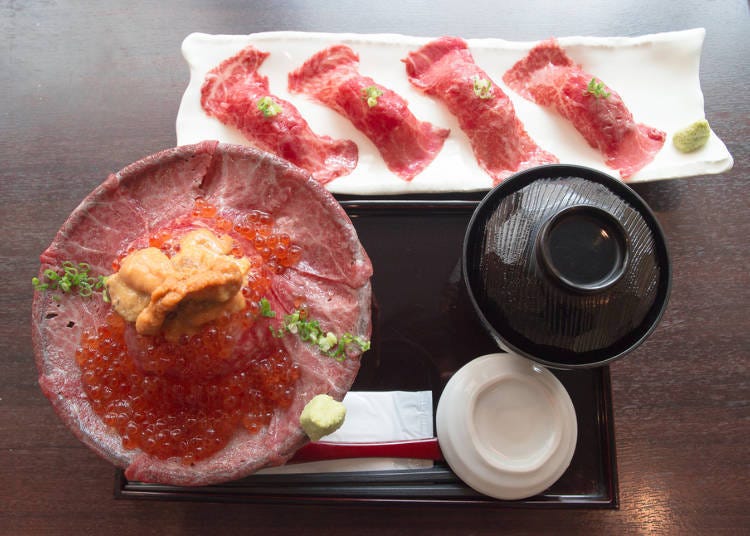 Our meal arrived soon after ordering. Behold, the stunning visual arrangement of beautifully-marbled A5 Japanese black beef!

Front: Meat Dress Kaisendon (triple assortment of salmon roe and sea urchin): 3,100 yen

Back: Grilled Meat Sushi (4 pieces): 950 yen

When viewed from the side, dish becomes an artistic, mouth-watering mountain resembling Mt. Fuji. The luster and arrangement of this dish is nothing short of fascinating.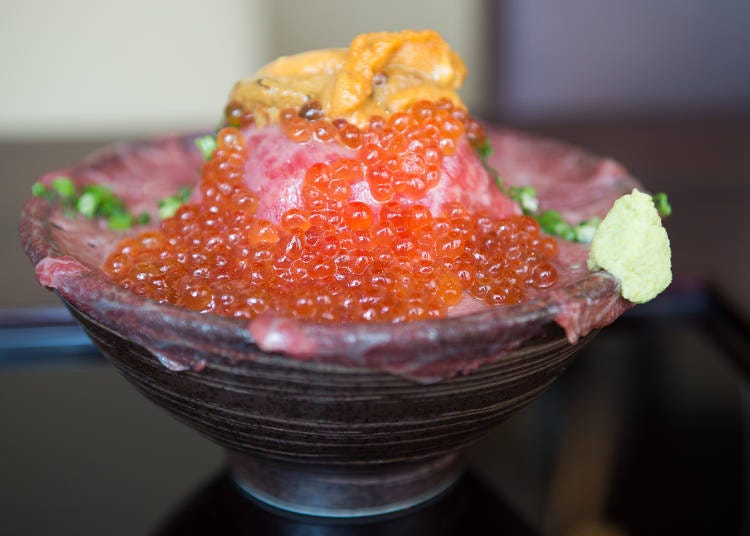 First, let's try the popular signboard dish, Meat Dress Kaisendon.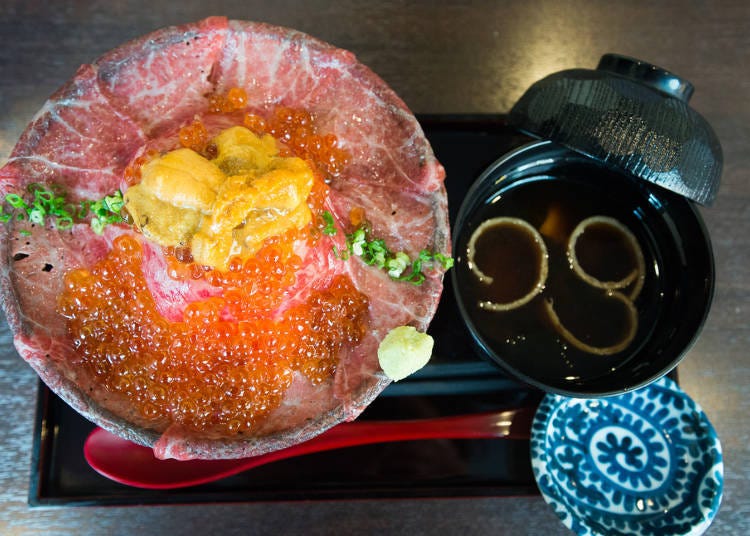 You may be tempted to dig right in, but there are actually several recommended ways of eating it (in fact, the menu mentions three!) What else can we do but try them all out?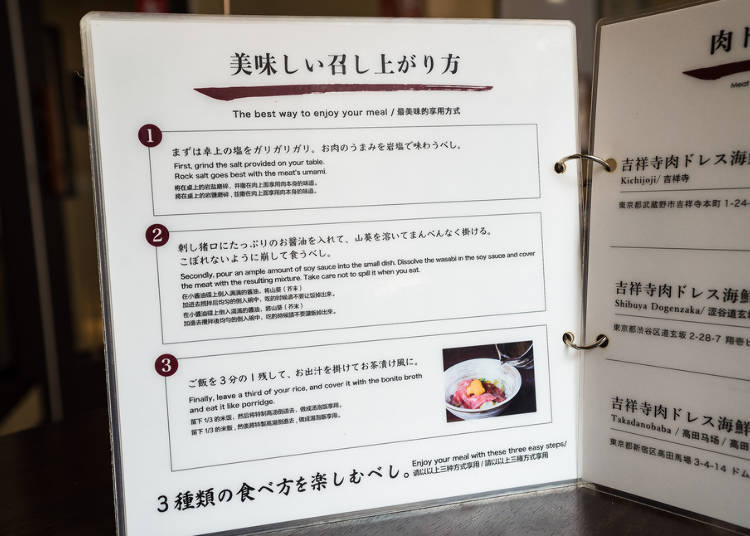 The first way is to simply add a dash of salt to bring out the flavor of the meat.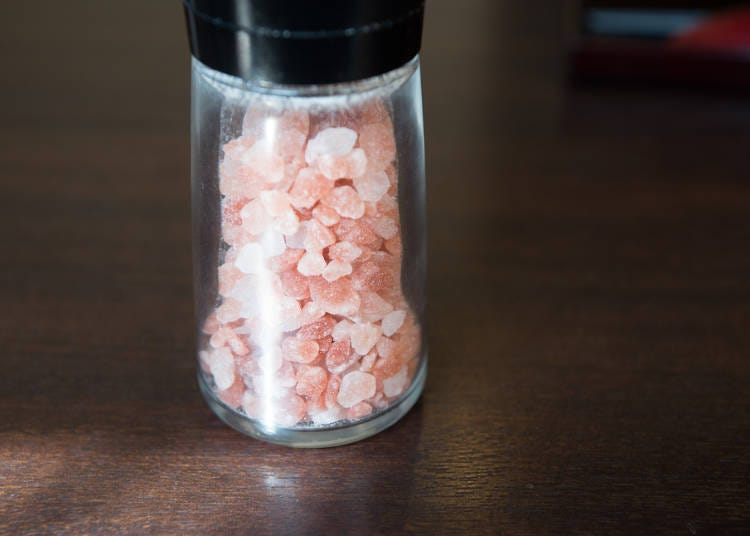 Pink rock salt is available in shakers at the tables.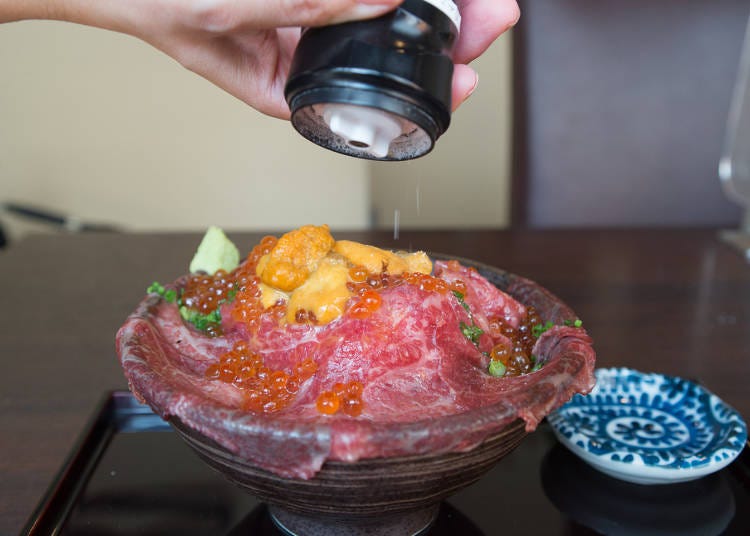 Grind the pink rock salt over the center of the meat.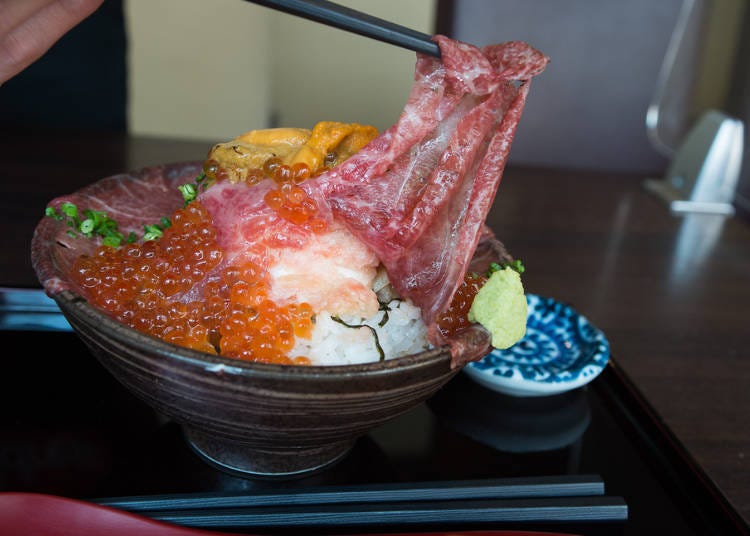 The Wagyu beef is thinly sliced and melt-in-your-mouth delicious, with a high-quality taste that will leave you craving more.

Pink rock salt is rich in minerals, and its mild, mellow sweetness maximizes the savory flavor of the marbled Wagyu beef.

Shop staff member Kodama explains, "The meat is quickly cooked over a burner and served immediately to the customer. This extra effort tightly condenses the flavor and sweetness of the meat."

Despite being an A5 cut, the fat content is not overwhelming. It's so delicious, you can easily eat as many pieces as you want - just add a dash of pink rock salt!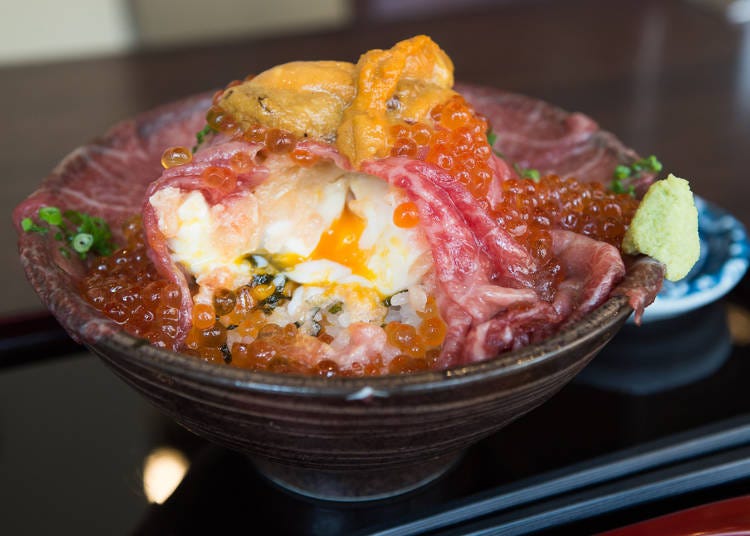 The second way of eating is to drizzle the meat with a mixture of wasabi dissolved in soy sauce. This is perhaps the most orthodox way to eat a typical Japanese seafood bowl.

Inside the dish is a soft-boiled egg. Underneath that is finely-minced toro (fatty tuna) and a mix of 'toro-taku' and 'taku-an,' a traditional Japanese pickled radish dish.

Time to try the sea urchin!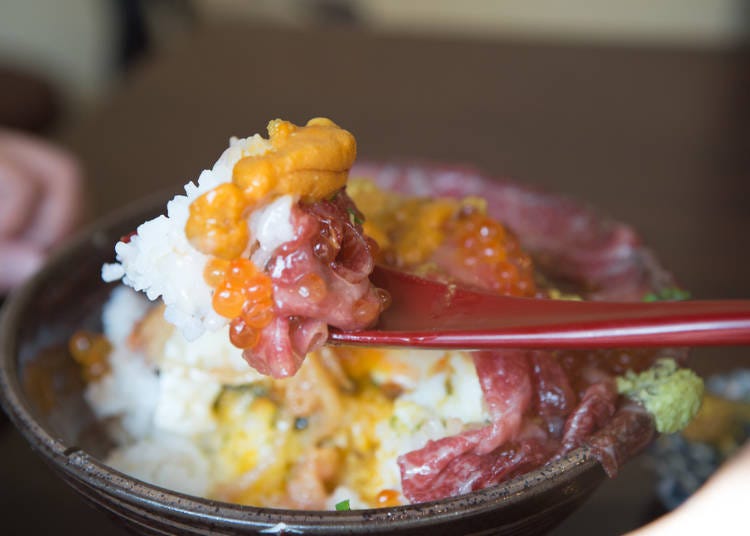 The taste of the Hokkaido sea urchin jumps out in the first bite with its rich, sea-shore aroma. Like the Wagyu beef, it has a smooth texture and easily melts in your mouth.

The rich, delicious beef flavor, the roe's popping texture, and the nice, mellow fatty tuna are all high-class ingredients that complement each other wonderfully without one flavor overwhelming any of the others. And although I've never eaten a meat-and-seafood bowl in my life, I never expected the ingredients would go together so well!

The takuan was a surprisingly good addition. With so many flavors combining in your mouth, the takuan's crunchy texture is a nice accent, letting you enjoy the dish until the very last bite.
The third way to eat it is to add soup broth to make ochazuke. Ochazuke is a rice dish topped with various ingredients and drizzled with tea or broth. People in Japan often do this when finishing up leftover side dishes with their rice.

We recommend making ochazuke when about 1/3 of your rice remains. The thinly-sliced Wagyu beef turns light pink when added to the warm broth.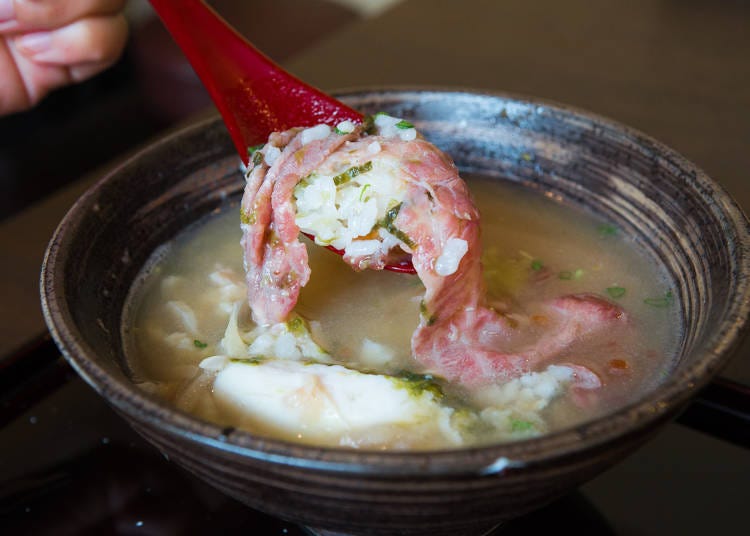 The moment I took my first bite, I couldn't help saying to myself, "Wow, it's so delicious...!" The carefully-strained bonito broth is light and mild, and has a soothing effect.

Why is this broth so good? I realized right away that the reason for the broth's quality was because the shop was originally none other than a 'kappo' restaurant.

"Certainly, many customers rave about the shop's delicious broth," says Kodama.

As mentioned earlier, making ochazuke is a typical Japanese way of finishing up the leftovers at the end of a meal. However, in the case of Meat Dress Kaisendon, it's more than that. Eating this dish as ochazuke is just as good as eating it with wasabi and soy sauce. Personally, I liked the ochazuke version best.
The Most Popular Side Dish: Grilled Meat Sushi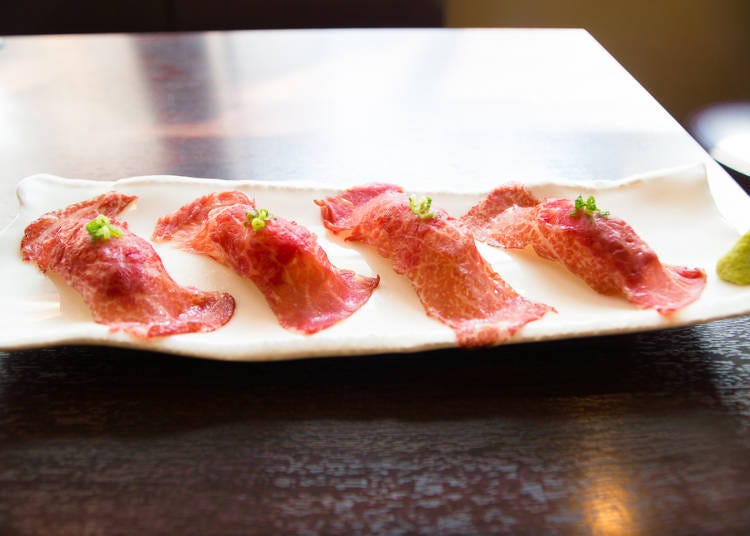 After finishing up the Meat Dress Kaisendon, we move on to the most popular side dish: Grilled Meat Sushi. The Wagyu beef cuts were so long, you could barely see the rice underneath!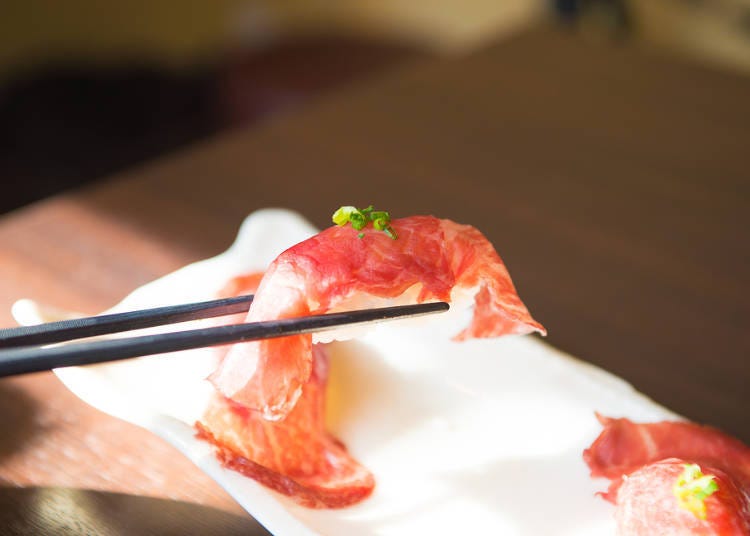 The A5 Wagyu beef and low-acidity vinegar rice are a perfect match in this meat sushi dish. I tried it with soy sauce and with pink rock salt, both of which were very delicious.

This dish is also recommended as a sake accompaniment, or for people who just want to taste Japanese beef.
One of the Most Trendy and Indulgent Donburi in Japanese Cuisine!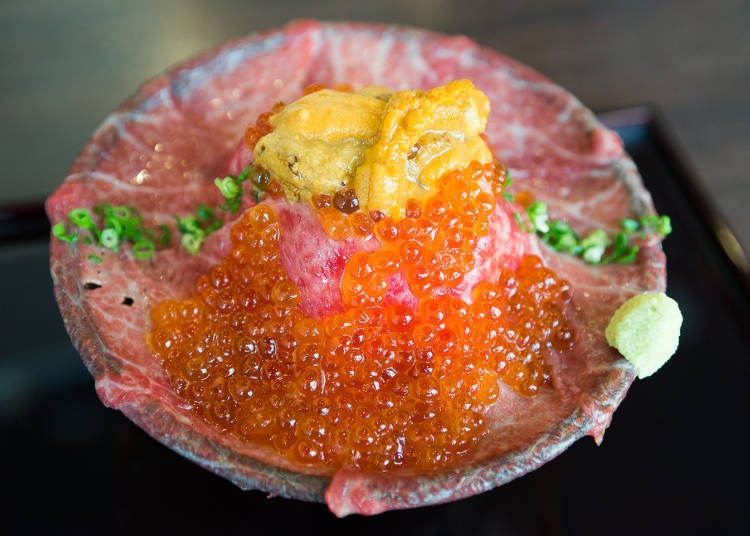 Kichijoji Meat Dress Kaisendon Shibuya Dogenzaka is located in the center of downtown Shibuya. A popular restaurant known for indulgent rice bowls of A5 Wagyu beef and fresh Hokkaido salmon roe and sea urchin.

With three ways to enjoy it, this dish is delicious and fun to eat! When visiting the shop, try each way for yourself and find your favorite! I enjoyed the ochazuke so much that I made with when half of my rice was remaining, rather than waiting to get down to the suggested 1/3.

"If you're looking for a delicious dish of Japanese beef and sashimi, look no further than our shop, and our fine, fatty cuts of fresh Wagyu beef!" (Staff, Kodama)

Indeed, if you're in the Shibuya area and craving Japanese beef and seafood, this is the place to visit!

Note that English and Chinese menus also available.


Health & Safety Measures
Indoor disinfection measures taken - Sanitizer installed - Disinfected after each guest leaves - Ventilation measures in place - Coin trays used - Plastic partitions installed - Staff wear masks, gargle, wash hands regularly, and monitor body temperature - Limited capacity/increased space between seats
Kichijoji Meat Dress Kaisendon Shibuya Dogenzaka

吉祥寺 肉ドレス海鮮丼 渋谷道玄坂店

Address

2F Shoichi building, 2-28-7, Dogenzaka, Shibuya City, Tokyo 150-0043

Phone Number

080-2369-2603

・Hours:
Lunch: 11:00AM-3:00PM
Dinner: 4:00PM-9:00PM

・Price:
Meat Dress Kaisendon: 1,600 yen (Double serving: +400 yen / Triple serving: +750 yen)
*Note that payment is cash only.
Written by: Narikawa Sayaka

English Translation by: Krys Suzuki

*Note in article as of June 2022. Please see official website for the latest updates and information.
*This information is from the time of this article's publication.
*Prices and options mentioned are subject to change.
*Unless stated otherwise, all prices include tax.