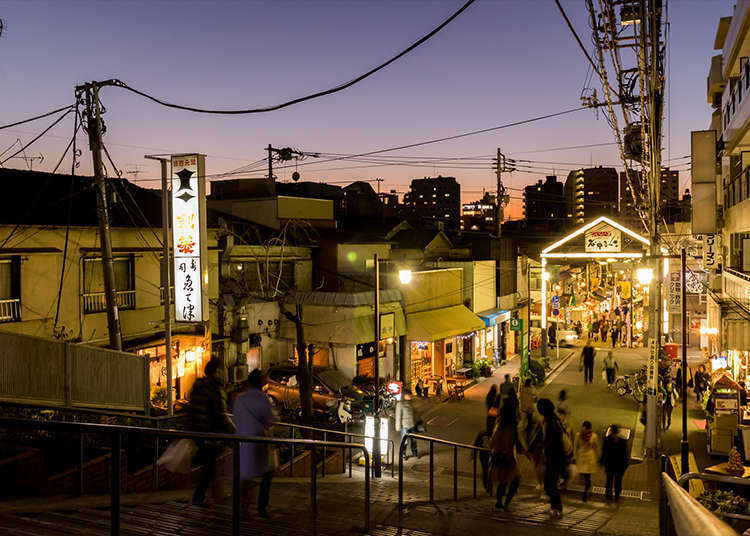 Once you've seen all of Tokyo's major sightseeing spots and have stocked up on fashion and souvenirs, you will ultimately pause and wonder: what to do next?

We will take you on an unconventional trip to explore Tokyo's historic side, taking you back to the time when the Shogun and his samurai ruled the country. A Tokyo that is so vastly different from the modern metropolis you know it as and yet has the same captivating spirit. Let's explore Tokyo's nostalgic, old town areas - called "shitamachi" in Japanese - and experience the Japanese capital from a side you've never seen before!
1. Kiyosumi-Shirakawa and Monzen-Nakacho: A Marriage of Old and New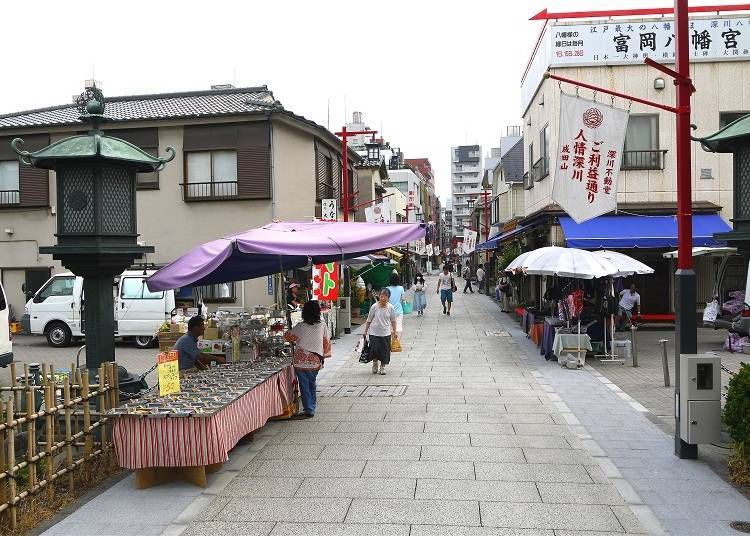 Monzen-Nakacho is a shitamachi area famous for keeping alive the atmosphere of the Showa era, a famous period that spanned from the 1920s to the 1980s. With a charming shopping street and various little shops and temples dotting the area, Monzen-Nakacho's warm, retro atmosphere captures the hearts of both locals and tourists.

Right above lies the neighborhood of Kiyosumi-Shirakawa, also one of Tokyo's old towns. Its main characteristic is the beautiful fusion of tradition and the modern world, as many of the buildings in the area are old, renovated houses that are now home to fancy shops and cafés. One main attraction is the first Japan store of California's famous Blue Bottle Coffee.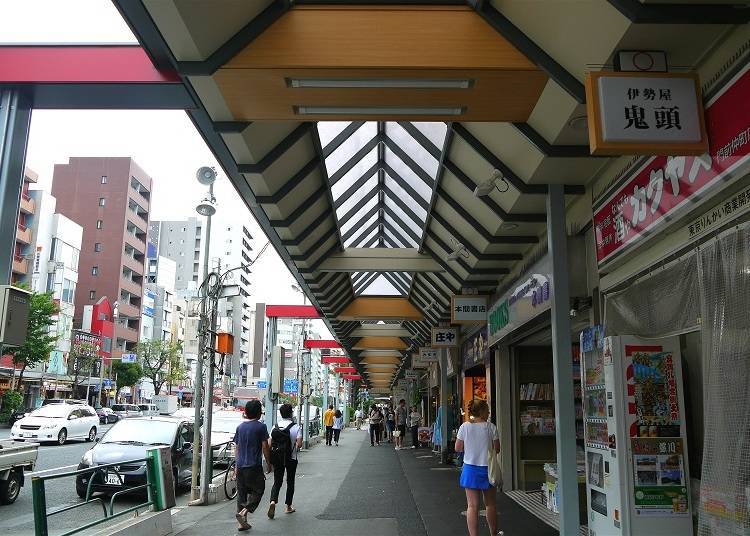 This is an atmospheric shopping street with a wonderful retro feel to it. Numerous little shops line along the road, selling clothes, electronics, souvenirs, and all sorts of other goods! Take your time to check out every shop – there are so many of them, just hurrying through the shopping street will lead to missing many secret hotspots.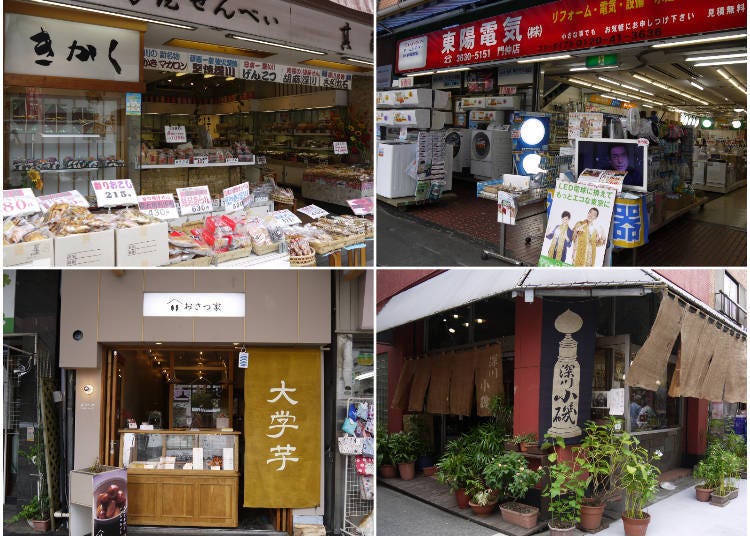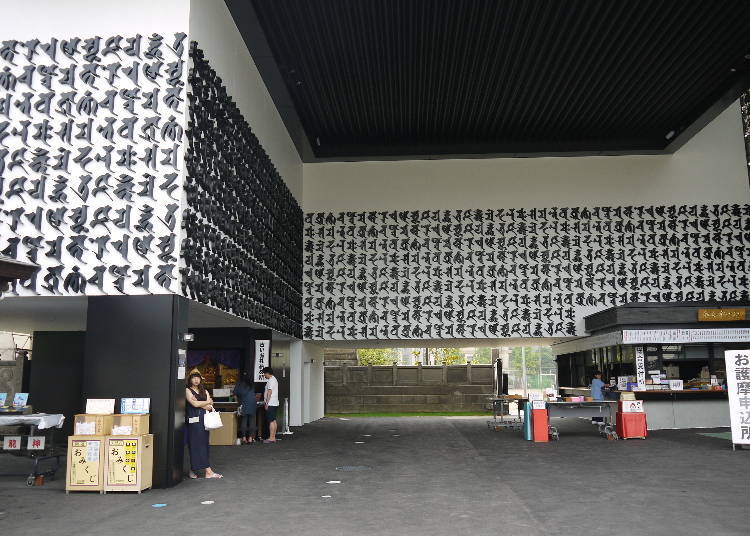 In the center of the area stands a Buddhist temple called Fukagawa Fudo. As its name suggests, the temple is dedicated to Fudo, also called Acala, a fierce Buddhist deity.

The temple is famous for its astonishingly beautiful design. Especially the "Prayer Corridor" is a sight to behold, with thousands of little Fudo statues made of crystal. They shimmer enigmatically in the light, and the entire corridor seems like a work of art.

At Fukagawa Fudo, you might also get to see the exciting ritual of offering actual flames to the deity Fudo to the sound of mighty taiko drums.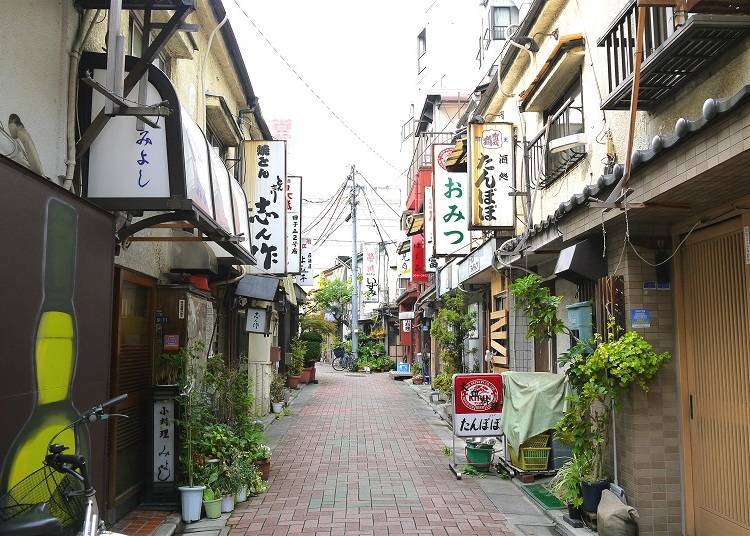 Once you're done exploring the temple and its enigmatic charm, continue along Fukugawa Shotengai until you happen upon Tatsumi Shindo.

This little, Y-shaped area is a paradise of tiny bars and izakaya, traditional Japanese pubs, and the perfect place to have a drink and nibble on a snack in a uniquely warm, welcoming atmosphere. But, most of all, this hidden corner allows you to get a first-hand, unfiltered experience of Japan's pub culture!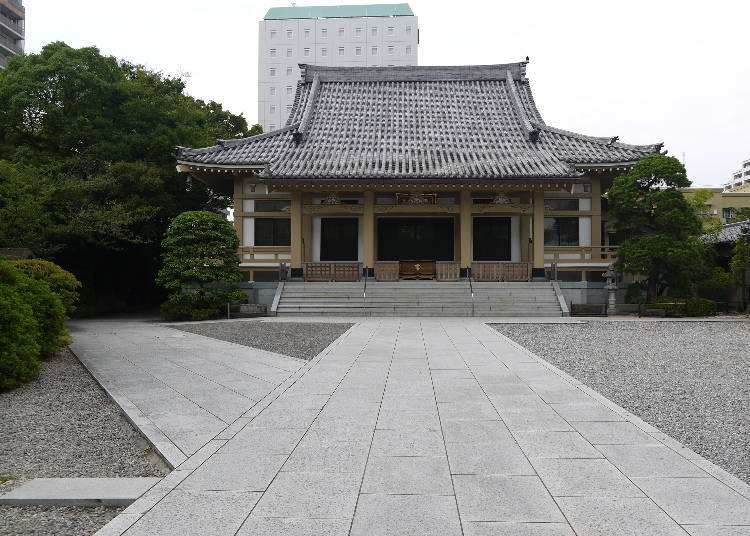 Another must-visit spot is a temple called Reigan-ji. It was moved to its current location in 1658, and numerous feudal lords of the time have found their final resting place here.

Especially famous among them is the tomb of Matsudaira Sadanobu, known for his various reforms during the mid-Edo period. Also, visit one of the six Jizo statues of Edo, a large, sitting statue that exudes an aura of calm.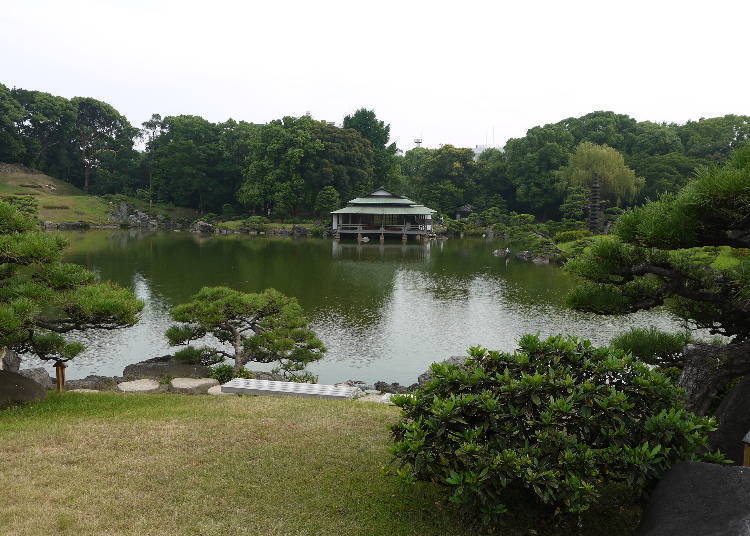 Let's stay with the theme of calm and tranquil for a while longer and visit Kiyosumi Garden. It is a beautiful Japanese garden that is an oasis of respite and nature in every season.

As soon as you enter, you'll be engulfed by the soft sounds of insects and the chirping of birds. So take a stroll and relax for a while, watching the park's many inhabitants flutter and scurry by to greet you.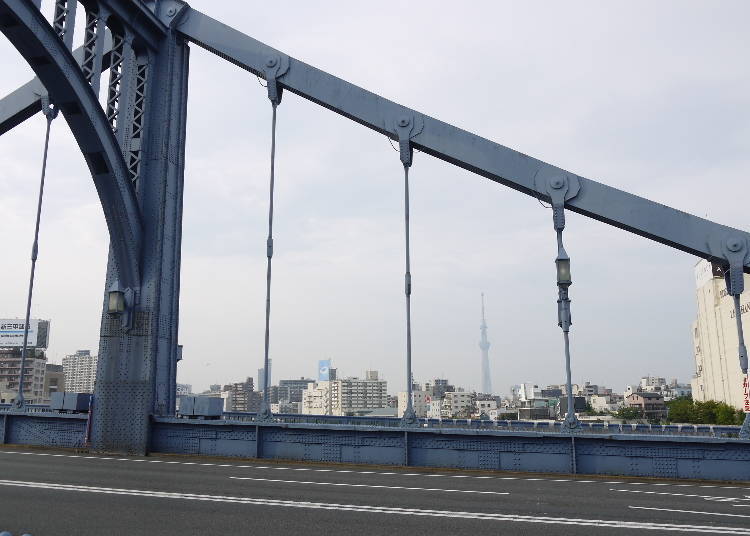 Next, cross the Sumida River via the simple yet magnificent Kiyosu Bridge. The view on the Tokyo Skytree in the distance is amazing and the wind blowing along the bridge is nice and refreshing especially during the hot summer months.

Extra Tips:
1. Both Fukagawa Fudo and Reigan-ji are free to visit. Kiyosumi Garden has an admission fee if 150 yen for adults and 70 yen for seniors of 65 years or older.
2. The majority of pubs in Tatsumi Shindo open in the evening.

Access
・Closest station to Monzen-Nakacho: Monzen-Nakacho Station (Tokyo Metro Tozai Line)
・Closest station to Kiyosumi Shirakawa: Kiyosumi-Shirakawa Station (Tokyo Metro Tozai Line)

Recommended spots in this area:
深川商店街

Address

2-2-1 Monzennakacho, Koto-ku, Tokyo-to 〒135-0048
深川不動堂

Address

1-17-13 Tomioka, Koto-ku, Tokyo-to 135-0047
辰巳新道

Address

2-9-4 Monzennakacho, Koto, Tokyo 135-0048
霊巌寺

Address

1-3-32 Shirakawa, Koto-ku, Tokyo-to 135-0021
清澄庭園

Address

3-3-10 Kiyosumi, Koto-ku, Tokyo-to 135-0024
清洲橋

Address

7-1 Nihonbashinakasu, Chuo-ku, Tokyo-to 103-0008
2. Shibamata: Travel Back to the Edo Period
Cobblestones and wood are the main characteristics of the streets of Shibamata, a shitamatchi old town area in Tokyo's northeast. The architecture of old Tokyo is very much left intact here, giving the place a wonderfully warm and nostalgic atmosphere.

Little shops dot the area, selling snacks, toys, and candy, and many a local can vividly remember getting their fix of sweets and toys as a child in these very same stores.

From Kitasenju Station, it takes about 20 minutes by train to reach Shibamata, so it's a great addition to your trip to Tokyo Skytree. Especially as the sun starts to set, Shibamata is dipped in a golden light, making for a beautiful townscape.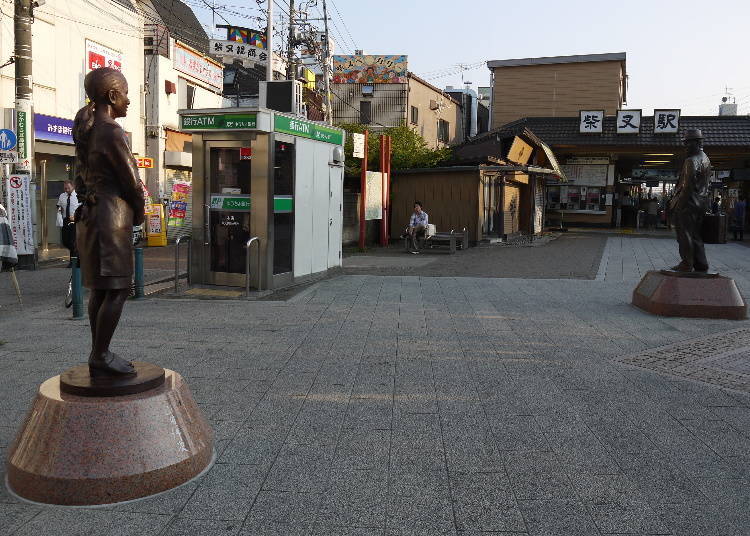 Shibamata Station itself is a tourist attraction, as two bronze statues stand right in front of it. They're Tora-san and Sakura, characters of Japan's immensely popular film series called Otoko wa Tsurai yo, or It's tough being a man.

Standing in between the two characters looking at each other will make you feel like you've slipped right into one of the movies!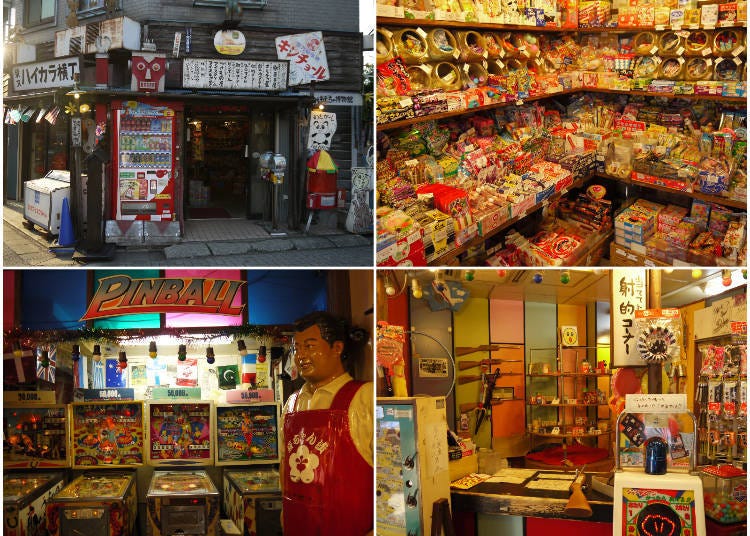 Right behind the station is a charming shopping street. The sight of nostalgic candy stores lining the stone road is sure to evoke fond memories of your childhood. A lot of the sweets and toys sold at Shibamata haven't changed much in decades, and, of course, look forward to playing on retro consoles and arcade games.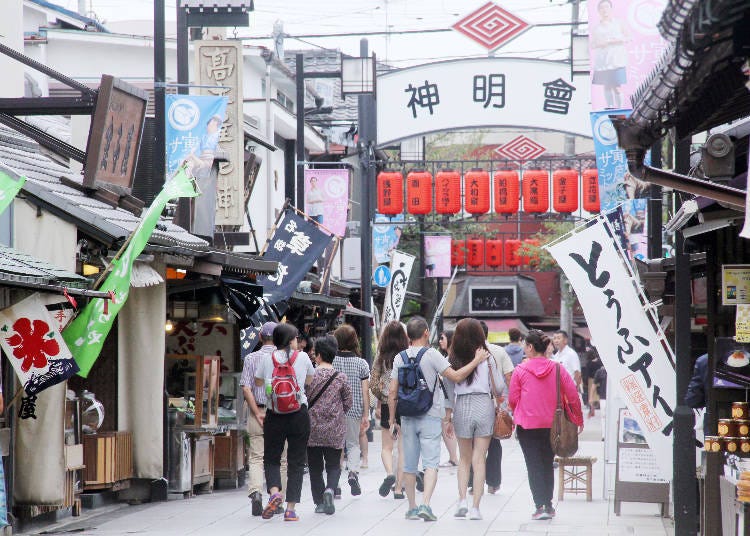 Another place to feel good old Japan is the shopping street approaching Shibamata Taishakuten Temple. Browse old-fashioned tea shops, miscellaneous shops, and various restaurants and eateries. We especially recommend the delicious eel that can be savored here, a famous food of the Shibamata area.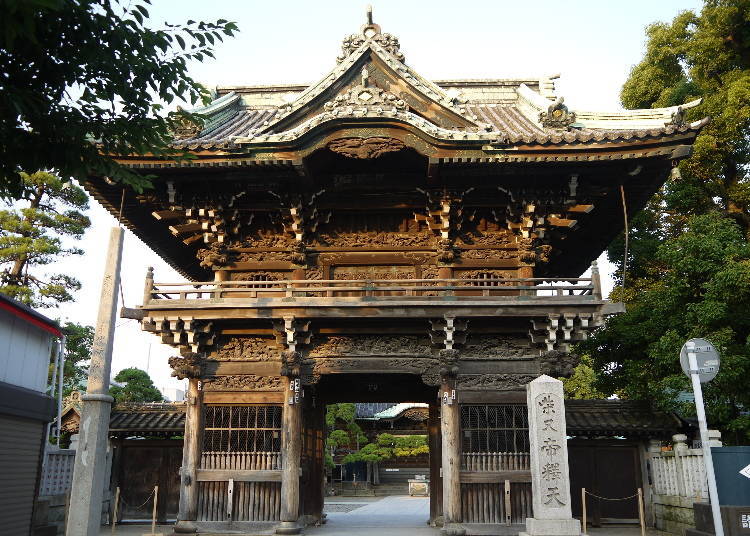 Eventually, you'll arrive at Shibamata Taishakuten, a Buddhist temple founded in 1629. It is the scene of Natsume Soseki's To the Spring Equinox and Beyond and the aforementioned Otoko wa Tsurai yo. After snacking on eel and candy in Shibamata's scenic shopping streets, the calm temple offers a different but just as intriguing side of the area.

Extra Tips:
1. A lot of the shops close relatively early, so visiting during the day is recommended.
2. On the other hand, the sunset over Shibamata is an amazing sight that should not be missed.

Access:
Closest station to Shibamata: Shibamata Station (Keisei Main Line)

Recommended spots in this area:
柴又商店街

Address

7-6-1 Shibamata, Katsushika-ku, Tokyo-to 125-0052
柴又帝釈天(経栄山 題経寺)

Address

7-10-3 Shibamata, Katsushika-ku, Tokyo-to 125-0052
3. Sugamo: the Harajuku of Seniors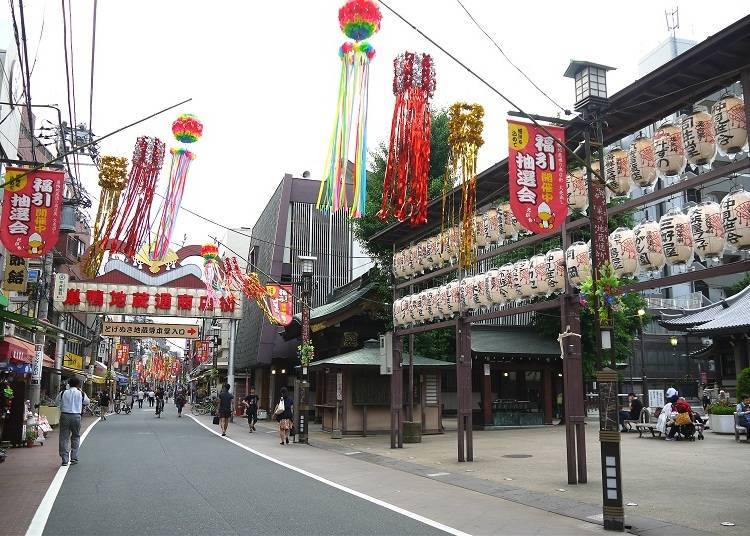 Usually, stations on the Yamanote line regularly show up on guides and people's trip plans, but Sugamo seems to be forgotten all too often.

In fact, Sugamo is a cozy but lively area often referred to as the "Harajuku of Seniors." Numerous shops line up next to each other in the long, atmospheric shopping street right next to the station, where both seniors and younger folk shop and snack to their heart's desire.

Everything a regular household needs to function on a day-to-day basis can be found here! On top of that, the area is home to the "togenuki jizo," a statue said to help cure illnesses and conditions.
Sugamo: Washing Deities and Buying Red Panties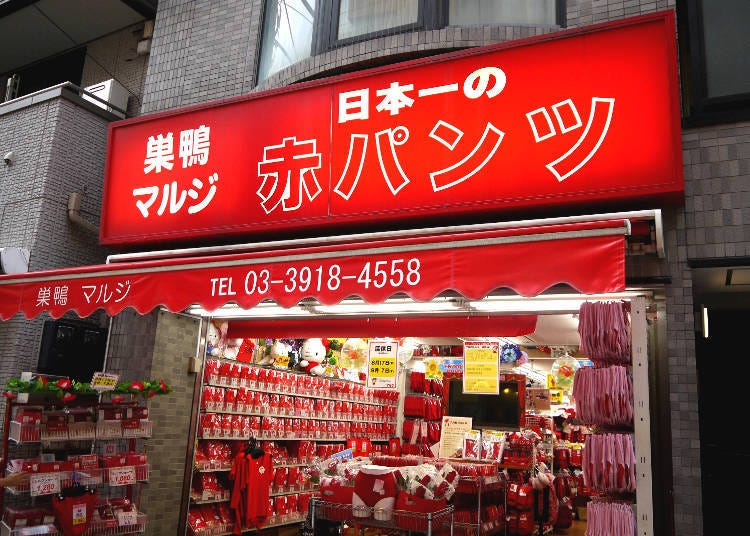 The first stop at Sugamo Shopping Street has to be Maruji's red pants store. It is said that buying a pair of these hot-red pants before New Year's will tilt fortune in your favor! On top of that, the characteristic garment is associated with longevity.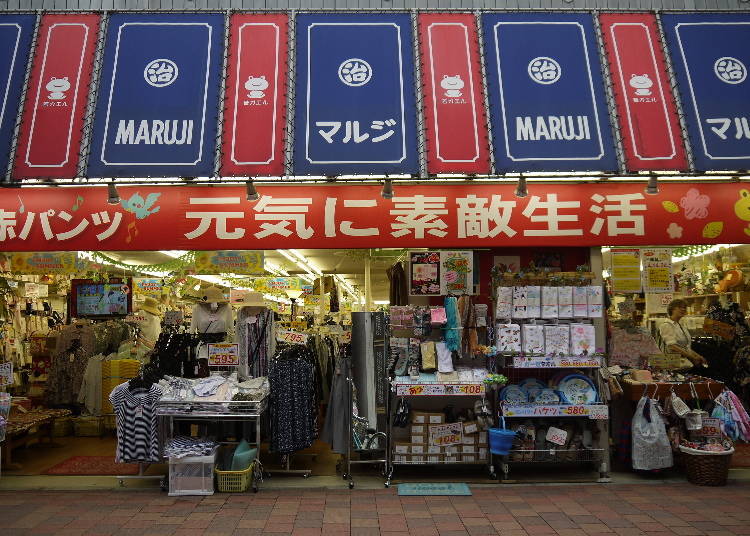 "Maruji Seikatsu Zakkakan" is another Maruji store. This one focuses on all sorts of day-to-day necessities and fun, miscellaneous goods, uniting a creative retro vibe with modern functionality. The prices are more than reasonable here, so keep your eyes open for a nice and unique souvenir!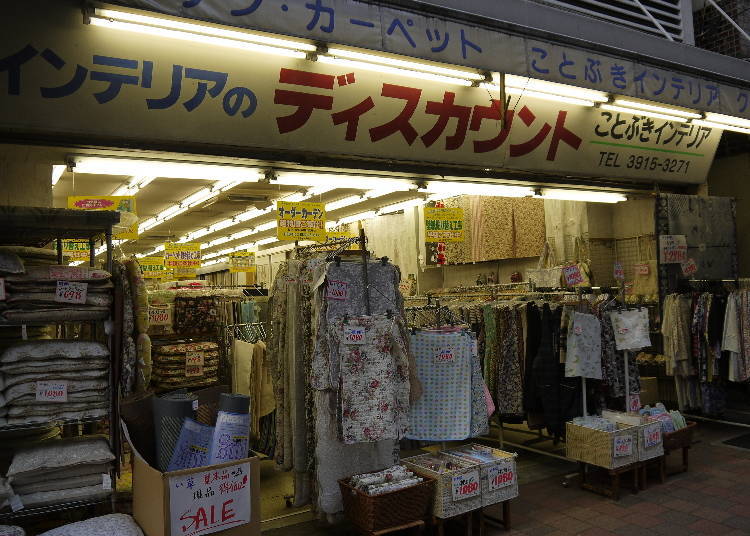 Next stop: Kotobuki Interior. This interior shop has successfully merged West and East, creating an intriguing and beautiful style that will give your home a touch of Japan and elegant vintage.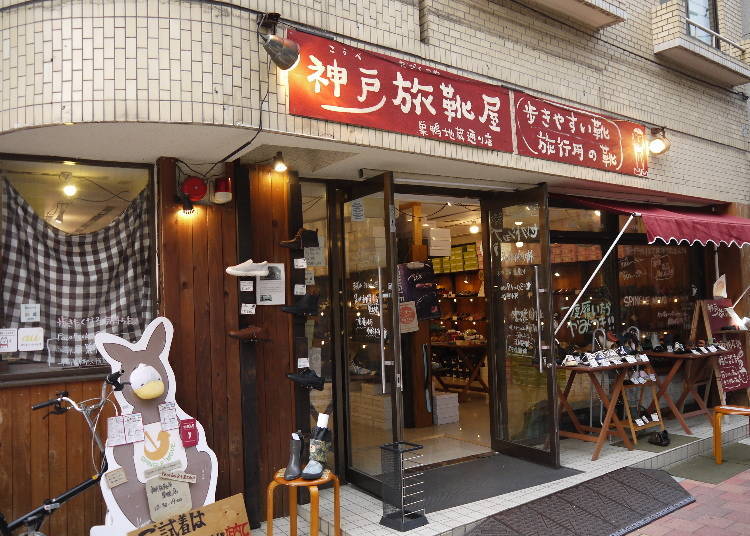 Our last recommendation is a shop called Kobe Tabikutsuya. As its name suggests, it originates in Kobe and specializes in shoes.

Under the concept of "Made in Japan," the shop follows a high standard of quality and a stylish vintage design, getting more popular by the day. If you're looking for a new pair of shoes, definitely check out Kobe Tabikutsuya!

Extra Tips:
1. If you visit Sugamo for shopping, we recommend coming early. The shopping street is fairly long, and there are many shops, so you won't have to hurry!

Access:
Closest station to Sugamo: Sugamo Station (Yamanote Line)

Recommended spots in this area:
菅も商店街

Address

3-18 Sugamo, Toshima-ku, Tokyo-to 170-0002
マルジ 赤パンツ館

Address

4-22-7 Sugamo, Toshima-ku, Tokyo-to 170-0002
マルジ 1号店

Address

4-21-11 Sugamo, Toshima-ku, Tokyo-to 170-0002
ことぶきインテリア

Address

3-37-2 Sugamo, Toshima-ku, Tokyo-to 170-0002
神戸旅靴屋

Address

4-26-6 Sugamo, Toshima-ku, Tokyo-to 170-0002
4. Yanaka Ginza: Tokyo's Most Charming Shitamachi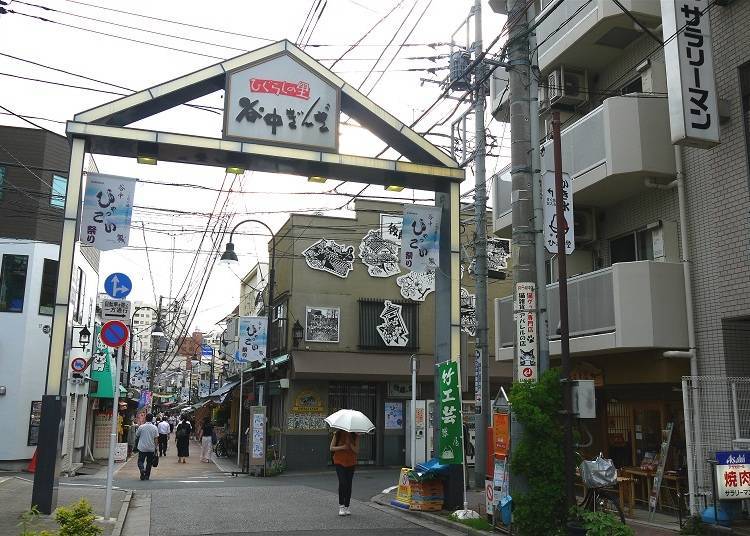 Japanese people immediately think of cats when they hear Yanaka. It's a wonderful shitamachi area to simply take a relaxed walk through the many charming streets, stop by a shop here and there, and enjoy a snack or two.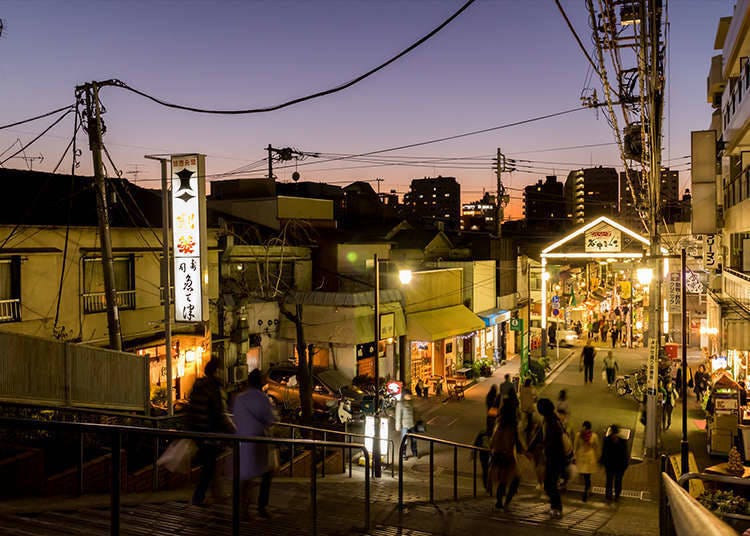 The entrance to the atmospheric neighborhood of Yanaka is a staircase called Yuyake Dandan. These stairs are known for offering a breathtaking view of the sun setting over Yanaka, a scenery that often appears in Japanese movies and dramas.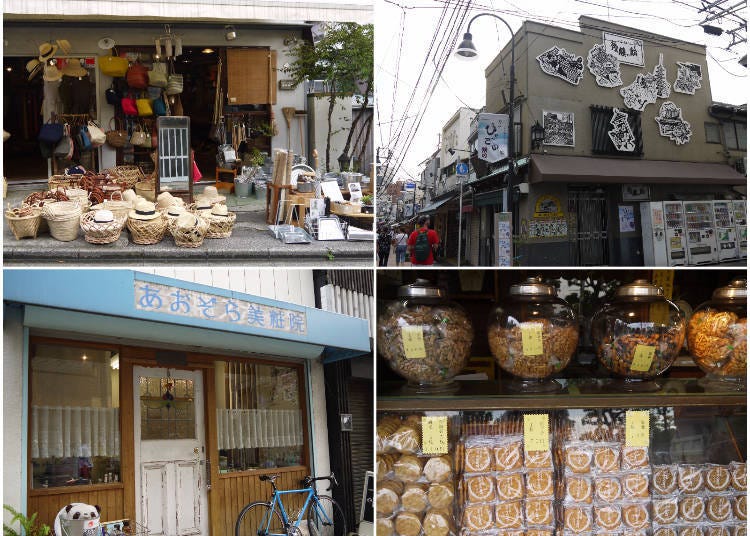 The biggest draw of the Yanaka area is its many tiny shops and eateries, emitting a warm and retro atmosphere that you'll quickly get lost in. Whether you're looking for a souvenir or simply want to take a walk and snack on freshly made rice crackers, you're sure to have an amazing time.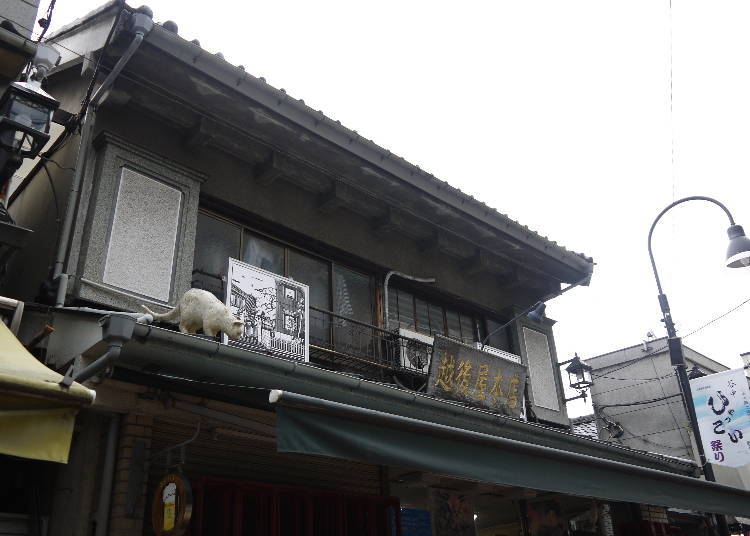 Definitely stray from the main street (Yanaka Ginza) and explore the alleys of Yanaka. Called the city of cats, the neighborhood has once been a paradise for our feline friends. Now, an encounter with a cat is likely but rarer. Nevertheless, many cat statues can be discovered all around the area – it's like a kitty treasure hunt!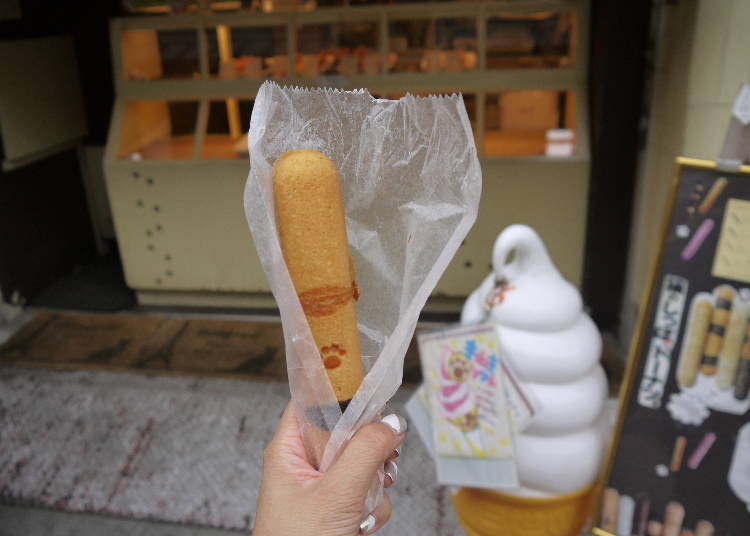 Yanaka also boasts its own famous snack, the "Cat Tail Cake," a baked-donut creation. This fun and delicious treat is available in various flavors, looking like cat tails with different color patterns. The shop bakes these cat tails fresh every day, so you'll be drawn in by the sweet, delicious aroma in any case!

・Yuyake Dandan
3-1 Nishinippori, Arakawa-ku, Tokyo-to 116-0013

・Yanaka Shippoya
3-11-12 Yanaka, Taito-ku, Tokyo-to 110-0001

Extra Tips:
1. We recommend visiting Yanaka a few hours before sunset. That gives you plenty of time to explore the neighborhood, and once it's time to return to the station, you'll get to enjoy the sunset over Yanaka at Yuyake Dandan.
2. If you're looking to find Japanese-style souvenirs, both modern and traditional, we urge you to pay Yanaka a visit. The place is filled with shops selling accessories and more at very reasonable prices.

Access:
Closest station to Yanaka: Nippori Station (Yamanote Line, Chiyoda Line)


If you're having a hard time deciding which shitamachi area suits your tastes the most, let's do a quick rundown of the old towns' characteristics!

・Kiyosumi-Shirakawa is recommended if you want to enjoy a slow afternoon with beautiful scenery.
Yanaka is the place to go if you want to taste ordinary, day-to-day life in Tokyo.

・Shibamata conveys an authentic feeling of the Edo period, making you feel like you're stepped back in time.
Sugamo is perfect for a leisurely shopping tour and an experience of Tokyo's slower side.

In any case, Tokyo's old town areas are all full of character and will give you an entirely new perspective on the modern metropolis. Once you've visited all the must-see sightseeing spots, why not explore a shitamachi or two?
Address

3, Yanaka, Taitou-ku, Tokyo, 110-0001
View Map

Nearest Station

Nippori Station (JR Keihin-Tohoku Line / JR Yamanote Line / JR Joban Line / JR Ueno Tokyo Line / Nippori-Toneri Liner / Keisei Main Line / Narita SKY ACCESS Line)
5 minutes on foot

やなかしっぽや

Address

3-11-12 Yanaka, Taito-ku, Tokyo-to 110-0001
夕やけだんだん

Address

3-1 Nishinippori, Arakawa-ku, Tokyo-to 116-0013
Book a trip you'll never forget
*This information is from the time of this article's publication.
*Prices and options mentioned are subject to change.
*Unless stated otherwise, all prices include tax.