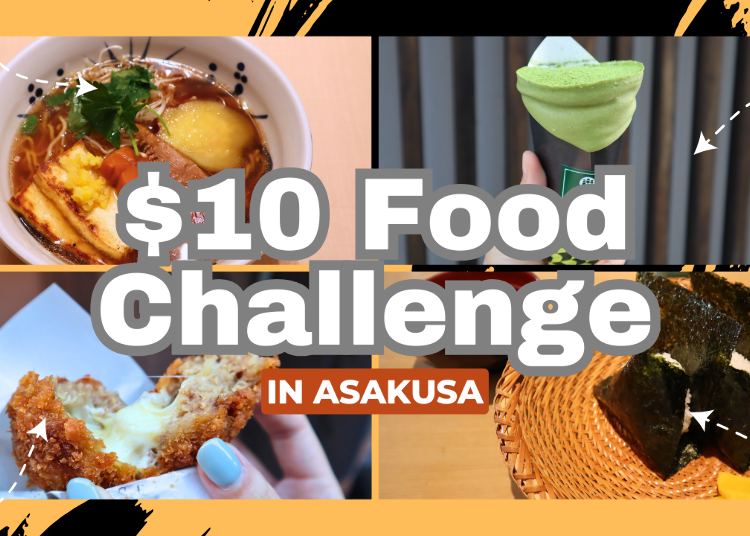 What does $10 get you in Japan? Rising costs in Japan are squeezing locals' budgets but the silver lining shines on travelers, as the country's culinary treasures in Tokyo's Asakusa neighborhood remain astonishingly affordable and as delightful as ever—even for just $10!
Since around 2022, Japan has witnessed a surge in the prices of various items, largely attributed to escalating costs of raw materials, logistics, and labor. For Japanese residents, this may pose a challenge to their wallets. But on the flip side, this has created opportunities for tourists from overseas, eager to take advantage of the weakened yen.

Yet even with these price hikes, Japan remains a haven for delicious and affordable culinary experiences, especially in comparison to the prices of Europe and North America. Just take a look at the price of a Big Mac at McDonald's–you'll quickly notice that it is considerably more budget-friendly in Japan than in many other countries, including Europe, South Korea, Thailand, and Singapore.

With that in mind, let us now introduce some recommended gourmet delights you can enjoy for around $10 (approx. 1,400 yen) in the popular tourist destination of Asakusa. From takeout items and snacks to hearty meals, Asakusa offers an array of edible experiences, including both long-adored classic establishments and newly acclaimed eateries.

(*Information and pricing as of September 2023. Prices subject to change.)
Kotobuki Seian Specialty Matcha Crepe Shop: Parfait-Style Matcha Tiramisu Crepes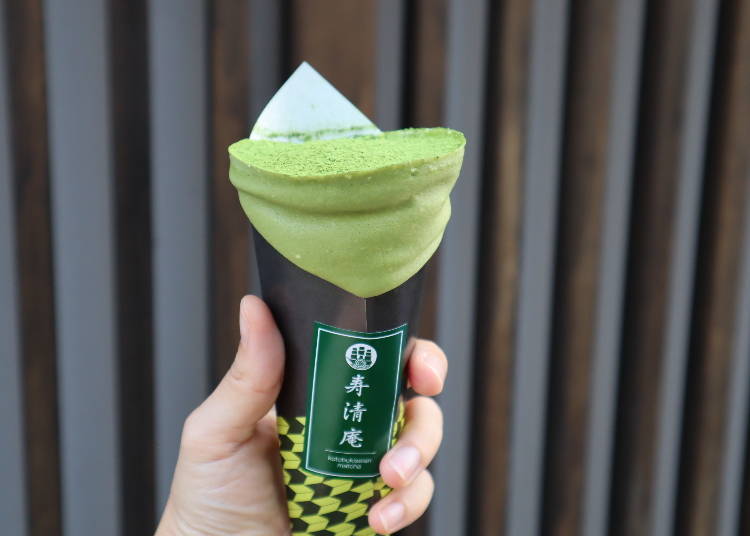 Matcha-based sweets hold a special place amongst Japan delicacies, and Kotobuki Seian is a specialty matcha crepe shop known for its unique offerings.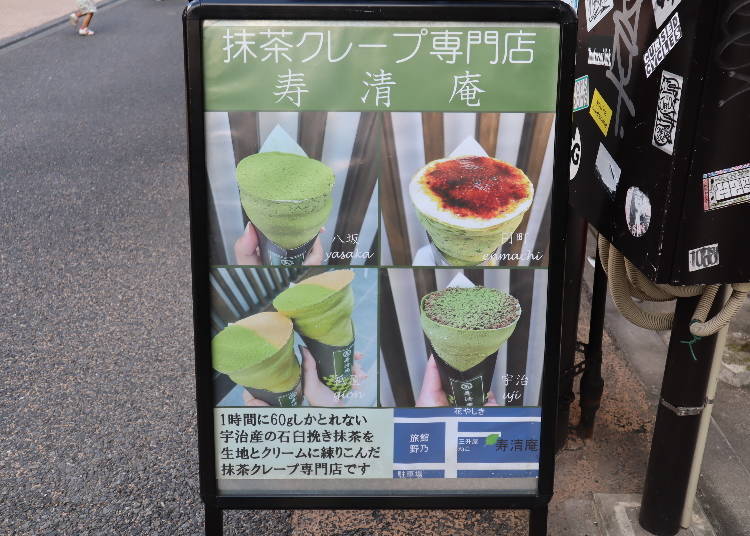 Nestled in an out-of-the-way alley, you'll instantly recognize the shop by this sign. Take-out only.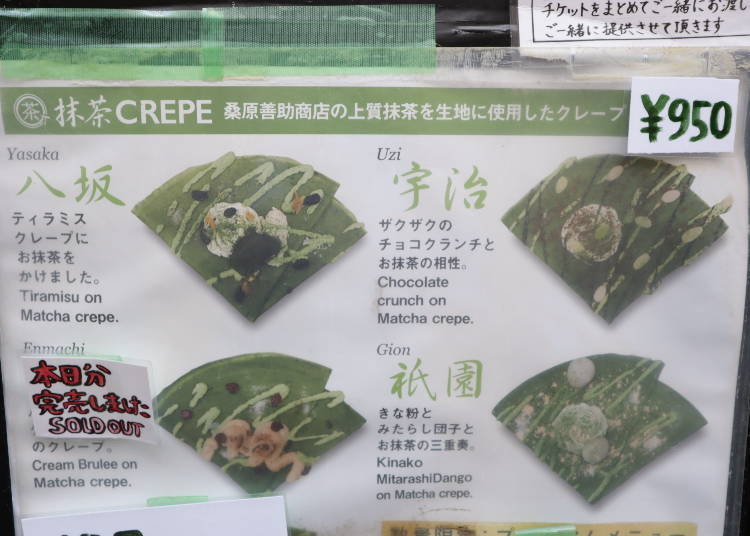 The menu features four types of crepes: Yasaka (matcha tiramisu crepe), Enmachi (matcha crepe with crème brulee), Uji (matcha crepe with chocolate crunch), and Gion (matcha crepe with kinako flour and mitarashi dango). All crepes are 950 yen each (tax included).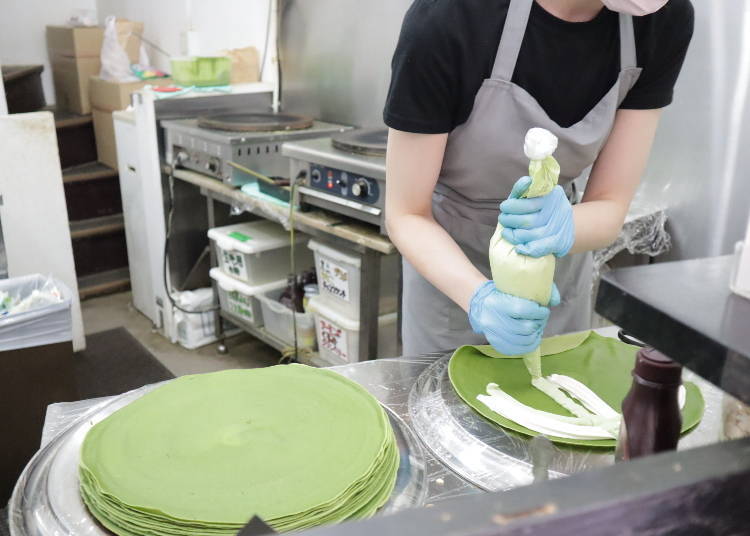 Today, we try Yasaka, the shop's most popular crepe. The crepe batter is crafted using the finest matcha from Kuwabara Zensuke Shoten, a Kyoto Uji tea wholesaler that has been around since the Meiji Period. It is then accented with matcha tiramisu, black soybeans, and a generous dusting of matcha powder to finish.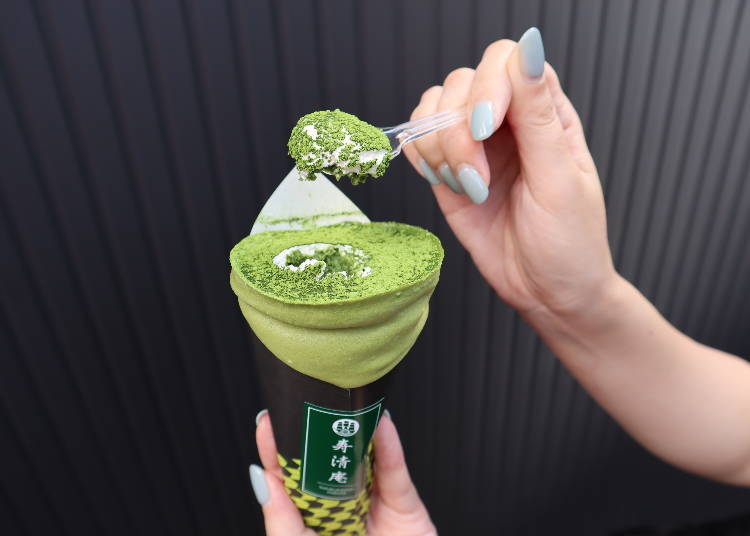 The harmonious pairing of bitter and flavorful matcha powder with mascarpone cheese cream is the perfect match. Enveloped inside a deliciously moist and chewy crepe, the tart lemon jelly enhances the flavor, leaving you craving even more. The sweetness is perfectly balanced, making these crepes an enjoyable treat, even for those not particularly fond of sweet indulgences.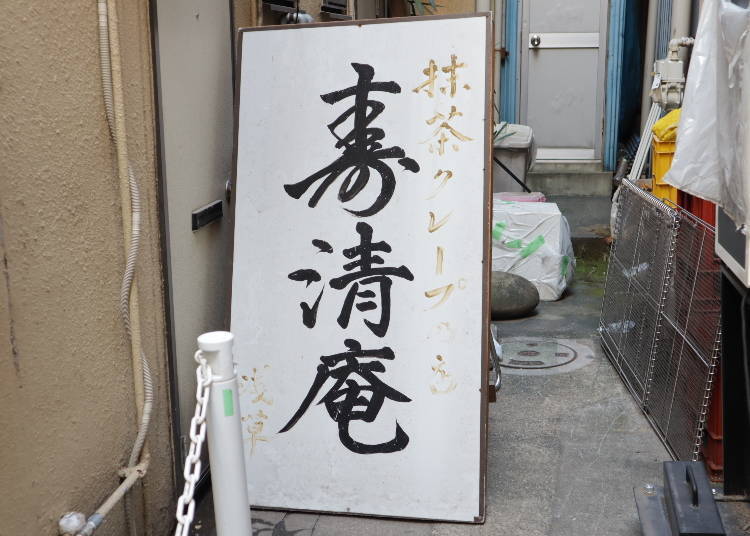 Kotobuki Seian is located just 10 minutes from Asakusa Subway Station on foot, and a short 3-minute walk from Senso-ji Temple. Despite being tucked away in a back alley, its location is convenient enough for a quick visit during your Asakusa sightseeing adventures. At the time of our visit, trendy Japanese students and youth also flocked to the shop, serving as a testament to its popularity, taste, and photogenic appeal.
寿清庵(ことぶきせいあん)

Address

2-7-21, Asakusa, Taito-Ku, Tokyo, 111-0032, Japan

・Hours: Noon - 5 PM
・Closed: Irregular schedule
Asakusa Croquette Kuroge: Authentic Wagyu Beef for Only One Coin!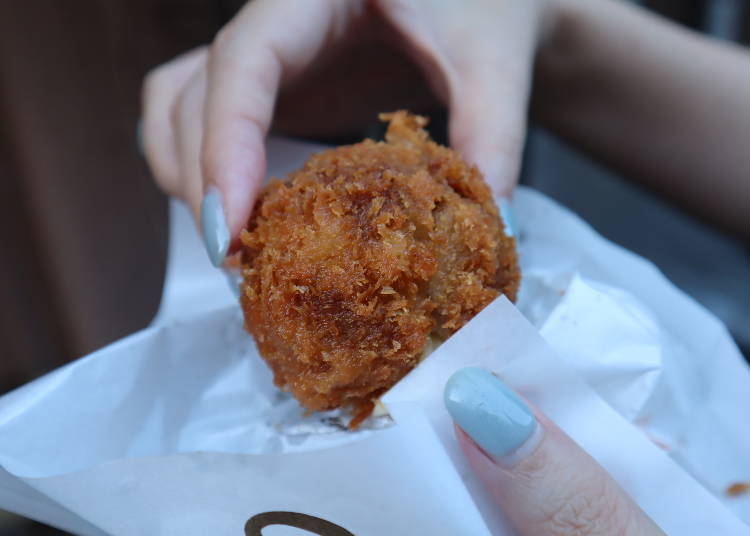 Tourists visiting Japan are often pleasantly surprised by the delicious yet distinct taste of beef, especially Japan's Wagyu beef, which can be quite different from what they've experienced back in their own countries.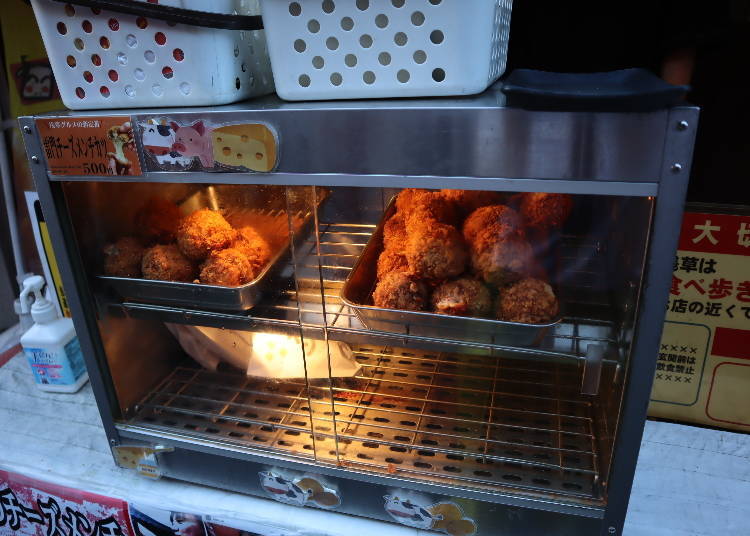 Wagyu beef is indeed a luxury in Japan. However, at Asakusa Croquette Kuroge Kaminarimon, you can easily indulge in this beef delicacy for a single, 500-yen coin by ordering their special Cheese Menchikatsu dish, freshly fried and piping hot!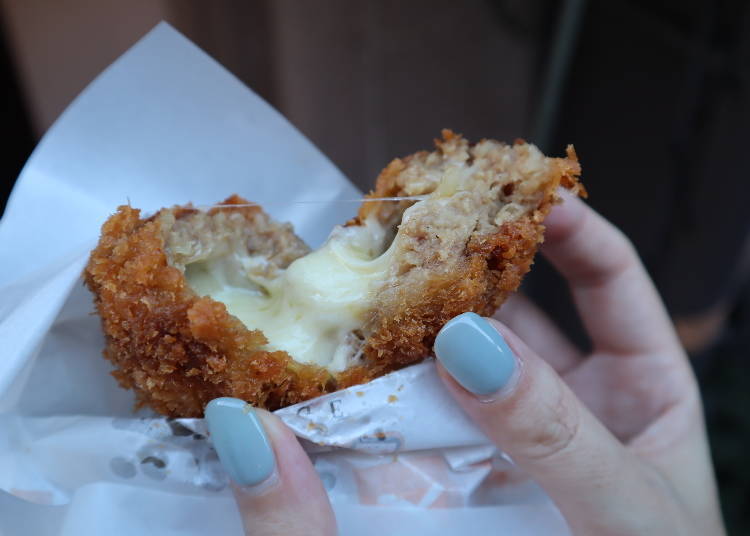 The ground beef is a combination of Yonezawa beef, domestic beef, and domestic pork, creating a delicious filling infused with a generous helping of gooey cheese. Cutting into this sizzling menchi-katsu will reveal a mouthwatering sight of cheese and juicy meat overflowing from inside.

The shop even offers beer for a single 500 yen coin, meaning you can treat yourself to both for no more than 1000 yen. So savor this dynamic duo together, and double your satisfaction!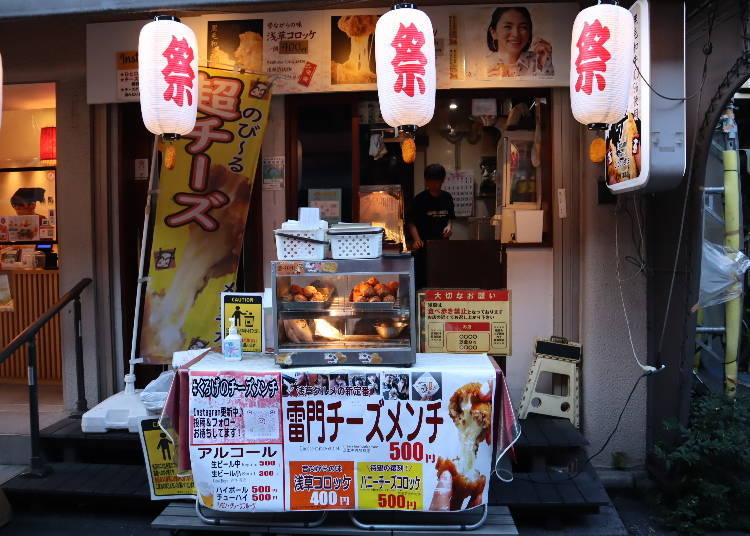 The delicious, Instagram-worthy Cheese Menchi Katsu has made waves on social media for its visual appeal and use of authentic Wagyu beef. However, they sell out quickly, so if you want to try this feast for yourself, we recommend going early! You'll find the shop on a side street just off Nakamise-dori, right near Sensoji Temple's Kaminarimon in Asakusa. It's the perfect spot to fuel up before enjoying other fun things to do in Asakusa!
浅草コロッケ くろげ 浅草雷門店

Address

1-20-2, Asakusa, Taito-Ku, Tokyo, 111-0032, Japan

Phone Number

090-4884-2789

・Hours: 10 AM - 9 PM
・Closed: Open daily
Onigiri Asakusa Yadoroku: Japanese Comfort Food at Tokyo's Oldest Onigiri Shop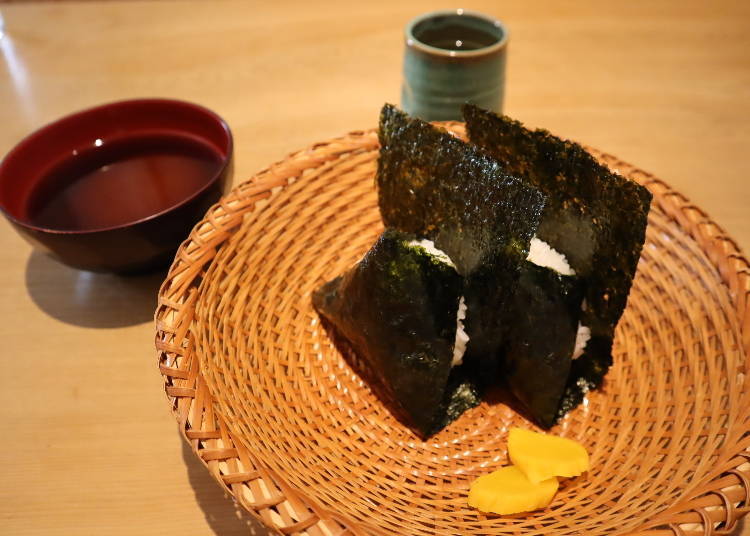 When it comes to Japanese comfort food, onigiri and miso soup are not to be overlooked. If you've made your way to Asakusa, we recommend checking out Onigiri Asakusa Yadoroku, one of Tokyo's most historic establishments, to savor their authentic onigiri.

While this shop doesn't rely on special advertisements, its reputation is widespread. They have earned the title of Bib Gourmand in the Michelin Guide Tokyo 2019, and even graced the pages of Lonely Planet, a trusted travel guide for adventurers in the Western world. As a result, this shop has made quite the name for itself, even amongst foreign visitors.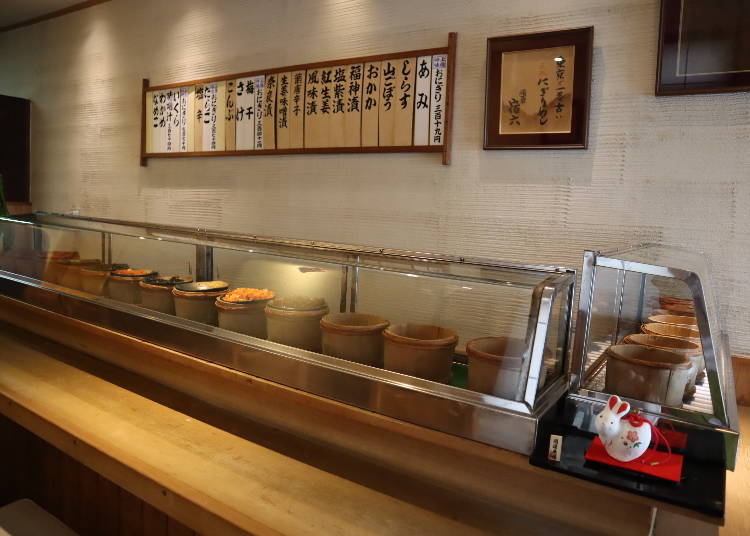 Their menu features classic onigiri fillings like umeboshi (pickled plum), sake (salmon), and kombu (kelp), as well as more unconventional options like amino-tsukudani (sweet soy sauce simmered fish), yama gobo (burdock), shirasu (sardines), and pickled ginger.

The lunch set allows you to select your choice of two onigiri and includes tofu miso soup and takuan (pickled daikon radish), with prices starting at 814 yen (additional charges apply for onigiri priced at 320 yen or more). Three onigiri are available starting at 1,100 yen. Either way, you can be sure to get your fill here for not much more than $10.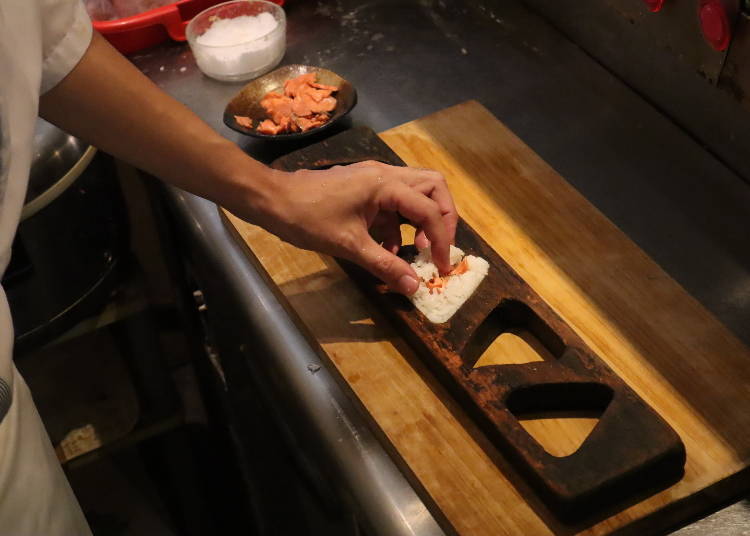 Their most popular menu item is the salmon, while the roe and red ginger are amongst the other visitor favorites. Indulge in a generous serving of your selected filling ingredients, enveloped by the delicious rice cooked to perfection in a large pot.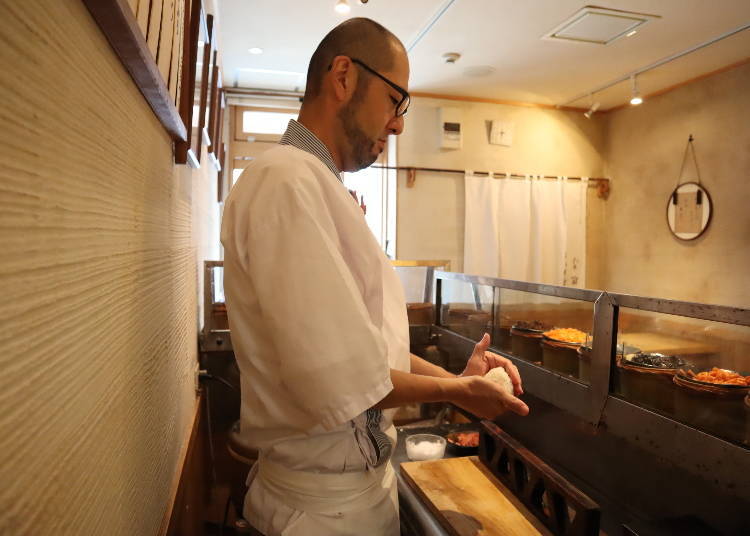 The best part of sitting at the counter is the privilege of watching the shop owner at work, as he expertly molds each onigiri with precision, leaving no movement wasted. These freshly crafted onigiri, prepared right before your eyes, offer a distinct taste and texture you'll be hard-pressed to find anywhere else!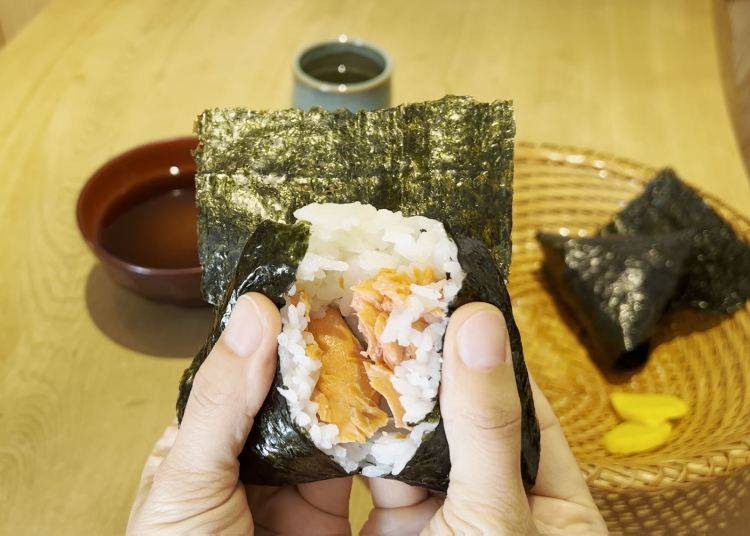 The moment your meal arrives, the aroma of the nori (seaweed) fills the air. The onigiri offers a delightful texture contrast – crispy where it peeks out from behind the onigiri, and soft where it wraps around the rice. With your first bite, you'll savor delicious rice, followed by the sumptuous fillings in the next mouthful.

The nori, rice, and fillings are all carefully-selected for a perfectly balanced delight. These expertly-crafted onigiri retain their shape when held, gently unraveling as you eat them – a level of craftsmanship tough to replicate at home. The accompanying red miso soup also pairs perfectly with the onigiri.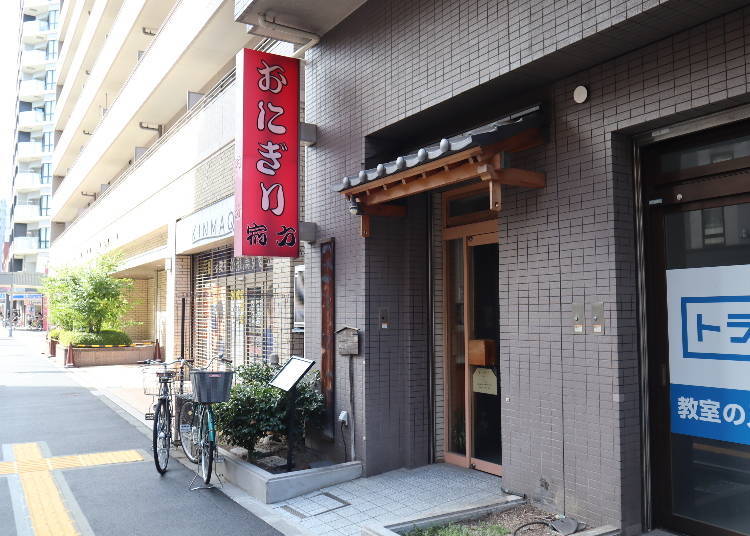 English menus are also available, ensuring a hassle-free ordering experience. The shop's interior and exterior both exude the traditional Japanese ambiance of a traditional Japanese or sushi restaurant. Here, one can truly sense the significance of onigiri in Japan's food culture. Being able to select your onigiri ingredients from their neatly arranged showcase is indeed a one-of-a-kind culinary experience!
おにぎり浅草宿六

Address

3-9-10, Asakusa, Taito-Ku, Tokyo, 111-0032, Japan

Phone Number

03-3874-1615

Hours:
Lunch time: From 11:30 a.m. / Dinner time: From 5:00 p.m.

Closed:
Lunch: Sundays
Dinner: Tuesdays, Wednesdays, Sundays
Asakusa Meidai Ramen Yoroiya: A Top-Ranking Asakusa Restaurant with Taste and Hospitality Beyond Its Price!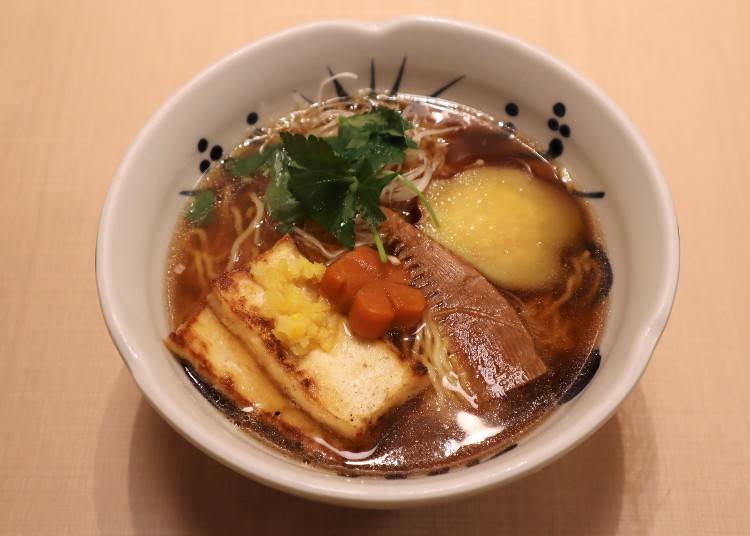 For over 30 years in Asakusa, hailed as the birthplace of ramen, Yoroiya has been dedicated to serving a truly unique ramen experience, fueled by their deep passion for Japanese ramen. This renowned establishment has even claimed the top spot in the Asakusa restaurant category on the travel review website TripAdvisor (as of September 2023).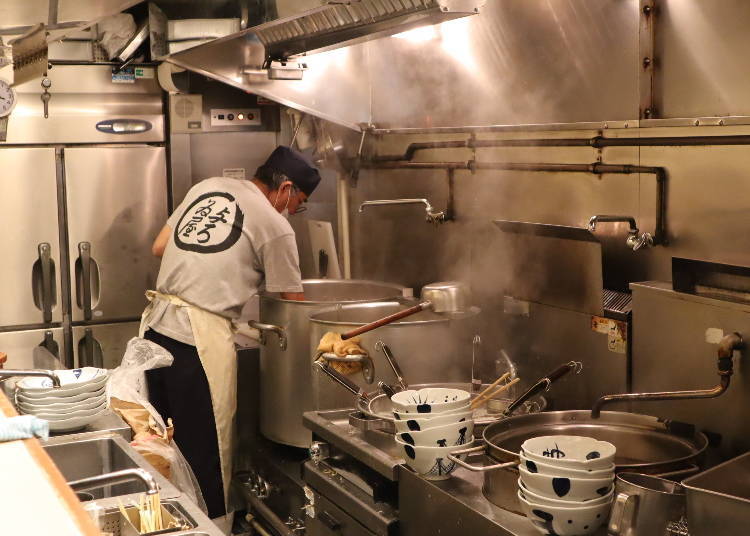 While the roots of ramen itself are in China, Japanese ramen has evolved in its own unique way, cementing it as one of Japan's iconic culinary treasures. As such, this shop deliberately writes the word "ramen" in hiragana (らーめん) to underscore its Japaneseness. Yoroiya's ramen embodies this Japanese style, featuring a light soy-based broth, thin wavy noodles, and an enticing yuzu fragrance that only enhances the flavor.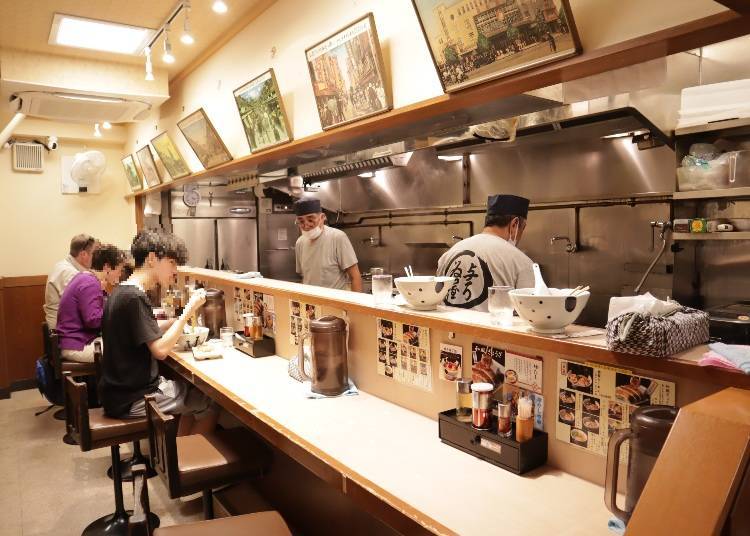 Amongst their delicious dishes lie a specialty that especially caters to foreign visitors, especially vegetarians. That is their Vegan Ramen, inspired by the owner's own observation of visitors from abroad struggling to find suitable vegan and vegetarian food options in Japan when dining out with friends. The owner wanted to ensure an enjoyable dining experience for everyone, leading to the development of this ramen, created solely from plant-based ingredients while preserving the authentic flavors of Japanese cuisine. The result: a delicious ramen that even vegans can enjoy!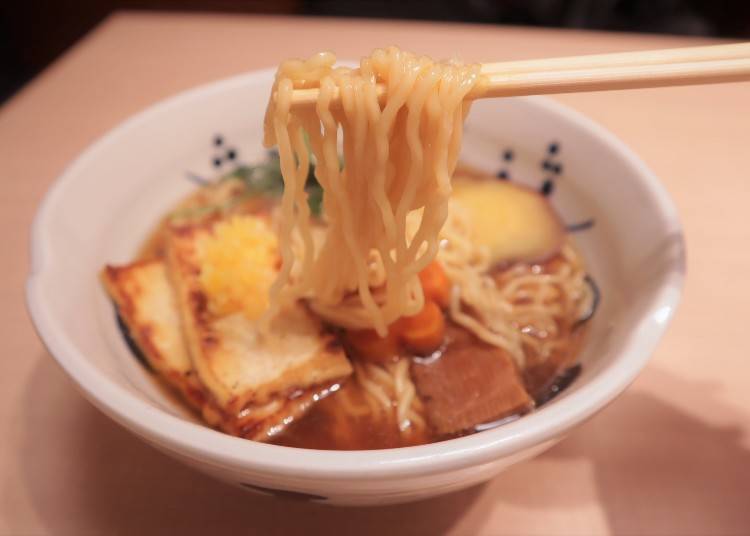 Behold the Vegan Ramen, born from the owner's own hospitality. It features a carefully-prepared broth made from ingredients like napa cabbage, onion, dried shiitake mushrooms, kombu, and carrots, with thin, wavy noodles. Toppings include bamboo shoots, carrots, sweet potatoes, mitsuba (Japanese parsley), and tofu, all familiar components of Japanese cuisine.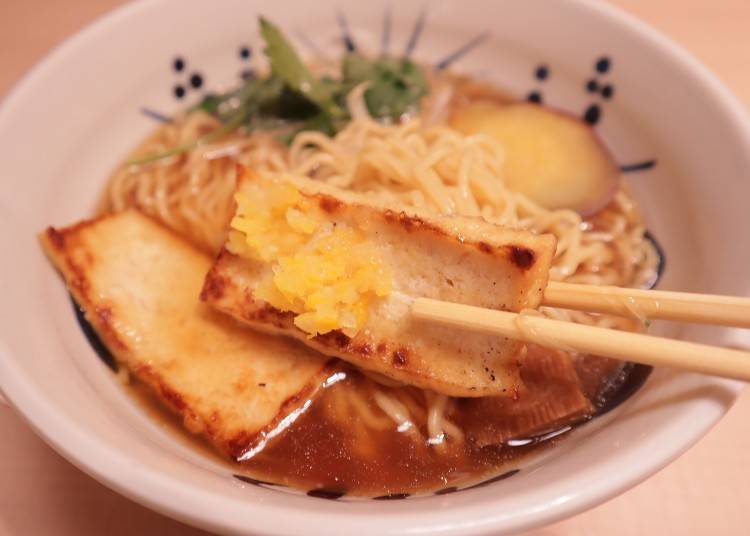 Brimming with veggie umami, this ramen offers a mild, gentle flavor. And as a plant-based option, you can enjoy it guilt-free. Even non-vegetarians will find this dish a delight! The tofu is an alternative for the chashu (sliced pork), and with its hearty impact, is sure to leave diners fully satisfied!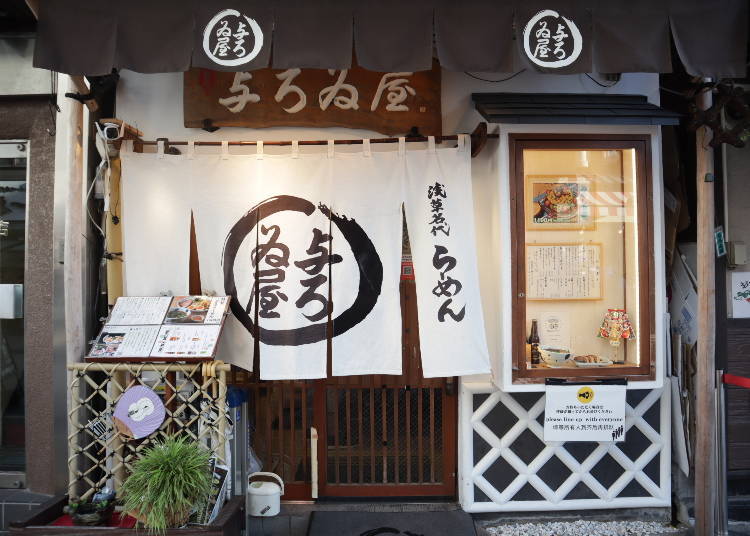 In recent years, the availability of vegan and vegetarian options at restaurants in Japan has been on the rise, although still relatively limited in comparison to Europe and the United States. In this sense, Yoroiya, which has been serving vegan ramen for about a decade, is a true pioneer. Their meticulously crafted specialty dish is priced at 1,100 yen, which only adds to its appeal. They also have English menus and multilingual brochures and staff, ensuring a welcoming experience for international visitors.
浅草名代らーめん 与ろゐ屋

Address

1-36-7, Asakusa, Taito-Ku, Tokyo, 111-0032, Japan

Phone Number

03-3845-4618

・Hours: 11 AM - 9 PM (Last order: 10:30 PM)
・Closed: Open daily, year-round
Asakusa: A Haven for Delicious, Affordable Eats!
Asakusa is a treasure trove of delicious and budget-friendly Japanese food options, bridging the gap between historical tradition and modern trends. Here, you can experience both the latest and long-standing flavors of Japanese cuisine from the past and the present, even if your budget is just 10 dollars! There's a variety of options, from quick snacks and delicious sweets to filling, hearty meals. So head to Asakusa, and indulge yourself in the delicious and affordable Japanese delights that await!

*Prices and information as of September 2023.

English translation by: Krys Suzuki
Written by: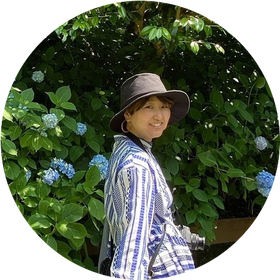 *This information is from the time of this article's publication.
*Prices and options mentioned are subject to change.
*Unless stated otherwise, all prices include tax.
Limited time offer: 10% discount coupons available now!