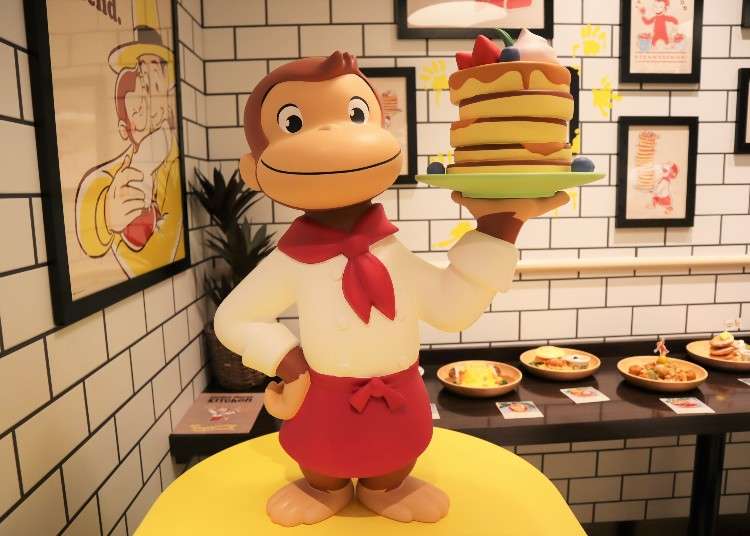 Tokyo Skytree® and the Tokyo Solamachi® shopping center are hosting the limited-time Curious George Kitchen from March 17 until early June 2022. Recreating the vibrant storybook world of Curious George, the cafe is full of creative dishes and must-have merchandise well worth checking out!
What Is Tokyo Solamachi®?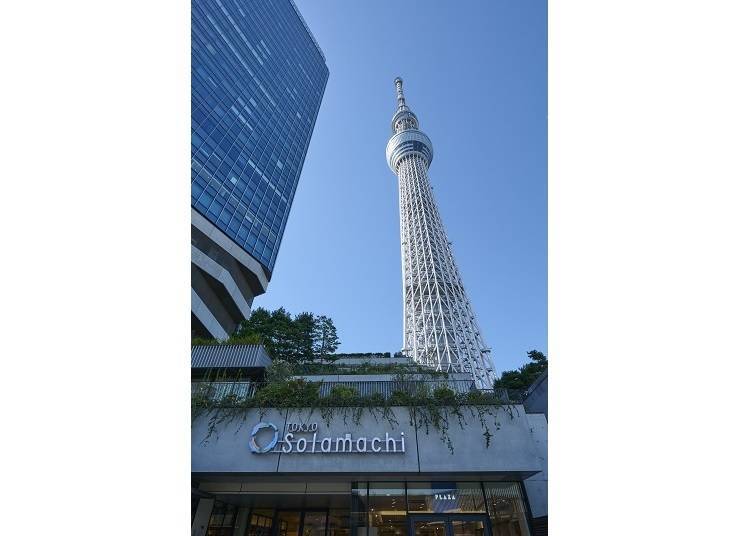 ©TOKYO-SKYTREETOWN
Celebrating its 10th anniversary, the 634-meter-tall Tokyo Skytree® still reigns as the tallest tower in the world (as of Feb 2022).

Tokyo Solamachi® is a shopping center with over 300 restaurants and stores nestled within the famous Tokyo Skytree Town. Designed to be a "new, bustling downtown," it features a planetarium, aquarium, and a plethora of other fun and fascinating facilities.

On the 1st floor of Tokyo Solamachi® are rows of shops and cafes offering food and goods designed with a distinctly Japanese aesthetic, making it a great place to stroll and soak in the local ambiance.
Japan-First! Curious George Kitchen Opens For a Limited-Time Only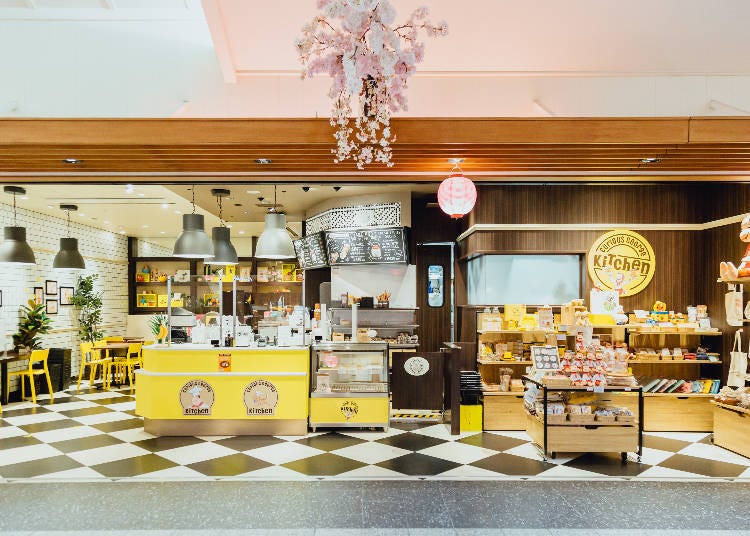 Photo courtesy of BENELIC CO., LTD.
Between March 17 and June 5, 2022, Curious George Kitchen is open within Tokyo Solamachi®.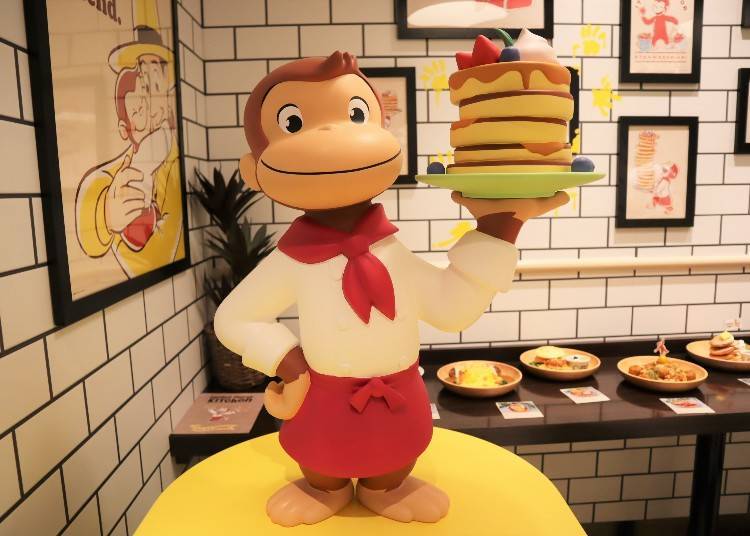 George dressed as a cook with a stack of pancakes.
Curious George is a series of picture books first published in 1941 by husband-and-wife H. A. Rey and Margret Rey. It is read in over 80 countries and remains loved by children even today.

As per the name, George is a child monkey always full of curiosity. Unable to relax without knowing everything around him, he embarks on lots of fun adventures and gets into trouble. The picture of George dressed as a cook featured above was drawn especially for this new cafe and has never been seen before!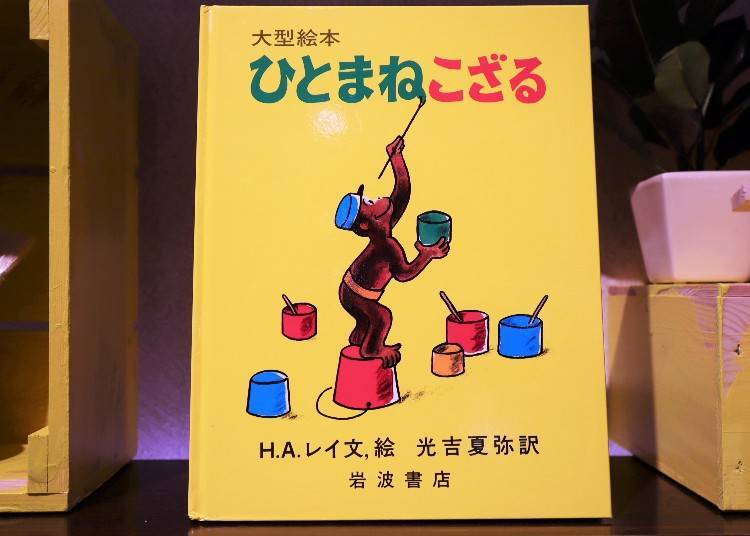 In Japan, the series was originally published in 1954 under the title "Hitomane Gozaru," and in 2008, the TV animation started airing on the NHK education channel "E Tele." Spanning multiple generations, the series celebrated its 80th anniversary in 2021 to great acclaim.
The World of Curious George Leaps Into Reality
Photo courtesy of BENELIC CO., LTD.
Stepping into the cafe, we're immediately met with the sensation of stepping into a picture book.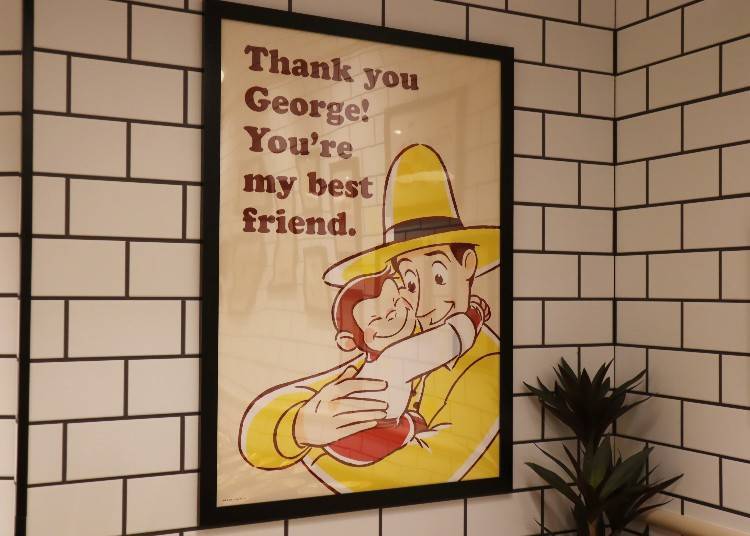 The cafe "story" is that George opened it with friends to cook delicious food to show his gratitude towards the Man with the Yellow Hat, who lives with him.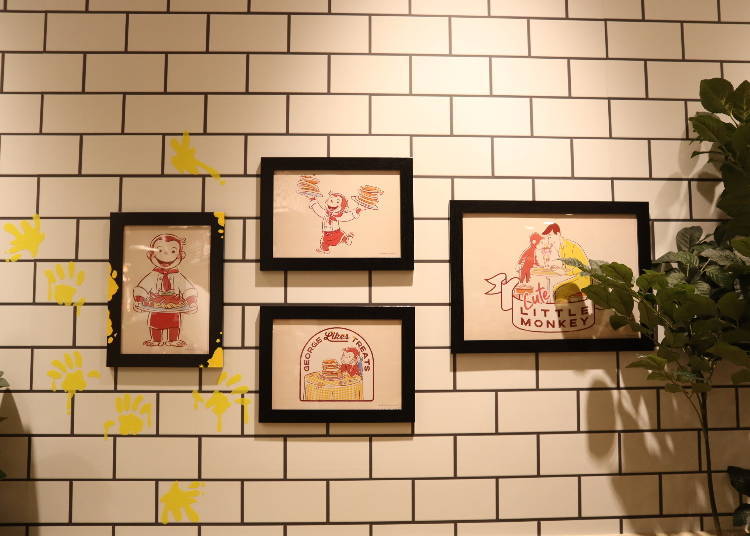 The interior is adorned by vibrant illustrations of the characters and footprints of George himself, making it feel like he could pop out at any moment!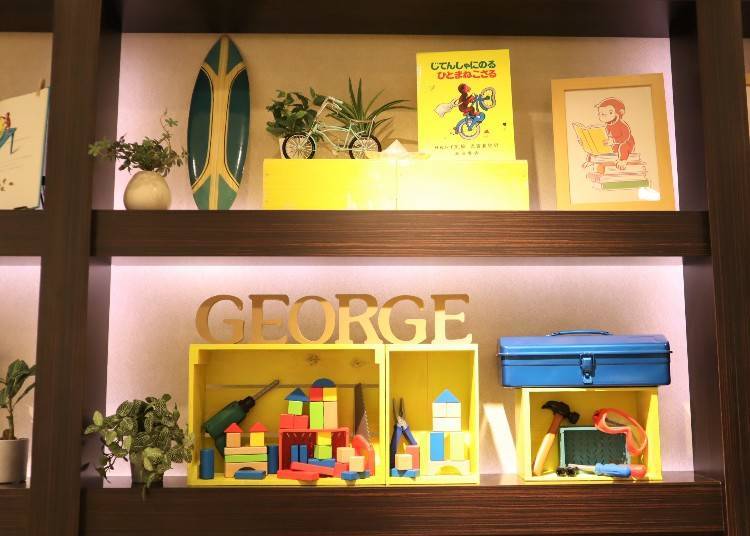 Items that frequently appear in the books, like George's favorite play equipment, are also scattered throughout the cafe.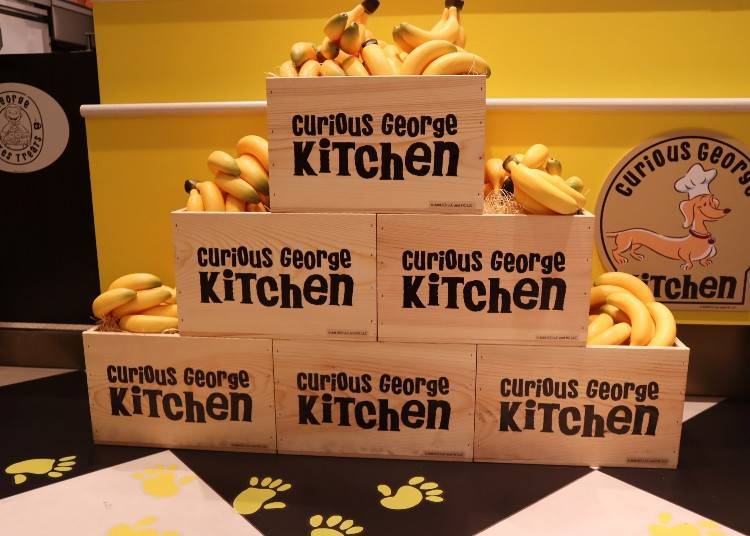 It seems here that George accidentally ordered a whole bunch of bananas! The store is full of funny little flourishes like this.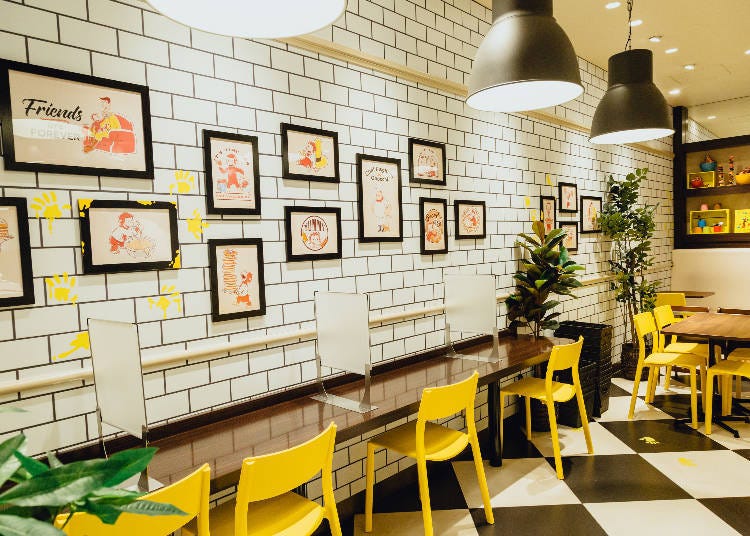 Photo courtesy of BENELIC CO., LTD.
There are both table seats (20) and counter seats (4), giving customers plenty of space.
*Seating numbers may change.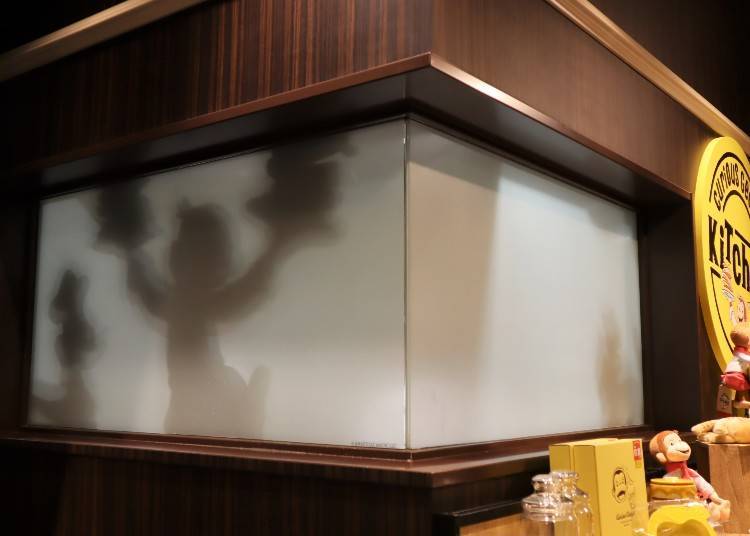 Keen eyes will spot the shadow of George working in the kitchen - can't wait to see what he's cooking up! Looking around, you'll find lots of subtle details helping to bring the world of Curious George to life.
Meals, Sweets, and More! A Look at the Amusing Curious George Menu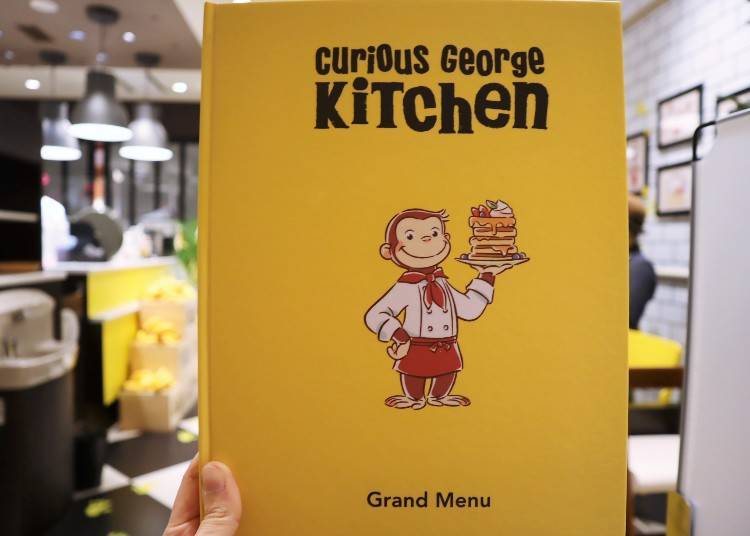 The menu is surprisingly extensive, covering a range from light sweets to proper meals, all painstakingly prepared by the talented kitchen staff.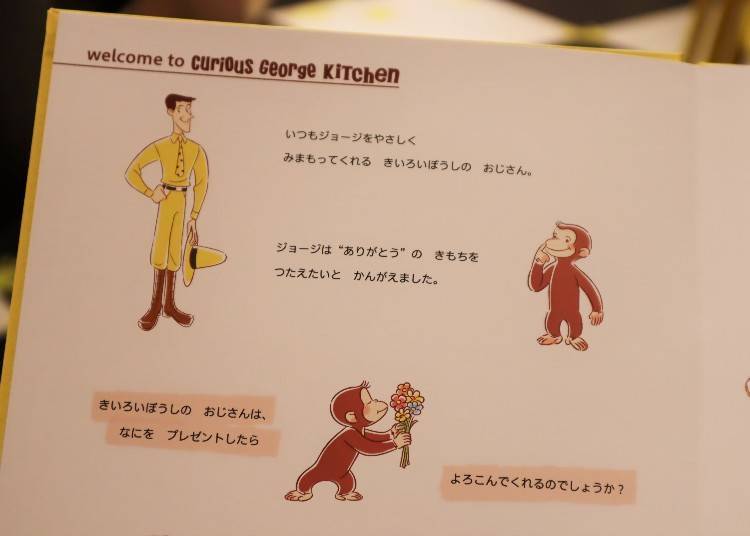 The first page of the storybook-inspired menu illustrates the tale behind the cafe. Children will undoubtedly be delighted!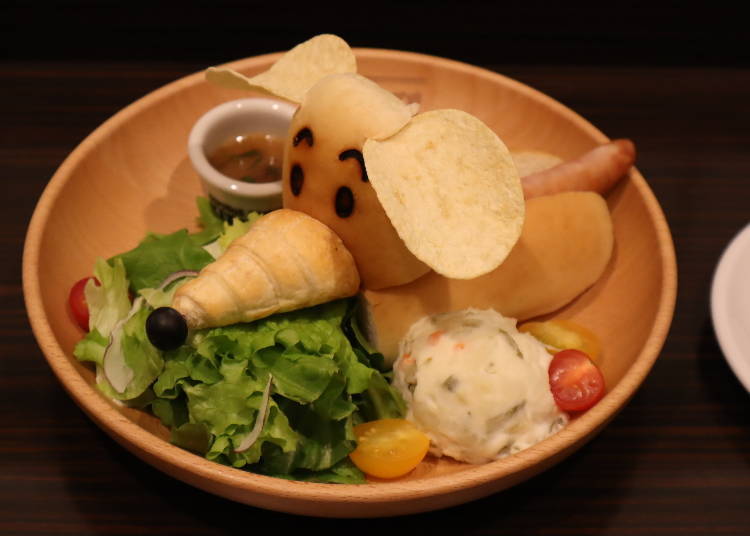 Hundley!? Whole Hot Dog (1,580 yen)
This hot dog is cleverly crafted to resemble the character Hundley, who frequently appears in the picture books. As you can see, it's almost too cute to eat! The potato salad includes a helping of pickles, making it quite different from regular Japanese-style potato salads.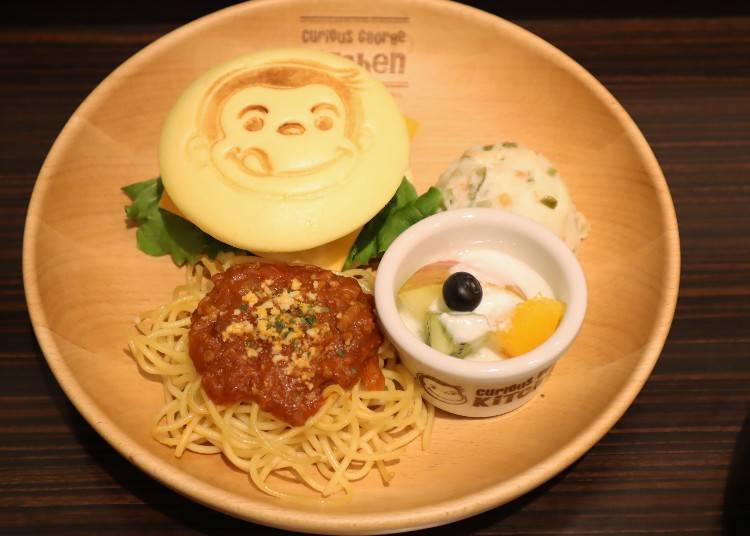 The Chef's Recommendation! Yokubari Burger and Pasta Plate (1,680 yen)
For those seeking something filling or sharing with a child, we recommend the voluminous Yokubari Burger and Pasta Plate. The highlight is George's face branded onto the bun, which boasts a super fluffy bite due to the unusual addition of Chinese steamed bun pastry.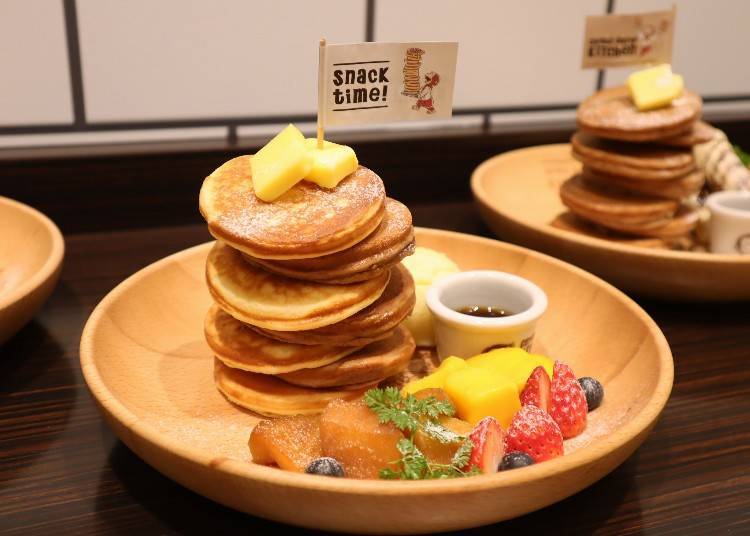 Yura Yura Gura Gura Pancake With 7 Layers of Chocolate and Plain! Deluxe (1,680 yen)
Recreating the story of "Curious George Makes Pancakes," this dessert features a towering stack of seven pancakes with a generous helping of fruit. Each pancake is relatively small, making it easy to share with a group.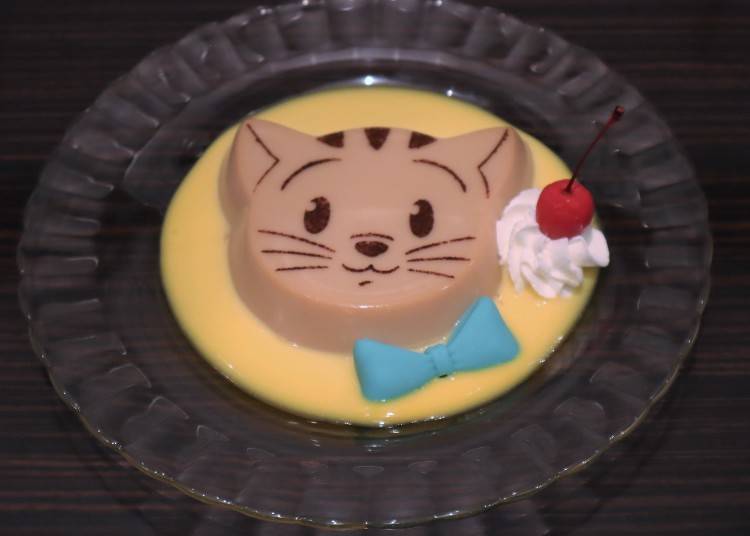 Puru Puru Caramel Pudding a la Mode Gnocchi (1,380 yen)
This caramel pudding recreates the cat "Gnocchi." Combined with the custard sauce, each spoonful is an absolute delight! Just try to ignore the cuteness while chowing down!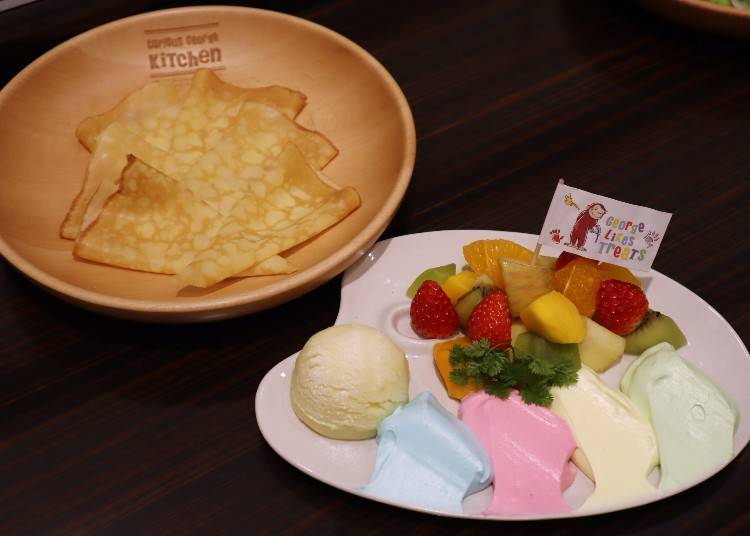 Let's Draw a Picture! Sweet Crepe Palette (1,680 yen)
We think the best dish for kids is the "Crepe Palette," which comes with colorful cream to draw on the crepes. Plus, the hefty serving of fruit and ice cream allows you to fill each crepe as you like. We're confident that George himself would adore this one!
Curious George Meets Japanese Cuisine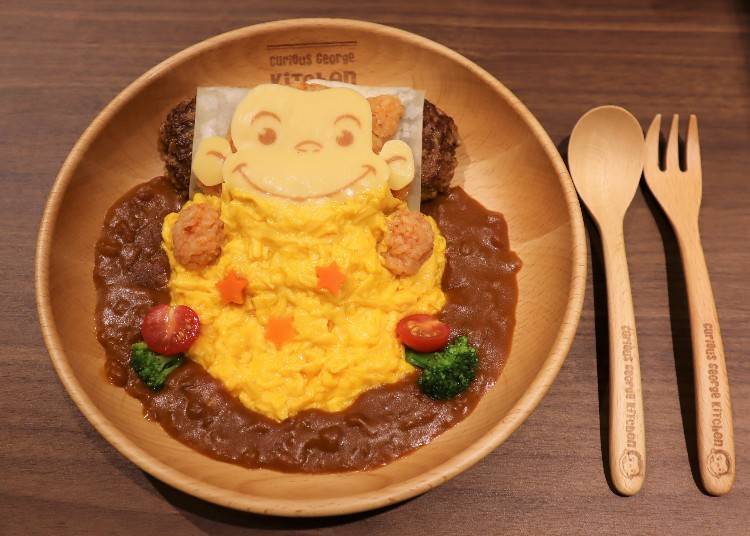 Goodnight? The Wide-Awake Omelet Curry Hamburg (1,680 yen)
This dish ingeniously recreates a scene of George in bed, wide awake and raring to go!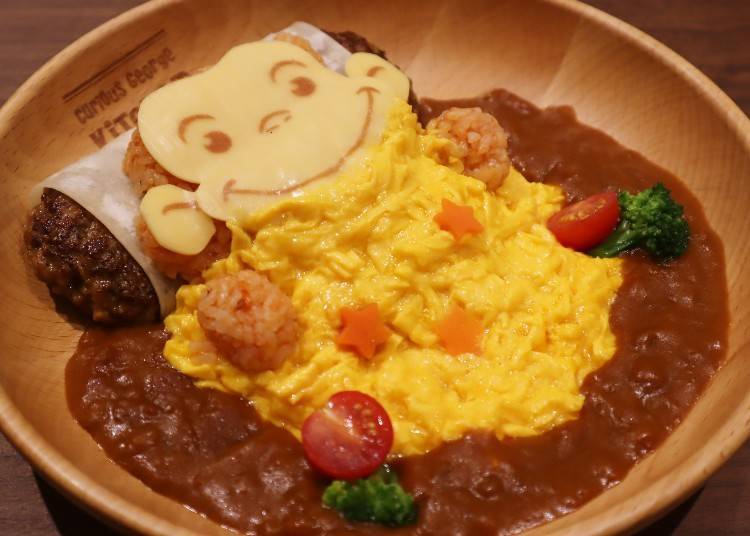 The Hamburg steak acts as the pillow, the body is rice with ketchup, the face is cheese, and the blanket is the omelet. Surrounding the scene is a lavish helping of the restaurant's own original curry sauce.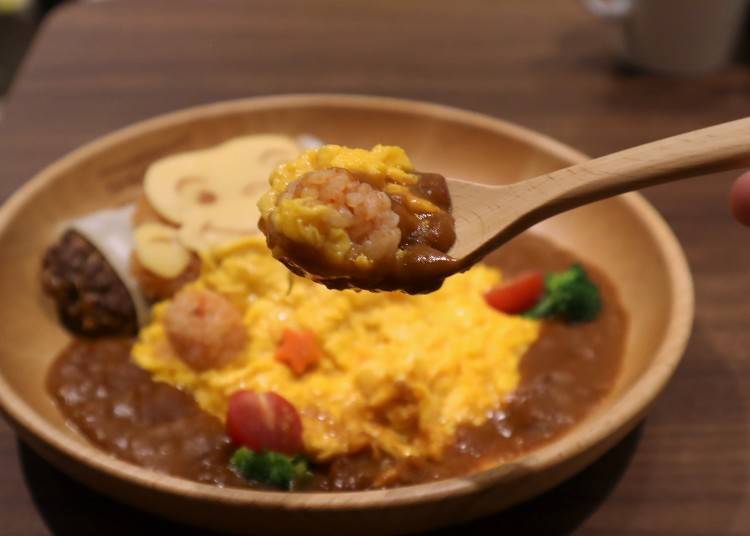 The Hamburg steak, a mix of minced beef and pork, has a thick, juicy tenderness and firm bite. While it's a shame to ruin such art, we recommend thoroughly mixing the rice, egg, and curry before eating.

The spice is exceptionally mild, so children can easily enjoy it too. With the smooth, perfectly runny egg complementing the delectable curry sauce, this is for those seeking top-notch Japanese cuisine.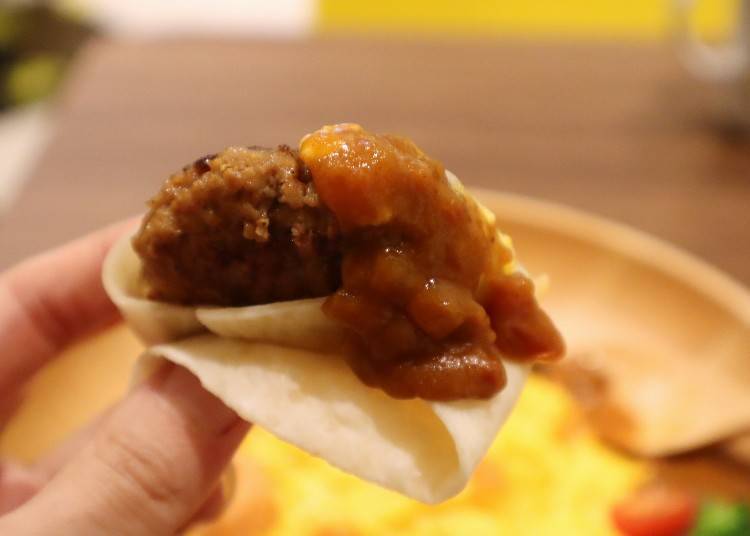 You can also wrap the Hamburg steak in a tortilla and dip it into the curry sauce.
Cannoli - A Scrumptious Italian Sweet Soon to Become Big in Japan!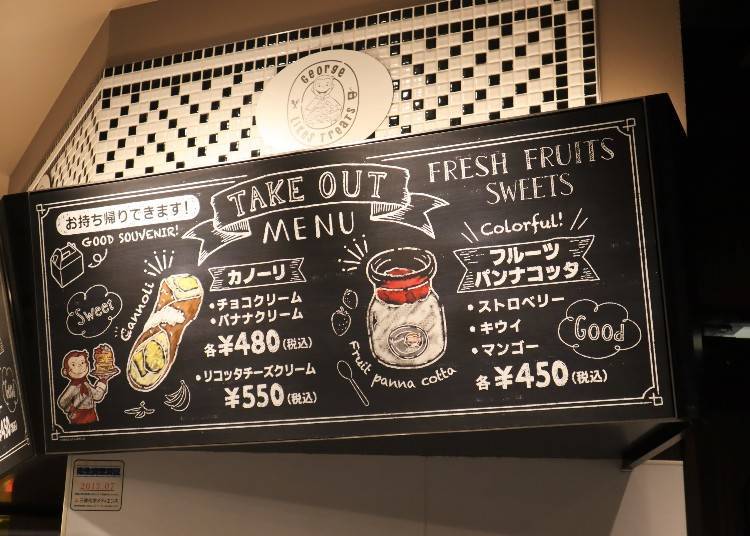 In addition to the eat-in menu, Curious George Kitchen offers a special take-out selection.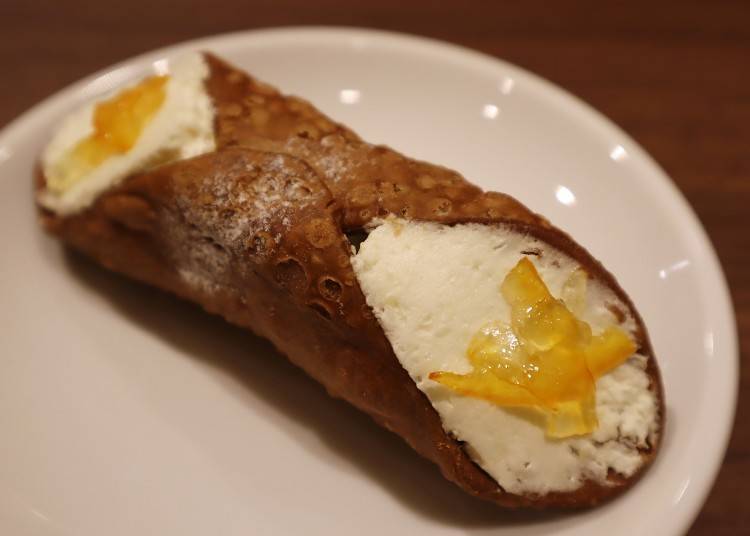 Loved By the Man with the Yellow Hat! Cannoli: Ricotta Cream Cheese (550 yen)
We were particularly fond of the ricotta cheese-flavored cannoli. For those not in the know, a cannoli is a beloved Italian sweet from Sicily mostly unknown in Japan. The pastry used here was directly imported from Italy, making it a rare opportunity to relish authentic Italian flavors while in Japan.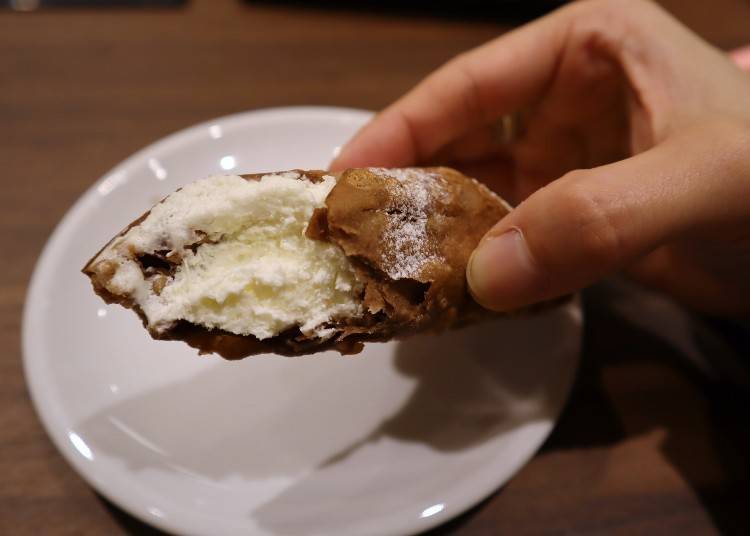 The pie-like pastry is light yet crunchy, firmly holding its bounty of ricotta cream cheese inside. Not too sweet, the cheese gives off a refreshing tartness making it go down a treat. These make for great gifts to bring back to friends and family in Japan or as snacks to munch on while exploring the surrounding cityscape. In addition to ricotta cream cheese (550 yen), chocolate cream and banana cream (480 yen each) are also available.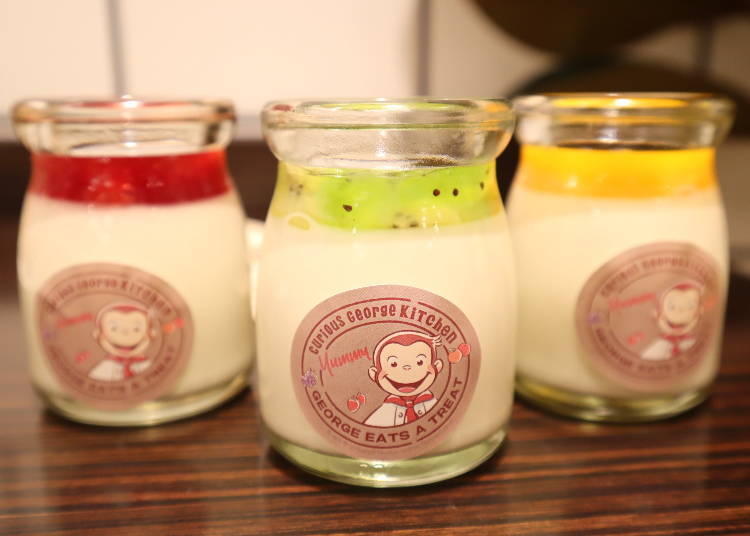 The take-out menu also includes three kinds of panna cotta - strawberry, kiwi, and mango (450 yen each).
Remember Your Fun Day Out With Cafe Souvenirs!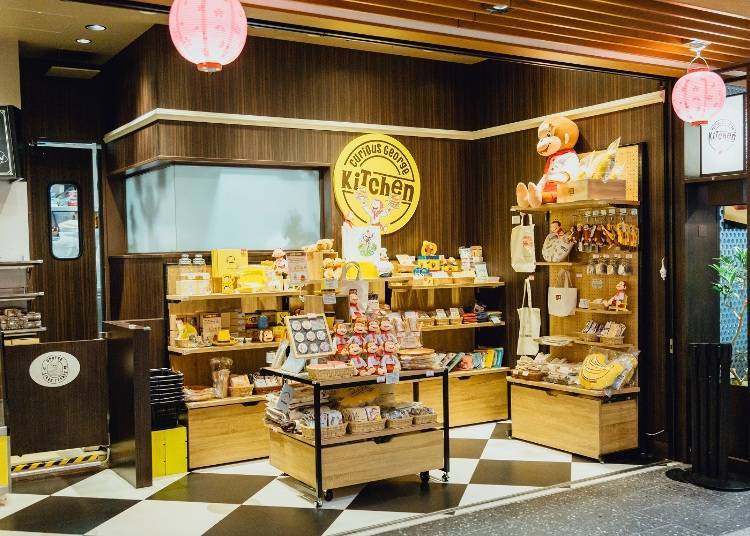 Photo courtesy of BENELIC CO., LTD.
One corner of the cafe is dedicated to a delightful range of Curious George merchandise.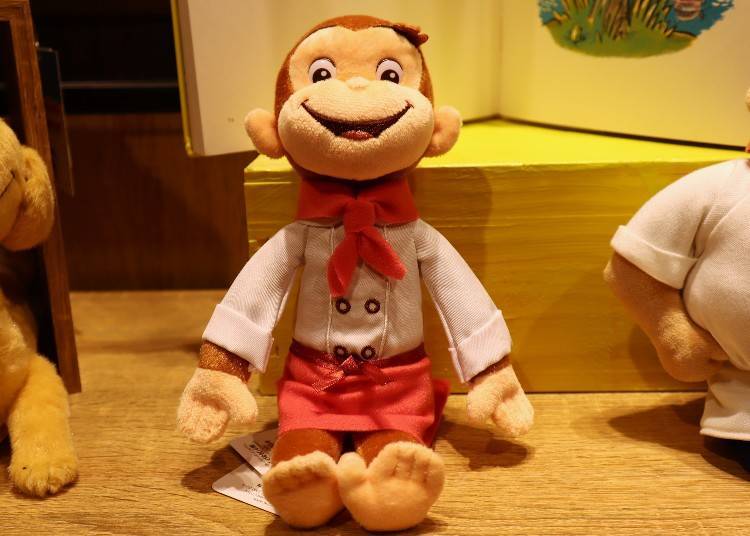 One highlight is a stuffed doll of George donning a chef's uniform, a limited-edition, cafe-only item (2970 yen). As you can see, it's extremely well crafted with fine attention to detail.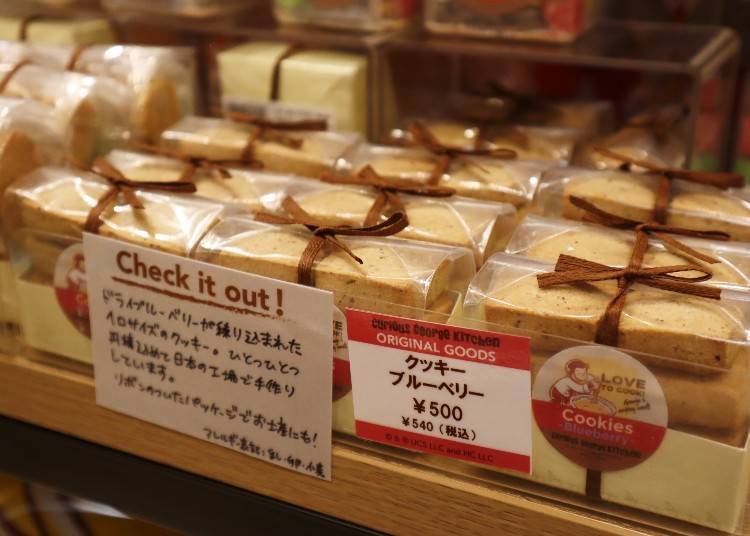 Price cards with a red line stating "ORIGINAL GOODS" indicate that they are Curious George Kitchen limited-edition items that can't be found anywhere else.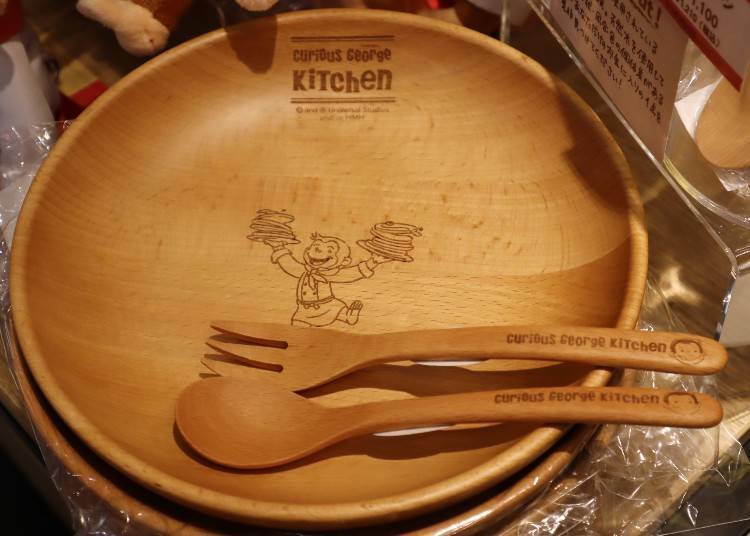 Wooden tableware with an illustration of George, which is actually used in the cafe, is also available for purchase.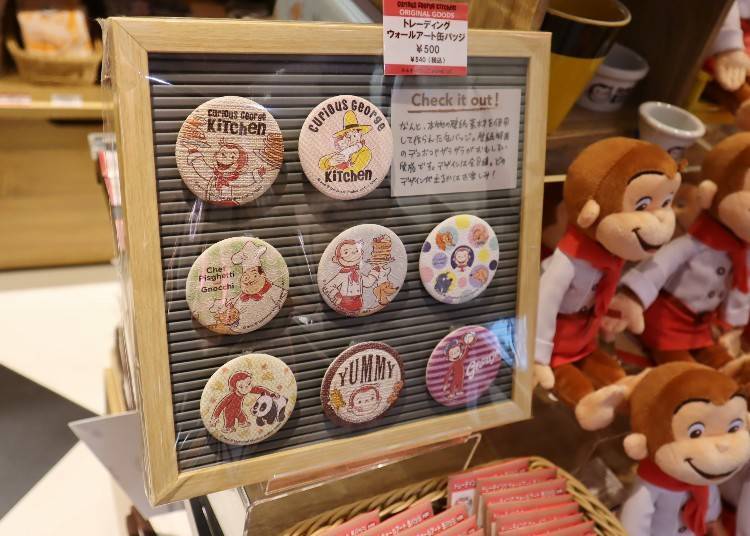 There are also eight kinds of pinback buttons made using wallpaper material (550 yen each). Wrapped so you can't peek inside, it's exciting to see which one you'll get!
Curious George Kitchen Is Open Until June 5, 2022!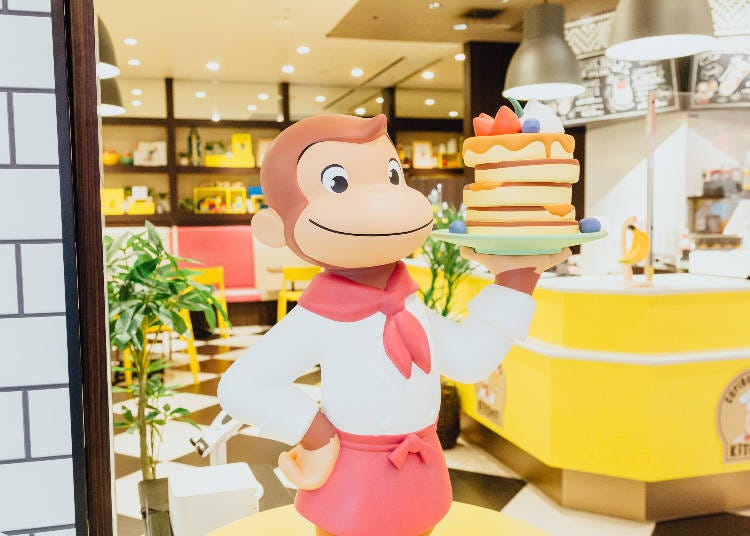 Photo courtesy of BENELIC CO., LTD.
Curious George Kitchen is only open until June 5, 2022, so be sure not to miss this opportunity to relive fun times with your childhood buddy!

If you're looking for a slightly off-beat and totally charming place to eat in Tokyo this spring, consider the Curious George Kitchen at Tokyo Solamachi®!

©&ⓇUCS LCC and HC LLC
「おさるのジョージ」キッチン

Address

1-1-2 Oshiage, Sumida-ku, Tokyo 131-0045

Phone Number

03-6658-8090

・Opening Period: March 17 - June 5, 2022
・Hours: 10:00 a.m. - 9:00 p.m. (last order: 8:00 p.m.)
・Closed: Irregular *as per shopping facility
・Bookings: https://curiousgeorge-kitchen.jp/
・Twitter: https://twitter.com/GeorgeKitchenJP
*During busy times, numbered tickets will be issued at a terminal in the store before entering.
Written by:
*This information is from the time of this article's publication.
*Prices and options mentioned are subject to change.
*Unless stated otherwise, all prices include tax.