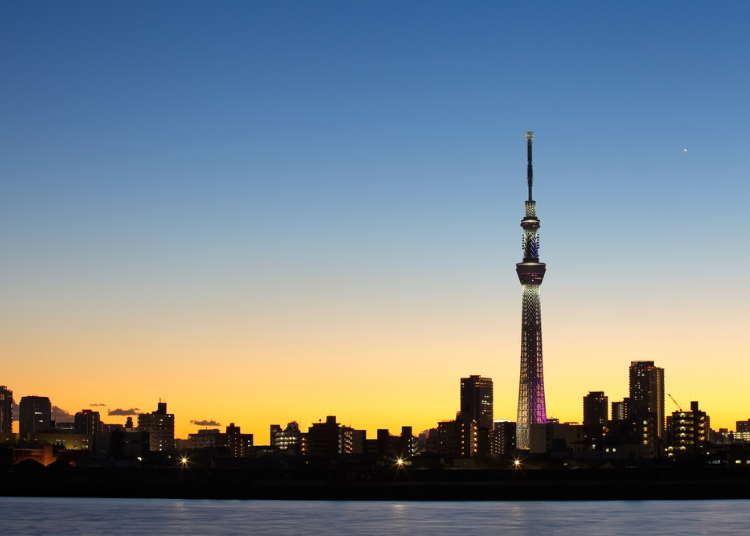 Tokyo Solamachi is a large commercial facility right at the foot of Tokyo Skytree, home to over 300 shops and restaurants. As such, it is one of Tokyo's biggest sightseeing spots and boasts a plethora of unique goods, dishes, and experiences.

Look forward to authentic Japanese food and unique, traditional souvenirs! Additionally, Tokyo Solamachi offers a tax-exemption counter, a multilingual support desk, luggage storage, and even a day-care nursery service – if you plan to go sightseeing around Tokyo Skytree and Asakusa, it'll prove to be an invaluable place!

Because 300 shops and restaurants can seem a bit overwhelming, we've hand-picked the most noteworthy places on each floor. It'll hopefully help you navigate the large complex and provide inspiration for your shopping tour! Let's dive right in, floor by floor.
1st Floor: The Solamachi Shopping Street, Station Street, Miscellaneous Goods, Cafés – a Colorful Variety!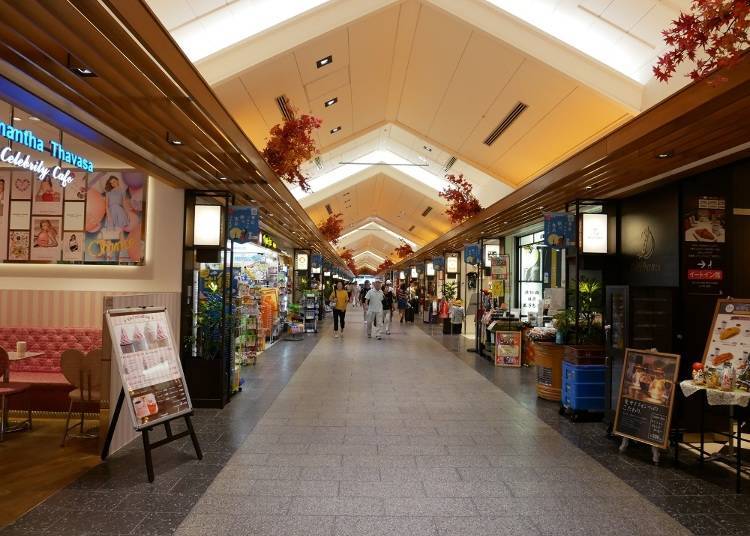 Solamachi Shopping Street is about 120m long, boasting the colorful vibrancy of a nostalgic downtown area. You'll find cafés, reasonable rice bowl dishes, drugstores, and plenty of original Solamachi souvenirs on the first floor. Luggage storage is at the 1F Tower Yard as well.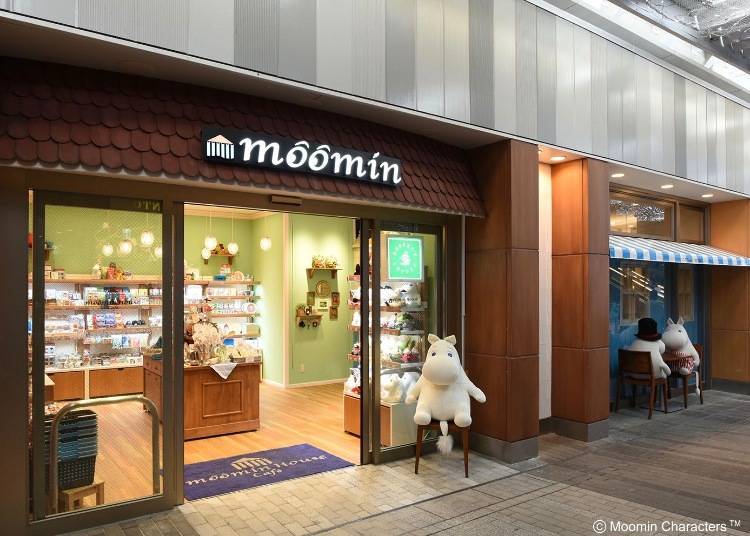 The Moomins are incredibly popular in Japan, so it comes as no surprise that you'll encounter a café entirely dedicated to them – the Moomin House Café at Station Street. The biggest characteristic of this charming place is that you'll get to enjoy an original menu centered around the popular characters, as well as get your hands on limited Moomin goods, only available here!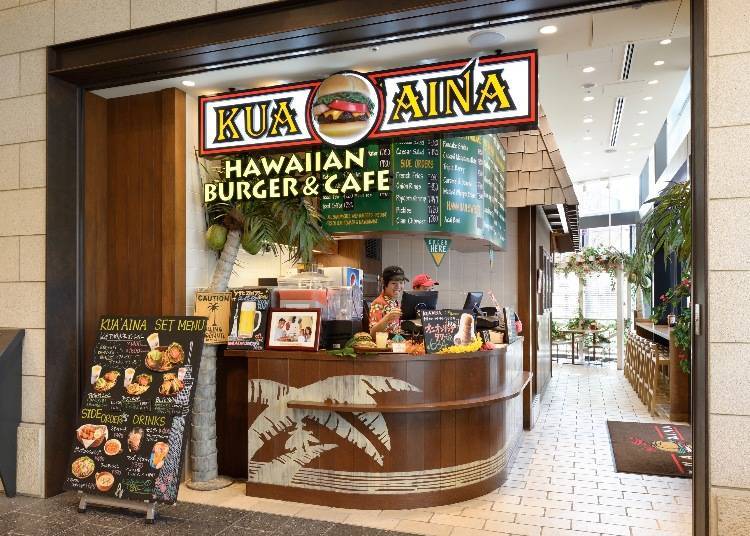 KUA'AINA is a famous gourmet burger restaurant from Hawaii's Oahu, first opened in 1975.
The menu is beloved among local surfers, and the restaurant enjoys tremendous support from its Hawaiian patrons – a reputation that has made KUA'AINA extremely popular in Japan. It's an absolute must-try!
2nd Floor: The Food Market, Ladies' Fashion, and Miscellaneous Goods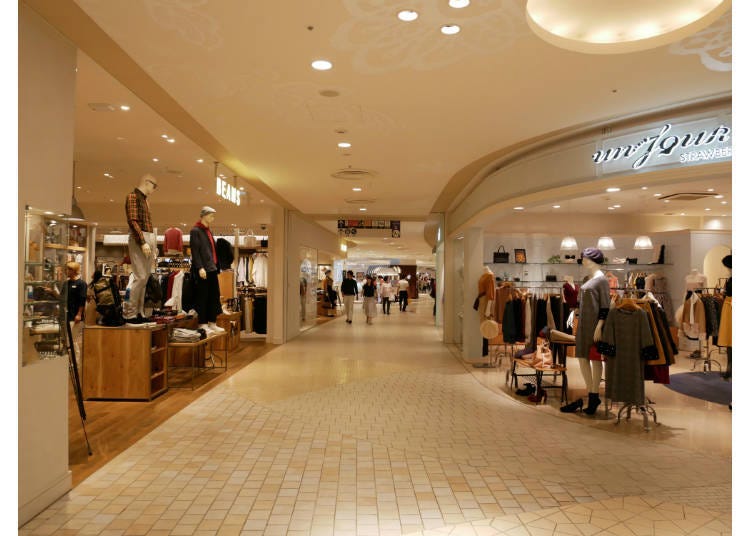 The East Yard on the second floor is all about ladies' fashion, offering Japanese brands, bags, and more. Famous Japanese confectionery shops can be found in the Food Market, along with high-quality fruit specialty stores. If you're looking for sweets or high-grade materials for bread baking, it's definitely the right place.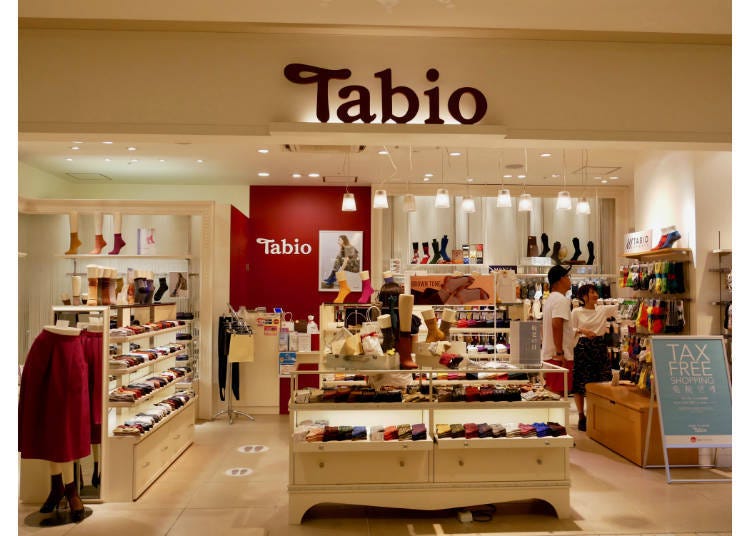 Tabio is a famous Japanese socks specialty store, offering high-quality wares for both men and women. "Made in Japan" can really be felt here, embodied not only by the quality but also in the design and materials.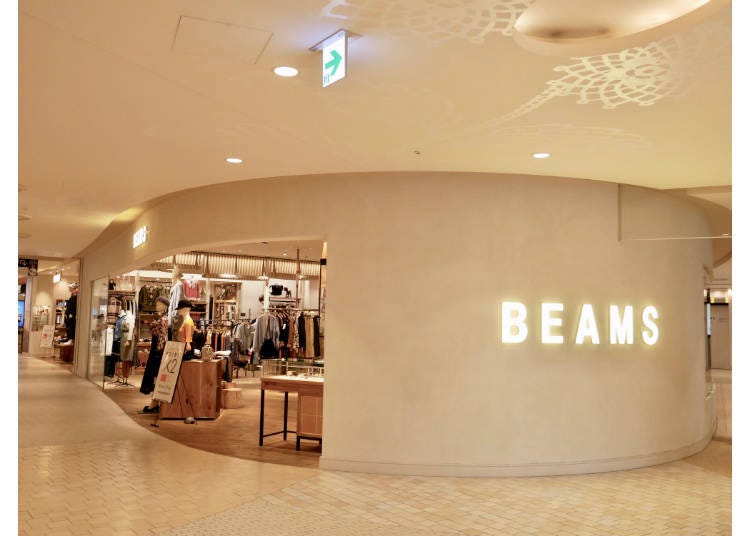 BEAMS is a shop that hand-selects unique Japanese and international brands that embody individuality. On top of that, the shop also boasts its own original creations. From luxurious to casual, it's a must-visit for fashionistas seeking to explore modern Japanese aesthetics.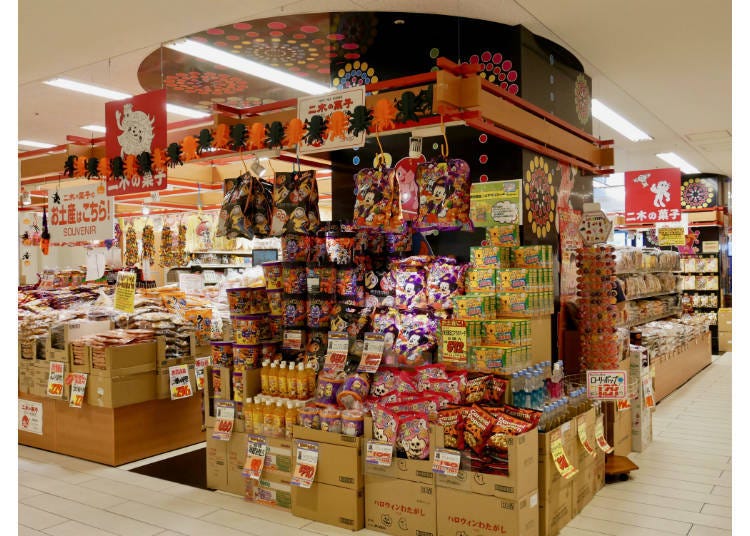 Niki no Kashi is one of Tokyo's most famous sweets shops from Ueno's Ameyoko, known for its unbelievably reasonable prices. It's THE shop for everyone with a sweet tooth and if you're looking for an affordable, tasty, and adorable packaged souvenir, make sure to stop by. A tax refund is offered as well!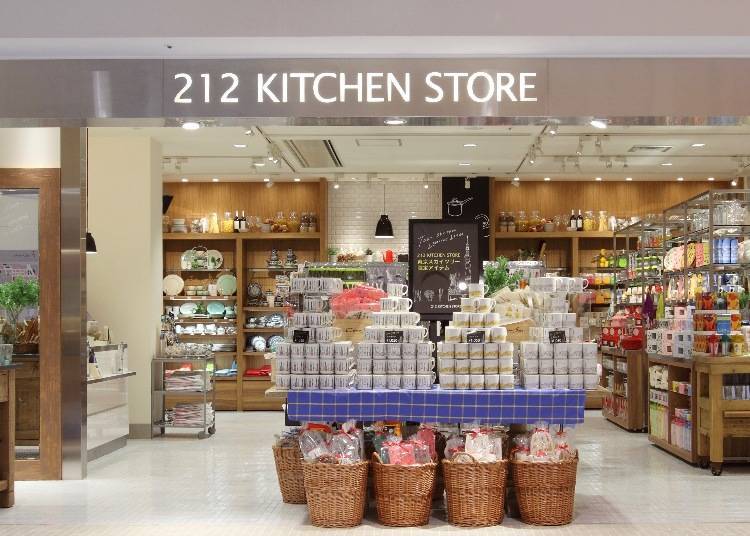 Japan has a bit of an obsession with kitchen goods, from useful to quirky to ingenious. 212 KITCHEN STORE offers a plethora of such kitchen goods and whether you're after tableware, accessories, or gadgets, you surely won't leave empty-handed!
3rd Floor: Fashion, Miscellaneous Goods, Solamachi Tabe-Terrace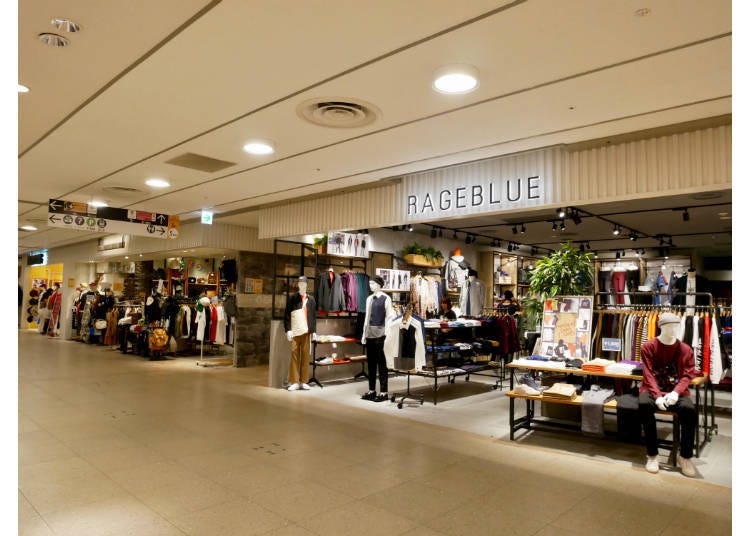 The third floor's East Yard offers various shops, including miscellaneous goods, stationery, high-quality interior goods, and more. The West Yard houses Solamachi Tabe-Terrace, a food court equally rich in variety. Savor ramen, takoyaki, Japanese-style Western cuisine, Chinese cuisine, sweets, and more!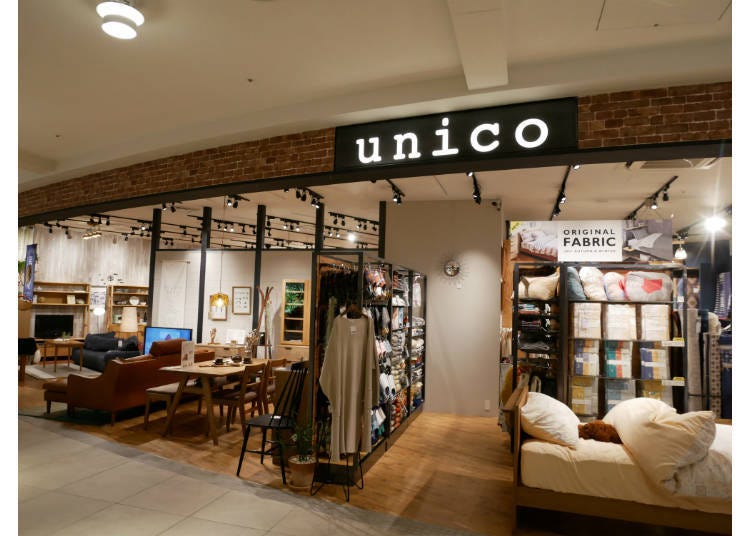 Head to Unico for a colorful selection of interior goods, including cushions, rugs, and even beds. The shop is committed to helping you find whatever fits your lifestyle best, paying great attention to material, design, and – most of all – comfort. It's worth to stop by even for smaller items such as slippers or lamps.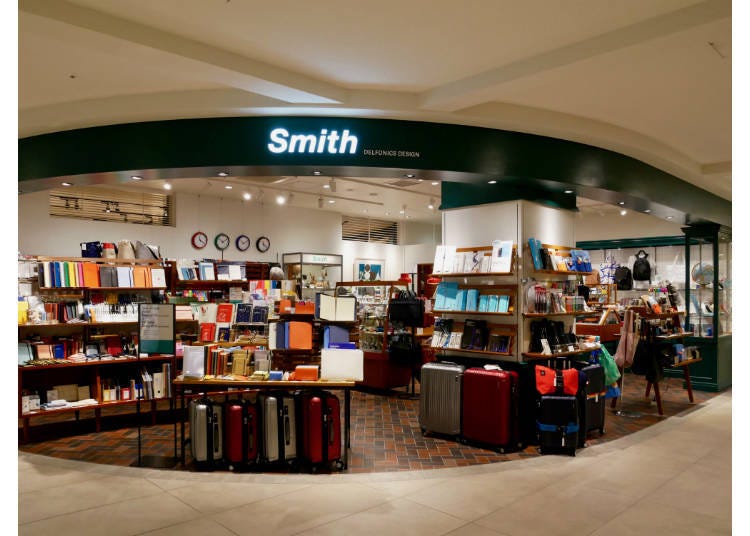 Smith is a charming shop with a choice selection of stationery items and miscellaneous goods. It mainly deals in high-quality items from both Japanese and international brands, as well as originally produced leather goods that fit any style!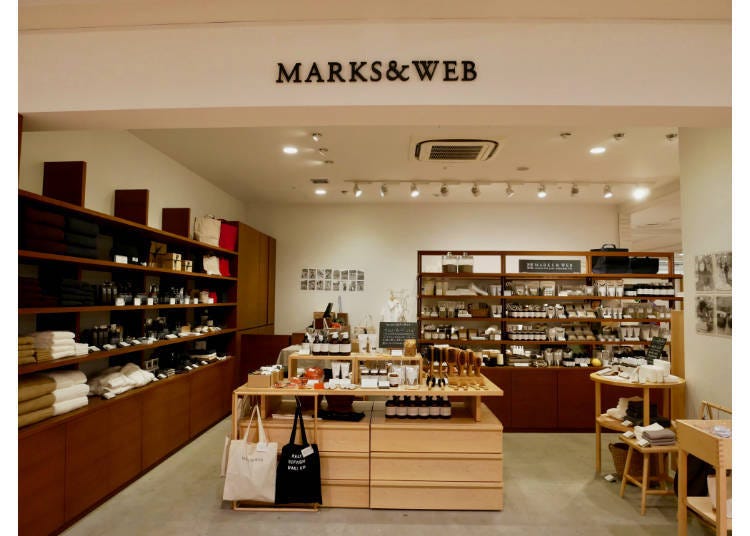 A whiff of MARKS&WEB's natural, aromatic oil products is sure to immediately put you into a more relaxed mindset. The chic brand boasts a wonderfully Japanese aesthetic and makes for an excellent stop for souvenirs. We especially recommend the aromatic body soaps and shampoos.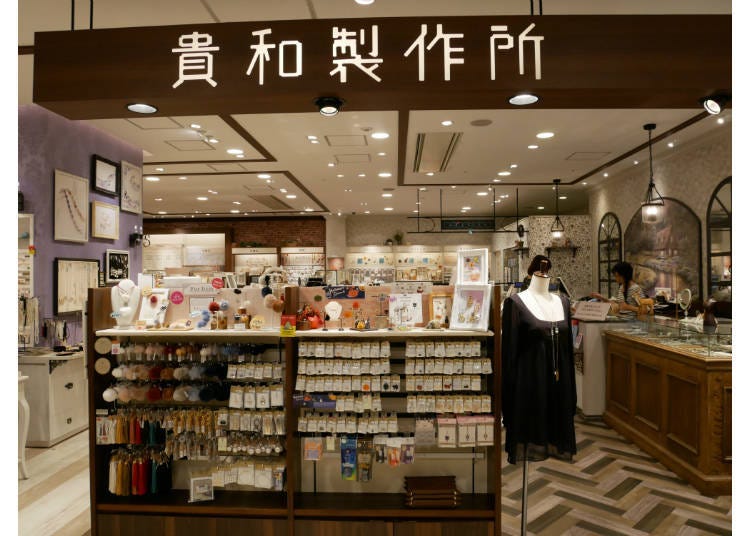 Kiwa Seisakujo, or Kiwa Products, focuses on all the parts and tools you need to make beautiful handmade accessories, such as earrings, bracelets, or necklaces. The shop also offers the service to rent tools to people who buy material, so you could even craft yourself a unique accessory in a relaxed café and bring the tools back on the same day! Of course, Kiwa Seisakujo also offers limited parts and motifs centered around Skytree and uniquely Japanese aesthetics.
UNITED ARROWS green label relaxing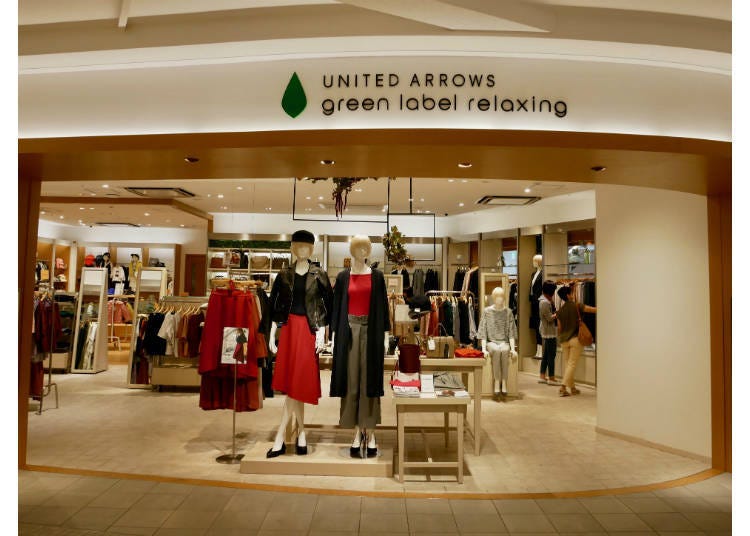 Green label relaxing by the high-grade brand UNITED ARROWS is all about stylish and comfortable clothes and accessories for affordable prices.

From casual to business, the line boasts an abundant lineup of apparel fit for daily life and various styles. Beloved by many a trend-aware Japanese shopper, a visit to this shop is an absolute must for every fashionista!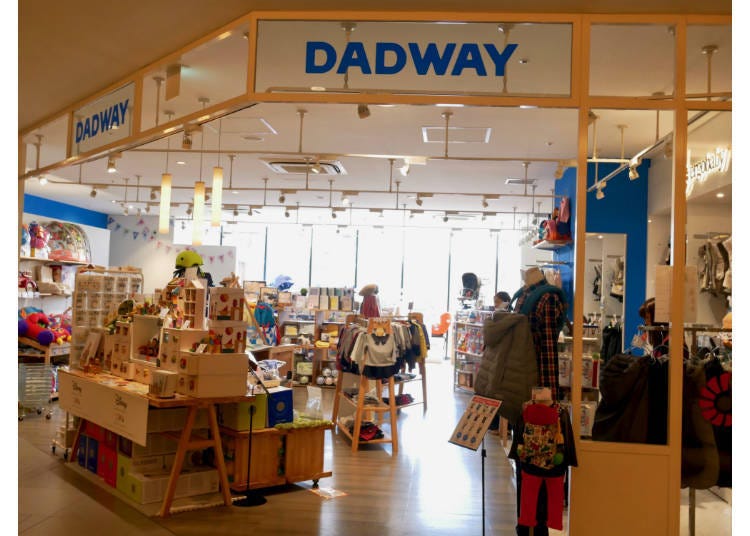 DADWAY is a specialty store for baby and kids' goods, a plethora of baby carriers, baby bottles, toys, and more. As the name suggests, the shop's selection is targeted towards fathers, but the predominantly neutral colors of the goods are sure to please anyone who struggles to find equipment and toys that aren't pink or blue.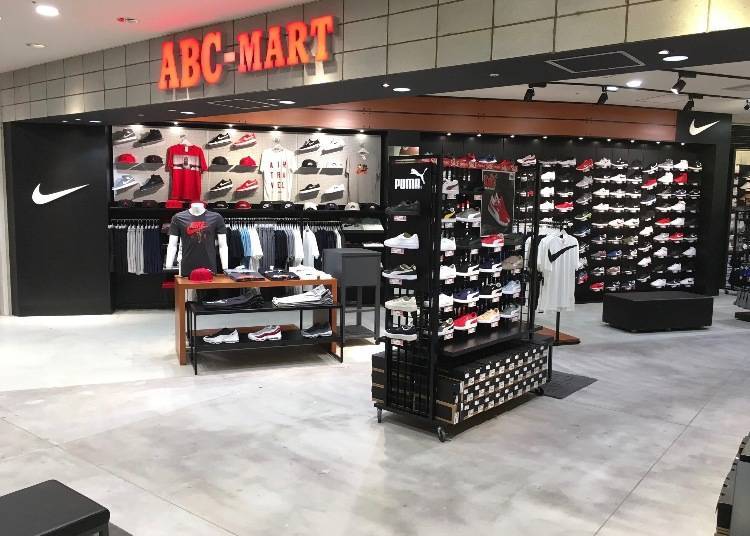 ABC-MART is one of Japan's prime shoe store chains, selling popular brands such as Nike, Adidas, Vans, and a lot more. The biggest selling point of ABC-MART is the very reasonable prices and the abundance of sizes for men, women, and children. From sneakers to boots, it's the shop to check for a pair of shoes!
Milk & Parfait Yotsuba White Cosy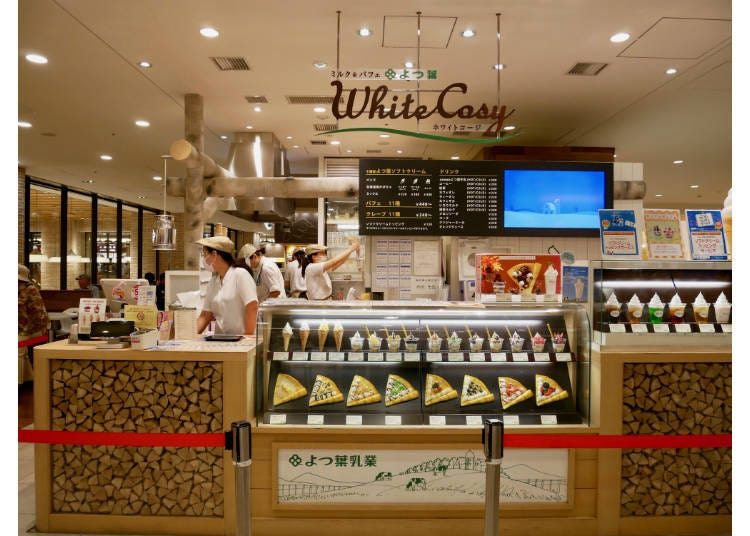 This café is directly operated by Yotsuba, a famous dairy company from Hokkaido. It is trendy, selling heavenly desserts with rich, soft serve made from the finest milk, from classic ice cream to amazing parfaits. Especially delicious are the crepe creations, freshly made with each order.
4th Floor: Japanese Souvenirs, TV Characters, and Restaurants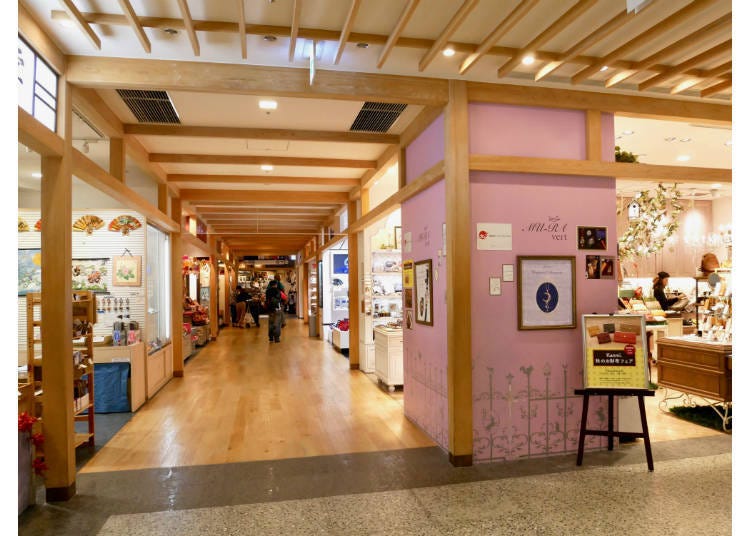 If you're looking for unique goodies from Japan, head to the East Yard on the fourth floor. It's a treasure trove of items that combine tradition with style and functionality and browsing alone is incredibly fun and entertaining. It's the one area that cannot be missed when coming to Solamachi!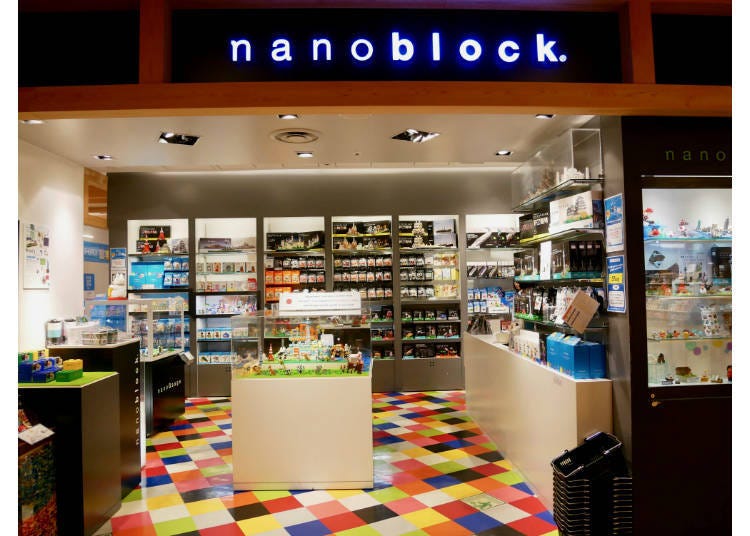 Nanoblock is the world's tiniest building block and Solamachi hosts its official store. Targeted towards adults, the little blocks have taken hobbyists in Japan by storm! With landmarks such as Tokyo Skytree and famous places from all around the world, Japan's nanoblocks are a fun and popular souvenir that turn playing with building blocks into a proper hobby again!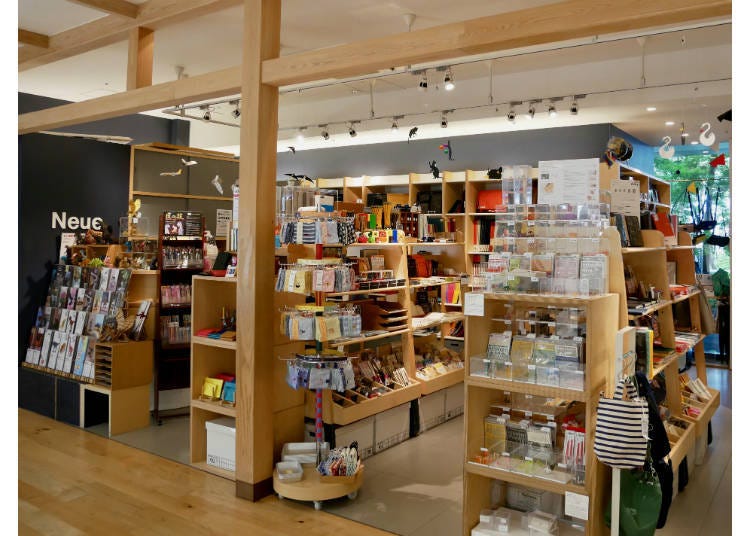 Neue is a select stationary shop from Kobe, offering exceptionally beautiful items from both Japan and abroad. The craftsmanship and passion that went into creating each item are more than palpable!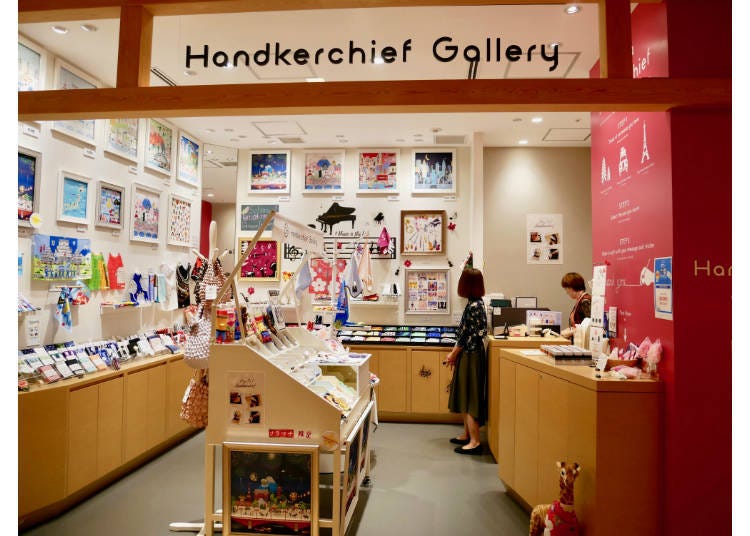 You will be hard-pressed to find a Japanese person who is not carrying a little handkerchief with them. This shop is committed to this cultural quirk, selling beautiful, high-quality handkerchiefs that make for excellent souvenirs! The selection not only caters to men and women but also offers great choices for the little ones.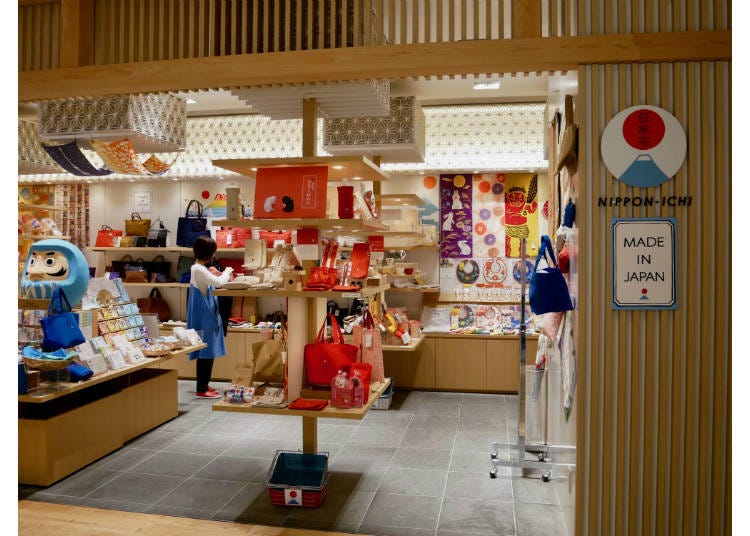 At Nihon-ichi, meaning "marketplace Japan," you'll find local souvenirs from all around the country! This shop provides the wonderful opportunity to explore regional tastes and characteristics without ever setting foot outside of Tokyo.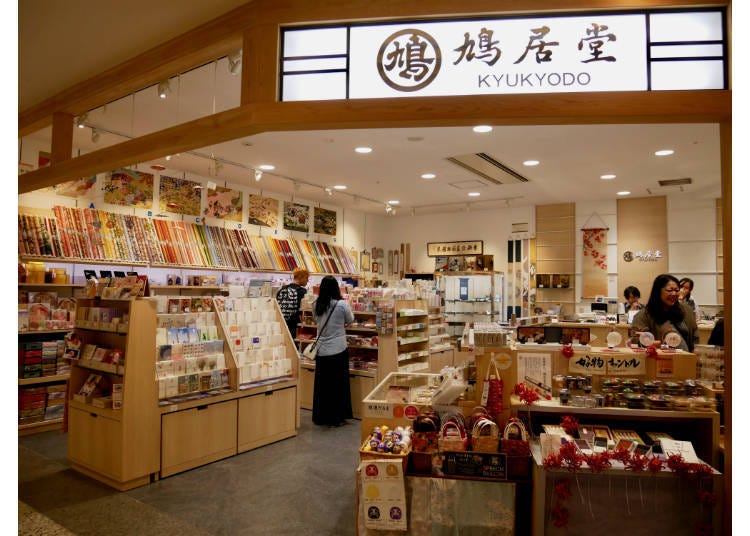 Founded in 1663, Kyukyodo is a famous, long-established store from Tokyo. It deals with incense, Japanese paper, letter-related goods and supplies, unique envelopes, and more. People who enjoy putting a lot of thought and effort into their letters will find this shop a real paradise of high-quality items, all enhanced with beautiful Japanese aesthetics revolving around the four seasons.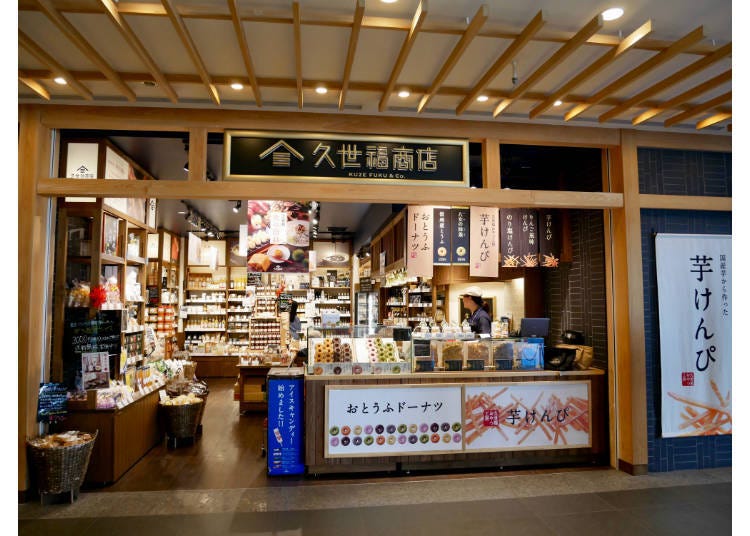 Kuzefuku is the pioneer of gourmet stores, gathering fine ingredients from all over Japan. Soup stocks, fermented goods, and more – this is the place to go to bring an authentic Japanese taste to your own kitchen!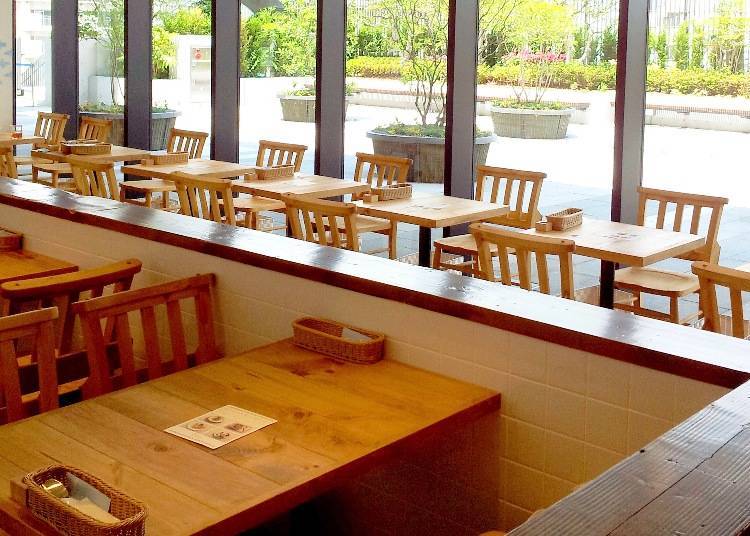 This bright, relaxing café offers a wonderfully natural taste in dishes such as Japanese-style pasta, risotto, or brown rice pancakes. Everything boasts a delicious seasonal taste and if you want to take a break and kick back for a while, this is our recommendation.
6th and 7th Floor: Solamachi Dining, the World of Japanese Cuisine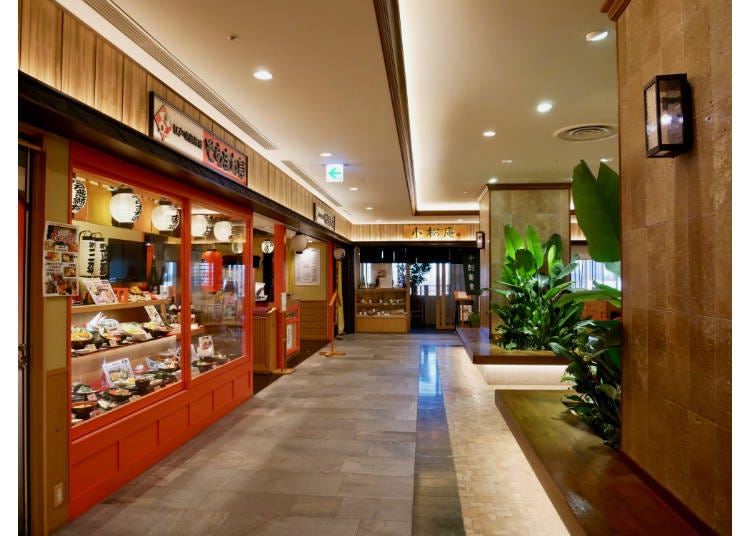 The East Yards of the 6th and 7th floor are home to Solamachi Dining, a gourmet area that offers a wonderful selection of Japanese cuisine, including specialty restaurants, pork cutlet restaurants, okonomiyaki shops, and more. Whether you like it classic or casual, the world of Japanese cuisine is ready to be explored!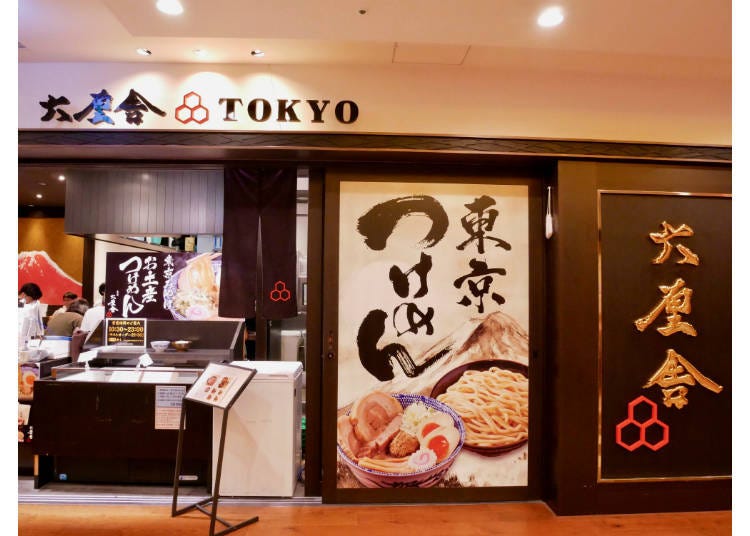 Rokurinsha is a famous noodle shop from Tokyo. Its unique ramen style – serving the noodles separate from the soup – enjoys a large fandom, so there usually is a long queue in front of the restaurant. The incredibly delicious taste, however, is well worth the wait!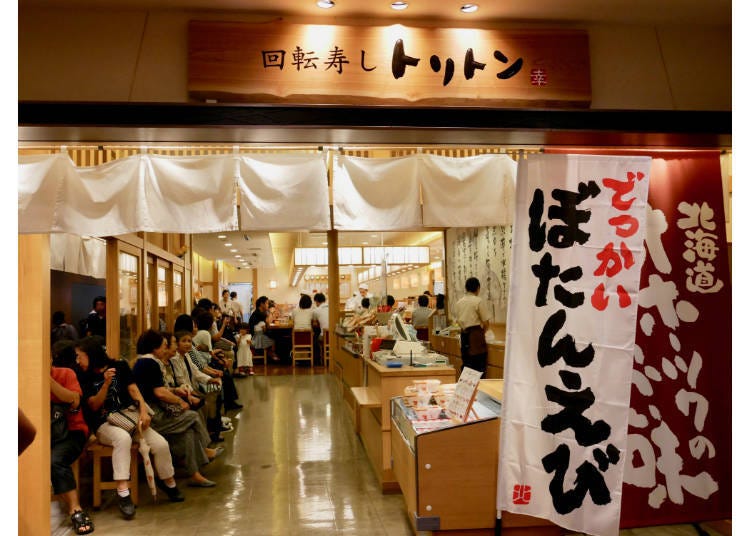 A famous restaurant from Hokkaido, Kaitenzushi Toriton's secret to popularity is the iconic taste of Hokkaido's freshest seafood. Another reason is the reasonable price at which this amazing seafood is offered and for sushi lovers, this is a must-try!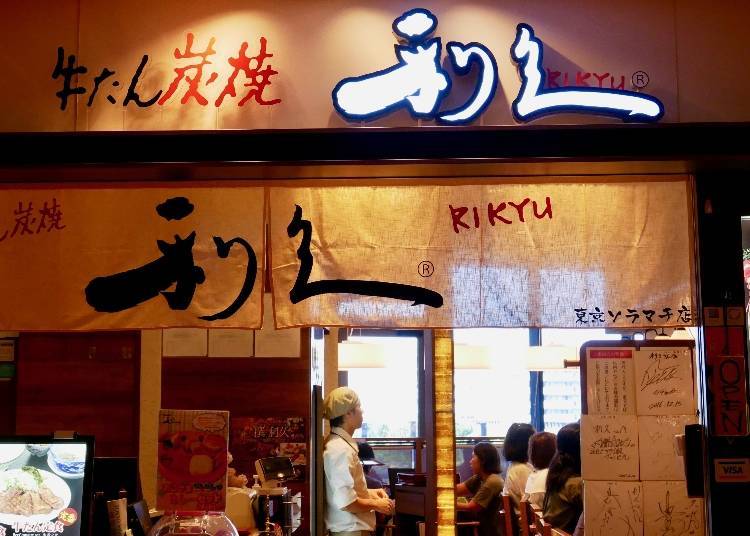 Beef lovers, take note! Rikyu offers meat from Sendai, the most famous area in Japan when it comes to beef tongue. The skilled chefs will tickle your taste buds with aged beef, carefully grilled – it's a gourmet experience like no other.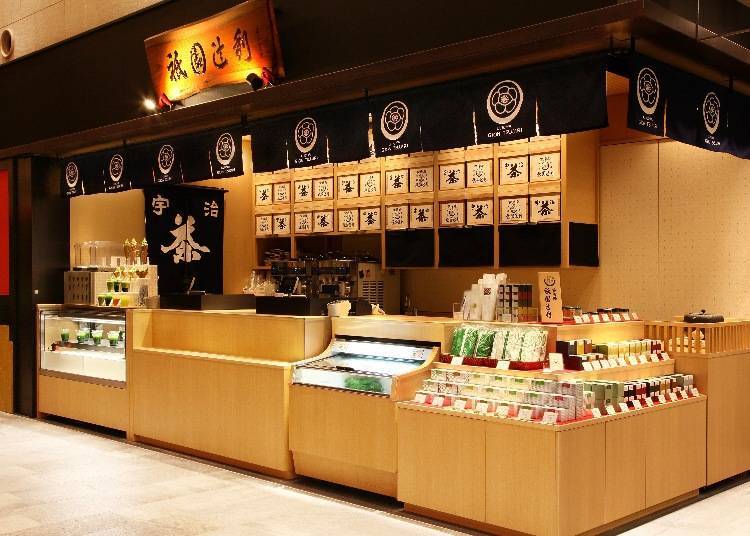 Kyoto's most famous matcha shop, Gion Tsujiri, dates back to 1860. Savor green tea from Japan's premier production area, Uji, and taste the unique richness of matcha tea in all its glory. We especially recommend the matcha soft serve and the many other tea-centric sweets!
Hitsumabushi Nagoya Bincho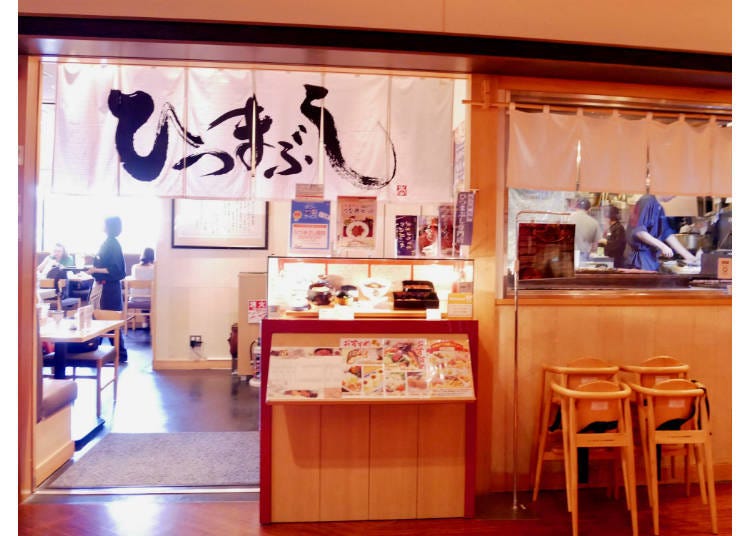 One dish that everyone should savor when coming to Japan is eel. Hitsumabushi Nagoya Bincho is a famous specialty store that serves golden-browl eel grilled over fire, coated with a secret sauce that'll melt right on your tongue!
30th and 31st Floor: Gazing Down from Tokyo Skytree During Dinner
You'll also find restaurants high up on the 30th and 31st floor of Tokyo Skytree and, as you can guess, they offer a breathtaking view over the city. There is nothing more beautiful than celebrating a special occasion with your family or partner among the clouds, gazing down on the glittering lights of Tokyo. From French cuisine to Japanese barbecue and high-grade teppan restaurants, the choice is yours to make.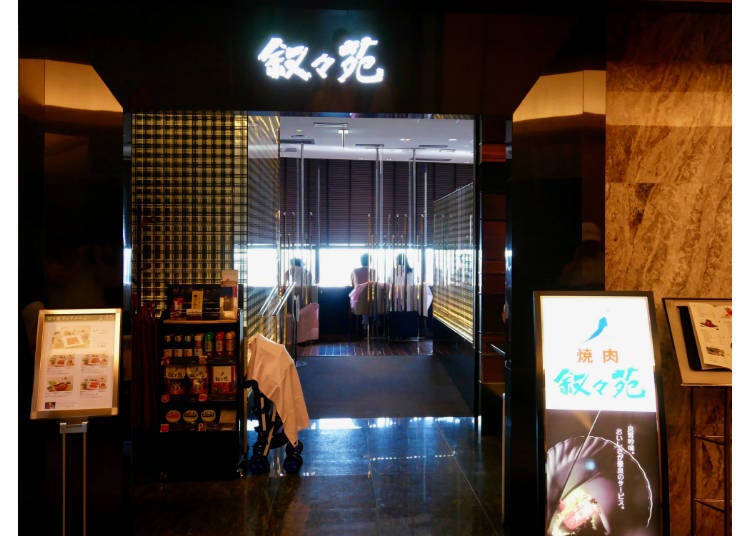 Jojoen is a famous high-class barbecue restaurant known throughout Japan and is also immensely popular among tourists. Enjoy amazing barbecue dishes as you look down from Tokyo Skytree's 30th floor, a memory that you won't be able to forget. While the night view is breathtaking, we recommend visiting Jojoen during lunchtime and making use of the surprisingly reasonable prices!
In 2017, Solamachi celebrated its 5th anniversary as one of the city's most stylish, fashionable spaces. With a tasteful interior and modern design, your shopping experience is going to be a relaxed and memorable one. A dedicated rest area invites you to take a break and enjoy the day at your own pace, without any hurry or stress on every floor. This is especially wonderful if your feet start to hurt from exploring the nearby historic district of Asakusa, or after wandering around the top of Tokyo Skytree. The selection of restaurants in Solamachi is rich, with many options catering to a Western palate while also offering authentically traditional choices. If you're planning to sightsee in the area, you should definitely not miss out on the exciting discoveries that await inside Tokyo Solamachi!
東京ソラマチ

Address

1-1-2, Oshiage, Sumida-ku, Tokyo, 131-0045
*This information is from the time of this article's publication.
*Prices and options mentioned are subject to change.
*Unless stated otherwise, all prices include tax.