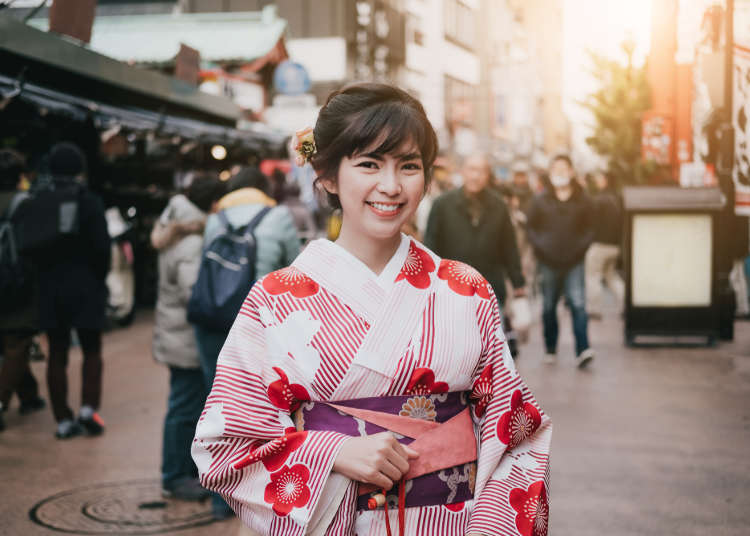 Asakusa, Harajuku, Shinjuku, and Omotesando are Tokyo's big four sightseeing areas. It's where every tourist to Japan should go at least once.

To make exploring these Tokyo neighborhoods unique and fun, we asked locals to show us around and introduce us to their favorite little-known spots!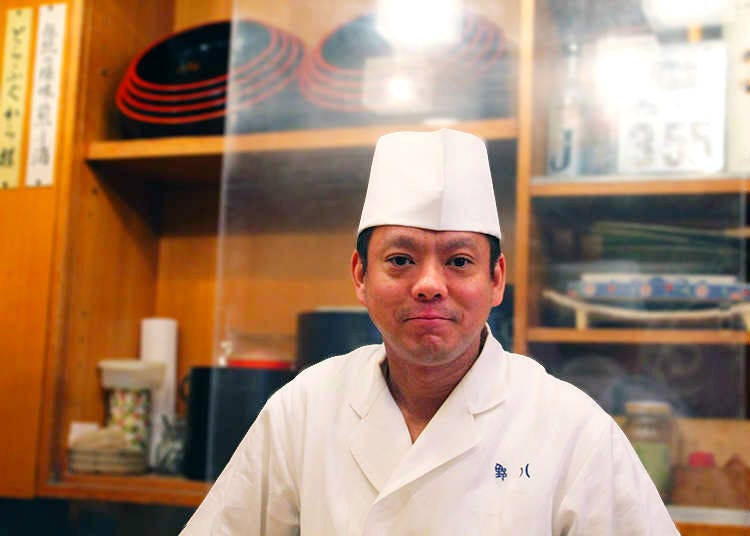 This time, we made our way to Asakusa and met Hironori Ikeno, the young chef of sushi restaurant "Sushiya Nohachi" close to the famous Kaminarimon.

His shop makes you feel right at home with its laid-back, welcoming atmosphere and the masterful yet routine gestures with which he prepares his delicacies are nothing short of mesmerizing.

He's taking us on a stroll through the area, showing us the day to day life of Asakusa and spots dear to him – prepare yourself, because Ikeno-san's sightseeing tips are as delicious as his sushi creations!
#1. Asakusa Amezaiku Ameshin: Breathtaking Art of Japanese Candy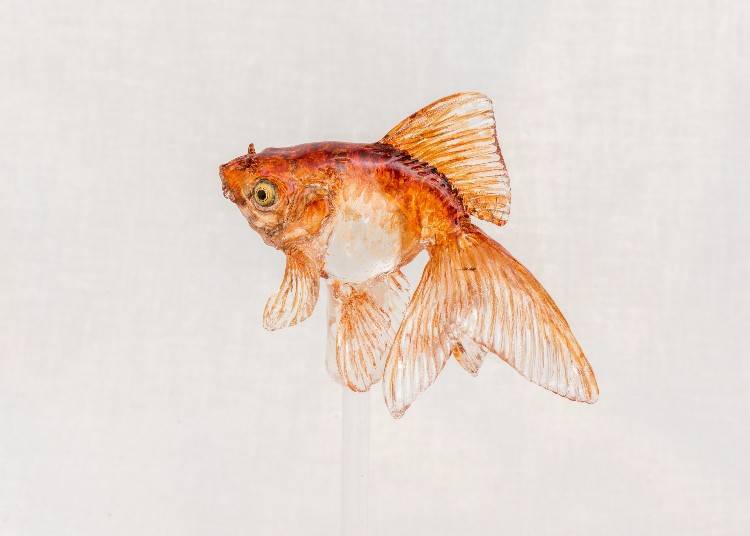 It's hard to believe that this goldfish masterpiece is entirely made out of candy.
"I am happy that young people have an interest in traditional culture, keep it alive, and nurture it," explains Ikeno-san as he shows us Asakusa Amezaiku Ameshin, a traditional candy shop that boasts the reputation of being one of the best in the entire country. Candy art is global, but in Japan, it has been a beloved tradition since the Edo period when skilled masters entertained the common folk with their sweet creations. It can be done outdoors, with one's bare hands and a pair of scissors. The way the soft candy is taking shape while being heated to 90 degrees Celsius is pure magic. It does not matter how old you are, we guarantee that you will be fascinated by the quick movements of fingers and scissors, forming a sweet lump into a work of art. Ameshin also operates a shop at Tokyo Skytree Solamachi, so why not stop by to see a candy performance if you're visiting the iconic tower?
浅草・飴細工アメシン

Address

Hori Bldg. 1F, 2-9-1 Hanakawado, Taito-ku, Tokyo 111-0033

Hours: 10:30 a.m. – 6:00 p.m.
Closed: Thursdays, irregularly
#2. Hanayashiki: Magical Illuminations Bring Color to Your Insta Account!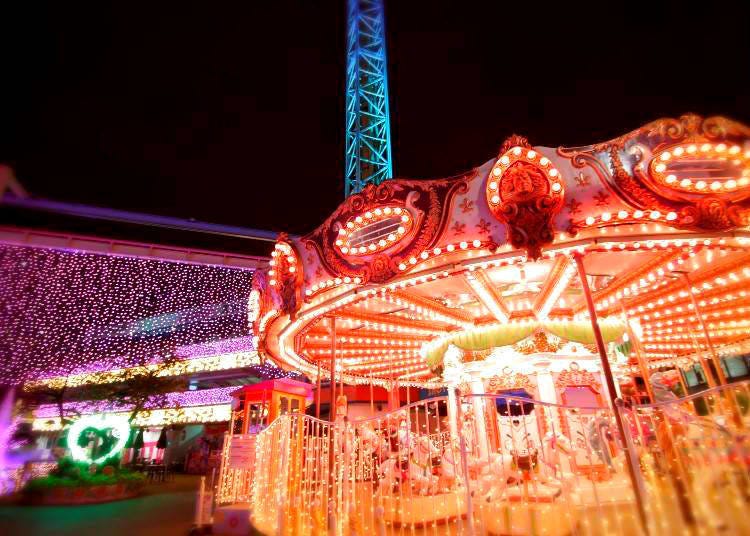 Hanayashiki is a nostalgic amusement park right in the heart of Asakusa.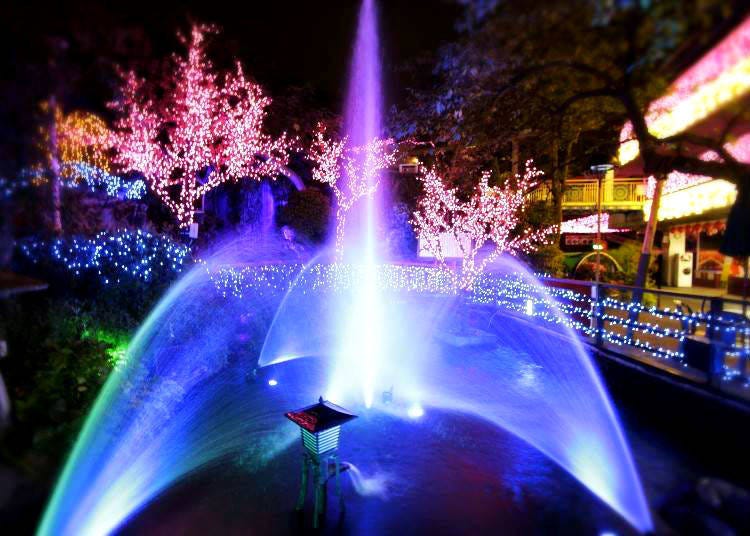 The lit-up fountain is especially stunning.
"This is so beautiful, you can't not post it to Instagram to show all your friends," says Ikeno-san about the illuminations of Hanayashiki, Japan's oldest amusement park.

The nostalgic spot celebrated its 165th anniversary in 2018, seeing dyed with more than 500,000 tiny lights. The classic rides seem to transform when lit up like that and people are especially drawn to the park's conic haunted house.

"Hanayashiki is an entirely different experience at nighttime. Senso-ji Temple is also lit up and while sightseeing in Asakusa is fun during the day, wait until the sun has set," recommends Ikeno-san. Hanayashiki is only illuminated for a certain period, this time from November to March. Make sure to check the official homepage before going!
浅草花やしき

Address

2-28-1 Asakusa, Taito-ku, Tokyo 111-0032

Admission (regular hours): 1,000 yen for adults (rides cost extra)
Admission (illuminations): 2,000 yen for adults (includes tickets for 6 rides of your choice)
Hours: 10:00 a.m. – 6:00 p.m. (last admission at 5:30 p.m.)
Hours (illuminations): 6:30 p.m. – 9:00 p.m. (last admission at 8:30 p.m.)
*Closed on maintenance days.
#3. Junkissa Mountain: Savor an Authentic Japanese Retro Café Experience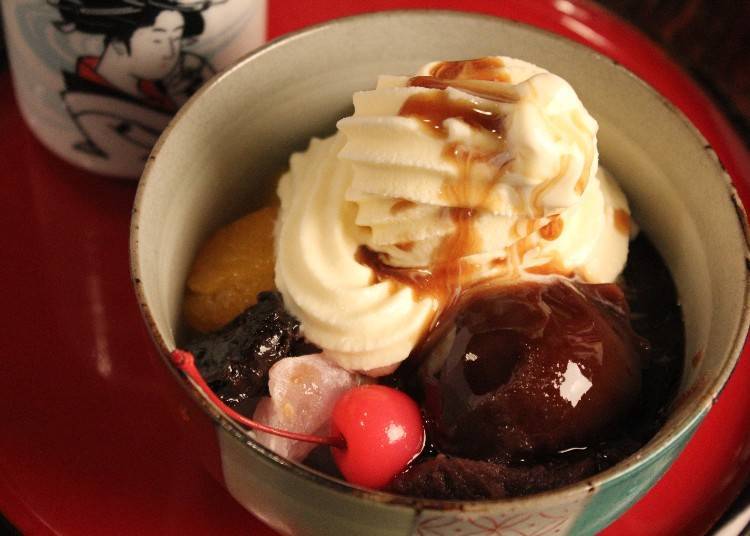 Homemade bean past and soft serve are united to a heavenly harmony in the "Cream Anmitsu" dessert for 900 yen.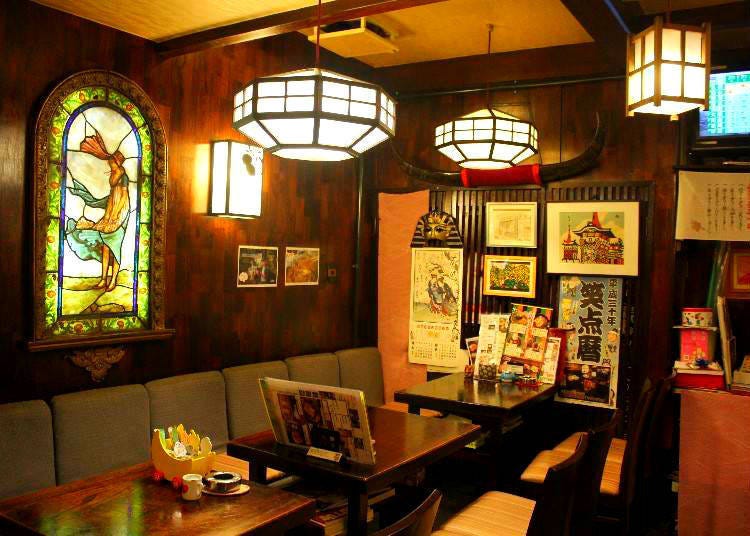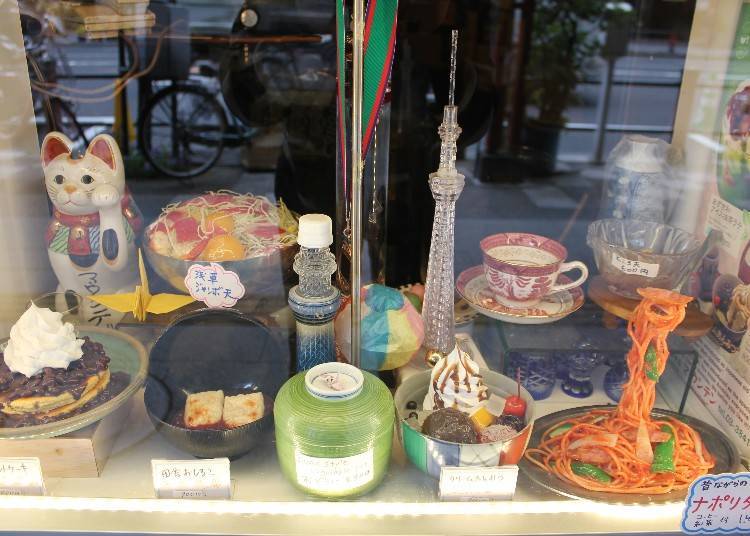 You're greeted by food samples illustrating the menu before stepping into a retro café with a laid-back atmosphere.
Asakusa is dotted with retro cafés, but Ikeno-san likes Junkissa Mountain the most "because they make Monjayaki on the second floor!" For the uninitiated, monjayaki is a Tokyo specialty that features a variety of ingredients mixed with a rather liquid dough and fried on a hot iron plate.

Junkissa Mountain serves this local classic, along with nostalgic pasta varieties, coffee specialties, and sweets and desserts. Passing by the sample food at the entrance, a relaxed and nostalgic atmosphere immediately engulfs the café's guests, welcoming them in a laid-back manner.

Sinking back into the soft chairs at the low tables is relaxing – the perfect space to take a breather. "The café's Skytree Parfait has recently been popular, but the staple dish to order at Junkissa Mountain is the Cream Anmitsu," says Ikeno-san. The traditional dessert of sweet bean paste and other wonderfully Japanese flavors is a must-try if you want to experience Japan's retro café culture!
純喫茶 マウンテン

Address

1-8-2 Asakusa, Taito-ku, Tokyo 111-0032

Hours: 11:30 a.m. – 10:00 p.m. (Okonomiyaki Mountain is open until 9:00 p.m.)
Closed: open every day
#4. Benitsuru: Serving the Fluffiest Japanese Pancakes in all of Asakusa!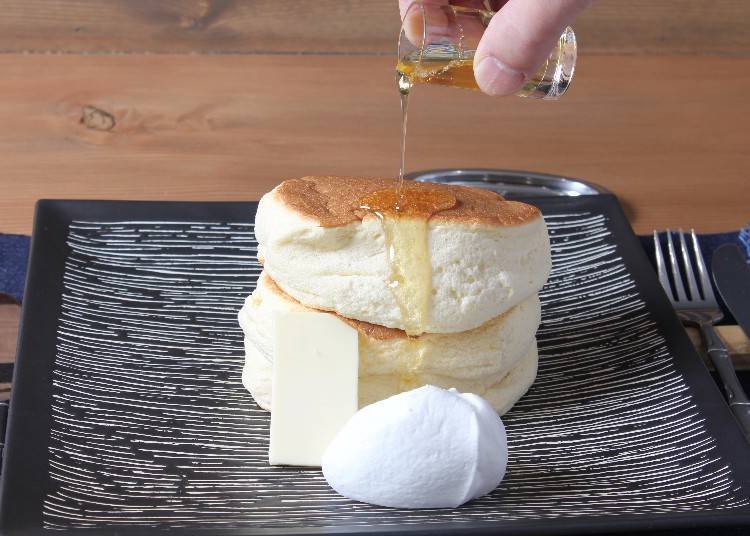 Honey and butter pancakes for 1,100 yen, whipped cream on the side is another 100 yen.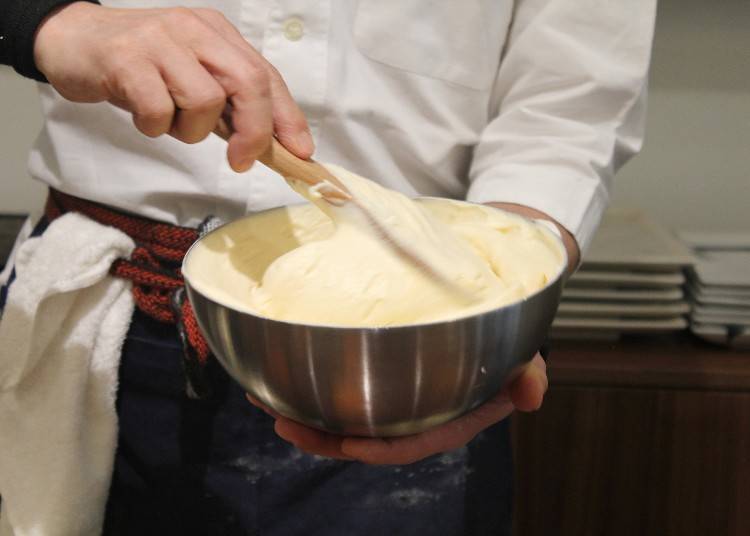 The pancakes are baked right at the counter on a single place, coated in a fine meringue of rice flour and cane sugar.
"People queue up for this shop from early in the morning," says Ikeno-san and tells us how surprised he was about that. Benitsuru is a pancake specialty shop that is run by the son of the owner of Flamingo, a famous café in Shibuya. In fact, "benitsuru" is the Japanese translation of "flamingo."

The pancakes here are made with rice flour, making for a unique texture that is positively addicting. It's fun to add a variety of toppings for gorgeous visuals, but the best is the simplest: honey and butter.

The gentle sweetness of cane sugar mingles with the subtle saltiness of butter on your tongue, emphasized by the incredibly fluffy dough. A reservation voucher is required to even get in, of which only 60 are available per day and they are distributed at 8:30 a.m. That's why there's a line so early, but if you're up and about anyways, do get a voucher by all means!
紅鶴

Address

2-1-11 Nishiasakusa, Taito-ku, Tokyo-to 111-0035

Hours: 10:30 a.m. – last serving (reservation voucher distributed from 8:30 a.m.)
Closed: Wednesdays
#5. Nohachi: Try Miniature Sushi, Made by Ikeno-san Himself!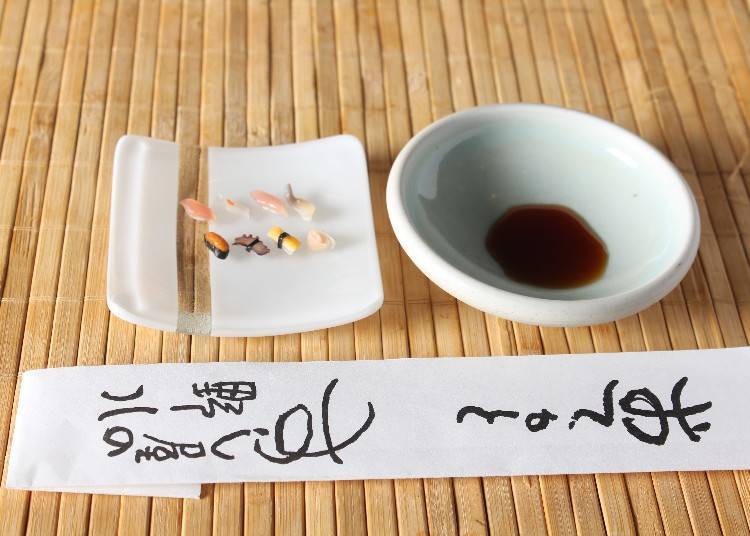 Almost too precious to eat: Nohachi's tiny sushi!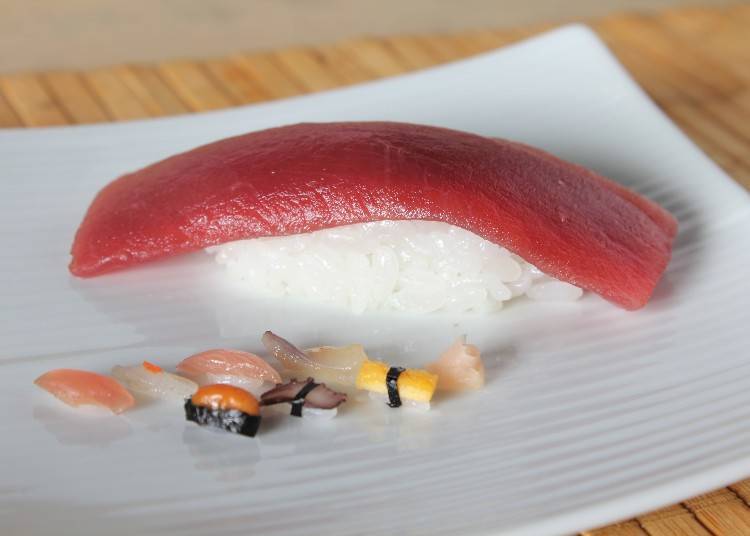 The miniatures compared to a regular piece of sushi.
Sushi made from a single grain of rice and the tiniest slice of topping – that's Nohachi's miniature sushi. It's not just a gag, these petite delicacies are of surprisingly exquisite quality! "We started doing that to lighten the atmosphere and entertain our guests. I think that was about 15 years ago." Sushi masters creating miniature sushi pop up here and there from time to time, but scaling it down to this size really is impressive! Ikeno-san's mini sushi has become quite the hot topic on social media and lately, even international media has asked for interviews.
"We had a guest from Sweden the other day who was so taken by it, they actually shed some tears. I wasn't sure what to do." Many of Ikeno-san's regulars are locals, so it's a warm atmosphere with plenty of opportunity to chat! Some folks might tell you curious stories about Asakusa. By the way: the miniature sushi is not in the menu, but you can savor it after enjoying the regular Edomae sushi specialties that Nohachi has to offer. It's usually served for free to guests who dine for about 10,000 yen, so don't forget to ask for it!
すし屋の野八

Address

1-3-6 Kaminarimon, Taito-ku, Tokyo 111-0034

Hours: 5:00 p.m. – 2:00 a.m.
Closed: Sundays
#6. Ice Tokyo: Creative Ice Cream - Recommendation by Ikeno-san's Regulars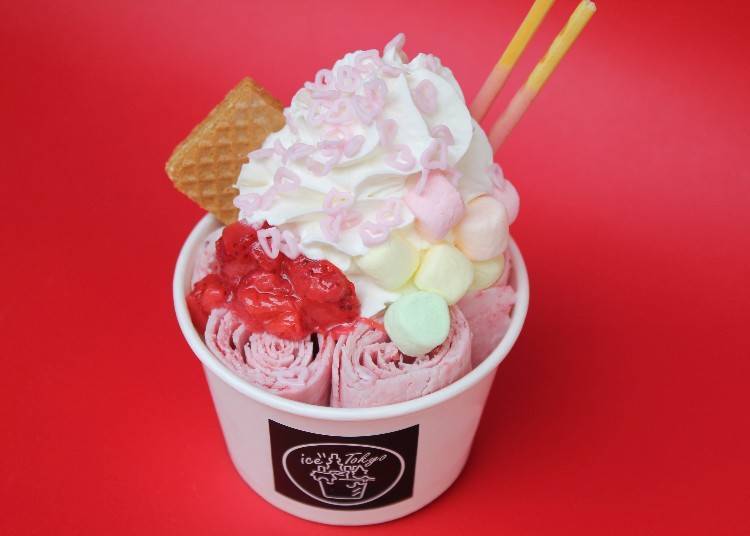 The menu offers 13 ice cream creations, all for 700 yen. This one is "strawberry rich."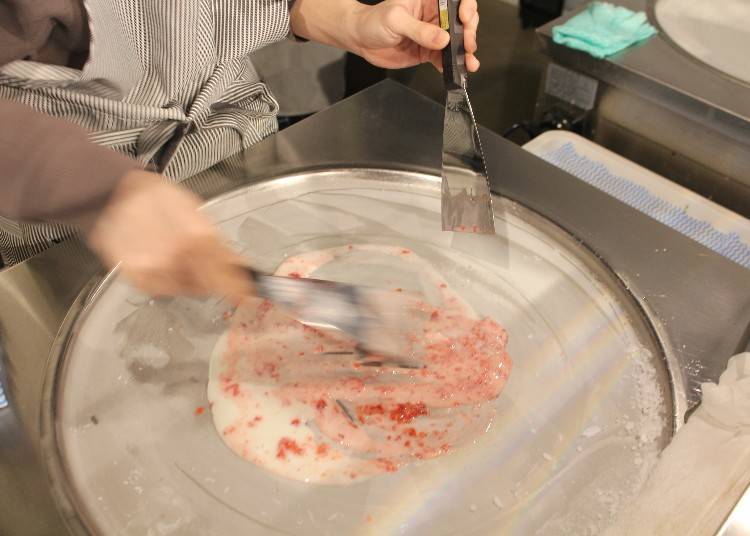 The ice cream is made right in front of your eyes, on a plate that is -10 degrees Celsius cold!
"It's a shop that serves this ice cream style from Southeast Asia right here in Asakusa and people seem to love it."

Indeed, this kind of rolled ice cream originated at Thailand's food stalls, quickly spreading to major cities such as New York, London, and Tokyo, of course.

Ice Tokyo mixes liquid ice cream and all the ingredients on a cold plate, rolling everything up at the end. The sweet rolls are neatly arranged in a cup and enhanced with sauce and various toppings.

The process is interesting to watch and the finished ice cream creations are sure to be popular on social media. The rolls are surprisingly thin and the texture is light, making Ice Tokyo's desserts perfect to snack on while strolling through Asakusa.
アイス ト-キョ-

Address

Asakusa Bldg. 1F, 1-17-8 Asakusa, Taito-ku, Tokyo 111-0032

Hours: 10:30 a.m. – 6:30 p.m.
Closed: open every day
#7. Cielo y Rio: Great Food and a Beautiful View of Skytree and Sumida River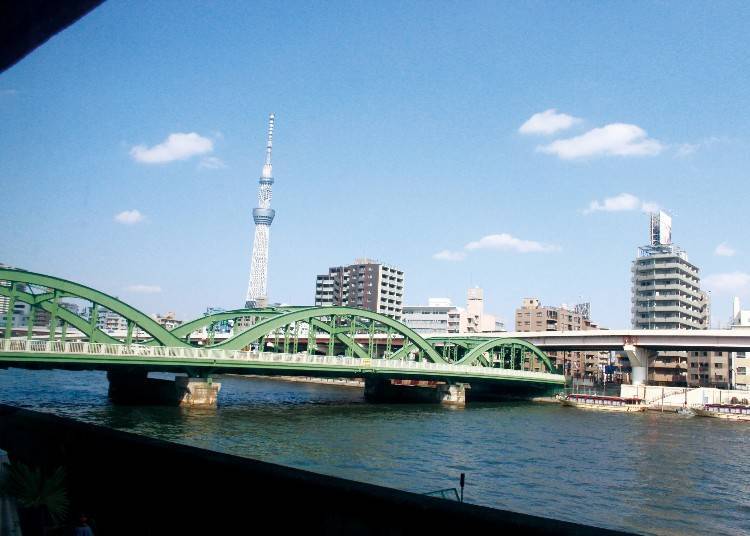 This riverside scenery is representative of Tokyo's historic quarters.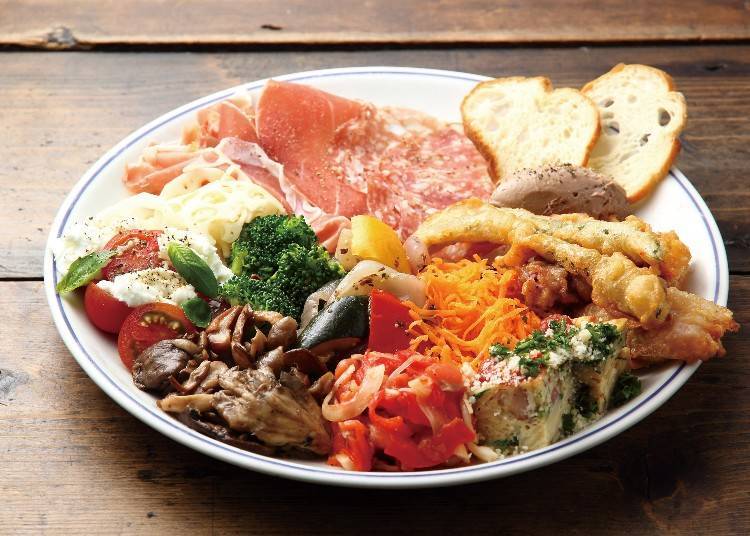 The food is made primarily with ingredients from Awajishima, Japan's gourmet island.
"My sister often comes here," says Ikeno-san as he takes us to Cielo y Rio. The riverside café's name is Italian and can be translated to "sky and river," and indeed, it boasts a fantastic view on Sumida River and Tokyo Skytree.

It's nestled inside "Mirror," occupying the first and third floor and filled with a sophisticated yet relaxing atmosphere.

You'll see plenty of local mothers and their strollers. The night view is also a unique sight to behold, as the many lights reflect beautifully on the water and Skytree is lit up as well.

From pasta and salad to Japanese cuisine to sides from various international cuisines and handmade sweets, it's the perfect place to wind down and take in the view, along with a nice meal.
シエロイリオ

Address

〒111-0051 東京都台東区蔵前2-15-5 Mirror 1・3F

Hours:
Lunch: 11:30 a.m. – 3:00 p.m. (last order)
Café: 11:30 a.m. – 10:30 p.m. (last order)
Dinner: 5:30 p.m. – 22:00 p.m. (last order)
*Lunch and Café from 11:00 a.m. on Saturdays, Sundays, and national holidays
Closed: open every day

*This information is from the time of this article's publication.
*Prices and options mentioned are subject to change.
*Unless stated otherwise, all prices include tax.