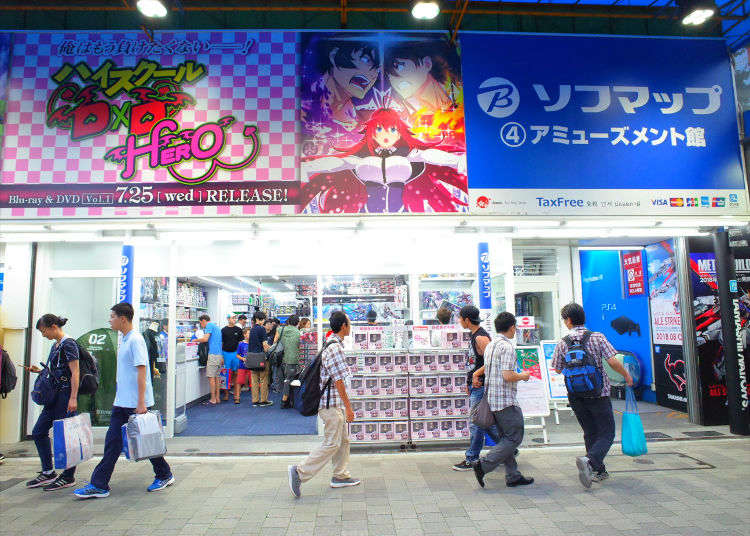 Japanese manga and anime are popular and loved all around the world and have long become an inherent part of global pop culture. The "holy land" of anime and manga is Tokyo's Akihabara, a colorful district known for its rich subculture scenes.

Located there is Sofmap Akiba, a large shop that specializes in figurines, games, and all sorts of other fun pop culture merchandise! Let's check out the 10 must-have items!
What is Sofmap Akiba's Amusement Store?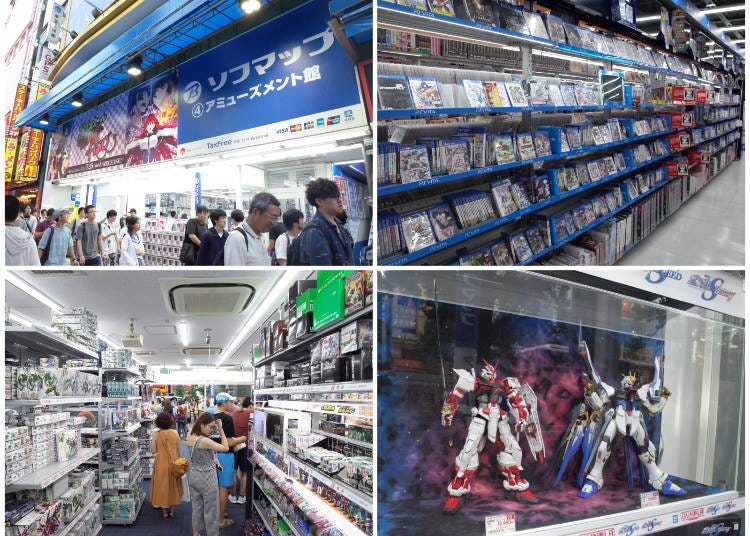 Sofmap Akiba is divided into five buildings: #1 Subculture & Mobile, #2 PC, #3 Apple & Mac, #4 Amusement, and #5 Secondhand. The #2 PC building mainly focuses on gaming-related products.

Among them, #4 Amusement was renewed just in June 2018, and the first floor was majorly expanded, once home to the tax exemption counter, now boasting a massive lineup of anime and game figurines!

The shop is particularly popular with visitors from China, having heard about the pop culture hot spot by word of mouth and from friends.

The Amusement Store handles goods of various genres, including many niche goodies and specialized items. It's always brimming with fans of all sorts of games and shows from all around the world.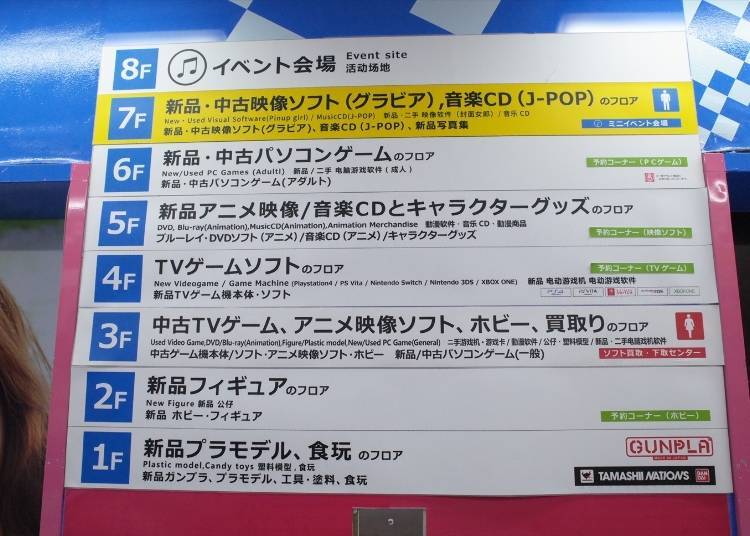 1F to 7F are all sales floors and each features a different genre.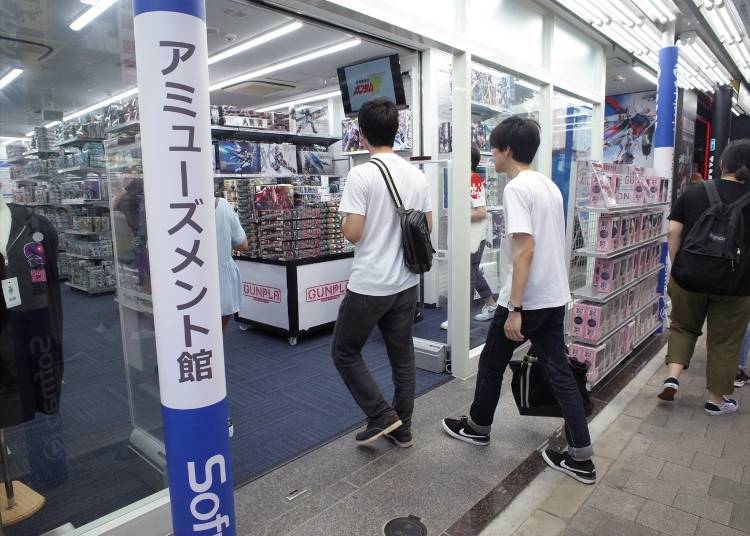 Popular Models & Figurines #1: Unicorn Gundam 02 Banshee Norn (3,080 yen)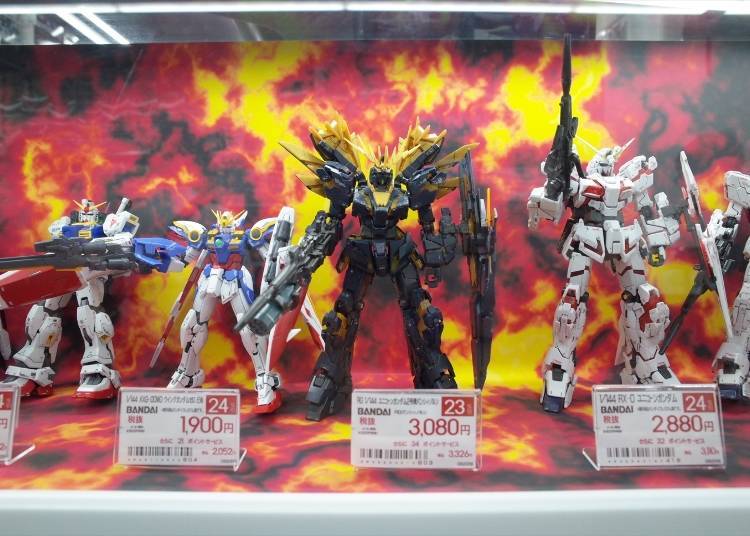 The massively popular Unicorn Gundam (front center, in black)
This is the Gundam Plamodel (Plastic Model) series that boasts enormous popularity among fans and collectors. It can be roughly divided into four model types: HG (high grade), RG (real grade), MG (master grade), and PG (perfect grade).

HG is the most affordable, and PG marks the highest quality models. As the grade goes up, the models also feature more parts, making the figurines more movable and ready to be put into all sorts of poses.

The one we're showcasing is the RG, easy to buy as the price usually lies between 1,000 and 3,000 yen, which is probably also why it's the most-sold grade. Even people who are not too familiar with anime at all can easily pick up a figurine as a fun souvenir.

Among the RG models, the most popular is the Unicorn Gundam – so sought after, it's said to be in short supply (as of August 2018).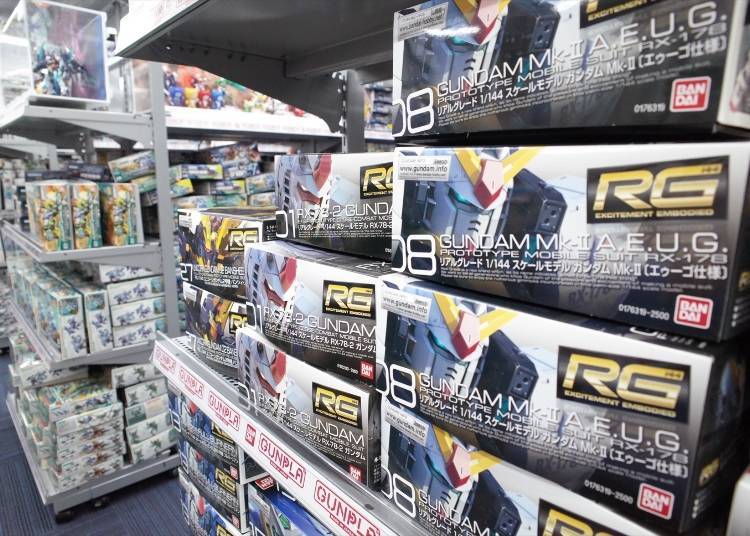 Popular Models & Figurines #2: 1/60 ZGMF-X20A Strike Freedom Gundam (18,980 yen)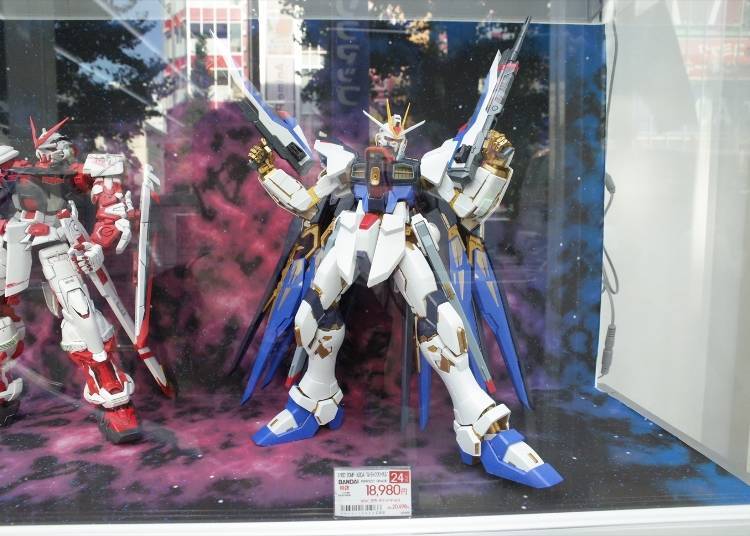 Here's an example of a PG (perfect grade) figurine. Measuring about 30 cm, this Gundam model looks just like the real deal, and while it is rather pricey, it is amazing movable, features plenty of parts, and people value it for its high quality. If you're looking for a genuine model, this is the one.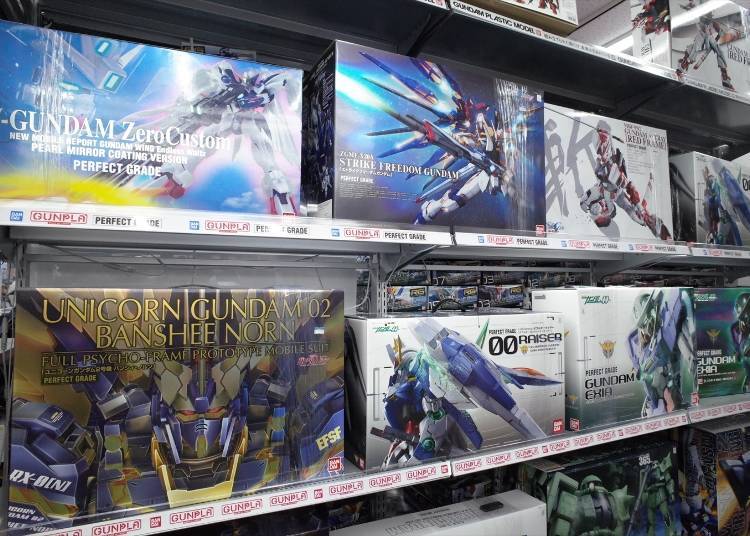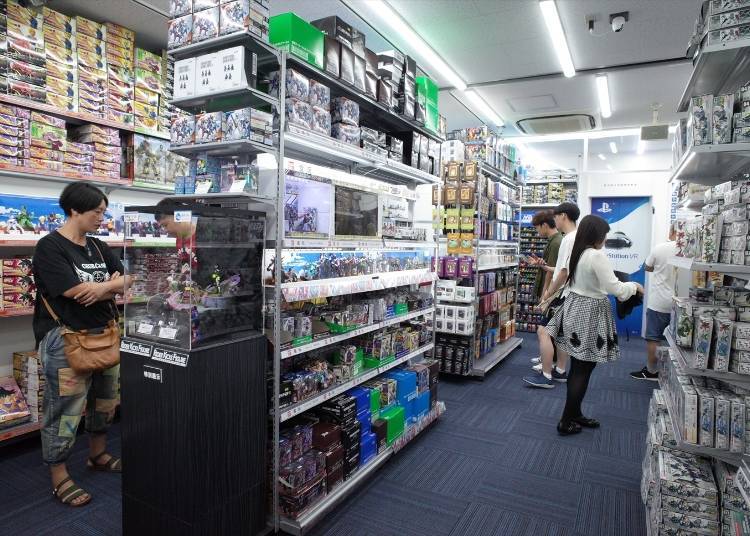 Popular Models & Figurines #3: Portgas D. Ace -Brother's Bond- (4,860 yen)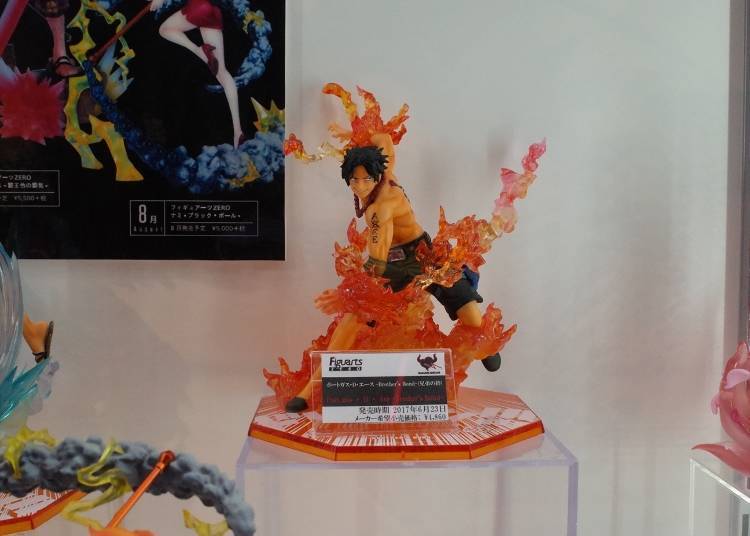 This recommendation is for all One Piece fans – Portgas D. Ace is the most popular figurine of the hit anime and manga. You'll find him next to the entrance on the first floor, looking almost like an annex, in an area labeled Tamashii Nations, a toy brand for adult collectors by Bandai Spirits. You'll also find figurines of major anime such as Dragon Ball and Gundam, as well as more of One Piece!
Tamashii Nations, the toy brand for adult collectors.
Popular Models & Figurines #4: Sakurakouji Luna Nendoroid (3,889 yen)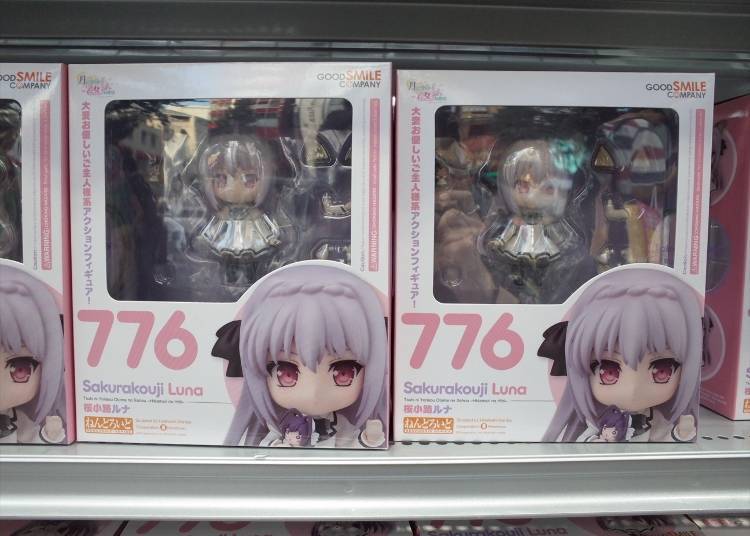 Nendoroids are figurines with large heads and small bodies for an extra cute appearance, depicting characters from manga, anime, and video games, sometimes even real people. They fit in the palm of your hand, their limbs can be moved, and parts can be changed – currently, there are more than 900 Nendoroid figurines on the market.

Especially popular in recent months is Sakurakouji Luna, the main heroine of Tsuki ni Yorisou Otome no Sahou ~Hidamari no Hibi~.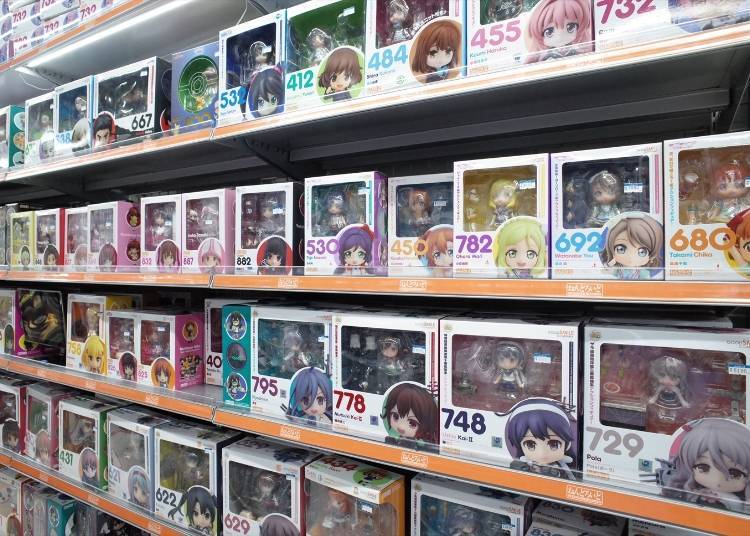 The Nendoroid series features all sorts of characters just like Gundam's Plamodels, so find your favorite!
Popular Games #5: Nintendo Switch "Legend of Zelda: Breath of the Wild" (6,630 yen)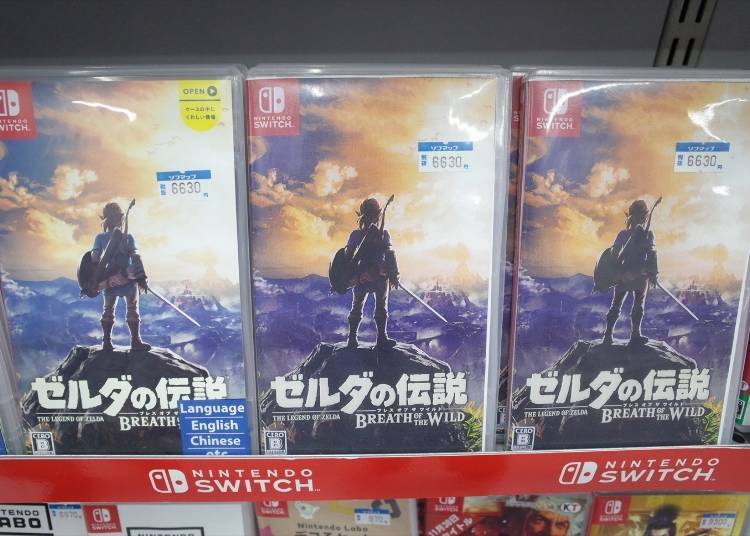 Games for the Nintendo Switch continuously rank high in popularity. The console itself is loved by gamers of all ages because it's easy to use and incredibly fun. The Legend of Zelda itself is a fan favorite that celebrated its 30th anniversary in 2017 and its newest installment, "Breath of the Wild," is the absolute number one best-selling game of the Nintendo Switch.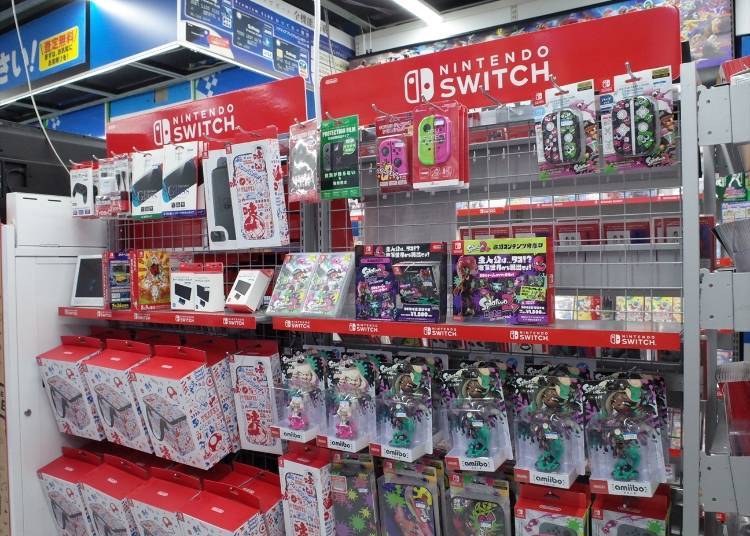 Popular Games #6: Nintendo Switch "Mario Kart 8 Deluxe" (5,670 yen)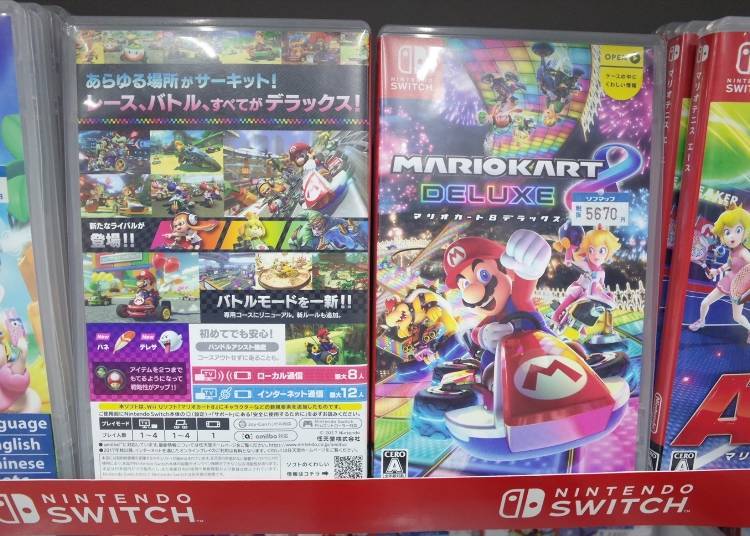 There's probably no one in the world who doesn't know Mario. There are plenty of people who come to Japan and buy both the Switch and Mario Kart as a bundle, as it's a series that has been loved for a long while – nothing beats racing your friends in front of the TV!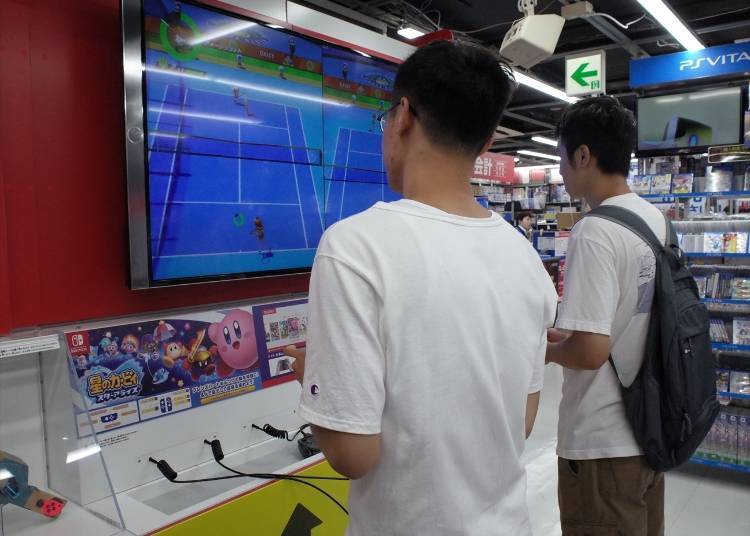 Popular Games #7: Nintendo Switch "Taiko no Tatsujin Nintendo Switch Version" (5,680 yen)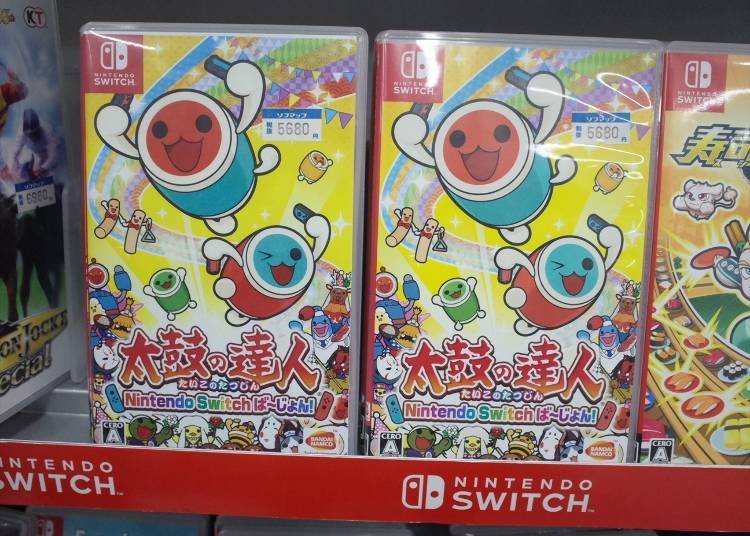 Taiko no Tatsujin is a series that is a major hit in Japan but not that well known outside of the country – which is exactly why you should try it. As the name suggests, it's a simple but addictive rhythm game that has you beat on large taiko drums. The better you are, the more points you'll earn, and it can even be played together! You'll be a taiko pro in no time!
Popular Games #8: Nintendo Switch "Kirby Star Allies" (5,680 yen)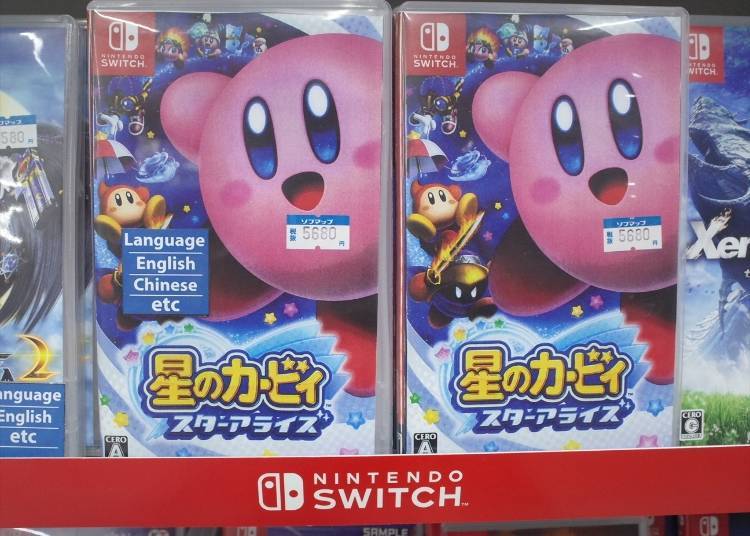 Kirby charms the hearts of many fans with his adorable appearance, and his games are popular because they're simple but fun. Games such as The Legend of Zelda and Kirby let you switch the language to English, Chinese, Spanish, French, and so on in the main menu, so don't hesitate to pick them up as a souvenir in Japan!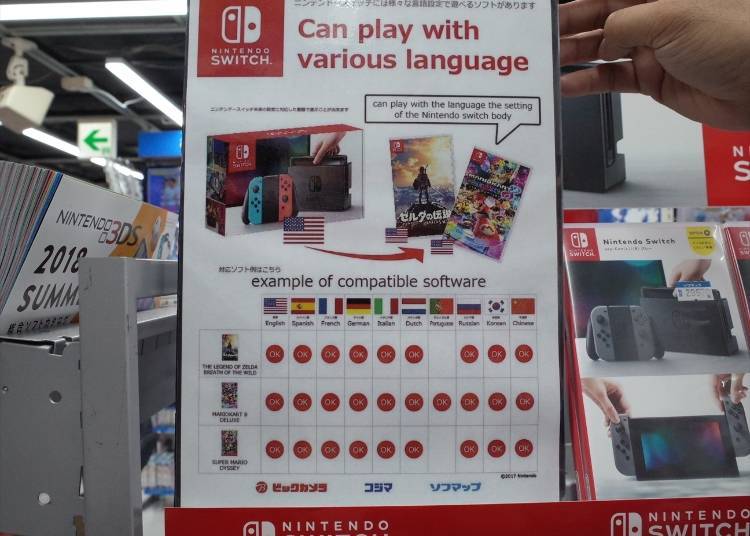 Popular Games #9: Nintendo Labo Toy-Con 01 (6,970 yen)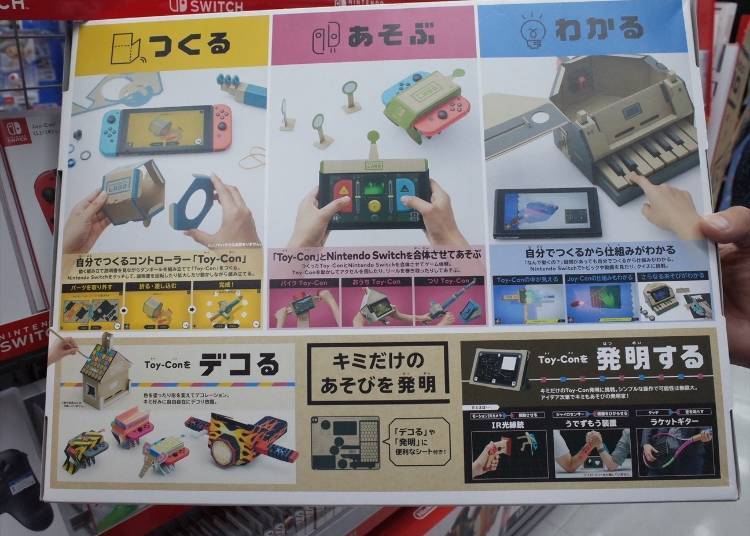 Nintendo Labo is a fun cardboard kit that turns your controller into things such as a fishing rod or piano and comes with special software for the Nintendo Switch. It's a creative goodie that diverts from classic video games and allows you to play freely, following your own creativity, as no other console does.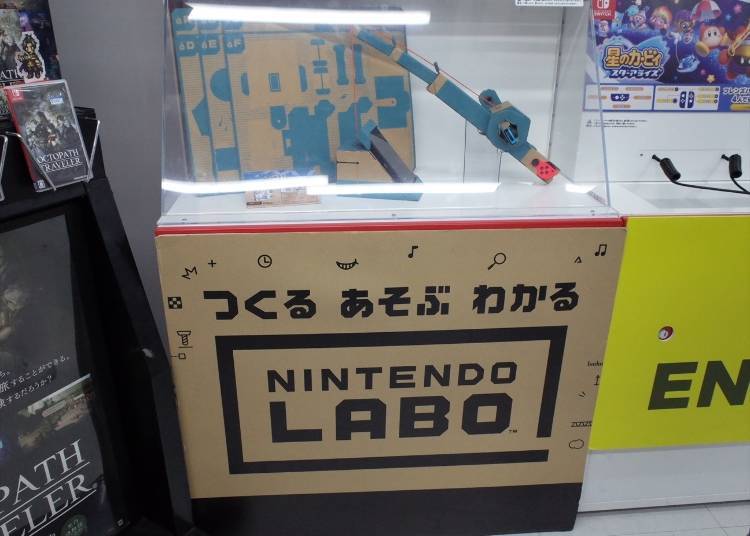 Popular Games #10: Spirited Away Paper Theater (2,300 yen)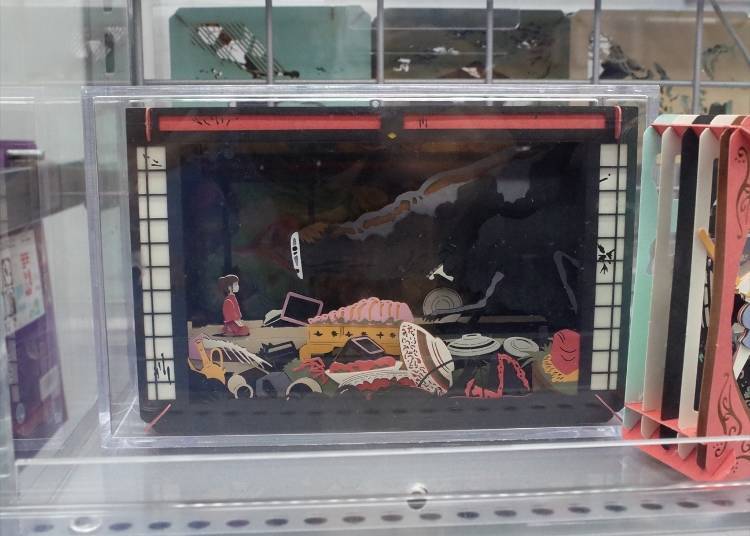 Paper Theater is a papercraft kit that has you stack laser-cut layers of paper to recreate iconic scenes from popular movies and anime, reproducing them in a cool 3D design. Especially Studio Ghibli's works are popular among the Paper Theater series, with Spirited Away being the absolute number one.

Of course, you'll also find popular characters from One Piece or Pokémon and they all cost about 1,000 yen, making them a cute souvenir for yourself or friends at home. It's super enjoyable because you get to craft the scenes yourself!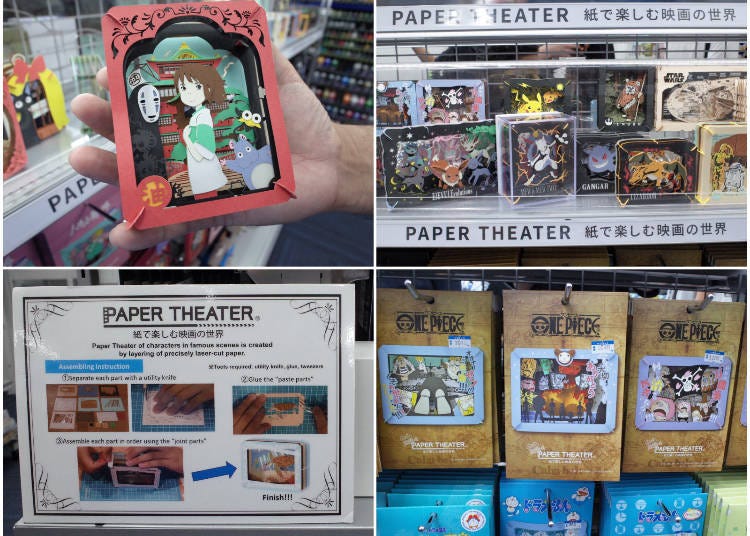 Spirited Away, Pokémon, One Piece, Dragonball, and so on – there's plenty of famous movies and series to choose from!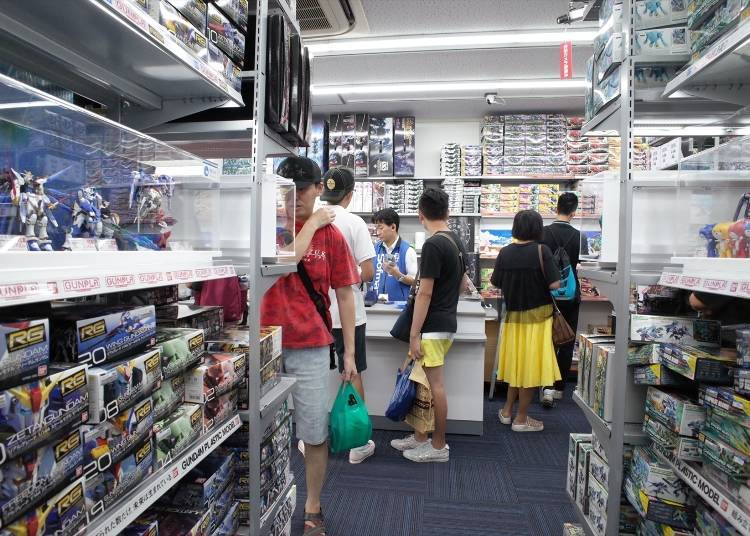 Spirited Away, Pokémon, One Piece, Dragonball, and so on – there's plenty of famous movies and series to choose from!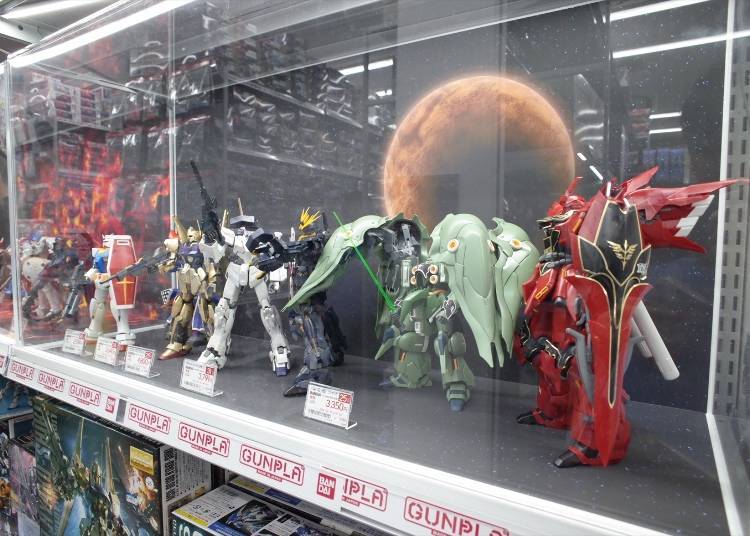 A lot of customers browse the models on the first floor.
Once you set foot inside Sofmap Akiba, it's obvious just how popular models and figurines are all across the world. Both tourists and locals browsed the massive selection side by side, and the staff was constantly busy answering the question: "Where can I find...?"

But be careful – you might come for one specific thing but leave with a bag full of goodies! If you're after some geek merch and pop culture goods, Sofmap Akiba is the place to go!
Bonus: Get a Coupon Valid Until December 31, 2023 – Take a Screenshot and Show it to the Staff!
Got excited about Sofmap yet? To make your shopping experience so much more convenient, we have a special little present for you! Here's a discount coupon valid until December 31, 2023!

Simply take a screenshot of it and show it to the staff to net a sweet extra deal! Now, all that's left to say is happy shopping and a wonderful time in Japan!
Sofmap Akiba #4 Amusement Store

ソフマップAKIBA④号店 アミューズメント館

Address

1-10-8 Soto-kanda, Chiyoda-ku, Tokyo 1010021, Japan

Nearest Station

03-3253-3030


Hours: 10:00 a.m. - 8:00 p.m.
Access: JR Akihabara Station, 3 minutes from Electric Town Exit
*This article was originally published in October 2018. Coupon codes were updated in May 2023.
*This information is from the time of this article's publication.
*Prices and options mentioned are subject to change.
*Unless stated otherwise, all prices include tax.
Limited time offer: 10% discount coupons available now!