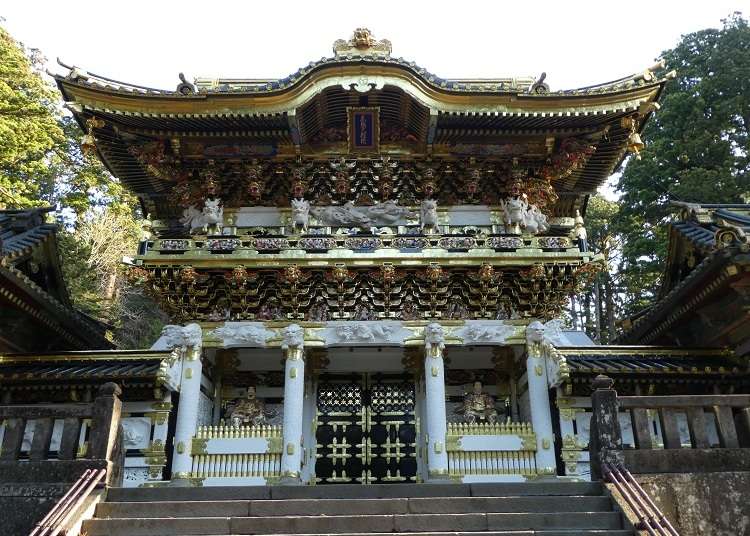 Located two hours north of Asakusa, Tokyo, lies Nikko, Tochigi, which hosts a multitude of tourist spots frequented by several excursionists.

Among these spots is Nikko Toshogu Shrine, a popular tourist destination named as a World Cultural Heritage Site.

This article will serve as a through guide in Nikko Toshogu Shrine, from visiting the shrine to must-go tourist spots! Aside from the fact that it is easily accessible from Tokyo, this site is also recommended for people who want to immerse in the history and culture of Japan while amidst nature.
■Nikko Toshogu Shrine: A Place which Deifies One of Japan's Historical Figures, Tokugawa Ieyasu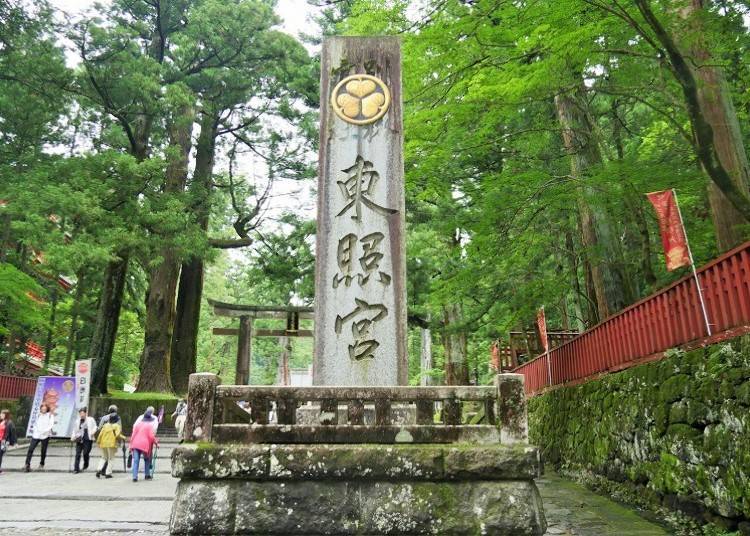 Nikko Toshogu Shrine deifies Tokugwa Ieyasu, the first shogun of the Tokugawa Shogunate, which lasted for more than 260 years in the Edo period. Tokugawa Ieyasu greatly contributed the development of modern Japan through his establishment of the Bakuhan feudal system. After Ieyasu's death at the age of 75, a Shinto funeral was held on Mt. Kuno in Shizuoka Prefecture, deifying him in the lands of Nikko.
©Nikko Toshogu
The current group of shrines has been remodeled by the third shogun General Iemitsu. It is comprised of 55 buildings, such as the Yomeimon (national treasure), which were built through vast investments made by master craftsmen.

Each building is lacquered and painted with columns adorned with several sculptures. These gorgeous and extravagant buildings are surely the highlight of this tourist spot. In this light, in December 1999, it was designated as a "World Cultural Heritage".
■Take the "World Heritage Site Tour Bus" to Nikko Toshogu Shrine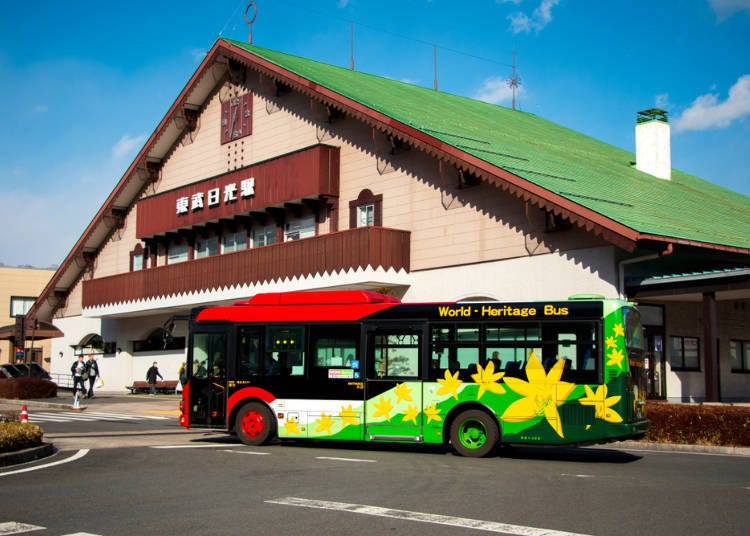 Siwaporn / Shutterstock.com
Nikko Toshogu is an easily accessible place for day tours departing from Tokyo. If you take the Tokyu Tobu Line from Asakusa and Kitasenju, you will arrive at the Tobu-Nikko Station in about two hours. Departing from JR Shinjuku, you can also take a limited express train that extends to the Tobu Railway, so access is very convenient.

Once you arrive at the Tobu-Nikko Station, you will see a bus stop 2C in front of you where you can jump aboard the "World Heritage Site Tour Bus". The tour takes about 20 minutes and the fare costs 290 yen for adults and 150 yen for children. The nearest stop within the vicinity of Nikko Toshogu Shrine is Omotesando. The sight of the road approaching the shrine will greet you upon alighting from the train. It may be confusing where to alight the train, so be careful not to lose your way.
■First, buy a ticket at the reception desk. They have an automatic ticket vending machine the supports four languages.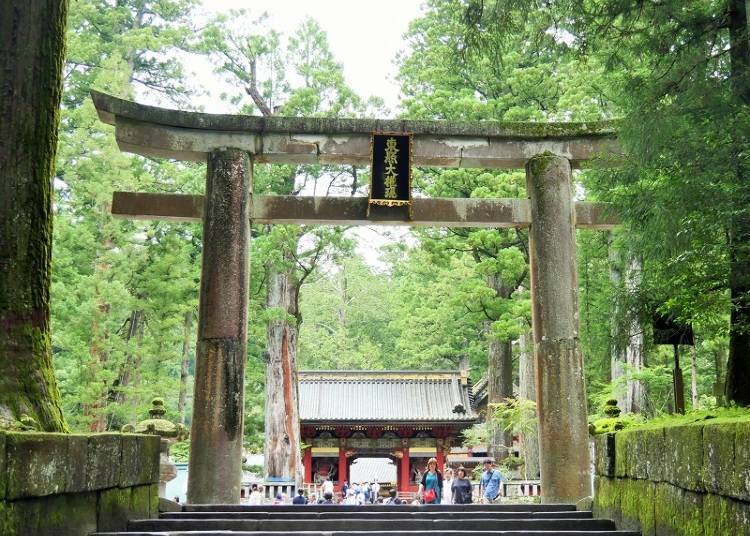 After a short walk from the bus stop, you will find an ishitorii, a stone gate at the entrance of the shrine. Further inside, you will find the reception desk on the left side of the front gate.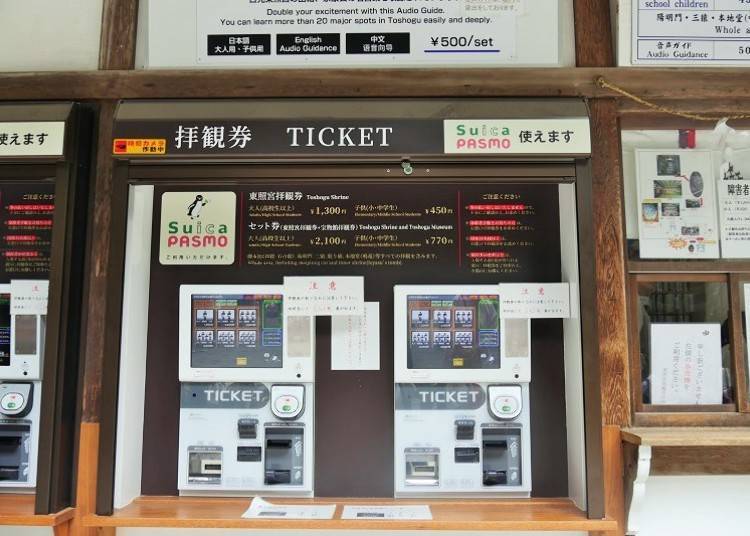 Before everything else, let's start by purchasing a ticket (Adult/high school student 1,300 yen; elementary/middle school student 450 yen).

They have an automatic ticket vending machine which also supports English, Chinese and Korean aside from Japanese. Aside from cash, the machine also accepts Suica and PASMO, or transportation electronic money.
■ Want to hear more details? Try using their audio guide!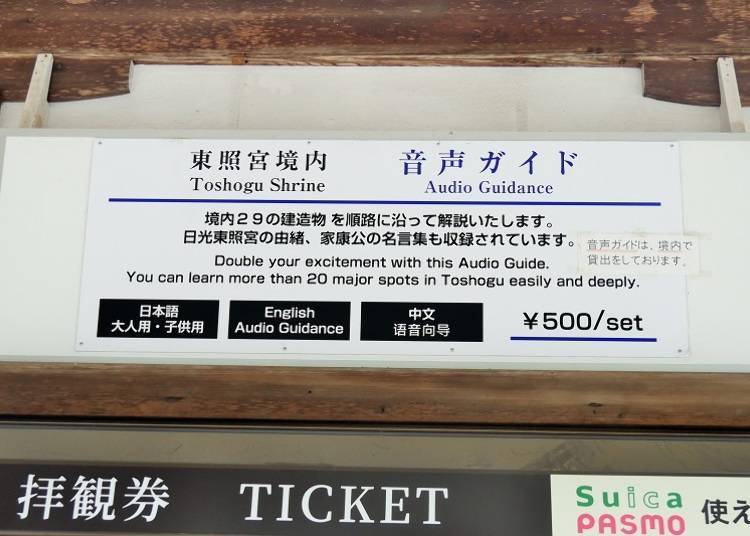 The reception desk also offers a vicinity audio guide (500 yen/set). This audio guide will give out details of the 29 buildings along the route within the vicinity. Included in the guide is a compilation of famous quotes from Ieyasu. Foreigners need not worry about being able to use this guide as it is also available in Chinese and English aside from Japanese (adult/children). We recommend this for those who want to further deepen their knowledge about Nikko Toshogu.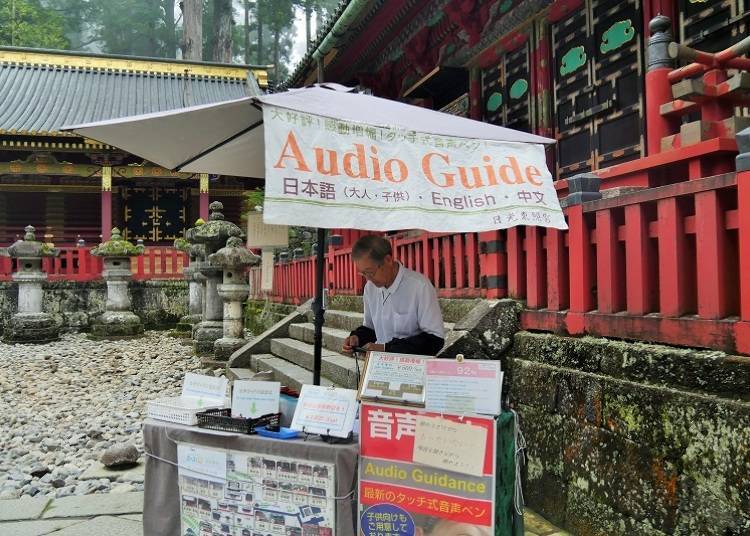 You can get the guide in front of the front gate.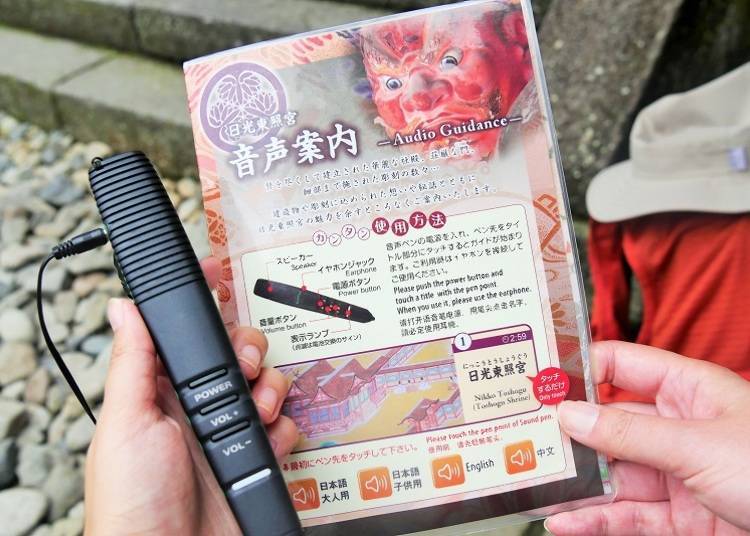 They will hand over this kind of equipment, so insert the headphone and start using the guide.
■ 7 picture-perfect spots that you can only find here
(1) Five-storied Pagoda
This five-storied pagoda, designated as an important cultural asset is located on the left side beyond the ishitorii. It is best known for its towering height of 35 meters as well as for its red color and extravagant decorations. The five-storied pagoda, originally dedicated in 1650, was destroyed by fire in 1815. The current five-story pagoda was rebuilt in 1818. It was built using the construction method of the late Edo period and has the capacity to adjust to vibrations caused by earthquakes and the wind.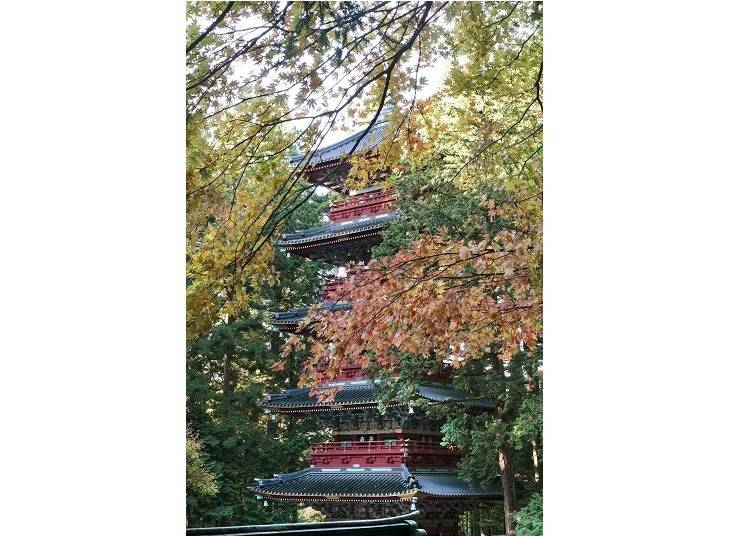 © Nikko Toshogu
During the autumn season, you can marvel at the sight of its beauty as the red color of the five-storied pagoda harmonizes with the red leaves.

(2) Shinkyusha/Sanzaru
Shinkyusha/Sanzaru can be found beyond the front gate to the left. The name Shinkyu refers to a stable for sacred horses attending deities. During Ieyasu's enshrinement, his horse was regarded as sacred.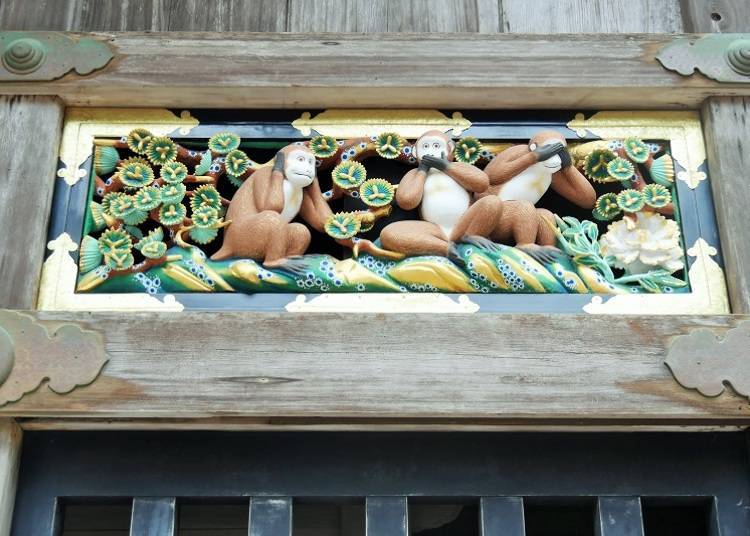 Based on the old-fashioned faith that monkeys protect the health and safety of horses, there are eight monkey sculptures that satire human life between the buildings. Among these statues, the Sanzaru, or the monkeys of "seeing, speaking, and listening", featuring three monkeys covering their ears, mouth, and eyes with their hands, are famous.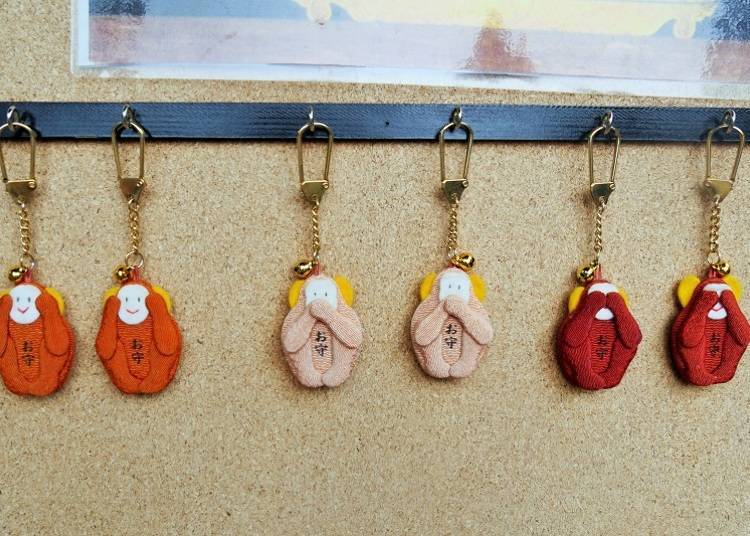 Keychain charms and straps featuring the Sanzaru are also sold nearby. The monkeys on these souvenirs are undeniably cute.

(3) Yomeimon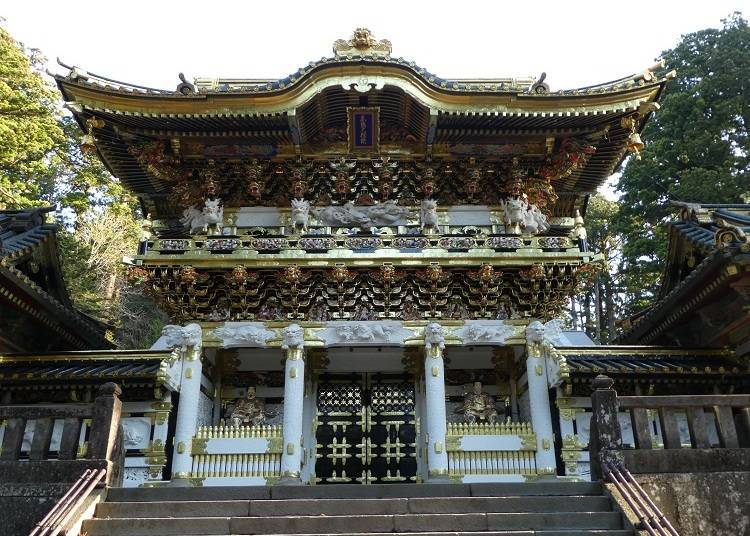 © Nikko Toshogu
Yomeimon is regarded as the symbol of Toshogu Shrine. With a towering height of 11 meters, the sight of its gorgeous appearance featuring 508 sculptures and gold leaves will surely take your breath away.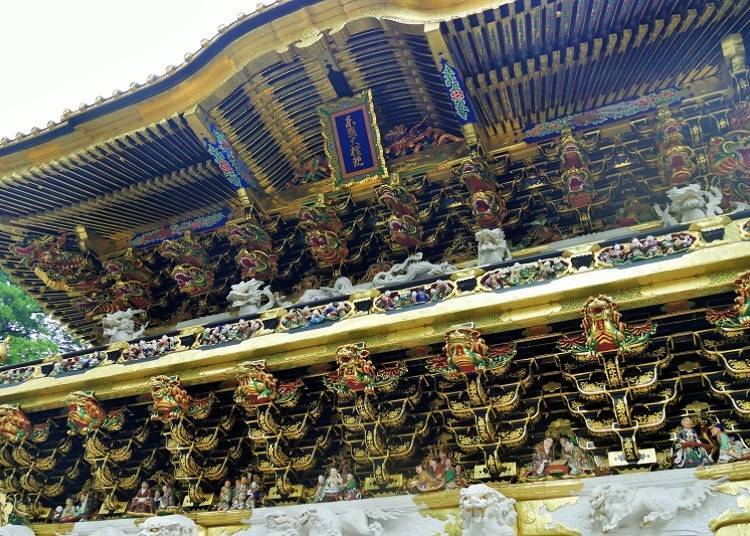 Even small places have several sculptures. Its timeless beauty never ceases to astound people, which is why it's referred to as the "Higurashi-no-mon" which means a gate with captivating beauty.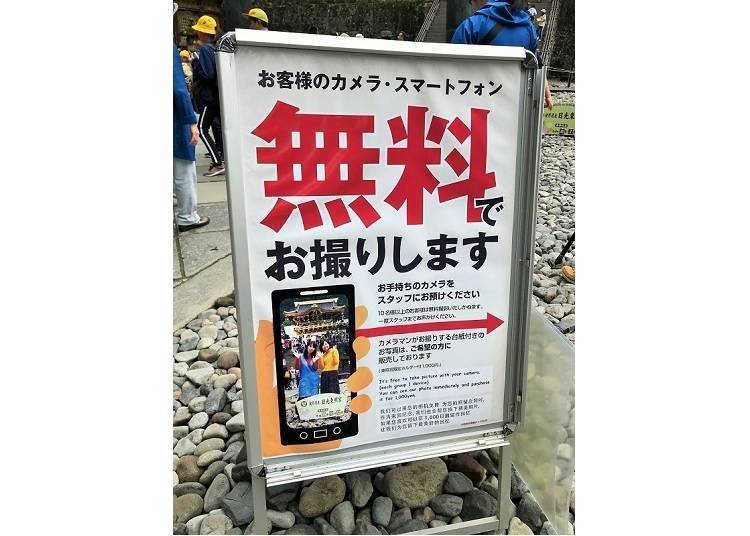 This place also has a picture-perfect spot. If you are less than 10 people, the staff will take photos for free using your own camera or smartphone.
Snap a picture with this iconic gate.

(4) Nemuri-neko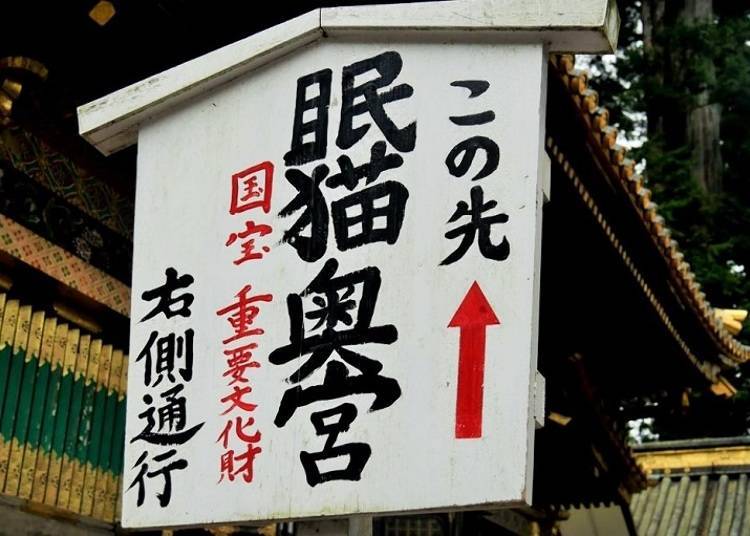 Go through Yomeimon, pass through the east corridor leading to the rear shrine on the right, and you will find the Nemuri-neko. This is the second most popular sculpture next to Sanzaru. As what its name suggests, the sculpture is of a sleeping cat.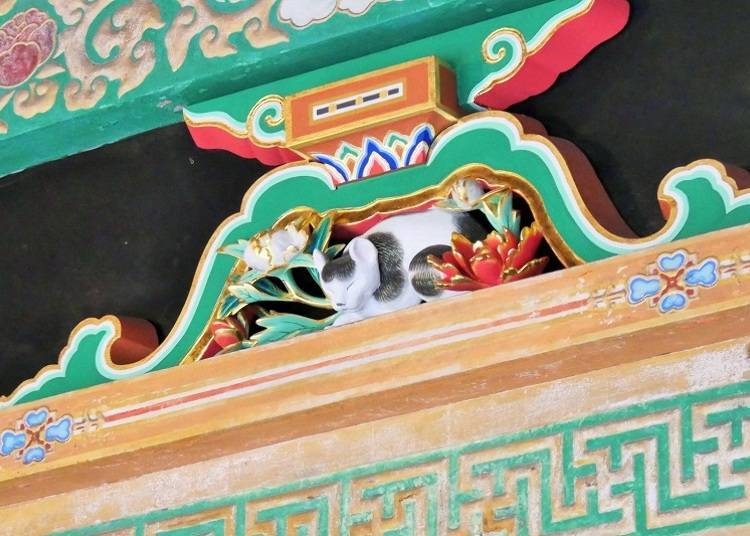 The sculpture is surprisingly small, so most people miss it. Be sure to keep an eye for this sculpture.

While sculptures of sleeping cats are a rare sight in Buddhist temples in Japan, one theory suggests that the sculpture of the sleeping cat bathing in sunlight was named after Nikko. Rumor has it that this sculpture was made by the famous Edo-era sculptor, Goro Sakuma, but there are also other theories.

(5) The Main Shrine
Located in front of Yomeimon is the main shrine, the most important place in Nikko Toshogu Shrine. It consists of the inner sanctuary, the connecting stone pavement, and the hall of worship. The main shrine hosts several festivals throughout the year.

Unfortunately, taking pictures is not allowed here, but we can assure you that it's as gorgeous as the Yomeimon. Its dazzling and intricate decorations are, without a doubt, national treasures. Regular visitors can tour the main shrine by heading towards the Karamon or Chinese-style gate and removing their shoes on the right side. You might want to visit this place during a specific festival.

(6) Tokugawa Ieyasu's Tomb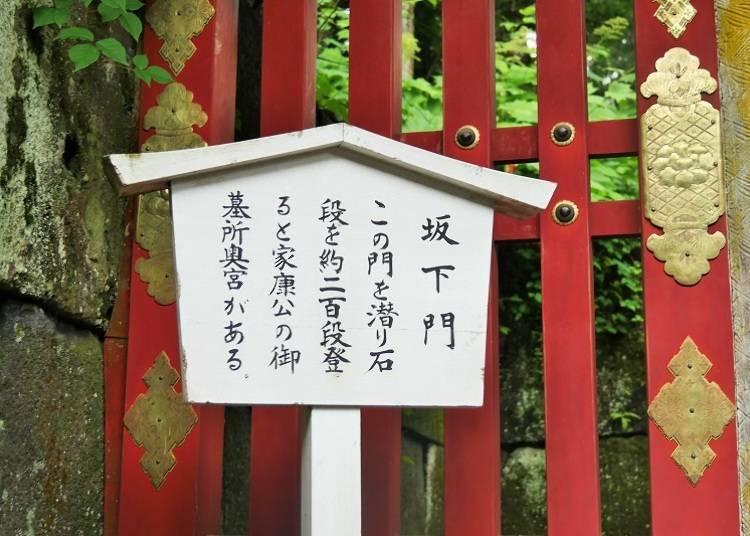 To get to Tokugawa Ieyasu's tomb, you have to pass through the Sakashitamon, where you can find the Nemuri-neko, and go through a long road and steps made of stone.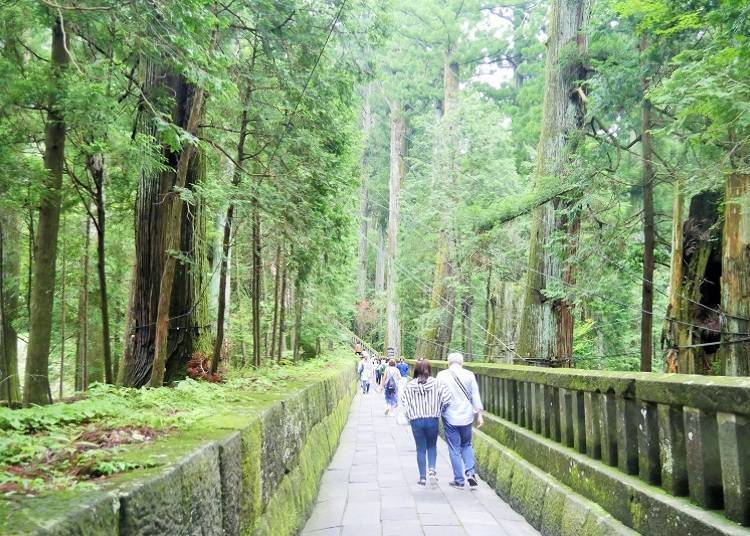 The stone steps are comprised of 207 steps, ascending to a steep slope.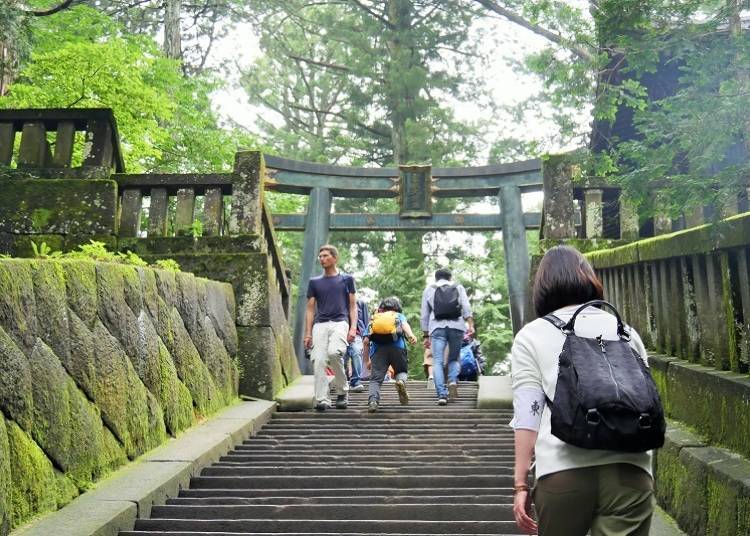 Climbing up the steps is surely not an easy task, so if you're not physically fit, it would be best for you to take your time. Pay attention to your feet as it is slippery on rainy days.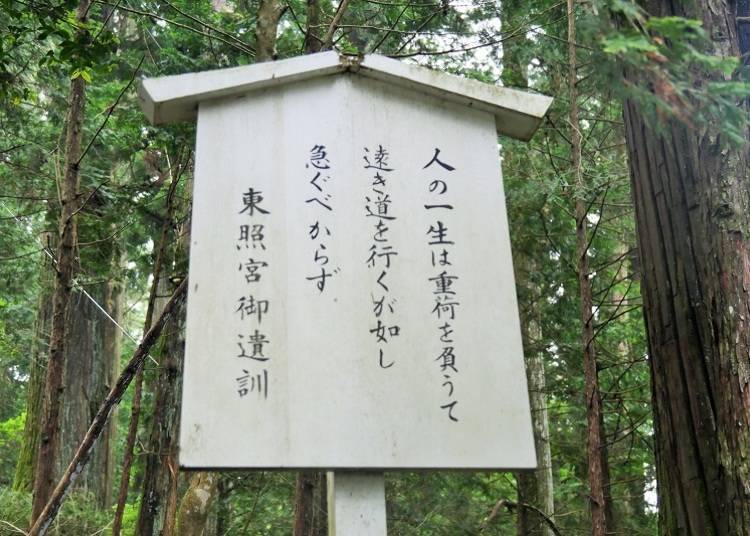 Along the way, you will see a sign bearing the following words from Tokugawa Ieyasu. "The life of a person is like walking on a long road bearing heavy luggage -- never rush." Engrave these words in your mind while climbing up the steps and you will see a different view.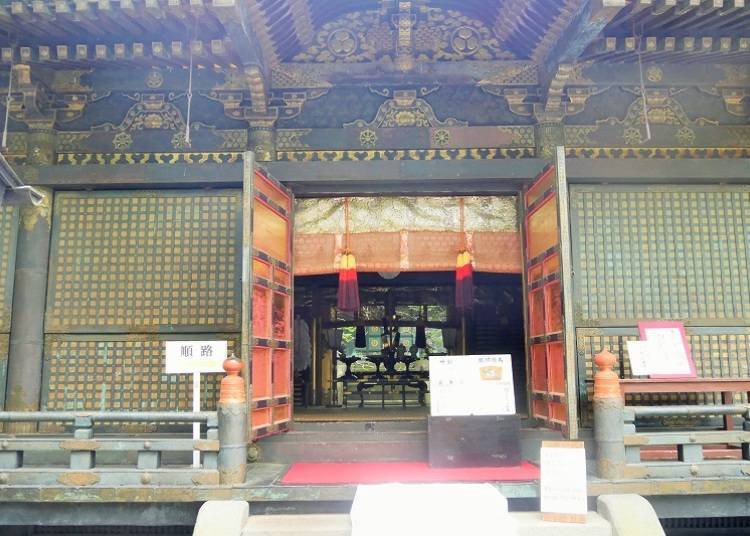 Once you arrive to the summit, the sight of the rear shrine's hall of worship will greet you. Tour around the place while you take a breather.
Want to know your fortune? Try the omikuji or written oracle (100 yen each) available in 5 languages.
Proceed further and you will find Tokugawa Ieyasu's tomb and the rear shrine's two-storied tower. This dignified structure rests on five octagonal stone steps and three octagonal bronze steps. It exudes an unexplainable solemn atmosphere.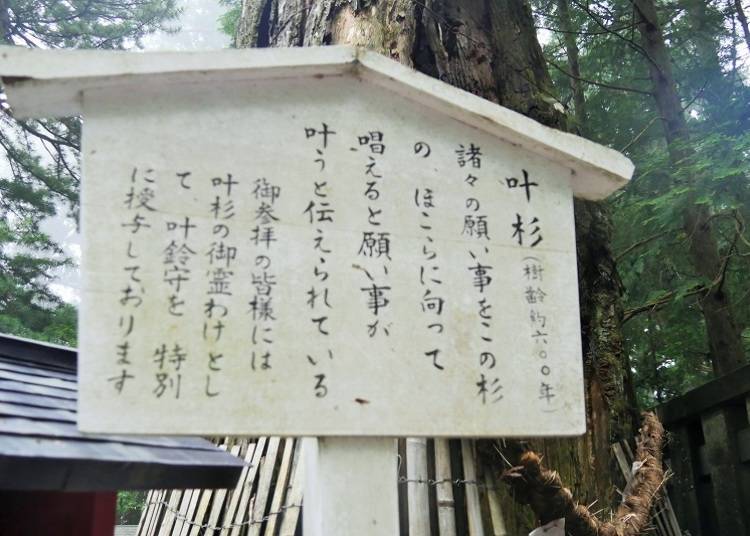 As you walk around the tower, you will find a 600-year-old cedar called "Kanae-sugi". Rumor has it that, your wishes will come true if you recite them as you approach the small shrine, so be sure to drop by here.

(7) Yakushido/Crying Dragon
You can find the Yakushido (Honchido) on the left side of the Yomeimon. It is located within the Toshogu Shrine, but the temple is under the jurisdiction of the Rinnoji Temple.

Here, you can meet the famous "Crying Dragon", which refers to a dragon painted on the ceiling. While this may look like a normal painting of a dragon at first glance, sounding the wooden clappers beneath it, you will hear the dragon's roar. This roar is actually a reverberation caused by the floor and ceiling.

The ceiling, on which the dragon is painted, has dents which make it difficult for sound to spread, thus producing this noise. We can't show you any photo since taking pictures is prohibited, but it's definitely a must-go spot inside Nikko Toshogu Shrine.

Other than Japanese, the explanation provided is also available in foreign languages, so be sure to drop by and listen to the roar yourself. At Yakushido, they sell a beautiful charm, which produces a bell-like sound, called "Suzunari Tatsumori" (1000 yen each, available in 9 colors). This charm is said to bring luck and grant wishes, so why not buy it?
This ends our list of picture-perfect spots that you have to visit in Nikko Toshogu Shrine.

Visiting each and every place will take about two hours, so we recommend that you take your time going around the spots. Aside from those mentioned above, you can also find the Nikko Toshogu Museum and Nikko Toshogu Art Museum outside the shrine's vicinity as well as several restaurants and souvenir shops around the shrine.

You can go to Edo Wonderland Nikko Edomura in about 40 minutes by riding the free bus, so please refer to his article when planning your trip to Nikko.
日光東照宮

Address

2301 Yamauchi, Nikko-shi, Tochigi-ken

Nearest Station

Access: Around 20 minutes on the "World Heritage Site Tour Bus" from Tobu-Nikko Station


Phone Number

0288-54-0560

Visiting time: April 1 - October 31 (8:00 AM - 5:00 pm) / November 1 - March 31 (8:00 AM - 4:00 PM) *The reception desk closes 30 minutes before in both periods
Fee: Adult/high school 1,300 yen; Elementary/Middle school 450 yen
*This information is from the time of this article's publication.
*Prices and options mentioned are subject to change.
*Unless stated otherwise, all prices include tax.