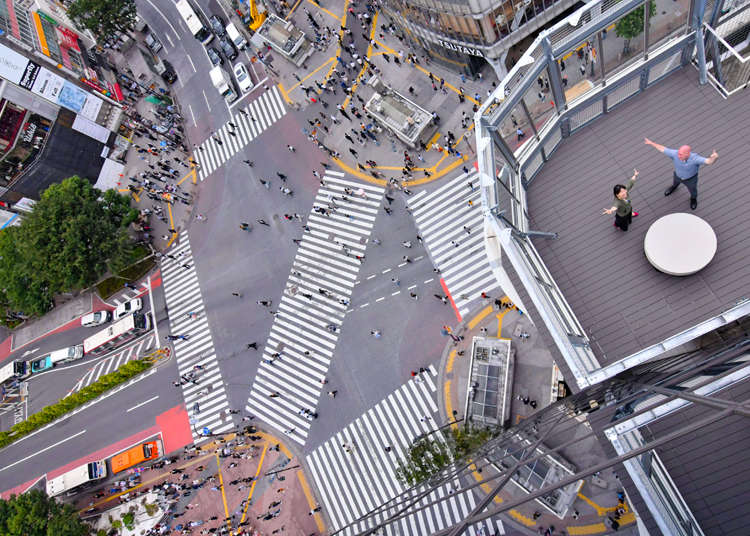 When you think about Shibuya, images of Shibuya Crossing - the world's busiest intersection probably come to mind. Now there's an incredible new way to see this scene from above, at Magnet!

One of its main attractions is the Shibuya Crossing View and Crossing Photo – offered at the Mag's Park section on the rooftop, which affords a prime, bird's-eye view of Shibuya's famous scramble intersection. Here we take a close look at what Magnet by Shibuya 109 has to offer!
What is Magnet by Shibuya109?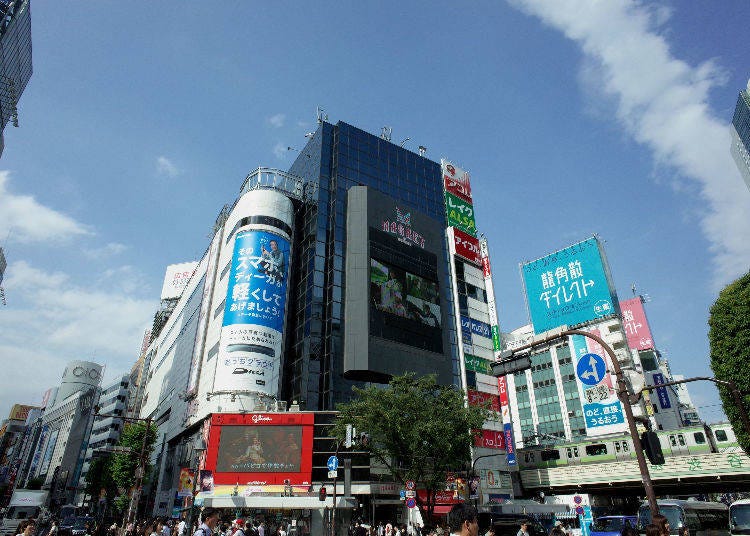 Magnet by Shibuya109 opened in Shibuya on April 28, 2018. The fashion building, 109Men's, underwent a major renovation and was transformed into new hip center, Magnet by Shibuya109.

This was the first phase of a multiphase renovation project scheduled to be completed in the spring of 2019 that saw the opening of the 7th floor and roof area. Having as its concept "Stimulating Shibuya and the Revival of Shibuya Culture" the store offers a wide selection of experiences, services, and goods designed to stimulate our senses.

The interior overflows with entertainment, dining spots found nowhere else, and many events. It aims to satisfy not only the fashion trends and new culture of not only young men in their teens and twenties, but men and women of all ages and nationalities.

*As of August 2018, entry is now free of charge.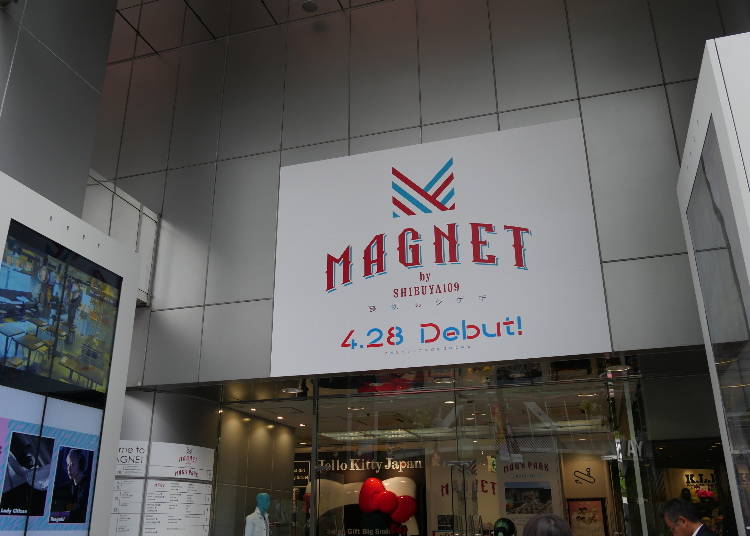 Where to Get the Best View of Shibuya Crossing!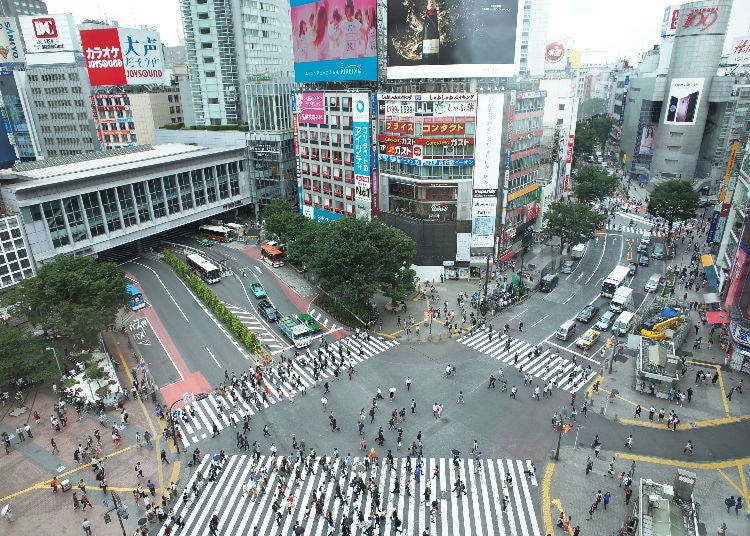 We recommend this spot in Magnet by Shibuya109 most of all. Located on the rooftop, Shibuya Crossing View provides a bird's-eye view of the Shibuya scramble intersection. As of August 2018, entry is now free of charge.

Overlooking the intersection, this is the best place to take photos and the only one of its kind. So close to the station, photos taken from here are like those taken from a drone. It is an ideal location. The outside deck is enclosed by glass and there is a wire fence beneath the handrail, so there is no sense of being held back, but an open sense of freedom.

From here you can fully enjoy the spectacle of people flooding the intersection when the traffic lights change. It is a truly urban scene and one that can only be seen here in Shibuya.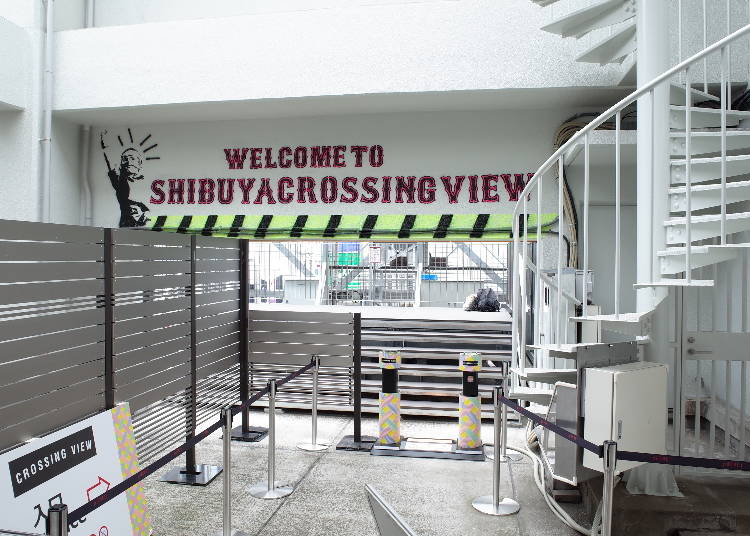 Entrance. You can enter after buying an admission ticket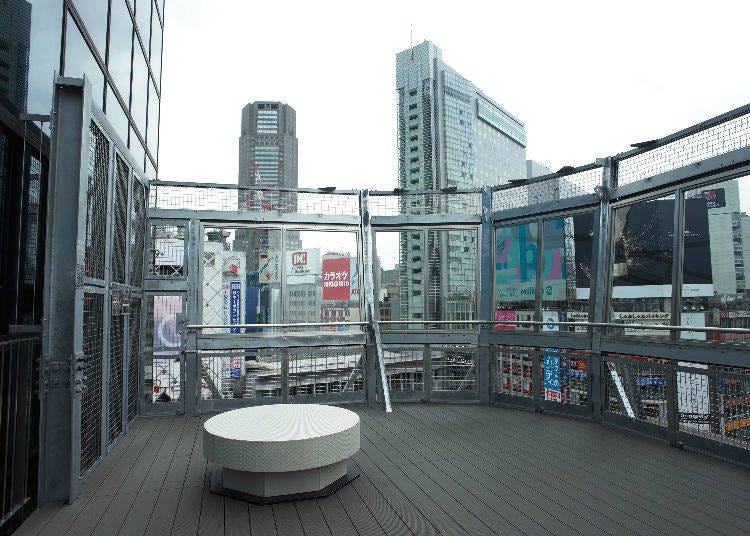 Shibuya Crossing View is an uncovered open space, so you need to be careful on a hot, sunny, summer day or when it rains. But actually, it is a sight really worth seeing especially on rainy days because of all the colorful umbrellas moving about with the pedestrians; really very artistic. Admission is possible even if it rains. Note, however, that you are not allowed to take umbrellas into it. But don't worry: they also sell raincoats next to the ticket vending machine.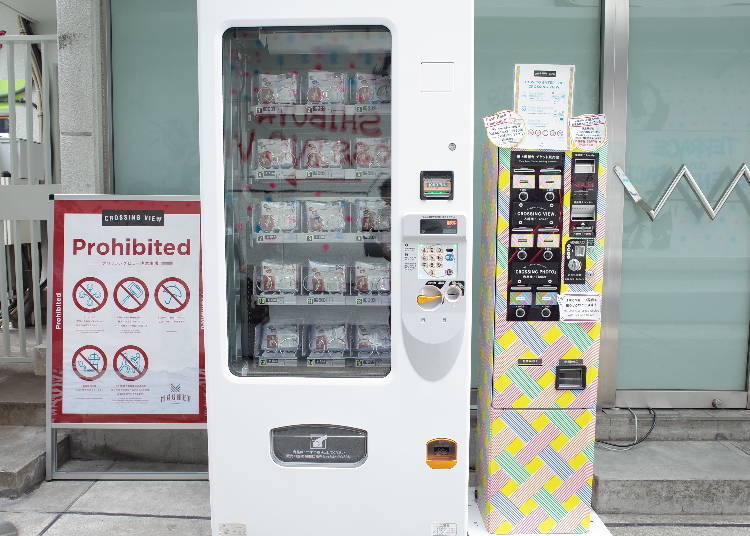 ● Admission: As of August 2018, entry is now free of charge.
* Open when it rains. Umbrellas not allowed. Raincoats can be bought for 300 yen. (May be closed in event of thunder, snow, or other inclement weather.)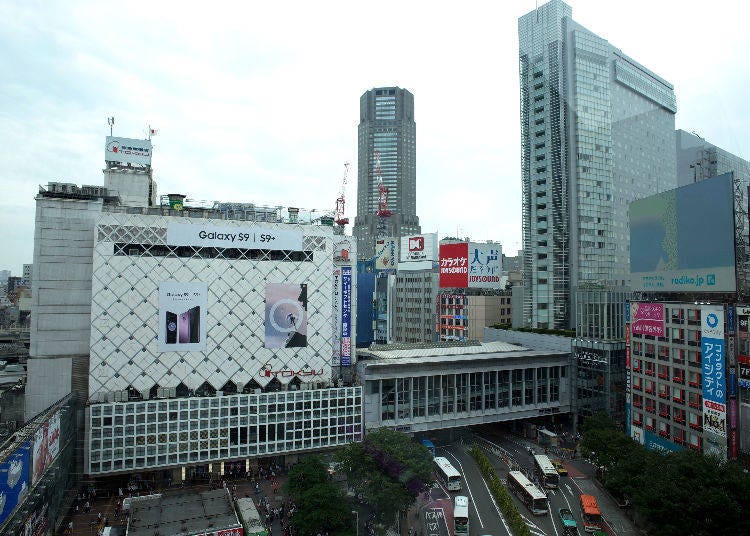 Facing Shibuya Tokyo Building and Mark City. Traffic runs below the corridor connection the JR lines with the Keio Inokashira Line (photo lower right)
Night time offers another spectacular view of the buildings and cars illuminated by light. This spot is the most iconic landscape in Shibuya and one everyone – not just tourists – should at least see once.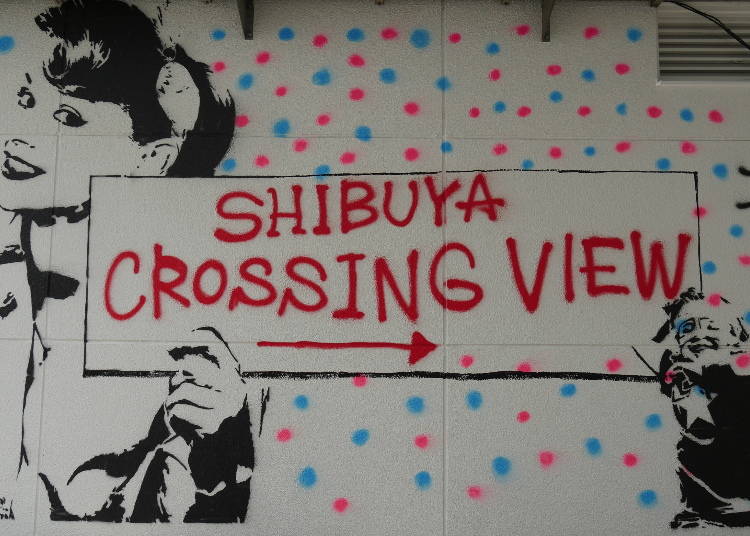 Wall art in front of the entrance
Take a One-of-a-kind Shibuya Selfie: Crossing Photo!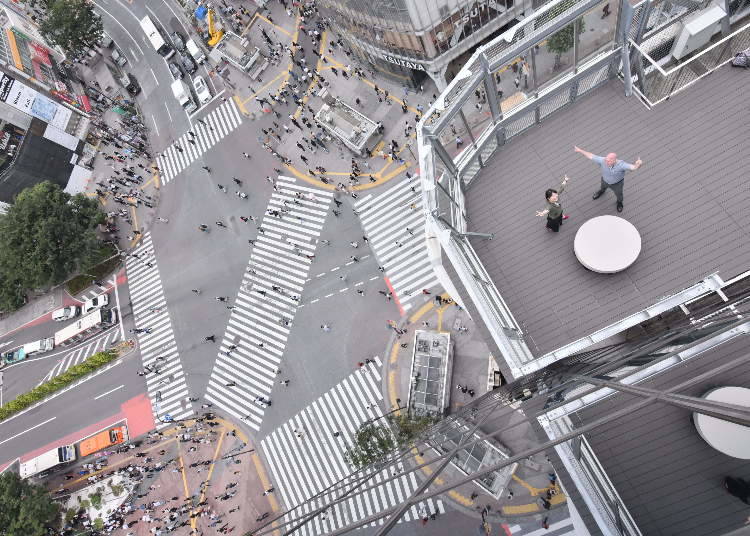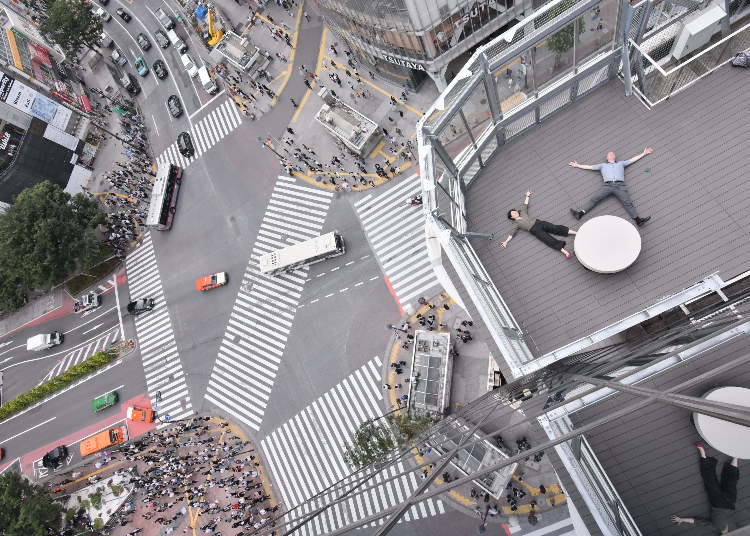 Crossing Photo inside Crossing View is an enjoyable experience you should really try (1 time 100 seconds, 1,000 yen). A camera atop the highest part of the building looks down on the observation deck and scramble intersection and sequential photos can be taken using your smartphone's web browser.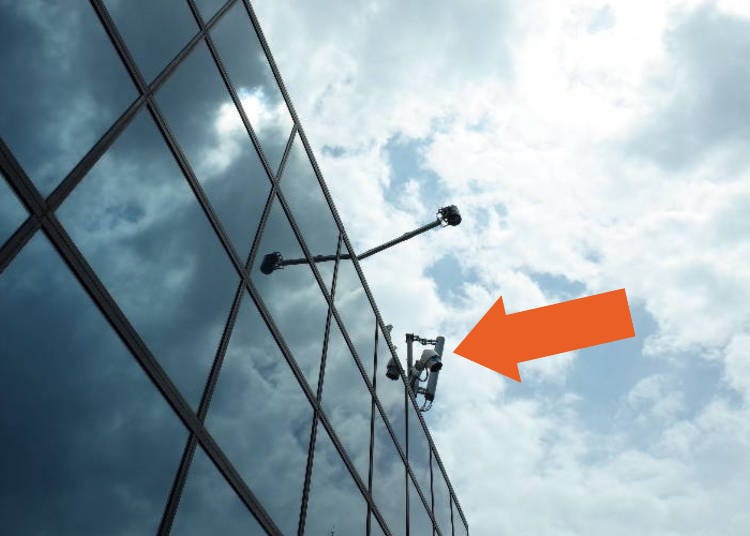 Simply scan the QR code on your ticket and you'll be taken to a special website where you can snap the photos yourself using the remote webcam. You can take as many photos as you like during the 100-second duration (probably 9 or 10 at most). Photos can immediately be downloaded from the web app (free wi-fi is also available) straight to your device.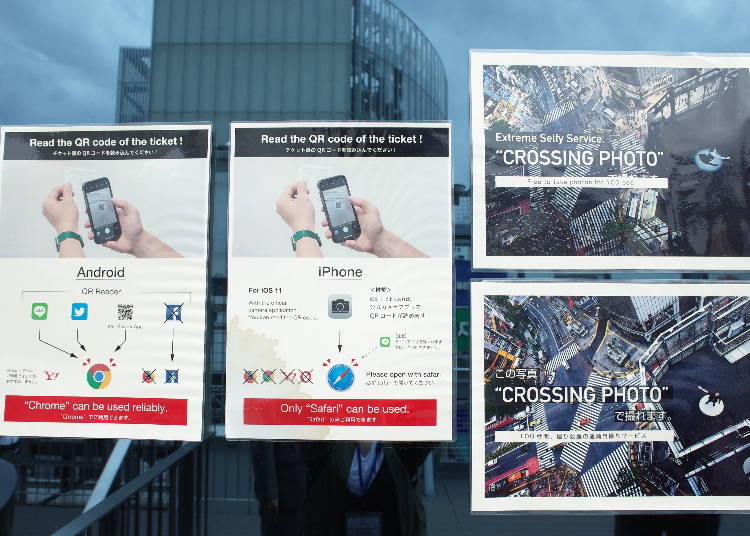 Snap as many photos as you like within the time allotted. We recommend timing your shots to match the changing of the traffic lights or volume of traffic. The observation deck lit up at night makes for a magical setting. Enjoy taking photos of your own original poses!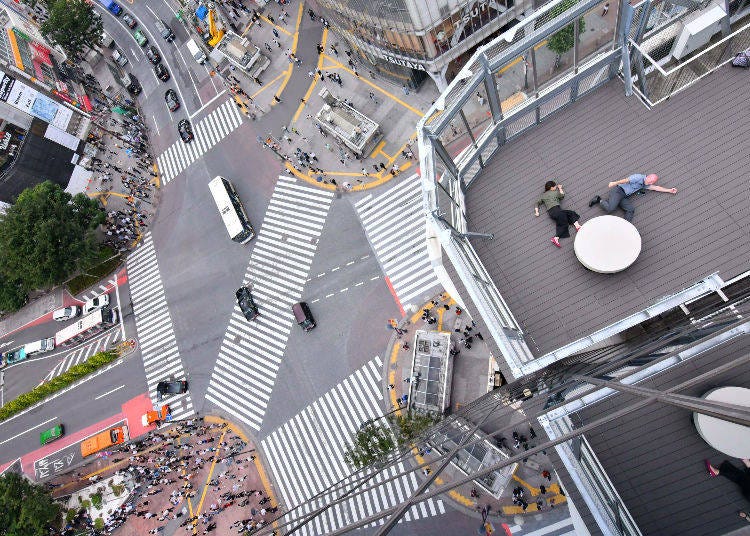 ● Photos: 1,000 yen (CROSSING VIEW admission fee + CROSSING PHOTO fee)
● How to buy a ticket: Use the vending machines on the first floor and roof (advance purchase not necessary). You can ask the staff for more details.
Great Dining at Magnet by Shibuya109: Mag's Park on the roof!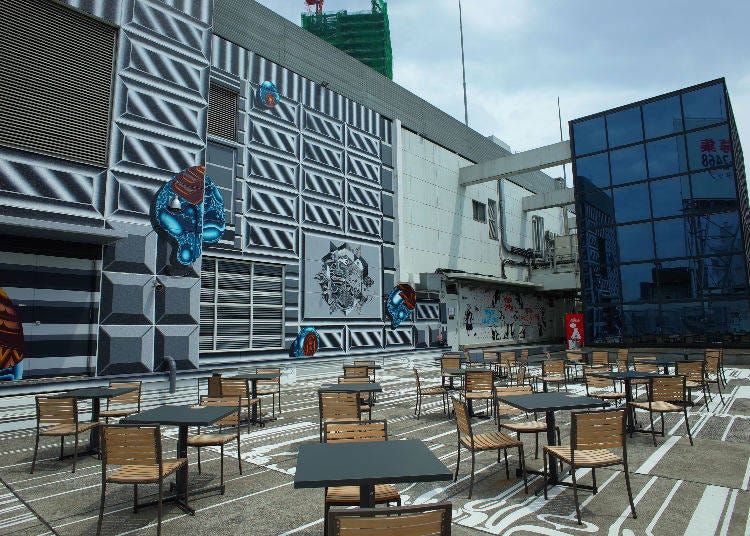 You don't notice the hustle and bustle of Shibuya when perched high above it, but can leisurely observe it while relaxing at MAG's PARK. It's located on the same floor as CROSSING VIEW and you can use it at no charge. Here there are about 20 tables and chairs open to everyone and sometimes events are also held here. On the facing wall, works by both domestic and international artists are displayed.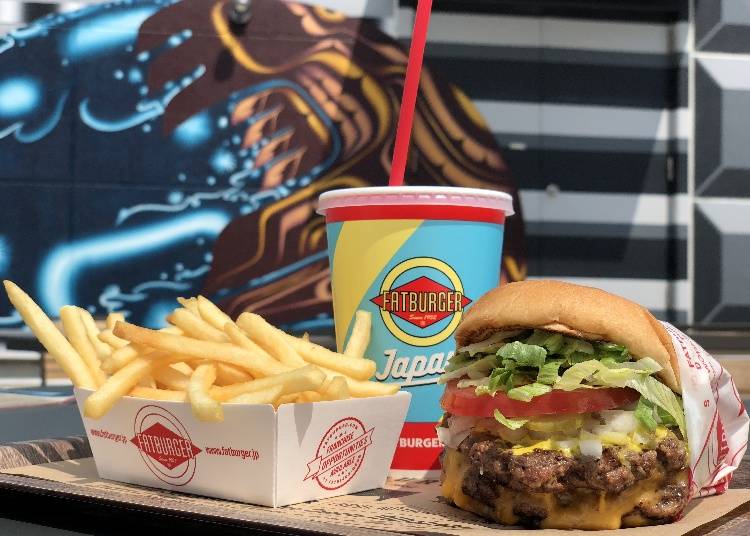 When the weather is nice, you can buy food on the 7th floor and take it up to the roof!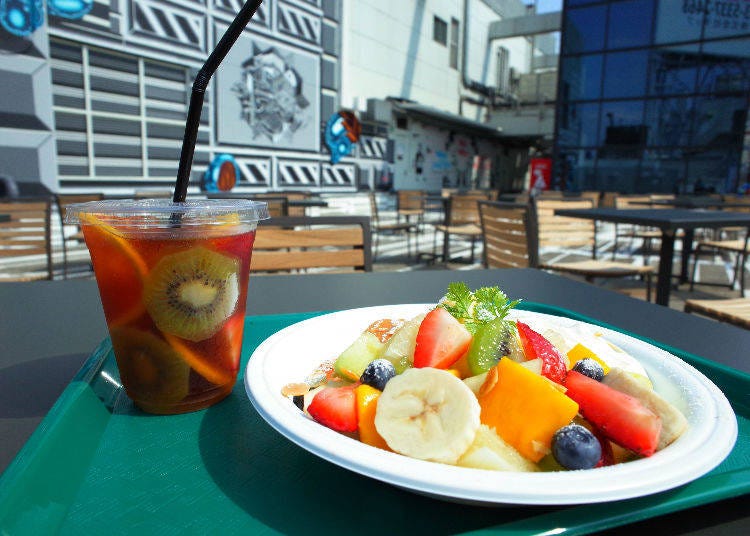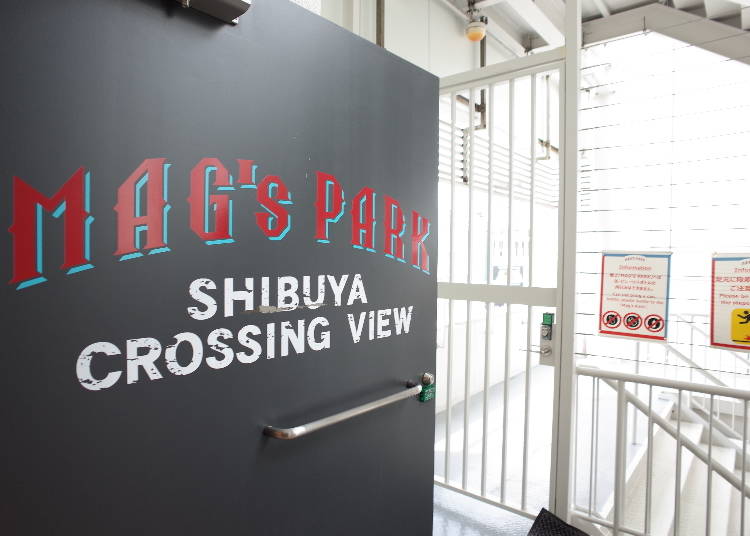 MAG7 – The 7th Floor Food Court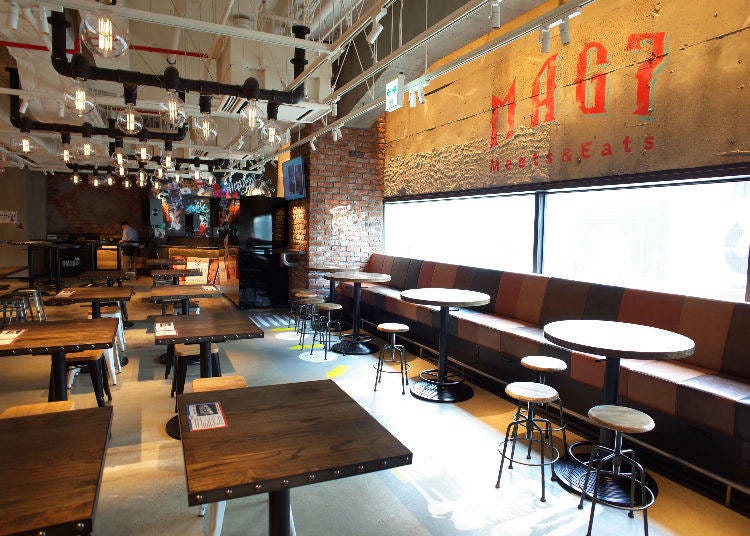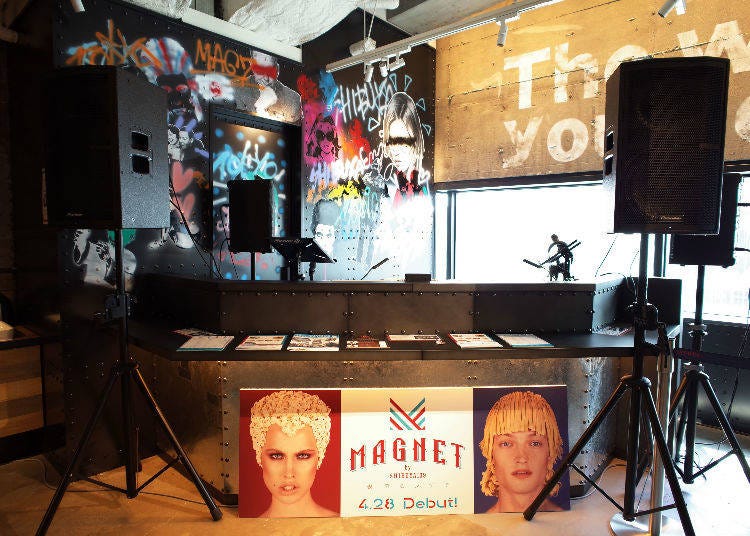 The 7th floor MAG7 is the food area that is a must-see spot in Magnet by Shibuya109. It is a fusion of food and music. The industrial interior design and DJ booth in the rear give it a club atmosphere. This casual area hosts several delicious shops offering menus that are offered exclusively at Magnet by Shibuya109. They all also offer takeout.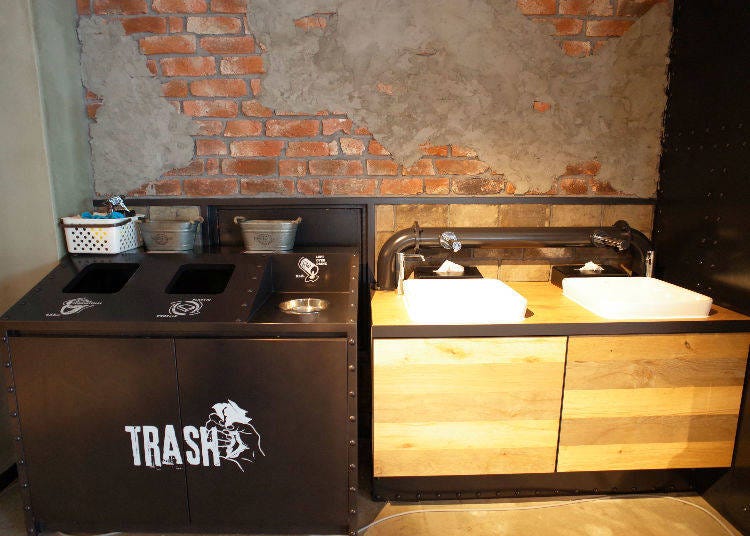 You can even wash up here afterwards
This is the First Location in Japan of the Popular Fatburger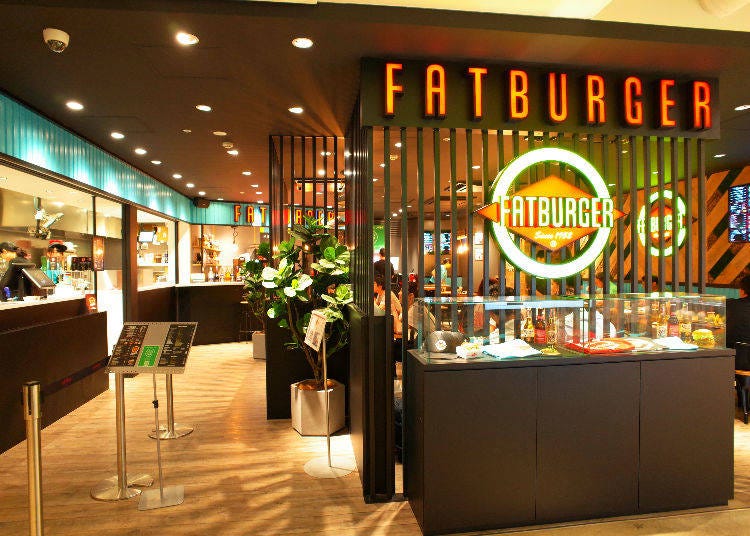 One shop we especially want to introduce is the FATBURGER that originated in Los Angeles and makes its first appearance in Japan here. Noted for its juicy, thick, meat patties that make up 40% of the burger, the fat content is kept below 20%, so they are full of healthy red meat. The burgers are enormous and the atmosphere of the shop is lively among the staff and customers, a style emphasized by the couple who founded the business and who stressed that "with just the two of us running the business, we wanted it to be an enjoyable experience for our customers."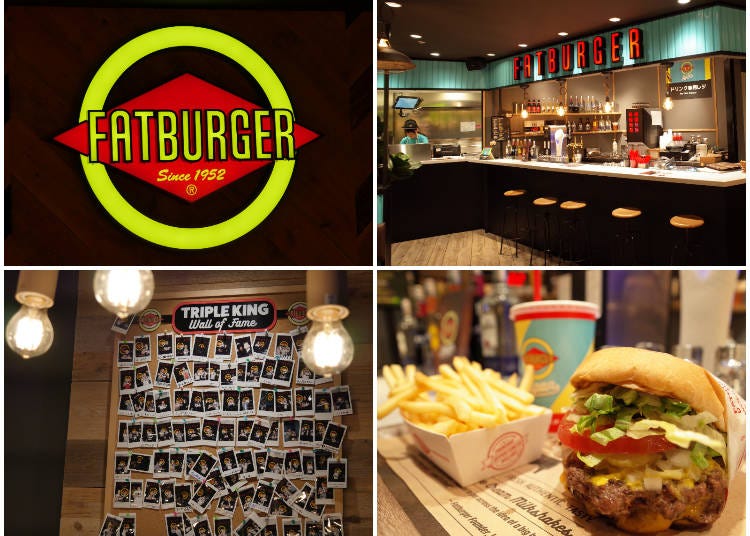 The most popular item on the menu is the Double Burger with Cheese Topping and Potato Set (1,380 yen without tax). According to people in the know, the ingredients are all customized which means you can ask to have things you don't like removed and things you do like added extra and at no extra charge. Currently they have a special offer that if you add them as a friend on LINE you can get unlimited refills on soft drinks. No end date has yet been set for the offer, so this is something you might want to check out now (it may end without notice). Also, the milkshakes are made fresh with ice cream after they are ordered. You can't go wrong here for a great place for great summer sweets.
Shibuya Parlor – An Old-fashioned Fruit Parlor!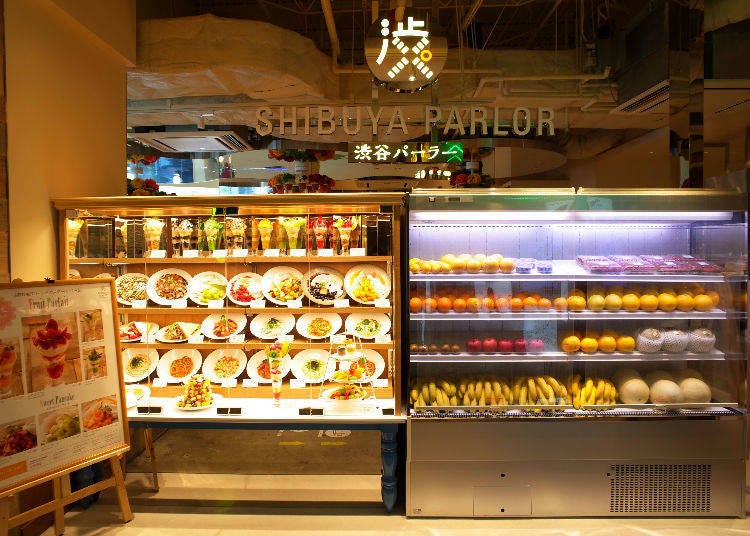 Shibuya Parlor is another place we recommend where you can have a great experience enjoying all sorts of fruit parfaits, pancakes, and other sweet concoctions. Two dishes that have long been popular in Japan are parfaits and pancakes, both served with lots of fruit. Here you can enjoy both in the nostalgic atmosphere of an old-style fruit parlor that combines tradition with contemporary.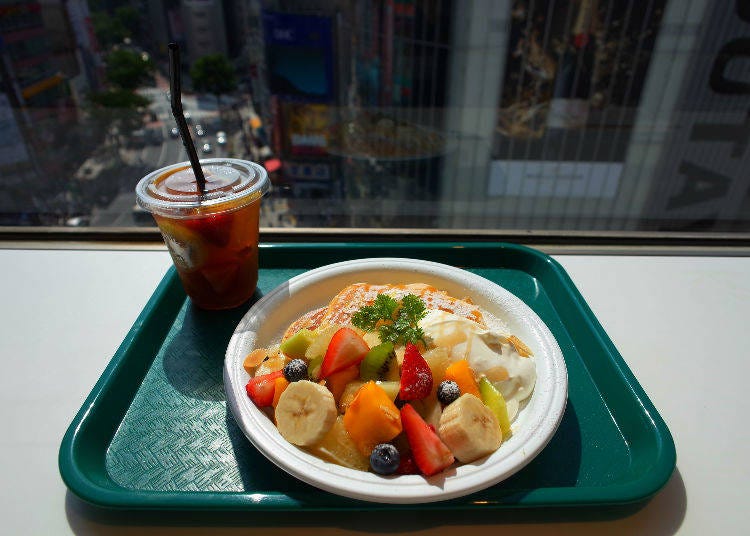 The Mixed Fruits Garden Pancake (1,480 yen, tax not included) is this summer's popular item. It's different form the fluffy soufflés which recently are so popular in that the fruit is chopped up and mixed together on a soft pancake. The real cream blends perfectly with the fruit. The royal road mixed parfait is also popular for its use of seasonal fruit. It tastes as luxurious as it looks! The Afternoon Tea (2,800 yen, tax not included) and Mixed Fruits Pancake Tower (3,800 yen, tax not included) are large enough to serve several people, ideal for dessert or a group experience.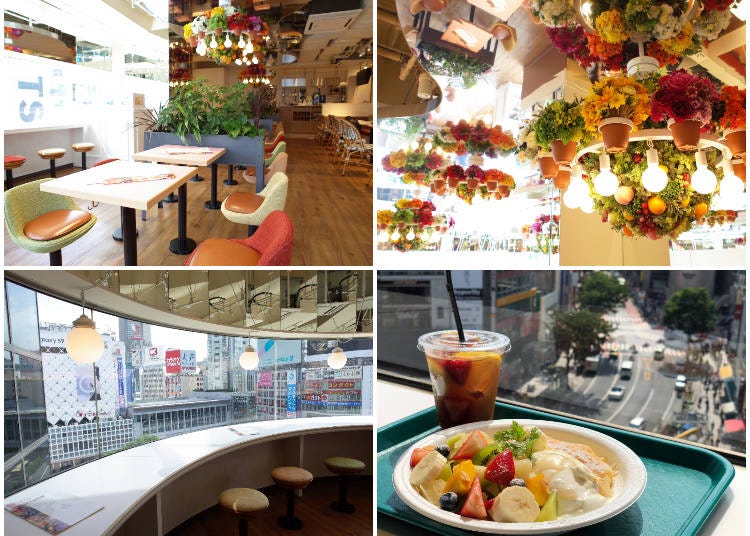 There is also a food menu, but another thing we would like to point out is the interior and seats looking out the window. The interior has a colorful flower and fruit motif and the interior is decorate with chandeliers. Also from the seats at the counter you can see the scramble intersection while you enjoy your sweets. As you can imagine, this is such a popular place because of its menu and spectacular view it tends to be crowded at all hours, so be prepared to have to wait in line to get a seat.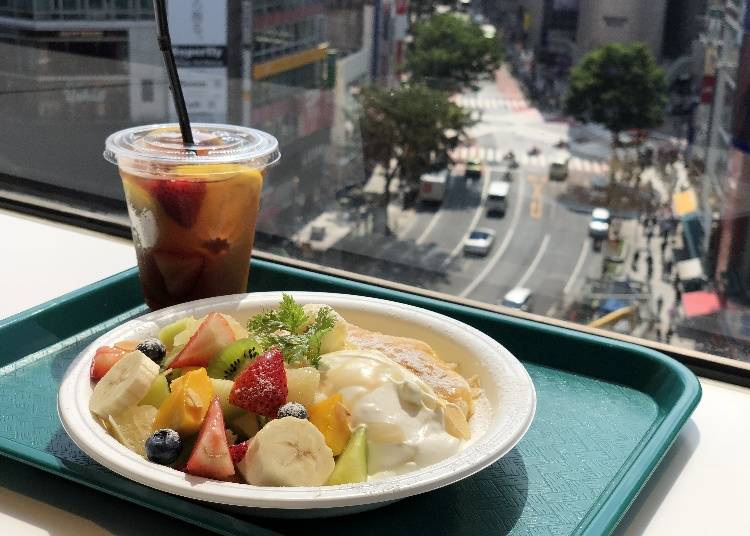 Aside from fruit dishes, there are also fruit drinks, pasta, and alcoholic beverages. The atmosphere is relaxed and inviting regardless whether you are alone or with someone. If you like fruit, then this is a place you really must visit!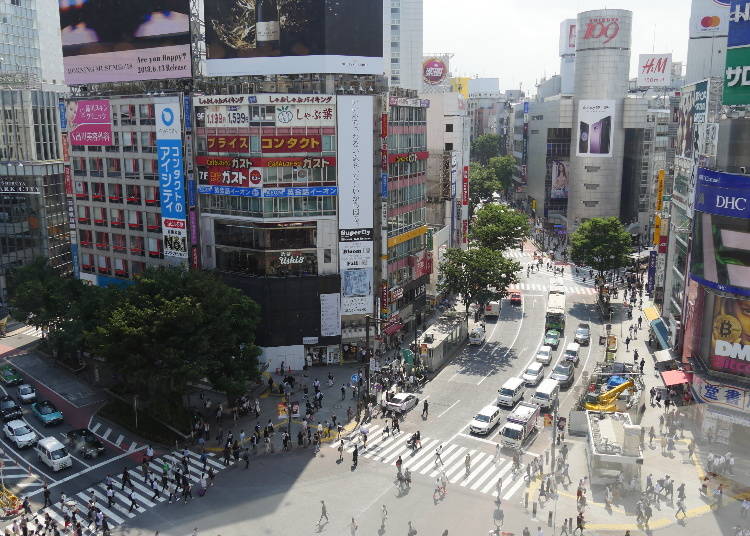 The view from the counter window of Shibuya Parlor
Magnet by Shibuya109 continues to advance the culture and popular styles of Shibuya where so many have originated and is near the scramble intersection that symbolizes Shibuya. This is a hot spot you will want to keep your eye on to see what sort of new fashions and cultural trends will be next!

*As of August 2018, entry is now free of charge.
マグネットバイシブヤ109

Address

1-23-10, Jinnan, Shibuya-ku, Tokyo, 150-0041, Japan

Phone Number

03-3477-5111

Crossing View
Hours: 11:00 AM ~ 11:00 PM (※last admission: 10:30 PM)

Crossing Photo
Hours: 11:00 AM - 11:00 PM (*Last admission: 10:30 PM)

7th floor food shops
Hours: 11:00 AM - 11:00 PM

Closed only during the New Year's holidays

*This information is from the time of this article's publication.
*Prices and options mentioned are subject to change.
*Unless stated otherwise, all prices include tax.
Limited time offer: 10% discount coupons available now!