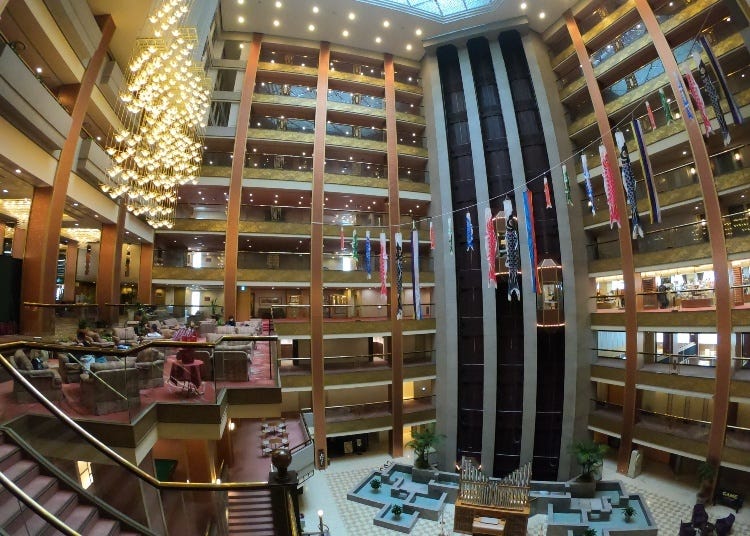 The luxurious Asaya Hotel, a traditional ryokan in Kinugawa Onsen, boasts a stunning open-air bath at the village's highest point - all right in the middle of a Japanese garden.

Kinugawa Onsen is one of Japan's most famous hot springs towns, admired for the majestic, lush natural scenery all around. Looking like a scene out from a Japanese anime, the Asaya Hotel is such an amazing experience that it's even won numerous travel awards.

And the outstanding hospitability at Asaya Hotel is just one of its unique charms. Here we'll take you around the hotel itself, and introduce some of the fun things to do in Kinugawa Onsen!
Asaya Hotel: A Hot Spring Ryokan with 130 Years of History
It takes about two hours to get to Kinugawa Onsen Station from central Tokyo.
The easiest way to get to Kinugawa Onsen is by train via Tobu Railway. From there, simply take the shuttle bus that stops at each ryokan and get off at Asaya Hotel after about eight minutes (190 yen for adults, 100 yen for children).
Inside Asaya Hotel, numerous historic exhibits tell the story of how the hemp shop evolved to the inn of today.
Kinugawa's hot spring was discovered in 1691 and named "Taki Onsen" back then. However, only a select few people got to enjoy it, such as the feudal lord of Nikko and priests.

When the hot spring was opened to the general public, a man named Zenpachi Yagisawa, who also ran a charcoal and hemp shop, acquired the source's rights and opened an inn for travelers called Asaya Ryokan - the origin of today's Asaya.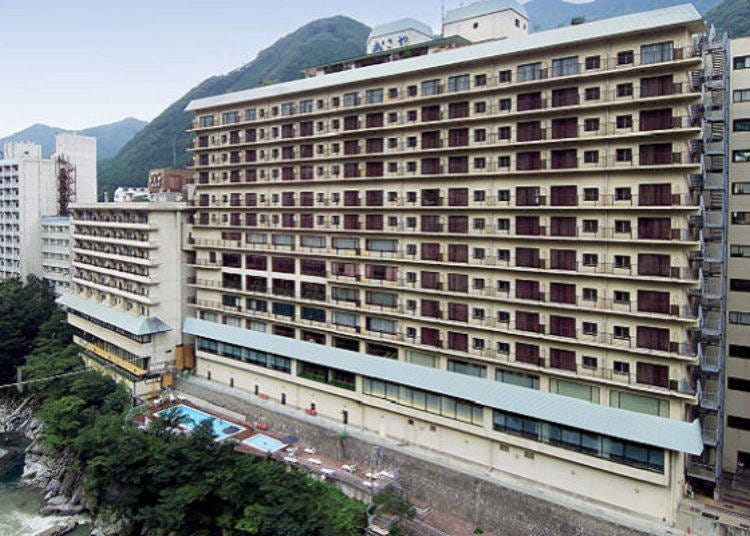 Gaze over all of Kinugawa Onsen from Asaya's rooms.
Asaya Hotel was founded in 1888. The following 130 years have evolved Asaya into a spectacular, breathtaking hotel featuring the Shuhoukan annex and its luxurious atmosphere. In contrast, the Hachibankan annex reproduces the laid-back atmosphere of an authentic hot spring inn. Nowadays, it offers 192 rooms in total.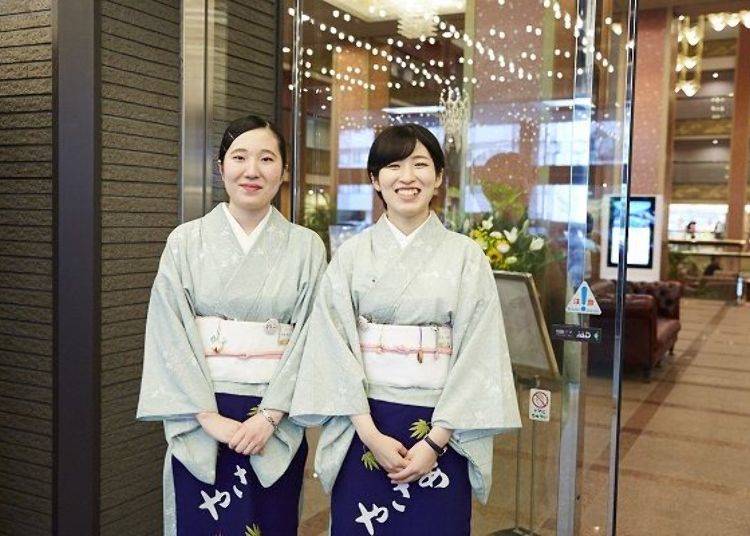 The staffs greets their guests with a warm, welcoming smile.
Welcomed warmly by the female hotel staff called nakai, let's take a look at what awaits inside.
Stepping Into Asaya Hotel is Like Stepping Into the World of Ghibli...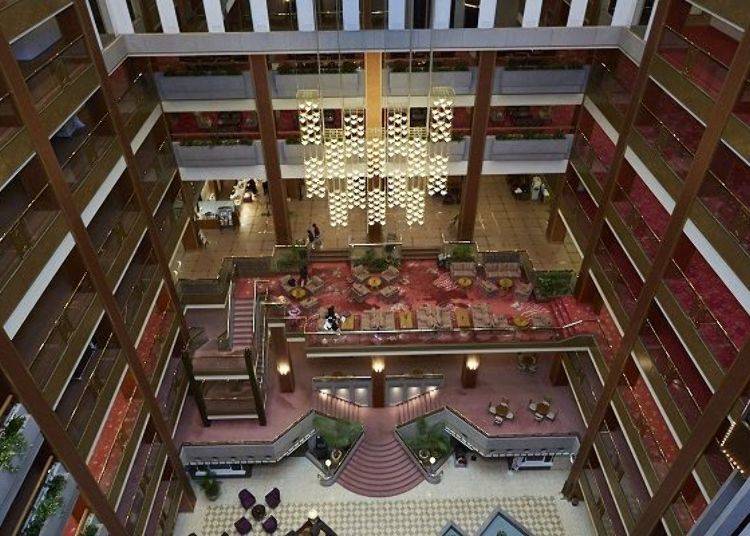 As you step through the entrance on the 6th floor of the Shuhoukan annex, a breathtaking view suddenly sprawls right in front of you.

The lobby is simply gorgeous. The third to the twelfth floor is all part of the colonnade, and three glass elevators smoothly move up and down in one corner.

The atmosphere feels just like the otherworldly bathhouse of Studio Ghibli's Spirited Away and immediately puts you in a holiday mood.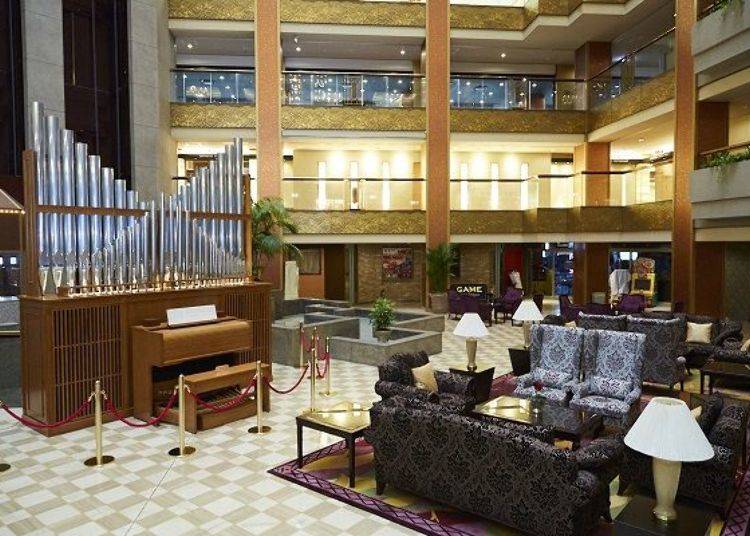 The organ usually is automatic-playing, but concerts featuring genuine pipe organ players are held from time to time.
The entire lobby is engulfed in elegant sounds created by the pipe organ on the third floor. Its music echoes gently throughout the spacious colonnade.
Enjoy the Kinugawa Onsen Experience All Day: Spring Water Flows to All Rooms!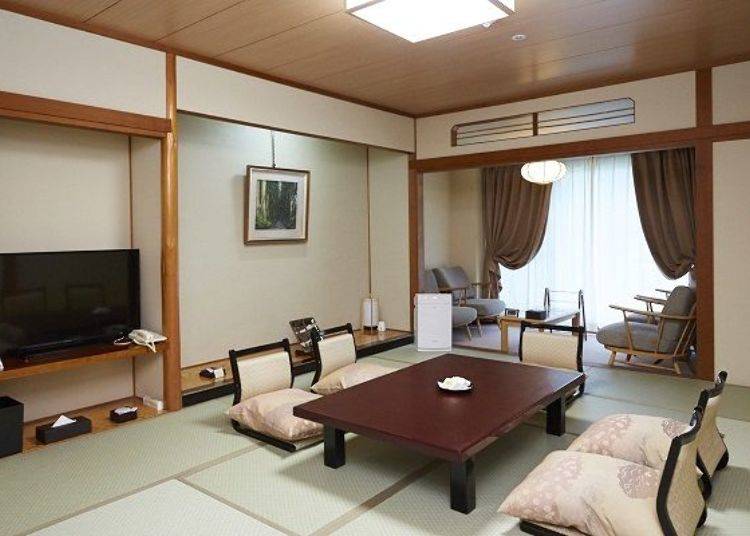 The standard Japanese-style room where we stayed at is 10 tatami large (16.5 square meters; from 16,200 yen per person per night for a group of four, features two meals).
After admiring the lobby, proceed to the check-in, and you'll be guided to your room immediately. We stayed at the Shuhoukan. It is mainly made up of Japanese-style rooms, but some of the 158 rooms are Western-style as well.

In addition, there are also VIP rooms and several other accommodations. The hot spring water is pumped to every single room directly, allowing you to soak your body around the clock and whenever you feel like it.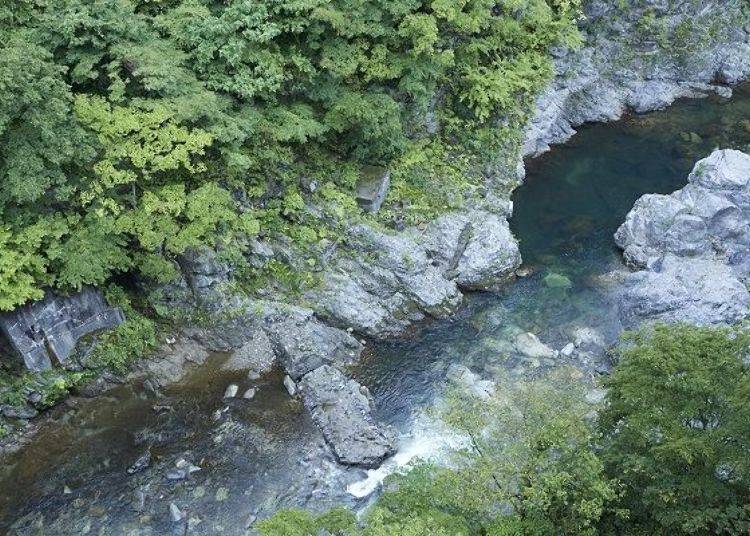 The Kinugawa River's calm murmuring fills the air.
The Kinugawa River flows right below your balcony! The calmness and fresh air cools you down even on hot summer days.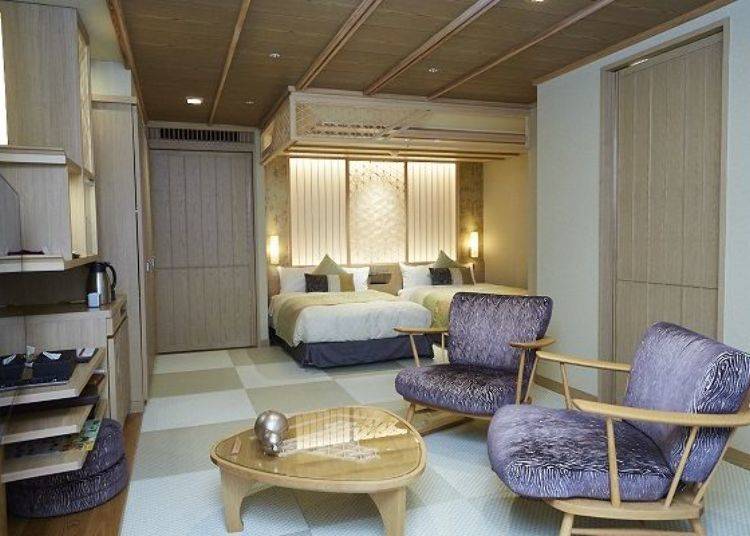 "Miyabi" is a spacious room that blends Japanese and Western style (from 29,160 yen per person per night for a group of four, includes two meals).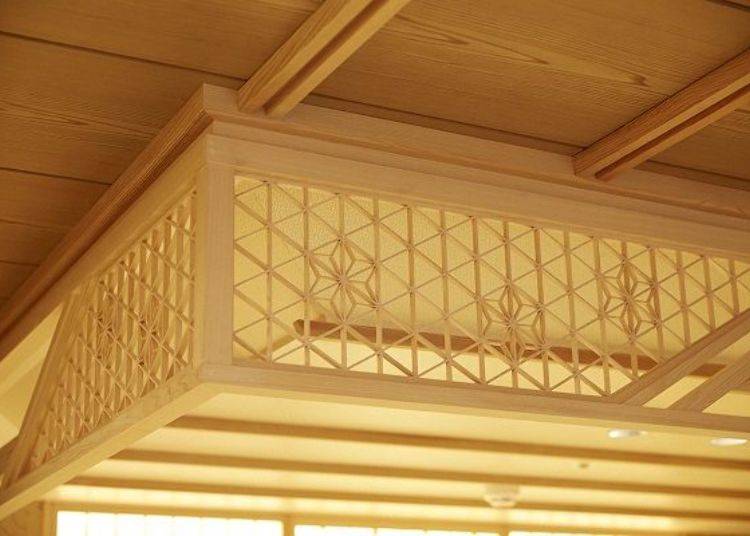 The lighting and walls in the bedroom are adorned with Tochigi's traditional woodcraft called "Kanuma Kumiko."
If you want to make your stay one level more luxurious, we highly recommend the "Miyabi" room, a beautiful blend of Western and Japanese aesthetics.

This room style was entirely renewed in July 2017. The checkered tatami flooring combines modern design with tradition, creating a warm and welcoming atmosphere.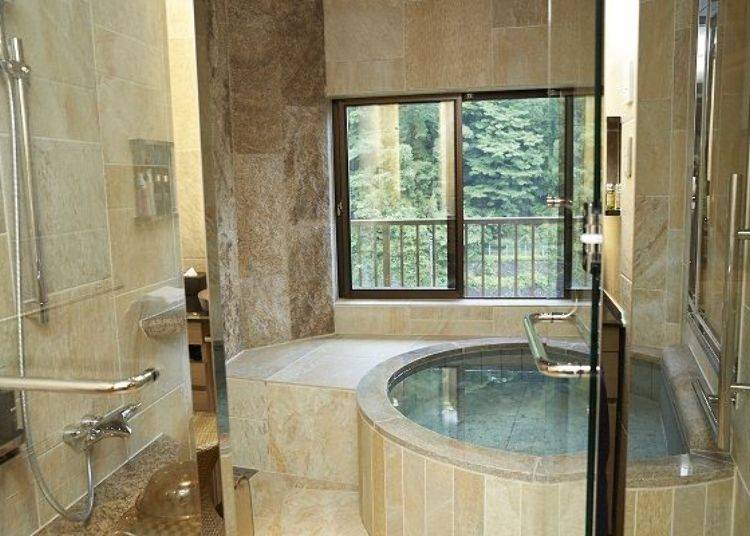 The elegant hot spring bath is made out of granite and boasts a view on the lush greenery just outside the window.
The main feature of this luxurious room is the gorgeous hot spring bath that faces the Kinugawa Valley!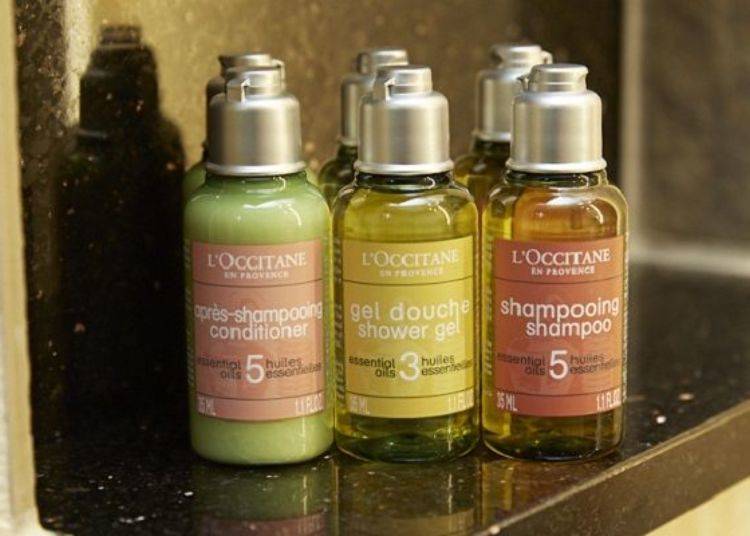 The L'Occitane amenities can be taken home.
From a massage chair to L'Occitane amenities, a steamer, and a hair iron, the "Miyabi" room offers plenty of ways to pamper yourself.

The Shuhoukan annex features 13 different room types in total, offering a rather diverse choice according to personal preference, budget, and so on. Check the official website for further details!
Enjoy an Extensive Buffet with 100 Delicacies From Japanese and Western Cuisine!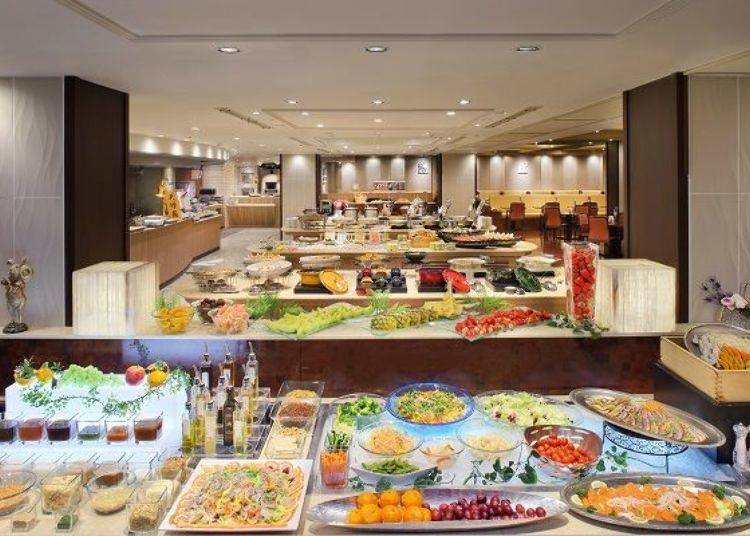 The beautiful dinner buffet almost looks like a painting from afar with its many rich colors. (Photo courtesy of Asaya Hotel)
After stretching your legs in your room, savor the exquisite dinner! Depending on your preference, you can book a kaiseki cuisine course in a Japanese-style dining setting or a private room. Still, we decided to try the dinner buffet, which offers 100 different delicacies from Japanese and Western cuisine.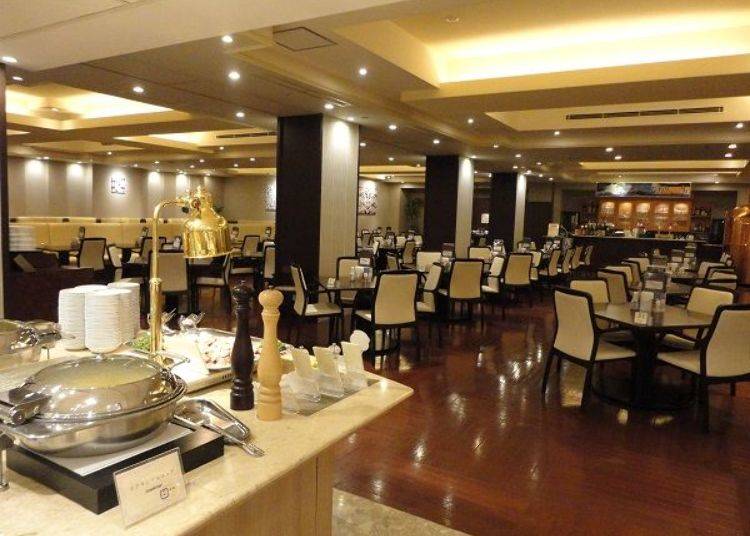 The buffet restaurant is open and spacious.
The menu is made with fresh, seasonal ingredients, and choosing what to try first is not an easy task.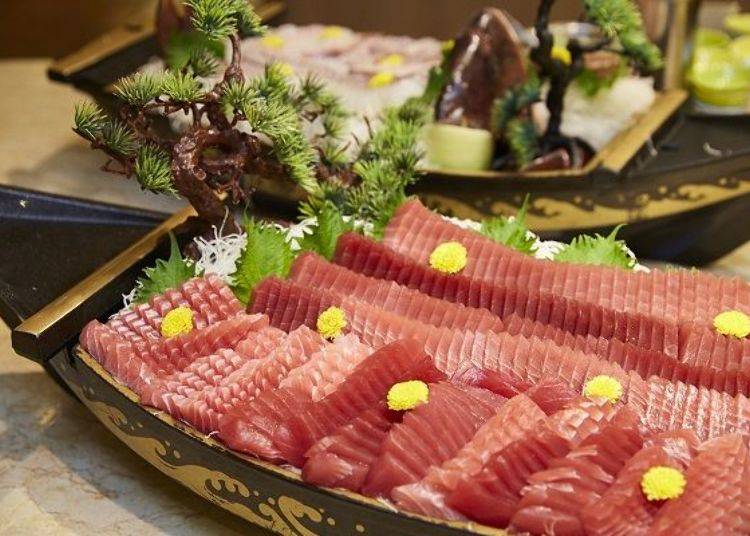 The dishes are arranged in little boats for an authentic hot spring feeling.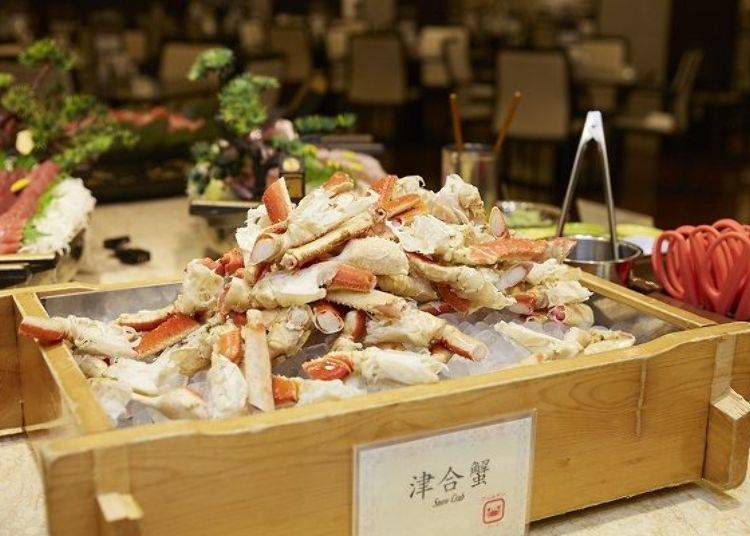 Even snow crab is part of the all-you-can-eat buffet!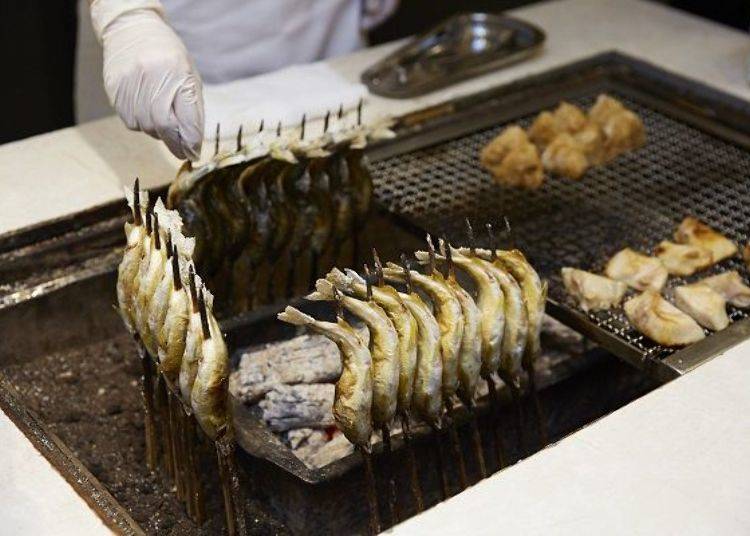 Ayu (sweetfish) is freshly grilled over a charcoal fire.

The chefs are hard at work in the open kitchen, creating masterful dishes with their honed skills. Everything is fresh, allowing you to enjoy tempura, steak, pasta, stone-oven pizza, and more piping hot!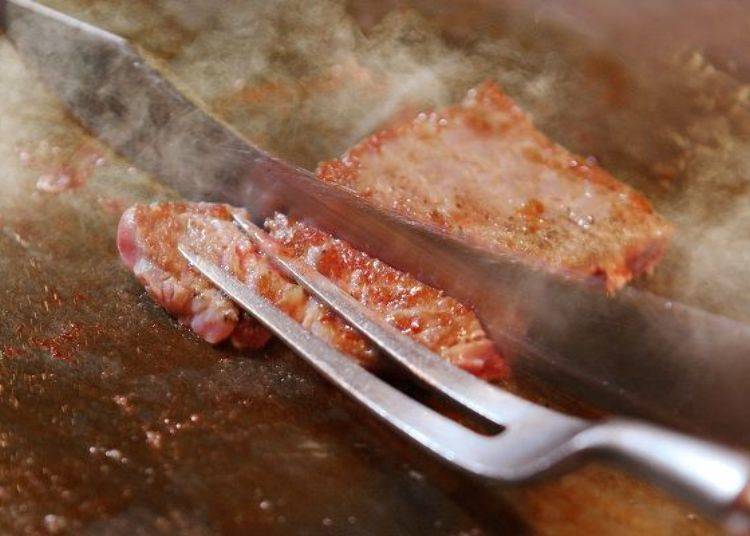 The Japanese beef steak is perfectly grilled and cut right on the spot. Juicy and flavorful, it's one of the buffet's highlights.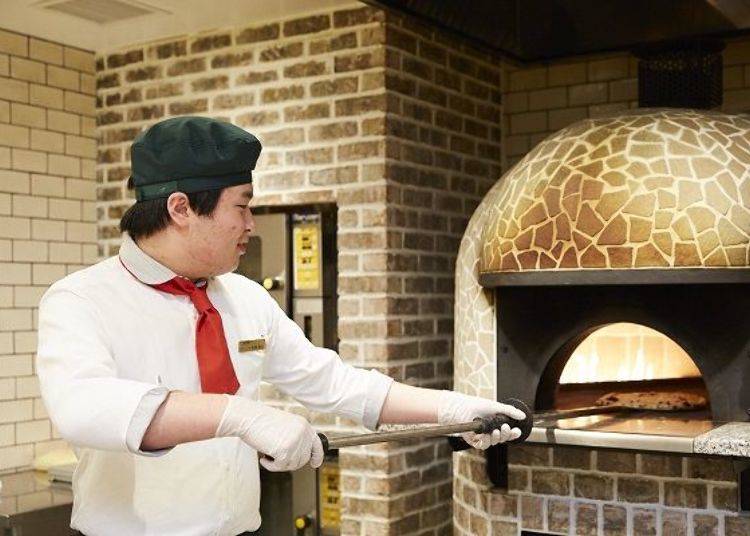 The pizza is baked in a proper stone oven at 400 degrees Celsius, making it wonderfully light and crispy.
Asaya Hotel is also committed to "beauty and health." The vegetable zone boasts 24 different oils and dressings!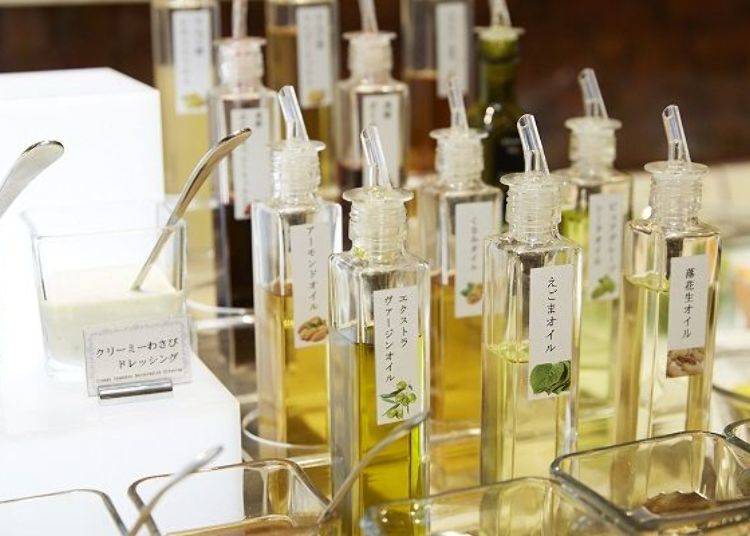 From peanut to almond and chestnut, the selection of oils to enhance your salad is vast.
Of course, Nikko's local specialty is part of the buffet: try yuba (tofu skin) as crispy tempura, as pasta with yuba, as a flavorful roll, and more!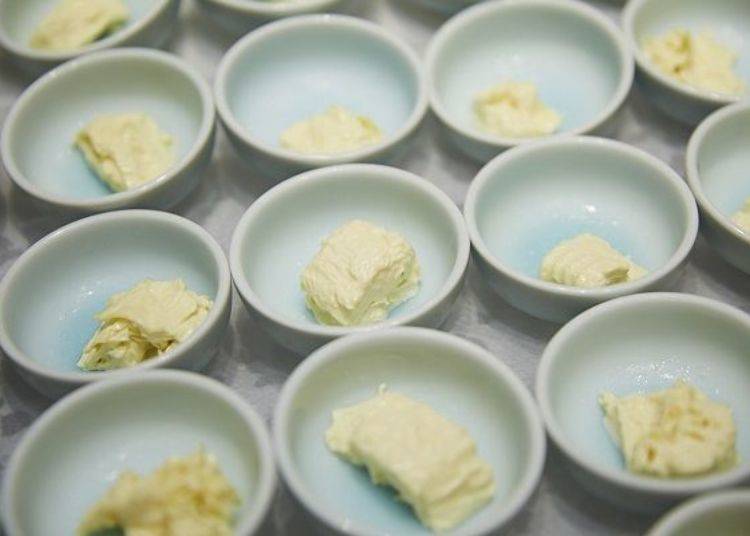 Plain yuba is mellow and gently sweet with a delightfully rich flavor.
On top of that, the buffet is also enriched with local and rare dishes and ingredients, such as the luxurious Yashiomasu trout. So challenge your inner gourmet and try your way through all these delicacies!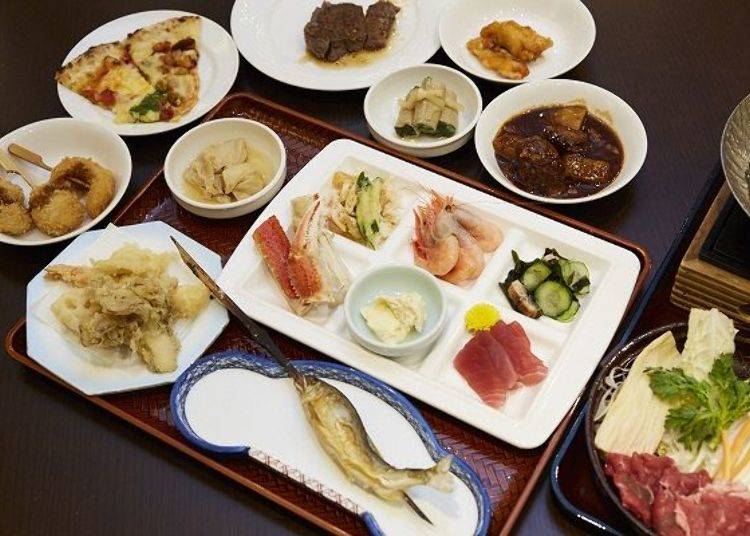 The dinner buffet certainly won't leave you hungry!
Bathe in Kinugawa Onsen's Rich Nature at the Outdoor Garden Hot Spring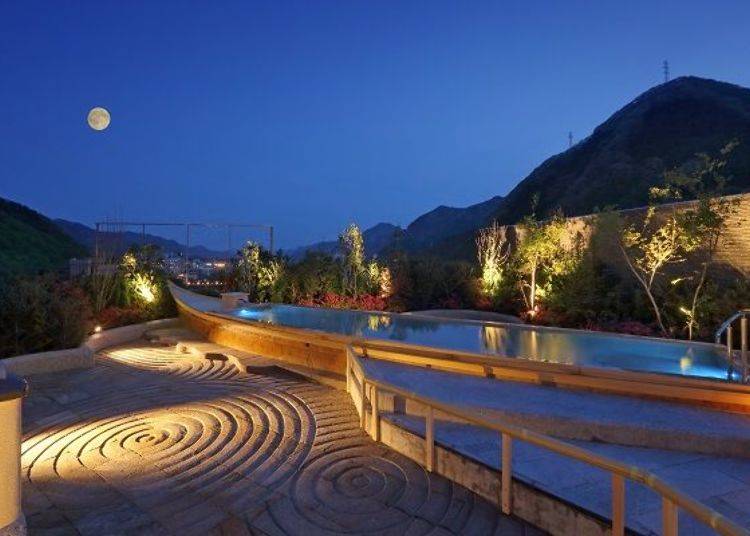 The rooftop garden is nestled right in the middle of Kinugawa Onsen's beautiful nature, even offering a stunning starry sky at night. (Photo courtesy of Asaya Hotel)
After savoring the many delectable dishes at the buffet, let's head to the 13th floor of Shuhoukan and the hotel's pride: the Sky Garden Open-air Hot Spring.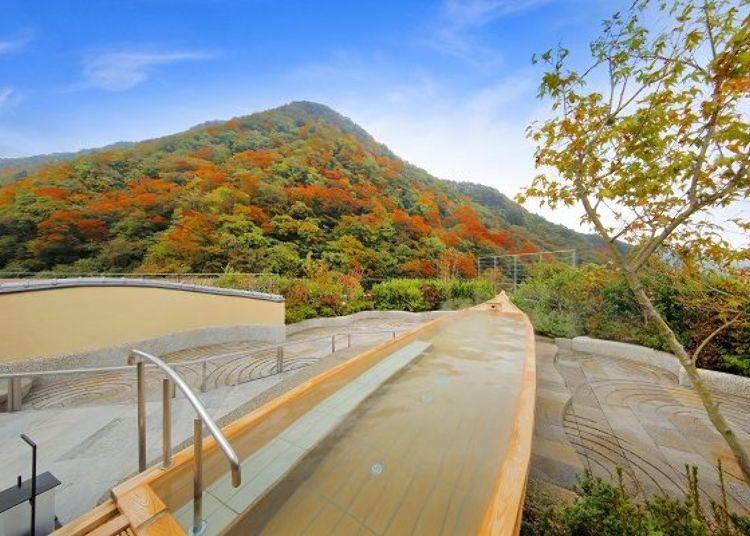 The Sky Garden Open-air Hot Spring used to be an actual boat of the Kinugawa River Boat cruises. (Photo courtesy of Asaya Hotel)
The eyecatcher of the rooftop garden is the boat bath, shown in the picture above. It's a real one that was once used as a Kinugawa River Boat, now turned into an atmospheric bath.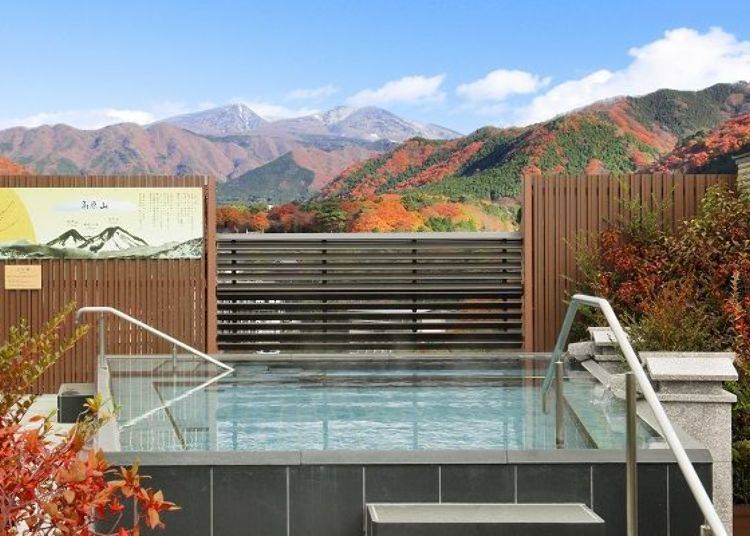 From the bath, you can overlook the entire valley and its mountains, dyed in vivid colors during autumn. (Photo courtesy of Asaya Hotel)
Especially at night, soaking your body in the hot water is an exquisite experience. Enhanced by indirect lighting, the atmosphere becomes almost dreamlike. The water is not too hot at 40 to 42 degrees Celsius and welcomes even hot spring beginners with a warm, gentle embrace.

The Japanese name for the bath is "Tateyu," meaning "standing water." That is because it overlooks the entire area and its tall mountains.
The private baths "Uchide no Kozuchi no Yu" are a popular choice for families and couples. (Photo courtesy of Asaya Hotel)
The first floor of Shuhoukan is also home to a large public bath, while four types of private baths on the third floor can be reserved. Fifty minutes of private bathing luxury cost 4,000 yen per bath (including rental towels).

For female guests, we especially recommend the large public bath "Taki no Yu" on the first basement floor of the Hachibankan annex.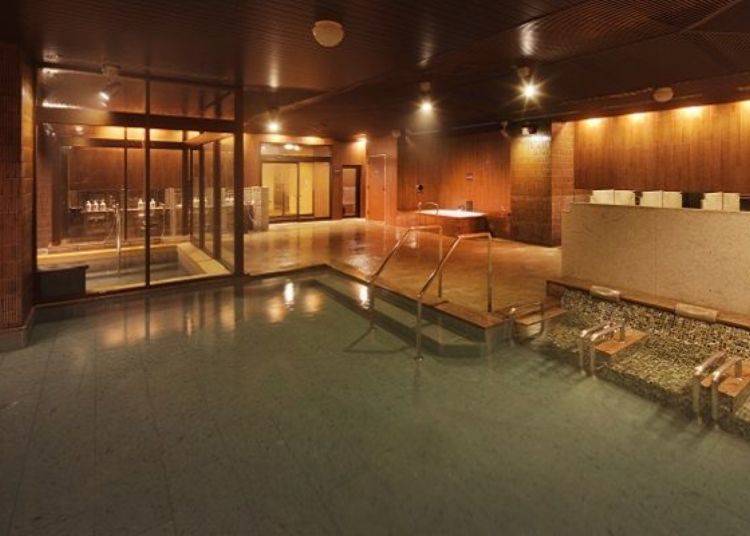 "Taki no Yu" (women only) features an array of different baths such as a nano-mist sauna and a silky bath for all things wellness and beauty.
Kinugawa Onsen's water is a simple colorless and odorless alkaline hot spring said to have a positive effect on neuralgia, joint pain, chronic digestive diseases, and so on. Both public open-air and indoor baths are available, so don't hesitate to take your time trying all of them.
Crunchy, Fluffy, Mellow – Kickstart Your Morning with Amazing French Toast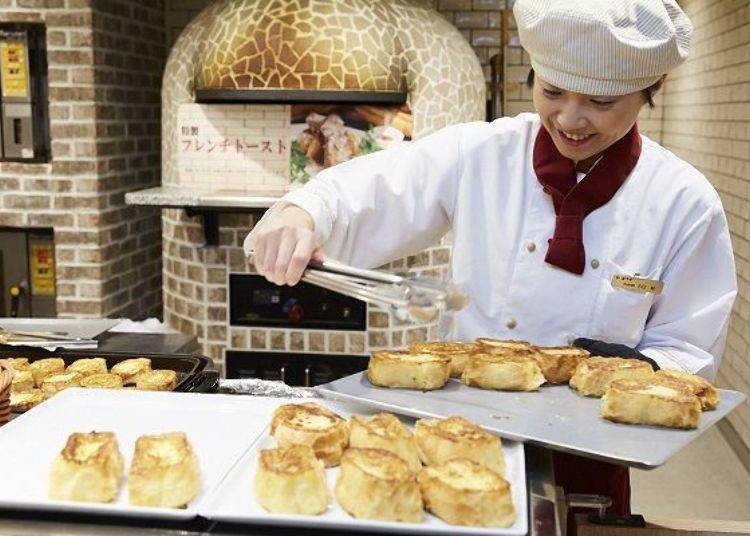 The next day, you'll wake up to Asaya's amazing breakfast buffet. That too features a rich selection of 60 dishes from both the West and Japan. Just like during dinner, the chefs prepare everything fresh in the open kitchen.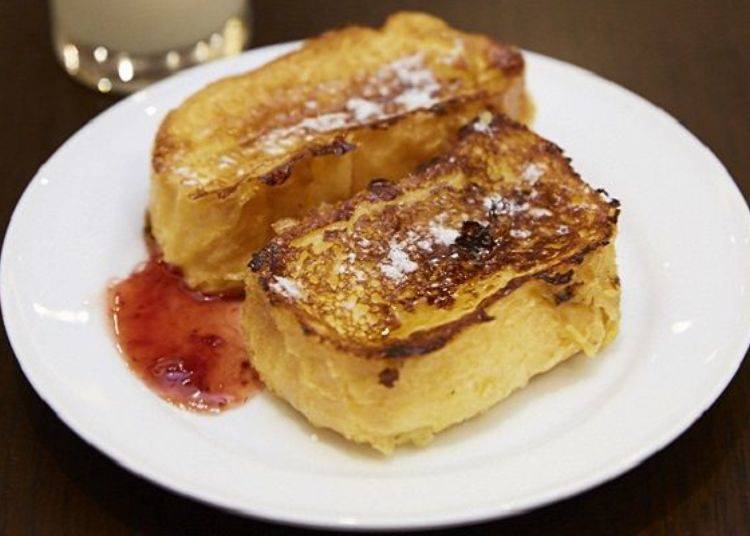 The outside is nice and crispy, the inside is wonderfully fluffy, and the taste is heavenly mellow – that's Asaya Hotel's famous French Toast.
First of all, we ordered the famous "special French Toast" of Asaya Hotel. The bread is coated thoroughly in the dough, then grilled, and then baked once more in the oven.

The dough is made from fresh eggs and milk of local Tochigi production, making for a gentle sweetness that tastes a bit like egg custard pudding. It's not something that can be described easily, and it's best to try this heavenly breakfast delight for yourself.

Another highlight of the breakfast buffet is the many toppings specifically for the freshly made omelets, also prepared with Tochigi eggs.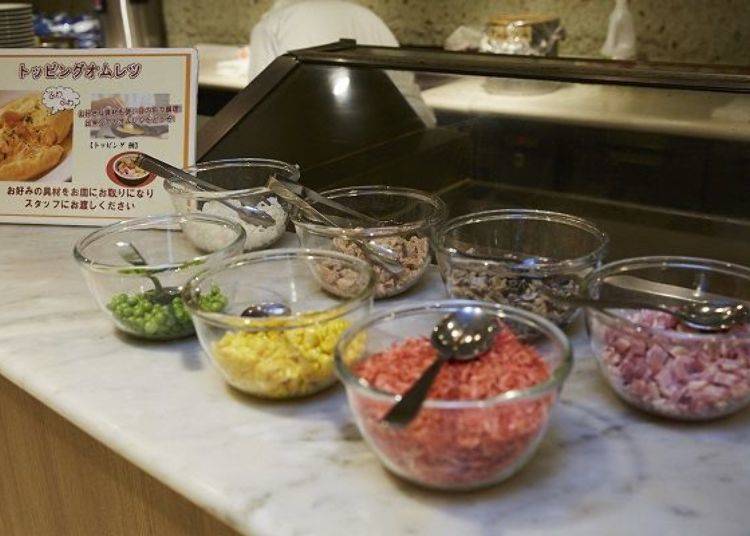 From bacon to sakura shrimp and locally grown dried gourd, enhance your omelet with up to eight different toppings.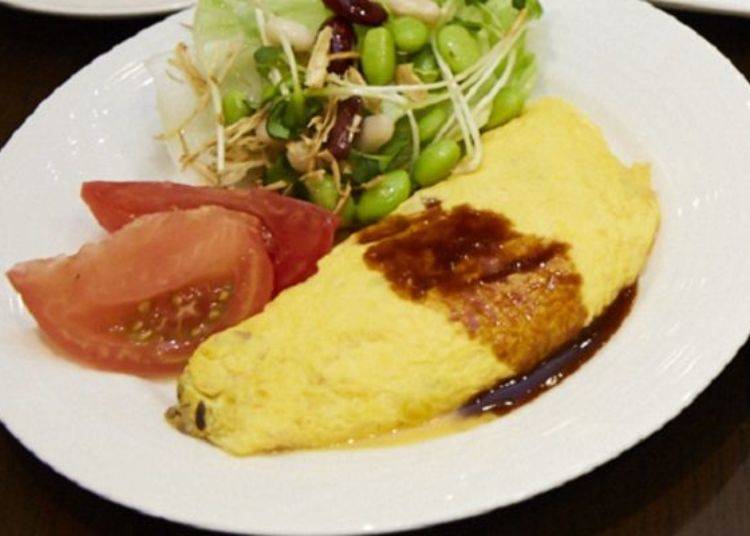 That's the fresh omelet, still piping hot. We asked for every single topping and the savory aroma of sakura shrimp certainly piques the appetite.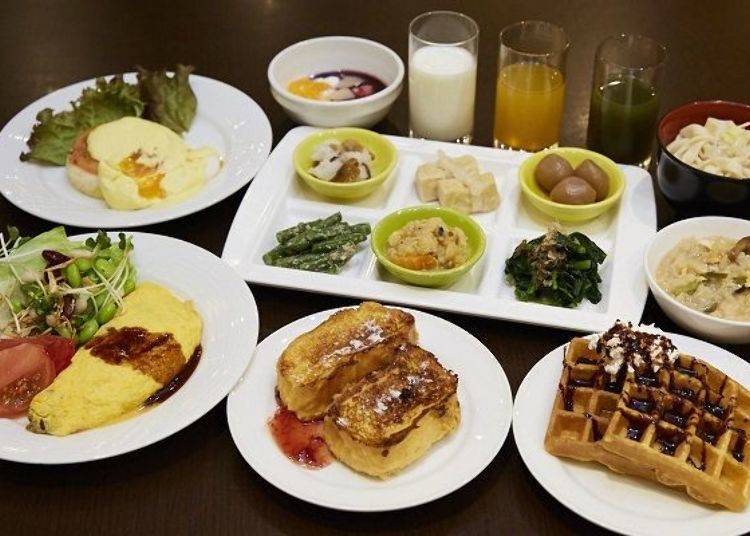 Take your time and savor the rich breakfast.
Get an Original Souvenir!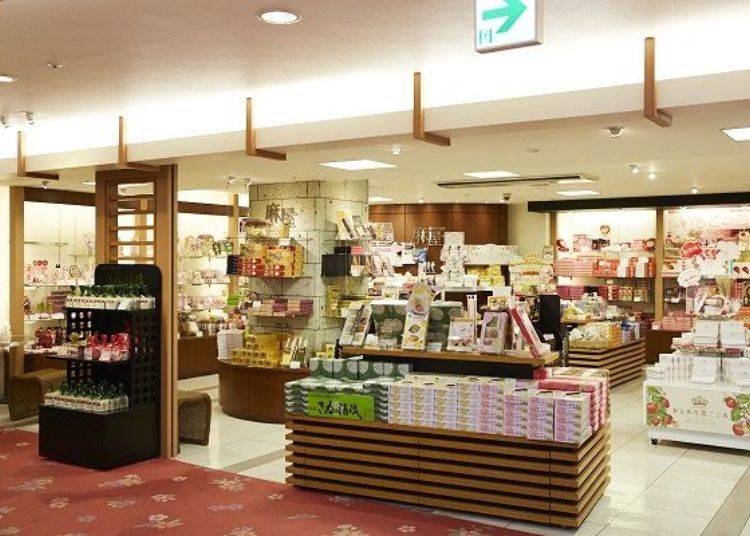 After kickstarting your morning with an amazing breakfast, why not find a nice souvenir for friends and family at home? A souvenir shop called Asaya can be found on the sixth floor of the Shuhoukan, selling original gifts and various famous local specialties of Tochigi Prefecture.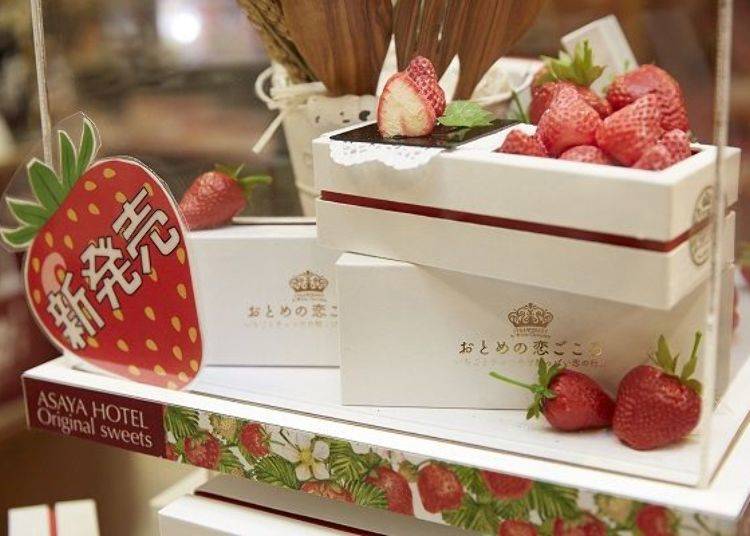 "Otome no Koi-gokoro" are freeze-dried Tochiotome strawberries and one of Asaya's original sweets (80g for 880 yen).
We especially recommend the "Asaya Special Hot Spring Manju" (steamed buns, box of 8 for 780 yen, box of 12 for 1,080 yen), as well as the "Asaya Special Wagyu Beef Curry" (single serving for 680 yen, set of 4 servings for 2,580 yen), freshly made at the hotel's own factory every morning.
The VIP Rooms and Private Rooms of Hachibankan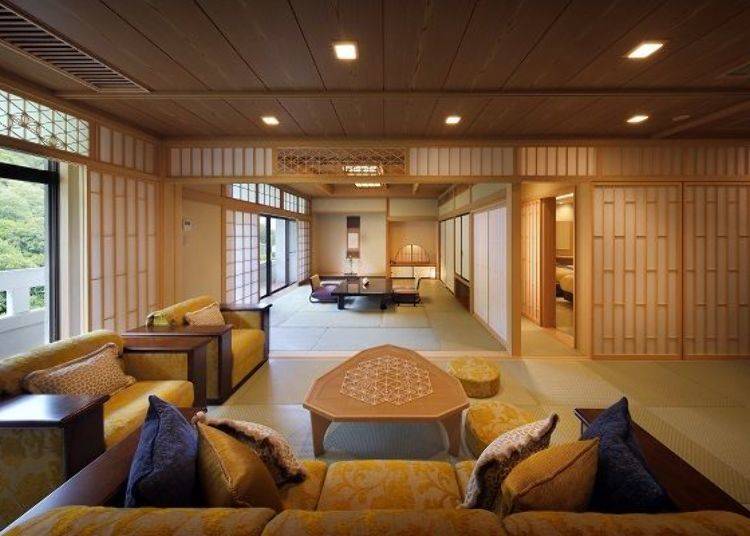 The VIP room has both a bedroom and a tatami space. (Photo courtesy of Asaya Hotel)
The Hachibankan annex was renewed in July 2018, and, of course, we wanted to take a look inside. The interior of both the VIP rooms and the restaurant's private rooms has changed significantly.

The spacious VIP room boasts an astounding 104 square meters and will make you feel right at home (from 61,560 yen per person for a group of four adults, features two meals). The lush green just outside the window looks like a painting.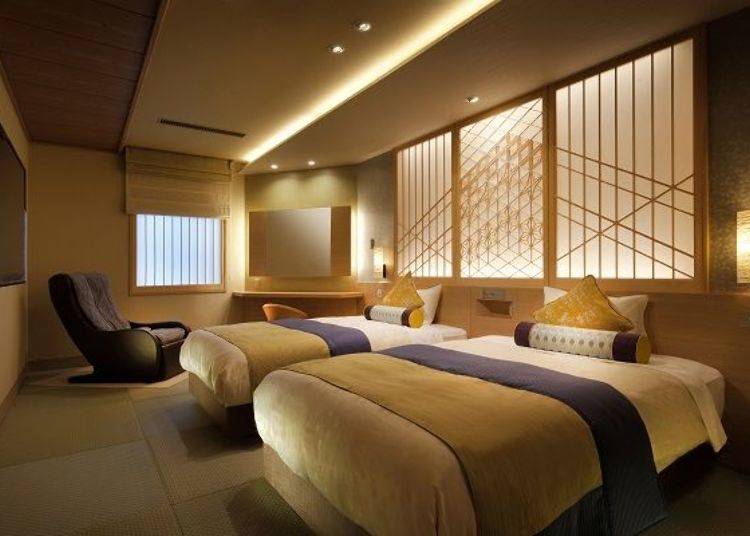 Kanuma Kumiko decorations adorn the bedroom as well. It's a calm atmosphere that matches the hot spring hotel perfectly. (Photo courtesy of Asaya Hotel)
The restaurant Nikko lets you enjoy a special kaiseki cuisine experience in a private room, making excellent use of the flavor of locally produced ingredients.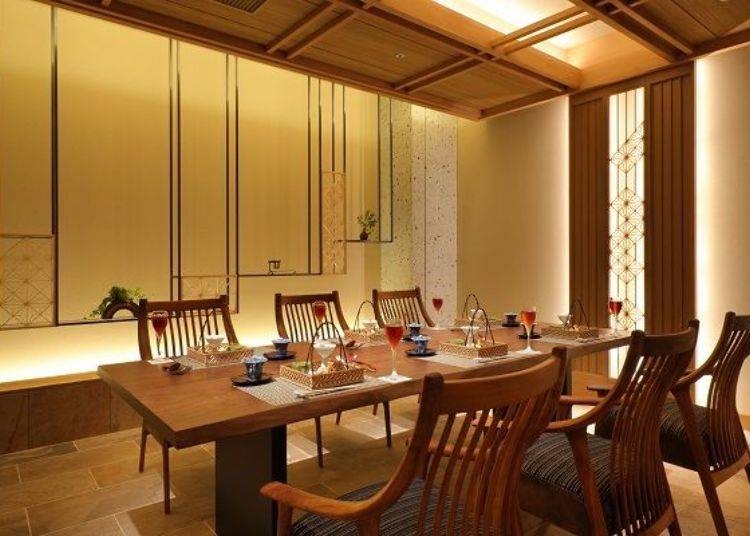 Nikko's private rooms are equipped with classic tables and chairs. (Photo courtesy of Asaya Hotel)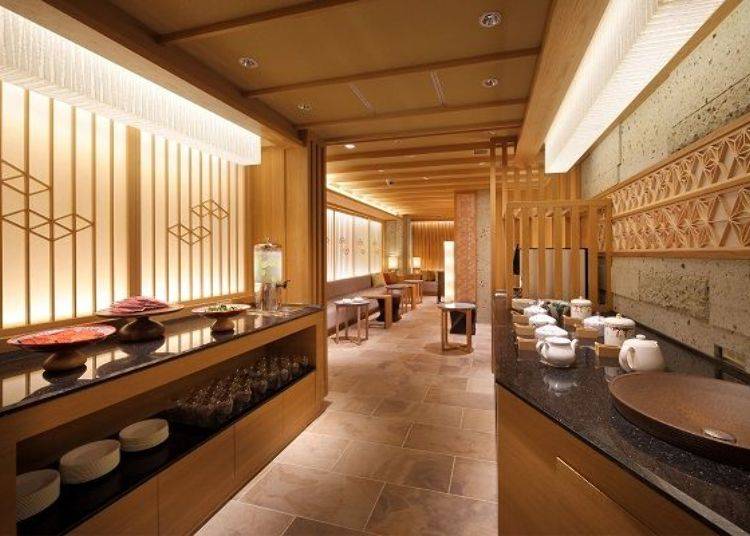 The brand-new "Premium Lounge" treats guests staying at the Shuhoukan and Hachibankan to complimentary coffee and tea specialties (6:00 a.m. – 9:00 a.m.; 2:00 p.m. – 9:00 p.m.; photo courtesy of Asaya Hotel)
The Asaya Hotel doesn't only pamper you with a breathtaking Japanese bathing experience, it also raises the standards of hospitability to a whole new level. A single night at this fascinating place will surely become one of your favorite memories of your trip to Japan.
Address

Kinugawaonsen Taki 813, Nikko, Tochigi, 321-2598
View Map

Nearest Station

Kinugawa-Koen Station (Tobu Kinugawa Line)
16 minutes on foot


Vacancy search, reservation

from

44,300JPY

1room, 2adults

Check with our partner site as the latest rates, rate details, and guest room requirements may vary.
Kinu-Tateiwa-Otsuribashi Suspension Bridge: Breathtaking spot overlooking the Kinugawa River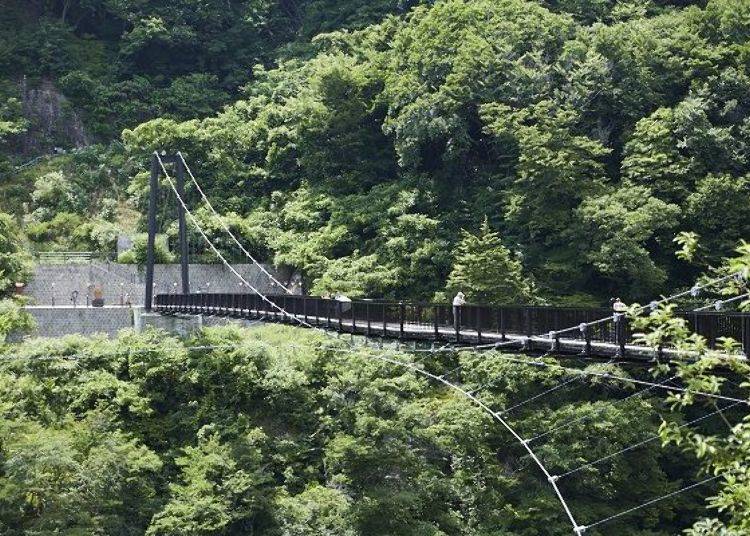 The bridge connects the south of Kinugawa Onsen village to Tateiwa, a huge rock, and spans 140m at a height of 40m.
After our stay, let's explore the Kinugawa Onsen area!

First, see the Kinu-Tateiwa-Otsuribashi Suspension Bridge, about a 15-minute walk away from Kinugawa Onsen Station (and about 5 minutes away from Asaya).

It's said to be a bridge of bonds and marriage because it connects the Kinugawa River, seen as female, and the steep rocks at the end of the bridge, seen as male.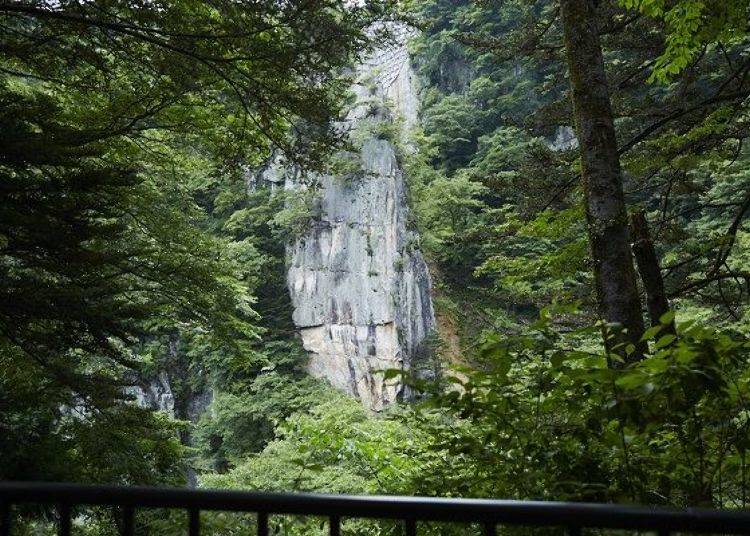 You can see the massive rock as you walk towards the bridge.
The bridge shakes more than it may seem, something only felt when you're already on it. Even people who don't have a fear of heights might feel a little queasy.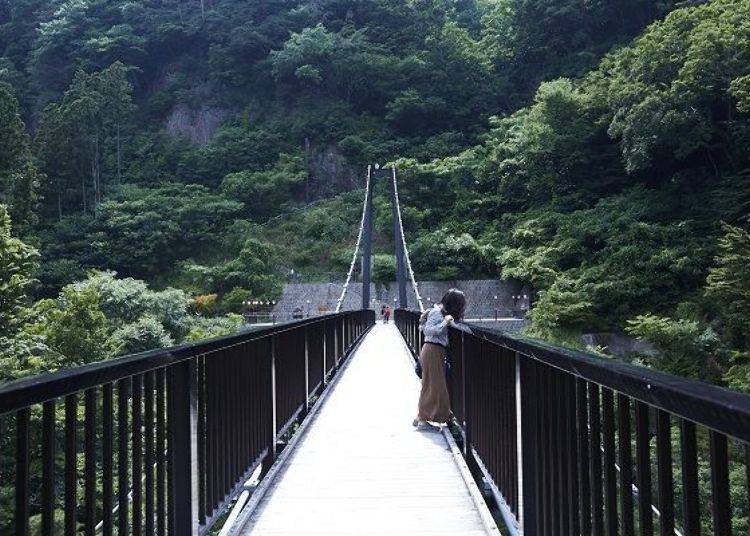 Even if you're scared to try to look down from the center of the bridge...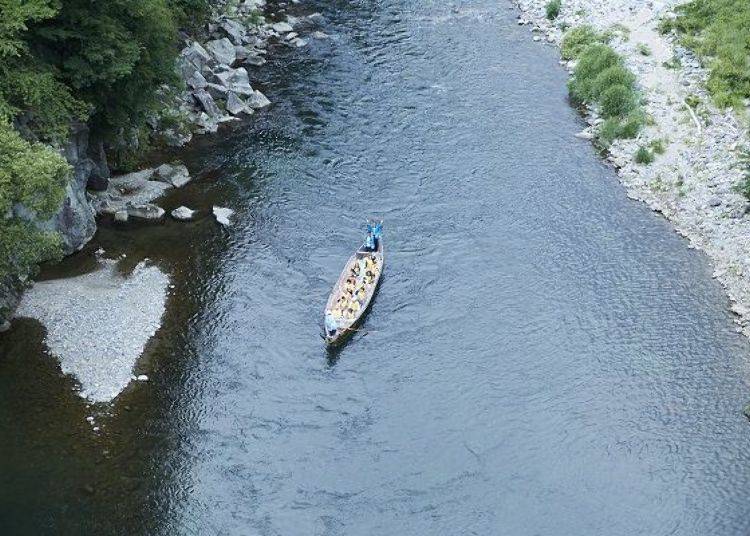 ...and you will be rewarded with a stunning view of Kinugawa River and its iconic boats.
Kinu-Tateiwa-Otsuribashi Suspension Bridge

鬼怒楯岩大吊橋

Address

栃木県日光市鬼怒川温泉大原1436/1436 Kinugawaonsen Ōhara, Nikkō-shi, Tochigi-ken 321-2522

Phone Number:0288-22-1525 (Nikko City Tourism Association)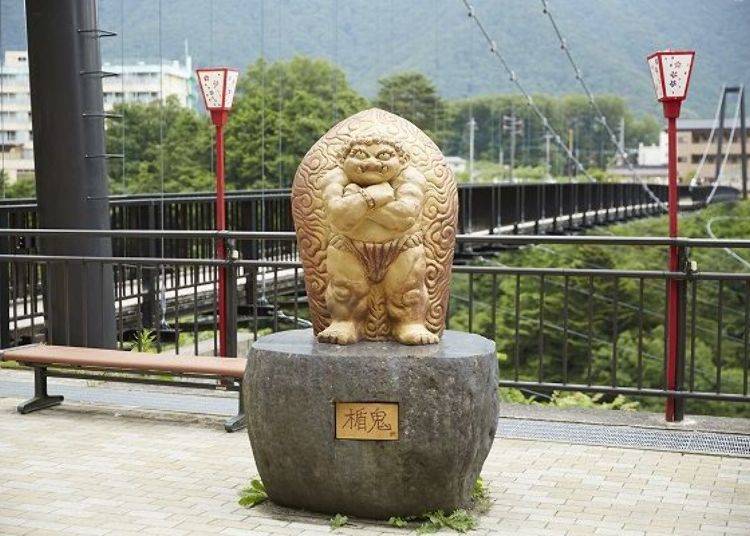 Right behind the bridge waits the statue of Kinuta, the local mascot and creation of Okuzo Fujiwara, an earthenware artist and resident of Mashiko City in Tochigi Prefecture.
Head up the stairs and if you turn to the right, you'll get to Tateiwa Observation Deck. Continuing to the left will take you to Furukama Falls. Let's go to the right first.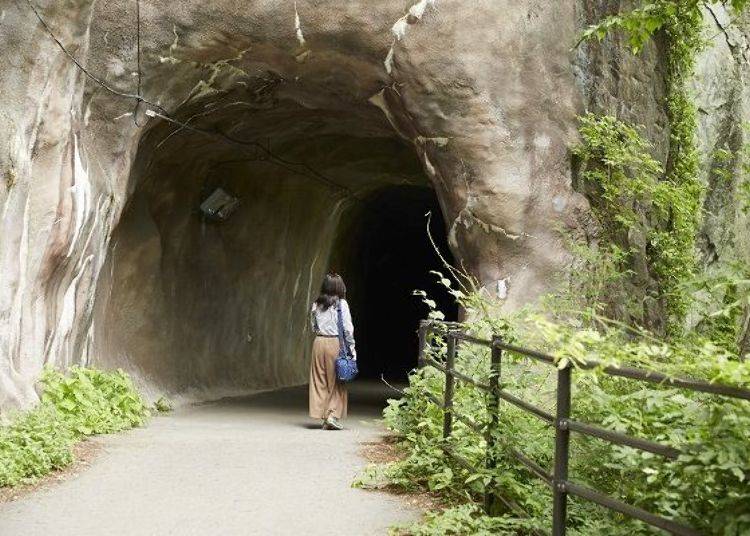 The way to the observation deck leads you to a 70 meter-long tunnel.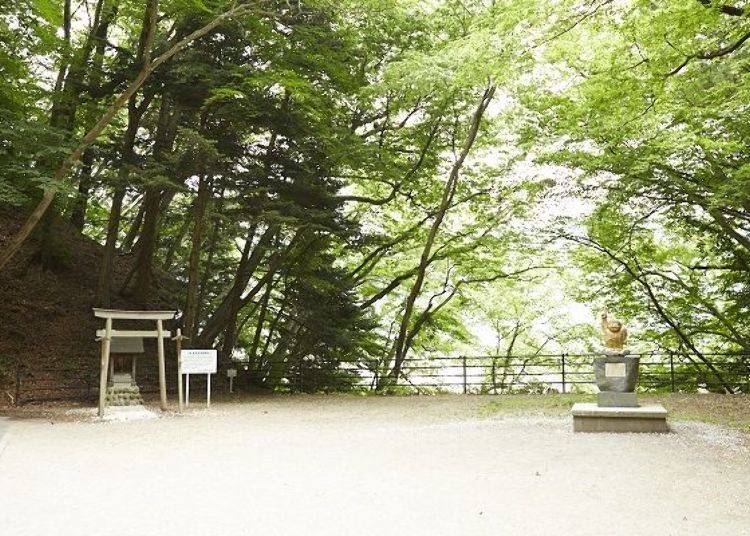 Just outside the tunnel is the Tateiwakinuhime Shrine, said to bestow fortune upon marriage and having children. There's also a statue of Kinuta, let's go toward it.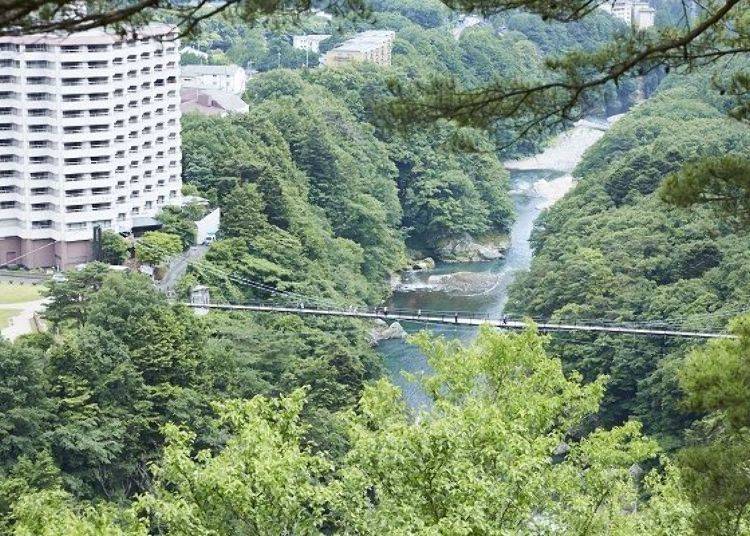 Take the steep stairs beside the shrine and you'll get to the observatory. The suspension bridge is right in front of you!
There's also the "marriage bell," known as a popular power spot.
Opposite the observatory is Furukama Falls, a 15-minute walk away. It's not one of the popular, roaring waterfalls Nikko is known for but rather a natural secret tip, lush, calm, and green.

Trout and other fish swim in the clear water, and it's a perfect spot just to stretch your legs and take in the peacefulness for a while.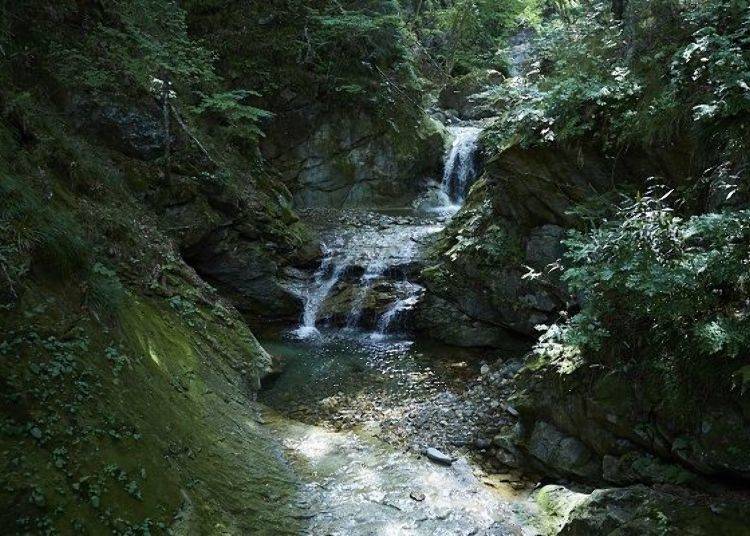 The Fukuyama Falls flow down over three layers of mossy rock.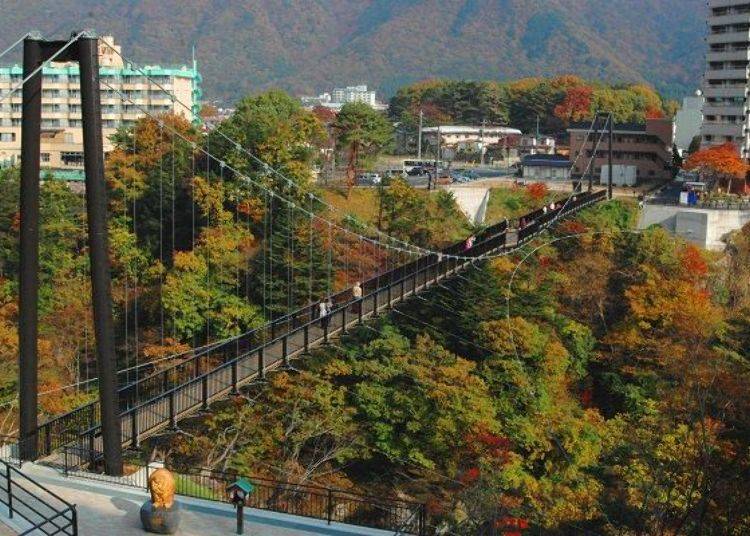 Especially autumn is beautiful when the trees are clad in vivid colors. (Photo courtesy of Nikko City Tourism Association)
Kinugawa Onsen is one of Japan's most famous hot spring towns, nestled deep into the lush nature of the Nikko area. Next to getting an authentic taste of Japan's bathing traditions, don't forget to explore other sightseeing spots in the direct area, such as Tobu World Square and Edo Wonderland Nikko Edomura!

*All prices listed in this article are including tax.

Pictures: Eri Kawamura
*This information is from the time of this article's publication.
*Prices and options mentioned are subject to change.
*Unless stated otherwise, all prices include tax.
Limited time offer: 10% discount coupons available now!