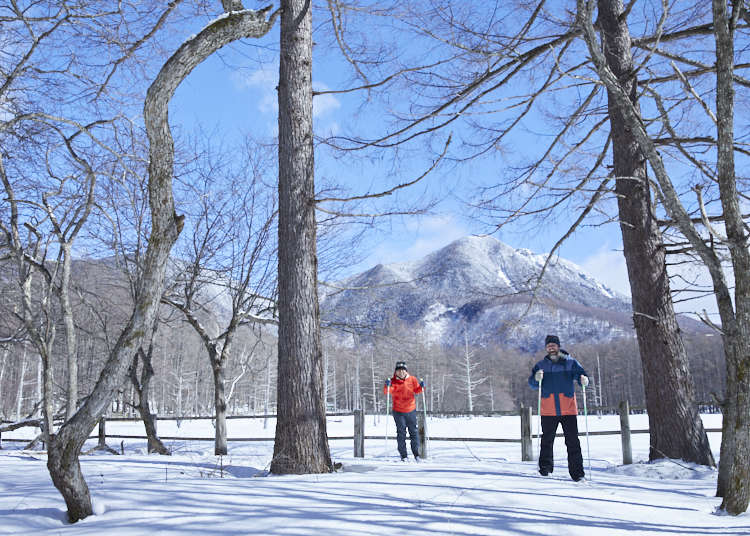 Nikko National Park is a breathtaking area that combines spirituality, history and nature. Nikko, well-known for its scenic natural beauty and lavishly decorated Toshogu Shrine, has been a destination for Westerners for over a century.

Our guide today is Tetsu Morita, who was actively involved in producing the Michelin Green Guide Japan. Morita, who lived in France for many years, is deeply familiar with both Japanese and Western cultures and loves introducing unique sides of Japan to visitors from abroad.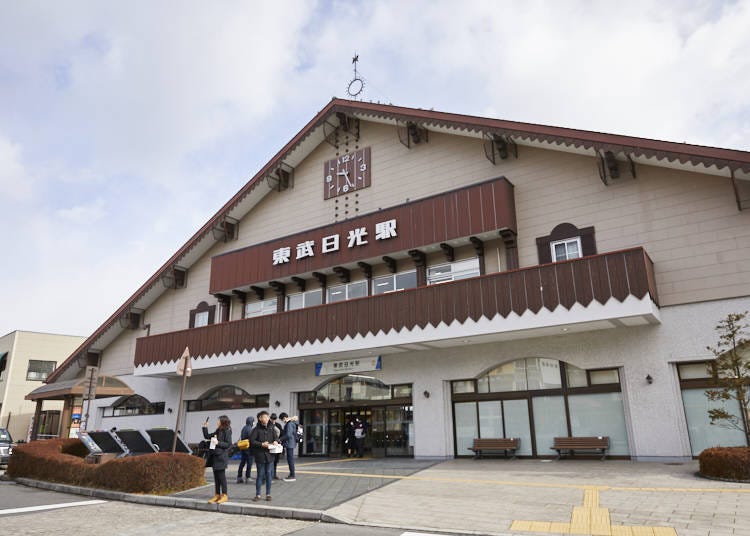 This article about a visit to Nikko is actually the second of its kind. This time we take a closer look at what makes Nikko so attractive from its perspective as a national park.

There are many wonderful natural attractions located in Nikko National Park, such as the Nikko Mountain range consisting of Mt. Nantai and Mt. Nyoho, Lake Chuzenji, and the hot springs springing up around Nikko Yumoto.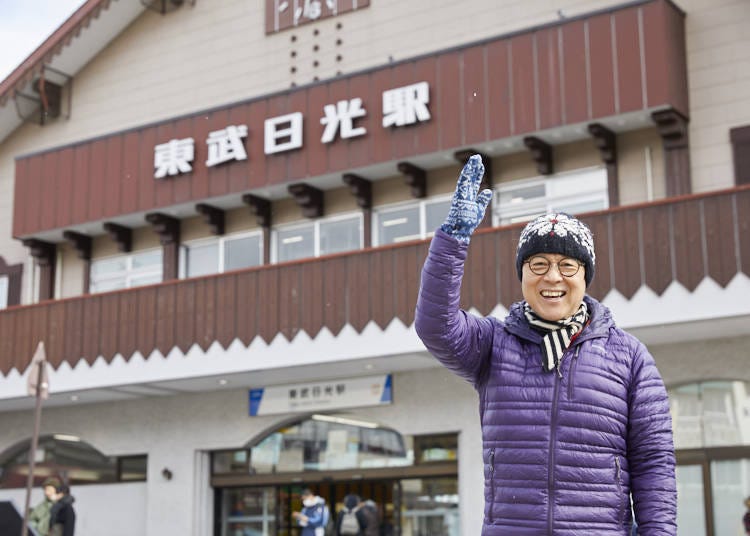 Accompanying Morita on this walk is Timothy, an American and native of New York. He met up with Morita at the Tobu Nikko Station which is about two hours by limited express train from Asakusa in Tokyo.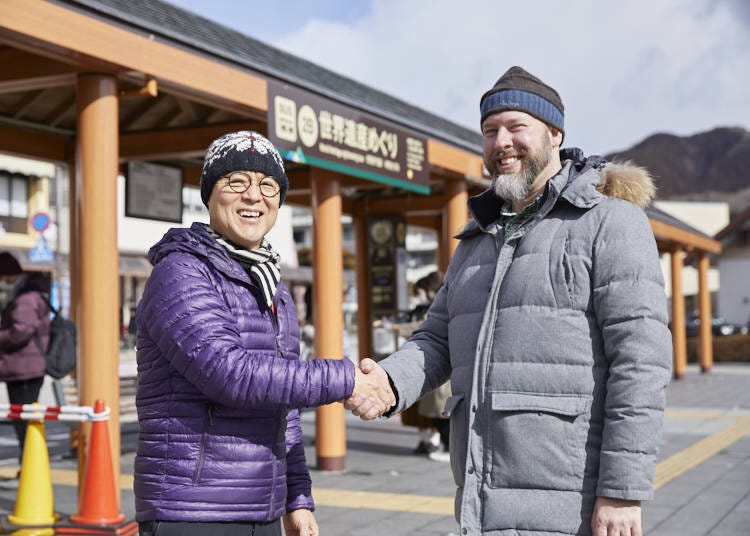 Morita: "Good morning, Timothy. This time I am going to take you around Nikko National Park. Along the way I will tell you a bit of the history of the area, such as how Nikko became a popular summer resort for Europeans, mainly the British, and Americans from the Meiji period.''

Timothy: "Sounds wonderful. But there seems to be something that distinguishes Nikko as a 'national park' in terms of the area's history."

Morita: "That's right. Many people might assume a national park is the same as a nature reserve, however, national parks in Japan do not merely involve that function. Here national parks include the history, culture, traditions, and the lives of the people living within them. That is to say, many people live and carry out their livelihoods within the national parks. Over the course of the next two days we'll take a closer look at the history and culture of Nikko National Park."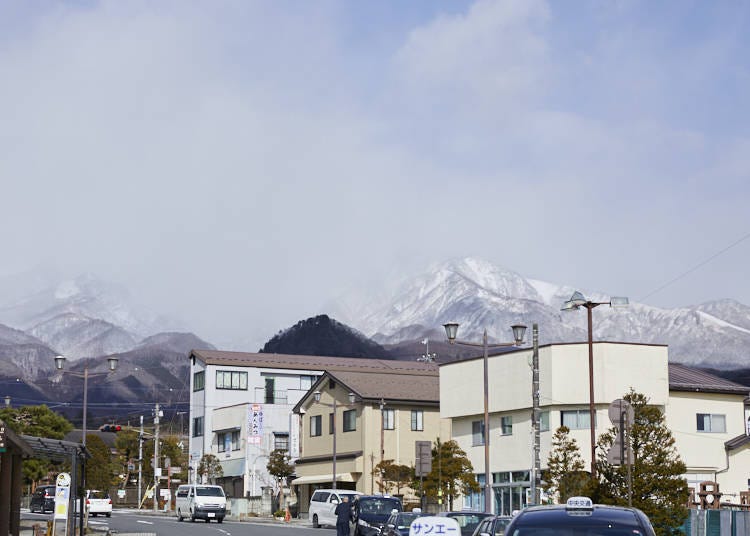 Timothy: "When I think of Nikko, the first thing that comes to mind is it being a tourist area that developed around attractions like Nikko Toshogu Shrine."

Morita: "Yes, I can understand that. However, during the Meiji era [late 1800s-early 1900s] the area became popular with Western residents who came to Nikko to escape the heat in summer and that contributed to its development. You see, during the Edo period common people did not have the temerity to visit the grave of the Shogun. In fact, it was quite a bit later before Nikko became a popular sightseeing spot among common folk."

Timothy: "Toshogu Shrine, Rinno-ji Temple, and Nikko Futarasan Shrine are designated as World Heritage sites, but I think there's more to Nikko than that."

Morita: "Yes, that's right. Today let's visit some of the history of Nikko."
Kosugi Hoan Museum of Art, Nikko: Feel the attraction of artists who worked hard to establish Nikko National Park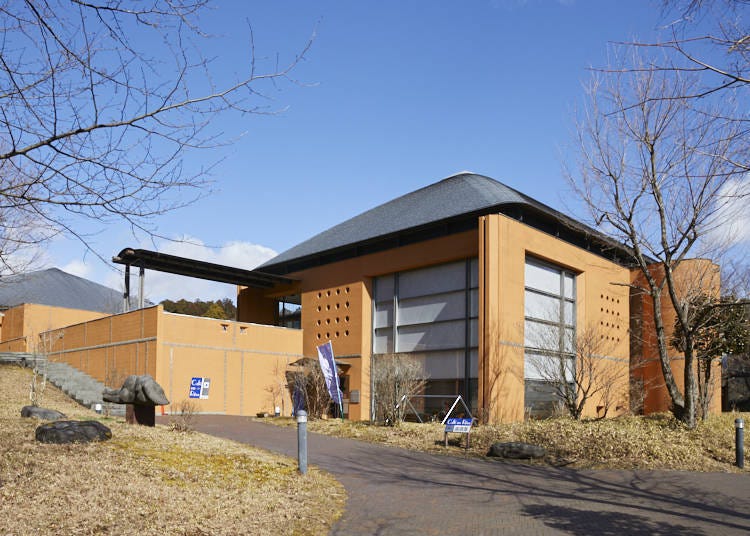 The first place the two visited was the Kosugi Hoan Museum of Art, Nikko. The curator, Ms. Shimizu, showed them around the museum.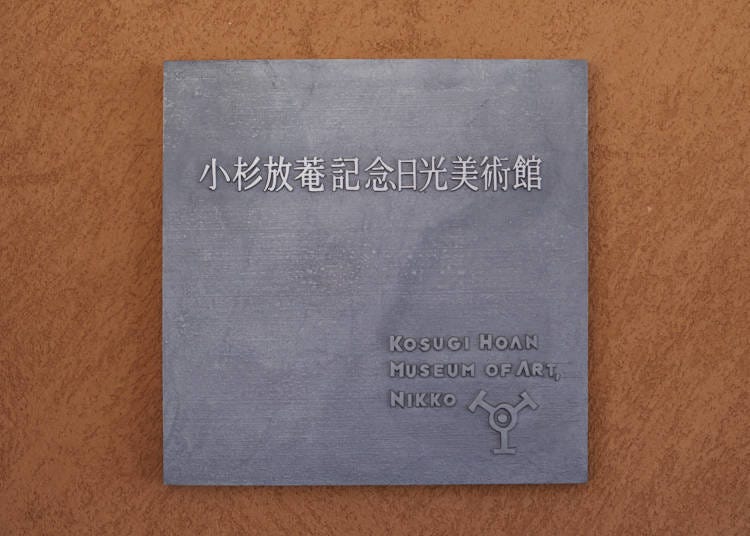 Morita: "Although I told you that this time the focus of our walkabout would be the national park, our first stop - Kosugi Hoan Art Museum - had a lot to do with the national park. Back in 1911 the town of Nikko submitted a 'petition to make the mountains of Nikko an Imperial Park of the Empire of Japan', and this was a major impetus in the establishment of a national park in Japan. The National Parks Law was enacted in 1931, and the National Parks Association, which promoted the creation and dissemination of a national park system, used paintings as a kind of promotional vehicle to appeal the beauty of each of the national park candidate spots. In 1932, the National Park Western Painting Exhibition was held with famous Western-style painters of the time participating. It is also said that Kosugi Hoan, a native of Nikko, was involved in the planning of this National Park Western Painting Exhibition. Eventually, Nikko was designated as a national park in 1934.''

Mr. Shimizu: "This museum is one of only a few public museums located in a national park. It houses all 80 works painted by leading Western-style painters of the Showa era made at the request of the National Park Association that are in the National Park Paintings Collection. This includes 11 works made for the National Parks Western Painting Exhibition which were designed to raise public awareness of national parks."

Timothy: "Is this collection always on display?"

Mr. Shimizu: "Not the entire collection, however, a number of pieces are shown during the year. The museum has about 1,400 works of oil paintings and Japanese paintings by Hoan, the majority of which are about 1,200 works that are rough sketches. There are always about 10 of Hoan's works displayed that are on the theme of the exhibition plan of that time!"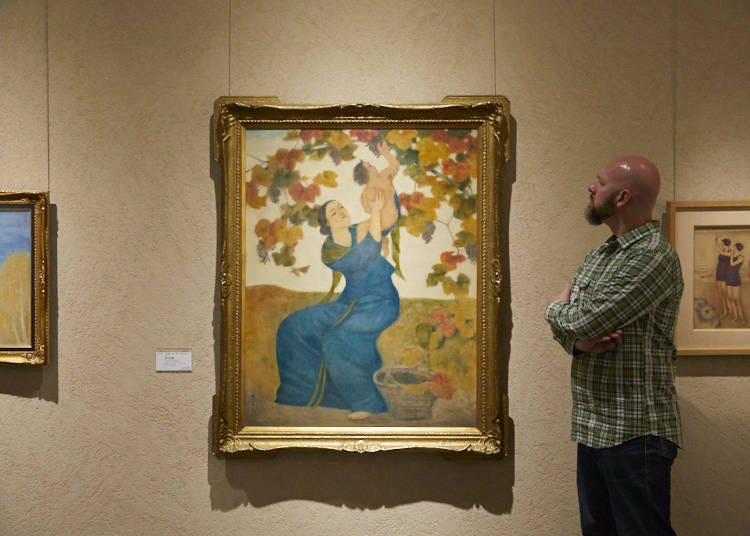 Timothy: "Some of these have a touch of humor, don't they?"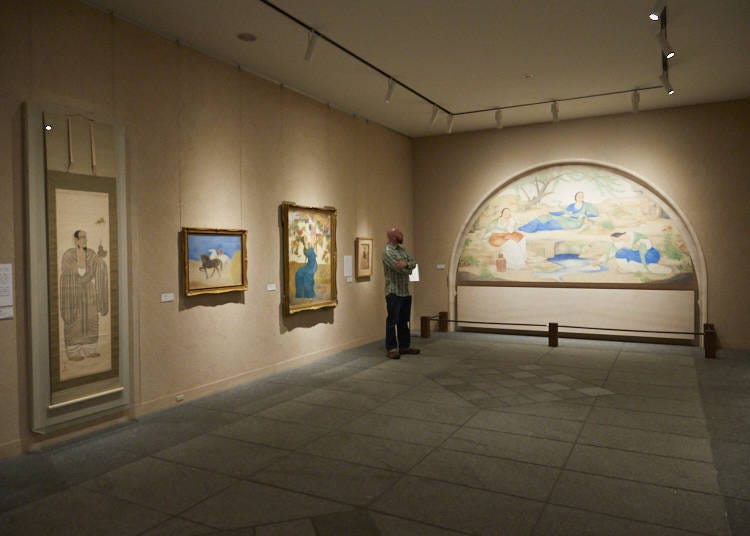 Ms. Shimizu: "Born in 1881, Hoan originally studied Western painting, but he also tried his hand at various other genres, including Japanese painting, manga, and illustrations. Hoan's father, Tomisaburo, was originally a priest at Futarayama Shrine. He had a background in national studies, and had a talent for waka (31‐syllable Japanese poems) and calligraphy. Hoan may have inherited his talent from his father."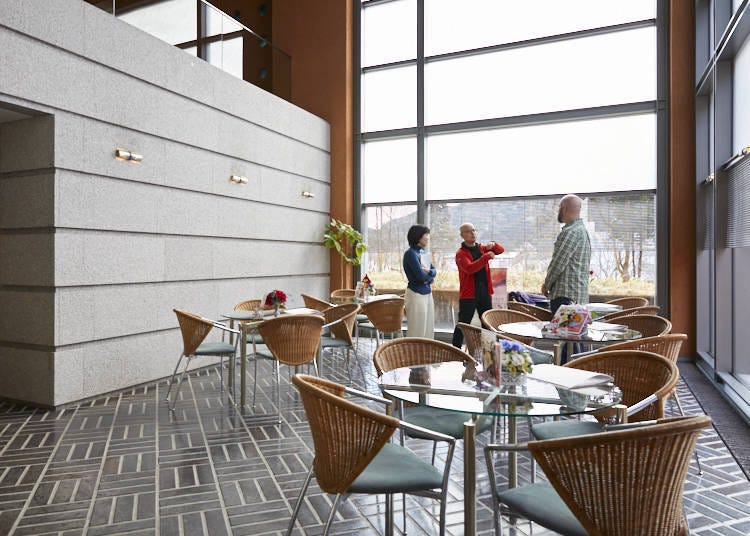 Morita: "Let's take a break and relax a bit at the cafe here. After enjoying some of the artwork here, how about we head to Toshogu Shrine, then see some of the other unique historical sites in the area, and then chat about our impressions of what we have seen today."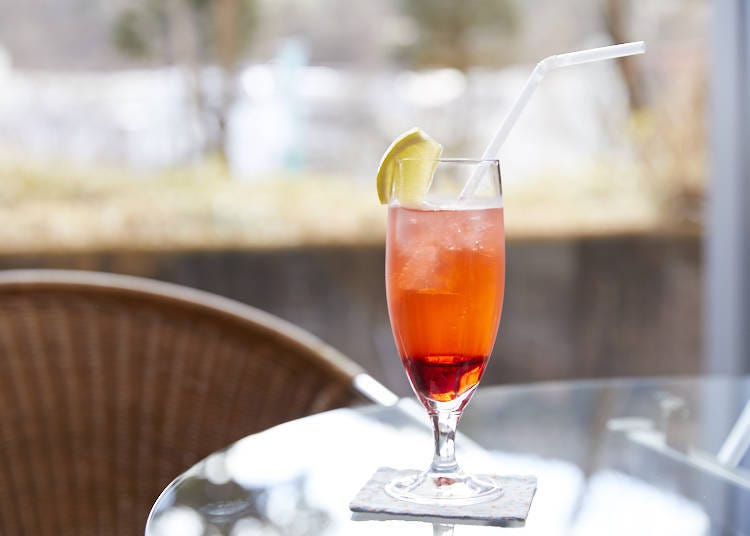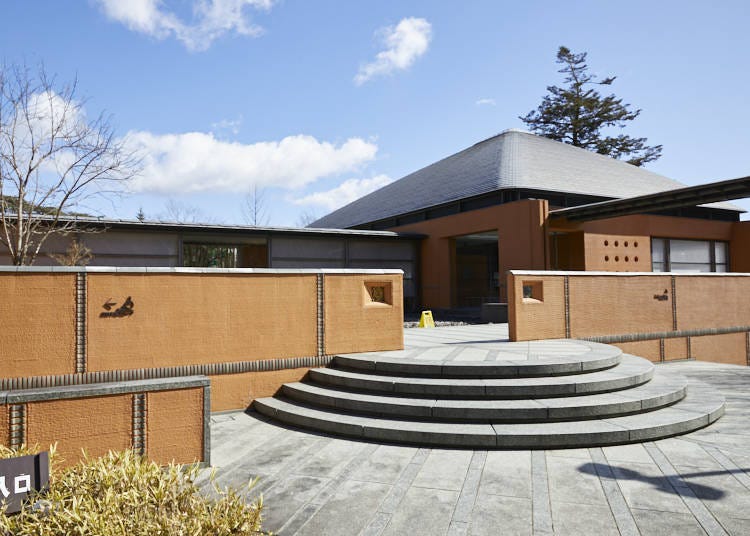 Kosugi Hoan Museum of Art, Nikko

小杉放菴記念日光美術館

Address

2388-3 Yamauchi, Nikko / 栃木県日光市山内2388-3

Phone Number

0288-50-1200

Open: 10:30 a.m. ~ 5:00 p.m. (admission until 4:30 p.m.)
Closed: every Monday
Kanaya Hotel History Museum: Tracing the origin of the Kanaya Hotel, which laid the foundation for Nikko's development in the Meiji era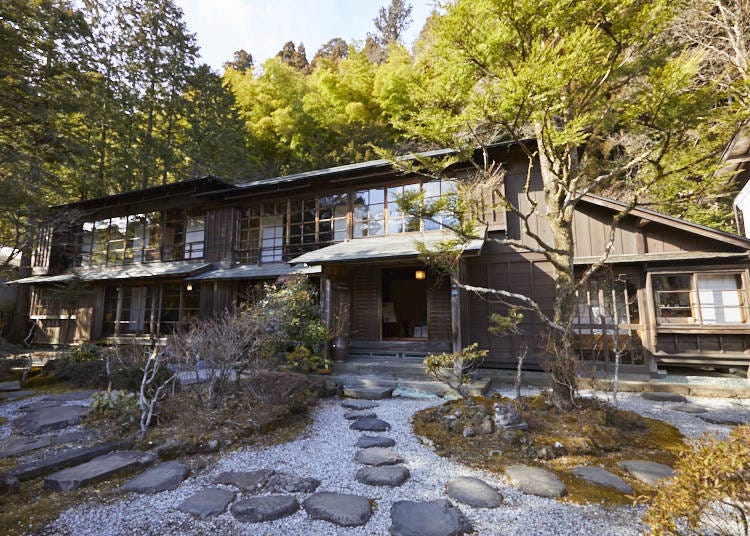 Next they visited the Kanaya Hotel History Museum.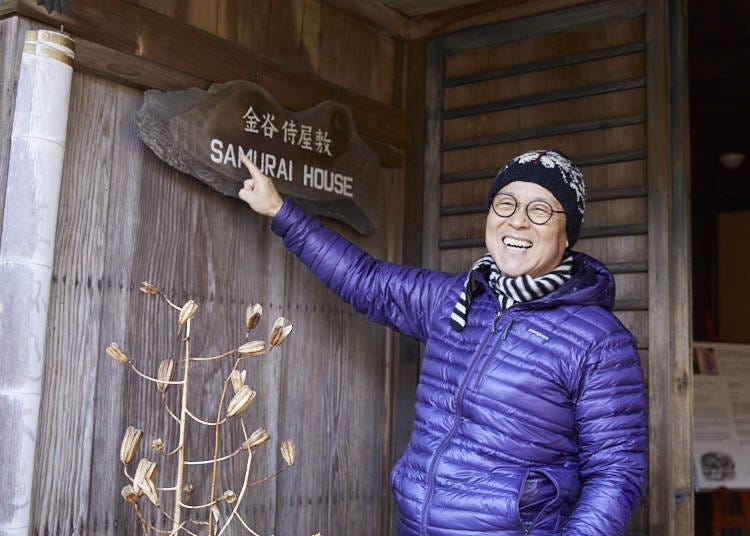 Morita: "This is the place that led to Nikko being developed as a tourist spot. It was originally the house of Zenichiro Kanaya, a gagaku musician at Nikko Toshogu Shrine. Gagaku is a type of classical Japanese music that has been performed at the Imperial court and Shinto shrines since the 7th century. After the Meiji Restoration, there became increasingly less work for Gagaku musicians who served at the Nikko Toshogu Shrine where Tokugawa Ieyasu was enshrined as a god and their households fell on hard times. It was at that time that Zenichiro met the American doctor Hepburn.

During the transition period from the end of the Edo period and beginning of the Meiji period a large number of Westerners came to Japan and began living in Yokohama. When Hepburn visited Nikko it seems that he immediately fell in love with it. Hepburn told Zenichiro that he was certain that the foreigners living in Yokohama would most certainly want to come to Nikko for sightseeing. He thus suggested making a hotel for them. That was in 1873 and taking Hepburn's advice Zenichiro converted his home into the Kanaya Cottage, a lodge catering to foreigners. That structure still remains today and is now the Kanaya Hotel History Museum."
Timothy: "The English female travel writer Isabella Bird also stayed here in 1878, didn't she? I read her travelogue Unbeaten Tracks in Japan."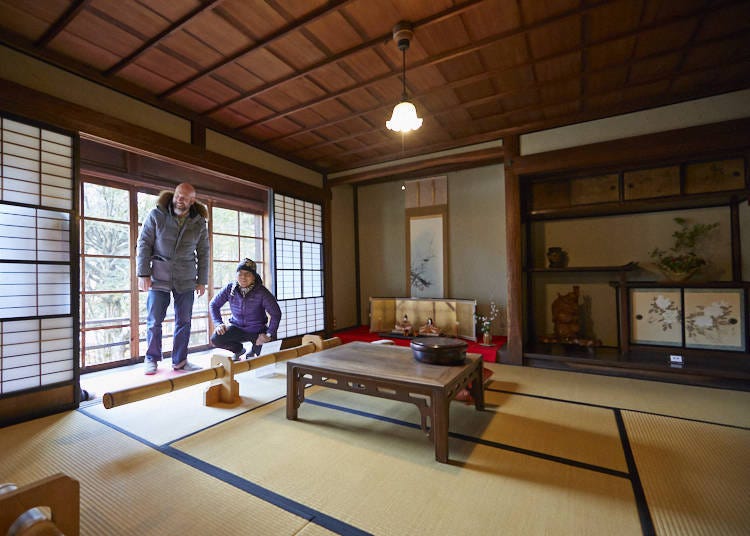 Morita: "Her praise for the hotel and its service in that book enhanced the reputation of the Kanaya Cottage Inn and that led to more and more Westerners summering in Nikko. The Englishman Ernest Satow was so enamored with Nikko that he built a villa at Lake Chuzenji. Satow came to Japan at the end of the Edo period as a British diplomat and later wrote a book about his experiences entitled A Diplomat in Japan which chronicled the years 1862 to 1869. This is the room in which Isabella Bird stayed."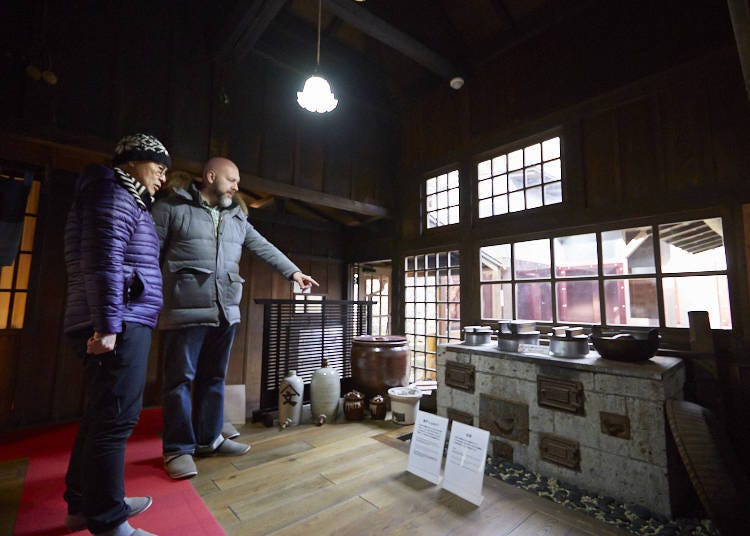 Kanaya Hotel History Museum

金谷ホテル歴史館

Address

1-25 Honcho, Nikko City, Tochigi Prefecture / 栃木県日光市本町1-25

Phone Number

0288-50-1873

Open:
March ~ November: 9:30 a.m. ~ 4:30 p.m. (last admission 4:00 p.m.)
December ~ February 10:00 a.m. ~ 3:00 p.m. (last admission 2:30 p.m.)
Closed:
March ~ November always open
December ~ February, 2 or 3 days a month, not scheduled
Kanaya Hotel: The oldest surviving classic hotel in Japan, founded in 1873
From the Kanaya Hotel History Museum the two next went to the Kanaya Hotel. This is a classic Western-style hotel built in 1893, 20 years after the establishment of the hotel in 1873. Almost 130 years after its construction it still attracts visitors today with its beauty.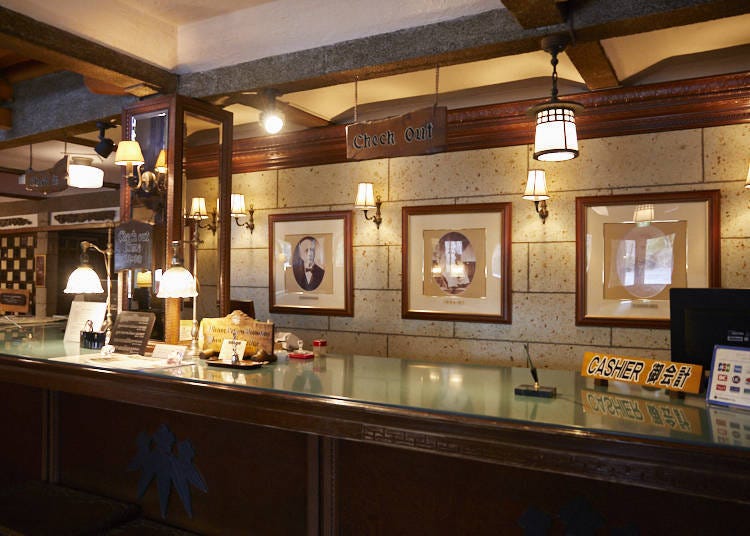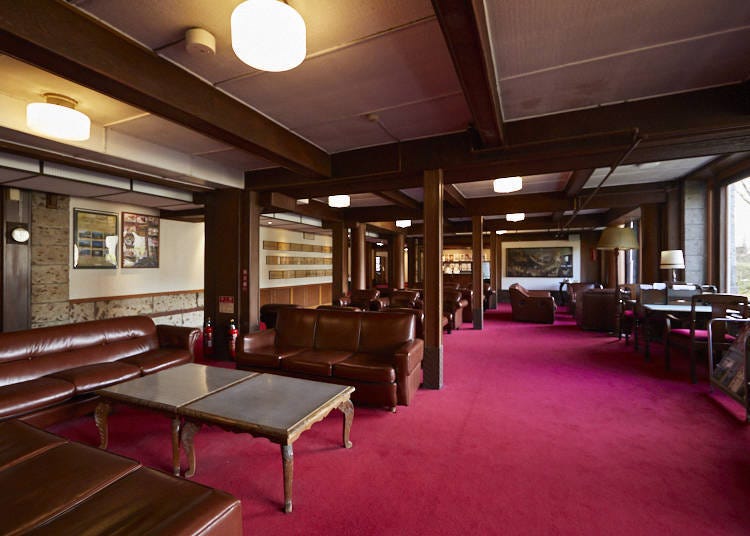 The architectural style is a pure Western style, but the interior decor is an eclectic blend of Japanese and Western styles with a marked Japanese taste. There is an abundant use of Oya stone from Tochigi Prefecture, such as in the walls.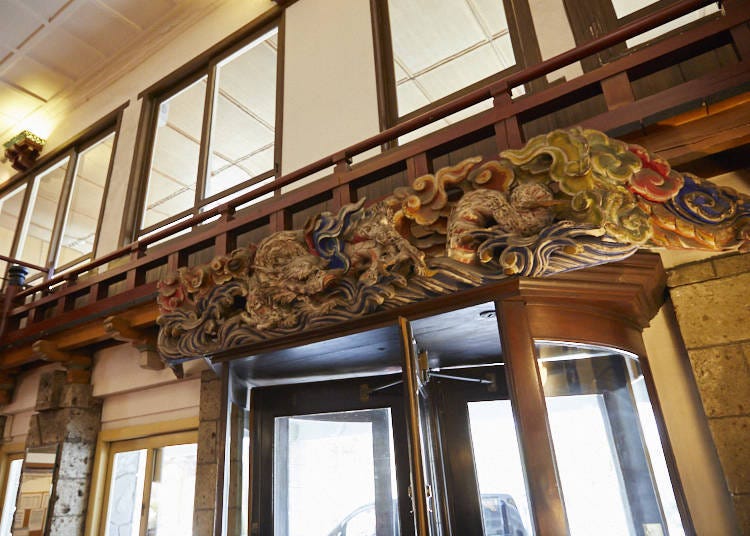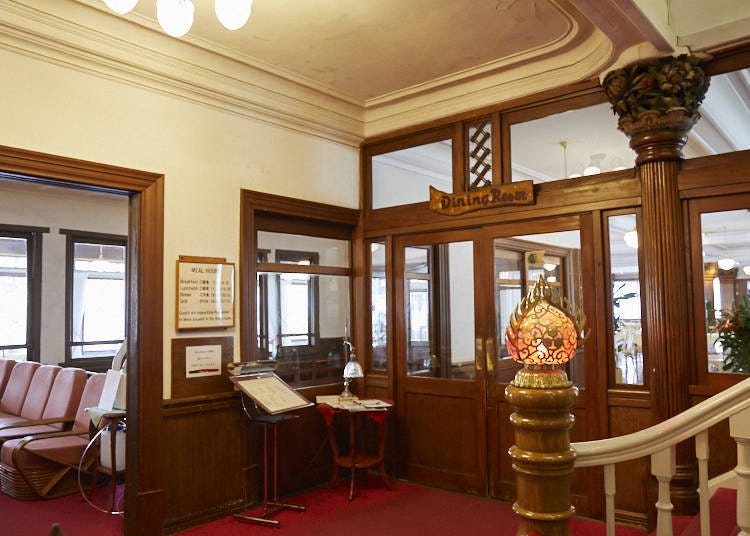 The techniques of Japanese craftsmen of that time can be seen in the sculptures done in the Nikko-bori style, the transoms above the entrance, the balustrade in the corridor patterned after that of Shinkyo Bridge, and the lights and other fixtures having motifs evoking those found in temples and shrines.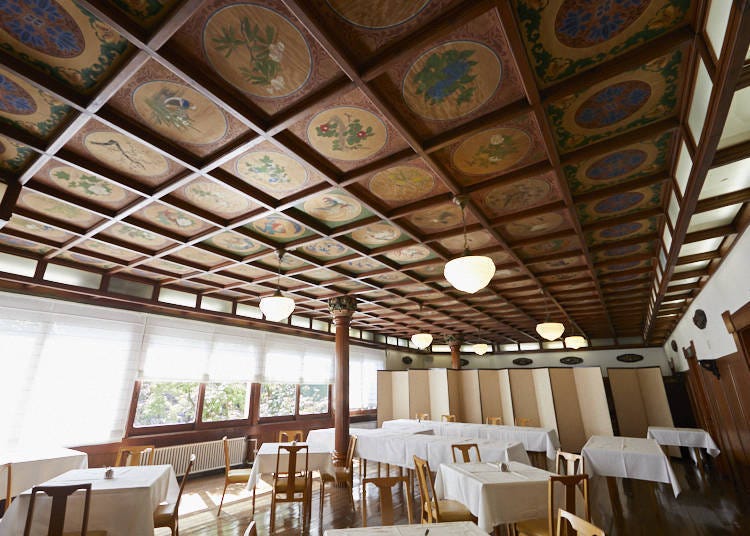 Timothy: "Beautiful. I imagine that distinguished foreign visitors once gathered in this dining room."

Morita: "The paintings inside the coffered ceiling are also beautiful."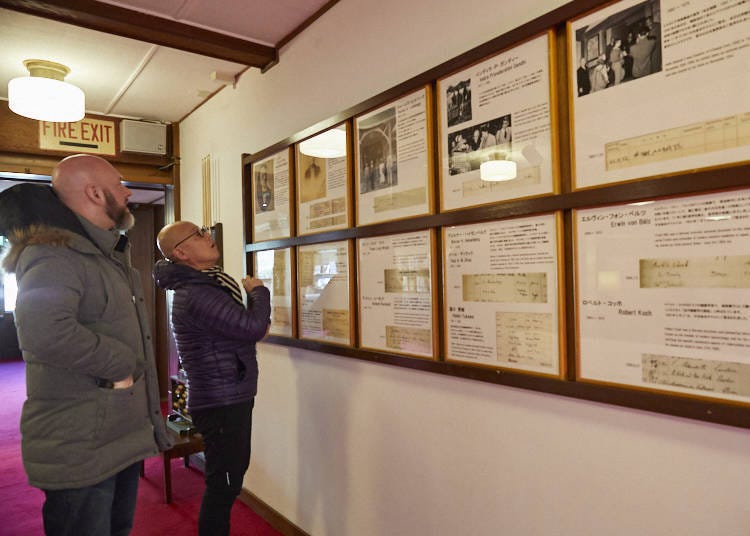 Morita: "Quite a few distinguished guests have stayed at the Kanaya Hotel. To name but a few these include members of the British royal family, the American president Ulysses Grant, Albert Einstein, Helen Keller, and Charlie Chaplin."

Timothy: "It's pretty cool to see their signatures in the hotel register. I see that there are also photographs of some of them!"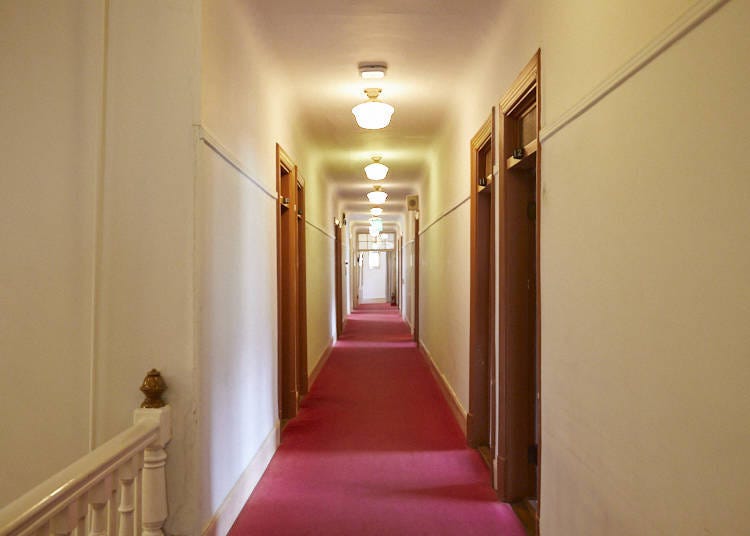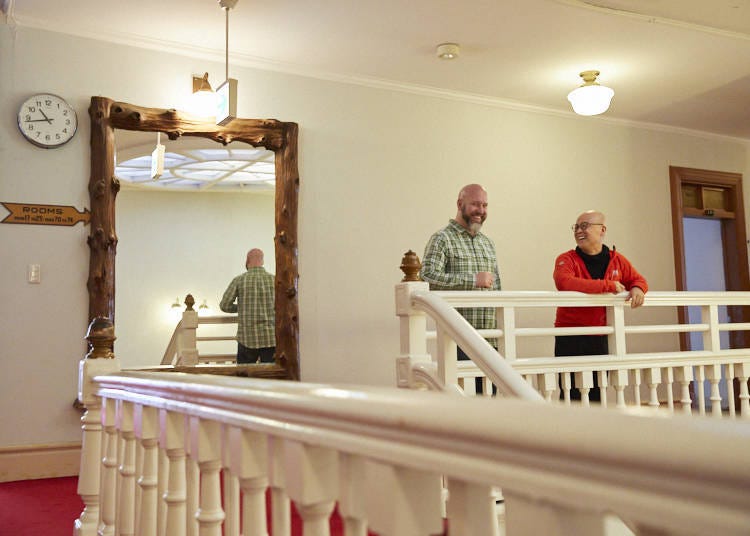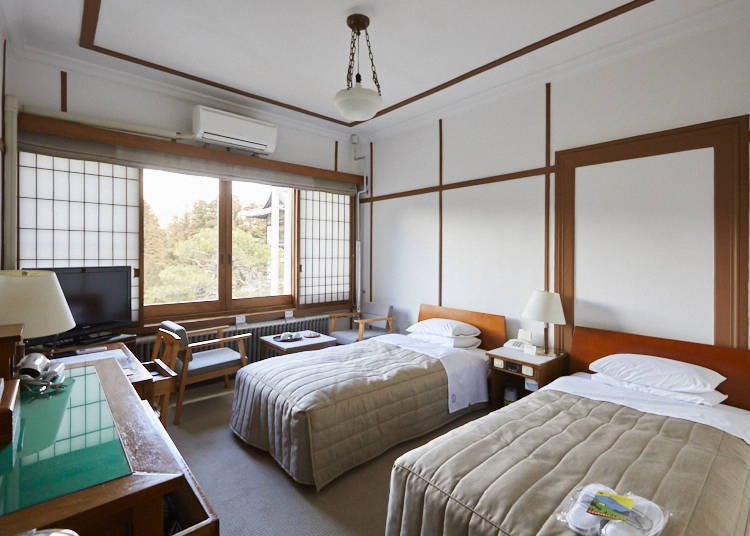 Timothy: "I noticed that the banister going up to the guest rooms on the third floor is white."

Morita: "At the end of the Pacific War the US Occupational Forces took control of the hotel and used it as an R&R destination for its troops. Apparently the American military liked the color white and so they were responsible for the banister being painted that color."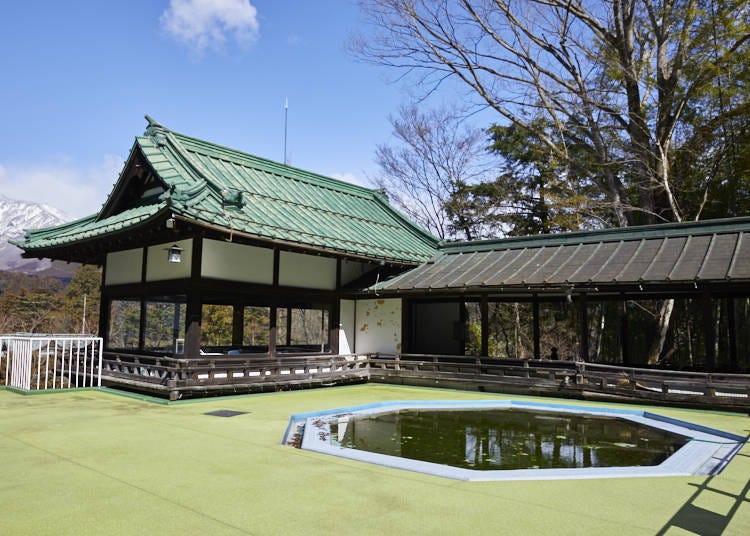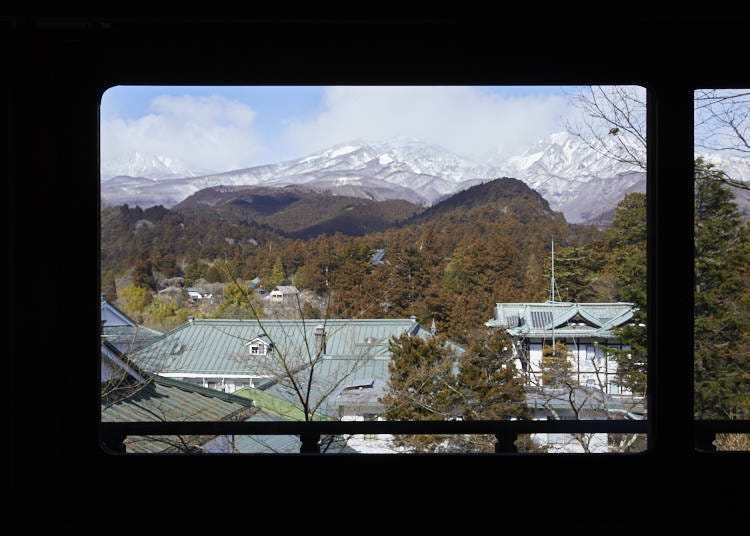 The Dragon Palace, as the hotel structure was also called, was constructed in 1921 and its rooms offered excellent views of Nikko throughout the four seasons.
The winter of 2019-20 was a warm one resulting in only a thin layer of ice forming on the ice skate rink which was built in 1916. In summer it is possible to enjoy the heated pool.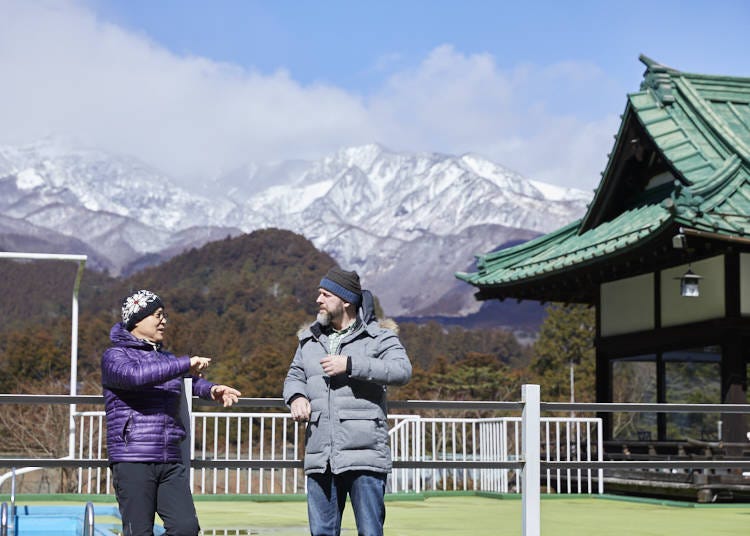 Morita: "During the Tokyo Olympics held in 1964 many American tourists stayed in the second annex of the hotel."

Timothy: "I bet the Americans who visited at that time, before Japan was a major tourist destination, really enjoyed the scenery here."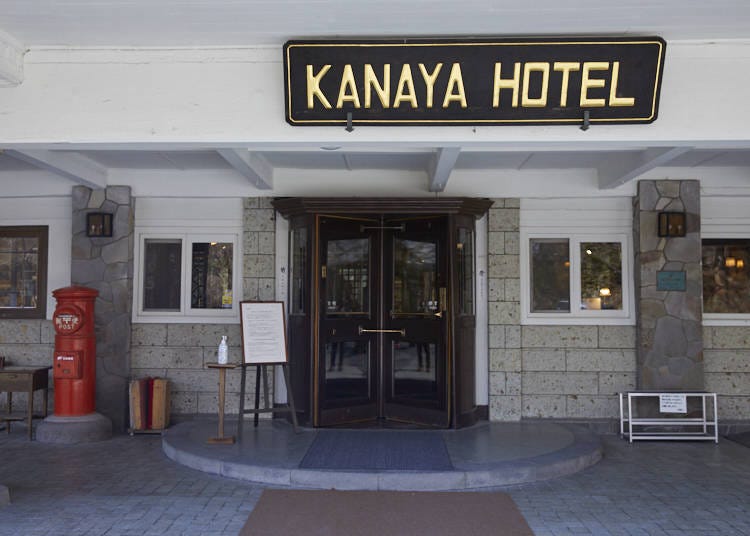 Address

Kamihatsuishi-machi 1300 , Nikko, Tochigi, 321-1401
View Map

Nearest Station

Tobu Nikko Station (Tobu Nikko Line)
24 minutes on foot


Vacancy search, reservation

from

18,400JPY

1room, 2adults

Check with our partner site as the latest rates, rate details, and guest room requirements may vary.
Nikko got its name from the Nikko Futarayama Shrine, the center of mountain worship in the Nikko mountains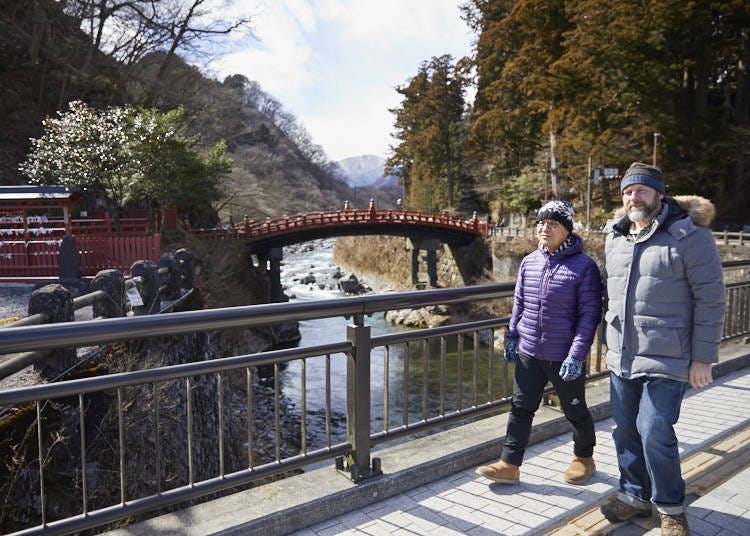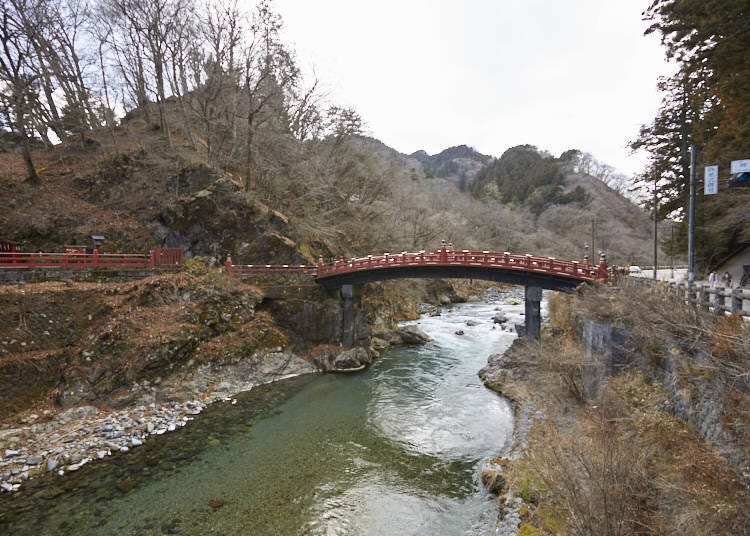 Morita and Timothy next headed to the Nikko Futarayama Shrine, one of the Nikko shrines and temples which was registered as a World Heritage Site in 1999.

Morita: "As you may remember me telling you before, Nikko was an area long known for mountain worship. Here at Nikko Futarayama Shrine Mt. Nantai has been worshiped as a sacred place for Shugendo, Japanese mountain asceticism incorporating Shinto and Buddhist concepts, since ancient times. Today the mountain is called Mt. Nantai, using the Kanji characters for 'man' and 'body,' but in the past it was called Futarasan, using the Kanji for 'two' and 'rough/wild' - Mt. Futara. To make a long story short, different readings for the Kanji characters may have contributed to this area being named the way it is: nikko."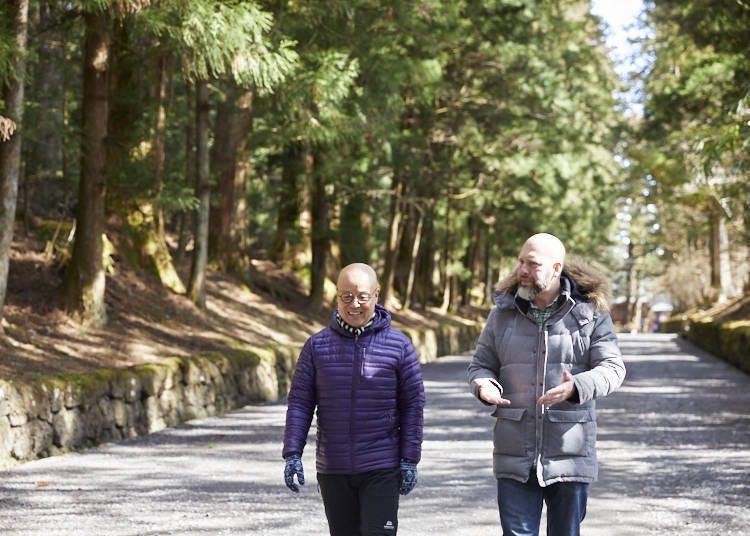 Timothy: "So the origin of Nikko can certainly be traced to Futarasan and it was here at Futarasan Shrine that it was worshiped as a sacred body."

Morita: "So as you probably know, the famous Nikko Toshogu Shrine is the mausoleum where the first Shogun, Tokugawa Ieyasu, is deified. It was built in 1617. But Futarasan Shrine is much older, having been built in 767. To put things in context, that was around the same time that the Vikings were beginning their conquest of Europe."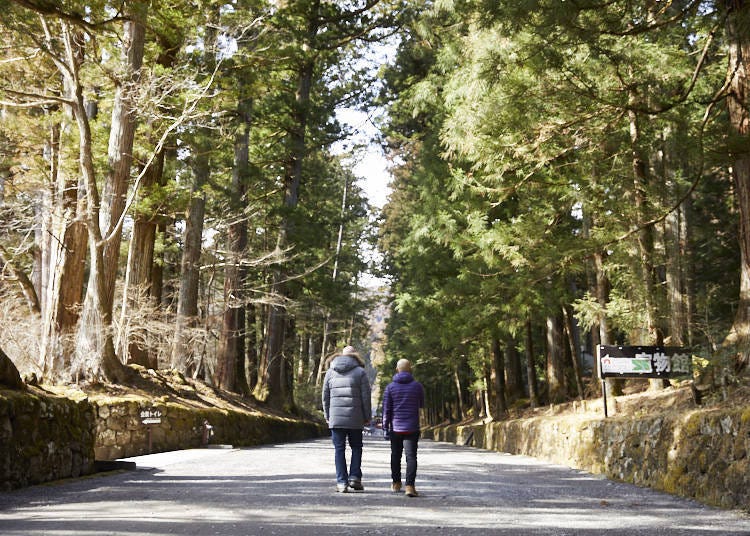 Next, the two began ascending the approach to Nikko Toshogu Shrine as they made their way to Futarayama Shrine, located behind Nikko Sanrinnoji Temple.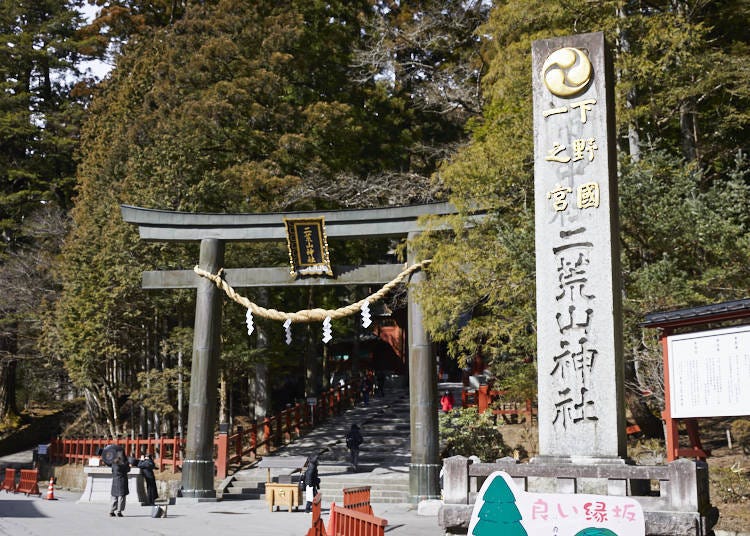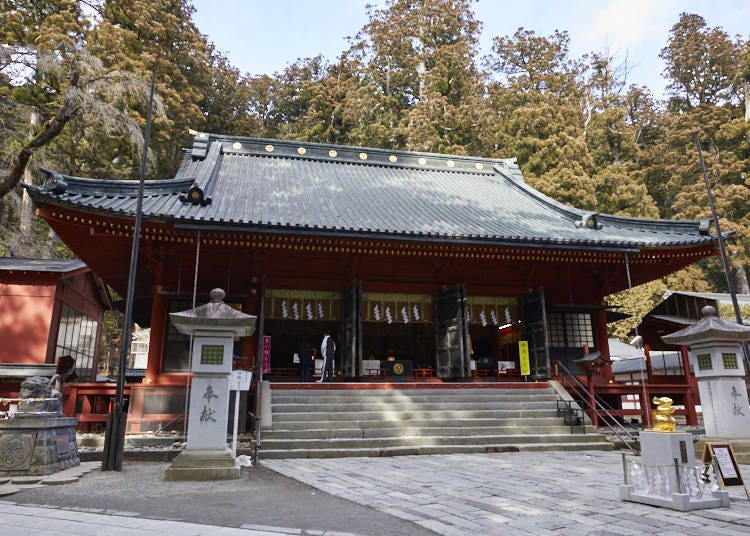 Mr. Inaba, who works on the general staff at Futarayama Shrine, showed them around.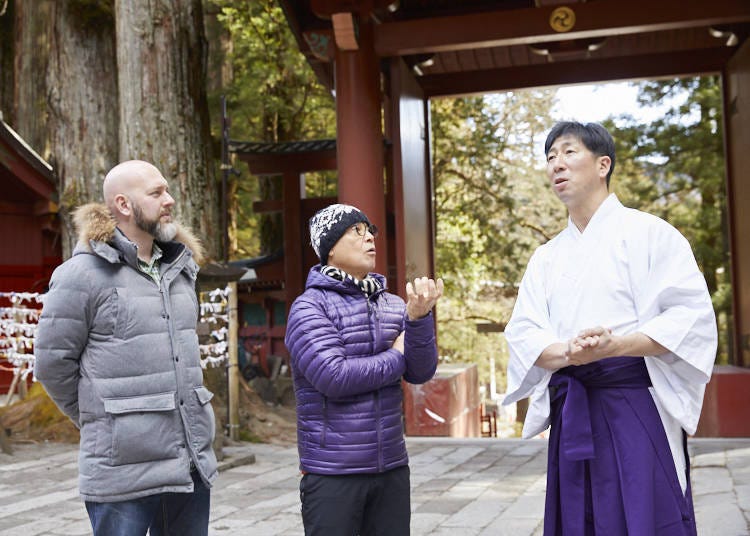 Mr. Inaba: "Here, Ohnamuchinomikoto (a.k.a. Daikokusama, the god of wealth) is the main deity at Futarayama Shrine. This deity is also known as Ohkuninushi-no-kami. You'll find several images related to this god here."

Timothy: "So I suppose that explains the statue of a mouse that's in front of the shrine?"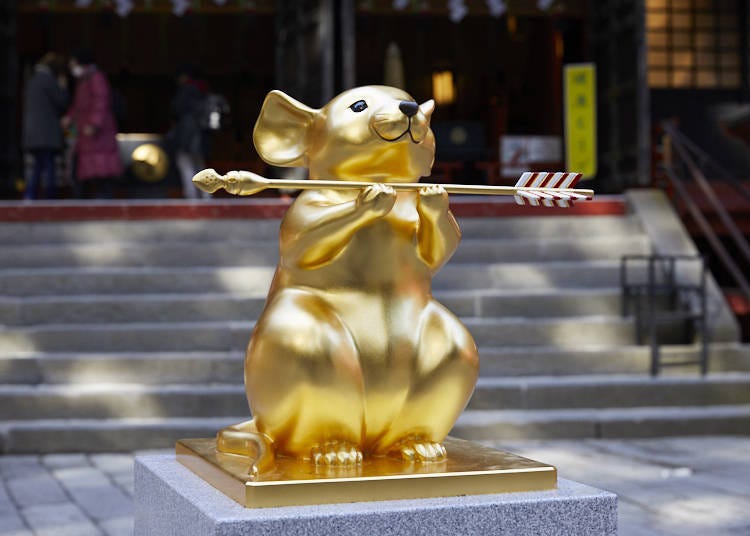 Mr. Inaba: "That's right. 2020 is the Year of the Mouse, but there is a deep connection between the mouse and Ohkuninushinokami. According to Japanese lore, Ohkuninushinokami fell in love with Suseri-hime, the daughter of the powerful storm god Susanoo-no-Mikoto, and in order to marry her, Susanoo-no-Mikoto made him undergo three trials. The last one was to 'retrieve a Kabura-ya, an arrow that whistled when shot, that had been shot into a field'. When Ohkuninushinokami entered the field to retrieve the arrow, Susanoo lit the field on fire. Legend has it that at that moment, a mouse appeared and led Ohkuninushinokami to safety and also retrieved the arrow for him."

Morita: "I see! So as a result of that, Ohkuninushinokami felt a sense of obligation to the mouse."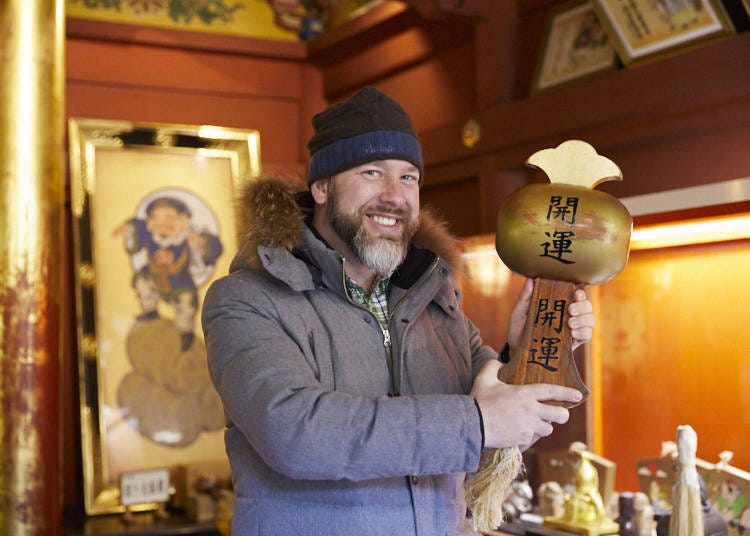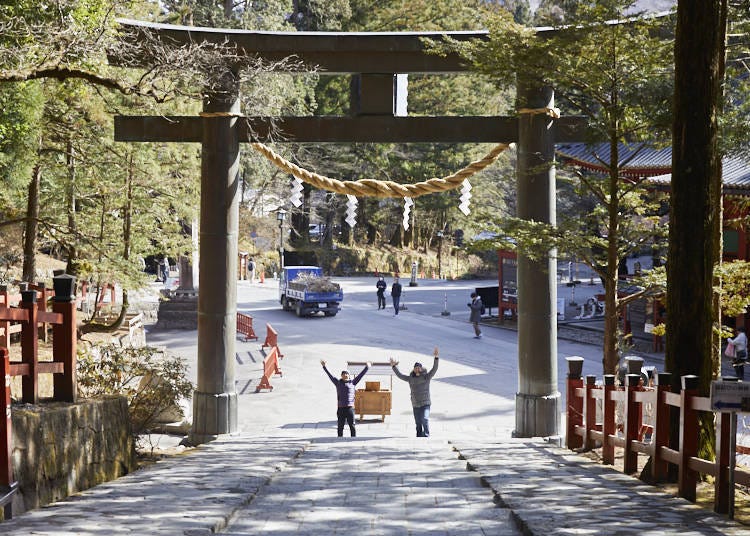 Address

2307, Sannai, Nikko-shi, Tochigi, 321-1431
View Map

Nearest Station

Nikko Station (JR Nikko Line)


Phone Number

0288-54-0535
Nikko Tamozawa Imperial Villa Memorial Park, once an Imperial residence used by Emperor Taisho as a summer retreat
After visiting Futarasan Shrine, the two then went to Nikko Tamozawa Imperial Villa Memorial Park. This was created as a summer retreat in 1899 and used by Emperor Taisho when he was still the Crown Prince. Today it is a city park in Tochigi Prefecture, its historic buildings and scenic garden open to the public.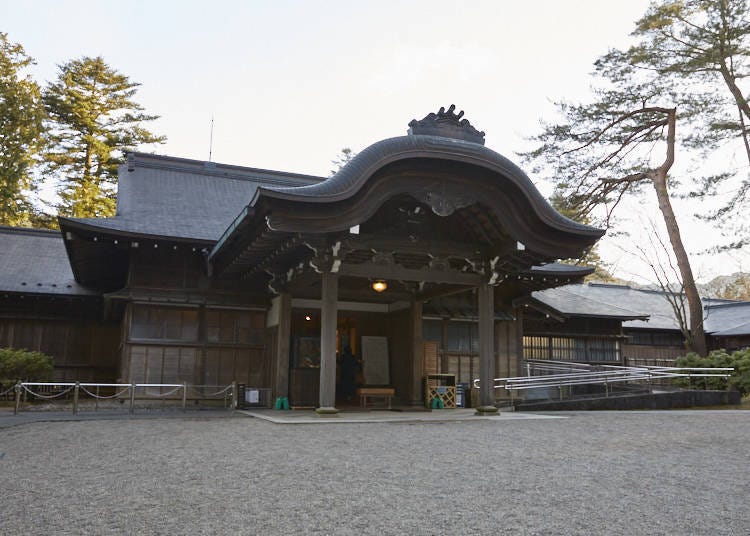 Morita: "Emperor Taisho had a weak constitution from the time he was a child so he would spend the summers here. In summer, foreign ambassadors would spend the summers in Nikko and this gave rise to the saying that 'Nikko in summer is like the lobby at the Foreign Ministry.' The Emperor would also come to Nikko in summer. Nikko in the summer was an important place for foreign and domestic affairs during the Meiji and Taisho eras."

Mr. Fukuda, the head of the park, showed them around.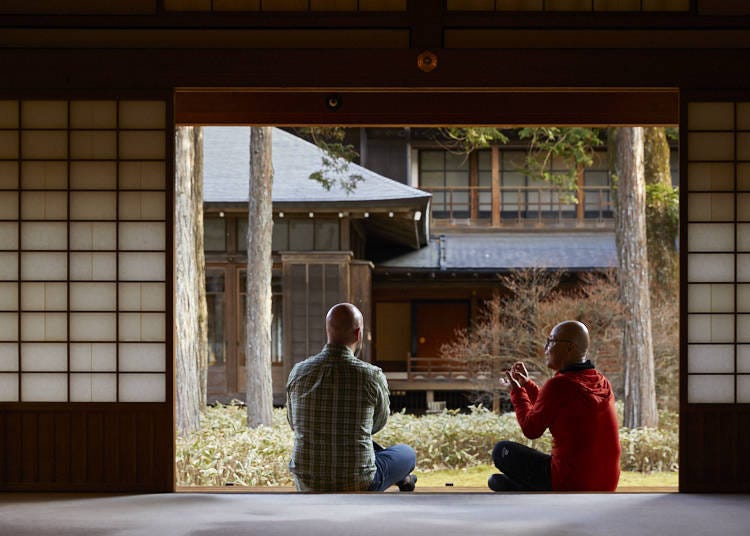 Mr. Fukuda: "Three architectural styles, those of the Edo, Meiji, and Taisho eras, are all incorporated in this single, large building. This was originally built as a villa for the Meiji era entrepreneur Kobayashi Nenpo who then later donated it to the Imperial Household to be used as part of the Imperial Villa. During the Edo period, it was the residence of the Kishu Branch of the Tokugawa Family. Part of it was moved to here, and it, together with a new structure built by the Household Ministry of that time, formed the Imperial Villa. Before long, the villa underwent a major renovation during the Taisho era and was expanded to its present size. There is a total of 106 rooms in the villa."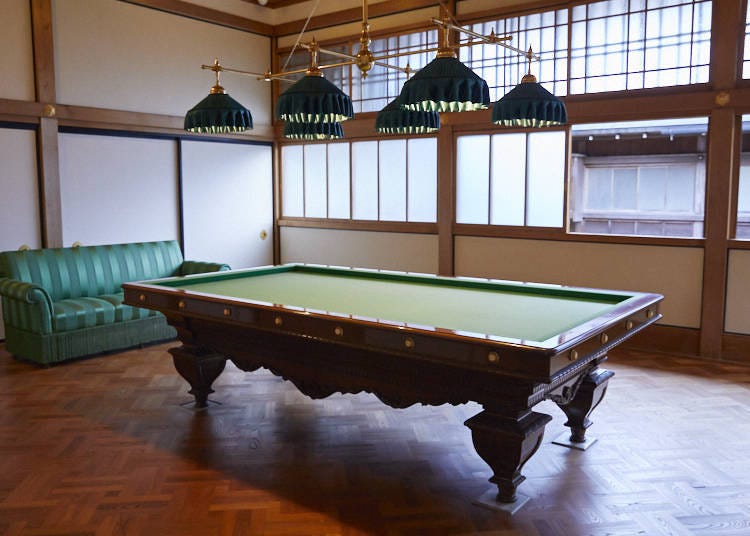 Timothy: "I feel the architectural style is very Japanese in many ways, but it also seems to incorporate many elements typical of a Western high-society lifestyle of that period, like with the carpets, chandeliers, and a billiard table."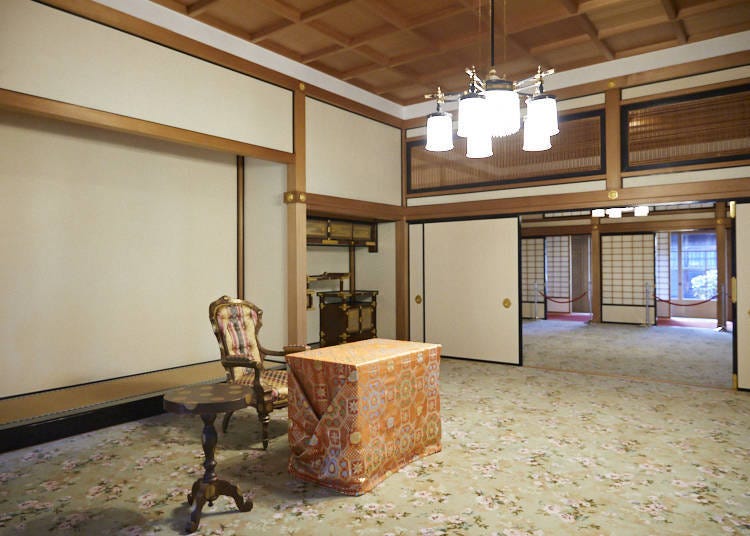 Mr. Fukuda: "That's right. Even the borders of the tatami mats were made with the best craftsmanship of the time. Today when artisans come and look at these mats, they are amazed at the skill that went into their making, gazing at them for long periods at a time."
Morita: "The construction of this villa and its furnishings are so wonderful! I feel that no matter how long you took to admire them, the time would go by all too quickly. The garden is also magnificent."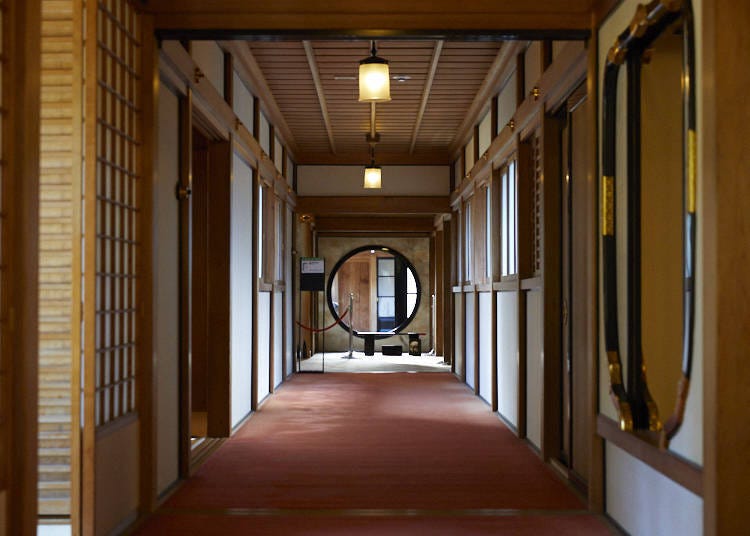 Mr. Fukuda: "It certainly is. You can enjoy nature at its finest throughout each of the four seasons here. We have weeping cherry blossoms in the spring, lush, verdant colors in summer, and autumn leaves in the fall."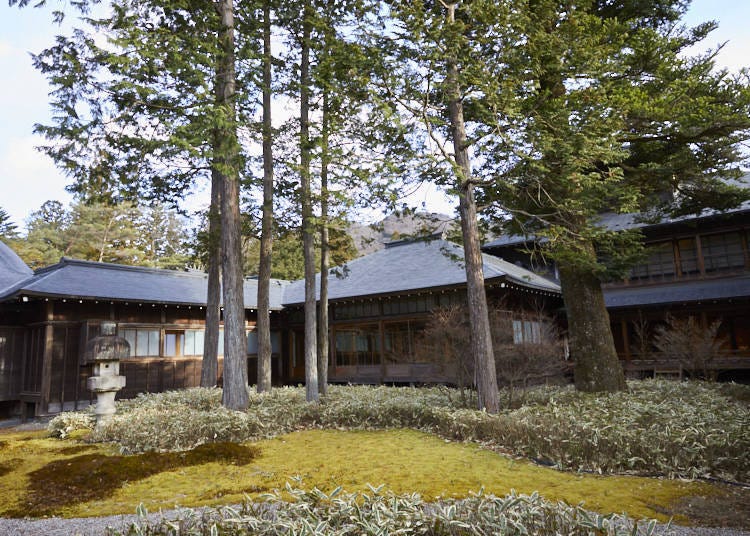 Address

8-27, Honcho, Nikko-shi, Tochigi, 321-1434
View Map

Nearest Station

Nikko Station (JR Nikko Line)
10 minutes by bus


Phone Number

0288-53-6767
Nikko Astraea Hotel: Enjoying hot springs and cross-country skiing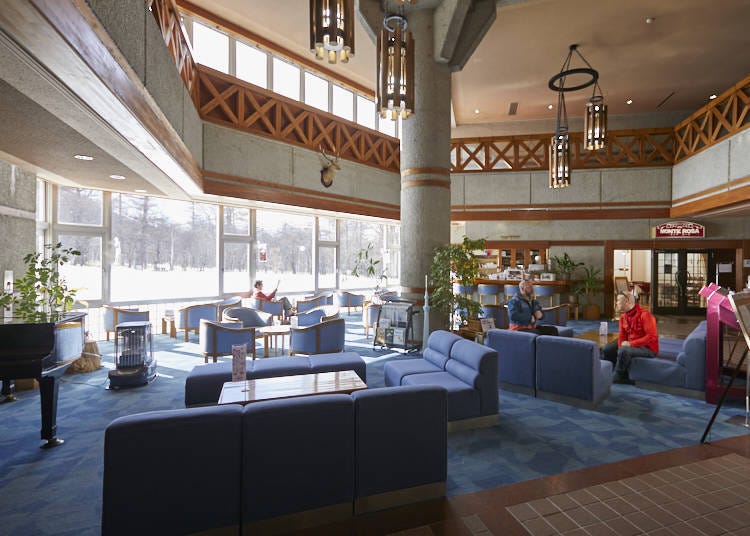 After going around Nikko National Park since morning, Morita and Timothy headed to the Nikko Astraea Hotel in Oku Nikko, where they would spend the night.
From Lake Chuzenji and going over Senjogahara, the hotel is about a 40-minute drive outside of Nikko City. It is surrounded by the broad expanse of nature at an elevation of 1,400 meters. During the summer you can enjoy cycling and hiking while in winter cross-country skiing is popular.
Here there is an open-air bath fed by the hot springs of nearby Nikko Yumoto Onsen. A soak in the natural sulfur hot spring after a day of sightseeing is especially relaxing.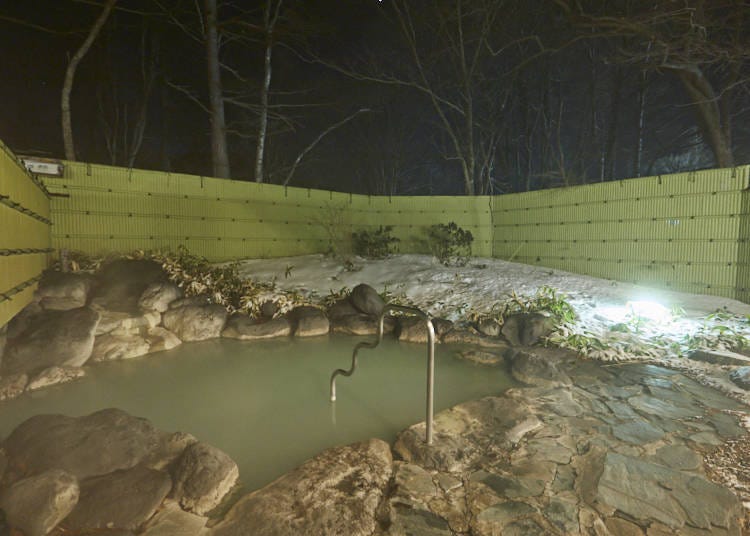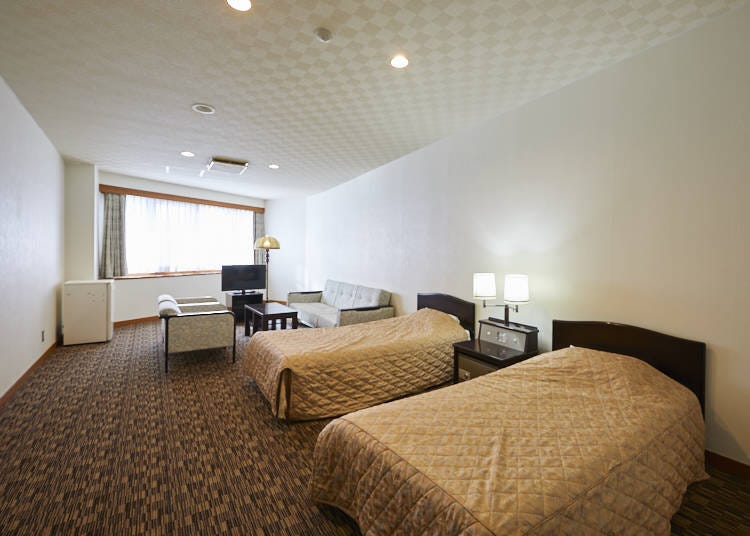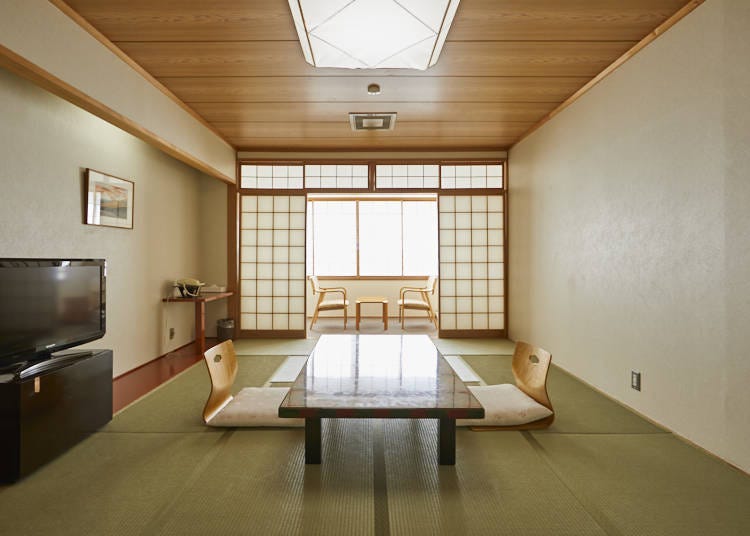 For dinner, our travelers enjoyed Japanese cuisine prepared with local Tochigi ingredients. These included such delicious Nikko specialties as nama yuba (bean curd skin), yashio masu (rainbow trout), and Kirifuri Highland beef shabu-shabu.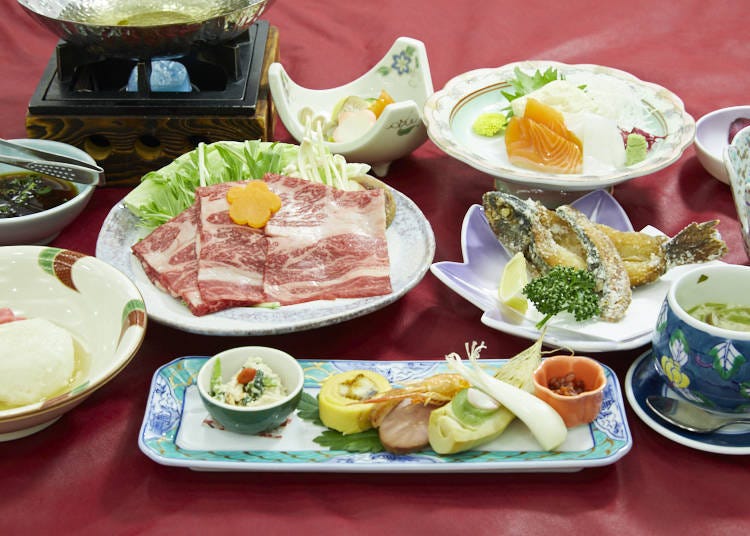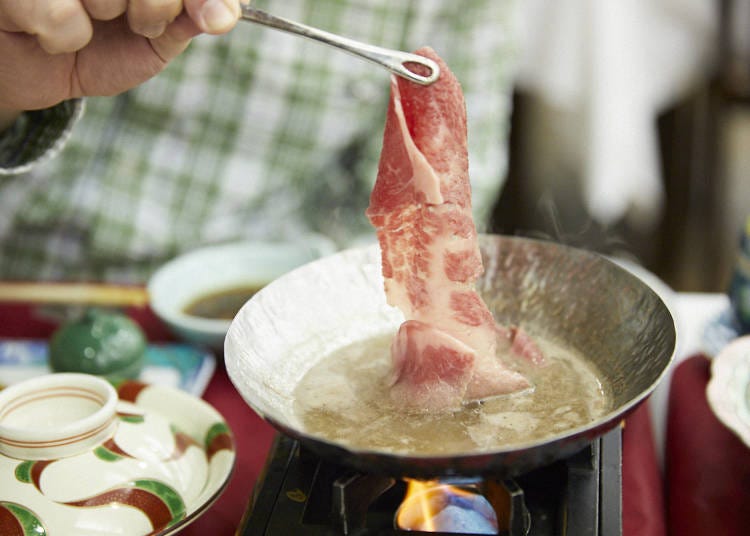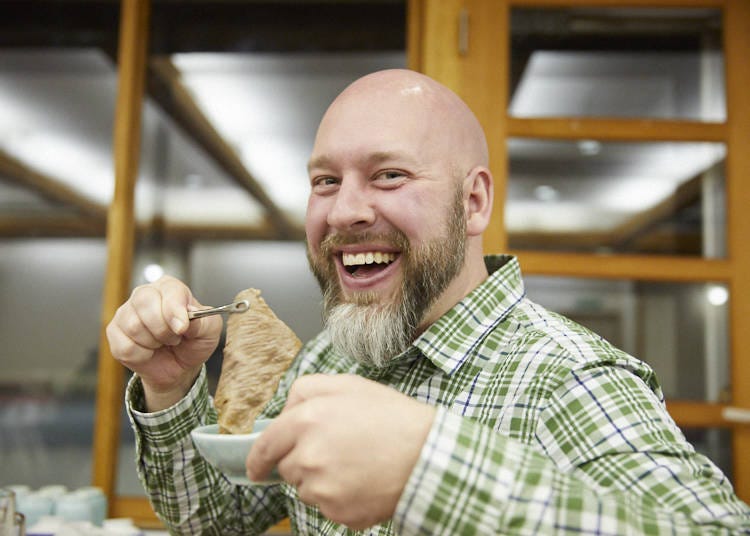 Timothy, who loves sake, thoroughly enjoyed the PREMIUM S, a sake brewed by the Tochigi sake brewer, Tsuji Zenbee Shoten. He had several cups of it.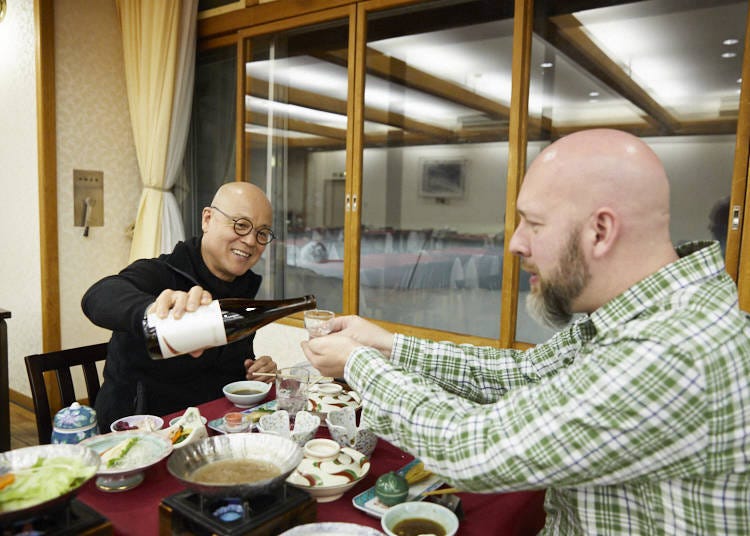 Cross-crountry skiing in Nikko: Perfect way to experience Nikko's natural beauty!
The following morning the area in front of the hotel was covered in snow.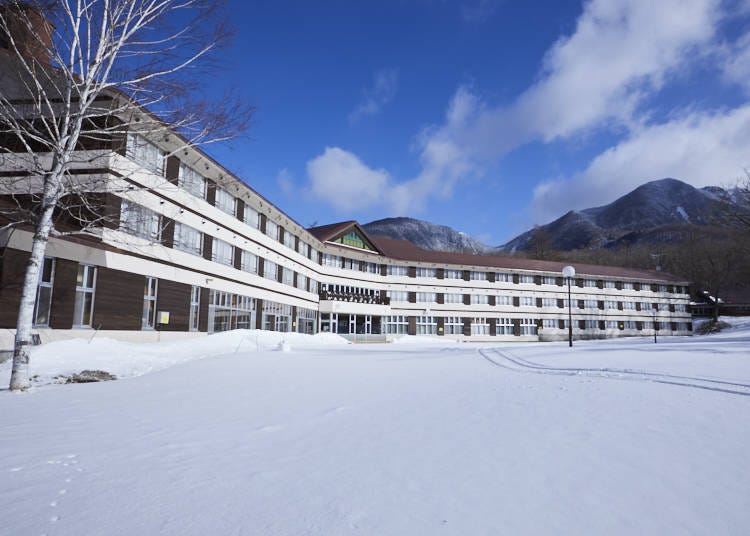 This was perfect for the day's main event: cross-country skiing. The Kotoku cross-country ski area is located right behind the Nikko Astraea Hotel. Cross-country skiing is traversing across flat, snowy fields on skis rather than skiing downhill. It can easily be enjoyed by all ages, young and old alike. The guide assured that they offer several experiences for people of different experience levels – from pure beginners to seasoned skiers – to enjoy.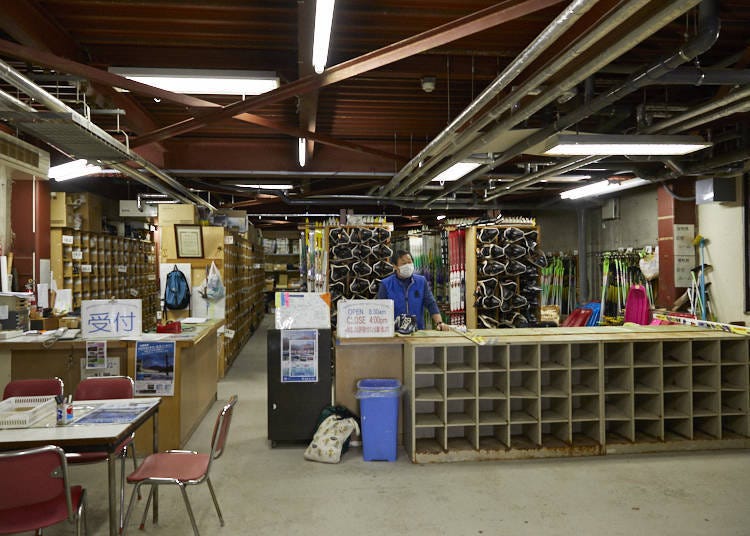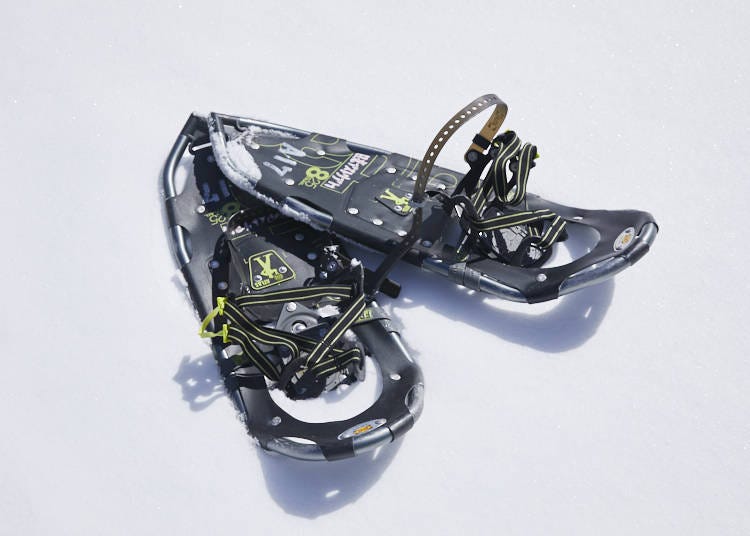 Gear can be rented, so if you bring your own outerwear, gloves, and hat, you can easily enjoy cross-country skiing. For those who are not comfortable with skis, snowshoes can also be rented.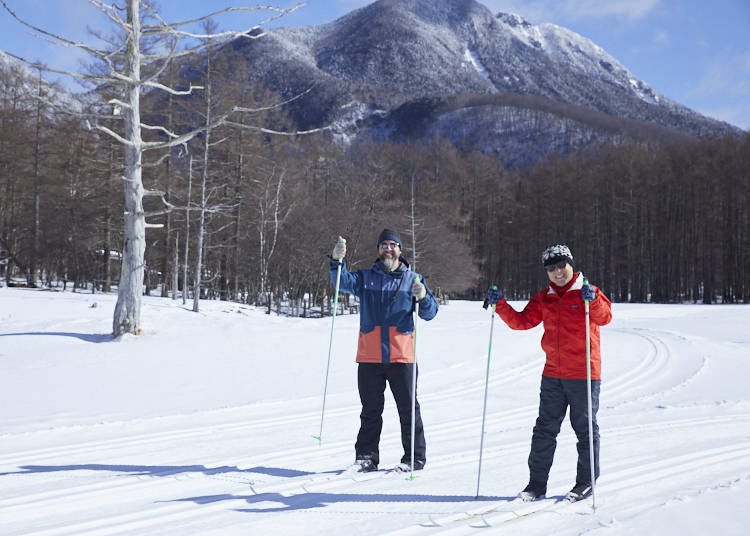 This large ski area has certified courses for beginners to experts: a 1-kilometer and 3-kilometer course for beginners, a 5-kilometer course, and a 10-kilometer course that allows you to enjoy plenty of sunlight through a larch forest, plus an All Japan Ski Federation course suitable for competitions.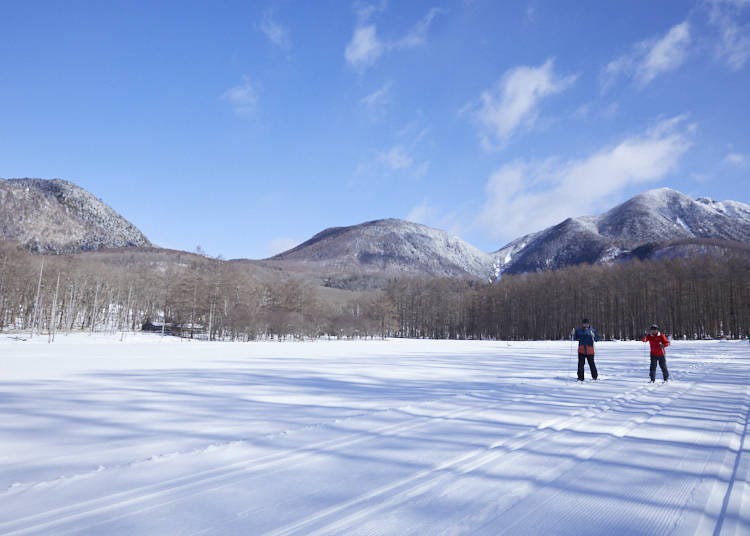 Morita and Timothy chose a course that goes around Kotokunuma Pond that is in the middle of the Kotoku Ranch.
Once you get the hang of it, you can take the gentle course through the forest while enjoying the calm winter scenery.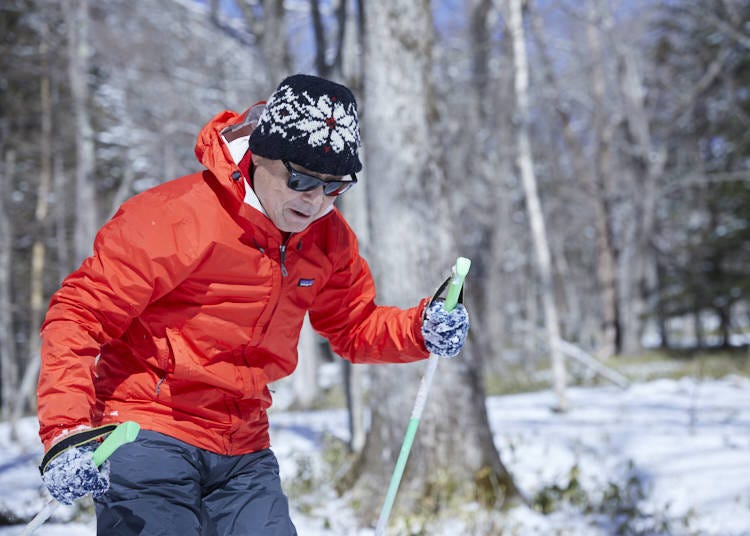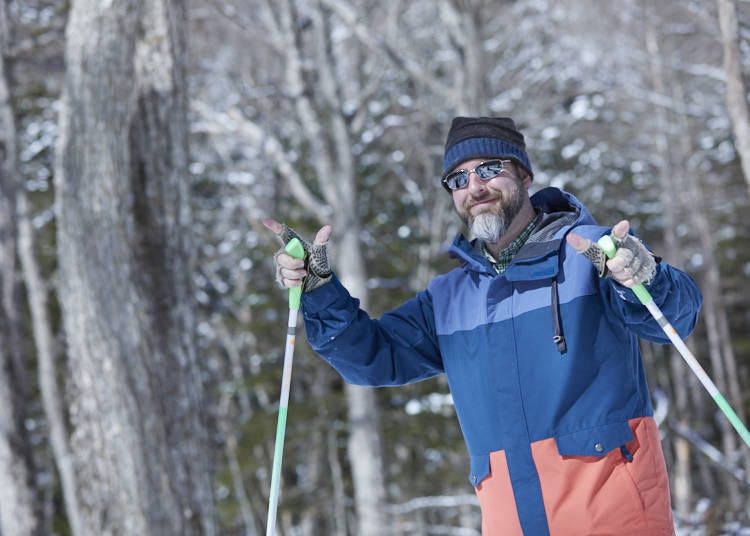 Morita: "This is the first time for me to do this, but it's really a lot of fun. I think anyone who has never done it before would be able to enjoy it."

Timothy: "It's pretty amazing that it is possible to enjoy nature like this, and just a short train ride away from Tokyo. I feel like I have discovered a new side of Nikko."
Morita: "This course also lets you see the back side of Mt. Nantai. Even though it did not snow all that much this year, the snow-covered landscape is breathtaking."
日光アストリアホテル

Address

Kotoku Onsen, Nikko City, Tochigi Prefecture / 栃木県日光市光徳温泉

Phone Number

0288-55-0585

Vacancy search, reservation

Please enquire directly about rates.

Check with our partner site as the latest rates, rate details, and guest room requirements may vary.
See hot water springing up from the ground in Yumoto Onsen at Gensen Koya – the source for Oku Nikko
After enjoying skiing, the two went deeper into Oku Nikko. They visited the source of the Yumoto Onsen hot springs near Lake Yuno. Isabella Bird also visited Yumoto Onsen in 1878.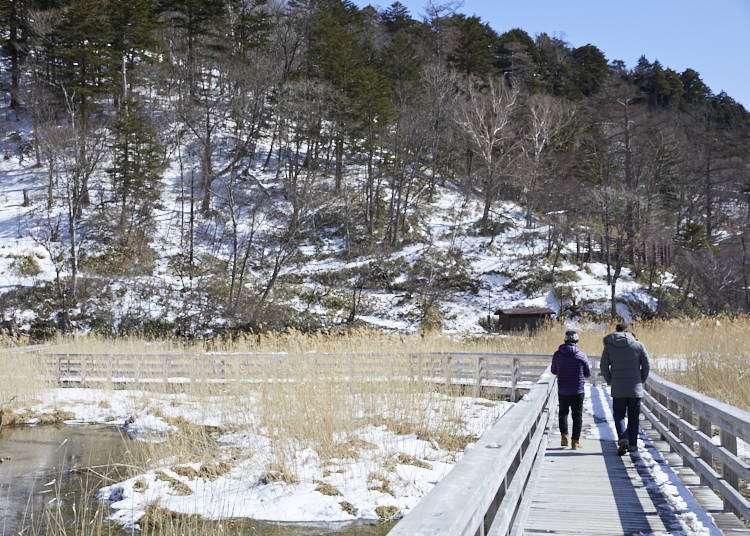 While walking along the wooden walkways in the marshy grassland, they noticed low, huts near hot springs called gensen koya.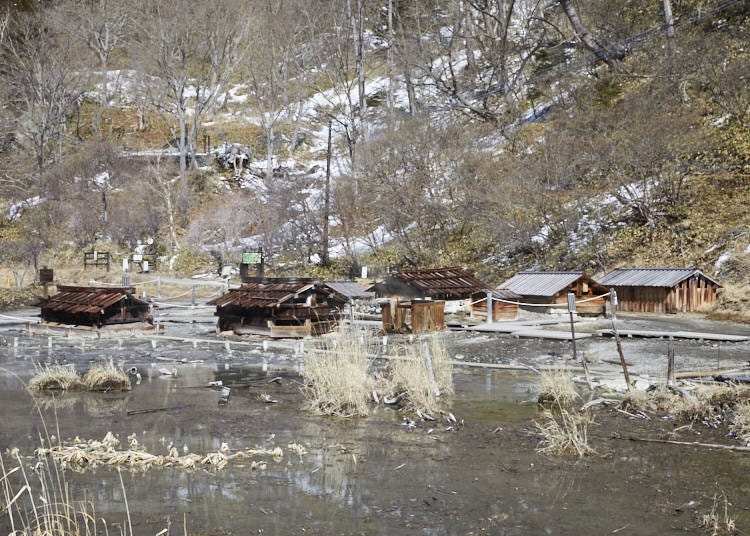 The eggy smell of hydrogen sulfide fills the air, and here and there, you can see steam rising up. You get a sense of the earth really being alive from the hot spring water bubbling up from the ground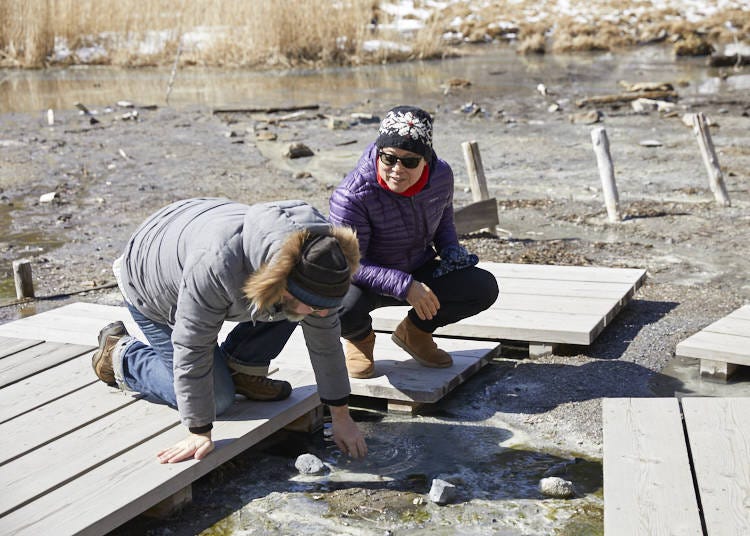 Morita: "This is the source of the hot springs. The hot water is conveyed by pipe from here to places like the Astraea Hotel, where we stayed last night."

Timothy: "Onsen in Oku Nikko really do trace their 'roots' back to here, Yumoto—which if I understand correctly, literally means 'spring source.'"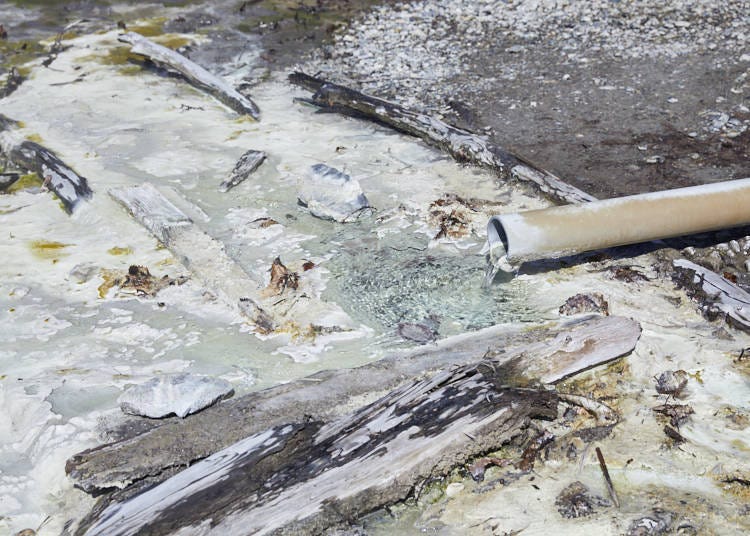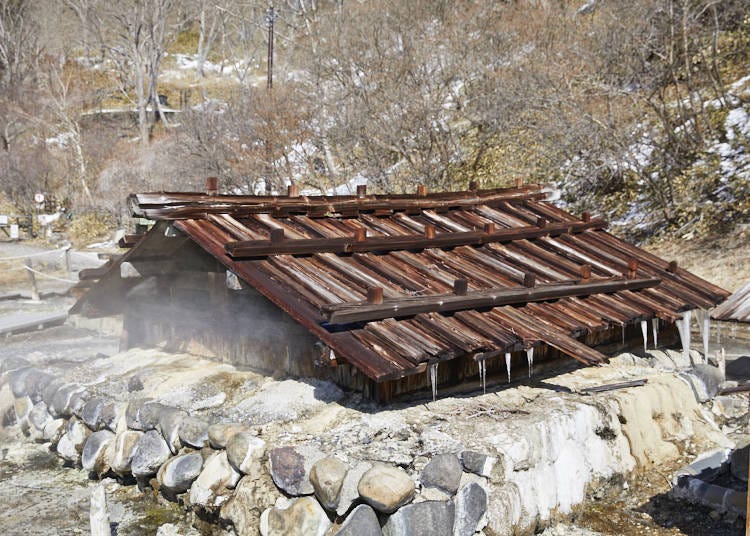 源泉小屋

Address

Yumoto, Nikko City, Tochigi Prefecture / 栃木県日光市湯元
Dining at European Restaurant Chez Hoshino, whose local chef creates culinary masterpieces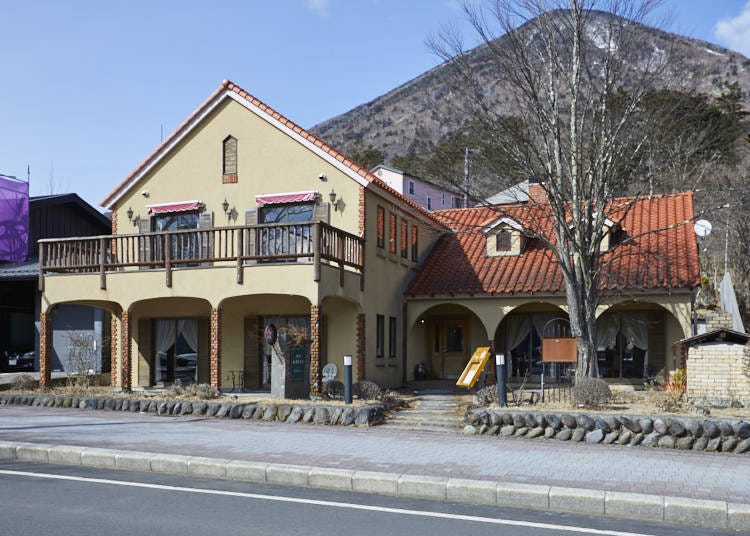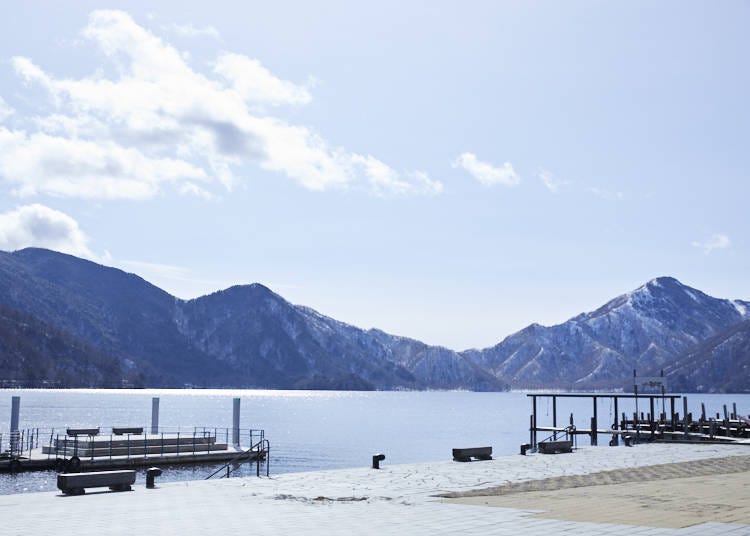 Leaving the Gensen Koya, Morita and Timothy headed back to the area around Lake Chuzenji for lunch at European Restaurant Chez Hoshino. This is the best place for viewing the tranquil Lake Chuzenji.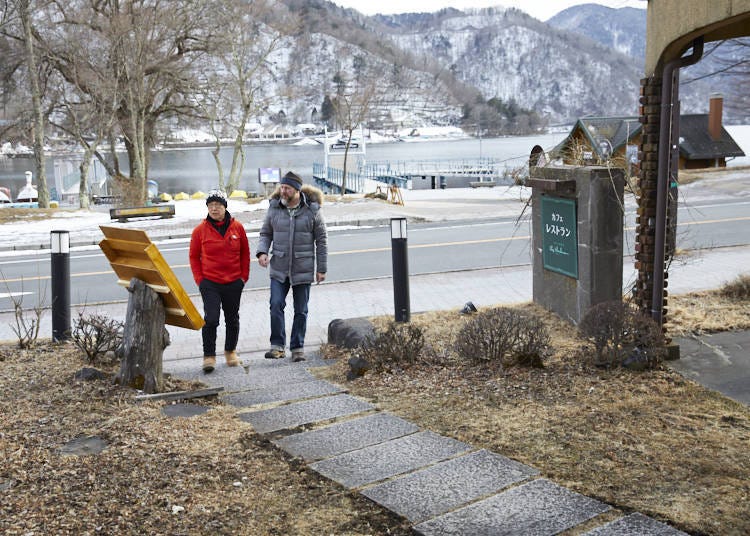 Mr. Hitoshi Hoshino, the owner-chef, was born and raised right here in Oku Nikko. He opened the restaurant here in his hometown in 1991, and in the spirit of "locally produced for local consumption," he has been creating authentic French cuisine using Tochigi ingredients.
Chef Hoshino: "My father and grandfather told me that from the Meiji period up until the Pacific War, many foreigners had villas here in Oku Nikko. I wanted to convey the atmosphere of Oku Nikko of that period, so I added 'Romantic European Restaurant' to the name of my restaurant."
Morita: "The British Embassy and Italian Embassy had villas along the shore of Lake Chuzenji, didn't they?"

Chef Hoshino: "Yes, and the Belgian Embassy and French Embassy still use their villas here. Belgian diplomats often come here."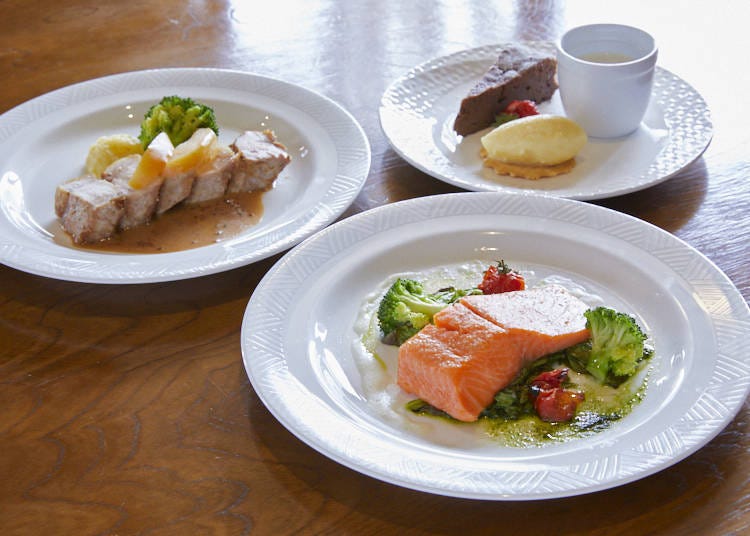 Morita selected the roasted rainbow trout cooked over a low fire arranged in a salad, and Timothy chose the Tochigi Prefecture brand pork loin poiré with apple compote.。

satisfying. It is impressive the way the menu includes such ingredients as sesame and yuba."

Chef Hoshino: "The sesame-flavored pudding and the hot spring eggs with raw yuba are also very popular. It has been well worth all the trial and error that has gone into trying to discover how to use local ingredients in French cuisine."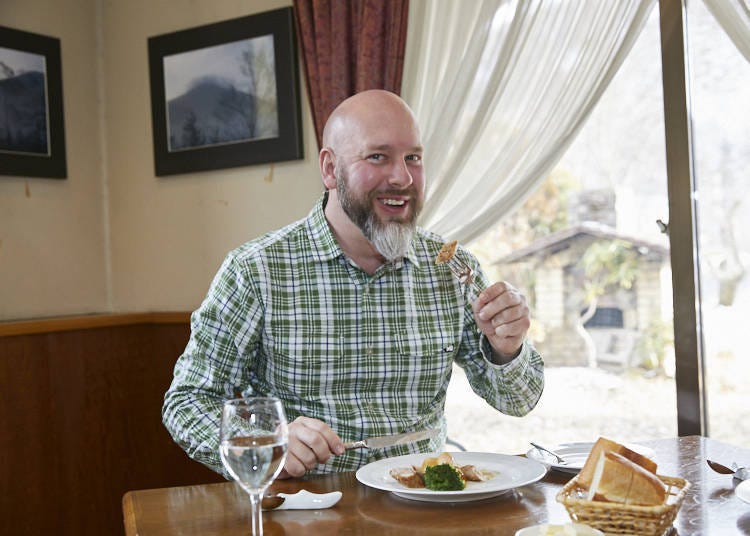 Chef Hoshino, who was born and raised in this area, is someone who really knows the history, culture, and tastes of Nikko. Listening to him, one could actually feel why Nikko became a popular summer resort for Europeans living in Japan.
This is a wonderful restaurant where you can enjoy French cuisine that makes use of Nikko's specialties, reflect on the history of Nikko, and enjoy a conversation with a local chef.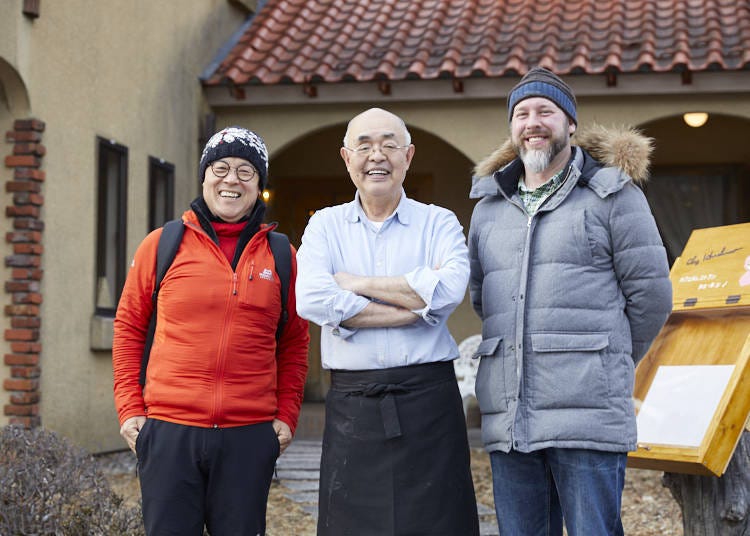 Romantic European Restaurant Chez Hoshino

欧州浪漫館 シェ・ホシノ

Address

2478 Chūgūshi, Nikko City, Tochigi Prefecture / 栃木県日光市中宮祠2478

Phone Number

0288-55-0212

Open:
Lunch: 11:30 a.m. ~ 3:00 p.m.
Dinner: 6:00 p.m. ~ 8:00 p.m.
Closed: unscheduled
Unique national parks in the Kanto area
Including the Nikko National Park, there is a total of 34 national parks in Japan.

Morita: "Well, Timothy, what do you think of Japan's national parks? As you can see, they are more than nature reserves."

Timothy: "We had also visited Aso and Kuju in Kyushu. There, too, I could feel how nature entwines with the culture of each area. There are so many more things to see and do in Japan's national parks – and enjoying the spectacular scenery and wildlife is just part of that. I'm keen to check out other national parks and learn more about what makes them each unique."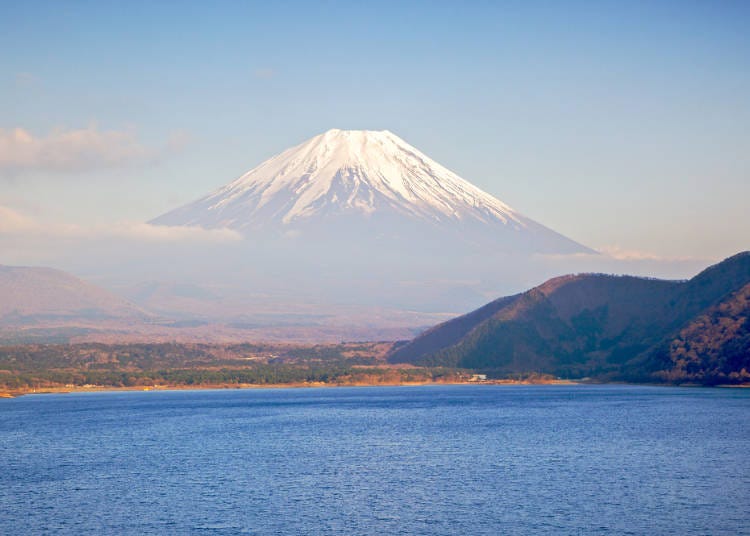 Morita: "I would also like to go to Fuji Hakone Izu National Park, Chichibu-Tama-Kai National Park, and Sanriku Fukkō National Park. As its name suggests, the Fuji Hakone Izu National Park, with Mt. Fuji in its center, spans Kanagawa, Shizuoka, Tokyo, and Yamanashi prefectures. There is another mountain in this area, Mt. Daruma, from which the renowned Japanese-style artist Taikan Yokoyama praised the view of Mt. Fuji as being spectacular. Mt. Fuji, as viewed from across the Izu Peninsula and Pacific Ocean (Suruga Bay), probably most resembles the 'Fujiyama' seen by those Westerners who came to Japan by ship in the 19th century as they gazed over the handrail on deck. This is one place I recommend."

Timothy: "I'd really like to see Mt. Fuji as it is depicted in a Japanese-style painting!"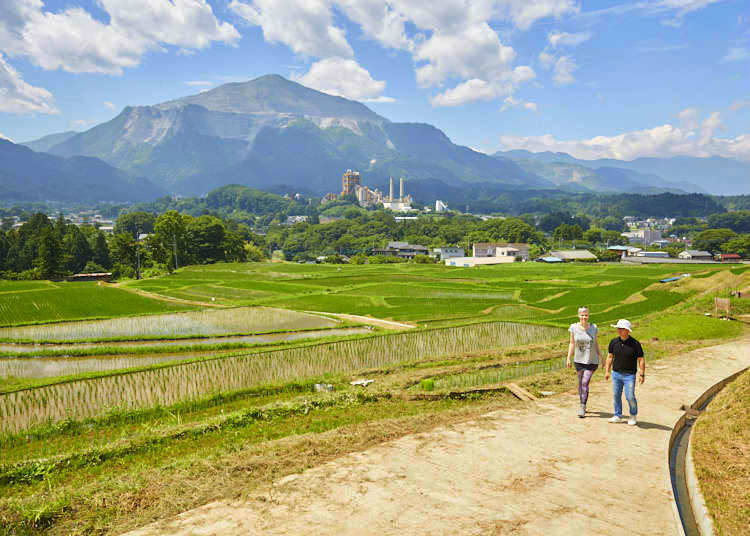 Morita: "There is a shrine called Mitsumine Shrine in Chichibu-Tama-Kai National Park, which is in the middle of the Okuchichibu Mountains and spans Saitama, Yamanashi, Nagano, and Tokyo. Wolves are worshiped here because the word for 'wolf' in Japanese is 'okami' which is exactly the same pronunciation of the word 'okami,' means 'great god.' A long time ago, farmers in East Japan would go to Mitsumine Shrine every year to obtain wolf amulets to favor them in their wishes for a bountiful harvest. That tradition still lives on today, too."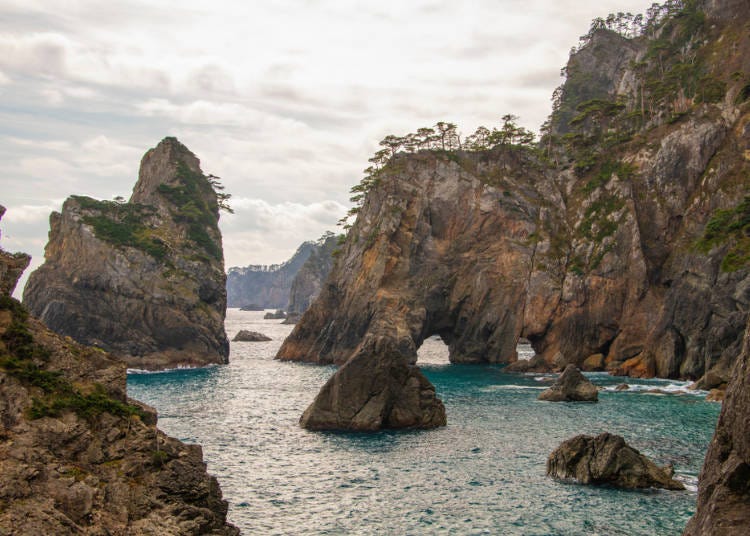 Morita: "Sanriku Reconstruction National Park, stretching from southern Aomori Prefecture to the Oshika Peninsula in Miyagi Prefecture, is the area that was hit hard by the March 2011 tsunami. This region of Tohoku was the home of the Jomon people (hunters and gatherers). It took hundreds of years for the rice-growing culture suited for hot and humid climates to eventually take hold in the cold Tohoku region. I think this is a good place to get a feel of what it must have been like for those ancient people by trekking along the Tanesashi Coast, visiting the Korekawa Archaeological Institution, and travel in this sacred land with its mixture of Shintoism and Buddhism."
Overnight trip to Nikko National Park. This was a wonderful trip, one spent leisurely experiencing the area's history and culture with visits to museums and enjoying the great outdoors in Japan.
Nikko, which can be visited in just two hours from Tokyo without using the bullet train, is a beautiful sightseeing spot where you can discover a different side of Japan – and in winter, enjoy hot springs and winter sports.
Not just a nature reserve, Nikko is a very Japanese-style national park in which people live amidst the history, culture, and traditions of the area, making it a place you certainly should visit when you have the chance.
*This information is from the time of this article's publication.
*Prices and options mentioned are subject to change.
*Unless stated otherwise, all prices include tax.
Limited time offer: 10% discount coupons available now!