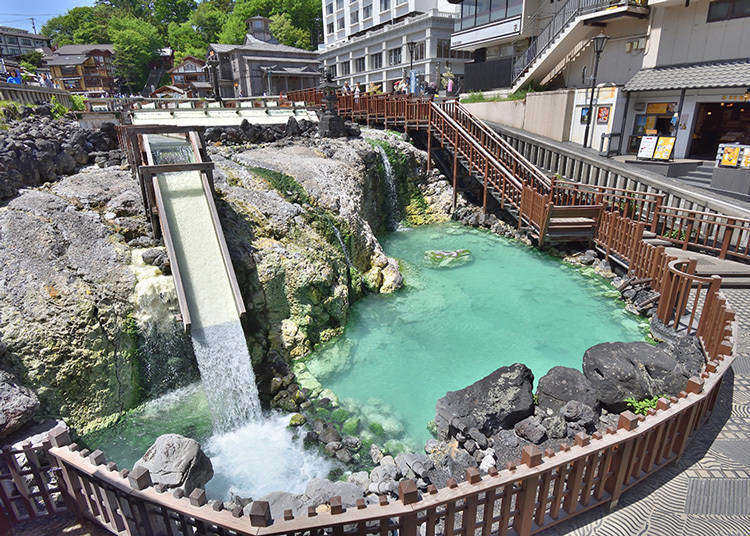 While there are many onsen hot springs near Tokyo, why not try soaking in one that looks right out of an anime film!

A recent trend among anime fans is to go on an anime pilgrimage. This means they'll visit the real-life places that appear in or are somehow related to certain anime scenes. The excitement fans feel when they see with their own eyes the location being used in the anime they've watched is part of what makes this activity so enjoyable.

Here are three hot springs near Tokyo that are popular pilgrimage destinations that the anime fan in you might want to consider visiting too!
1. Hottarakashi Onsen (Laid-Back Camp): The hot springs near Tokyo with the best view in Japan!
Laid-Back Camp (aired between January to March 2018, 12 episodes in all) was an anime series set in Yamanashi, a prefecture that's quite near Tokyo.

This relaxing slice of life anime focuses on a group of high school girls and their brush with outdoor living. Recreational camping, outdoor cooking, and other activities are featured along with a refreshingly novel story that turned the series into a hit.

The meticulously drawn locations in the anime were modeled after real-life campsites and onsen. The story was written so that it would kindle interest in the actual places of interest, captivating many viewers.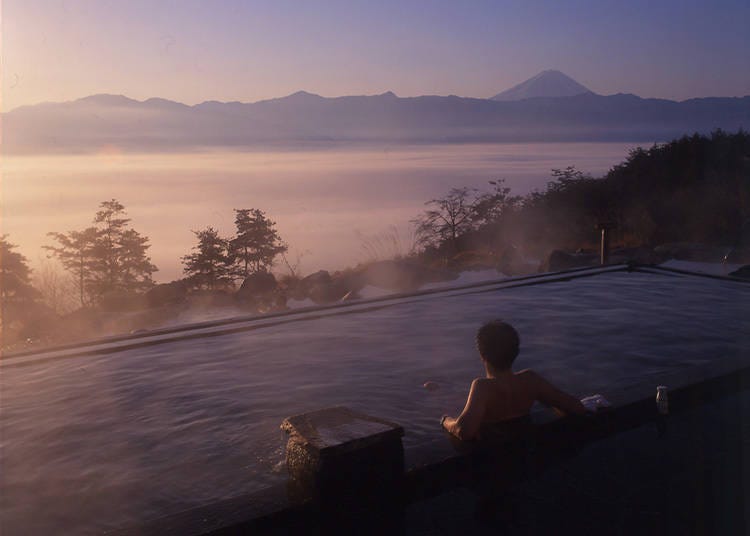 In the fourth episode of the series, the main characters - members of an outdoor survival club - decide to try outdoor camping for the first time.

As they step out of Yamanashishi Station and walk past what should be Fuefukigawa Fruit Park, they eventually arrive at the scenic Hottokeya Onsen.

The place this Hottokeya Onsen was modeled after is believed to be Hottarakashi Onsen, which boasts a fantastic outdoor onsen facility and is well-known as one of the representative hot springs of Yamanashi.

The most salient feature of Hottarakashi Onsen is its view. This outdoor hot spring facility overlooks Kofu Basin and you may even catch a glimpse of Mt. Fuji, both attractive sightseeing spots in the eyes of many.

From morning to night, the scenery here changes and bathers can see beautiful sights such as a sunrise, the New Three Major Night Views of Japan, and a night sky full of twinkling stars. You may be wondering: Are we allowed to enter the facilities early enough to see the sunrise?

It won't be a problem at all, because Hottarakashi Onsen opens one hour before sunrise every day to ensure that guests who have traveled here from faraway places will enjoy their stay to the full.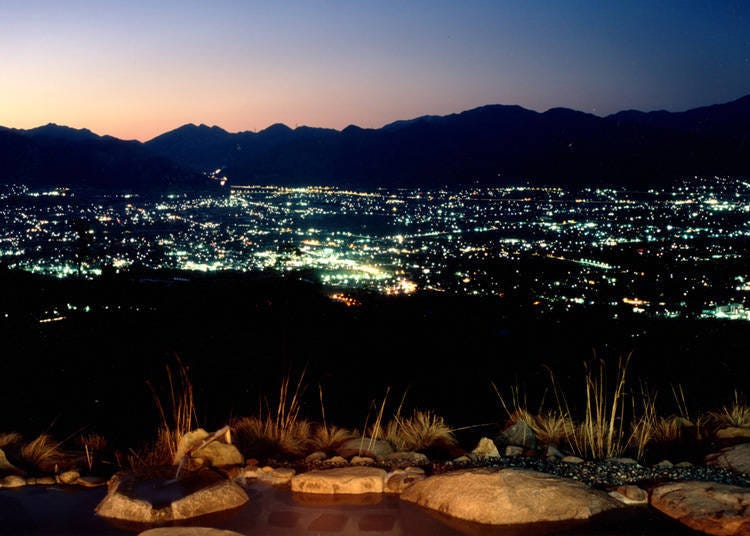 The facility has two bath areas. Kocchi no Yu is unceasingly popular among visitors for its wooden and stone outdoor baths facing Mt. Fuji, and there's also an indoor bath area that's filled with a calming wood fragrance.

A new bath area called Acchi no Yu opened in 2003 and is twice the size of Kocchi no Yu. This bath area overlooks the Kofu Basin, one of the Three Major Night Views of Japan, and guests will also be able to admire the sunrise from here.

Acchi no Yu uses spring water welling up from a fracture zone 1,500 meters (about 4,920 feet) underground with a high PH value of 10.1, which means guests can look forward to emerging from the bath with smoother skin after feasting their eyes on the spectacular views on display!
ほったらかし温泉

Address

1669-18 Yatsubo, Yamanashi-shi, Yamanashi 405-0036

Nearest Station

90 minutes via limited express from Shinjuku Station on the JR Chuo Main Line to Yamanashishi Station, transfer to a taxi and reach in about 10 minutes


Phone Number

0553-23-1526

Hours: 1 hour before sunrise – 10:00 p.m. (last entry 9:30 p.m.)
Closed: Open daily
2. Kusatsu Onsen (Oreimo): Probably the most famous hot spring near Tokyo!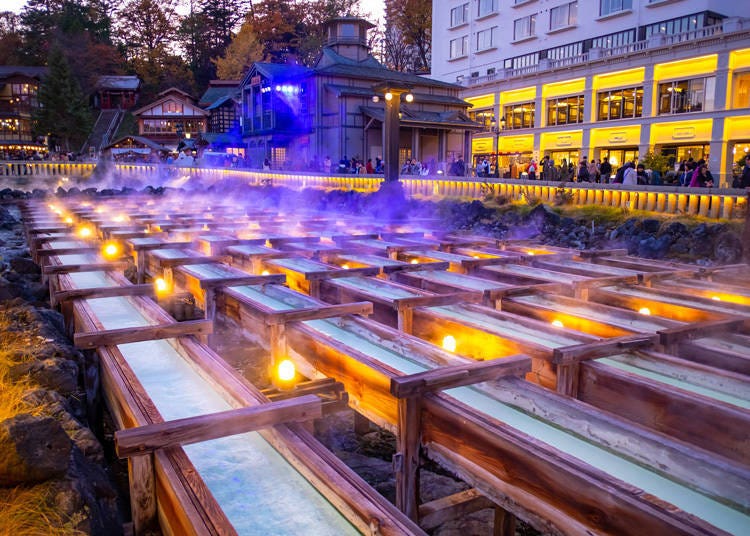 Nor Gal / Shutterstock.com
Oreimo first aired between October to December 2010. The story revolves around a rather ordinary high school boy by the name of Kyosuke Kosaka and his beautiful and stylish younger sister, Kirino.

One day, Kyosuke accidentally discovers Kirino's secret hobby, which changes the dynamics of their relationship overnight. This comedy anime was so well-received, a second season was produced and aired between April to June 2013.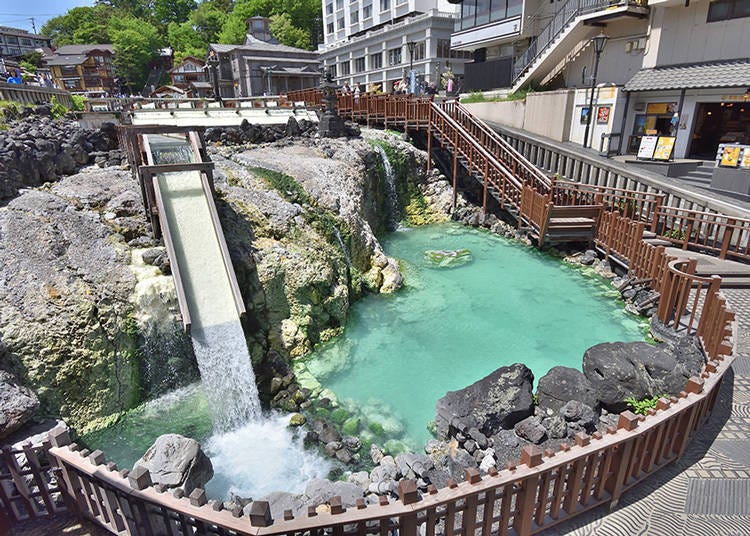 One of the more famous hot springs near Tokyo, Kusatsu Onsen makes an appearance in episode nine of the second season. A black cat, one of the characters in the anime goes missing, and when Kyosuke and Kirino receive information the cat had been sighted in an onsen town, they come to Kusatsu Onsen to look for it, making this place the setting for that particular arc.

The anime didn't actually mention details about the onsen they went to, but hot spring bed and souvenir shops and restaurants around the area were very accurately reproduced in the animation. The footbath that both characters visited also exists in real-life.

Kusatsu Onsen is recognized as one of the three great onsen towns of Japan. Every minute, about 32,300 liters (about 8,500 gallons) of spring water pour out, making it the most productive spring in Japan. This means about 23,000 metal drums worth of hot spring is being produced every day here.

No wonder plenty of Japanese inns and onsen facilities offering free-flowing spring water have sprung up along the hot spring bed! The water here is highly acidic, so much so that it may even sting at first.

However, this also means the spring has excellent antiseptic properties. It has been used by many as a therapeutic bath since olden times. The effects are apparently so good, the onsen is purportedly able to cure almost any sickness - except lovesickness, of course!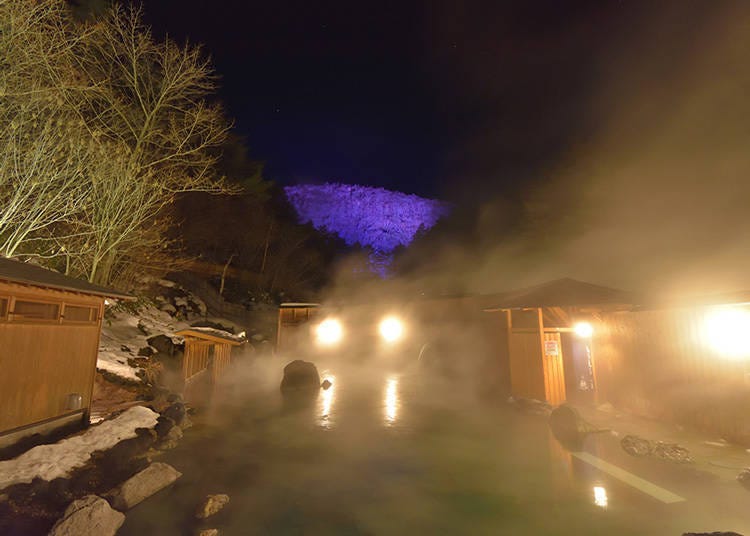 To go to Kusatsu Onsen from Tokyo, JR's Kusatsu Limited Express is the most convenient option. It takes about 2 hours and 20 minutes from Ueno Station to reach Naganohara-Kusatsuguchi Station, both on the JR Lines.

From there, it's another 25 minutes by bus to reach the central area of Kusatsu Onsen. Highway buses to Kusatsu Onsen also depart from Tokyo Station or Shinjuku Station. These bus journeys will take about 3 hours one way and are much more economical as well. Use the one that fits into your itinerary best!
草津温泉

Address

Kusatsu, Kusatsu-machi, Agatsuma-gun, Gunma 377-1711

Nearest Station

About 140 minutes via Kusatsu Limited Express from Ueno Station to Naganohara-Kusatsuguchi Station on the JR Lines, transfer to a bus to reach in about 25 minutes


Hours: Depends on facility
Closed: Depends on facility
3. Kinugawa Onsen (Future Diary): Located near a popular place of interest Nikko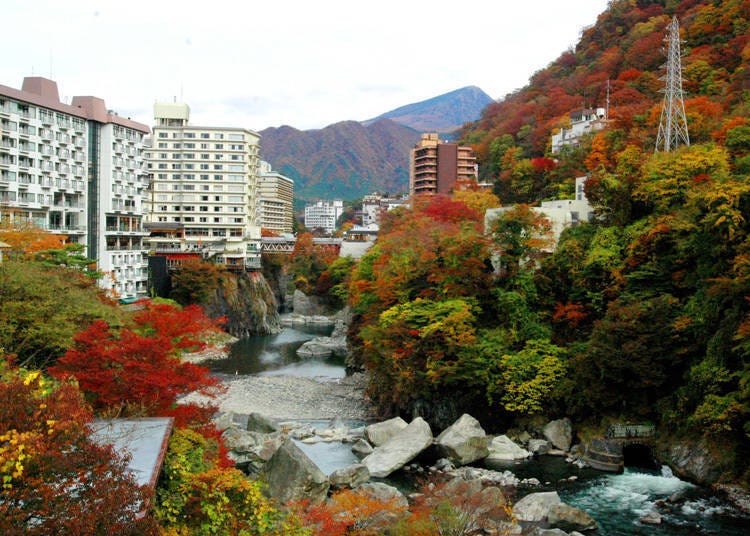 The main character of Future Diary is Yukiteru Amano, a 14-year-old boy whose only wish is to live as a passive onlooker by staying out of everything that's going on around him.

One day, as he recorded his observations in his mobile phone diary, he saw a future entry that talks about something he hasn't experienced before. Although initially excited by the revelation that he can know the future, Yukiteru later finds out that 12 others own a Future Diary like him. He gets pulled into a survival game where he either has to kill or be killed...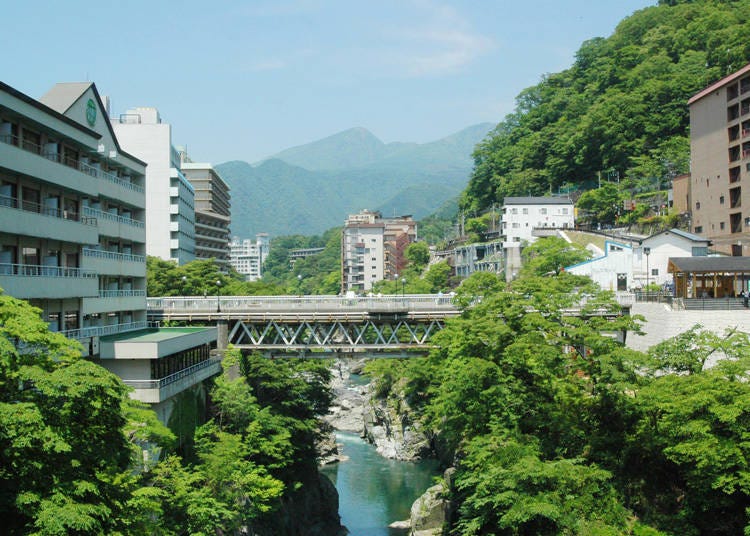 The anime aired from October 2011 to April 2012, and Kinugawa Onsen appeared in episode 13. In this episode, the story's heroine was trying to find Yukiteru, who was being held hostage.

One of the scenes was of her searching through the Kinugawa Onsen area, as evidenced by the bridge and souvenir shops that were faithfully reproduced in the animation.

Besides the Kinutateiwa Otsuri Suspension Bridge and Kinutateiwa Observatory Deck, the popular Asaya Ryokan Japanese-style travel lodge also appears in the episode as the hotel that the characters stayed in. The ryokan's famous hanging garden open-air bath Shoryu-no-Yu was also featured in the anime.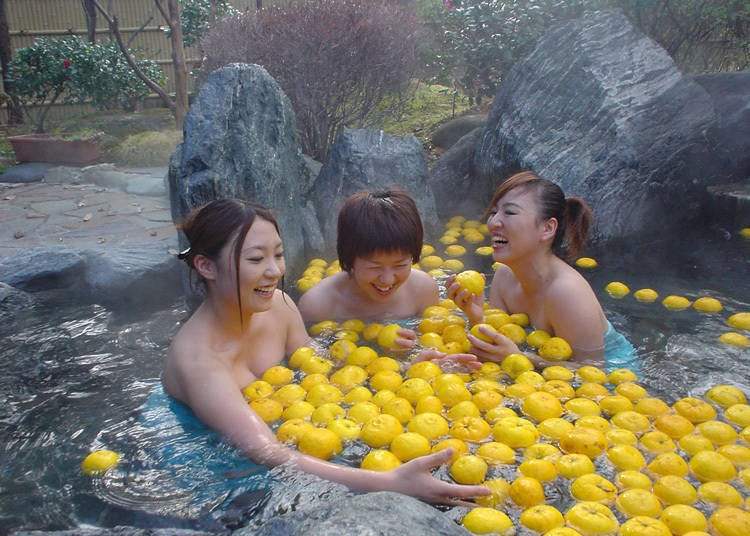 A simple thermal spring that is filled with alkali spring water, the bath has been touted since ancient times for its effectiveness on burn wounds, neuralgia, stiff shoulders, fatigue, and health promotion.

In the past, only the feudal lords or monks coming back from their pilgrimage to Nikko were allowed to use this esteemed hot spring.

Nowadays, about 40 hotels, ryokan, and homestays with bathing facilities are packed into these hot springs near Tokyo for visitors from all walks of life. The Kinugawa River flows through the center of the onsen town between a large and impressive valley, the beauty of which is yet another reason many are attracted to visit year after year.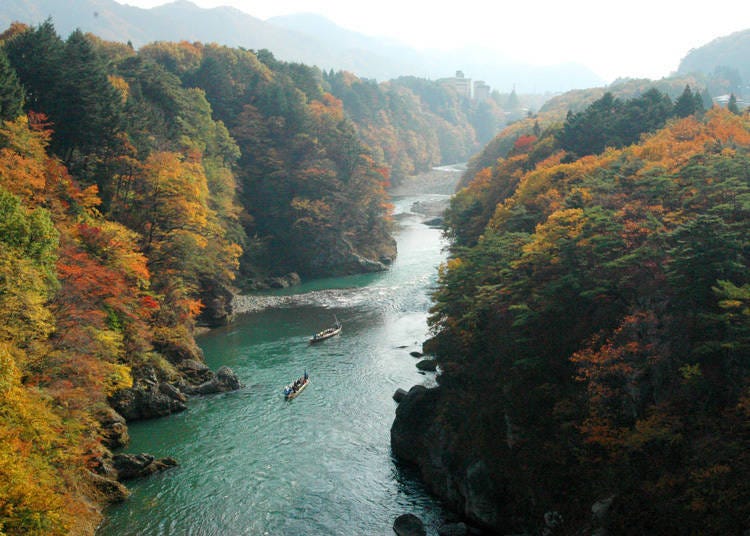 Kinugawa Line Down is a special river cruise that takes place down the Kinugawa River between the valley. In spring, rhododendron flowers paint the scene over with fresh colors.

New green leaves in summer beckon the breeze through the valley. Autumn leaves envelope the area with a warm glow during autumn. Whatever the season, the boat tour will be a leisurely and satisfying one.

The valley is also a popular scenic viewing spot for cherry blossoms and autumn leaves during their respective seasons. Being able to immerse oneself in nature no matter what you do is the hallmark of the kind of experiences offered at Kinugawa Onsen.
鬼怒川温泉

Address

Kinugawa-onsen, Nikko-shi, Tochigi 321-2522

Nearest Station

About 120 minutes from Asakusa Station on the Tobu Line via limited express train Spacia Kinu, disembark at Kinugawa Onsen Station


Hours: Depends on facility
Closed: Depends on facility
Written by: Hossho Sato. English translation by: Huimin Pan.
*This information is from the time of this article's publication.
*Prices and options mentioned are subject to change.
*Unless stated otherwise, all prices include tax.