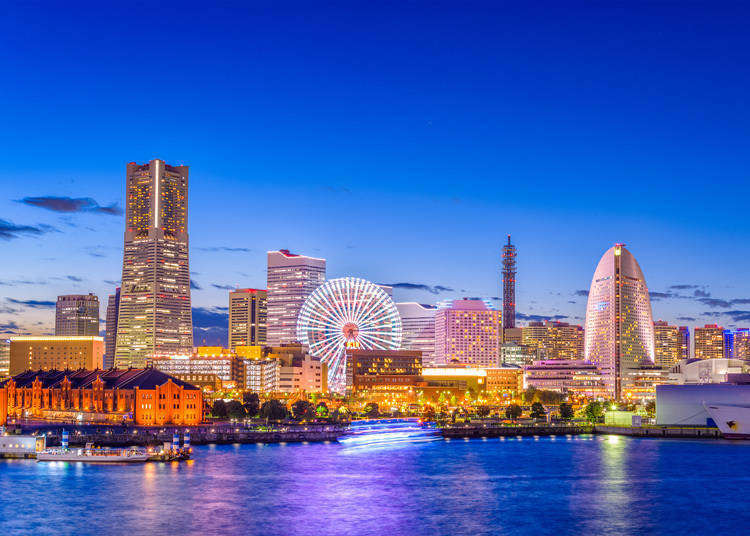 Yokohama, where major sporting venues such as Yokohama Stadium and Nissan Stadium (also known as International Stadium Yokohama) can be found, is a quick 30 to 40 minutes away from Tokyo by train.

Both stadiums have spacious grounds that are ideal for hosting large sporting events. As a matter of fact, Yokohama Stadium will be reserved for baseball matches during the upcoming Summer Olympics, whereas International Stadium Yokohama will be used for soccer and rugby matches.

Let's now delve a little deeper into some of the characteristics of each stadium, and what interesting things you can find in the vicinity during your next visit!
Two stadiums in the sports town of Yokohama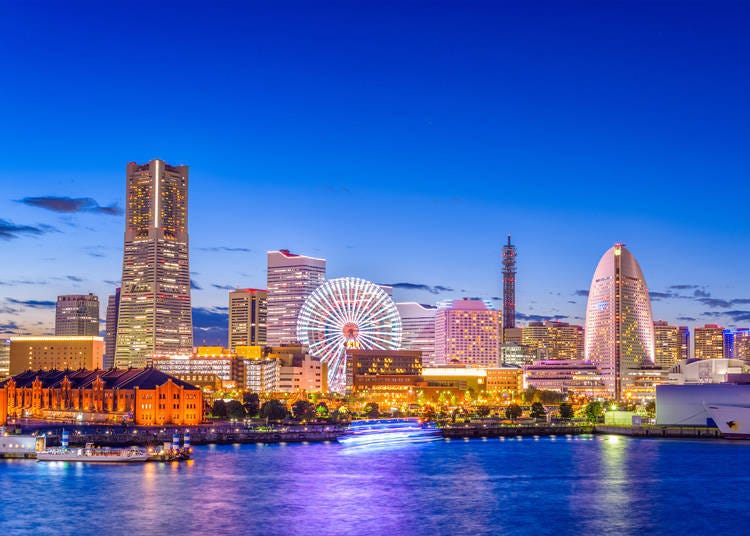 Ever since the city of Yokohama opened its port for international trade with countries like the United States and United Kingdom in 1859, it has slowly absorbed bits and pieces of Western culture into its DNA and transformed into a vibrant crossroad where east meets west in the best way possible. The vibes running through Yokohama are very different from the ones powering Tokyo, so the city is a popular destination for many tourists as well.

In Yokohama, there are two large stadiums equipped for professional sports matches. One is Yokoyama Stadium, a baseball field which is frequently used for Japan's national sport, baseball, and the other being International Stadium Yokohama, used for soccer matches, which has risen in status in recent years to become one of Japan's national sports as well. It takes about 11 minutes by train to travel from one stadium to the other.
Yokohama Stadium: Baseball fans unite!
ⓒYDB
The stadium has a long and well-established history, opening in 1874 at the center of Yokohama with unparalleled transportation access. It is about a 2-minutes walk from the south exit of Kannai Station on the JR Negishi Line, 3-minutes walk from exit 1 of Kannai Station on the Yokohama Municipal Subway, or 3-minutes walk from Nihon-Odori Station on the Minato Mirai Line.

In 1934, famous American professional baseball athletes Babe Ruth and Lou Gehrig led an all-star team called All Americans to Japan and one of their matches against local teams was held right here in Yokohama Stadium. The score was a landslide victory of 4 to 21, needless to mention, in favor of the Americans. In 1948, the first professional baseball game to be held at night was hosted here as well.

The stadium was renovated in 1997 and emerged as a multi-purpose stadium. Since 2017, it has been going through major expansion and repair work to turn itself into an excellent ballpark facility that Japan can be proud to present to the international sporting community soon.
Address

Yokohamakouen, Naka-ku, Yokohama-shi, Kanagawa, 231-0022
View Map

Nearest Station

Kannai Station (JR Negishi Line / Line 1 (Yokohama Blue Line) / Line 3 (Yokohama Blue Line))
2 minutes on foot


Phone Number

045-661-1251
International Stadium Yokohama (Nissan Stadium): The stadium that represents soccer in Japan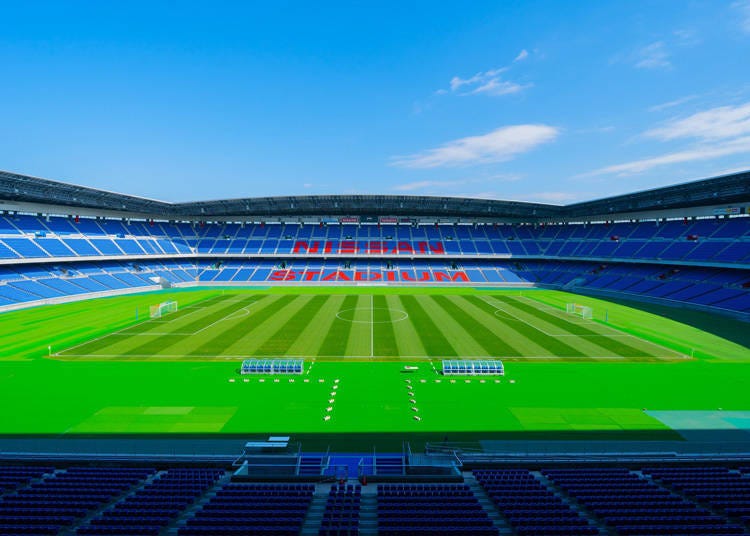 Image courtesy of: Yokohama Sports Association
International Stadium Yokohama, also known as Nissan Stadium, is one of the largest stadiums in Japan, capable of holding up to 70,000 spectators. It's just 12 minutes on foot from Shin-Yokohama Station on the East Japan Railway or Yokohama Municipal Subway. Since Shin-Yokohama is also a bullet train station along the Shinkansen, getting here from slightly farther cities like Osaka will not be a problem.

Japanese car maker Nissan Motor holds the naming rights for International Stadium Yokohama, and thus the place is also known as Nissan Stadium. This was where the final match for the 2019 Rugby World Cup was held, and international soccer fans will also likely recognize the stadium as the place where the 2002 FIFA World Cup finals took place. What made the occasion especially memorable was that that was the first time the World Cup had ever been held in Asia! The two teams that battled it out for the title of champion were Brazil and Germany, and Brazil took the cup when the famous Ronaldo scored two goals for the team. In line with the stadium's pedigree, therefore, the final match for the upcoming Olympics' male soccer event will be held on these same grounds as well.
International Stadium Yokohama (Nissan Stadium)

横浜国際総合競技場(日産スタジアム)

Address

3300 Kozukue-cho, Kohoku-ku, Yokohama-shi, Kanagawa-ken

URL:https://www.nissan-stadium.jp
For our next section, we'll be introducing you to a few interesting places of interest that can be found in the area around the stadiums.
Sightseeing Spot 1: Educational tour of the World Cup Stadium!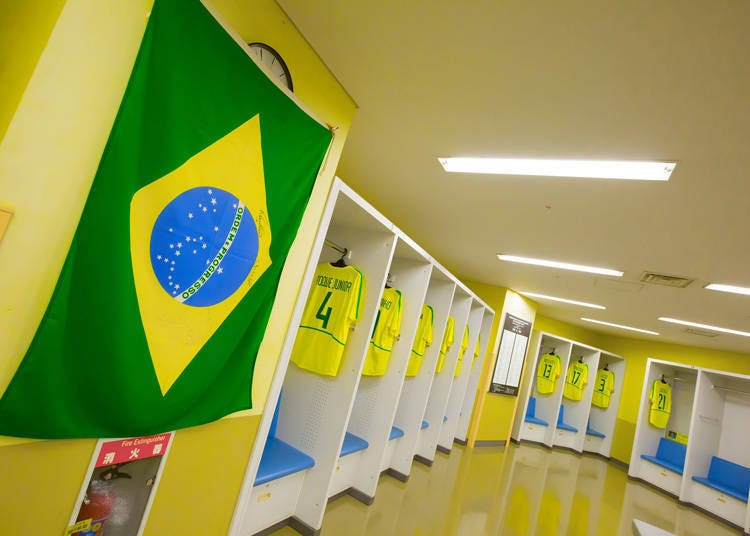 Especially highly recommended for soccer fans is the International Stadium Yokohama Stadium tour experience. As mentioned above, the stadium was the venue for the final match of the 2002 FIFA World Cup, so the tour is designed to make you feel the same electrifying atmosphere, as if you were there on the day itself.

You'll get to view the locker and dressing rooms of team Brazil, the winners that year. There's an exhibition hall with rare autographed soccer balls and uniforms that you can visit as well, but the main highlight of this tour is that you'll get to walk through one of the stadium's entry tunnels while the entrance music that was used during the 2002 World Cup plays in the background, until you reach the edge of the field. As you gaze at what is known as the foremost soccer field in Japan, the awe it inspires will likely stay with you for many days to come. The tour also lets you visit the VIP seating area, which is usually not accessible to the public. Finally, all participants will be gifted with seeds for the species of lawn grass that grew on the pitch during the World Cup finals as a souvenir.

Price: Adults 500 yen; 15 and below 250 yen
Duration: 60 minutes
Slots: (1) 10:30 a.m.; (2) 12 noon; (3) 1:30 p.m.; (4) 3:00 p.m.
*Check the official homepage for tour dates
Sightseeing Spot 2: Take an amphibious bus around the Port of Yokohama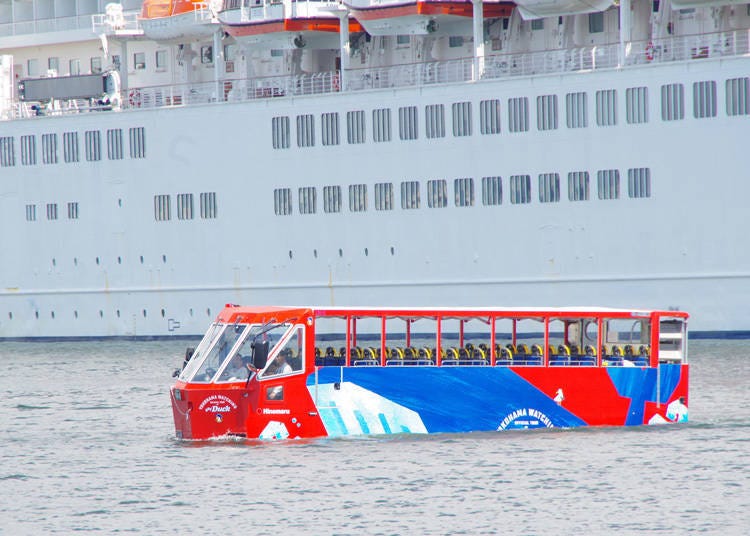 Since Yokohama is a port town, visiting the port is a must for the full Yokohama experience. And what better way to do so than taking the amphibian bus, Sky Duck? The vehicle is built with state-of-the-art technology to enable both land and sea travel, so this will be an extraordinary urban tour, to say the least! The bus starts its journey from Nippon Maru Memorial Park and slowly goes across the streets of Yokohama while ensuring that passengers have enough time to savor the sights.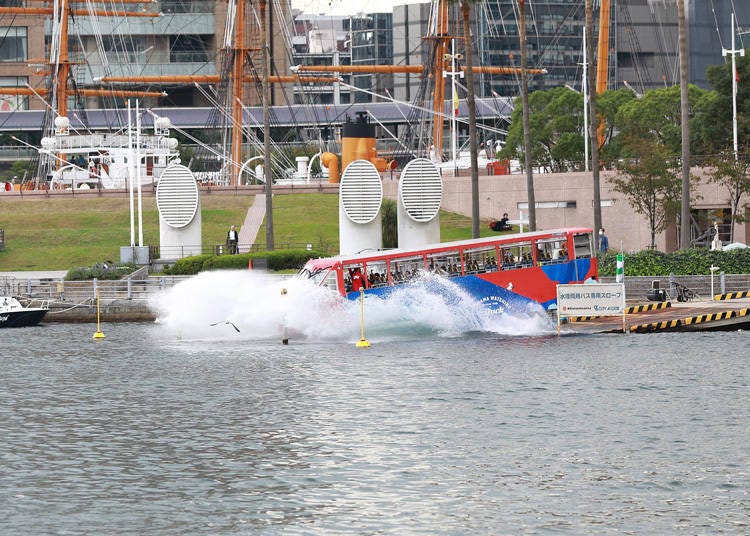 At a point near the amusement park, the bus will start rushing straight towards the sea and hit the water with an intense impact! Once it regains its bearings in the water, the bus will make its way leisurely through Yokohama Port. Sky Duck will occasionally brush shoulders with large ships coming into Osanbashi Pier as well, so there will be plenty of photo opportunities on this tour that also helps visitors understand why Yokohama is known as a port town. What's more, the scenery is completely different during the day and at night, so those who can't get enough of the sights and sounds here can always take the bus at different timings for a completely new experience!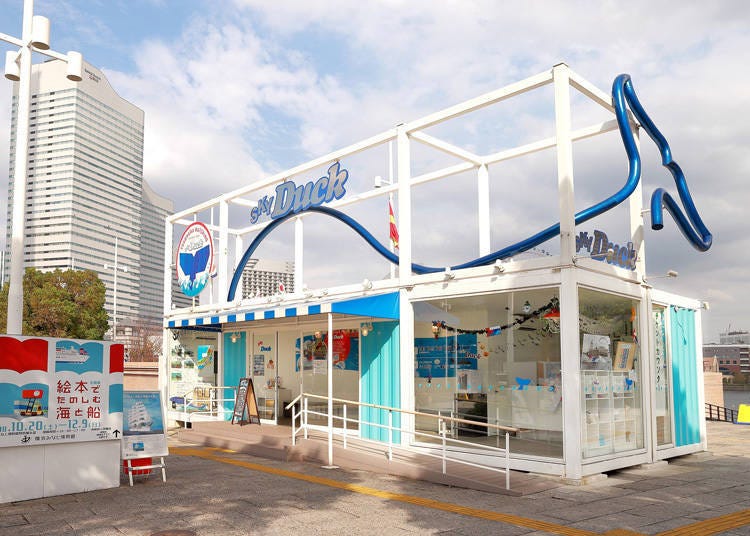 Sky Duck
Price: Adult 3,500 yen (15 and above); Children 1,700 yen (4 and above)
Duration: Day time 50 to 60 minutes; Nighttime 40 minutes
Hours: Day course - every day / Night course - weekends and holidays
Sightseeing Spot 3: Trying the Neapolitan pasta dish that originated in Yokohama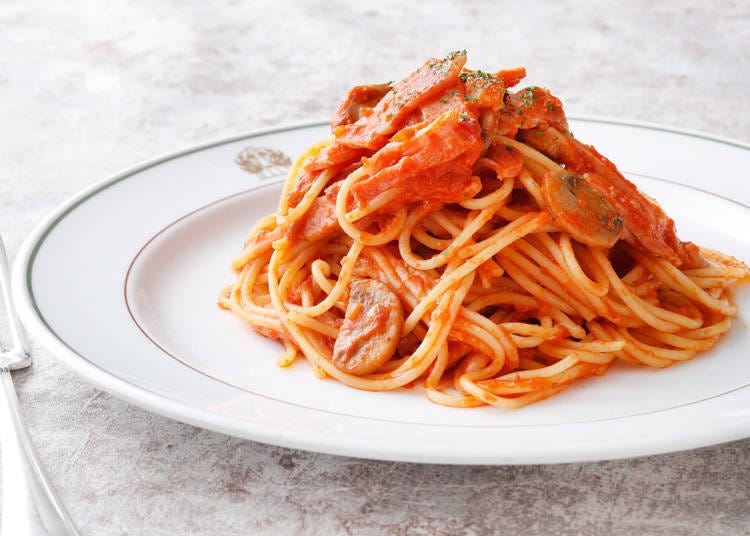 Yokohama is also a gourmet town. Having been influenced by Western culture for many years, Western food such as bread, ice-cream, and beer are generally more popular here than Japanese cuisine. During the 1940s, a dish called ketchup spaghetti was introduced in Japan from the West and it took the cafes here by storm. A Japanese chef working in Yokohama's Hotel New Grand had the idea of creating a spaghetti meal that would look good in a top-class hotel, so he switched out the ketchup from this dish in favor of tomato-flavored sauce instead. The exquisite combination of chewy spaghetti noodles and the specially created sauce was how "Spaghetti Neapolitan" came to be.

"The Cafe", a restaurant in Hotel New Grand still serves the rich and tasty "Spaghetti Neapolitan (1,800 yen, tax excluded)" to this day. This dish has captured the taste buds of many throughout history and made Neapolitan addicts out of them all!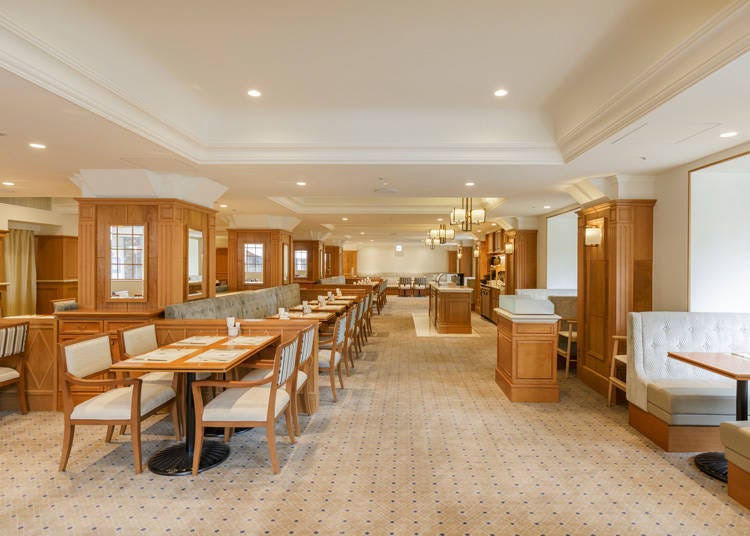 ザ・カフェ

Address

1F Hotel New Grand main building, 10 Yamashita-cho, Naka-ku, Yokohama-shi, Kanagawa-ken

Hours: 10:00 a.m. – 9:30 p.m. (last order 9:00 p.m.)
Closed: Open daily
Sightseeing Spot 4: Romantic night views of Yokohama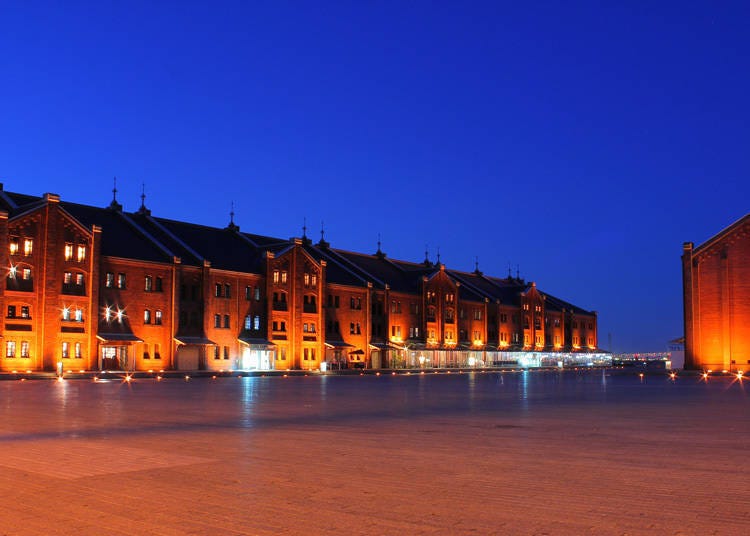 One of Yokohama's nicknames is "The City of Night Views" because of the abundance of beautiful scenes at night here that are perfect for a romantic evening out.

The Yokohama Red Brick Warehouse that was built between the end of the Meiji Era and the start of the Taisho era is, as its name suggests, an entire street of neatly lined up warehouses built with red bricks. The insides of these warehouses have been converted to shops selling general wares or trendy cafes. There's plenty of good food to be had at any of the restaurants here, so feel free to drop by at any time you like for a meal or two! On weekends, the outside area is often packed with energetic youngsters gathering together for one of the many events being held. The warehouses are also illuminated with warm-colored lights when night falls, enveloping the area in a fantasy-like atmosphere.
Address

1-1, Shinkou, Naka-ku, Yokohama-shi, Kanagawa, 231-0001
View Map

Nearest Station

Sakuragicho Station (JR Negishi Line / Line 3 (Yokohama Blue Line))


Phone Number

045-211-1515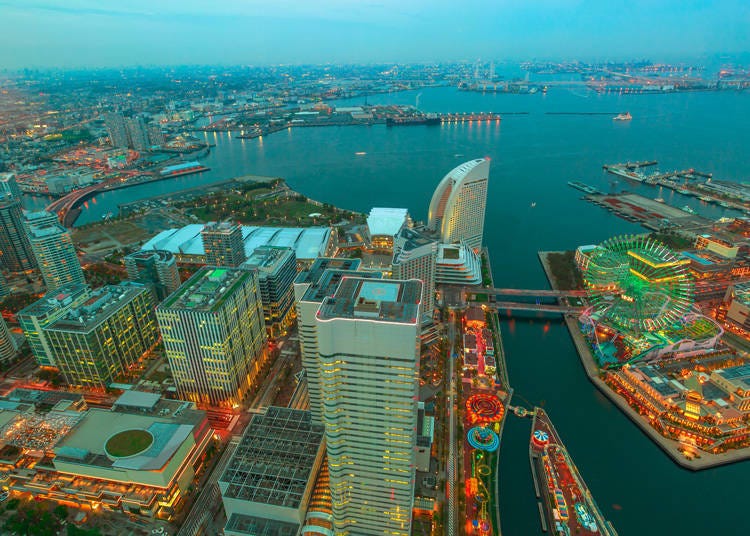 Yokohama Landmark Tower, one of the most recognizable buildings of the city is where you can enjoy a 360 degrees panoramic view of Yokohama at night from the Sky Garden observatory, located 296 meters (about 971 feet) above sea level. As the city lights glitter beneath you on a bedarkened canvass for as far as the eye can see, you may feel as if you've been transported into another world altogether. The Ferris wheel of the amusement park is a landmark that is especially impressive even at this height. This'll be a great place to take a commemorative shot of your visit to Yokohama for sure!
Address

2-2-1, Minatomirai, Nishi-ku, Yokohama-shi, Kanagawa, 220-8172
View Map

Nearest Station

Sakuragicho Station (JR Negishi Line / Line 3 (Yokohama Blue Line))
5 minutes on foot


Phone Number

045-222-5015
Written by Yusuke Ito. English translation by Huimin Pan.
*This information is from the time of this article's publication.
*Prices and options mentioned are subject to change.
*Unless stated otherwise, all prices include tax.
Limited time offer: 10% discount coupons available now!