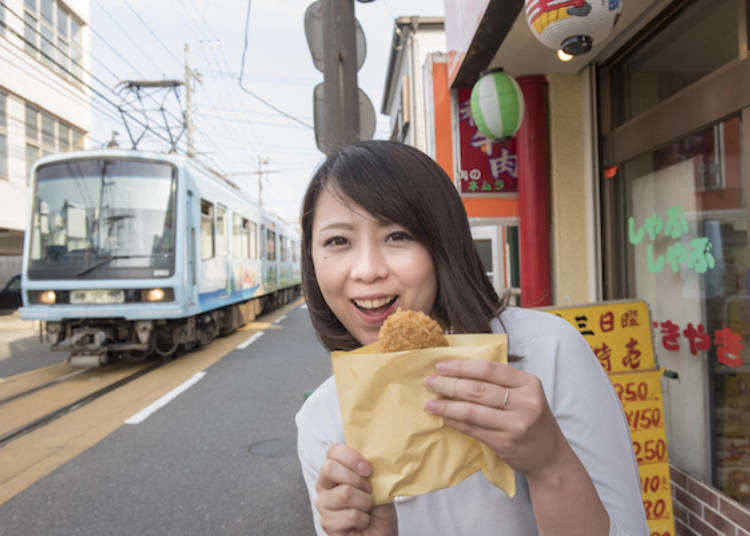 Hi there! My name is Atsumi, and one of my favorite things to do is introduce railways throughout Japan.

This time I combined a trip along the Enoshima Electric Railway with some walking tours recommended by a consultant, Mr. Toshiyuki, who joined me along with photographer Yoichi Yoshinaga, who is famous for taking aerial photographs of railways.
Enjoying a leisurely rest before our trip!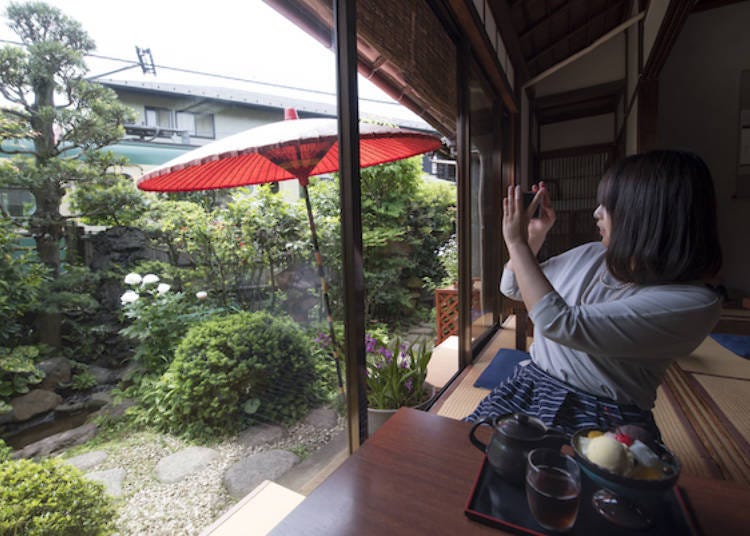 Today we will be visiting the following:
1. A Japanese style ice fruit café next to the railroad tracks
2. Enjoy seeing the trains from a European style cafe
3. Try Enoshima Island's famous Enoden Monaka
4. Be thrilled by the sight of trains passing through the streets
1. Mushinan: Japanese style ice fruit café next to the railroad tracks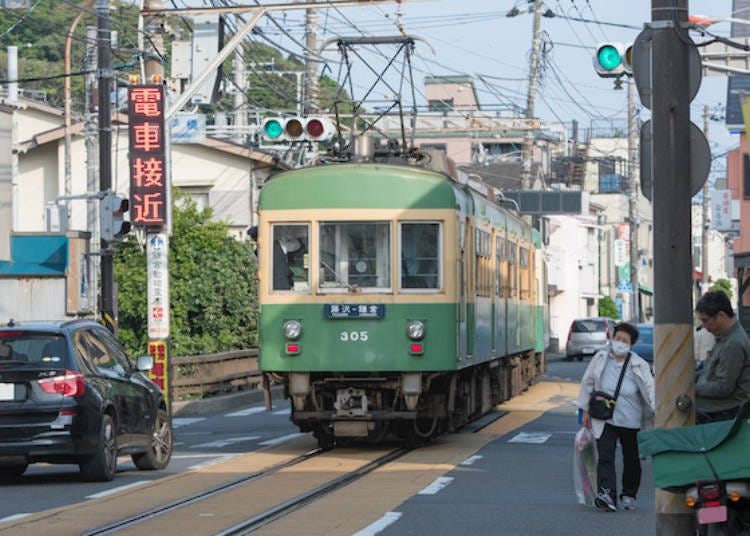 I was hoping to see something special, like a train on the street
Do you look for special sights using social media? I often go to social networks like Facebook, Twitter, Instagram, etc., to see beautiful scenery, delicious food, interesting scenery and more. And I can't help but upload my own photos to share with many people. So this time, I also want to take a walk and find attractive trainspotting places which I can upload!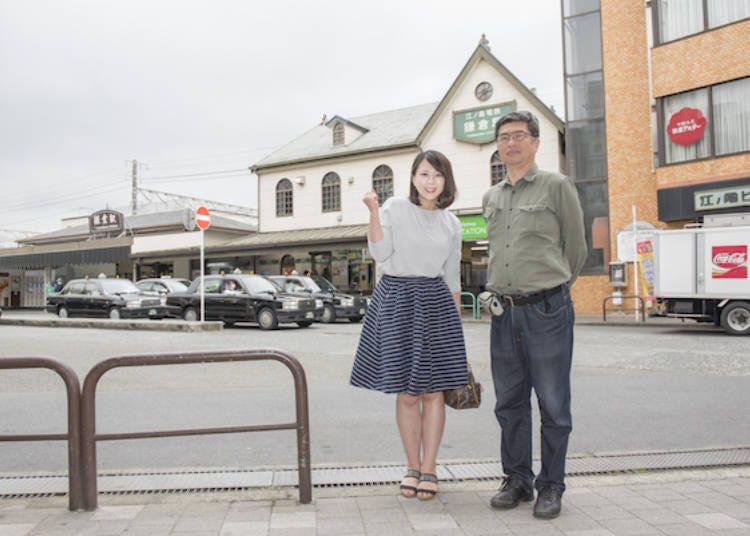 Let's start from Kamakura Station!

Located in the Shonan area of Kanagawa Prefecture, Enoshima is connected to Kamakura Station and Fujisawa Station. It is a fun train trip full of local flavor. It has been a very popular route along the line through many famous sightseeing spots such as the Kamakura Buddha.
Pick up a 1-day ticket: "NORIORIKUN"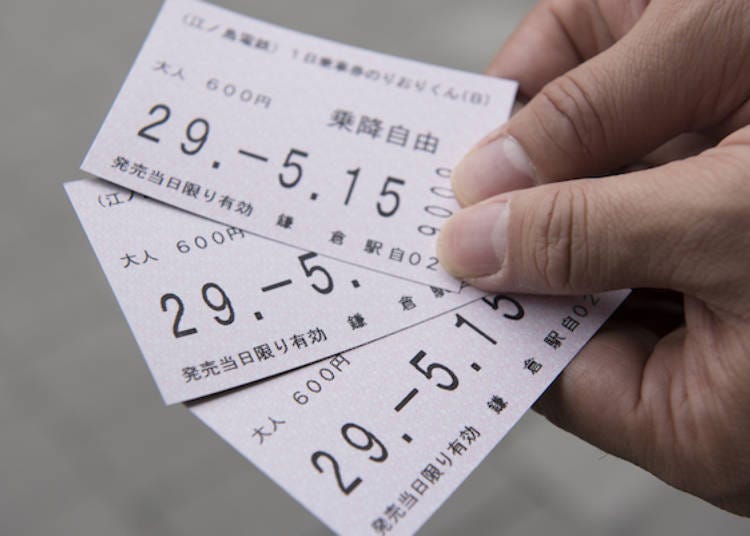 1-day "NORIORIKUN" tickets can be purchased at ticket vending machines
If you take the JR Yokosuka Line from Tokyo Station you can arrive at Kamakura in about an hour. First, remember to purchase the 1-day ticket "NORIORIKUN" (600 yen), so that you can take unlimited rides on the train plus enjoy nearby sightseeing facilities and food. The discounts for shops, cafes, etc., are really cost-effective!

1-day ticket "NORIORIKUN"
Price: 600 yen for adults and 300 yen for children
Sold at: Ticket vending machine at Enoshima Electric Railway Station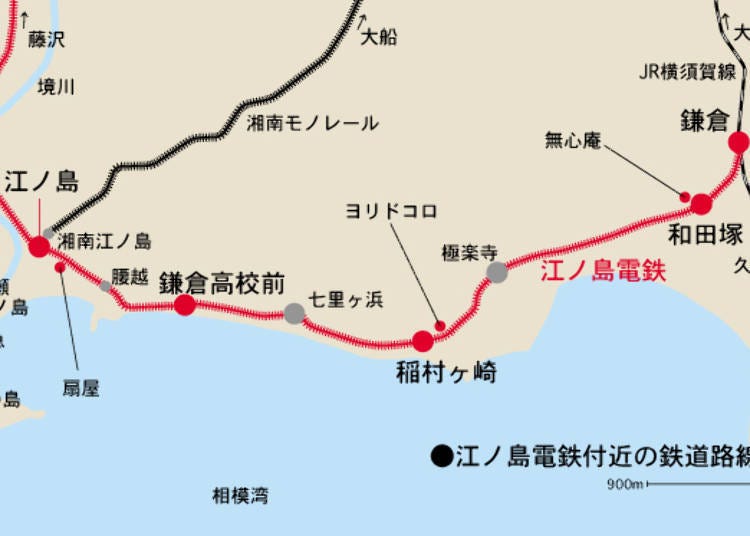 Enoshima Electric Railway - shortened to "Enoden" - is extremely popular. Although we are here on a weekday, we still see a lot of tourists along the way. If you visit on the weekend, then the station has long queues and is full of people!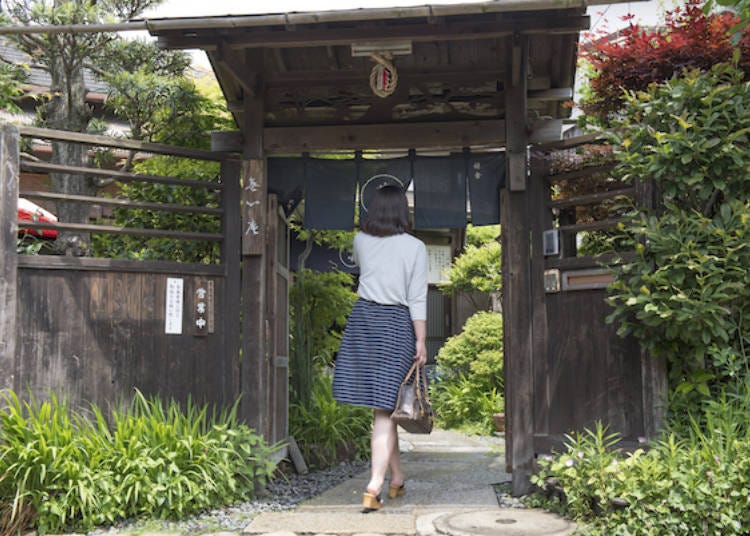 I saw Mushinan when I came out of Wadazuka Station
Wadazuka Station is the next stop after Kamakura, and can be found immediately upon exiting the station. Railway fans tend to stop by here when visiting this railway.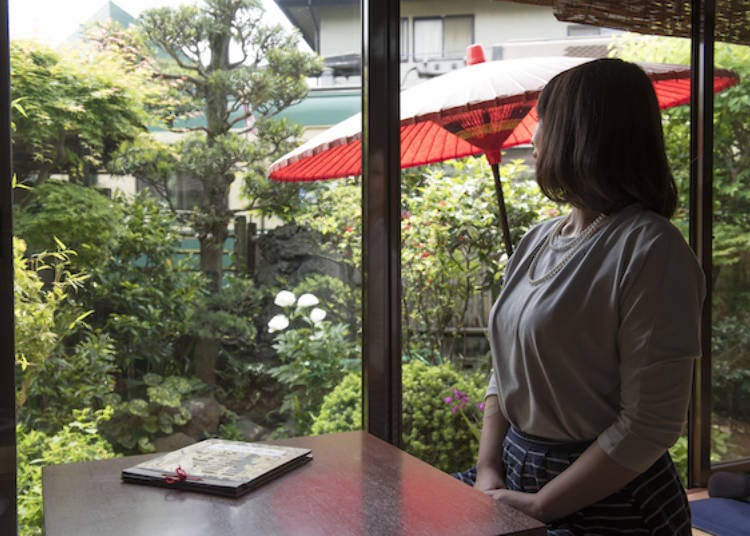 I could see the Enoshima Electric train moving past
This café is one of the must-see spots of this area, with beautiful courtyards filled with seasonal flowers, as well as the café's great atmosphere and light food.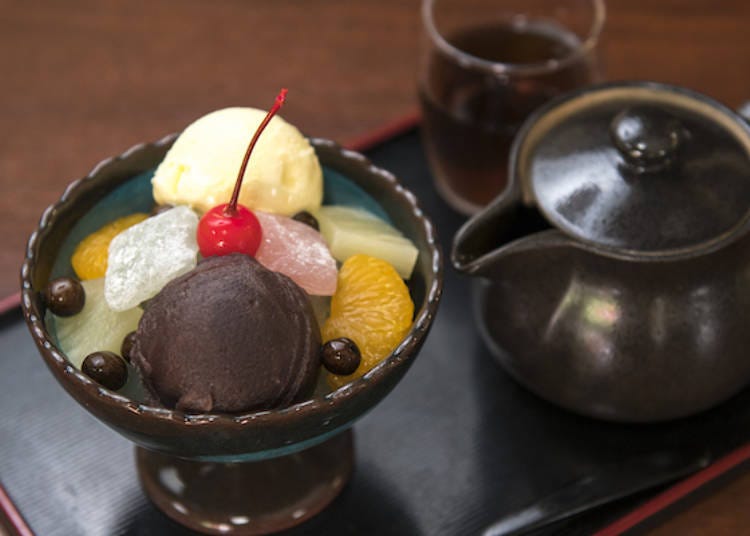 Red bean and honey fruit ice cream (800 yen)
Their signature red bean and honey desserts come with a cup of tea.

Atsumi: "Toshiyuki, you seem to love this sweet! How does it taste?
Toshiyuki: "The sweetness is very delicate and the café has a great atmosphere."
Yoshinaga: "It looks great, so I can't help but take a few photos."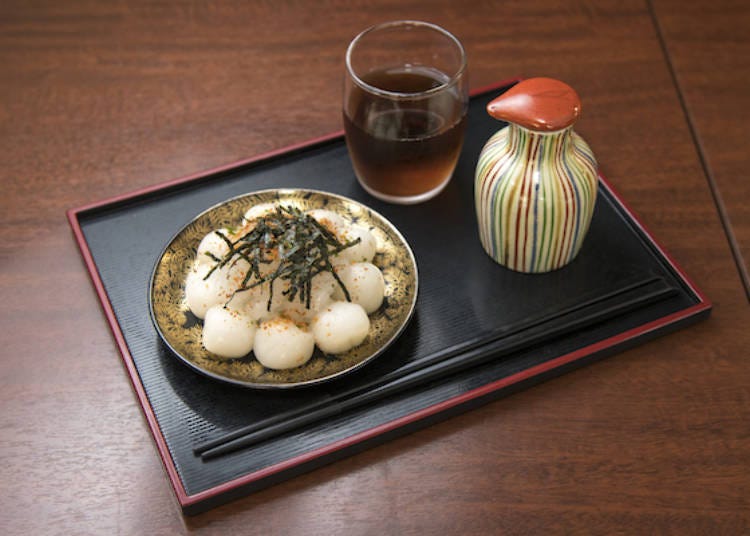 Seven-flavored soy sauce rice dumplings (700 yen)
I don't have a sweet tooth, so I ordered seven-flavored soy sauce rice dumplings, which seem very special! The rice dumplings are served with a sweet and salty soy sauce with a white radish puree.

Atsumi: "I think this photo definitely has to be posted online!"
Tsuchiya: "I really like this photo".
Yoshiniga: "It is a good photo to remember this dish by".
Atsumi: "I like the picture of the red bean and, plus the beautiful background, which is a big point".
Tsuchiya "Really, it looks so good".
Atsumi "Artistic conception when taking pictures is very important!"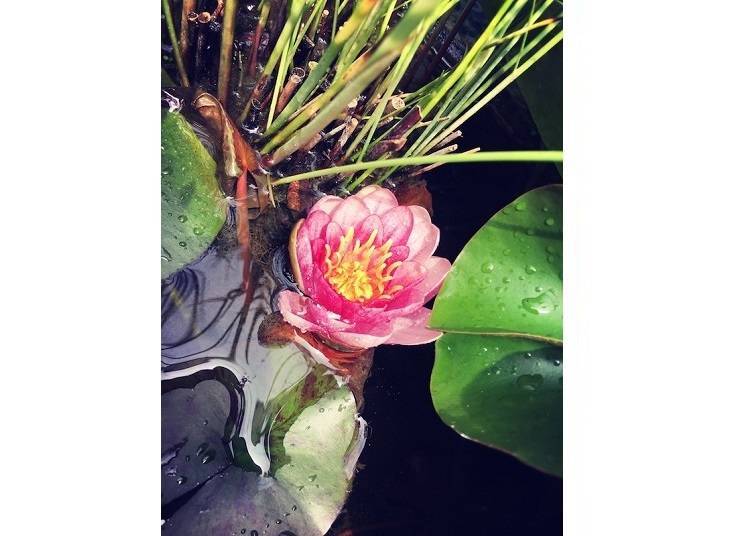 Blooming water lotus in the garden
It is also fun to see the seasonal plants and flowers in the garden.
無心庵

Address

3-2-13, Yuigahama, Kamakura, Kanagawa

Hours: 10:00~17:00
Closed: Thursday (if it is a holiday, it will be open as usual)
2. Yoridokoro: Enjoy seeing the trains from a European style cafe!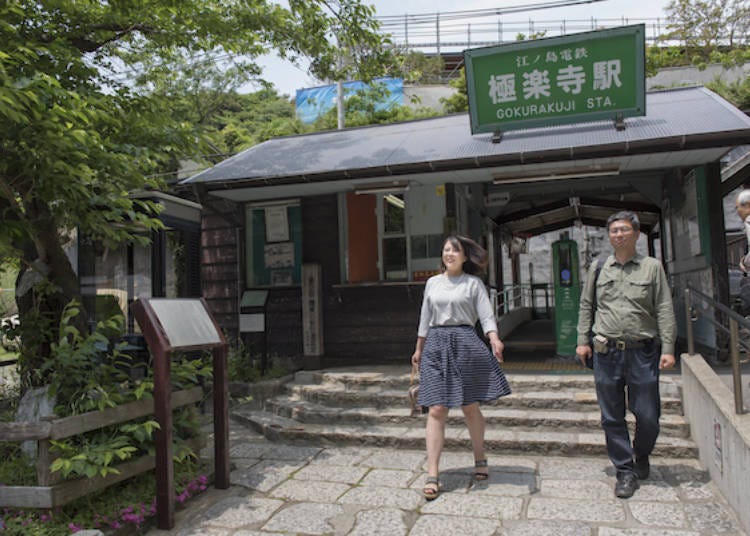 Stomachs a little full we head off back to the train. Each stop is quite close to each other, and in the vicinity of each station there are many beautiful cafes and cafes along the roads. So, it is also recommended that you walk around when you can!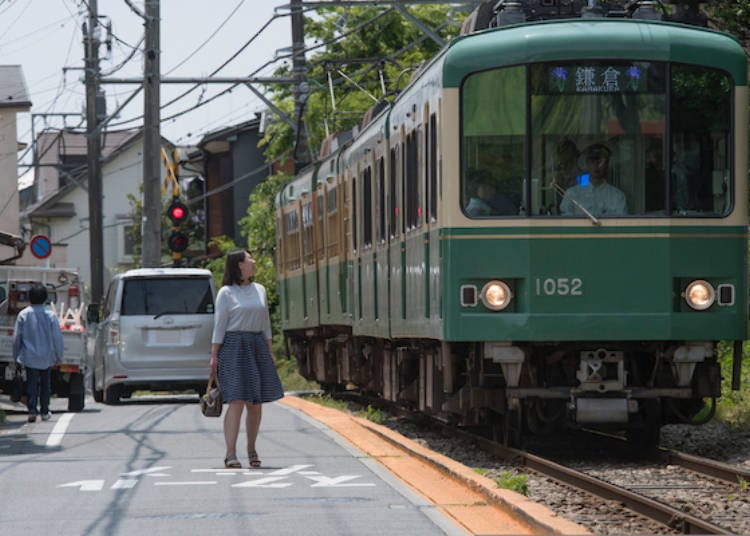 Enoden trains are on the street within touching distance, so pay attention to your own safety when walking around. From time to time, the train passes by, this feeling is super fresh!
The advantage of the one-day ticket that we bought is that when we want to get out and walk we have the freedom to get off and on the train as much as we want.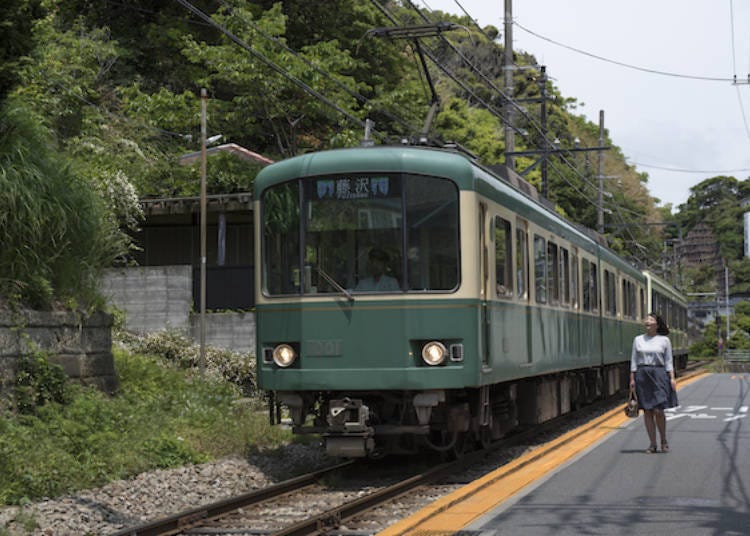 Even a small train seems so big
Walking alongside the train is quite a special experience.
Handwritten Yoridokoro cafe signboard – written with white chalk on a blackboard
I thought the cafe sign was quite good and couldn't resist taking a photo. I didn't expect that it is also a café, and it is also selling different products.
The train passes right by the terrace
Yoridokoro Cafe is right next to the Enoden, and serves up a special 500 yen breakfast, which is not only delicious but also reasonably priced. They also offer a variety of different dishes.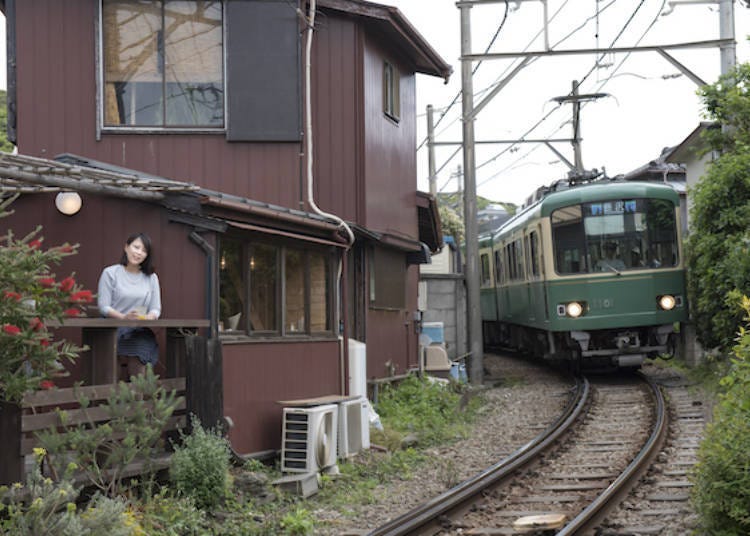 Sitting in the terrace, watching the trains whizzing past!
I decided to sit on the terrace, which gives front row seats to the trains passing by. I felt that the layout of this cafe was perfect for taking good photos!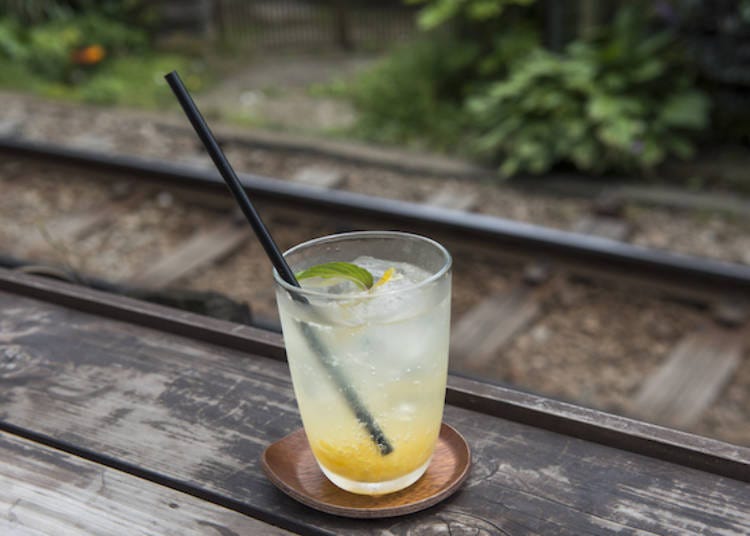 Inamuragasaki Soda (580 yen)
I ordered the cafe's original drink Inamuragasaki Soda, using their own handmade grapefruit jam, it was very light and refreshing. It felt good to be sitting outside. I Immediately pick up my camera and have a look to see what I can take a photo of.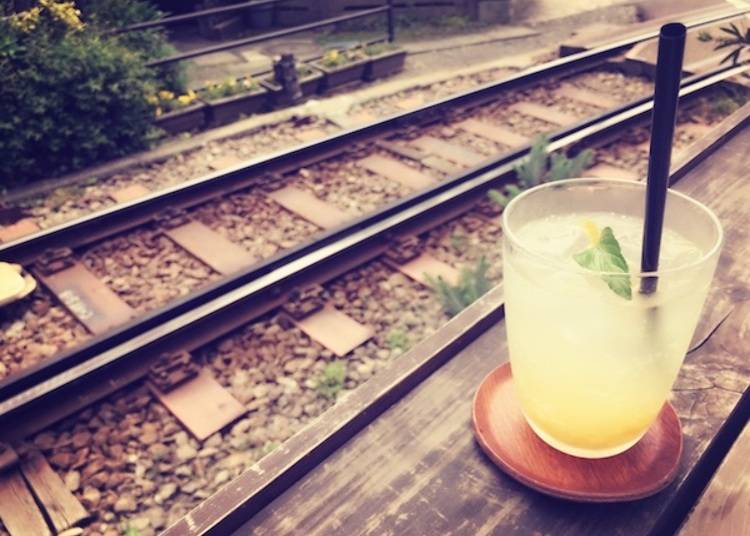 I uploaded this one
I liked the combination of railway track and drink, it is interesting. I uploaded it, but I wonder how people will react.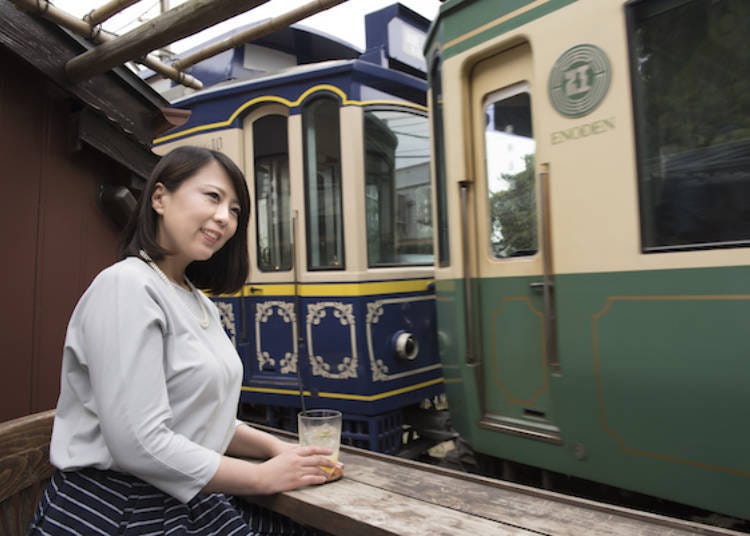 A lot of trains pass by so there are lots of opportunities to take photos
I think it's rare to take a photo with a train from this angle. I had to take a picture. The close distance was too exciting!
ヨリドコロ

Address

1-12-16, Miyazaki, Kamakura, Kanagawa

Hours: 7:00~9:00, 11:00~18:00
Closed: No fixed holidays
3. Ogiya: Try Enoshima Island's famous Enoden Monaka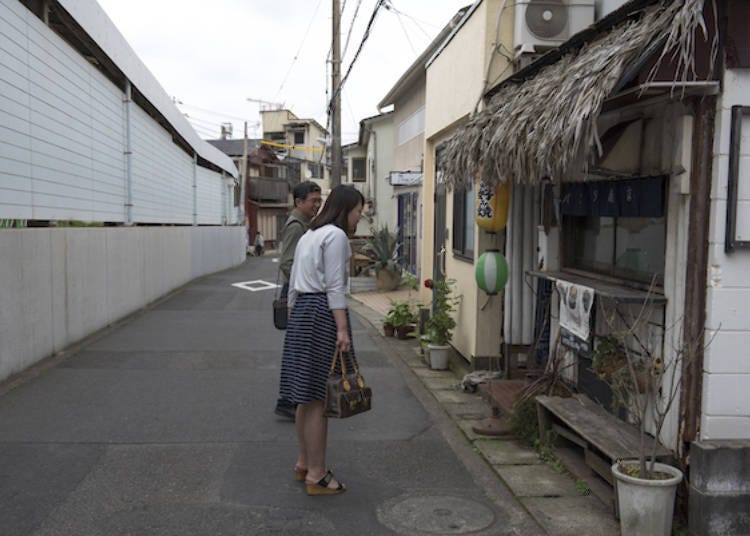 Walking to the station from Yoridokoro I saw several interesting shops.

Atsumi: "It seems like this shop isn't open".
Tsuchiya: "The Osaka Dotonbori restaurant?"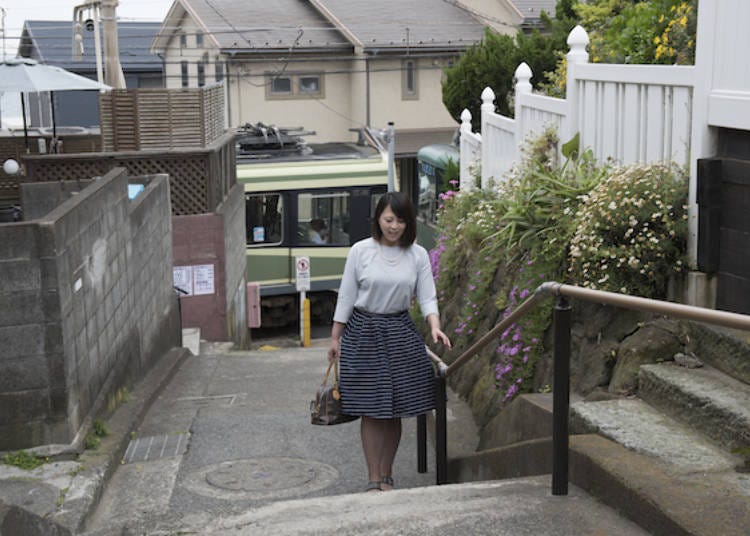 There are many walking paths
Sometimes you can try walking away from the railway track to see what you can find, there are always famous stores and cafes waiting to be found.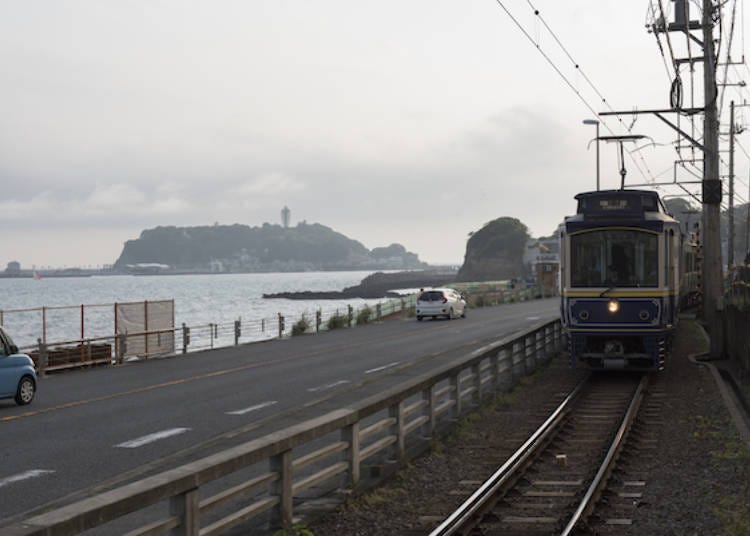 On this section of our route we can see Enoshima Island behind the railway tracks
Along here you can get off at different stops and enjoy the walk towards Enoshima Island. This section runs along the coast, so there are beautiful views – and don't forget to take photos from the train windows!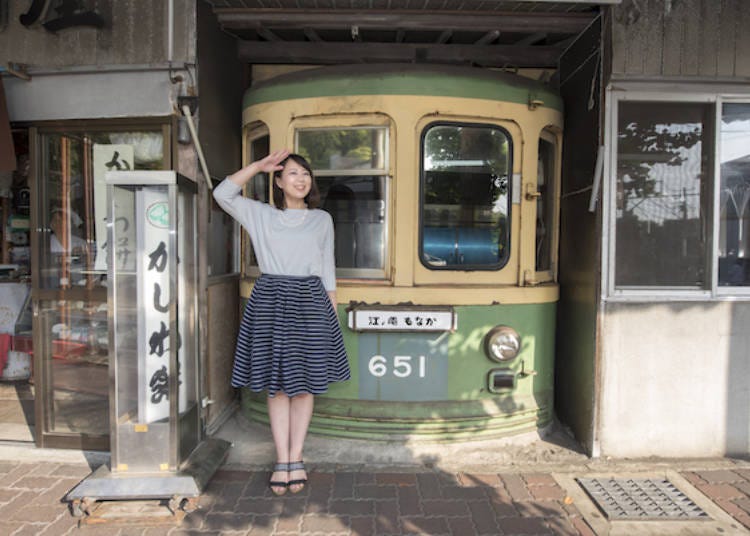 About 3 minutes' walk from Enoshima Station, you can see a store with an actual Enoshima Electric Railway train by the door. After taking this photo we went inside.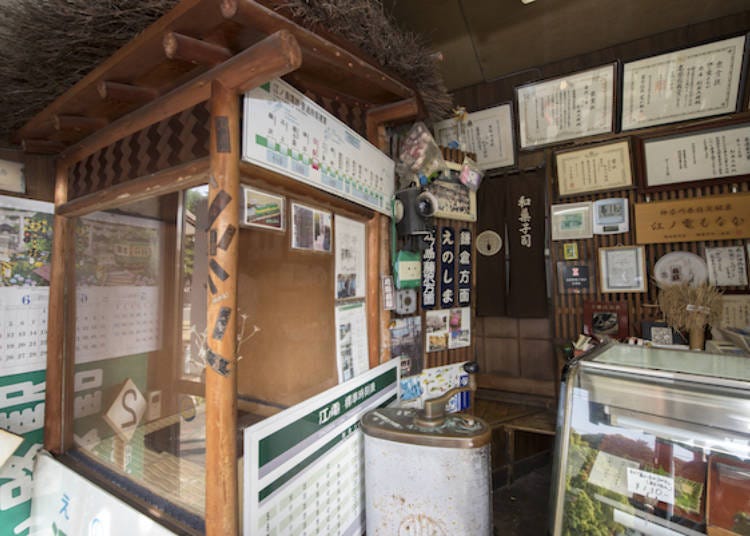 The store is full of timetables and station signs, all of which are authentic
The small shop is full of various train parts and station signs and other items. This is the "fan house" for the Enoshima Electric Railway.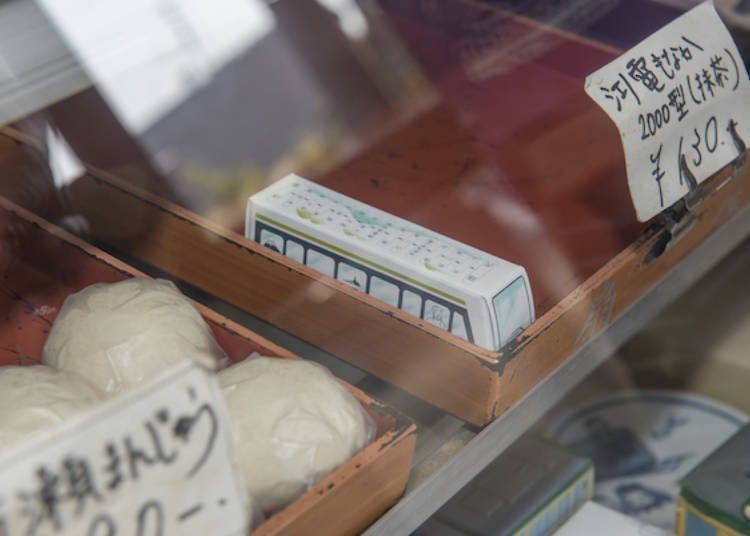 Enoden Monaka – in the shape of a Enoshima Electric Railway train. This is a new 2000 shapes matcha flavor (130 yen)
In addition to buying Enoden Monaka, there are a variety of Japanese style sweets and fruits.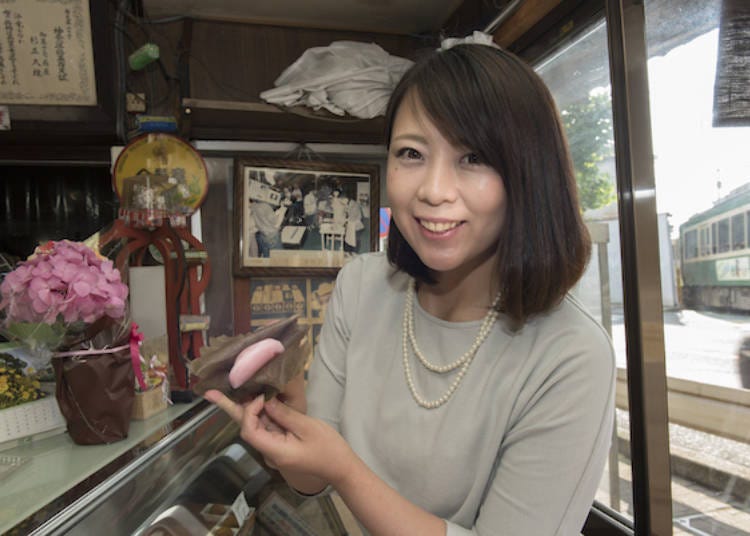 Kashiwamochi (130 yen)
I thought that this is a great chance to try this food, so I bought and immediate ate it. It is a traditional Japanese mochi sweet dating back to the Edo period. It was so delicious.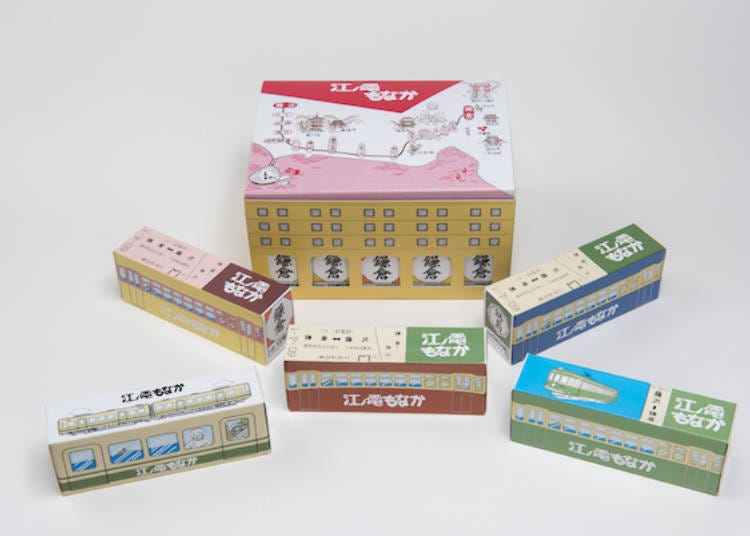 Enoden Monaka (10 pieces for 1,300 yen)
As a good souvenir gift you can buy the Enoden Monaka 10 piece set, which includes a combination of flavors, each in a small box in the shape of a train The five flavors are sesame filling, plum filling, grapefruit filling, chocolate filling and a special Enoden Monaka filling, it is a very popular combination, and every day it is sold out by the evening.

Enoden Monaka is a great sweet, with a simple taste. The empty box can be used to play games, maybe for some people it brings back childhood memories!?
扇屋

Address

1-6-7 Katasekaigan, Fujisawa, Kanagawa 251-0035

Hours: 9:00~17:00
Closed: No fixed holidays
4. Be thrilled by the sight of trains passing through the streets!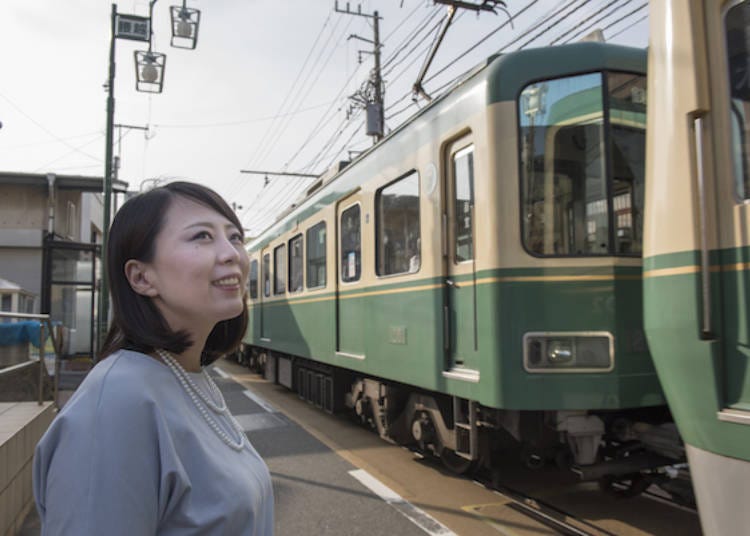 Some sections of the track pass right by walkers
After buying the gift we got back on the train and headed home towards Kamakura. Though, before we did not we saw the train coming past on the road from Enoshima Island, it was the perfect chance for a photo.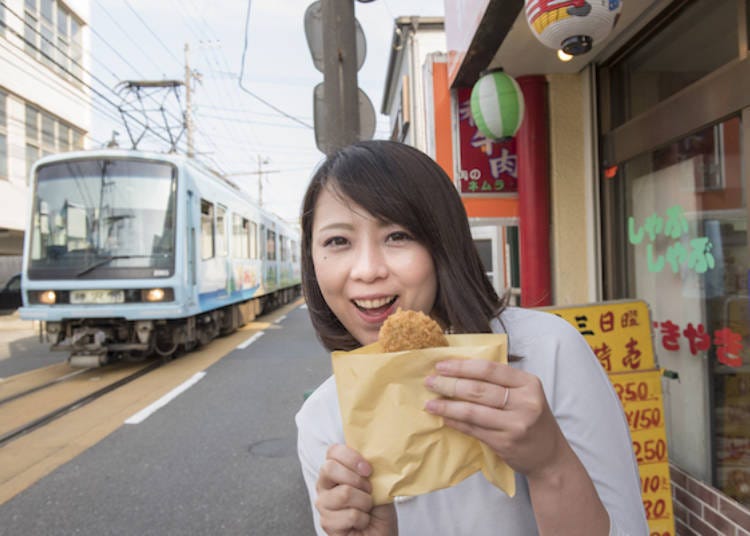 Enjoy a snack while watching the train!
After all the sweets that I ate I wanted something more salty. I walked around and found a shop that looked good. There is a butcher in the area called NMURA, and their ground beef deep fried ball was only 70 yen.
The Enoden Nostalgic Train
We continue to walk after eating such a perfect snack. Although I can't take perfect photos like a professional photographer, I can take a good photo and adjust it a little with a few effects!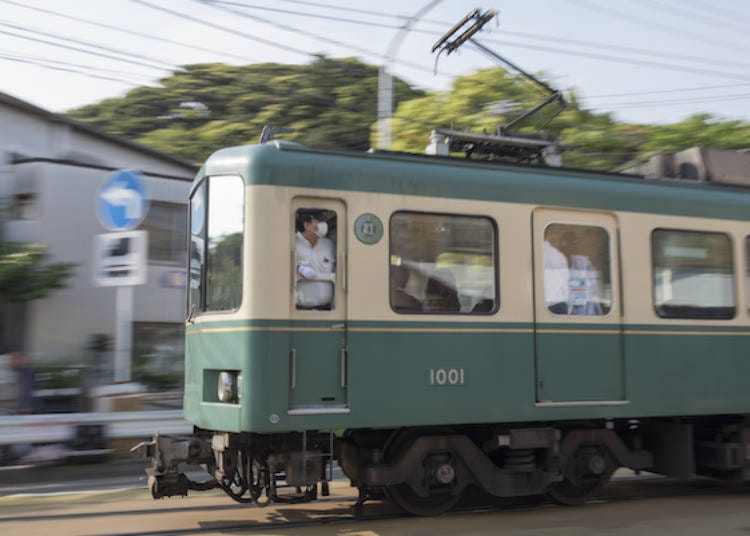 This is a professional photo taken by Yoshinaga! He used a panning technique to take this dynamic photo
The last stop of the Enoshima Electric Railway is of course at a super famous attraction: Kamakura University Station – we have really gone a long way today, and eaten a lot of food, we should be full (laugh)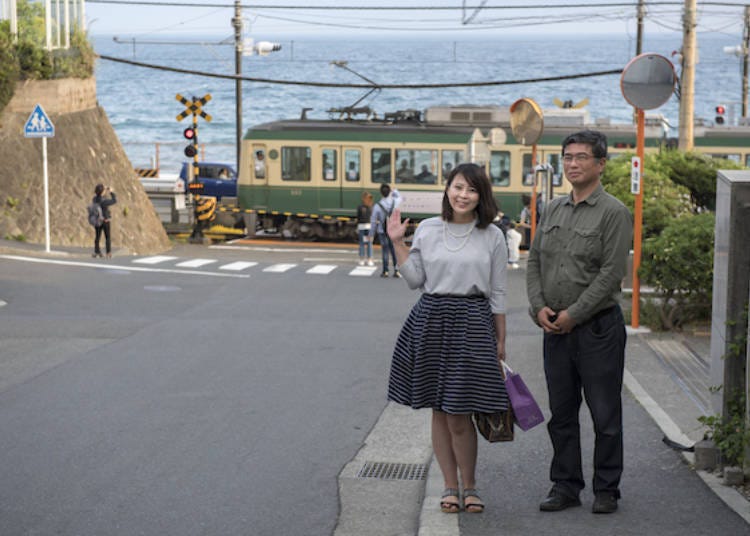 A level crossing near Kamakura Highschool – which is famous!
This crossing, and road, is famous for being recreated in a scene of the anime Slam Dunk. Many fans come here just to take a photo, it seems to be popular with visitors from overseas too as they can be seen taking photos as well!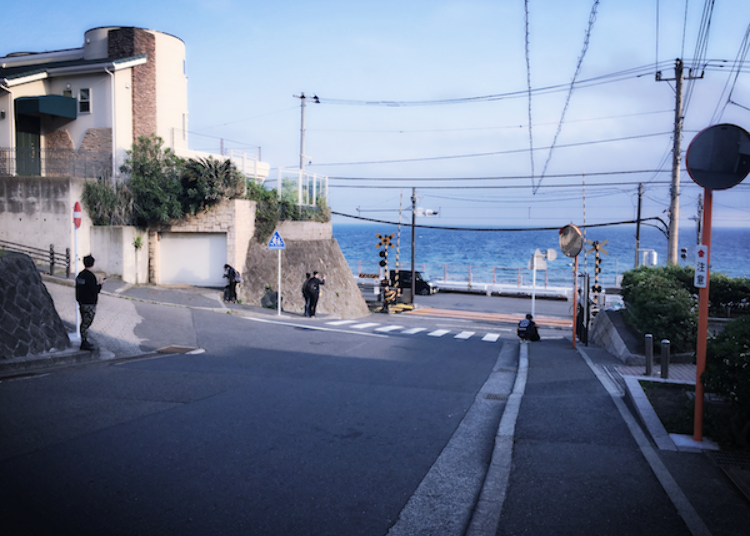 A remarkable sightseeing spot
This was also my last photo of the day, I thought it was worthy of being uploaded too!

Tsuchiya: "Are you happy with the photos you took?"
Atsumi: "Absolutely. I was so happy with this rail line".
Tsuchiya: "I always enjoy walking along the rail tracks and seeing the trains. It suits the Enoden perfectly.
Atsumi: "And of course there are many stores along the way that girls will love!"

The amazing and interesting Enoden walk, take a look at the trains, and take some great photos which won't disappoint!

Written by: Atsumi
*This information is from the time of this article's publication.
*Prices and options mentioned are subject to change.
*Unless stated otherwise, all prices include tax.
Search for International flights