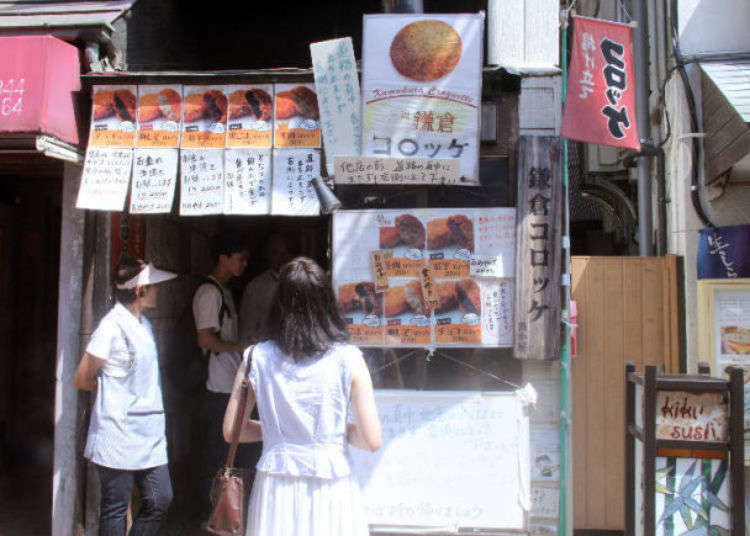 Kamakura is an ancient, scenic town south of Tokyo. It's just a 1-hour train ride away from the Japanese capital and thus a popular and well-beloved day trip destination for Tokyoites and tourists alike. In ancient times, Kamakura was once the capital of Japan itself and much of the old, distinguished atmosphere is still strongly palpable, offering an authentic glimpse into the country's rich history and culture.

From Kamakura Station runs a special little train called the Enoshima Electric Railway, affectionately called Enoden in short. Its scenic, roughly 10-kilometer long route winds through the beautiful Kamakura and Shonan area. The adorable retro train of 2 to 4 cars take you along the beautiful coast, through historic townscapes, and along magnificent temples and shrines – indeed, the Kamakura area is so charming, it has been a set for many a movie and drama.

Our extensive Enoden tour starts at Kamakura Station, which is also the start of the retro line. We kick off our Kamakura sightseeing adventure day with trying our way through the delicious snacks and sweets offered on the way to the famous Tsurugaoka Hachimangu Shrine before exploring the historic building itself.
1) Kamakura's Favorite Croquette: Sweet Potato or Chocolate?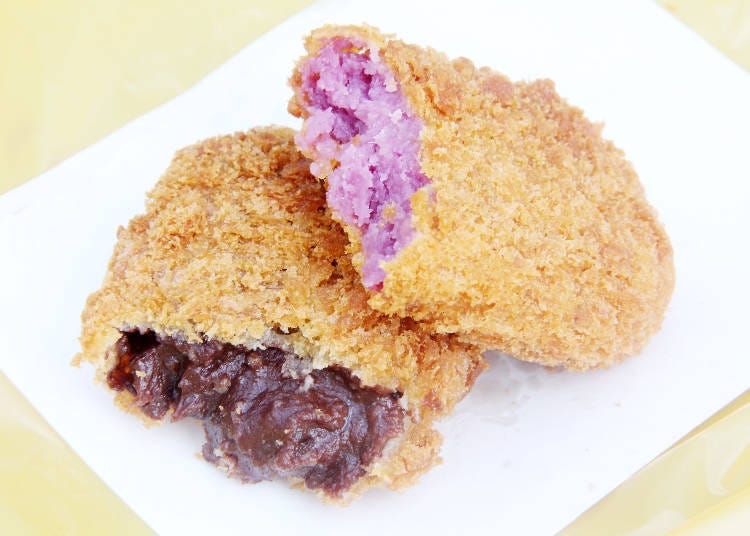 Croquettes filled with chocolate and purple sweet potato.
The first stop on our gourmet walk to Tsurugaoka Hachimangu is a shop called Torigoya. It specializes in "korokke," Japan's delicious versions of croquettes. Freshly made, the aroma of these fried delicacies will draw your steps to the store all by itself. The croquette is one of Japan's favorite snacks and Torigoya offers it with a variety of fillings, including beef, black sesame, and umeshiso (Japanese plums and perilla).

Our favorite undoubtedly is the chocolate croquette. Its crispiness goes so excellently well with the sweet, mellow filling inside, we just can't stop eating! They're in pairs if you want to take them back home or solo if you want to eat them right here and there (which we strongly recommend)! One croquette can be enjoyed for 200 yen.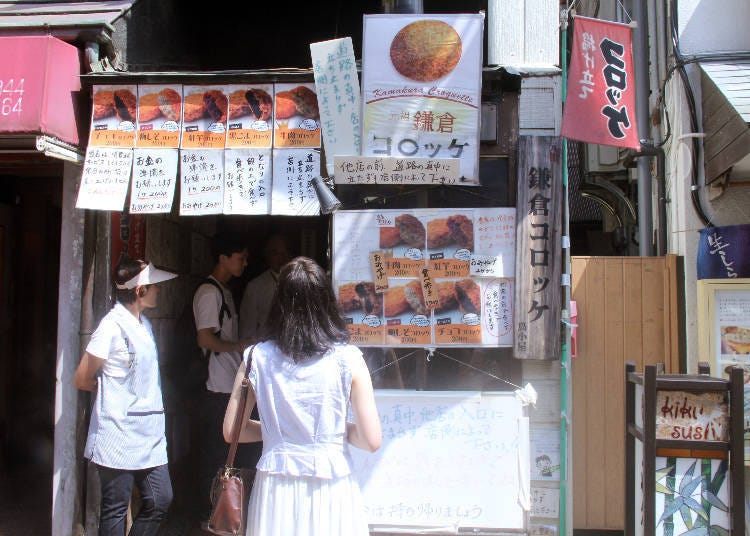 The shop's exterior. There's no eat-in space.
Hours: 11:00 a.m. – 11:00 p.m.
Closed: Thursdays
Access: Kamakura Station (Enoden, JR), 3 minutes on foot
Ganso Kamakura Croquette Torigoya

元祖鎌倉コロッケ 鳥小屋

Address

2-10-4 Komachi, Kamakura, Kanagawa Prefecture, 248-0006
2) Sushi in a Cup: Creative Delicacies at Hannari Inari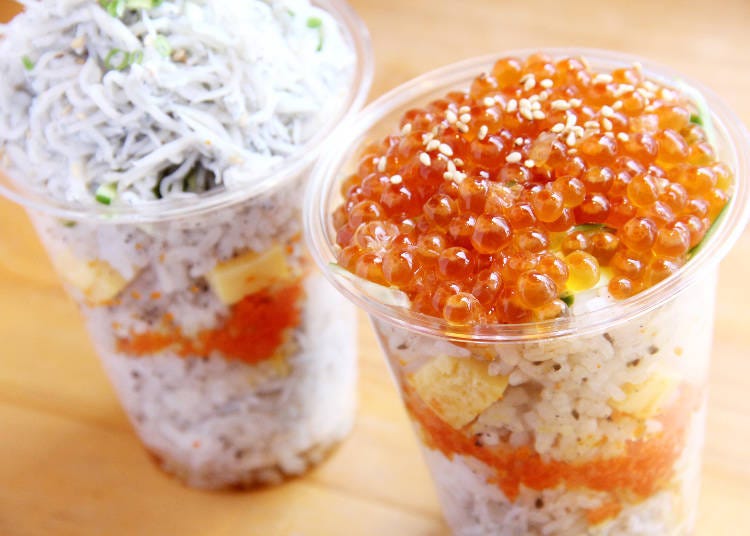 Straight-from-the-pot young sardines (shirasu) and salmon roe (ikura) sushi in a cup! Both shirasu (left) and ikura (right) can be had for 810 yen.
Next up: sushi with a twist at Hannari Inari! This creative shop sells sushi specialties in a cup, the perfect way to enjoy the traditional Japanese delicacy while exploring the town of Kamakura. While the novelty sushi cup should definitely be on your must-try list, we also want you to savor Hannari Inari's well-beloved classic: the inari roll. Look forward to a roll of fried tofu made from 100% domestic soybeans, enhanced with flavorful black sesame. If you look for a treat to snack on while walking around, go for the "Hannari Inari Roll" for 250 yen. It's a snack of miso-flavored burdock that is both healthy and delicious!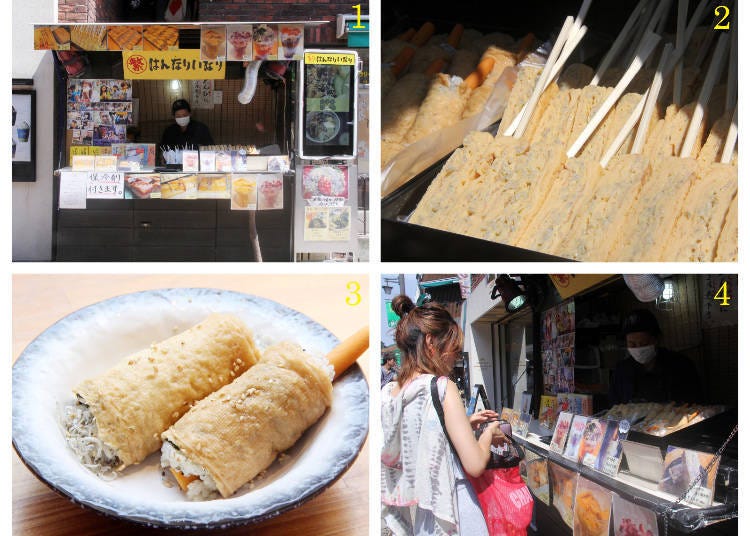 1) the shop's exterior 2) Shonan Shirasu Fried Egg Skewer 3) the Hannari Inari Roll with shirasu (left) and burdock (right) 4) a happy customer
Hours: 10:00 a.m. – 6:00 p.m. (the eat-in space on the 2nd floor is open from 11:00 p.m. to 5:00 p.m.)
Closed: Thursdays
Access: Kamakura Station (Enoden, JR), 4 minutes on foot
Hannari Inari Komachidori Shop

はんなりいなり小町本店

Address

2-9-7 Komachi, Kamakura, Kanagawa Prefecture, 248-0006
3) Amazing Dango – Welcome to Kamakura's Dumpling Wonderland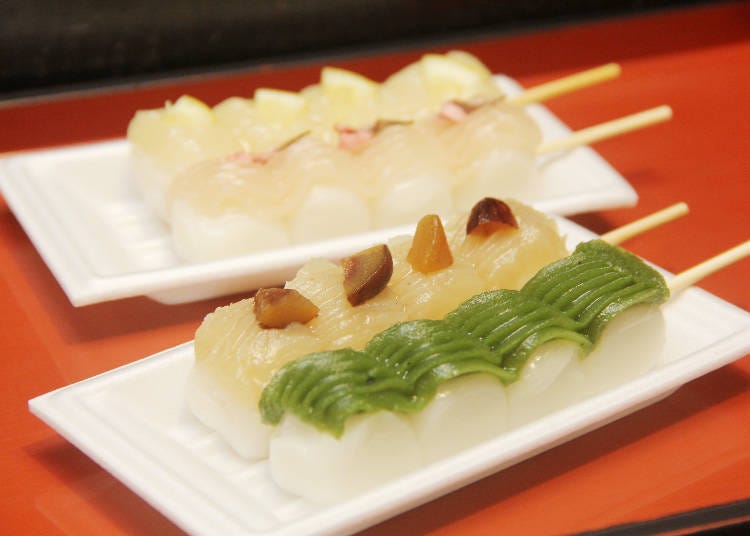 Creative dumplings (from the front) matcha paste, chestnut paste, cherry paste, and honey lemon paste. 180 yen each.
Let's visit Wasabo Kamakura next for an extra-sweet and very Japanese dessert: dango, or rice cake dumplings. Usually, dango are enjoyed as "mitarashi" with a sweet soy sauce glaze (120 yen) or "shoyu," meaning grilled and soaked in soy sauce (130 yen). Both classics can be enjoyed at Wasabo, but what the shop is famous for is its many creative dango toppings. Especially the seasonal varieties are especially delicious, making use of in-season fruits such as strawberries, apricots, plums, and peaches.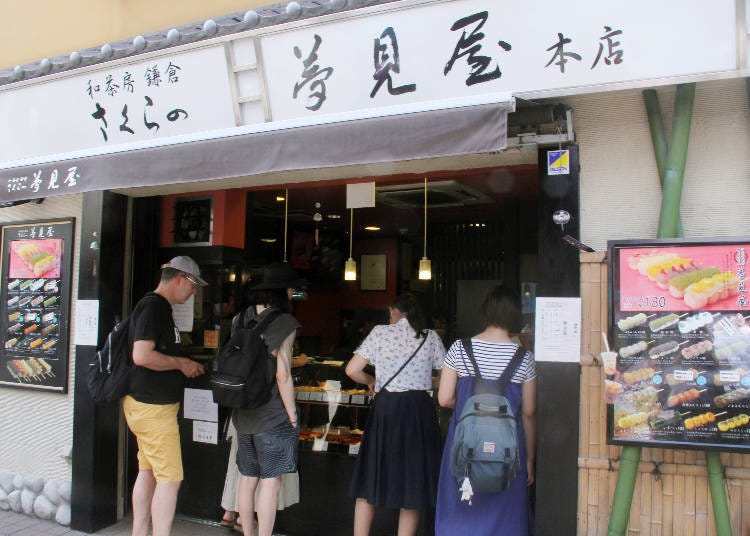 店内には立ち食いできる小さなイートインスペースがある
Hours: 10:00 a.m. – 6:00 p.m.
Thursdays: 10:00 a.m. – 6:30 p.m.
Saturdays, Sundays, and national holidays: 10:30 a.m. – 6:00 p.m.
Closed: always open
Access: Kamakura Station (Enoden, JR), 5 minutes on foot
Wasabou Kamakura Sakuranoyumemiya Komachi Dori Honten

和茶房 鎌倉 さくらの夢見屋 小町通り本店

Address

2-7-34 Komachi, Kamakura, Kanagawa Prefecture, 248-0006
4) Sweet Soft Serve: Finding True Love with Ice Cream?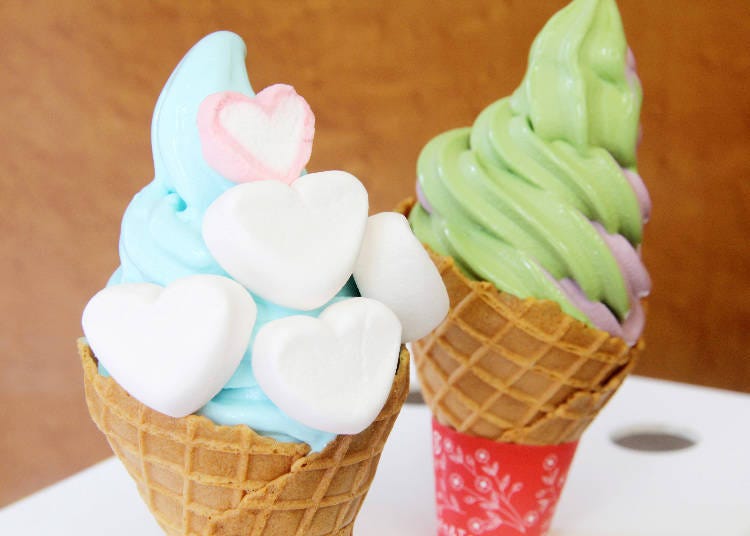 Heart Marshmallow Soft Serve (left) and Hydrangea Soft Serve (right)
Sticking to sweets for now, we head over to a shop called Imoyoshiyakata. It specializes in sweet potato, selling various snacks, sweets, and even croquettes and soft serve as take-out delights. The soft serve varieties are especially delicious, including flavors such as purple sweet potato, matcha, strawberry, ramune, and more – eight in total.

The most kamakura-tastic flavor to try is the mix of hydrangea and matcha for 350 yen. For an extra 30 yen, you'll get your soft serve in a crunchy wafer cone! What we especially urge you to try is the "Heart Marshmallow Soft Serve" for 430 yen. Pick your favorite flavor and have it decorated with yummy little marshmallow hearts – this cone is even said to up your luck in love and relationships!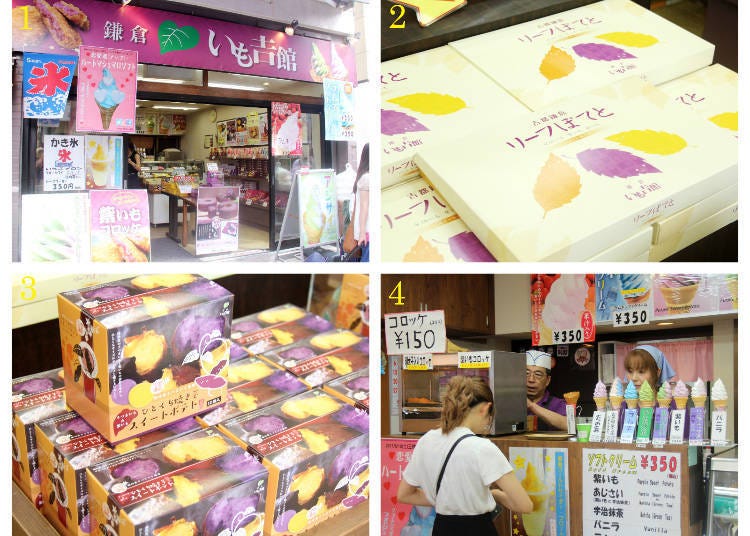 1) The exterior of the store 2) "Leaf Potato," the shop's most popular souvenir 3) 6 pieces for 1,000 yen 4) the soft serve counter inside the store
Hours: 10:00 a.m. – 6:00 p.m. (varies by season and weather)
Closed: always open
Access: Kamakura Station (Enoden, JR), 5 minutes on foot
Imoyoshiyakata Komachidoriten

いも吉館 小町通り店

Address

2-8-4 Komachi, Kamakura, Kanagawa Prefecture, 248-0006
5) Crispy Shrimp: Try Tenmusu, Onigiri Filled with Shrimp Tempura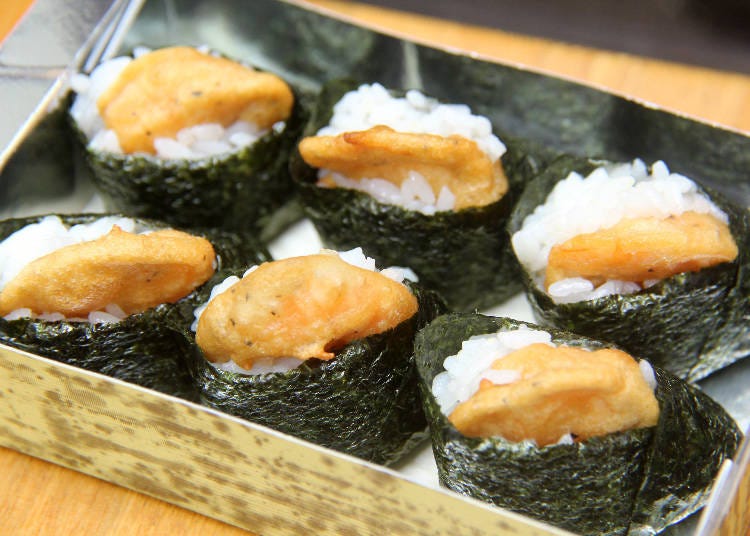 天むすテイクアウト用6個入り600円
The location of our next stop may be fairly inconspicuous, but Kamakura Haikaramusubi Tenmusuya has a large following of fans. It specializes in tenmusu, classic Japanese rice balls filled with crisply fried shrimp. Much of the almost otherworldly deliciousness of this savory snack can be attributed to the ingredients.

The rice comes from Gifu Prefecture and is called "hatsushimo," a variety that is said to be tasty even when cold, while the nori, the dried seaweed used for wrapping the rice ball, come straight from a long-established specialty store in Yokohama. The best part is, of course, the shrimp that is wrapped in fried dough – this is a secret recipe, however. We recommend the tenmusu set for 700 yen, which consists of five pieces of the bite-sized snack and is served with tofu and miso soup.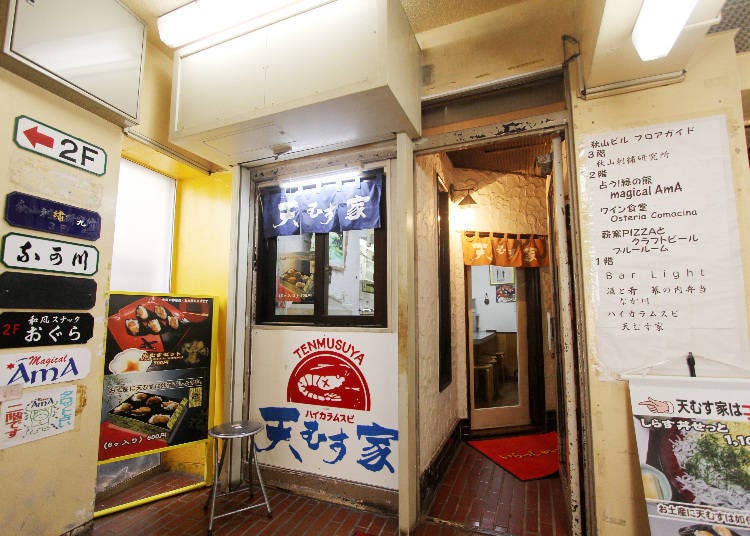 The shop is located in a narrow passage on the first floor of a multi-purpose building.
Hours: 11:00 a.m. – 6:00 p.m.
Closed: Mondays
Access: Kamakura Station (Enoden, JR), 6 minutes on foot
Kamakura Haikaramusubi Tenmusuya

鎌倉ハイカラムスビ 天むす家

Address

1F Akiyama Building, 2-8-9 Komachi, Kamakura, Kanagawa Prefecture, 248-0006
6) Imbiss Kamakura: a Savory Snack of Sausage and Beer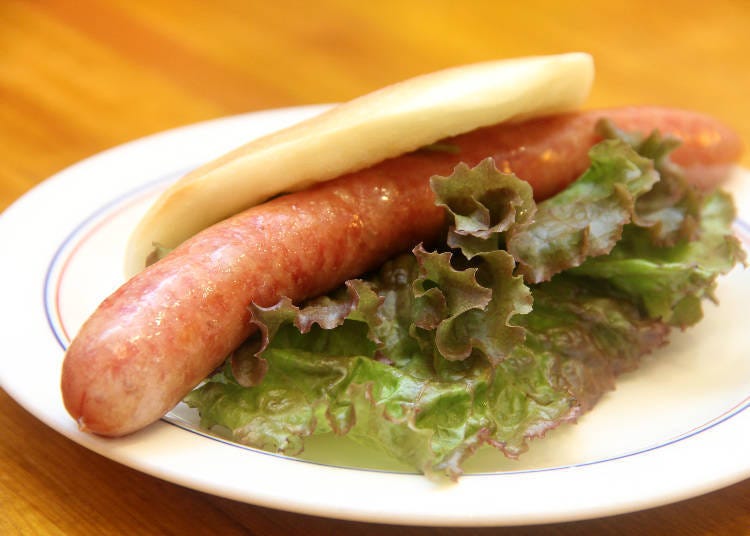 A sandwich with smoked sausage for 480 yen.
Imbiss Kamakura is a sausage and hot dog specialty store. Its owner learned their craft in Germany, thus you can look forward to great-tasting sausage delights! All of them are produced by the eatery itself and, costing between 350 yen and 380 yen, are very reasonably priced.

Smoked sausage, sausage with cheese inside, and spicy chorizo are only some of the sausage specialties that can be savored at Imbiss Kamakura. We recommend to take a little break and order a set of one sausage and one beer to sit down in the store and enjoy a few minutes of laid-back snacking to recharge your energies.

If you prefer to walk while eating, why not order one of the sausage sandwiches from 450 yen? Our favorite is the "double dog" for 480 yen – a plain and a smoked sausage in a fluffy sandwich!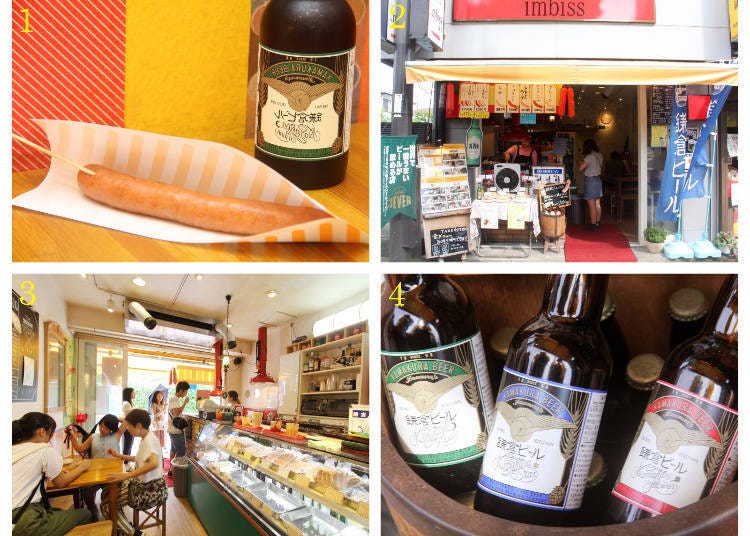 1) The "one sausage, one beer" set for 1050 yen 2) the outside of the store 3) the lcozy eat-in space 3) three types of Kamakura beer are available for 750 yen per bottle
Hours: 10:00 a.m. – 6:00 p.m. (varies by season and weather)
Closed: always open
Access: Kamakura Station (Enoden, JR), 8 minutes on foot
インビス鎌倉

Address

1-8-14 Yukinoshita, Kamakura, Kanagawa Prefecture, 248-0006
Tsurugaoka Hachimangu Shrine: Kamakura's Most Magnificent Shrine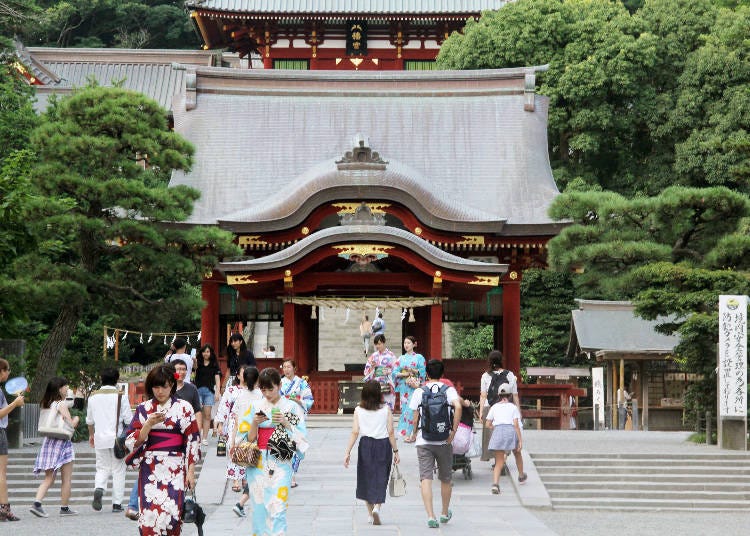 The shrine's stage called "maiden" and the main building in the background, seen from the shrine approach.
The Tsurugaoka Hachimangu Shrine, Kamakura's most important Shinto shrine, is closely tied to the founder of the Kamakura shogunate (1185 – 1333), Minamoto no Yoritomo. The shrine enjoys a large number of visitors from all over Japan and abroad, acts as a cultural and historic center of Kamakura, and is even said to bless worshipers with prosperity and luck for their families.

It all began in 1063 when Yoritomo's ancestor, Minamoto no Yoriyoshi, prayed for success in battle – and ultimately won – at Iwashimizu Hachimangu in today's city of Yawata, near Kyoto. Following that, he erected a fairly small shrine dedicated to the same deity. Today called Yui Wakamiya, this tiny shrine is the original Hachiman-gu as it stands in Kamakura today. In 1180, Minamoto no Yoritomo transferred the shrine to its current place, facilitating the rapid growth and development of Kamakura.

The vast shrine grounds feature various buildings designated as an important cultural asset of Japan, including the Junior Shrine called Wakamiya and the Senior Shrine called Hongu. Natural sights are also abundant and lush, from the Genpei Ponds to the beautiful cherry blossoms in spring. Take your time to explore the calm area and its enigmatic atmosphere, there's a lot to discover.

All kinds of festivals take place throughout the year, with the two highlights being the Kamakura Festival in April and the Yabusame (horseback Archery) Festival in September.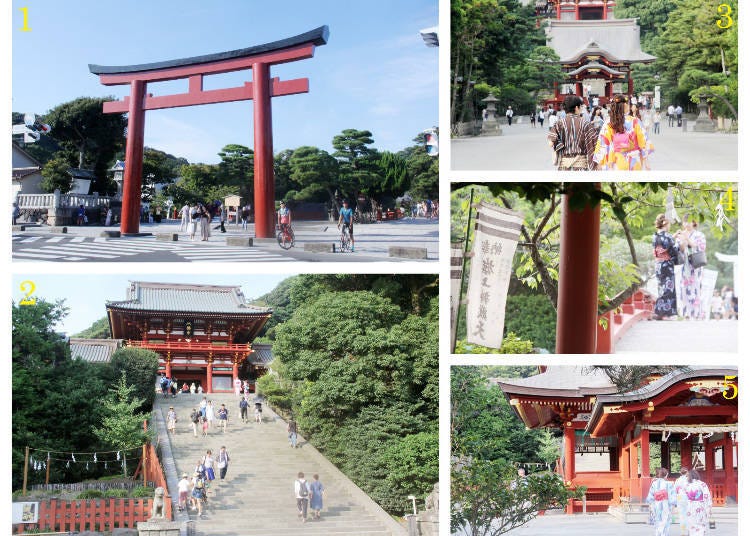 1) The big torii at the entrance of the shrine premises 2) the main shrine and its stone stair approach 3) the shrine approach 4) the bridge leading to the sub-shrine called Hataage Benzaiten Shrine 5) the maiden, or court music pavilion
Admission: free worship
Hours: 6:00 a.m. – 8:30 p.m.
Closed: always open
Access: Kamakura Station (Enoden, JR), 10 minutes on foot
Address

2-1-31, Yukinoshita, Kamakura-shi, Kanagawa, 248-8588
View Map

Nearest Station

Kamakura Station (JR Yokosuka Line / JR Shonan Shinjuku Line / Enoshima Electric Railway Line)
10 minutes on foot


Phone Number

0467-22-0315
7) Kamakura-Yaki, the City's Own Sweet Snack Specialty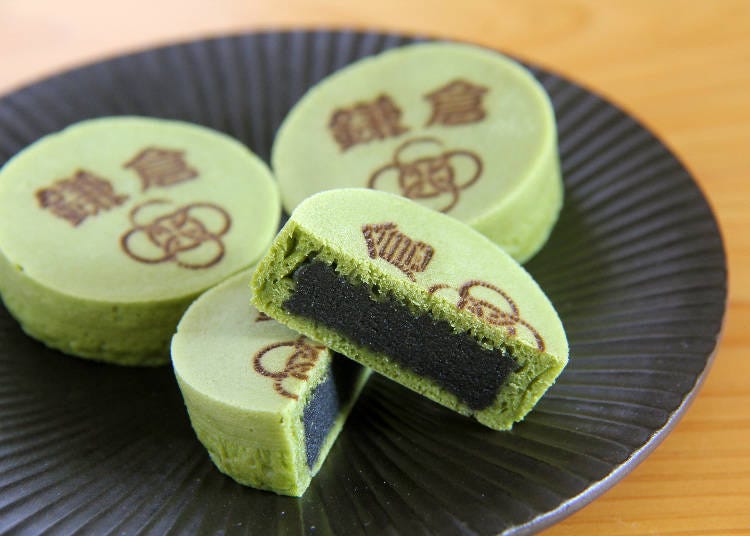 Kamakura-yaki. One for 60 yen, box of 10 for 640 yen.
If you're looking for the perfect Kamakura-themed souvenir, head over to a shop called arbre noir after exploring Tsurugaoka Hachimangu Shrine. Arbre noir Yakumi is a shop that is famous for a confectioner called Kamakura-yaki. This bite-sized, sweet snack has everything you'd want from an authentically Japanese souvenir.

It is made from domestic eggs and wheat kneaded into a delicious dough which is then infused with Uji matcha. This tasty mixture is filled with a paste of locally produced black sesame. The soft, juicy texture and the rich taste of sesame and green tea is an amazing combination!

By visiting the shop, you'll even be able to witness the baking of these famous Kamakura treats for yourself, as they're made right at arbre noir Yakumi behind a glass wall. On top of that, why not get some authentically Japanese condiments, such as yuzu pepper, leek pepper, and food boiled down in soy sauce called tsukudani. Why not get a condiment gift set from 2,152 yen?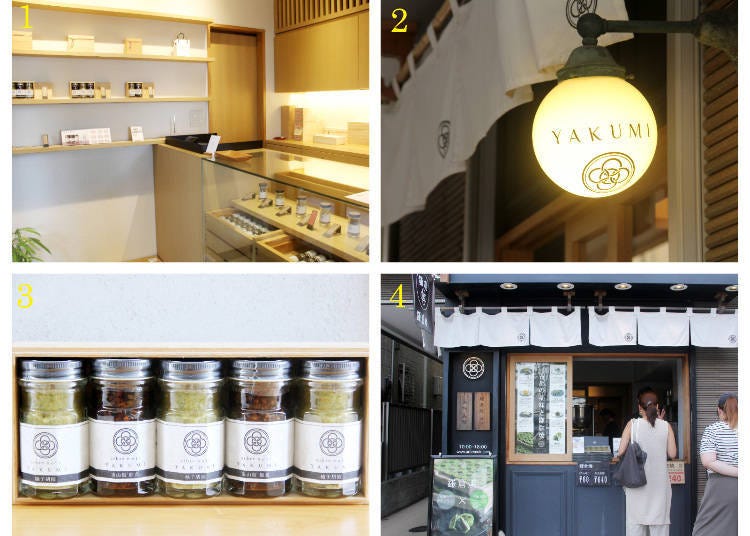 1) The sales counter of arbre noir 2) tasteful lights with the shop's logo 3) a box of five condiments for 4,948 yen 4) the Kamakura-yaki take-out counter facing the street
Hours: 10:00 a.m. – 6:00 p.m.
Closed: always open
Access: Kamakura Station (Enoden, JR), 8 minutes on foot
アルブルノワール ヤクミ

Address

1-8-39 Yukinoshita, Kamakura, Kanagawa Prefecture, 248-0006
8) Waffle 21: Kamakura Sweets Show Their Modern, Playful Side!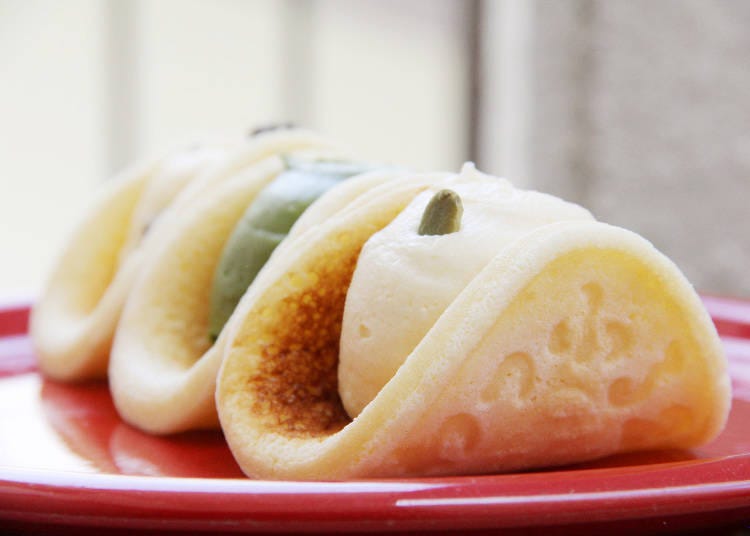 From the front: cheese fresh, cream fresh, marble fresh.
From tradition to modernity: let's head over to Waffle 21, a fun shop serving exquisitely delicious fresh waffles with a refreshing filling of whipped cream and custard. While most of the shop's little delicacies are bought to be enjoyed for take-out, why not sit down in the shop's little eat-in space and rest your feet for a moment?

The waffles' yummy fillings come in various flavors, including one of our absolute favorites called azuki fresh. It is made with sweet, full-bodied sweet red beans directly imported from Hokkaido and gives you a real "mix of modern and traditional" kind of kick! Another must-try is the matcha fresh, featuring Kyoto's famous Uji green tea, as well as the refreshing and cool lemon custard. No matter which flavor you choose, all waffles can be enjoyed for 280 yen per serving.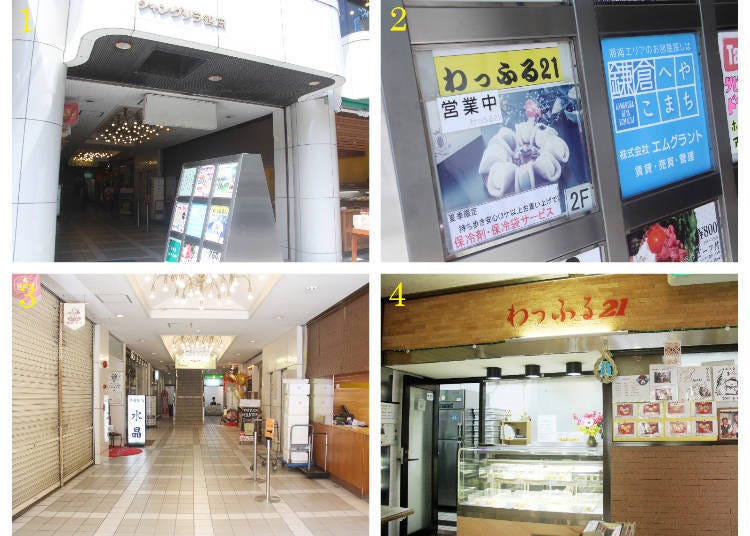 Enter the building at the broad street called Wakamiya Oji. Check for a signboard saying "Waffle 21" in Japanese – look for the 21 and the picture! Head up the stairs at the end of the corridor. The shop will be right in front of you.
Hours: 11:00 a.m. – 5:00 p.m.
10:00 a.m. – 6:00 p.m. on Saturdays, Sundays, and national holidays
Closed: Mondays
Access: Kamakura Station (Enoden, JR), 7 minutes on foot
わっふる21

Address

2F Shangri-la Tsurugaoka, 1-9-29 Yukinoshita, Kamakura, Kanagawa Prefecture, 248-0006
9) Coquelicot's Crepes: Authentic French Crepes so Yummy, You'll be Craving for More!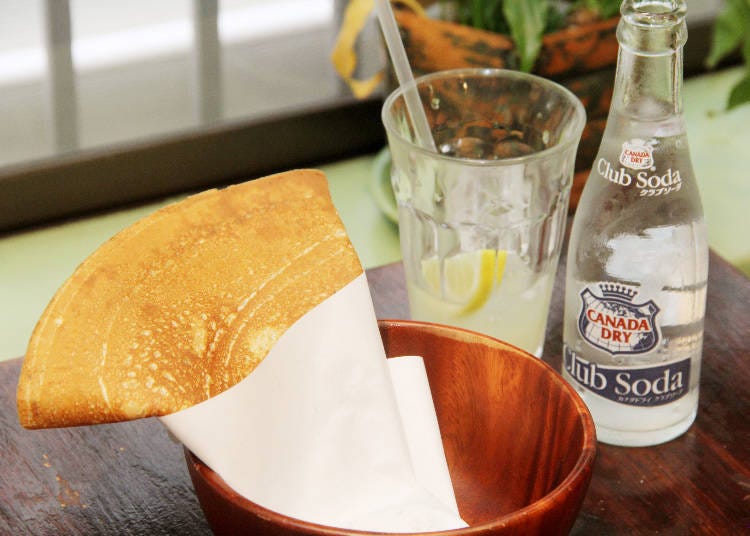 Yatai no Crepe (matcha sugar) and lemon squash for 350 yen.
Let's taste Japan's version of France's famous crepes at Kokuriko no Crepe, or "Coquelicot," a specialty store with a history of over 40 years. Ever since its founding in 1972, both locals and tourists have been entirely in love with the delicious, light pancake specialties served here. They're famous for being exquisitely crispy and of a fluffy lightness at the same time, making them a favorite go-to snack for many a fan. They come in all sorts of delightful flavors, including lemon sugar, cocoa sugar, and cinnamon sugar (300 yen each). There's even a "crepe for adults" that features sake, and savory varieties with ham, tuna, and other hearty toppings are also abundantly available.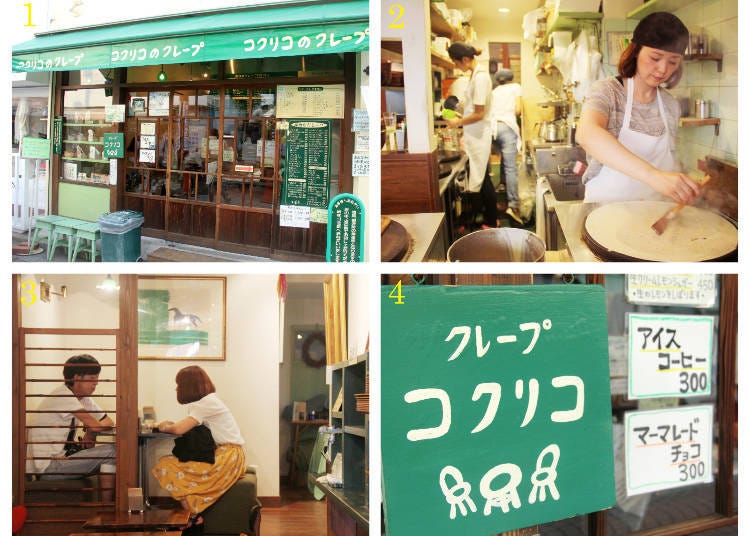 1) The shop's exterior 2) watch how crepes are made! 3) the cozy tables at the back of the store 4) the fun retro sign outside
Hours: 10:30 a.m. – 6:30 p.m.
Closed: Mondays
Access: Kamakura Station (Enoden, JR), 2 minutes on foot
コクリコ御成通り店

Address

10-6 Onari, Kamakura, Kanagawa Prefecture, 248-0012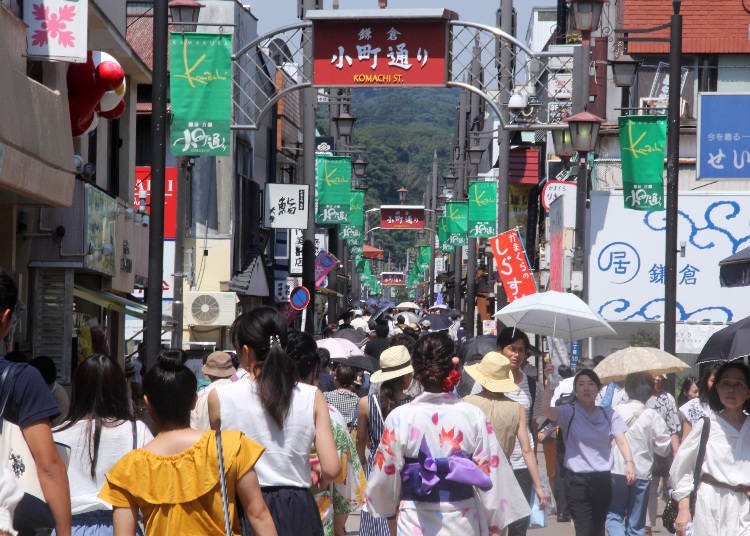 The lovely Komachi-dori Street.
The Sightseeing-While-Snacking Route Part 1: Kamakura Station → Komachi-dori Street → Tsurugaoka Hachimangu Shrine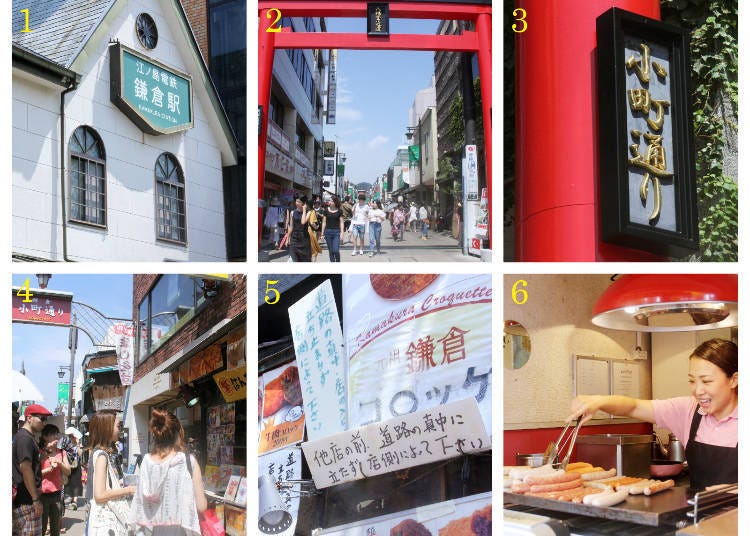 1) Enoden (Enoshima Electric Railway) Kamakura Station 2) the entrance of the Komachi-dori Street, including the torii gate 3) the characteristic street sign 4) Hannari Inari 5) Torigoya and its famous croquettes 6) at Imbiss Kamakura
The first part of our sightseeing-while-snacking tour through Kamakura has led us from Kamakura Station to Tsurugaoka Hachimangu, via the scenic Komachi-dori Street. The about 600-meter long street is one of Kamakura's most characteristic spots, filled with charming little shops, eateries, and take-outs. It runs almost parallel with the broad and majestic Wakamiya Oji street, which is the official approach to the large shrine.
The entrance to the little Komachi-dori Street is marked by a red gate called a torii and from there, simply head straight through a pedestrian paradise. Take your time to take in the atmosphere, explore all the little shops and stores, and feel free to stop here and there to try one delicacy or another. It's one of the most fun, authentic ways to get a real feel for the beat of Kamakura – leisurely and with something tasty to snack on!
The Sightseeing-While-Snacking Route Part 2: Tsurugaoka Hachimangu Shrine → Wakamiya Oji Street → Kamakura Station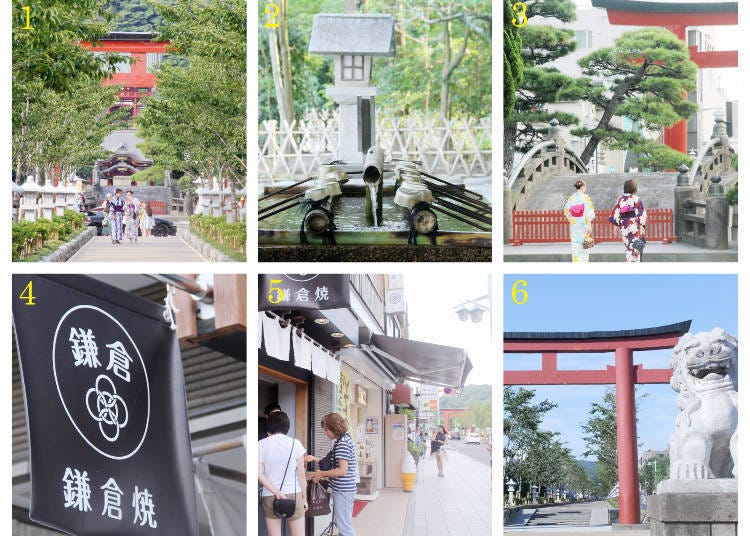 1) Stone lanterns at the shrine approach along Wakmiya Oji 2) A basin called "temizuya" at Tsurugaoka Hachimangu Shrine 3) The great bridge leading to and from the shrine 4) and 5) arbre noir Yakumi and its Kamakura-yaki 6) The great torii at Wakamiya Oji Street and a lion-dog statue
Head right from Komachi-dori Street and you'll immediately be able to recognize the entrance to Tsurugaoka Hachimangu Shrine, marked by the massive red torii gate. Take your time to explore the vast shrine grounds – there's so much to see and discover! Ponds, sub-shrines, and, of course, the main hall of the magnificent building will make for both amazing memories and amazing photos.

Once you're ready to leave, return to Kamakura Station via the broad Wakamiya Oji Street – you'll recognize it by the numerous stone lanterns lining up. Check out the many cafes, restaurants, and shop that dot the majestic street – and maybe stop for a crepe! Eventually, you'll arrive at Kamakura Station's West Exit.
Besides the many take-away shops and stores that line Kamakura's atmospheric streets, the town offers an abundant selection of delicious seafood restaurants and cafés, inviting you to take a longer break, rest your feet, and recharge your energies with a full-fledged meal. Exploring Tsurugaoka Hachimangu Shrine is exciting and fun, but you'll find yourself craving for a break after touring the vast grounds!

Our Enoden Tour Part II leads us to the Great Buddha of Kamakura, so be sure to join us to experience and taste even more of the beautiful, historic town and its many wonders!
*This information is from the time of this article's publication.
*Prices and options mentioned are subject to change.
*Unless stated otherwise, all prices include tax.