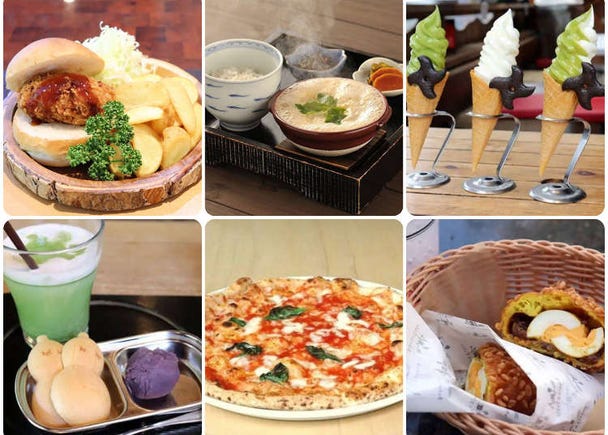 Hakone is becoming a more and more popular tourist destination for both local and international travelers alike. This area is famous for many reasons, including its Edo Period checkpoints and relay stations, the hot springs area, Lake Ashinoko, towns such as Owakudani and Sengokuhara, and its very rich nature.

Hakone-Yumoto Station is a particularly popular area, located about 1 1/2 hours from downtown Tokyo by train, and visited by many travelers as the first stop along their Hakone sightseeing trip.

Here we'll introduce five of our favorite gourmet areas around Hakone-Yumoto Station. We made an effort to include a variety of options, from the best take-out spots to the most recommended places for a local lunch. We hope you will visit these shops should you plan a visit to the area!
1. DELI & CAFE MITSUKI: The Food Court Near The Station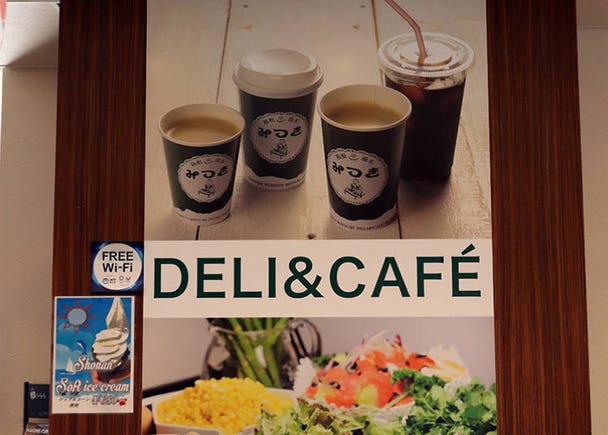 The first spot we'd like to introduce is Deli & Cafe Mitsuki. This spot is a food court connected directly to Hakone-Yumoto Station by a deck, so you can easily stop by right from the station. You don't even have to worry about getting wet on a rainy day! They serve a variety of Japanese and Western foods here, and it is guaranteed to be enjoyed by a wide variety of customers, regardless of age or gender.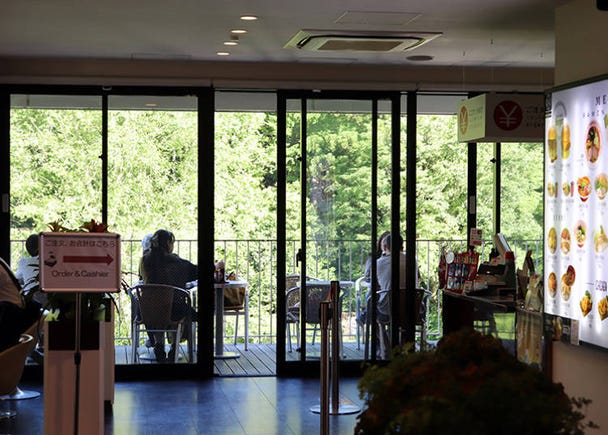 You can enjoy your meal while enjoying the view of the changing seasonal landscape of Hakone from the terrace seats. You can see the Kawazu cherry blossoms from February through March. The Hayakawa River also flows right before your eyes, so you can relax to the serene sound of the river.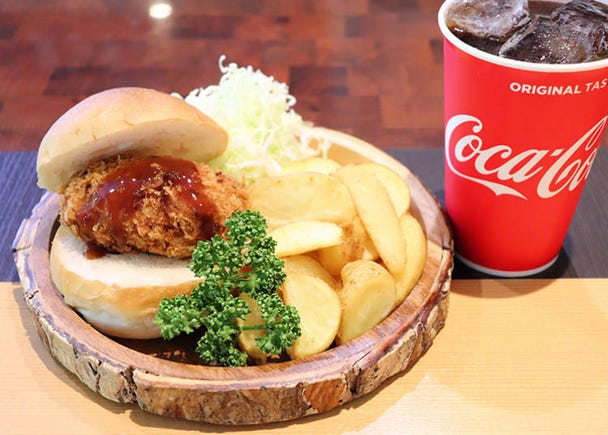 A particularly popular menu team is the Hakone Sanroku Pork Burger Set (1000 yen, tax included). This burger is made with juicy minced pork raised is the Hakone mountains, and crisp, Hakone cabbage, sandwiched between two hamburger buns. You can add ketchup, mustard, and sauce as you like. It is also possible to order as a take-out item, so you can eat it as you walk around.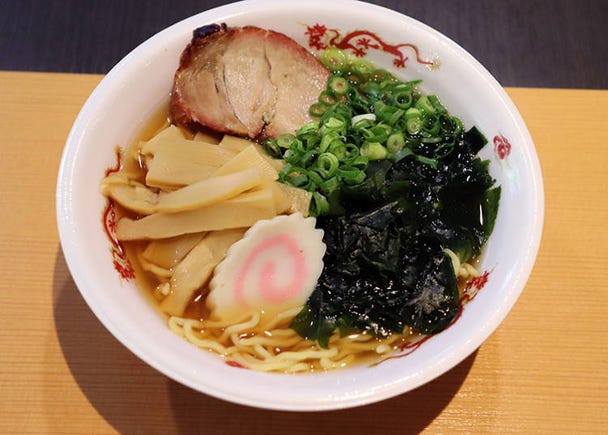 "Hakone Onsen-Shukuba Machi Ramen," 780 yen (tax included), is another popular menu item. It is only offered as an eat-in option, however, so is best recommended for those who want to take their time and enjoy it slowly at their seats. The shop also offers free wi-if as well as power outlets at the counters for recharging your devices!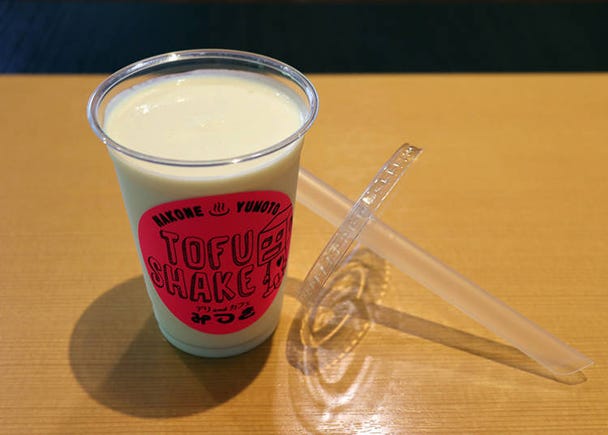 Another thing you might want to try out during your visit is the "Nama-Tofu Shake" (500 yen, tax included), the menu item which also boasts #1 rank in terms of popularity. Hakone is known for its clean, clear, water, and therefore tofu made from this clear water and brine is also a specialty product of the area.

The Nama-Tofu Shake comes in four different flavors, including vanilla, strawberry, mango, and matcha. We highly recommend the vanilla shake, as its flavor tends to bring out that of the soybeans used to make the tofu even more.

Additionally, there is a wide variety of other menu items, including Hakone Tofu Waffles, curry, fried chicken, and fries. With the exception of the ramen and the waffles, these items can be ordered as take-out. Why not order something to enjoy while walking around the area?
デリ&カフェみつき

Address

Mitsuki Bldg. 3F, 702 Yumoto, Hakone, Ashigarashimo, Kanagawa

Phone Number

0460-83-8412

Weekdays: 11:00AM~6:00PM
Weekends: 11:00AM~10:00PM (L.O. 7:30PM)
Regular Holidays: Wednesdays
2. HAKONE JINENJYO YAMASOBA: A Long-Standing Shop Using Only Local Ingredients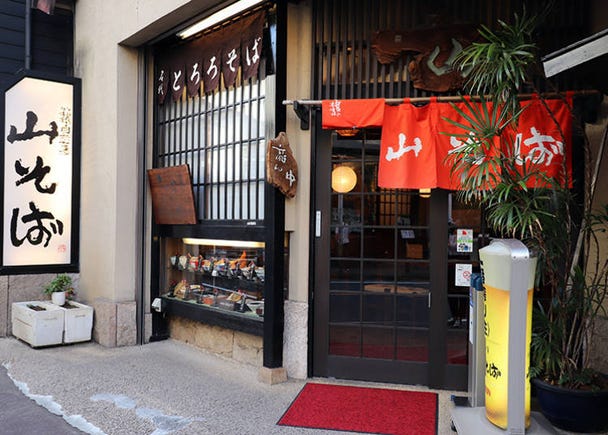 Hakone Jinenjyo Yamasoba is a soba noodle shop located a quick 2-minute walk along National Route 1 towards Miyanoshita from the Hakone-Yumoto Station. Since its opening, the shop has continued to stick to its goal of using only domestic ingredients, and it is a place loved by both locals and tourists alike.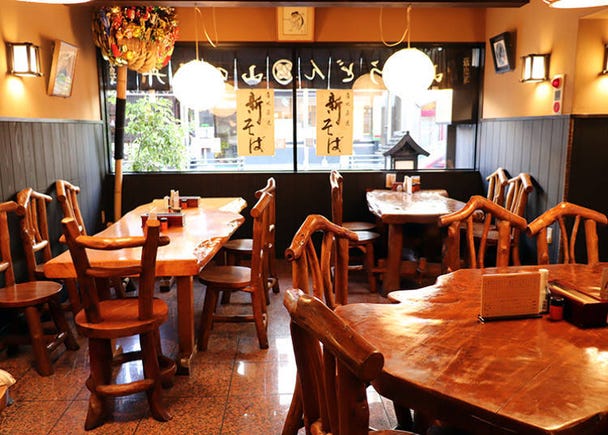 The inside of the shop has two floors, and has a calm, relaxing atmosphere with its wooden interior. This is the perfect place to relieve any fatigue from your travels around Hakone.

The tables on the second floor are made from single boards cut from trees over 700 years old. You can really take in the history here as you enjoy your soba noodles.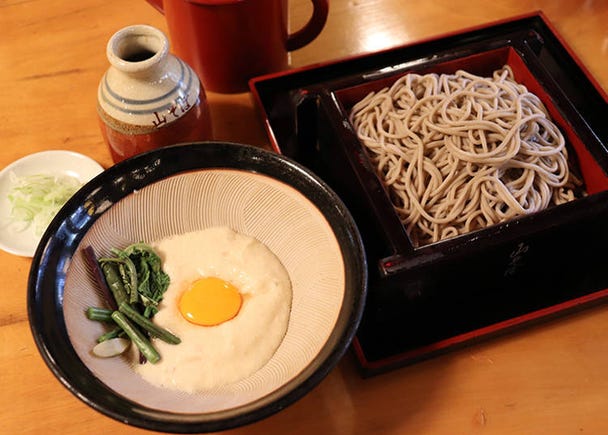 The most popular item in this shop is the Jinenjyo Tororo Soba (1250 yen, tax included). All menu items offer the option to choose hot or cold. For today's meal, we chose cold. Mix the tsuyu soup stock well with sticky yam and egg yolk, vegetables, and yakumi (grated condiments), then add the soba noodles inside.

The soba tsuyu is a blend of 3 different types of bonito, and is made with natural water of Hakone. It seems this soup contains many secrets that only enhance the flavor of the soba even more.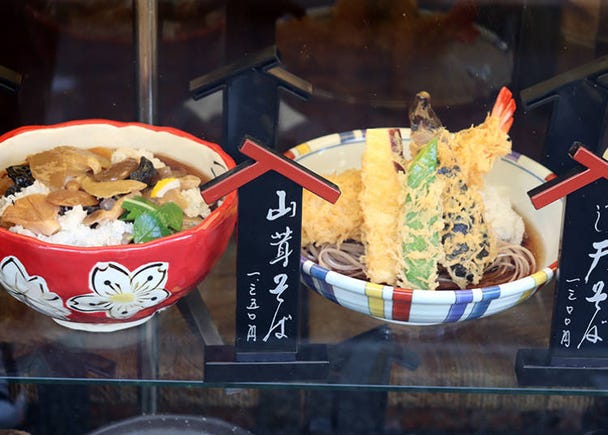 The Yamatake Soba is particularly popular amongst foreign tourists (1350 yen, tax included). It included 6 kinds of mushrooms for a very healthy soba dish. Some other items extremely popular with tourists is the Hiyashi-Ten Soba (1300 yen, tax included) and Ten-don (average grade: 1400 yen, tax included; upper grade: 1950 yen, tax included).

Hakone Jinenjyo Yama Soba is a great place to relax and unwind surrounded by the warm, calming atmosphere of the trees. By all means, do try to enjoy their richly flavored soba and soups when you can!
箱根自然薯 山そば

Address

704 Yumoto, Hakone, Ashigarashimo, Kanagawa

Phone Number

0460-85-7889

Hours: 11:00AM~7:00PM
Regular Holidays: Thursdays
3. YOUSHOKU SCOTT: A Well-Established Shop of Hearty Western Food
Next we would like to introduce YOUSHOKU SCOTT, a shop located 5 minutes away from Hakone-Yumoto Station, along National Route 1 towards Miyanoshita. Founded in 1956, this long-established Western-style restaurant has been operated by a eons-generation husband and his wife to this very day. The menu is full of hearty meat and seafood dishes.
This shop boasts a warm, friendly atmosphere with a history of over 60 years that you can find all around the store. It is only open for lunch time, from 11:00AM to 2:30PM, and only opens for dinner time when reserved by 2~4 people in advance.

As it is a popular shop loved by all kinds of customers, both new and old, it is recommended to make a reservation by phone before visiting for lunch.
This is the #1 popular menu item, Mixed Fry (1,800 yen, tax included). This set includes fried prawn, fried pork cutlet, crab croquette, salad, and rice. With the large, crispy shrimp, and delicious cutlet and croquette, this is certainly a top-quality, super-hearty dish, allowing you to taste the best of many different fried foods at once.

The crab cream croquette was also recently featured on a TV program, and is a particularly rich-tasting gem, with a delicious crab miso wrapped in the crisp dough. It is recommended to try without any sauces on top, as the item itself is sprinkled with brandy when cooked and highly fragrant.
The Seafood & Beef dish (3,000 yen, tax included) seems to be the owner's recommendation for when you want to enjoy a more extravagant meal. The set includes beef steak, fried prawns, crab cream croquette, salad, and rice.

There is a wide selection of other menu items that also allow you to enjoy the taste of this long-established Western shop, including pork and chicken dishes. Croquettes and fried prawns can also be ordered individually. Why not stop by and enjoy the shopkeeper's favorite Western meals to your own heart's content?
洋食スコット

Address

694-20 Yumoto, Hakone, Ashigarashimo, Kanagawa

Phone Number

0460-85-7744

Hours: 11:00AM~2:30PM (L.O.)
Regular Holidays: None
*Please, no children under 10 years in the store
4. YUBADON NAOKICHI: A Well-Known, Well-Ranked Shop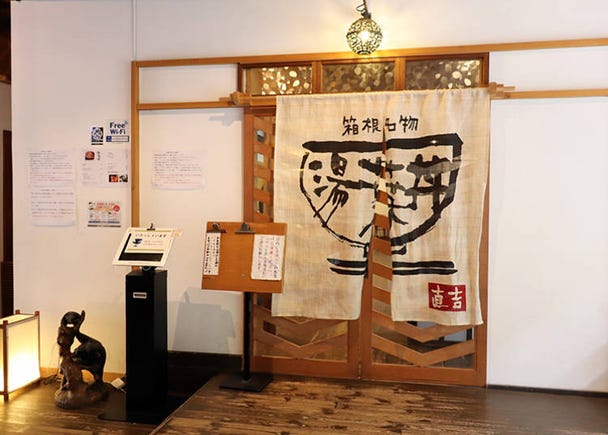 Next up is YUBADON NAOKICHI, a shop where you can enjoy YUBADON and tofu dishes, located on the street in front of Hakone-Yumoto Station along the Hayakawa River.

They are particularly known for their famous Yuba-don dish, which has been featured in numerous media and consistently receives high popularity ranks in the Hakone Gourmet Ranking.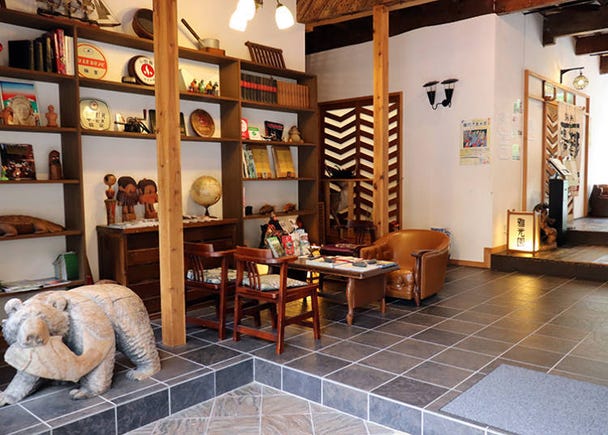 The shop was originally opened under the name Onsen Ryokan Gakoen in 1959, but after undergoing in-store renovations 12 years ago, it re-opened as Yubadon Naokichi. It seems to have been reborn as a daytime restaurant, without changing the atmosphere of the inn.

Located along the Hayakawa River, you can watch the changing of the four seasons across the river in the mountains from the window. You can feel a sense of healing as you take in the flow of the Hayakawa River.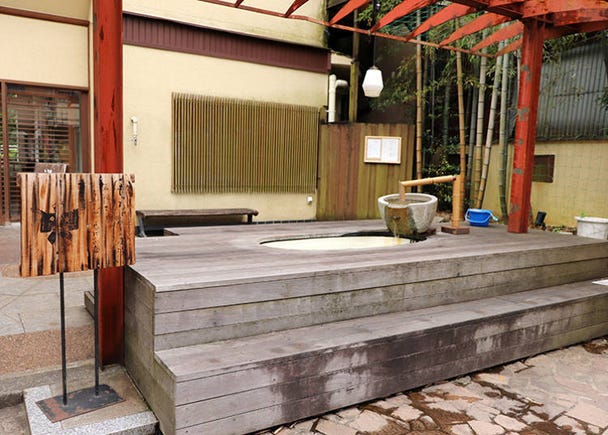 Originally opened as a hot springs inn, there was even a foot bath open to everyone where you could relieve the stress and fatigue from your travels. Along with the food, the hot springs are another point we would like to recommend on your trip to Hakone.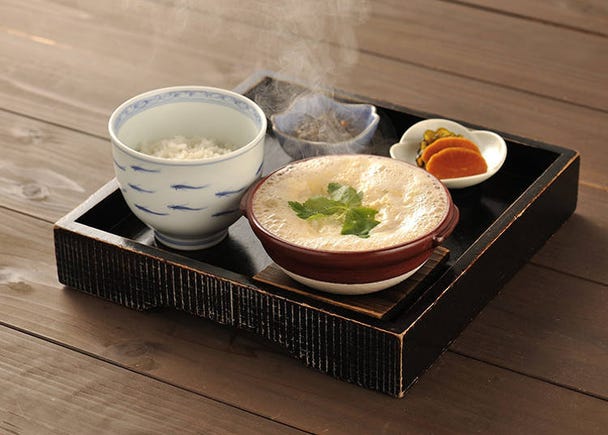 Here we have the infamous Yuba-don, 980 yen (tax included). This menu includes yuba and tofu made with the clean, delicious, local water.

Once upon a time, when the area was taken over by Hojo Soun, it is said that the Princess of that time was searching for clean, pure water to use for making lotions. That's when she found the waters springing up from the middle of Hakone, now lending the name "Water of the Princess" to these springs. Yuba made from the Water of the Princess is said to boast the true flavor of Hakone. In this dish, the simmering yuba and the egg pair exquisitely well, forming a perfect harmony.

Yubadon Naokichi also offers delicious sweets, such as Yuba Zenzai and Tofu Zenzai (720 yen each, tax included). Please be sure to stop by and enjoy the taste of Hakone!
湯葉丼「直吉」

Address

696 Yumoto, Hakone, Ashigarashimo, Kanagawa

Phone Number

0460-85-5148

Hours: 11:00AM~7:00PM (L.O. 6:00PM)
Regular Holidays: Tuesdays
*Wi-Fi available; Menu available in English, Chinese, and Korean
5. HAKONE CURRY KOKORO: Relax Your Body and Soul with Delicious, Hot Curry!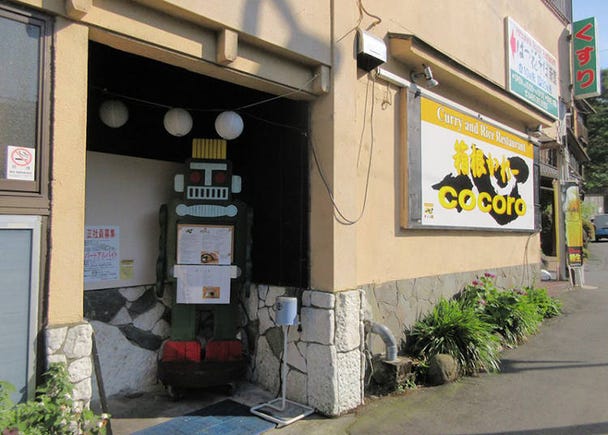 Finally, we would like to introduce HAKONE CURRY KOKORO, located on Taki-dori Street in Hakone-Yumoto. This restaurant specializes in Japanese-style curry. Made with a bullion simmered for over 5 hours and an original blend of 17 different spices, this slowly-cooked curry is sure to bring ease to your tired body and soul!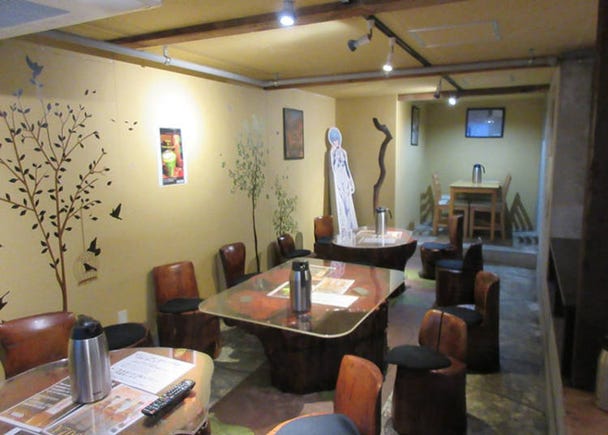 There are 24 seats inside the shop, including counter and table seats. It is a relaxing space where you can enjoy a calm, leisurely time.

The curry served in this shop is prepared with the water from the Tamadare-no-Taki Falls, called "Enmei-no-Mizu," or "water of long life." The water of Tamadare Falls is gentle on the body and helps maintain a mild alkalinity, containing a well-balanced mineral composition that helps rejuvenate the body.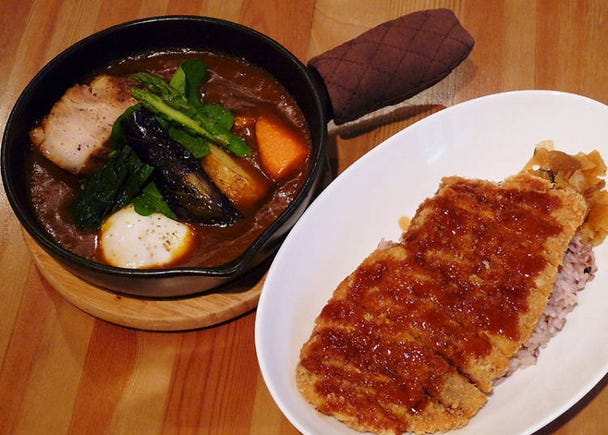 The most popular item in the shop is the Kokoro Special (1700 yen, tax included). The colorful vegetables in hot curry and the healthy black rice can be enjoyed in just about any menu item here, however what sets this dish apart is the stewed meat and onsen tamago (slow-boiled egg). There is even a hearty cutlet on top of the rice! It is a delicious, special menu item, just like the shop Hakone Curry Kokoro itself.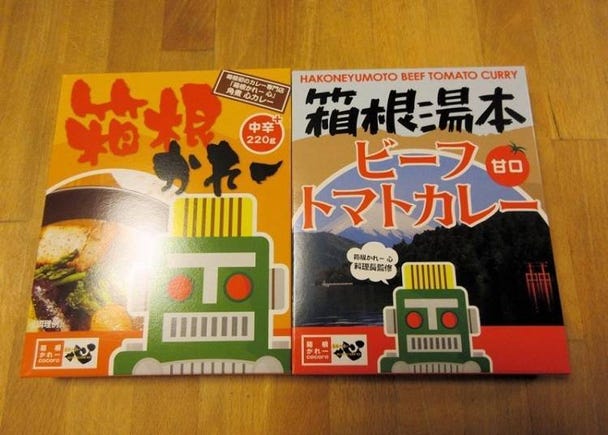 We also recommend the instant curry pouches sold in the store as a souvenir! The one seen on the left in the photo, "Hakone Curry," is an especially delicious one that tastes just like the curry of Hakone Curry Kokoro, in a pouch! With hearty cubes of meat, these pouches are the top recommendations for instant curry that comes closest to the taste of the shop itself.

Hakone Curry Kokoro is one of the best spots in Hakone to come to for a taste of curry that can only be found in this one shop. Please do stop by and try some hot curry!
箱根かれー心

Address

475-8 Yumoto B4F, Hakone, Ashigarashimo, Kanagawa

Phone Number

0460-85-8556

Hours: 11:00AM~2:30PM (L.O.2:00PM); 5:00PM~8:00PM (L.O.7:30PM)
Regular Holidays: Mondays (Open on Public Holidays)
Hakone-Yumoto Station is just the entrance to the sightseeing town of Hakone. There are many gourmet shops that you can enjoy all around the station, from the beginning to the very end of your trip. Please do stop by as many as you can!
*This information is from the time of this article's publication.
*Prices and options mentioned are subject to change.
*Unless stated otherwise, all prices include tax.