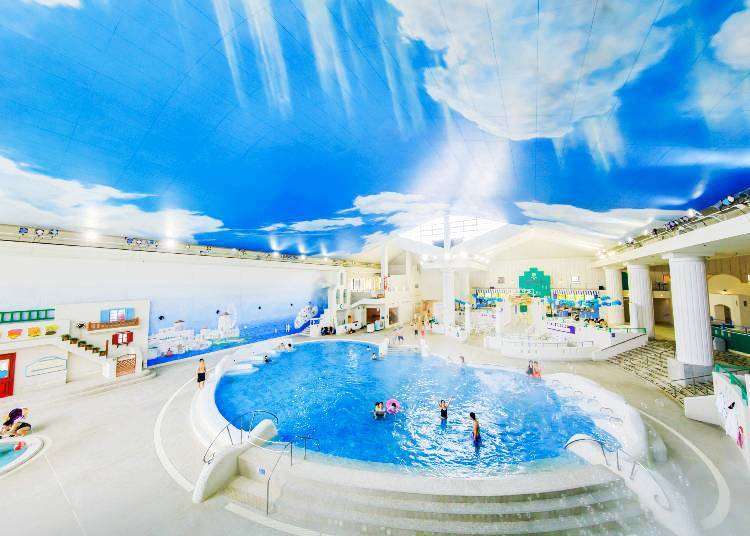 Hakone's onsen hot spring area is undeniably one of the Kanto region's hottest tourist destinations and features a plethora of attractions. One that cannot be overlooked are the onsen - volcanic hot springs.

Tourists who want to experience a Japanese furo (bath) have so many options available, deciding where to start can be overwhelming.

Here we'll introduce three types of hot springs to make a trip to Hakone a bit easier to plan. And even if you're wary of nude public bathing, you'll still be able to enjoy the experience of the legendary Hakone onsen glory while taking in spectacular views of Japan's natural beauty!
1. Hakone Kowakien Yunessun Hot Spring Amusement Park: A Wide Variety of Baths (and swimsuits are OK!)
For those who are self-conscious about being nude in public, Hakone Kowakien Yunessun is a fitting alternative. In addition to twenty kinds of hot springs, spas and open-air baths, the site also features an area in which bathing suits are allowed.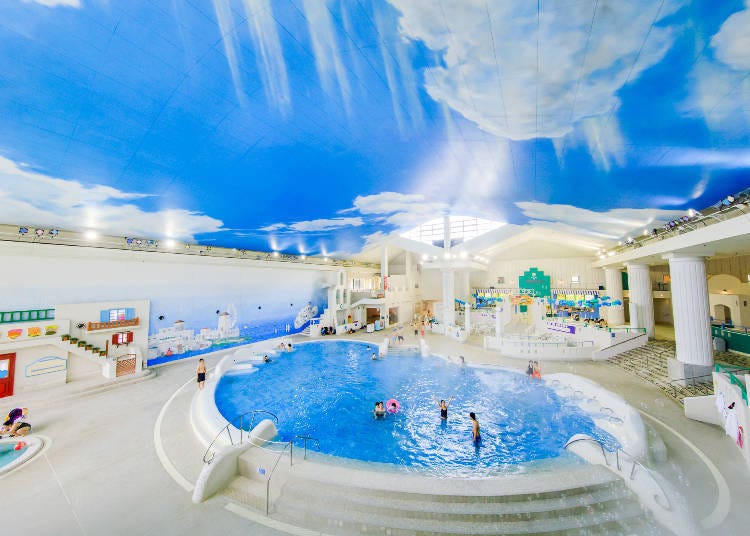 Yunessun is the only hot spring in Hakone that allows swimsuits!
Popular among overseas visitors are the "Wine Bath," "Real Coffee Bath," "Doctor Fish Footbath," "Rodeo Mountain," and "Superb View Overlook Outdoor Bath." As the names suggest, "Wine Bath" and "Real Coffee Bath" use real wine and coffee.

Wine baths relax your mind and body with the scent of rich wine and are good for the skin. For families traveling together, children are also allowed in the wine bath.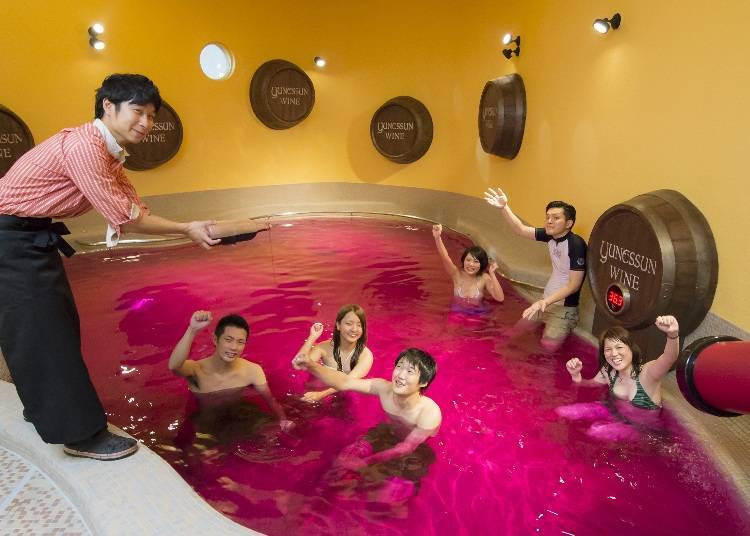 Pleasantly scented "Wine Bath"
In "Doctor Fish Footbath," small fish gently nibble at your feet with a pleasant tickling sensation. Each session costs 100 yen, but the business hours vary so, be sure to check if it's open in advance.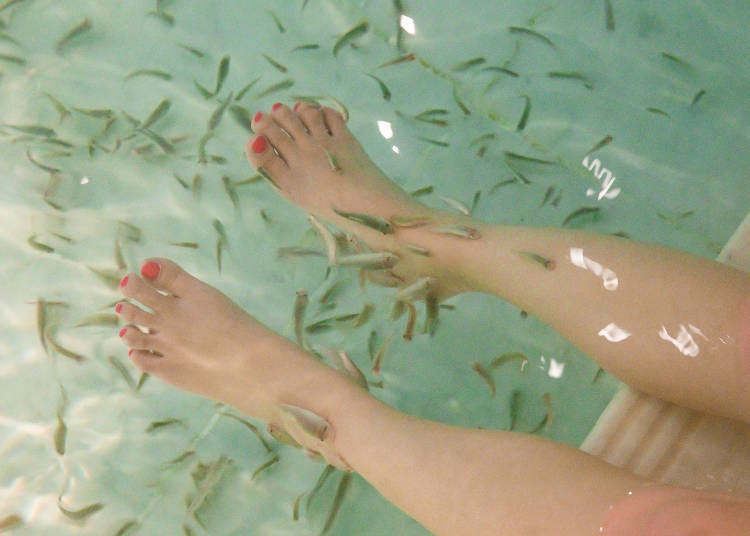 The mysterious feeling of "Doctor Fish Footbath"
Rodeo Mountain, which boasts tremendous popularity among guests of all ages, is a water slide featuring hot water rapids. If you're over 110 cm tall, be sure to try all three winding slides and conquer Rodeo Mountain!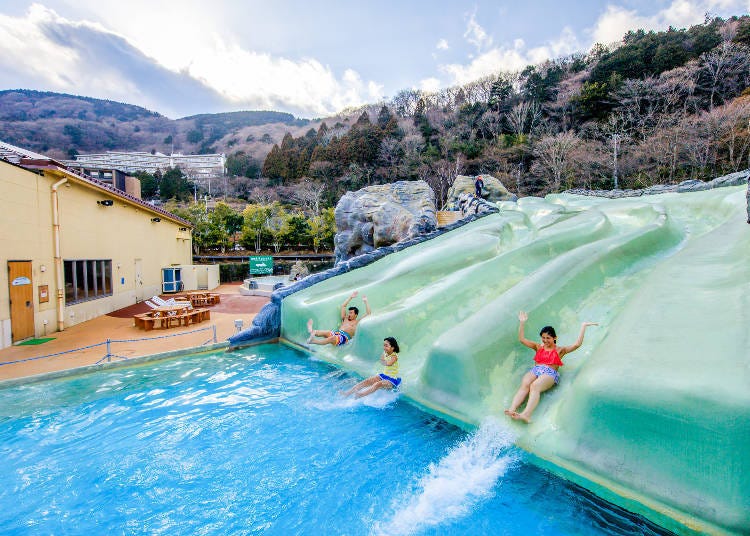 Powerful Rodeo Mountain
At 40 meters in length, the Superb View Overlook Outdoor Bath offers a breathtaking panoramic view of Hakone's rich natural beauty. It's highly recommended for anyone who wants to enjoy an authentic hot spring, and the whole experience is great for washing away fatigue.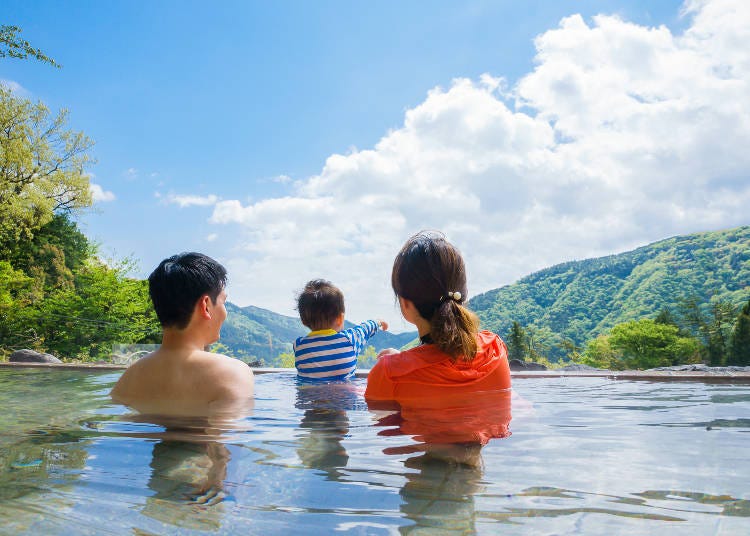 Taking in Hakone's Beauty from the Superb View Overlook Outdoor Bath
Hakone Kowakien Yunessun has swimwear rentals and guests with tattoos can enter if their tattoos are covered, making it a foreigner-friendly facility.
Address

Hakone-machi, Ashigarashimo-gun, Kanagawa nino flat 1297, 250-0407
View Map

Nearest Station

Hakone-Yumoto Station (Hakone Tozan Railway)


Phone Number

0460-82-4126
2. Hakone Yuryo: Private Open-Air Onsen Baths
Next is Hakone Yuryo, and classically-styled onsen where you can enjoy the finest bathing Hakone has to offer. With 19 private outdoor baths surrounded by lush forests, Hakone Yuryo is the largest facility of its type in the area. Time will seem to stand still while you enjoy bathing with your family or friends, all without worrying about prying eyes.

Private single-room open-air baths can be reserved up to a month before visiting, but same-day reservations may be made if openings are available. It's the perfect place to rest your body and mind.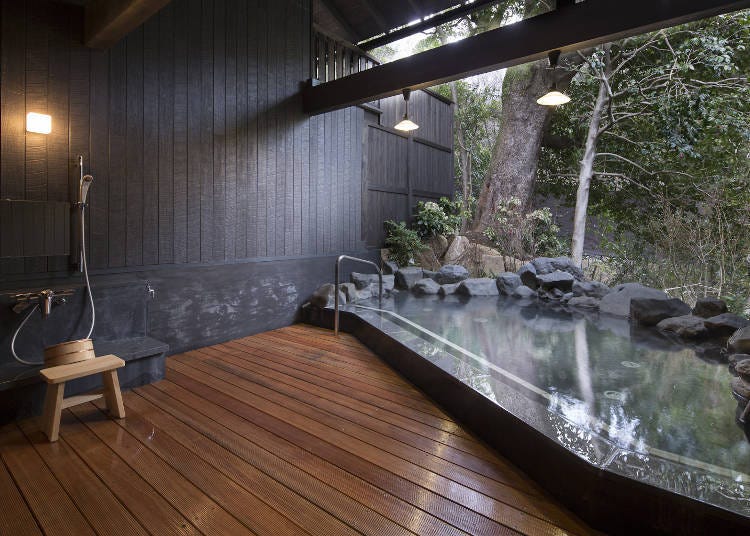 Private open-air baths
In addition to forming a beautiful memory of your travels in Japan, these relaxing Hakone onsen baths are also a great place to plan the next leg of your trip. Hakone Yuryo has three room sizes, so you're sure to find one that fits the size of your group.

All room types are peaceful and modern, and you won't want to leave!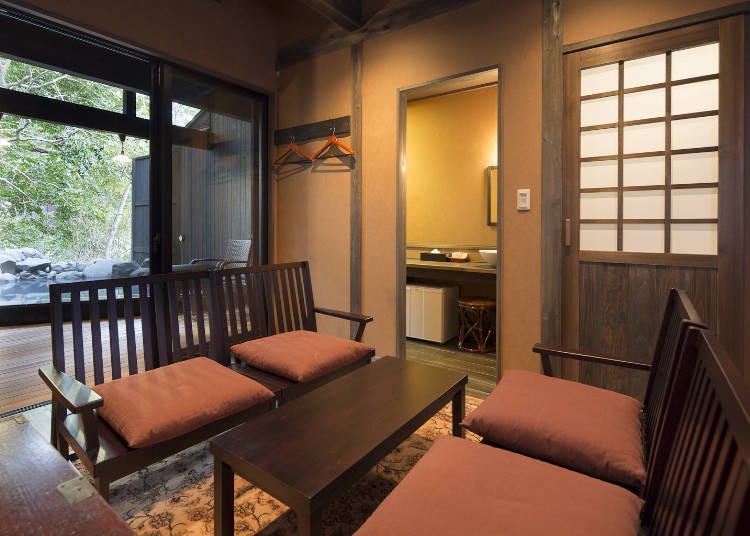 After the hot spring, take a break in the private room
In addition to the private single-room open-air baths, there's also a large public bath called Hondon Yurakun Oyu. Loyly is a traditional Finnish sauna bathing method in which steam is generated by pouring aromatic water over the sauna stones.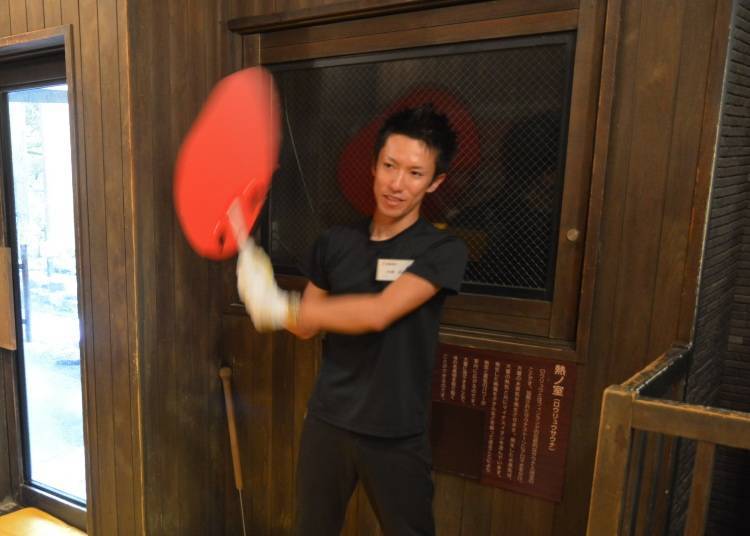 Loyly Master
A loyly master fans guests with a large fan, while the hot steam helps guests sweat, which is said to improve metabolism. It's an experience popular for health and beauty and sauna enthusiasts alike.

The water used to produce steam includes aromas such as grapefruit, mint lime, chamomile, wine, peach, lavender, eucalyptus, and bergamot. The aromas change with time and season, so you'll be able to enjoy different flavors no matter how many times you visit.

Loyly is also good for those who might not typically enjoy saunas. At only 80 degrees Celsius and with lower humidity levels, it's not taxing on the body.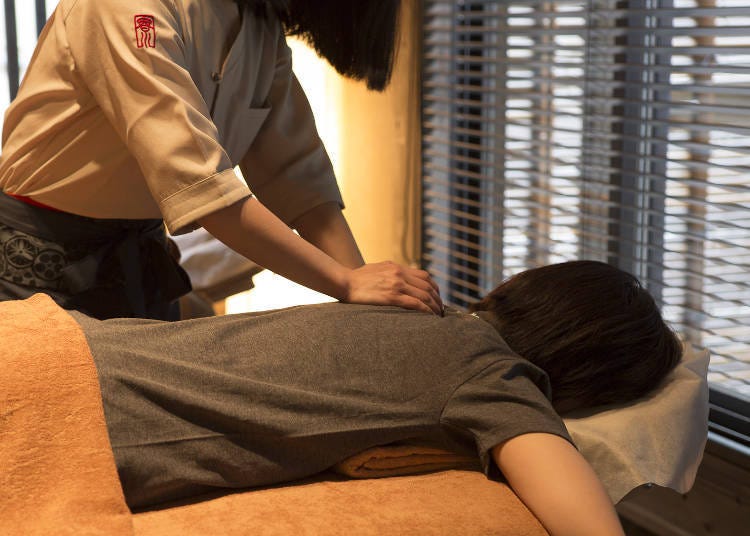 A relaxing massage
After the sauna, head to the "Hogushi an Yururuka" relaxation facility. A wealth of services that combine reflexology, lymphatic treatments, and stretching with unique techniques ensure that you'll find a treatment that suits your individual needs.

If you're short on time but still want to relax a bit, the "Hogushi Shozaraku" area is great for a 10- to 30-minute foot or face massage.
箱根湯寮

Address

4, Tonosawa, Ashigarashimo Gun Hakone Machi, Kanagawa Ken, 250-0315, Japan

Nearest Station

Directions:
3 minutes from Hakone Tozan Railway Hakone Yumoto Station via free shuttle bus
10 minutes by car from Odawara-Atsugi Road Hakoneguchi IC
45 minutes from Tomei Expressway Gotemba IC
Free parking available (92 spaces)


Phone Number

0460-85-8411

Hours: Weekdays, 10:00 - 21:00 (last entry 20:00); Sat. & holidays, 10:00 - 22:00 (final entry 21:00)
Fees: Public bath: adults (junior high school students and older) 1,500 yen, children (elementary school and students and younger) 750 yen; Private baths: 2 people, 18 sq. meters 4,300 yen (30-minute extension 2,150 yen), 4 people 24 sq. meters 5,300 yen (30-minute extension 2,650 yen), 4 people 32 sq. meters 6,300 yen (30-minute extension 3,150), (all prices include tax)
3. Ryuguden: Hakone Onsen Bathing With a Breathtaking View of Mount Fuji
Lastly, you can enjoy a striking view of Mount Fuji from the shores of Ashinoko (Lake Ashi) while relaxing at the Ryuguden Main Building. Originally built nearly 80 years ago and renovated in 2017, this impressive hotel resembles the Byodo-in temple in Uji, Kyoto is also registered as a Japanese cultural property.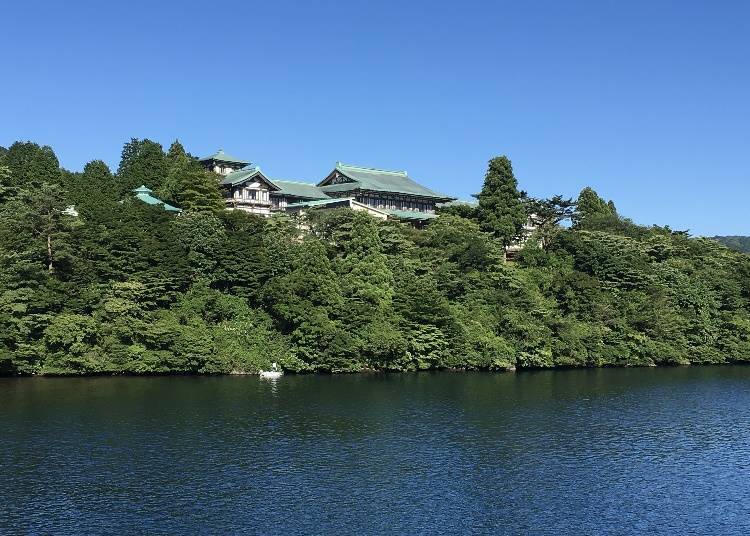 Ryuguden Main Building seen from Ashinoko
Ryuguden's best feature is the view of the Hakone rim, Ashinoko, and Mt. Fuji, visible from all the baths. The facility is popular with both local and overseas tourists.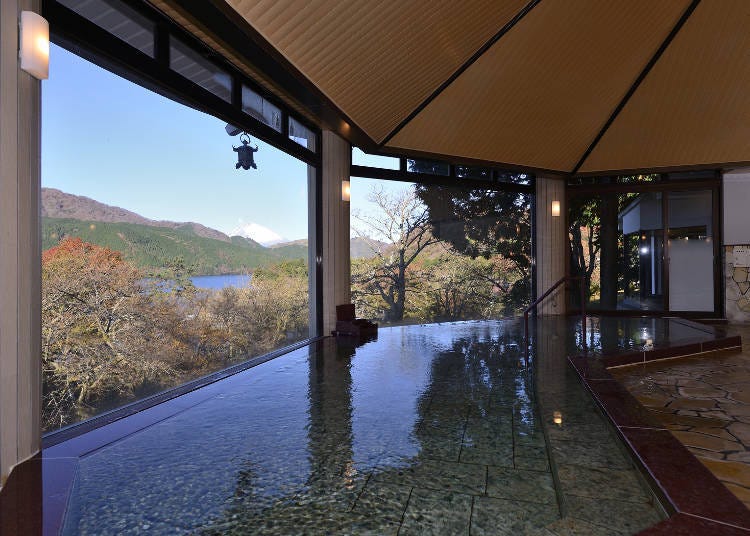 Mt. Fuji seen from the men's indoor bath
The men's indoor bath affords visitors a simultaneous view of Ashinoko and Mt. Fuji. At the same time, a similar vista can be appreciated from the women's outdoor bath, along with the refreshing breeze!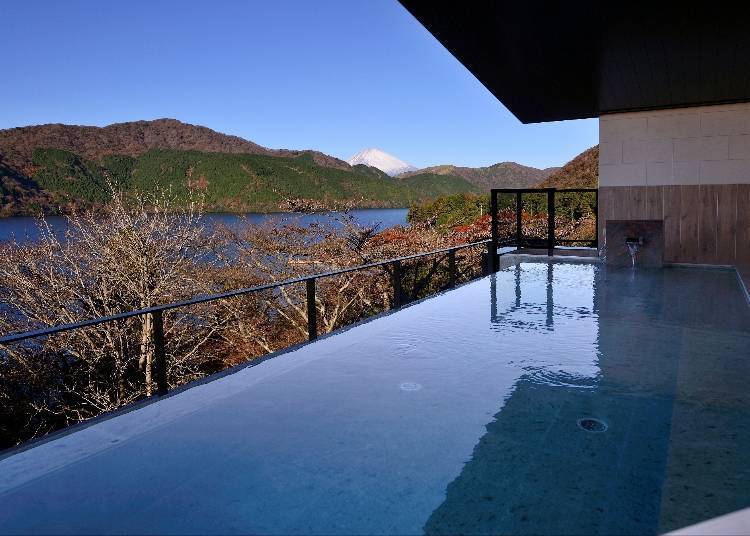 Mt. Fuji seen from the women's outdoor bath
On clear days you can enjoy a spectacular view of Mt. Fuji and the sky and clouds reflected in Ashinoko. Even if the weather is less than perfect and Mt. Fuji isn't visible, you can still enjoy the magnificence of Ashinoko.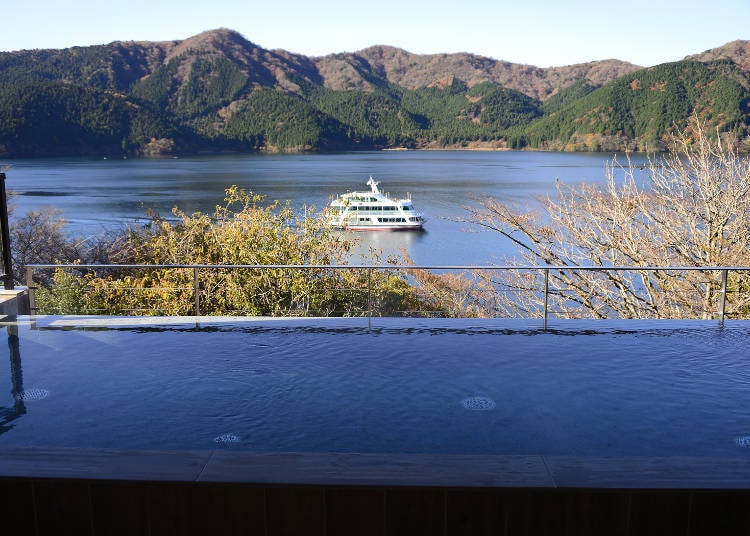 Ashinoko seen from the women's outdoor bath
Ryuguden's hot springs feature minerals including calcium, sulfates, and sodium chloride and reportedly provide relief for nerve, muscle, and joint pain, so they provide excellent relief for tired bodies after a busy day of sightseeing.

In addition to relaxing hot springs, Ryuguden's Fuji restaurant will be sure to satisfy your appetite for exquisite Japanese cuisine. The most popular item on the lunch menu is the Hakone Hime no Mizu Steamed Tofu, made with Hakone's famous Hakone hime no mizu (Hakone Princess's water). The water comes from a spring that a princess of the Hojo Clan is said to have bathed in the morning and evening for its beautifying effect.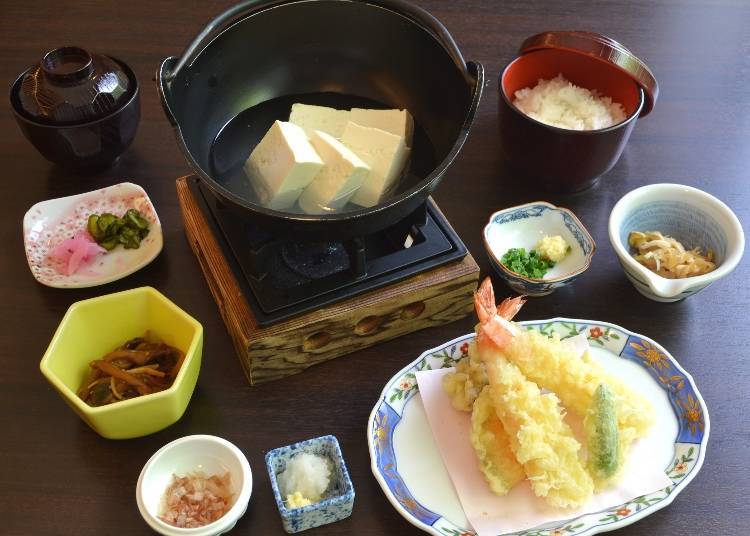 Hakone Hime no Mizu Steamed Tofu Lunch 2,390 yen (tax included)
The dish is also available in combination with an advantageous bath plan for 3,500 yen (tax included), so if you decide to stay for lunch after a bath, you can make a reservation at the front desk.
Address

Motohakone 139, Hakone, Kanagawa, 250-0522
View Map

Nearest Station

Sounzan Station (Hakone Tozan Cable Car)


Vacancy search, reservation

from

57,694JPY

1room, 2adults

Check with our partner site as the latest rates, rate details, and guest room requirements may vary.
Each of these hot springs offers unique features, so if you're wondering where to go in Hakone, give one of them a try!
Book an unforgettable experience in Hakone!
Make your trip extra memorable by booking one of these recommended experiences on our partner site, Voyagin!
*This information is from the time of this article's publication.
*Prices and options mentioned are subject to change.
*Unless stated otherwise, all prices include tax.