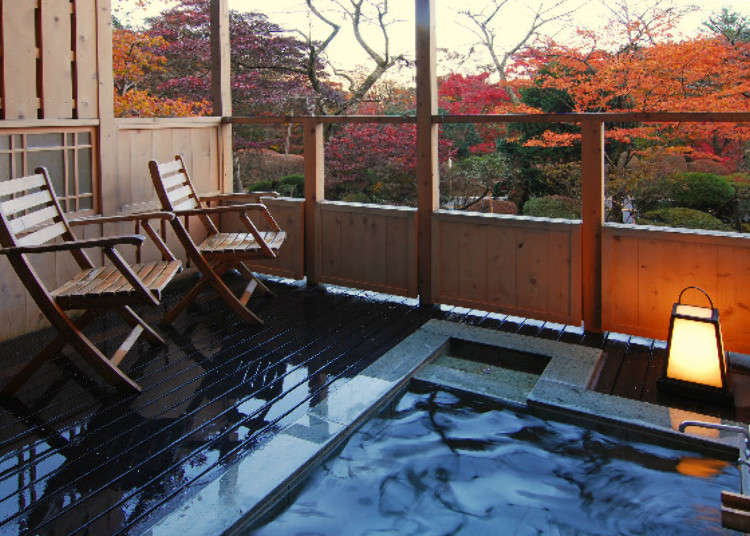 A 15-minute drive from Hakone Yumoto Station lies Mikawaya Ryokan, a traditional Japanese hotel that was founded in 1883, boasting a history of over 130 years.

Beautiful Hakone, known for its stunning scenery and abundance of hot springs. Both Tokyoites and tourists visit the area to enjoy an authentic onsen hot spring experience, or to savor the calm scenery of Lake Ashi and Mount Hakone.

In fact, Mikawaya Ryokan is nestled on Mount Hakone's hillside and overlooks a breathtaking scenery that is famous for autumn leaves and the Horaien Gardens. The hotel is a one-of-a-kind experience that unites hot spring, history, seasonal scenery, and Japan's famous hospitality in its most remarkable form.
Staying at a 130-Year Old Hotel Amidst Hakone's Rich Scenery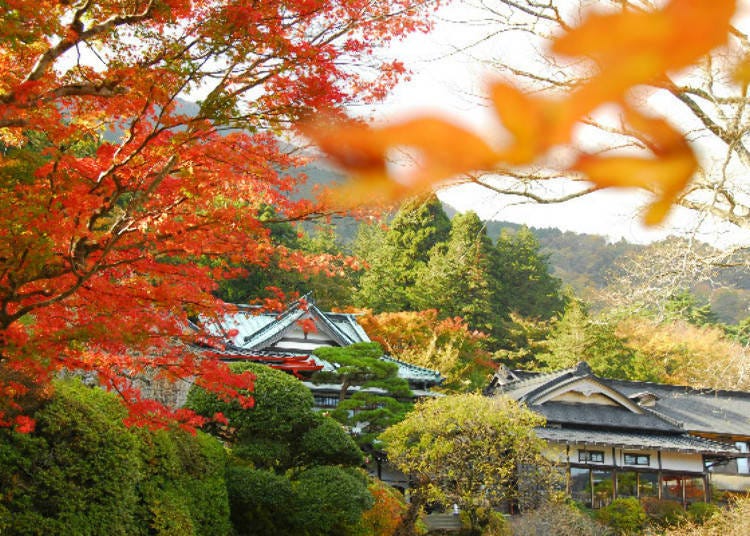 To be precise, Mikawaya Ryokan is in <@Kowakidani|a=article:a0003284>, a valley with a beautiful view on Mount Hakone, Mount Asama, and Mount Takanosu.

The area also is home to a variety of magnificent scenic spots, such as Chisuji Falls, as well as azalea and cherry blossom spots. Once a desolate strip of land, Kowakidani is now a blossoming hot spring paradise and home of Miyakawa Ryokan.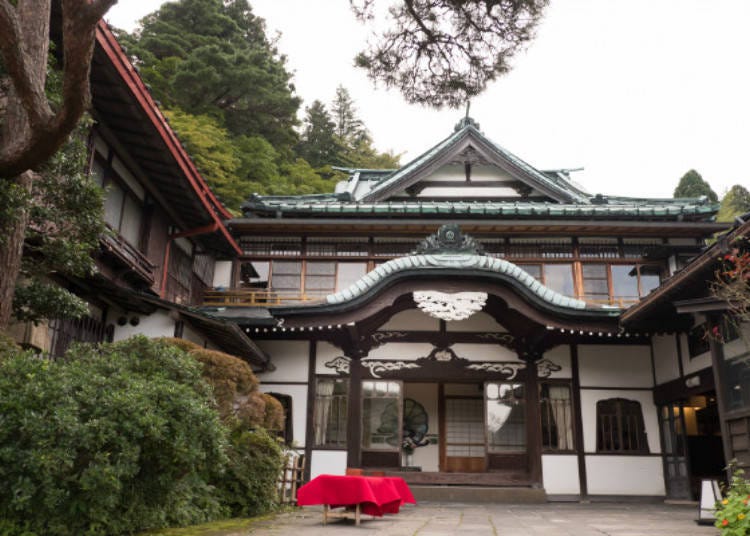 Around the time when the now-famous Fujiya Hotel in Miyanoshita was constructed, the transportation network between Tokyo and Hakone also began a phase of rapid development.

That's also when the father-and-son team of Inosaburo and Kyozo Enomoto purchased Kowakidani to develop it as pasture land. However, they found hot spring water of extraordinary quality and turned the area into a hot spring resort instead. At least that's how the story goes.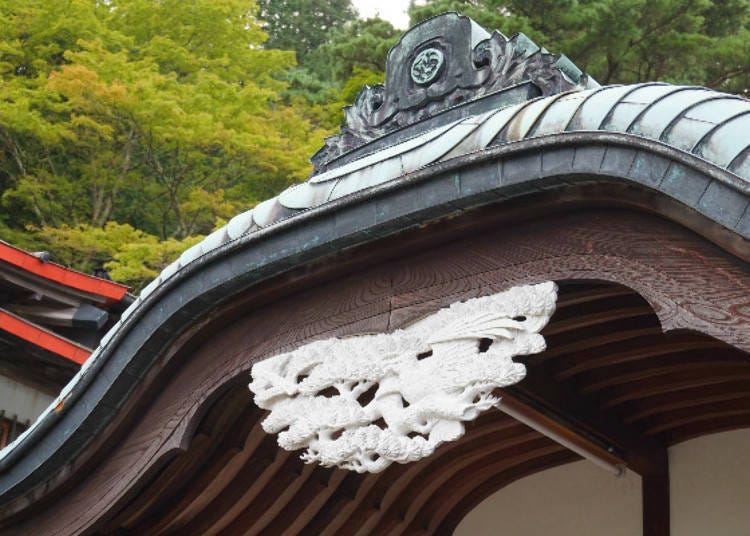 ▲ A long history sleeps under the Chinese-style gables. The ornaments beautifully showcase the era's woodcarving craftsmanship.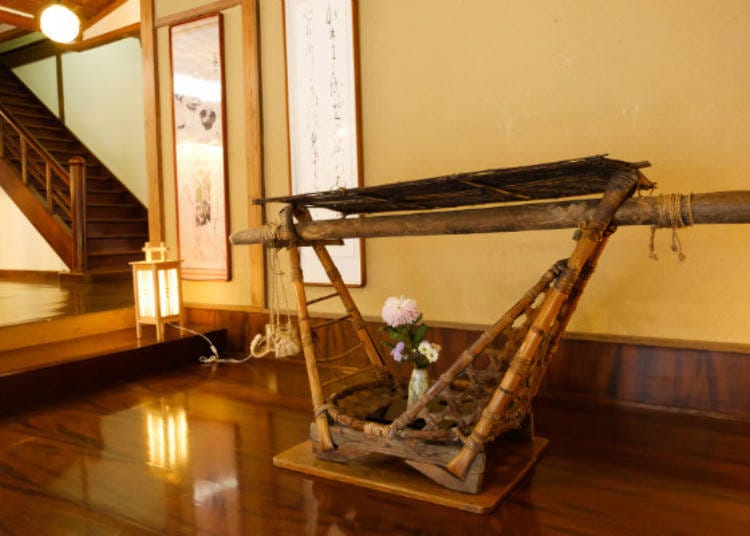 Stepping through the entrance feels like stepping through a crack in time. You're immediately engulfed in an atmosphere of a past century; warm, welcoming, and majestic. An old basket once used between the hotel and the station decorates the entrance, like a precious exhibit in a museum.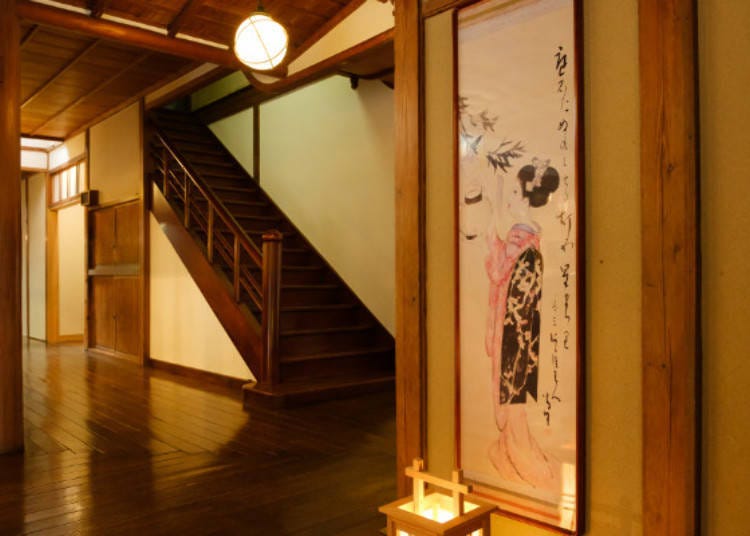 ▲ A painting by Takehisa Yumeji, a representative painter of the Taisho Roman style who once stayed at Mikawaya Ryokan. It is said that the woman on the picture, drawn right at the hotel, is a local who was working at the hotel back then.
Relaxing Rooms with a Stunning Sky View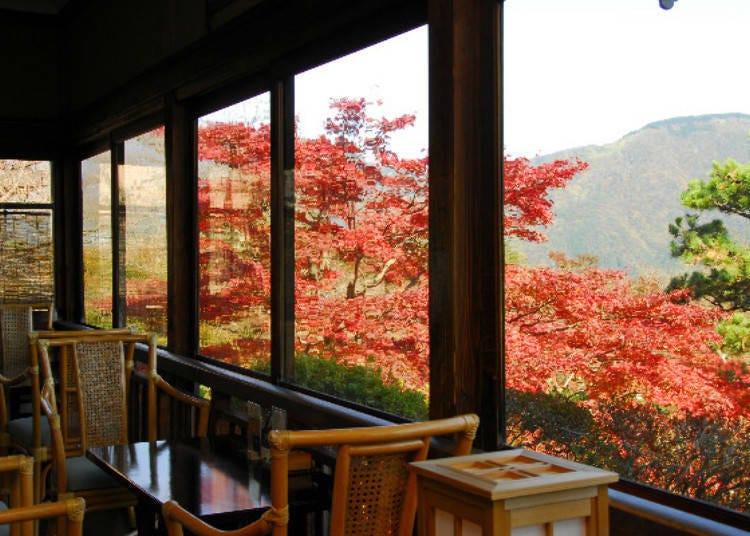 Mikawaya Ryokan has rather vast premises, still looking like it was initially constructed. The entire complex is made up of various buildings called Shochiku, Tsukiume, Kasumi, Kokonoe, and Hanare, with the last one being not one building but several Japanese-style villas. This means that the hotel offers rather diverse options depending on your budget, what kind of stay you prefer, how many people you travel with, who you're going with, and so on.

This time, we stayed at a modern Japanese-style room located in the building called Kasumi. Sat on the top floor, it boasts a fantastic view of the entire area – but every room does, actually. Just looking out of the window will calm your thoughts and soothe your heart.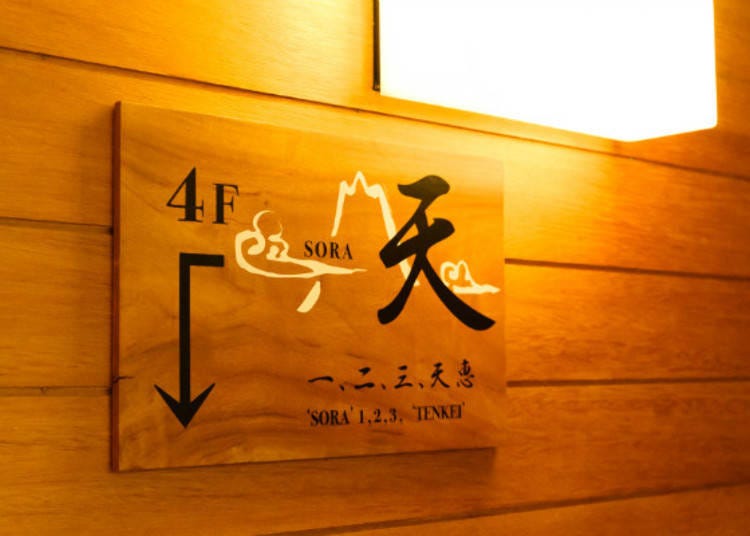 The first floor is called HANA, the second floor is called YUKI, the third floor is called KAZE, and the fourth floor is called SORA. The entire building follows this natural theme and you'll soon see why it's among the most beautiful ryokans in Japan.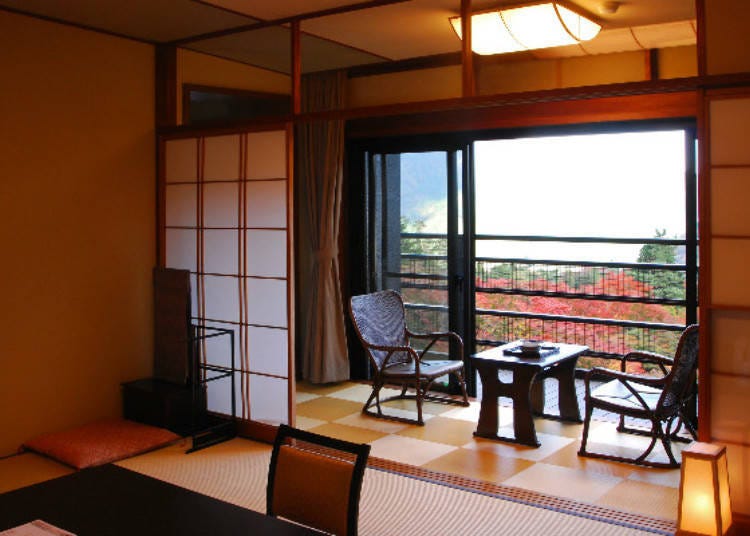 The terrace overlooks Hakone's entire mountain range, including Mount Asama. The Japanese-style suite called TENKEI also features an extraordinary view of the spacious garden, where cherry blossoms, azaleas, and autumn leaves shine in vivid colors. These varieties were planted by the founder himself, creating a magnificent scenery in every season.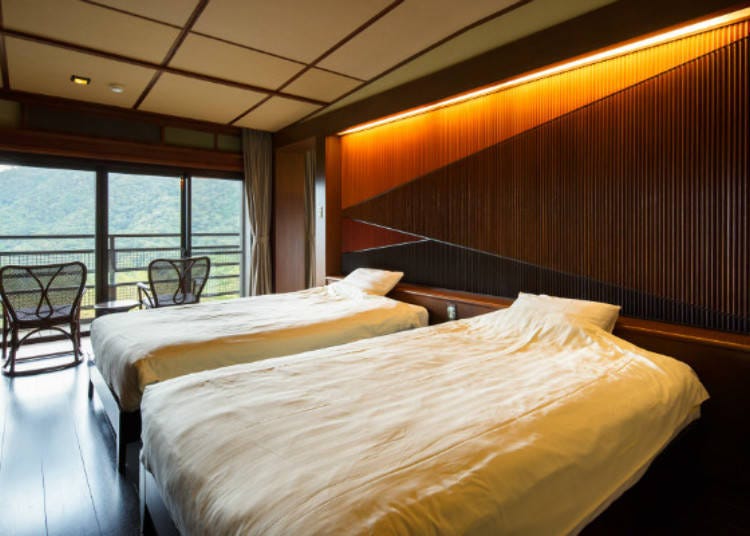 Mikawaya Ryokan also offers Western-style rooms with wonderfully fluffy beds. This room features a private hot spring, allowing you to savor the uniqueness of Japan's onsen culture without worrying about the eyes of others. As you gaze over the seasonal scenery right in front of you, let your mind wander and lose yourself in the moment. That kind of experience is only possible in the suite room.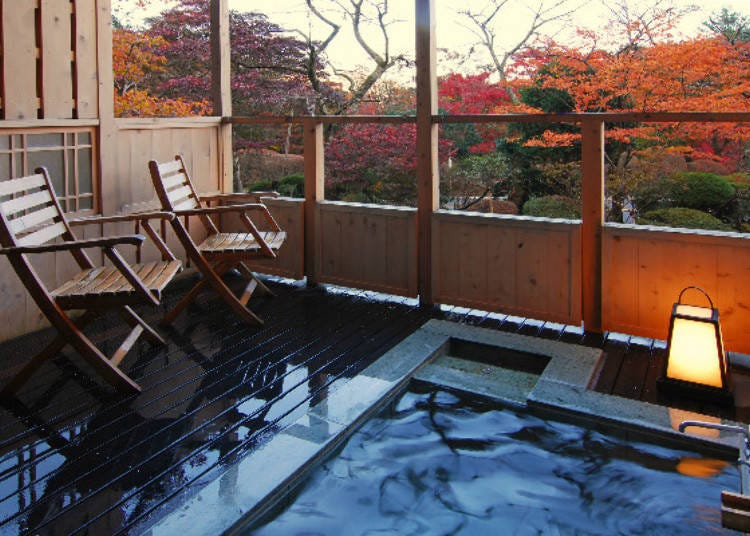 Rooms on the first floor that feature a terrace-style open-air bath are also extremely popular. Soak your body while being engulfed by nature before relaxing in a comfortable bathrobe on a lounge chair. Any day to day worries are sure to melt away.
Discovering the Traces of Yumeji Takehisa and Sun Yat-sen
Mikawaya Ryokan's atmosphere is wonderfully nostalgic and palpably steeped in history. There are plenty of opportunities to dive into the place's rich history, such as learning about two of the hotel's most famous guests at the Shochiku building: Takehisa Yumeji, the famous painter, and Sun Yat-sen, the founder of the Republic of China and often referred to as the "Father of the Nation."

Other famous artists, especially writers, were also regular guests at Mikawaya Ryokan. That is why the staff showed us around the hotel and pointed out elements of the Taisho Roman art style that Yumeji Takehisa is so famous for.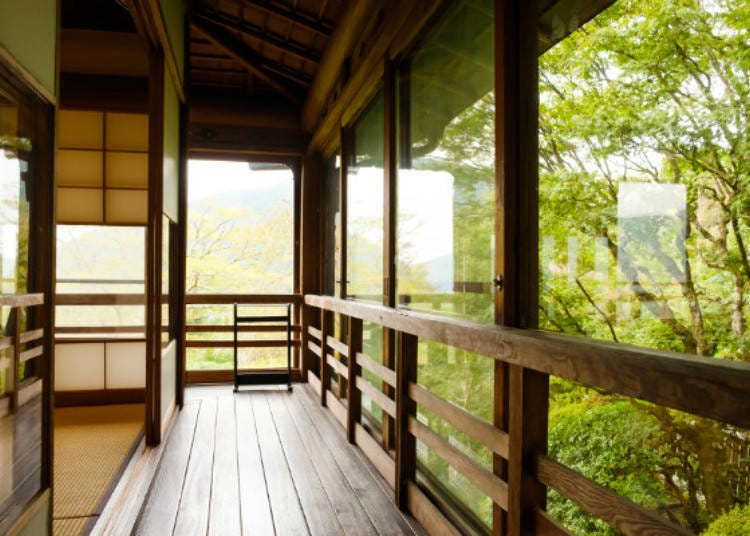 ▲ The corridor that surrounds the rooms represents architecture from another era.
▲ Playful elements can be found everywhere if you look closely, such as the design of the sliding windows.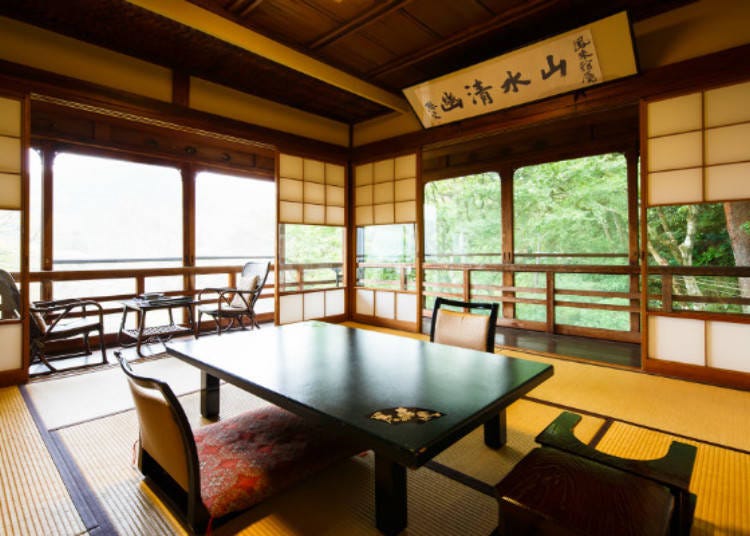 ▲ This is Room No. 5 where Sun Yat-sen wrote several letters.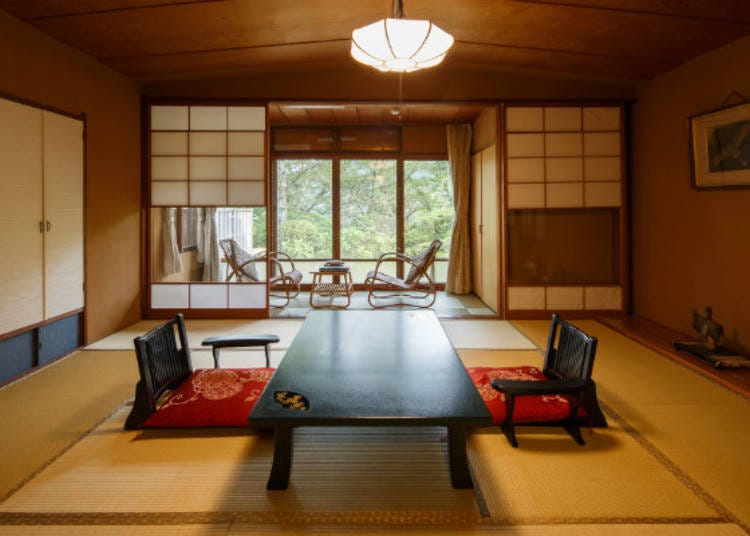 The Hanare area is separated from the rest and its villas feel like a private, comfortable hideout, boasting a calm and peaceful atmosphere.

Check-in and check-out are directly done in the room itself. It's the perfect place to enjoy a vacation with the entire family – share hot spring memories and enjoy a lively meal around the large table.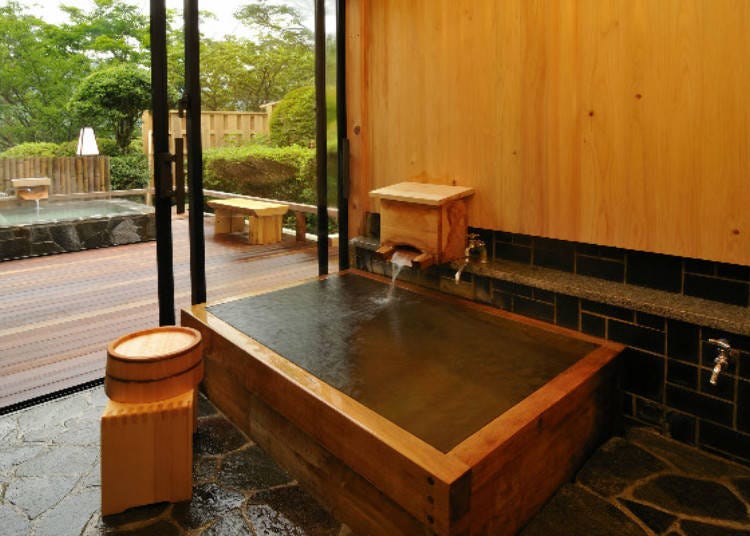 All four villas within Hanare feature a private garden outdoor bath. The four seasons paint the scenery in vivid colors, providing the perfect backdrop as you soak your body in the hot water.
A Museum and Autumn Foliage Spot Right Next to Mikawaya Ryokan
Horaien Gardens also offer the beauty of nature throughout the year. They're just below the hotel, created by the founder of Mikawaya Ryokan themselves. There's no admission fee and the gardens are open to everybody, whether you're a guest or not. Especially fall and its colorful autumn leaves draw in tourists from all around the area, with peak time being in mid-November.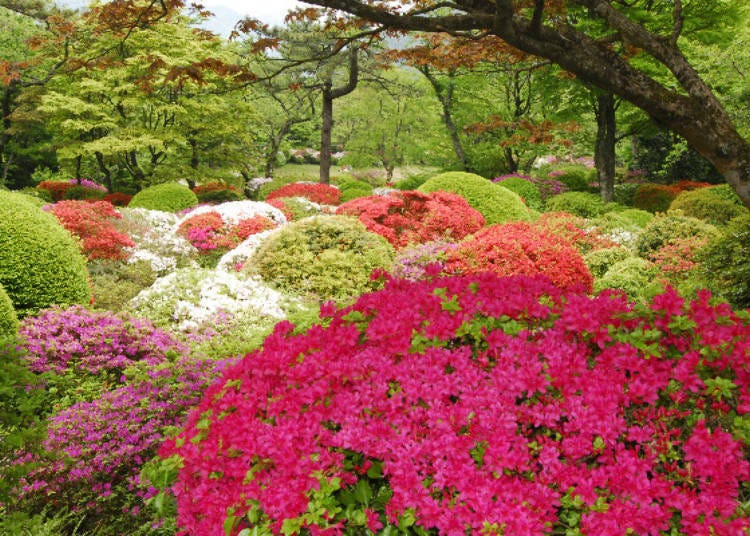 Between late April and early May, about 30,000 azaleas of 40 different varieties blossom beautifully, dressing the gardens in various colors. The flowers originally come from Tokyo's Okubo and were brought to Mikawaya Ryokan during the Taisho period. On summer evenings, the gardens are lit up by fireflies dancing gracefully through the darkness.

The hot spring theme park Hakone Kowakidani Yunessun is just nearby as well, a great place for the entire family. Okada Art Museum right next to it also makes for a wonderful sightseeing spot, focusing on Eastern art while highlighting Japanese aesthetics in particular. There are various experiences and sights within walking distance from Mikawaya Ryokan, so you surely won't get bored.
Mikawaya Ryokan's Delectable Seasonal Cuisine
One of the best things about staying at Mikawaya Ryokan is the amazing Japanese gourmet experience that awaits, tickling your taste buds with delectable seasonal cuisine. Made with the freshest ingredients, the food served at the hotel might be the epitome of Japanese hospitality.

We were served a special autumn kaiseki dinner, meaning a course meal consisting of various small dishes. If you stay at Shochiku, Kokonoe, or Hanare, you'll eat at your room. Guests of Tsukiume and Kasumi (with an upgrade of 4,000 yen excluding tax) dine in the dining hall.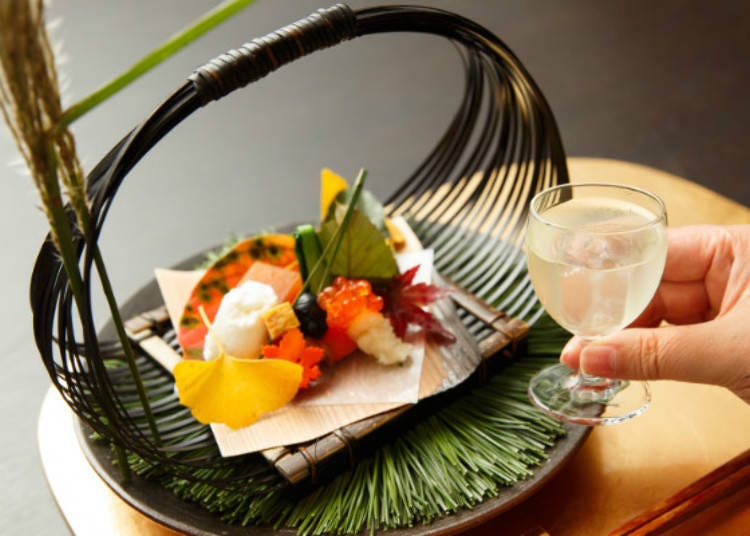 The first course is an aperitif and an appetizer. Mozuku seaweed, smoked salmon and its roe, and persimmon jelly make this dish a real autumn delight.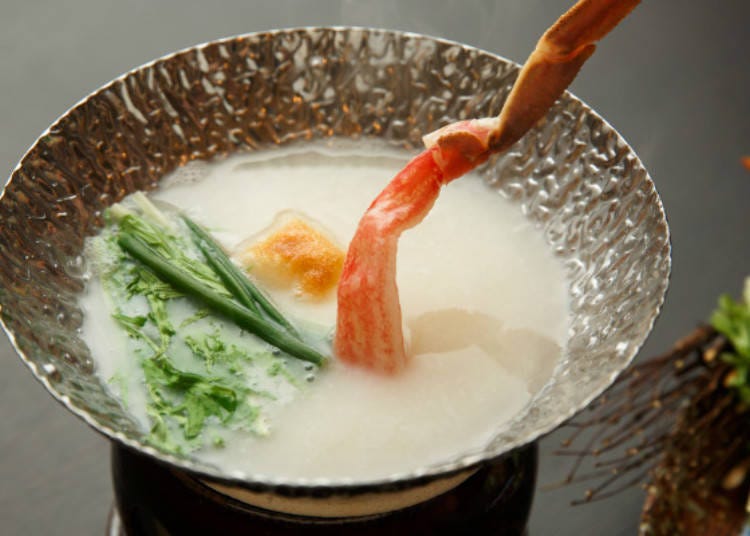 The next dish to arrive was a snow crab shabu-shabu (meat fondue) in a delicious soy milk soup.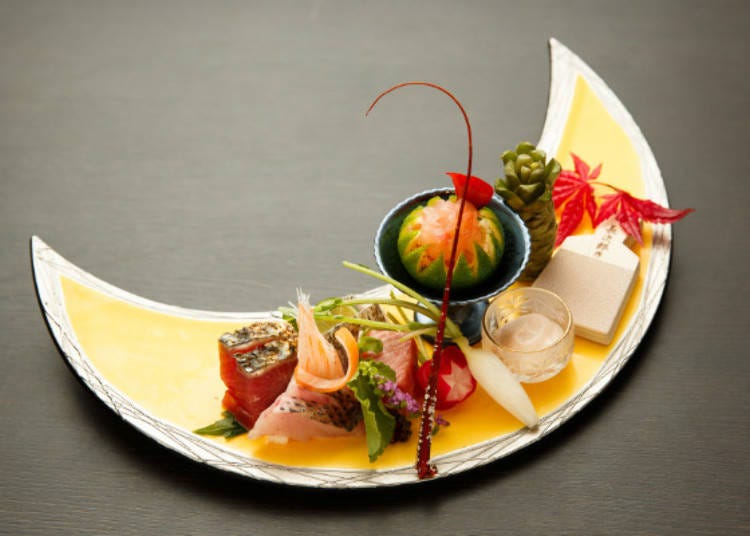 The head chef, a native of the city of Kisarazu, has an excellent eye for seafood. With this trained eye, he created this amazing sashimi platter, served with fresh wasabi and a shark skin grater.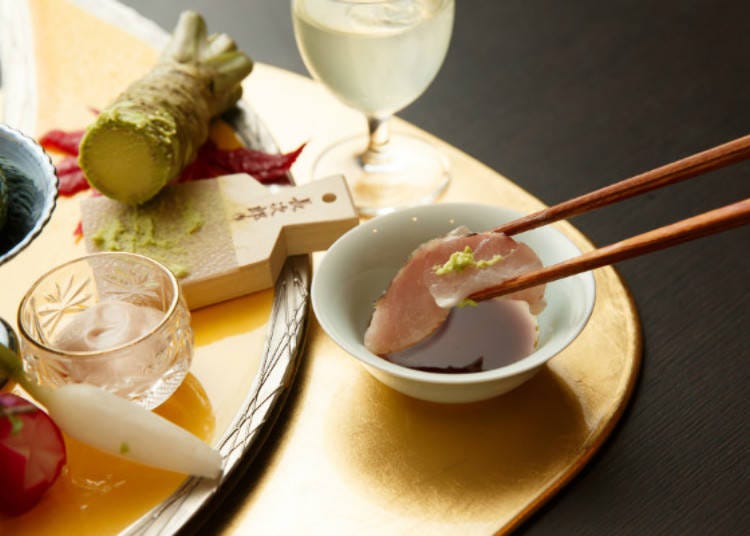 Shark skin is perfect to break down the wasabi, bringing out its full flavor. Put it on the sashimi and dip it in soy sauce for a blissful taste of fresh ingredients and exquisite seafood. The crescent moon-shaped platter also provides a feast for the eyes.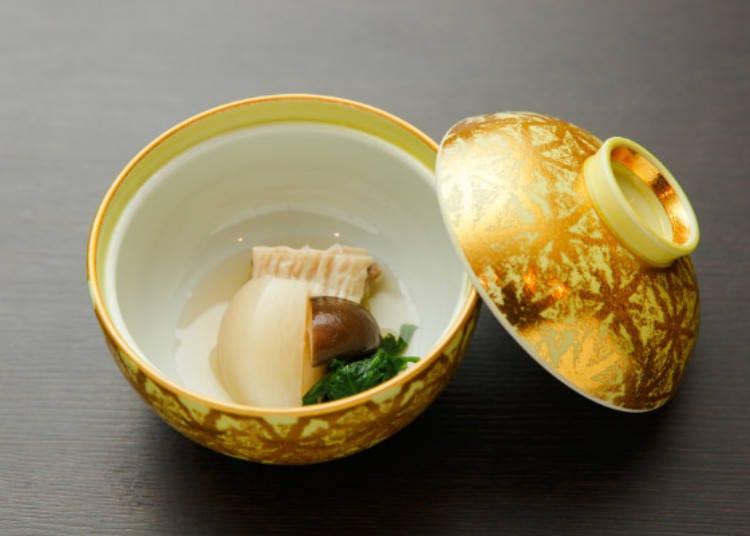 This golden bowl hides a flavorful simmered dish, such as turnip and shimeji mushrooms.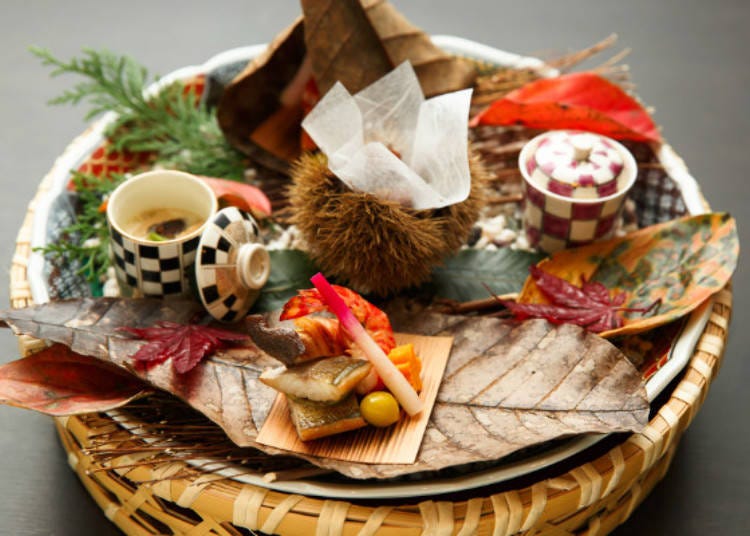 Next up are additional appetizers including citrus-grilled barracuda and egg custard with matsutake mushrooms, beautifully arranged in a basket decorated with chestnut and ginkgo leaves.

The chef decorates all dishes to intricately to express their desire to "please and entertain the guests."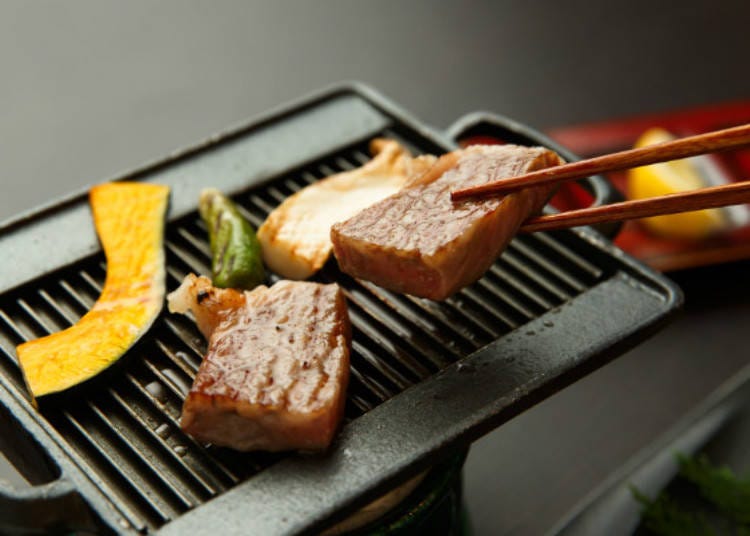 "I only use domestic Japanese black beef," the chef further explains. A precise amount of rock salt and wasabi is grated for said beef. Enjoy it freshly grilled and with a hint of lemon.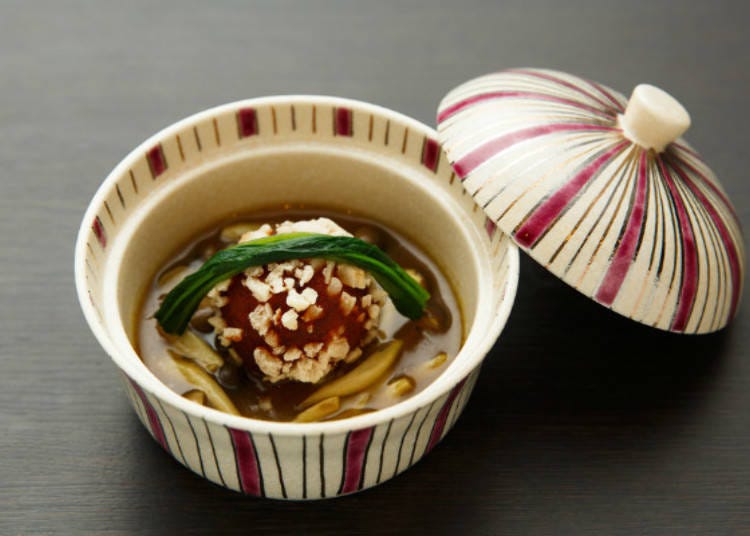 This is kamo manjū, a ball of minced duck meat with a crispy coating. Its spicy flavor is reminiscent of curry.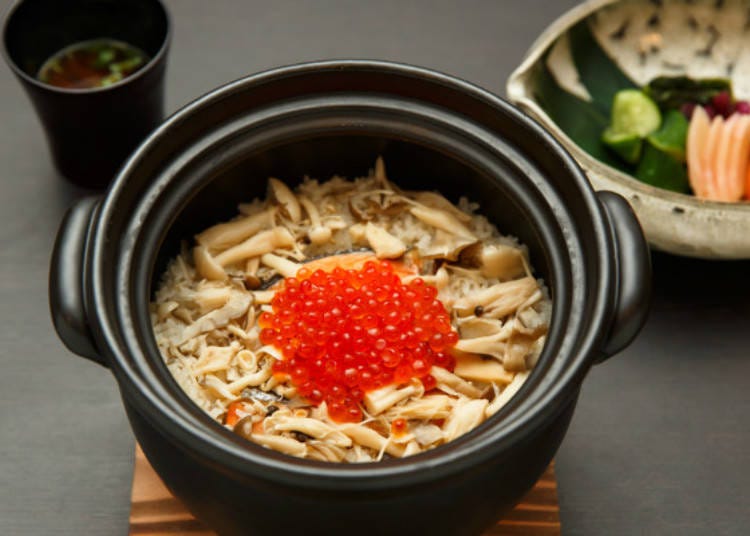 The autumn rice, prepared in an earthenware pot, is generously topped with salmon, salmon roe, and mushrooms. Served with homemade pickles and red sauce, it's a savory dish with plenty of volume.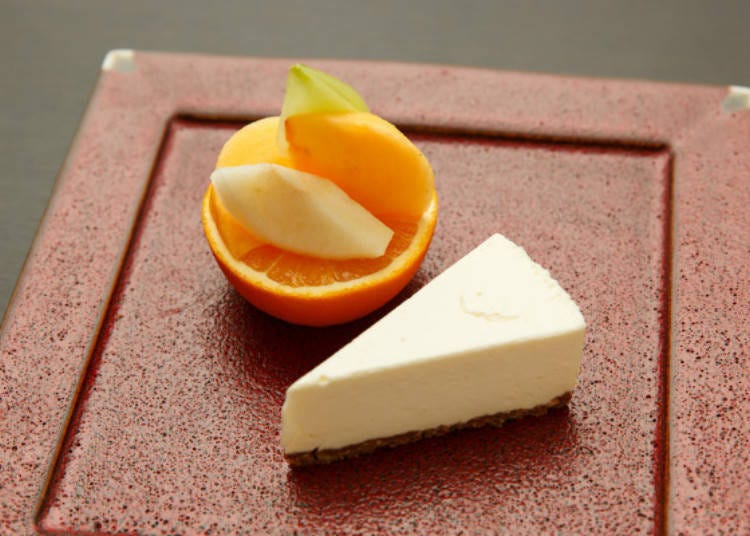 The sweet finale of the course meal is cheesecake and seasonal fruit, a handmade dessert that melts right on the tongue.

Traditional kaiseki cuisine is known for its emphasis on seasonal ingredients and beautiful arrangements, and Mikawaya Ryokan's meal did not disappoint at all. Stunningly decorated, every course was like a delicious surprise, perfectly matching the autumn leaf scenery outside the window in both look and taste.
Soak Your Body in the Hot Spring Bath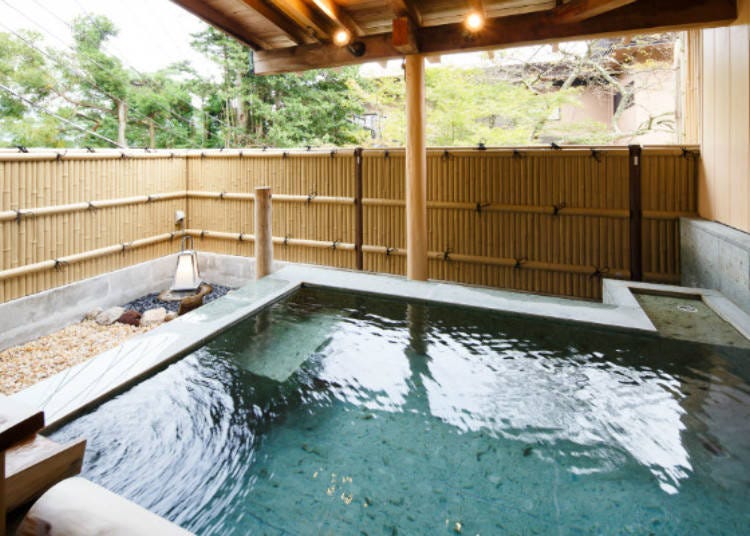 ▲ The large outdoor bath that is shared among all guests.
All of Mikawaya Ryokan's hot spring baths get their water straight from five natural hot spring sources at the back of the mountain. This water is a simple hot spring, hypotonic and with a low alkaline level. Its temperature is around 53.8°C (128.8°F) and said to have a wide range of benefits, including stress relief, countering neuralgic pains, fatigue, and so on. It will certainly warm you up right to the core and relax you through and through.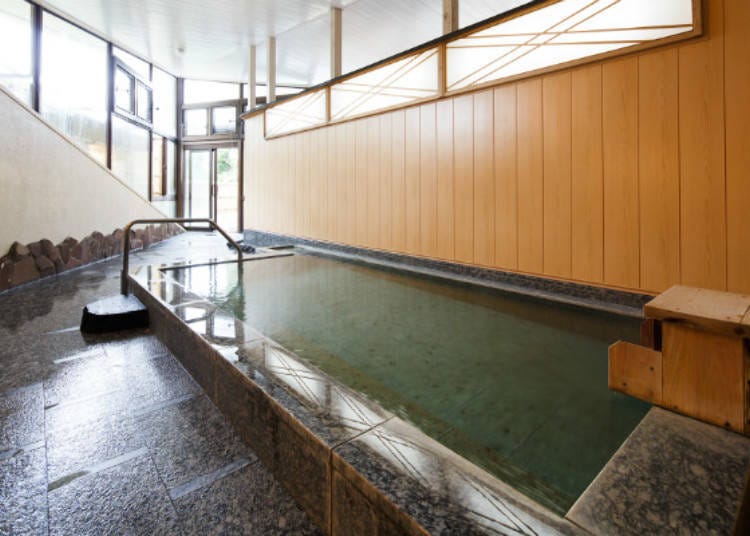 ▲ The public bath on the inside, lit by a gentle, natural light from the many windows.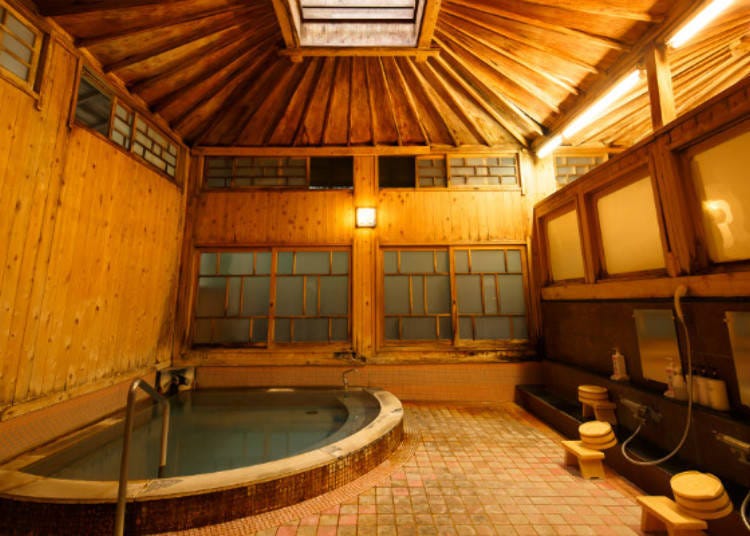 On the first floor of the Tsukiume building, you'll find the Meiji Bath. It boasts an authentic atmosphere of bathing culture of the past two centuries, with the original ceiling from the time of the hotel's construction.

You can visit the Meiji Bath and the other large baths as many times as you like between 3:00 p.m. and 9:00 a.m., meaning they're open throughout the night and welcome you for a late-night soak. The hot water will wash stress and worries right off of you.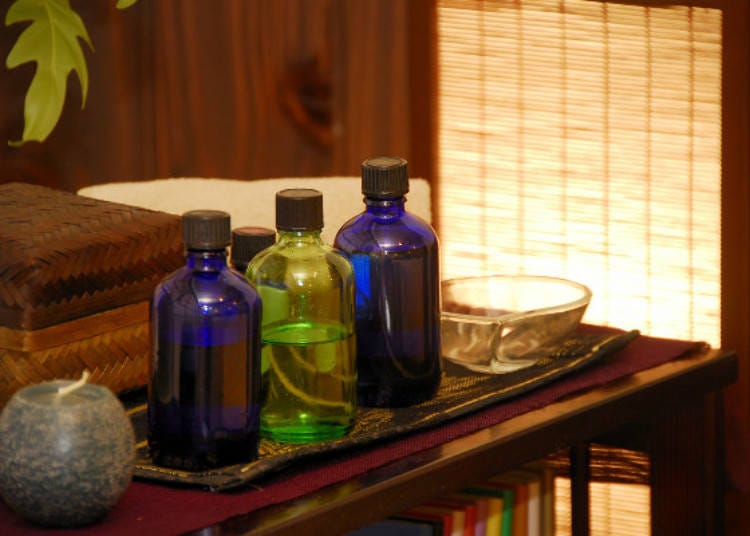 In addition to the hot spring experience, we highly recommend partaking in the hotel's aromatherapy. There's hardly anything more relaxing than laying down after a soak in the hot spring water, letting the professionals gently massage your lymph and acupuncture points. It's so heavenly relaxing, you'll have trouble staying awake. Mikawaya Ryokan offers a 40-minute facial & body trial treatment for 6,300 yen (tax included), so don't hesitate to make a reservation.
A Refreshing Breakfast After a Refreshing Hot Spring Experience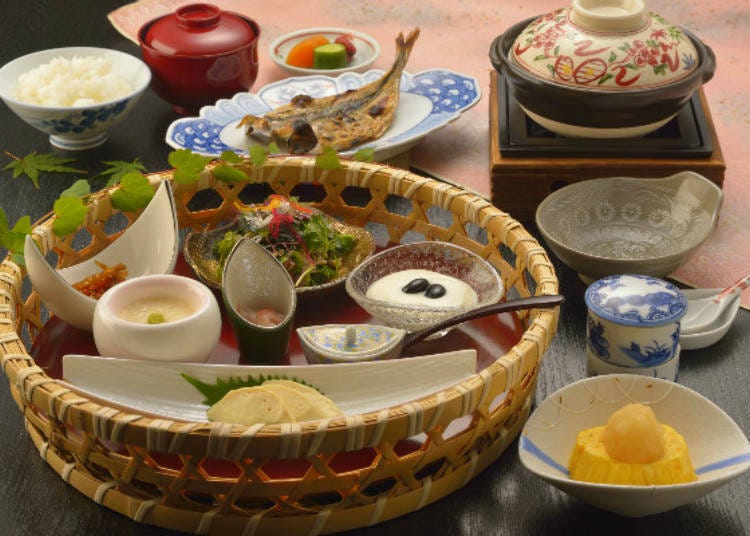 The soaking and massaging are sure to earn you a night of heavenly sleep, helped by the wonderfully fluffy futon beds. The next morning follows up this pampering with an excellent breakfast. Ours included handmade tofu, dried horse mackerel, and a warm pot dish – a healthy, delectable way to start the day.
Before you check out, why not stop by the little souvenir shop? Its retro atmosphere alone is worth a visit and you might even find a unique memento.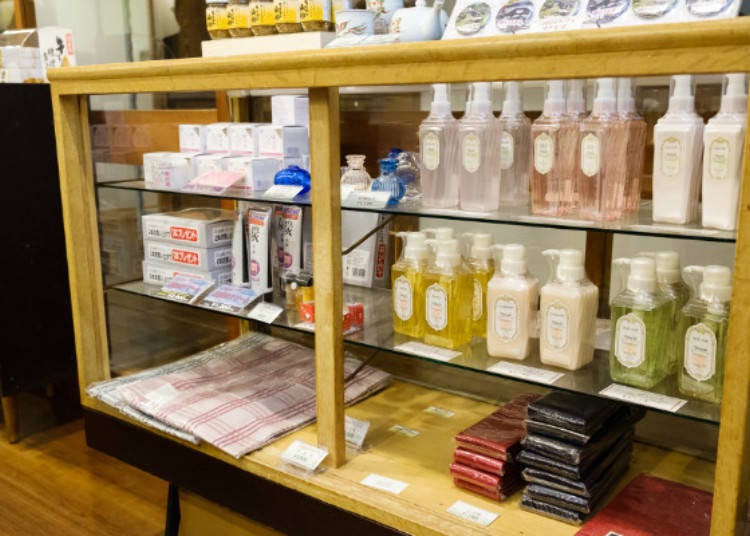 Among the selection are yukata (thin summer kimono) with a modern, sophisticated check pattern, as well as original hair care products in beautiful packaging.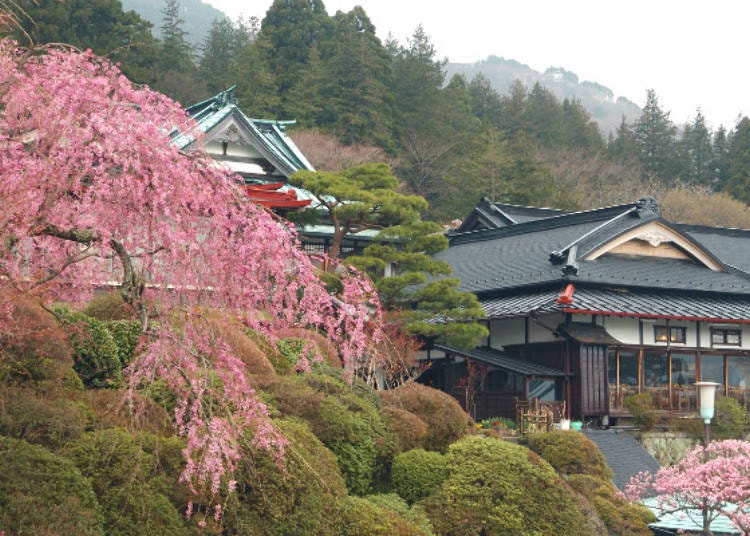 ▲ The weeping cherry trees in spring are of stunning beauty as well.
Mikawaya Ryokan has welcomed guests with heartfelt hospitality for more than 130 years. This is vividly palpable in the historical, nostalgic atmosphere that makes this hotel so special. The relaxing hot spring experience and the stunning scenery just outside the windows will turn your visit into a magical memory, but it is the warmth and charm of Mikawaya Ryokan that will earn it a special place in your heart, making you long to come back to this unique place over and over again.

※All images are from 2016.
Writer: Yasuko Goto
箱根小涌谷温泉 三河屋旅館

Address

503 Kowakudani, Hakone, Ashigarashimo District, Kanagawa 250-0406

Phone Number

0460-82-2231

Room rate: from 19,980 yen per night, including two meals (rate for one room for two guests; consumption/service tax included, bathing tax excluded)
※The hotel offers several accommodation plans.
Check-in: 3:00 p.m. – 6:30 p.m.
Check-out: until 10:00 a.m.
Learn More About the Hakone Area
Check Out These Other Ryokan in Hakone
Address

90-42, Motohakone, Hakone-machi, Ashigarashimo-gun, Kanagawa, 250-0522
View Map

Nearest Station

Hakone-Yumoto Station (Hakone Tozan Railway)
43 minutes by bus


Phone Number

0460-83-7788
Address

1300-173, Gora, Hakone-machi, Ashigarashimo-gun, Kanagawa, 250-0408
View Map

Nearest Station

Gora Station (Hakone Tozan Railway / Hakone Tozan Cable Car)
5 minutes on foot


Phone Number

0460-82-8801
Address

Gora 1300, Hakone, Kanagawa, 250-0408
View Map

Nearest Station

Chokoku-no-Mori Station (Hakone Tozan Railway)


Vacancy search, reservation

Please enquire directly about rates.

Check with our partner site as the latest rates, rate details, and guest room requirements may vary.
*This information is from the time of this article's publication.
*Prices and options mentioned are subject to change.
*Unless stated otherwise, all prices include tax.