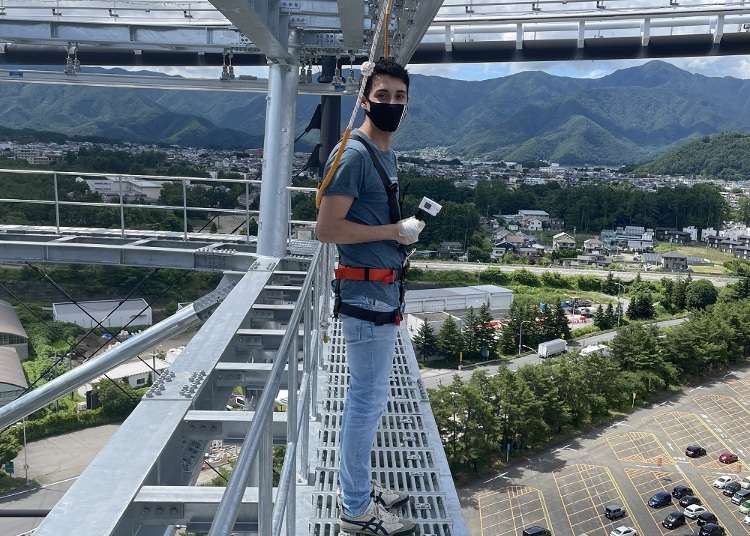 Neighboring Mt. Fuji, Fuji-Q Highland is a world-renowned Japanese theme park packed with roller coasters, haunted houses, Ferris wheels, and more. Constantly adding fresh and exciting facilities, summer 2021 has finally seen the opening of their much-anticipated new attractions!

This includes the "FUJIYAMA Tower," which boasts an incredible panorama of Mt. Fuji, along with the "Ferris Wheel of Punishment," which is modeled on a prison. For those staying at home and who can't travel to Japan, read our experience at Fuji-Q Highland to get a peek at what you have to look forward to!
What Kind of Theme Park is Fuji-Q Highland?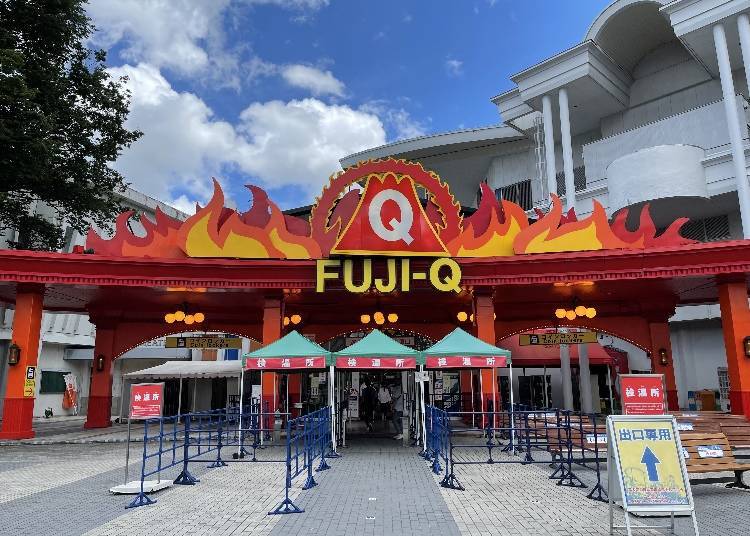 Fuji-Q Highland first opened in 1969, just a stone's throw away from the legendary Mt. Fuji. It is also surrounded by other famous sightseeing spots, such as the Fuji Five Lakes and the Gotemba Premium Outlets shopping mall.
One of the biggest attractions of Fuji-Q Highland is its collection of world records. This includes the Fujiyama roller coaster, which has a height of 79m, a lift of 71.5m, a drop of 70m, and a top speed of 130km. The park also has a 700-meter-long path at its Senritsu Meikyu haunted house. Both are world record numbers!

In addition, entry to the park is free, a rarity for amusement parks, making it easy to drop by for shopping or a visit to the restaurants.
The Ultimate Feeling of Release! Panoramas of Mt. Fuji at the FUJIYAMA SKYDECK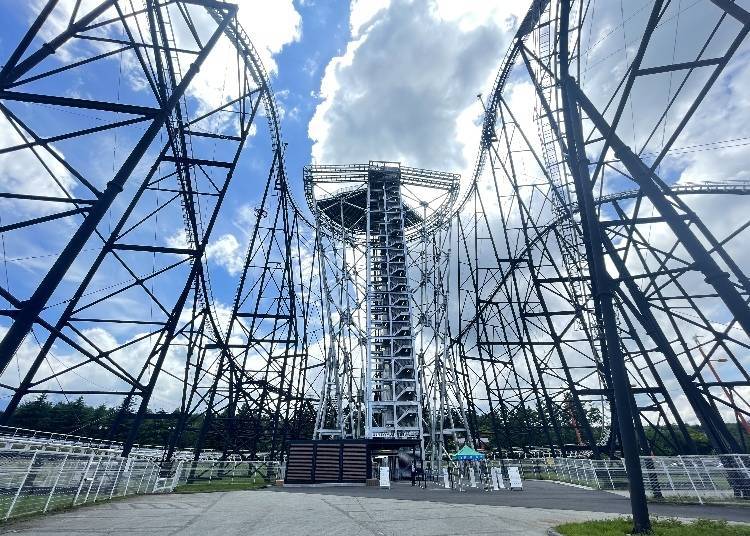 First up, let's take a look at the FUJIYAMA Tower, a brand-new attraction that opened in 2021 to celebrate the 25th anniversary of Fuji-Q Highland's famous Fujiyama - King of Coasters.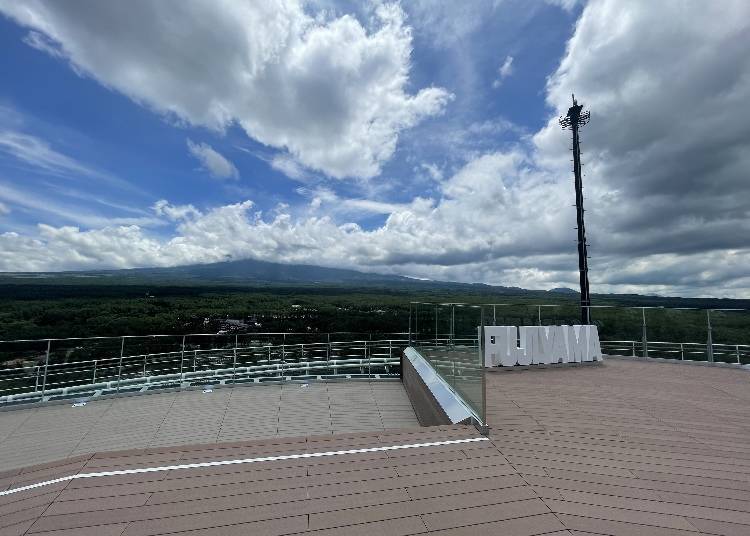 At the top of the 55m tower is the observation floor FUJIYAMA SKYDECK. Here one can enjoy magnificent panoramas of Mt. Fuji and the Aokigahara forest, usually only seen by staff and thrill-seekers aboard the Fujiyama roller coaster.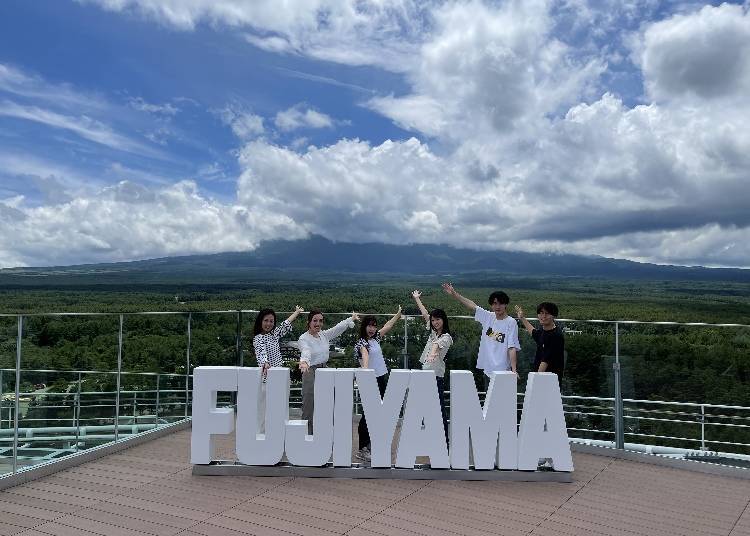 The observation deck is spacious and has glass barriers, making it comfortable even for those afraid of heights.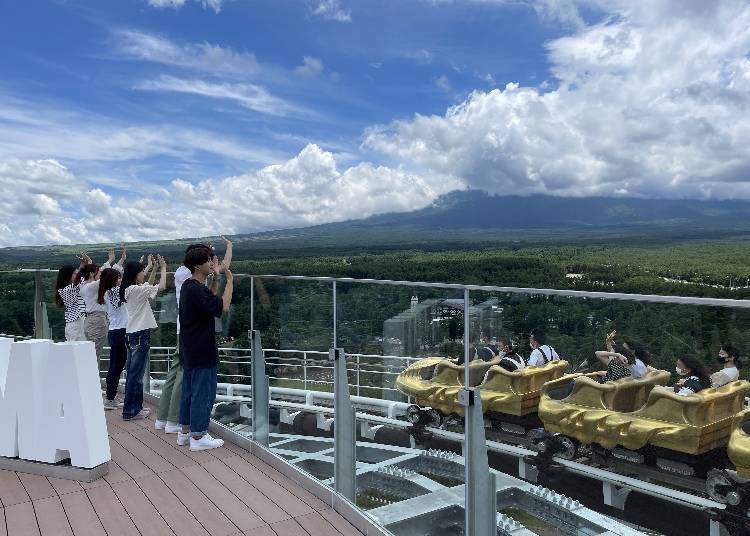 Alongside the FUJIYAMA SKYDECK, the Fujiyama roller coaster will pass by once every four minutes. Wave your hand and wish the brave passengers the best of luck!
Purchasing a ticket is necessary to ascend the FUJIYAMA SKYDECK. For those stopping by, there are three different kinds of seasonal ticket prices available.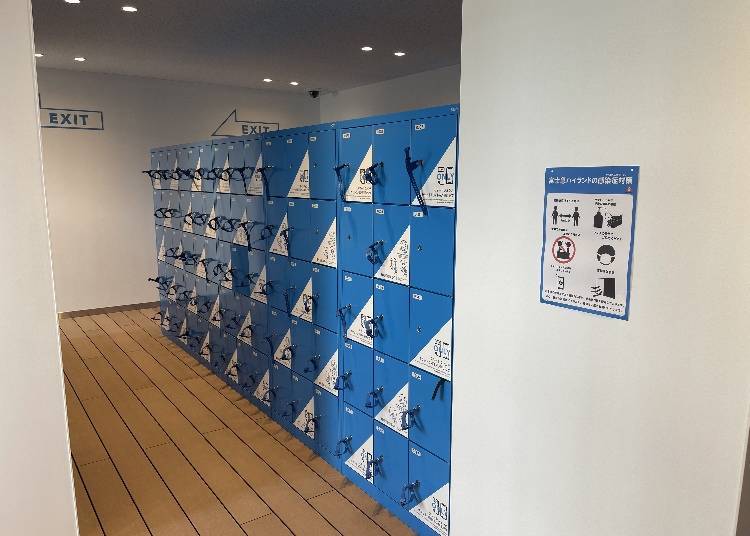 For safety reasons, items other than smartphones cannot be brought up the tower, so feel free to use the lockers on the first floor (glasses, watches, supportive devices for the disabled are also exempted).

FUJIYAMA SKYDECK
Prices:
High-season:
- Adults: 1,400 yen
- Middle/High-school: 1,200 yen
- Elementary school: 1,000 yen
- Infants (1-5): 900 yen
Regular:
- Adults: 1,200 yen
- Middle/High-school: 1,000 yen
- Elementary school: 800 yen
- Infants (1-5): 700 yen
Off-season:
-Adults: 1,000 yen
-Middle/High-school: 800 yen
-Elementary school: 600 yen
- Infants (1-5): 500 yen
Test Your Courage on the FUJIYAMA Walk!
One additional highlight of the FUJIYAMA Tower is the FUJIYAMA Walk. This unprecedented attraction, set up directly beneath the observation deck, sees participants use a safety harness to walk a lap of the tower.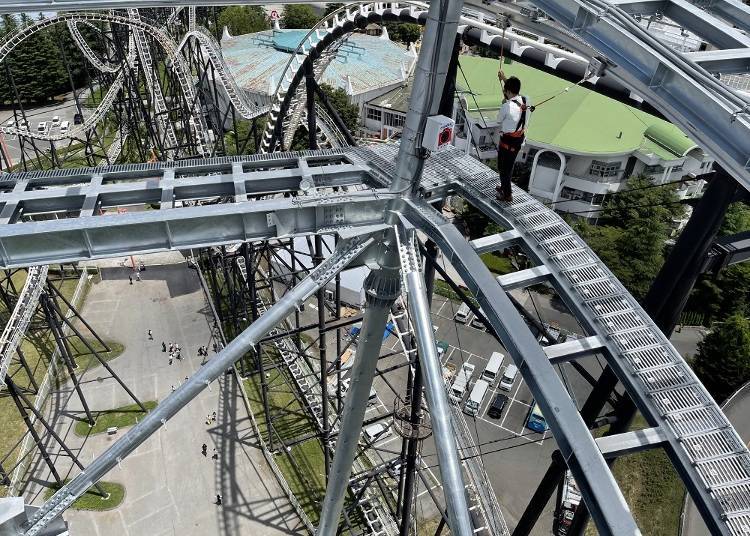 Looking down over the FUJIYAMA Walk from the SKYDECK, you can really get a sense of just how high up participants are walking! The people on the ground only appear as specks as you complete this nerve-racking journey!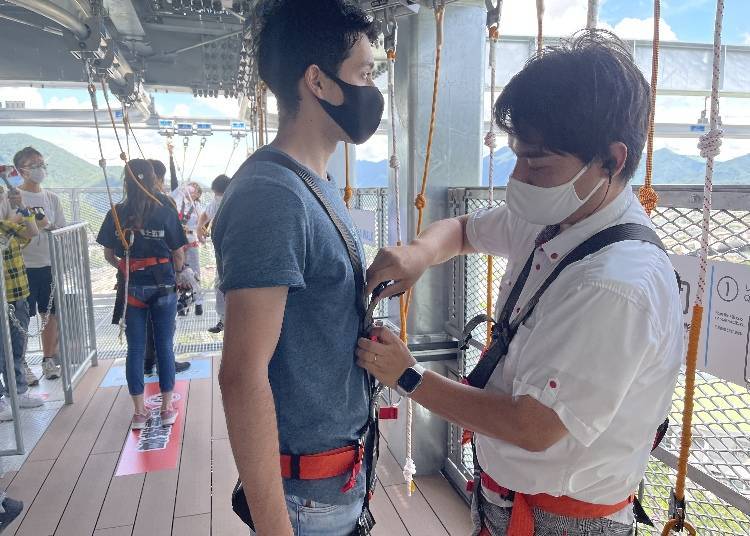 To bring our readers the full story, we couldn't leave without giving it a go ourselves! While we were super nervous, the world-renowned Australian-made harness gave us some much-needed reassurance.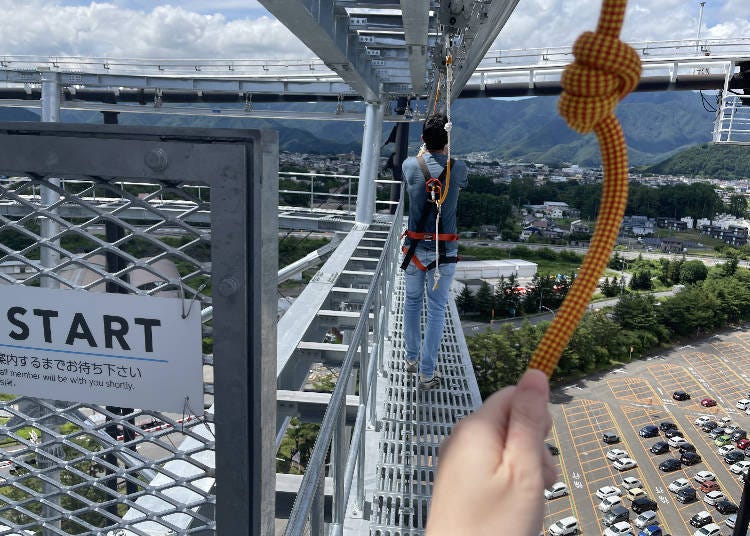 Once you step away from the starting point, there's no going back! Take plenty of time to prepare beforehand mentally!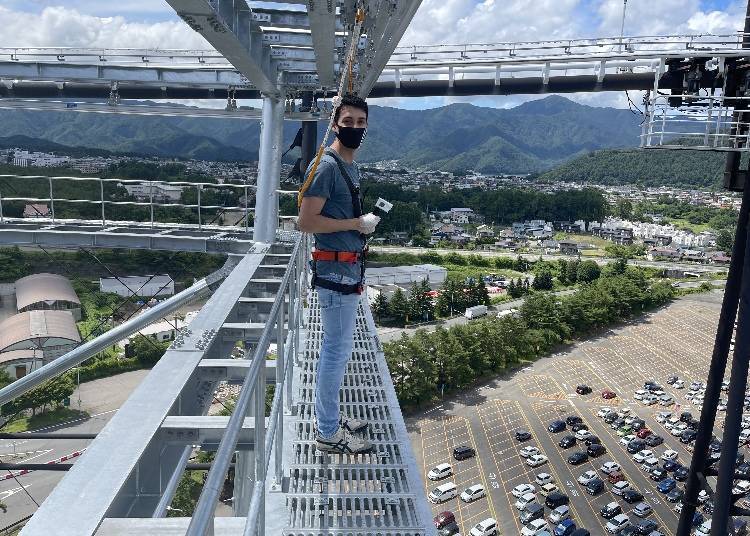 At last, our walk of fear begins! While the initial section has a handrail, it soon disappears, leaving one solely in the power of the harness. We felt our bodies shake with every gust of wind.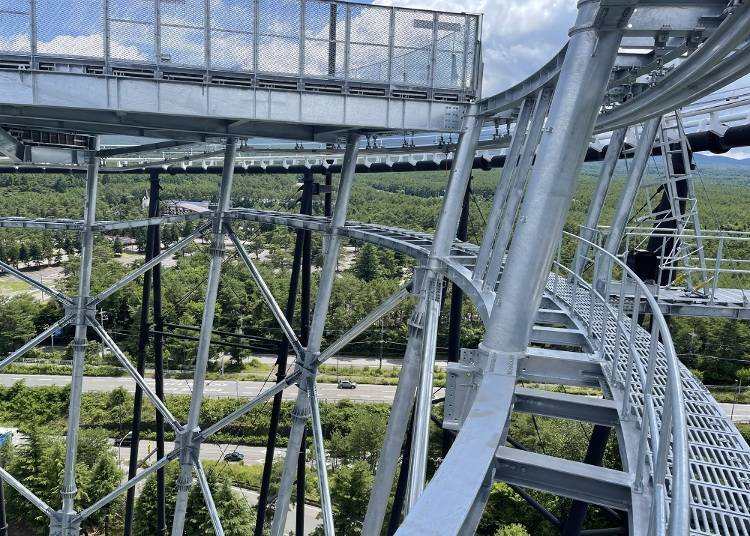 After passing the curve, we saw the long journey stretching out before us. Whether or not we could make it until the end was still yet unknown.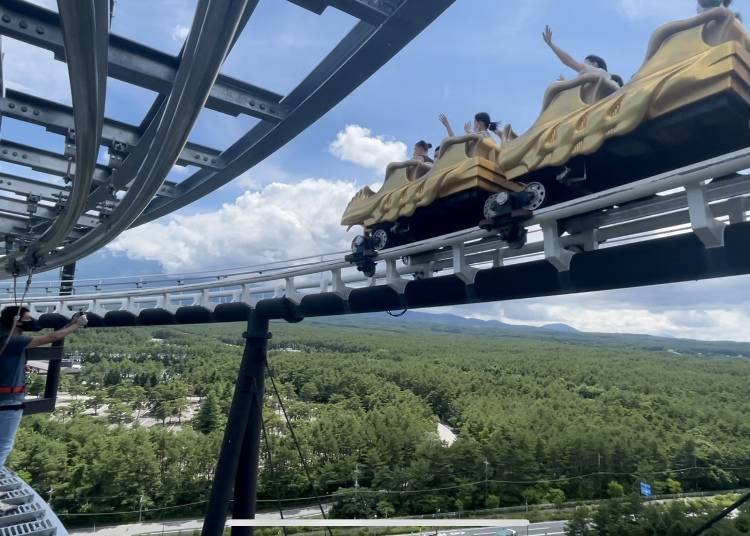 Above us, the Fujiyama roller coaster whizzed past. It disappears in an instant, so make sure not to miss it!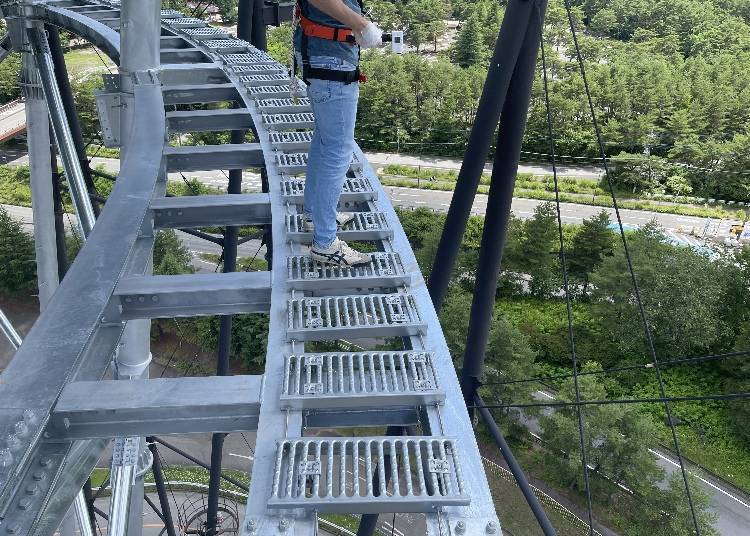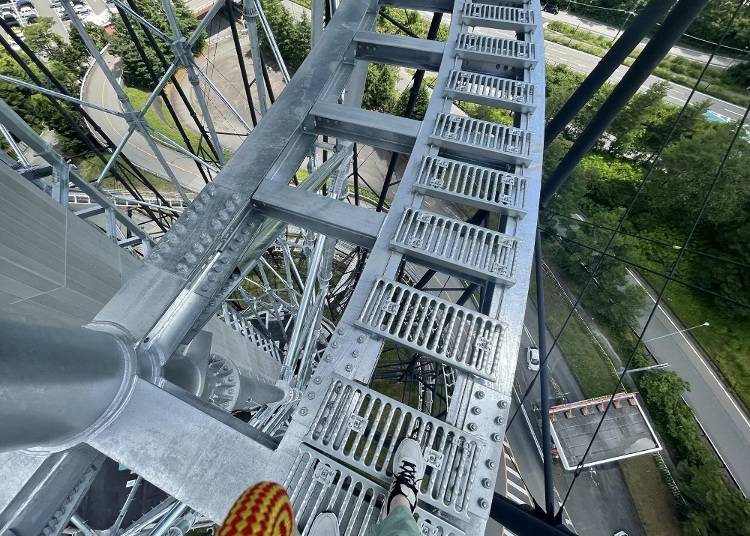 As we continued, we came across an area with large gaps between the foot railings. While we had gotten this far by slowly sliding our feet, this could no longer be done. Just looking at it was enough to make us feel queasy...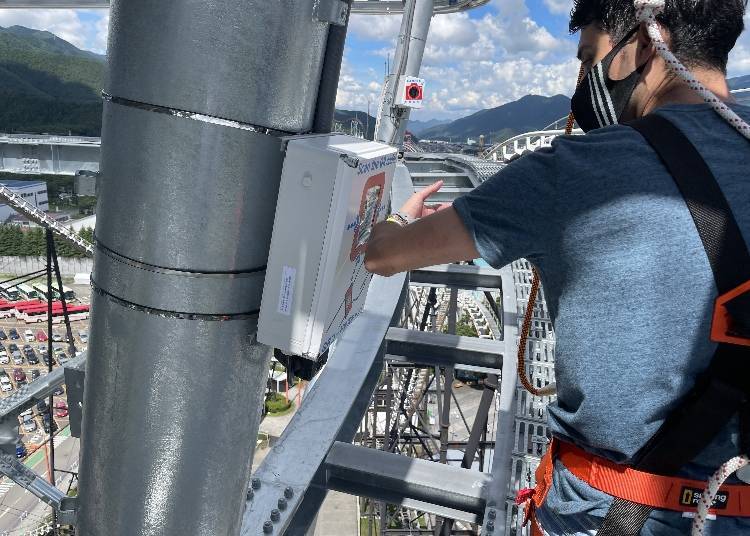 While maintaining our balance, we happened across a camera. If you hold the barcode on the wristband given to you over the device (as pictured above), the shutter will be released three times. As the announcement is in both English and Japanese, you'll have plenty of time to choose your pose before being snapped!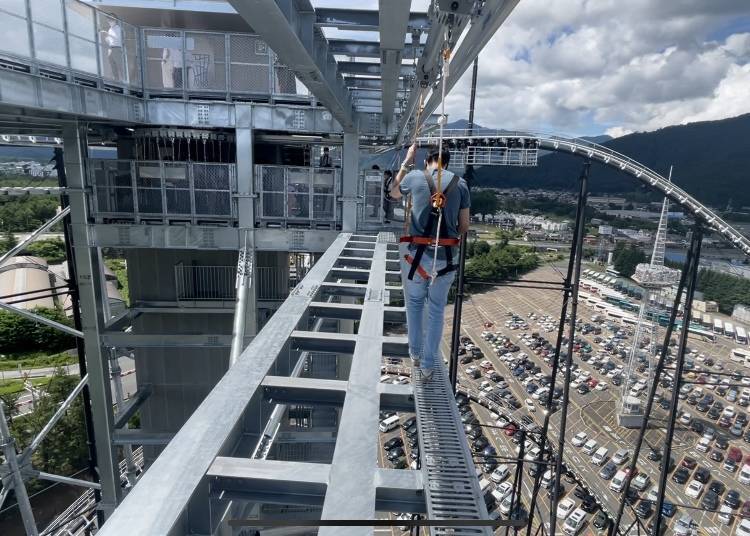 Once camera time is over, the finishing point will be right in front of your eyes! However, this final stretch is the most challenging of all, featuring a super narrow path with only enough width for one foot. The only thing to do is muster up a final bit of courage and press onwards!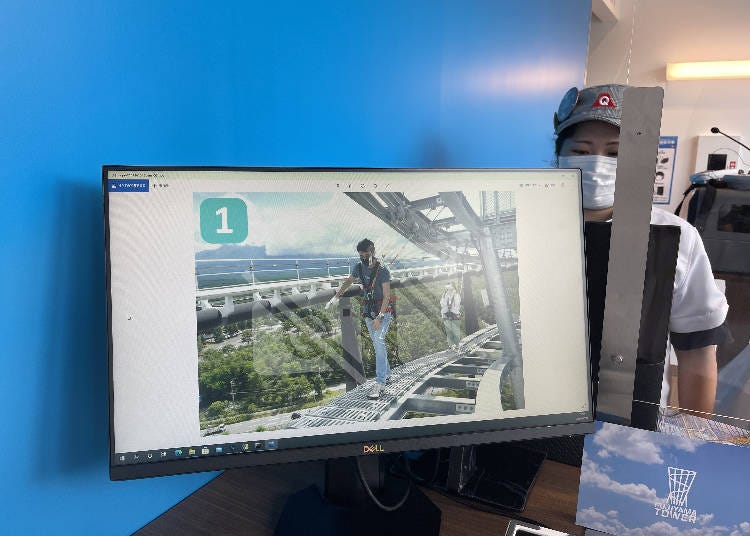 Photos can be purchased at the ticket booth on the first floor. Our "prepared for death" face will surely become a treasured memento showcasing our bravery for life!

FUJIYAMA Walk
Price:
- High season: 1,400 yen
- Regular: 1,200 yen
- Off-season: 1,000 yen
*For those with free passes, the price will be half.
Limit: Only those with a height of 140cm or more are permitted to enter
Opening day: Undecided
A Jailhouse in the Air: The Ferris Wheel of Punishment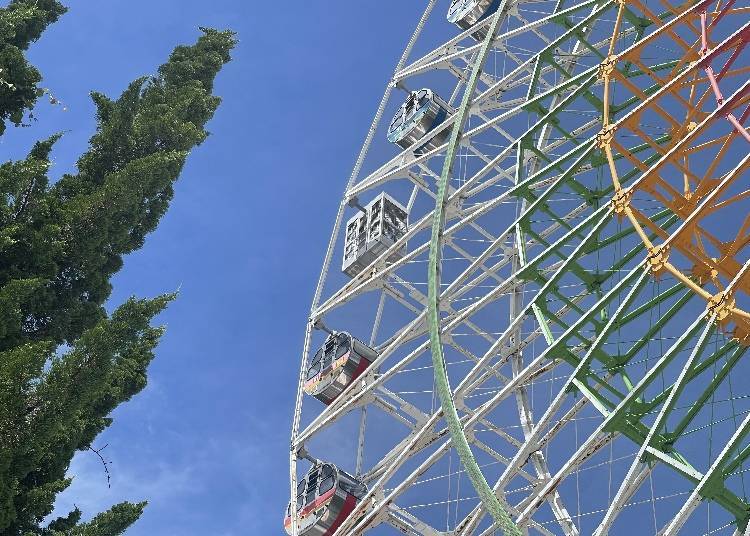 Fuji-Q Highland's ride in the air, the "Shining Flower" Ferris wheel, has gotten a makeover! The name of this new look is known as the "Ferris Wheel of Punishment!"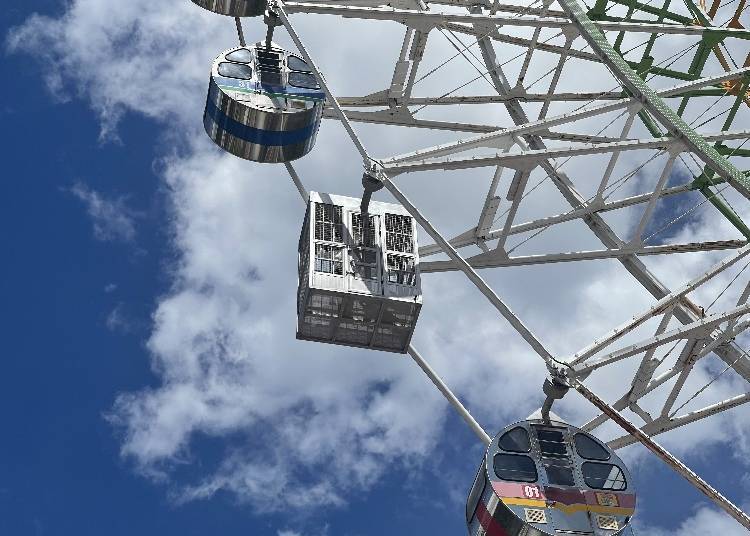 Two of the Ferris wheel's 32 lifts have been fitted with stainless steel to create a prison cell. Hanging 50m above the ground, you'll be able to get a taste of prison life while relishing the freedom of the air!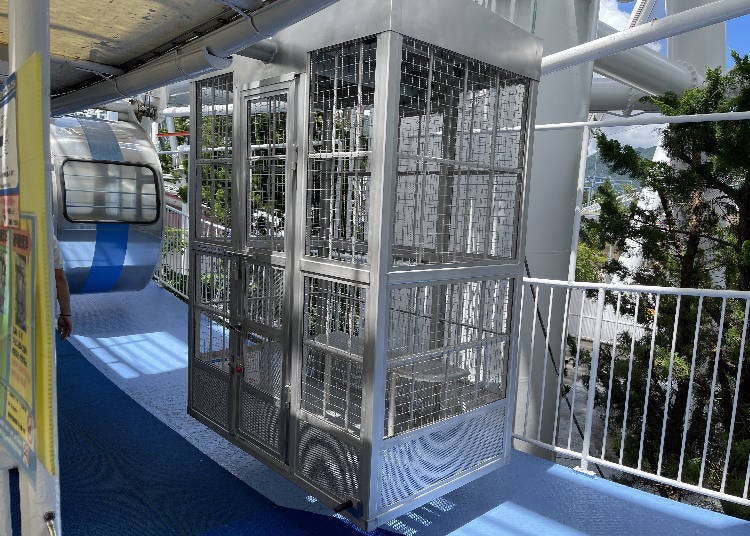 Each wall is made entirely in a jail cell grid design, allowing for the breeze to enter and making it surprisingly wind-swept!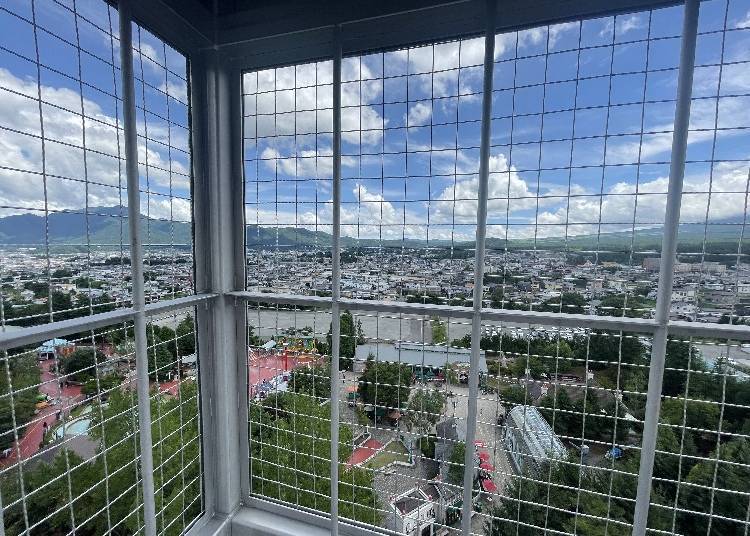 The streetscapes and wilderness surrounding Mt. Fuji spread out in front, forming an incredible view allowing one to forget about the rough jailhouse architecture enclosing them.
As you can see from the picture, even the floor beneath is see-through! For those afraid of heights, there's nothing you can do but close your eyes and pray for your safe return!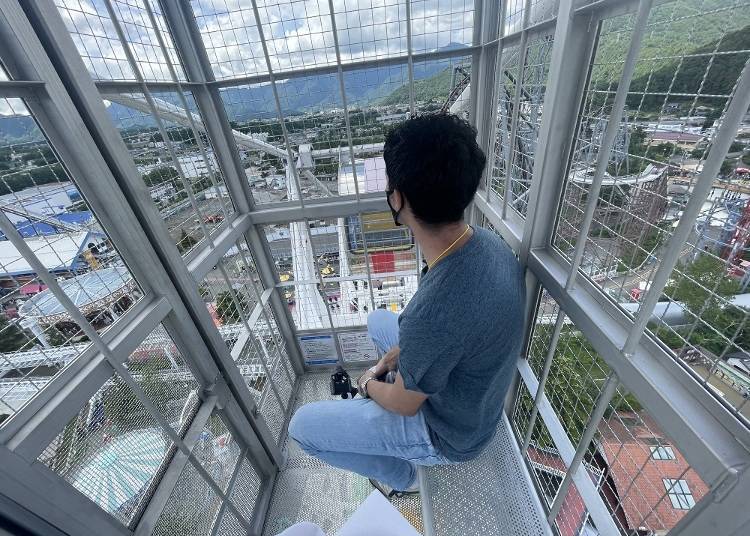 Trapped in a jail cell while gazing upon the magnificence of Mt. Fuji makes for the perfect atmosphere to reflect upon your own life and any sins therein...who knows, the gods of Mt. Fuji may just forgive you!

Ferris Wheel of Punishment
・Number of lifts: 2
・Capacity: 2
・Restrictions: Preschool children must be accompanied by someone of junior high school age or above
・Admission: 800 yen *Free pass accepted
・Time required: Approx. 11 minutes
New FUJIYAMA Tower Sweets! Dazzling Delights of Blue and White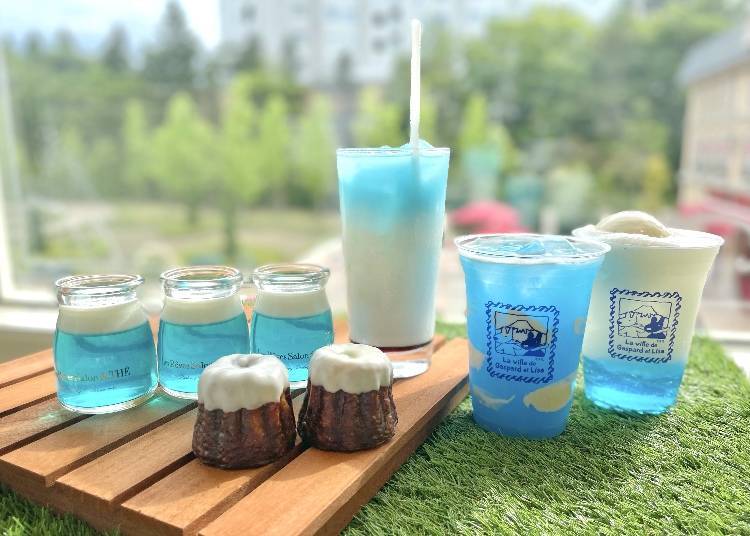 Once you've had your fill of thrills, it's time to take a break and calm the nerves at a cafe! Alongside the opening of FUJIYAMA Tower are a series of in-park cafes serving a whole bunch of brand-new original sweets.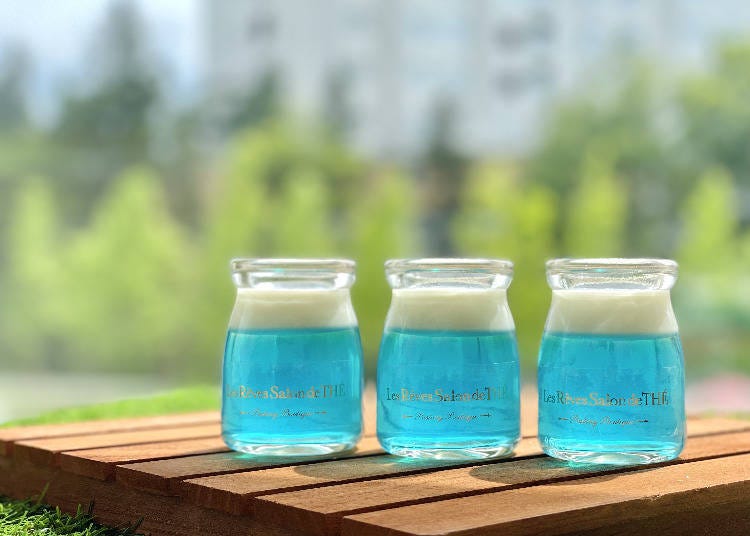 These original sweets are inspired by the blue of the sky and white of the clouds and mountain-top snow of Mt. Fuji, as seen from FUJIYAMA Tower. No matter what angle they're viewed from, the stark contrast between the vivid blue and white is absolutely gorgeous!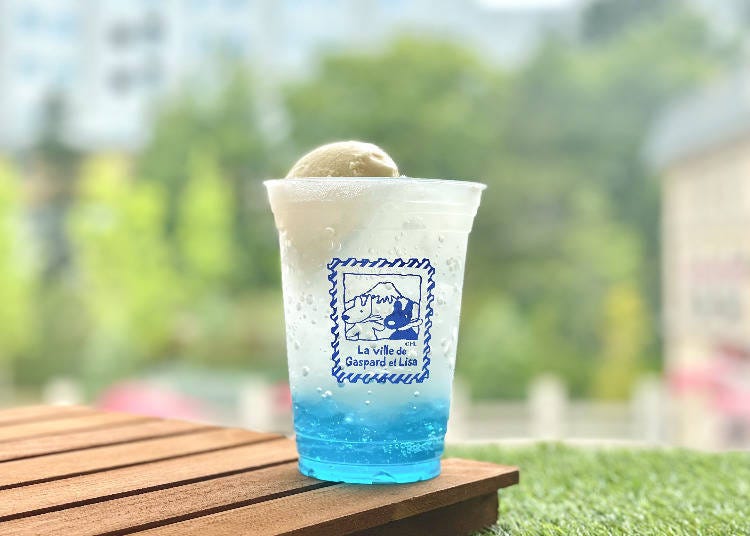 In addition to the Mt. Fuji Jelly and Blue Sky Cream Soda is the French canelé pastry also made in the image of Mt. Fuji, which has become a recent sensation!

Available Stores:
Les Rêves Salon de thé (within La Ville de Gaspard et Lisa town)
・Mt. Fuji Jelly (350 yen)
・SORA Squash (700 yen)
Café Brioche (within La Ville de Gaspard et Lisa town)
・Mt. Fuji Canelé (300 yen)
・Blue Sky Cream Soda (500 yen)
MACARONI CLUB (within the Highland Resort Hotel & Spa)
・Sky Cafe Latte (700 yen)

Fuji-Q Highland COVID-19 Countermeasures
Stores and facilities are sanitized, disinfected, and cleaned/ Disinfectant spray is placed within facilities/ Facilities are thoroughly ventilated/ Partition boards are in use/ Staff wear masks, wash hands, disinfect, gargle, and check temperatures/ Store capacities and seating arrangements have been adjusted/ Entry is limited, reservation system in place/ Customers feeling unwell will be turned away/ Customers are requested to wear masks and undergo temperature checks/ Check in is automated, face-to-face service is limited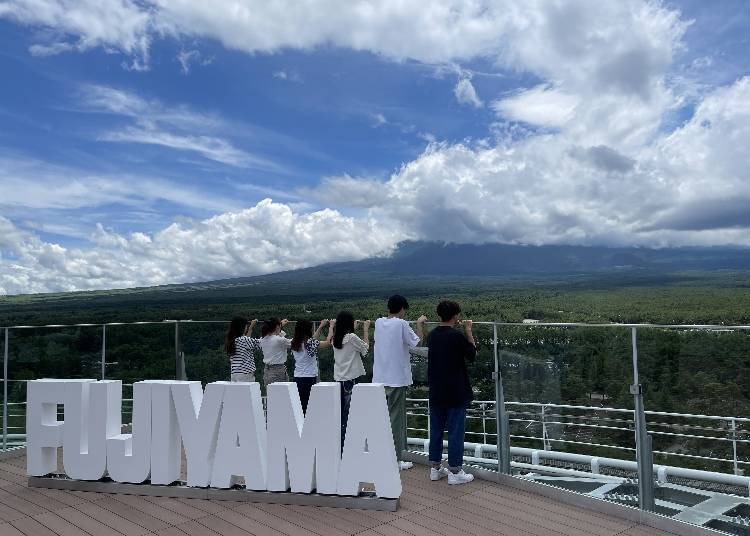 Boasting a whole bunch of impressive world records, your time in Japan is undoubtedly incomplete without a visit to its leading theme park of Fuji-Q Highland. Soak in gorgeous views of Mt. Fuji while enjoying nail-biting attractions sure to satisfy even the biggest thrill-seekers amongst us!
Address

5-6-1, Shinnishihara, Fujiyoshida-shi, Yamanashi, 403-0017
View Map

Nearest Station

Fujikyu-Highland Station (Kawaguchiko Line (Fujikyuko))
1 minute on foot


Phone Number

0555-24-6711
Written by: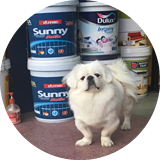 *This information is from the time of this article's publication.
*Prices and options mentioned are subject to change.
*Unless stated otherwise, all prices include tax.
Limited time offer: 10% discount coupons available now!