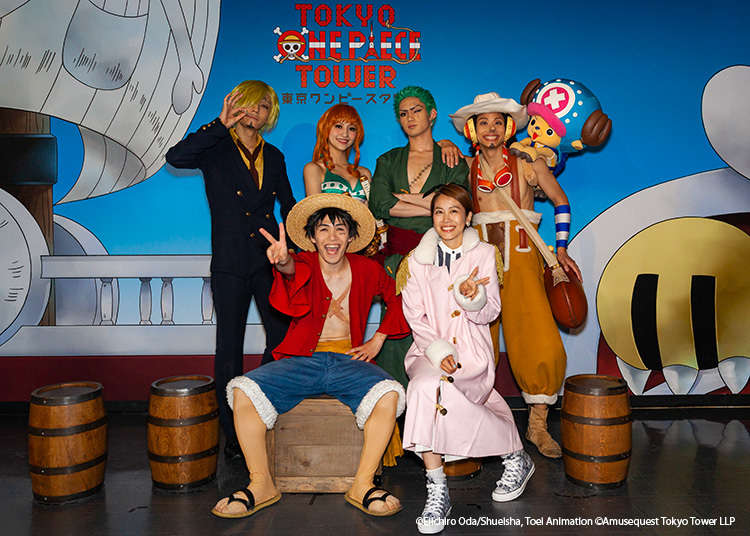 Each autumn, Tokyo gets into the Halloween spirit and, figuratively speaking, you can open a door to another world by transforming into one of your favorite characters! That door is literally found inside Tokyo One Piece Tower at the One Piece Halloween 2018 event, which takes place for 47 days from Saturday, September 15, to Wednesday, October 31. One Piece fans should mark these dates on their calendars so as not to miss this opportunity!
So what exactly is Tokyo One Piece Tower? In March of 2015, the city's iconic Tokyo Tower opened "Tokyo One Piece Tower" - a special anime attraction occupying the 3rd, 4th and 5th floors. Since then, over 1 million people have visited the attraction, making it an incredibly popular destination for fans and families! (It's also conveniently located within a 7-minute walk from Akabanebashi and Kamiyacho Metro stations!)

Inside, visitors can have fun taking snapshots with their beloved One Piece characters and mingle with fellow fans. It's the perfect place to express your passion toward the series!

Many exclusive events will take place simultaneously during this limited period, and you can have more fun if you cosplay as a One Piece character. Today, I have dressed as a female marine by donning a pink marine coat to give you a sneak peek of the event at Tokyo One Piece Tower and guide you through photo spots that you must check out!
First Things First! Don't Forget to Take Photos at the Entrance! (3F)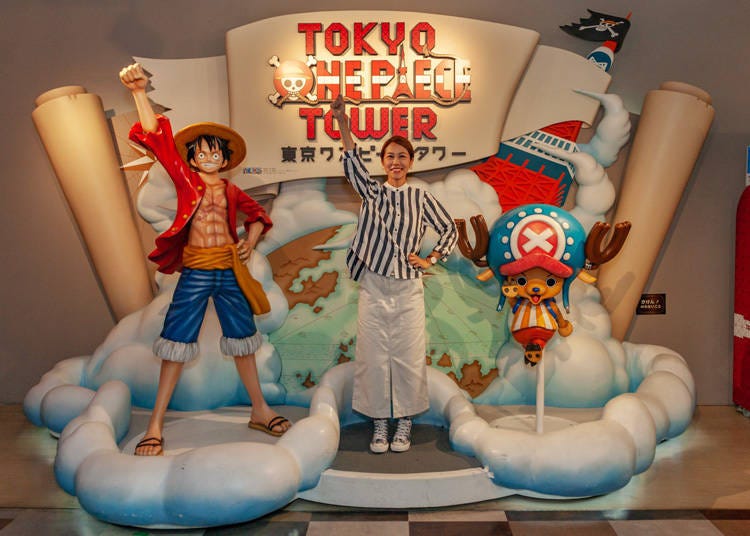 It is easy to imagine One Piece fans forgetting their photo opportunity as they become ecstatic walking into the world of manga. So, let's go over the photo spots so that there will be no regrets later. Whether or not you plan on cosplaying, try practicing a few poses at home. This way, you can feel confident in front of the camera as you take as many wonderful photos as possible.

That said, don't miss the photo spot at the entrance on the third floor of Tokyo One Piece Tower where you can get shots with figures of Luffy and Chopper. But watch out, because this photo spot will look different from the picture below during the Halloween event. Wondering how? Well, you shall find out when you get there!
Cosplayers Get an Exclusive Sticker for Free!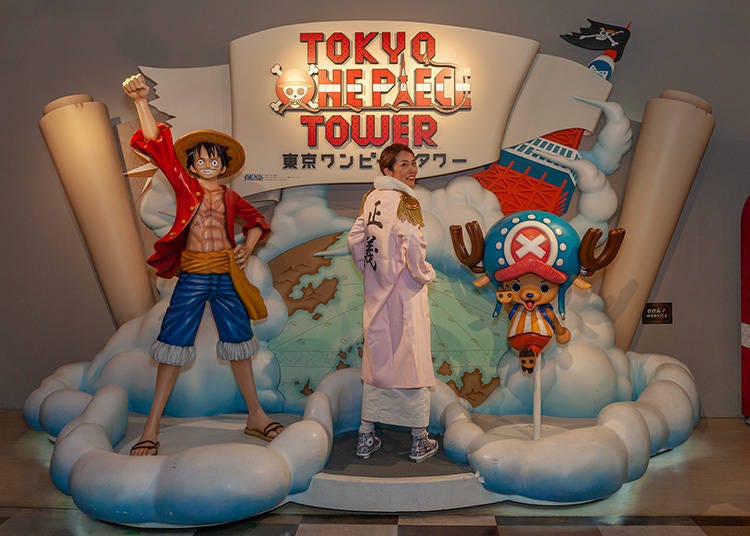 Speaking from my experience wearing the outfit of a female marine, I can guarantee that you will have double the fun and your time will be more memorable if you cosplay during the Halloween event! By doing so, you can blend into the background of each photo spot and take fantastic photos. And, you'll have even more fun communicating with other characters! For example, when I visited Tongari Island inside Tokyo One Piece Tower, islanders greeted me by asking: "Are you patrolling the island? Keep up the good work!"

By simply putting on a costume and some accessories, you can not only get a conversation rolling with the inhabitants of Tongari Island but also receive one of nine exclusive stickers—each printed with a different One Piece characters in Halloween costumes—upon entering the venue during the event. There are. Please note that you will not be able to choose.

Additionally, there will be a free jumbo clear sticker for those who pretend to be one of the Whitebeard Pirates on Marco's birthday (Friday, October 5) or if you portray a member of the Heart Pirates on Saturday, October 6, which is Trafalgar Law's birthday.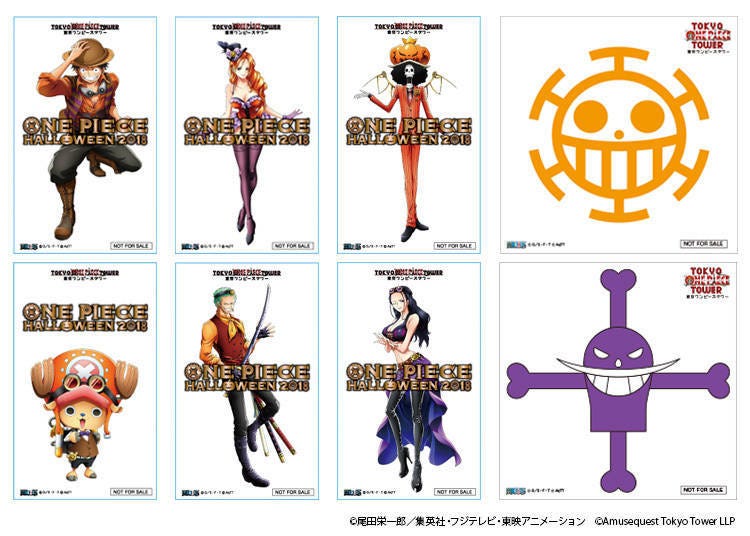 Exclusive stickers for cosplayers. Jolly Roger stickers of the Heart Pirates and the Whitebeard Pirates are available only on the birthdays of Law and Marco respectively.
You can, of course, participate in a competition for best One Piece cosplay, including of pirates, marines, and animals. The first round of the adult division contests (junior high school and over) for individual contestants will be held on Saturday, October 13. The second round—for contestants in groups of two or three—will take place on Saturday, October 20. The kids division contest, open to students in elementary school or younger, is set for Saturday, October 27. If you aspire to take home the prize, start preparing your costume now!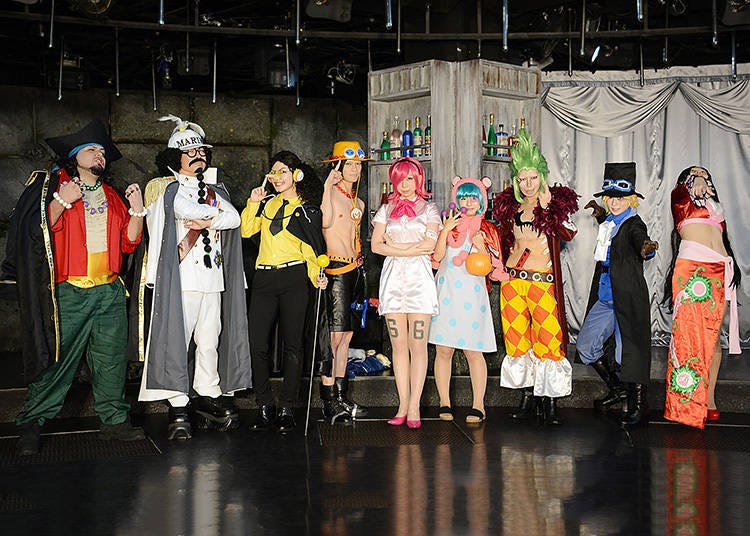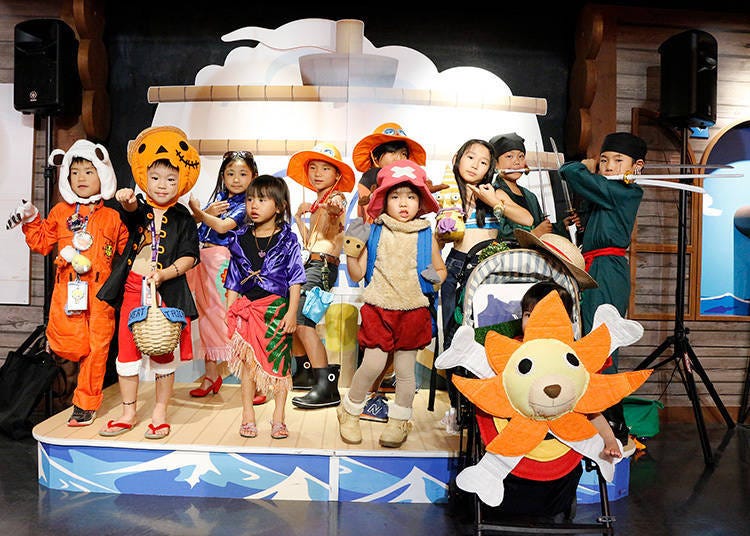 At this year's Cosplay Contest, a professional photographer will take photos of all contestants upon their entry. These images will be mounted on pasteboards and given to the contestants at the end. Anime voice actors and creators of One Piece will serve as judges, and winners will receive original prizes.
Arrr! Let's Party On with the Straw Hat Pirates! (3F)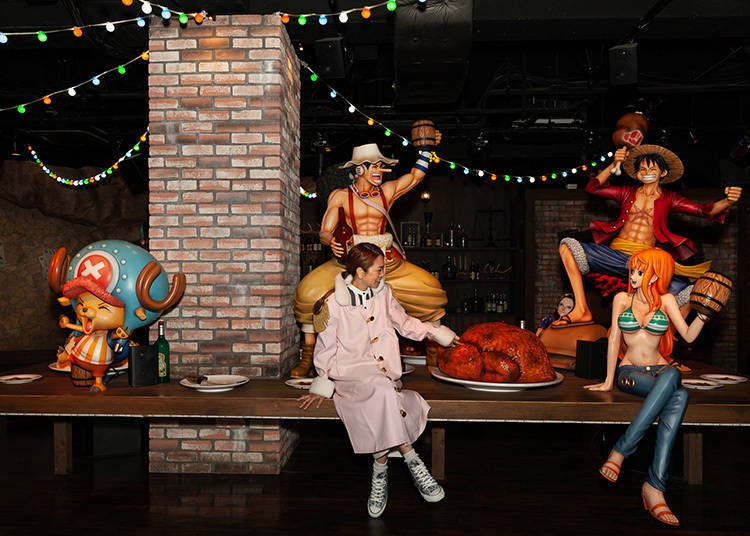 This photo spot renders a very realistic shot and it looks as if you are actually partying with members of the Straw Hat crew. But, considering the fact that these figures are life size, look how gigantic Luffy's favorite food—meat on the bone—is! Here, challenge yourself to make exaggerated facial expressions and various poses. If you are into acting, there's no doubt that you will get hooked.
Take a Close-Up with the Beloved "Fire Fist" Ace (5F)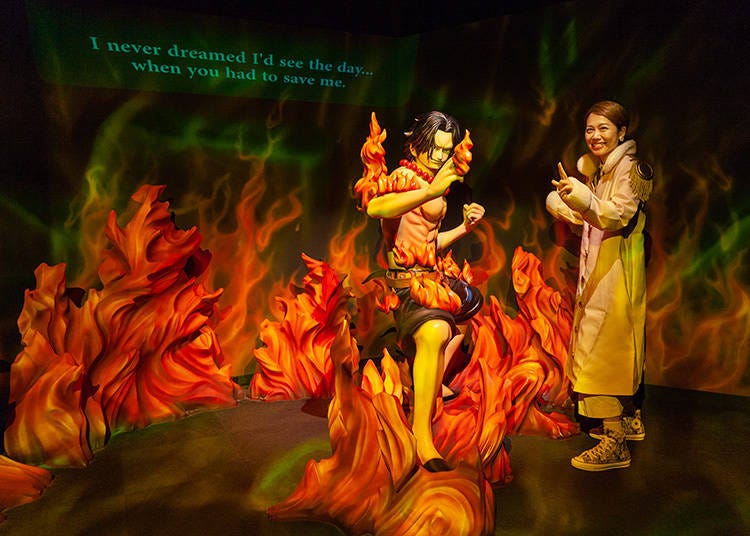 On the fifth floor, a figure of the very popular One Piece character Ace can be found inside a walkthrough attraction entitled Luffy's Endless Adventure. For die-hard fans of Ace, this is a chance to take a commemorative photo in front of a background that recreates a famous scene in which Ace and Luffy—after the former was rescued—fought together at the Battle of Marineford. It is sure to make people emotional and cause tears to be shed.
More Photo Opportunities at the Ever-So-Cool Marine Headquarters! (5F)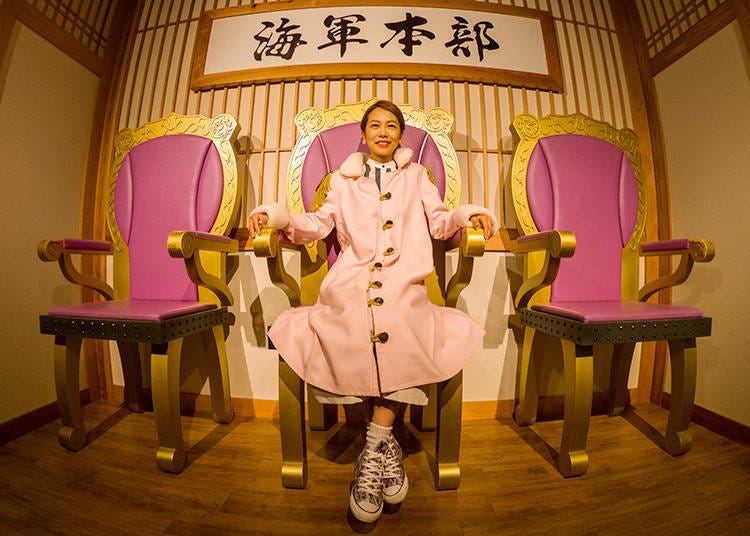 This is one of my favorite photos taken on the day of my visit! Dressed as a female marine, I needed to go to the Marine Headquarters. Look how my pink marine coat complements the purple chair! I must admit that the photo looks a bit empty, since I went alone, but it made me want to bring friends along next time so we could take a lot of fun photos and make memories together.
A New Photo Spot: Memorial Wall: Remember Marineford features Marco the Phoenix, former first-division commander of the Whitebeard Pirates (5F)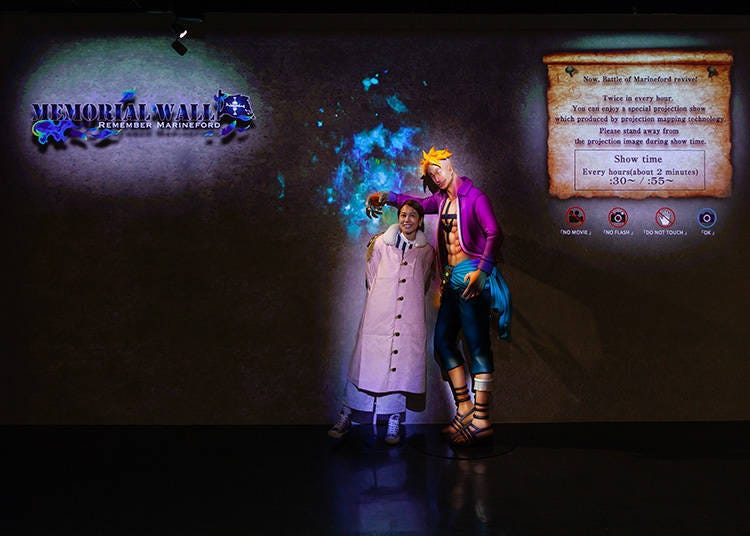 This is a new photo spot that opened on July 21! Here you can get an illusory shot with Marco the Phoenix, former first-division commander of the Whitebeard Pirates. What's more, you can watch projection mapping of everyone's favorite scene from the Battle of Marineford. The amazing two-minute-long visual experience takes place every hour on the half-hour and the 55-minute mark. Photography is allowed, but please note that recording and use of flash are prohibited!
Jump into a Scene from the Manga! The Hole Created by Kaido (5F)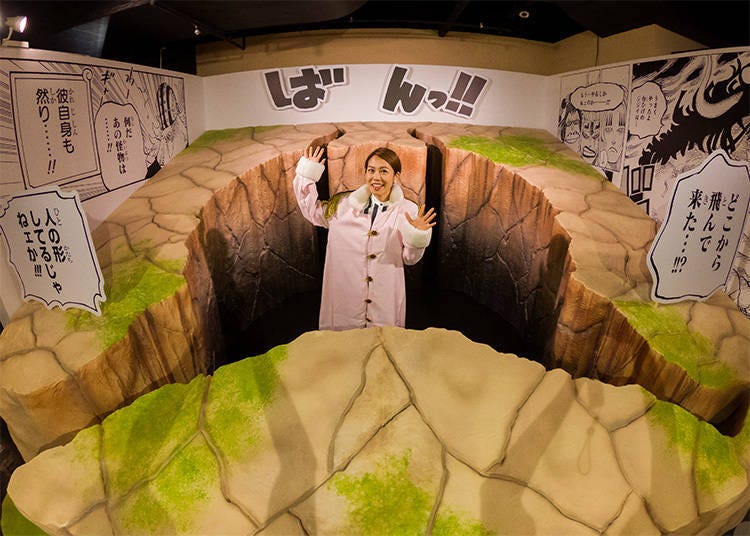 © Eiichiro Oda/Shueisha
Log Gallery, on the fifth floor, is hosting a special exhibition that features various original illustrations. When I visited, a huge hole created by Kaido—one of the Yonko (Four Emperors)—was replicated, so I got a photo in it, which came out very humorously with manga blurbs all around!
Photo Greeting: Rush to Get a Numbered Ticket for a Group Shot with the Straw Hat Pirates! (5F)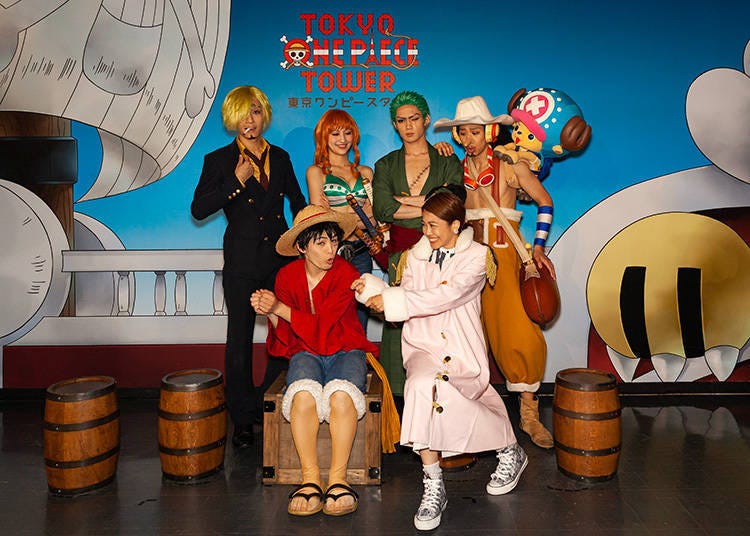 This photo greeting is a must for those who want a group shot with the main characters of One Piece. As soon as the venue opens at 10:00 a.m., rush to the fifth floor and get a ticket to secure your spot! Be warned that there is a limited number of tickets, and only those who have a ticket can take a group photo with the "Straw Hat" Pirates. If this is your thing, be prepared and think about who you want to cosplay during the Halloween event to best blend into the photo!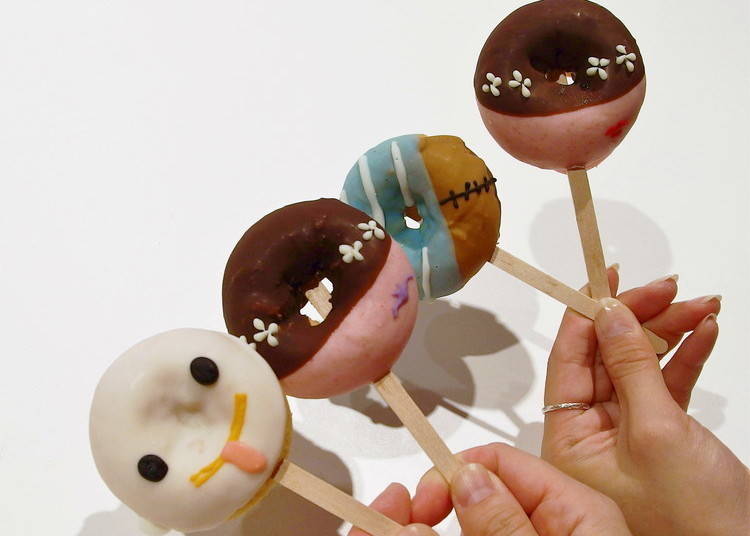 This is a sample image.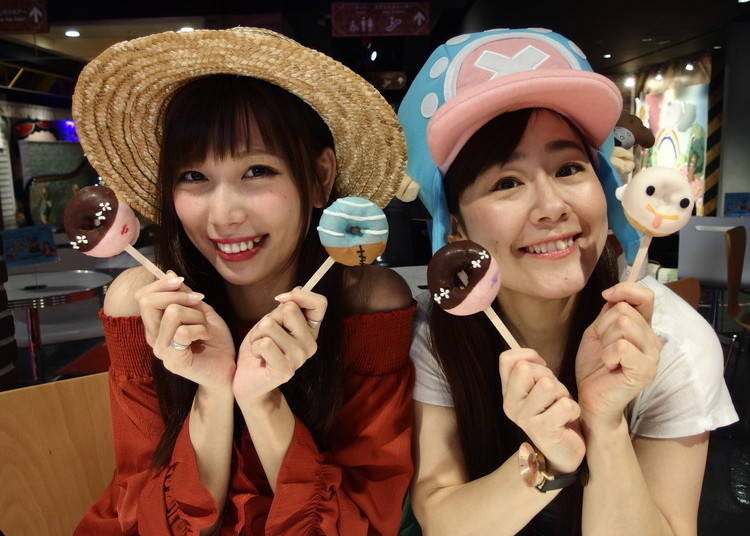 As for snacks and drinks, three types of donuts inspired by Perona and a second series of juice bags that were popular this summer will feature illustrations of the "Ghost Princess." Keep an eye out for them at One Piece Halloween 2018 in Tokyo One Piece Tower!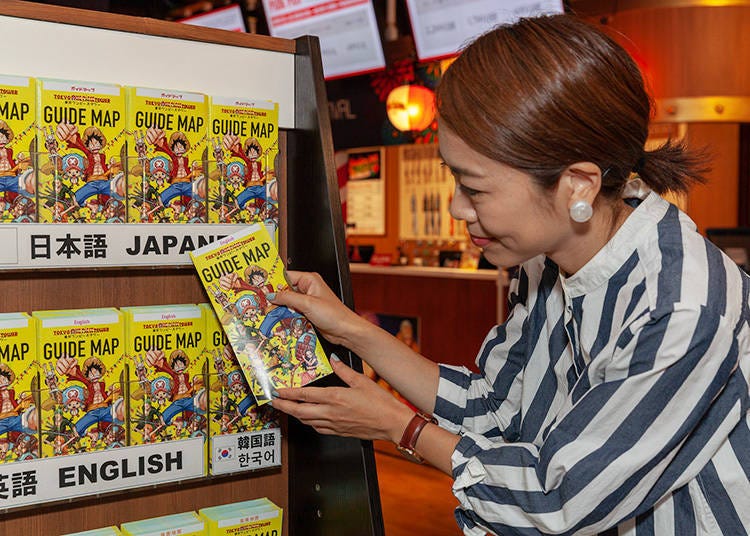 P.S. Multilingual maps and pamphlets are available at the entrance, so look through them before you start your journey to Tongari Island!

So that's all from my experience in July – be sure to join in all the fun in September and October!
東京ワンピースタワー

Address

Tokyo Tower Foot Town, 4-2-8 Shiba Park, Minato-ku, Tokyo, 105-0011


Nearest Station

Akabanebashi Station (Toei Oedo Line)
5 minutes on foot


Phone Number

03-5777-5308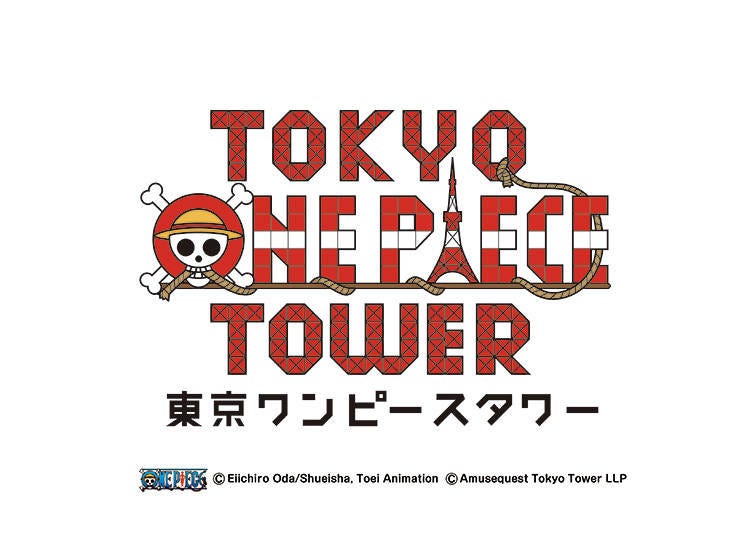 *This information is from the time of this article's publication.
*Prices and options mentioned are subject to change.
*Unless stated otherwise, all prices include tax.