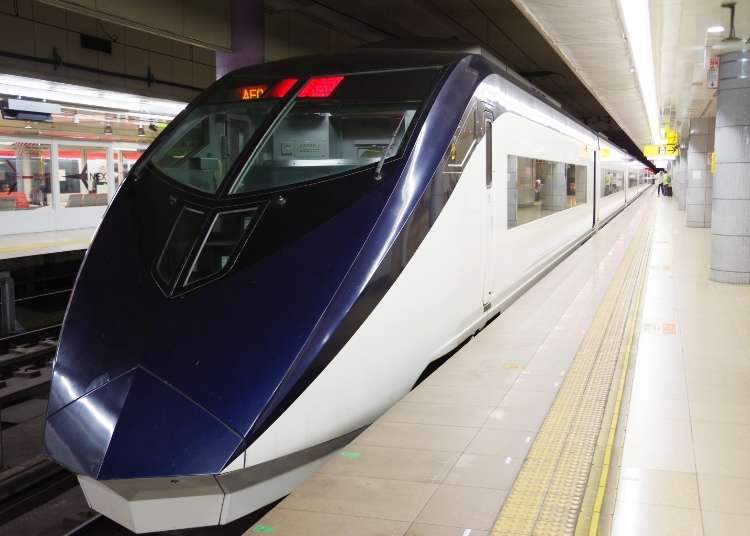 Japan's gateway to the rest of the world, Narita International Airport. There are a number of ways to travel between here and Tokyo, however one method, the Keisei Skyliner, has been particularly increasing in popularity amongst foreign tourists. The Keisei Skyliner is a short, comfortable train ride from Narita International Airport to Tokyo, and takes a total of just 36 minutes.

Today, we will introduce you to this Keisei Skyliner experience, from the moment of purchasing tickets to boarding, and provide all the information you need, from fares, to reservations, to the ride itself.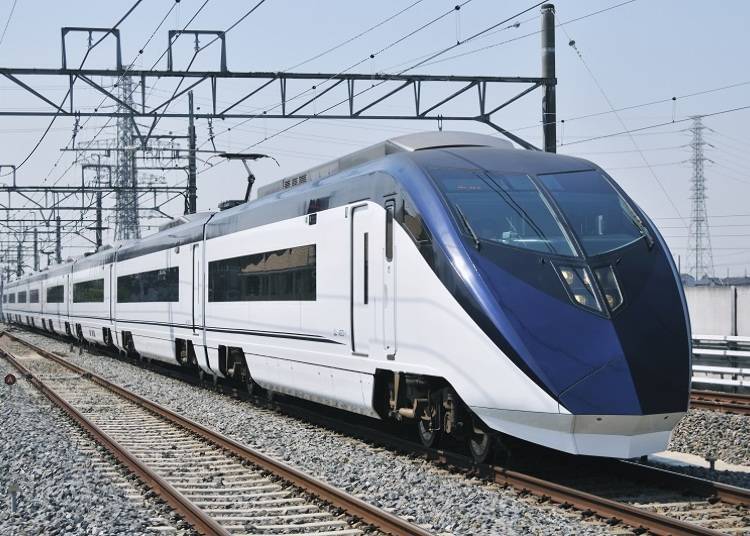 The Keisei Skyliner is a limited express train connecting Narita International Airport and Keisei Ueno Station. It travels non-stop along the Narita Sky Access Line from Nippori Station to Airport Terminal 2 Station, and arrives in only 36 minutes.

Trains operate at intervals of one every hour in both directions, with three per hour during peak time (between 2~6PM). The first train from Keisei Ueno Station to Narita International Airport departs at 5:58AM. After 6:20PM, it operates as the Evening Liner along the Keisei Main Line, with the last train scheduled to depart at 11:00PM.

The first train from Narita Airport to Keisei Ueno Station departs at 7:26AM, with the last train at 10:30PM. It operates from early morning to late night, so you can plan accordingly depending on the time of your arriving flight.
Keisei Skyliner Fares: Ticket Prices and Buying Online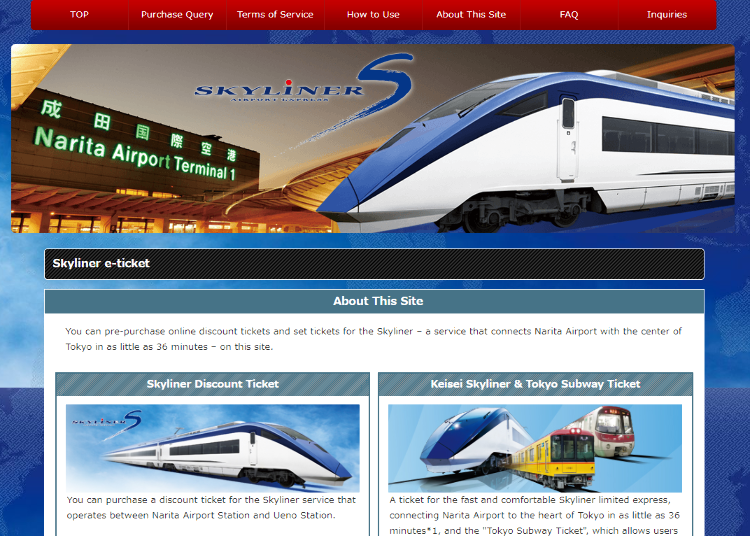 The fare price for a one-way Keisei Skyliner adult ticket is 2470 yen. That's 1240 yen for the Keisei Line, and 1230 yen for the Keisei Skyliner Limited Express. You can select your seats at the time of purchase.

You can also buy your tickets online (website available in English, Traditional/Simplified Chinese, and Korean). There are even special benefits for tourists when purchasing online, such as a fare reduction to 2200 yen. You can book it right after booking your flight for a smoother buying experience. (Note however that the Japan Rail Pass cannot be used for the Keisei Skyliner.)

▽Skyliner e-ticket (English)
https://www.keisei.co.jp/keisei/tetudou/skyliner/e-ticket/en/
Keisei Skyliner Ride Report: From Narita International Airport to Keisei Ueno Station
And now, the actual ride from Narita International Airport to Keisei Ueno Station.

The train departs from the Narita Airport Station at Narita International Airport Terminal 1. The station is located on the Basement 1 Level of Terminal 1, and can be reached by elevator or escalator. Just follow the "鉄道," or "train," signs to get there!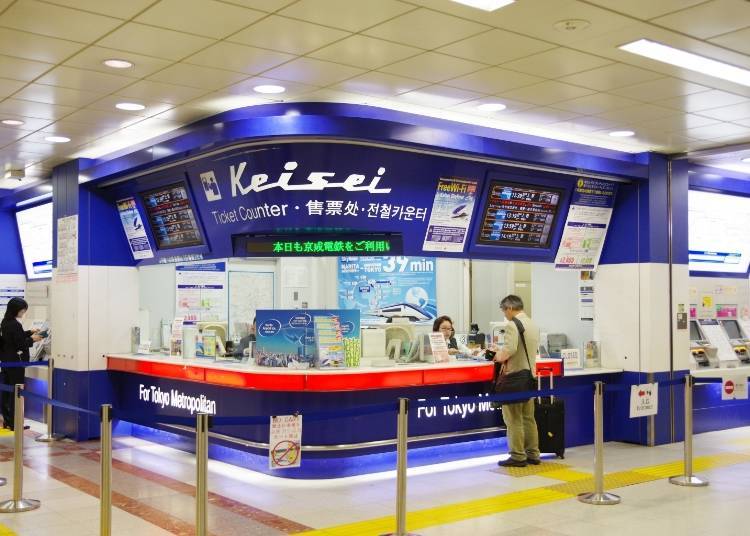 Once on the Basement Floor, you will see the blue Keisei counter. Just tell them your destination and purchase your ticket. You can pay by credit card at this counter, so don't worry if you haven't had time to exchange your currency for Japanese yen yet.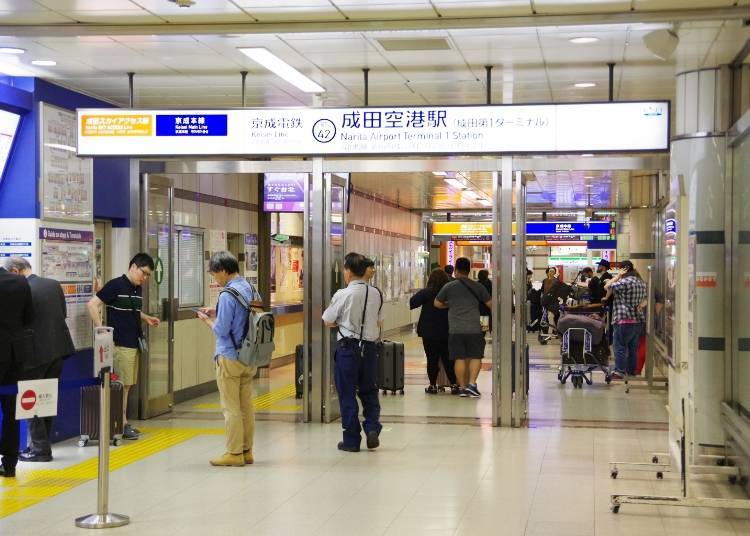 Once you buy your ticket at the counter, go through the automatic ticket gate towards the back. The escalator will be right in front of you, as indicated by the orange sign. When you get off the escalator you will have arrived on the platform.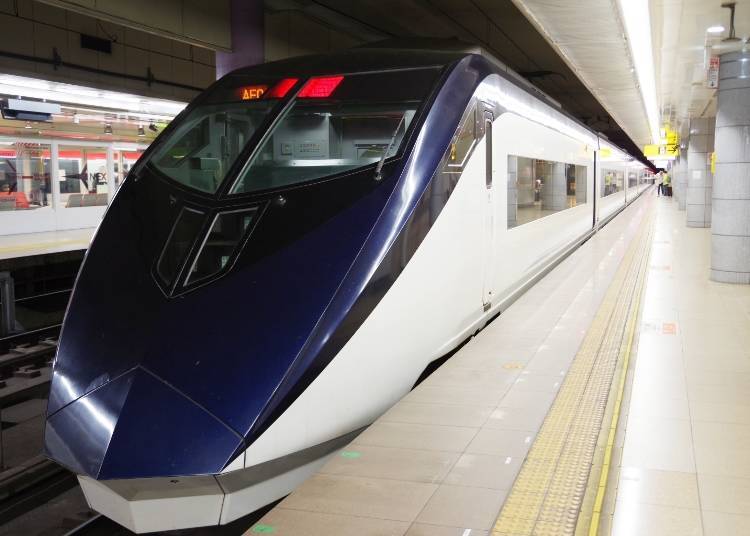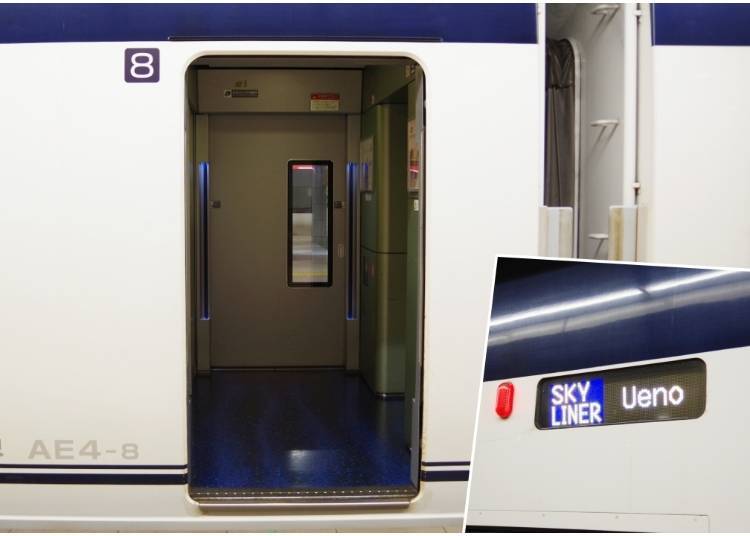 The Keisei Skyliner typically arrives early, allowing plenty of time to board before departure, so you can go inside right away if the doors are open.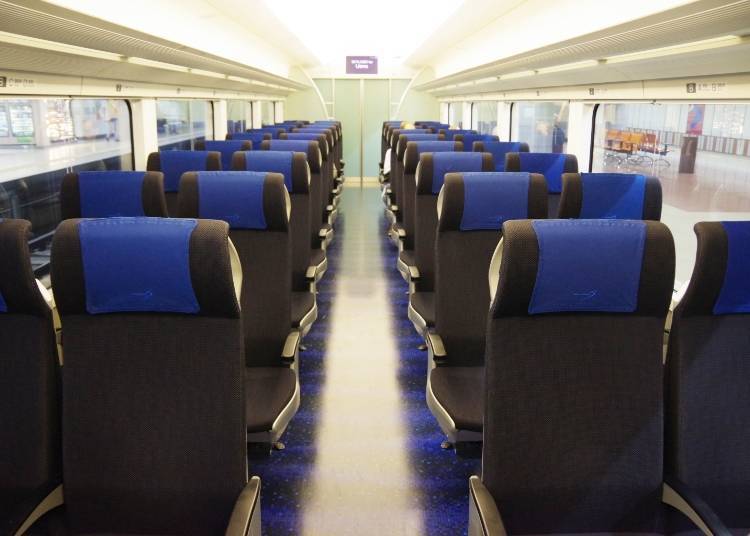 The Keisei Skyliner is an 8-car train with designated seating. The seats are spacious, at 47cm wide and 105cm in length. There is plenty of legroom, and all seats can be lowered to a reclining position, so you can ride comfortably.

They are ergonomically designed with a high backrest that comfortably hugs your tired body, helping to ease the stress from your long trip.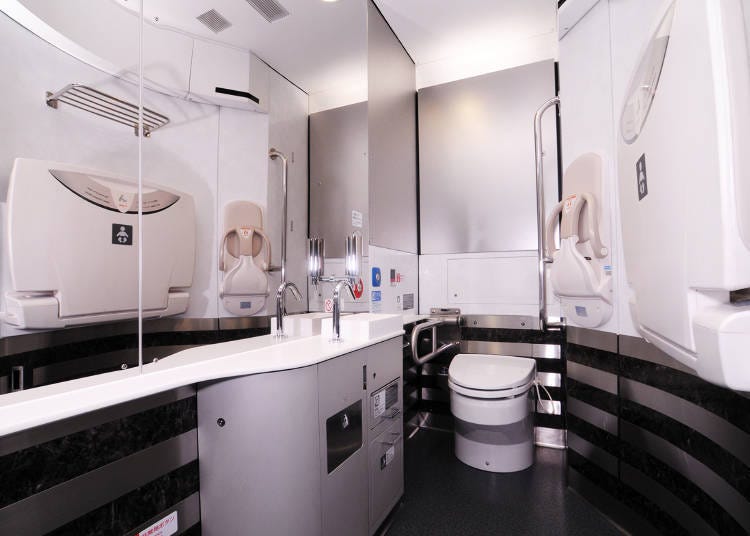 There is a vending machine in Car #4 and a restroom with a baby changing station in Car #5. The restroom is wheelchair accessible and spacious. Though the ride is indeed a short journey, as it is nonstop from the airport to Nippori, vending machines and toilets are good to have around.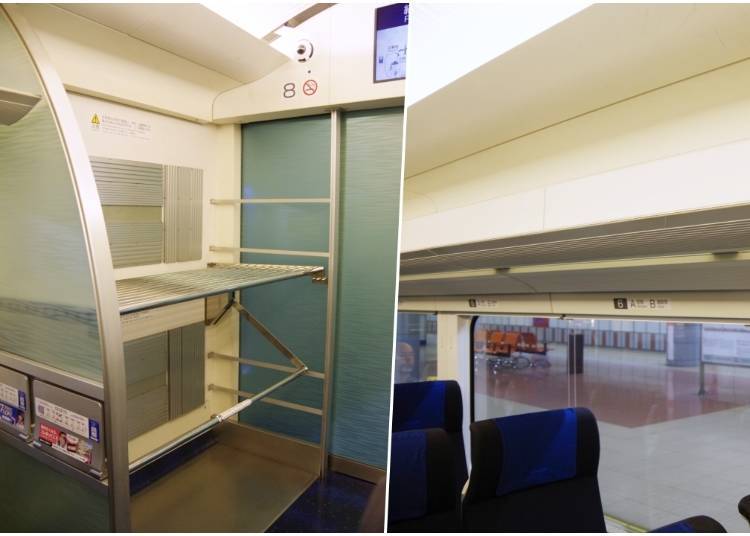 Each train car also has storage space for large luggage items, such as suitcases and even snowboards. The area is equipped with a security camera, so you can rest at ease about the safety of your items. There is also additional overhead storage space above the seats, so you can keep your smaller luggage nearby.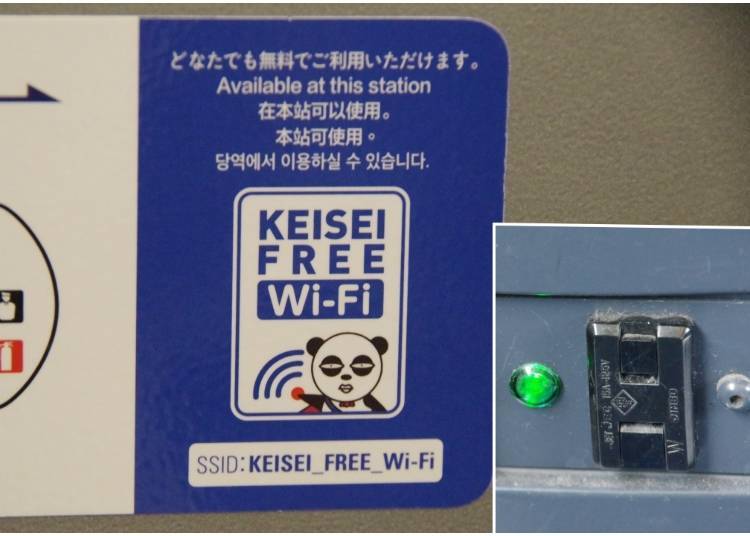 Free wi-fi is also available in each car. There are also power outlets right at your feet, so you can charge your devices before you arrive. (You may need a converter or converter plug matching the Japanese power outlet.)
Once the train departs Narita Airport, all you have to do is sit back, relax, and enjoy the leisurely ride. There will be an announcement five minutes before arrival: "We will be arriving at Keisei Ueno Station in 5 minutes." The announcements are repeated in English, so don't worry about missing them! Just take a break, look up some Japan travel info while in the car, and you will arrive in no time!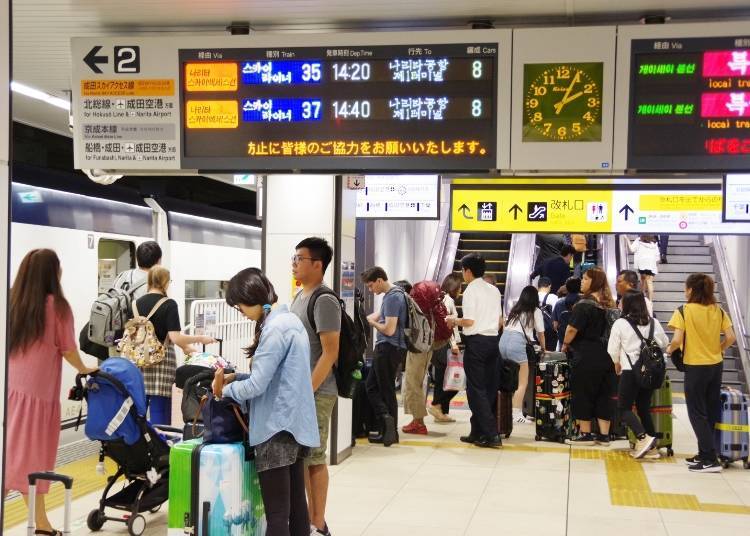 At last, we arrive at Keisei Ueno Station! The Keisei Ueno Station platform is located on the basement floor, so please use the elevator or escalator to reach ground level. Remember that there will be many other passengers traveling with large luggage, so please don't rush!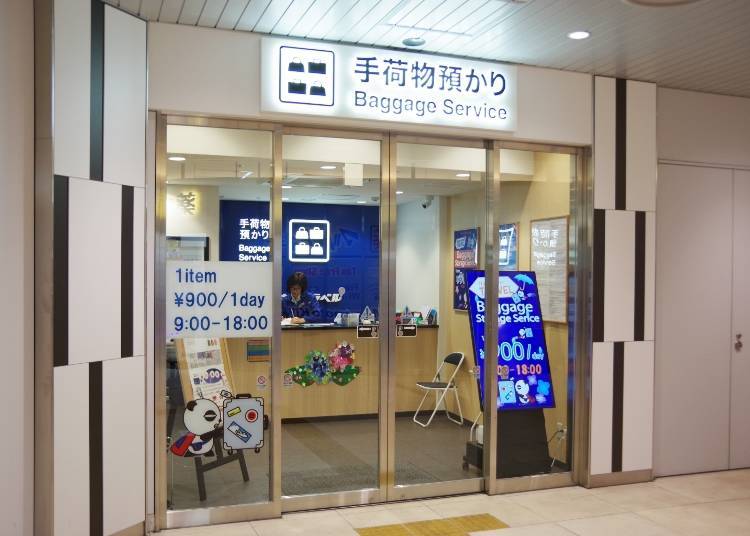 The Keisei Ueno Station area is dotted with tourist attractions such as Ameyoko Shopping Street, Ueno Zoo, and the National Museum of Western Art. There is a luggage storage counter recommended for use if you plan to do any sightseeing or shopping upon your arrival. At only 900 yen per bag for full-day use, it's an affordable option. (From 9:00AM~6:00PM)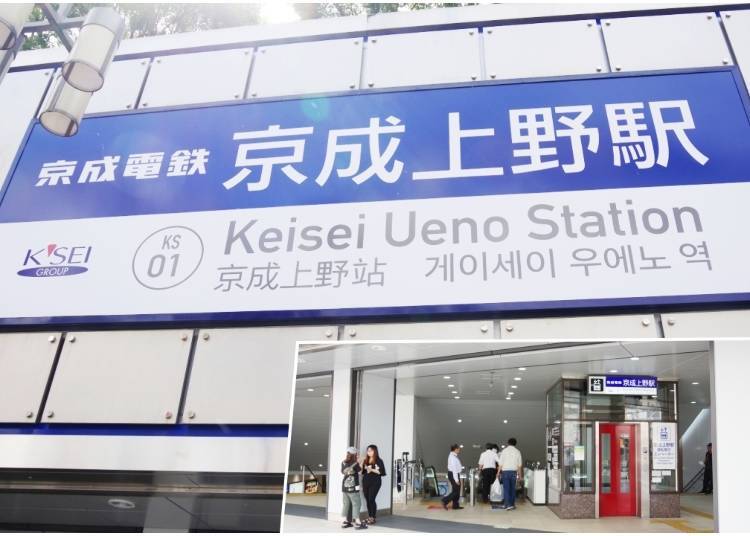 If you prefer to ride in comfort and want speedy service to your destination, then the Keisei Skyliner is for you!

Written by Ran Tanaka. English translation by Krys Suzuki.
Address

The Airport-Terminal2 Station yard (the passenger second terminal), 1-1, Furugome, Furugome, Narita-shi, Chiba, 282-0004
View Map

Nearest Station

Airport Terminal 2 Station (JR Narita Line / Keisei Main Line / Narita SKY ACCESS Line)


Phone Number

0476-34-6261
*This information is from the time of this article's publication.
*Prices and options mentioned are subject to change.
*Unless stated otherwise, all prices include tax.
Limited time offer: 10% discount coupons available now!