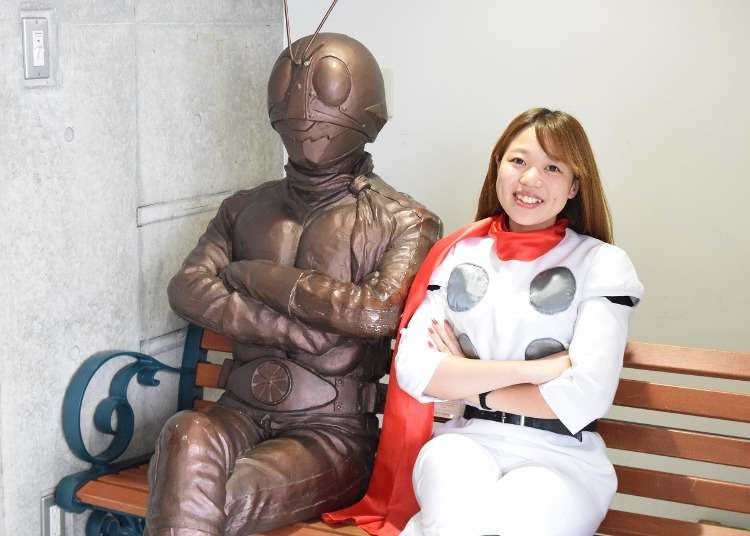 "Kamen Rider" fans of course know of the series' creator, manga artist Ishinomori Shotaro, but they may not know that he hailed from Miyagi Prefecture, and had deep connections with Ishinomaki City. Here, you'll find Ishinomori Manga Museum, a facility that allows you to feel the life and art in Ishinomori's world.

Constructed in the image of a spaceship, there is a corner where you can get introduced to familiar heroes such as "Cyborg 009" and "Kamen Rider." On the first floor is a goods shop lined with over 300 items, and has a wide variety of original goods on display too.

We'll be introducing the places in the Ishinomori Manga Museum that the manga fans will definitely have to see.
Who is Ishinomori Shotaro, the "Prince of Manga"?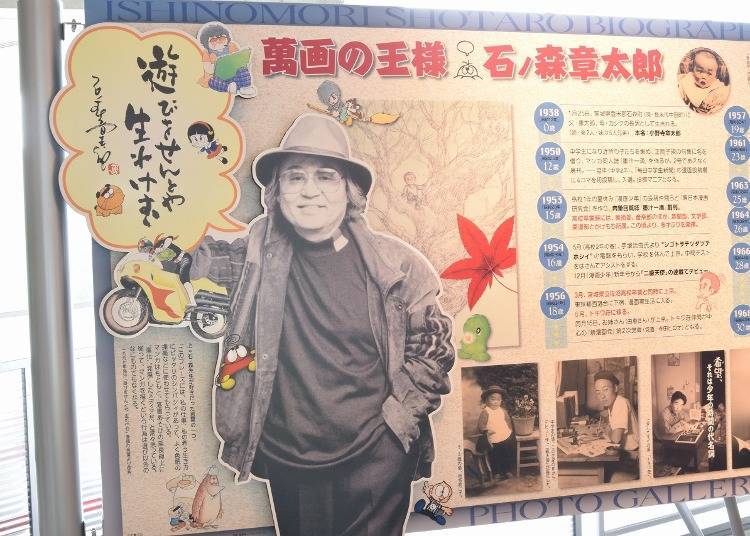 Ishinomori Shotarowas born in Ishinomori-machi, Tome-gun (now Tome city), in Miyagi Prefecture, in 1938. Since his debut in 1954, he has produced many hit works, including "Cyborg 009" and "Sabu to Ichi Torimono Hikae", and has come to be known as one of the faces of manga in Japan.

Having created the "Kamen Rider" series and "Ganbare!! Robocon", amongst other sci-fi heroes, he is credited as being the reason for the rise of popularity in the special effects and sci-fi genres.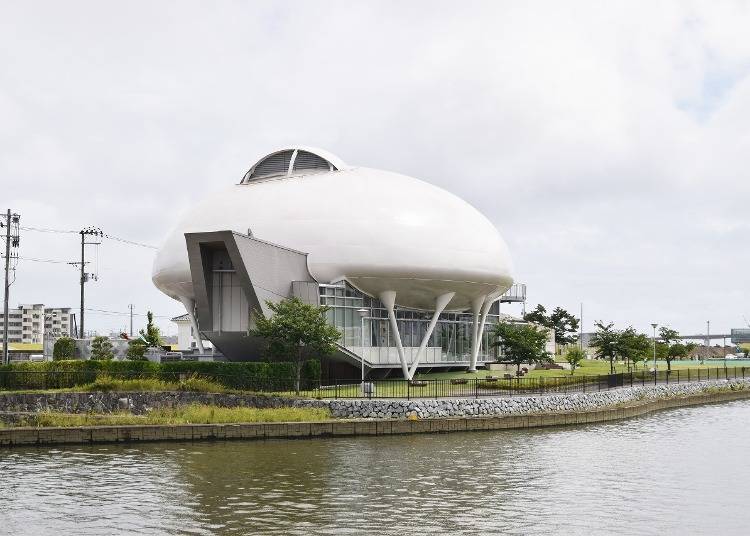 The exterior of Ishinomori Manga Museum, which was built in the image of a spaceship
Ishinomori has a strong connection with Ishinomaki. Starting from the initial concept and design of the Ishinomori Manga Museum in 1990, he was involved in every aspect of the building, including the exterior design and concept.

Unfortunately, Ishinomori passed away before the manga museum could be completed. Still, the building was finished according to his wishes and opened as Ishinomori Manga Museum in 2001.

Having the Ishinomori Manga Museum look like a spaceship from the outside was Ishinomori's idea. With the image of the story of "a spaceship landing from the planet of manga", this is a design that Ishinomori, with his curiosity and love for new things, came up with.
There are lots of things to see at JR Ishinomaki Station too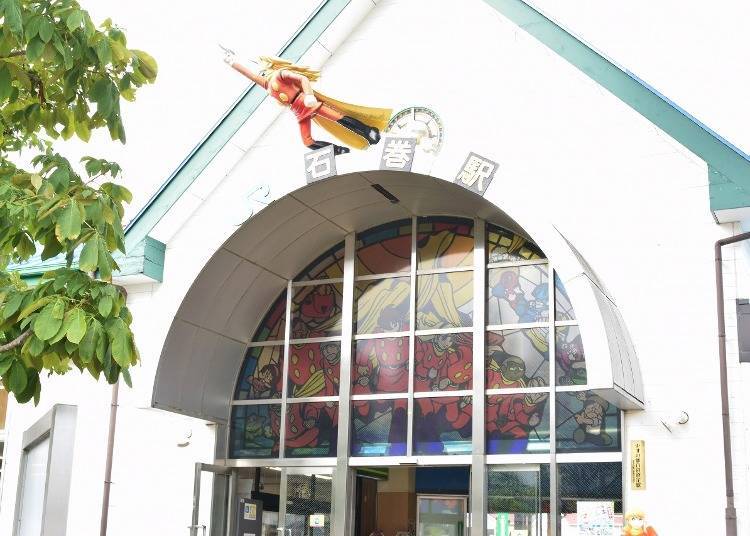 The closest station to Ishinomori Manga Museum is JR Ishinomaki Station. From JR Sendai station, you can take the express on the Sendai Tohoku Line and arrive in an hour.

It is a 12-minute walk from JR Ishinomaki Station to Ishinomori Manga Museum. It's like a town dedicated to Ishinomori's manga. From the station to the manga museum, you can see monuments of the characters created by Ishinomori at the "Ishinomaki Manga Road," which is enjoyable for visitors to see. Do try walking to the manga museum from the station.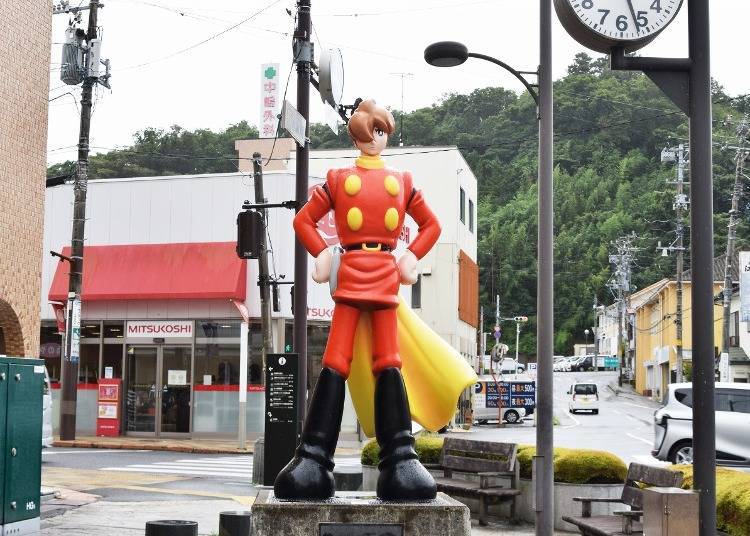 This is the main character of "Cyborg 009", Shimamura Joe, who stands at the shopping street entrance. His proud pose leaves a lasting impression.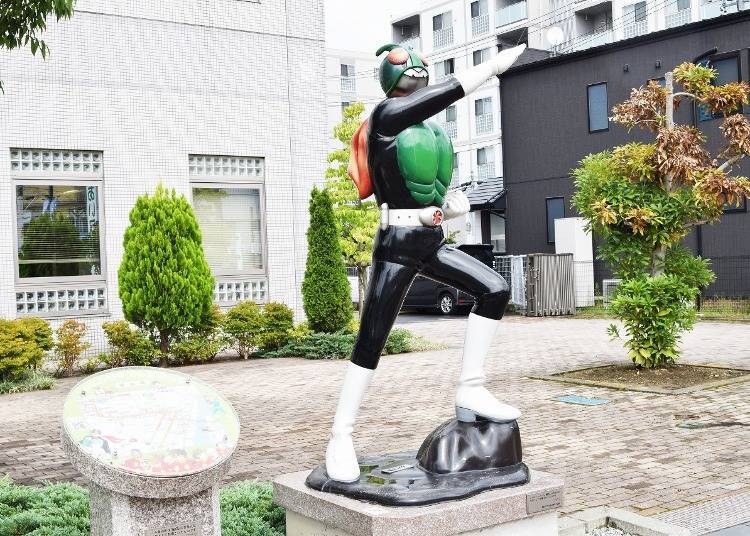 We found Kamen Rider No. 1, whom everyone has undoubtedly heard of! This monument has been standing since the Ishinomori Manga Museum opened. During the Great Tohoku Earthquake of 2011, it miraculously stood unharmed and has become a symbol since then.

Besides these, from manhole covers, objects on top of post boxes, to benches, the town is hidden with characters created by Ishinomori. Try looking for your favorite characters, and take pictures with them as you head to the Kitakamikawa river towards the east. Once you cross the bridge, you can see the Ishinomori Manga Museum built along the river's sandbank.
What's there to see at Ishinomori Manga Museum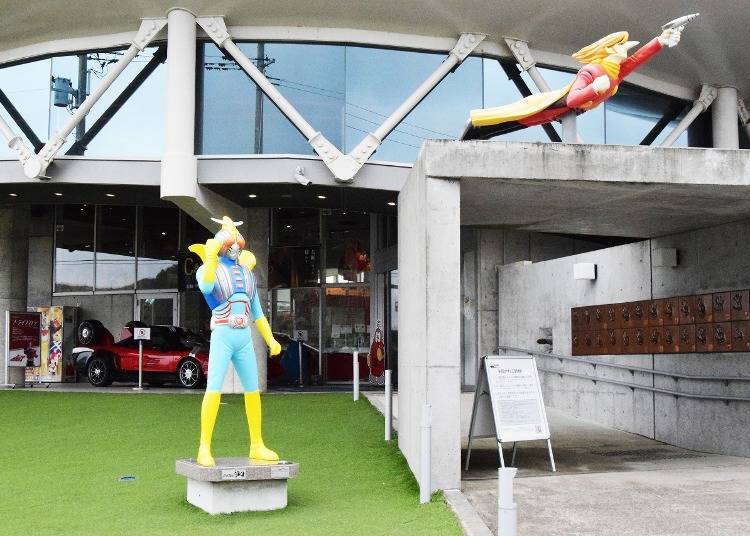 At the manga museum, you'll be welcomed by Ishinomaki's mascot character, "Sea Jetter Kaito". Incidentally, Sea Jetter Kaito is a character designed by Ishinomori too. It was brought to life from one of his original drawings.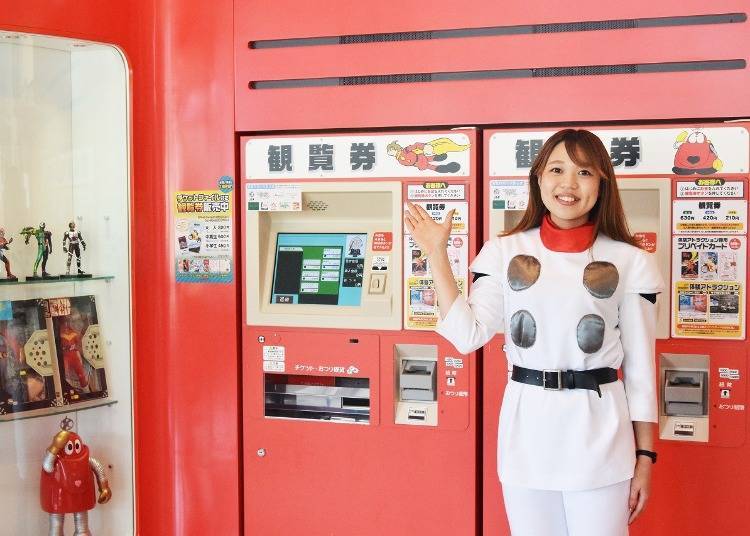 Once you enter the museum, you'll see the information counter, which is operated by staff wearing costumes from Cyborg 009. To prevent the spread of Covid-19, masks have to be worn when entering the museum, but masks sold for fundraisers are available as well, so if you forget your mask, do make use of it.

The museum has a free-to-view zone and a fee-paying zone. To enter the exhibition rooms themed after "Cyborg 009" and "Kamen Rider", you will have to buy a viewing ticket.

The pamphlets in the museum are available in English and both traditional and simplified Chinese. For those who have difficulty with Japanese, the staff are prepared with translation devices to assist guests, so foreign visitors can visit with peace of mind too.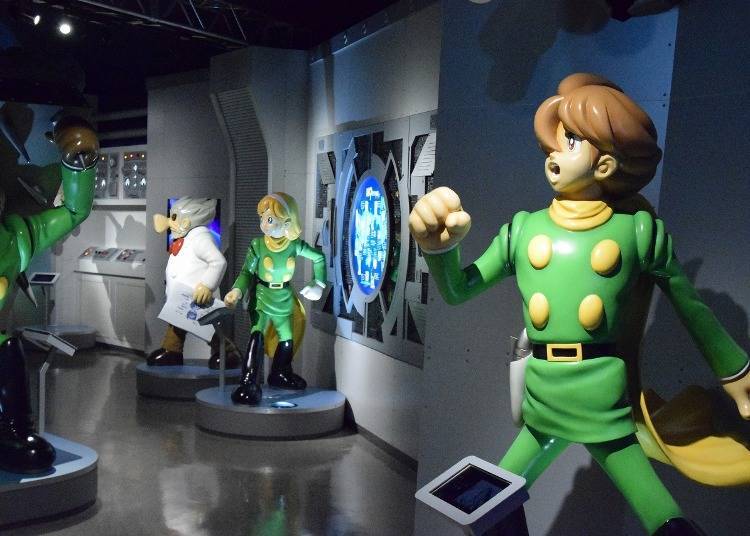 Once you climb the slope to the second floor, show your ticket at the counter at the fee-paying zone, and head towards the exhibition room. It's designed in the image of the research laboratory in Cyborg 009. With life-sized cyborg soldiers on display, it's almost like they're going to start moving any moment!

Here, you can see videos explaining the special powers and histories of Cyborgs 001 to 009. The cyborg surgeon Isaac Gilmore is, of course, there as well. The characters talk and move, and flash lights as well. Every 15 minutes, Cyborg 002's Jet Link will fly over his head.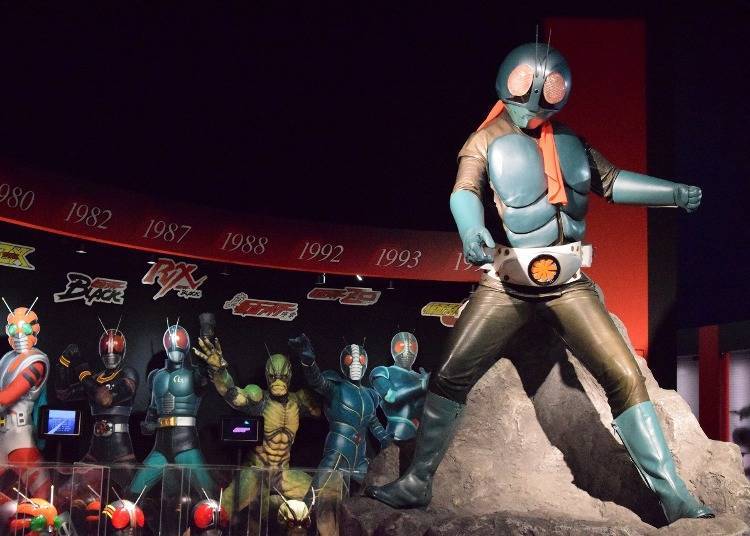 Once you've left the world of Cyborg 009, you can enter the exhibition room for Kamen Rider. Kamen Rider is standing atop a rock formation, posed and ready to fight! It's so cool!

Around him, the masks of the riders from the Showa era are on display as well. As you head further in, the masks of the riders from the Heisei and Reiwa are on display too. Long time rider fans will definitely have a great time, and even those who only recently got into Kamen Rider will find themselves getting excited with the contents of the exhibition.

If you get the 500-yen prepaid card at the "World of Kamen Rider," you can try out two attractions there, the "Kamen Rider ni Henshin!", and the "Cyclone-go ni Noru!", for 250 yen each.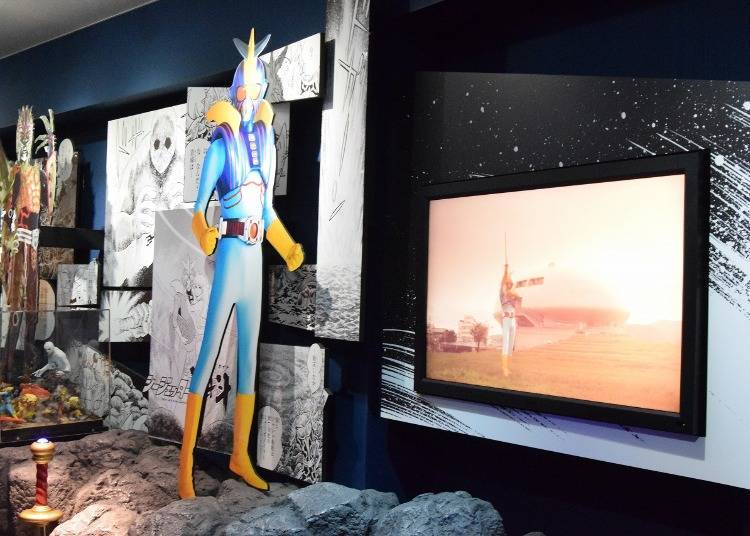 Once you've exited the "World of Kamen Rider", you can move on to the "World of Android Kikaider" and the "World of HOTEL", which was built in the image of "Hotel Platon". Sea Jetter Kaito makes an appearance too. You can also see the rough sketches by Ishinomaru during his lifetime.

Ishinomaru's original works are on display at the "Genka Corner", and regardless of if you're in the fee-paying or free zone, you can take photos. Posting the photos onto social media is fine, though videos aren't allowed, and selfie sticks are not allowed to be used as well, so do enjoy taking photos after checking the rules.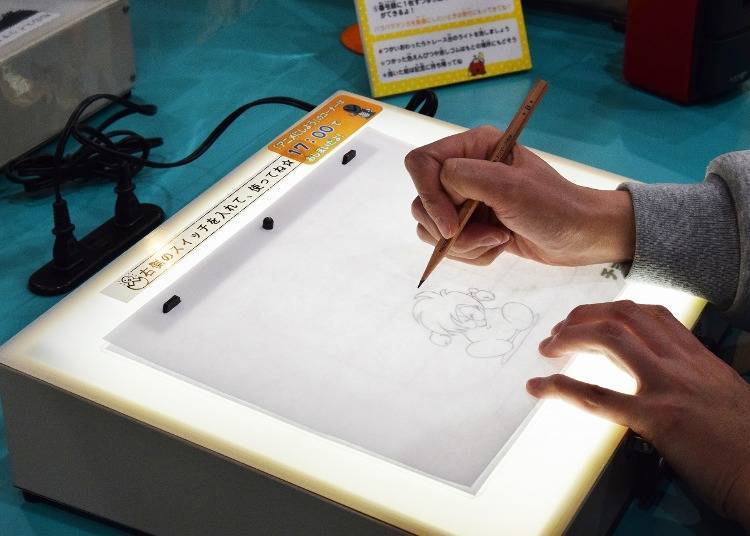 The third floor has a free learning and experience zone. There are approximately 6,000 volumes of manga lined up, ready for you to browse freely. At the "Anime-ni-shiyō" corner, you can try making your own animation for free.

Using a base of Ishinomori's original characters, you can add colors to it using color pencils, and create several pages of images like a flipbook. You can pass it to the staff, who will turn it into an animation video that can be viewed on the television. It's a special feeling seeing your own pictures moving. There's no other feeling quite like it!
For maniacs! 5 recommended Kamen Rider souvenirs from the staff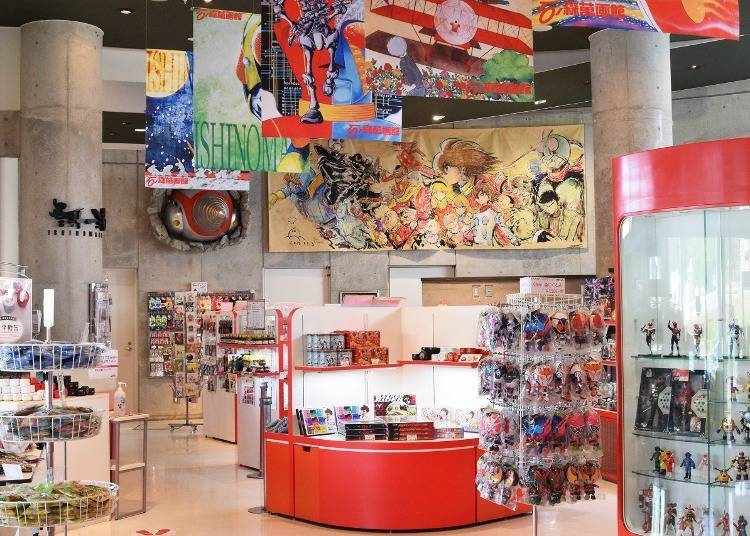 Once you've enjoyed yourself at the museum, the next stop is the souvenir shop. The goods shop on the first floor has over 300 items on sale, and we asked the staff for their recommendations.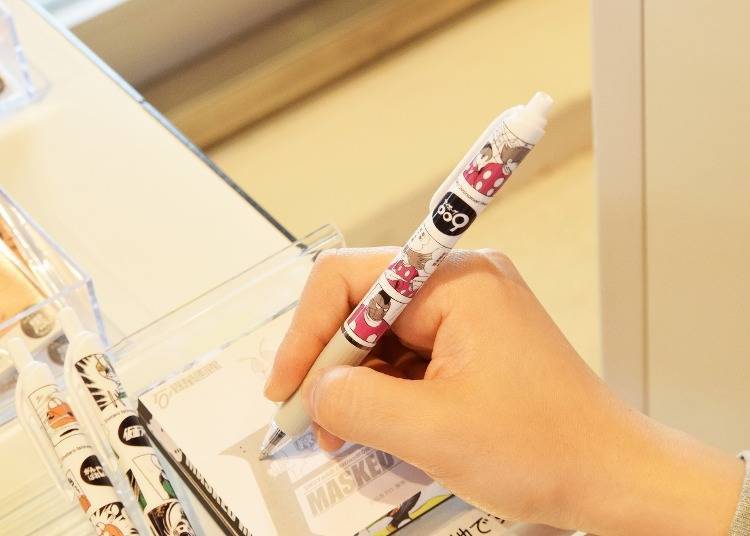 First up is the standard ballpoint pen, at 510 yen each. There are three styles available, with designs from the Cyborg 009, Robocon, and Kamen Rider manga on them. The pen writes easily, and is a model that's a bestseller at bookshops in Japan. You can be assured of its Japanese quality.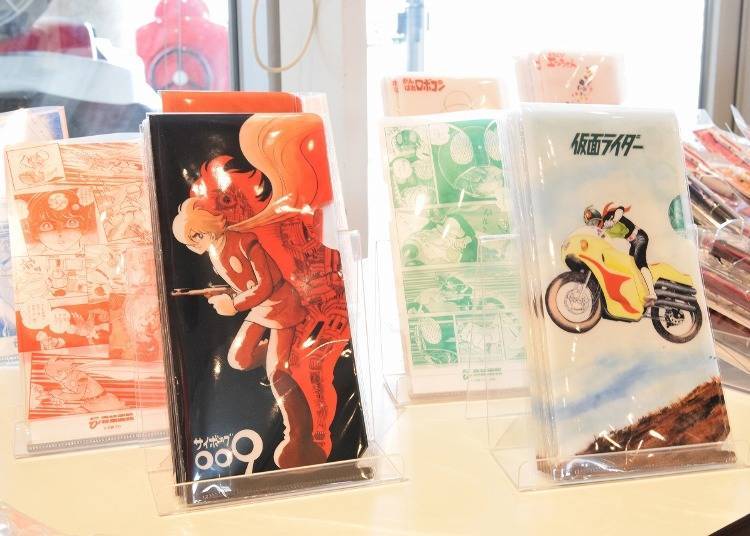 The ticket files, which cost 310 yen each, have suddenly risen in popularity recently. It's of course convenient for keeping your ticket to the manga museum, and many people use it as a mask holder for keeping their face masks when they're going out. The designs are chic, showing manga drawn by Ishinomaru. One of its selling points is that adults can use it easily.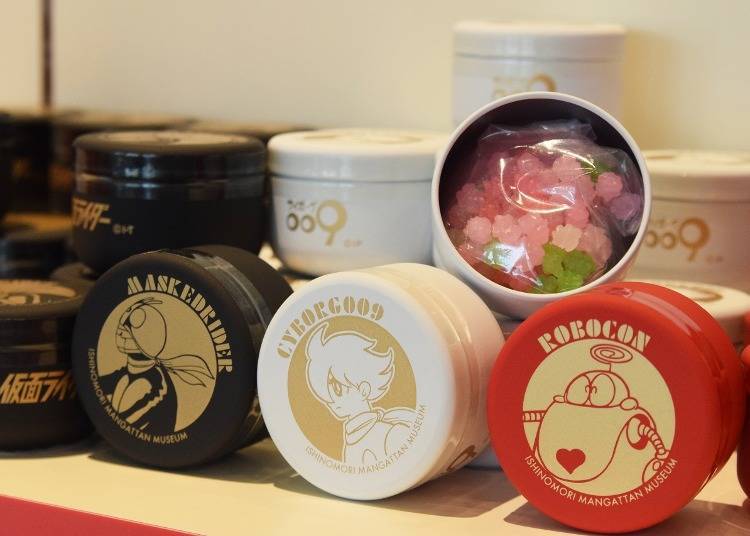 Konpeitō candy
The "Konpeitō Can" has three different designs, featuring Cyborg 009, Robocon, and Kamen Rider, and cost 610 yen each. Though these only went on sale in September 2020, they have gained traction on social media as a topic of interest.

The long-lasting Konpeitō candy makes for the perfect souvenir. After you've finished the candy, you can also keep the can as a trinket box, making it a wonderful item with dual function.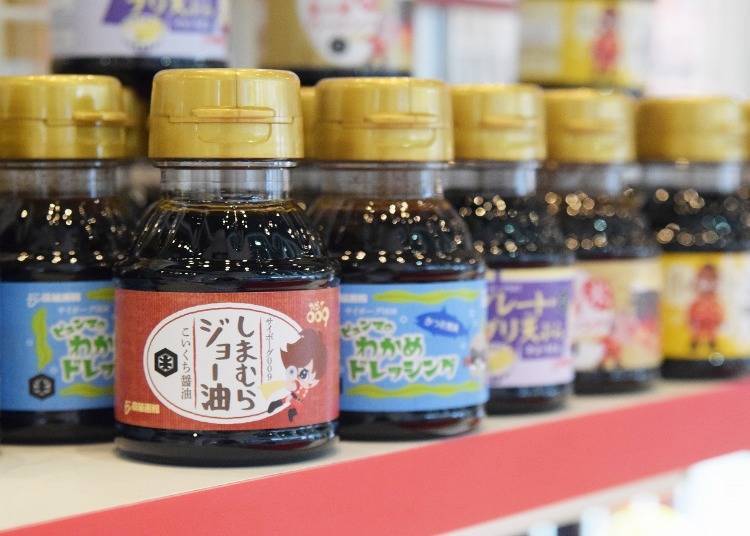 The original series of seasoning sauces, costing 396 yen each, features characters from Cyborg 009, and is a collaboration product with "Yamagataya Shōten", one of the shops in Ishinomaki.

Besides standard soy sauce, shoyu with lemon juice added, and soy sauce for use with egg are available as well, amidst the wide variety of sauces in its lineup. Its small 200 ml size makes it easy to bring home too.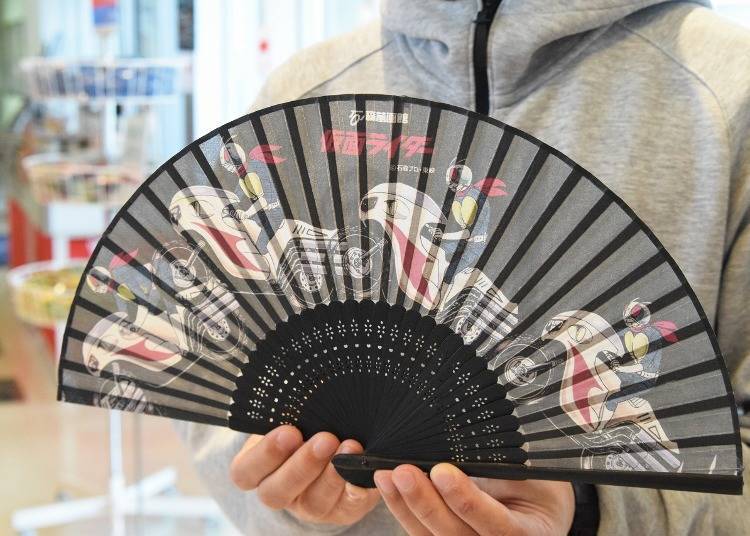 Folding fan
The silk fans, which cost 1,650 yen each, are a surprisingly popular item amongst older patrons. Ishinomori's manga is arranged into a Japanese style illustration, and its draw is in its mature design. Its durability makes it a popular product.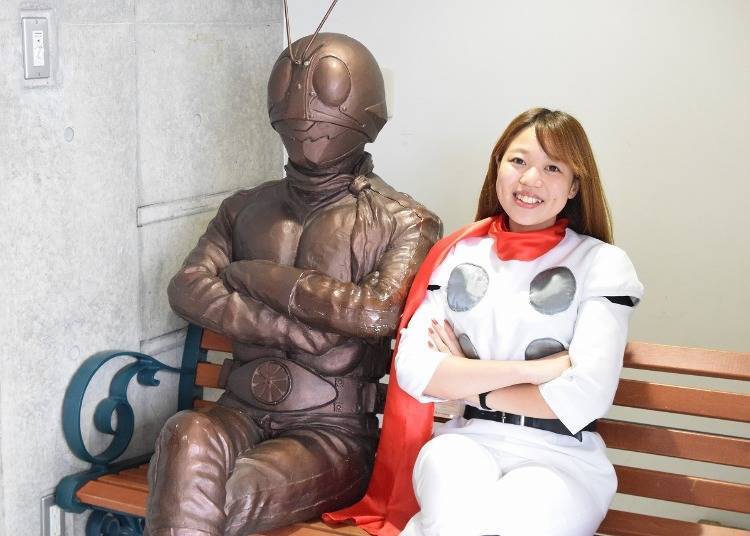 As there's a coffee shop there too, you can spend the entire day enjoying yourself at Ishinomori Manga Museum. The goods shop on the first floor is available even if you did not buy a ticket. As you can visit it casually, do look for original goods that you can't buy anywhere else.
石ノ森萬画館

Address

2-7, Nakaze, Ishinomaki-shi, Miyagi-ken, 986-0823

Phone Number

0225-96-5055

Business hours: 9:00 a.m. to 6:00 p.m. (Closes at 5:00 p.m. from December to February)
Fees: 840 yen for adults, 520 yen for middle school children, 210 yen for elementary school children
Closed on the third Tuesday of every month (Closed every Tuesday from December to February, open every day in August)
Text by: ShoePress
*Information is accurate as of September 2020.
*This information is from the time of this article's publication.
*Prices and options mentioned are subject to change.
*Unless stated otherwise, all prices include tax.