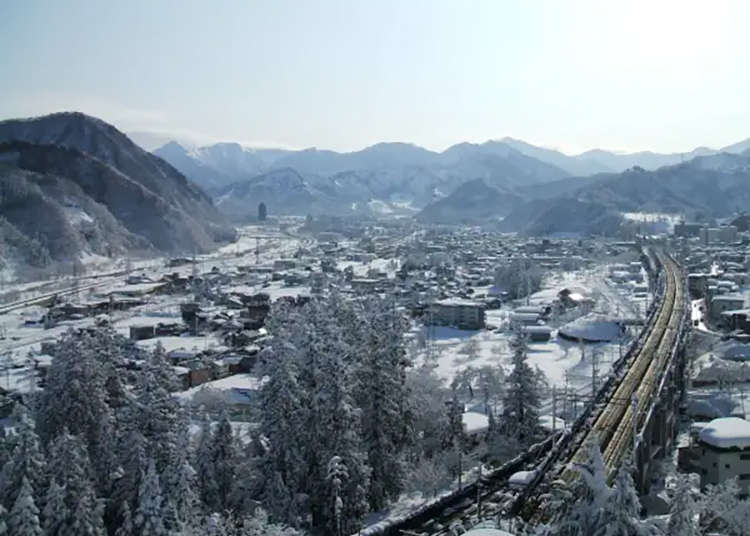 The town of Yuzawa in Niigata comes alive in winter, and at Takahan Ryokan, you can enjoy a relaxing soak in onsen waters after a day of skiing.

The hot spring source for Takahan, one of the area's famous ryokan, was discovered more than 900 years ago. At 43 degrees Celsius, the spring water is the perfect temperature for a warm bath, letting bathers remain for longer periods of time. Because it is said to make the skin supple and moist, it is known in Japanese as tamago no yu [hot water of egg], which implies the hot spring has qualities that keep one eternally young.

In the inn where Japanese author Kawabata Yasunari wrote the novel Snow Country in the early Showa era, I enjoyed the hot spring fed from the source and dishes to which particular attention was paid to the local ingredients used.
Enjoy Takahan Ryokan - a Niigata onsen famous for over 900 years
One hour and 20 minutes from JR Tokyo Station on the Joetsu Shinkansen Line.

Exactly as the opening line in the novel Snow Country begins, "The train came out of the long tunnel into the snow country," that describes the snowy scene you are presented with in winter when you arrive at JR Echigo Yuzawa Station.

Yukiguni no Yado Takahan, also known more simply as Takahan Ryokan, is located on a small hill a 5-minute drive from the station.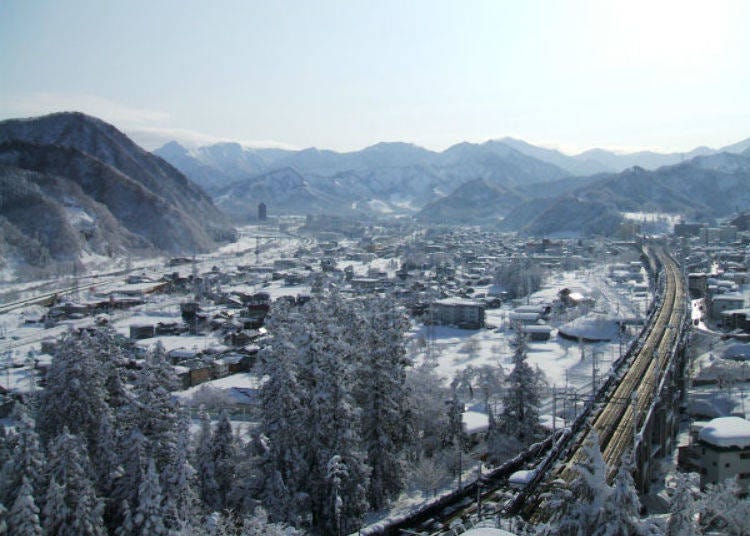 ▲ View of Echigo Yuzawa in winter looking down from the inn. If guests who will be staying at the inn telephone when they arrive at the station, a car will be sent to pick them up. (photo provided by Yukiguni no Yado Takahan)
The hot spring was discovered in 1075 at the end of the Heian Period. It is said that when Takahashi Hanroku, a country samurai of Echigo Shibata, was heading towards Kanto, he stopped to bathe in a river because he had suddenly become ill and at that time discovered by chance a natural hot spring gushing forth. That was more than 900 years ago and the hot spring has continued to gush right up to the present.

At Takahan, one of the best and most popular inns in Echigo Yuzawa, you are able to enjoy that miraculous hot spring dubbed Tamago no Yu.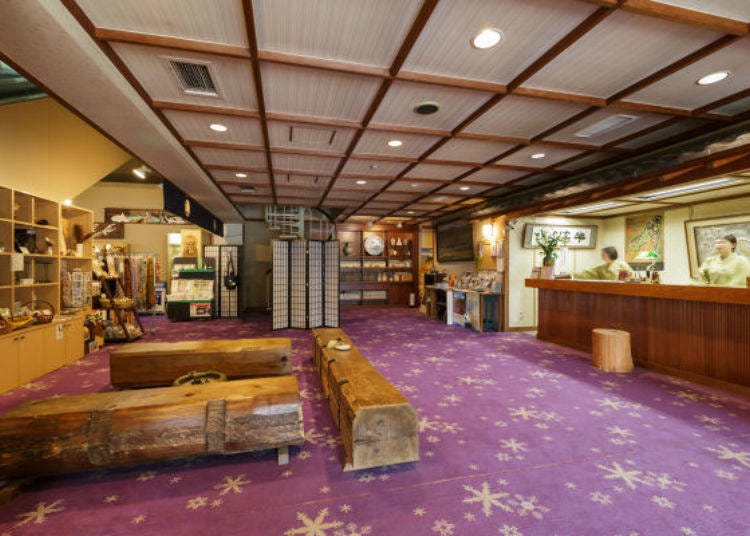 The first thing that catches guests' eyes when they arrive is the impressive purple carpet in the lobby. The inn, which was rebuilt in the mid-1980s has a retro atmosphere and nostalgic feel about it.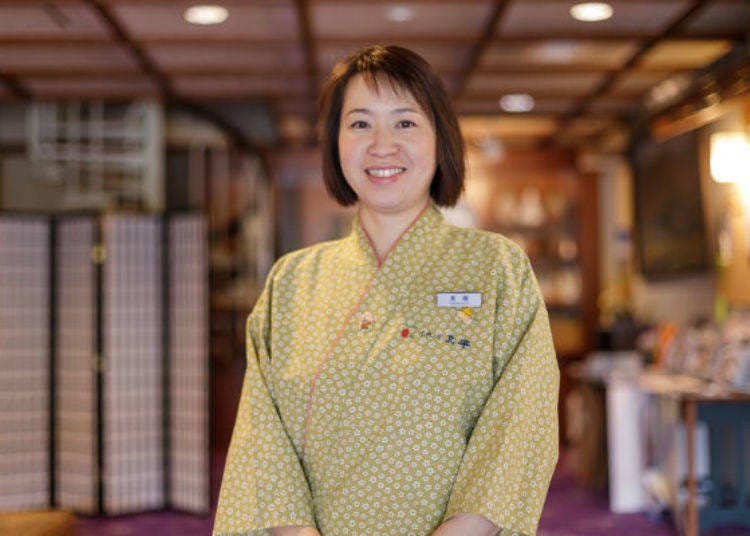 ▲ Ms. Mariko Takahashi, the young proprietress, welcomed me.
Mariko's mother-in-law, the current proprietress, is the 36th-generation proprietor. Although the exact year the inn was founded is not known, the fact that it has been in the same family for 36 generations is enough to testify to its long history.

"Hanroku, who discovered the hot spring, was succeeded by Takahashi Hanzaemon and subsequent family heads throughout the generations have taken that name," Mariko explained.

With its long history, I wondered what sort of inn Takahan Ryokan was. After checking in I was shown to my guest room.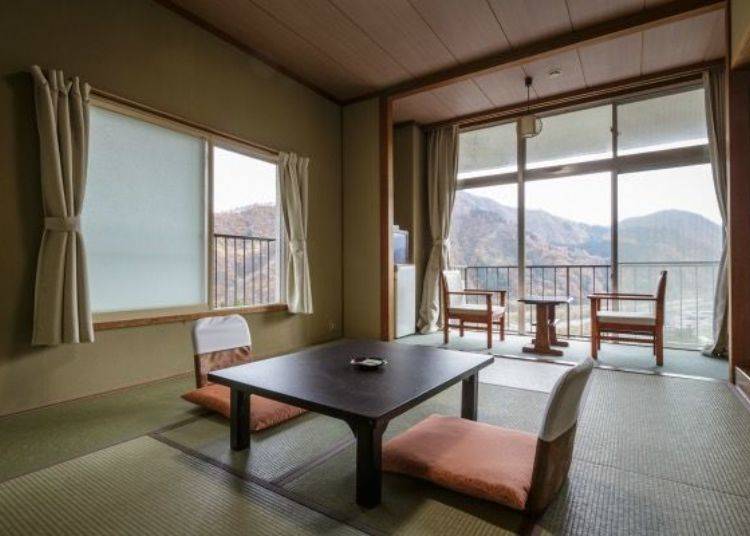 ▲ Guest rooms on the top floor are either 8-mat, 10-mat, or 12-mat in size
I was shown to a Japanese-style 10-mat room on the top floor in the East Annex (rates for 1 night with 2 meals in a single room for 2 people begin at 14,730 per person *tax and bath tax are included). There is a broad veranda in front of the windows from where you can see the Tanigawa mountain range and the city of Yuzawa.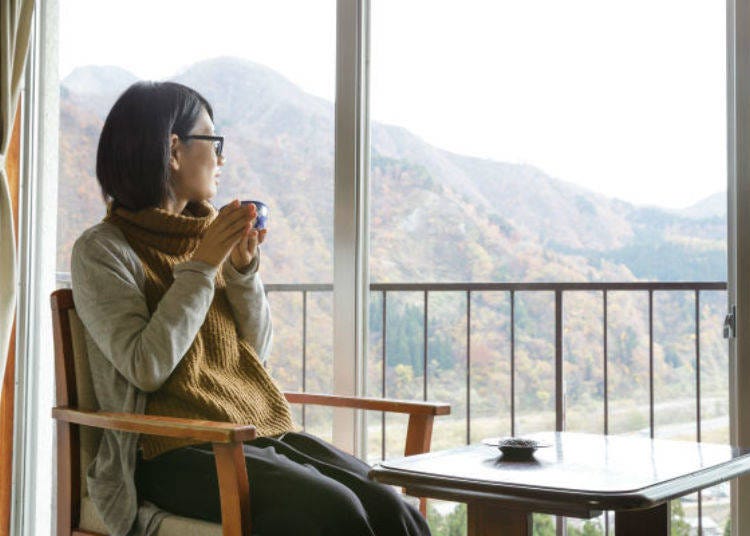 ▲ Sitting on the veranda and relaxing a bit
On the low table there were Sasayuki, an Echigo Yuzawa hot spring confection. This is a Japanese sweet of soft pounded rice cake made from Minami Uonuma and Yuzawa koshihikari rice filled with lumpy bean jam.

The cake has a faint hint of bamboo grass and has a pleasant texture when eaten. The bean jam inside is not overly sweet making it go well with the tea served with it.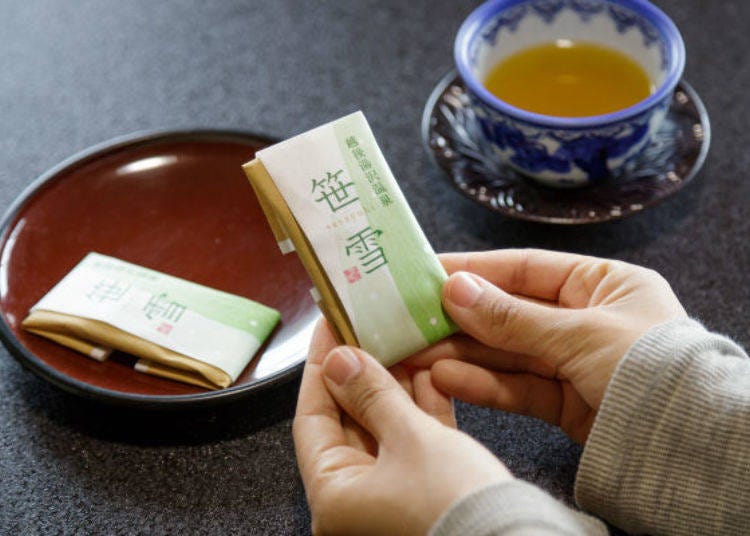 ▲ Sasayuki is the most popular gift item at Takahan. It can be purchased in the lobby gift shop. A box of 10 goes for 760 yen (tax included).
Enjoying the delicious sweet with tea while enjoying the unobstructed view. It is easy to forget the time when relaxing in a comfortable place....

But I suppressed the urge to relax because I was given a special invitation to see the largest guestroom at Takahan located on the fourth floor of the South Annex!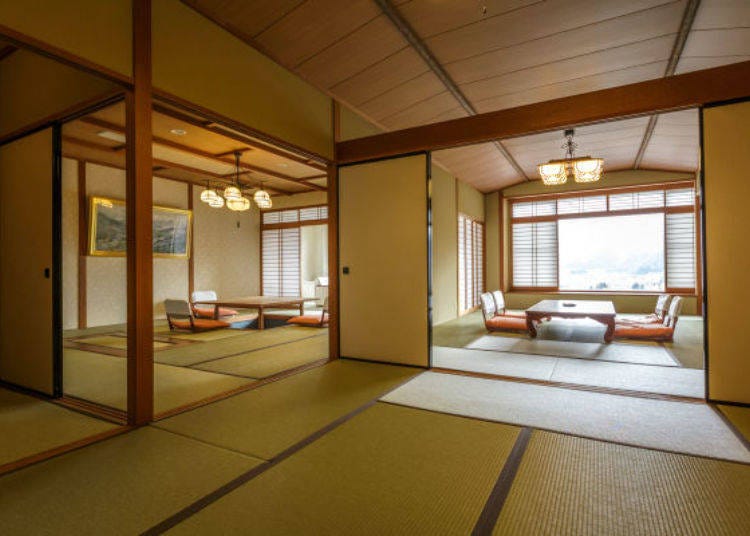 ▲ South Annex 4F Special Room (one night and two meals; one room for use by two people; from 17,970 yen per person; bath tax included + separate room charge of 43,200 yen for 1 group; both prices include tax)
Stepping into the room I was surprised because it was much more spacious than I had imagined! This guest room consists of three Japanese-style rooms measuring 13 mats, 12 mats, and 8 mats respectively.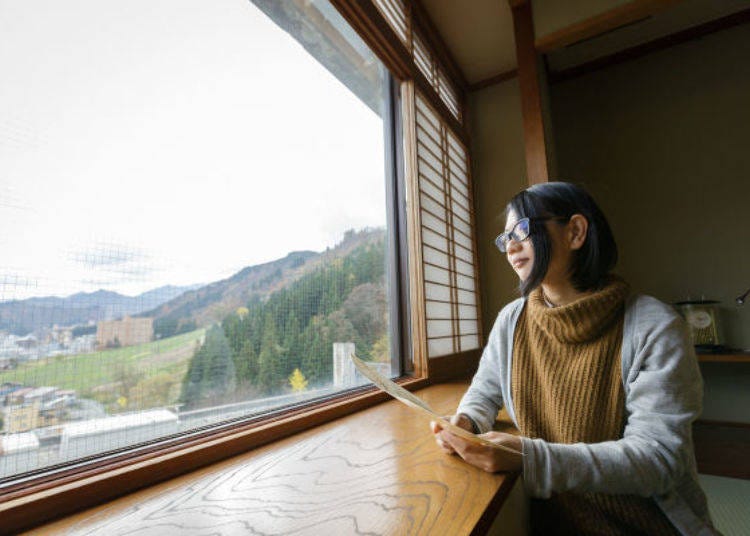 I was particularly impressed by the windows which were even larger than those in the room I was shown earlier. Mountains could be seen from left to right giving a strong feeling of being close to nature.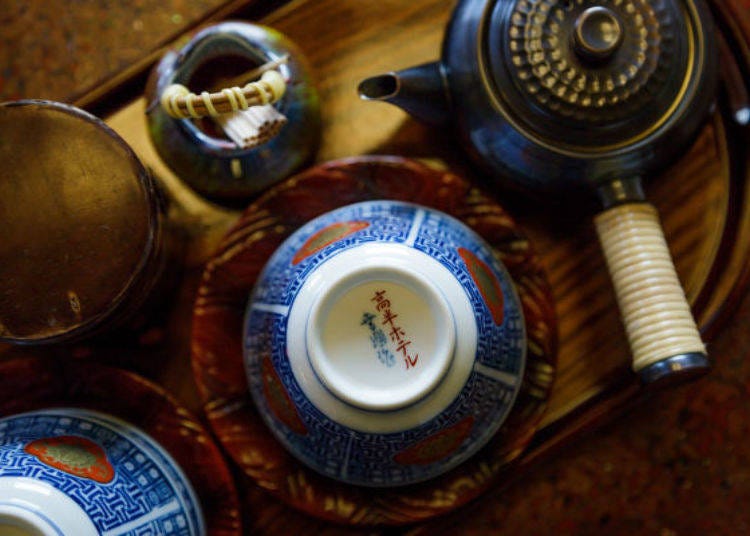 ▲ The tea cups in this special room were used during the Showa era and have the name Takahan Hotel printed on them.
Actually when I entered the room I thought if I were to stay here I would just want to leisurely relax and not do anything special. This is a room where you could talk with family or friends while enjoying the view from the large windows, read, and just take a break from one's busy daily routine. I thought being able to spend time like that would be luxurious.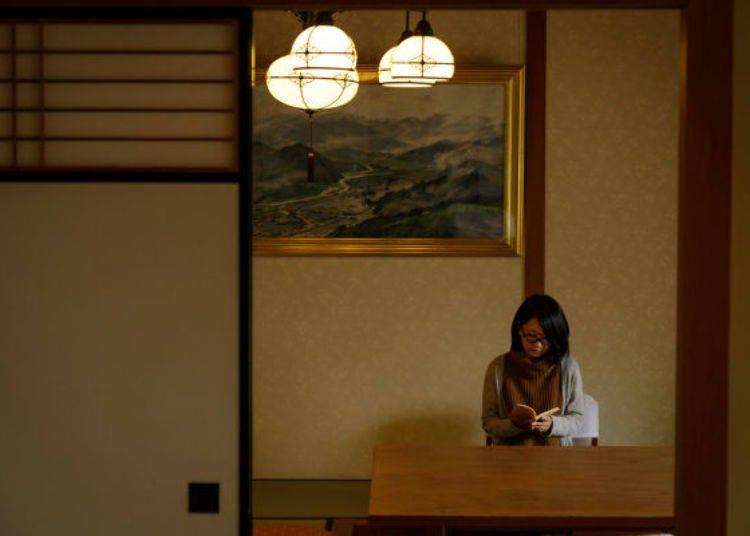 ▲ The 13-mat room has a kotatsu [low table] with recessed area beneath it. There is a library corner in the inn with books that you can borrow and take to your room, and I recommend it if you like to pass the time reading in the room.
After leaving the special guestroom I decided to go to the hot spring bath before dinner.
The miraculous Tamago no Yu bath is kept at 43 degrees and has a magnificent view!
The pride of Takahan is its hot spring bath of free-flowing spring water. In addition to large tubs in both the men's and women's baths, the women's bath also has an open-air bath and sauna while the men's bath has a cold water bath and sauna.

The indoor bath is on the left when you enter the women's bath, but I chose to go directly to the open-air bath just beyond it in order to enjoy the view.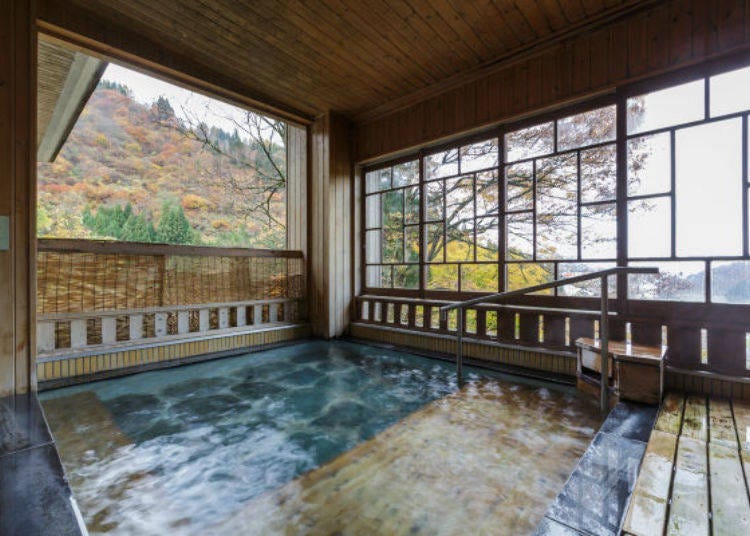 ▲ The open-air-bath has a roof over it so it can be enjoyed even when it snows or rains.
And the view is as beautiful as everyone says it is! The side of the mountain and trees before your eyes make a lovely landscape.

In spring the leaves are resplendent in new greens which turn a darker green in summer before taking on beautiful reds and yellows in the fall, while in winter everything is mantled in snow. I would like to come every season just to see these colorful changes outside.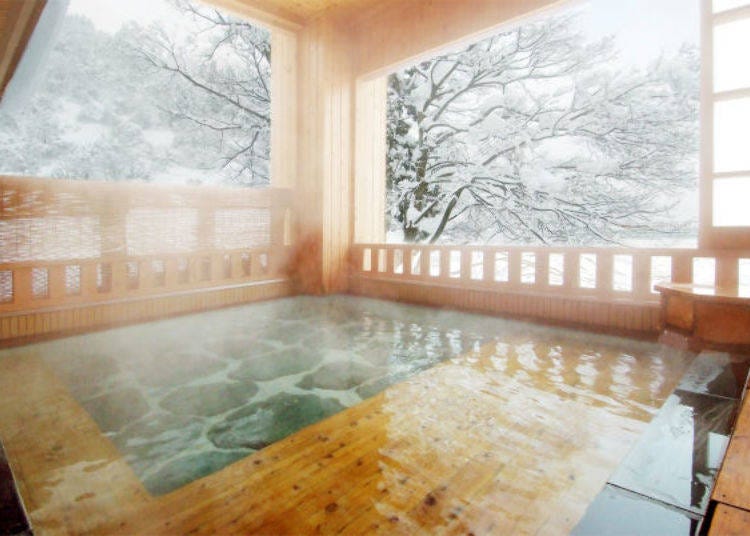 ▲ The view during winter (photo provided by Yukiguni no Yado Takahan)
The temperature of the water at the source is 43 degrees so it is used as is which means the temperature in the tubs is about 42 degrees. Many hot springs are too hot to be used as they are, but that is not the case here as one can immerse oneself in the hot water coming directly from the source.

No water is added so this is a 100% authentic hot spring. Moreover, no recirculating system is used because the spring water is constantly flowing. That means every three hours the water in the tub has been completely replaced by new spring water. So the water is always fresh and clean whenever you enter it.

During the winter the outdoor temperature causes the temperature of the open-air bath to drop, so the open-air bath women's bath is heated at that time.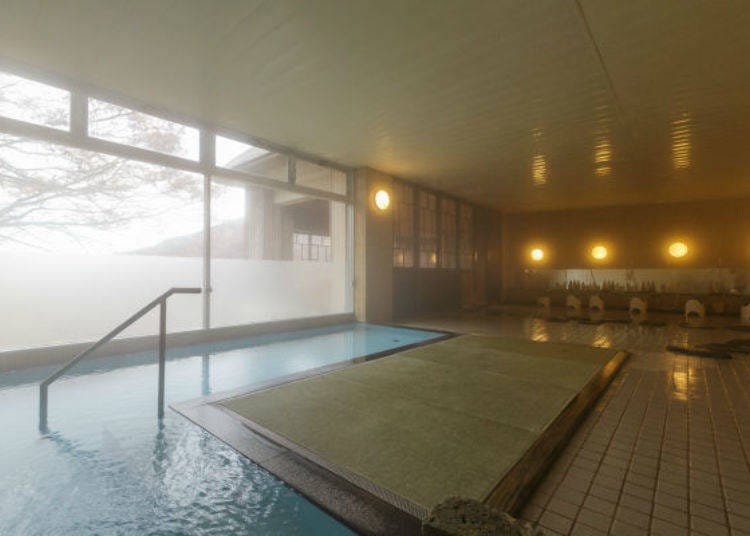 ▲ This is the indoor women's bath. The green area in front is covered with tatami mats.
I had always had the image of hot spring baths being very hot, but when I touched the water it seemed lukewarm, perhaps because it was a chilly day. The suggested way to bathe at Takahan Ryokan is to take a slow soak and leisurely relax in the tub.

This better opens the pores of your skin to allow the minerals in the water to be absorbed. Also, the longer you stay in the water, the more it improves blood circulation and that is effective in relieving fatigue.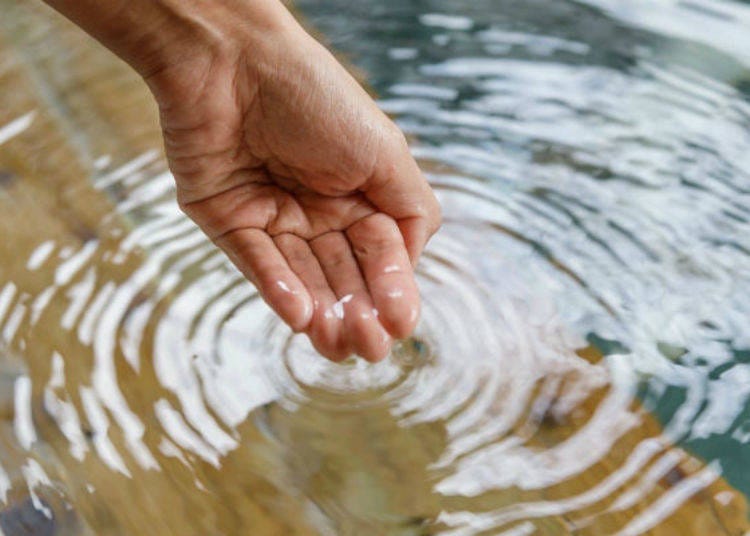 ▲ The water is clear and has a slight slippery feel to it. It is a simple sulfur hot spring said to be efficacious in treating chronic female disorders, cuts, diabetes, and chronic skin diseases.
Hearing that the spring water is constantly flowing I thought that it would have a strong sulfur smell, but that was not the case. Of course there was a slight odor, but not enough to be offensive and certainly not enough to make long soaks in the bath unpleasant.
▲ There are two tubs in the large men's bath. The large windows create an open feeling.
The men's baths also use the same tamago no yu mineral water and there is a cold water bath not found in the women's bath There are saunas in both the men's and women's baths, but only the men's bath has a cold water tub. There is no open-air bath in the men's bath, but there are strong requests for one.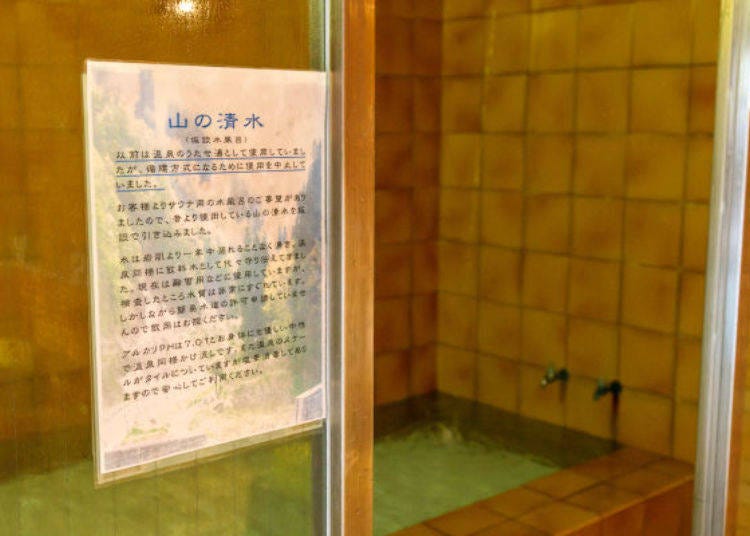 ▲ Just as in the hot spring baths, pure spring water is constantly fed into the cold water bath.
The pure spring water that feeds the bath is taken from the mountain behind the inn. Except for in the middle of winter the inn staff climbs the mountain to maintain the source every month.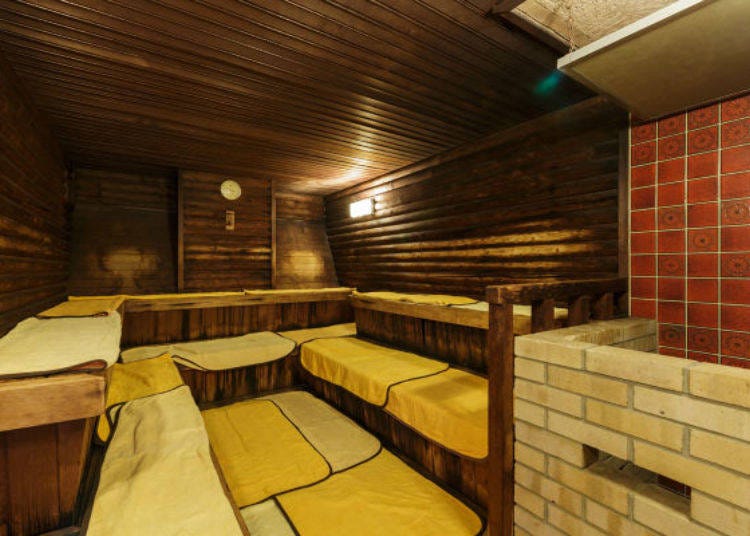 ▲ The sauna and cold water bath are popular with male guests.
It is also possible to enjoy the tamago no yu on day trips. Excluding the busy season the cost for day-trip use of the hot spring is 1,000 yen (including tax) between the hours of 1:00 and 4:00 p.m. If you would like to experience hot spring baths different from other hot spring inns, then why not visit here once?
Savor traditional cuisine made with lots of seasonal ingredients from Yuzawa and Minami Uonuma
After a relaxing bath a wonderful dinner awaits you! Meals are served on the second floor of the East Annex. I was ushered to the Makihata room. The name is that of a mountain near Yuzawa and Minami Uonuma.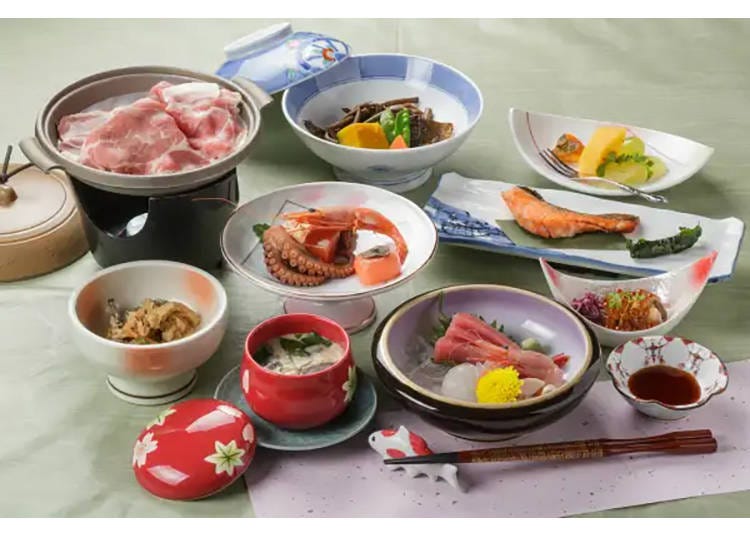 ▲ Kaiseki Ryori [banquet dishes] made with seasonal ingredients (photograph is an example)
Because seasonal ingredients are used, the menu varies according to season. The dishes in this banquet dinner included Hakkai salmon, Yairo shiitake mushrooms, Uonuma mushrooms, and many other ingredients from Yuzawa and neighboring Minami Uonuma.

Attention is paid to not using any chemical seasonings, and the broth is carefully made with dried bonito flakes and kelp. Most of the dishes are prepared by skilled culinary artisans working in the shadows to prepare attractive dishes praised for their refined flavor.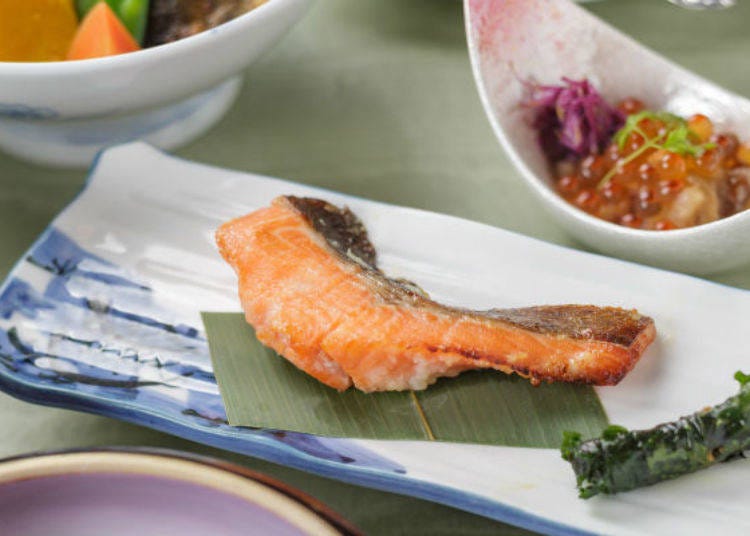 ▲ Grilled and salted Hakkai salmon
Hakkai salmon is the large rainbow trout cultured in the water of Mt. Hakkai located in Minami Uonuma City. The Hakkai salmon has a slight salty flavor and the meat is so tender it falls apart when chopsticks are put to it. It doesn't have the distinctive smell of river fish, so even those not partial to fish should be able to eat it.

Next to it is miso wrapped in Japanese basil. Inside is sweet miso and this refreshes the mouth when eaten alternately with the salty fish.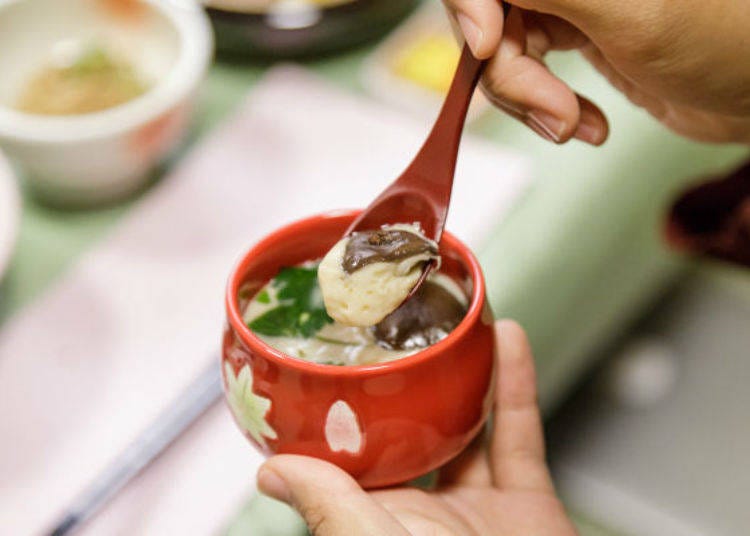 ▲ Shrimp and Yairo shiitake mushrooms in chawanmushi [Japanese-style egg custard]
Yairo shiitake mushrooms are thicker than standard mushrooms and are a specialty of Minami Uonuma. When chewed slowly the flavor of the broth spreads throughout your mouth. These mushrooms, because they are thick, absorb much broth when cooked.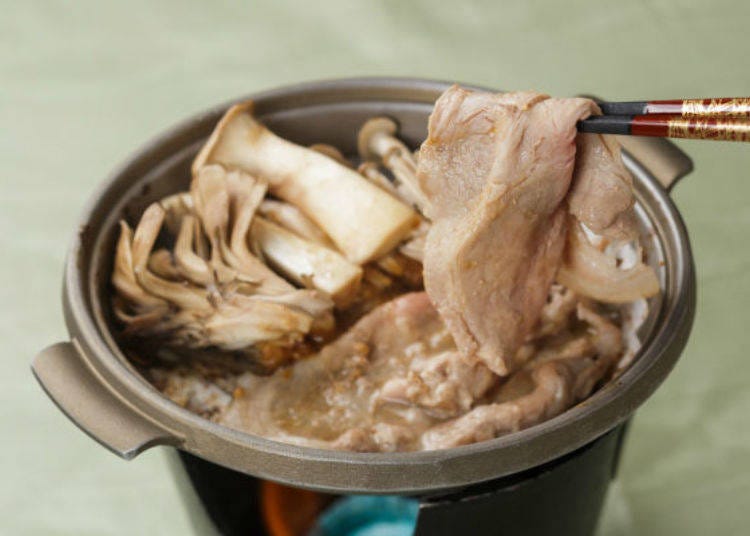 ▲ Grilled hoba miso with mochi pork and Uonuma mushrooms
Niigata mochi pork is tender and appears to be less fatty. The sweet taste of the miso plays an important role when the pork is thoroughly mixed with the hoba miso.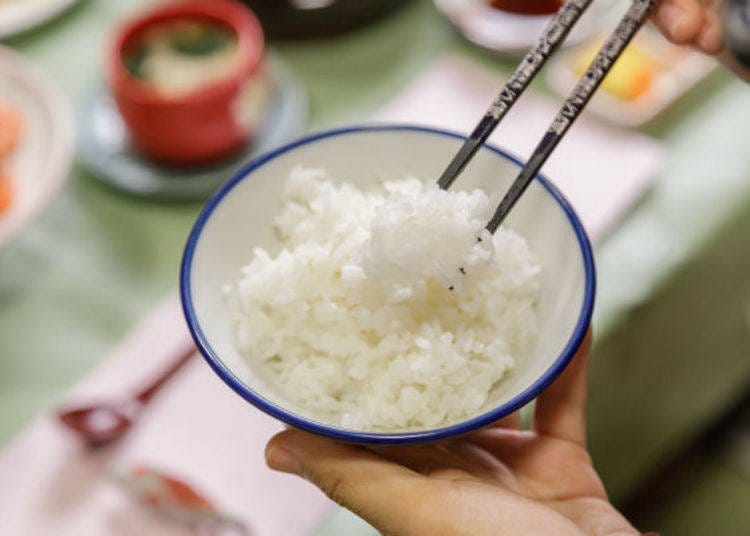 ▲ First-harvest rice from Minami Uonuma Kawanaga Farm
Many guests are especially impressed with steamed Minami Uonuma Koshihikari rice. I visited here in November which is when the rice is first harvested. The glossy white rice was most tempting. Normally I wait and have it together with the other dishes, but today it looked so delicious I began with the rice!

The rice was cooked to perfection and with each bite increased in flavor! It was so delicious I almost ate the whole bowl before trying the other dishes.

Nothing is more pleasant than white rice with a meal. The meat and sashimi dishes were not extravagant but, the entire menu consisting of local ingredients was a pleasant and relaxing dining experience.
Relax by passing the time watching the movie Snow Country or reading
After dinner I went to a room on the second floor to watch the movie Snow Country, which debuted in 1957; it is shown every day from 8:00 p.m. I wanted to see the movie because I had plans to visit the room where Kawabata Yasunari wrote the novel.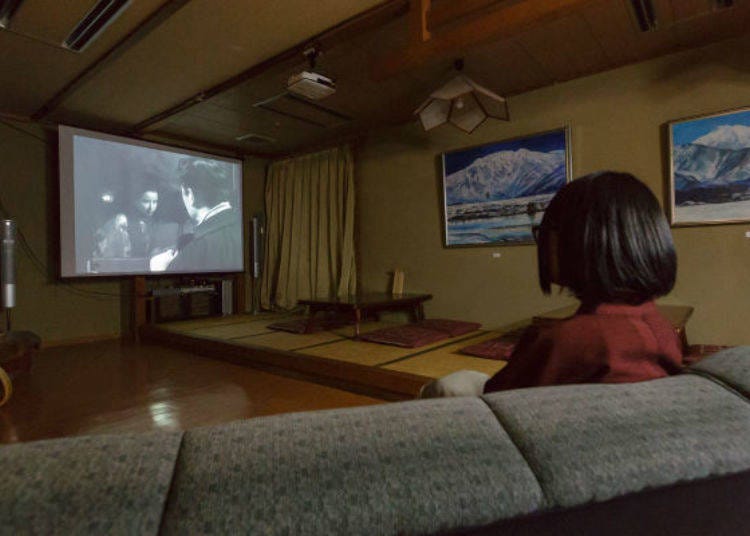 ▲ The movie lasts about 2 hours and 15 minutes and during that time you can immerse yourself in the world of Kawabata Yasunari.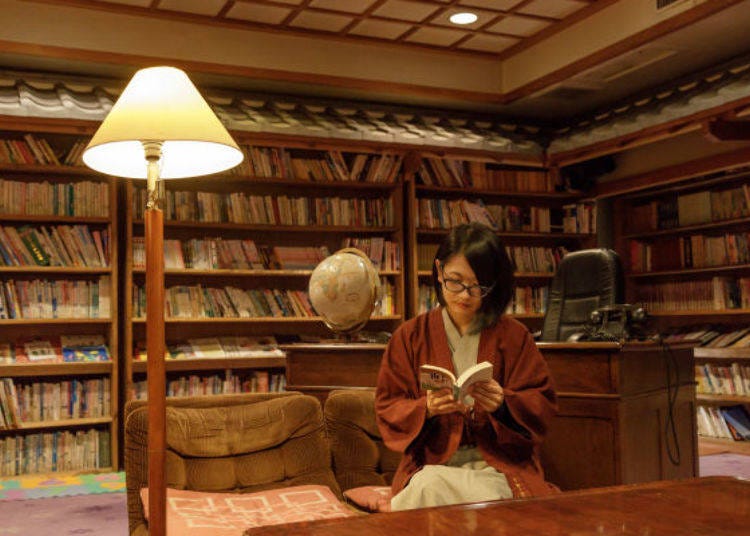 In front is the library corner. It has the retro feel of a movie set. I pondered over which book I should read. I was amazed by the collection which ranged from novels to picture books. I ended up reading here until I went to my room. You can read in any position that you like.
Takahan Ryokan offers a simple breakfast with streaming white rice
I returned to my room and continued reading until I fell asleep. The next morning I slept in a bit and then went to have breakfast. Breakfast is served buffet style. Offered is a simple breakfast of several dishes that go well with white rice.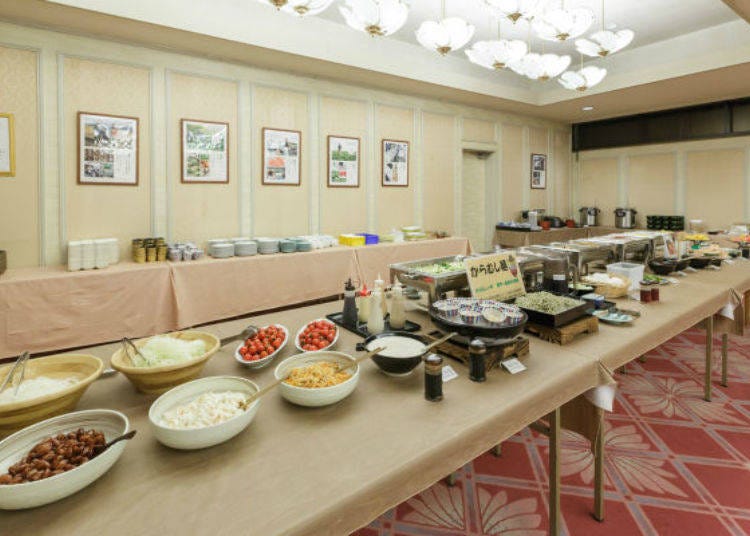 ▲ There was an array of healthy dishes such as sweetly stewed red kidney beans, dried strips of radish, and grated yam.
There was also a local dish called "Noppe". It all looked so good that I wondered where to start. There were lots of vegetables such as taro, carrots and mushrooms.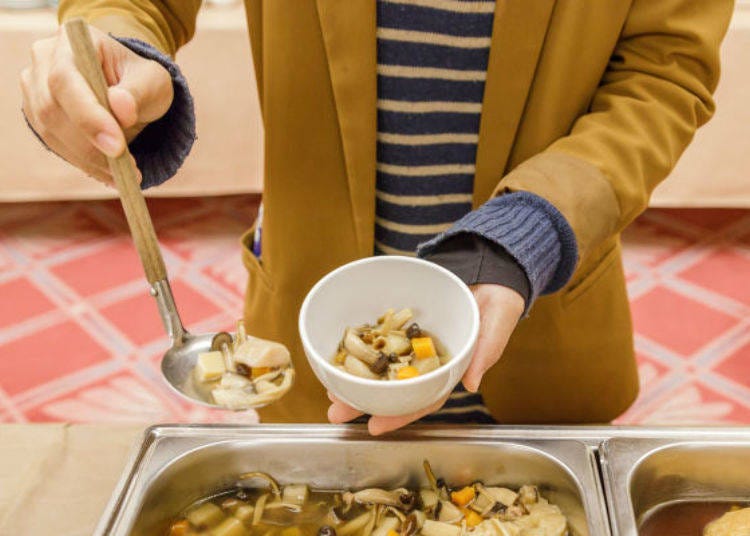 ▲ The local dish Noppe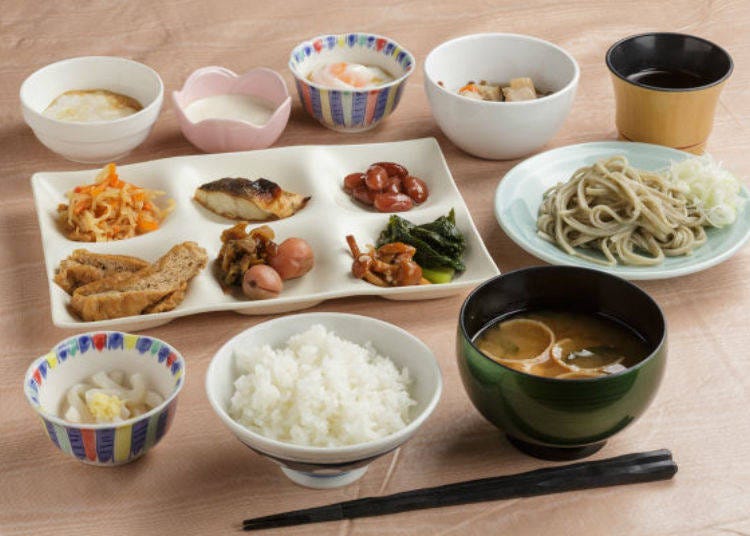 ▲ A Japanese-style set featuring white rice (photo is an example. The dishes are changed every
I selected dishes such as hot-spring eggs and home-made tofu which go well with many helpings of rice. Naturally when I heard that Minami Uonuma Koshihikari rice would be served at breakfast I looked forward to all the various dishes that I could enjoy with it.

Among those many dishes, the one that I think went best with the rice was Tochio deep-fried bean curd. Tochio, Nagaoka City is about an hour and a half by car from Yuzawa Town. The deep-fried bean curd made there is about three times the size of standard deep-fried bean curd!
▲ I was amazed by the amount of juice that came out when I bit into it.
On the day I was there it had been prepared in a stew. It has a solid flavor through and through and when you bite into it, the sweet and sour juice completely fills your mouth. So delicious was it that I ended up eating two of them with a bowl of rice....

I was wondering what to try next when my eyes fell upon the Karamushi noodles…. Hang on a second! Isn't karamushi [ramie] a fabric? I thought to myself. The fiber is used in weaving, but in this case young karamushi leaves are kneaded into flour.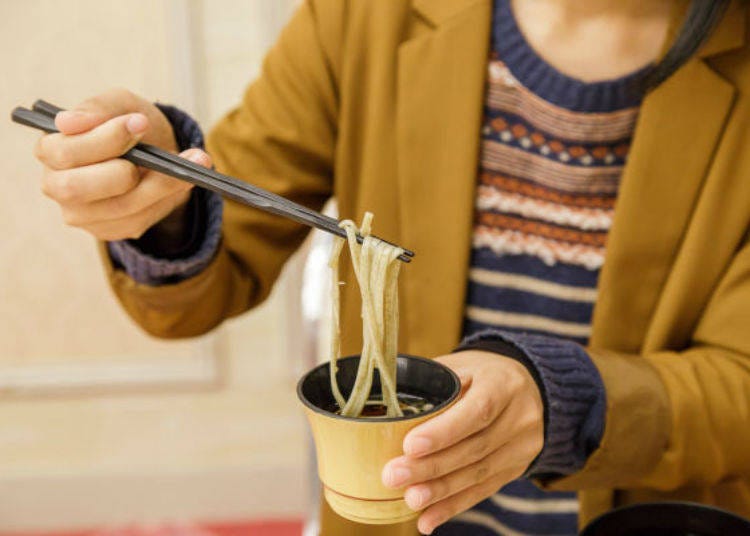 Karamushi noodles were first made during the Age of Warring States. Uesugi Kenshin and Kagekatsu as well as Naoe Kanetsugu developed it and encouraged farmers to grow it. It is said that they then sent it to Kyoto and Osaka.

Karamushi noodles have quite a history. I ate it as I would soba by dipping the noodles in a sauce. The taste and texture reminded me more of cooled flour noodles than soba. It went down so smoothly I finished it in no time. I wondered if I had taken too much, but I easily ate everything in the blink of an eye.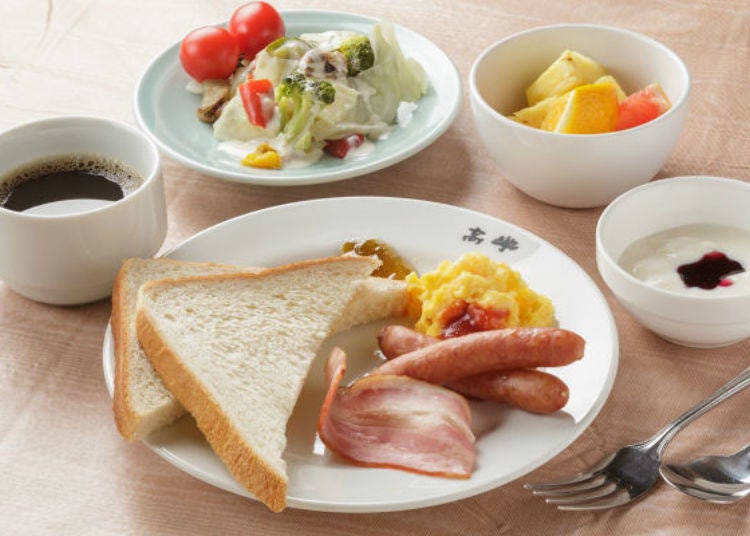 ▲ For those who prefer a Western style breakfast there are also scrambled eggs, bacon, wieners, and bread.
Tracing the popularity of Nobel Laureate Kawabata Yasunari
After breakfast i headed towards the final attraction awaiting me: the room in Takahan where Kawabata Yasunari wrote Snow Country. There is a space in the inn exhibiting things related to Yasunari.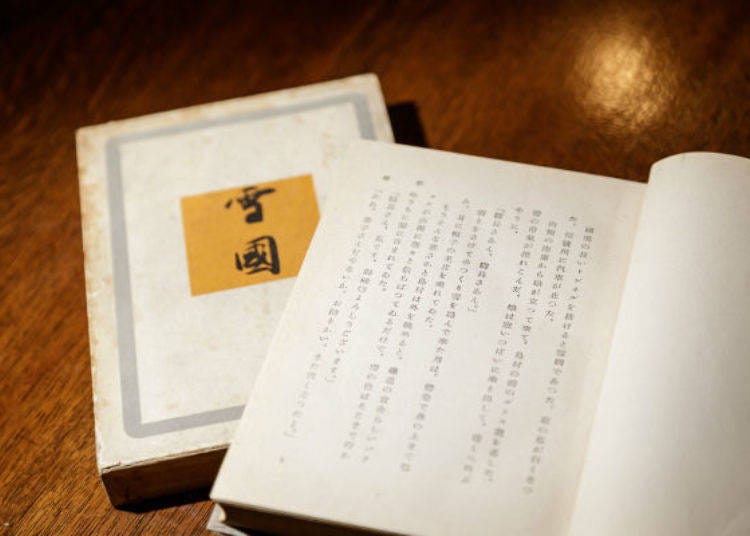 ▲ A first edition copy of Snow Country preserved at Takahan
"The train came out of the long tunnel into the snow country."

This is the famous first line in the novel and though not clearly mentioned, is said to be a story about Takahan and Yuzawa. Yasunari stayed at Takahan and wrote the novel here. For that reason, even today fans of the story come to stay at Takahan.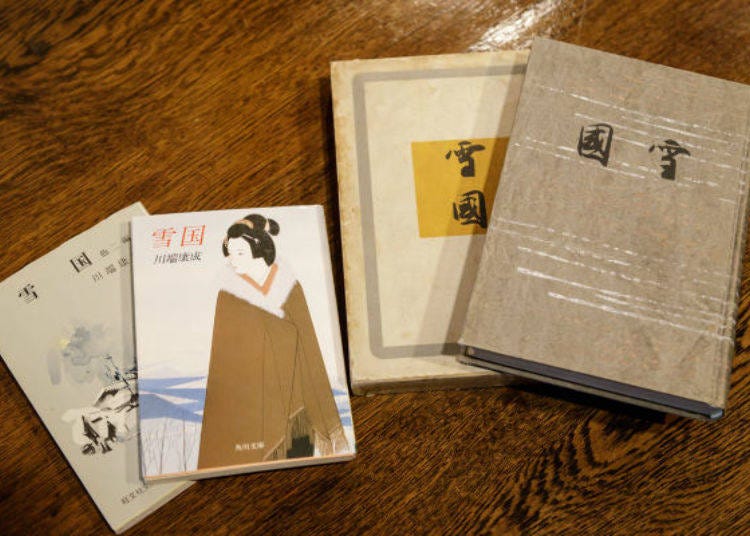 ▲ Snow Country was so popular that it was printed in several different editions
Snow Country was not written as a single novel, but was sent in installments to various magazines. Over the course of three years he visited Takahan five times and stayed in the Kasumi Room where he wrote. The room has been moved but preserved as it was.

It is a love story about the protagonist Shimamura and the geisha Komako. The model for Komako was a Yuzawa geisha named Matsue and I was told that she often visited Yasunari in the Kasumi Room.

I think it is apparent, hearing that, that Snow Country is a work based on his stays at Takahan in Yuzawa.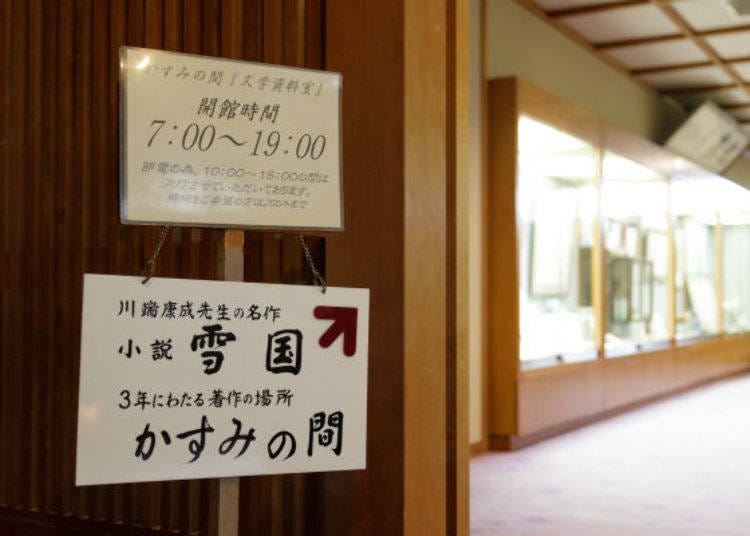 ▲ Guests staying at the inn can visit this room at no charge. Those not staying at the inn can visit the room for a fee of 500 yen, including tax, for adults; there is no charge for elementary school age and younger (visiting is permitted between 9:00 a.m. and 5:00 p.m.)
I came to the room and entered it. From the room it is possible to see the actual view that Yasunari enjoyed.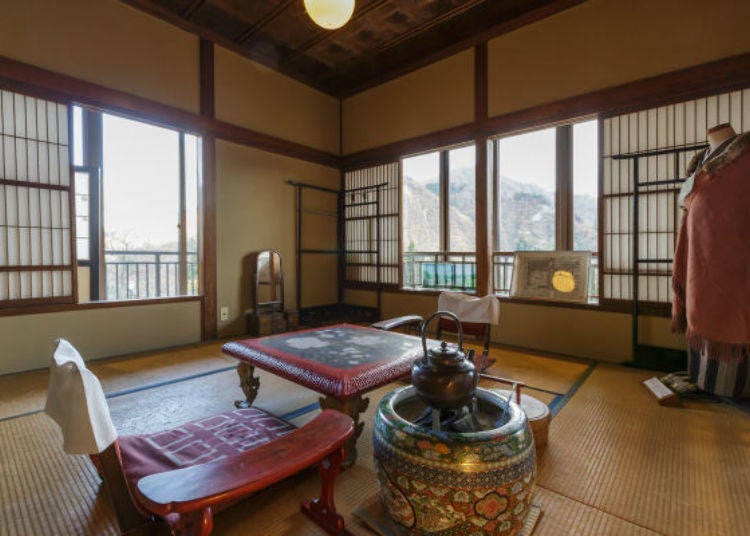 ▲ The kimono on the right was a gift from Ms. Matsue.
There is a table and brazier in the middle of the room. This is where he wrote Snow Country. I imagine that he enjoyed the view of Yuzawa from the windows and liked staying in this room.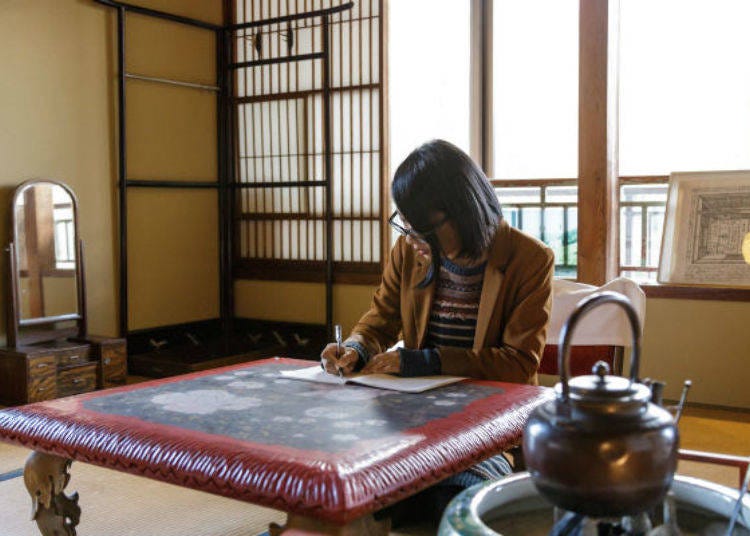 ▲ Having my photo taken while imagining myself to be like Yasunari. Lots of tourists like to have their photo taken like this.
Takahan has a Literature Museum, a collection of books related to Snow Country, and a Works Exhibition Room, a collection of works associated with the writer.

The Literature Museum contains items of high historical value, such as the first edition published in 1937, the script at the time of filming, and papers written by Kawabata Yasunari in his own hand.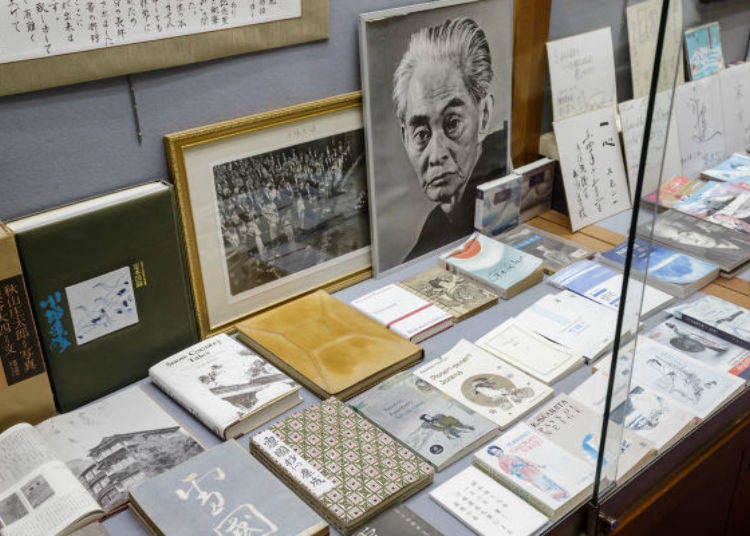 ▲ Snow Country has been translated into several other languages. I was told that Kawabata Yasunari fans from around the world who visit Takahan bring a copy of Snow Country printed in the language of their country and leave it as a gift to the inn.
In the Works Exhibition Room adjacent to the Literature Museum, works by famous writers and poets who have stayed at Takahan, such as Kitahara Hakushu, Yosano Tekkan, and his wife Akiko, are displayed.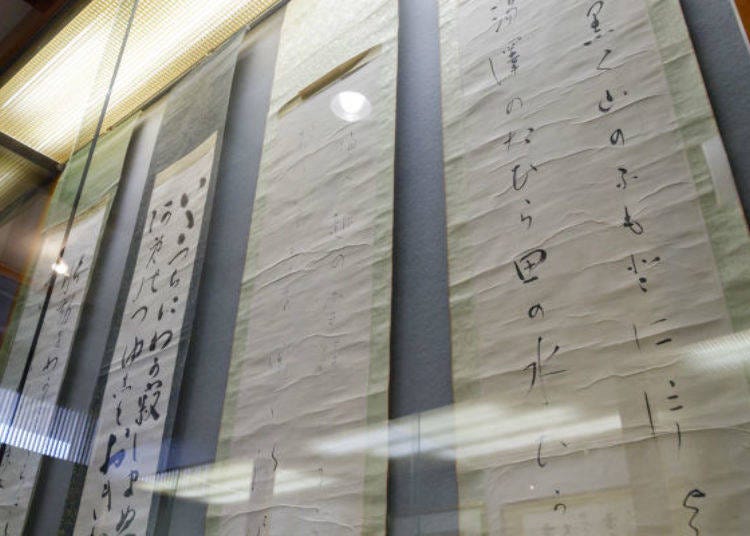 ▲ From the right are scrolls written by Yosano Akiko and Yosano Tekkan
I thoroughly enjoyed the wonderful time I spent visiting the room in which Yasunari wrote and seeing the works of other authors.

Hot springs, cuisine, and the world of Kawabata Yasunari - very satisfying!

It was time to check out. At the front desk, a pleasant surprise awaited me.

"For guests who stayed with us, they are welcome to use the hot spring baths at no charge between 1:00 and 4:00 p.m., so if you have the time, please do so."

I had to take them up on that offer! I wanted to enjoy this experience to the very end!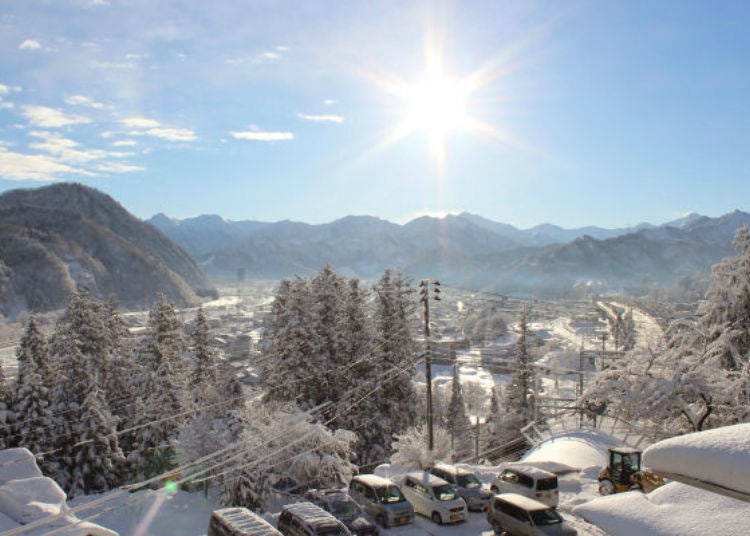 ▲ View from the Men's Large bath (photo provided by Yukiguni no Yado Takahan)
A hot spring passed down through generations for over 900 years, Yukiguni no Yado Takahan is where you can enjoy the baths and authentic banquet cuisine and visit the room once frequented by a literary giant. The views from the open-air baths and guest rooms throughout the four seasons are genuinely magnificent.

If you visit in winter, stay at this beautiful inn in Echigo Yuzawa.
Address

Yuzawa 923 , Yuzawa, Niigata, 949-6101
View Map

Nearest Station

Gala Yuzawa Station (Joetsu Shinkansen Bound For Gala Yuzawa)
11 minutes on foot


Vacancy search, reservation

from

19,800JPY

1room, 2adults

Check with our partner site as the latest rates, rate details, and guest room requirements may vary.
In winter, enjoy skiing & snowboarding too!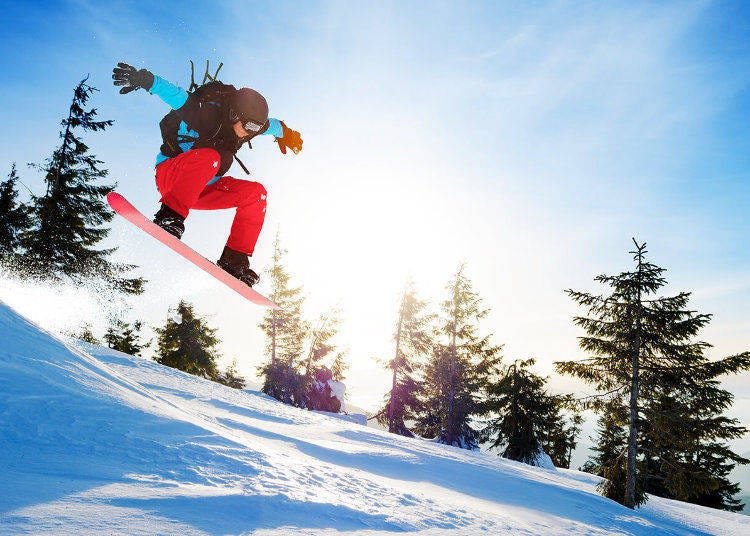 You can enjoy a variety of fun snow activities in this area in winter, including skiing and snowboarding. To save money and hassle, we recommend booking lift tickets in advance. Enjoy the unique winter landscapes and outstanding sense of openness that snow resorts afford, while also avoiding the crowds.
*This information is from the time of this article's publication.
*Prices and options mentioned are subject to change.
*Unless stated otherwise, all prices include tax.
Limited time offer: 10% discount coupons available now!