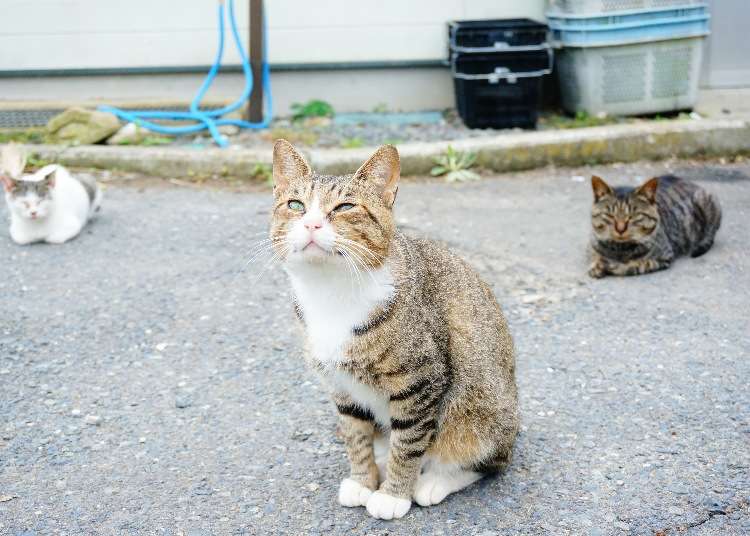 One of Japan's 'cat islands,' Tashirojima Island is home to an unusually large number of felines. With their cuddly looks and standoffish attitude, cats are full of charisma, and tourists can't seem to escape their charm.

Over a hundred cats live their carefree days on Tashirojima Island. With its legend of the Cat God, and a lodge in the shape of a cat, it's a unique spot with a deep connection to cats, and it's a charming island to pay a visit to.
What kind of place is Tashirojima?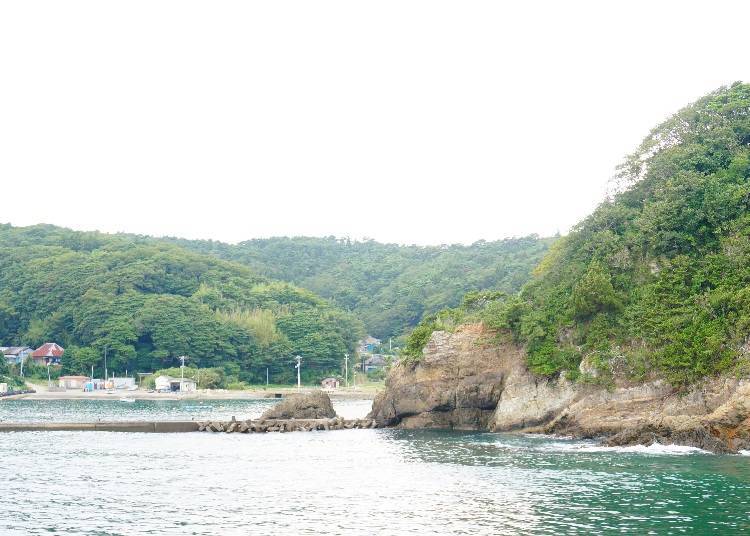 Tashirojima Island (also known in English as Tashiro Island) is part of Ishinomaki City in Miyagi Prefecture. Just 45 minutes by ferry from Ishinomaki, it is a relatively tiny island, at only 3.14 square kilometers.

In contrast to the 60-odd residents of the island, over 100 cats are living on it, leading to it being called one of Japan's "Cat Islands."

As most of the island's residents are fishermen, their god of fishing, which takes the form of a cat, is well revered.

Upon arriving on the island, you land on Nitodakō pier, and from there, you can leisurely explore and look for cats. As the island is fairly close to Sendai, it makes for a pleasant day trip.
Why are there so many cats on Tashirojima Island?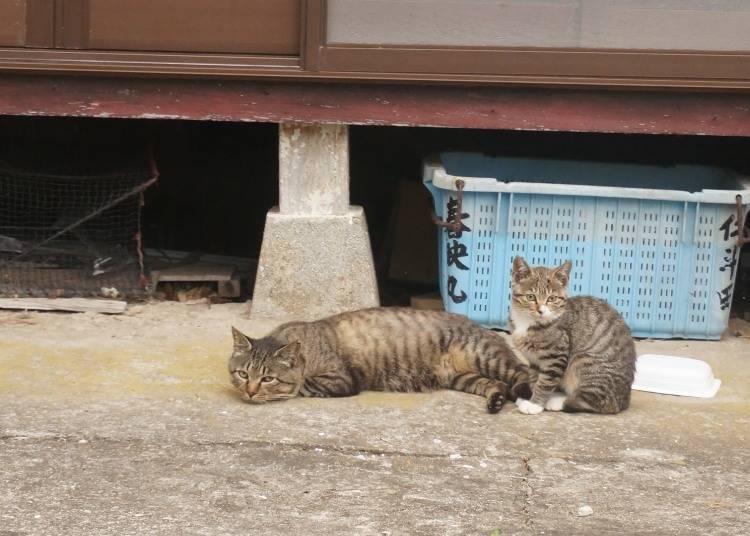 As the cats on Tashirojima are highly revered by its residents, dogs, the natural enemies of cats, are strictly banned. There are two main reasons why cats are so crucial to the island.

The first reason is that the island cultivated silkworms in the past, and cats were essential to protecting the cocoons from rats and mice.

The second reason is that many of the current islanders are fishermen, and from the cats' behavior each day, it was possible to predict the weather and catch for the day.

With such a close connection and deep history entwined with that of the island's residents, to this day, the island's cats hold an essential place in their lives.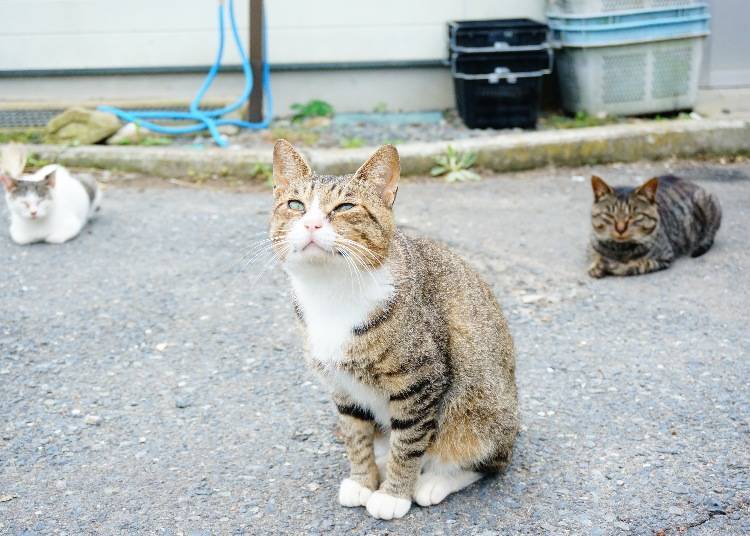 The cats are free to come and go as they please anywhere on the island, be it the roads, grassy lawns, or any other place.

Depending on the weather and time of the day, and their mood, the cats appear in various spots across the island. There is a free pamphlet available at the pier where you can catch the ferry, the "Tashirojima Map."

The map marks out spots where you can meet the cats, indicating the names of famous locations on the island and their distances from the pier, making it an essential item for exploring the island.
Get the feline welcome at Nitodakō Pier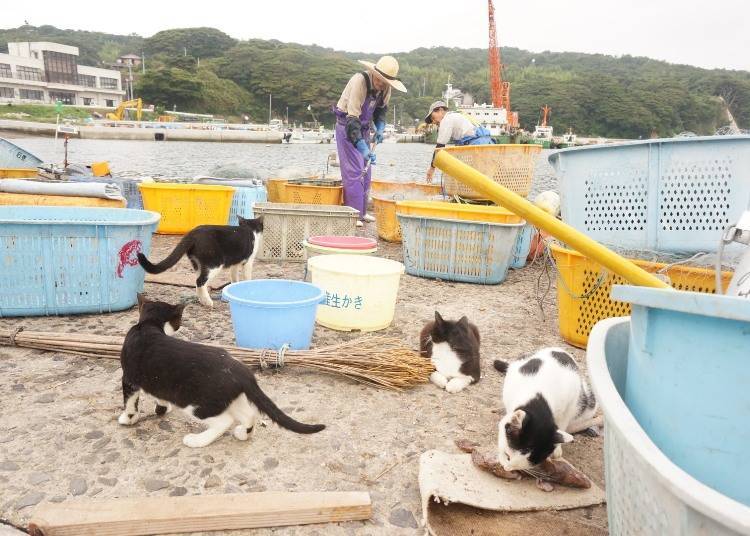 One area with a large number of cats, even for Tashirojima Island, is Nitodakō Pier, the entrance to the cat island in Japan. The large signboard, which reads "Welcome to Tashirojima Island," is adorned with cat designs and is an eyecatcher as you approach the island.

The first thing that catches your attention is the cats lazing about the ground between the boats on shore, and the cats being fed fish by the fishermen.

As you head towards the island's main road from the pier, you'll start to meet even more cats. The cats on Tashirojima Island are used to being around people, and they approach new visitors with their interest piqued.
Tashirojima's Cat Shrine, where you can feel the bonds between cats and humans
About 1.7 kilometers North of Nitodakō pier, in the center of the island, is the Cat Shrine, protected by a red fence. The fastest way to reach the shrine is by alighting at the pier closest to the front of Nitodakō pier, Ōdomari-Minato Pier, and from there, it's an 800-meter walk.

Long ago, this shrine was built to remember a cat that had died because of the carelessness of man and laid to rest there out of pity. A small shrine was built, allowing for proper prayers to be given.

After the shrine was built, days of large catches continued with no accidents, and the residents of the island began to bring offerings to the "Cat God" at the shrine. Even today, the fishermen continue to make offerings at the shrine every year on the 15th of March.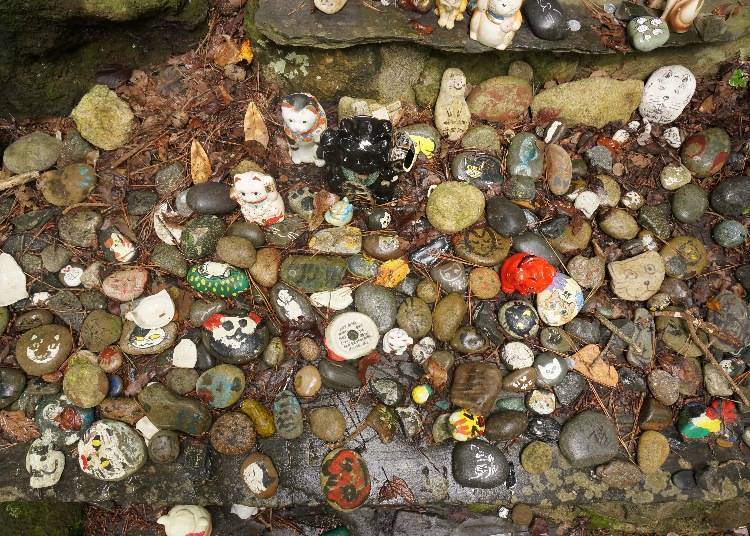 There is an unusually large number of cat-related goods left by both islanders and tourists at the shrine. Among these are hand-illustrated pictures of cats and messages written on stones.

As you observe the calm expressions of the hand-drawn cats, do keep in mind that the Cat God of the island rests there, so be sure to observe quiet and solemnity during your visit.
Miyori Shrine (Cat Shrine)

猫神社 (美興利大明神)

Address

Ishinomaki, Tashirohama, Miyagi Prefecture, 986-0023
Shima-no-Eki: For souvenirs and a rest stop, drop by the island's station
For a short rest, the rest point, "Shima-no-Eki," is recommended for visitors to the island. In the café space, savory dishes such as onigiri and chūka-don are served, along with a side menu of cakes and desserts. Besides food from the café, you can freely eat any food that you brought along with you as well.

At the shop, a wide variety of towels and other original goods featuring cat designs are available. Seafood and other marine produce from the island are also on sale and make for excellent souvenirs. Artwork with cat motifs is also on display.
島のえき

Address

Azauchiyama 69-2, Uchiyama, Tashirohama, Ishinomaki, Miyagi Prefecture, 986-0023

Open daily, 10 AM - 3 PM (Hours may vary by season)
Manga Ai-land: Staying in a cat-shaped lodge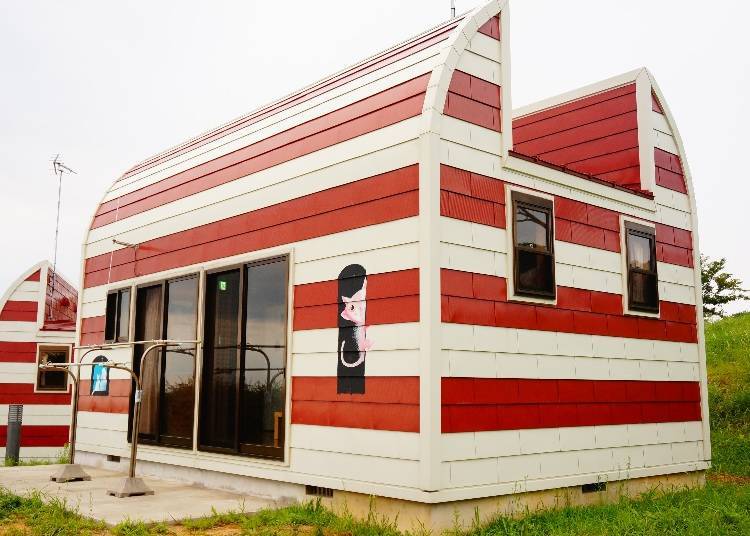 One of the accommodations available on Tashirojima Island is "Manga Ai-land." The "Manga Lodge," designed in the shape of a cat, was created by the manga artists Chiba Tetsuya and Satonaka Machiko.

There are five lodge choices available, from the striking red and white striped "Shima Lodge," to the two-floor lodge featuring a cat with a unique expression, "Shiro Lodge."

The interior of each lodge features cat illustrations and drawings of other manga characters, which you can check out at the facility's website.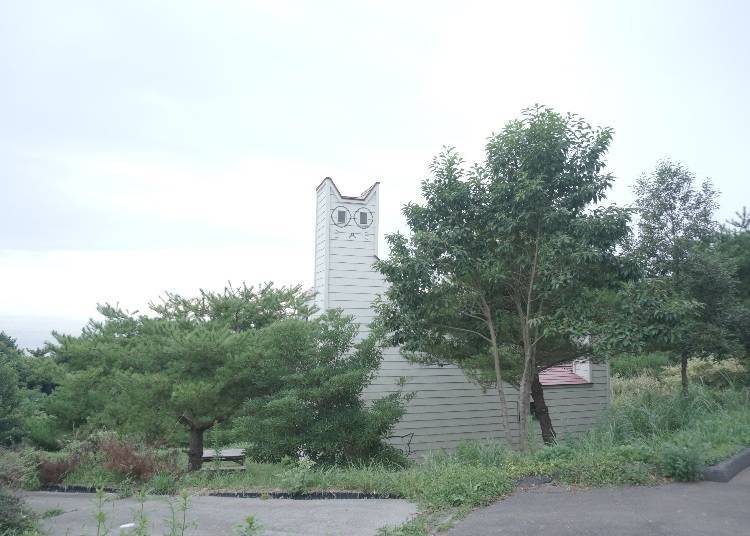 For those who would prefer to be in closer contact with the cats, the outdoors is recommended. While camping, cats will come to visit your tent and barbecue!

For both the lodge and campsite, reservations need to be made beforehand. While making your reservation, you can request for your baggage to be transported over before check-in, allowing for a handsfree and relaxing sightseeing journey.
マンガアイランド

Address

24, Sikisima, Tashirohama, Ishinomaki, Miyagi Prefecture, 986-0023

・Telephone number: 0225-21-4141 (Manga Ai-land Office), 0225-98-8285 (Ishinomaki Tourism Promotion Organization)
・Hours: Wednesday to Sunday, late April to late October, check in 2 PM, check out 11 AM
・Rates: 8,140 yen for small lodges, 9,160 yen for large lodges, 1,520 yen for tent sites (*Number of tents is limited)
・Regular holiday: Tuesday
<a href="https://www.city.ishinomaki.lg.jp/cont/10452000b/-kanko/-kankomap/d0040/20130224150619.html">・Website</a>
How do you get to Tashirojima Island? How much does it cost to go to Cat Island?
As Tashirojima Island is a remote island off the shore of Ishinomaki City, you'll have to use the scheduled ferry service from Ishinomaki Central Departure Point. This is a 15-minute walk from Ishinomaki Station. From Ishinomaki to Nitodakō pier, a one-way ticket costs 1230 yen and the ride takes 45 minutes.

There are only three ferries per day, and in the event of inclement weather, there may be no ferries at all, so be sure to check out their website before heading down. Do be sure to check details on the return ferry beforehand too.
網地ライン

Address

1-14-5, Chuo, Ishinomaki, Miyagi Prefecture, 986-0822

Phone Number

0225-93-6125

・Hours: 8 AM - 5 PM
・Price: 1,250 yen one way between Ishinomaki and Nitoda Port
・Closed: No holidays (may be canceled depending on the season
<a href="http://www.ajishimaline.com/">・Website</a>
House rules for visiting Japan's Cat Island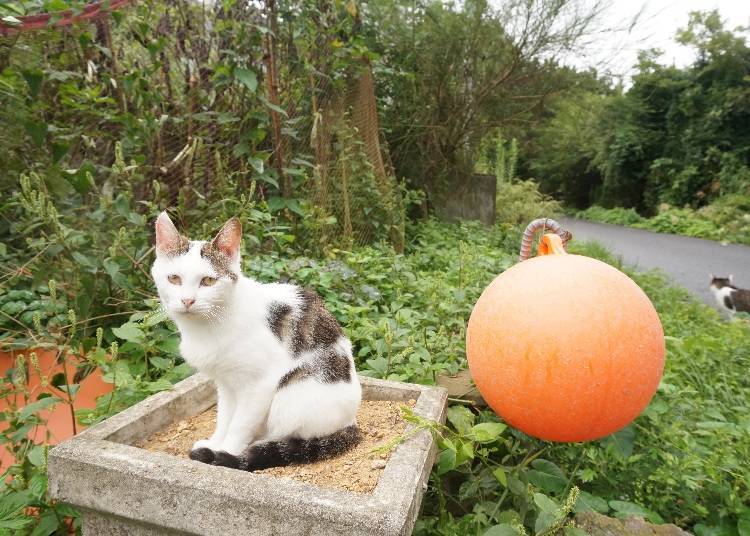 To enjoy a fun time with the cats, there are several rules on the island.

First off, visitors to the island are not allowed to feed cats any treats or food, for their health.

Taking pictures on the road is a dangerous action that hinders traffic, and is a common cause of road accidents.

Cats sleeping should not be disturbed, and it is forbidden to enter residential areas.

Littering is also strictly prohibited, so be sure to bring your trash back with you.

Such rules are in place for the sake of the residents on the island as well, so be sure to follow them. For those who absolutely have to give cats treats, Nitodakō pier and "Shima-no-Eki" has areas called "O-azakari box," where cats are fed at regular timings. There's a sign of a large can with a cat's face drawn on it.

Another basic rule of the island is that the primary mode of transport is by walking. Though you can rent bikes from Manga Island, the Cat Shrine and beach, among many other areas, don't have proper pavement, so it would be better to dress in comfortable walking shoes and attire. As there are minimal vending machines and shops on the island, it would bring more peace of mind to prepare what you need at Ishinomaki before you depart.


Tashirojima Island is a refreshing spot inhabited by many carefree cats. While exploring the island, you can take pictures of gorgeous views and find cats, so why not refresh your body and soul here?
Address

Tashirohama, Ishinomaki-shi, Miyagi, 986-0023
View Map

Nearest Station

Ishinomaki Station (Ishinomaki Line / Senseki Line / Senseki-tohoku Line)


Phone Number

0225-95-1111
* Some photos were taken in 2013. Prices and hours were confirmed in August 2023.

Text by: Shoe Press Co., Ltd.
*This information is from the time of this article's publication.
*Prices and options mentioned are subject to change.
*Unless stated otherwise, all prices include tax.
Limited time offer: 10% discount coupons available now!