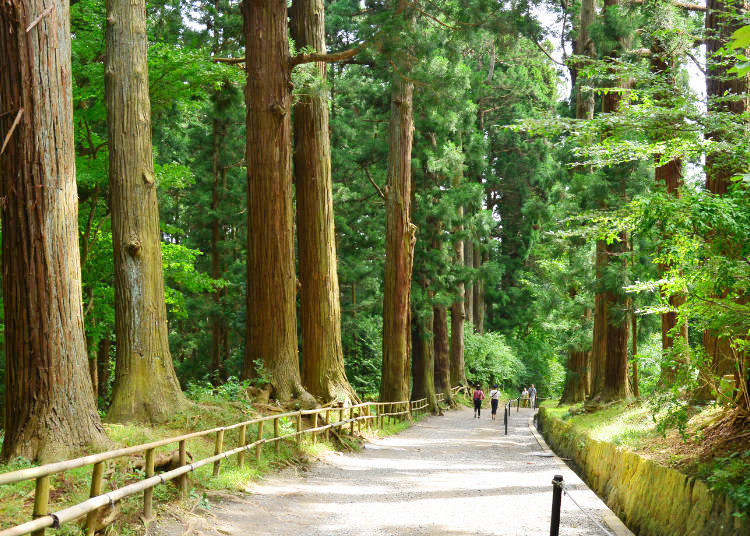 Hiraizumi, Iwate Prefecture was founded in the 11th century, just before the emergence of Japan's samurai society. A culture based on Pure Land Buddhism blossomed in Hiraizumi, and many of its diverse temples and gardens are still in good condition.

Chuson-ji Temple's Golden Hall and Motsu-ji Temple's Jodo Garden are two well-known examples. In recognition of its cultural value, Hiraizumi was designated as a World Heritage Site in 2011.

Let's explore the temples and historic sites that make up Hiraizumi's fascinating culture.
1. Chuson-ji: The gorgeous temple known throughout Japan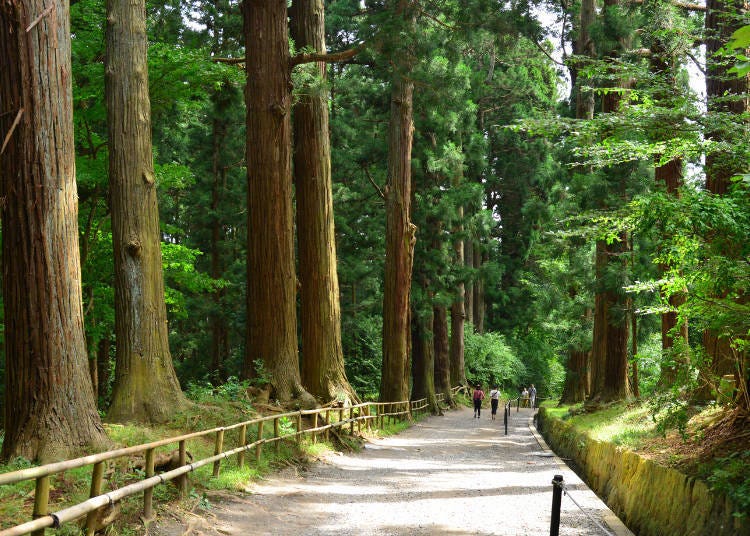 Chuson-ji was built at the beginning of the 12th century by Fujiwara no Kiyohira, founder of the Oshu Fujiwara Clan. A center of Buddhist culture, the temple is home to the Konjikido, the first structure designated as a Japanese national treasure, and the Sankozo Museum, which displays thousands of historical artifacts.

Chuson-ji is situated in a hilly area about 130 meters above sea level. The path leading to the main hall, a slope called "Tsukimizaka," has long been used by worshippers. Tall, 300-year-old cedar trees planted in the Edo period line the path and create a magnificent atmosphere.
Keep going to find the fabled Benkeido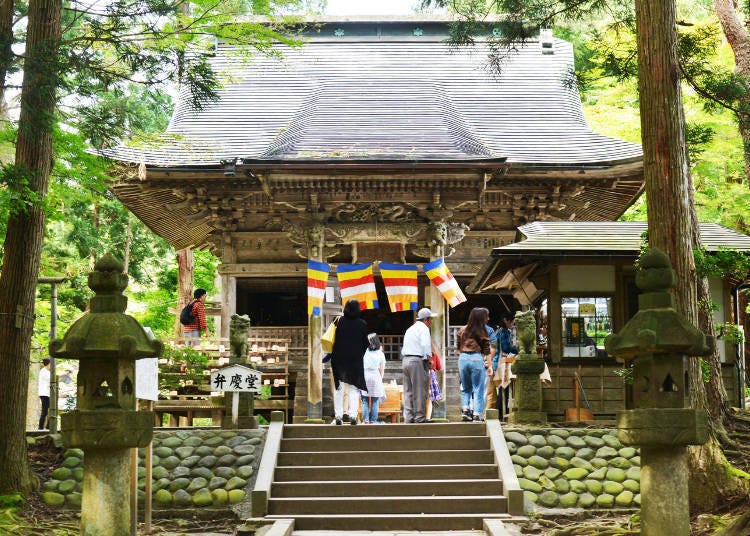 As you head further up Tsukimizaka, the road flattens out and, on the right, you'll see the "Eastern Observatory" with an open view of the Kitakami and Kinu rivers flowing nearby. Opposite the observatory is Benkeido, one of the most visited spots in Chuson-ji.

There are several halls along the path, and most were built after the mid-Edo period (around 1700-1750). Benkeido was constructed in 1827 and as a temple dedicated to Shogun Jizo. In the hall of the main building, formerly known as "Atagodo," wooden statues of two historic figures - Yoshitsune and Benkei himself - are enshrined.
Konjikido: The Golden Hall of dreams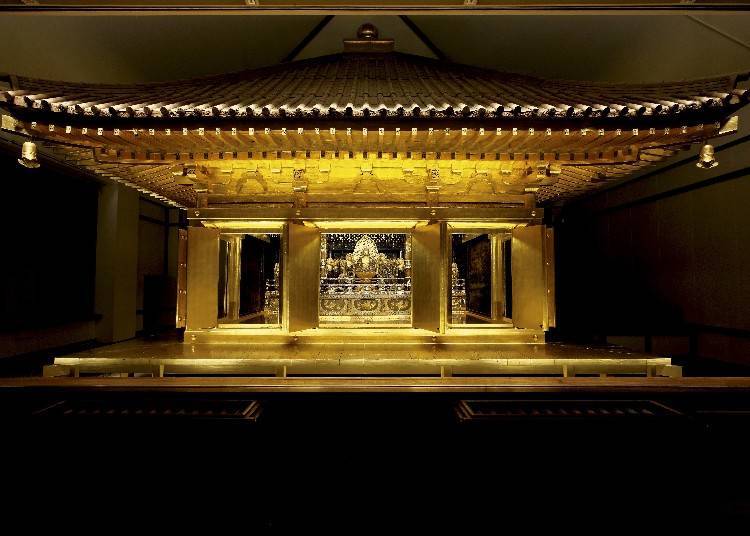 From Benkeido, head to Mineyakushido, a temple that is said to have special healing properties – especially regarding eye problems. More than 3,000 national treasures are stored at Chuson-ji, and most of these important cultural properties are on display in the Sankozo. Next, head to the Golden Hall – the Konjikido.

The Konjikodo was built in 1124 by first-class Buddhist artisans and painters from Kyoto. Both the interior and exterior of the hall are covered with gold leaf, and to protect it from the elements, it's been completely enclosed within another building. You'll be amazed by the Golden Hall glowing brilliantly in the darkness.

The support beams and altar itself are elaborately decorated with shining inlaid shells, intricate metal work, and colorful lacquer paintings that give the Konjikodo an unparalleled luxury. The only original structure remaining from Chuson-ji's founding, it's a focal point of Hiraizumi's World Heritage status.
中尊寺

Address

202 Hiraizumi Kitome, Hiraizumi-cho, Nishiiwai-Gun, Iwate, 029-4102

Phone Number

0191-46-2211

Hours: 8:30 - 17:00 (16:30 November - February)
Admission: Adults 800 yen, high school students 500 yen, junior high students 300 yen, elementary school students 200 yen
2. Sobadokoro Yoshiie: The Tsukimizaka's popular soba shop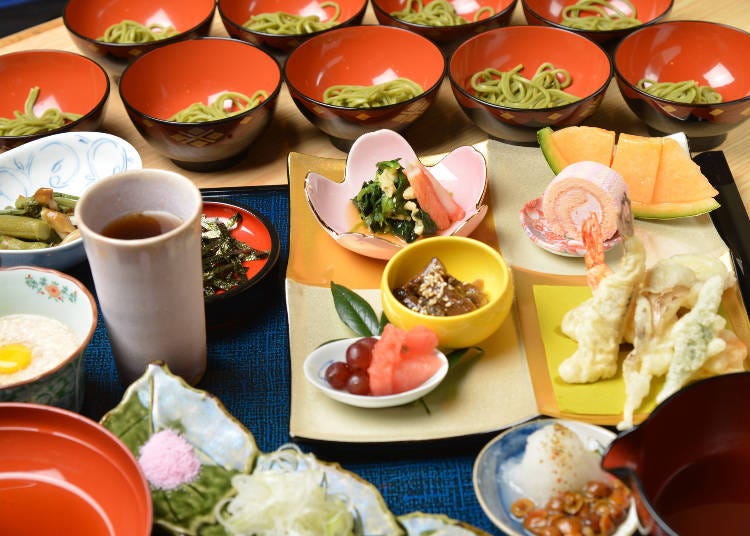 After a leisurely stroll around the Chuson-ji grounds, stop by Yoshiie, halfway down the Tsukimizaka, and order some delicious soba noodles. In the peaceful cedar forest, you can enjoy "wanko soba," an Iwate specialty.

Wanko soba is eaten by consuming many small, fresh portions of soba noodles with a variety of condiments. With side dishes of tempura, pickles, seasonal dishes, and fruit, it's quite an impressive meal. Standard soba and tea soba are also available.
そば処義家

Address

43 Hiraizumi Kitome, Hiraizumi-cho, Nishiiwai-Gun, Iwate, 029-4102

Phone Number

0191-46-4369

Hours: 10:30 - 15:30 (or as soon as noodles sell out)
3. Motsu-ji: Stroll through the beautiful Jodo Garden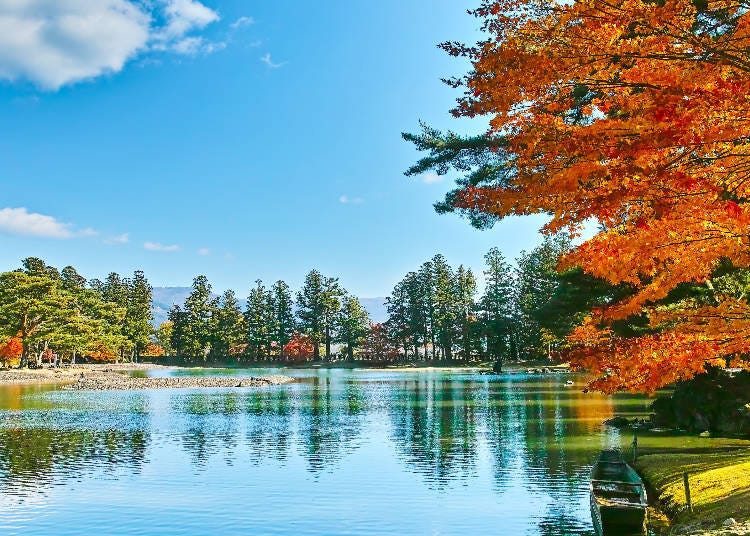 Motsu-ji was reportedly founded in 850 by Buddhist priest Jikaku Daishi. The construction of many of the temples on the Motsu-ji grounds began in the second generation of the Oshu Fujiwara Clan and was completed by the third generation, ruled by Fujiwara no Hidehira. At that time, with 40 buildings and 500 monks, the scale of the complex exceeded that of Chuson-ji. However, due to repeated disasters, most of the buildings have burnt down and now only the Jodo Garden and the clear waters of Oizumi ga Ike Pond remain of Motsu-ji's former prosperity.

Against the backdrop of a small mountain called Doyama, the garden's spacious landscape includes a stony beach, standing stones protruding from the pond, other rock landscaping, and a stream – all of which embody a pure, natural peacefulness. Visitors can experience that feeling of peace and get a sense of the Heian period while strolling around Oizumi ga Ike and enjoying the elegant scenery.
Tour the remaining buildings and cornerstones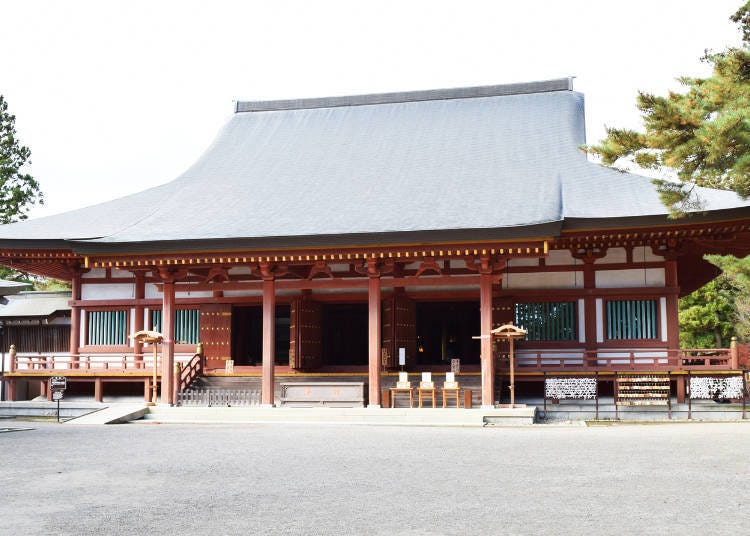 The main hall, near the front of the Motsu-ji grounds, is a large Heian-style structure, built in honor of Yakushi Nyorai. Oizumi ga Ike is located to the right of the main hall.

On the north side of the pond is the Kaisando, where Jikaku Daishi is enshrined and images of the early Fujiwara rulers are displayed. Following the beautiful garden route, you'll soon reach the ruins of Kasho-ji and the auditorium, where only the huge foundation stones remain.

If you walk further south, you can see a small stream flowing into the pond. Heian Period streams like the one at Motsu-ji said to be extremely rare. The "Gokusui no En" (Winding Stream Party) is held on the banks the stream in early summer, and recreates elegant scenes of the Heian period.
毛越寺

Address

58 Aza Osawa, Hiraizumi, Hiraizumi-cho, Nishiiwai-gun, Iwate 029-4102

Phone Number

0191-46-2331

Hours: 8:30 - 17:00 (16:30 November - March)
Admission: Adults 500 yen
4. Kanjizaiō-in Temple Site: Founded by Motohiko's wife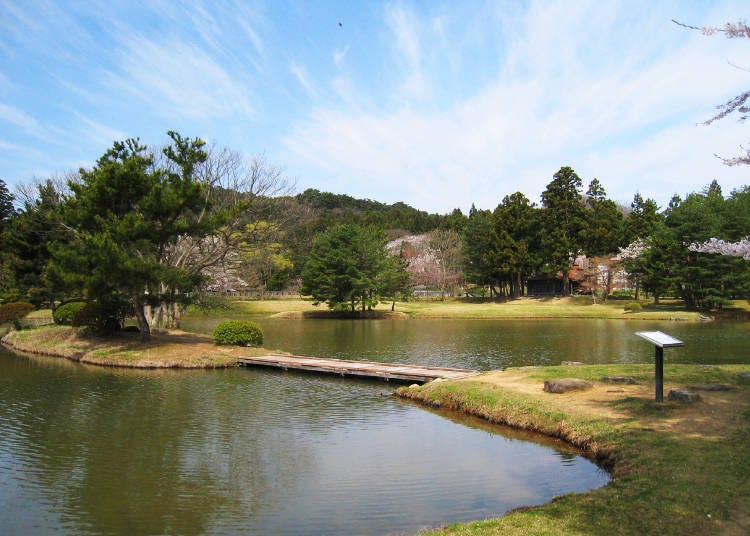 Kanjizaiō-in Temple, now only ruins, located next to Motsu-ji, was founded by the wife of Fujiwara no Motohiko and features a beautiful Jodo Garden and Maizuru ga Ike Pond. While the pond at Motsu-ji has a large, open atmosphere, Kanjizaio-in's pond is surrounded by trees, giving visitors a much different impression of this special national historic site by comparison.

You may want to visit both to experience the difference. As a historic park, the temple ruins are open to the public, free of charge.
Address

Shirayama, Hiraizumi, Hiraizumi-cho, Nishiiwai-gun, Iwate, 029-4102
View Map

Nearest Station

Hiraizumi Station (Tohoku Main Line)
8 minutes on foot


Phone Number

0191-46-4012
5. Muryoko-in Ruins: Overlooking Mt. Kinkeizan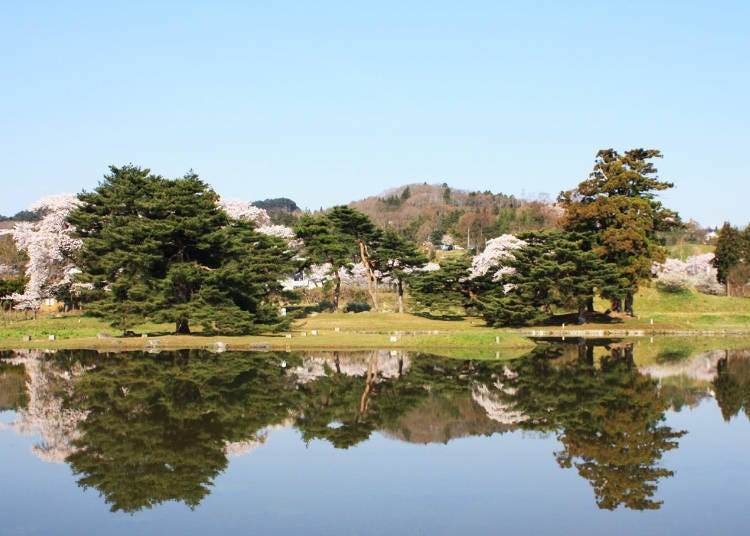 Muryoko-in, was built by Fujiwara no Hidehira to resemble Byodo-in Temple in Kyoto. Unfortunately, it, too, has been burnt down and only the cornerstones remain. Despite that fact, the site still bears the atmosphere of the past. When viewed from the front, the former site of the main hall aligns with a view of Mt. Kinkeizan.

According to legend, Hidehira made the mountain in one night, and, furthermore, that a golden rooster and hen are buried there. Both the ruins of Muryoko-in and Kinkeizan are considered important historical sites.
無量光院跡

Address

Hanatachi, Hiraizumi, Hiraizumi-cho Nishiiwai-gun, Iwate 029-4102

Phone: 0191-46-4012 (Hiraizumi Cultural Heritage Center)
Admission: Free entry
6. Takadachi Gikeido: A monument to commemorate Minamoto's end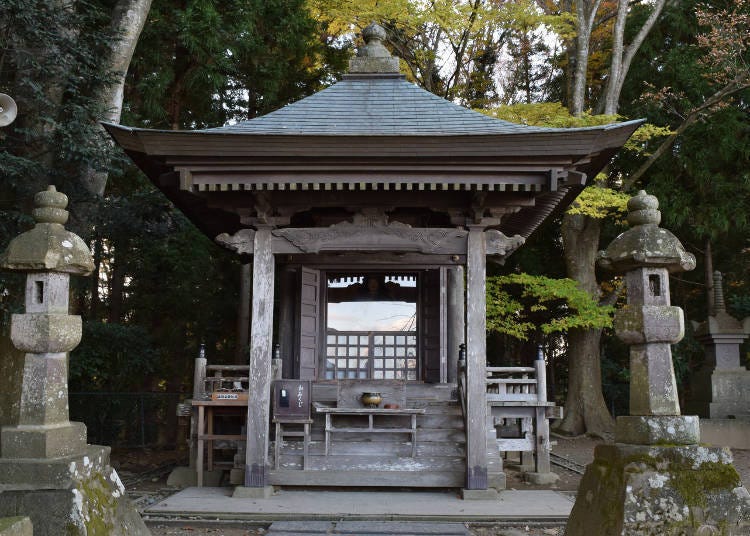 Located on a small hill not far from the center of Hiraizumi you'll find Takadatchigikeido. Pursued by his brother Yoritomo, Minamoto no Yoshitsune lived under the protection of Hidehira. However, Hidehira's son, Yasuhira, couldn't withstand Yoritomo's continued pressure and finally betrayed Yoshitsune. The Takadatchigikeido commemorates the hunting down and forced ritual suicide of Yoshitsune.

見晴らしのいい丘の上には、1683年仙台藩主によって建てられた義経堂があり、中には義経の木像を安置。その後訪れた俳人松尾芭蕉は、この地で「夏草や 兵どもが 夢の跡」という句を詠んでいます。
Commissioned by the ruler of Sendai in 1683 and built on a hill with a good view, the small temple enshrines a wooden statue of Yoshitsune. Upon visiting, famed poet Matsuo Basho was inspired to write:
Summer grasses,
All that remains
Of soldiers' dreams
高館・義経堂

Address

14 Yanagigosho, Hiraizumi-cho, Nishiiwai-gun, Iwate 029-4102

Phone Number

0191-46-3300

Hours: 8:30 - 16:30 (16:00 from early November to early March)
Admission: 200 yen
7. Michinoeki Hiraizumi: Take home a piece of the magic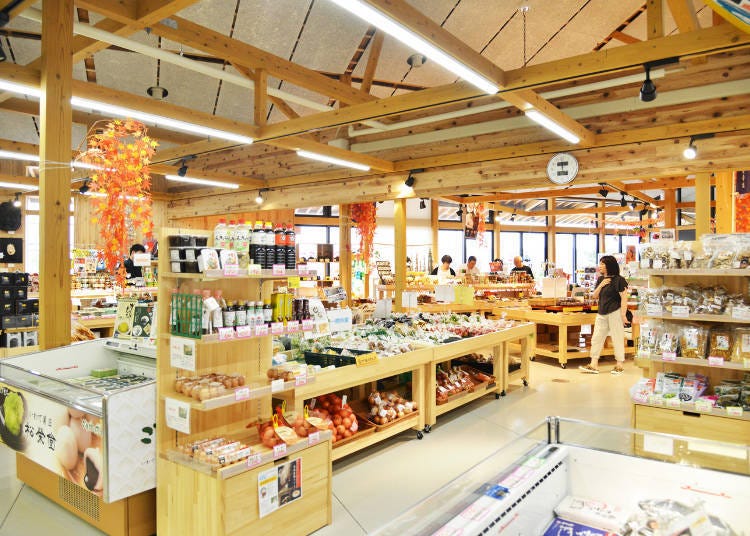 Michinoeki Hiraizumi is a popular spot for both food and souvenirs. In the restaurant, you can enjoy fresh vegetables and dishes made with locally raised Iwate Minami Beef, and on weekends and holidays there's a generous buffet available.

There are plenty of souvenirs from Iwate Prefecture, like locally harvested fruits and vegetables, as well as doburoku sake and wine. The restaurant also serves fast food for dining in or taking out including unique menu items like mustard flavored soft-serve ice cream and steamed buns filled with meat and mustard.
道の駅平泉

Address

112-2 Kararaku, Hiraizumi-cho, Nishisugai-gun, Iwate 029-4102

Phone Number

0191-48-4795

Hours: 9:00 - 18:00
World heritage sites such as Chuson-ji and Motsu-ji make a Hiraizumi a place worthy of thorough exploration. Come visit this charming Iwate town and take a step back into the peaceful culture of the Heian period!

Text by: SHOE PRESs
*This information is from the time of this article's publication.
*Prices and options mentioned are subject to change.
*Unless stated otherwise, all prices include tax.